Welcome!
I'm an architectural photographer and writer.
On my van-life travels through the British Isles I'm building up a word and photo-hoard of material culture that celebrates the value and distinctiveness of our built heritage and contributes to a sense of place.
My van is my time-machine, it gives me fresh perspectives on our remarkable places, shared here on a weekly basis.📸🚐🏛
🏛 Missed the last Digest? Here it is.
🚐 View Digest Archive here.
Members and Patrons - the next edition of the members only Patina Edition will be out on Sunday 3 July.
---
Photo-hoard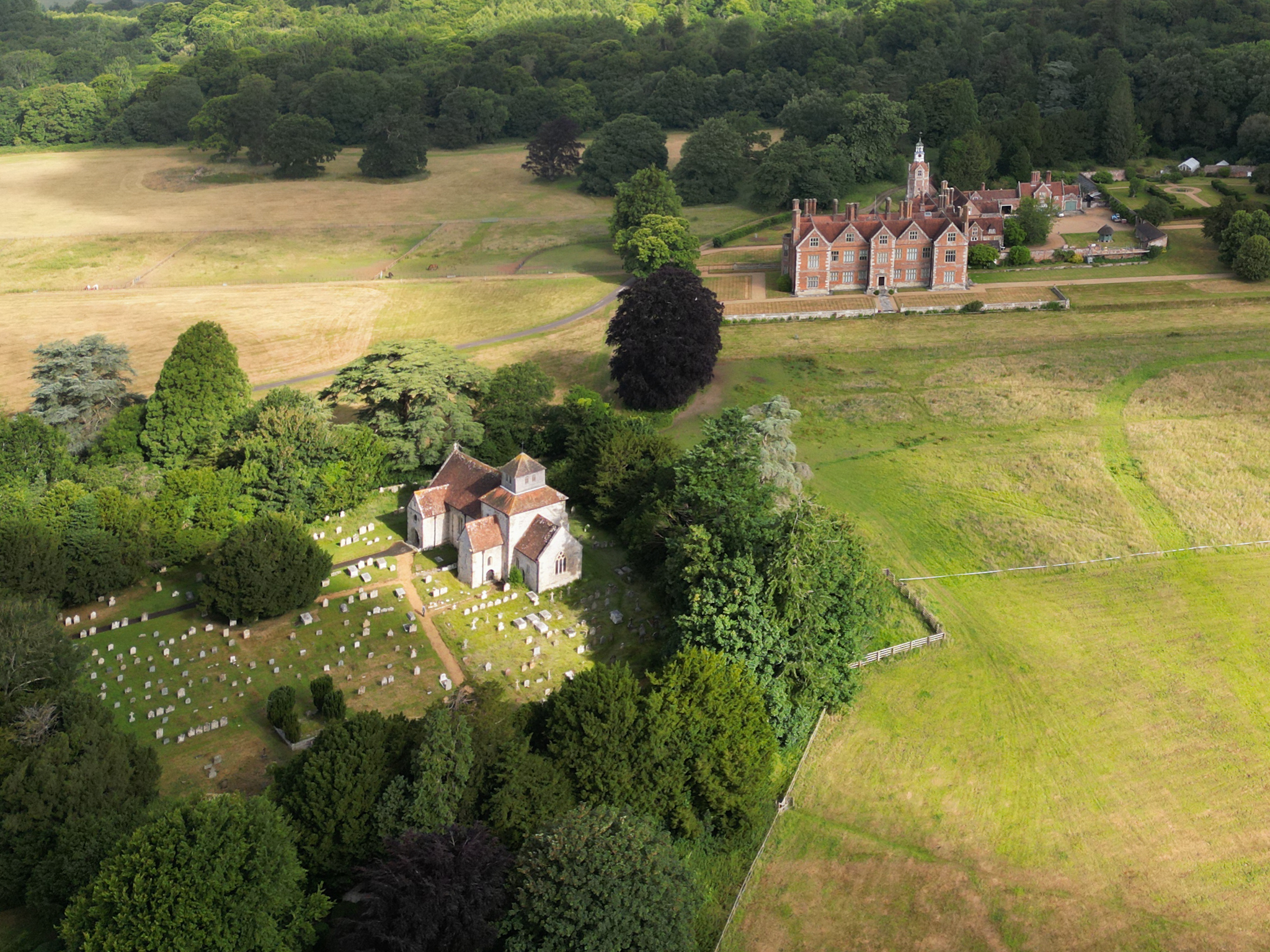 St. Mary's Church, Breamore, Hampshire with Breamore House in the background.
Members and Patrons have been following and interacting with me live on Polarsteps and Twitter Circle this week. It's lovely to be able to share the moments as I'm there.
This place is one of the highlights. The church has lots of Anglo Saxon survivals including an inscription dating to Ethelred II.
Managed to get the drone up and hovered for a few minutes until the sun lit up the church. Worth the wait. More about the church to come in a future digest.
Words
"Apophenia is the tendency to find patterns. It can be a disorder but, for me, finding patterns is sustaining. Unbidden, certain objects glow with relevance... We are meaning-making machines. I use all these little personal myths and totems to hold myself together: things to search for when I'm faced with overwhelming choice and freedom."
Amy Liptrot. The Instant
Observations
Mizzle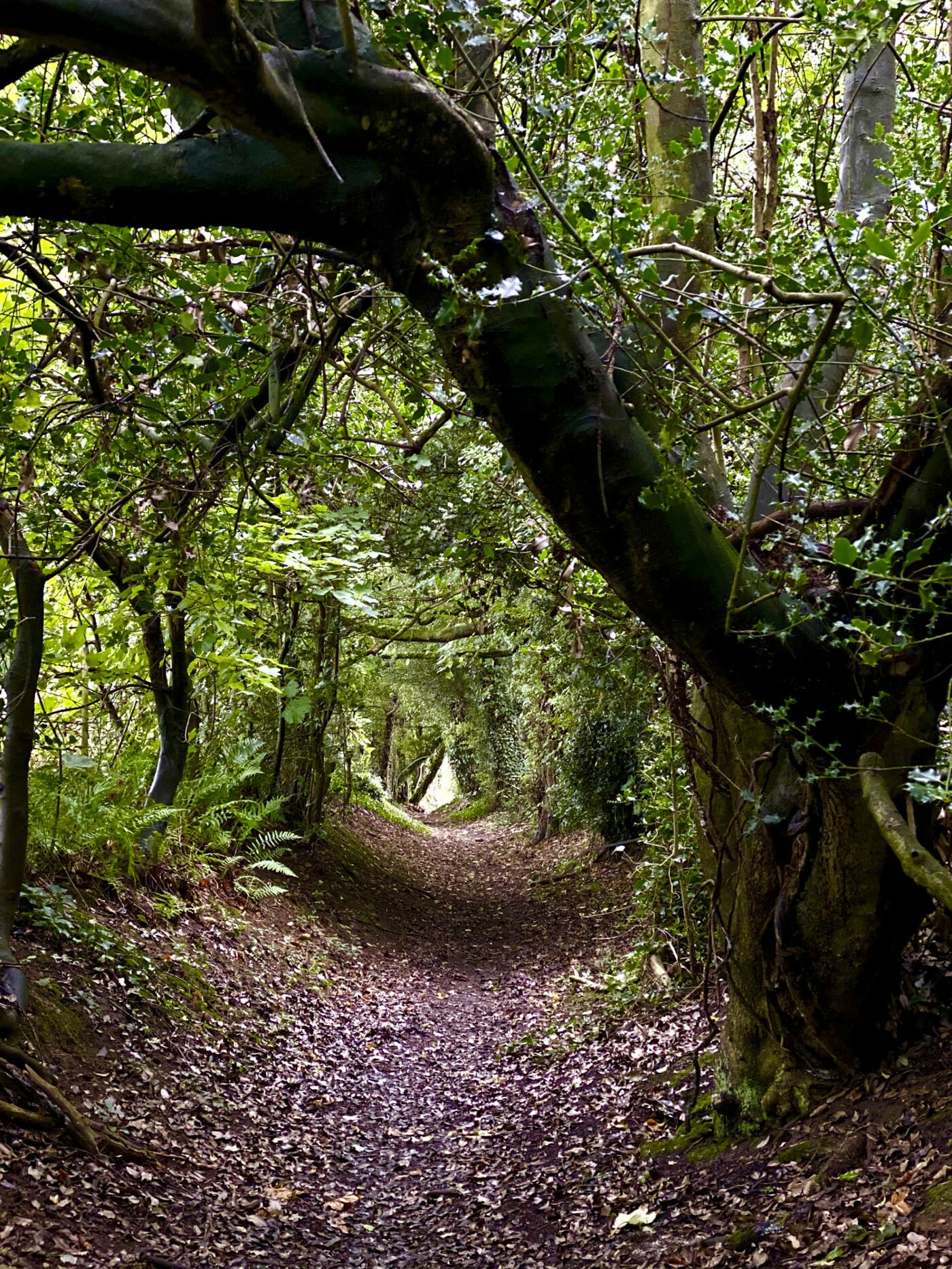 We take our daily walk.
There's a fine, misty drizzle in the air. We choose a different route up the deep-cut lane past the golf club. The lane bears a kind of history in its embankments which rise above our heads — stratified with the mulch of constant passage. It's bordered by beech and birch, holly and hawthorn. The mizzle infuses the day until I spot a safe haven, a place free from rain beneath a hawthorn.
I love these patches of dry earth dotted below the hanging hedge; a place that's impenetrable to rain; a place that affords a pause from the wetness of the day.
On sunny days, I don't notice this rutted floor, but today I take on its distinction: the gravelly dryness beneath my feet, its edges bleeding out into the wetness - from a sandy amber hue to a glistening slate-grey mass.
I remove my hood and feel free. I can see the day but am not impacted by its vagaries. I'm safe behind the drip-zone that determines the outer edge: a shape-shifting wall that outlines the bubble I exist within.
Hotspots
St. Nicholas, Lower Oddington, Gloucestershire.
They say that the exterior of St. Nicholas in Lower Oddington is nothing to shout about, that the tower is plain.
Well, I disagree. The tower speaks its truth - built in the C13th on possibly a C12th chancel.
It tells me that it spies the village beyond, and that it sings. When it rains it spouts it to the ground through mythical beasts. Its walls hide a lichenous biota. It's quoins tell me of its standing and its battlements of the builders frippery.
It's a gnomon to nothing but the skimming of the light.
Here is the official church listing.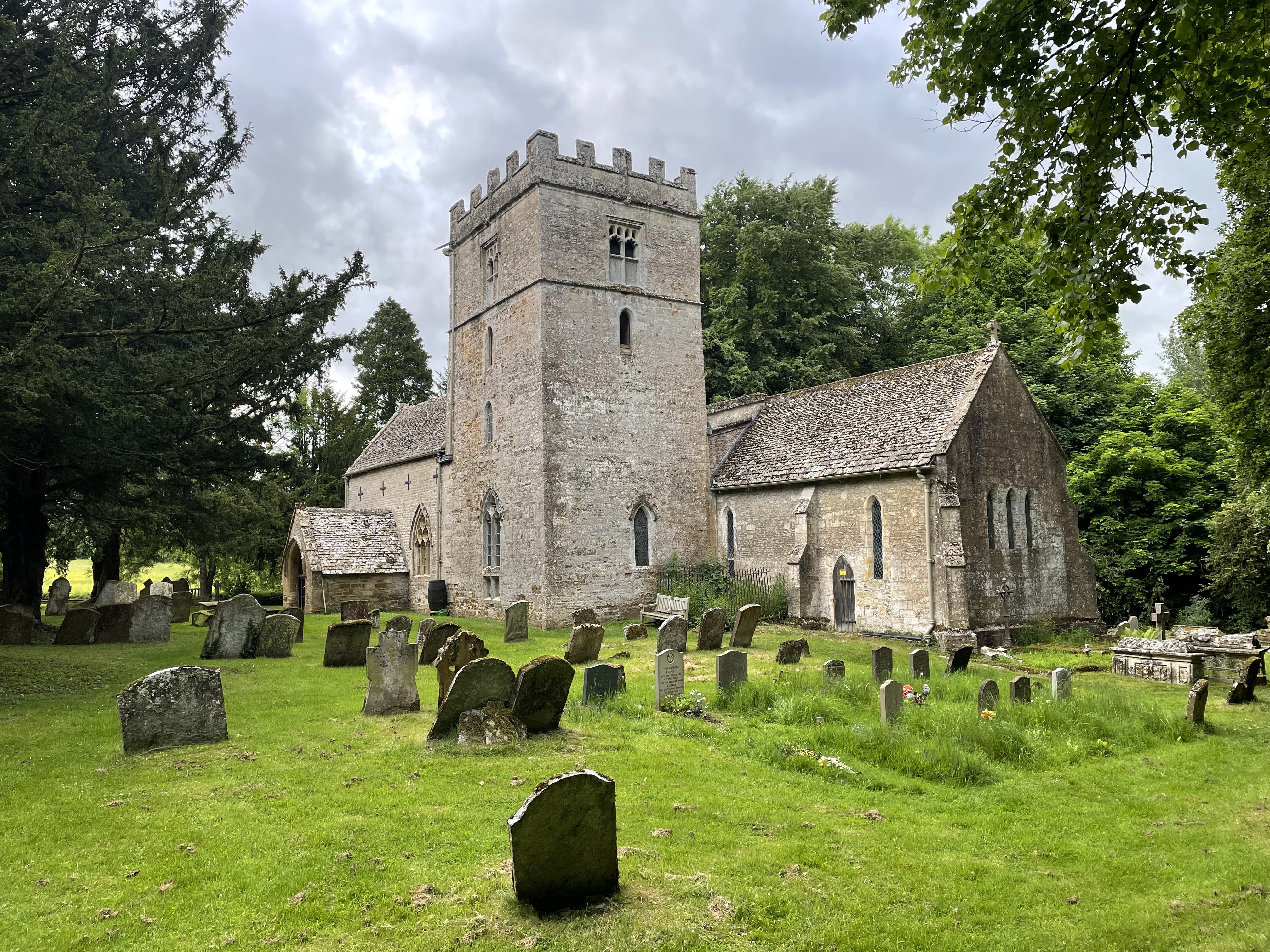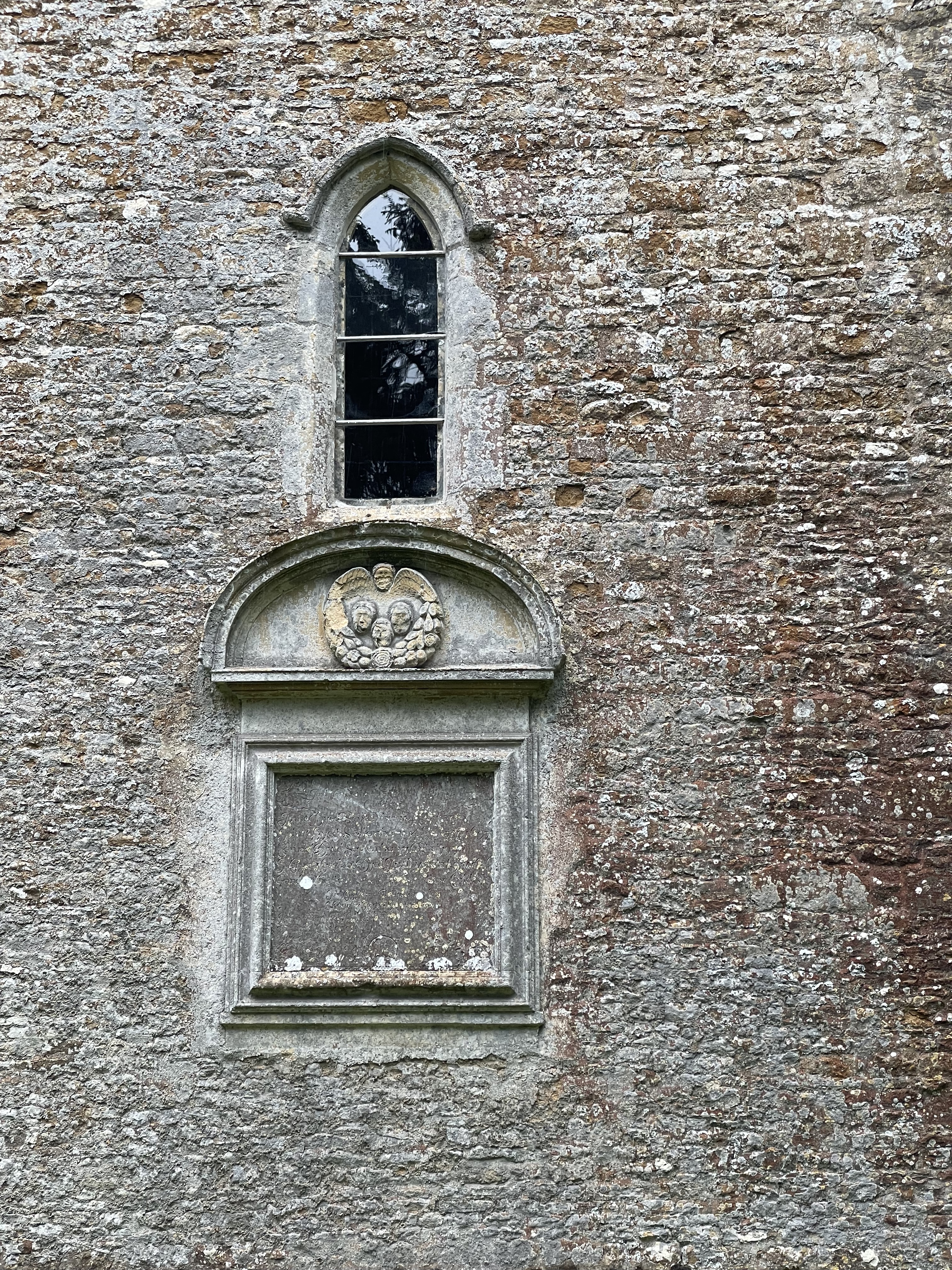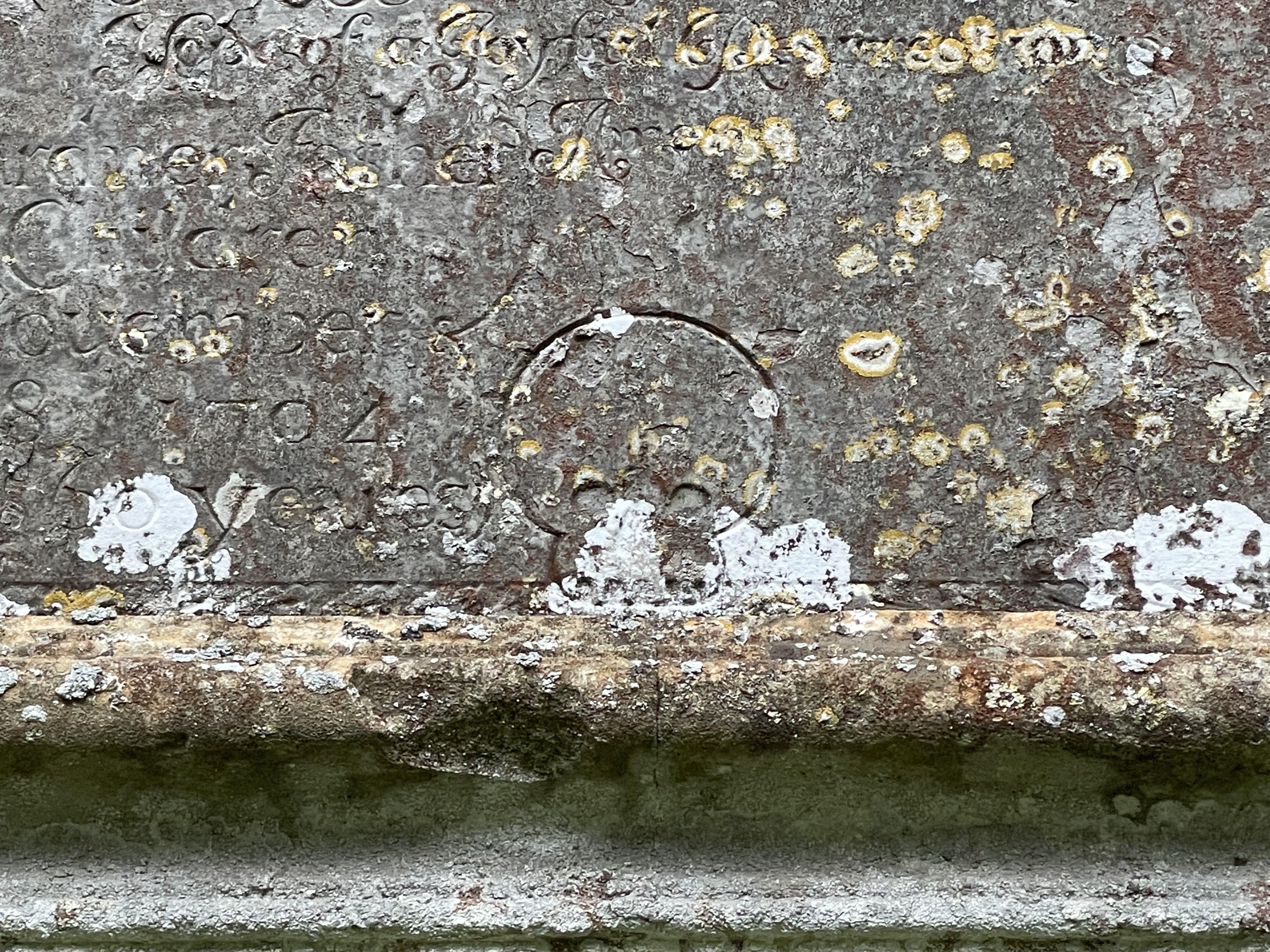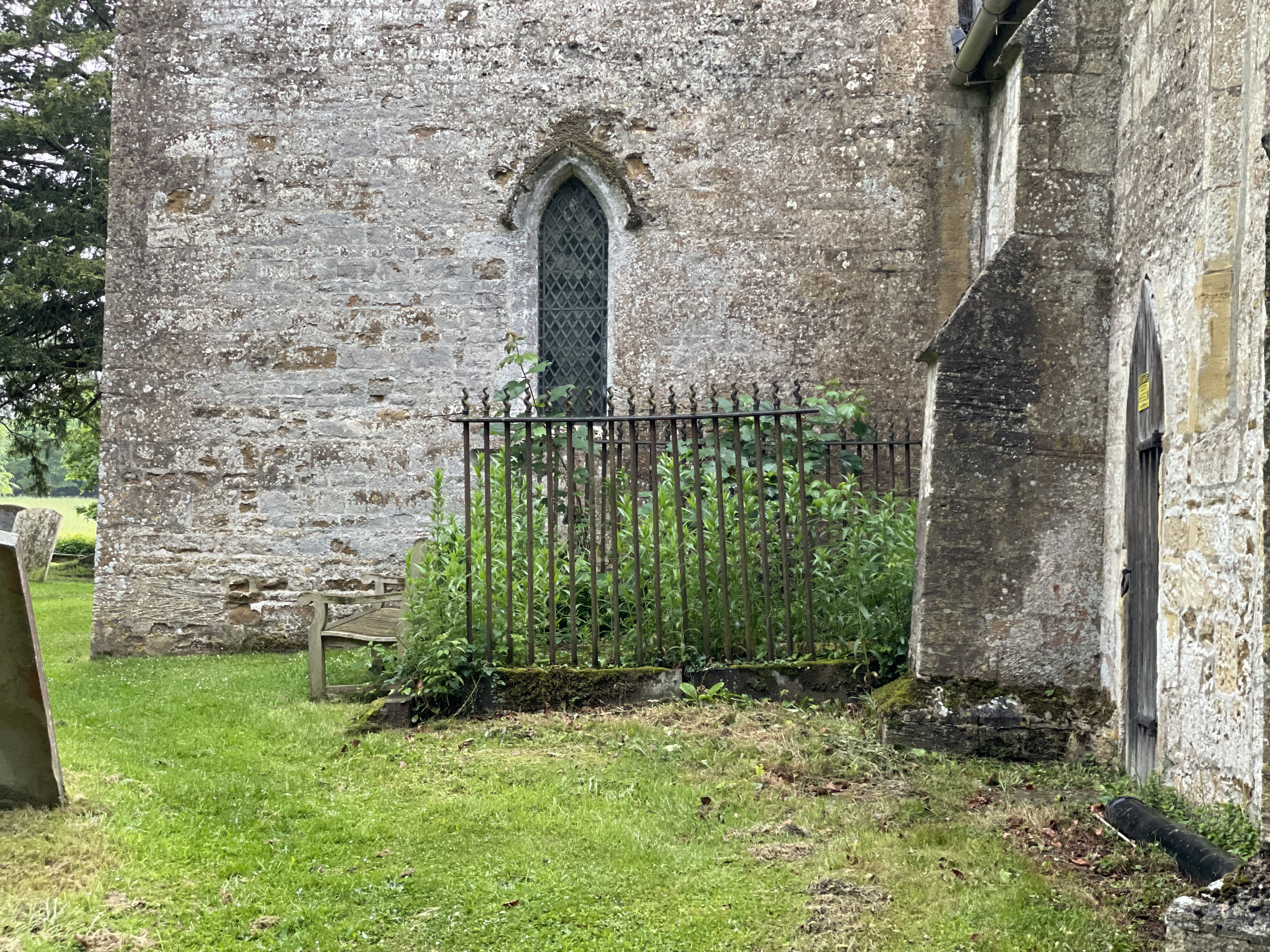 Did you know that you can often date a church by the style of window tracery? This window at Oddington, is a lovely example of the Decorated style (reticulated tracery) of the C14th.
⚡️ Discover More: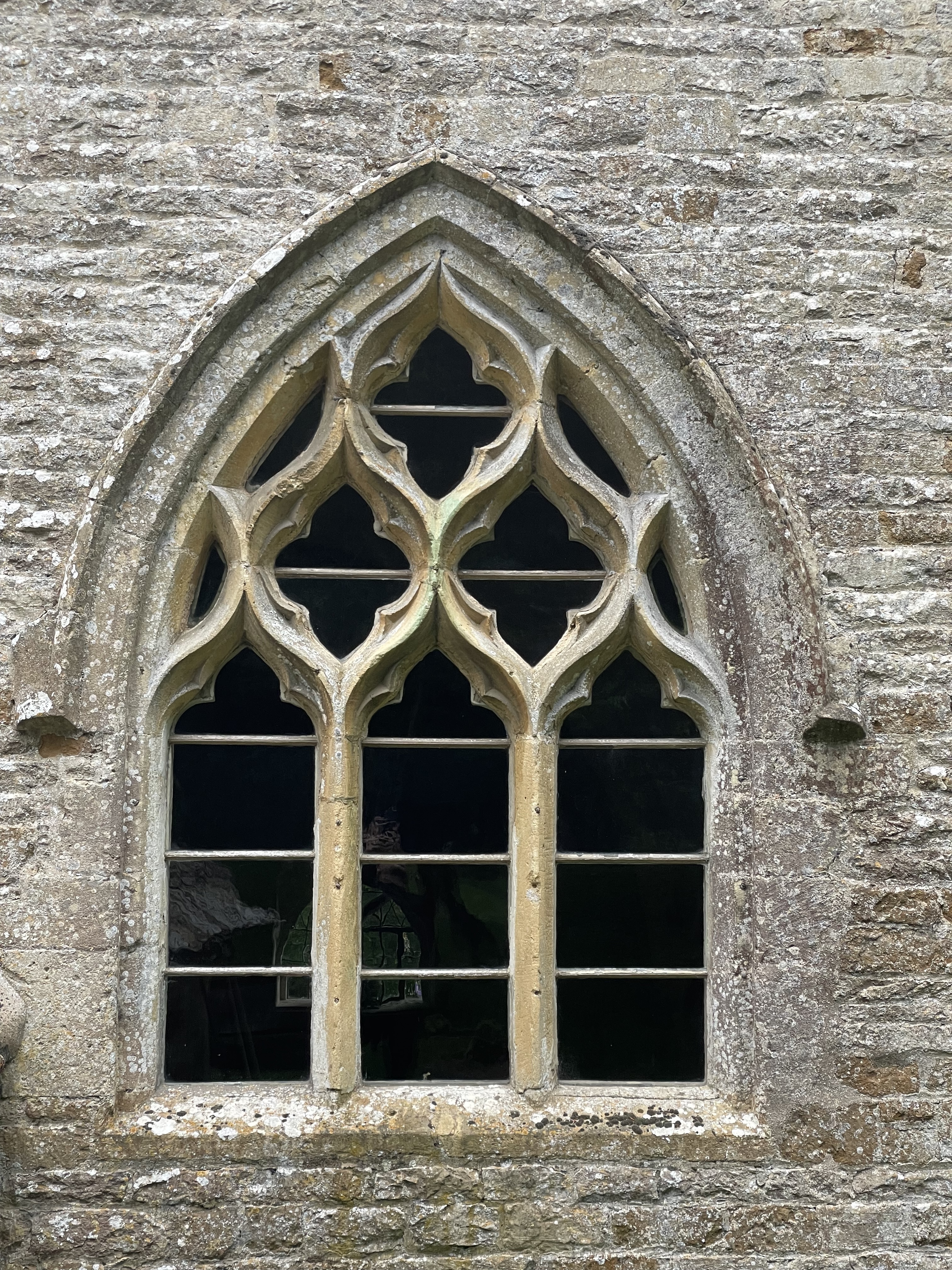 I think, though, that I might prefer this little window - filled in with a metal casement window that has rusted with age.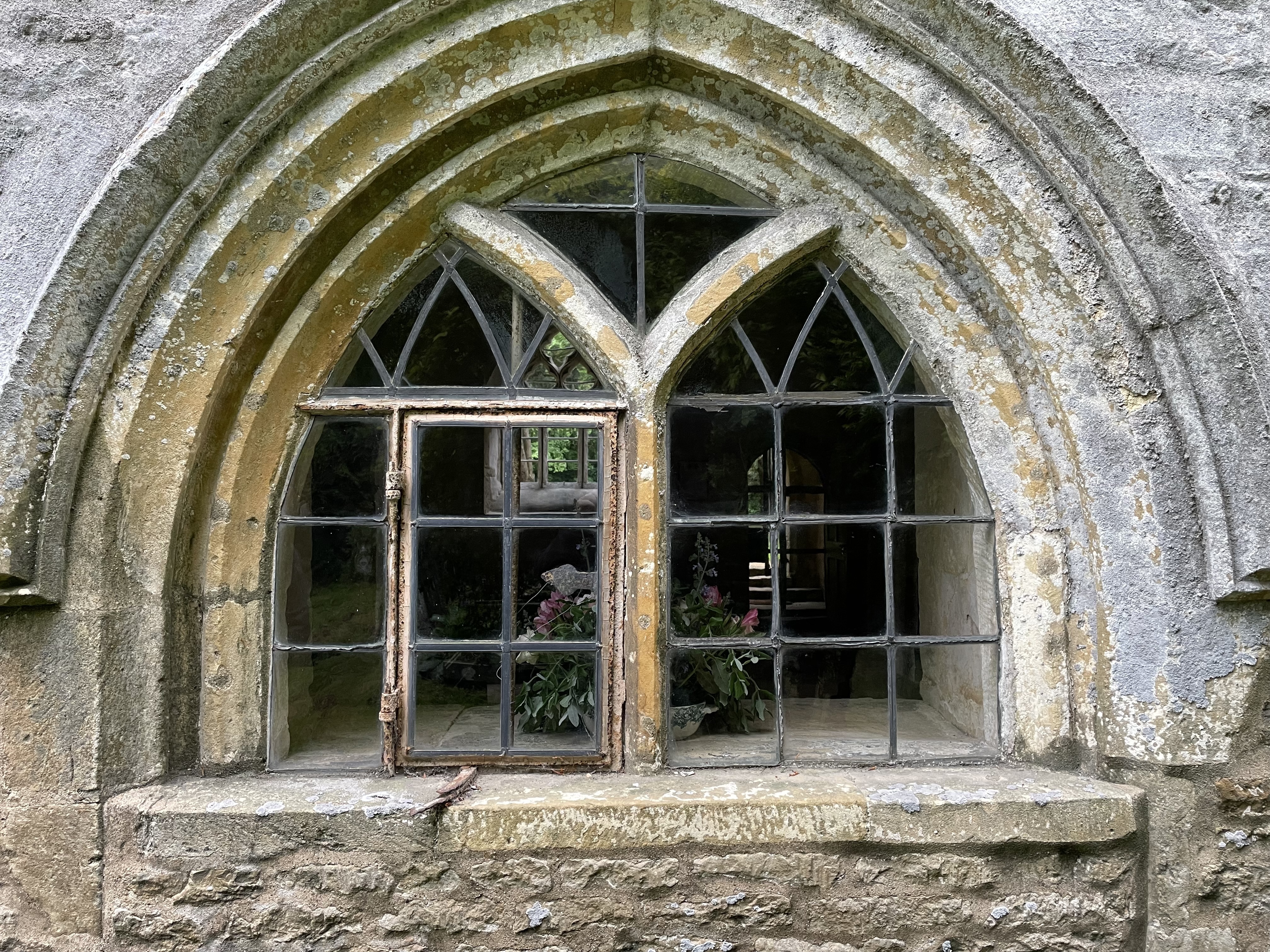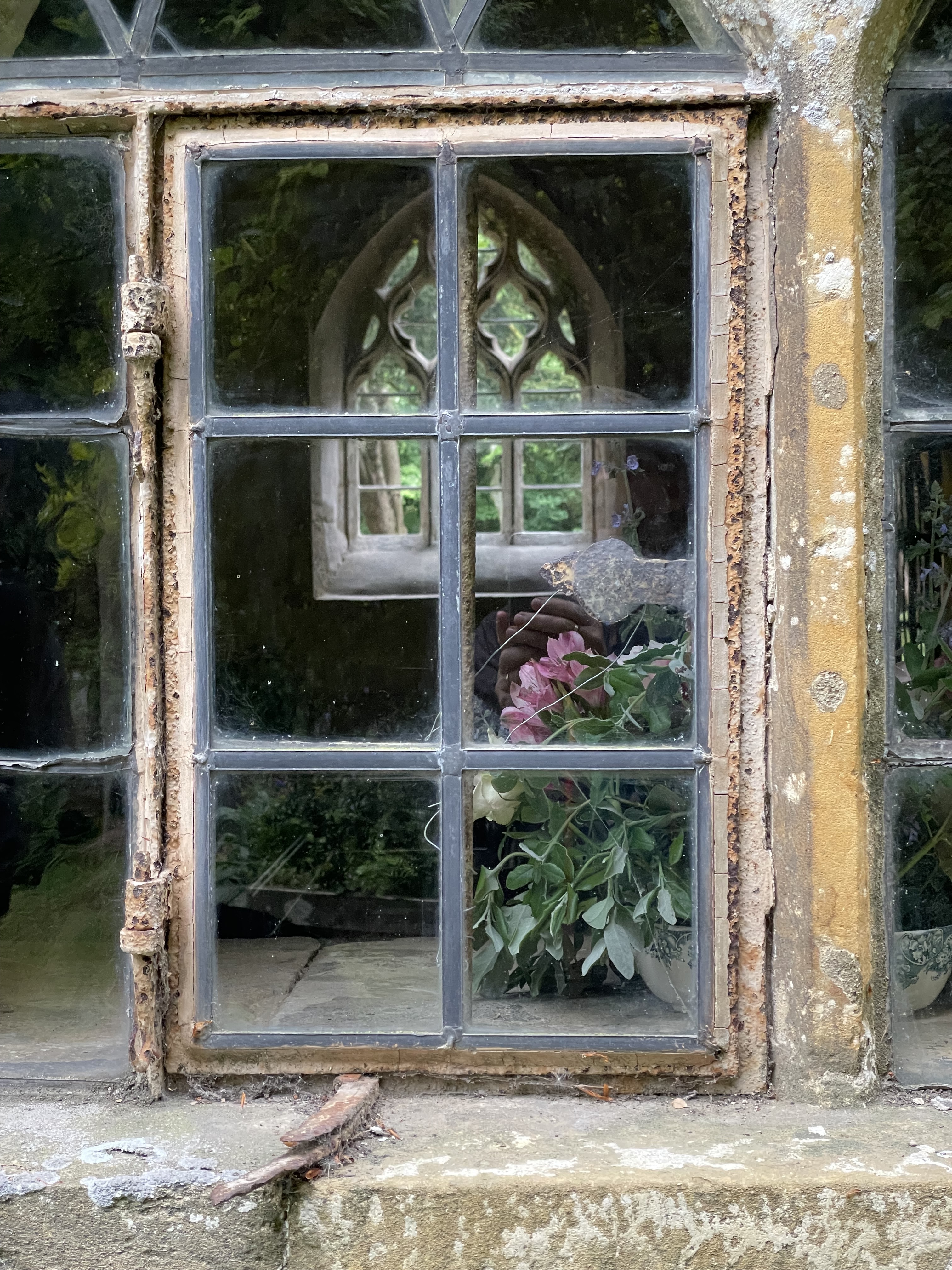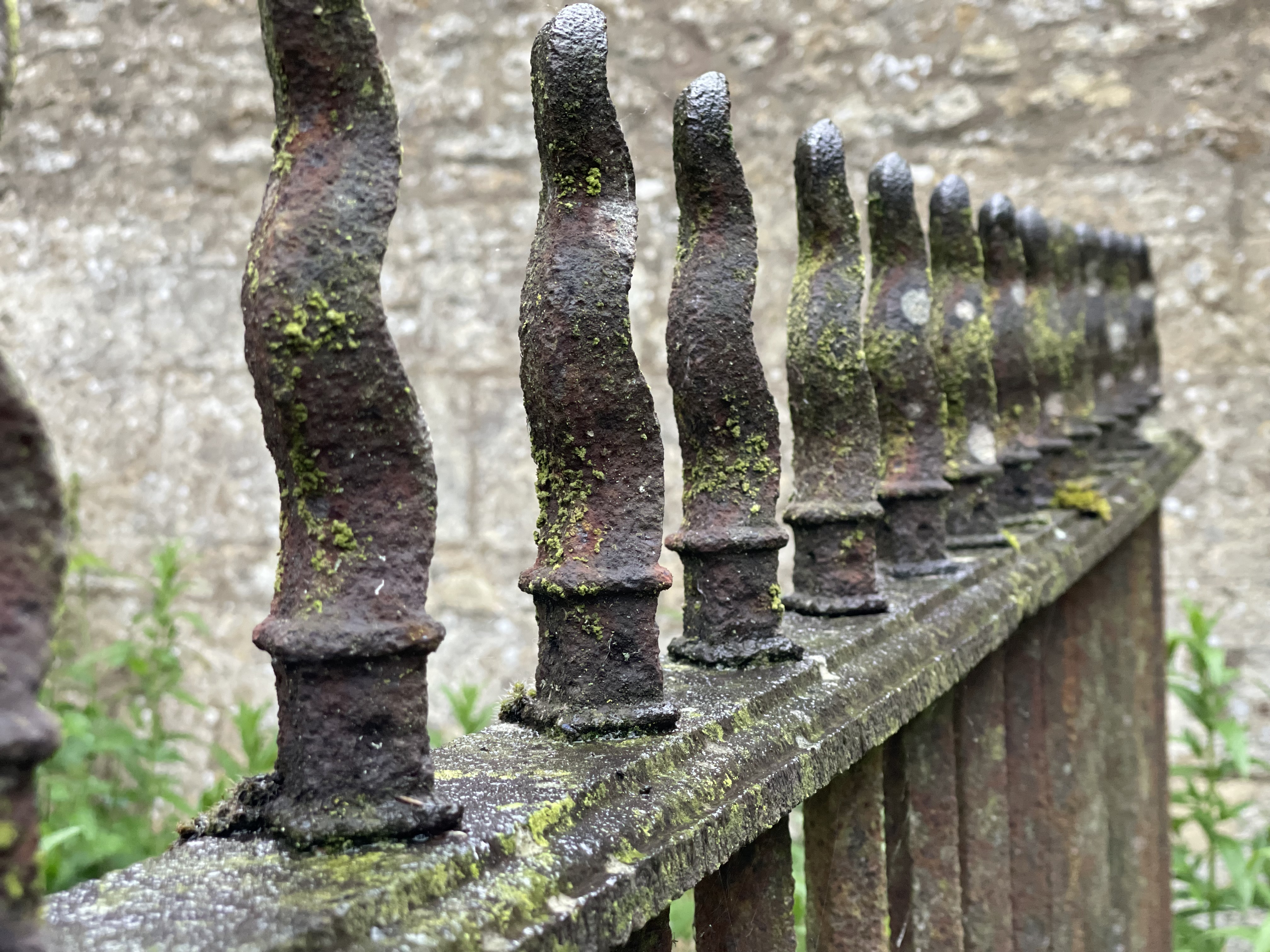 So unusual to see an effigy like this outside in a churchyard.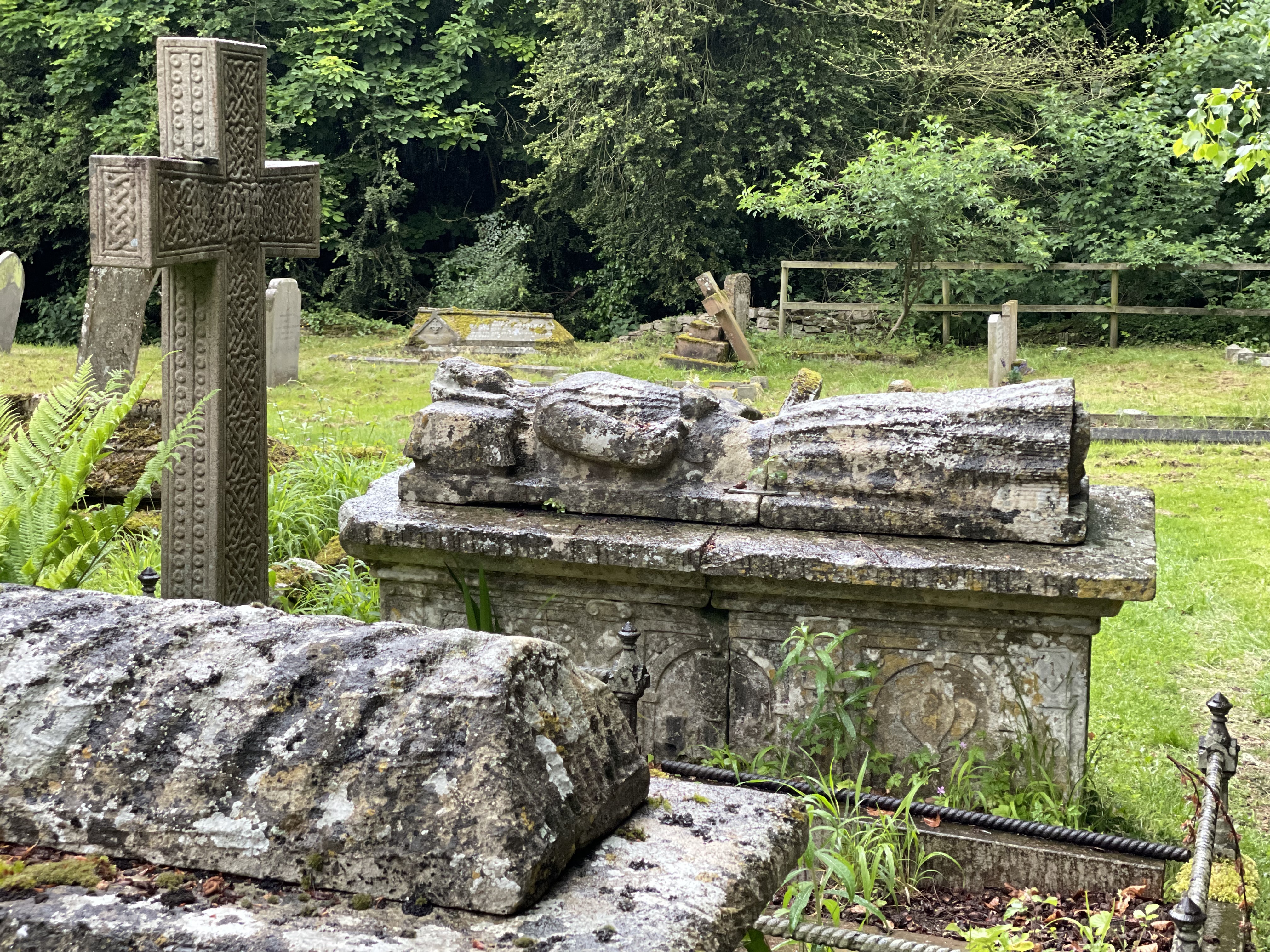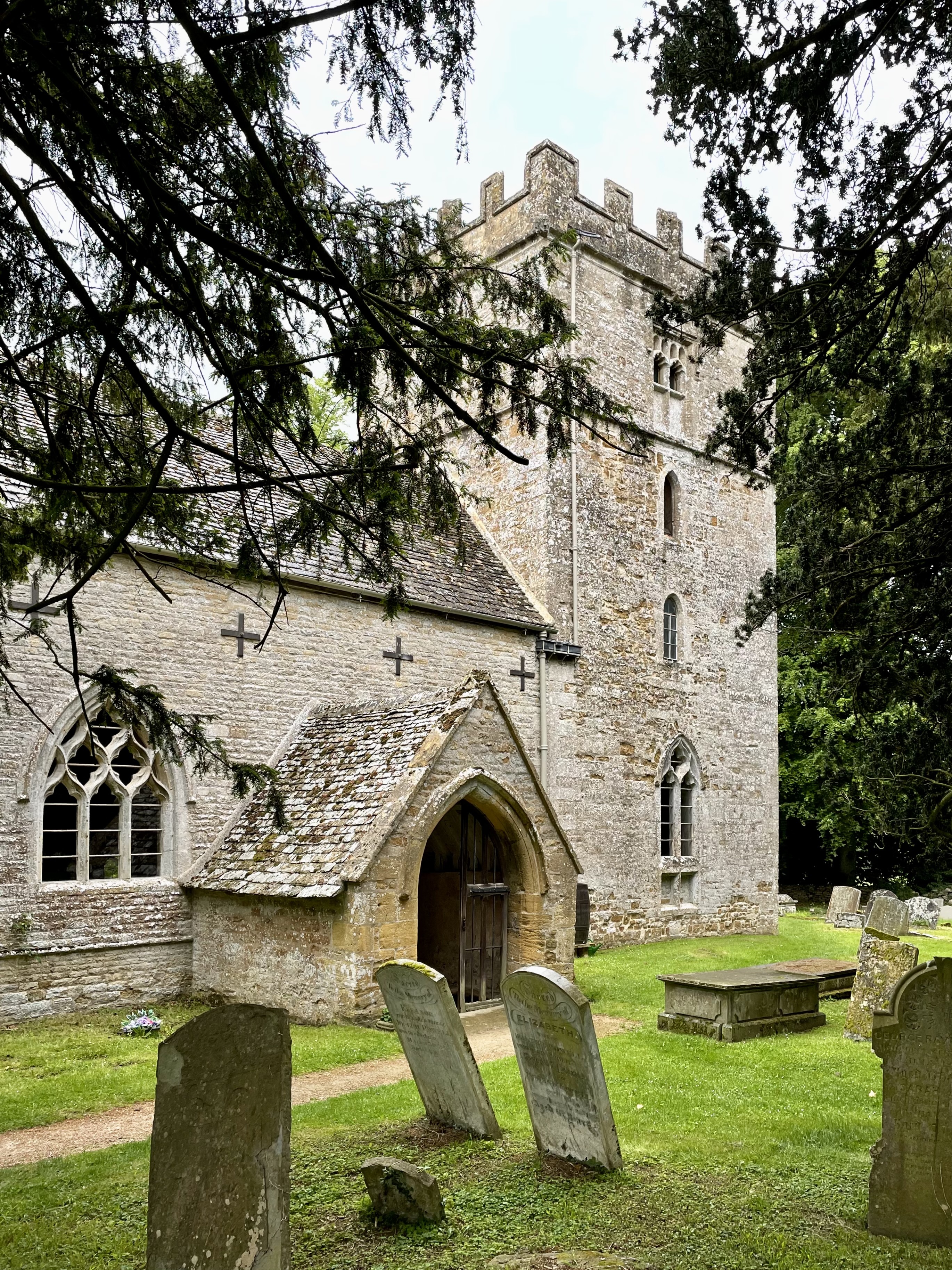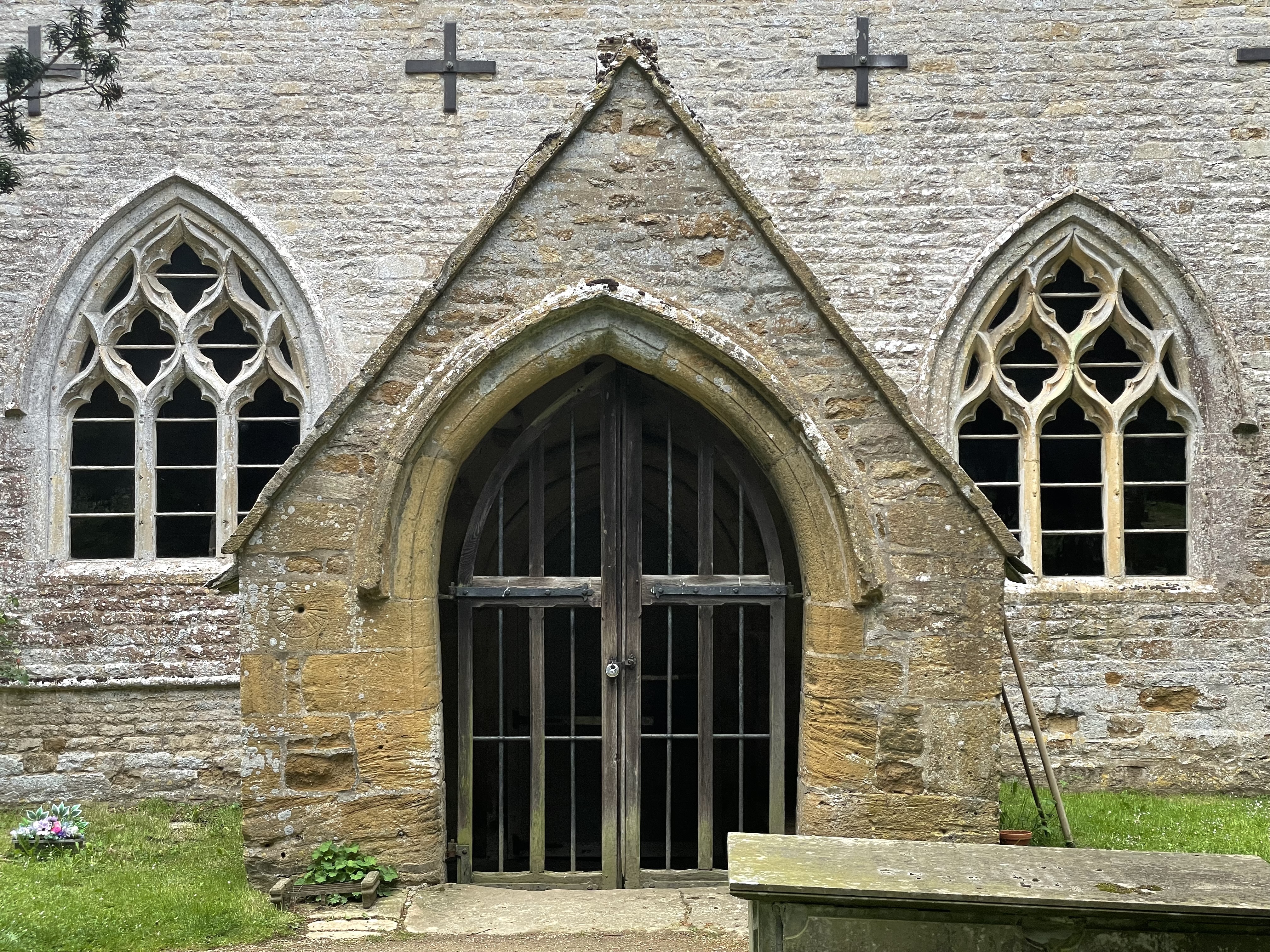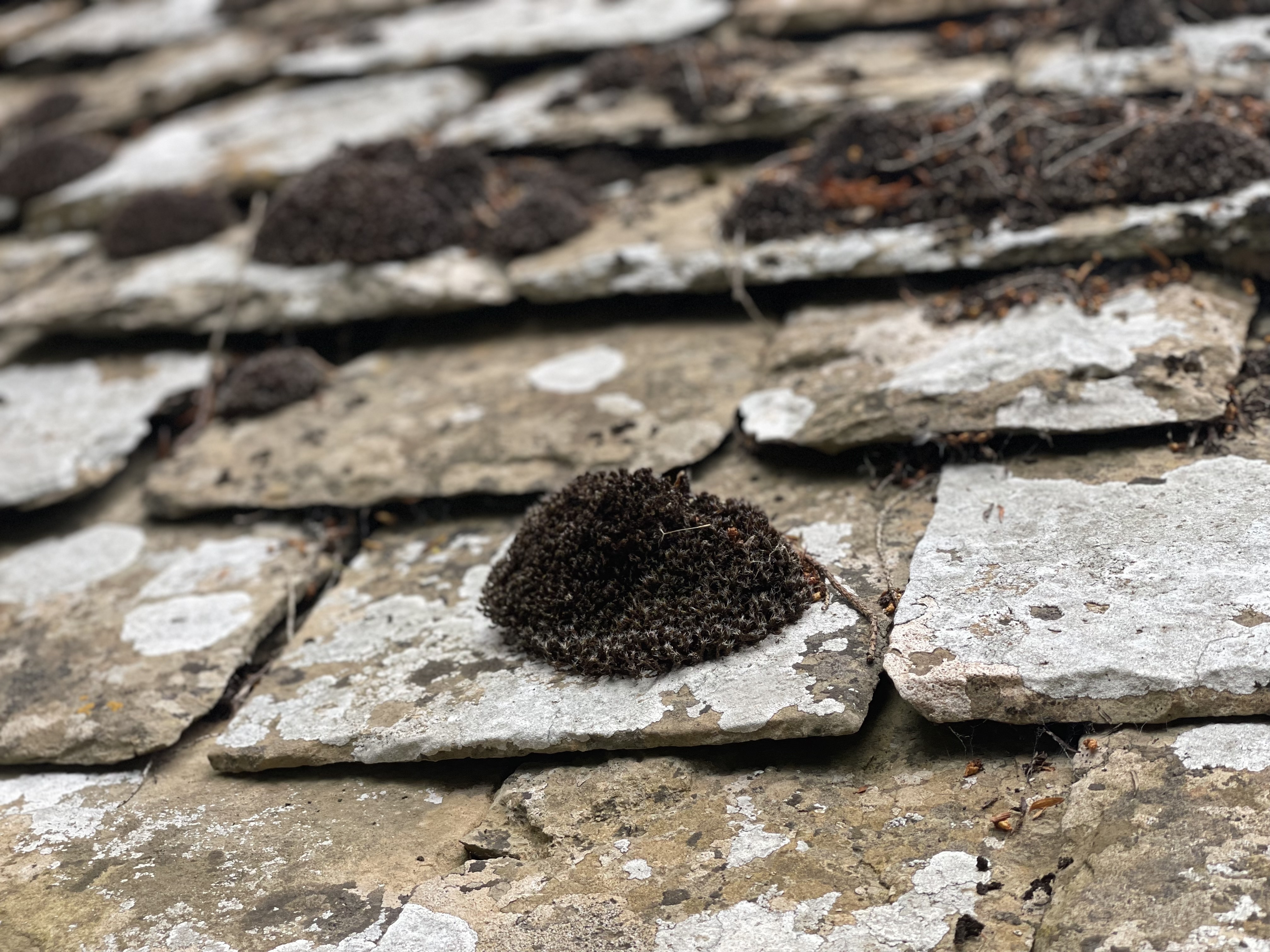 Mass or scratch dials (see the second one lower right). Thought to help measure the canonical hours with the use of a gnomon (stick) placed into the centre of the circle. There's much debate as to the use, though - why does the circle have markings above the shadow line - top segment? The sun's shadow would never be cast along these lines.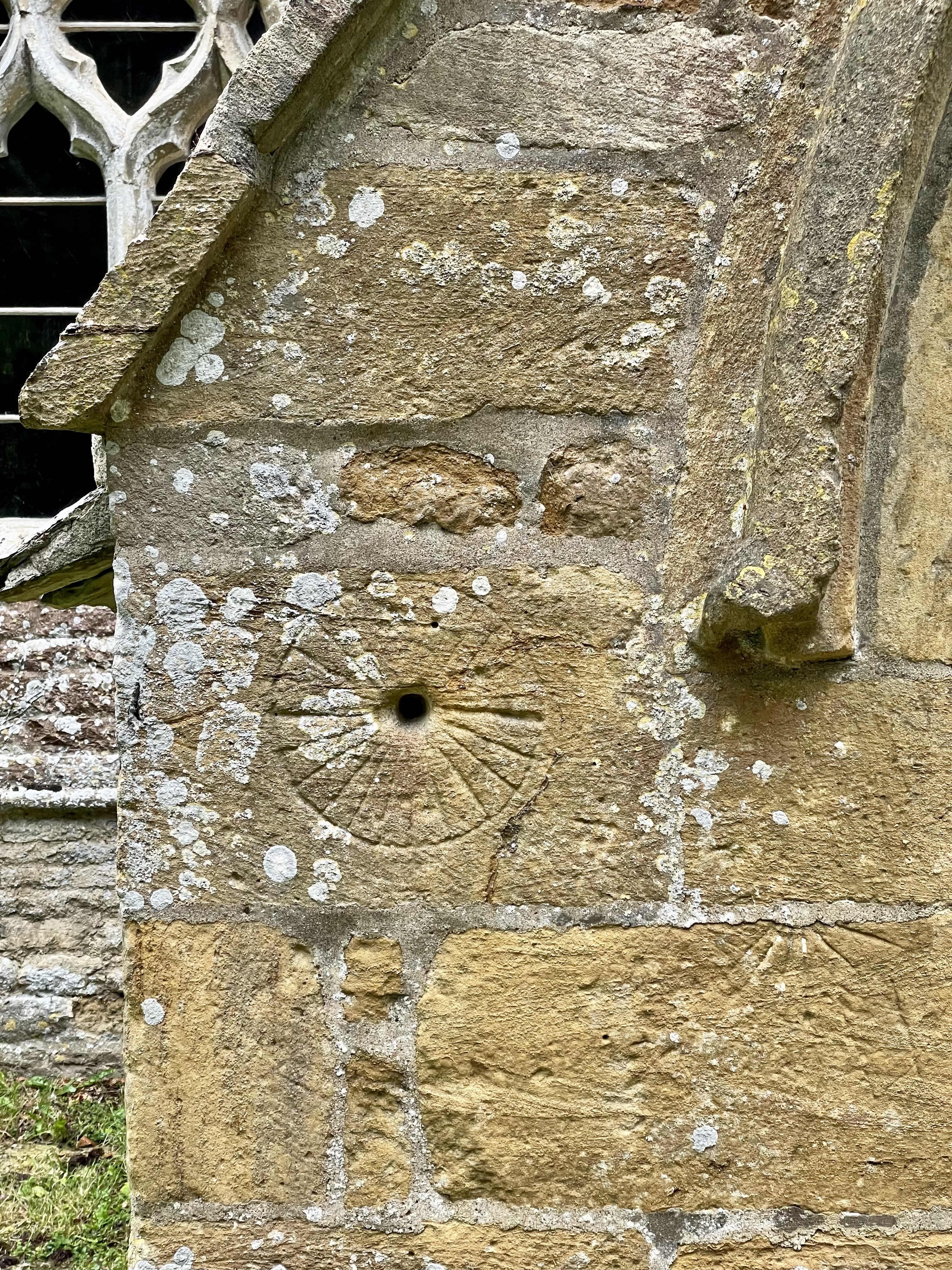 Faint outline of a hexafoil on the inside of the porch.
⚡️ Discover More: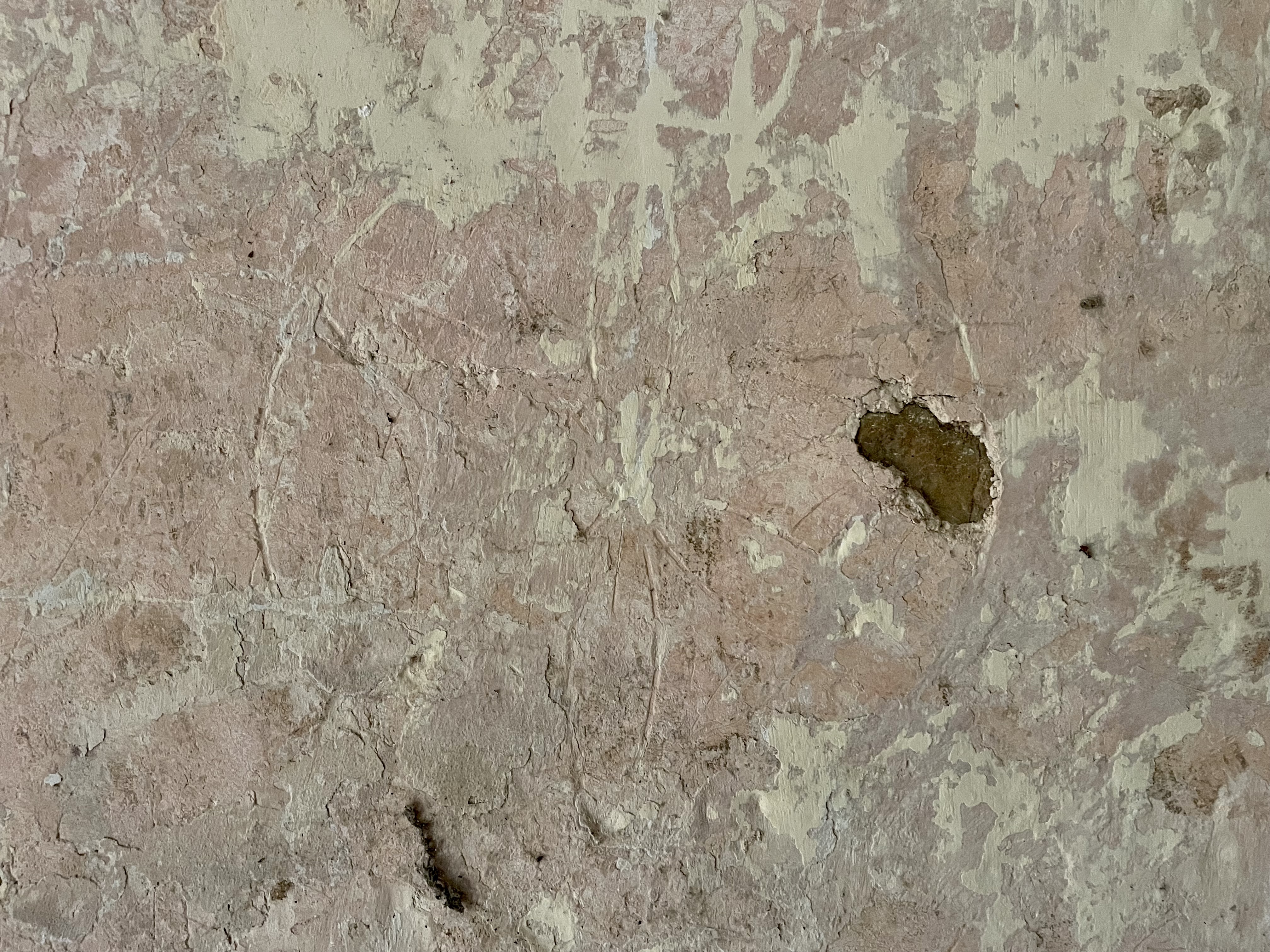 Evil warding marks and symbols can be found all around openings - including on door hinges and door furniture - especially latches which usually bear the saltire cross.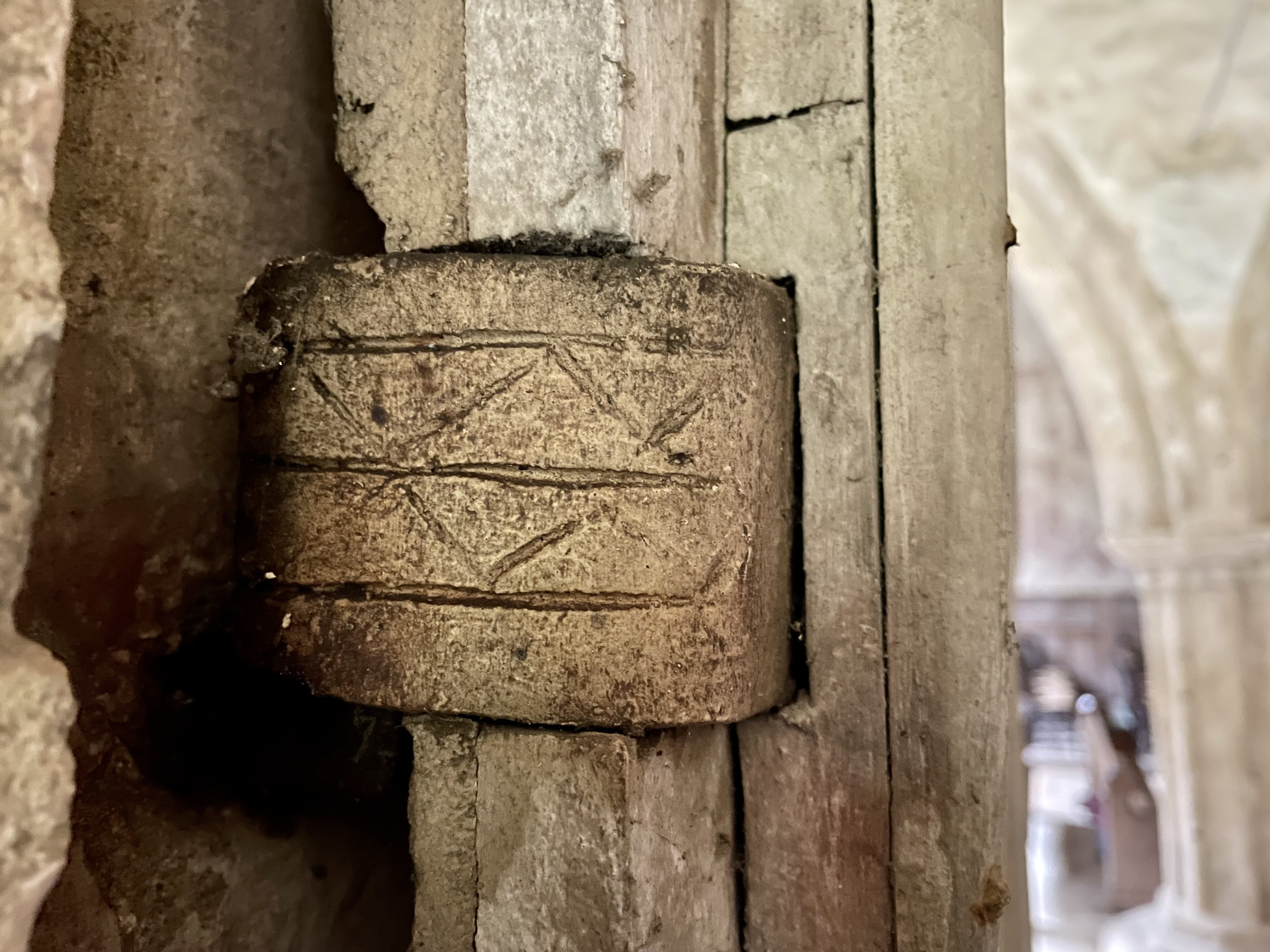 C12th stiff leaf capitals to porch door arch.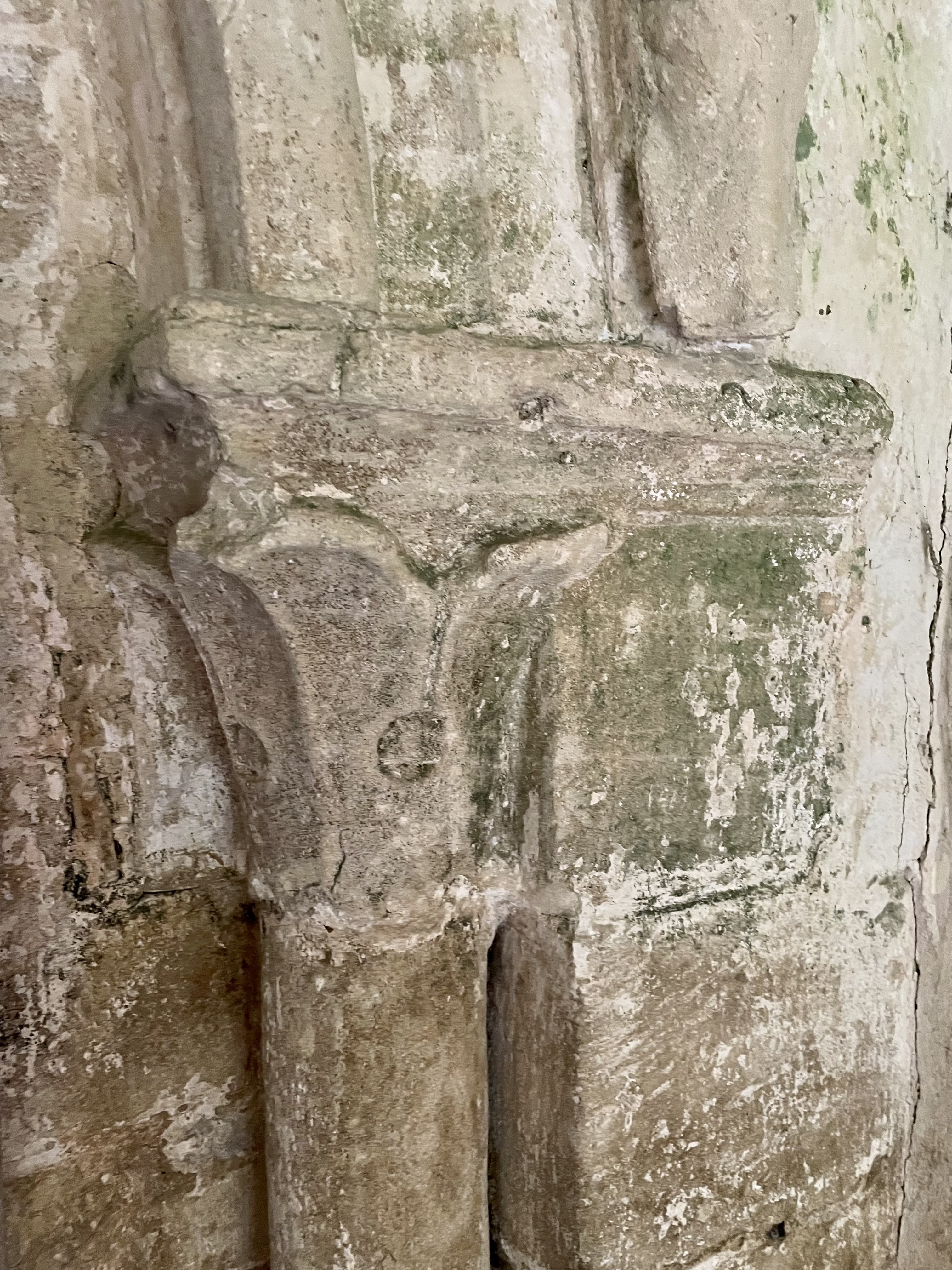 C12th beast heads to hood mould of door arch. Remind me of the Saxon ones at Deerhurst.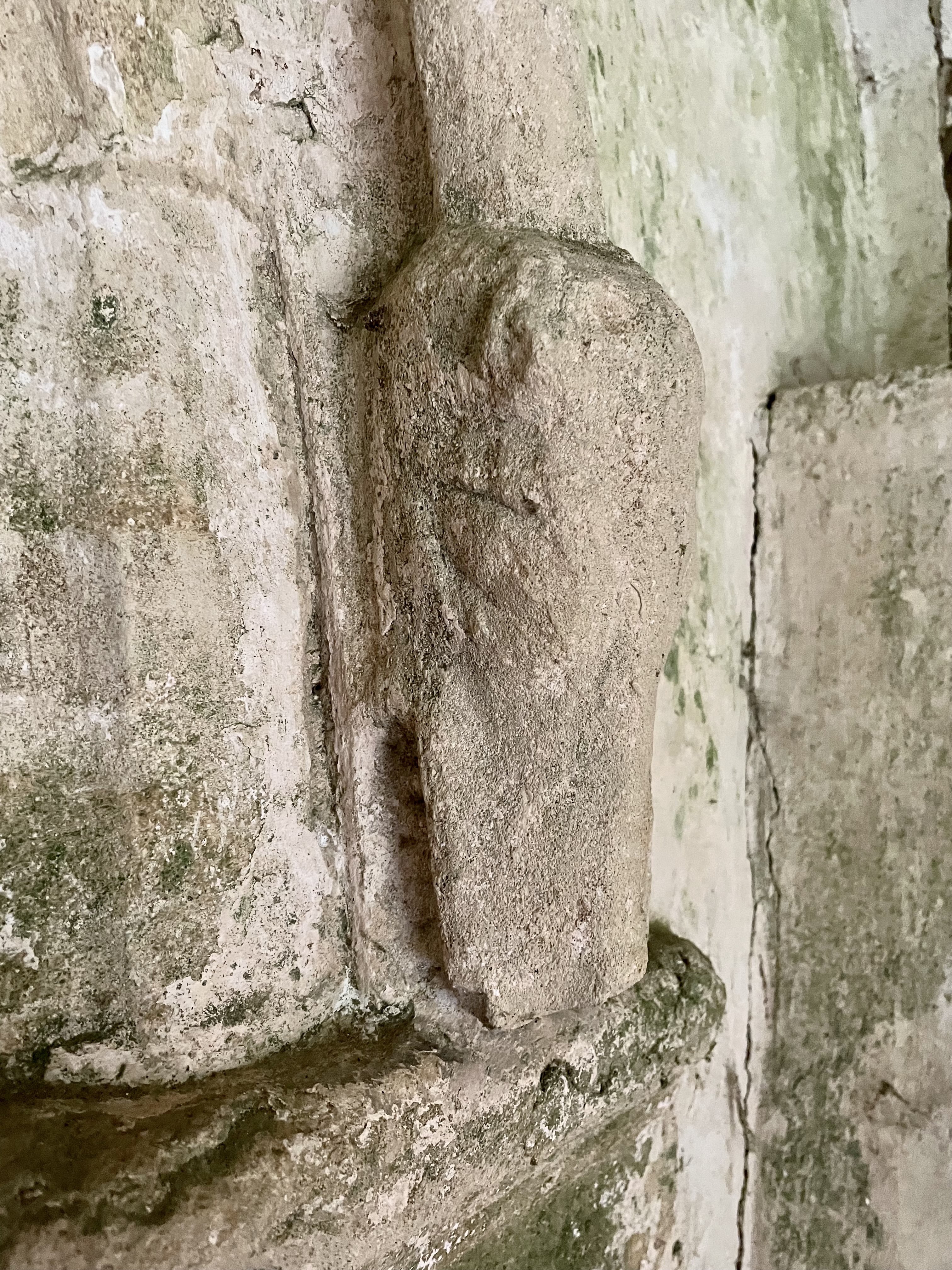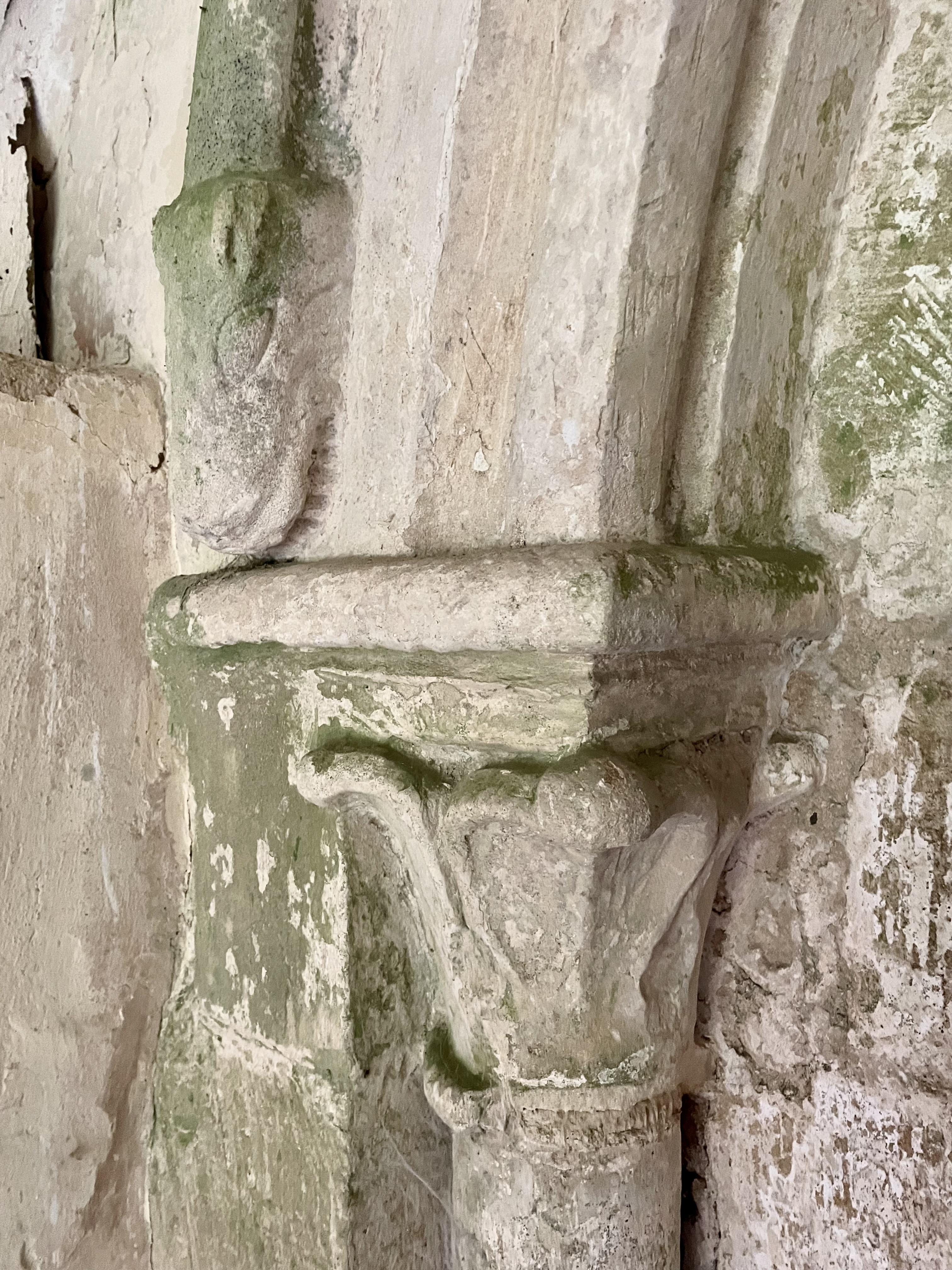 Deerhurst example. Look at how lively the Deerhurst beast head is. Both examples are from different visual cultures. I love the dynamic abstract lines that almost bring it to life.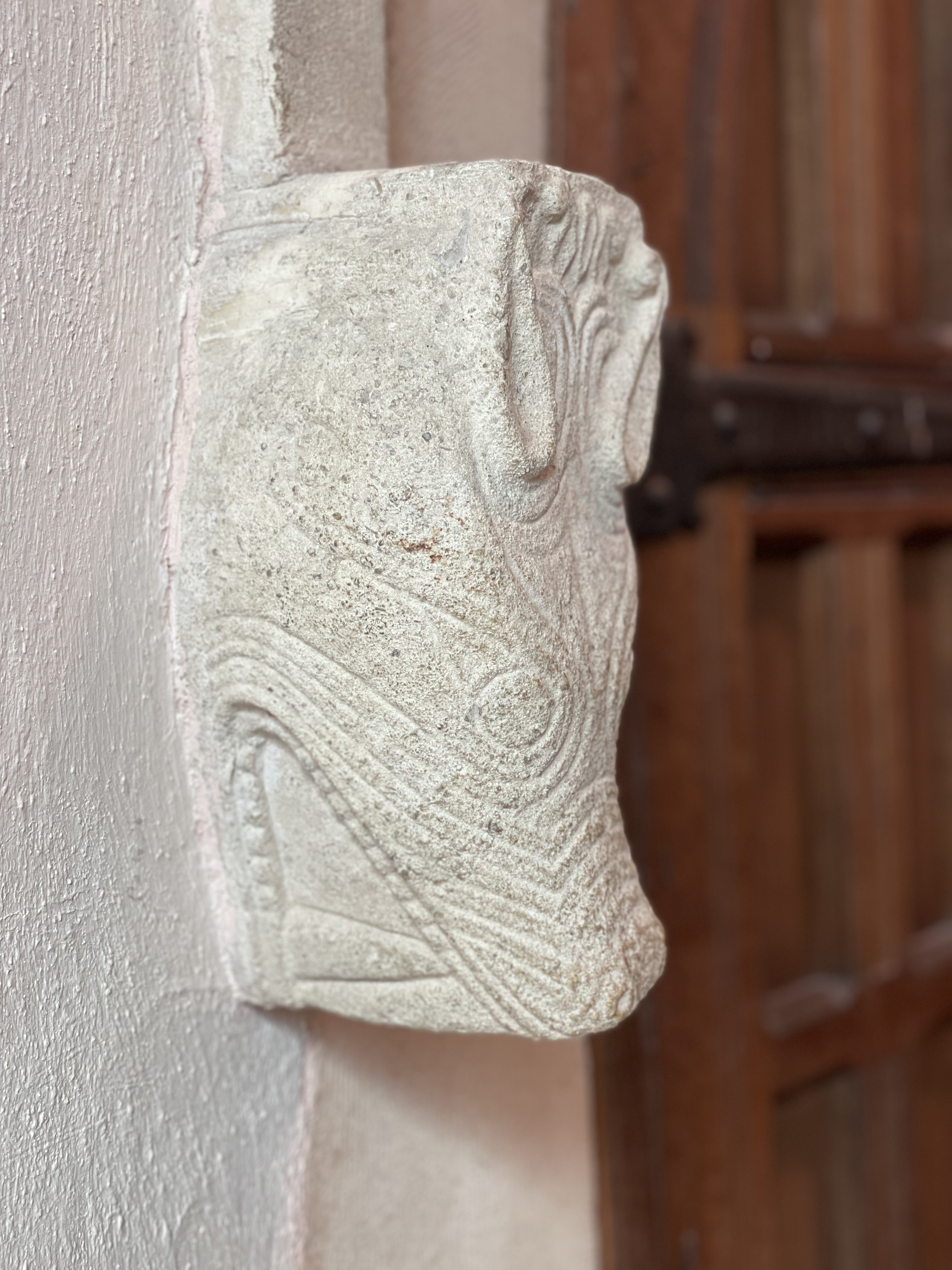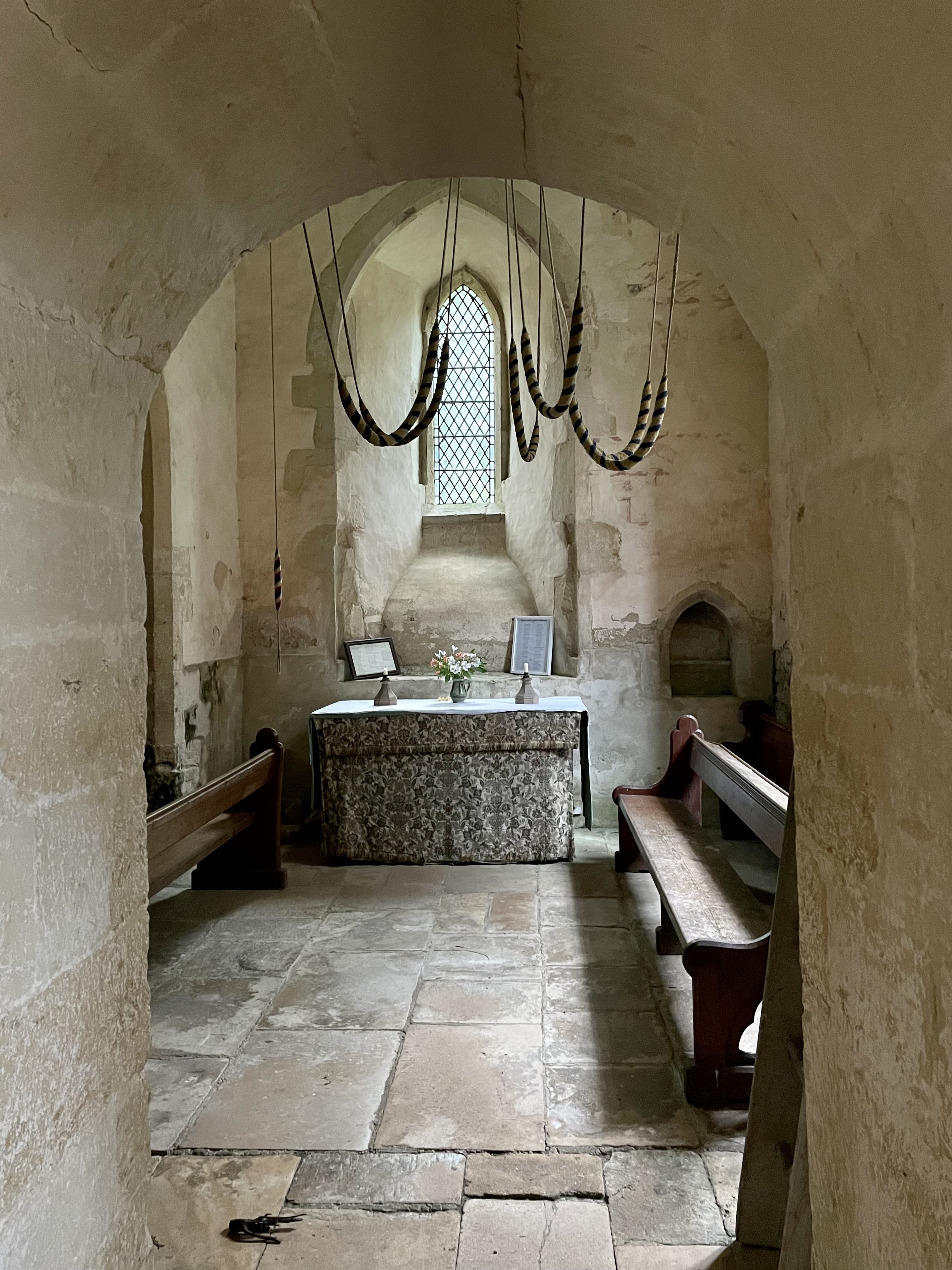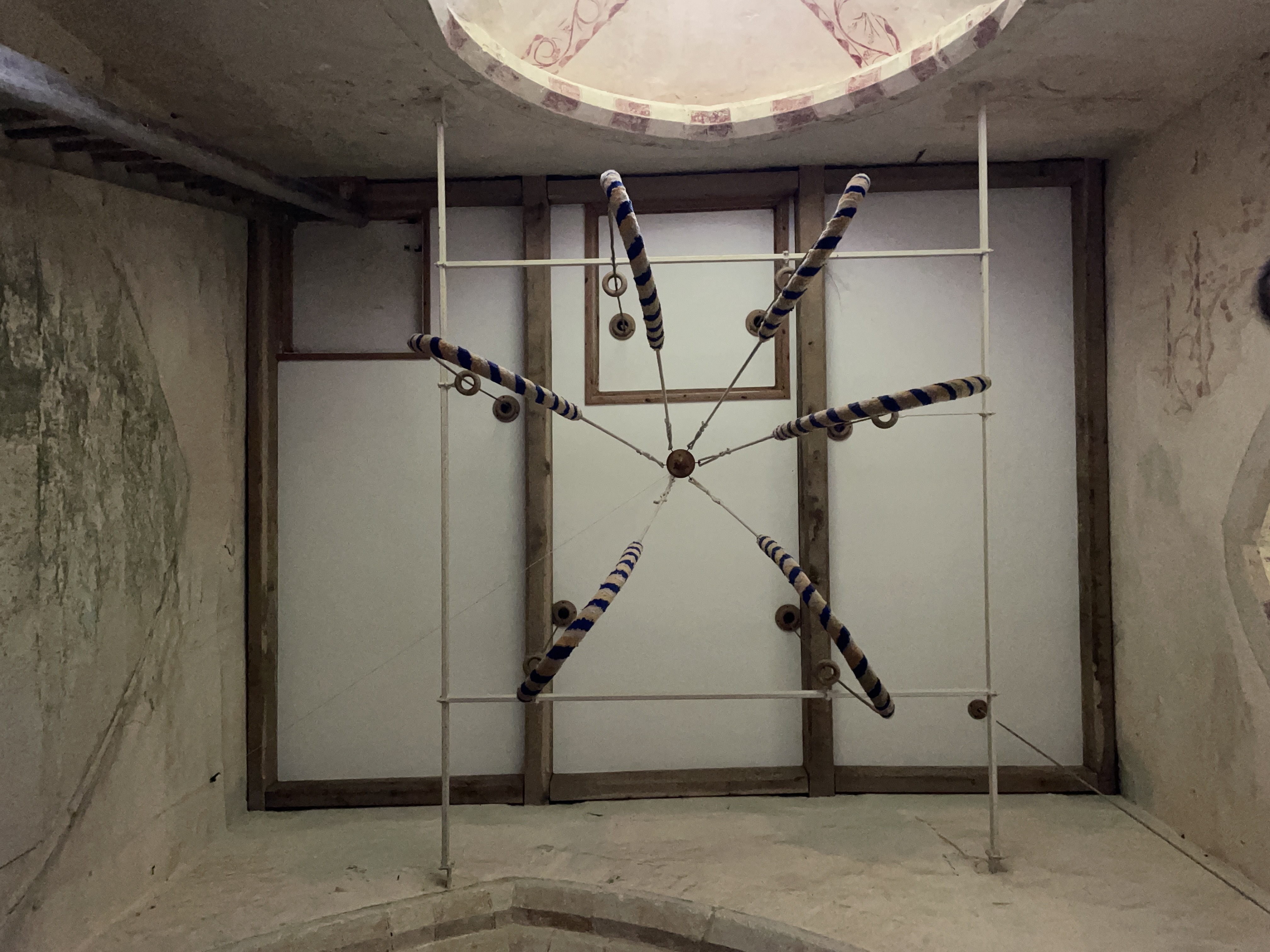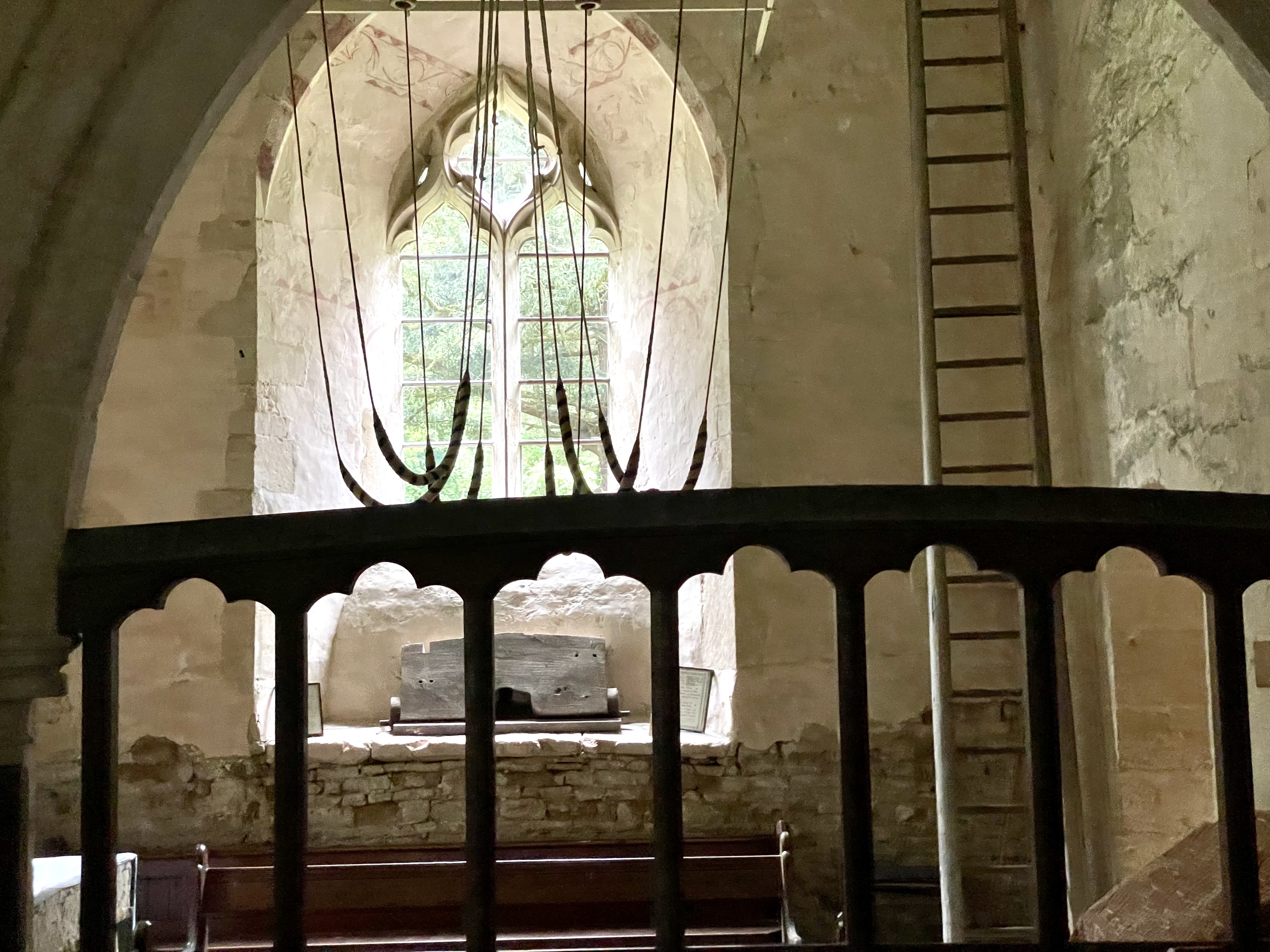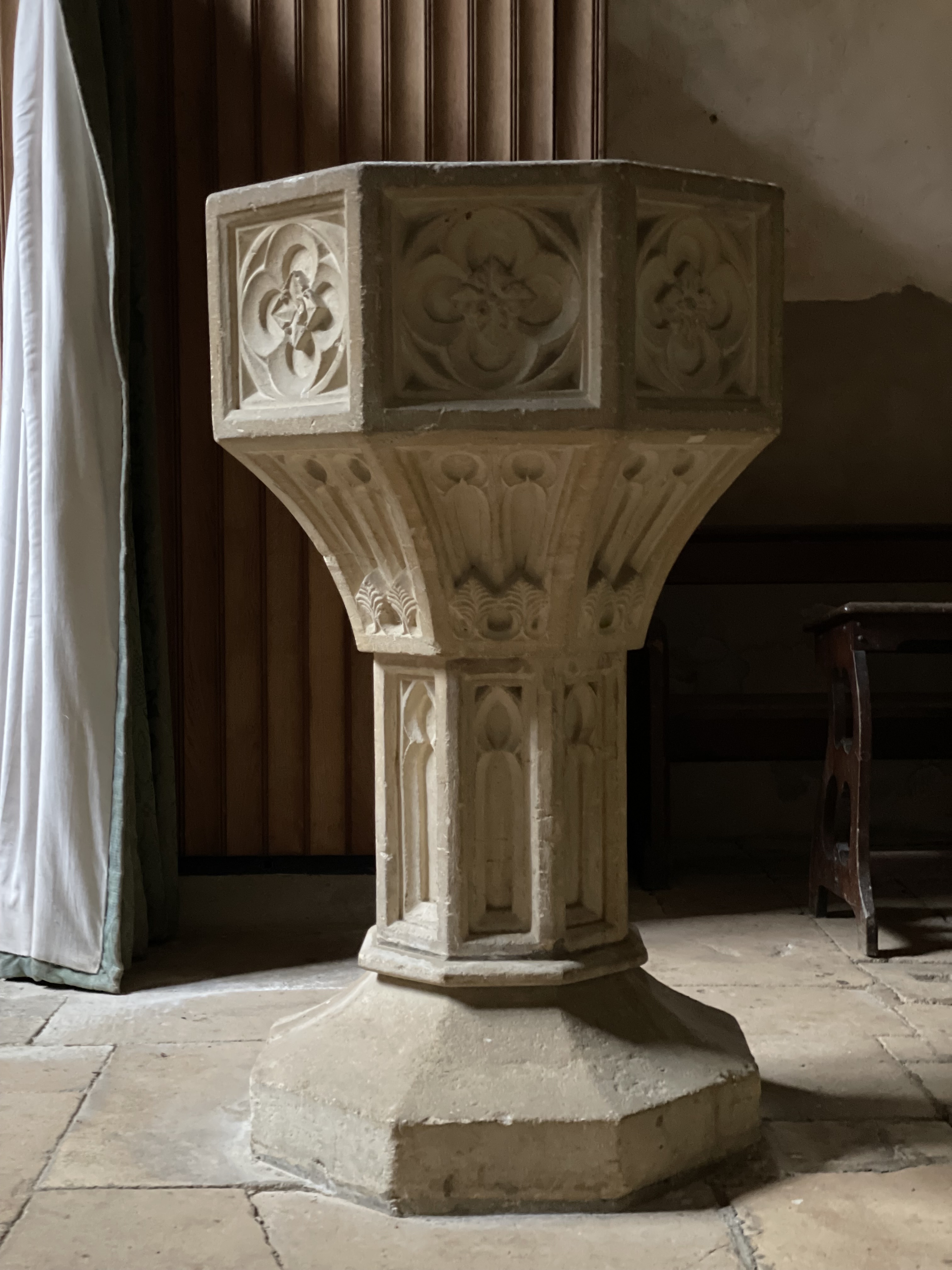 This is my type of nave - walls like tattooed skin. The church is full of atmosphere - like walking back in time. The royal arms of William IV has been painted over the arch. It is painted over a medieval painting.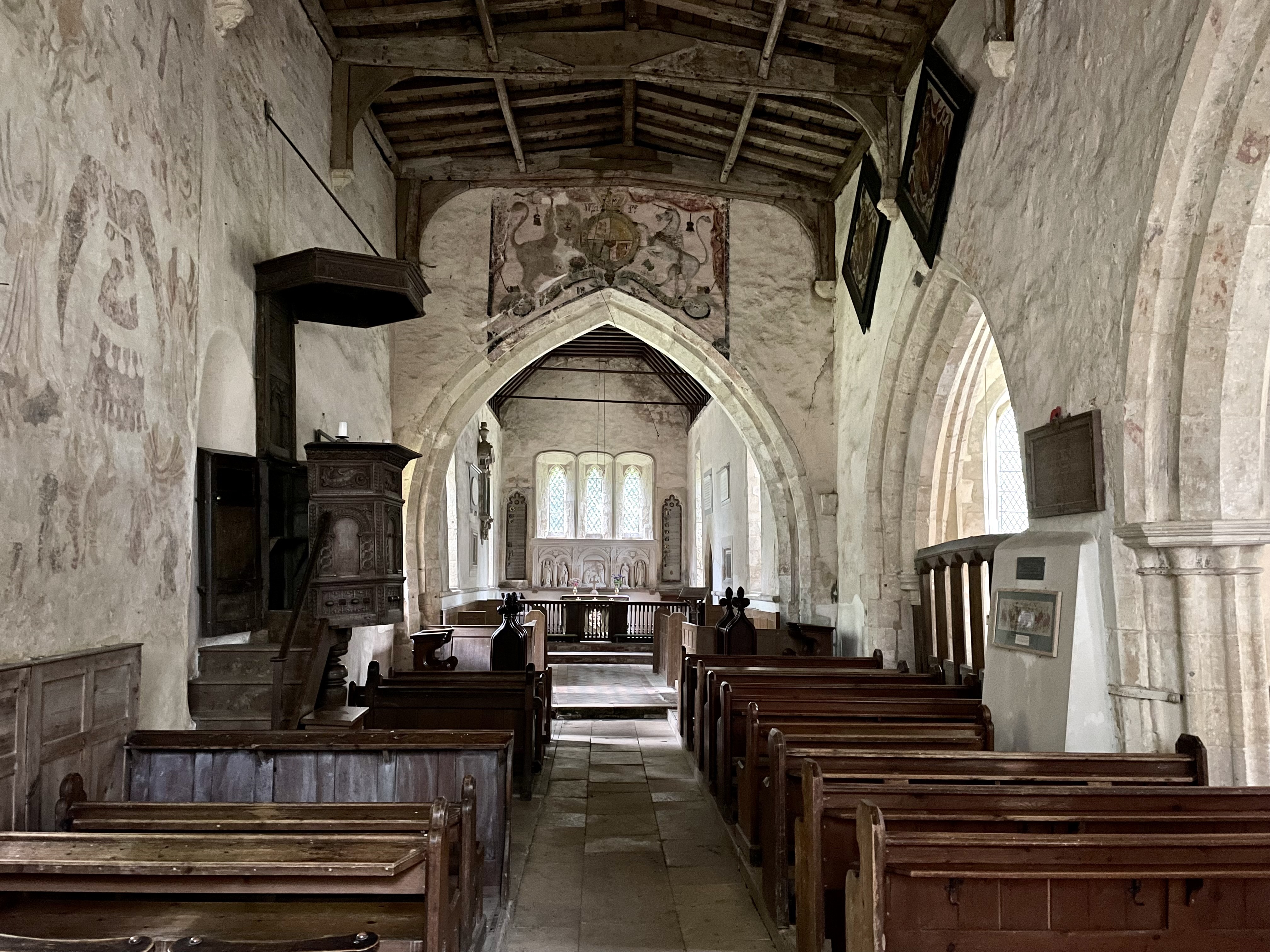 C17th carved oak pulpit. The form denotes its use. Struck tall like an exclamation mark with a sounding board set to bounce the sacred words of the vicar into the ears of the congregation during service.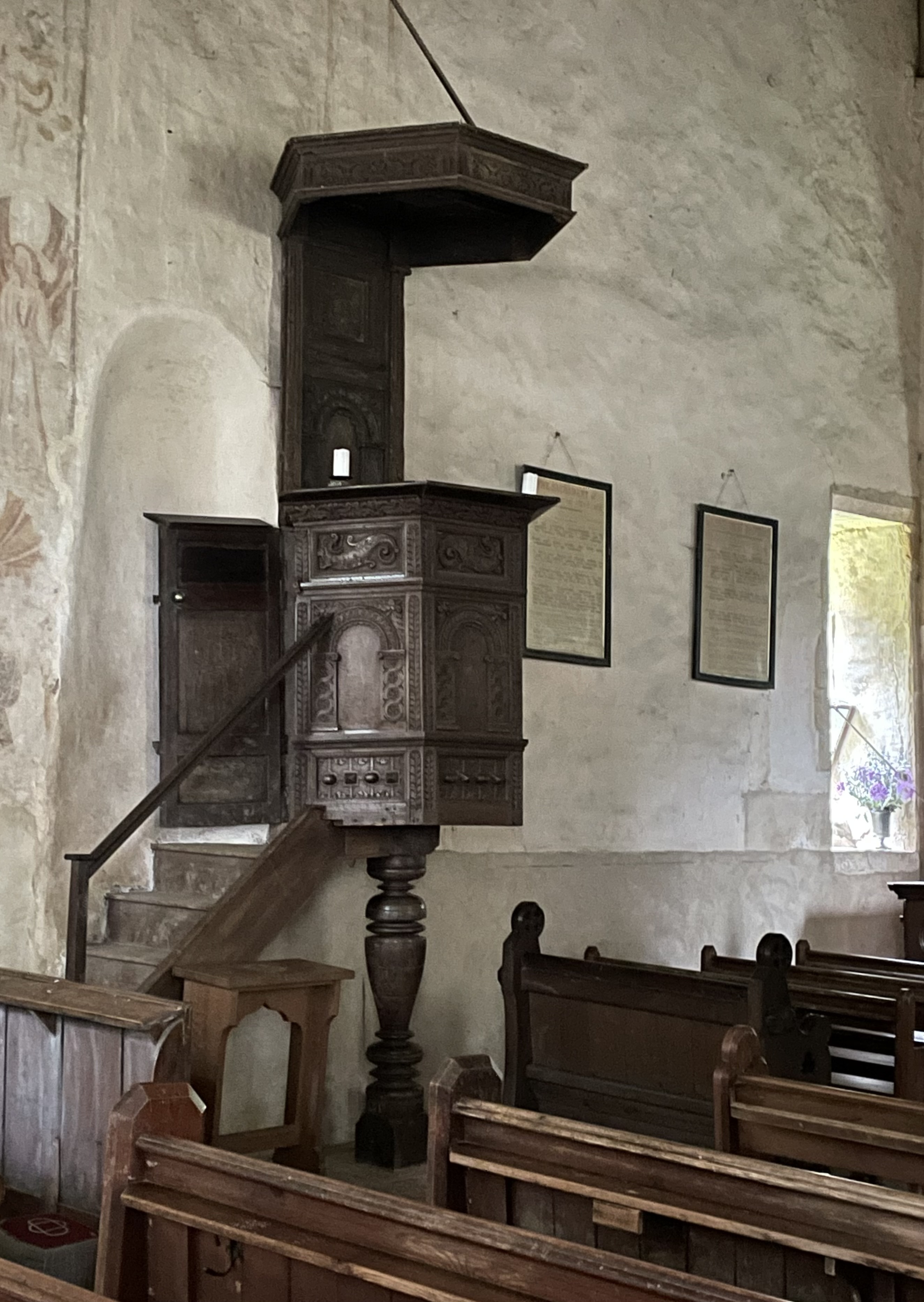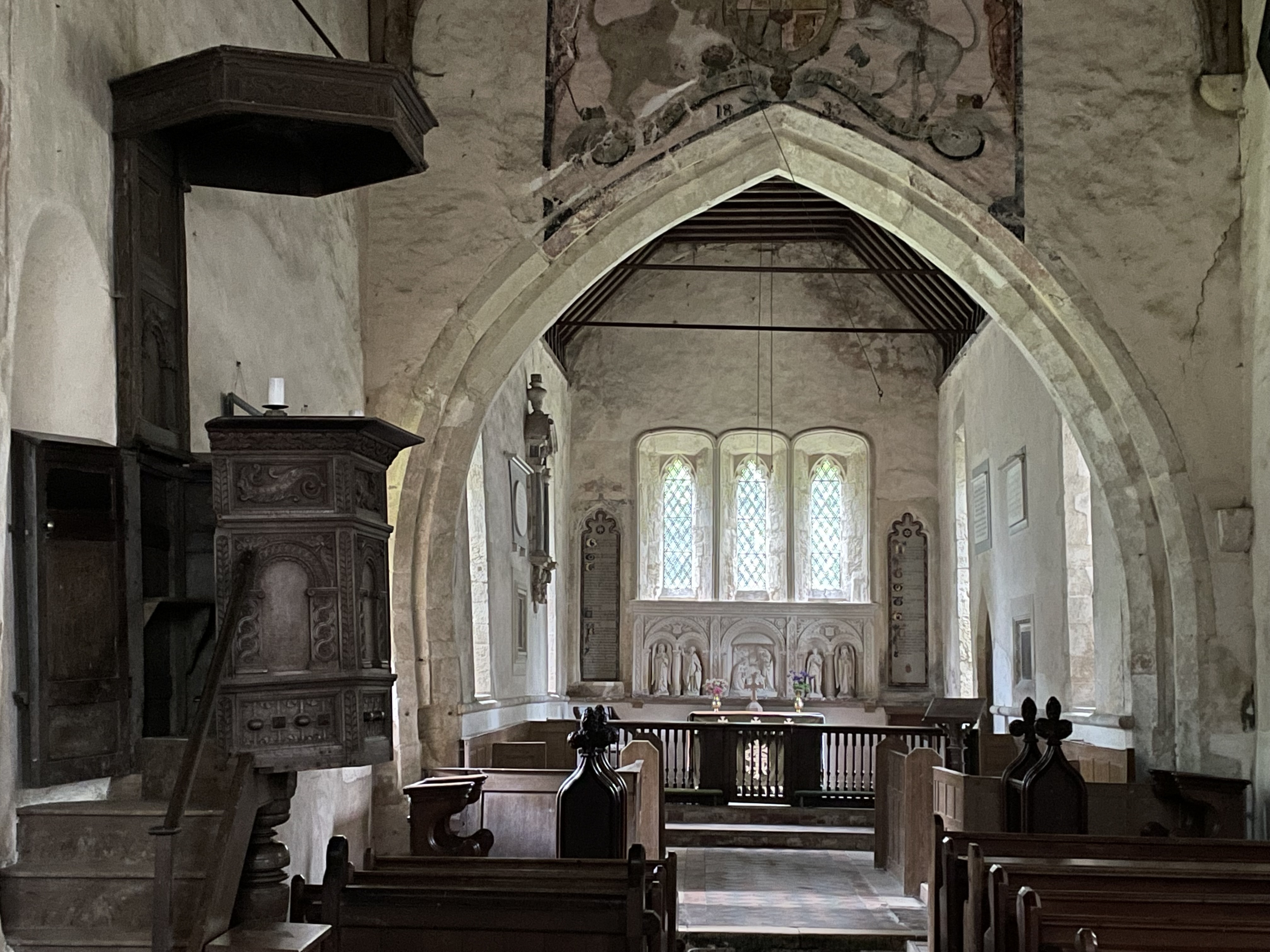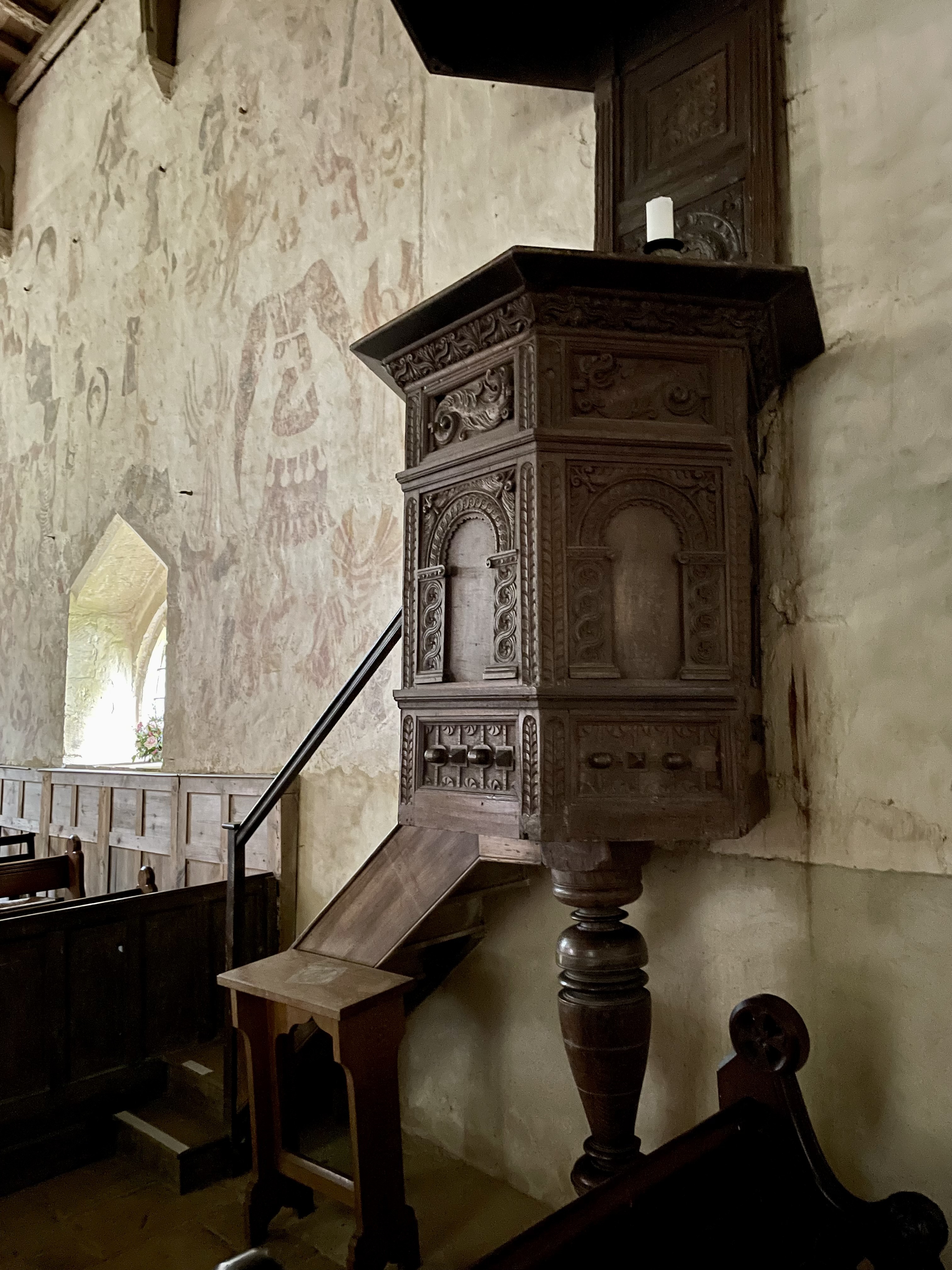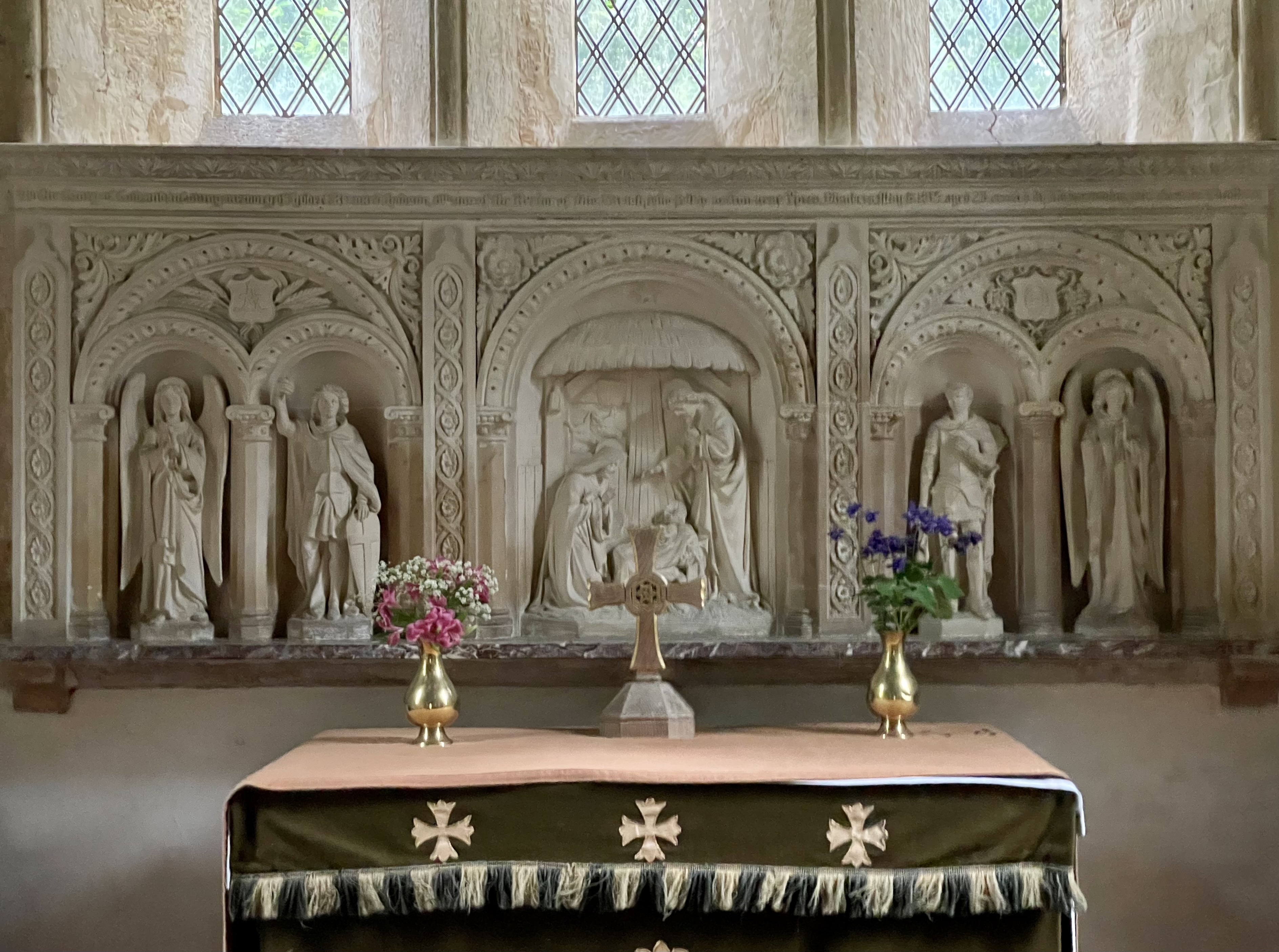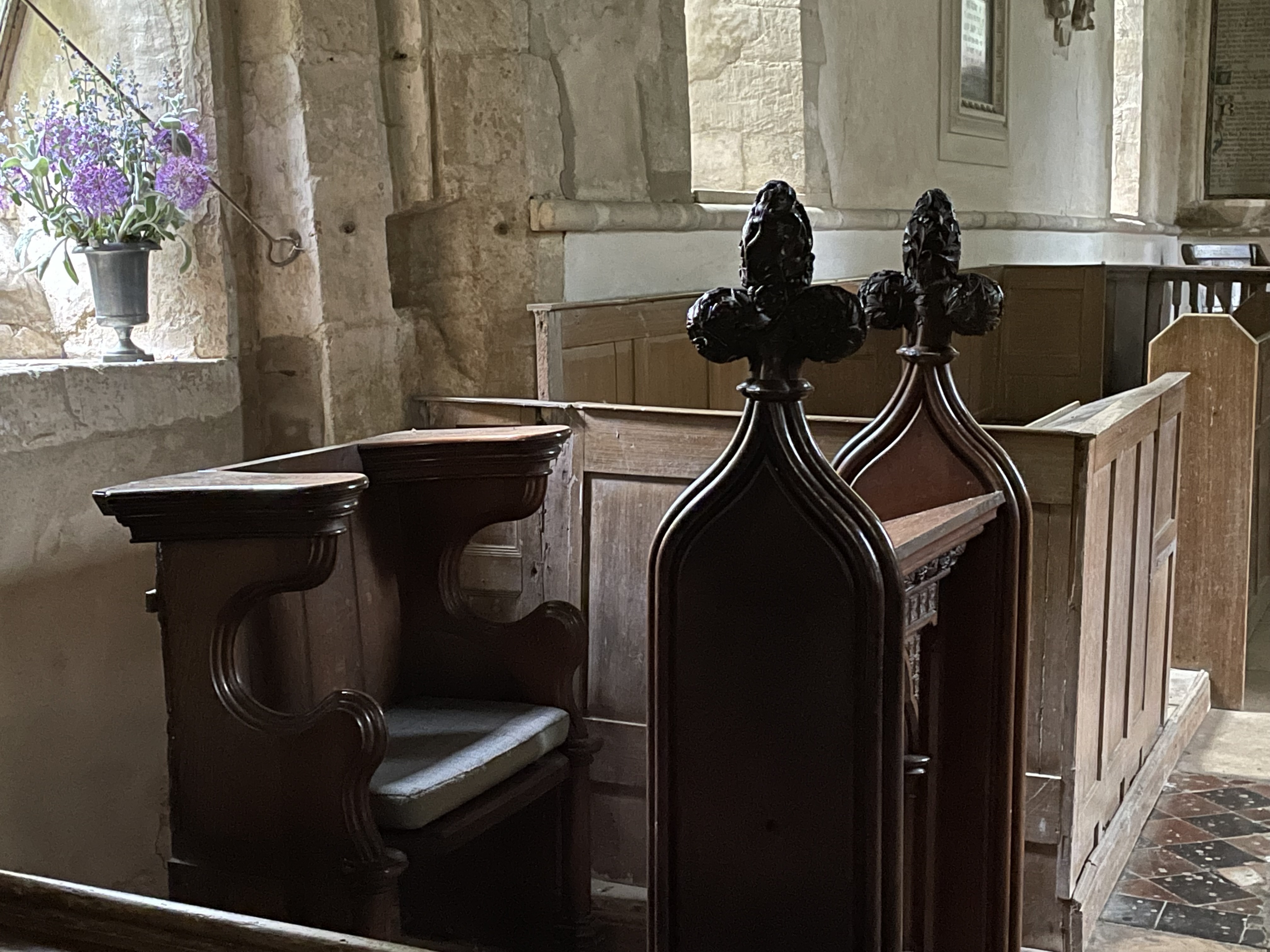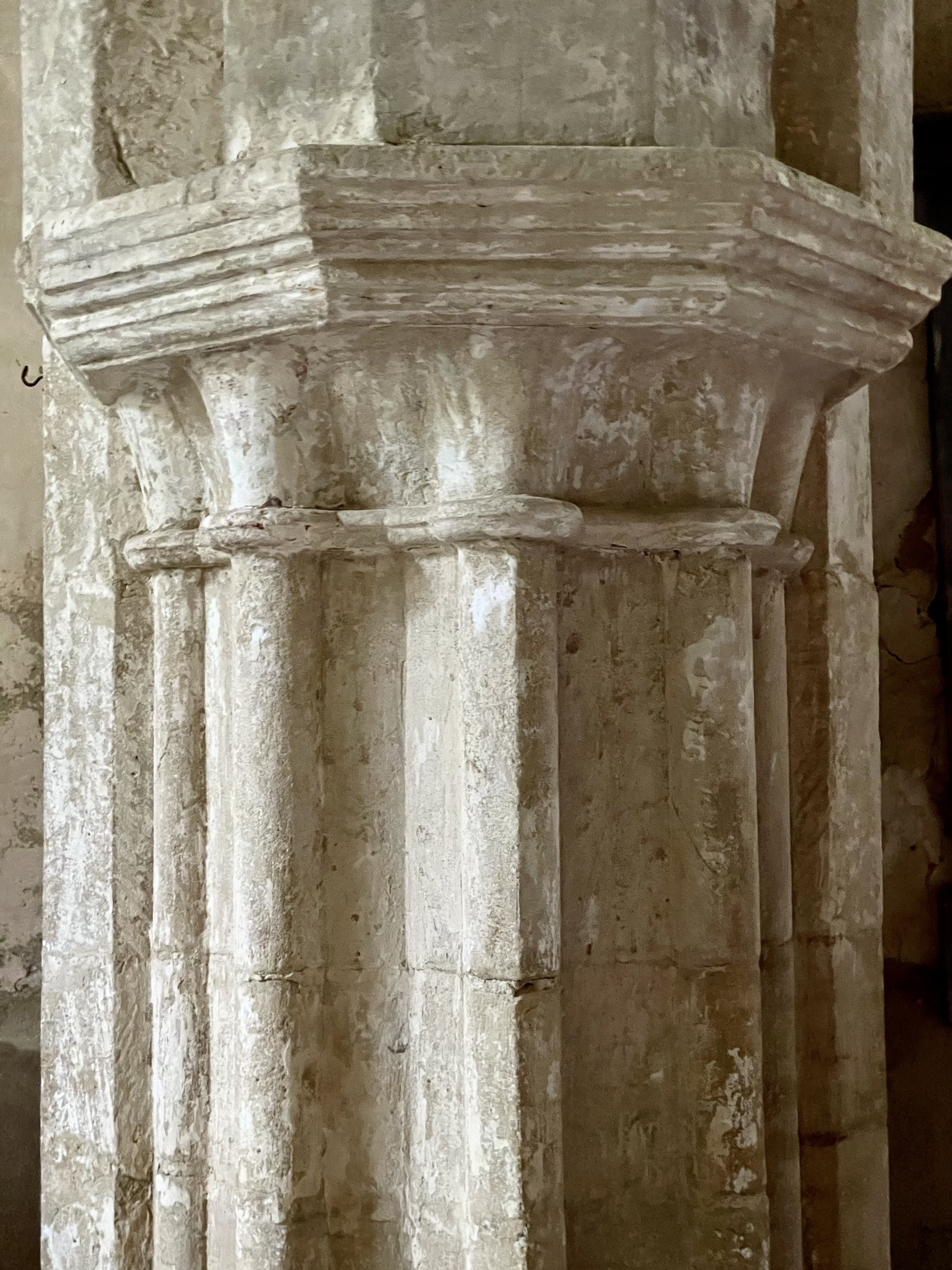 The joy of Oddington is the doom painting on the north wall.
⚡️ Discover More:
A great doom painting resource.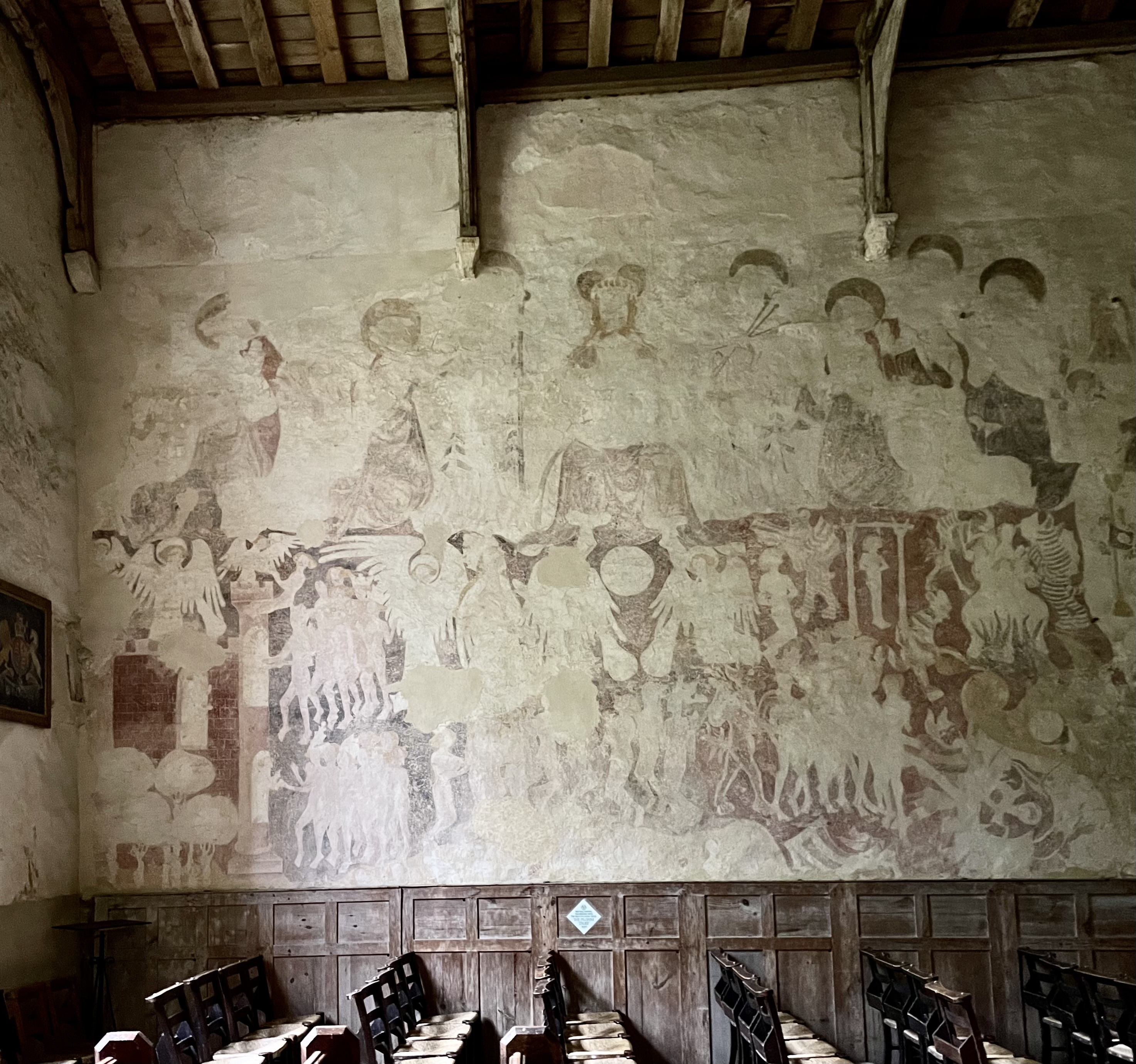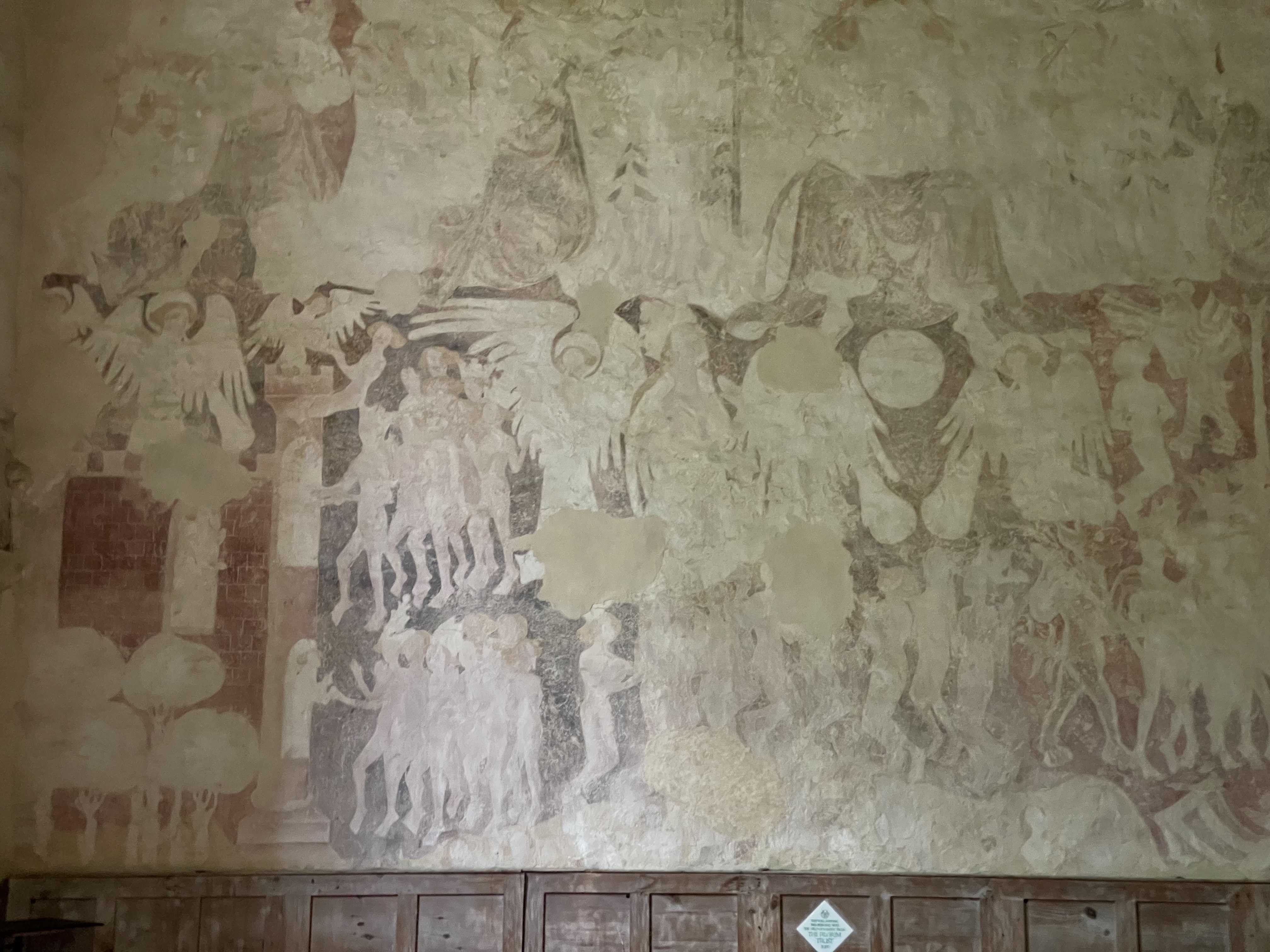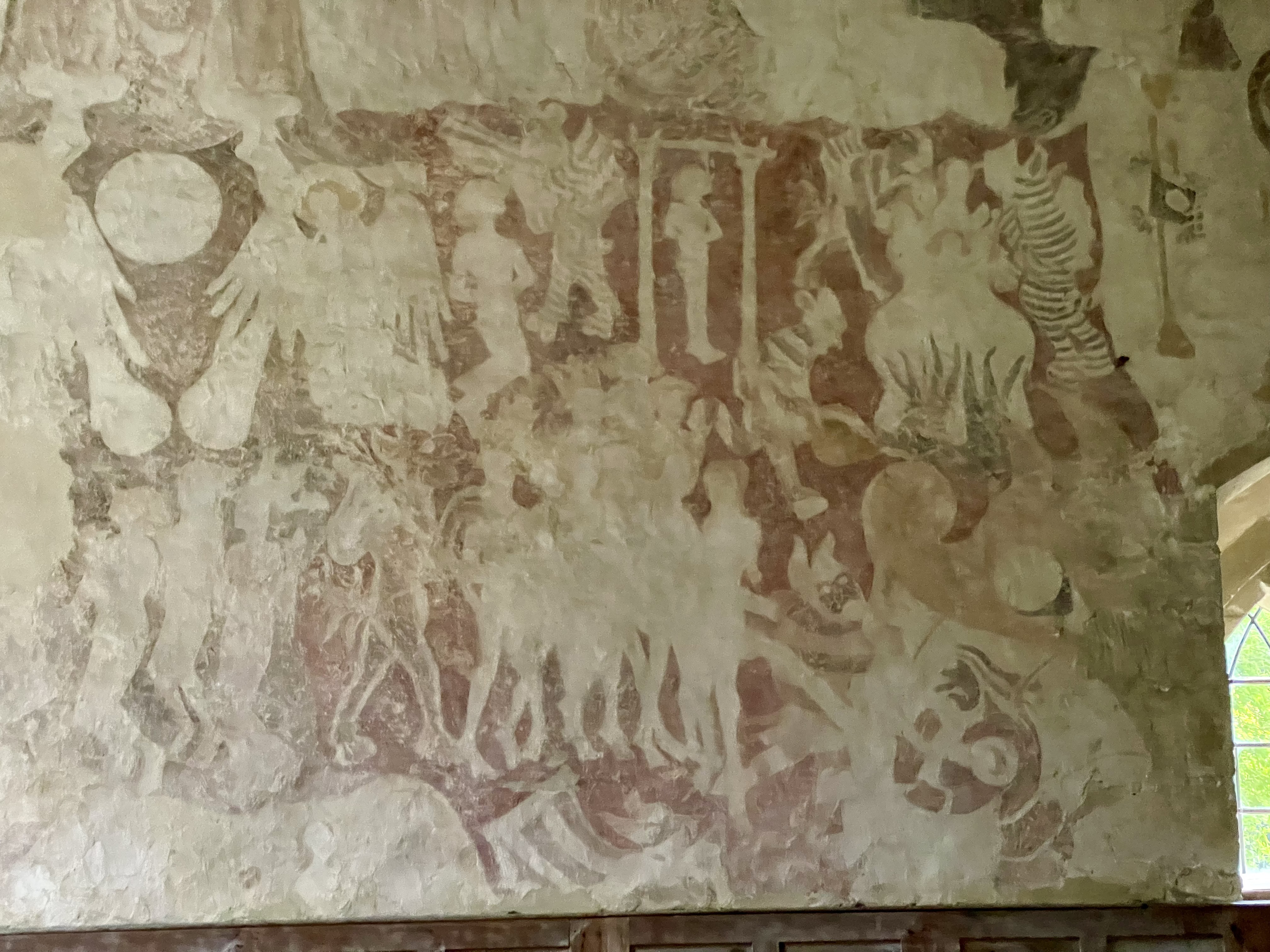 ⚡️ For the Patrons: My latest Patreon post is full of photos of the other doom paintings I've photographed.
Lower Oddington
I set off through the village on the hunt for architectural elements that might demonstrate the 'odd' in Oddington.... couldn't find any...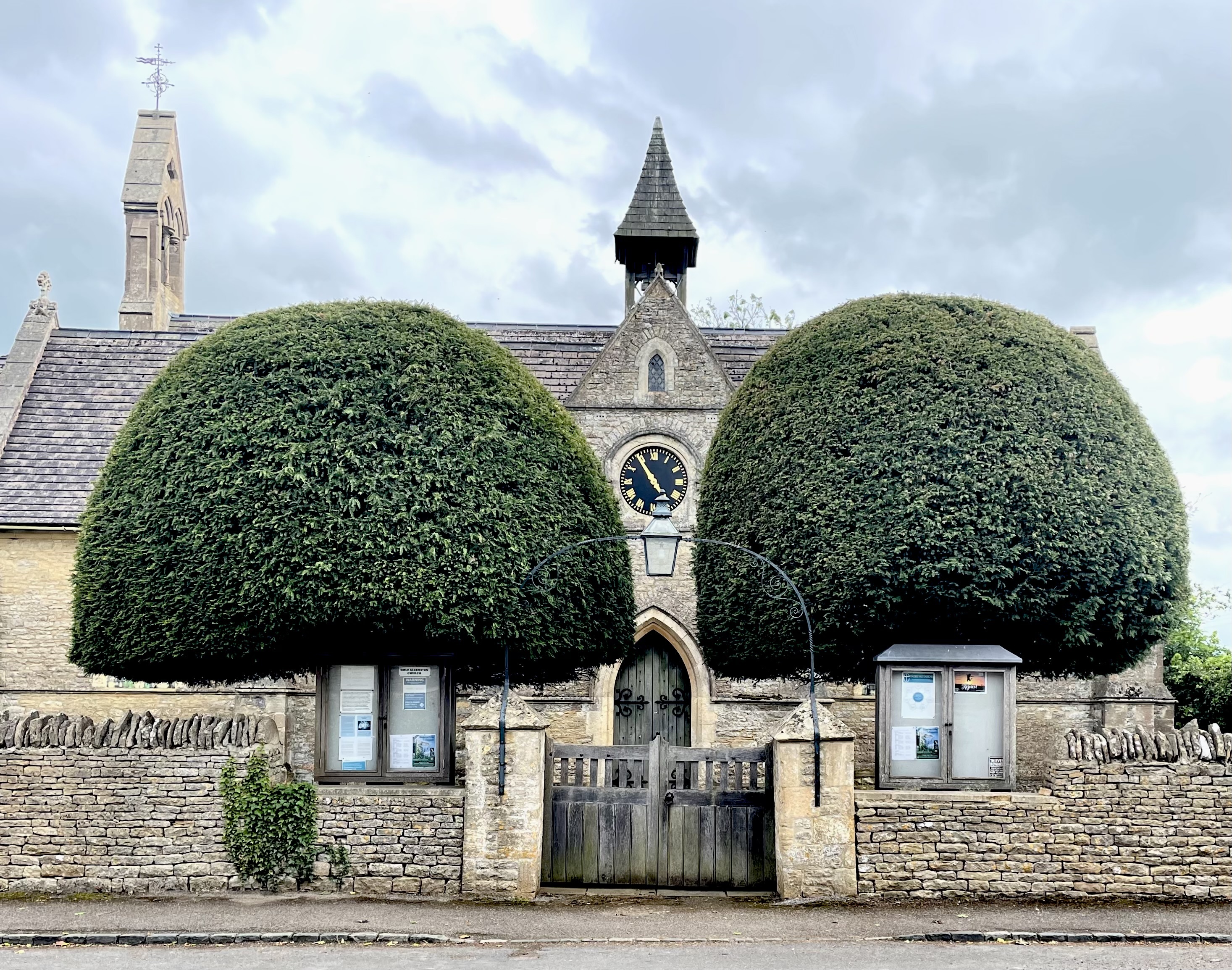 They say that you can tell the character of a village by looking at the books they give to their free bus stop library.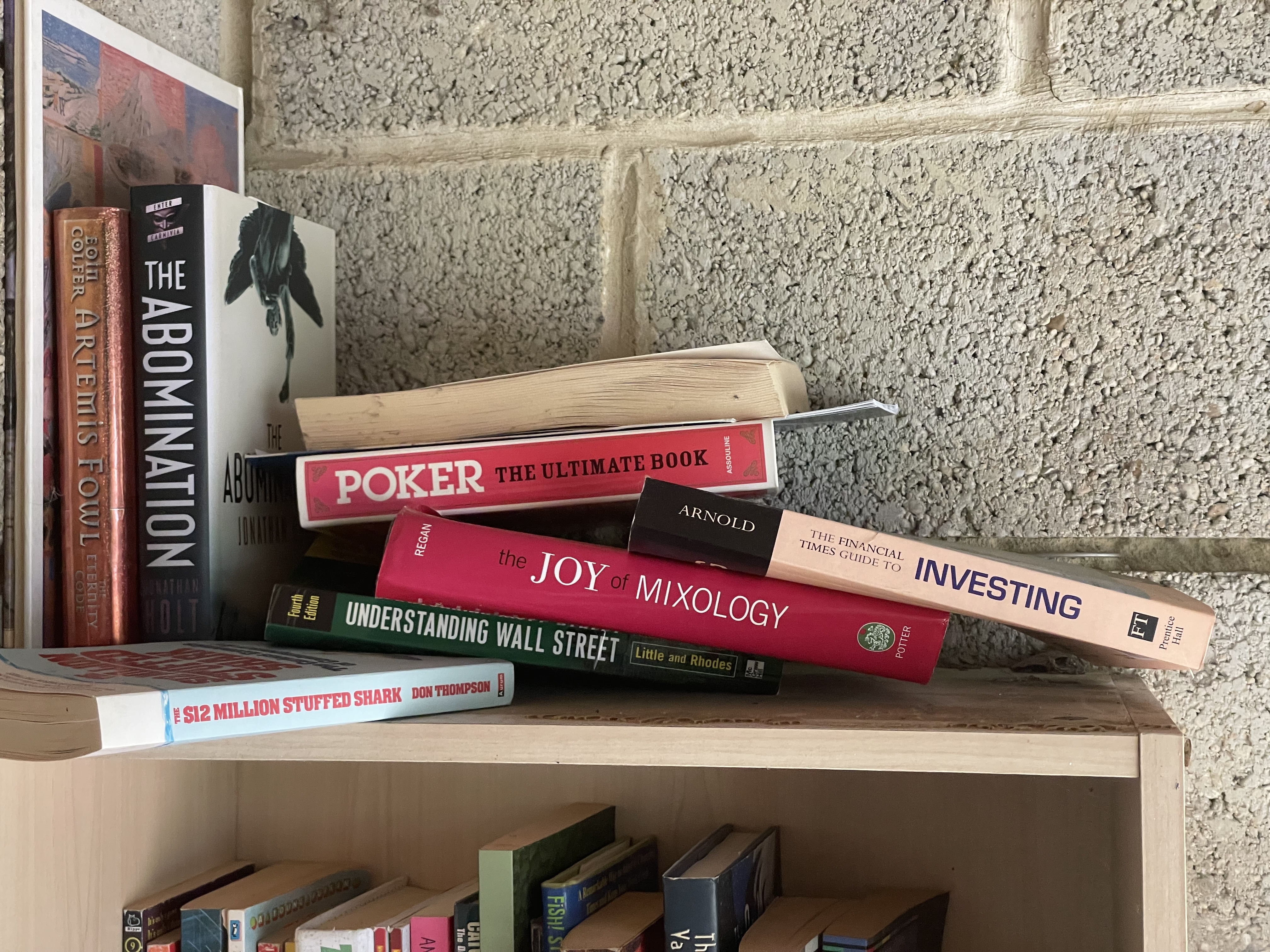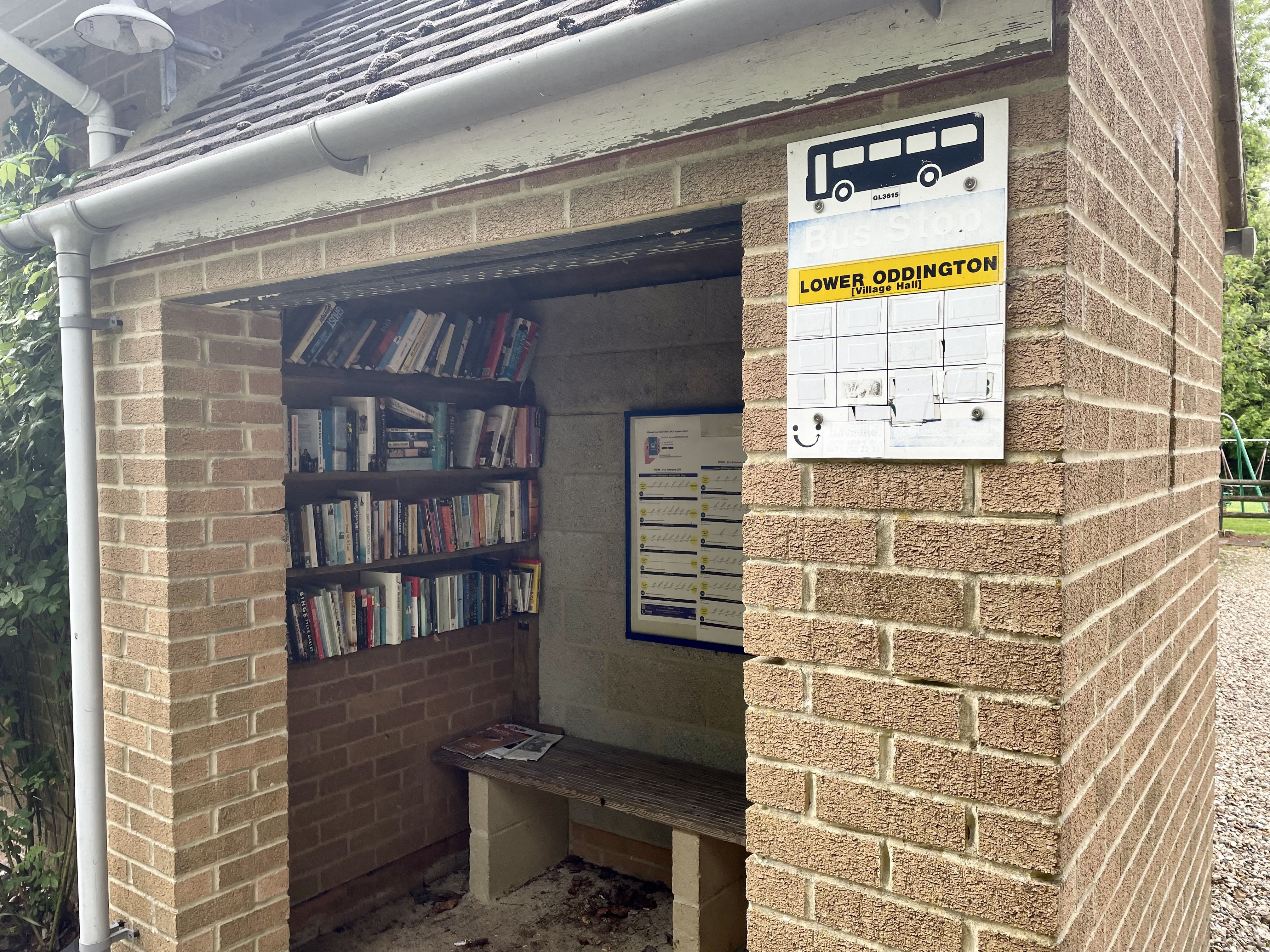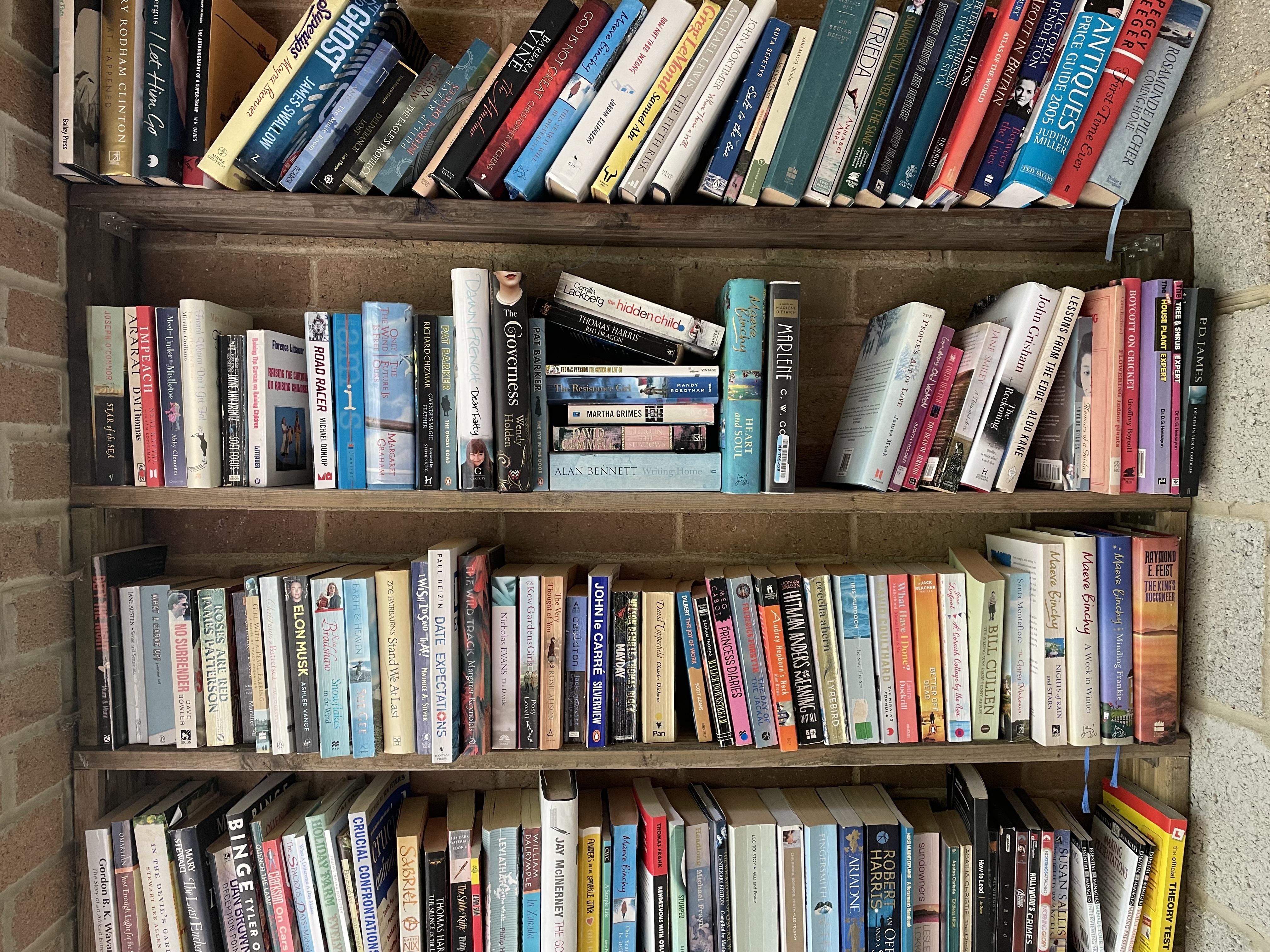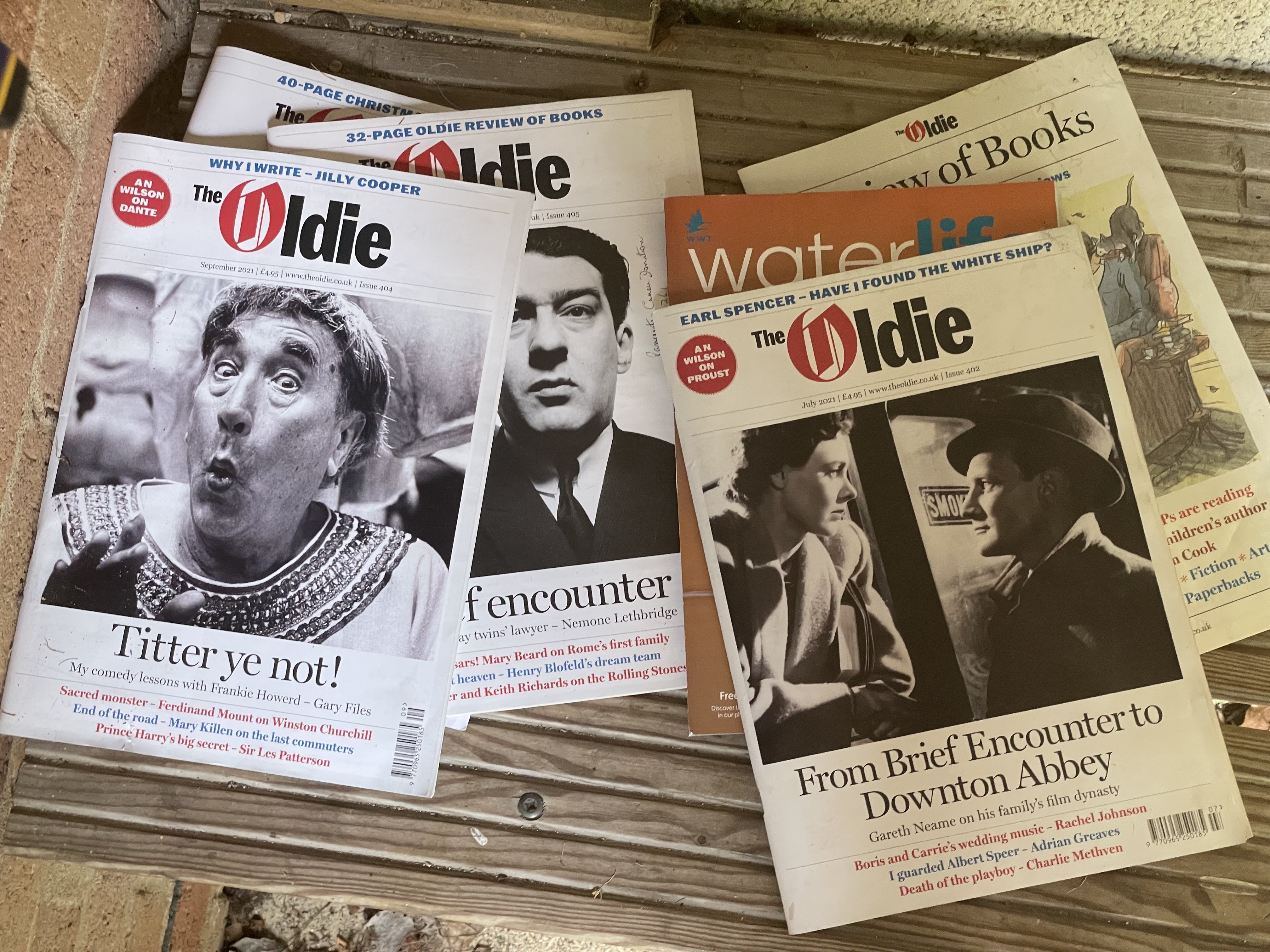 I dined out in the Horse and Groom in Oddington. It's a lovely pub with an historic interior. Although the food was good - the portions were woeful and expensive. Has a shop inside too - best to get a pasty from the shop and eat it from under the table with your pint.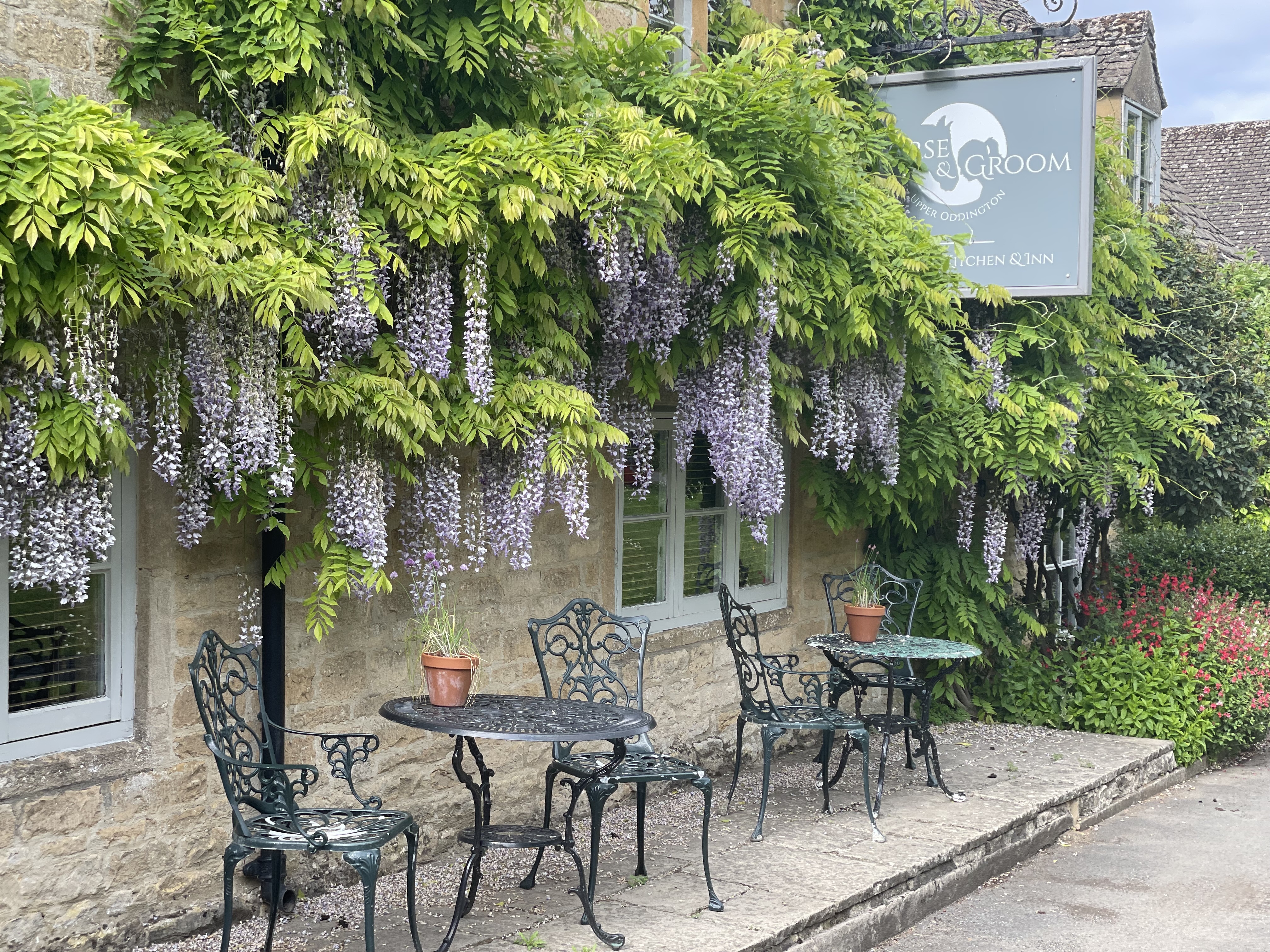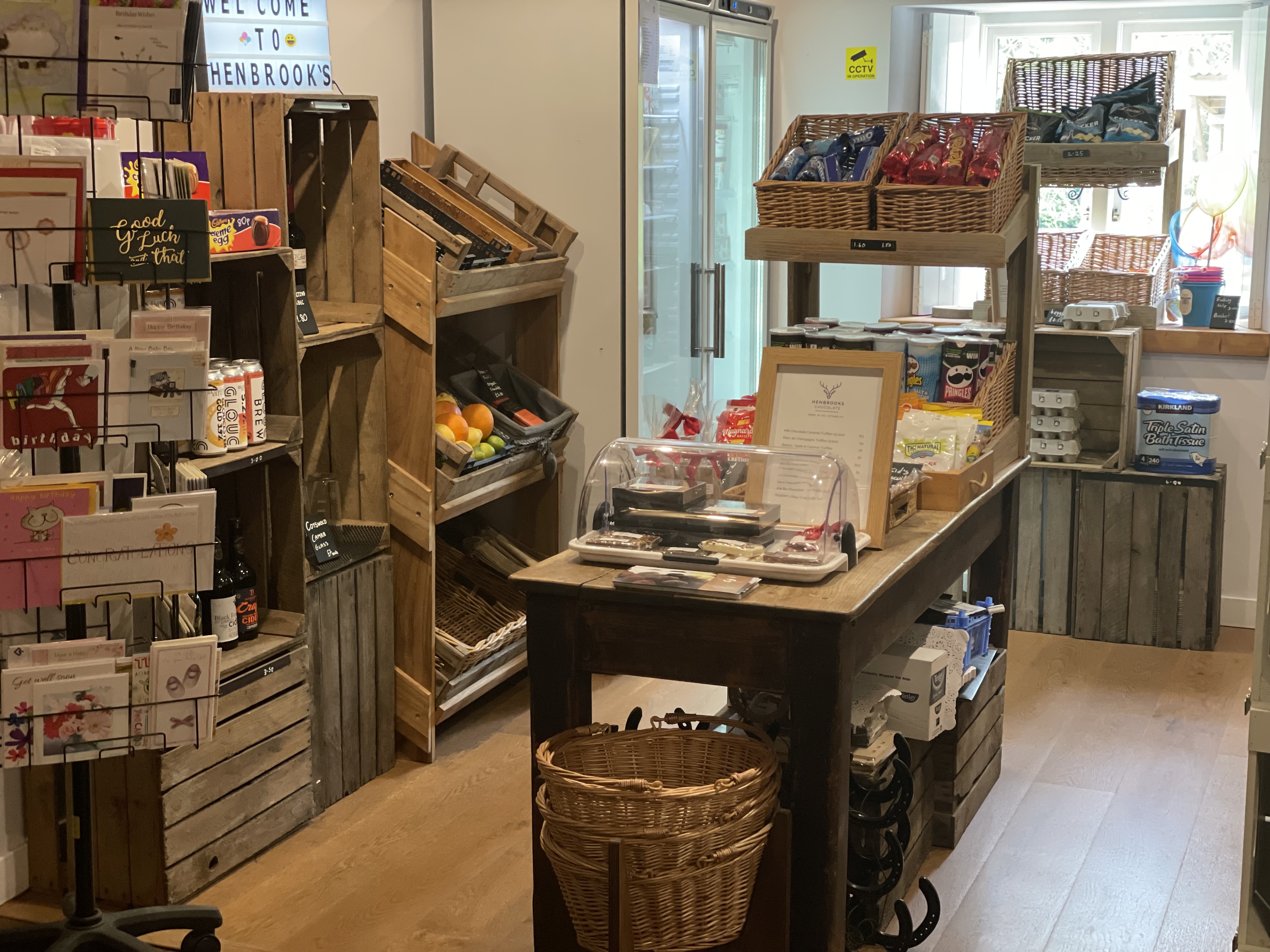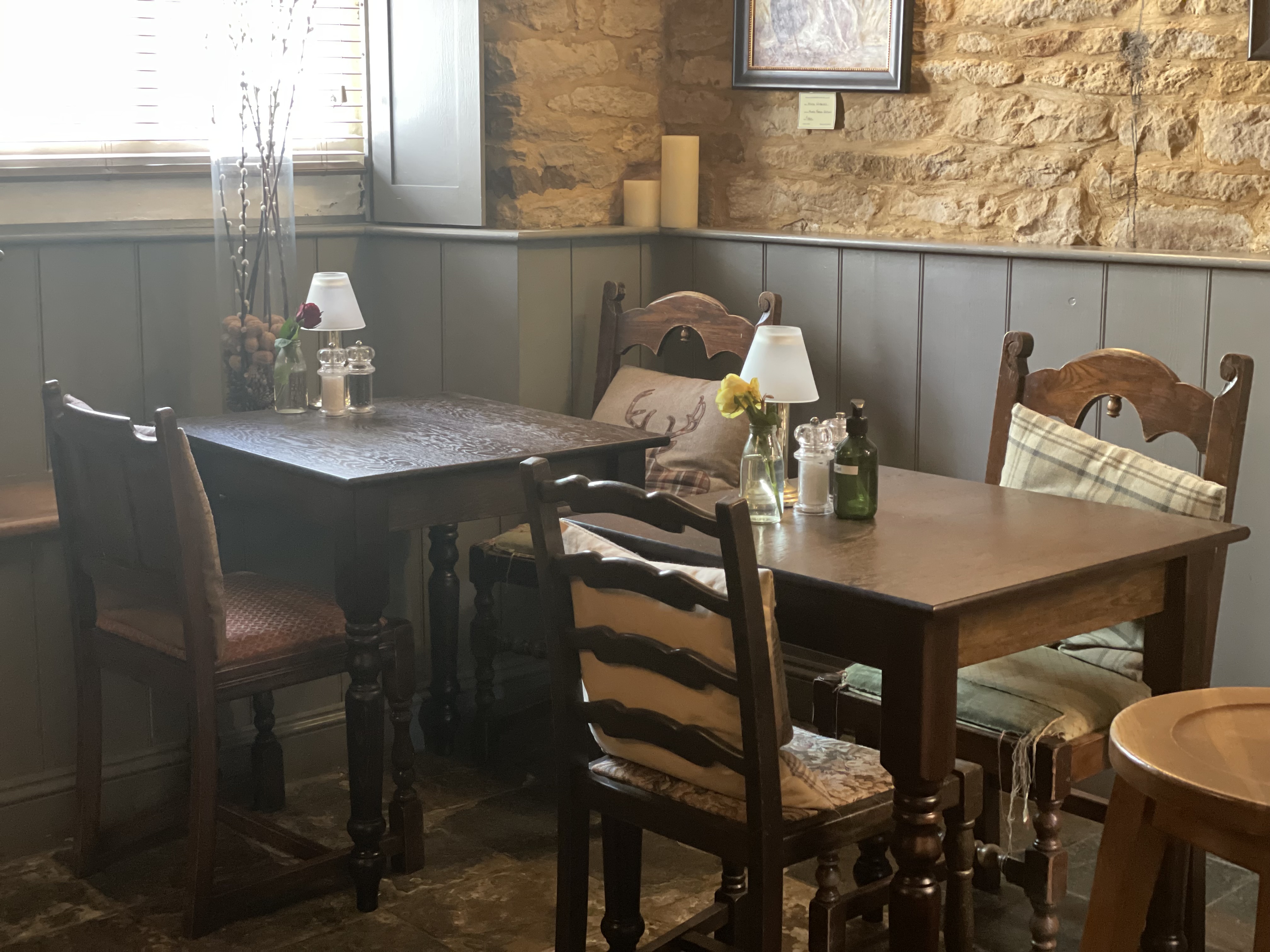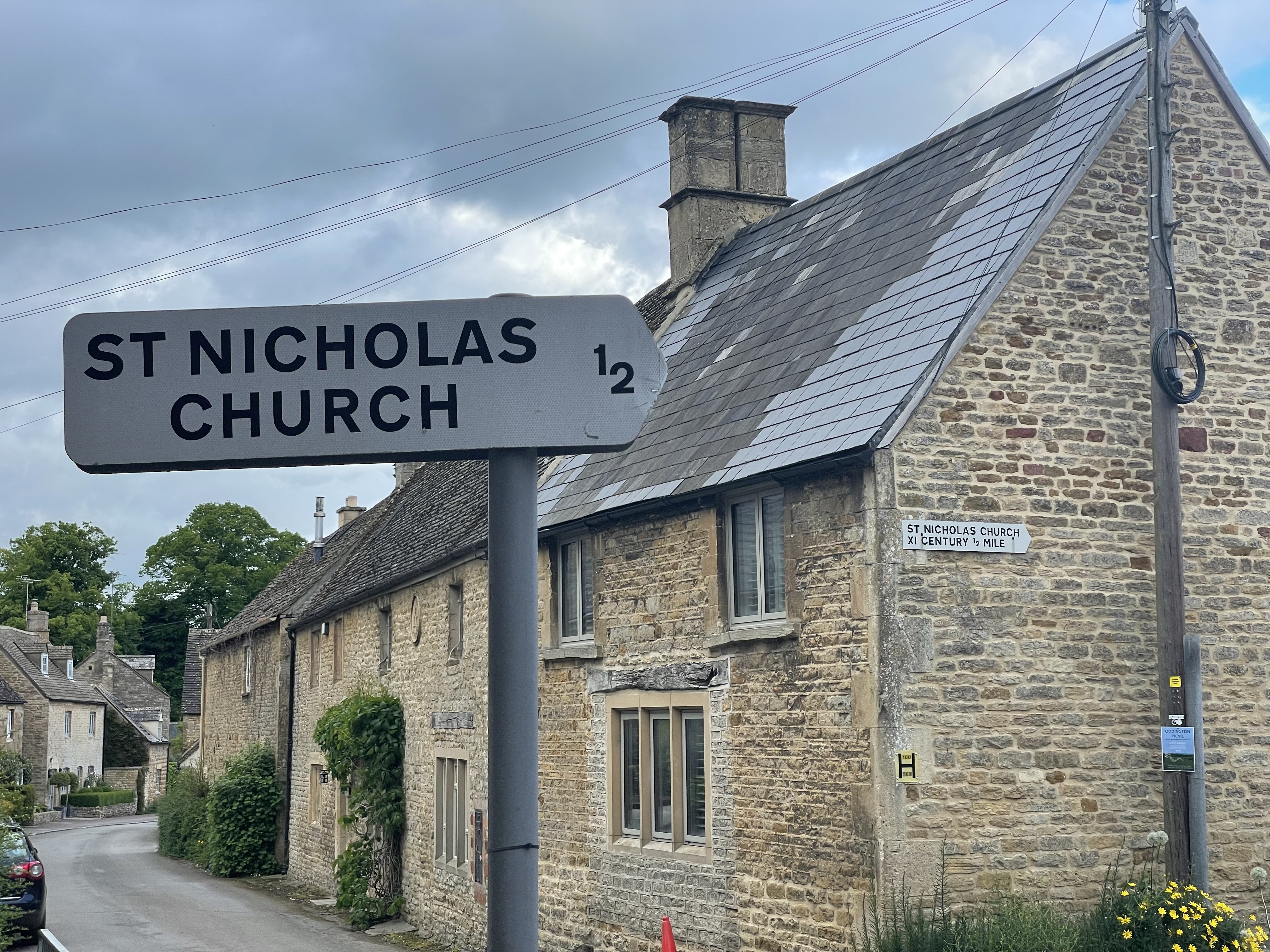 Vanlife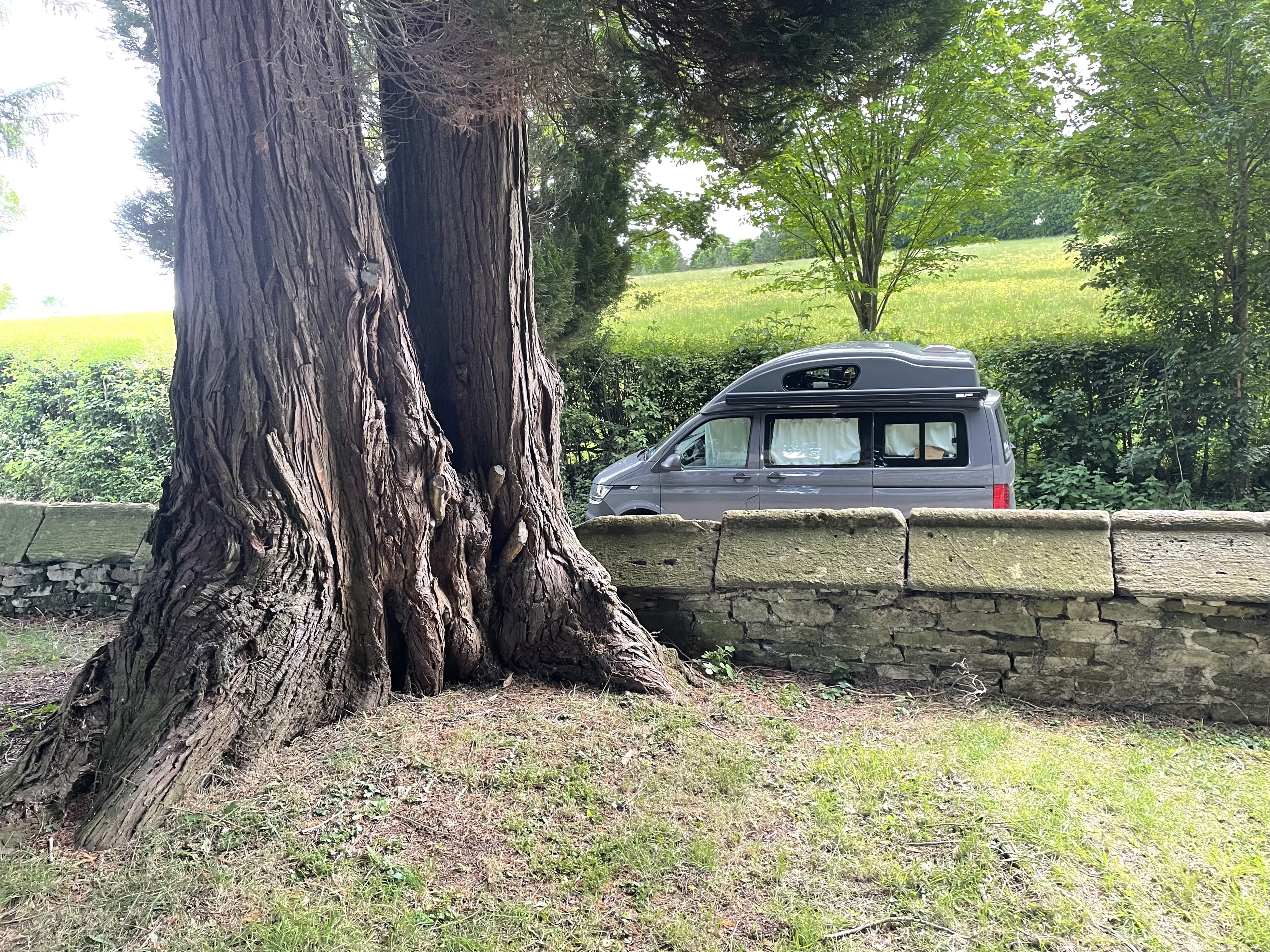 I finish the first part of my shoot nearby. There's a twilight shot and I need to rest in-between. I head over to the lane next to St. Nicholas at Lower Oddington.
It's a quiet haven. I close the curtains, pull the bed out and take a nap. It's warm and I can hear the rustle of the trees and the rattle of the fridge behind me. I fall asleep - a light sleep. People trudge past in and out of my dreams.
Then there's a rat-atat-tat on the window. I jump up and open the curtain. "Everything all right?" An Oddy local checks up on me. "All good, I say."
Before I close the curtain, I notice another Oddington oddity beyond the churchyard wall opposite - a girdled yew tree - constrained and pierced by an iron grave marker.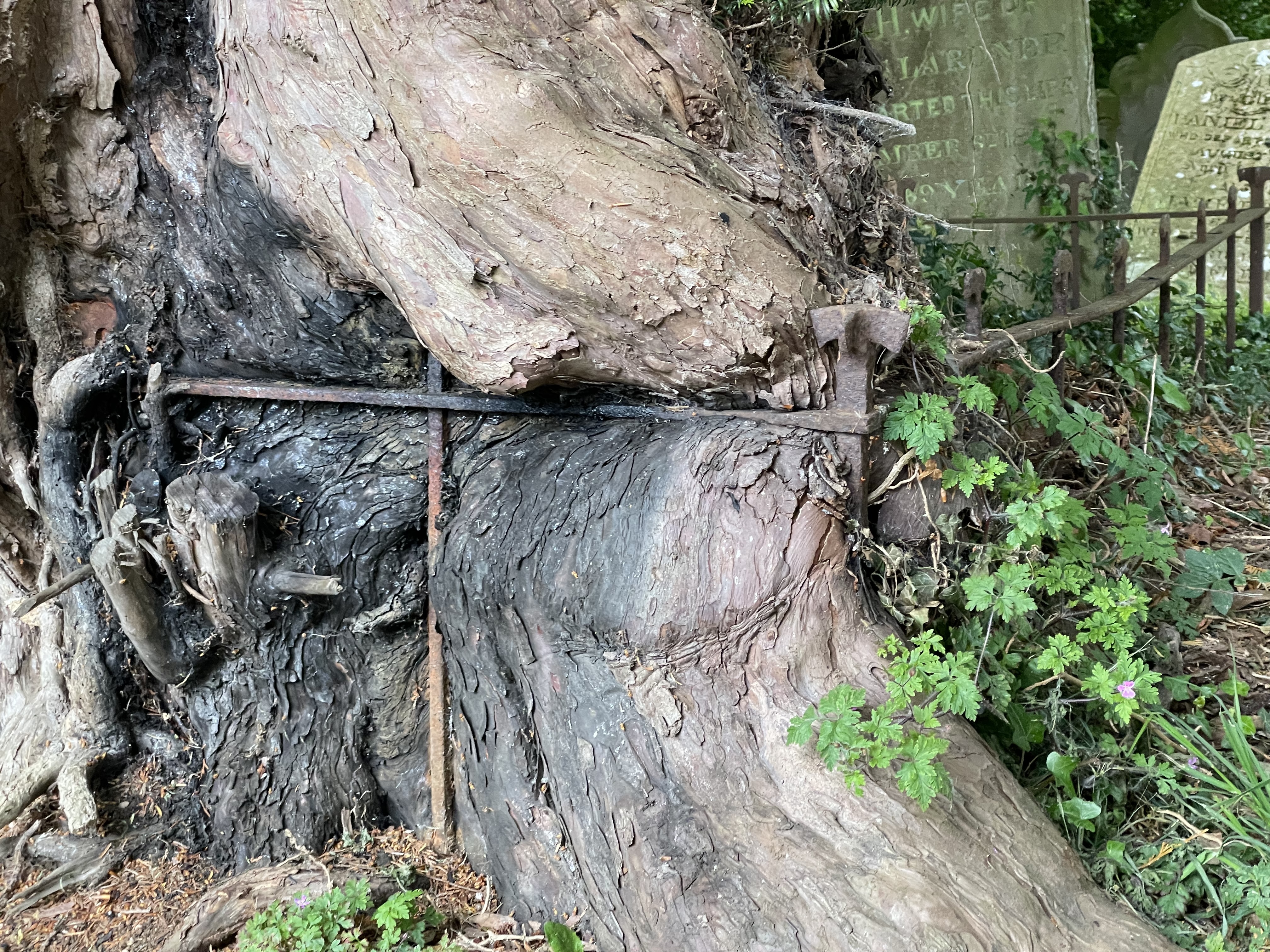 How do I sleep in the van?
I've been asked by a subscriber where the bed is in the van. The bed has two pull-down seats which link up to the driver and passenger seats - after they have been turned around. To make sure that I have a level-headed sleep I carry a set of levelling wedges that fit beneath the wheels.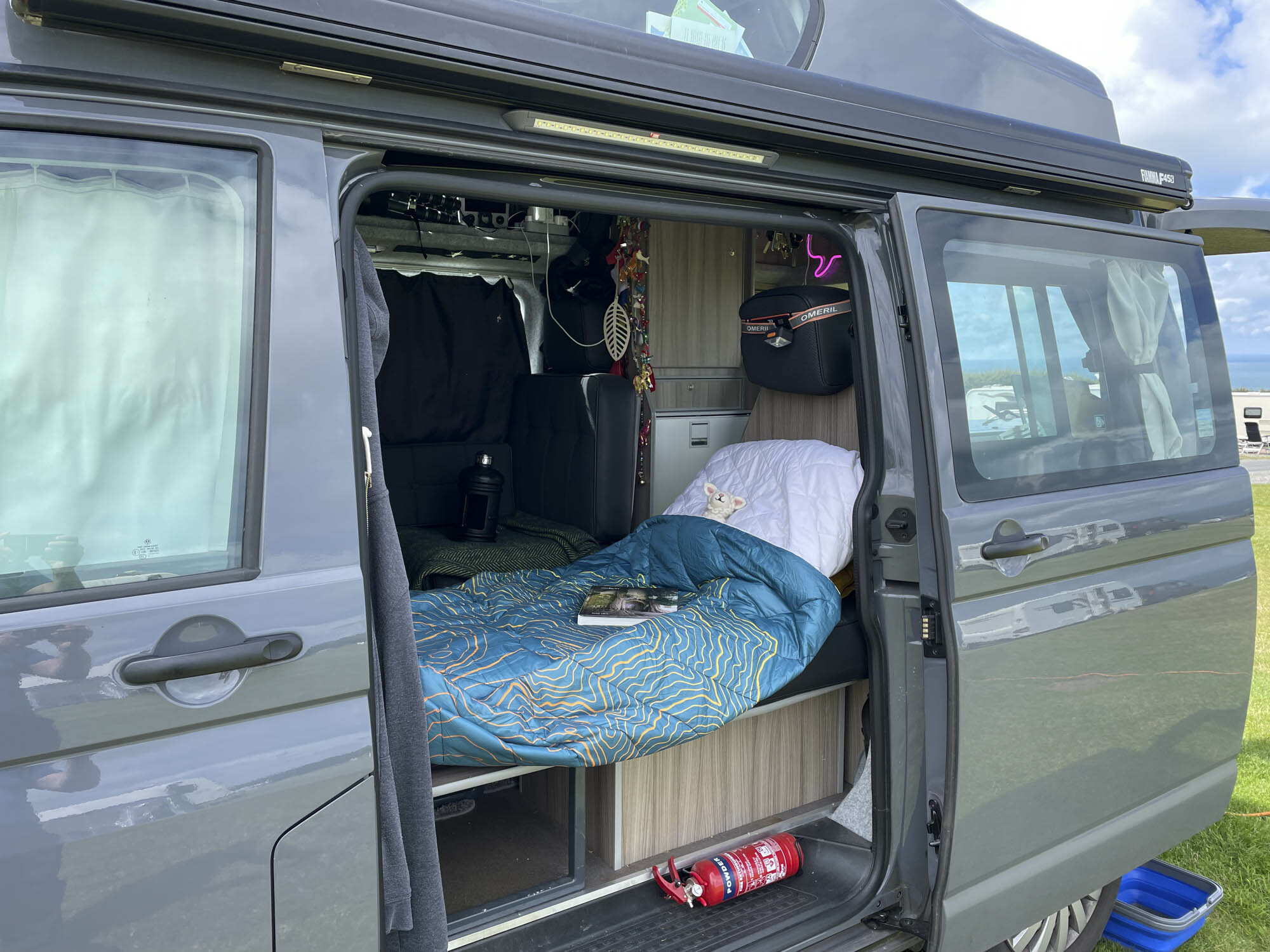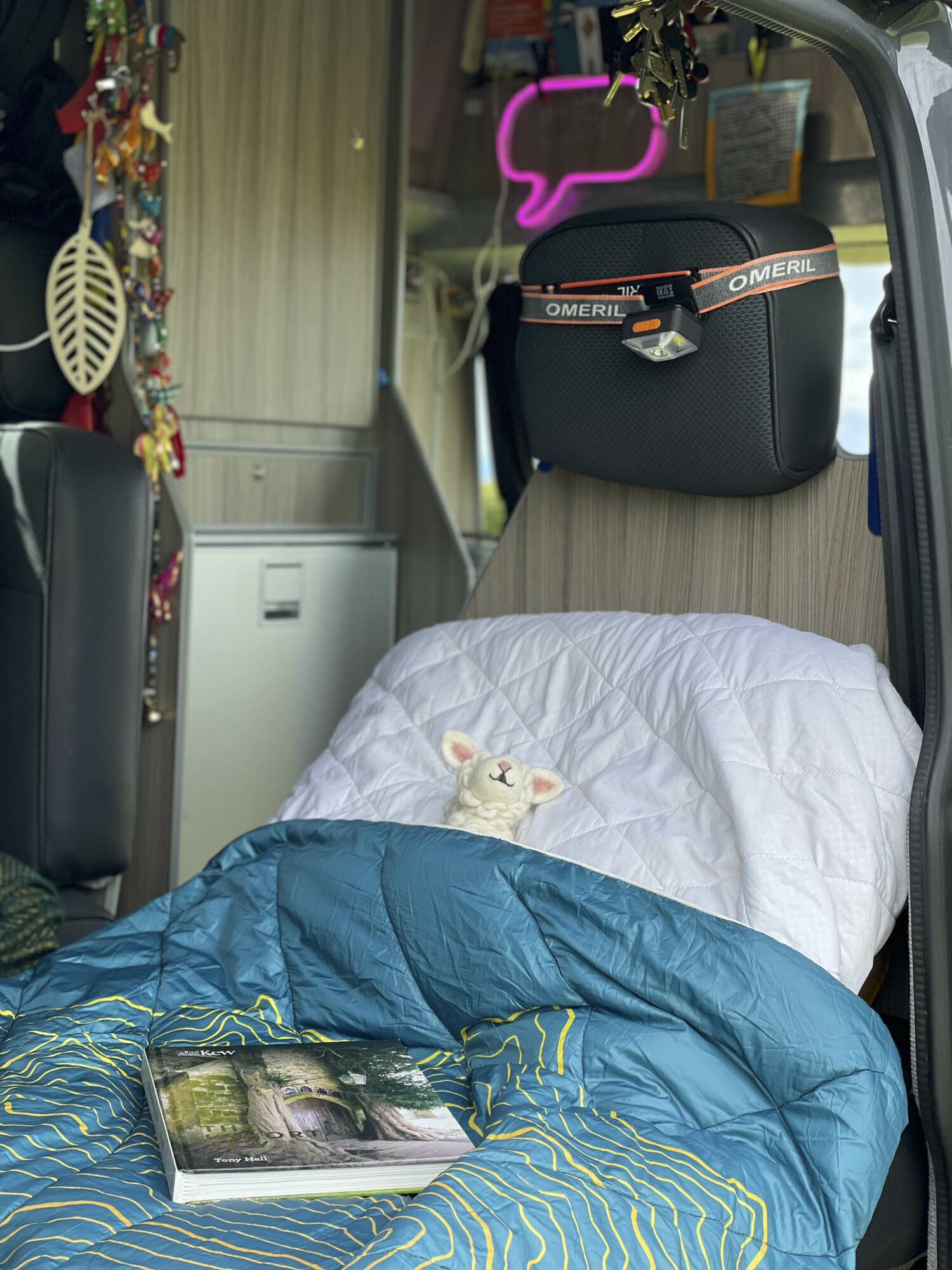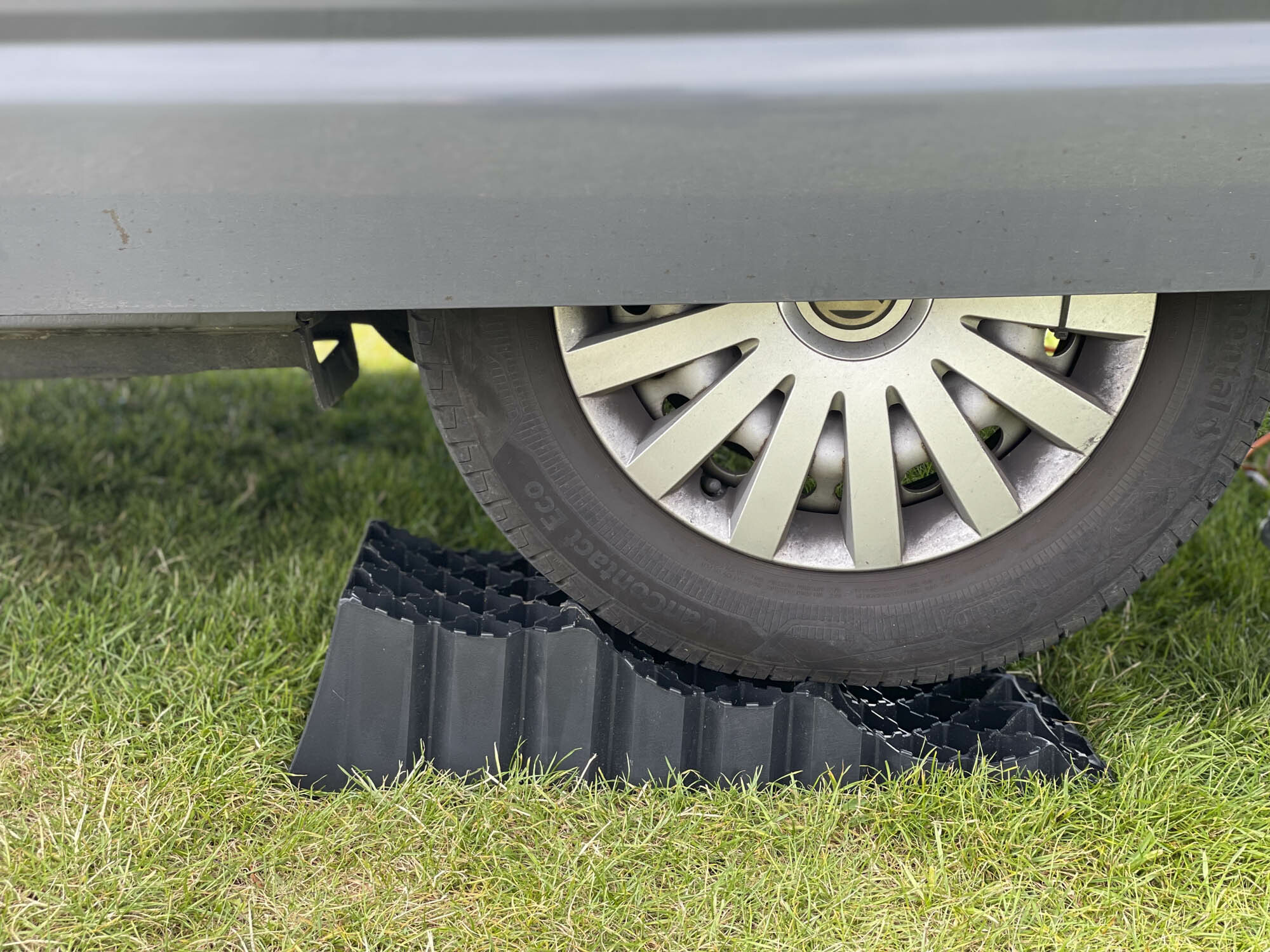 Camper Van Meal Deal
King prawn stir-fry. So versatile. Have it as a simple stir-fry in the summer. Add noodles, or try it with tofu or chicken. In the winter add a broth and turn it into a ramen.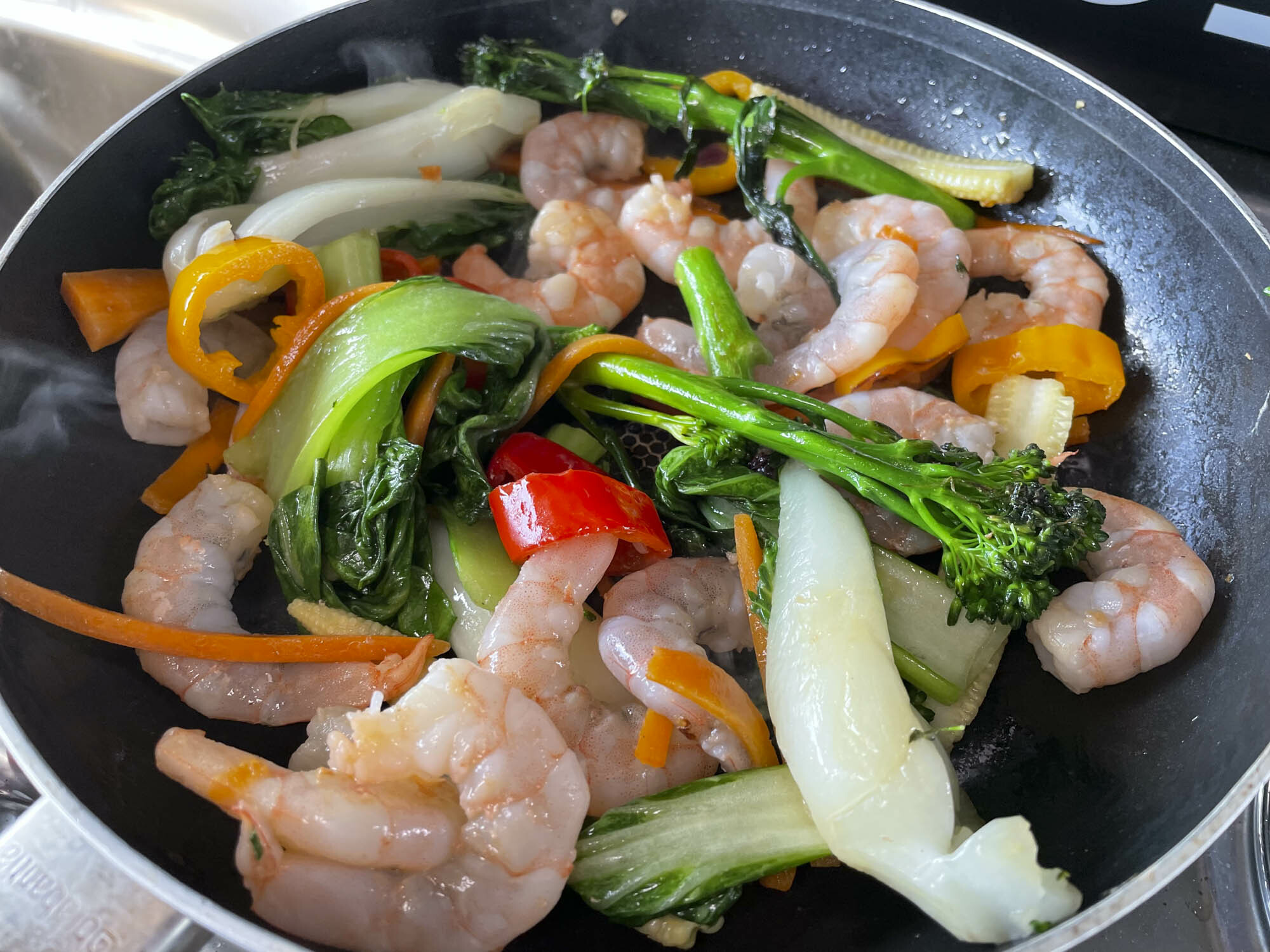 On My Coffee Table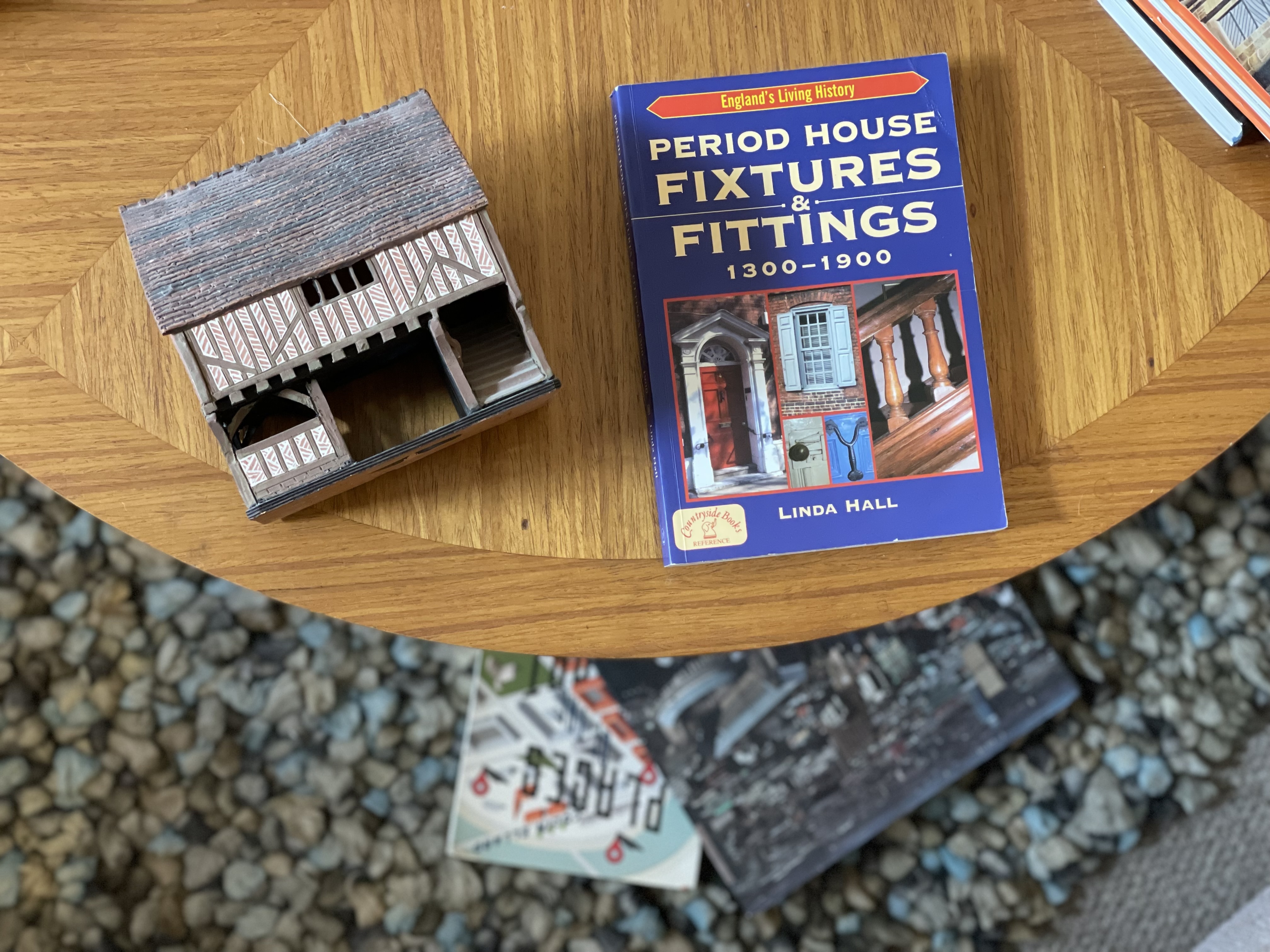 From The Charo's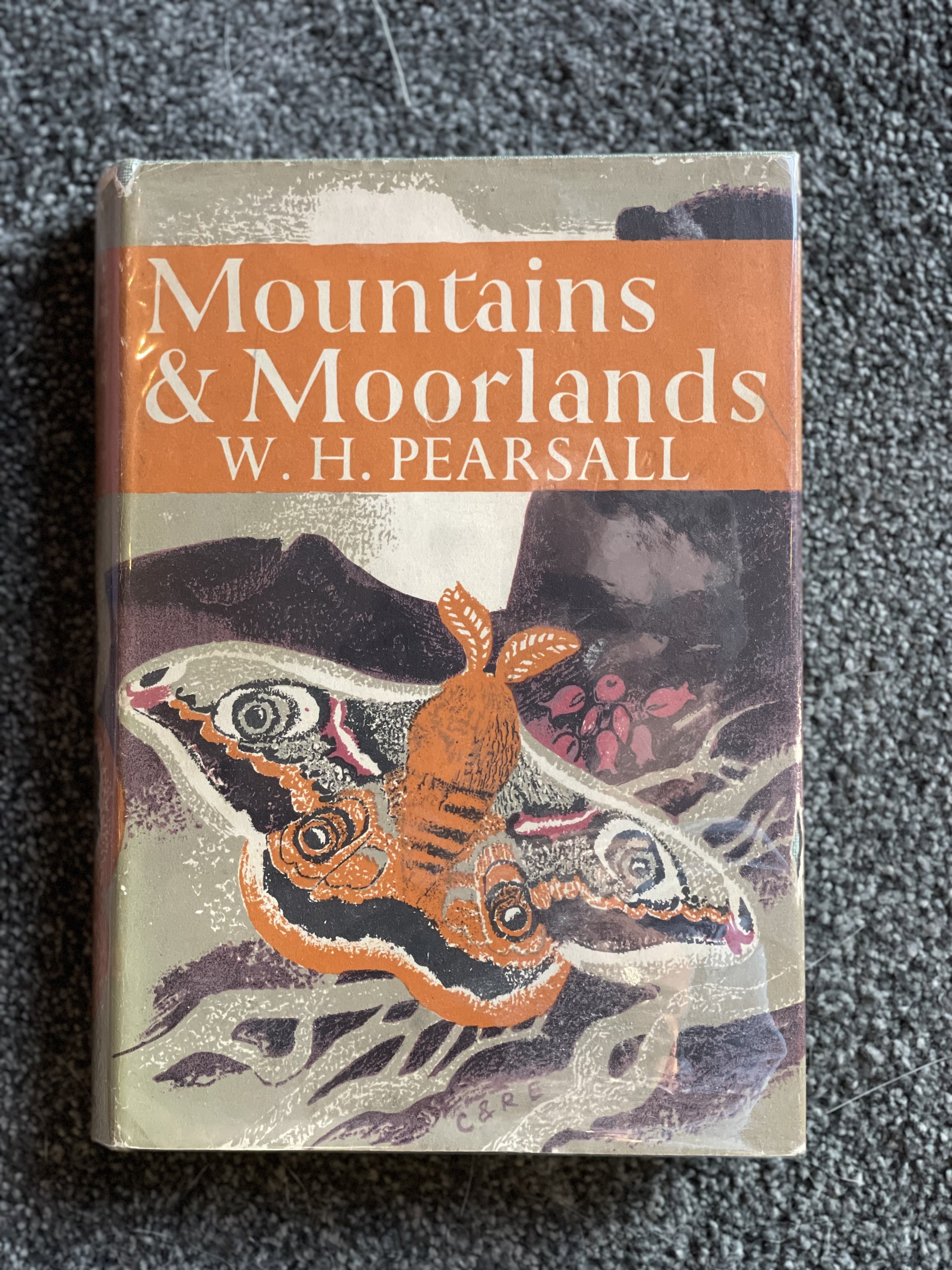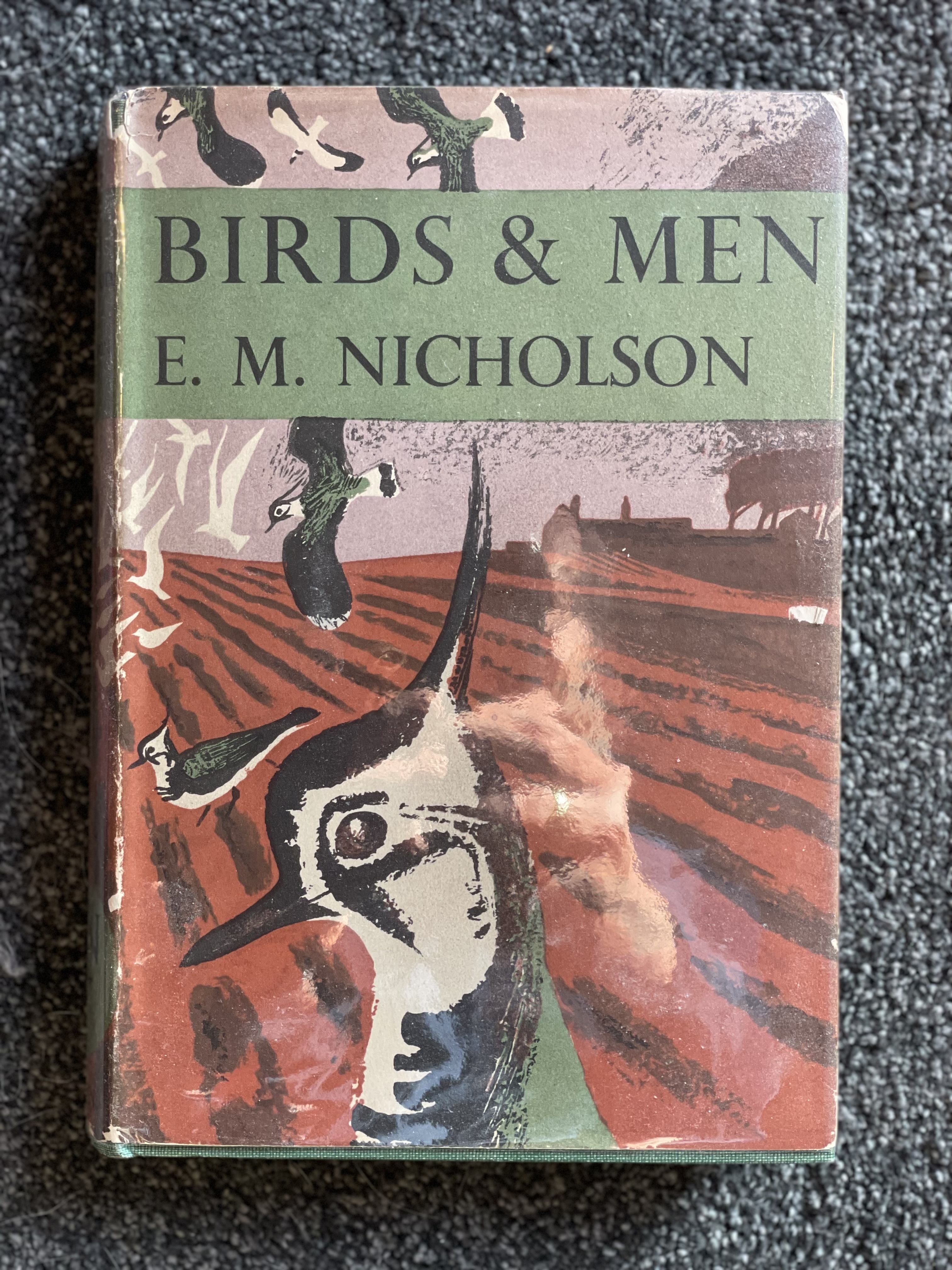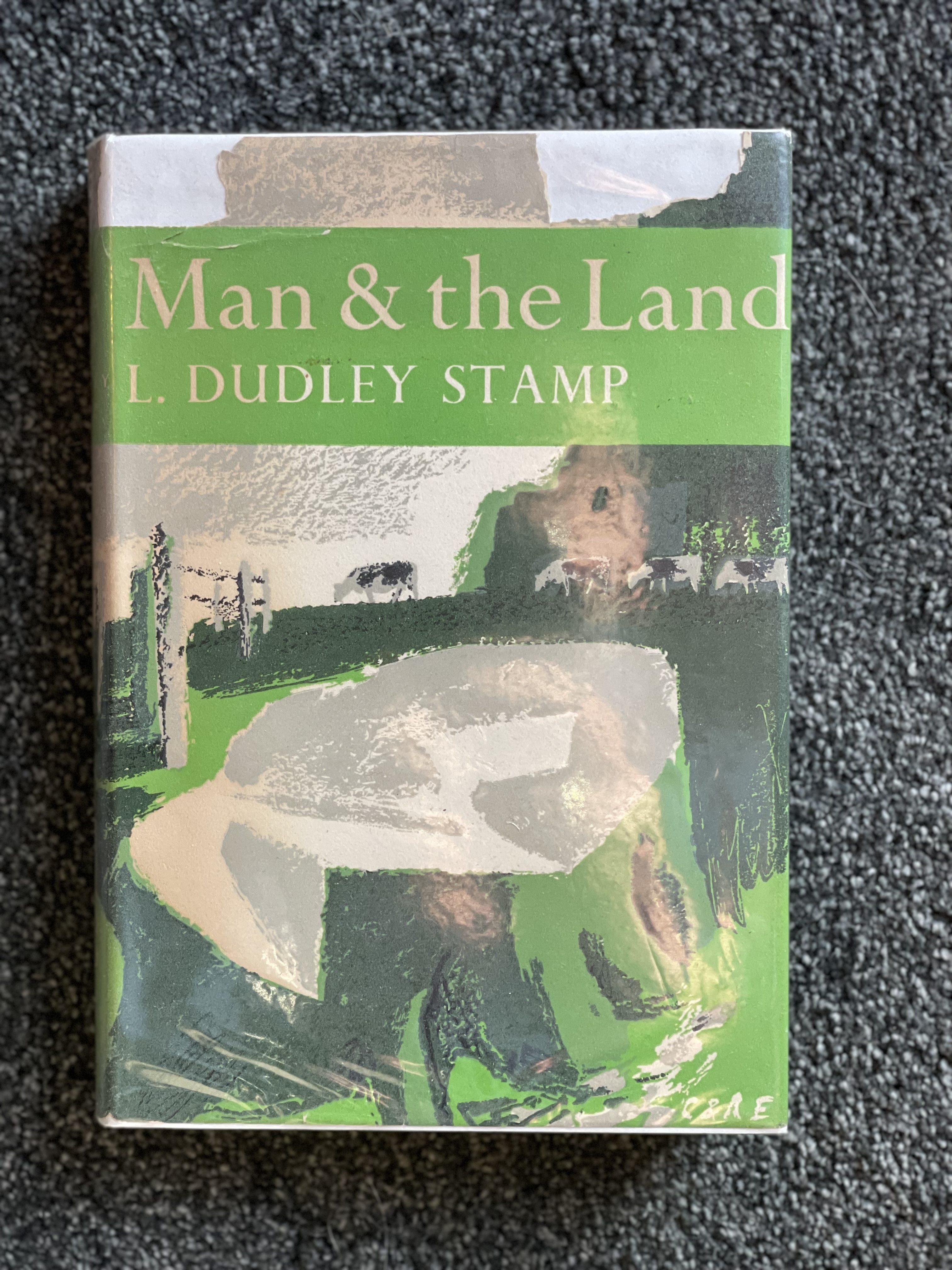 Bookmarked
A whole baby woolly mammoth is dug up at a Yukon gold mine - a first for North America.

From Lucie Rie's buttons to WA Ismay's unique hoard, the peerless pottery collection in York Art Gallery will appeal to all
Film and Sound
Join Rachel Hurdley as she opens the front door to step into a story of security, sociability, style and even the supernatural. The front door may seem to be just a simple way of coming in and out of a house, but it almost always reveals more about the householder than they might expect.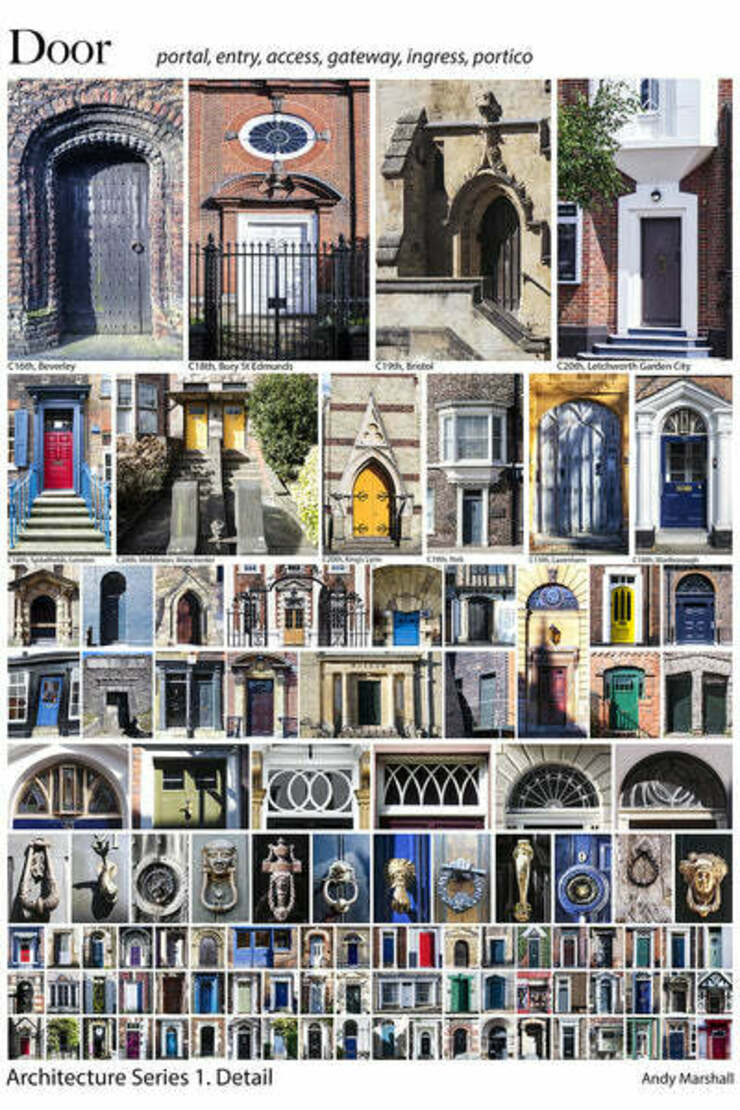 Download this digital print at the click of a button. Absorb yourself in the diversity and nuance of Great British historic architecture every time you pass this digital print.  The Door print has take over 300 hours of travel, photography and post production to produce. It highlights a vast selection of doors, photogr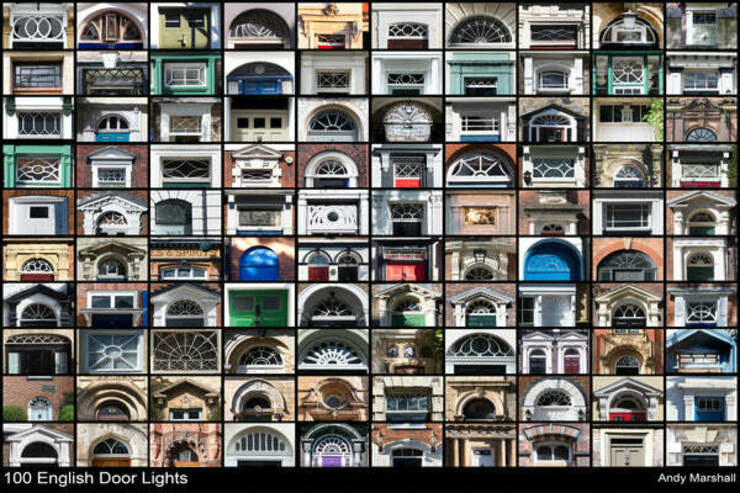 Download this digital print at the click of a button. Own this digital print and tap into the beauty and diversity of English architecture every day.   Fanlights are part of the DNA of English polite architecture. These little pockets of style betray the remarkable variety and ingenuity of design with patterns that mes
From the Twittersphere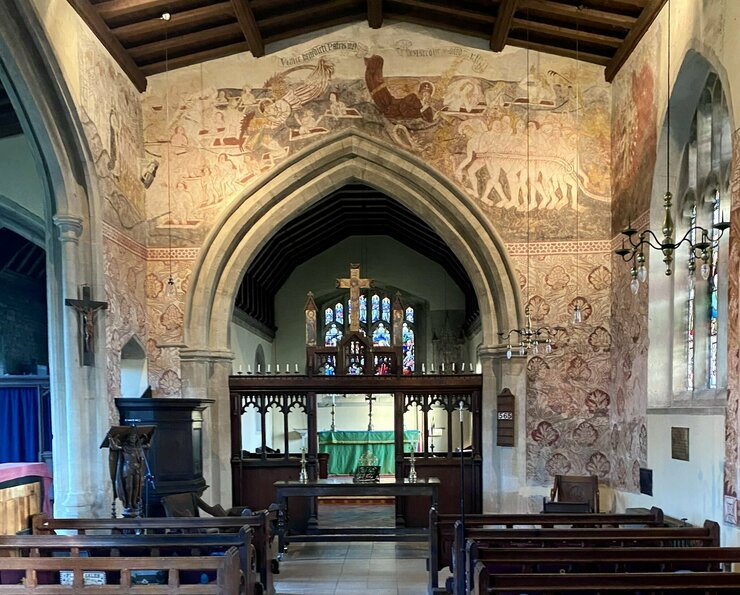 Response
Thank You!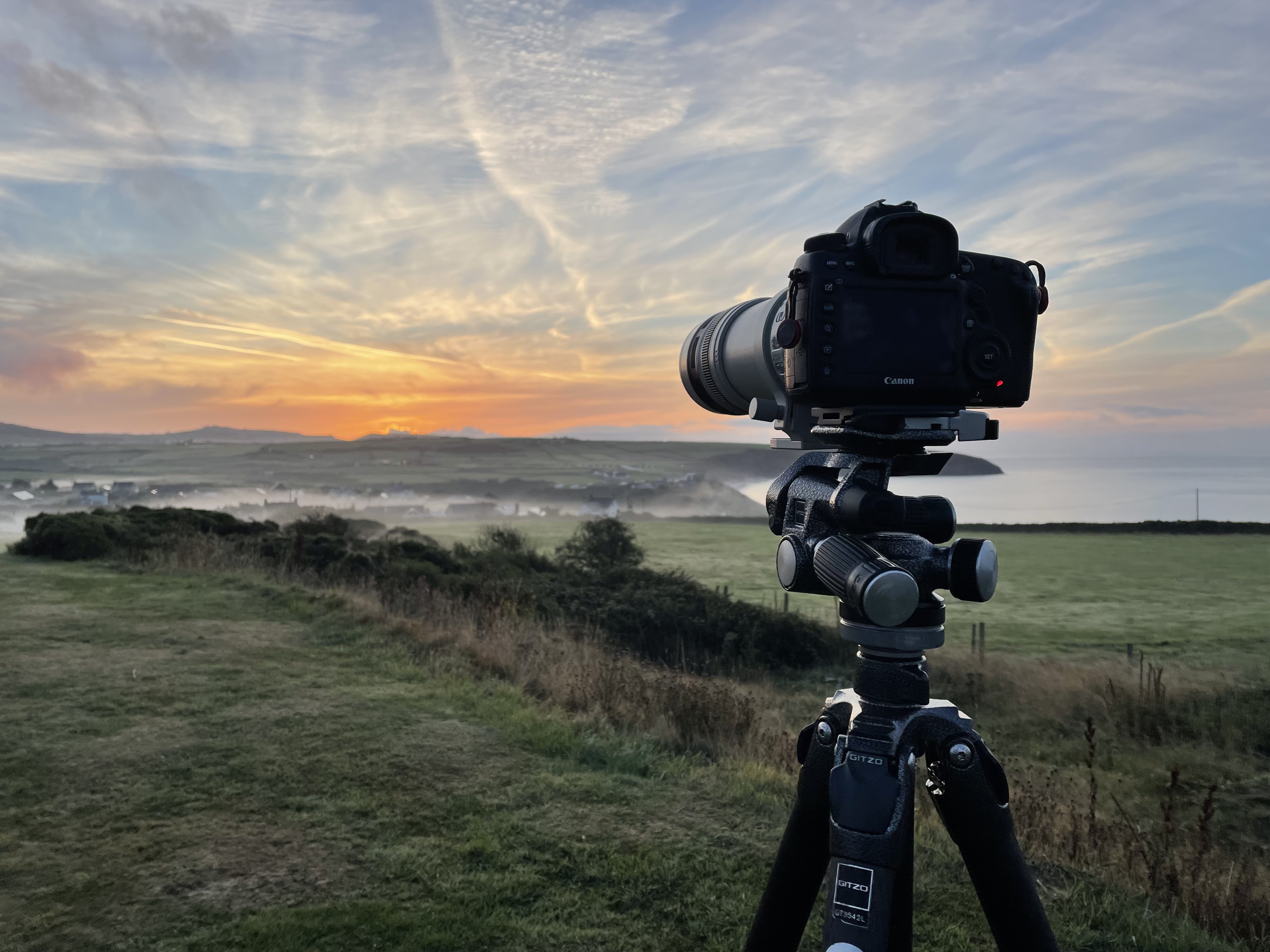 From the bottom of my heart, a huge thanks to those that have become Members and Patrons.
As well as helping me keep this digest free and public facing, your support also helps me connect with others.
I'm a niche photographer in a niche business and you are helping fill in the gaps, in a challenging climate, to help me maintain my advocacy of the historic environment.
Whilst our historic environment is increasingly under threat, I believe that we need to create emotional connections to our buildings, culture and places - no matter what country we live in. This digest is at the forefront of that.
Without attachments to place, and the values it engenders, the more practical issues of finance, conservation and environment are more difficult to advocate.
In sharing my world view I show the emotive strengths behind our built environment and how it impacts our identity and wellbeing in positive ways that are not yet fully understood. I orchestrate attachments to place that might, eventually, help protect them.
Membership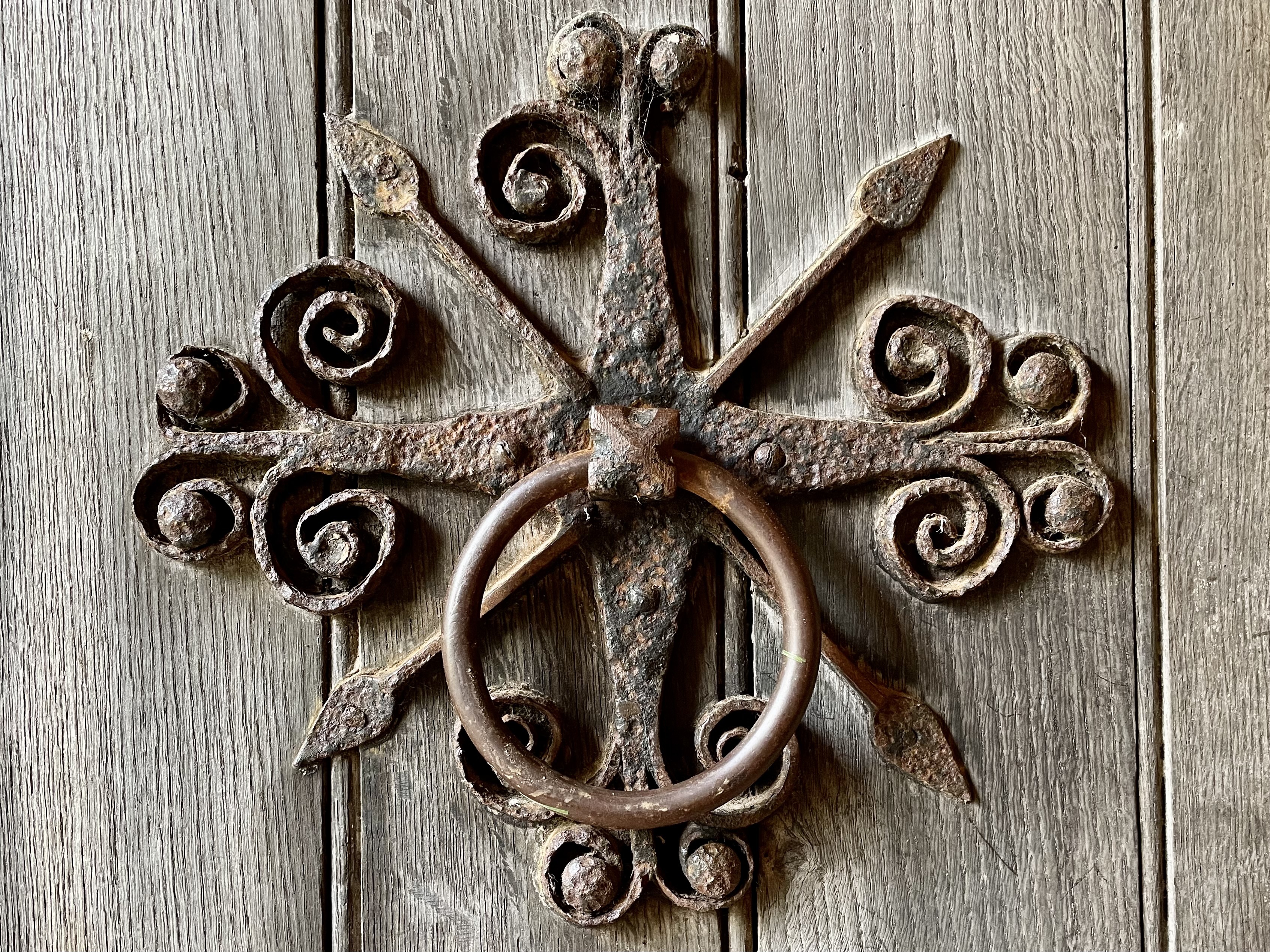 ⚡️This Digest is powered by memberships that keep it freely accessible.⚡️
I sincerely hope that my digest adds value (in a small kind of way) to your Fridays.
It takes a day every week to write my digest and I love doing it! It remains free and open to all to read on a weekly basis. If you think it's of value, you can opt in to support this digest and my work by becoming a member for £3 per month, or £36 per year. You can unsubscribe at any time. There are also some juicy member benefits.
Memberships are a huge help. Thank you.
Become A Member
📸 Click here for Monthly Membership
🚐 Click here for Annual Membership. (New!)
Thank You!
Or Become A Patron
My Linktree