Welcome!
I'm an architectural photographer and writer.
On my van-life travels through the British Isles I'm building up a word and photo-hoard of material culture that celebrates the value and distinctiveness of our built heritage and contributes to a sense of place.
My van is my time-machine, it gives me fresh perspectives on our remarkable places, shared here on a weekly basis.📸🚐🏛
🏛 Missed the last Digest? Here it is.
🚐 View Digest Archive here.
---
Photo-hoard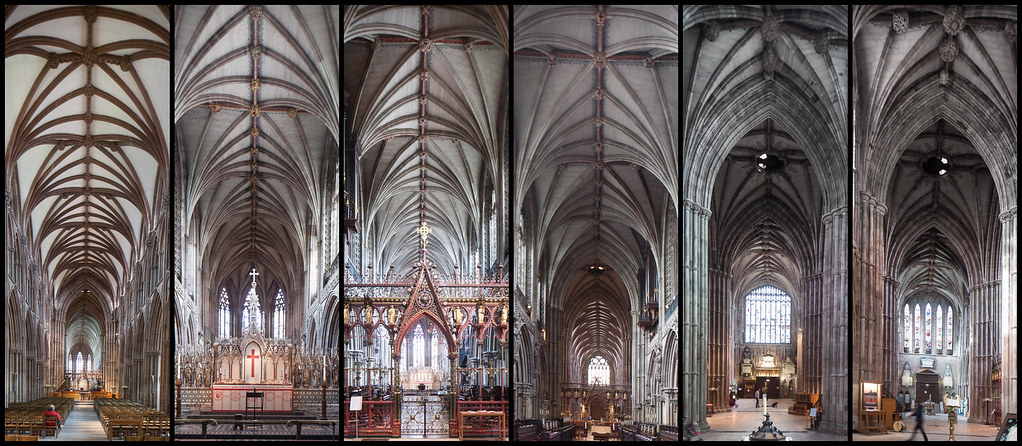 Words
"Looking closely is valuable at every scale. From looking closely at a sentence, a photograph, a building, a government. It scales and it cascades — one cognizant detail begets another and then another."
Observations
Faux Facades and Standing Stones.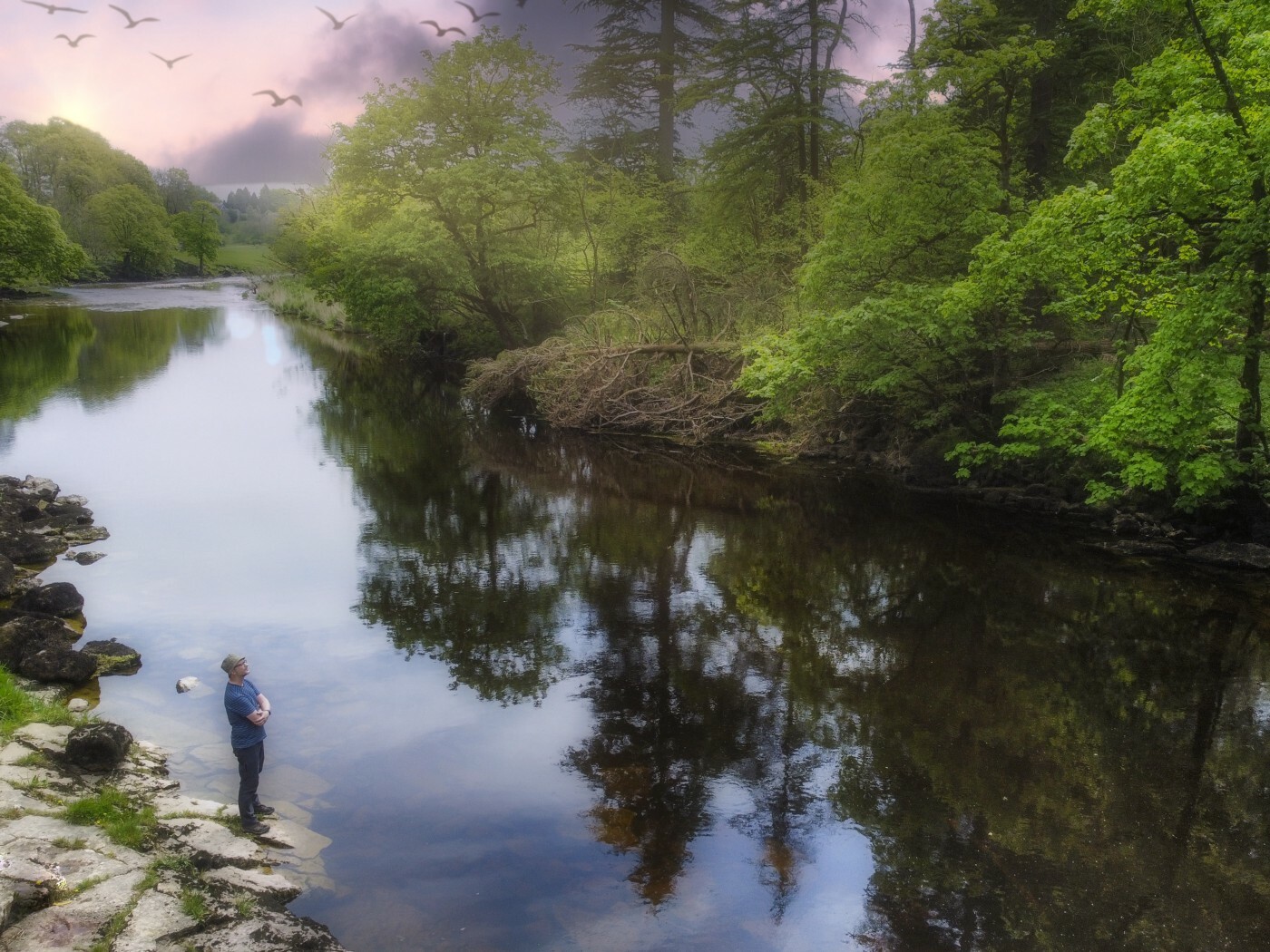 The forecast is good, so my wife, Charlotte and I decide to head up to a favourite spot in the Yorkshire Dales.
We arrive in Grassington first thing and walk from the car park up into the village centre. Our plan is to visit the bakery and buy sandwiches for lunch out on the walk. We stand outside the bakery and are instantly confounded. The bakery isn't there. Neither is the gift shop or the post office. The Devonshire pub next door is now called The Drover's Arms. I look at the buildings along the street - all the facades that we've come to know over the years have completely gone - erased. Behind me an ancient doorway has morphed into a Regency porch. The products in a window further down the road are priced at 3d. For a moment I think I've entered a time slip. All the while that we are standing and staring, neither of us says a word. We've been disconnected from what we thought we knew. It's a surreal and angst inducing sensation. Nobody wants to be the first to let on.
"I look at the buildings along the street - all the facades that we've come to know over the years have completely gone - erased."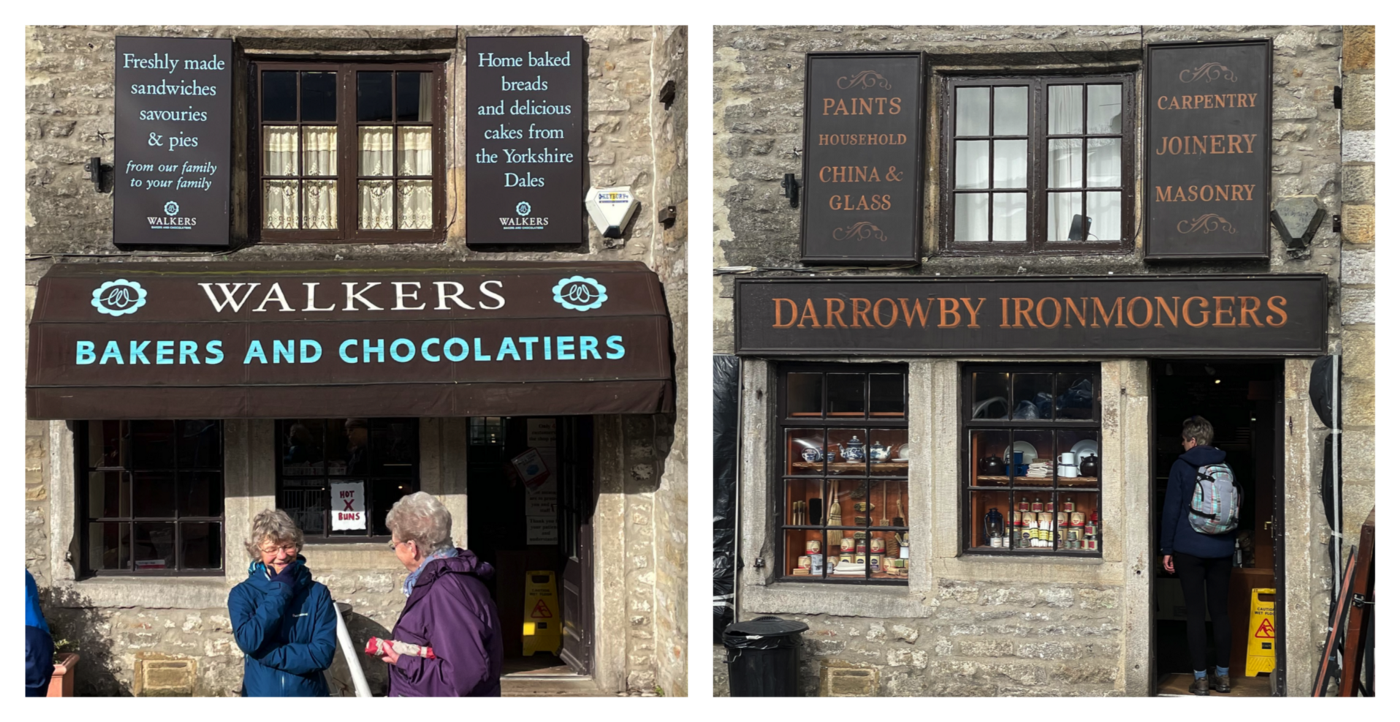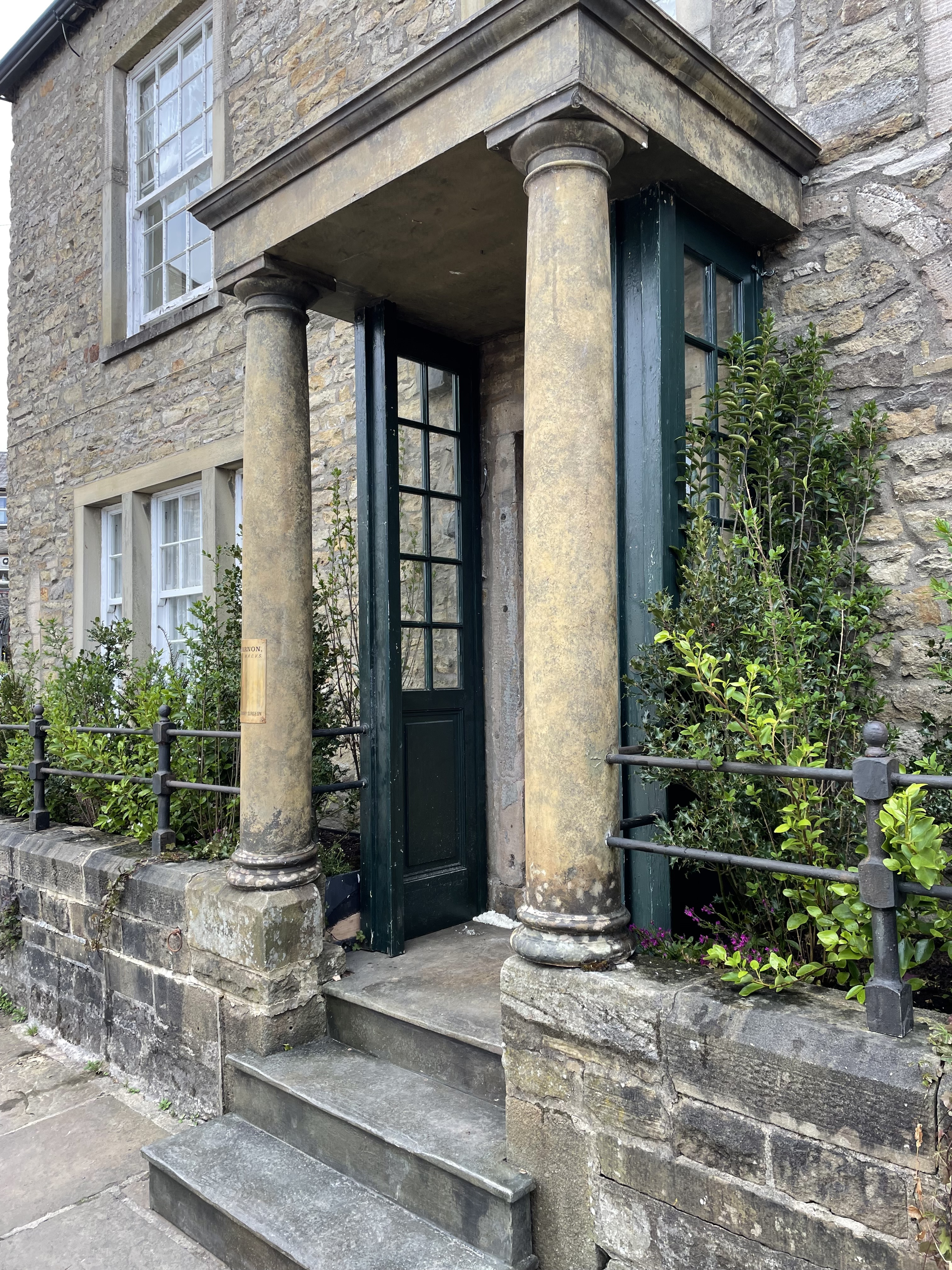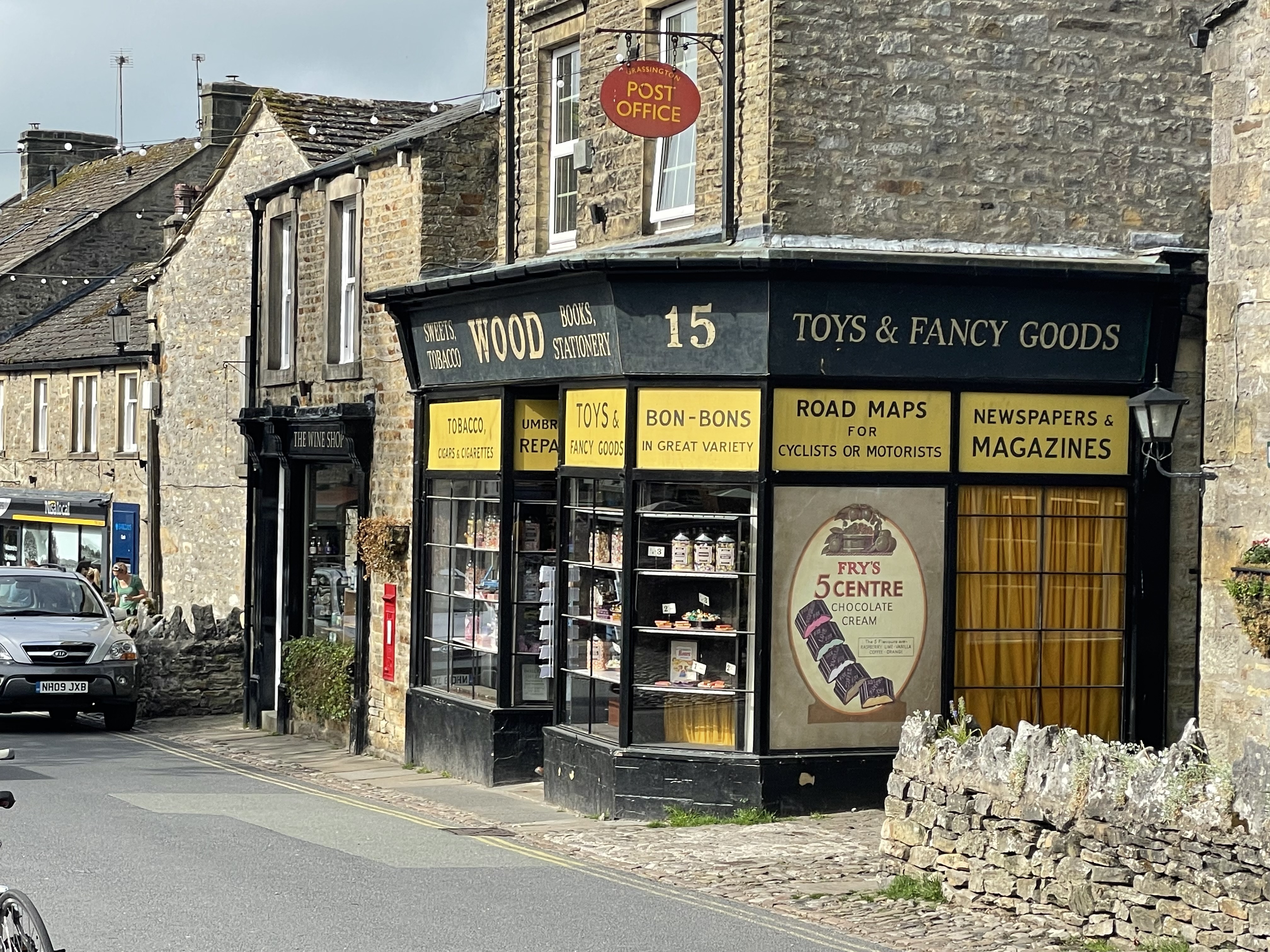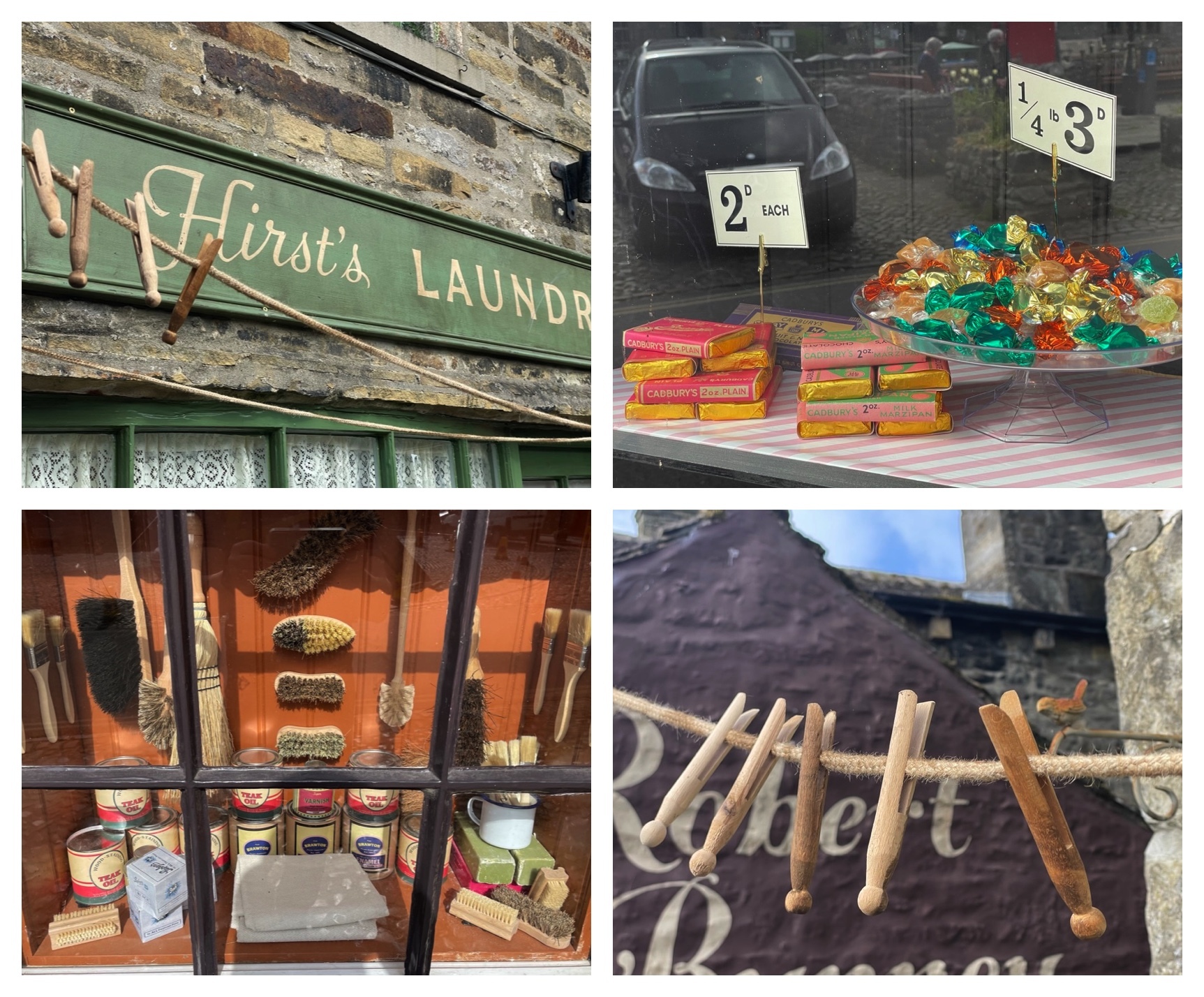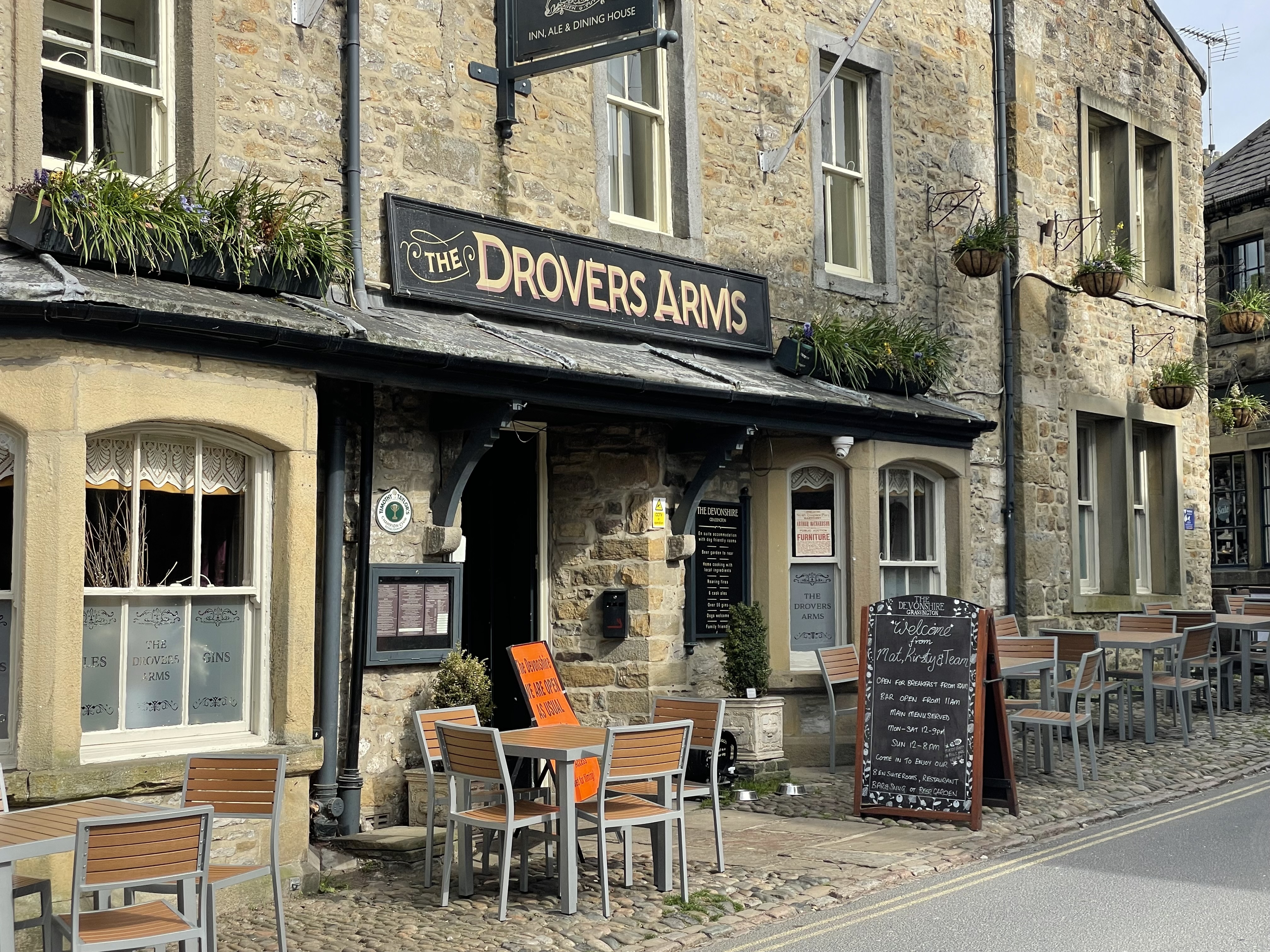 Then, a lifeline: through the door of the bakery-cum-Darrowby Ironmongers, I see pies.
"It's for a TV series." says a chap in a hi-vis vest stood behind me.
"They're filming here on Tuesday, it's for All Creatures Great and Small. They've changed the shop fronts. All their props are beneath that tarp. "
I look at the pile at the centre of the market place. It's covered in a blue tarpaulin. Spilling out from beneath it is the detritus of 1940's England. It's as if somebody has opened up a wormhole from WW2 Britain and chucked their belongings into the present day for safety.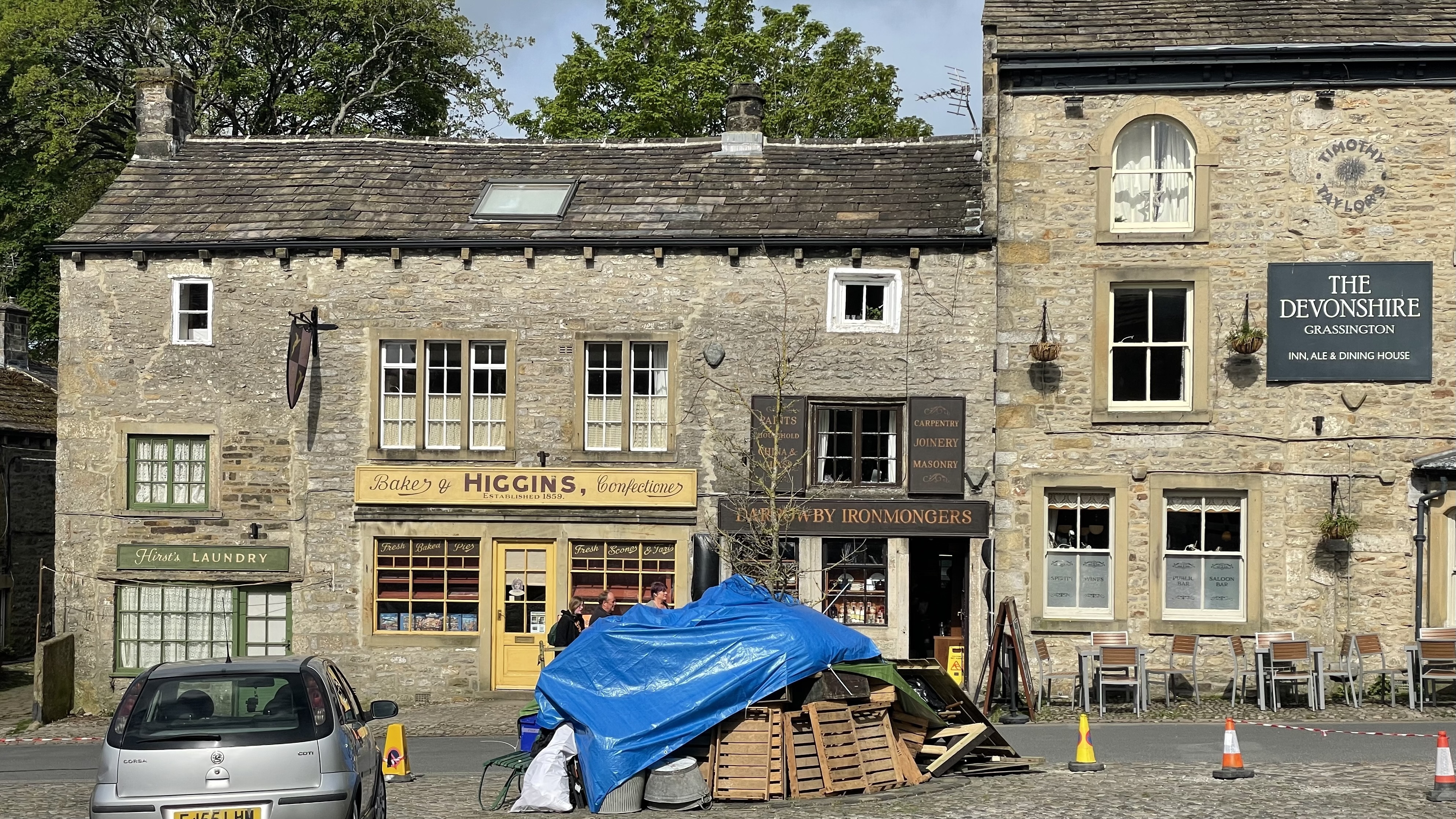 "It's a time-hoard." I think to myself as I spot Char walking out of the ironmongers with two cheese and tomato butties and a palpable sense of relief on her face.
We walk through the village on to Lea Green, a moor above Grassington, where we come across another stage set, but this time it's on a grander scale and from a different period. We are walking through a karst landscape that's infused with ritual. It isn't obvious; if you don't tune into it you'll miss it.
I think of the aboriginal songlines in Australia: a series of pathways that run across the continent connecting elements in the landscape (called stops). Aboriginal people can sing themselves across the landscape without a map. The connecting stops (such as Uluru) are mnemonic data sets that hold information that's sung into the present. This vast map of songlines presents itself like an organic computer - orchestrating movement, defining boundaries, encouraging a moral code and imparting lessons learned by previous generations. It's a layering up of deep-rooted wisdom that is bound up in a loving stewardship of the natural environment.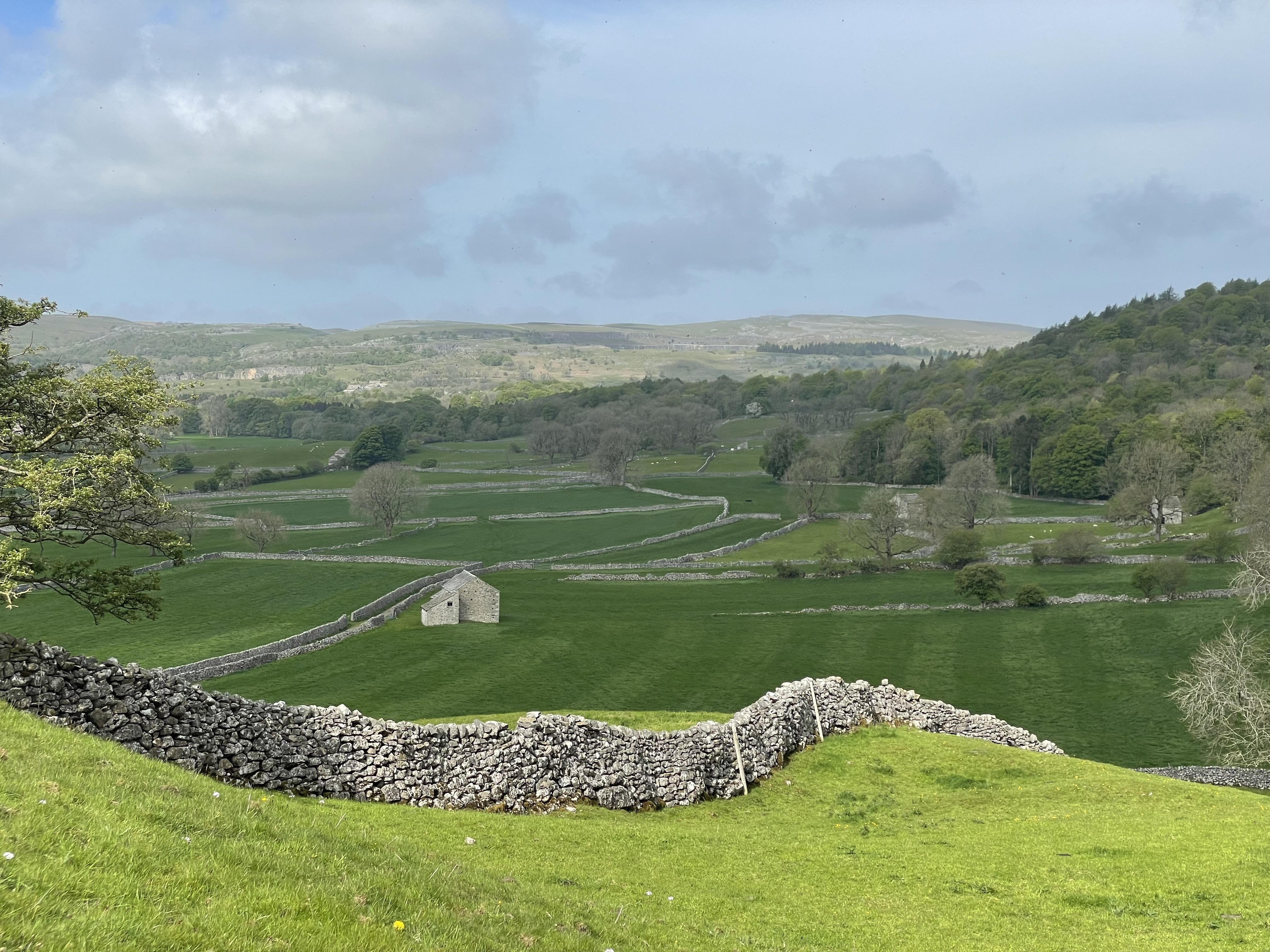 Here in the hills above Grassington there are prehistoric standing stones and burial mounds dotted around the moor. I climb on to a limestone pavement and try and connect the dots. They seem to line up with other stones which in turn define hollowed out ditches. I have an odd sensation - as if somebody is trying to tell me something. Like the aboriginal songlines, the landscape here is full of knowing, but this organic computer of stops and lines has been disconnected, lost in memory. The wisdom has gone.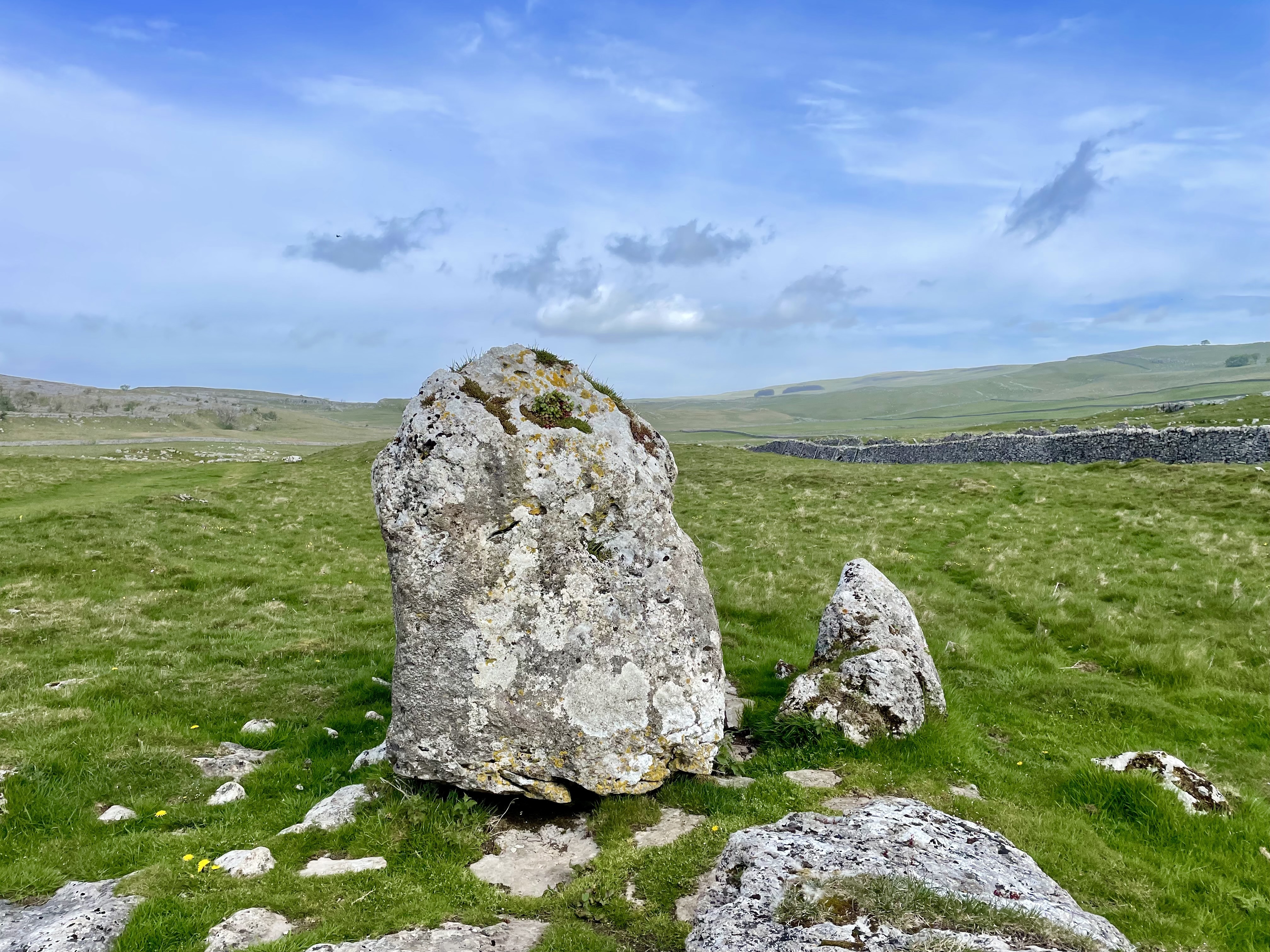 Further along our route, in Grass Wood, we come across a tree that's dressed from crown to root in fungi. Something stirs within. The silhouette of the fungi-tree is an unusual countenance in the clearing. The fungi look like ears. The tree looks like it is listening. I fashion connections between trees like this and the green men carved in our churches. I carry its alchemy along the Wharfe with me.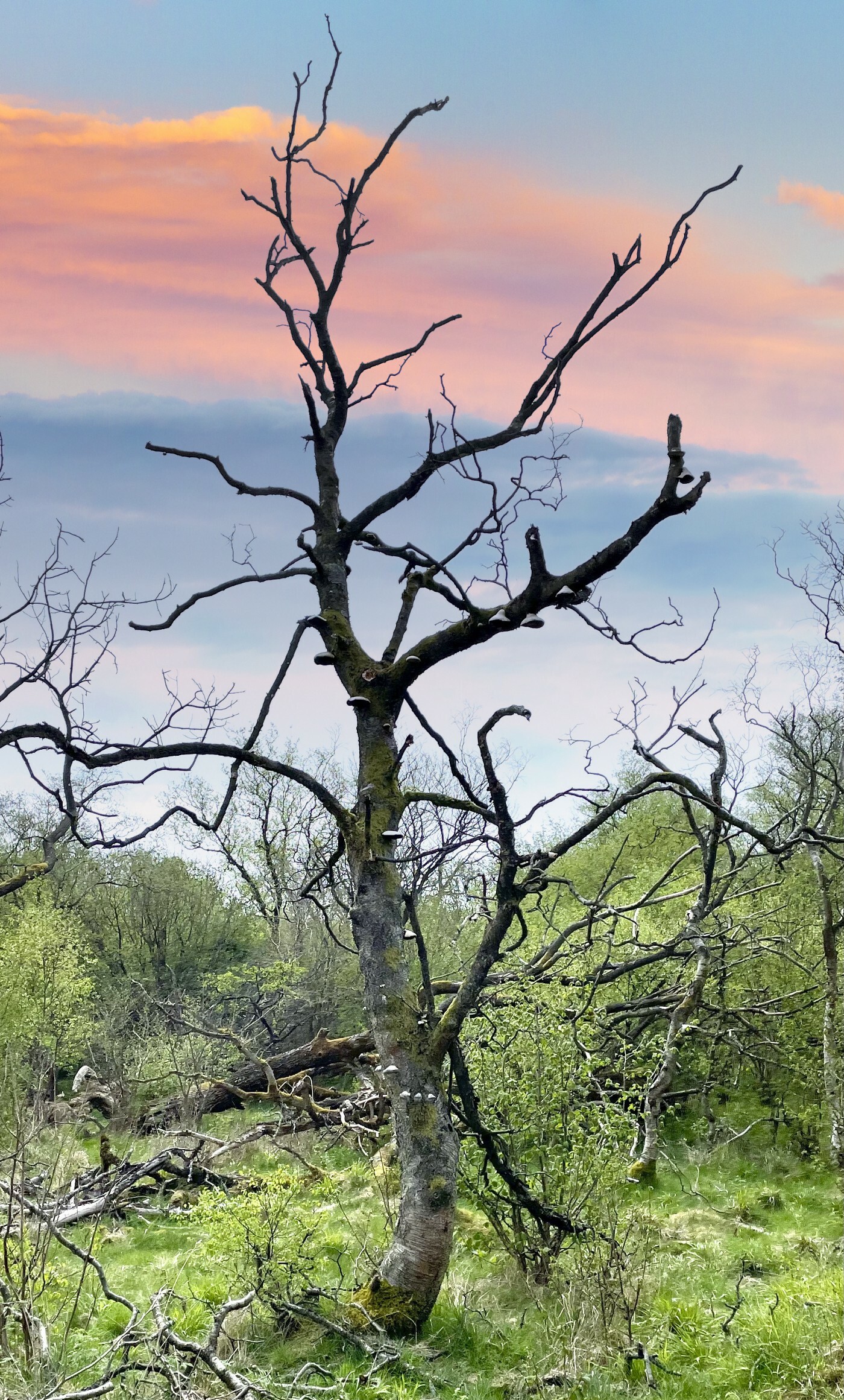 In our final mile we take in Ghaistrill's Strid: a shallow run of water that loops through the limestone. Beside the gushing Wharfe the limestone is contoured with bowl shaped hollows of different sizes. They've been formed by erosion: an infinite spinning cycle of pebbles. They're incredibly beautiful and remind me of crafted artisan bowls or mid-century modern sculptures. The smoothed out hollow is defined by the pebble and the pebble is defined by the hollow it smoothed out.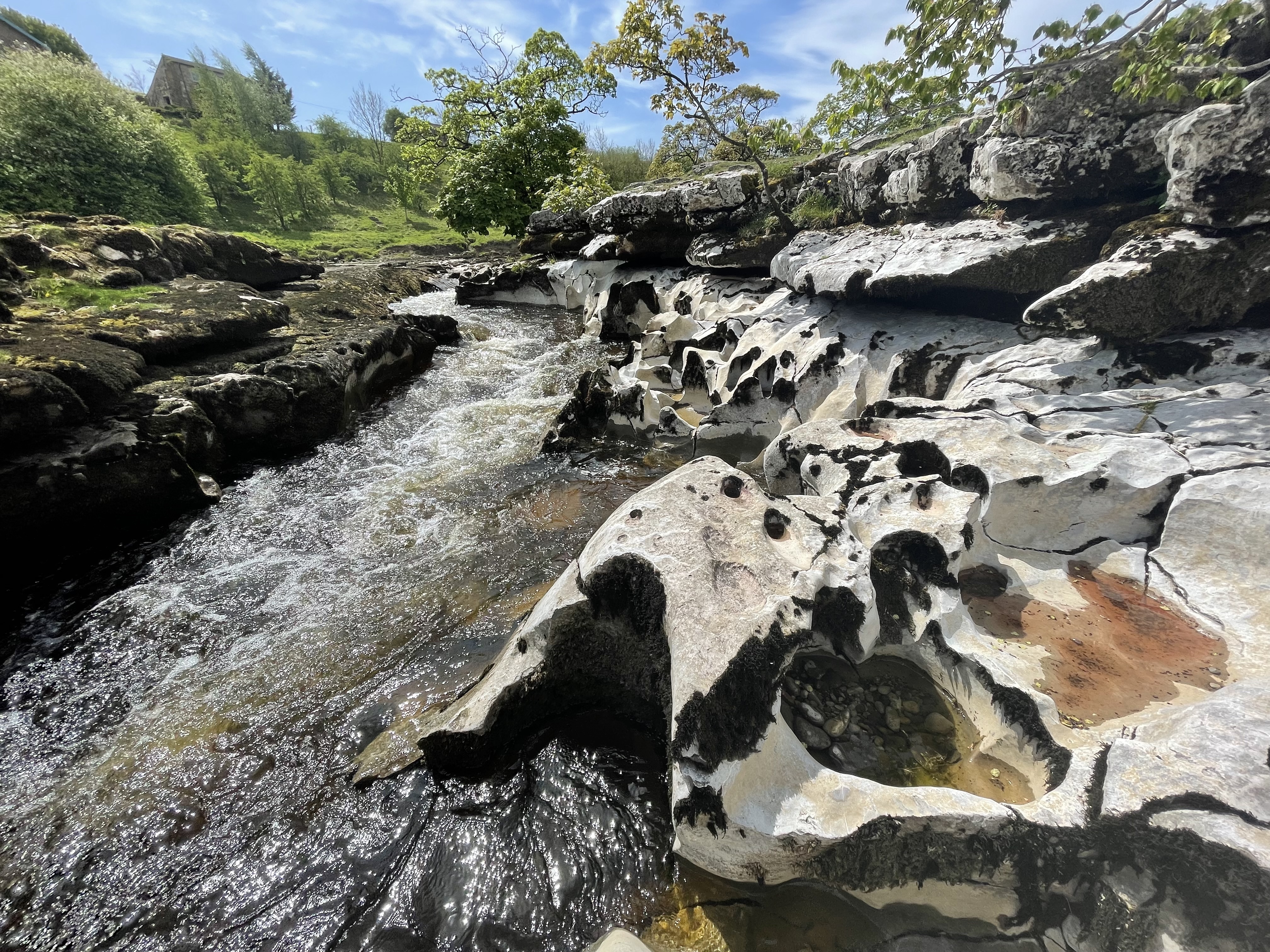 There's a kind of intelligence in that infinite loop, but not of the human kind. It's trying to tell us something. I see echo's in the cup and ring marks found on rocks in places nearby. Perhaps somebody, a few thousand years ago, not much unlike me, felt the same jolt of wonder at the lesson in harmony passed on by the stones. It's a lesson that sits well with scientific solutions for our own planet's salvation. A portent from nature itself.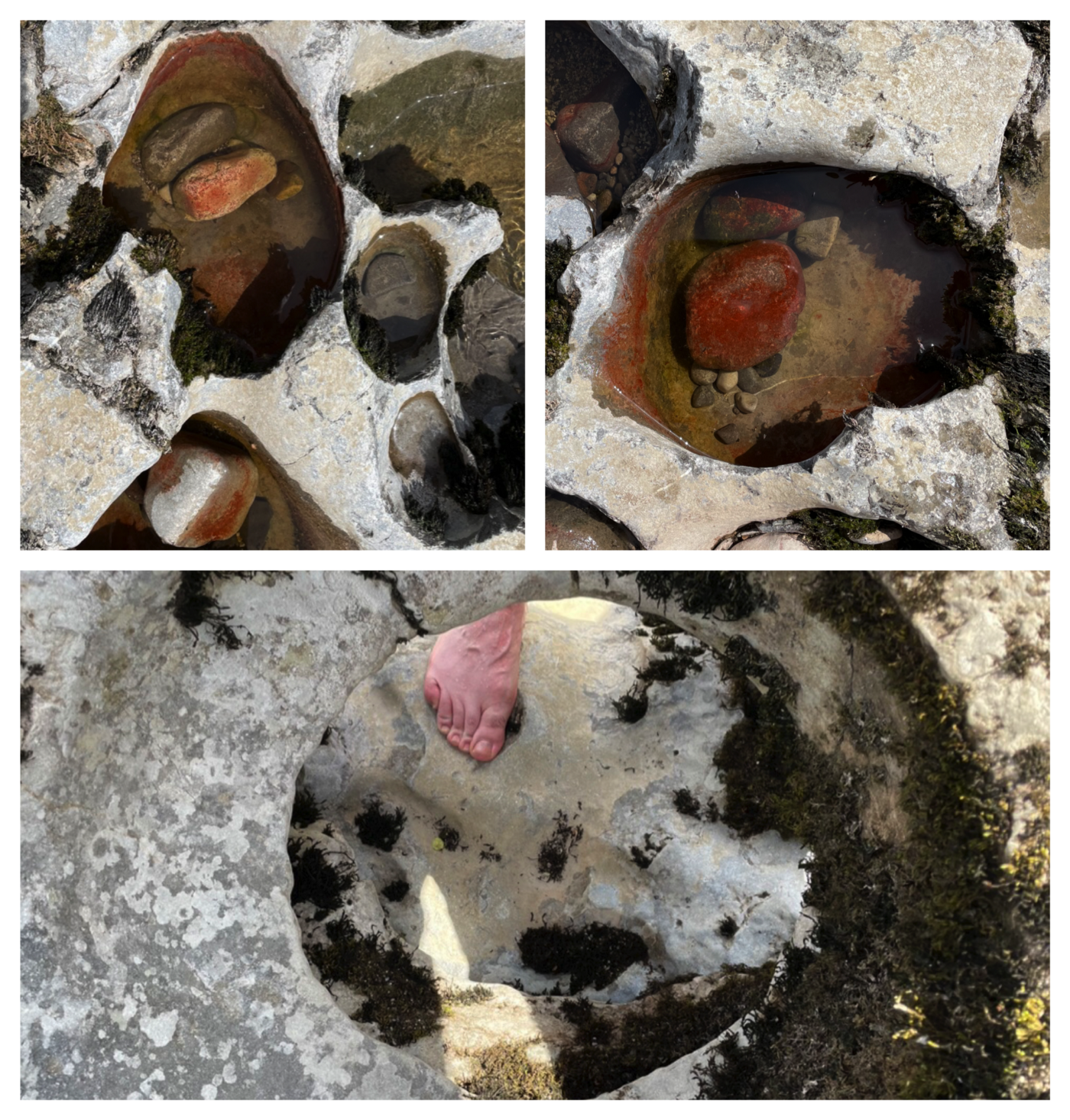 A tree that listens and a rock that tells.
I think of words by ecologist David Abrams: "....is the human intellect rooted in, and secretly borne by, our forgotten contact with the multiple nonhuman shapes that surround us?"
Abrams words bring on a thought that seems fanciful at first. Like the faux shop fronts at Grassington, it takes some time for the penny to drop. Perhaps the wisdom hasn't been lost. Might it sit in places like the fungi-tree and the river bowl? Are the feelings these places stir within part of a body memory, a ghost imprint in our DNA, formed over millennia and incited by our relationship with our natural environment? Is this what the ancient stones on Lea Green are trying to say, and might they (and countless others in our indigenous landscapes) hold the secrets to our planet's future?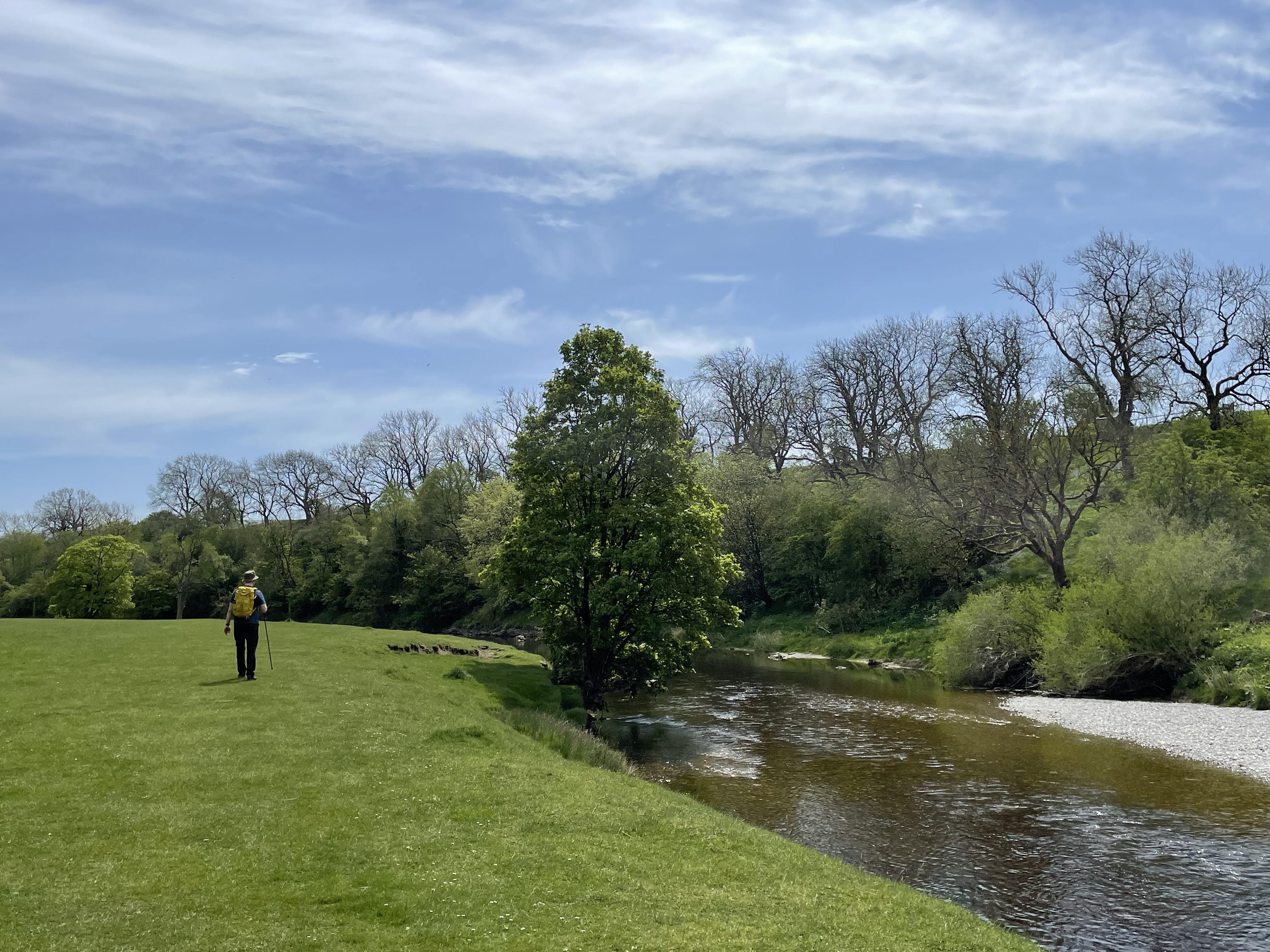 Twitter Circle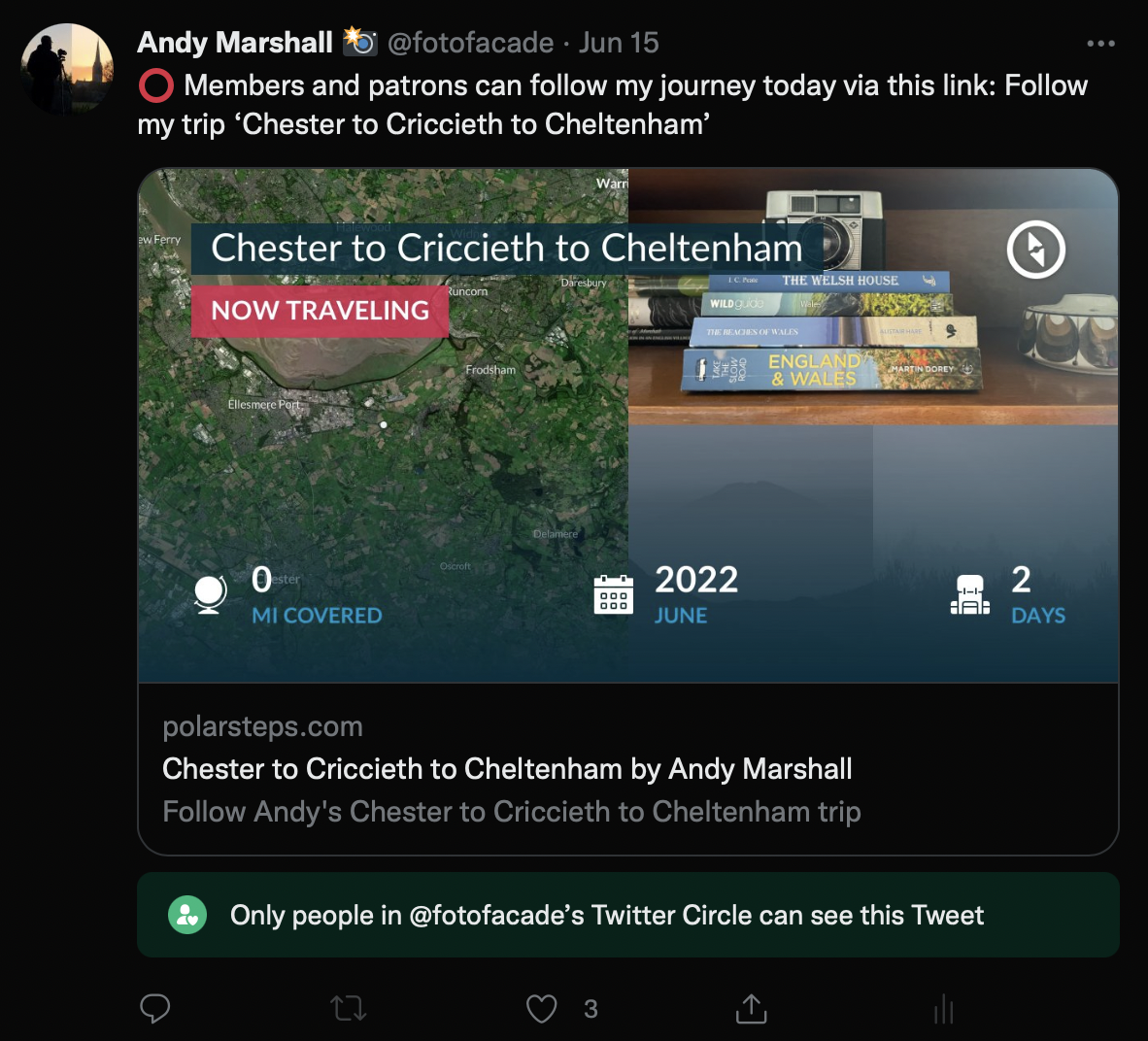 Heads up for a new Member and Patron benefit: the member's twitter circle. It's been up and running for a couple of weeks now.
It's a place where we can interact and you can follow me live on my journeys. There's also exclusive professional photography straight from the sites I'm commissioned to photograph. Lots of hidden gems, travel tips and a chance to interact.
If you're a member or a patron and you're on twitter - drop me a line with your twitter handle and I'll add you to it. It's free to join twitter and you can stay anonymous and just watch the tweets scroll by.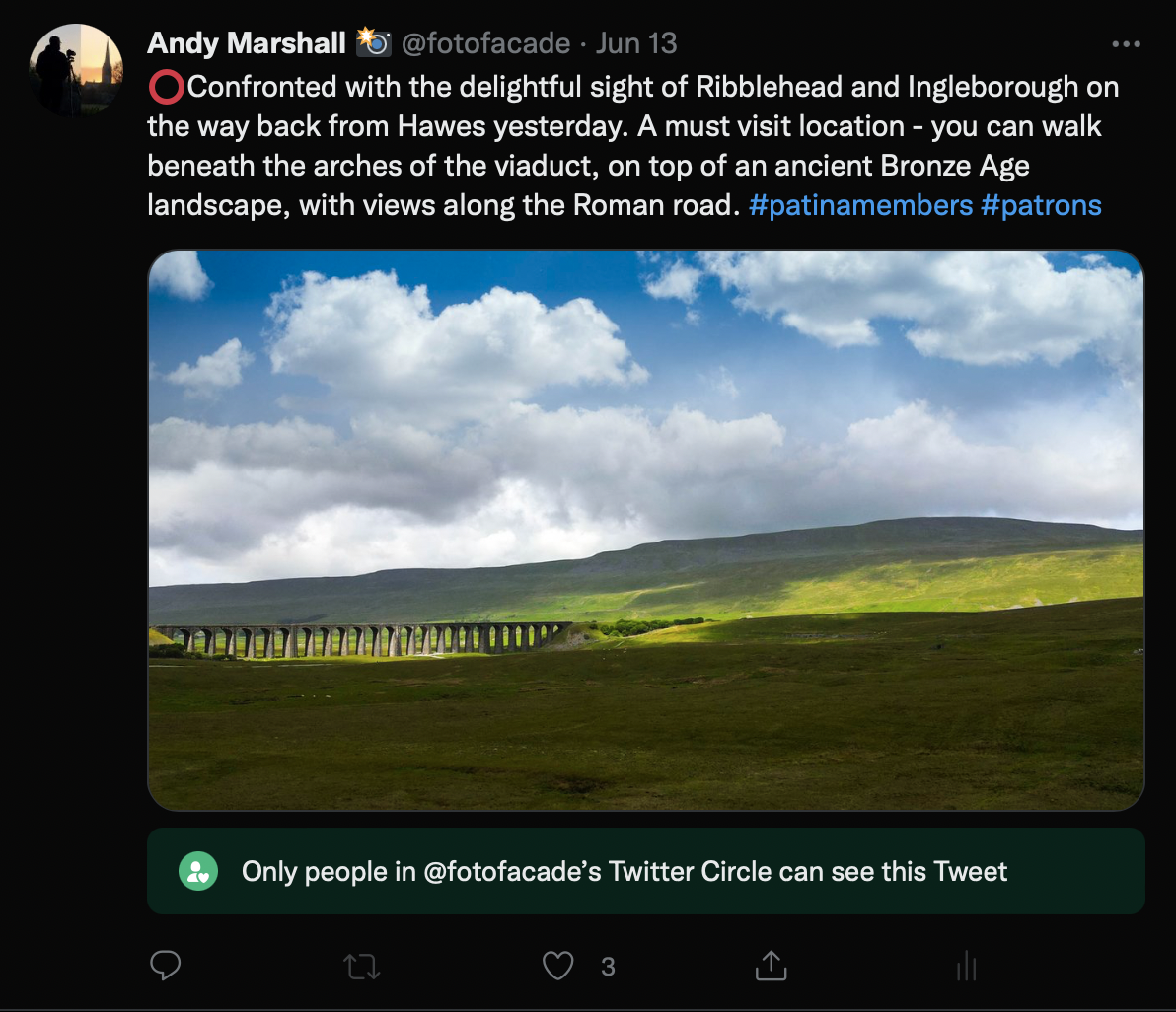 Hotspots
Tewkesbury
It's a flying visit and I'm passing through on my way to lodge with a friend, Steve, over in Oxfordshire.
We meet up at the abbey and ingratiate ourselves in the graffiti. We bump into other like-minded people. Who'd have thought that, over and above the Romanesque delights, there was so much to be had out of the scratch marks on the walls? There's a cosmos in the minutiae.
Tewkesbury Abbey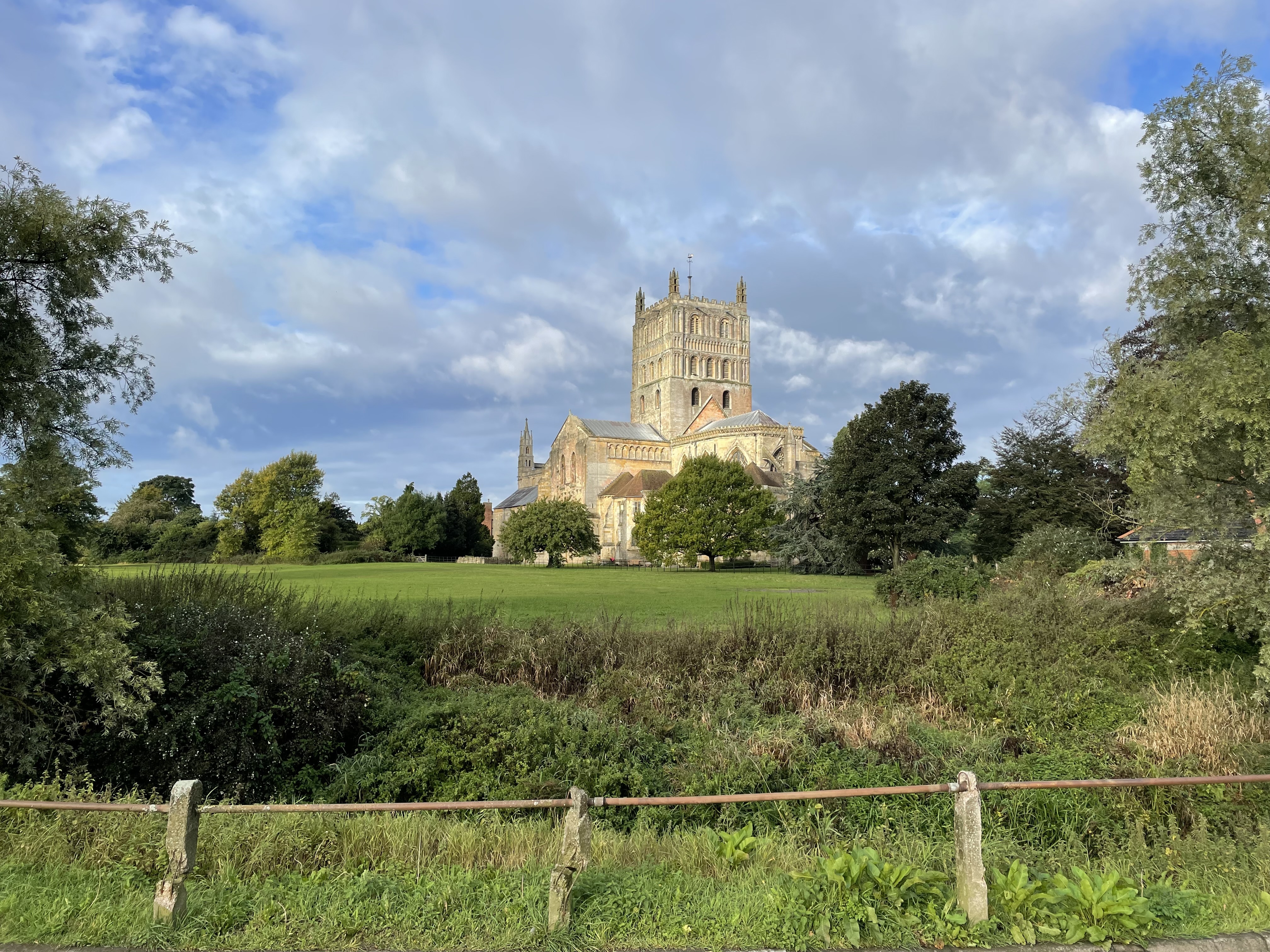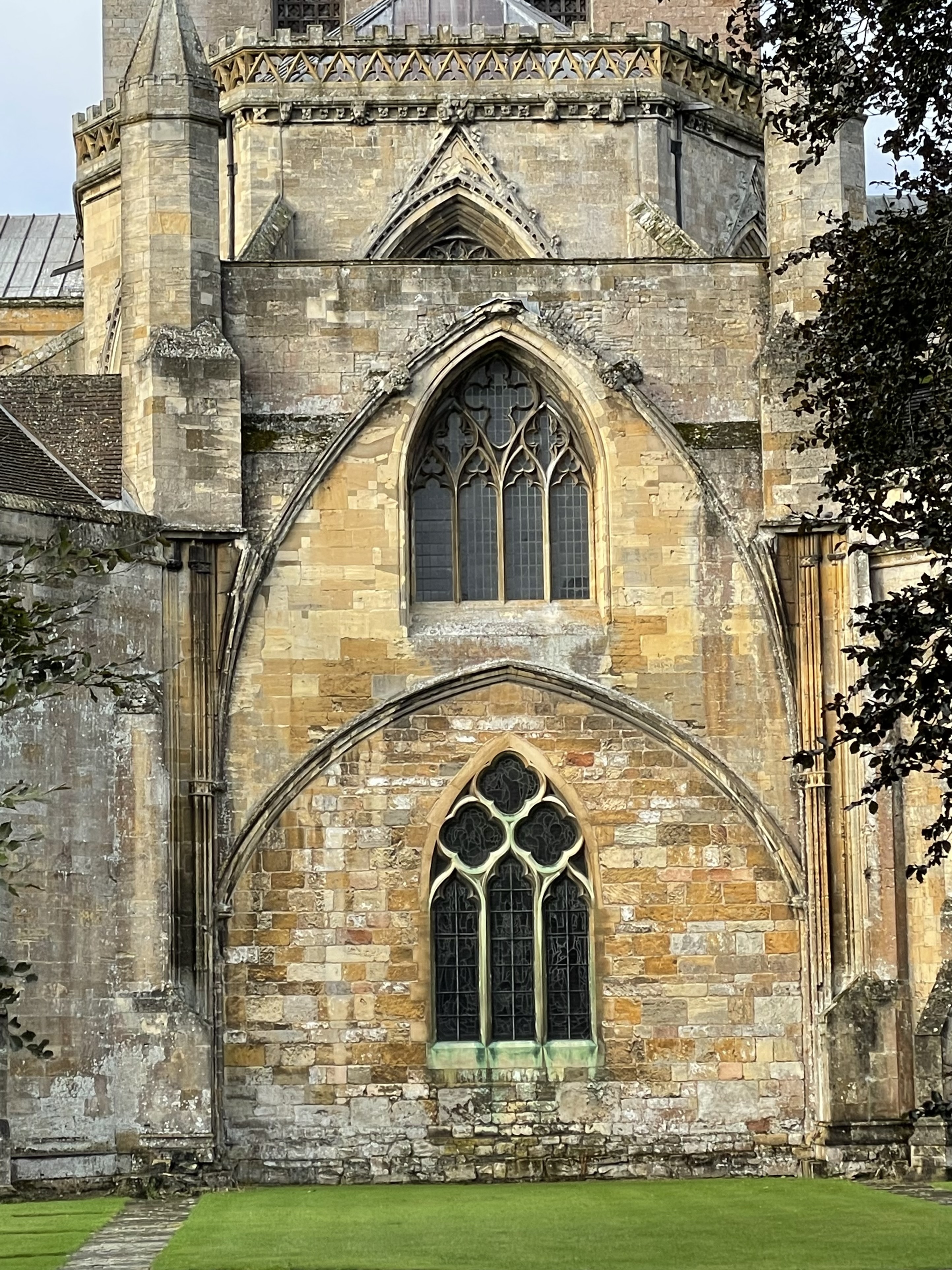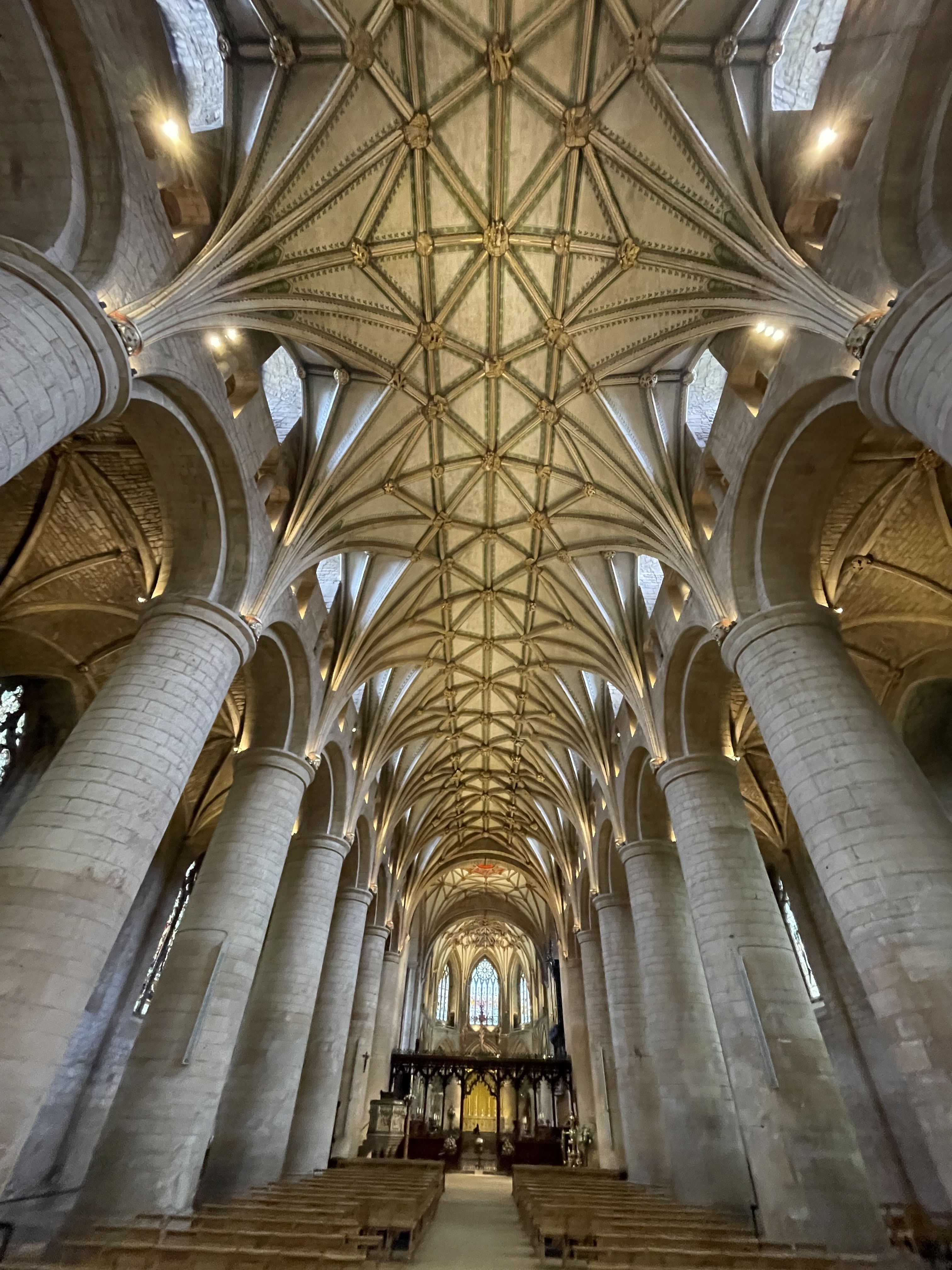 Much of the graffiti is thought to be apotropaic or evil warding. Daisy wheels (hexafoils) and Marion Marks.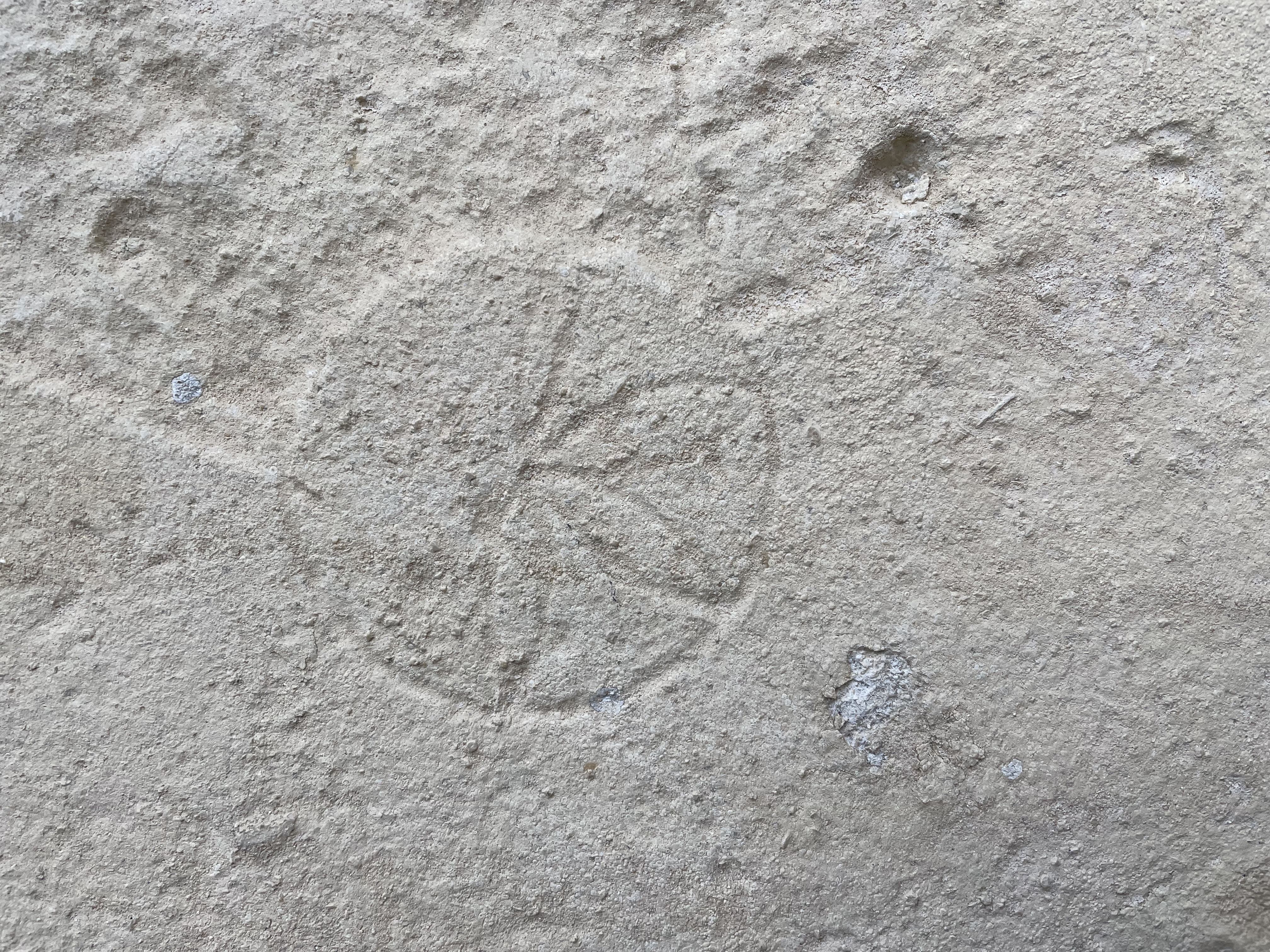 Pilgrim's Mark of 1590.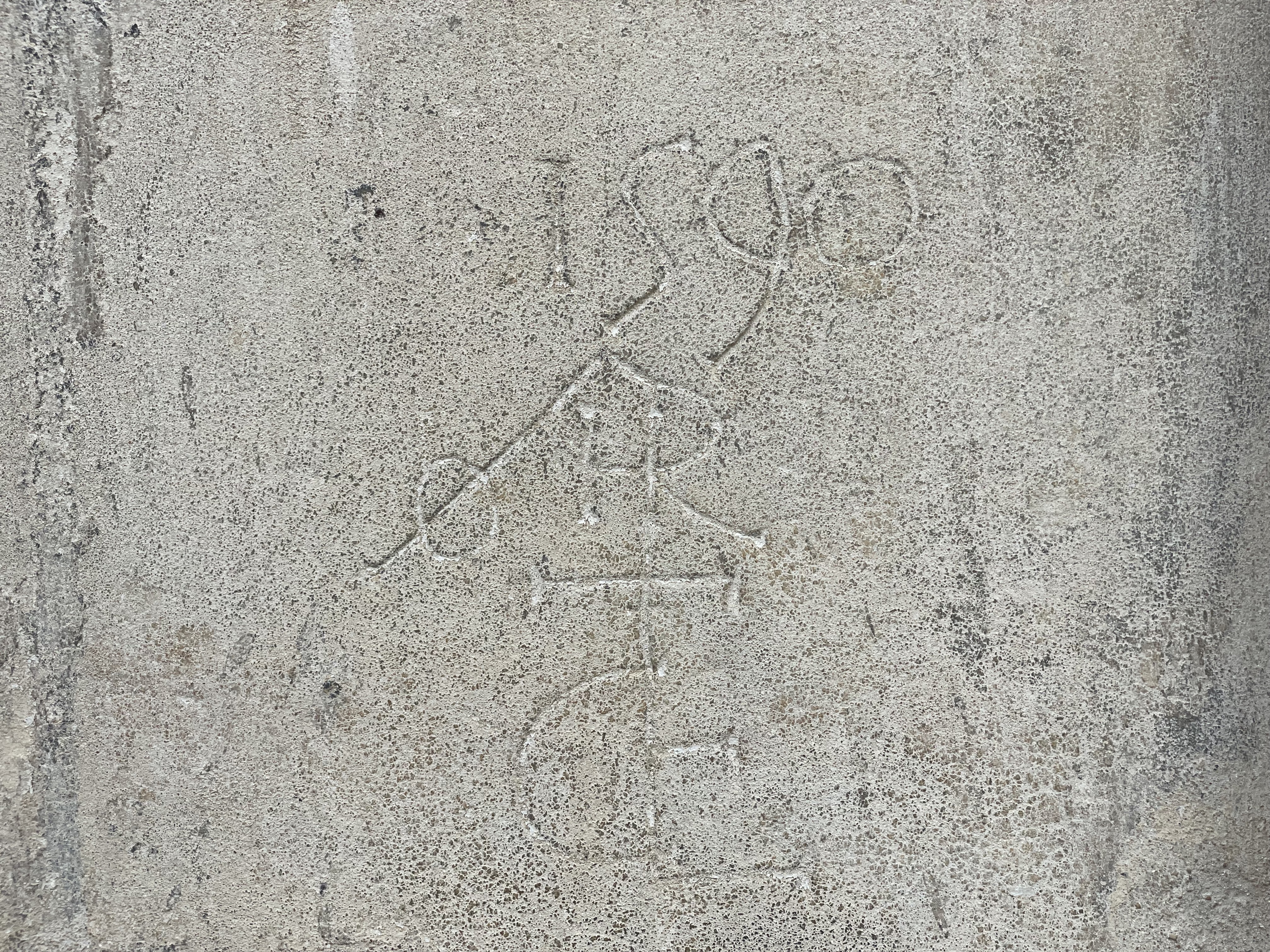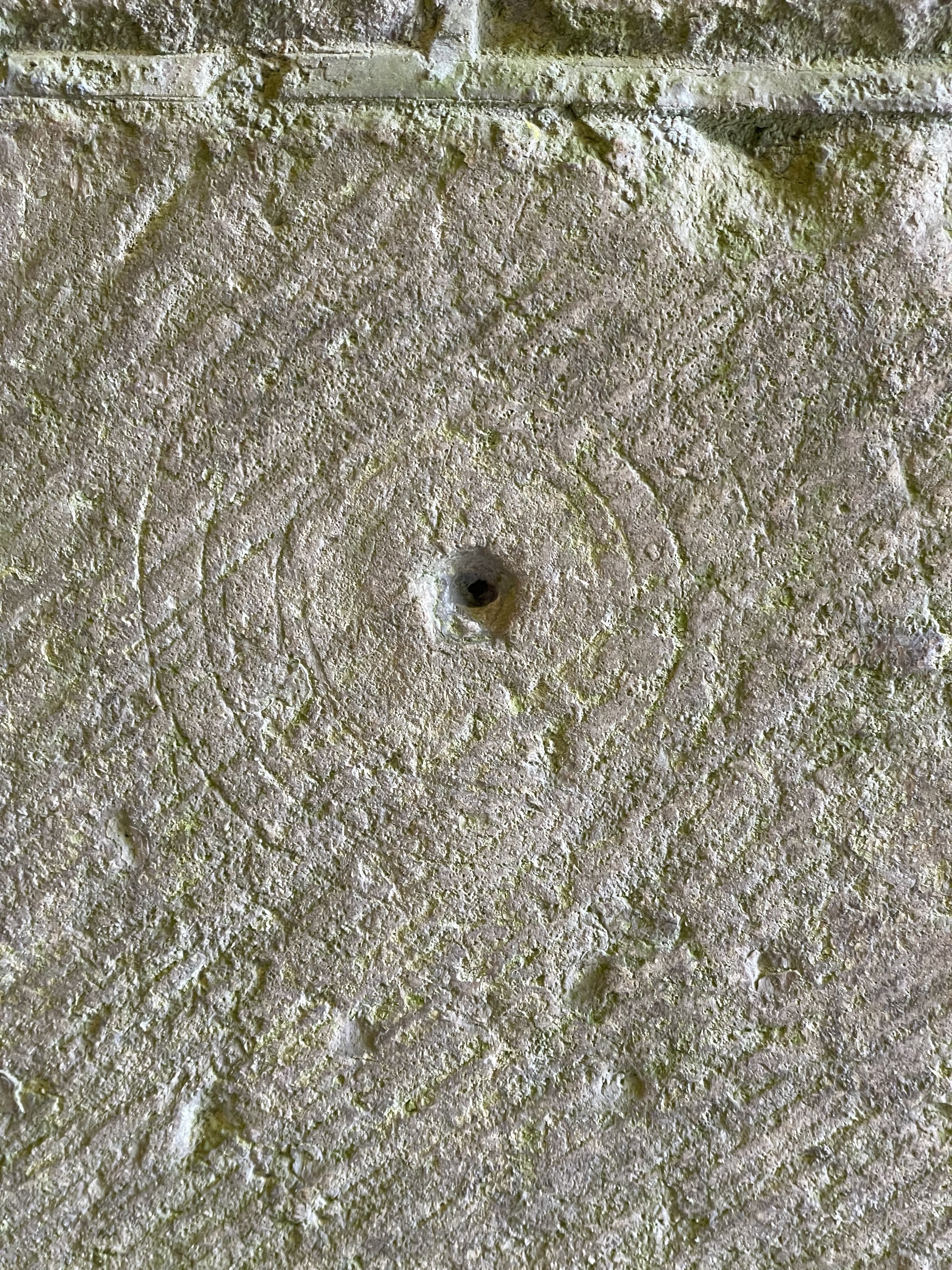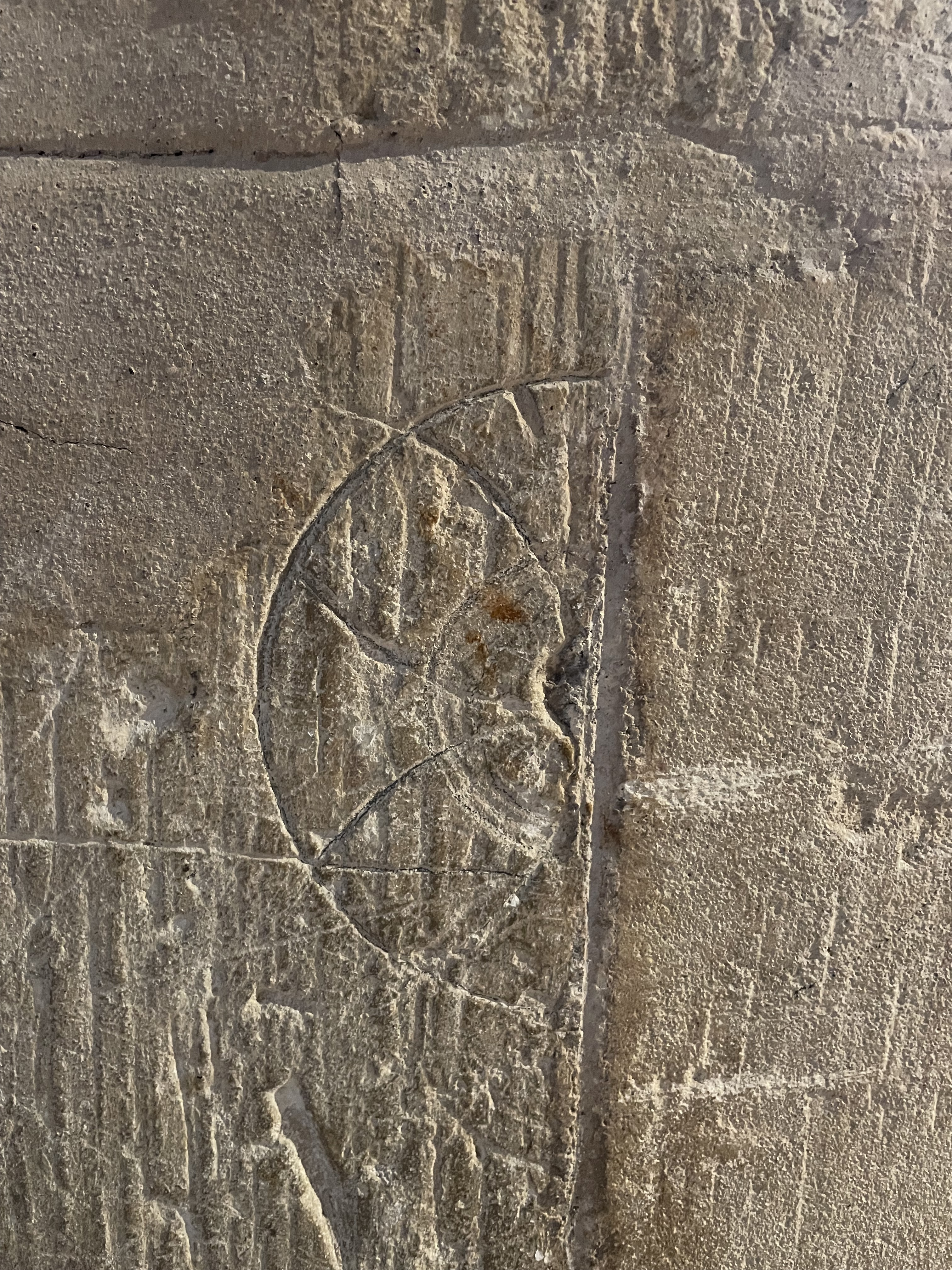 Inside the nave I sniff out (with the help of my iPhone torch) this wonderful bird of paradise on the crossing pier. People are starting to notice - two blokes with torches, noses up against the arcade...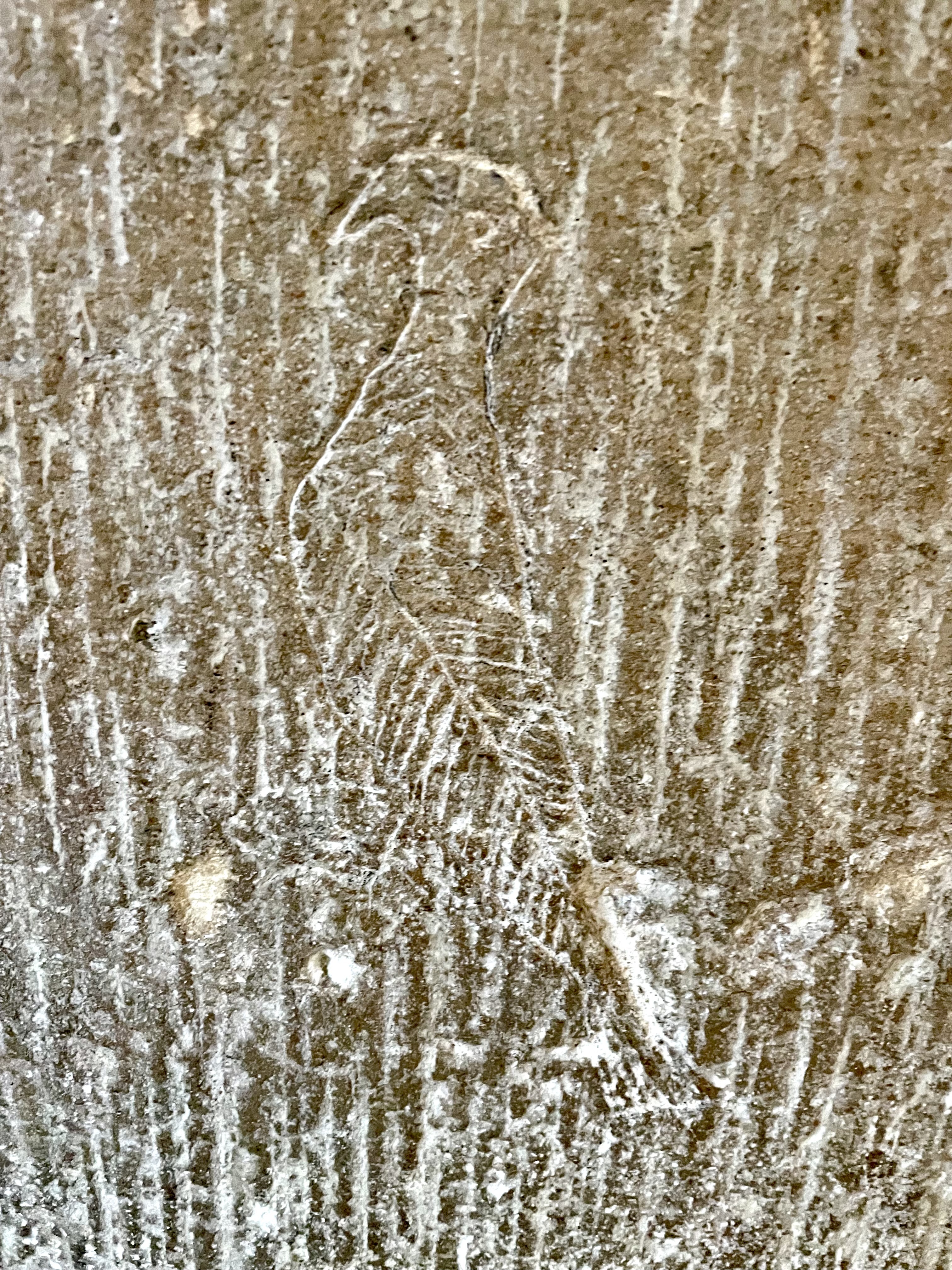 Then, beneath the bird - what we thought was a Manticore - a mythical beast from the Bestiary. Not sure if I'm right there - let me know if you have any better ideas as to what it is.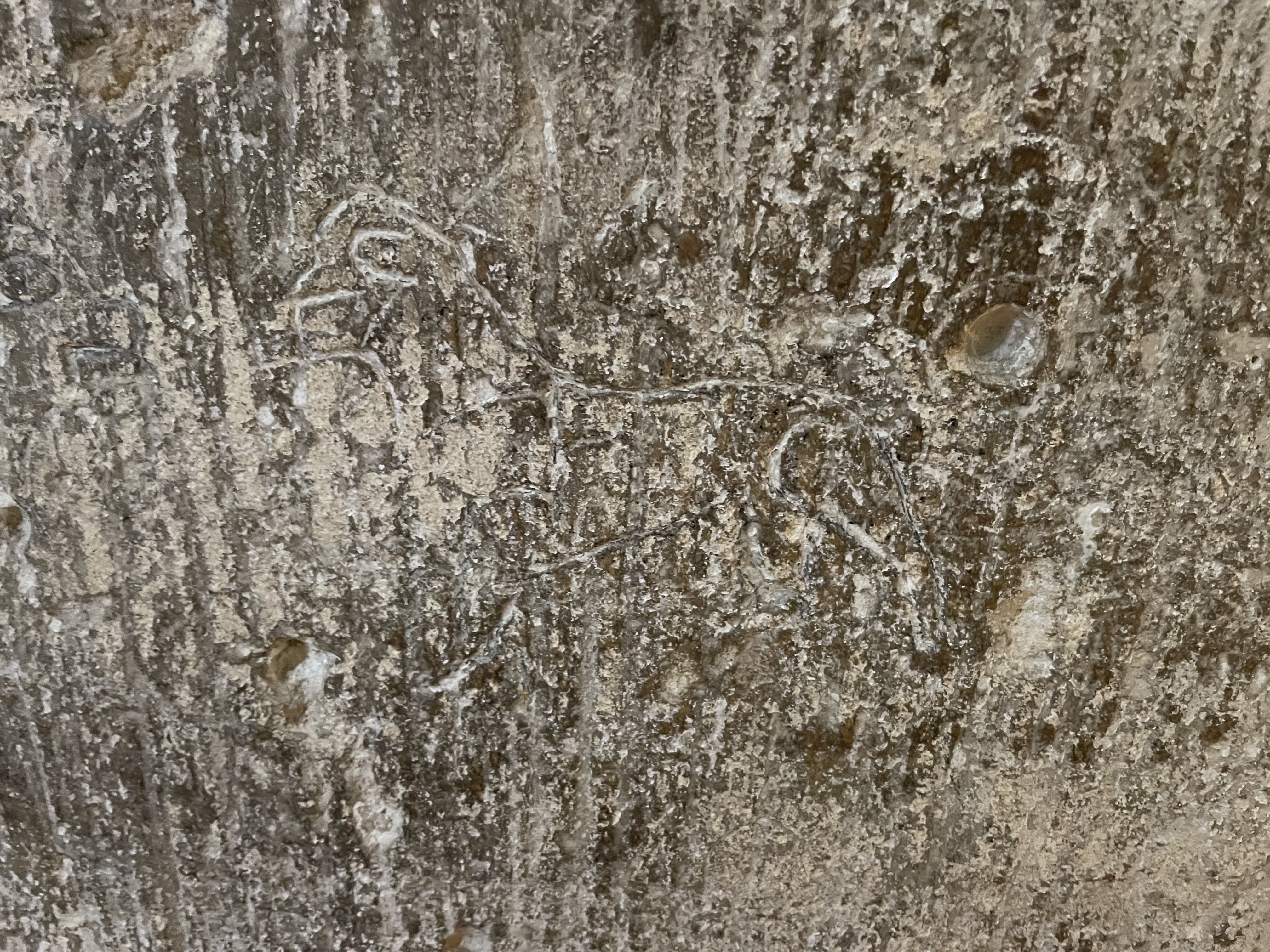 Tewkesbury Buildings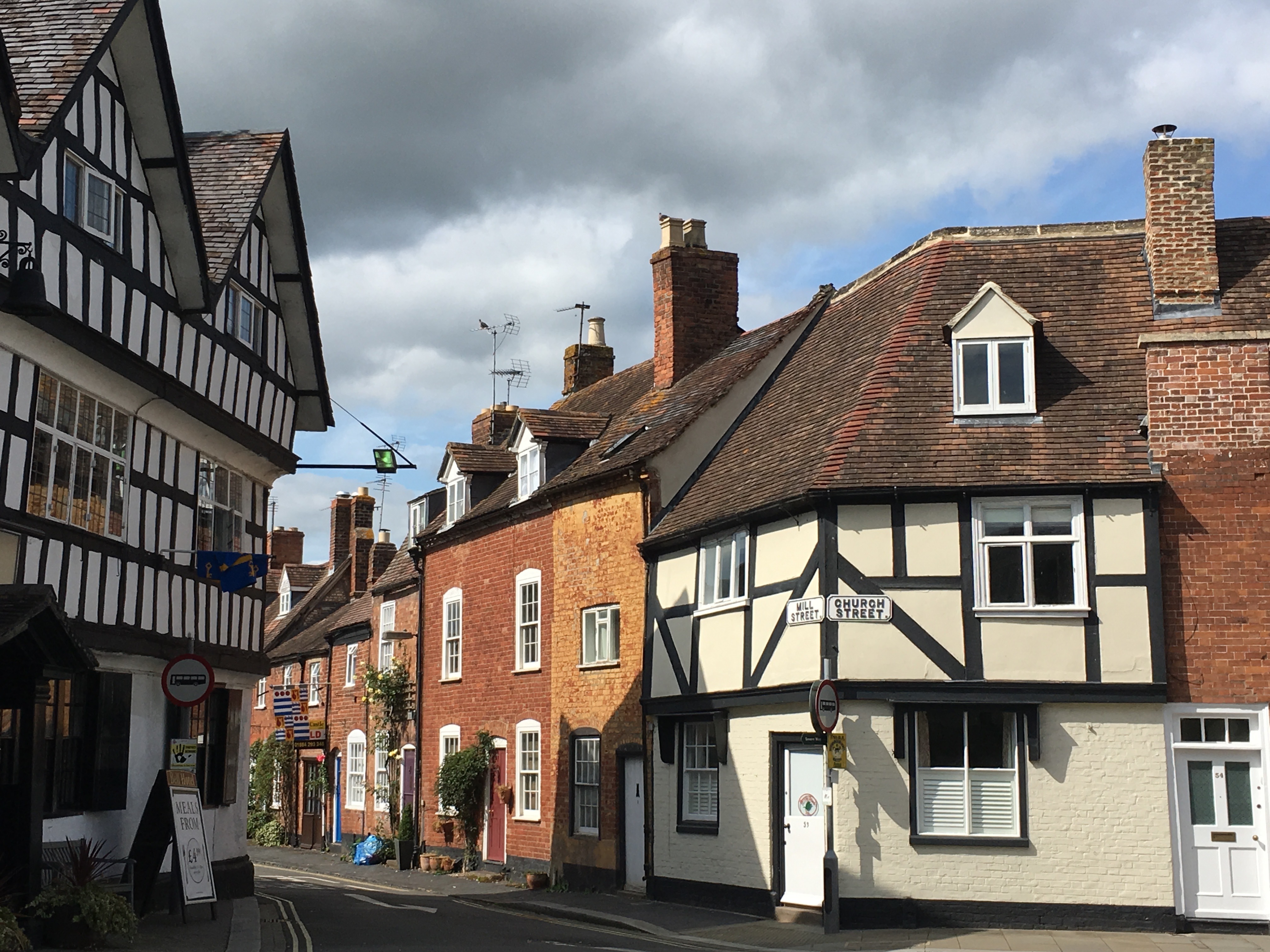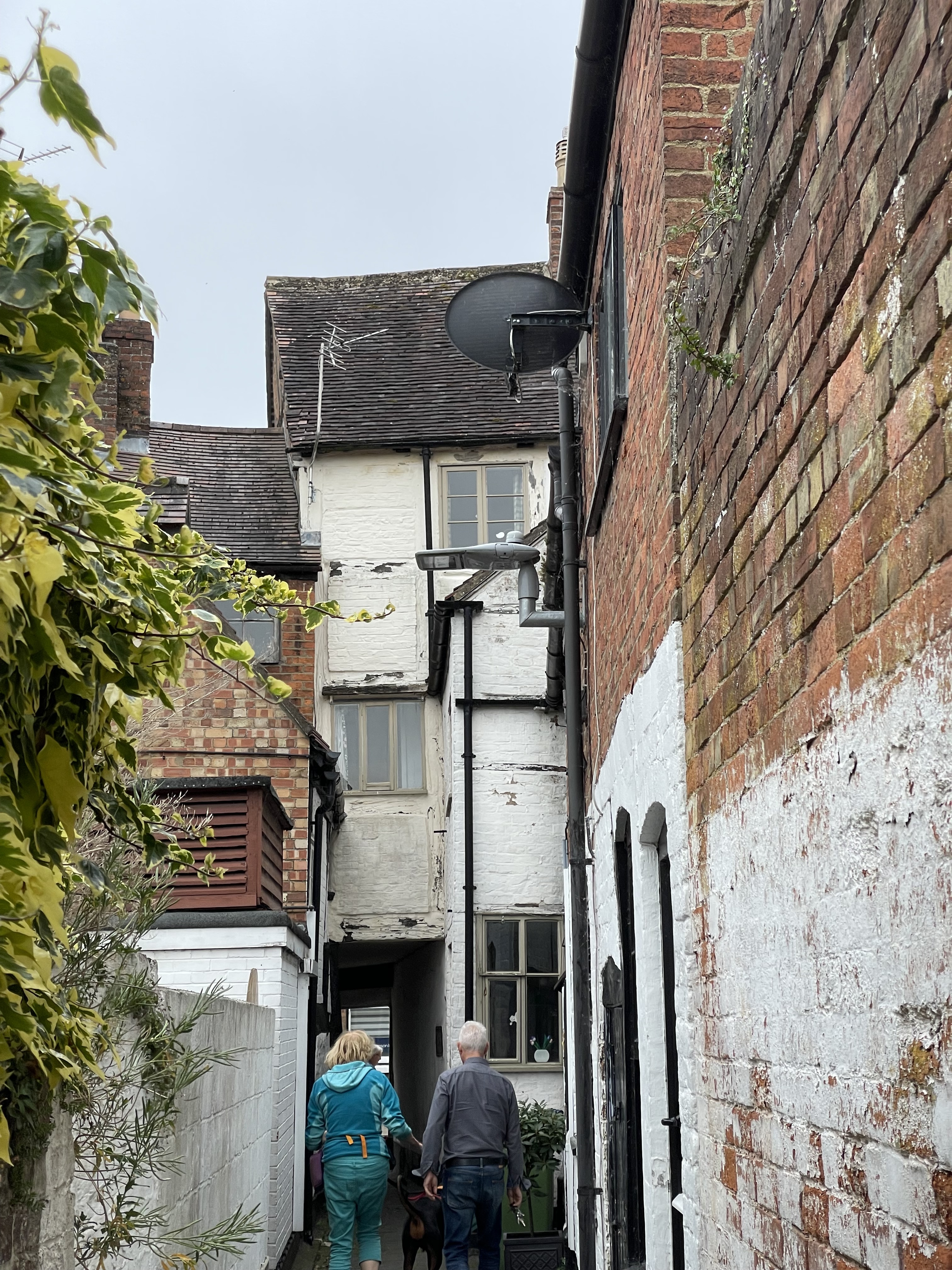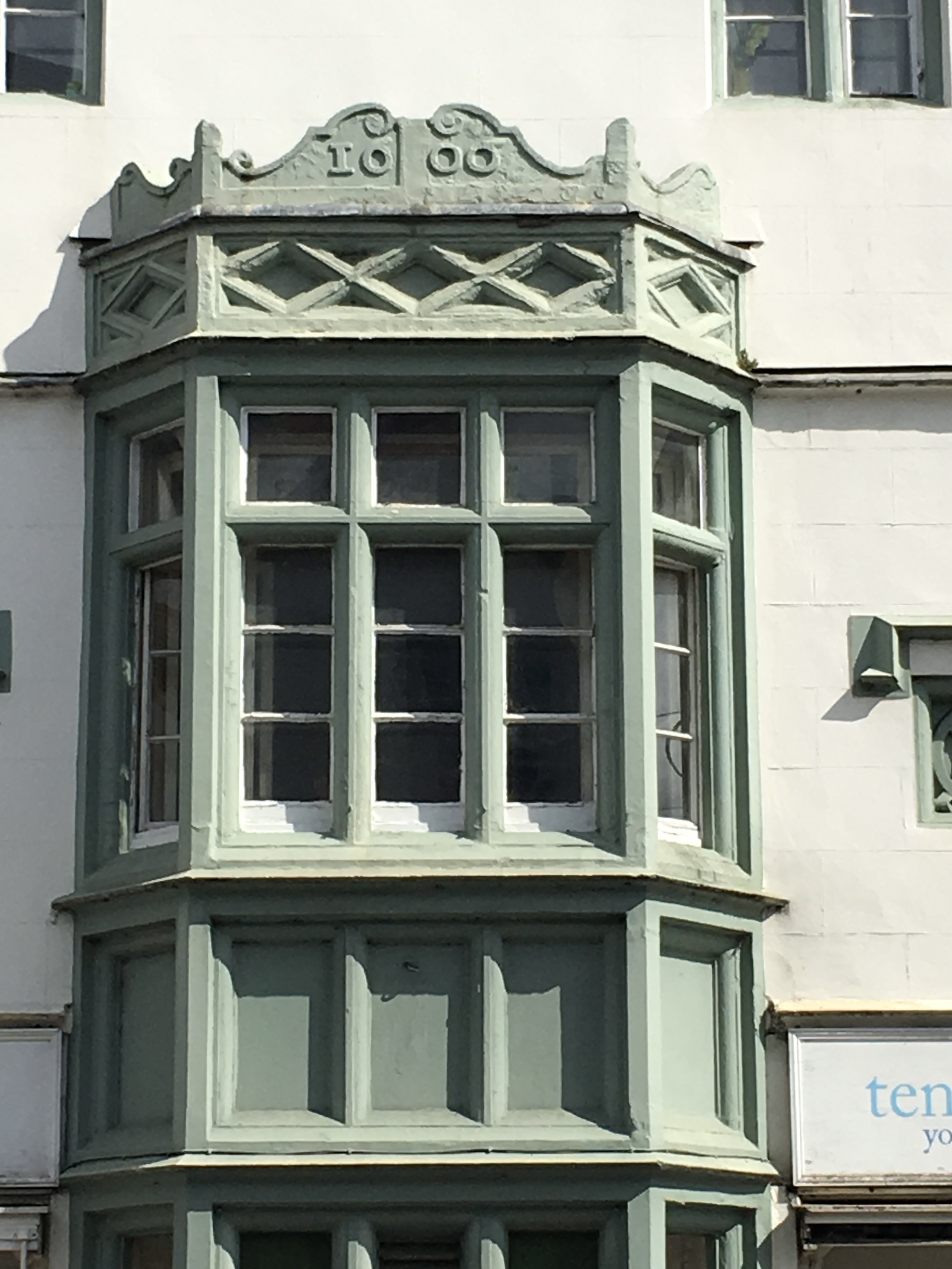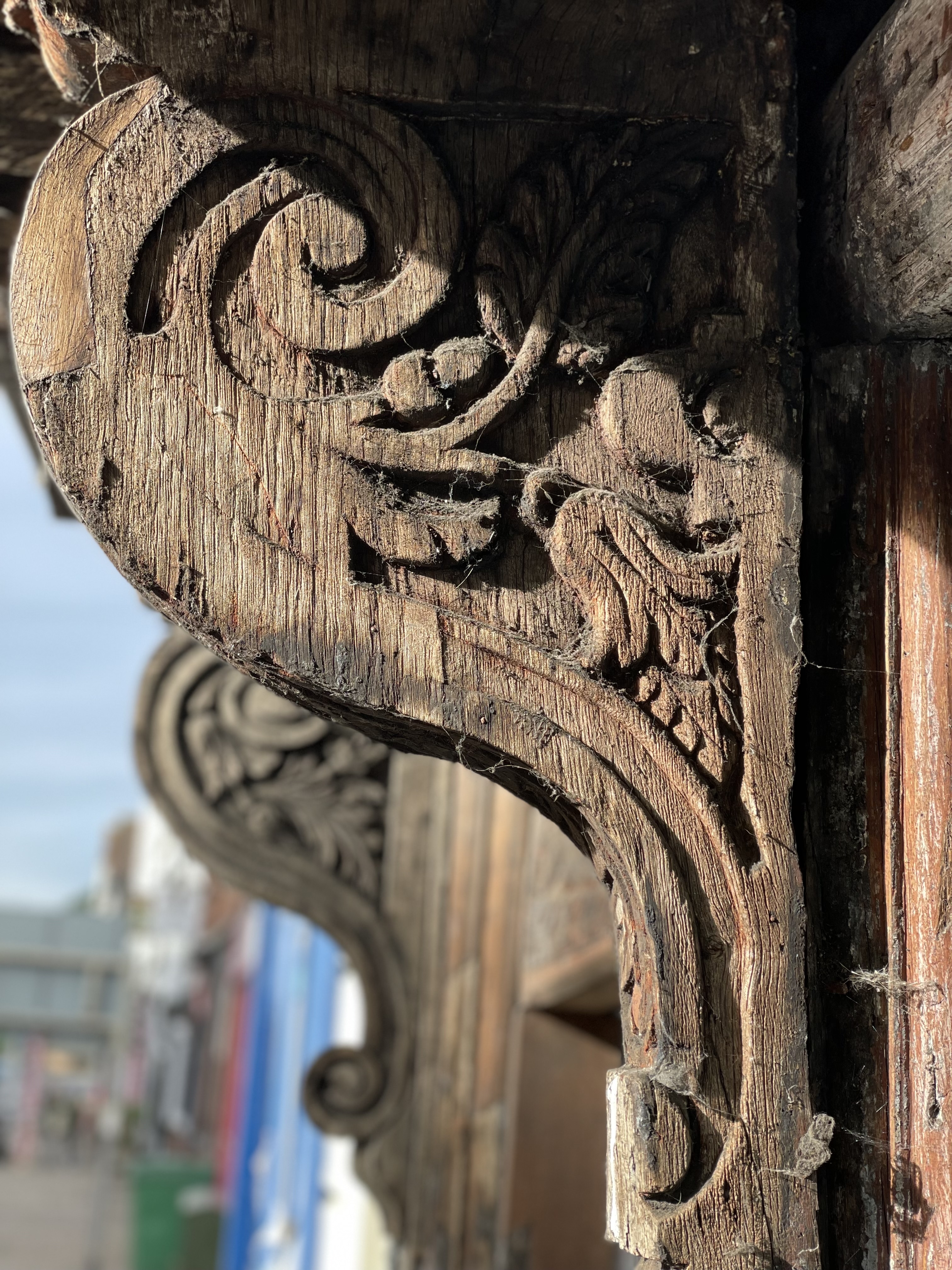 Split Personality?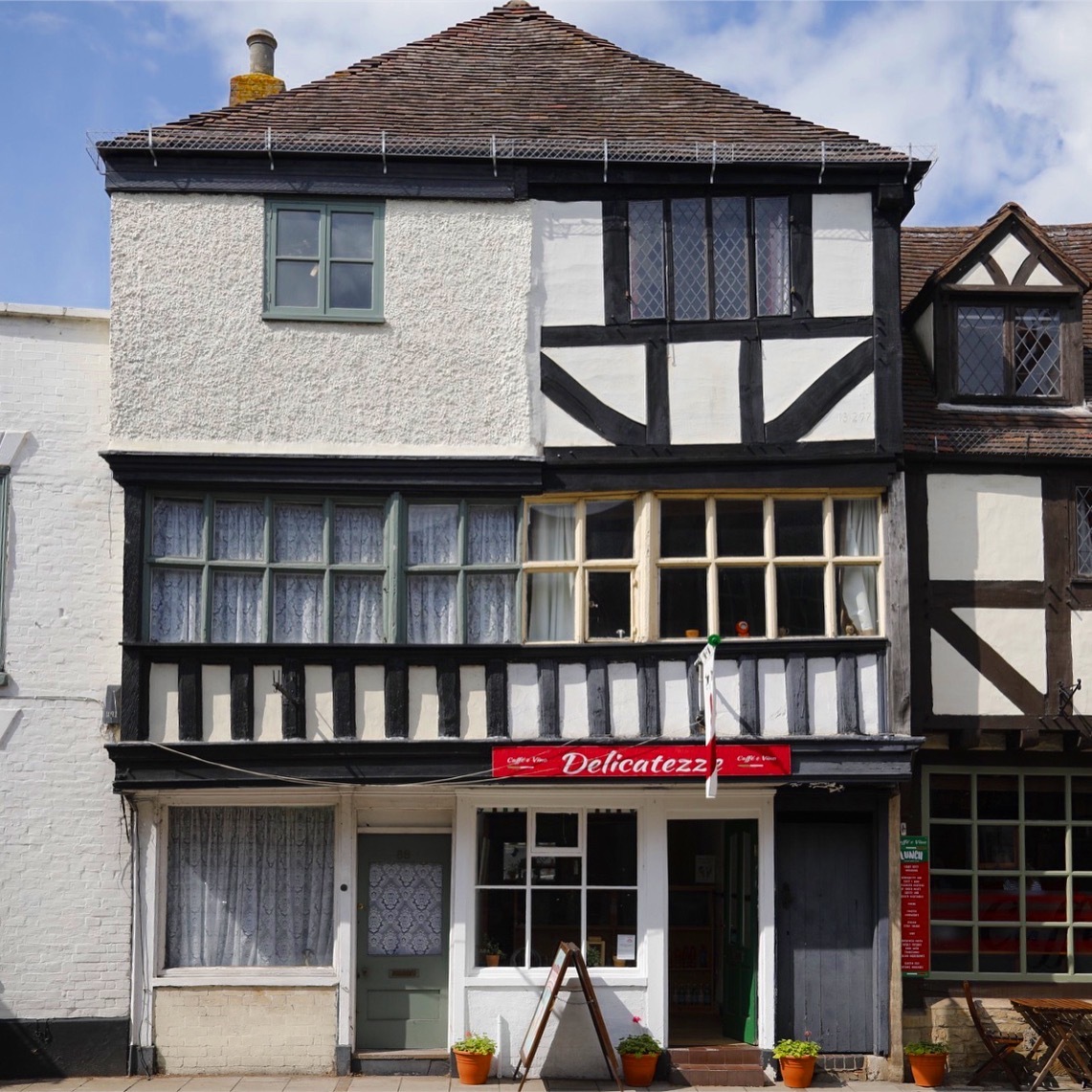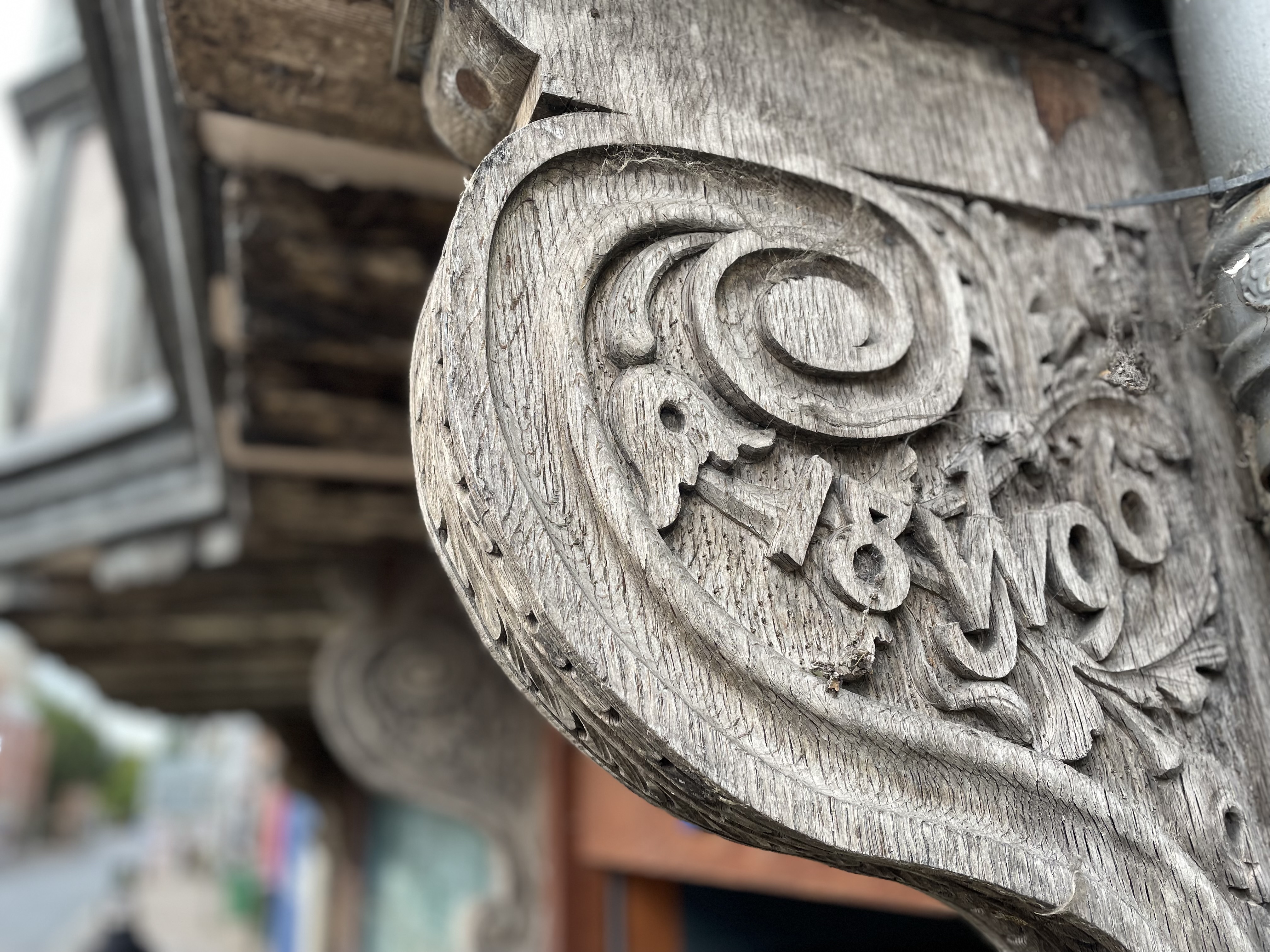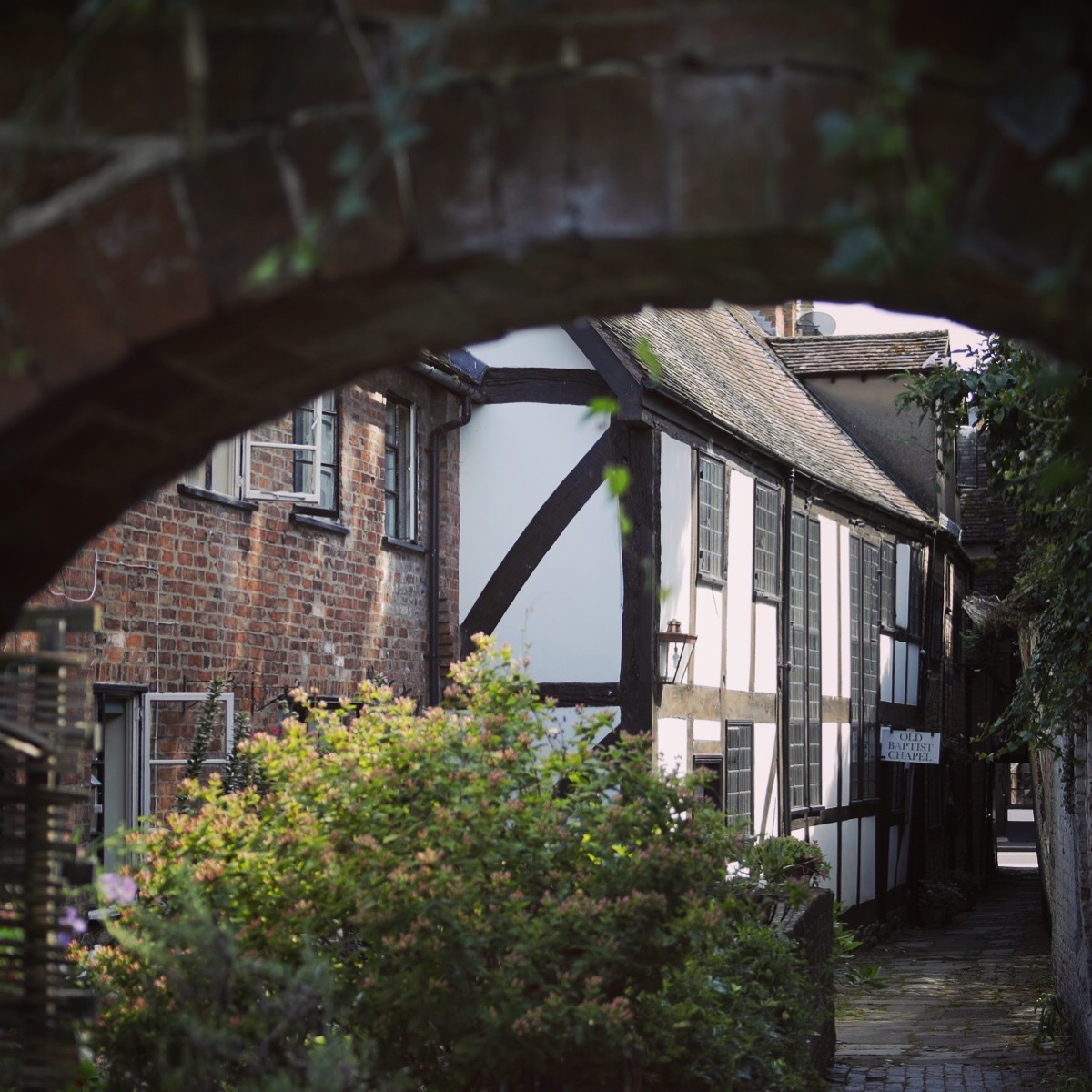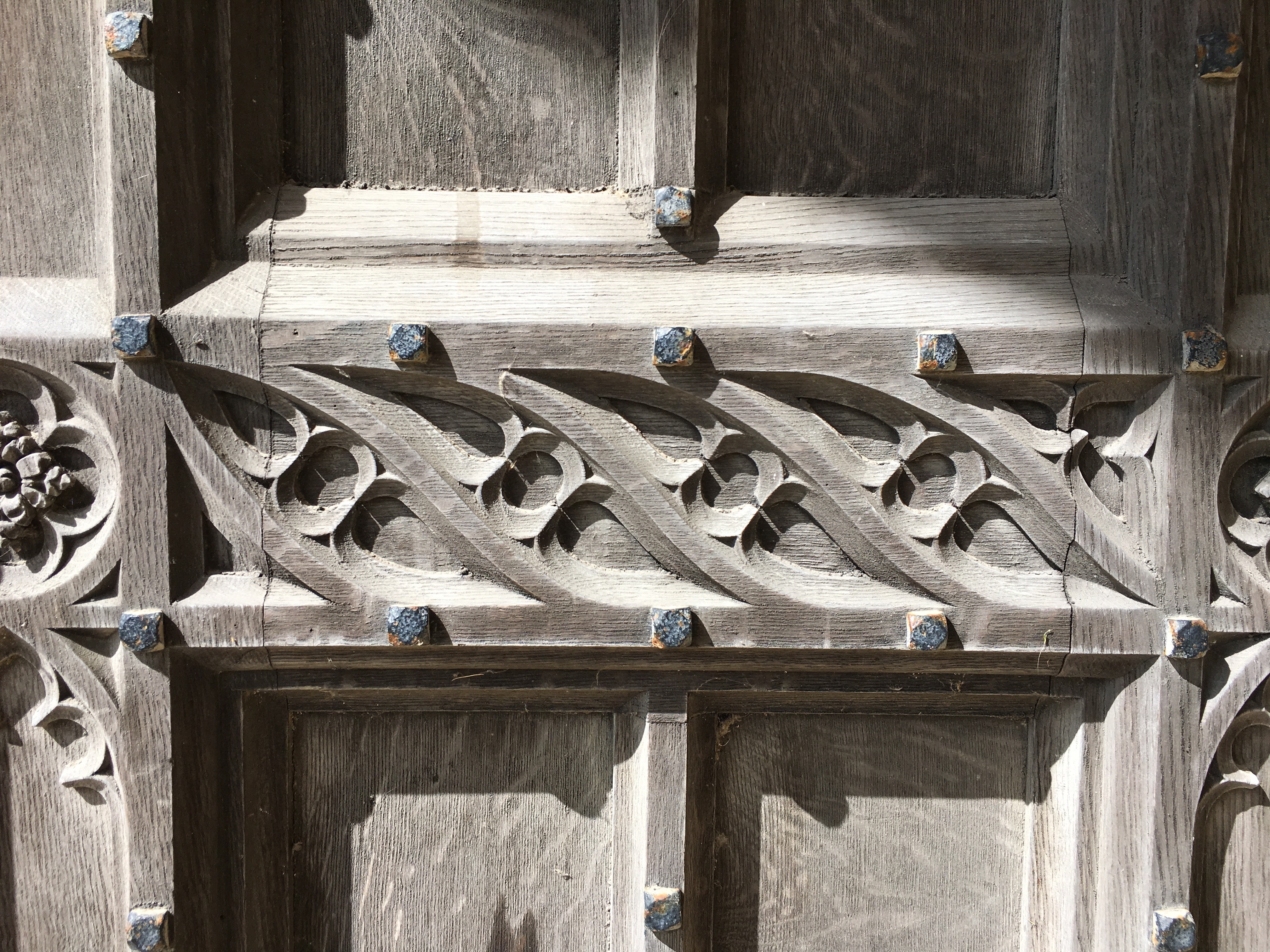 Oh what a joy is Cornell Bookshop. A warren of books, old and new. Lots of architectural content. I found a book on old vernacular bookshops in this old vernacular bookshop. Got caught in a kind of infinity loop.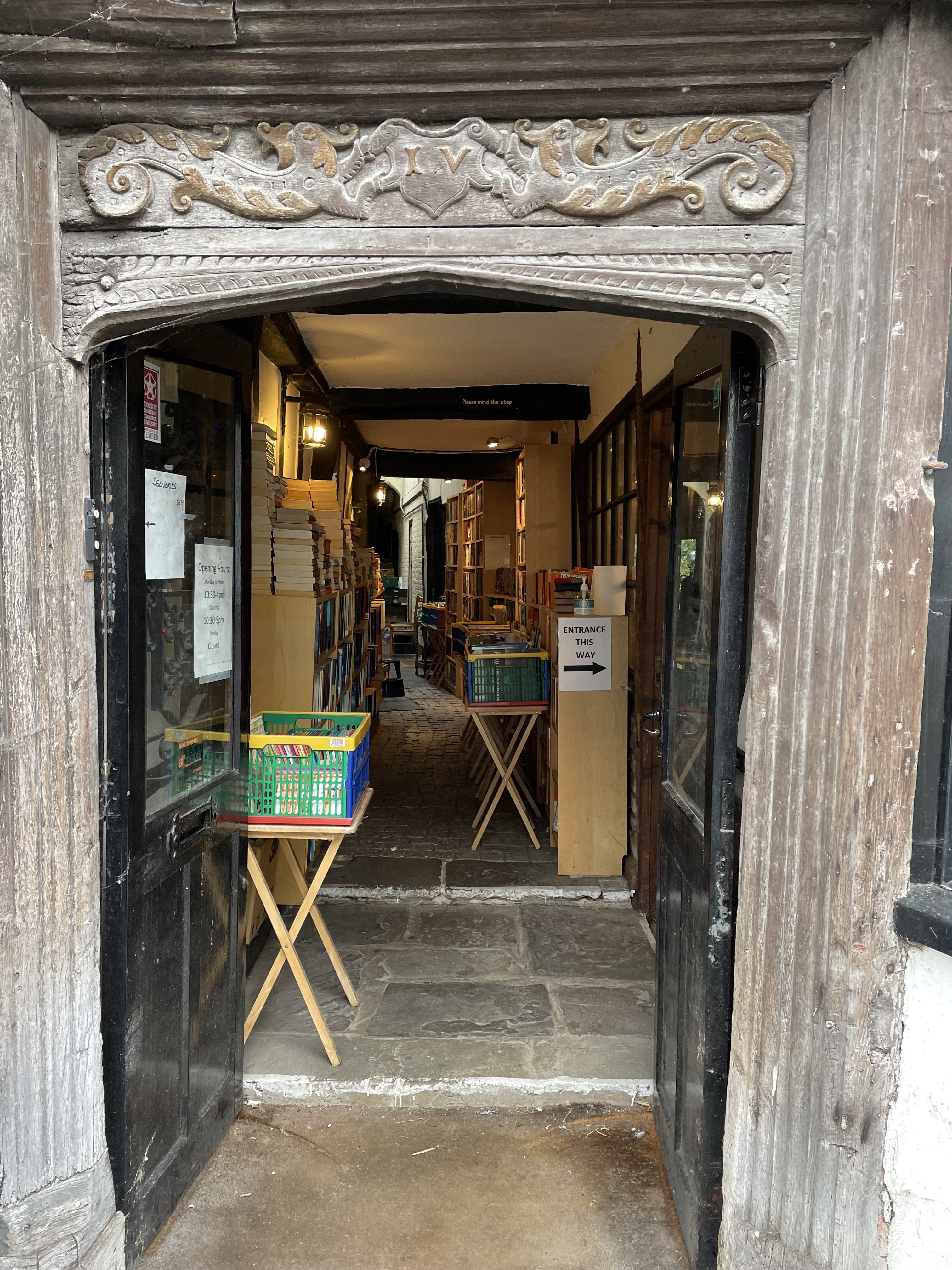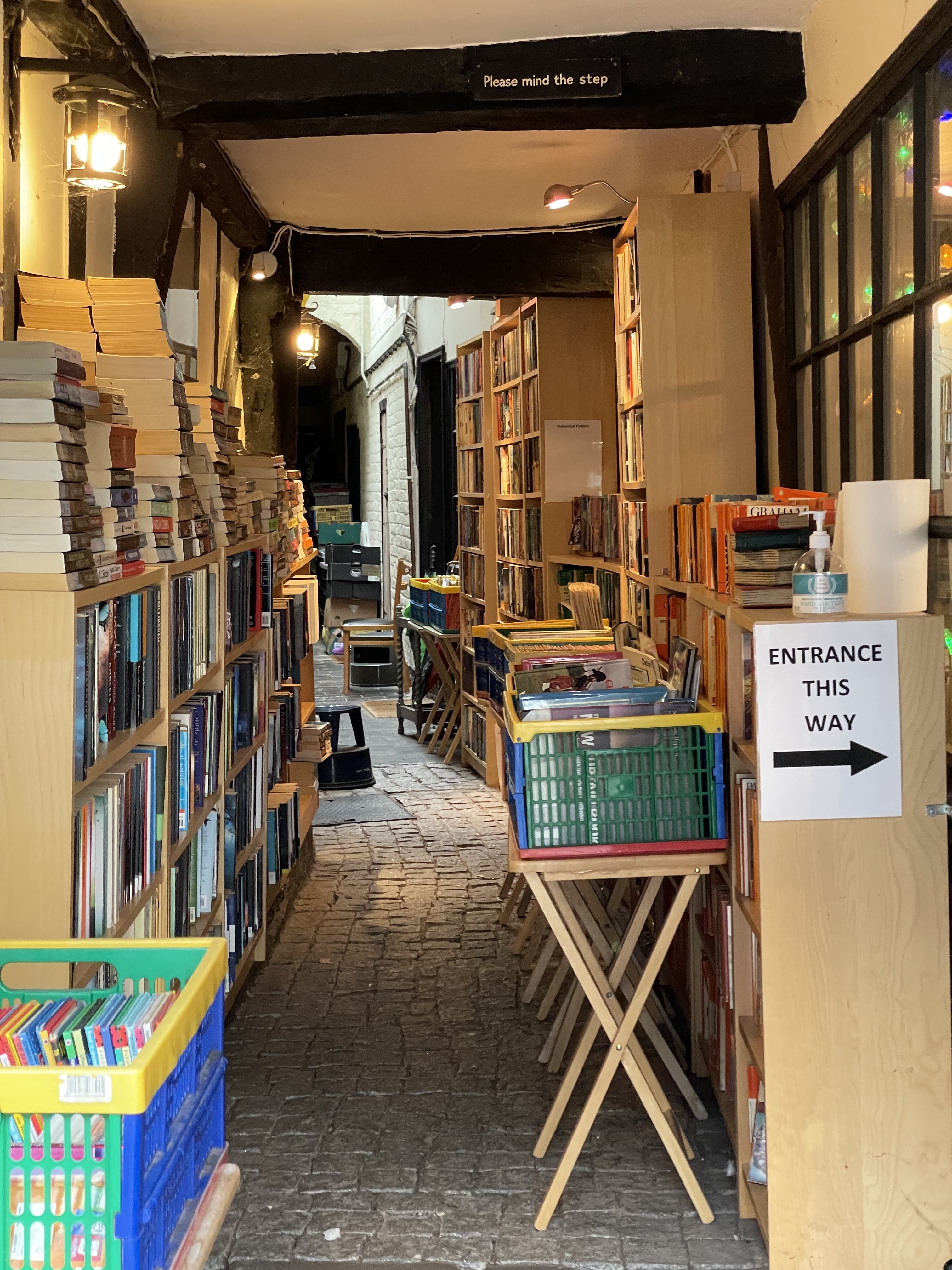 Found this hidden gem of a cafe down by the waterside. The Riverside Cafe is accessible from the Hoppole Car Park. Views back to the abbey from the decking.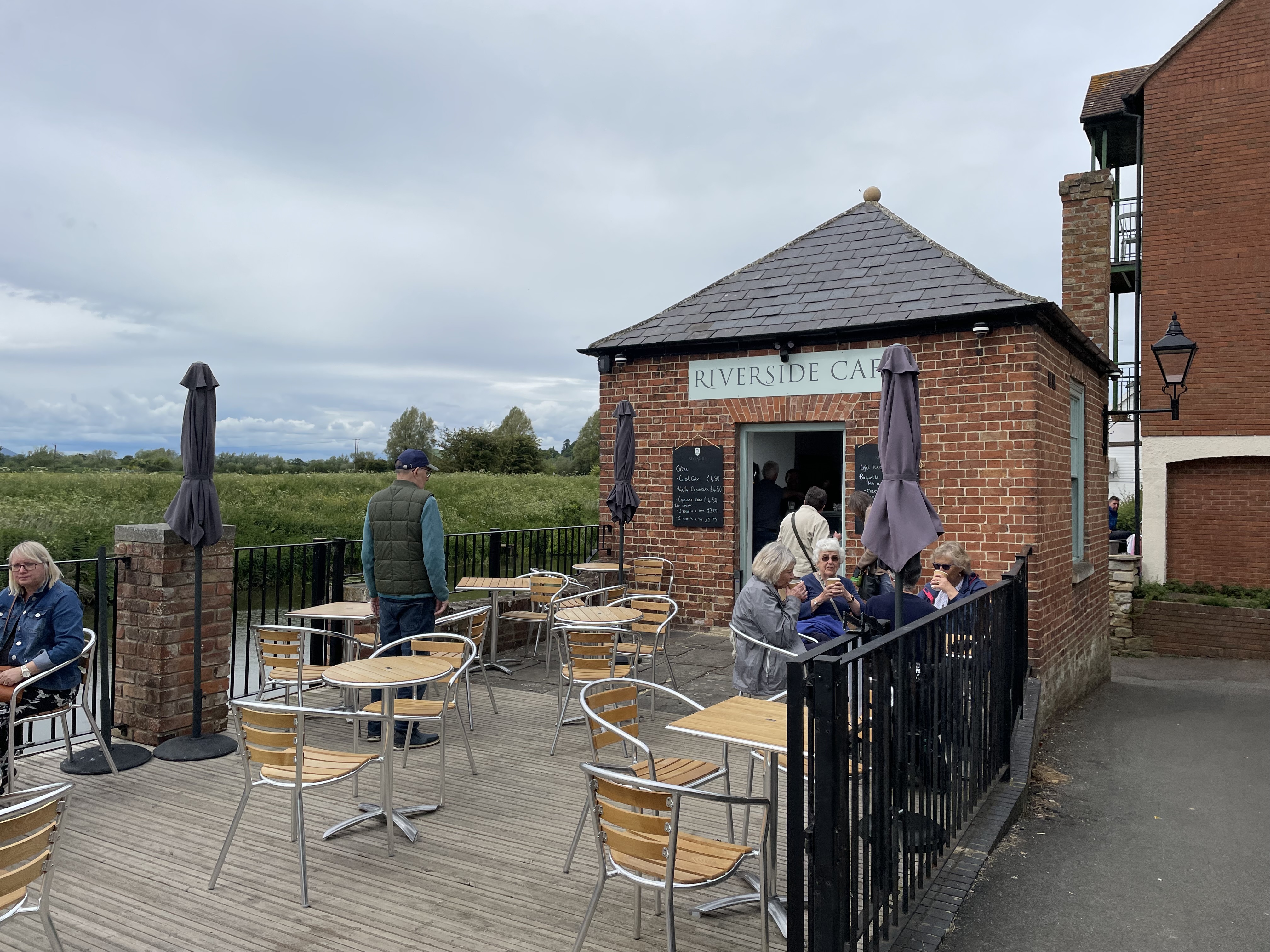 Vanlife
It's been a week of maintenance. As well as topping up with diesel, the van needs topping up with Adblue which is an admixture that reduces pollution.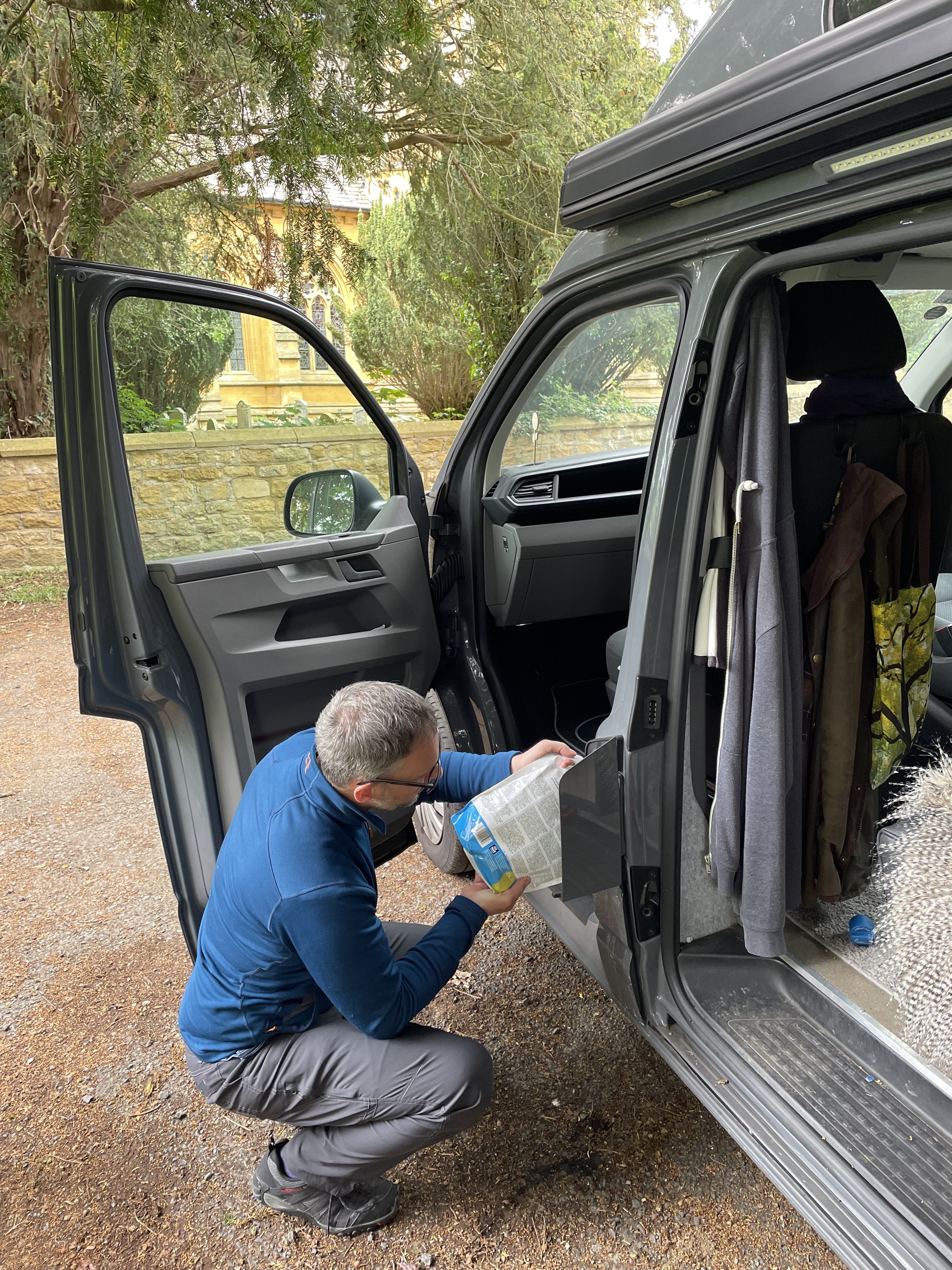 On My Coffee Table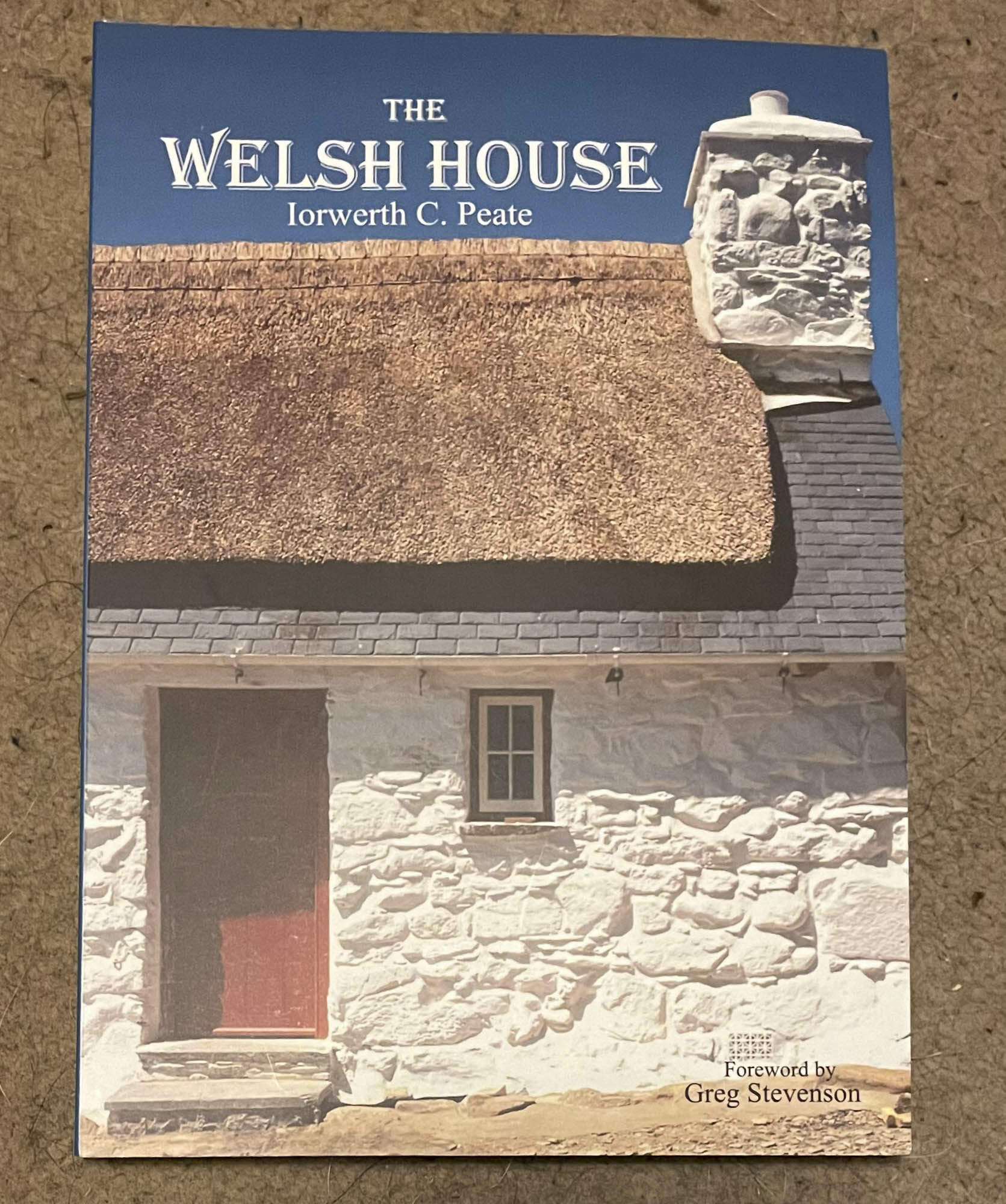 From The Charo's
Architecture of the Renaissance in England, Batsford 1894.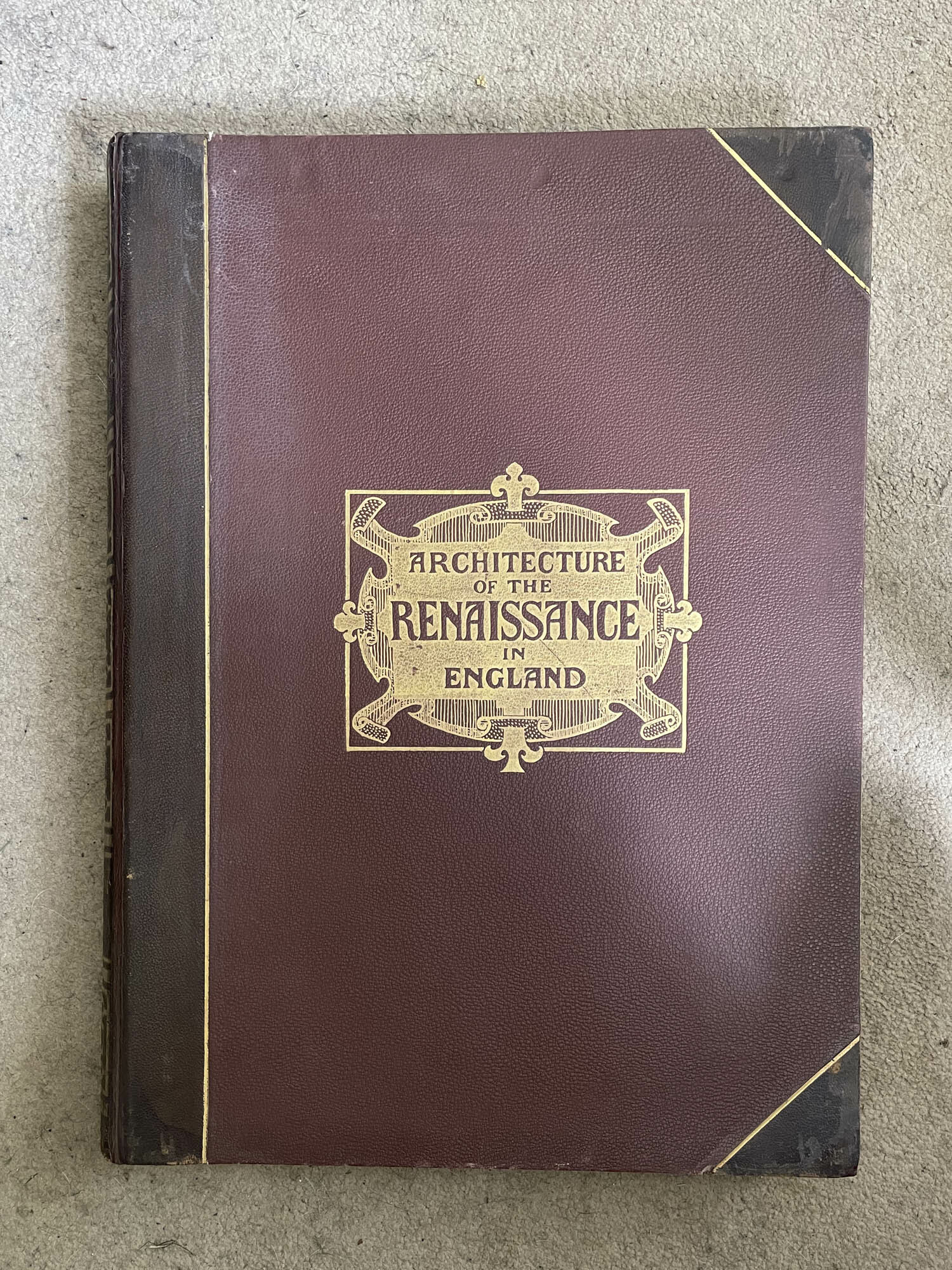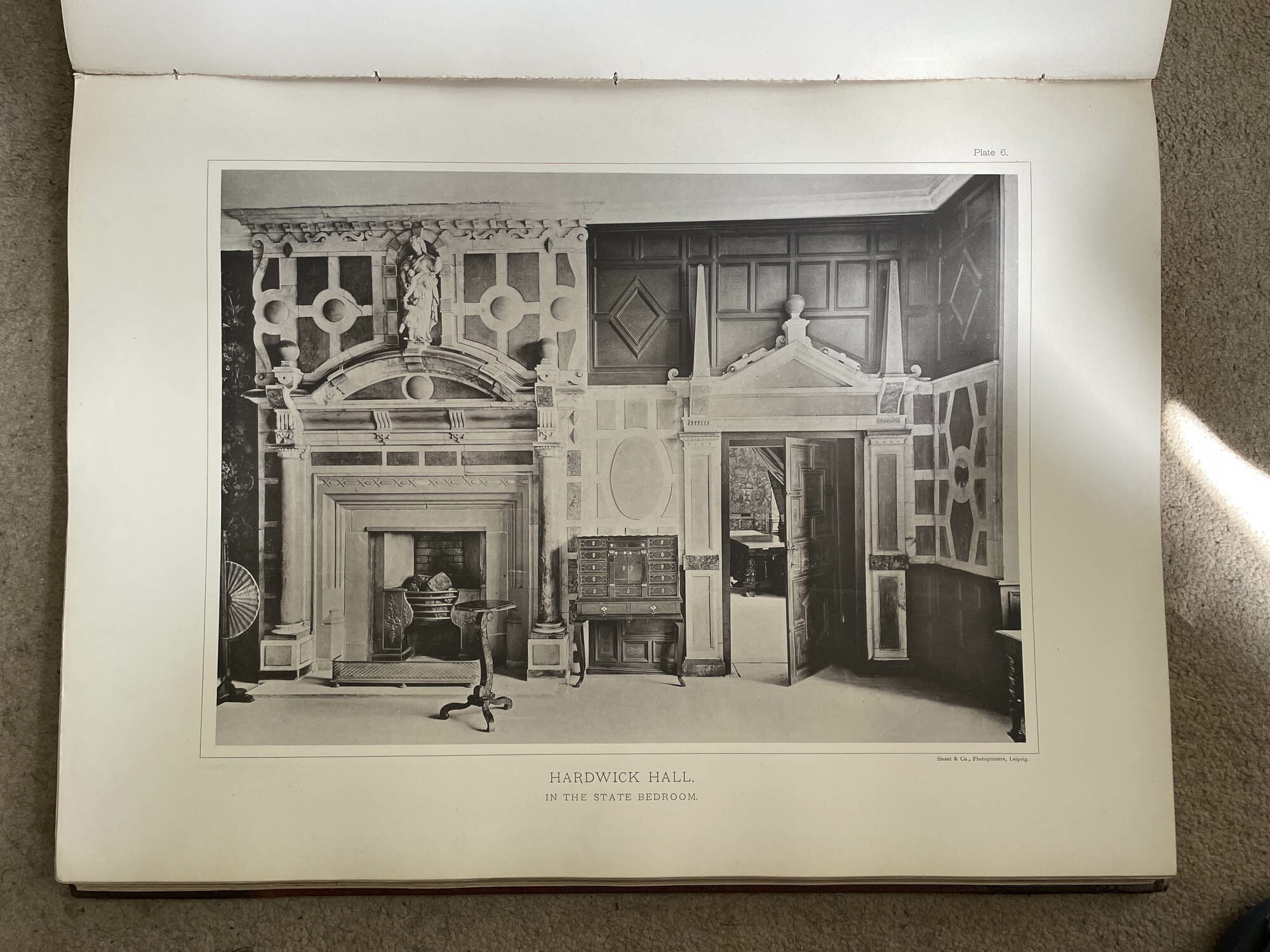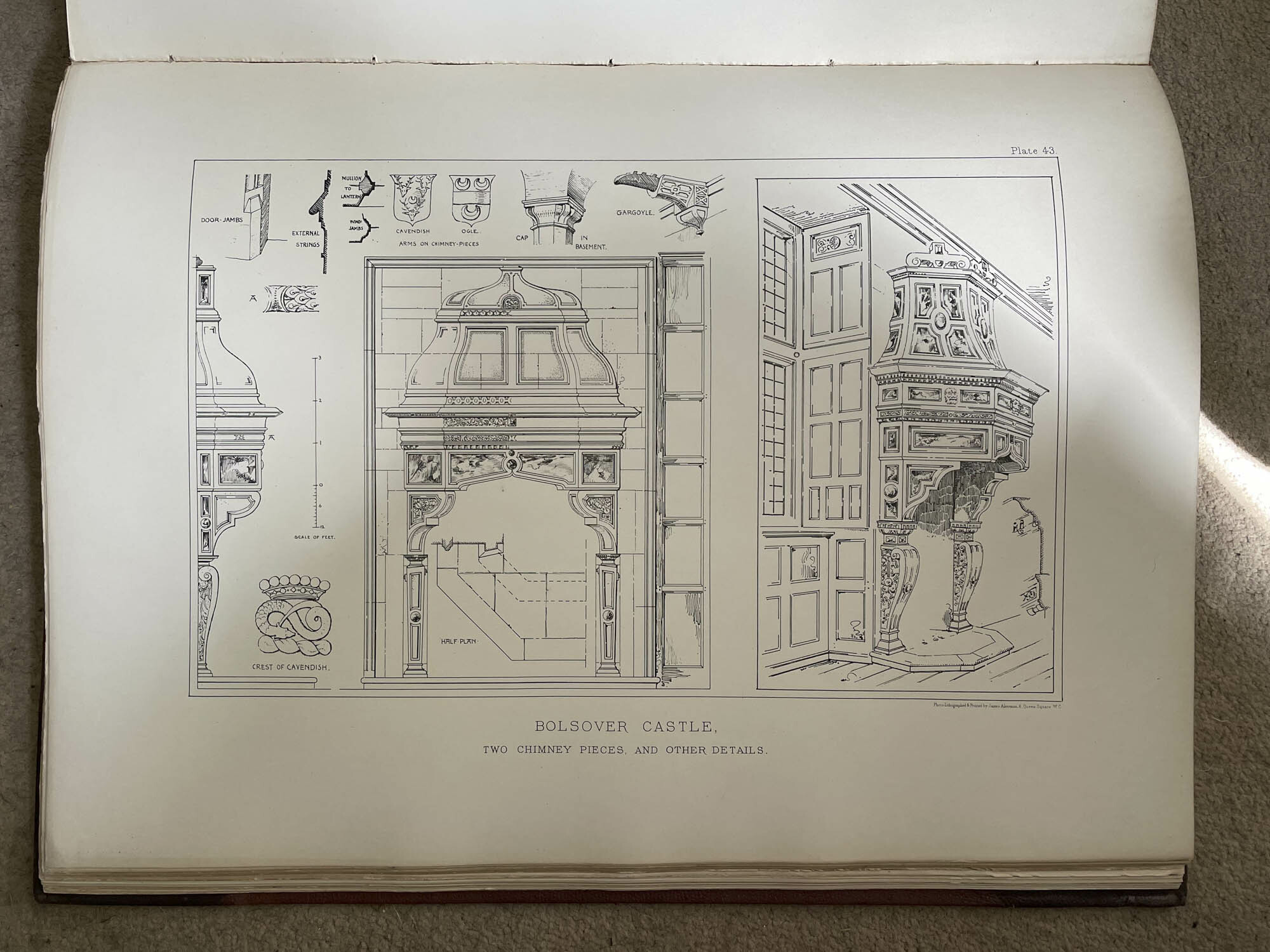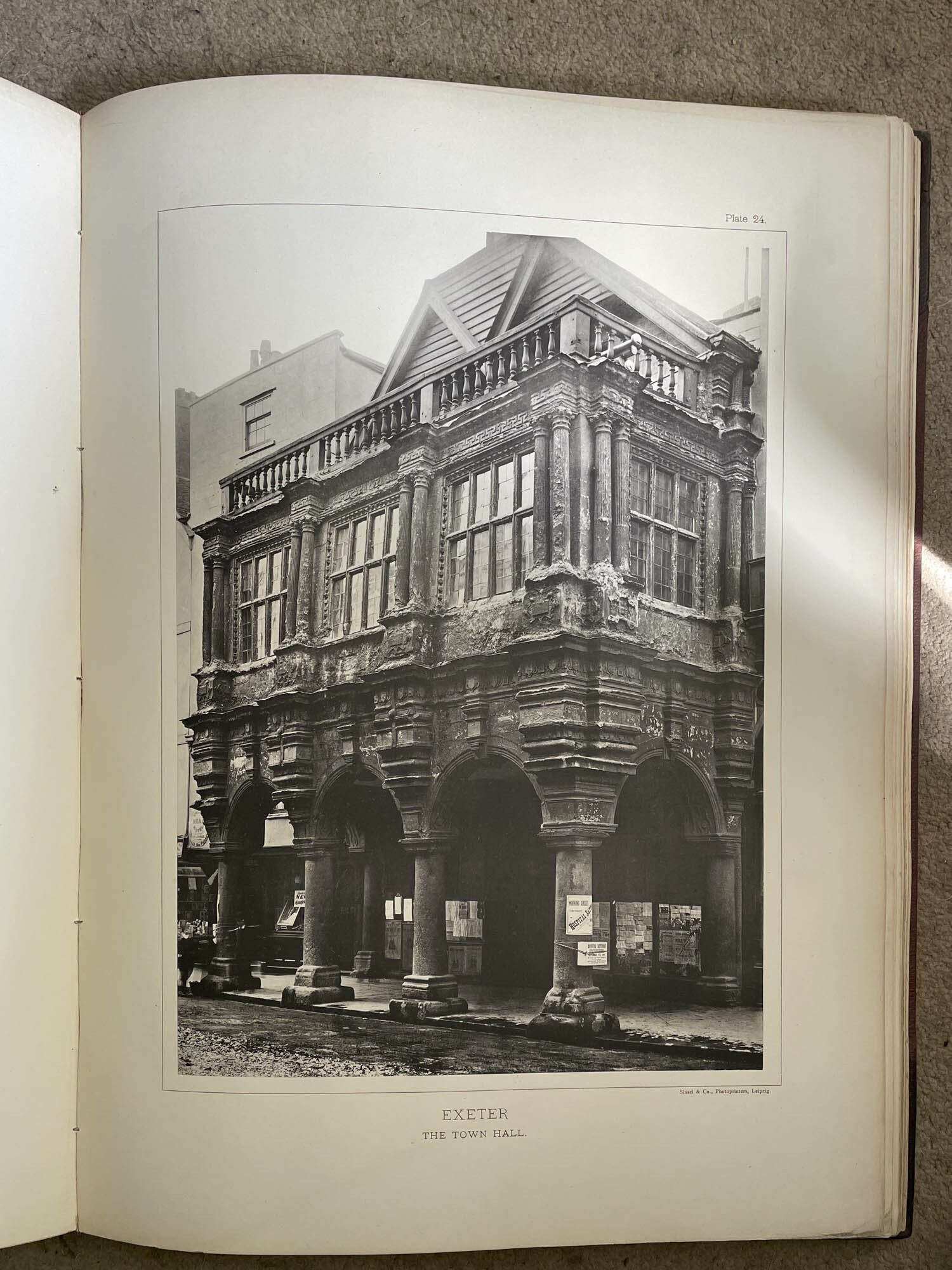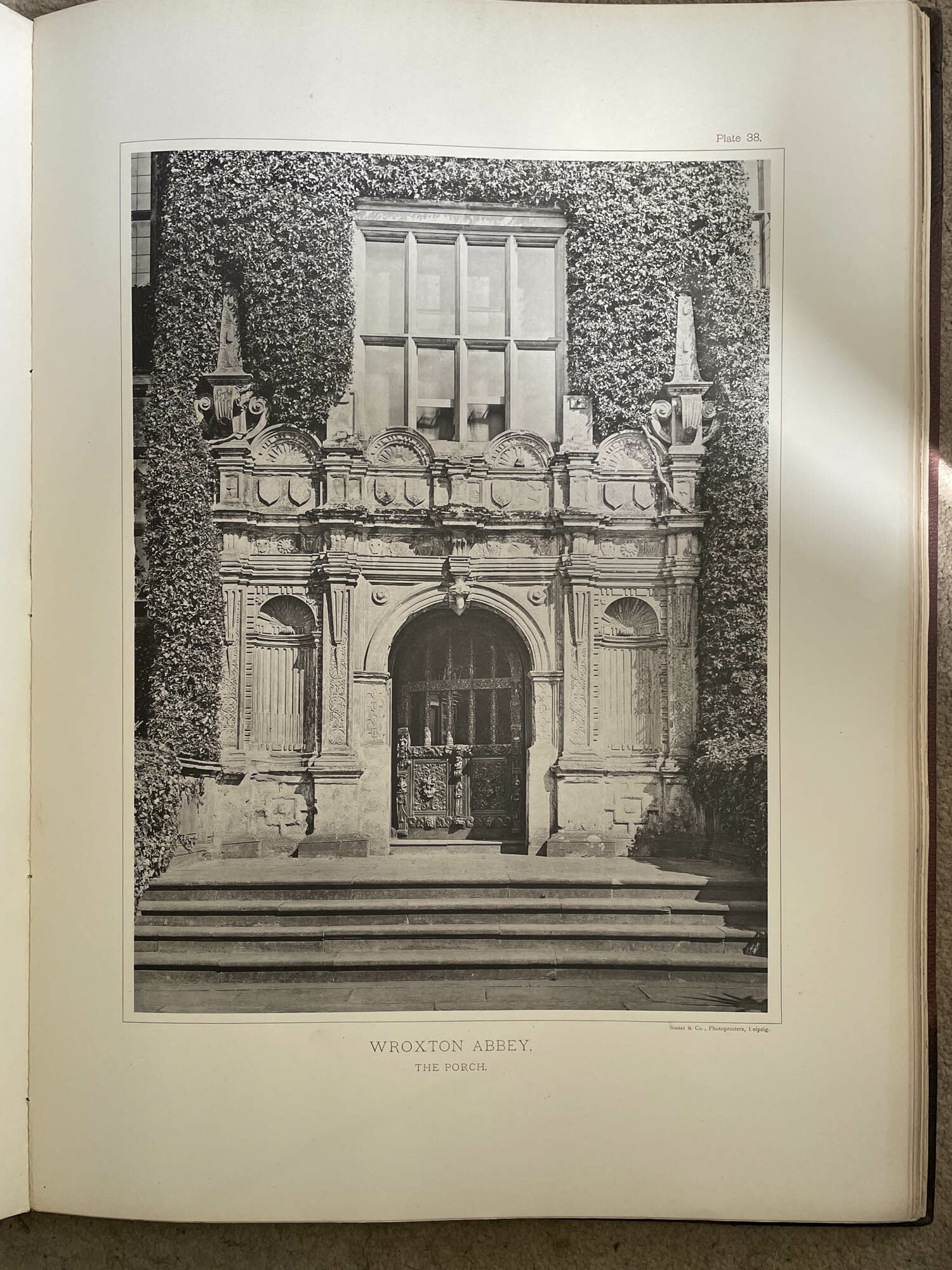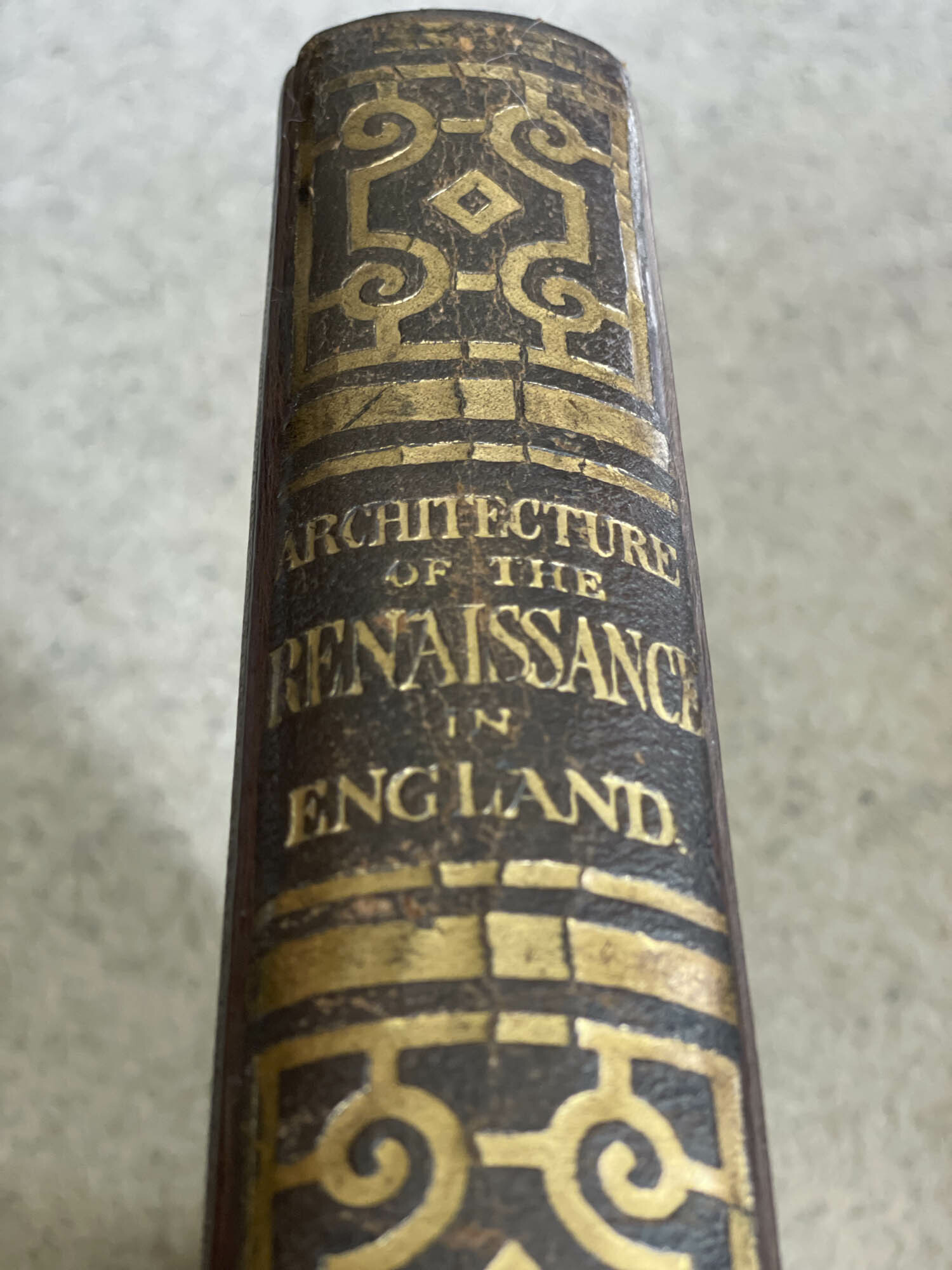 Bookmarked
Nearly 140 graves, a skeleton with a spear point embedded in it, jewellery and weapons are among the finds.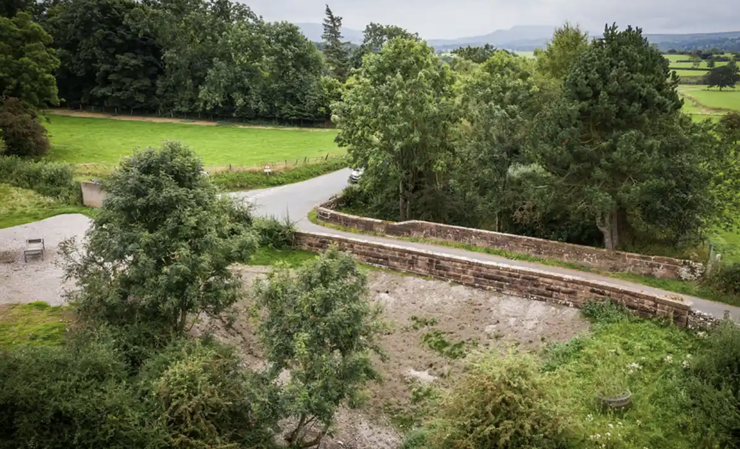 Planning officers advise committee to refuse road agency's application for retrospective permission
Film and Sound
On an unseasonably warm November night in Manhattan on our way to get ice cream, we stumbled upon what appeared to be a vintage shop, brightly lit display window and all. As we began to walk in, a man sitting out front warned us that we were welcome to explore, but nothing inside was for sale.
From the Twittersphere
Membership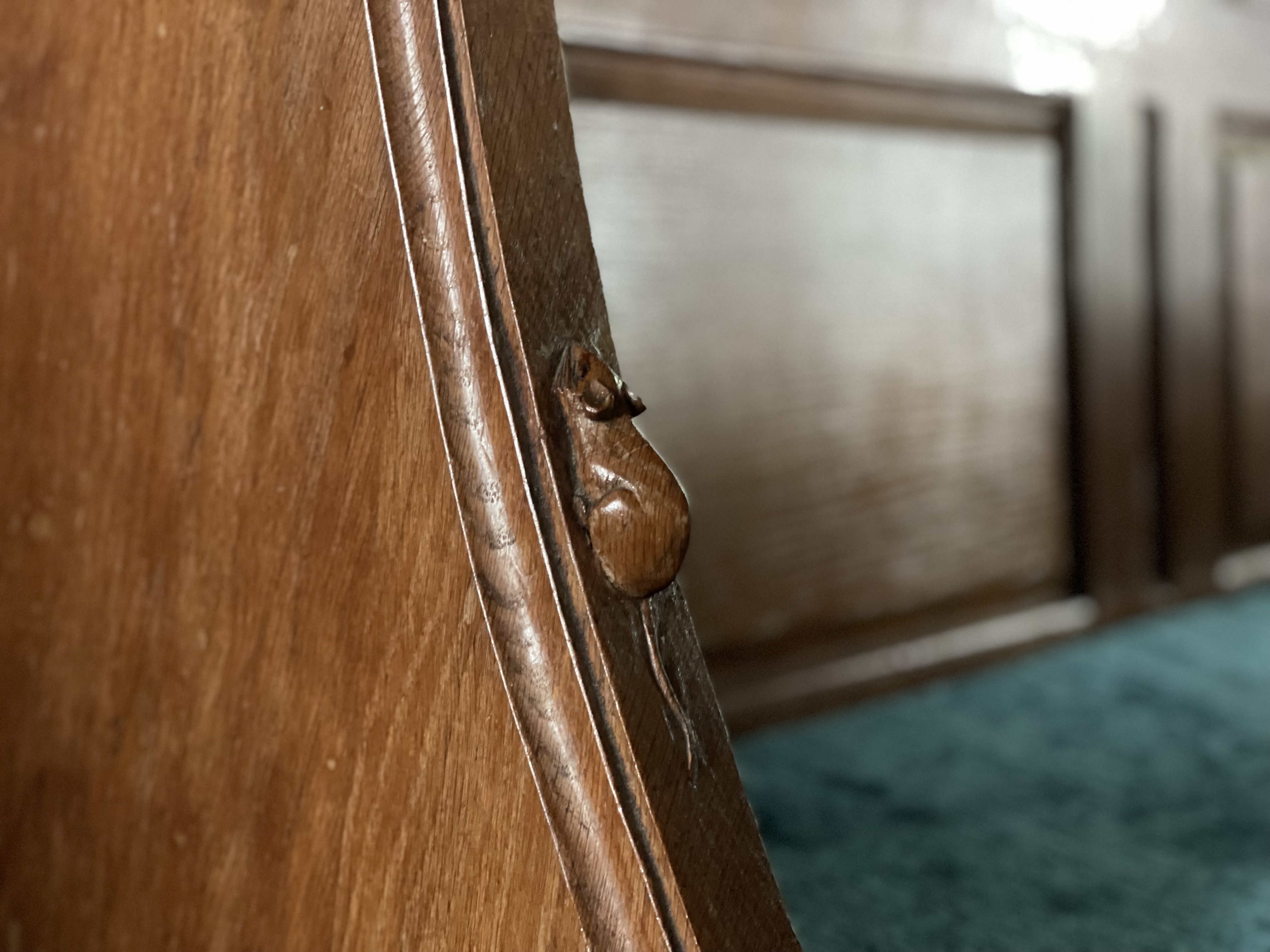 ⚡️This Digest is powered by memberships that keep it freely accessible.⚡️
I sincerely hope that my digest adds value (in a small kind of way) to your Fridays.
It takes a day every week to write my digest and I love doing it! It remains free and open to all to read on a weekly basis. If you think it's of value, you can opt in to support this digest and my work by becoming a member for £3 per month, or £36 per year. You can unsubscribe at any time. There are also some juicy member benefits.
Memberships are a huge help. Thank you.
Become A Member
📸 Click here for Monthly Membership
🚐 Click here for Annual Membership. (New!)
Thank You!
PATREON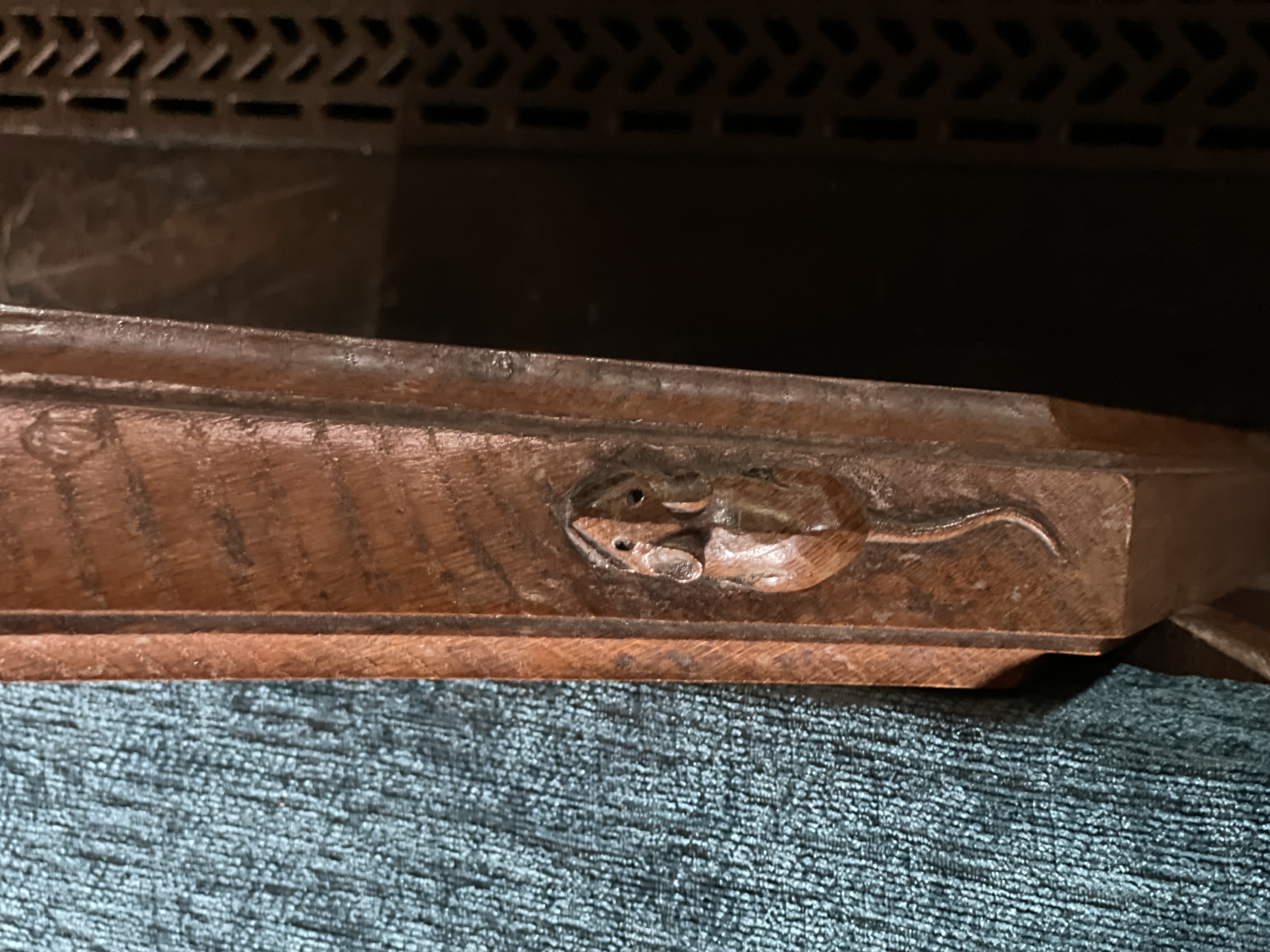 Posted out this week - A wall along The Hill at Burford (video).
Check out my Patreon Page here.
Thank You!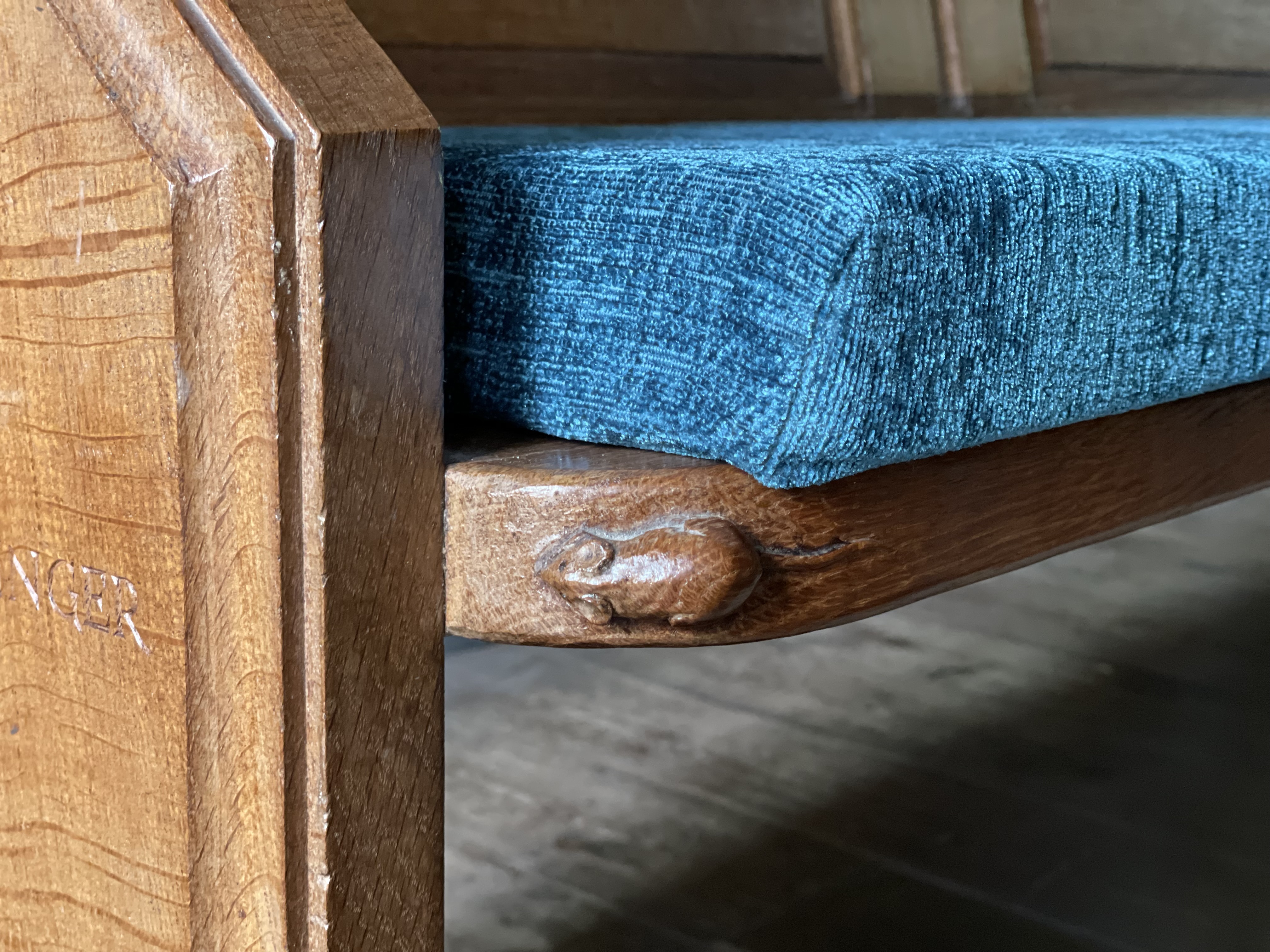 A huge thanks to those that have signed up for membership.
As well as the weekly Digests, you'll also receive an exclusive 'Patina' monthly digest at the end of every month. Here you'll be able to glimpse insights into how my book is developing (with extracts) and also get a link to your free digital download.
And Finally...
"Have nothing in your house that you do not know to be useful, or believe to be beautiful."
William Morris
Edgar Wood door furniture from Banney Royd, Huddersfield.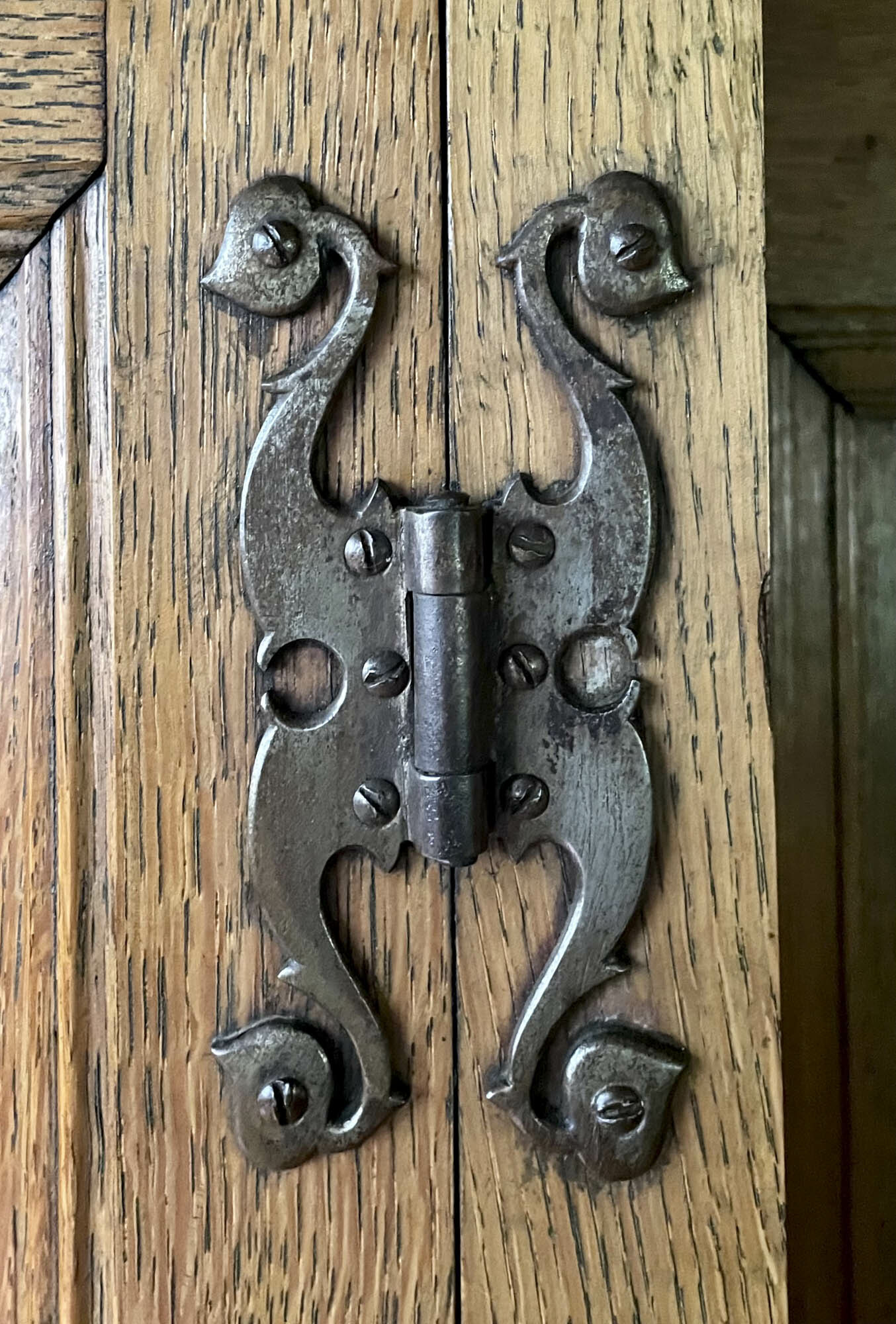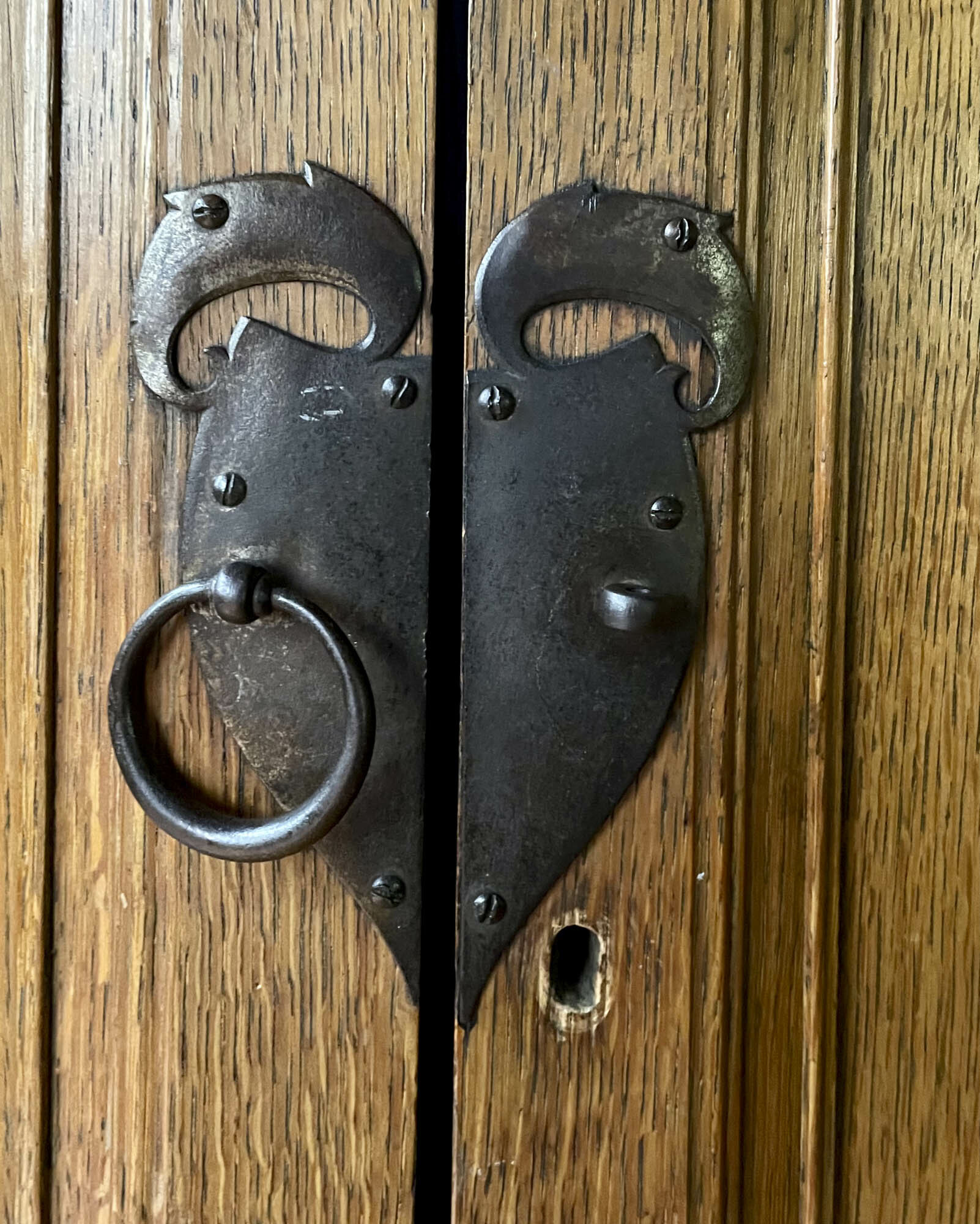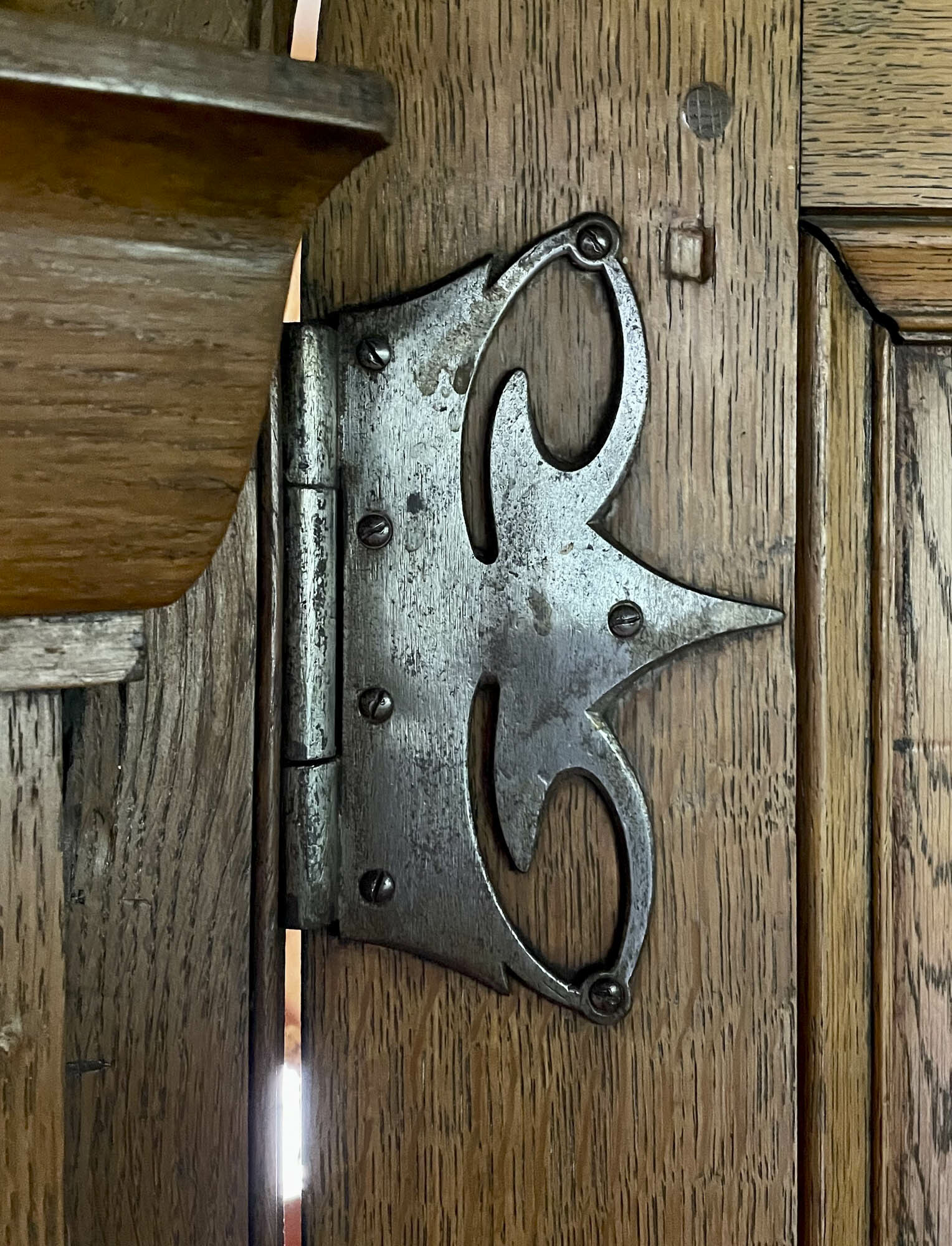 My Linktree