Welcome!
I'm an architectural photographer and writer.
On my van-life travels through the British Isles I'm building up a word and photo-hoard of material culture that celebrates the value and distinctiveness of our built heritage and contributes to a sense of place.
My van is my time-machine, it gives me fresh perspectives on our remarkable places, shared here on a weekly basis.📸🚐🏛
🏛 Missed the last Digest? Here it is.
🚐 View Digest Archive here.
---
Photo-hoard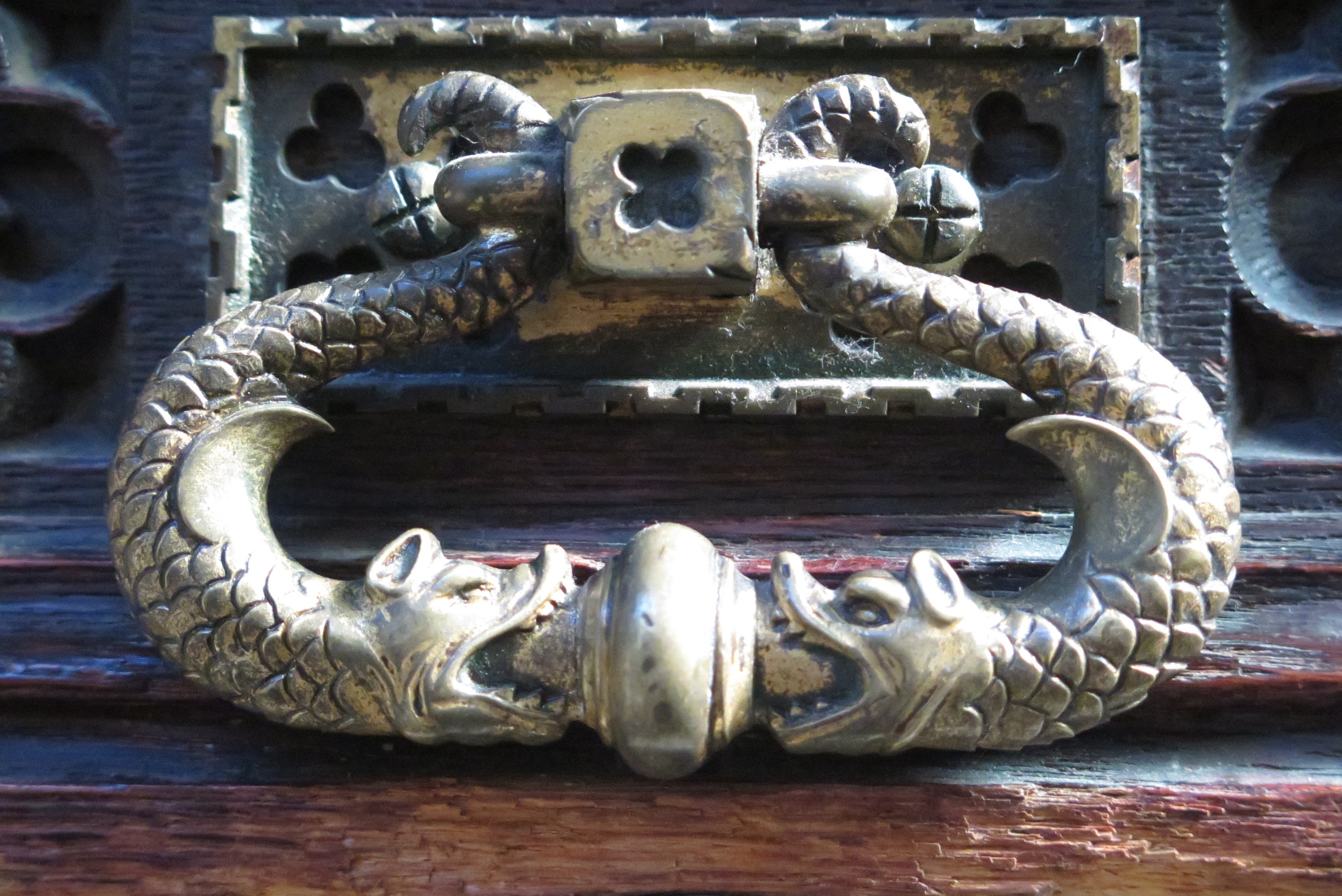 Decorative handle on the font cover at Bath Abbey.
Words
" If jeeps find it out, or a funicular railway disfigures it, part of its meaning will be gone." Nan Shepherd, The Living Mountain.
Observations
Built Stones and Baked Goods.
I'm driving east along the A303 with an air of anticipation. I pass a sign that says: Stonehenge World Heritage Site: Please Drive Carefully. Does the henge cause accidents along this road, or am I being asked to alter my driving behaviour in deference to this spiritual spectacle in the landscape?
Either way, a ritual of the road ensues: drive then glance, drive then glance. Is that it, over beyond the copse, about two miles away? Trees and HGV's hurtle past - drive and glance - until, out of nowhere it appears, closer than I imagined.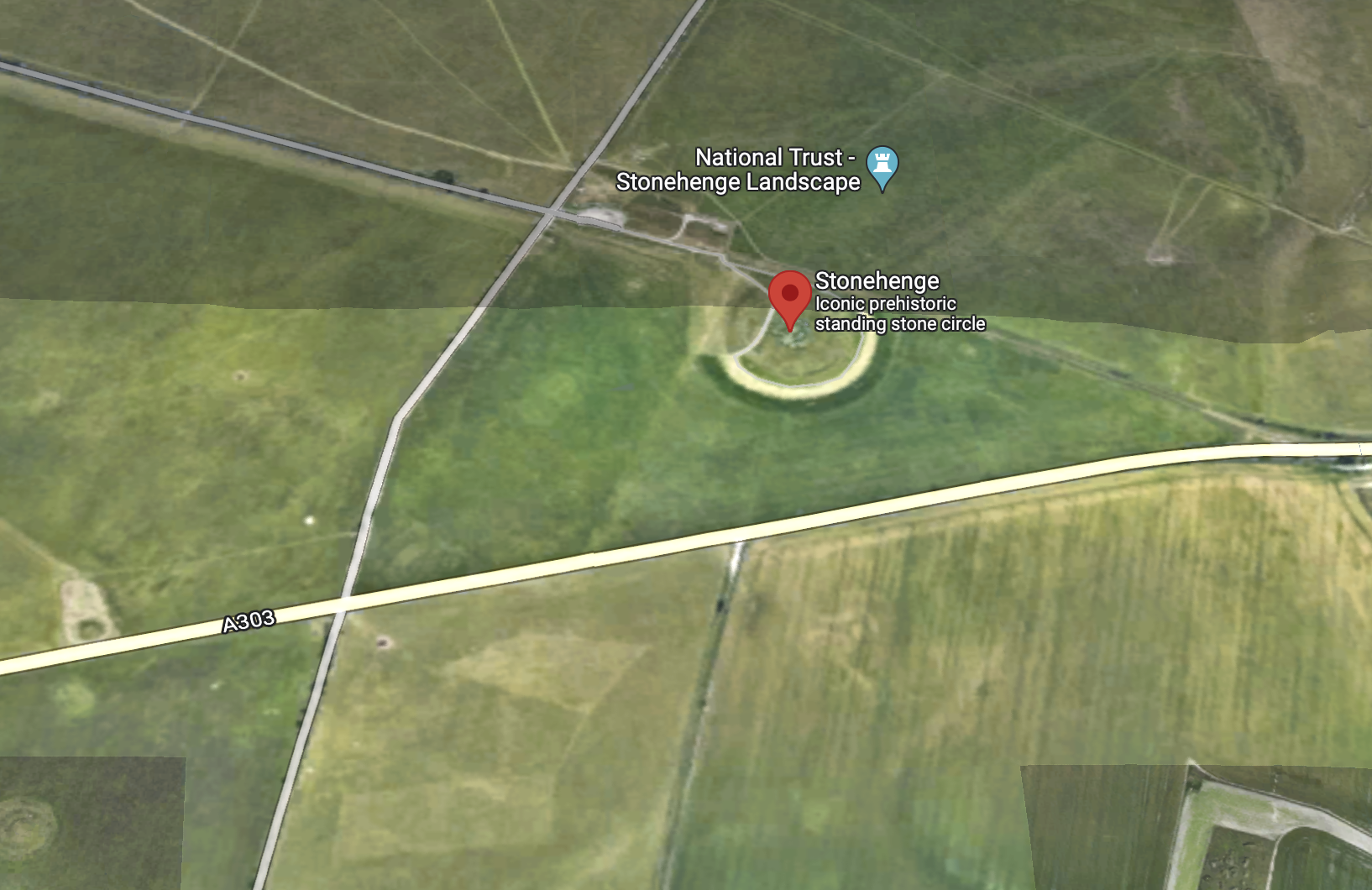 I'm disappointed. It looks like a cardboard cut-out. Something that took centuries to build shouldn't be experienced at high speed. It feels disrespectful. Later, I pass a Greggs at Willoughby Hedge at 60mph and that feels about right. What's disappointing is its context in relationship to the idea I have of the henge in the landscape of my imagination.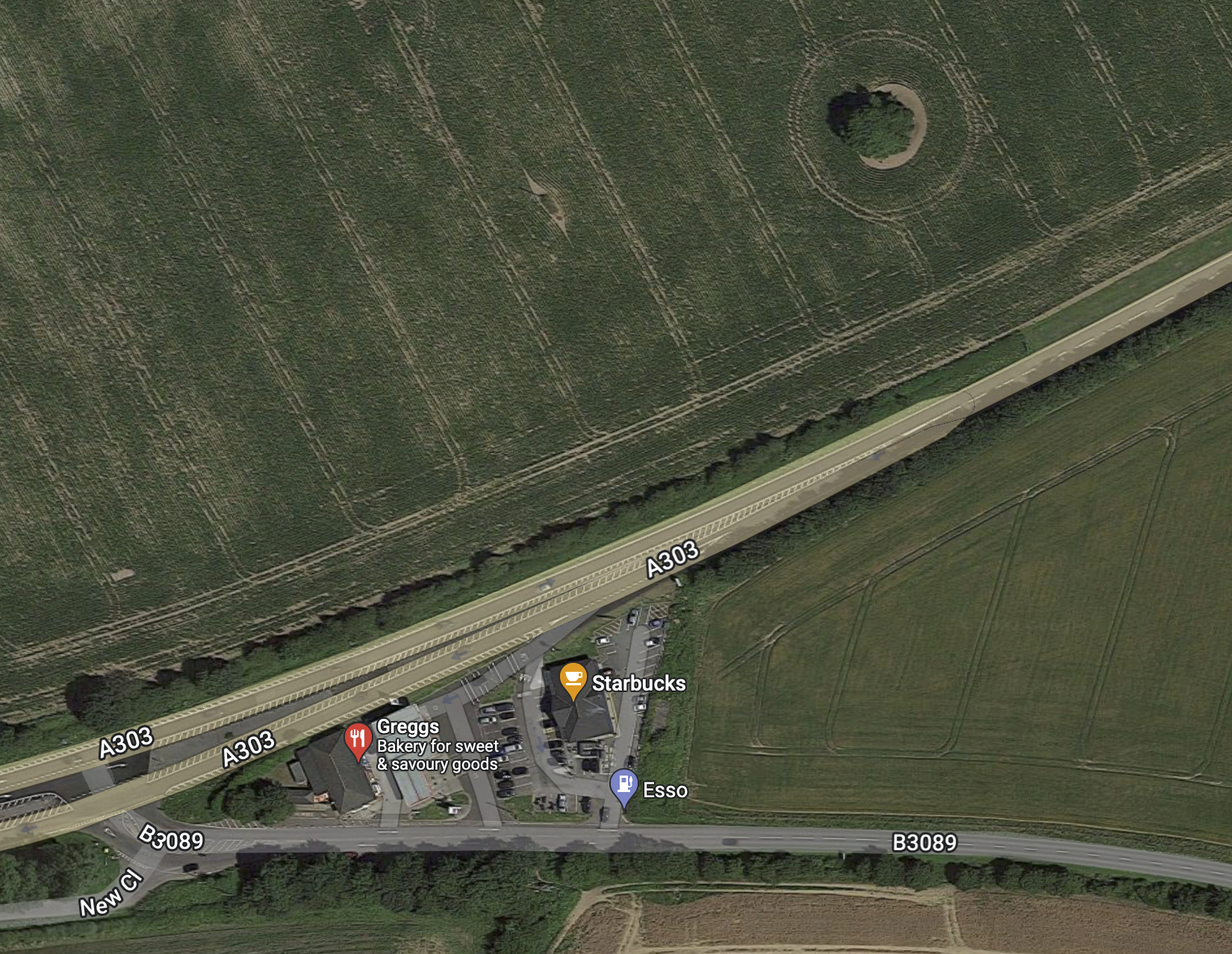 All that is required for sticks and stones to leap into life is our own presence, says the Brazilian anthropologist Eduardo Viveiros de Castro. The more I experience places like Stonehenge, the more I realise that they also exist beyond the physical. In my mind, Stonehenge is more meaningful than the roadside reality.
Stonehenge is just one element in a larger web of places that live beyond their physical presence. Think of Glastonbury Tor, The Shambles and Sutton Hoo. There are also the places that impact us on a personal level: local streetscapes that know more of us than we do of them. They constitute a small part of a vast matrix of inherited material culture.
This ecology of place exists within our collective imagination. I liken it to the hidden mycelium matrix that connects trees and allow them to communicate and sustain each other. Buildings and squares, gardens and ginnels are springing points that contribute to our identity and wellbeing. Through the stories they tell and the place they hold within our imagination, they nourish and give context to our lives.
As I glide past the standing stones on a ribbon of tarmac, I glance into my wing mirror. There it is again, Stonehenge, looking magnificent this time, given majesty from the framing, uplifted within the confines of a reflection.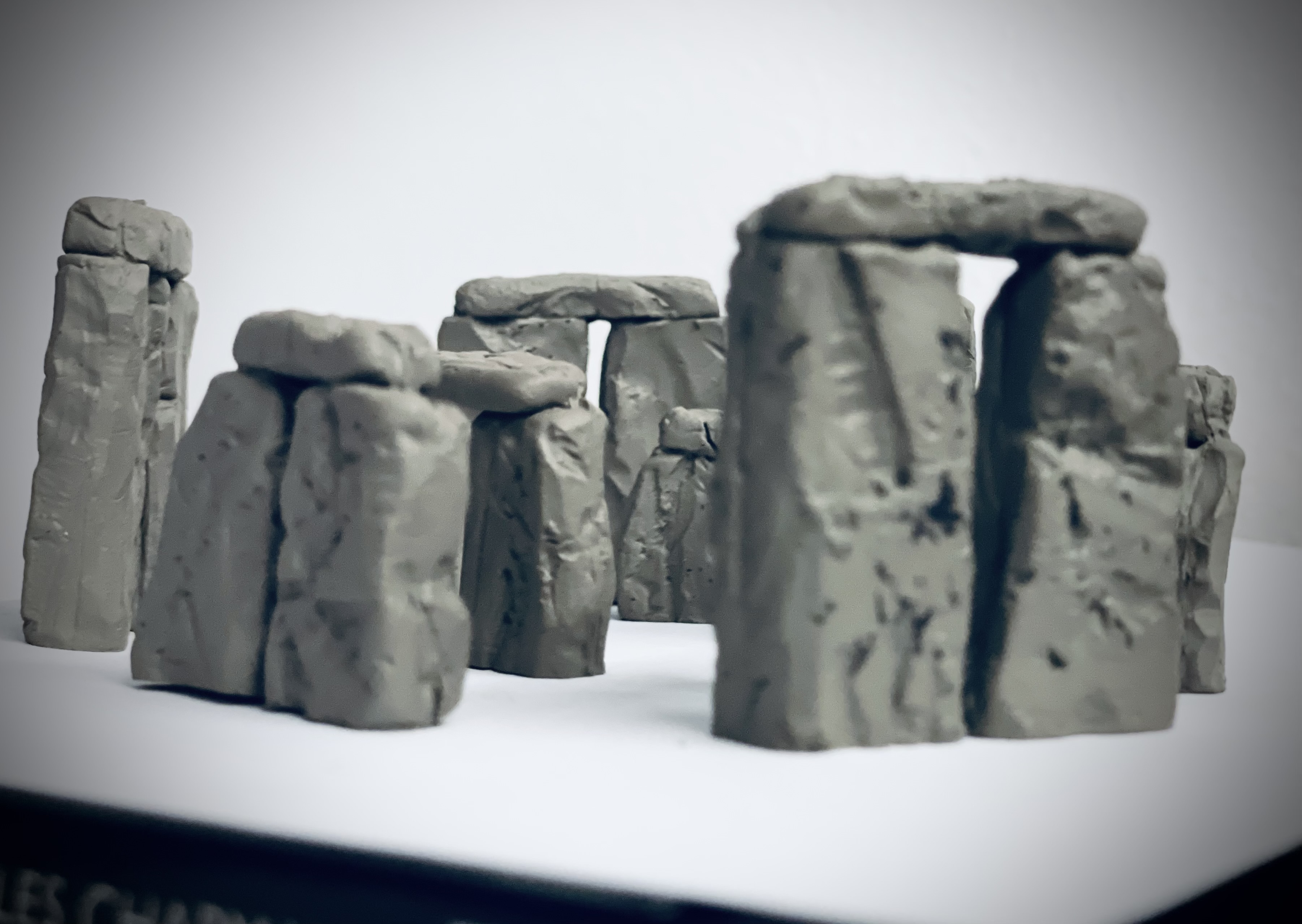 Hotspots
I take an epic journey to the south west of England, focused around photo shoots in Dorset and Devon. In between, I visit places that shimmer with significance.
Long Crichel, Dorset.
It's my second visit to St. Mary's, Long Crichel for Friends of Friendless Churches - the church has had its original palette of colour painstakingly restored.
The last time I visited, it was during the lockdown interregnum and I lodged, isolated in my van, nearby. When I awoke, next morning, and opened my door - on the floor - a punnet of strawberries.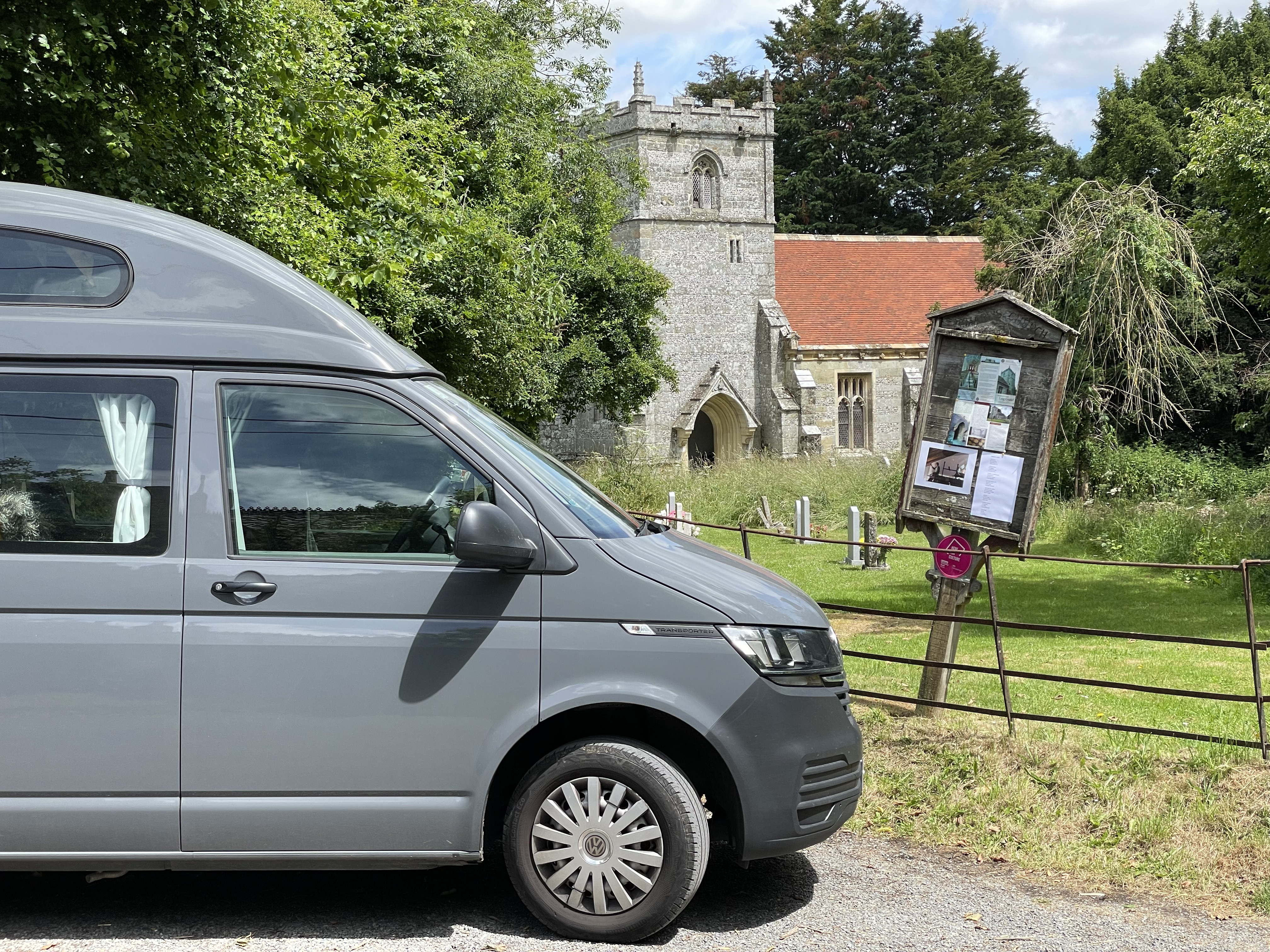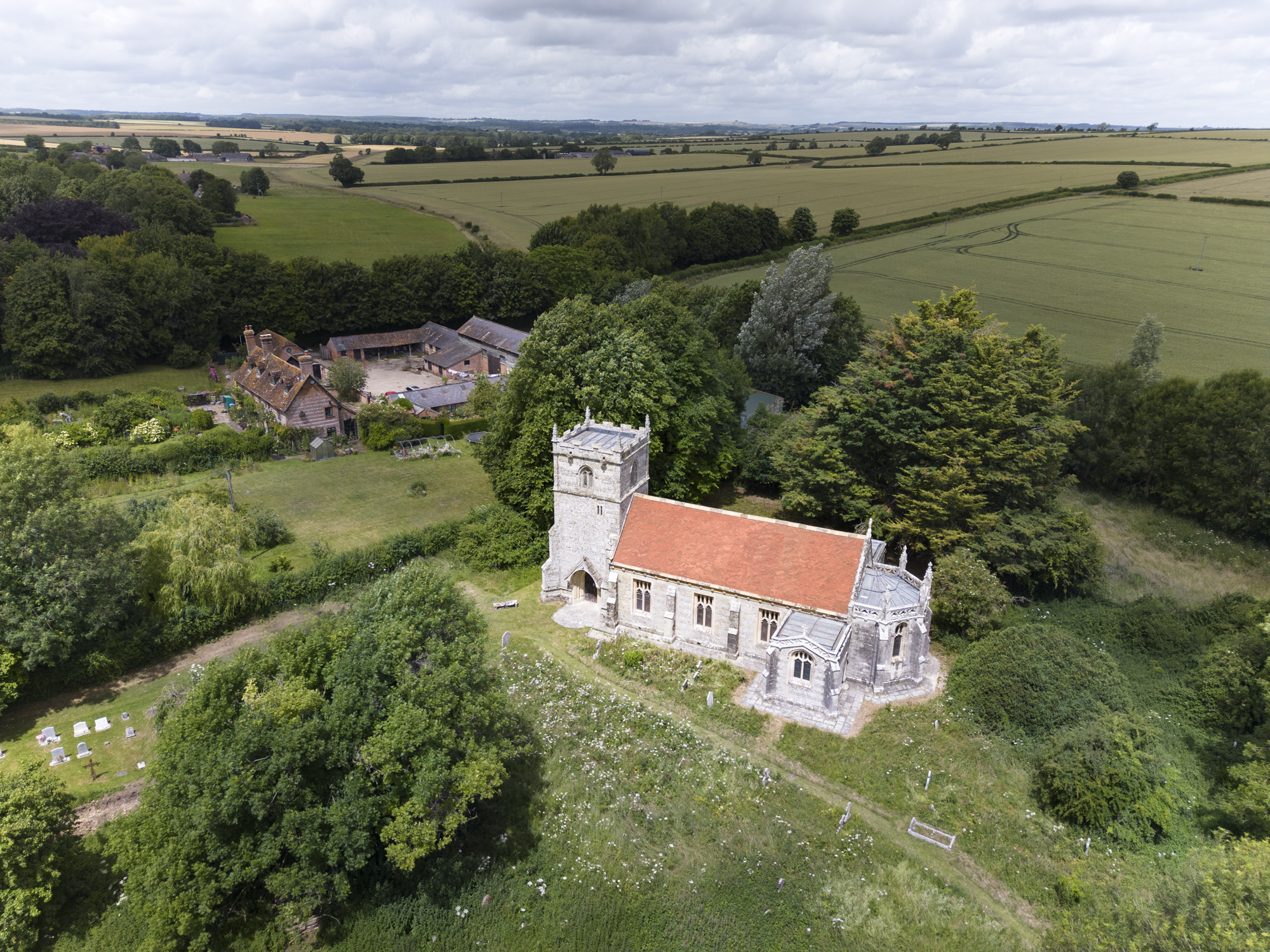 If you want to see the remarkable new colour scheme at Long Crichel - keep tabs with Friends on Twitter. It's worth the wait. In the meantime - below is the gaudy palette it has replaced.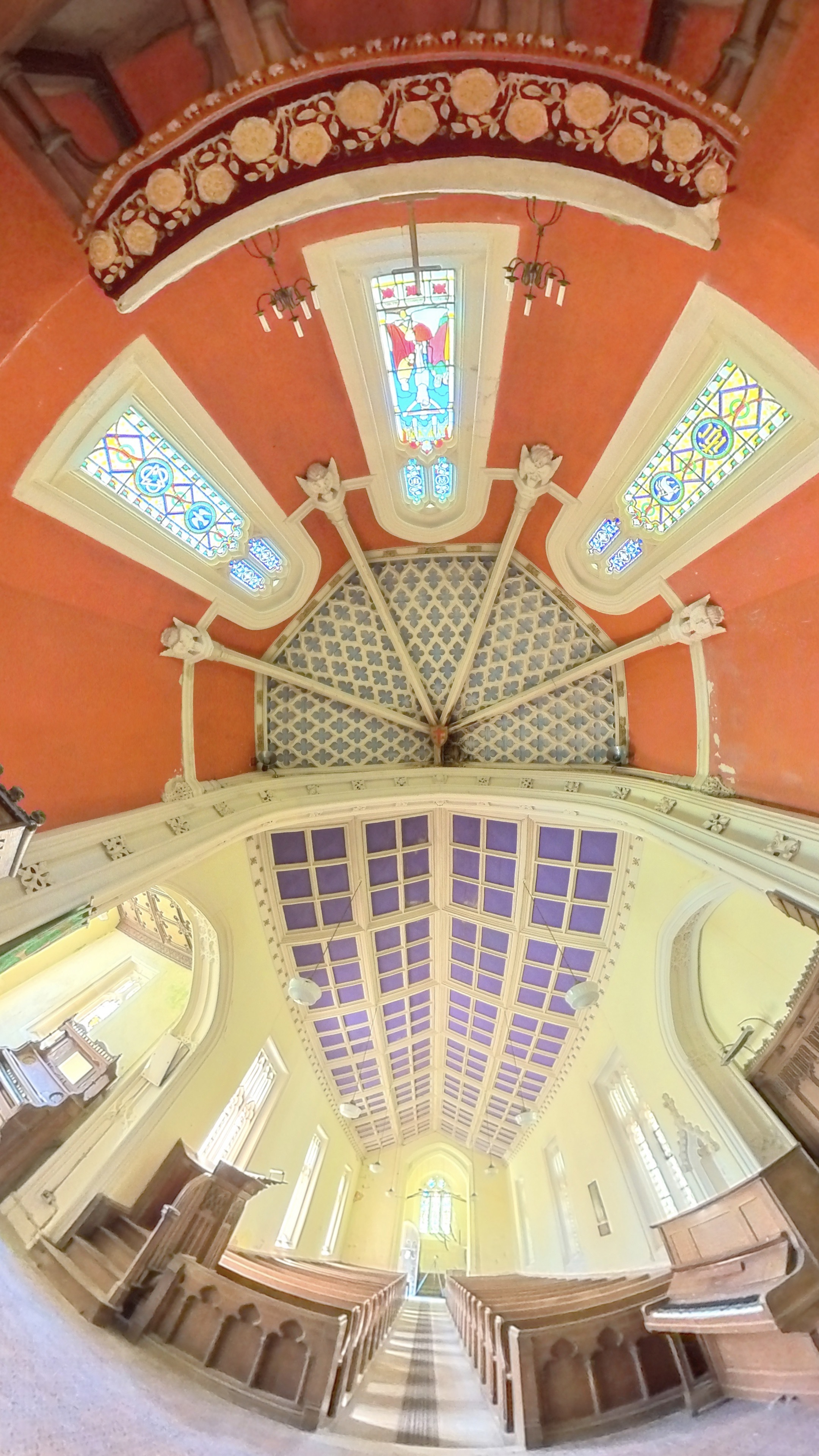 The church has a lovely material link to Chicago, USA in the form of a pump organ made by Story & Clark.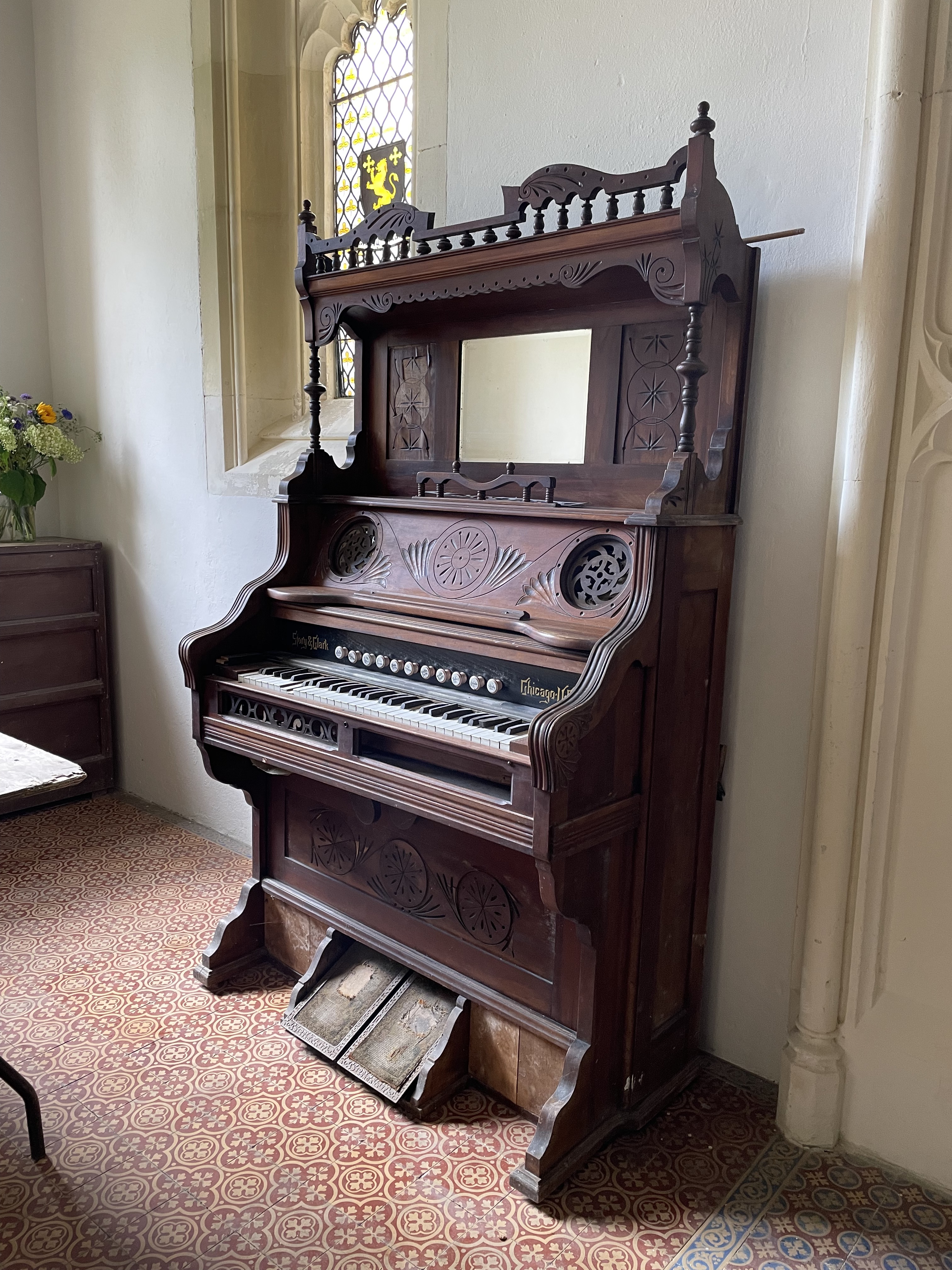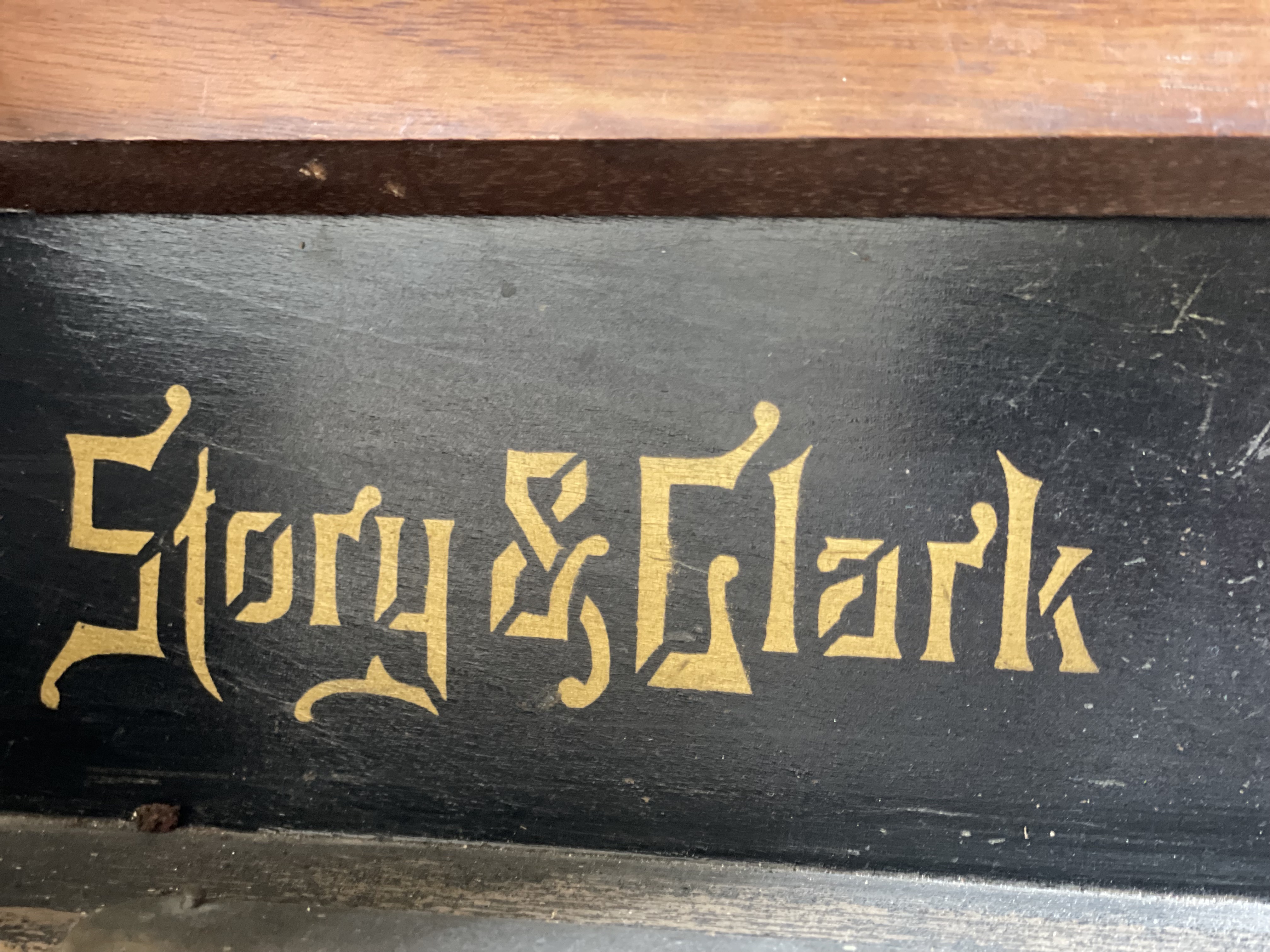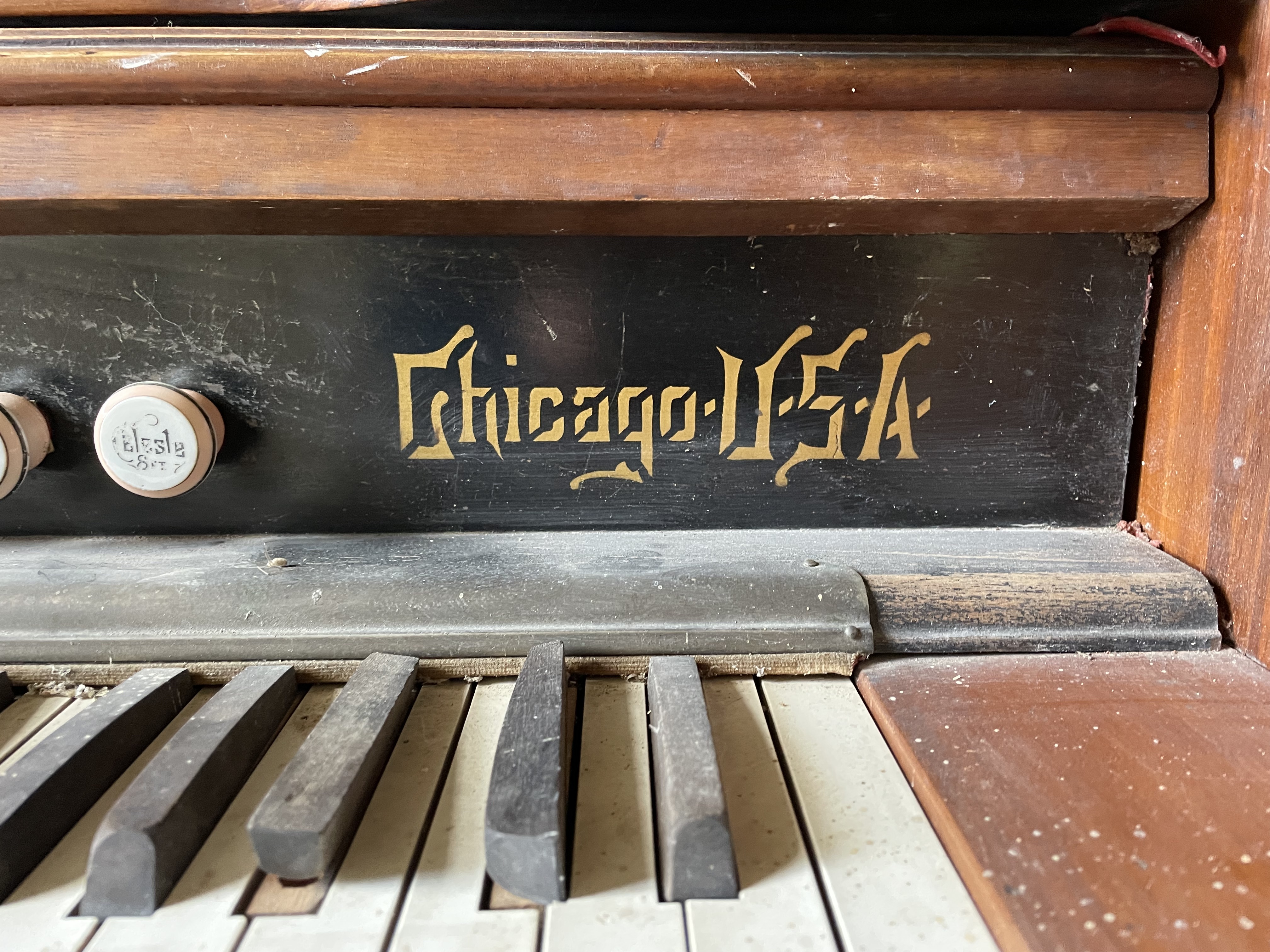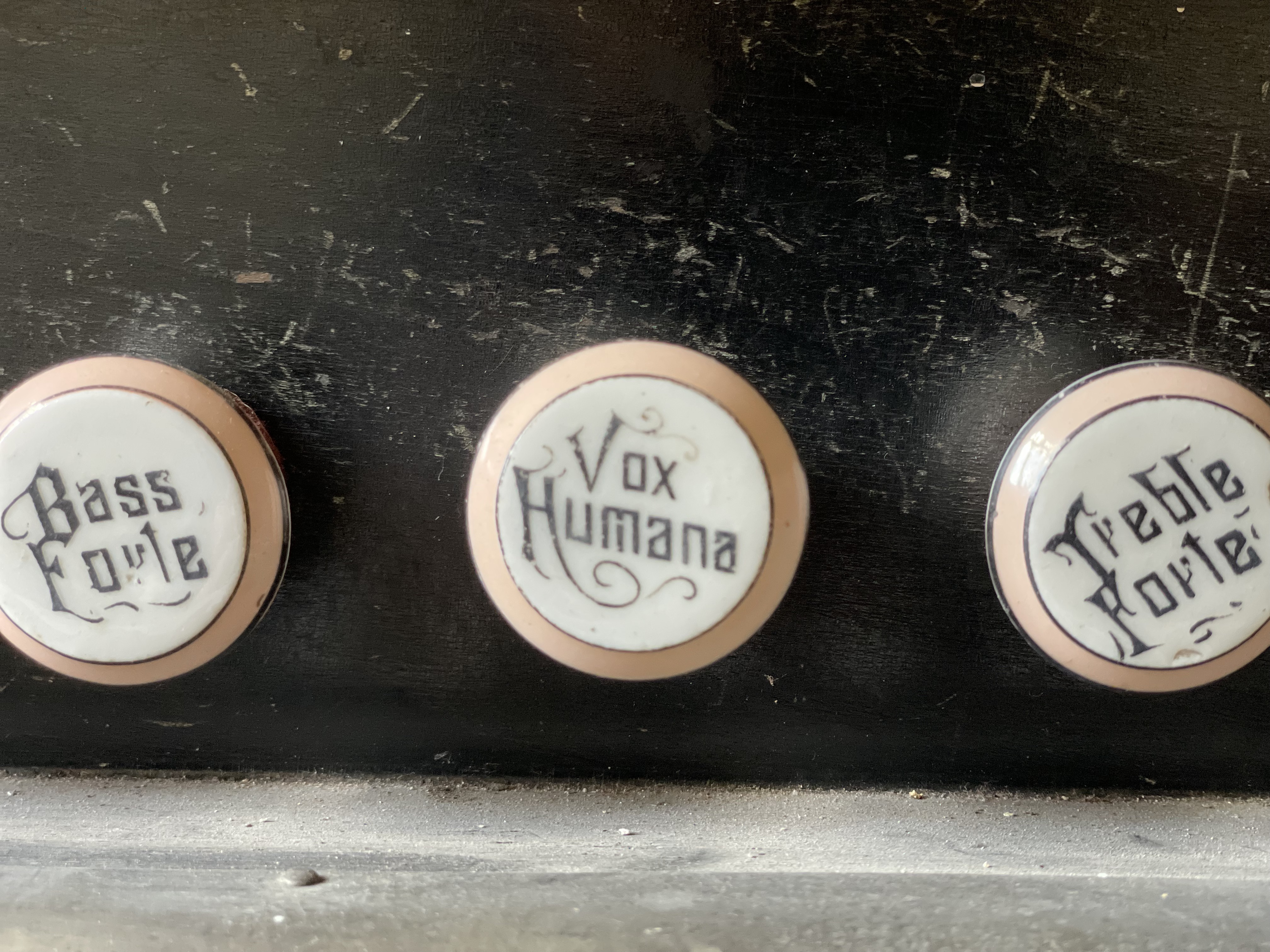 ⚡️Discover More⚡️
Long Crichel is a cultural hotspot. Park up outside the church, buy some Hedgehog bread (take some cheese), have a picnic in the churchyard and read 'The Crichel Boys.' Take in the church after lunch. Head back to the car - check the floor for strawberries. Eat dessert.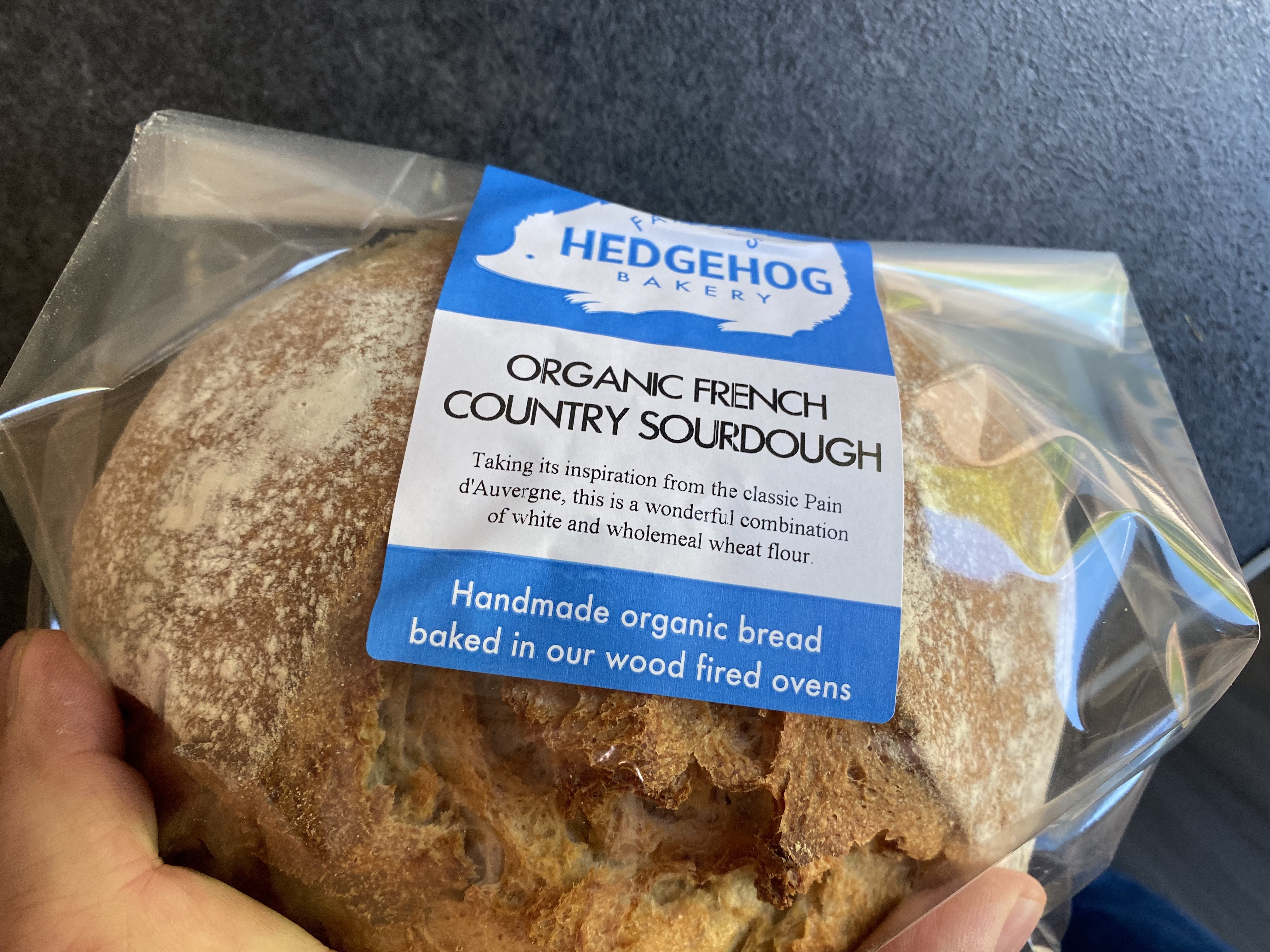 St. Mary's Church, Breamore, Hampshire.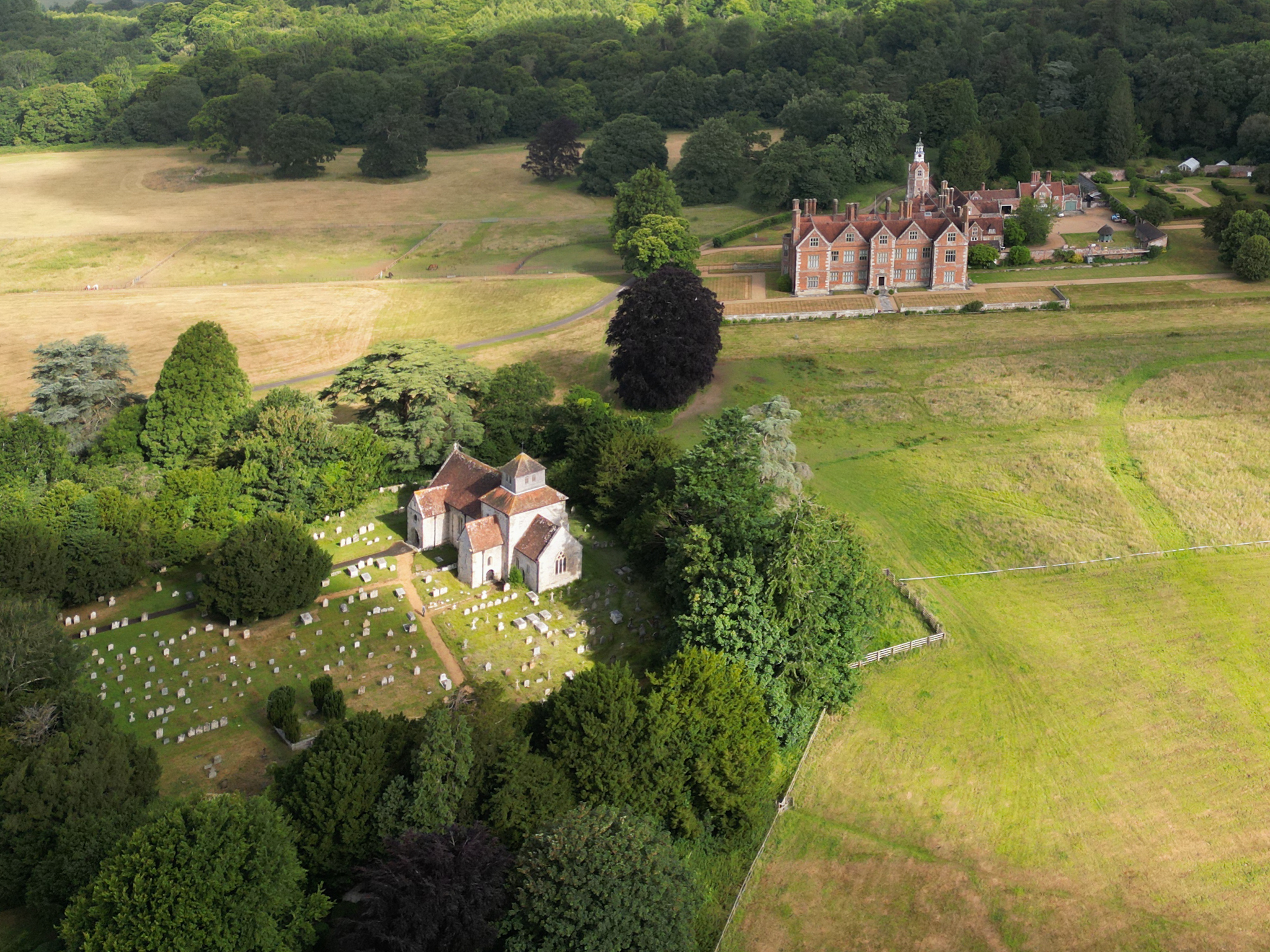 There are two ancient artefacts in the churchyard at Breamore. The church and the yew tree which is several hundred years old. Each as significant as the other.
The Yew.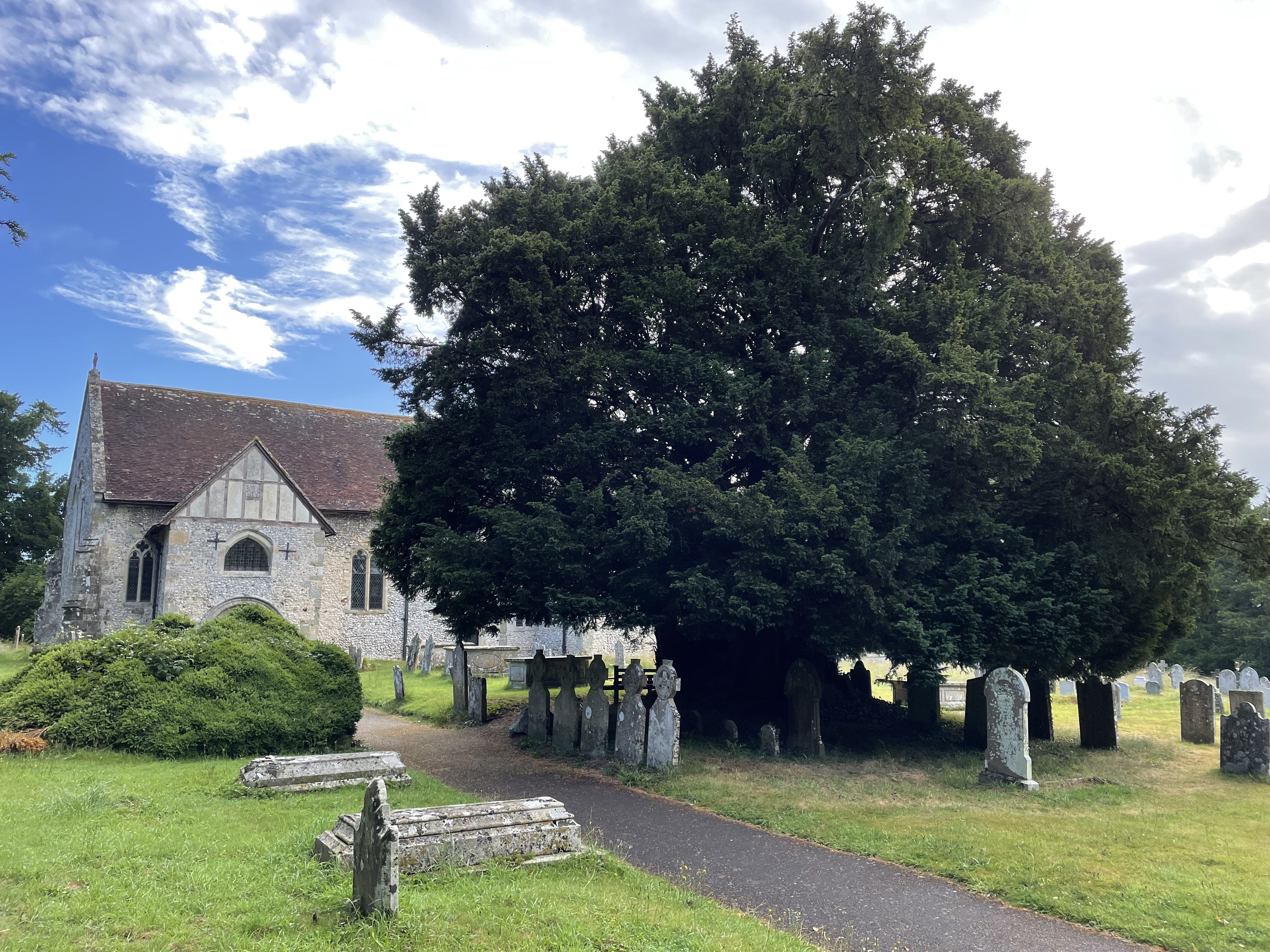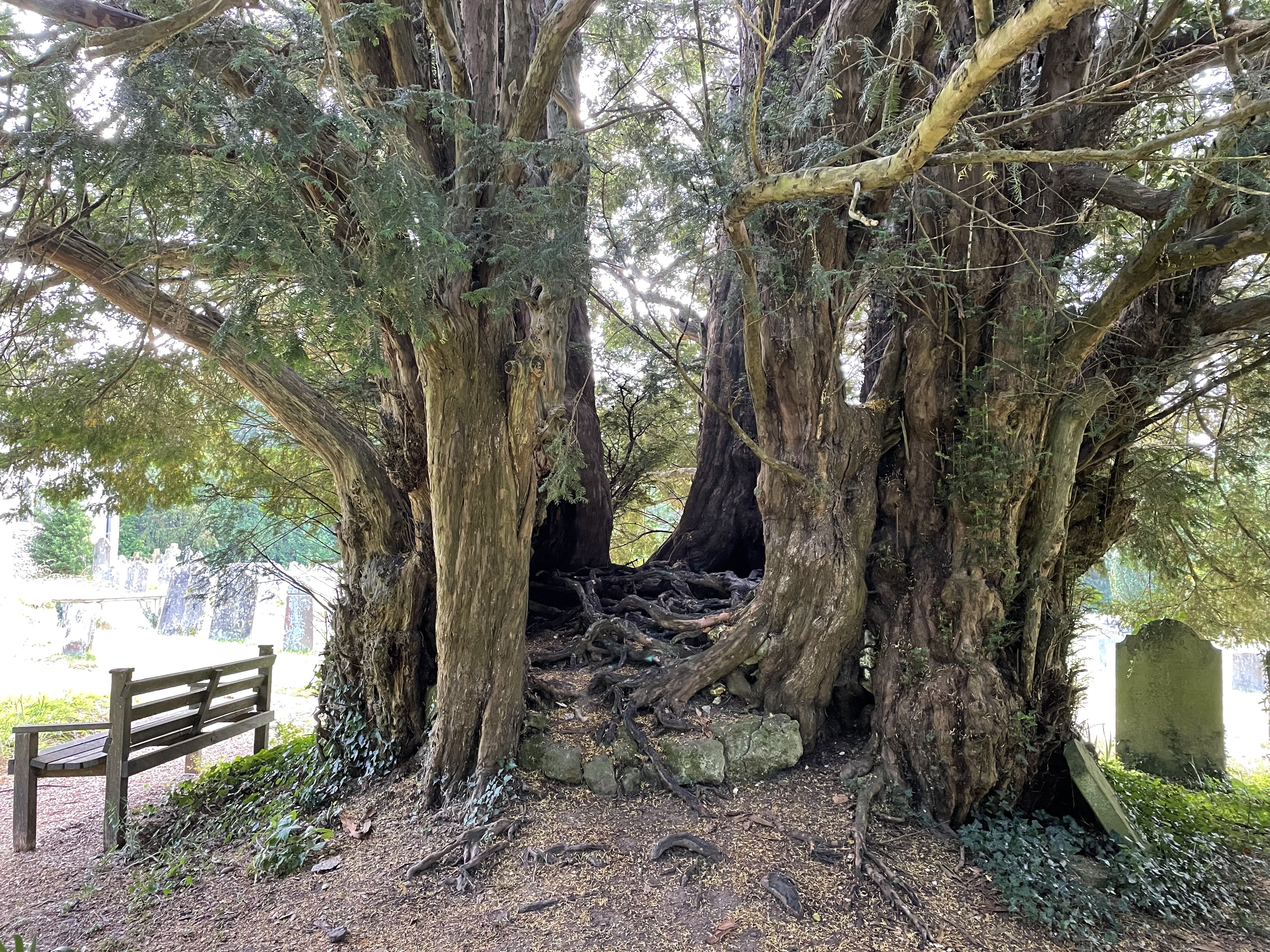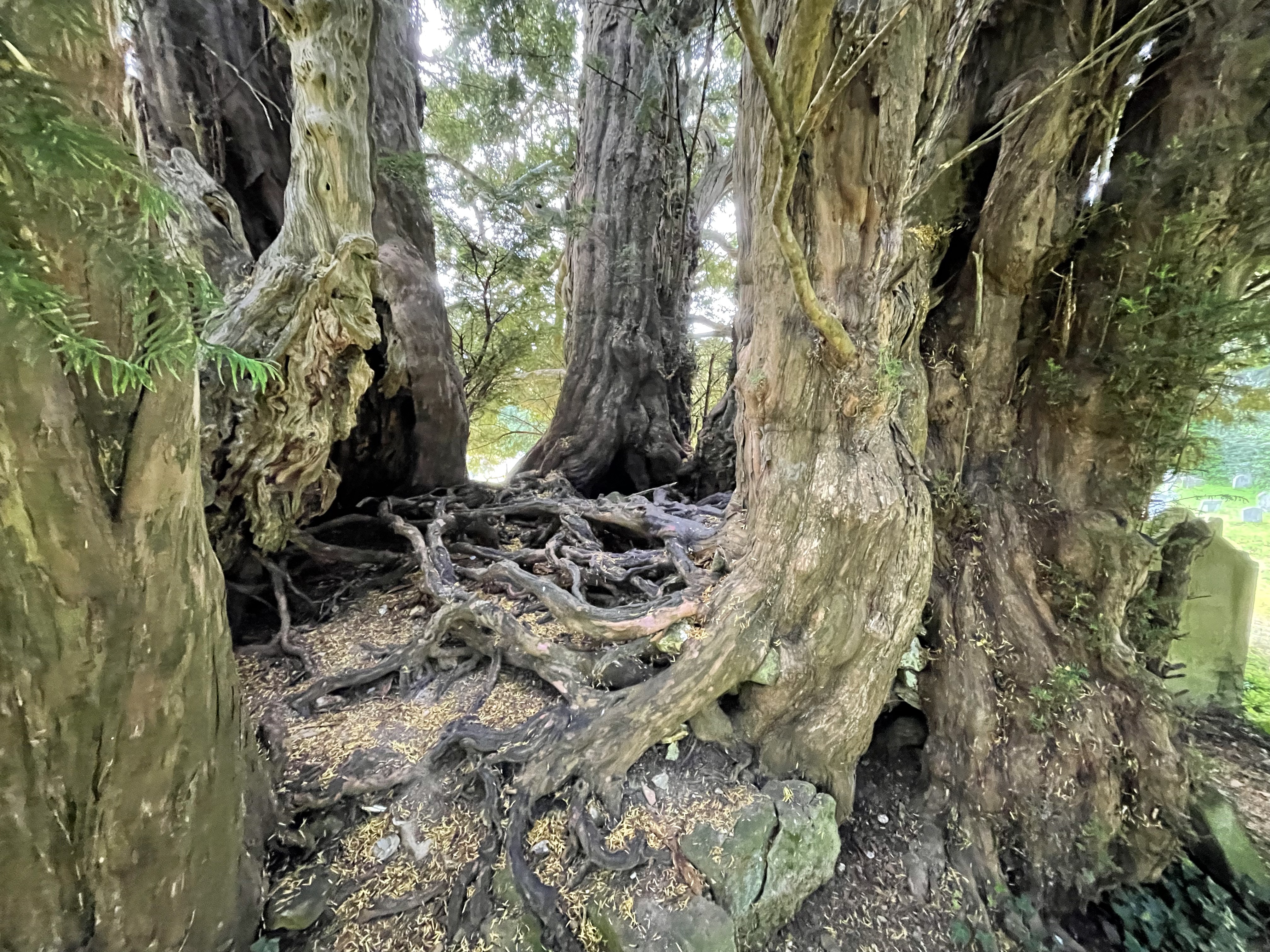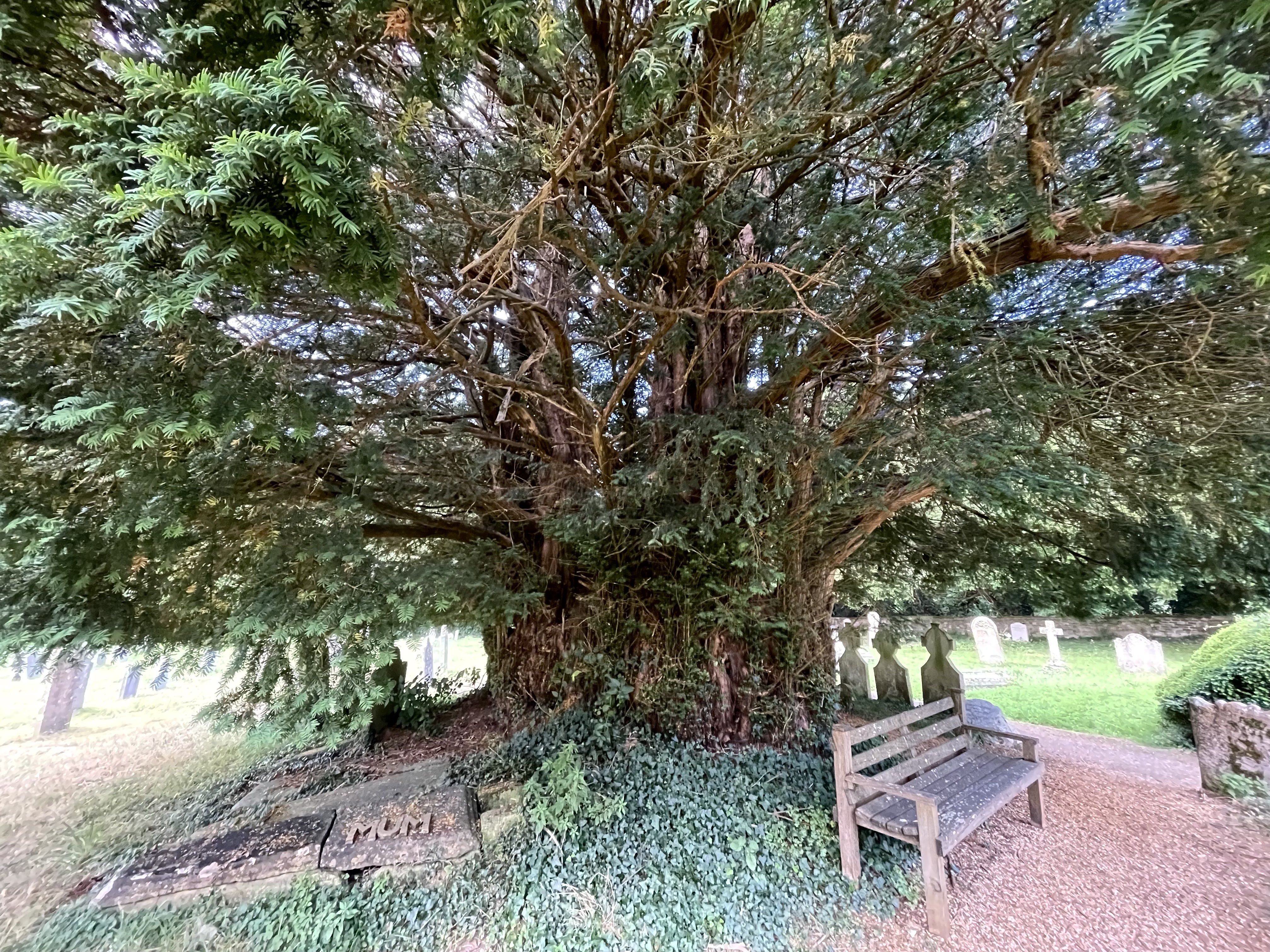 St. Mary's Breamore.
Perhaps one of the most significant churches of Saxon origin in the country. A remarkable survival of the late C10th and early C11th. It's a must see and not far from Salisbury and Long Crichel.
The church exterior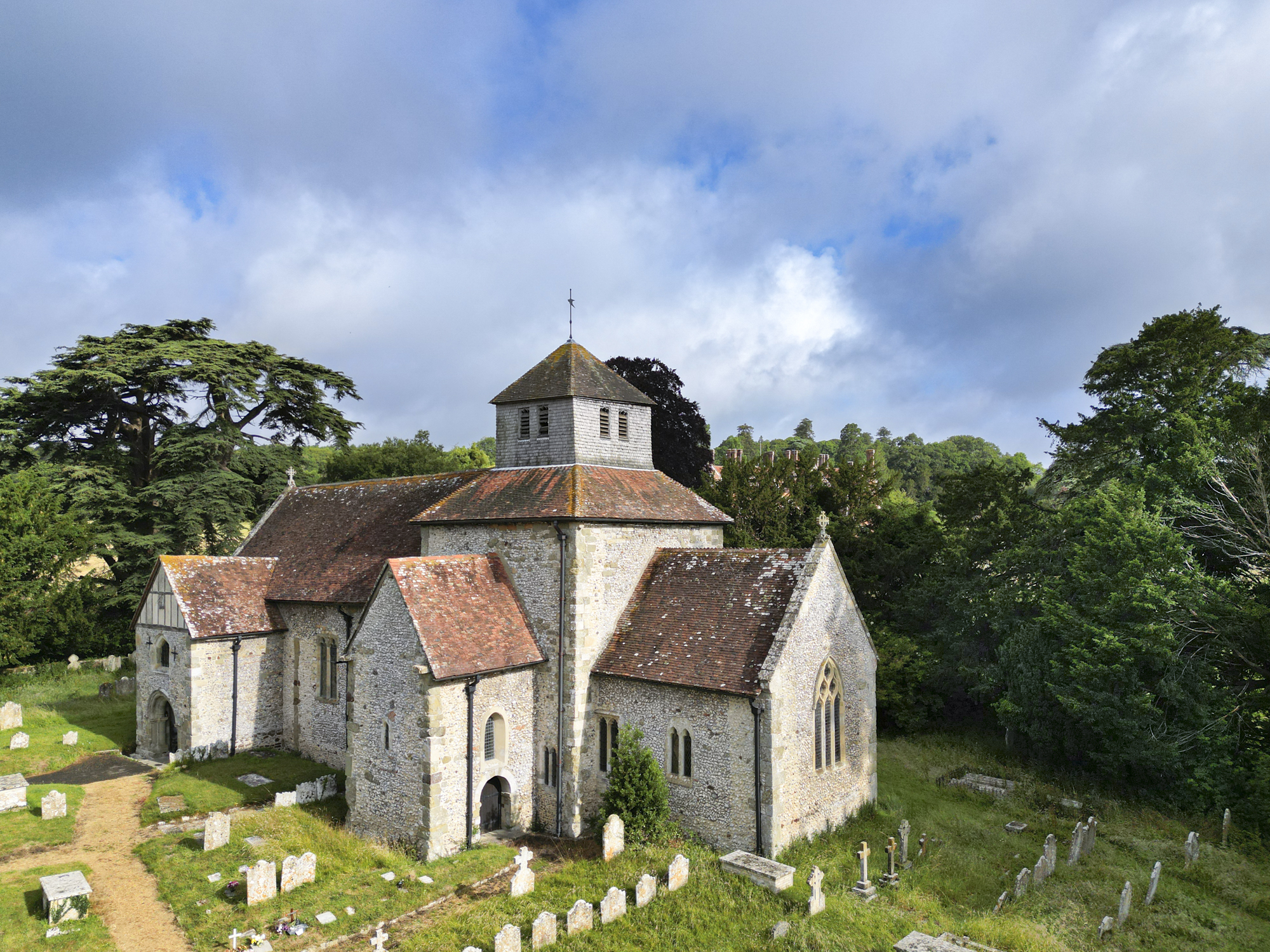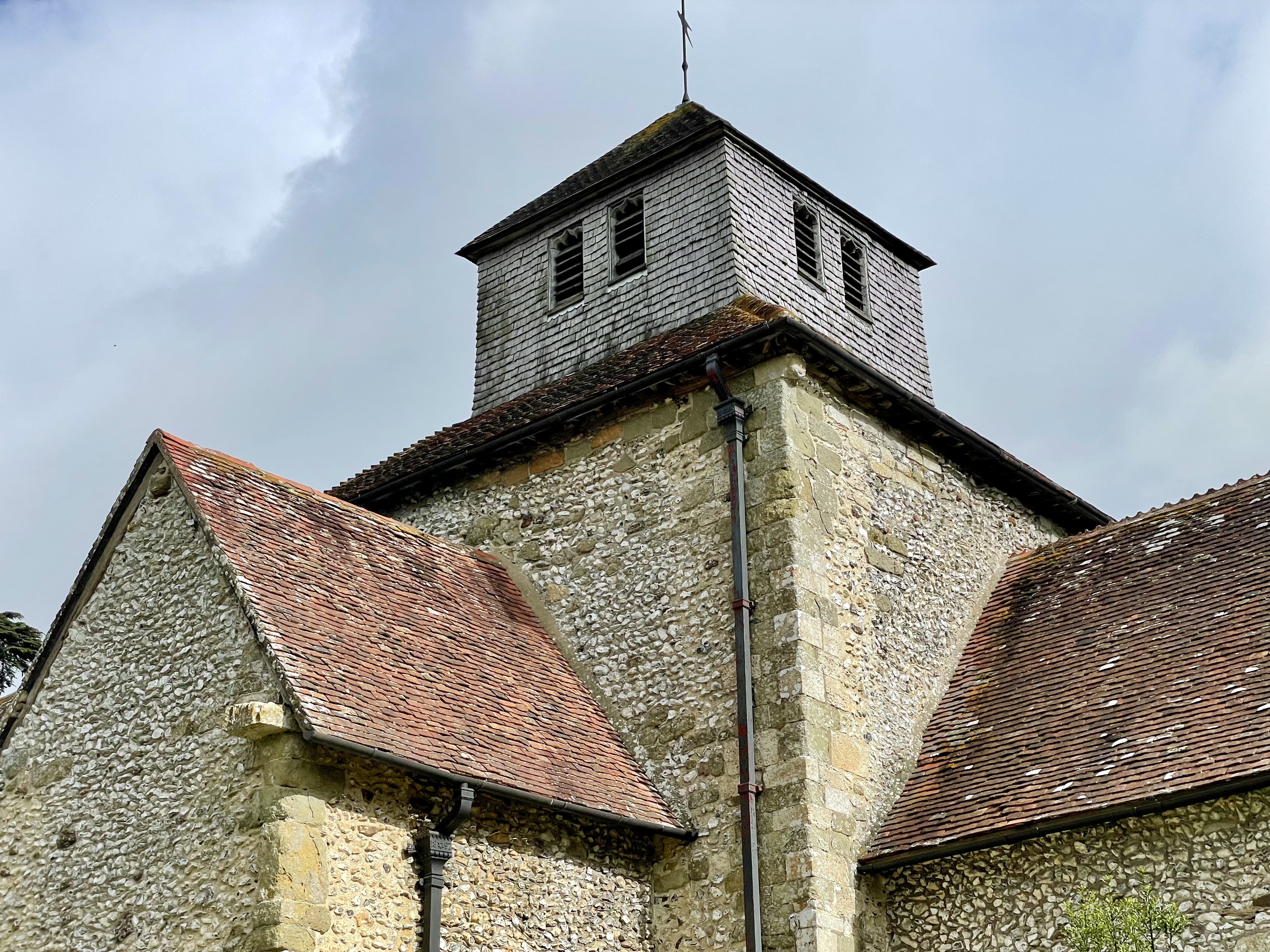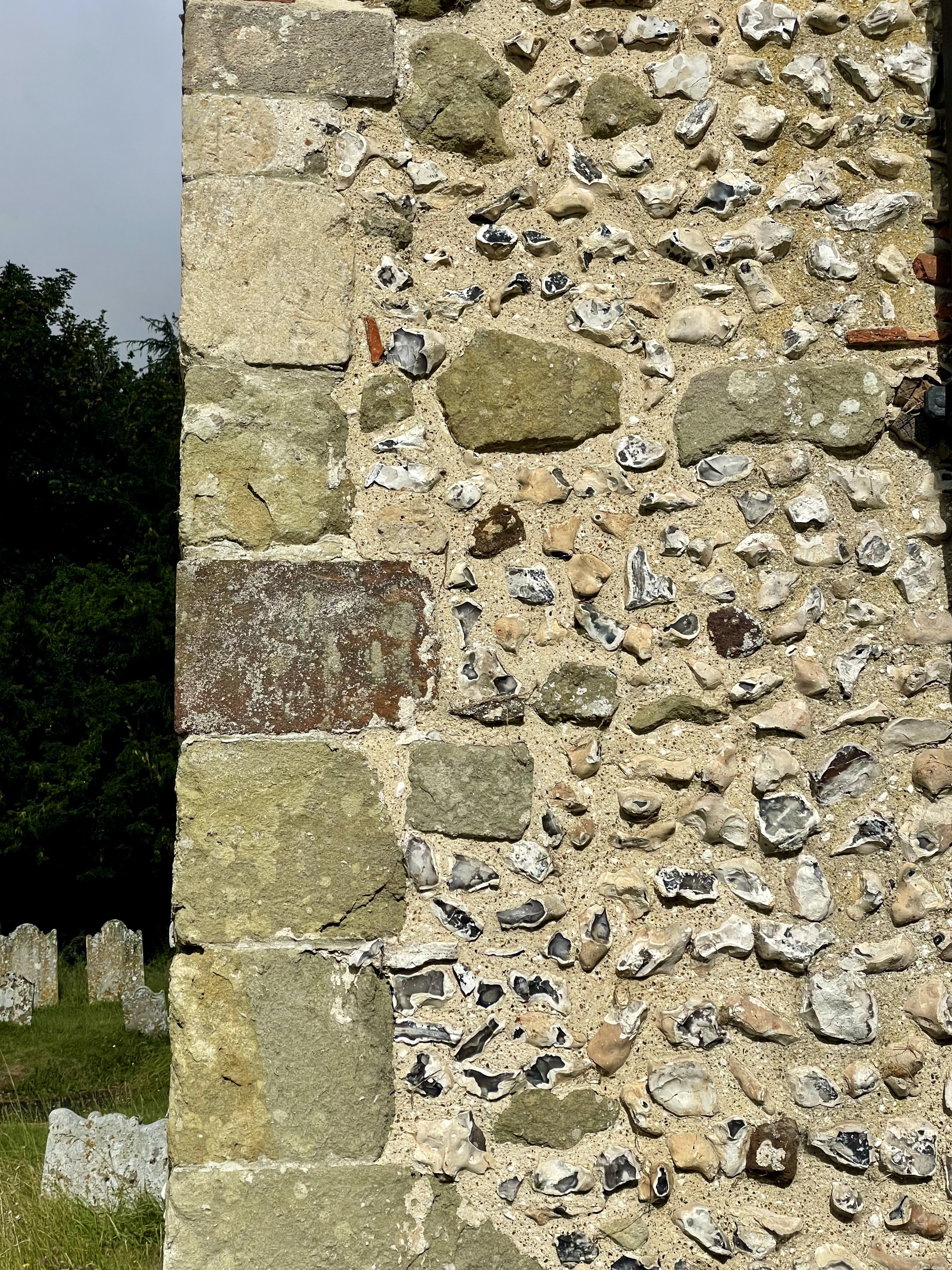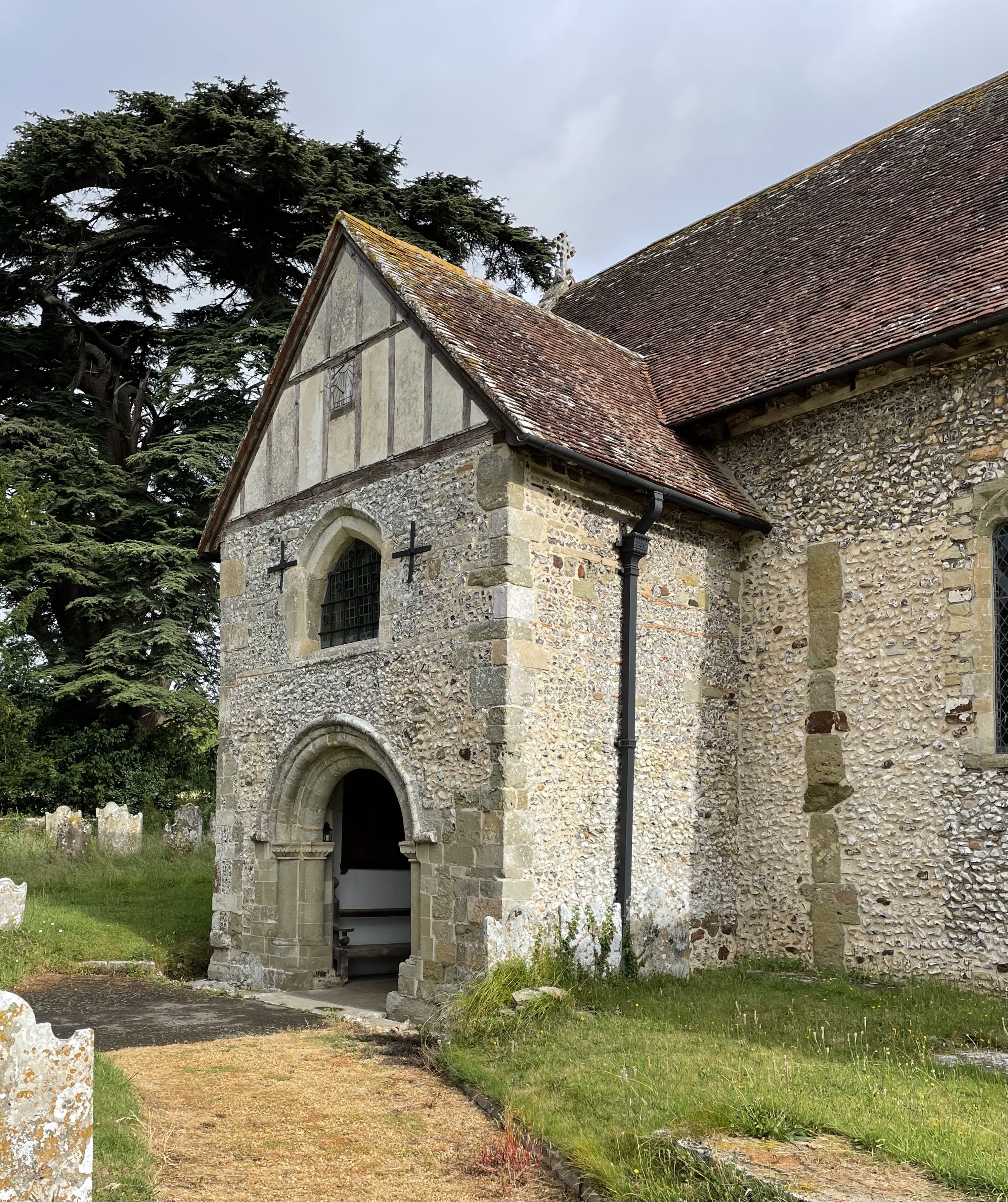 The gaping porch holds two things of significance. Two lovely benches of 1617 and, up above the door, as rare as hen's teeth, an Anglo Saxon Rood.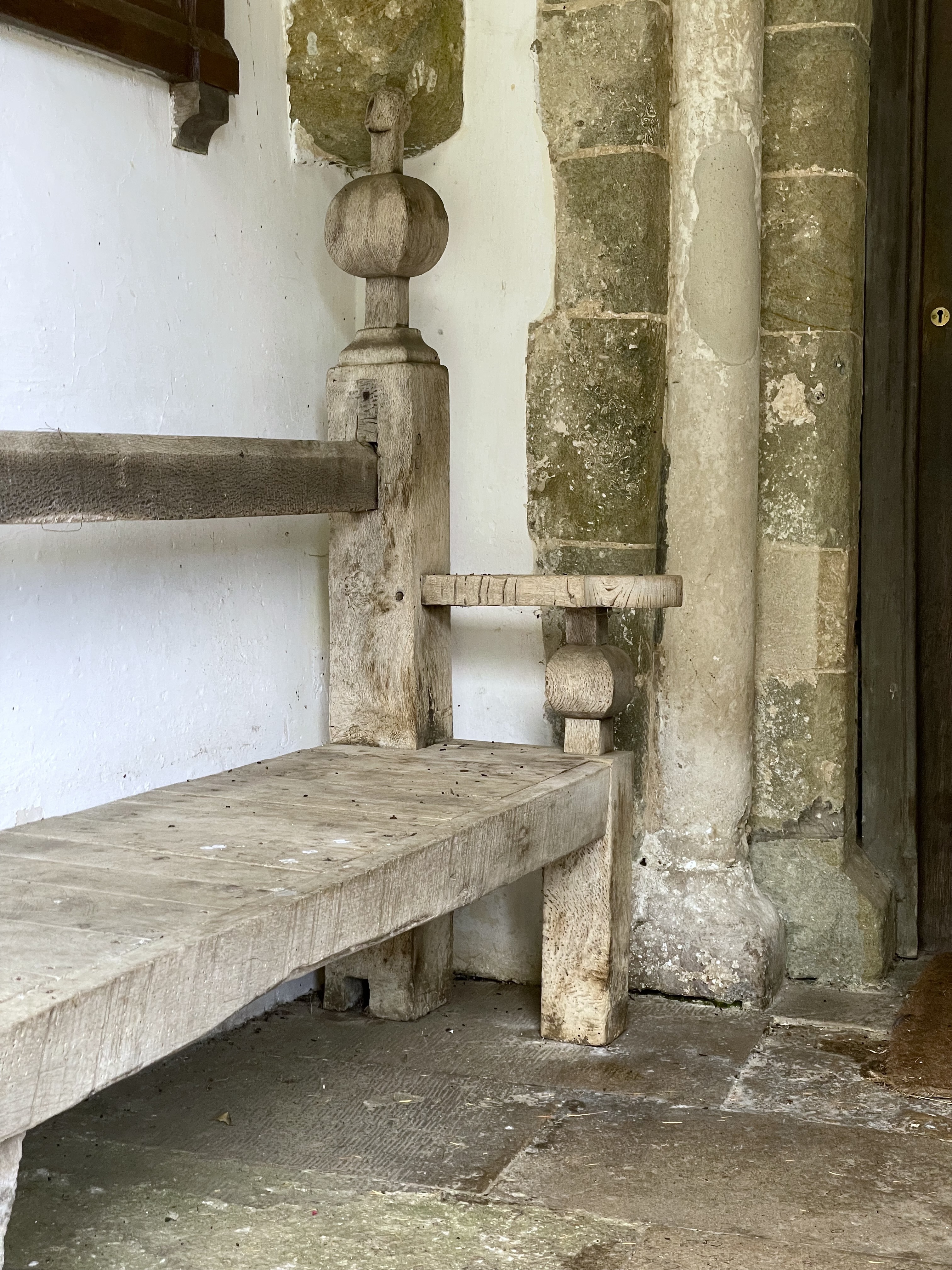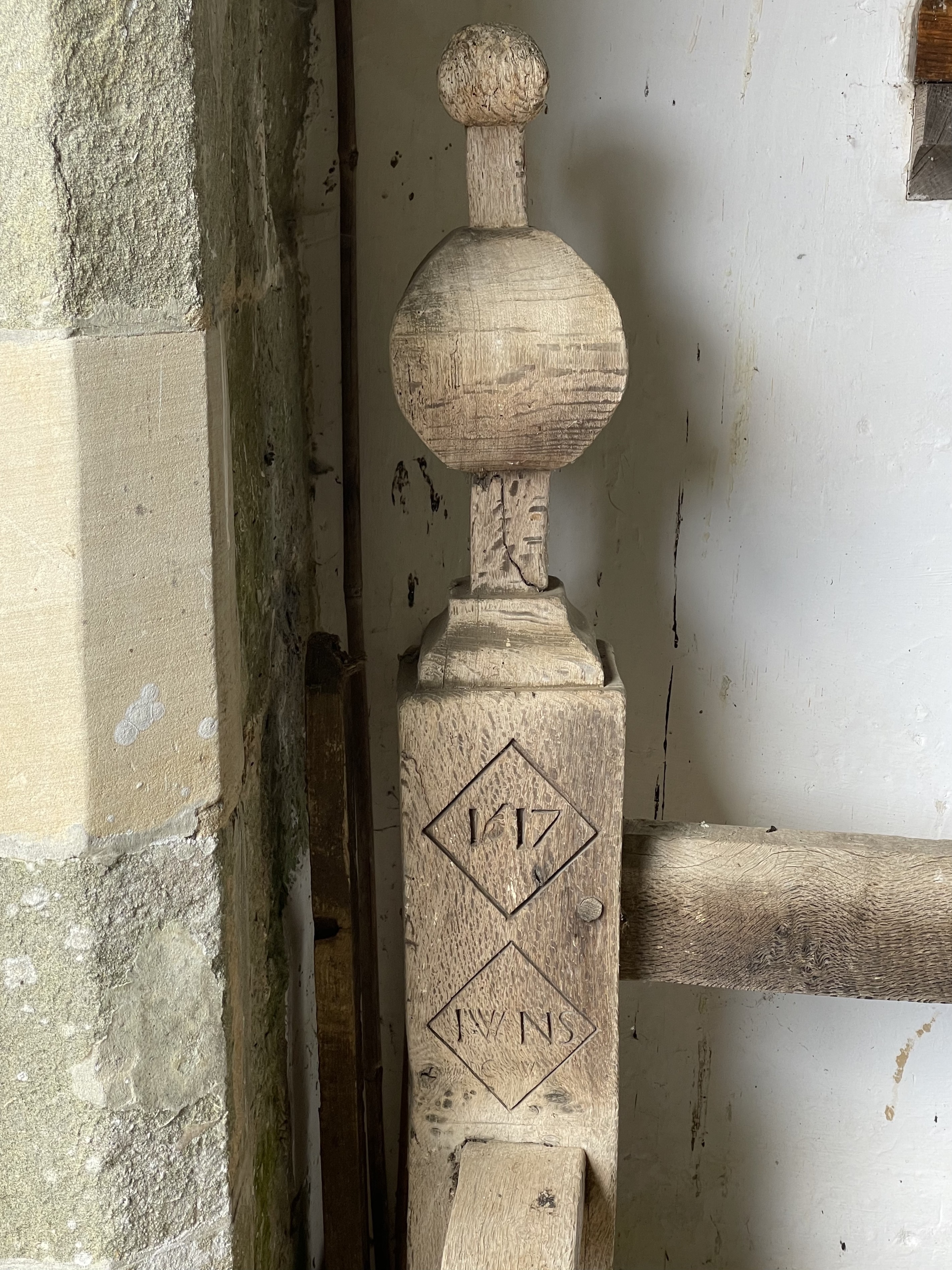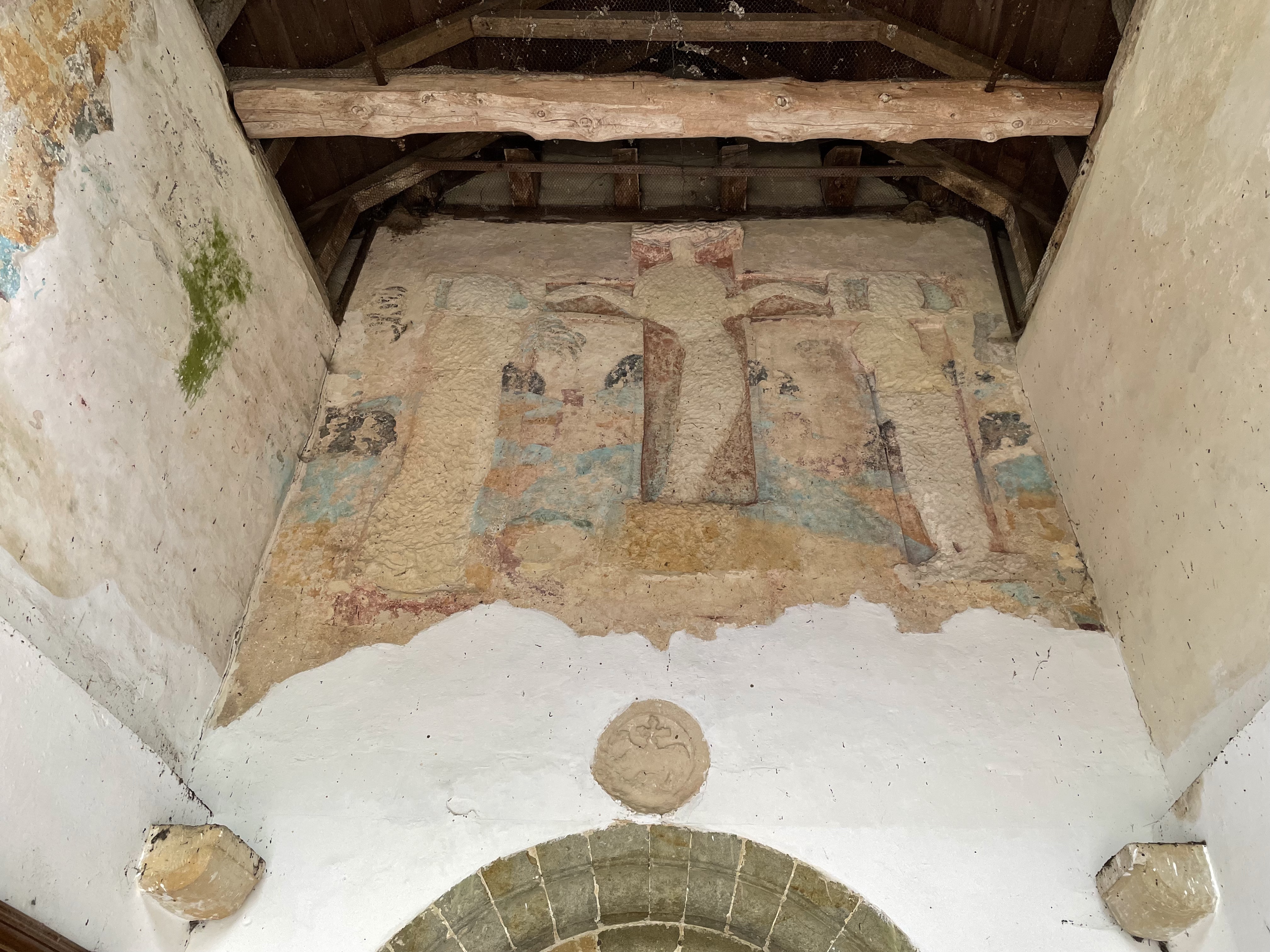 The church interior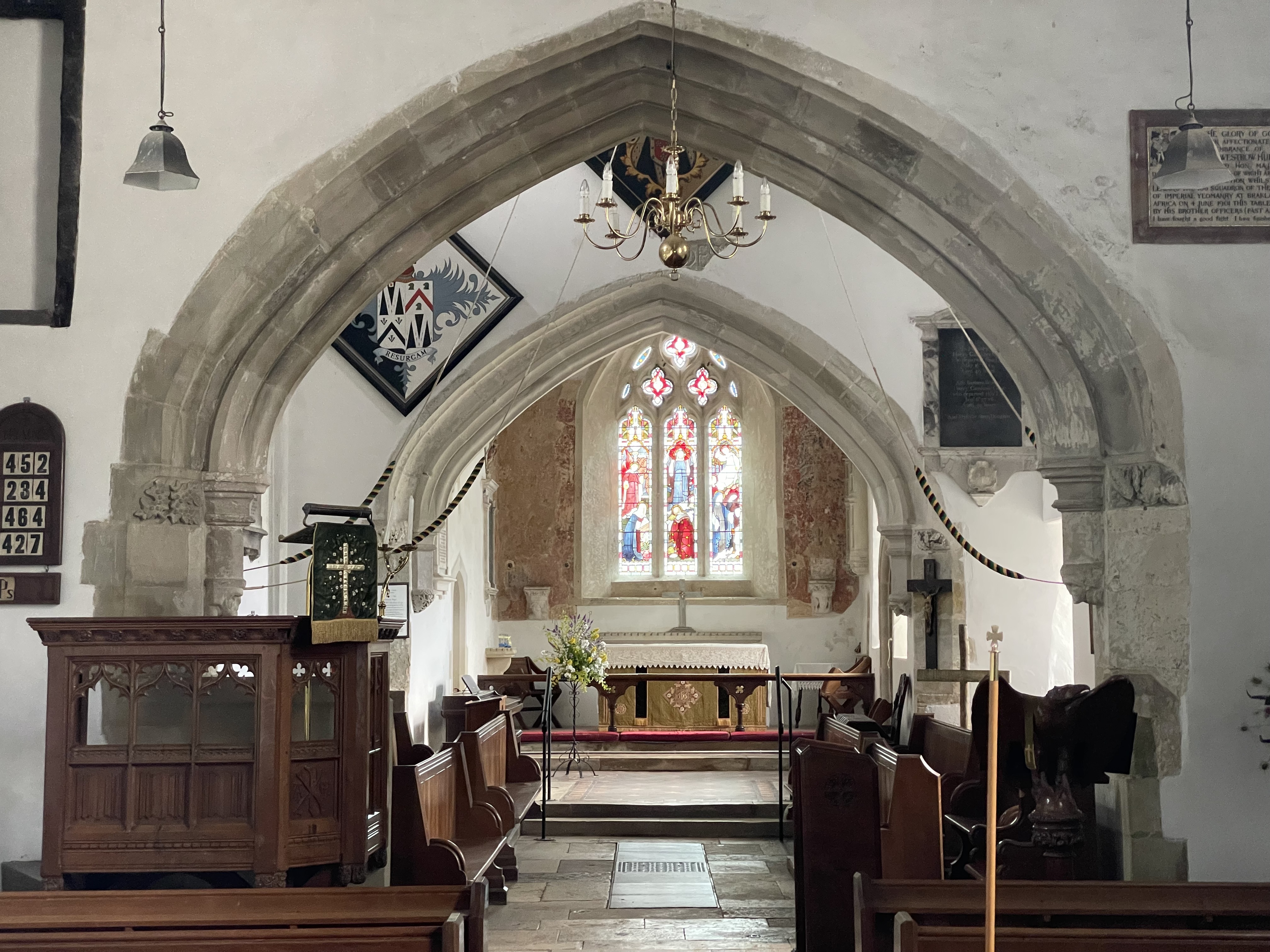 As well as the intentional monuments, we have here, below, an unintentional monument to the Anglo-Saxon mason caught in the lively cut of his axe. .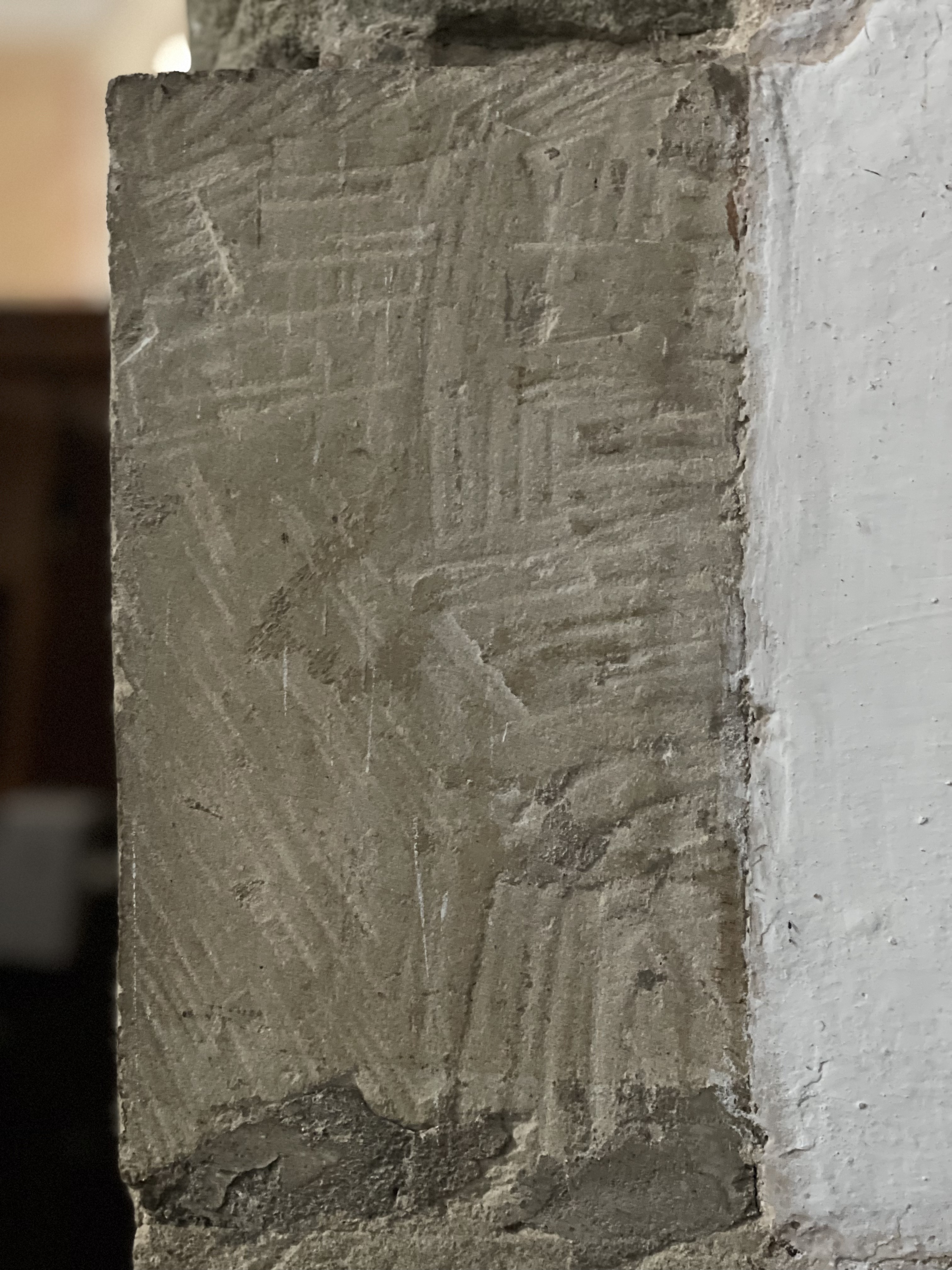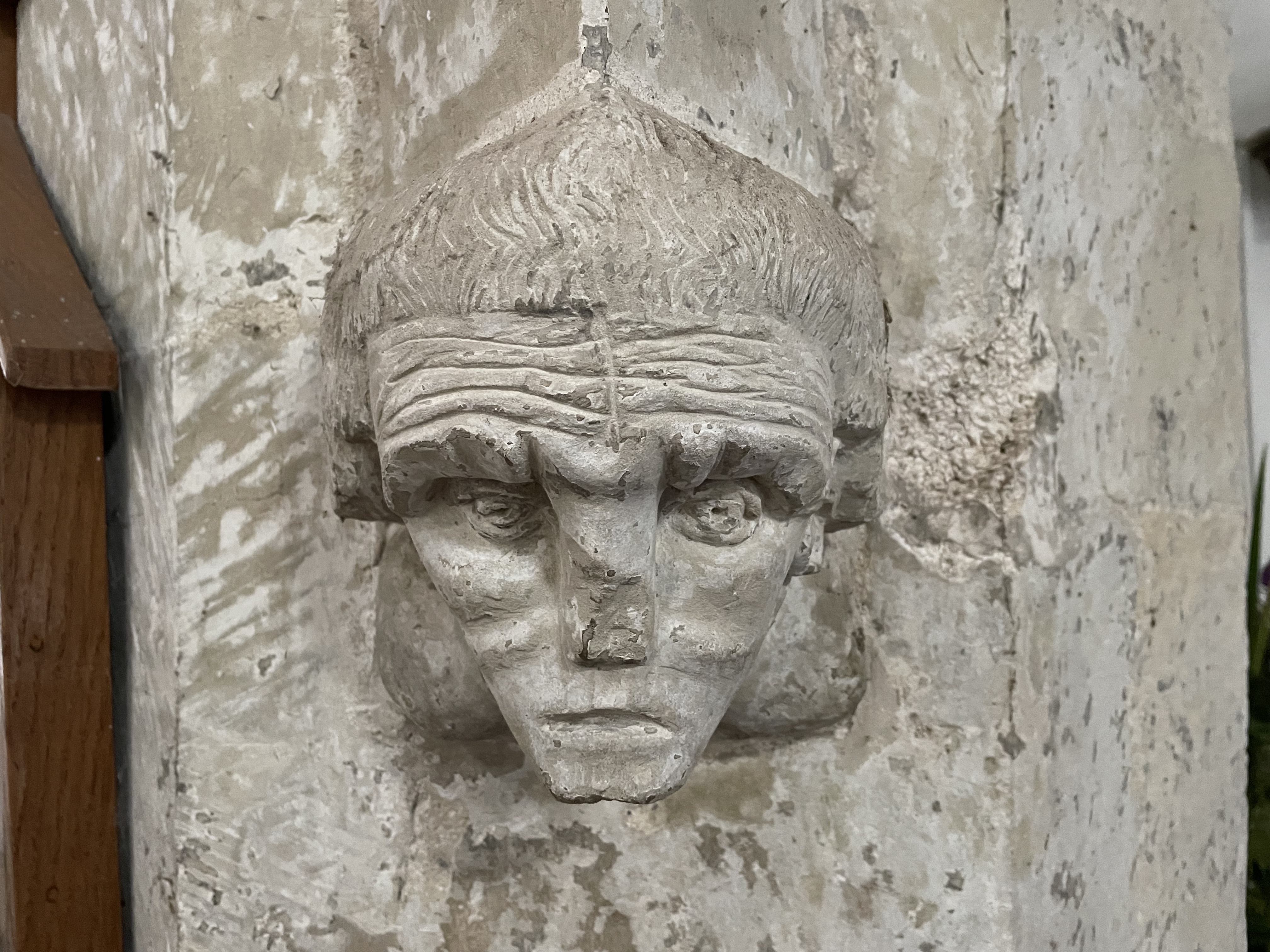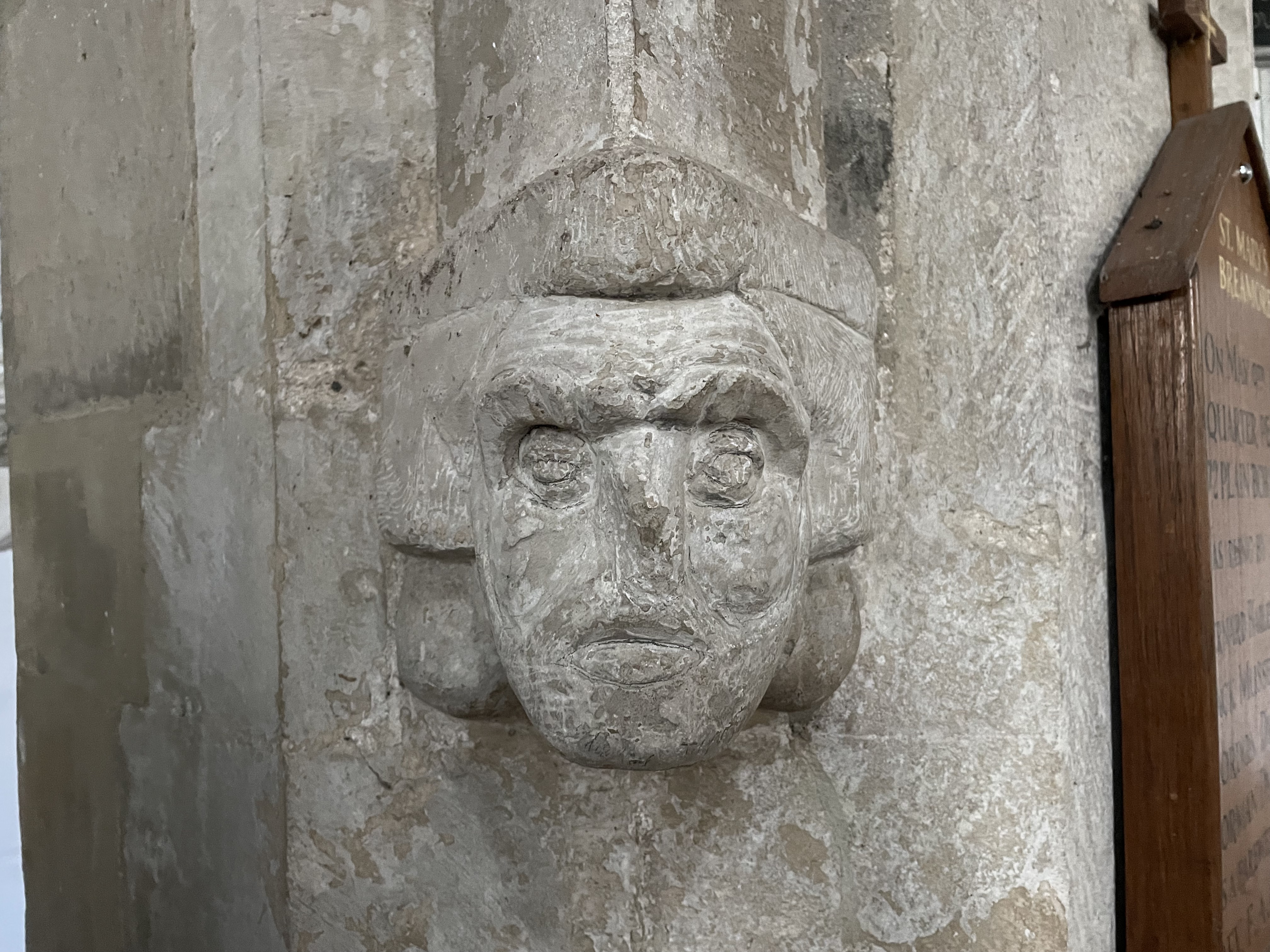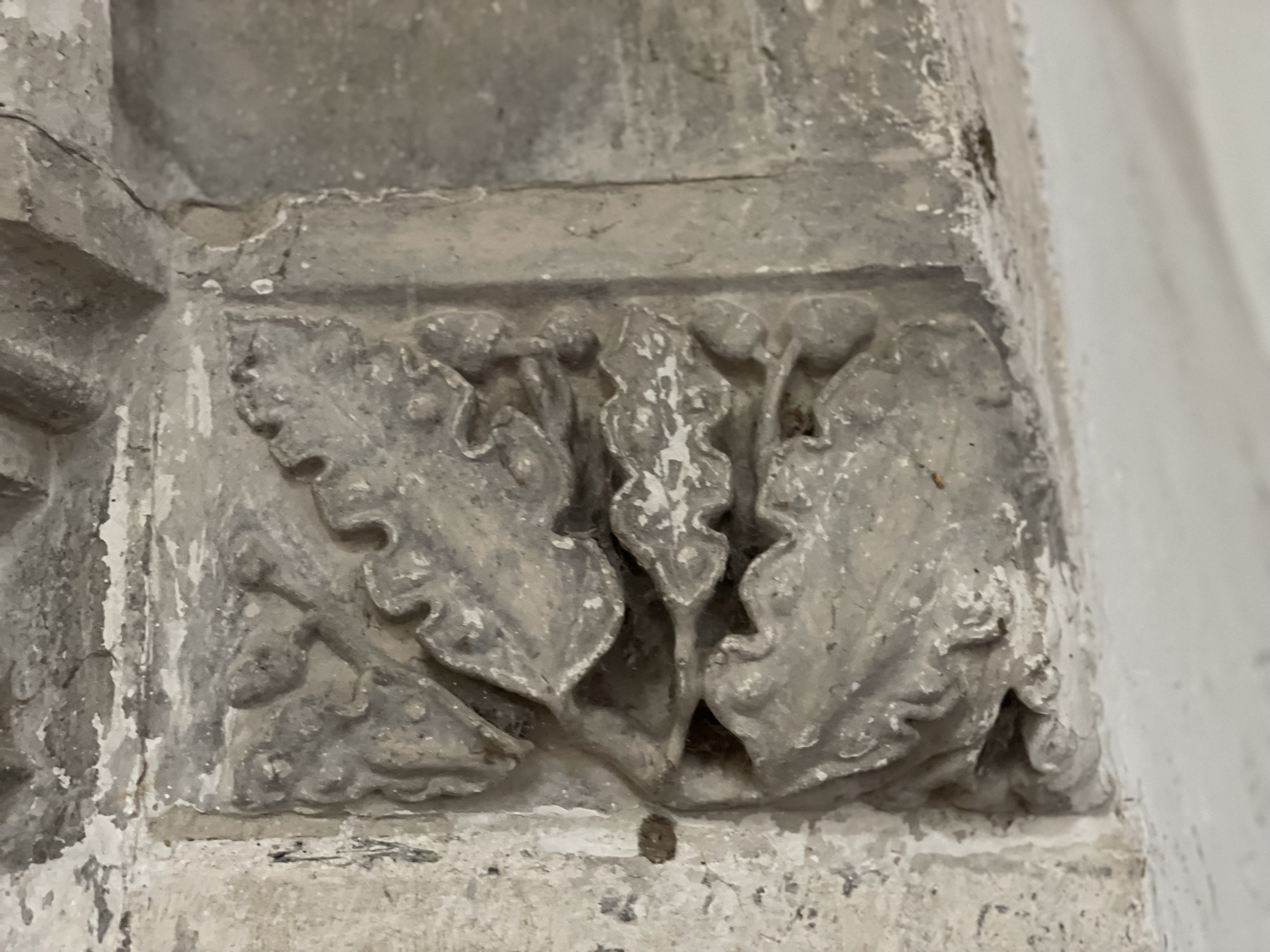 A remarkable survival - Anglo-Saxon door and inscription: "HER SWUTELATH SEO GECWYDRAEDNES THE" -  "Here the covenant [the word] is manifested to thee"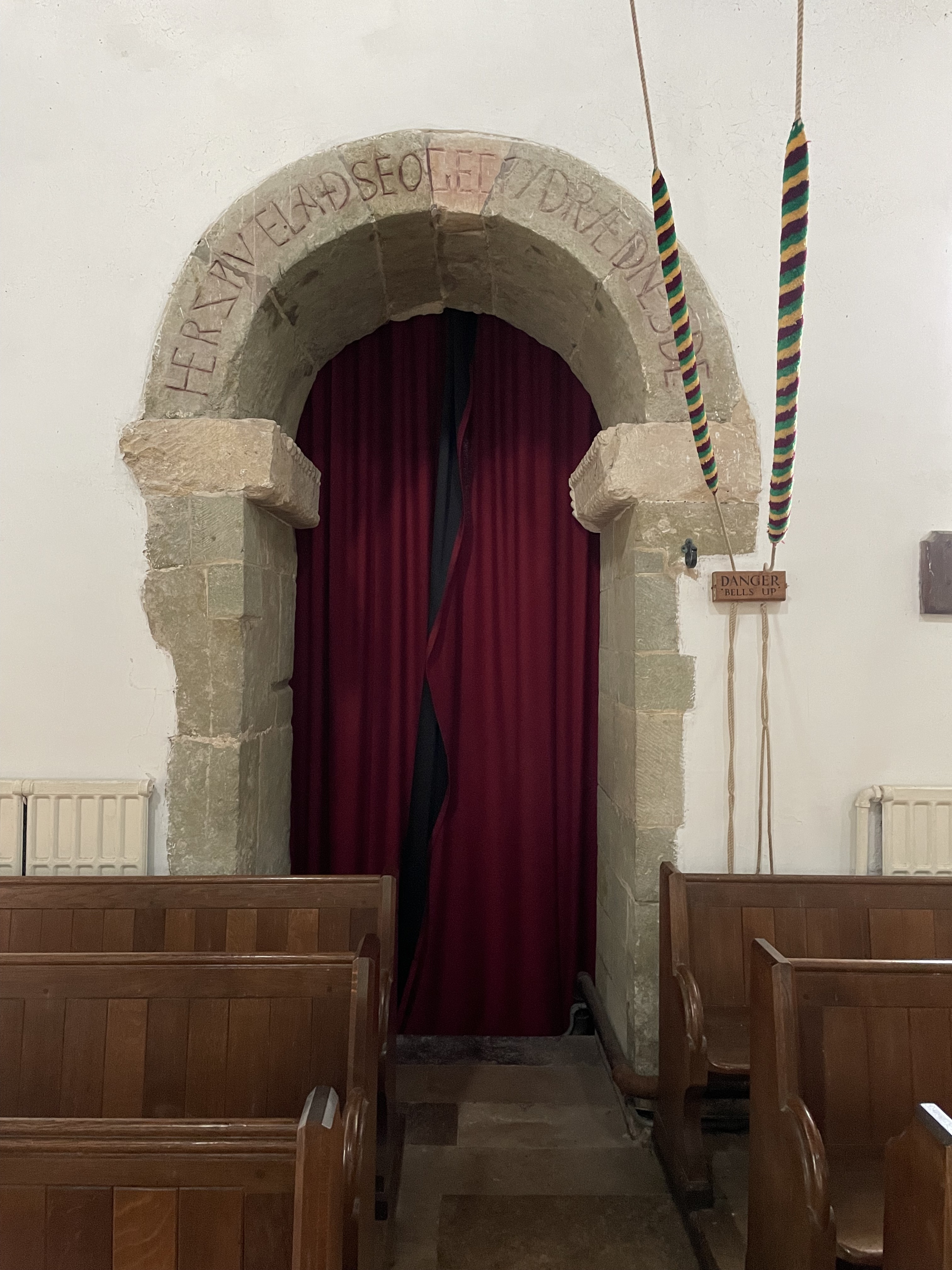 Looking up to the Anglo-Saxon door arch.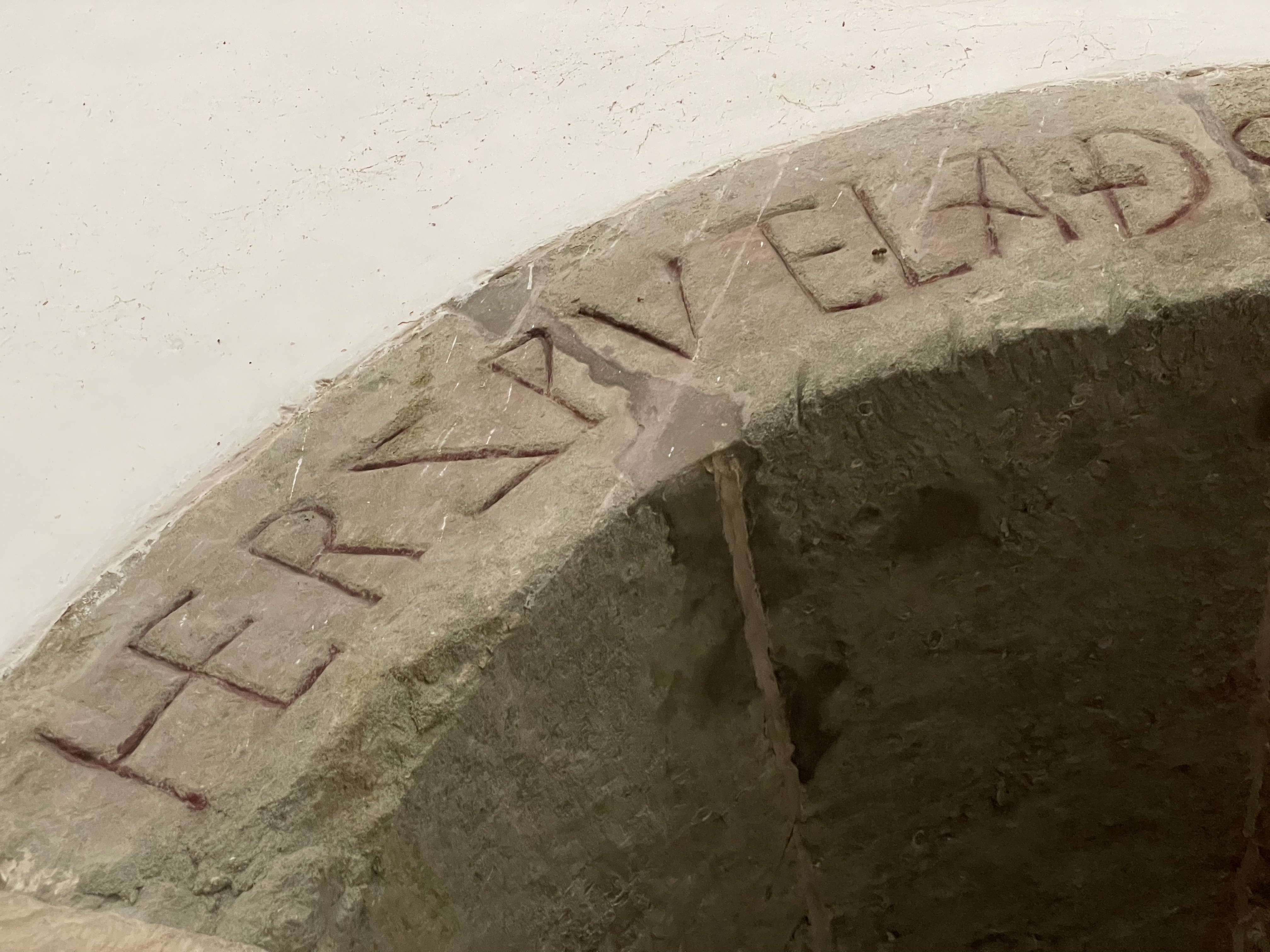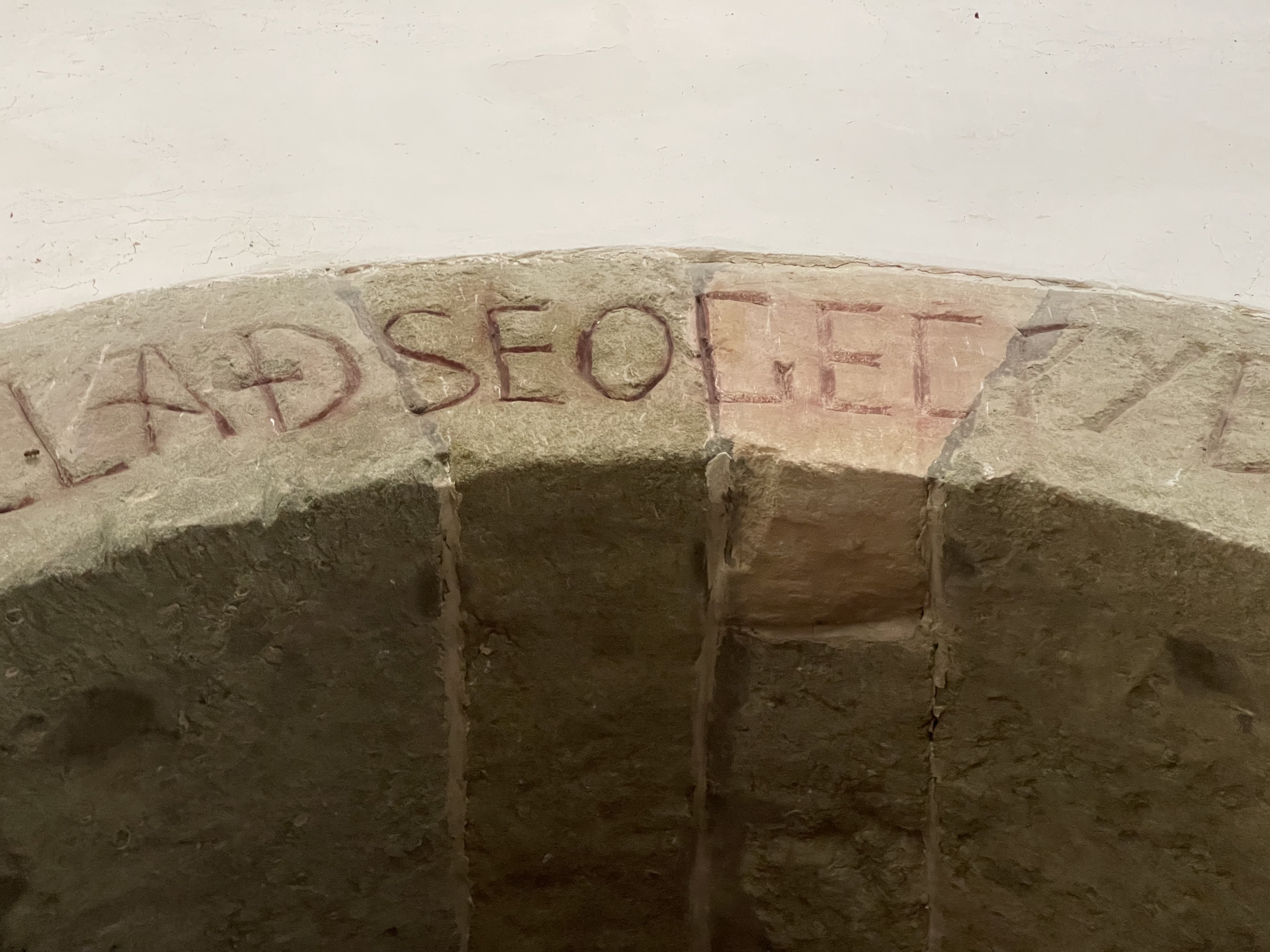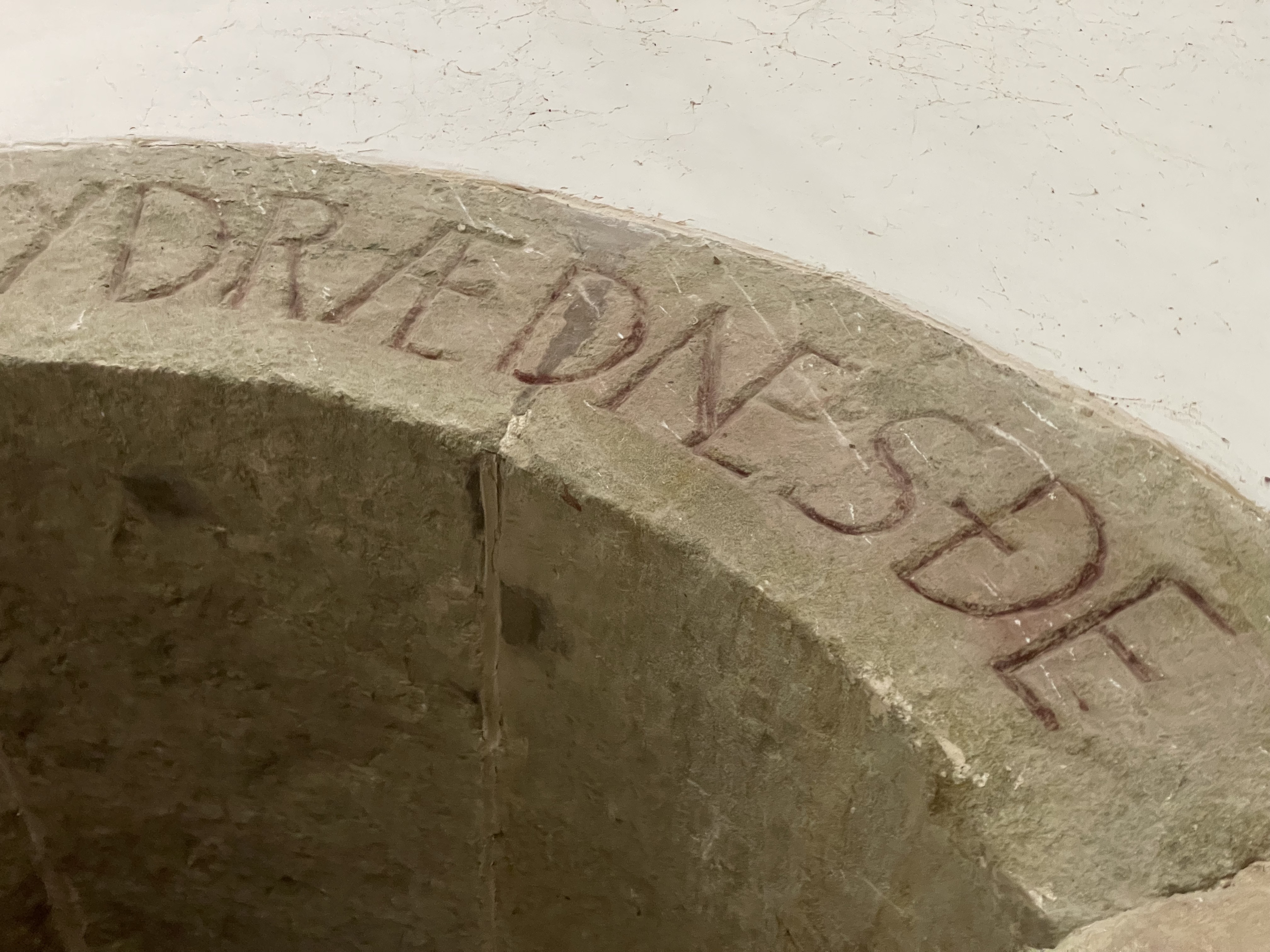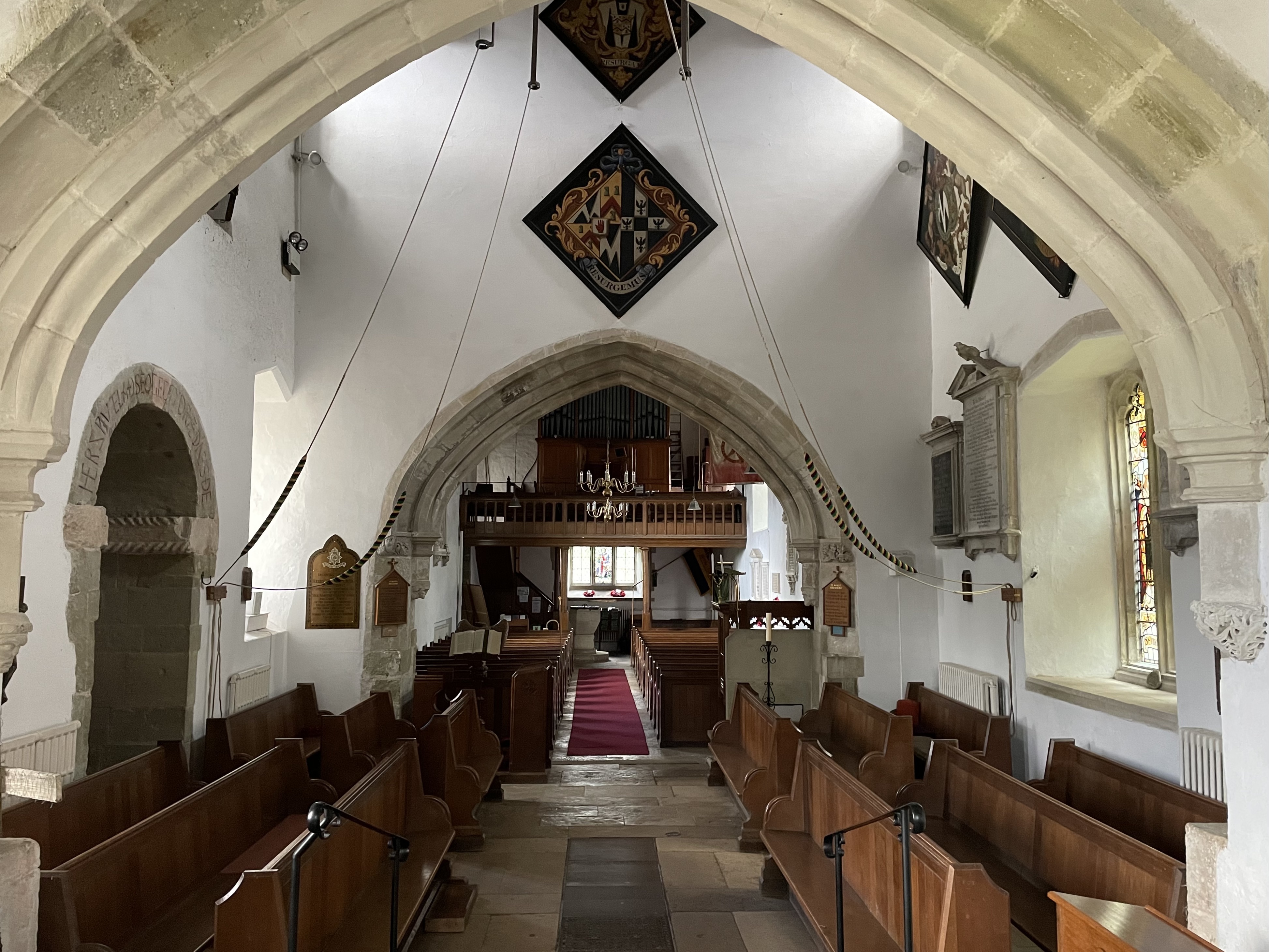 A swarm of hatchments beneath the bell tower.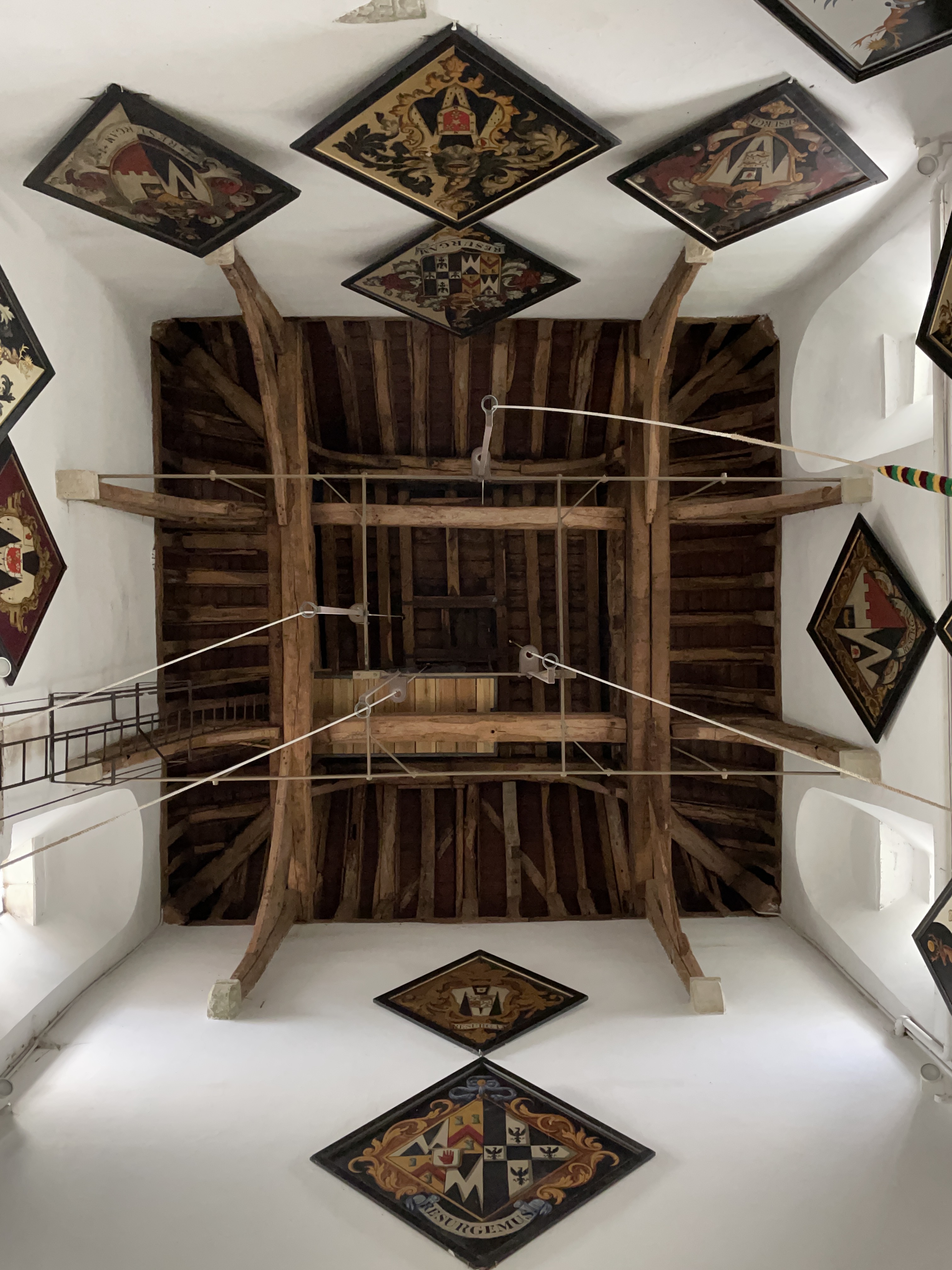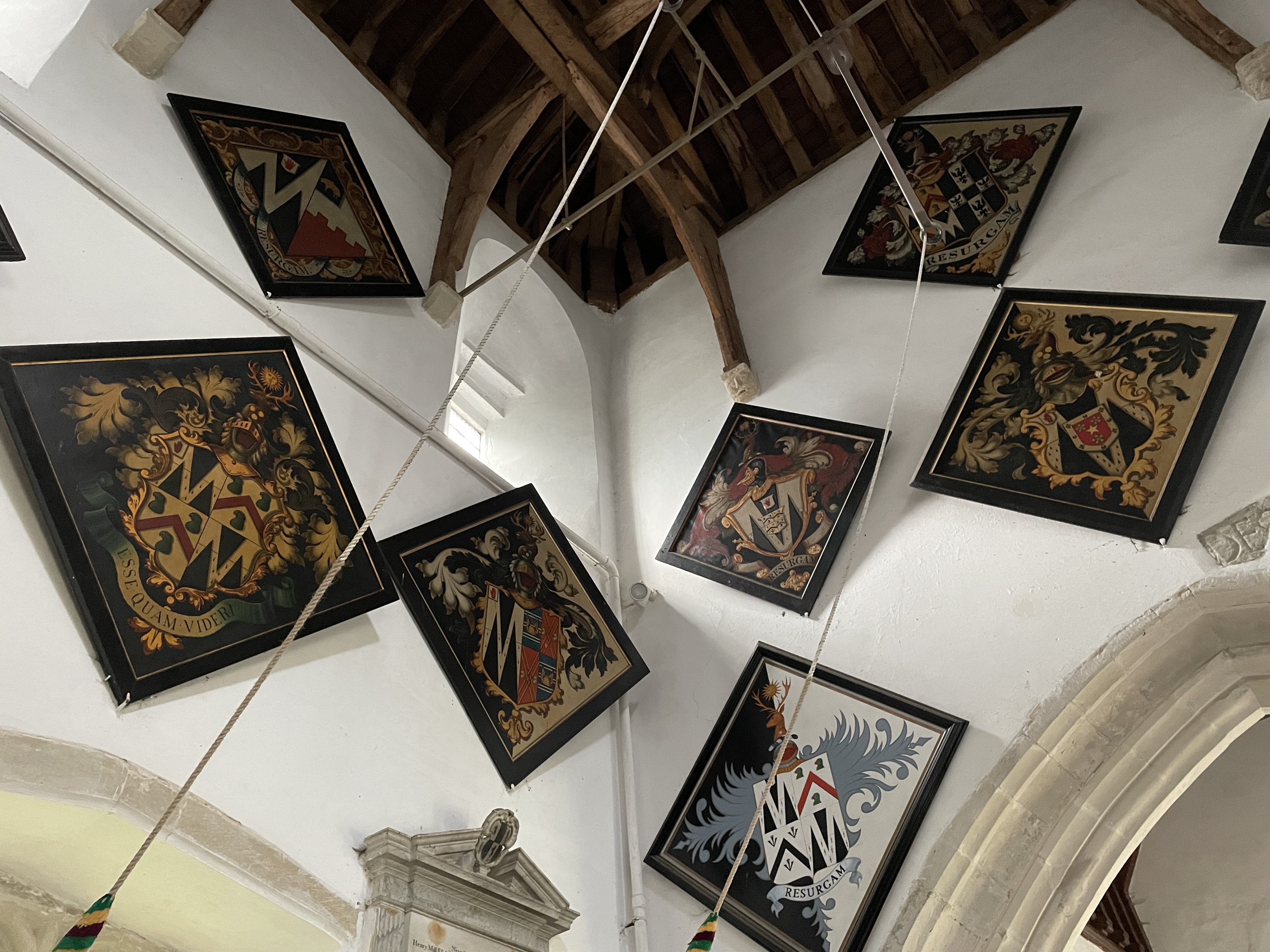 Breamore House is situated at the back of the church. This painted depiction is on a pebble placed in the chancel.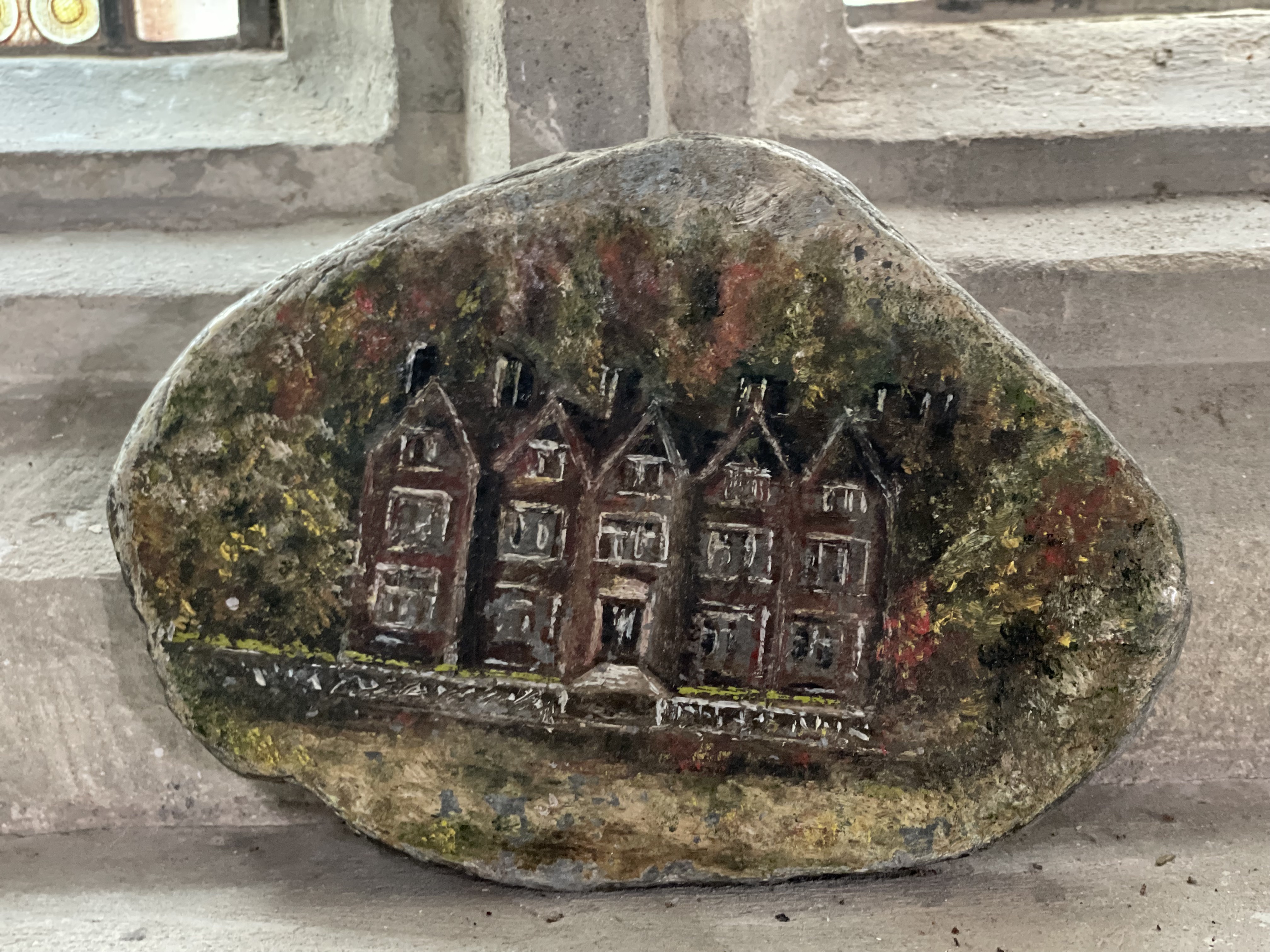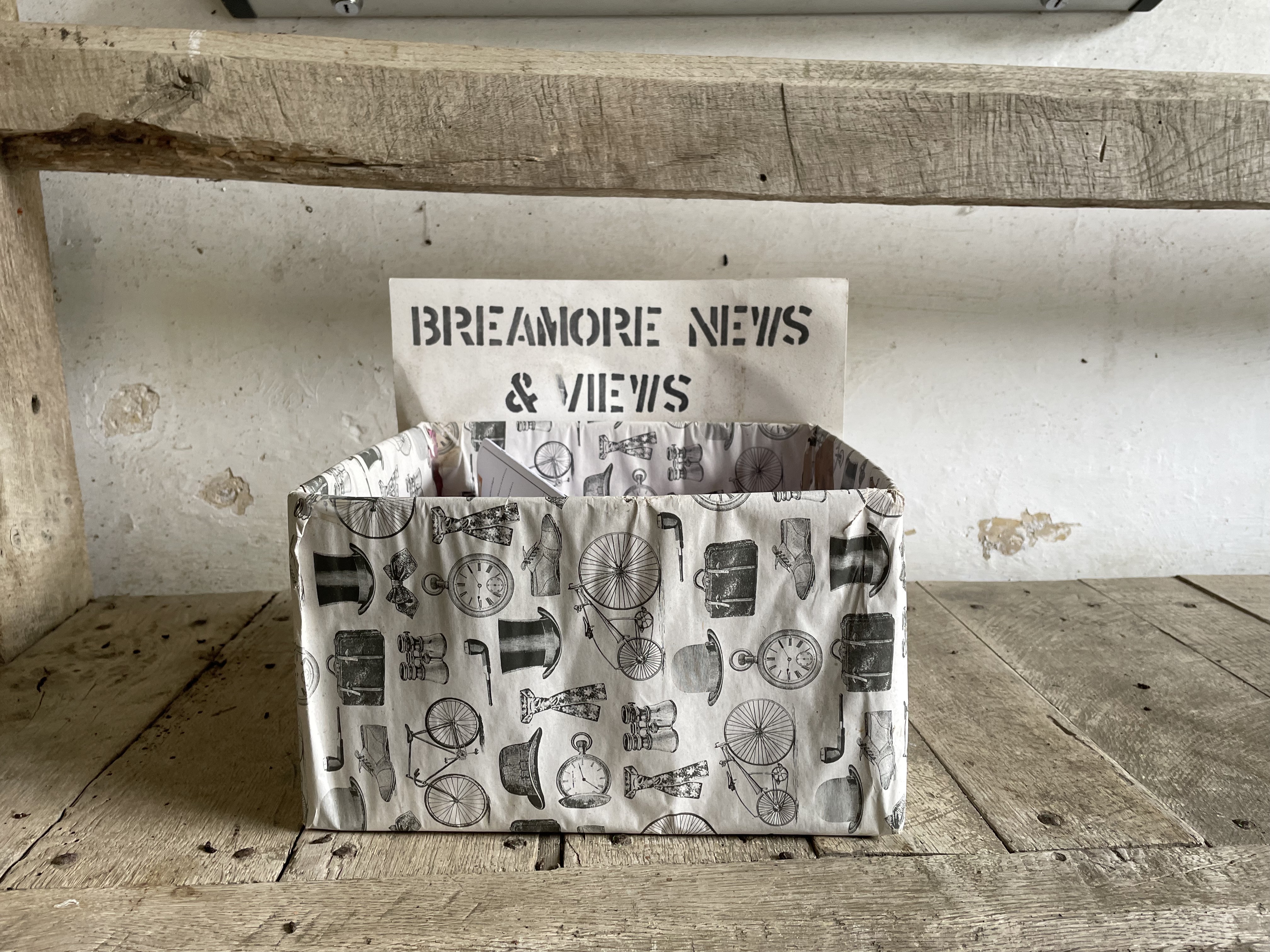 ⚡️Discover More⚡️
The Long Crichel and Breamore Trip All Mapped Out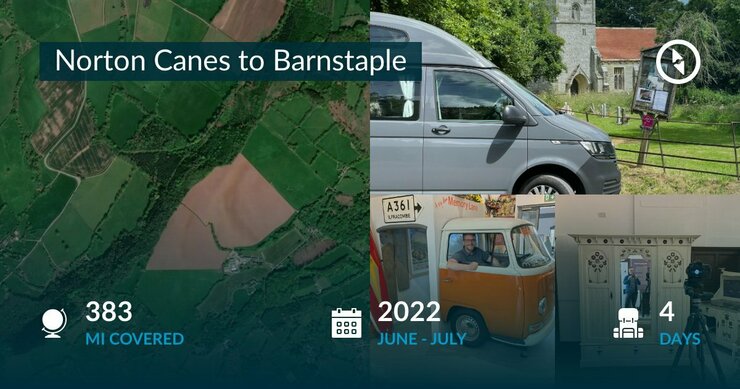 Click the link below to see the trip that took in Long Crichel and Breamore on Polarsteps - it's worth a look - lots more photos. >>
Part two of my trip will be in next weeks digest. Most of these photos were shot on iPhone.
Vanlife
As I head out of Long Crichel I see a sign for the Chettle Store - selling organic, locally sourced fruit and veg. I take up Martin Dorey's Roadside Roulette challenge in his camper van cookbook, and take a detour to the shop. The challenge is to rustle up a meal from roadside stalls that you come across on your journey.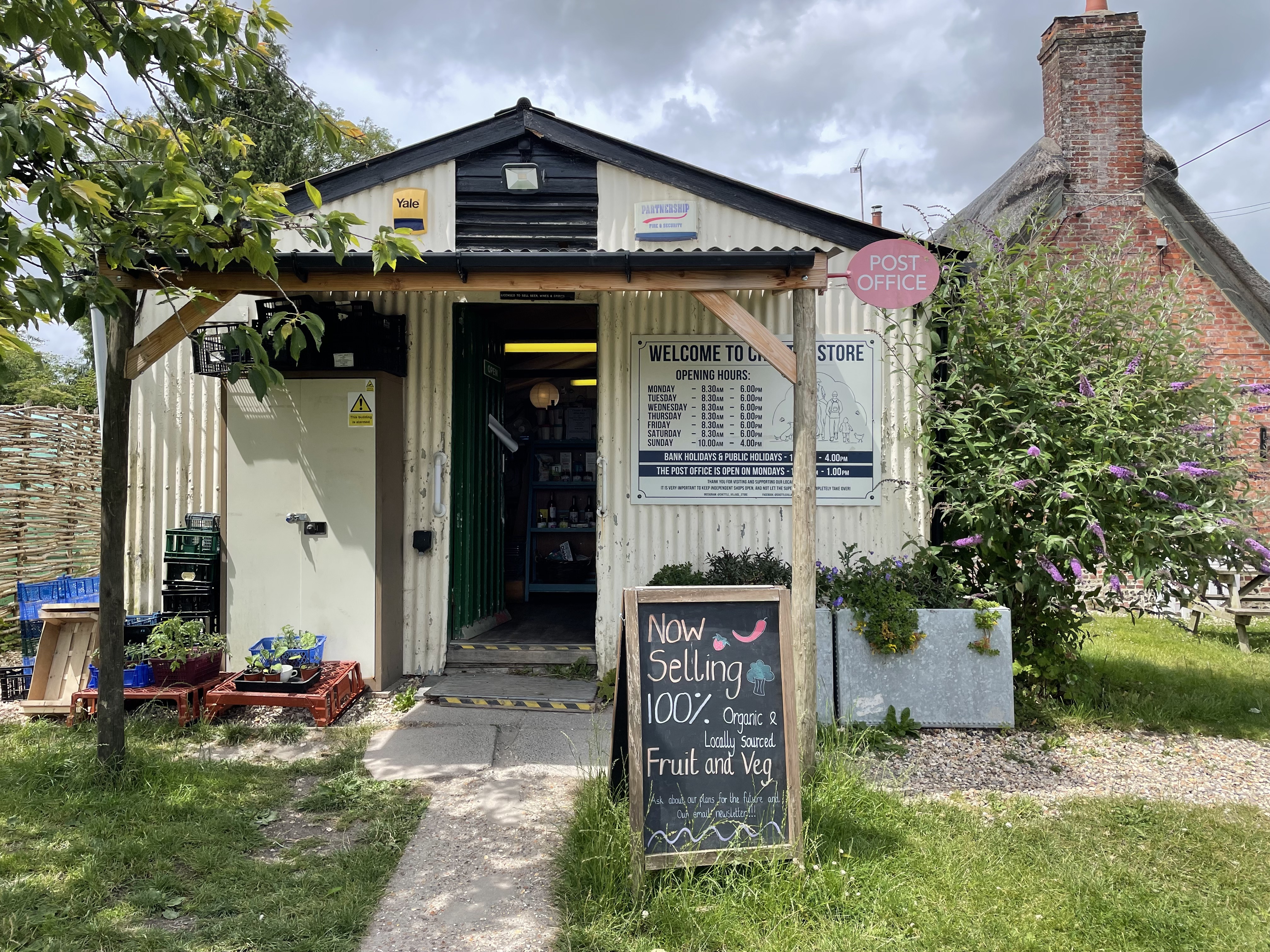 It's a lovely shop made out of crinkly tin, but I'm struck by the thatched bus stop next door.
Coming from the North, I buy a hot pie, but photograph an idyllic scene of cheese, bread and hummus for the naysayers.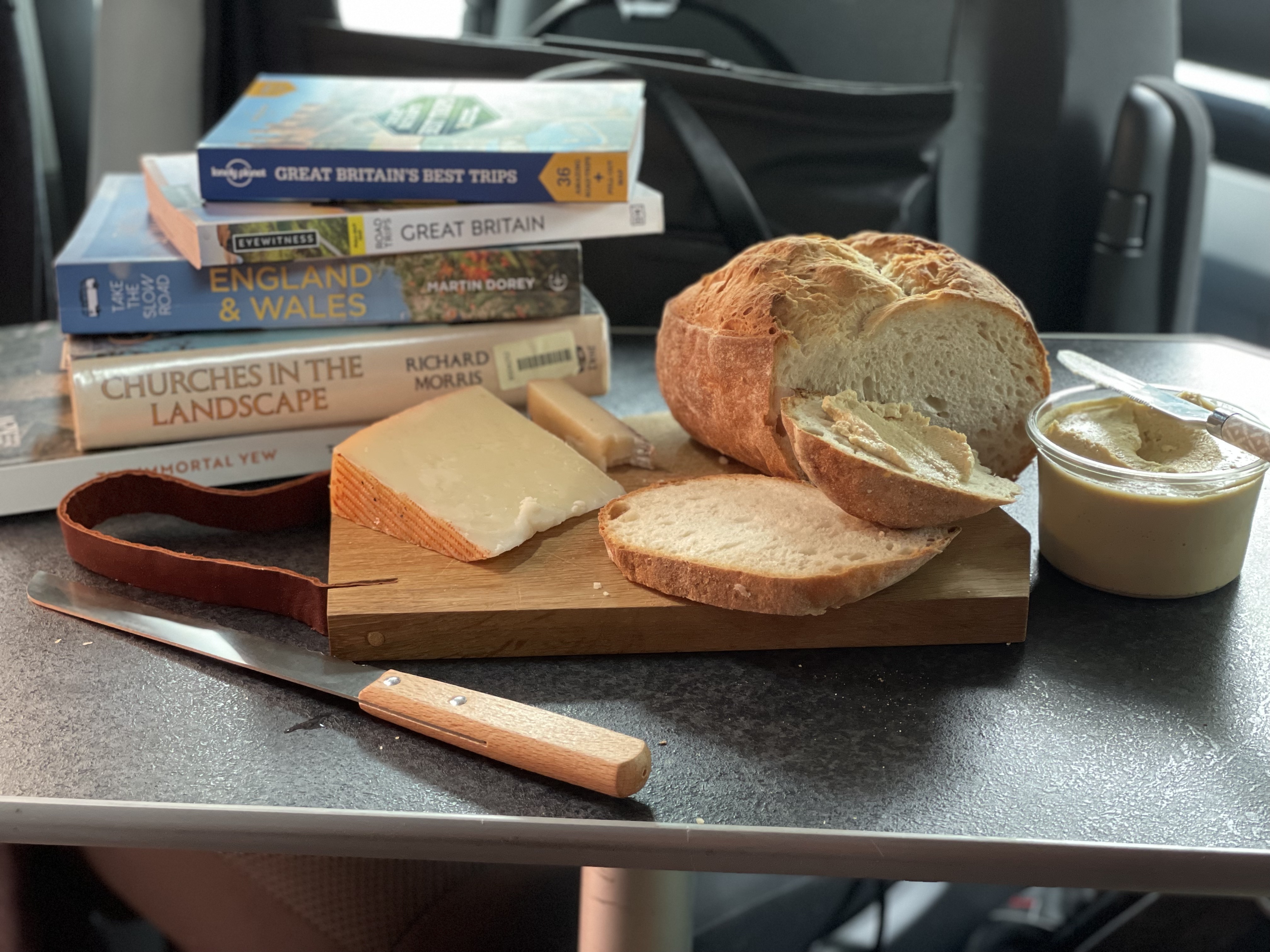 Lodgings.
I stay over at the Salisbury Hillside Caravan and Motorhome Club Site - it's a little lumpy on the grass pitches, set in a wooded glade - take your chocks. It is a lovely site though - a 10 min drive to Salisbury.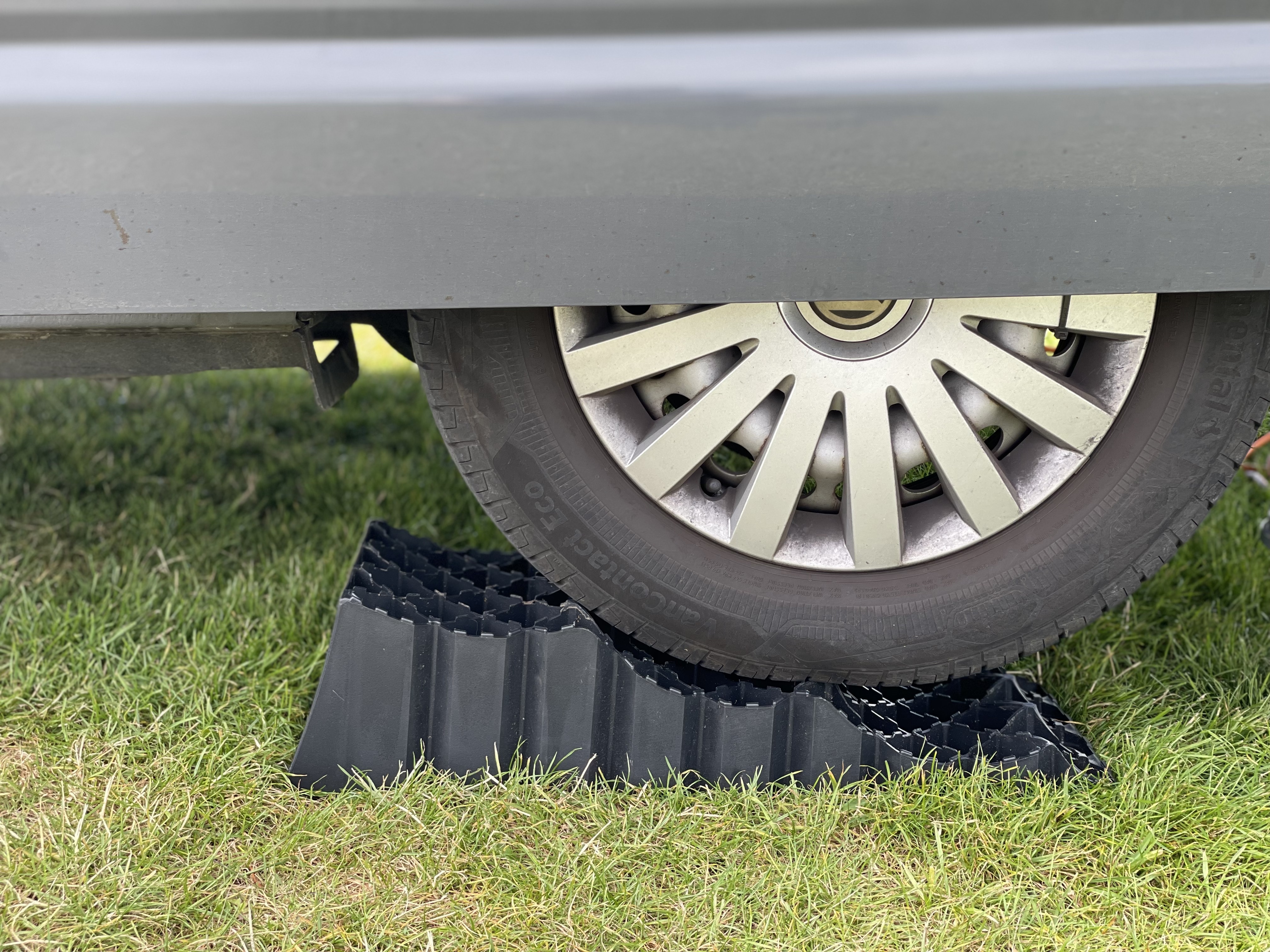 Top of photo below: four camera coasters I bought whilst on a shoot at Headstone Manor Museum. The black circle in the middle is a magnet that holds my iPhone. I have them dotted around the van - great for FaceTime convo's whilst cooking.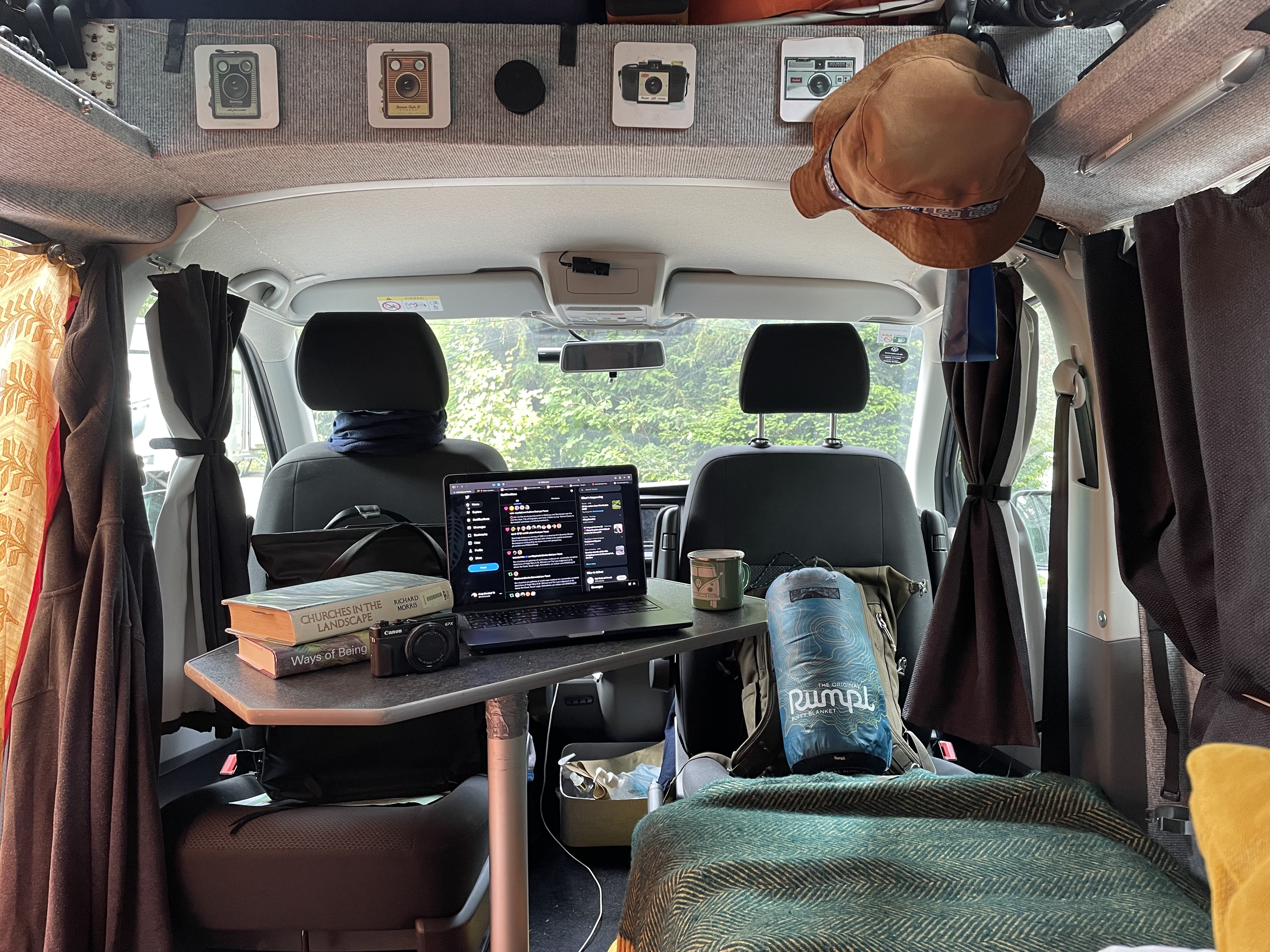 Coffee at Breamore

Photo Book Competition.
Win a book of my journey.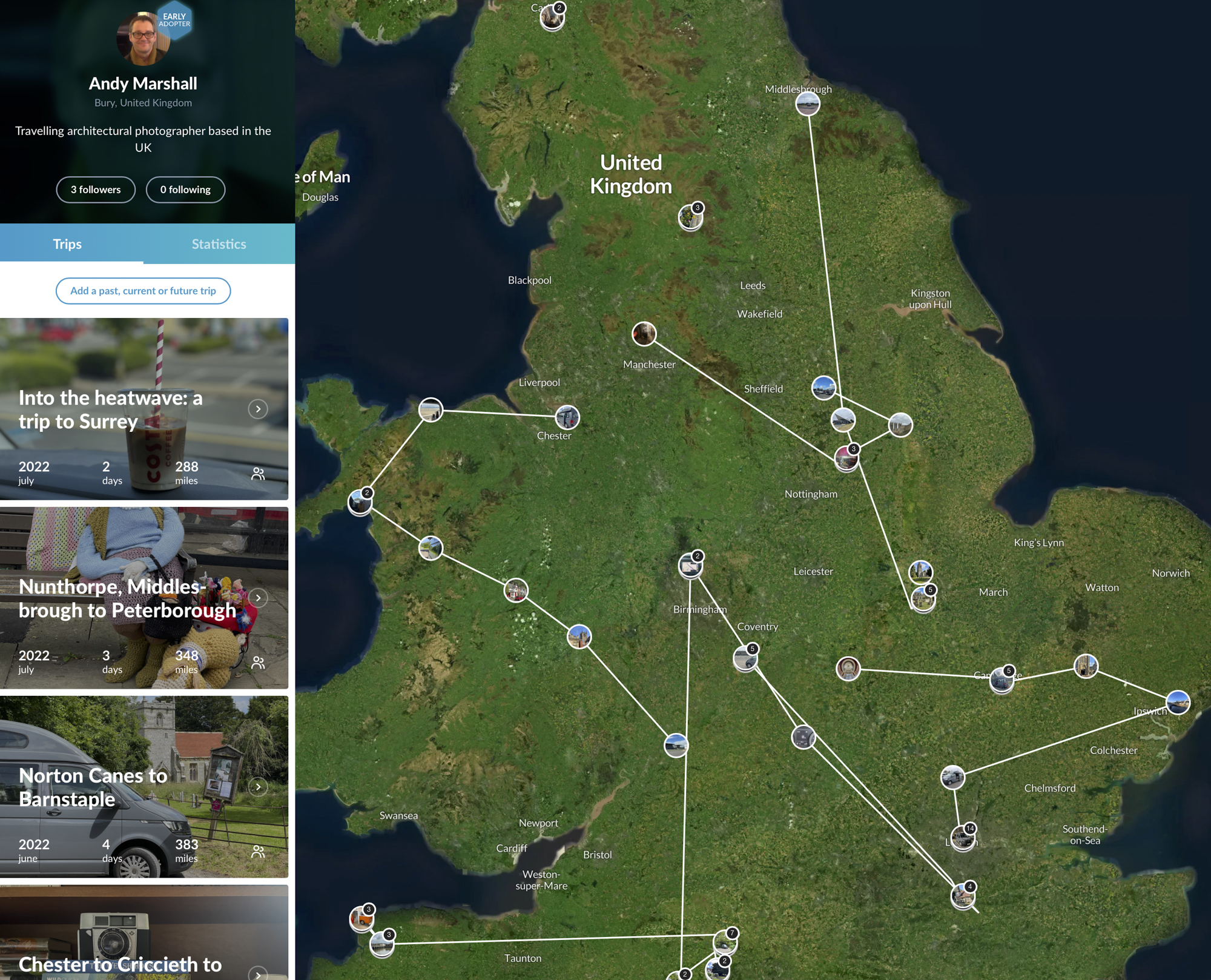 Patrons and Members have been following me live, via a private link, on Polarsteps on my journeys around the country. My trip that took in Long Crichel and Breamore has been made into a beautiful hardback book.
[embed https://vimeo.com/729484169]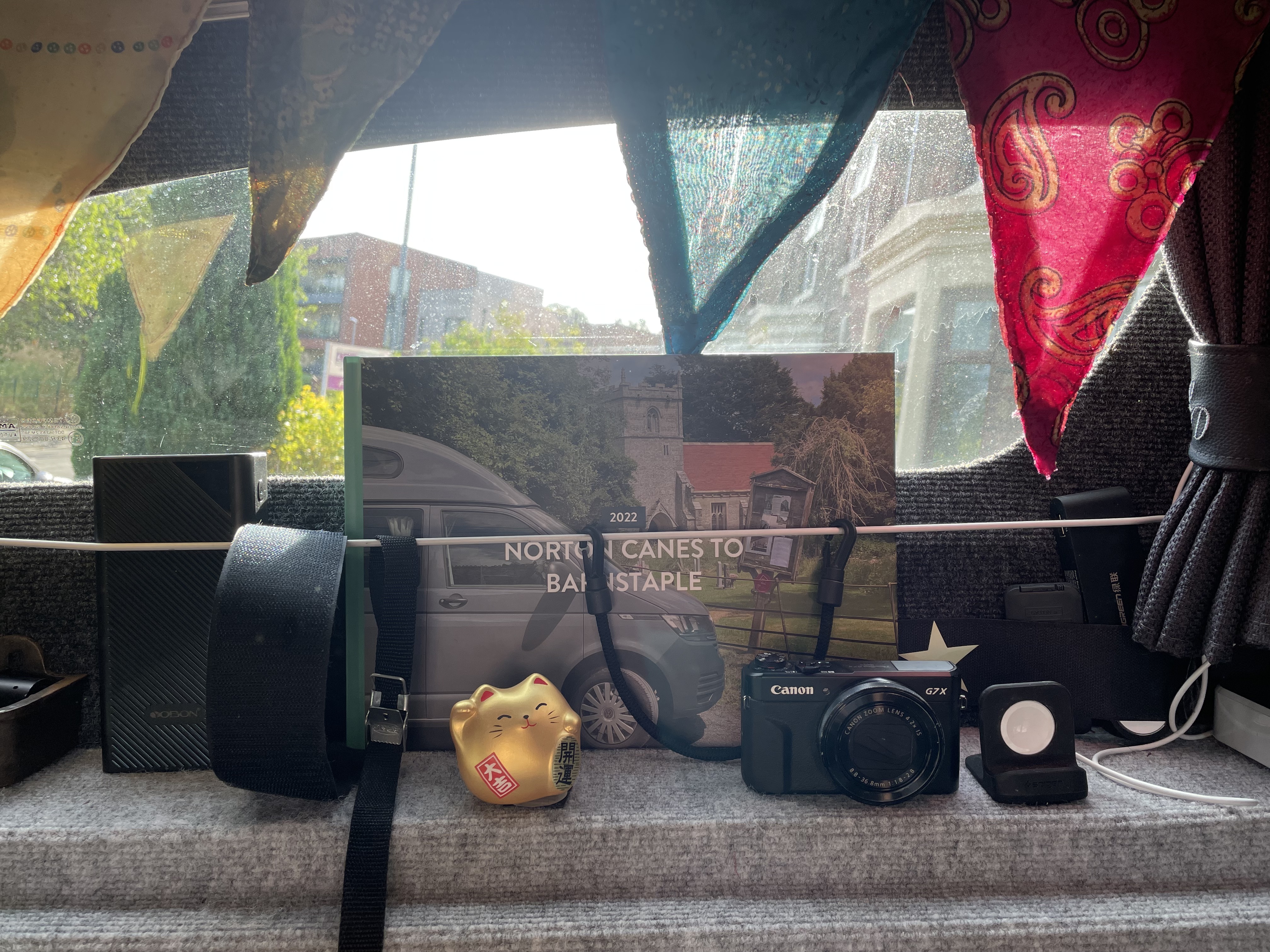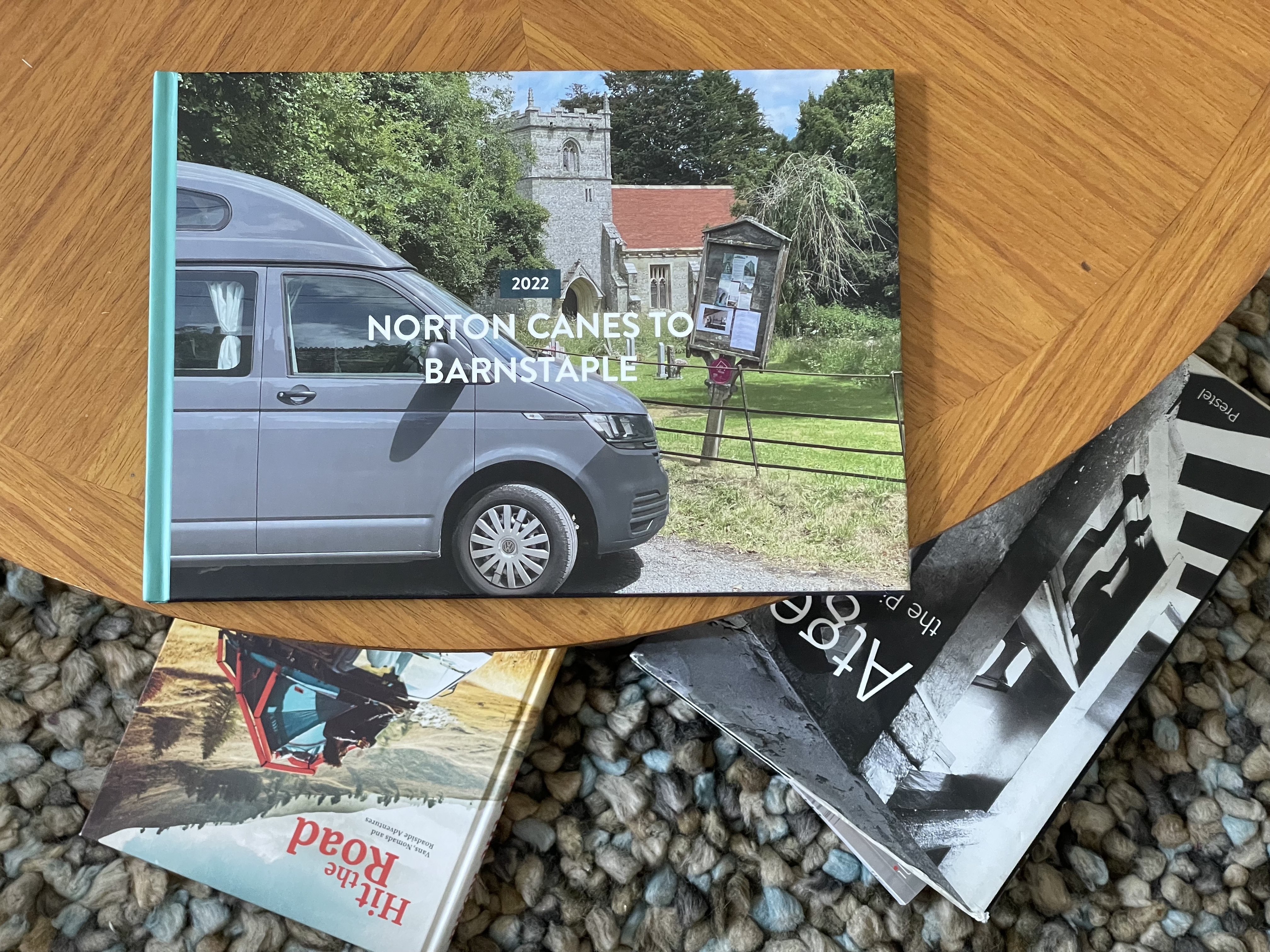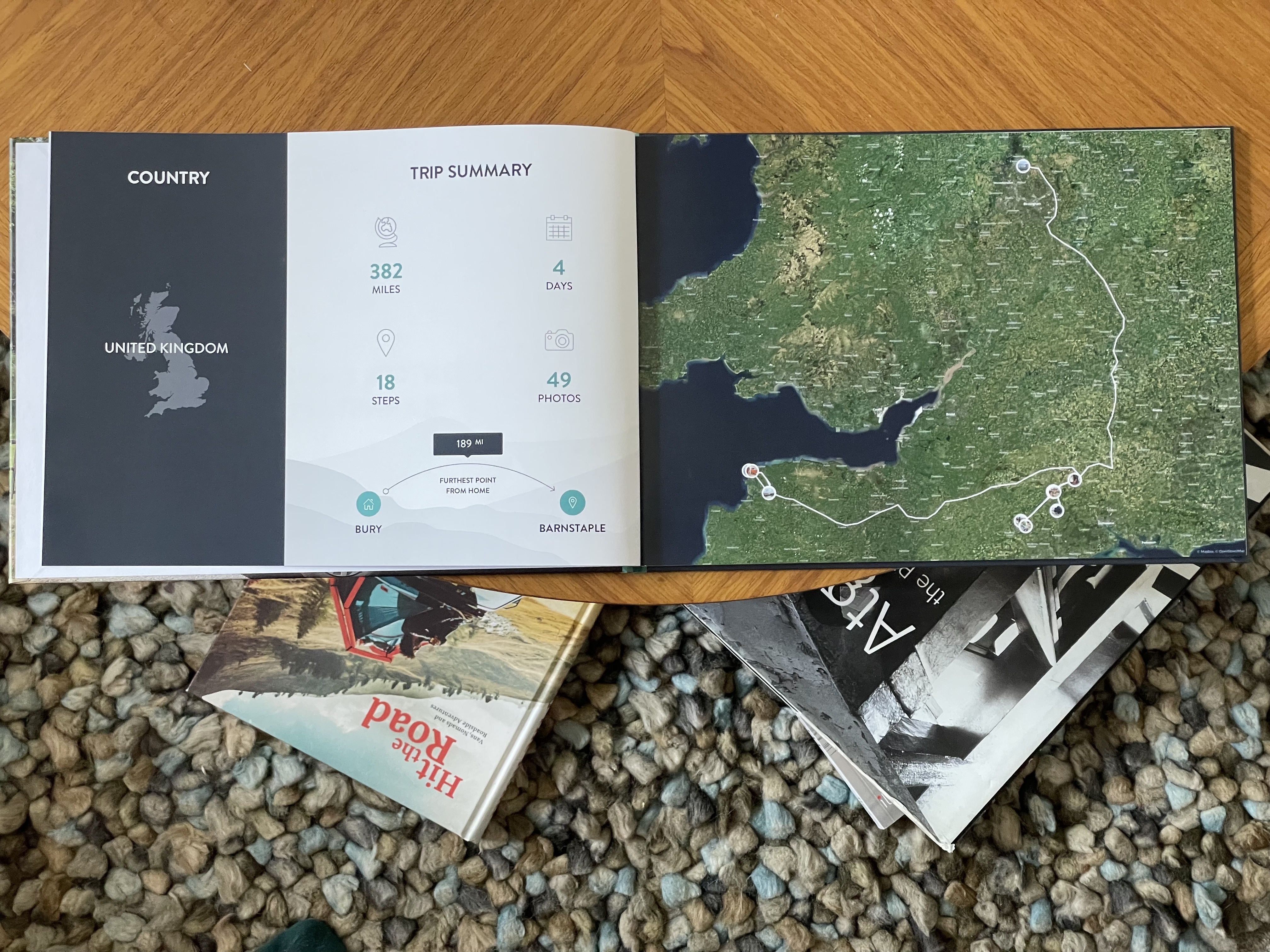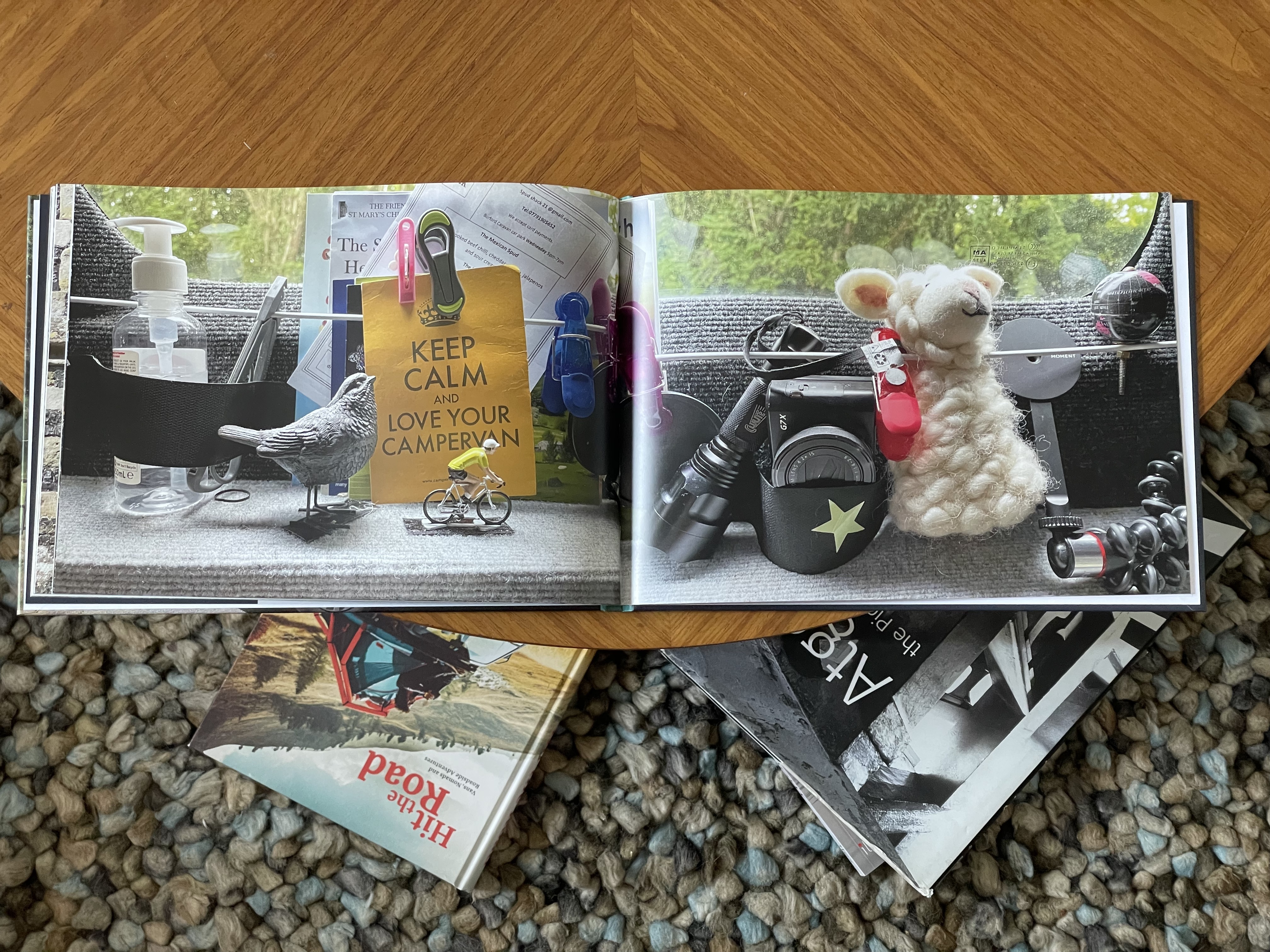 Answer the questions below correctly to win my book.
What is the name of my van?
What did I find outside my van door in Long Crichel?
What is my twitter name/handle?
Competition is open to subscribers only. Email your answers in to andymarshall@me.com . All the correct subscribers will go into a hat and the winner revealed in next week's digest.
On My Coffee Table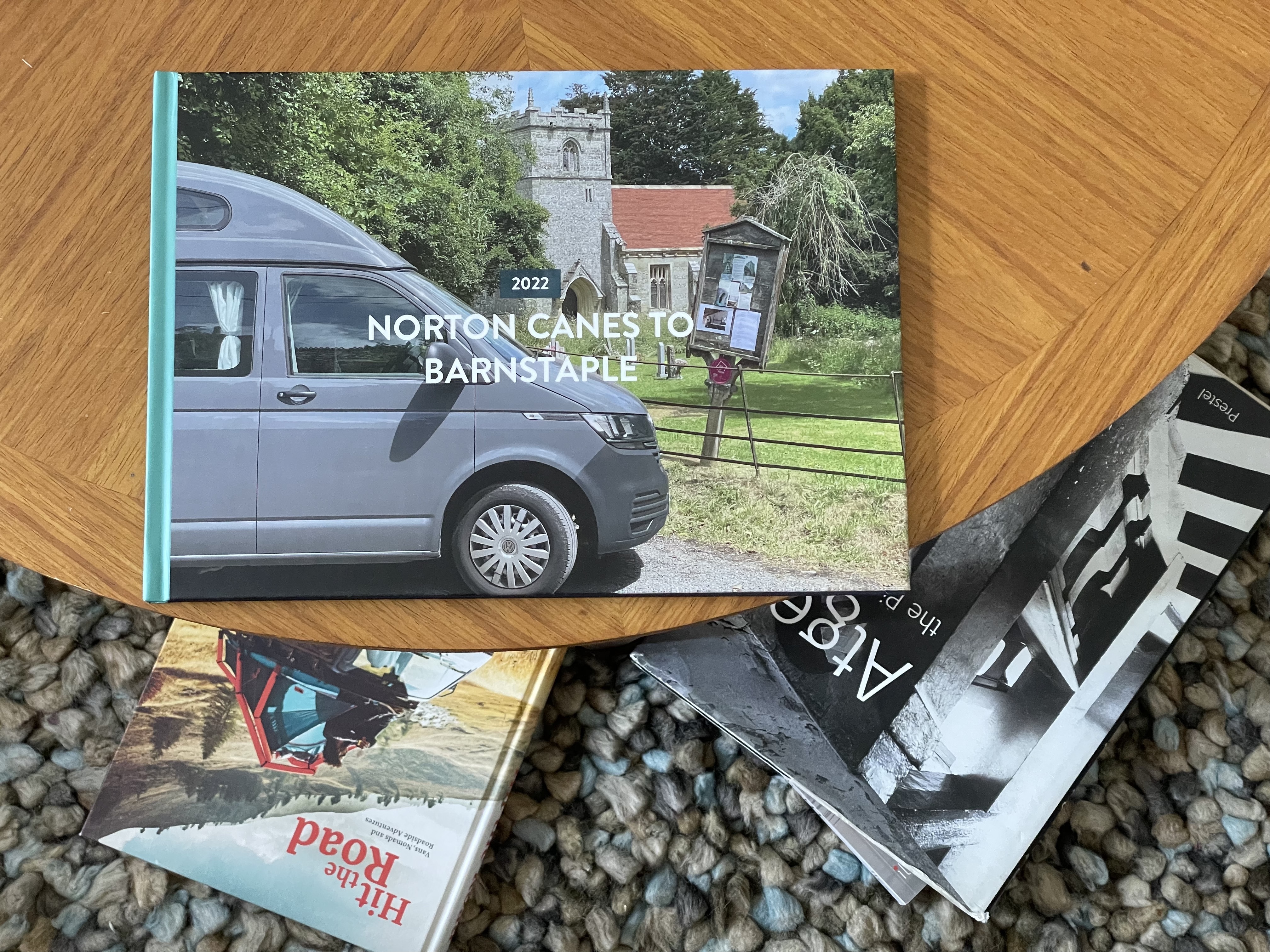 From The Charo's
This one's not from the charity shops but a gift from Gill Capper.
I spent some quality time with Gill Capper (and her dog Hector) last weekend at the Upton Blues Festival. Her book Dogalogue is a delight - a lovely read that took my mind off the heatwave. It's about Gill and her dog and her Romahome called Margery, which Gill describes as 'a Wendy house on wheels.'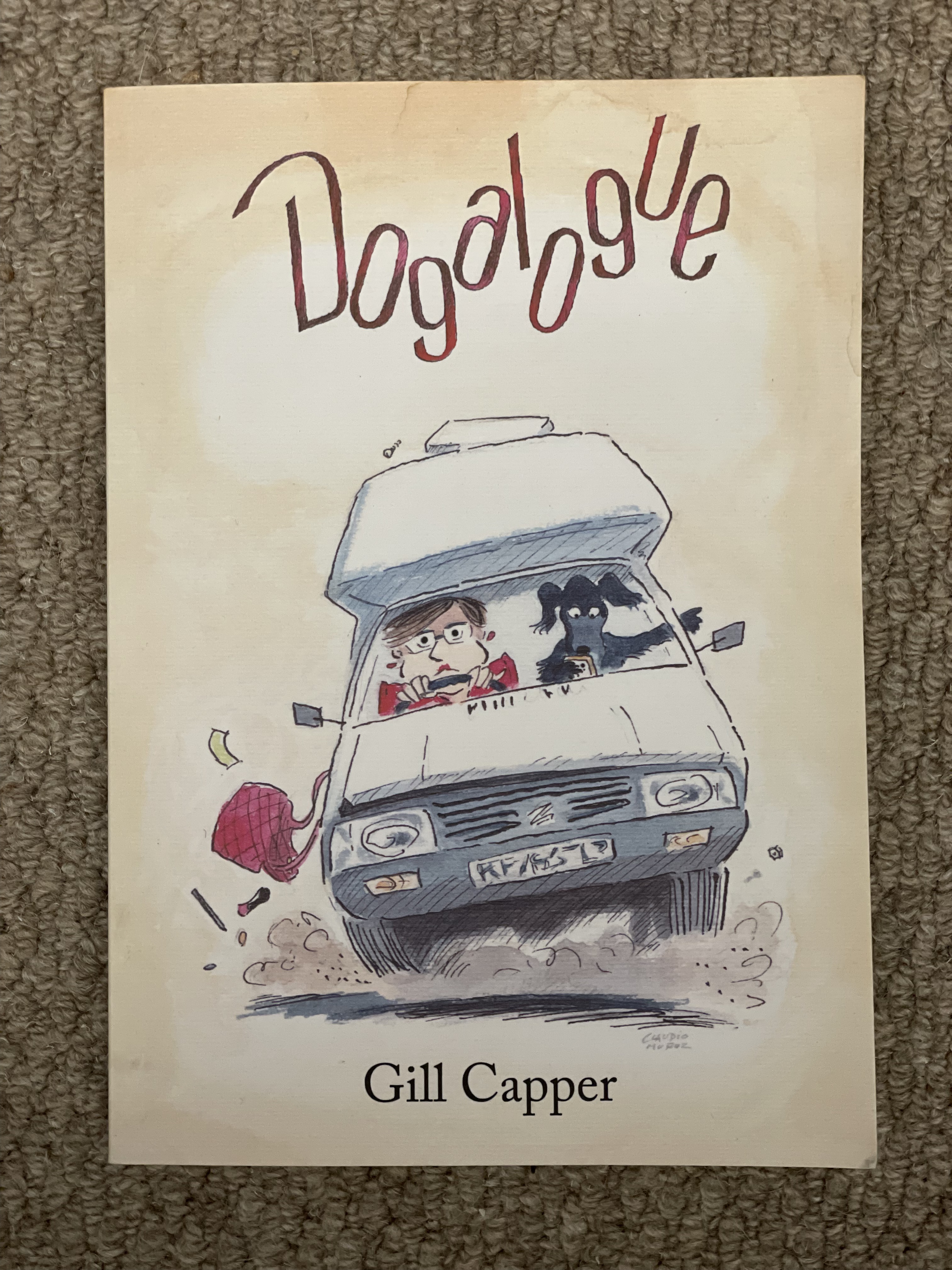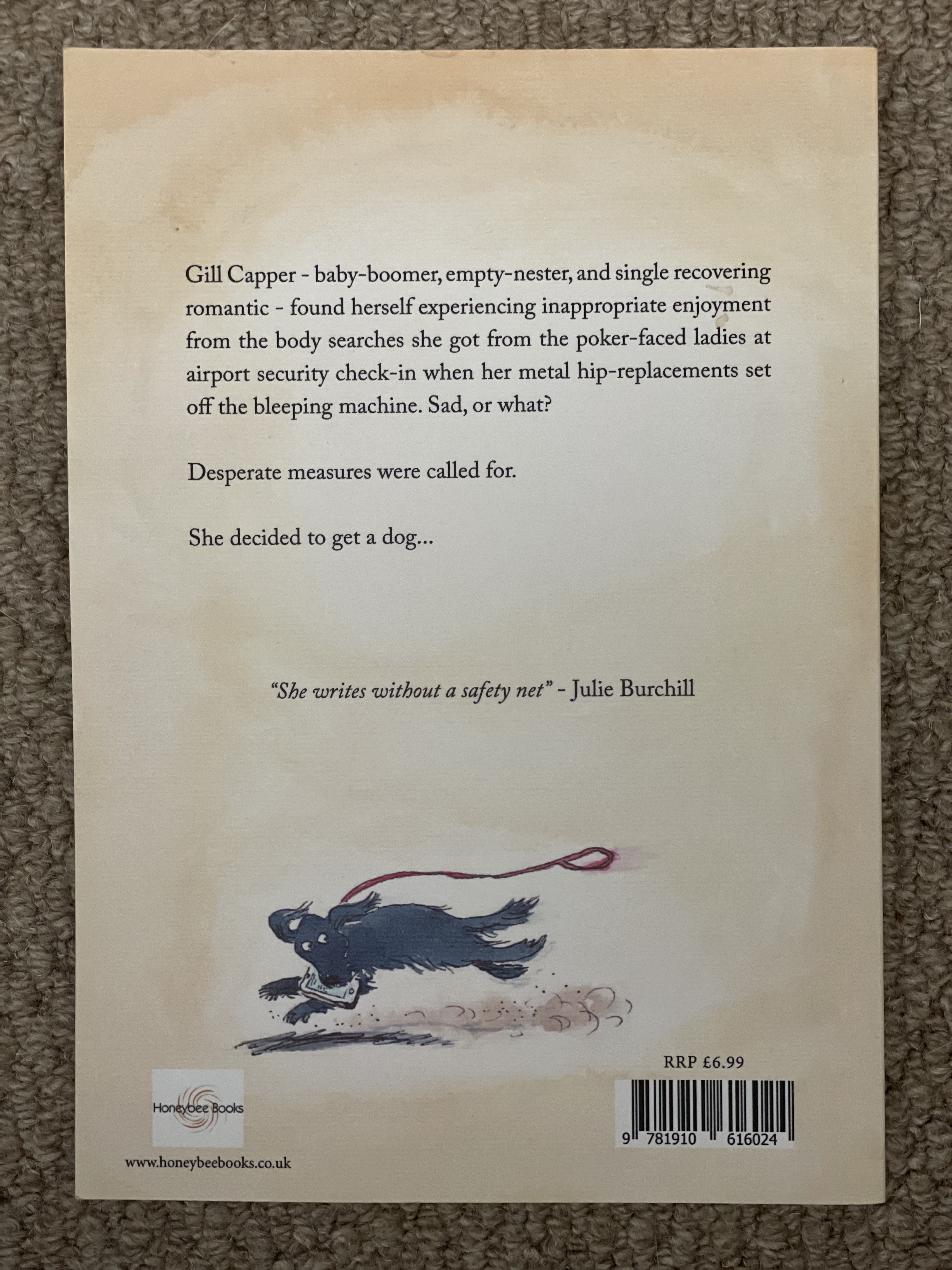 Bookmarked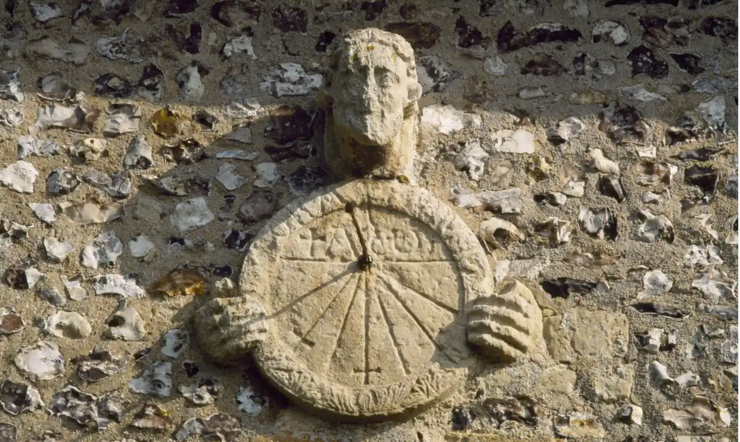 British Sundial Society is recording remaining church sundials once used five times a day for mass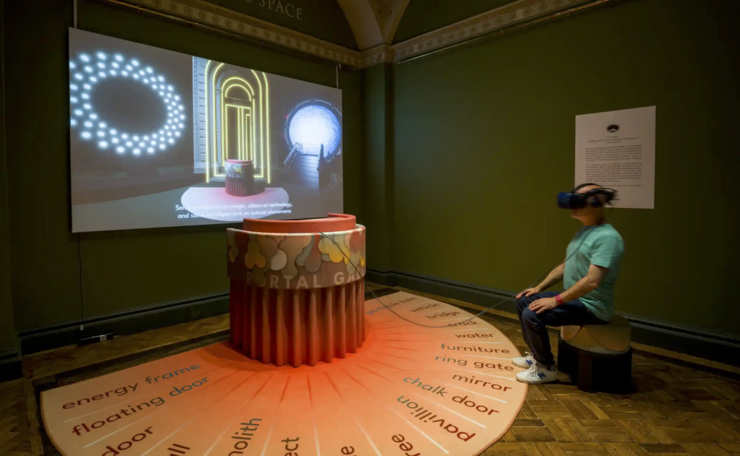 From Platform 9¾ in Harry Potter to Bill and Ted's phone booth, a new exhibition about portals explores the ways we'll soon be moving around the metaverse
Film and Sound
© 2022 by The Sense of Place Podcast.
An insightful and beautifully orchestrated podcast by Ailish, that raises questions about our places and spaces and the elements that make them sensorial.
From the Twittersphere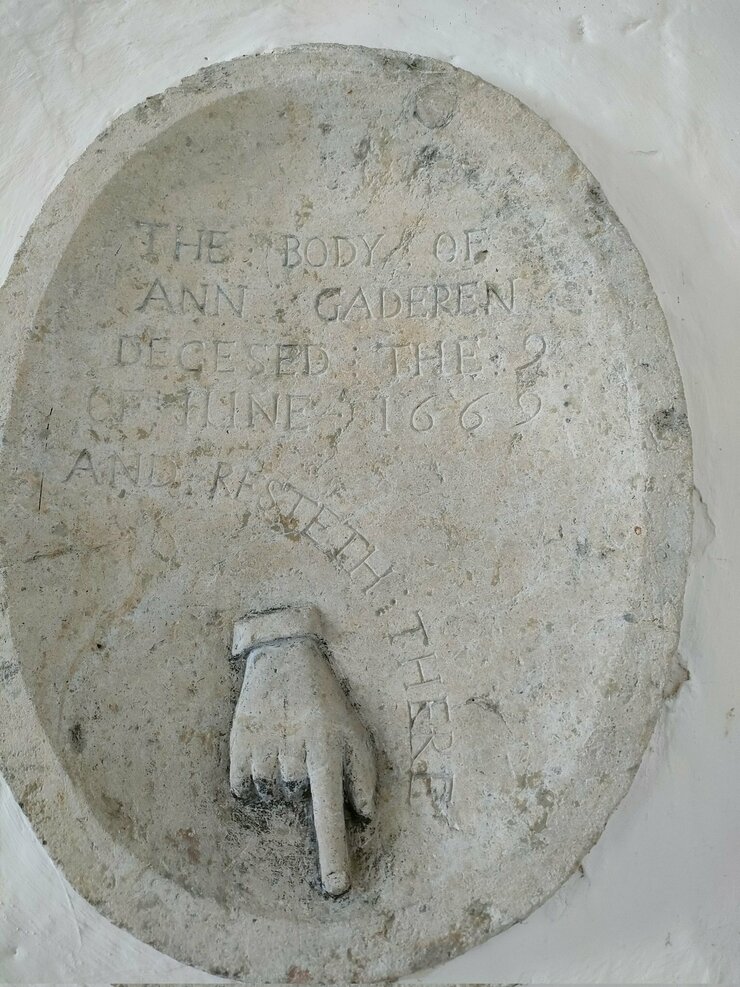 "Found this inside a small church in Buckinghamshire. Made me laugh.  Great idea"
Member Posts This Week.
Twitter Circle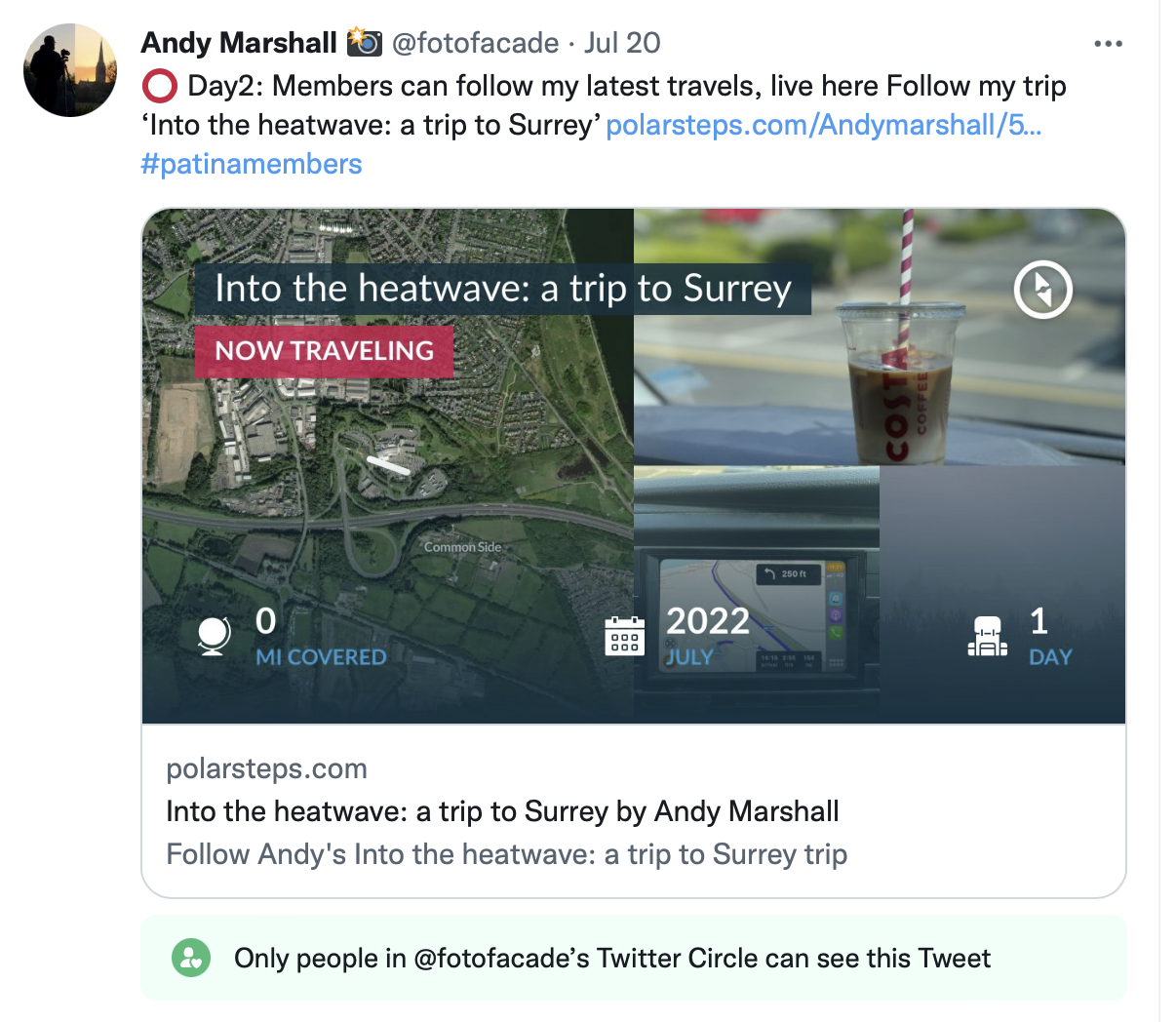 Click here to see all Twitter Circle Posts - choose the 'latest' tab.
Patrons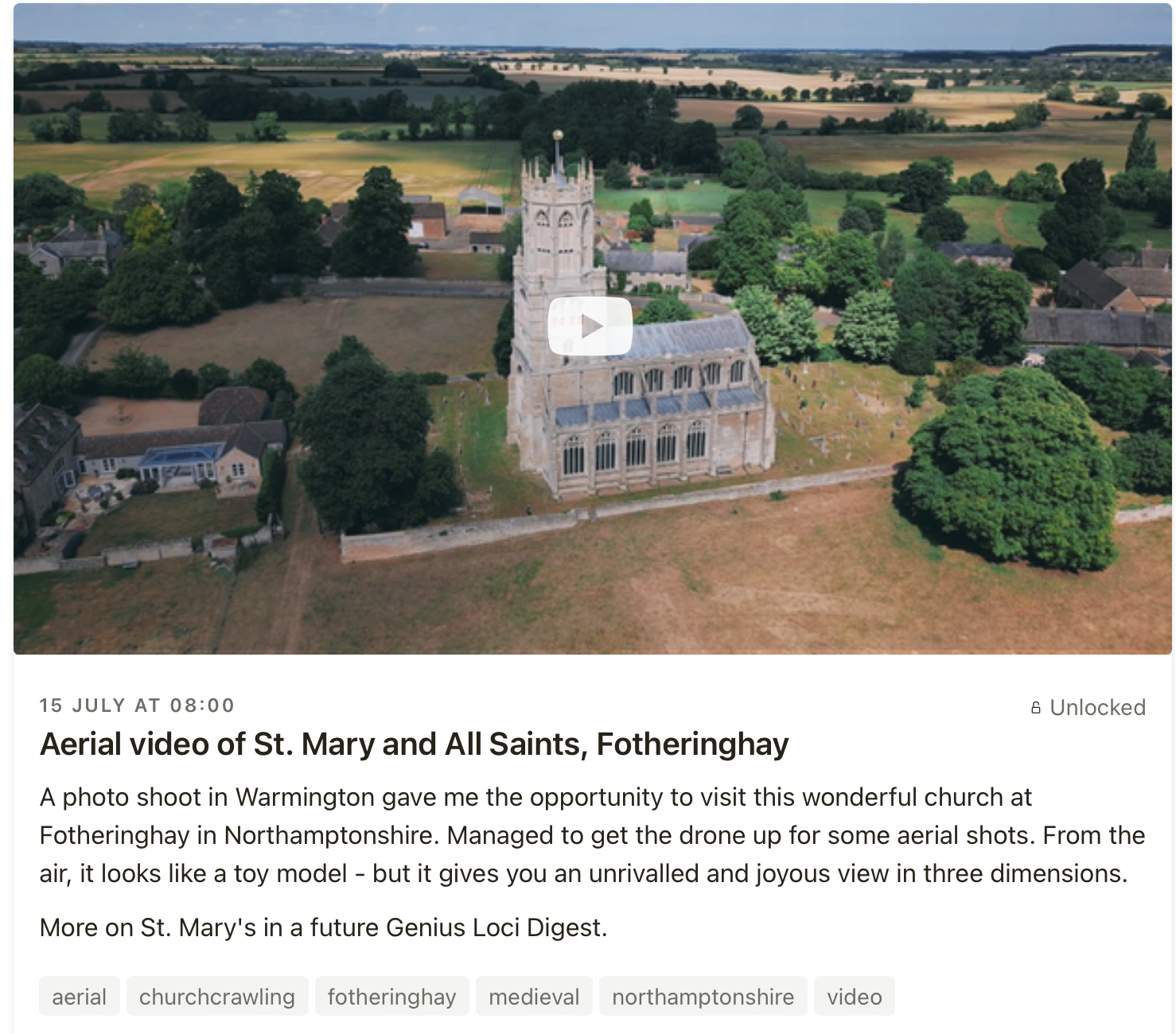 Aerial Video of St. Mary Fotheringhay
Follow me on my trip to Surrey
Thank You!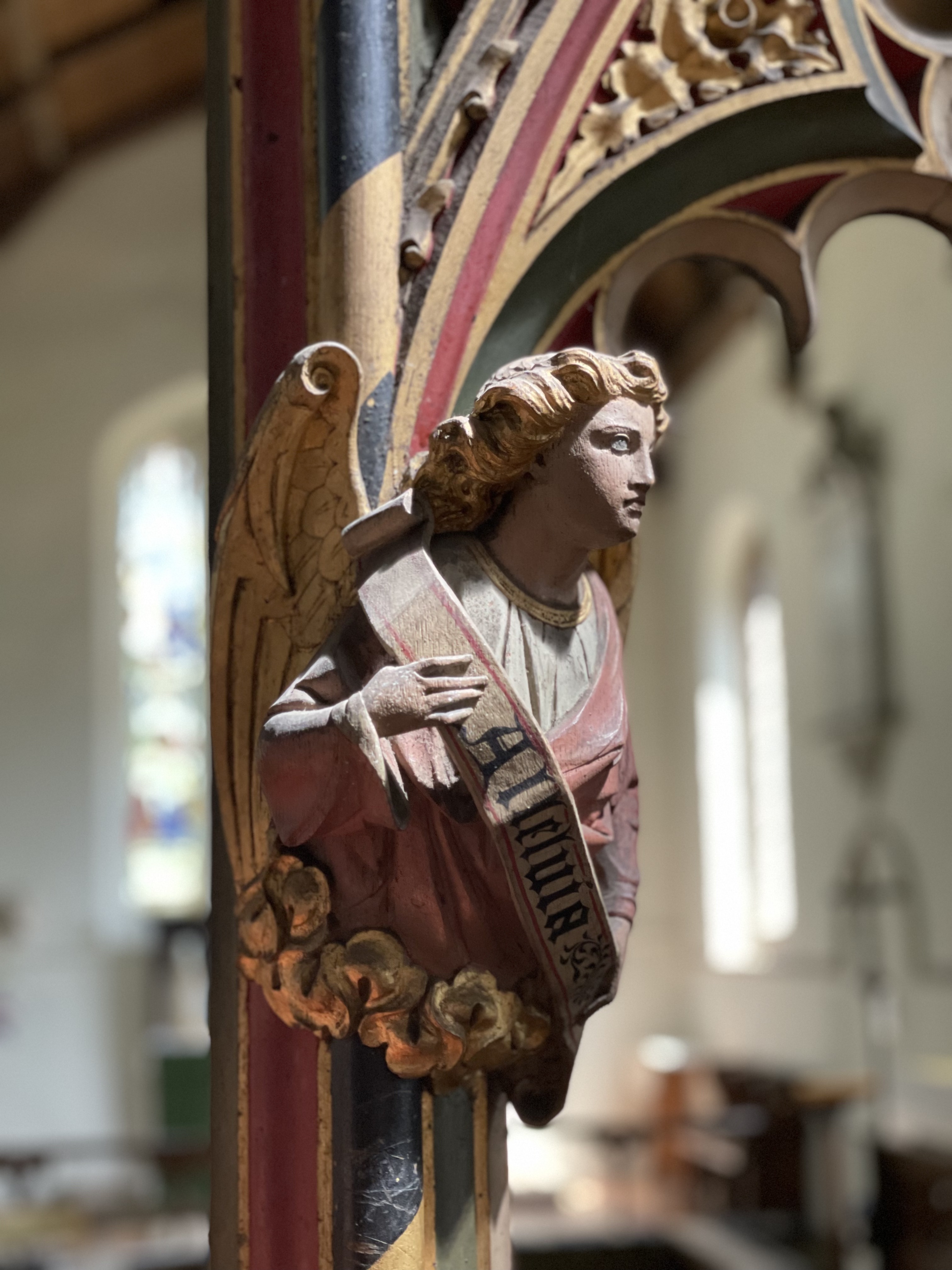 From the bottom of my heart, a huge thanks to those that have become Members and Patrons.
As well as helping me keep this digest free and public facing, your support also helps me connect with others.
I'm a niche photographer in a niche business and you are helping fill in the gaps, in a challenging climate, to help me maintain my advocacy of the historic environment.
Whilst our historic environment is increasingly under threat, I believe that we need to create emotional connections to our buildings, culture and places - no matter what country we live in. This digest is at the forefront of that.
Without attachments to place, and the values it engenders, the more practical issues of finance, conservation and environment are more difficult to advocate.
In sharing my world view I show the emotive strengths behind our built environment and how it impacts our identity and wellbeing in positive ways that are not yet fully understood. I orchestrate attachments to place that might, eventually, help protect them.
Membership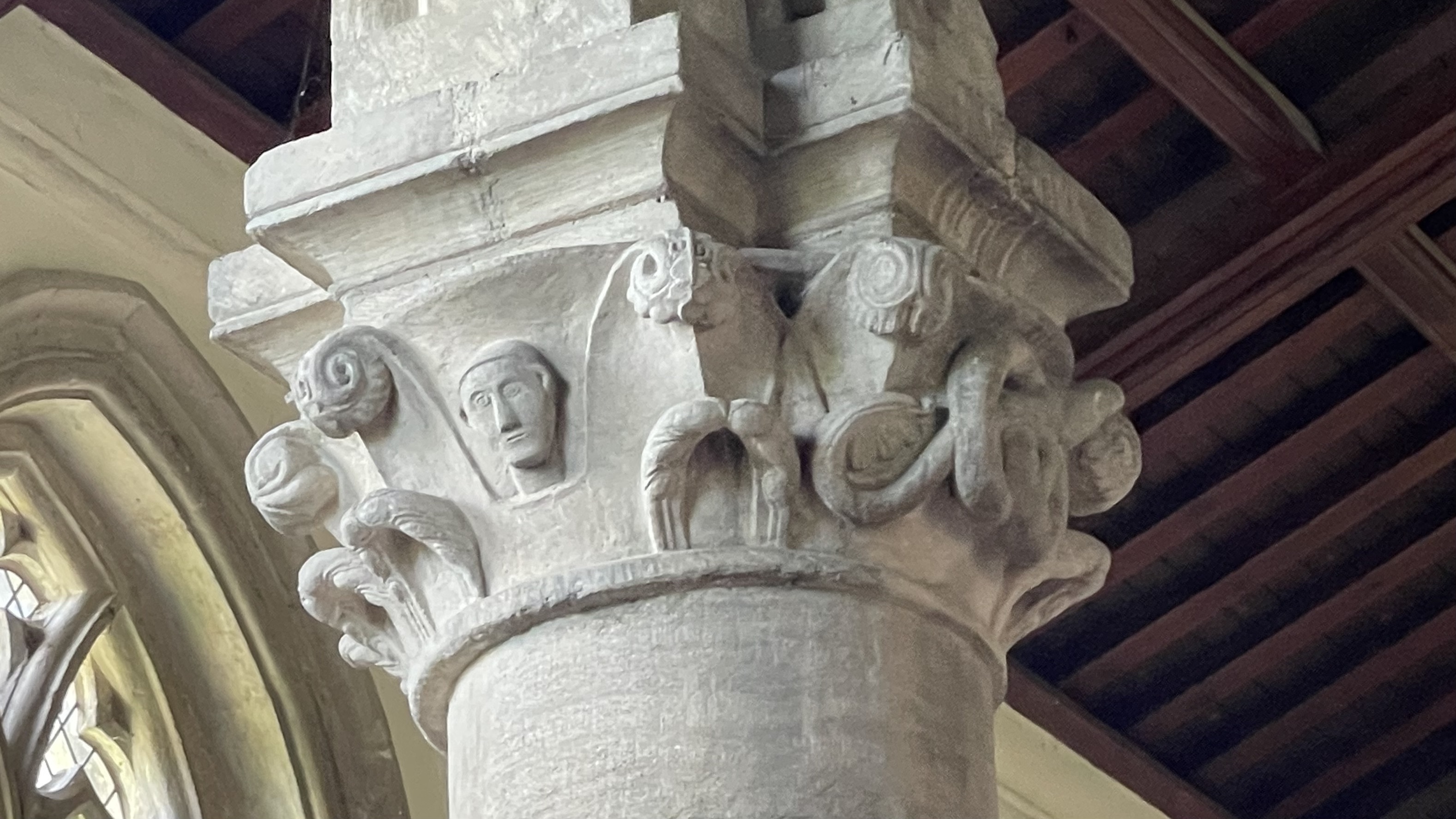 ⚡️This Digest is powered by memberships that keep it freely accessible.⚡️
I sincerely hope that my digest adds value (in a small kind of way) to your Fridays.
It takes a day every week to write my digest and I love doing it! It remains free and open to all to read on a weekly basis. If you think it's of value, you can opt in to support this digest and my work by becoming a member for £3 per month, or £36 per year. You can unsubscribe at any time. There are also some juicy member benefits.
Memberships are a huge help. Thank you.
Become A Member
📸 Click here for Monthly Membership
🚐 Click here for Annual Membership.
Or Become A Patron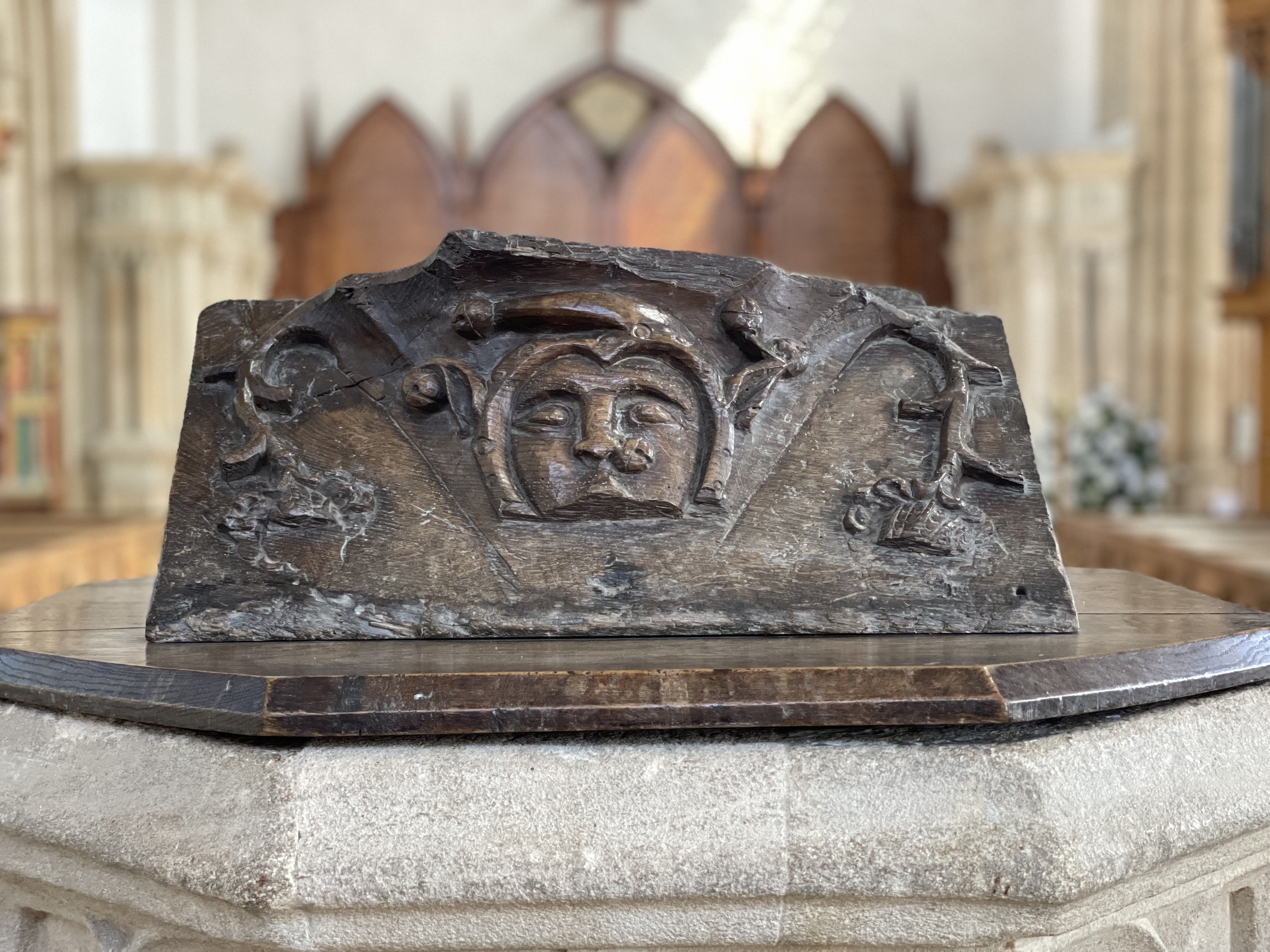 Our historic environment is a universe to explore of unimaginable complexity. Patreon gives me the space to share it in a variety of formats including virtual reality.
And Finally...

My Linktree