Welcome!
I'm an architectural photographer and writer.
On my van-life travels through the British Isles I'm building up a word and photo-hoard of material culture that celebrates the value and distinctiveness of our built heritage and contributes to a sense of place.
My van is my time-machine, it gives me fresh perspectives on our remarkable places, shared here on a weekly basis.📸🚐🏛
🏛 Missed the last Digest? Here it is.
🚐 View Digest Archive here.
---
⚡️Follow Me Live
Once again, I'm out and about in my camper this week (including Saturday) travelling through the delights of Lincs and Bucks - recording some of our remarkable material treasures.
Members and Patrons can follow me live via Twitter Circles (link posted in the circle ⭕️ - search for #patinamembers ) or Patreon (link here).
Morning to you all! This is me at 0540 this morning (listening to Vanessa's last show) putting the final touches to today's digest in Stamford, on my way down to Buckinghamshire.  Have a good day.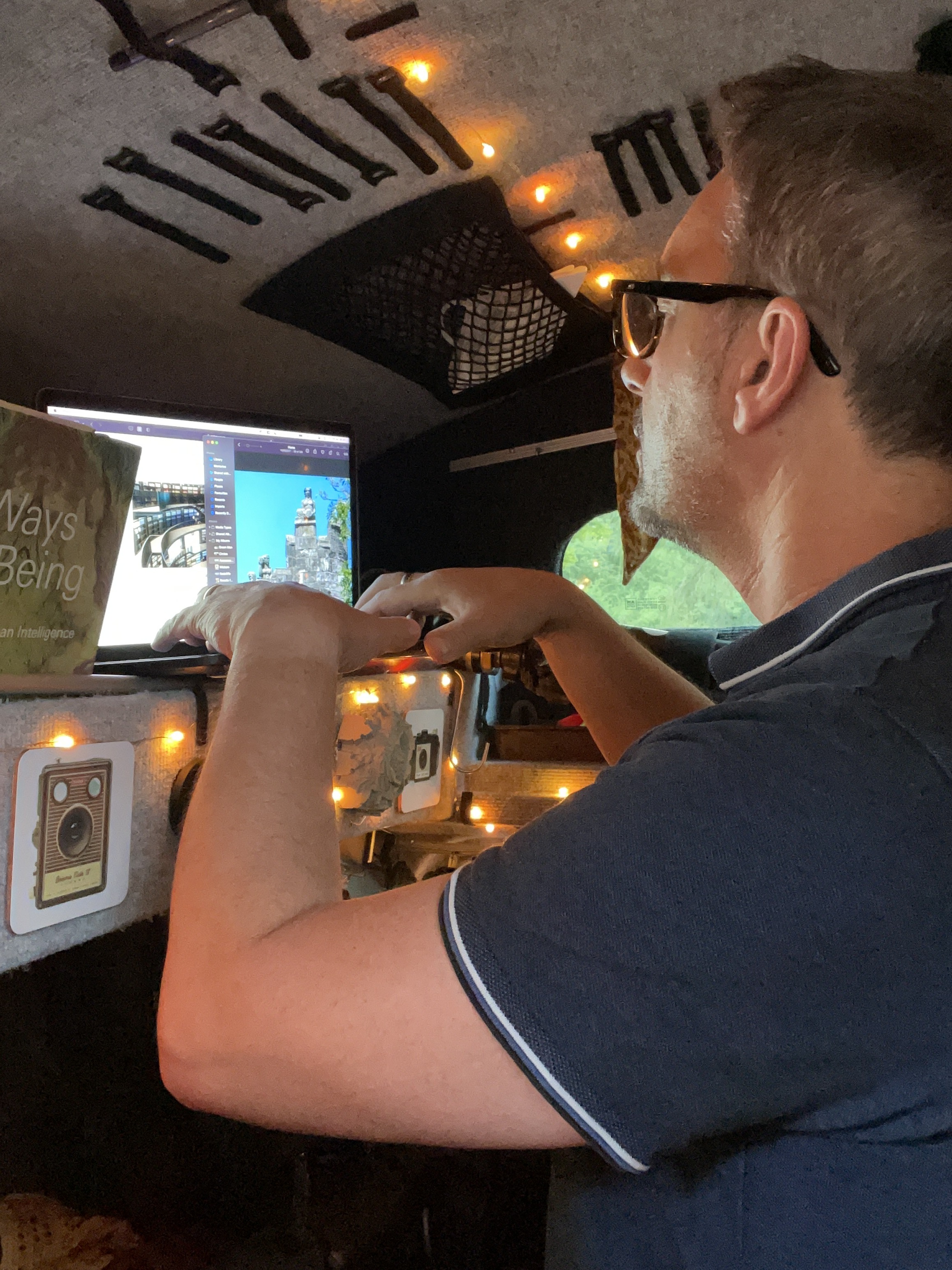 Photo Book Competition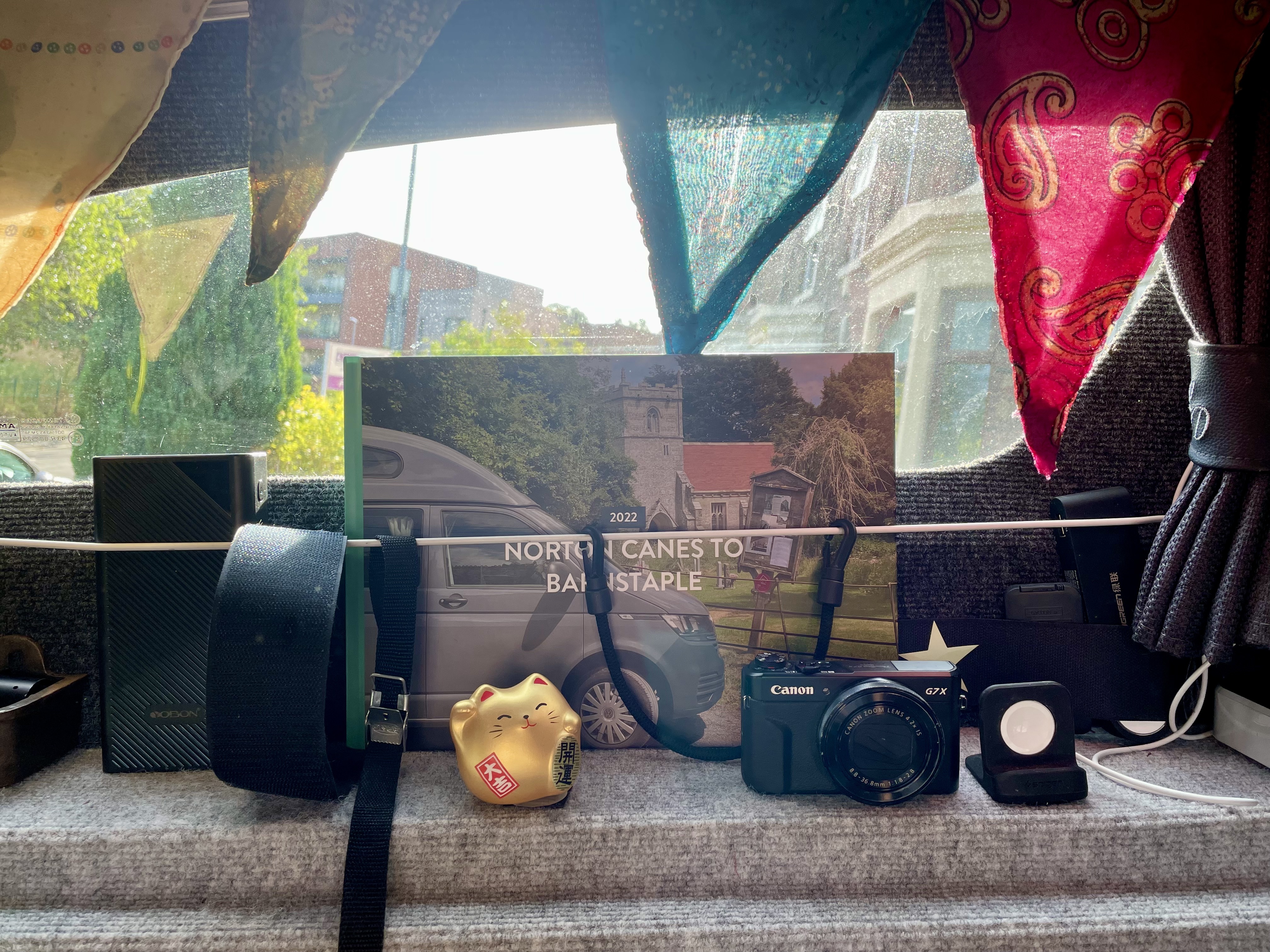 Thanks to all that contacted me with the answers to the Polarsteps photo book competition.
I put the entrants names into a hat and the winner is Pauline Watson from Hampshire. She is @Pauline06257671 on Twitter.
A signed edition of the book, with a few extra photos tucked inside, is on its way to you Pauline.
The correct answers were:
1. My van is called Woody
2. There was a punnet of strawberries left at my van door
3. My Twitter name is @fotofacade
Photo-hoard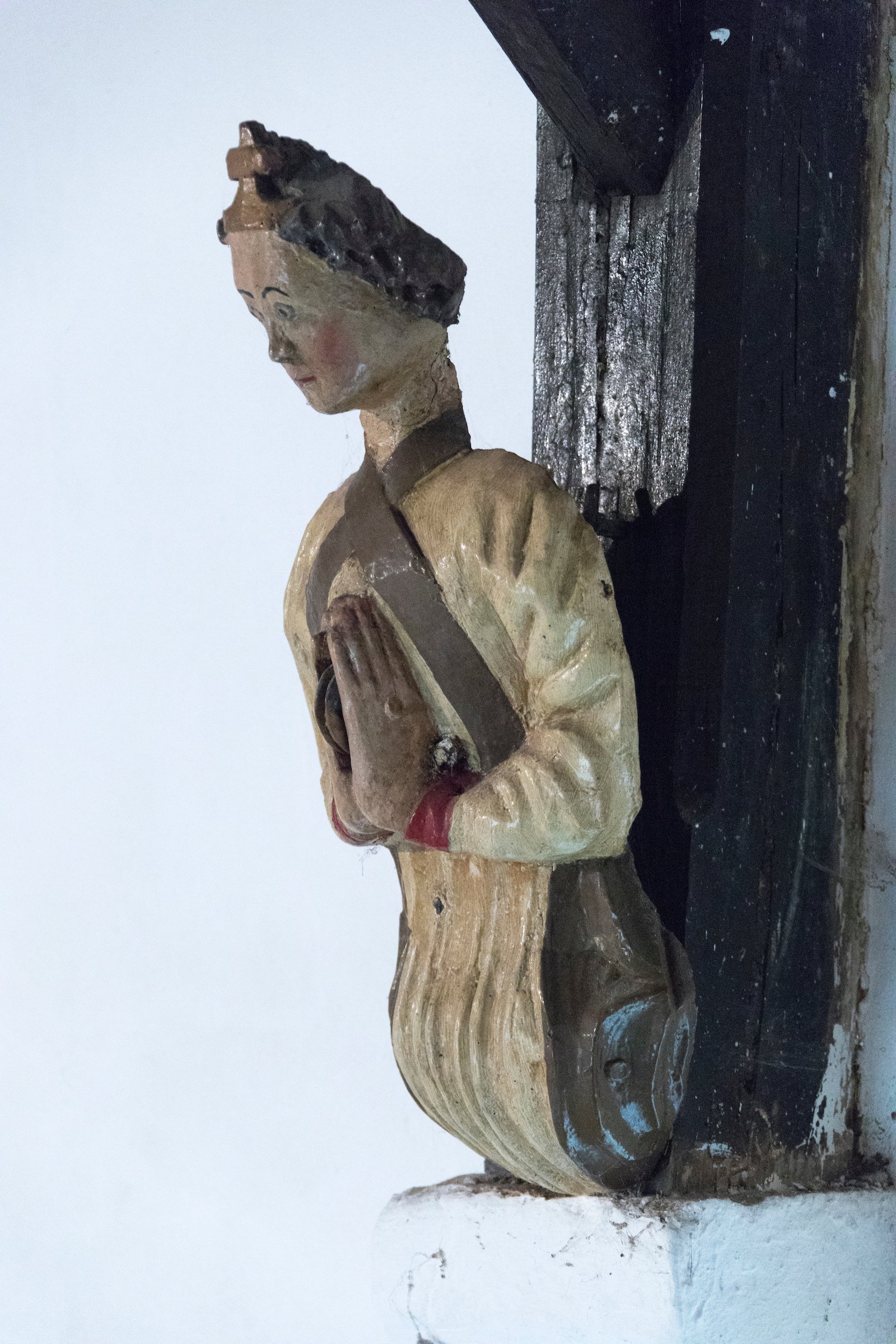 The pulley (?) holding medieval figure at St. Eilian, Anglesey
The figure is part of the roof truss to the north side of the nave. Look closely between its hands and you will see what looks like a pulley. Other figures in the church are playing instruments.
I first thought it might be playing cymbals, but noticed a hook above the rood. It looks as if the angel was part of an elaborate pulley system that might have revealed the host to the congregation during special occasions.
Needs further investigation. Cymbals would have been carved out of the same piece of wood, and there looks to be a sprocket indentation on the hand.
Words
"I'd recently begun taking a series of dusk photos - moved-
camera images, shot at twilight, that look more like abstract
pastels than actual photographs. This is because they don't
so much seek to 'capture' landscapes as to depict instead the
moment the imagination moves in the semi-dark, groping
towards the half-obscured world around it: a moment of
fusion rather than focus. In the half-light, the simple task of
seeing requires both stepping further into the self - memory
and imagination supplying what our eyes can't -"
Thanks to Jini for telling me of this book.
Observations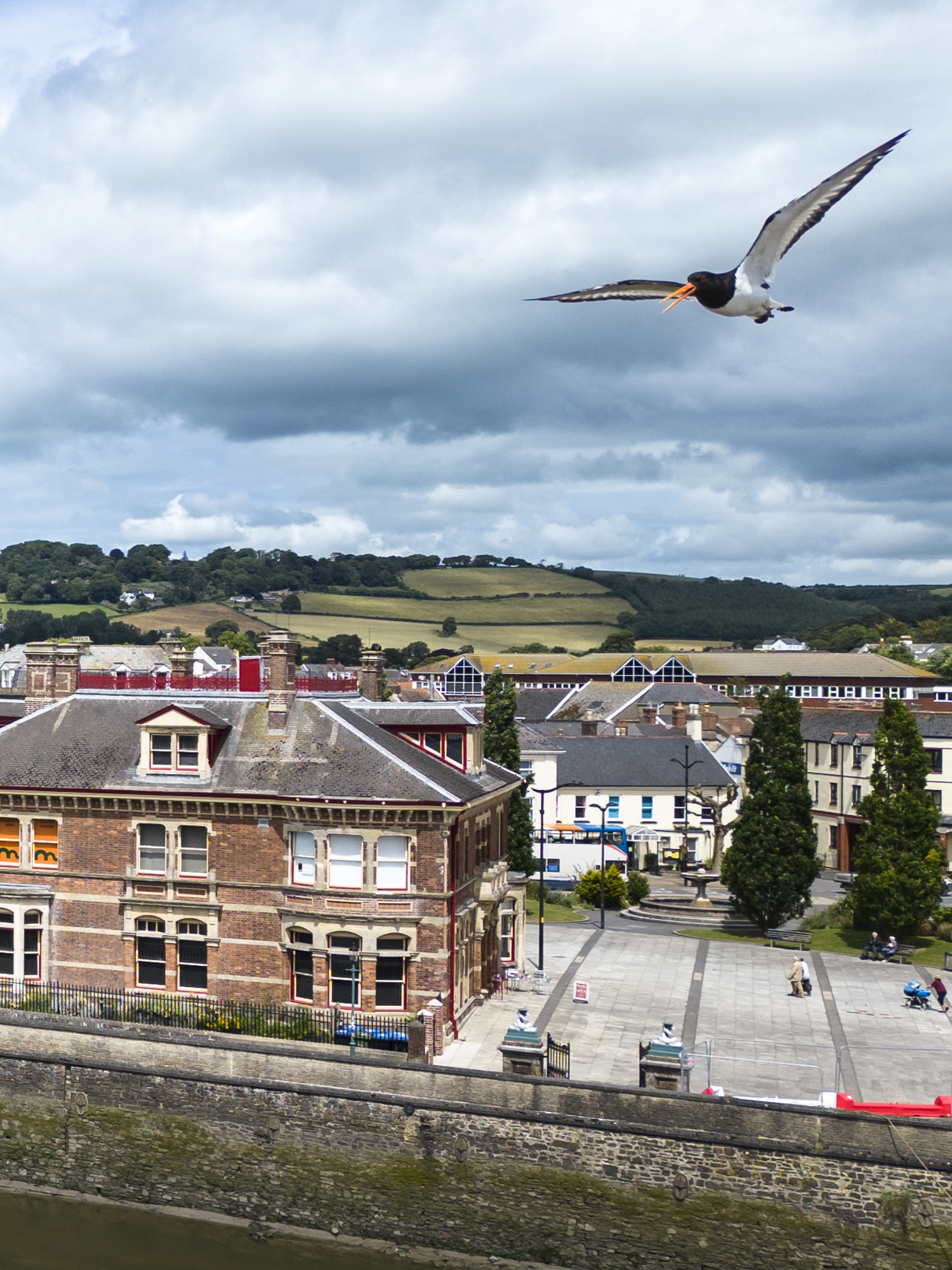 I'm in Barnstaple part way through a day shoot. It's mid-afternoon and the weather has been playing up. I'm photographing the museum extension at the Museum of Barnstaple and North Devon. Earlier the curator told me that if I see a gap of blue over to the west, then the sun will be here in half an hour.
For the first time in a few hours, I spot a gap of blue. I've a long list of shot angles to work with, but one of them is for an aerial shot from across the river Taw. I've already carried out my safety procedures and checked the Flysafe Database for restrictions or notices.
Earlier that day, I take my drone out of its bag and place it on a coping next to the river. Instantly, I hear a screech and caw, and within a few seconds, the drone is being swooped upon by a cohort of herring gulls.
I pick the drone up from the coping and head to the safety of my van about ten metres away. All the time I'm being dive-bombed by the gulls. It seems the drone profile is now imprinted in the gulls memory. It's not a good augur.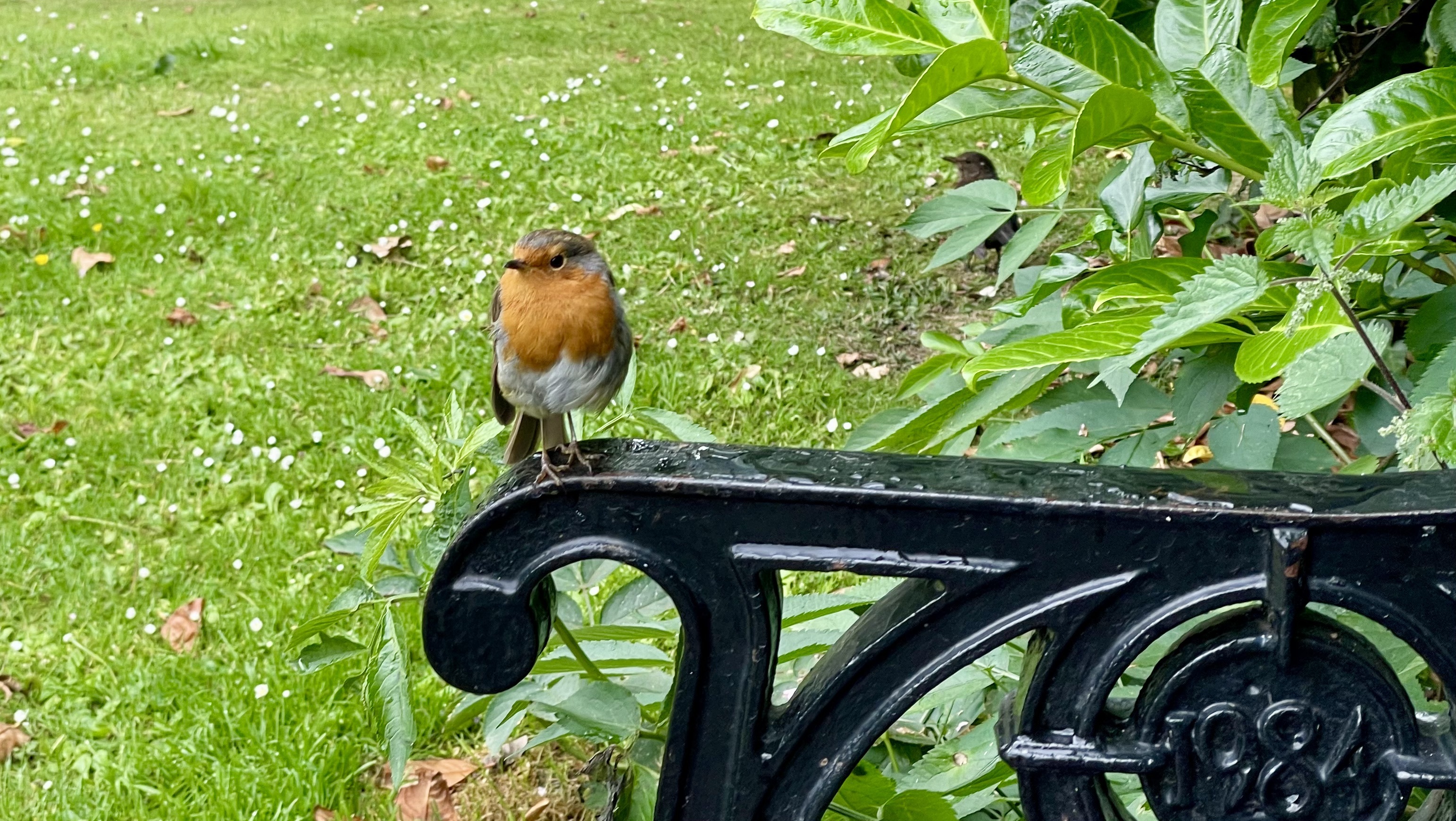 I change my plans and choose to start the drone off across the river (as planned) but in a more isolated location, moving the craft to its permissible height and then dropping it down into location across the river in front of the museum.
As soon as the patch of blue appears, I check for birds and then manoeuvre the drone to my planned spot and take a few photos. Then I start to bring it back over the river and take a few more shots. Once again I hear an ear piercing screech, so I start to bring the drone back over towards its landing spot. Before it reaches its location an Oyster Catcher angles in from the west and nudges the bottom of the drone. Instantly it starts to tumble. The drone has a failsafe auto-correct built into it - so it normally spins around and starts to hover - but before it can do this - it hits the outstretched branch of a tree over the river and lodges itself within a tangle of leaves.
"Before it reaches its location an Oyster Catcher angles in from the west and nudges the bottom of the drone. Instantly it starts to tumble."


I'm shocked but comforted by the fact that my risk assessment came into fruition and that the Oyster Catcher was unhurt.
The patch of blue has almost gone, so I untangle my tripod and run across the bridge to get some more shots from the list on my camera. All the time I'm processing several strands of thought: the movement of the light, the busy traffic on the bridge, my camera settings, the view of the extension, the trip hazards from the tripod and the gnarly problem of my drone up a tree several hundred yards away.
I get the shots and move on to the drone. I search for "man and a cherry picker" on my google maps and am surprised that there's a business a few hundred yards away. I make contact and, for the princely sum of £360, he is willing to come out and attempt to get the drone.
Before he comes, he asks me if there are any complications. I tell him that there are none other than the tangled branches. I put the phone down, walk over to the tree that holds my drone, and am instantly buzzed by a swarm of wasps nesting in the tree.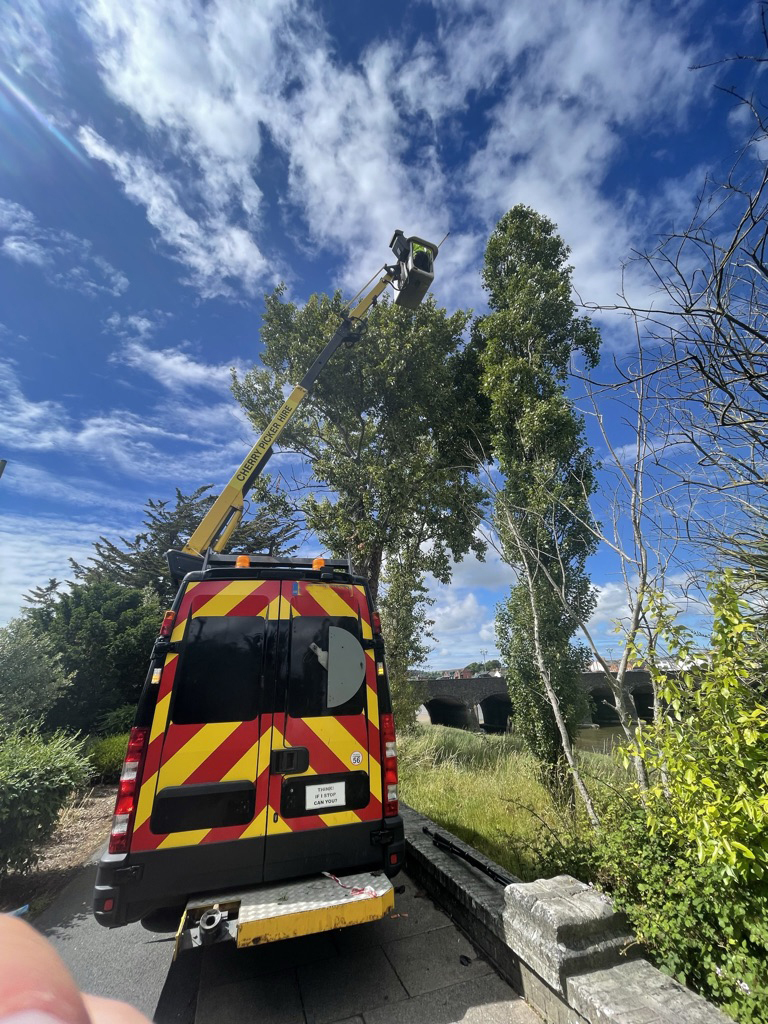 The cherry picker man is a little nervous of the wasps when he arrives and I offer to go up in the bucket myself. He perseveres and eventually manages to grab the drone laden branch with a metal hook.
"It would be great if you could get the drone intact!", I shout.
As I do, the branch snaps and the drone hurtles towards the Taw. Luckily it hits another branch and bounces into the soft undergrowth, unharmed.
I'm at square one - £360 lighter, but I feel relieved - the unplanned was planned for, and not only do I still have my flying camera, but also the aerial photographs taken over the last few days that hold priceless memories of a morning spent at an Anglo-Saxon church in Hampshire.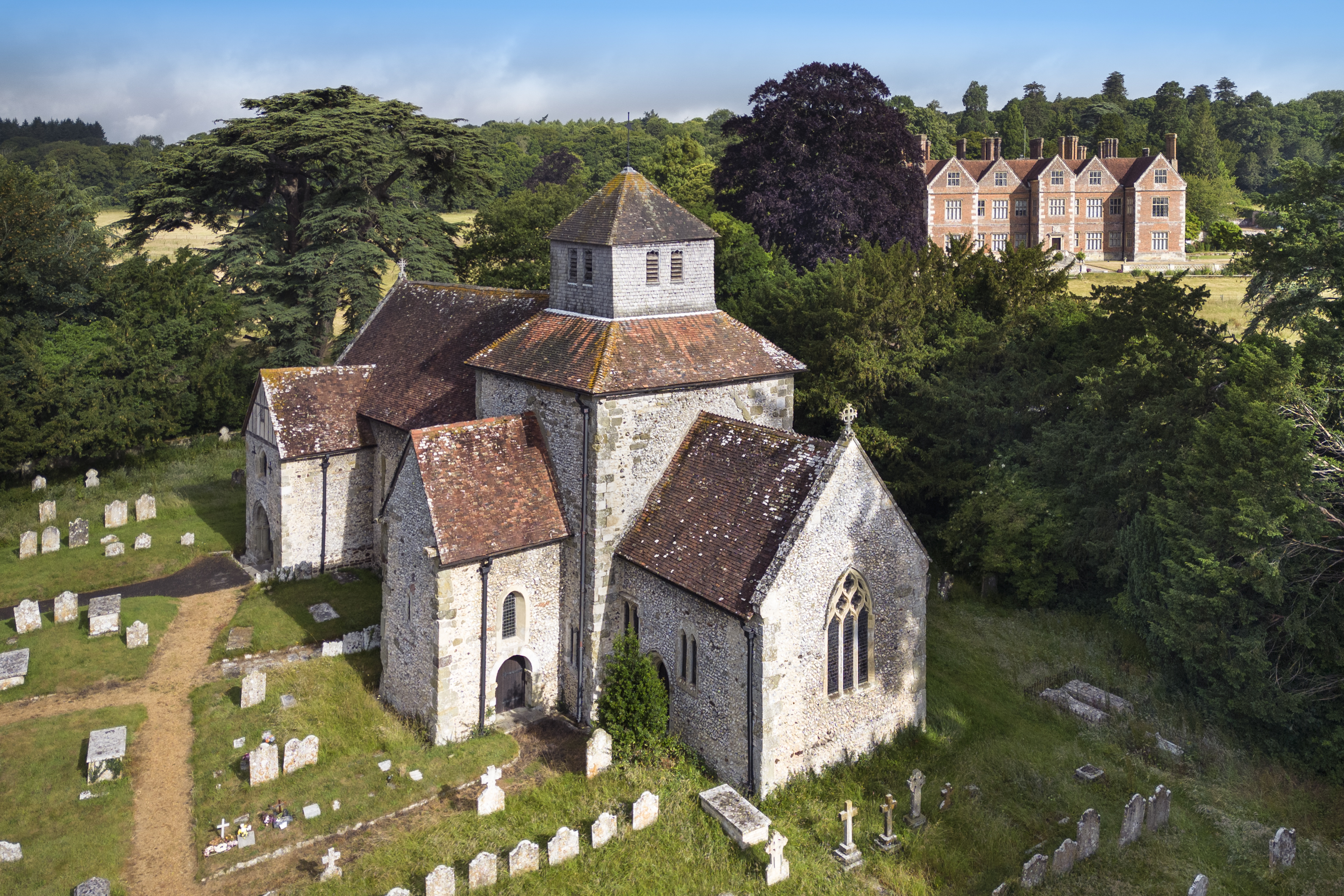 Hotspots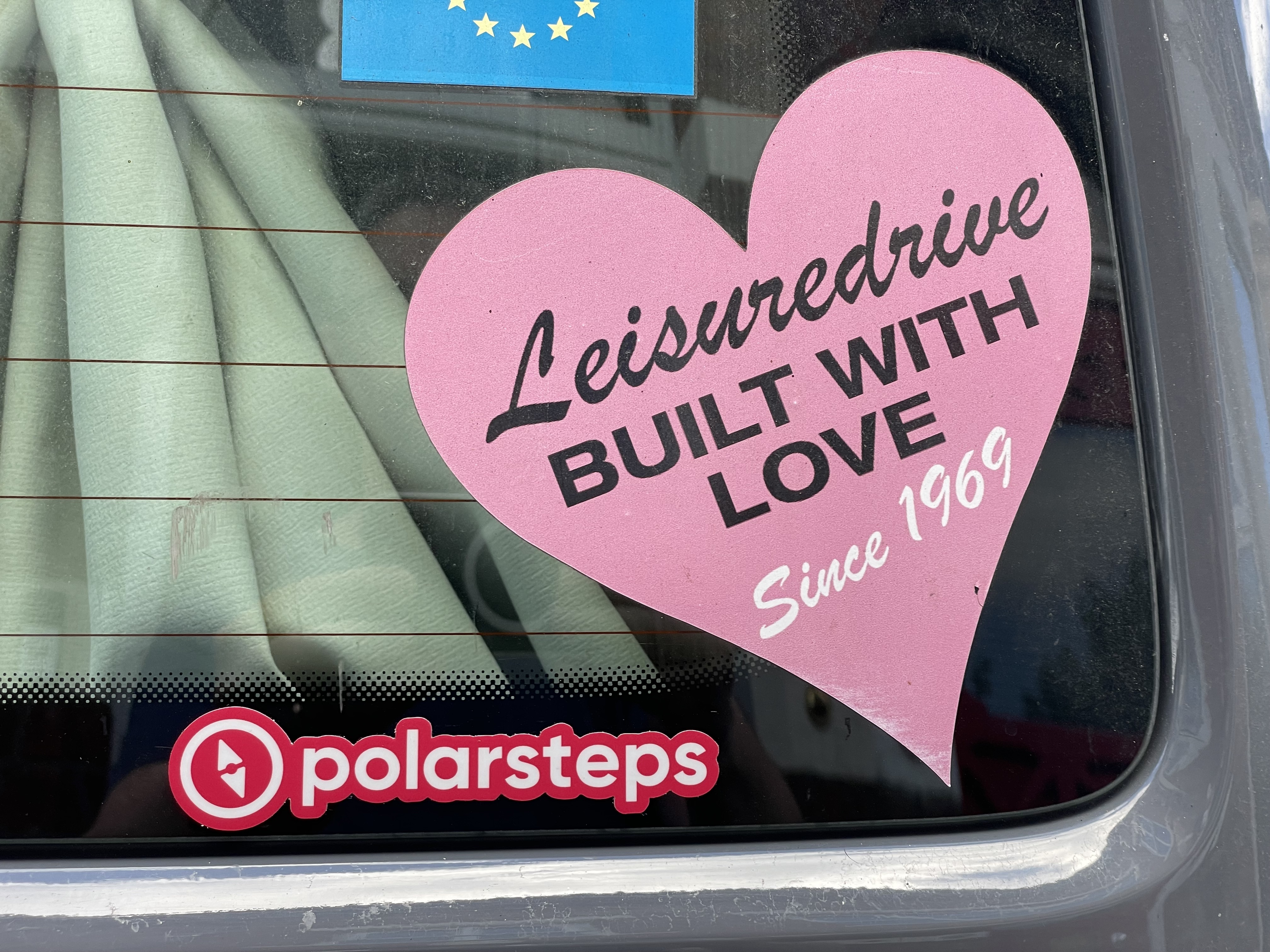 I continue my journey via Long Crichel and Breamore over to Devon for a photo shoot at Barnstaple Museum. View the full journey on Polarsteps here.
But, before I head out to Devon, I can't help but visit Salisbury.
Salisbury
I have a strong attachment to Salisbury. I've worked there often and was working at St. Thomas at the time of the Skripal poisoning.
I've nothing but admiration for the resilience of the people of Salisbury. Salisbury suffered an economic downturn after the poisonings and then had to deal, like the rest of us, with the pandemic.
Believe it or not, the building below (Fishmarton Street) is one of my little indulgences. It's a rare survival in faience, but in a poor state of repair. It's at risk of loss. I love its utilitarian truth and the zeitgeist of the Art Nouveau typography. It's a time where the word 'Game Mart' had a different meaning.
Wouldn't it be wonderful to bring this back to life?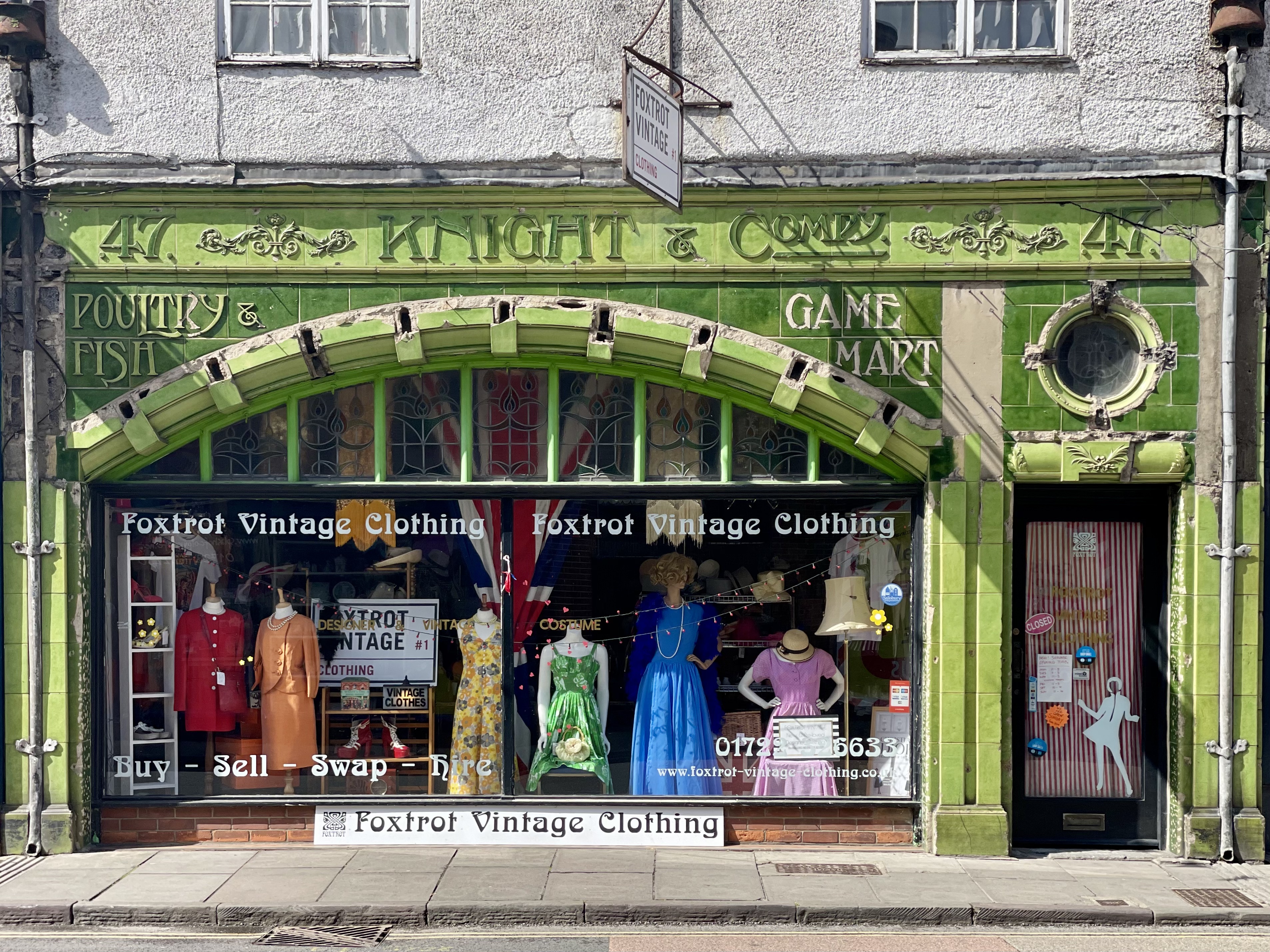 It's going in my Treasure Hoard Gazetteer.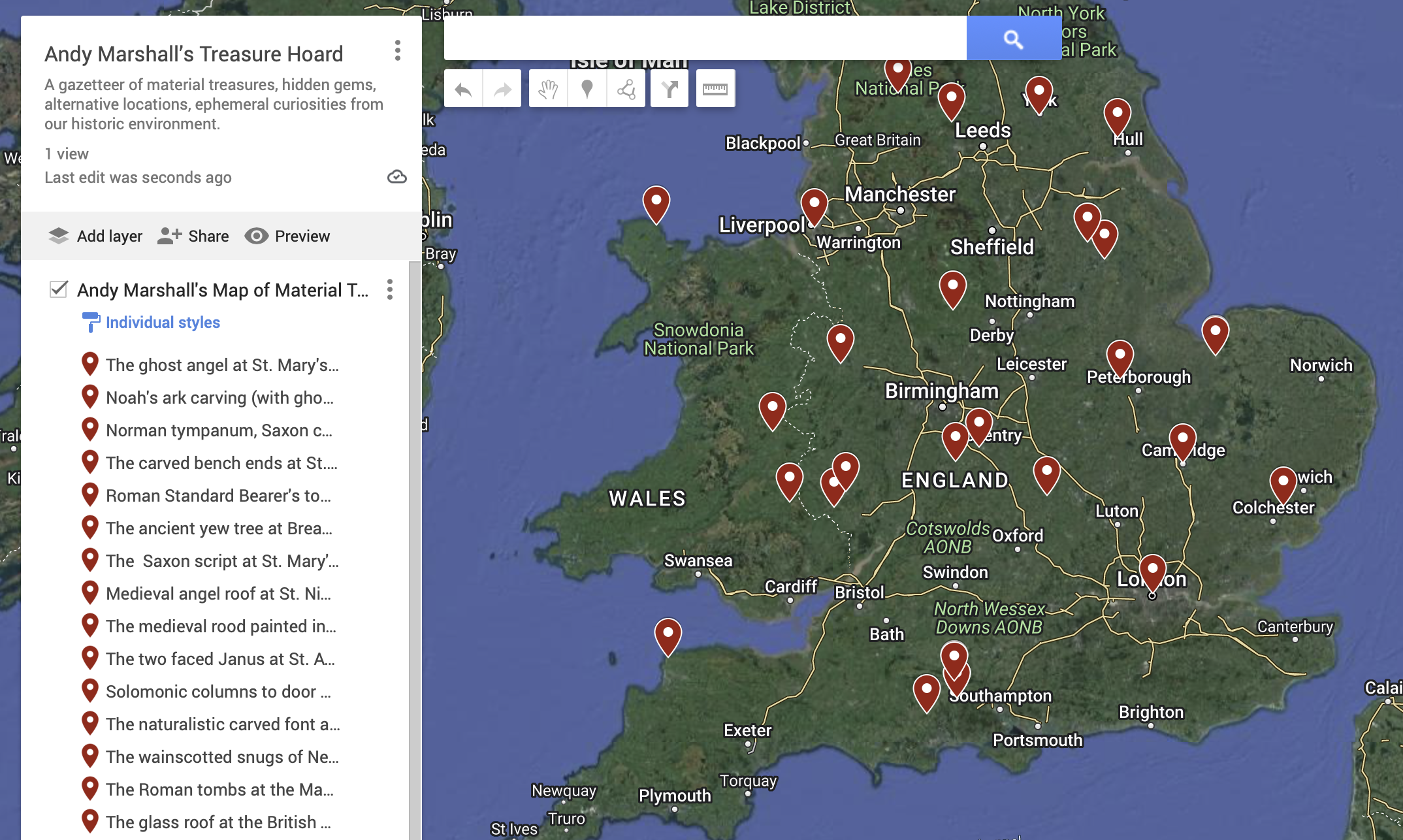 Salisbury from Harnham Water Meadows
If you're new to Salisbury, there's nothing better you could do than to take the path through Harnham Water Meadows.
It's the view that Constable took in for his paintings. If you go at first thing, you might see the mist moving in across the meadow in front of the cathedral at first light. Nothing beats it.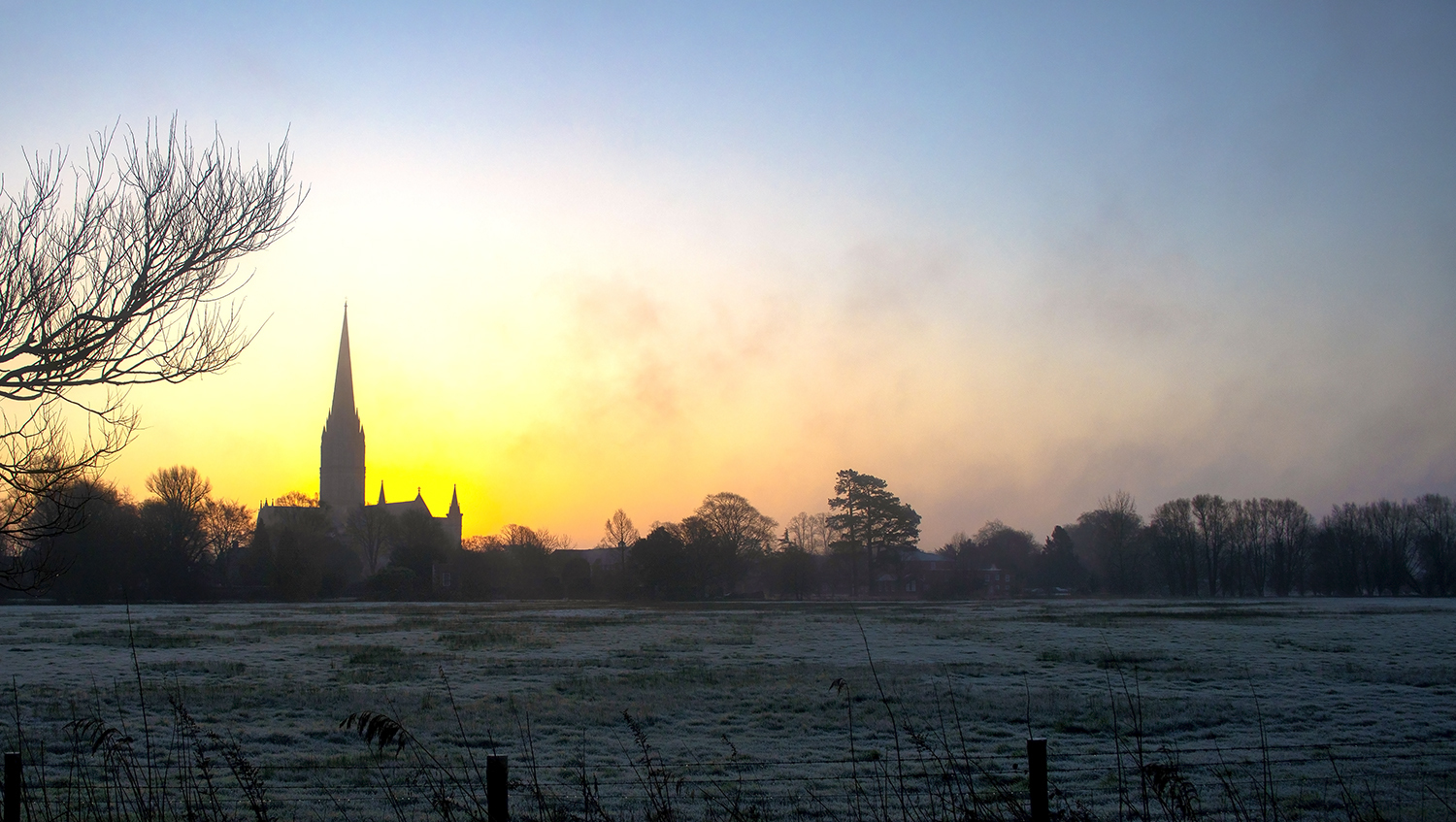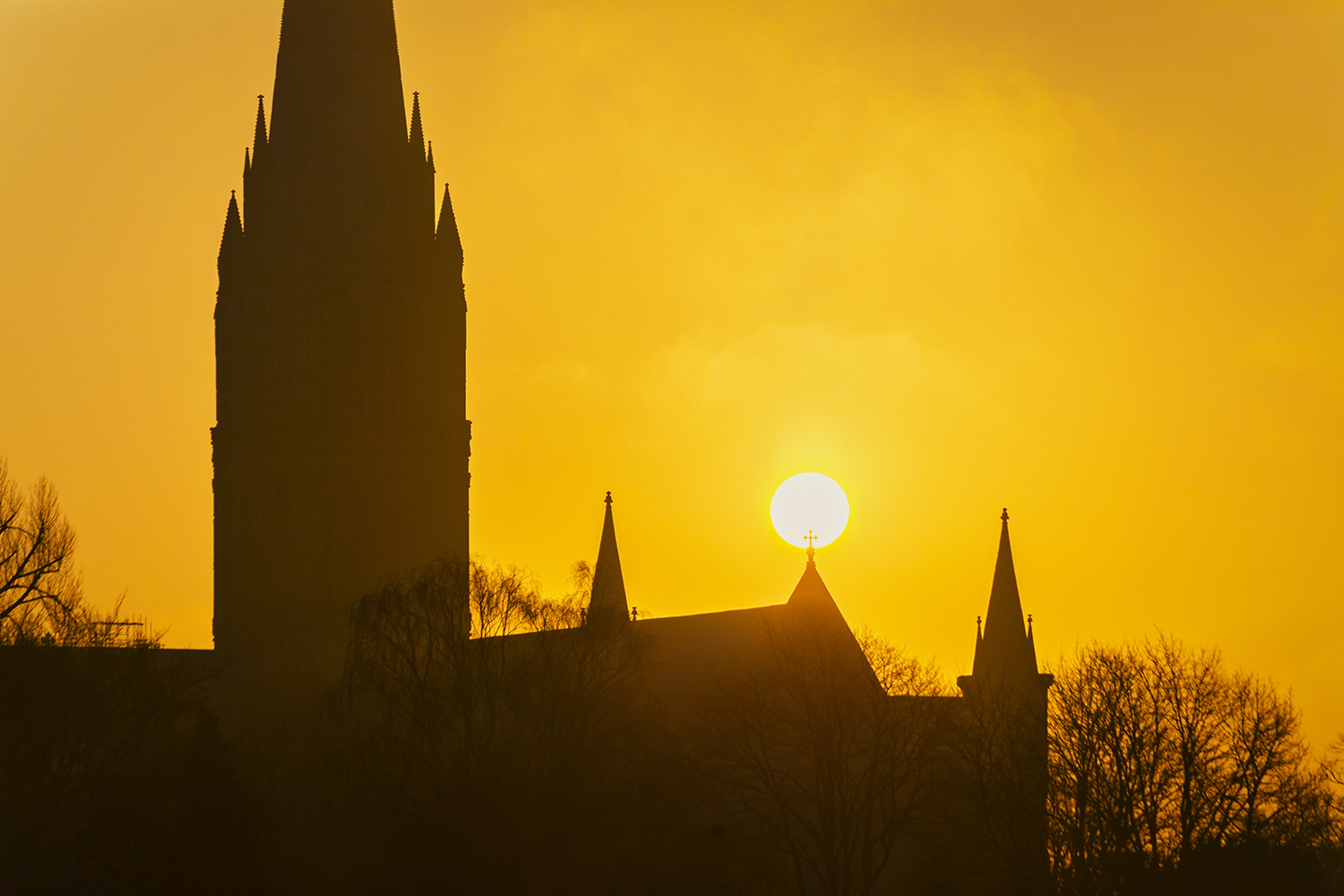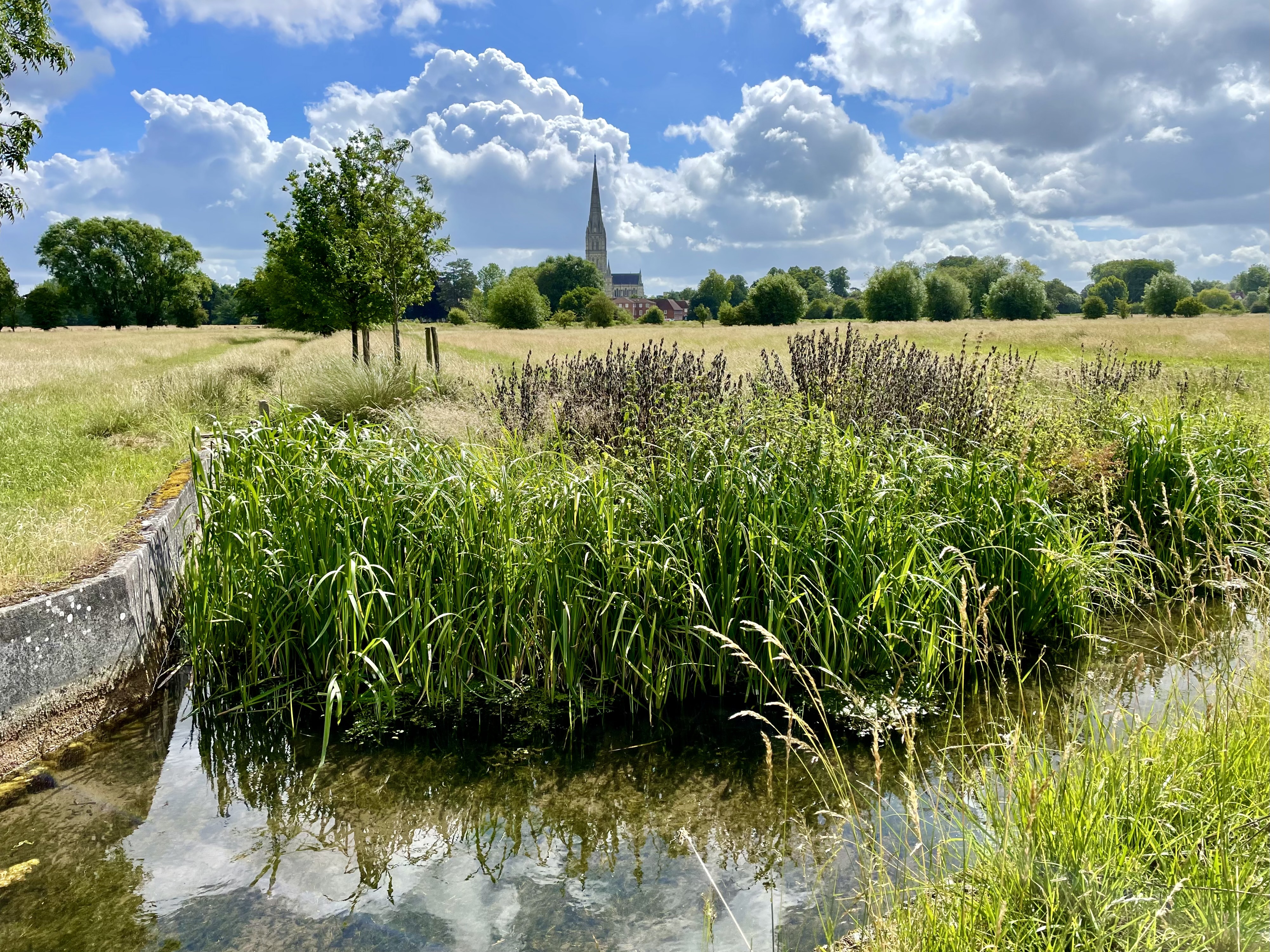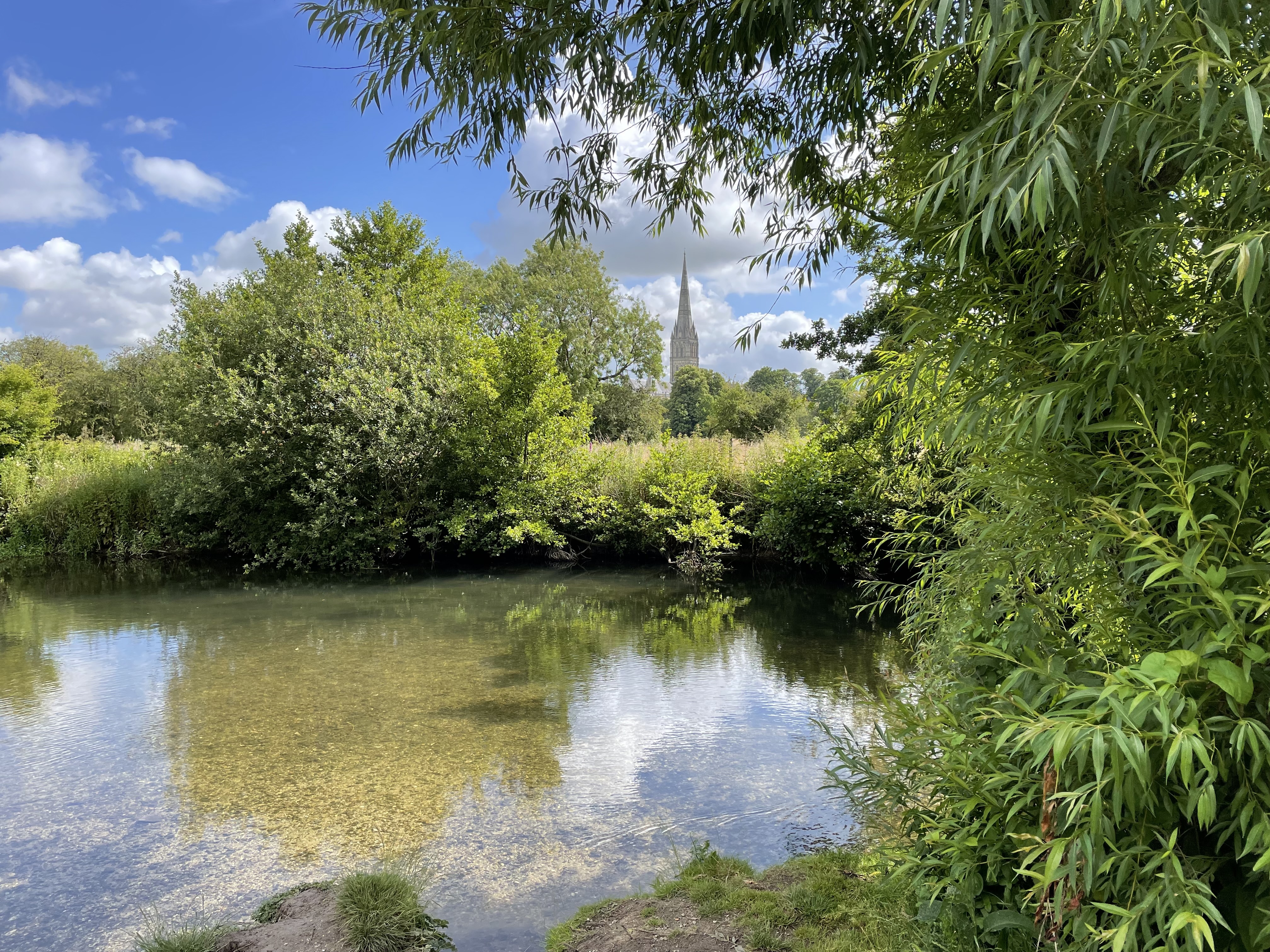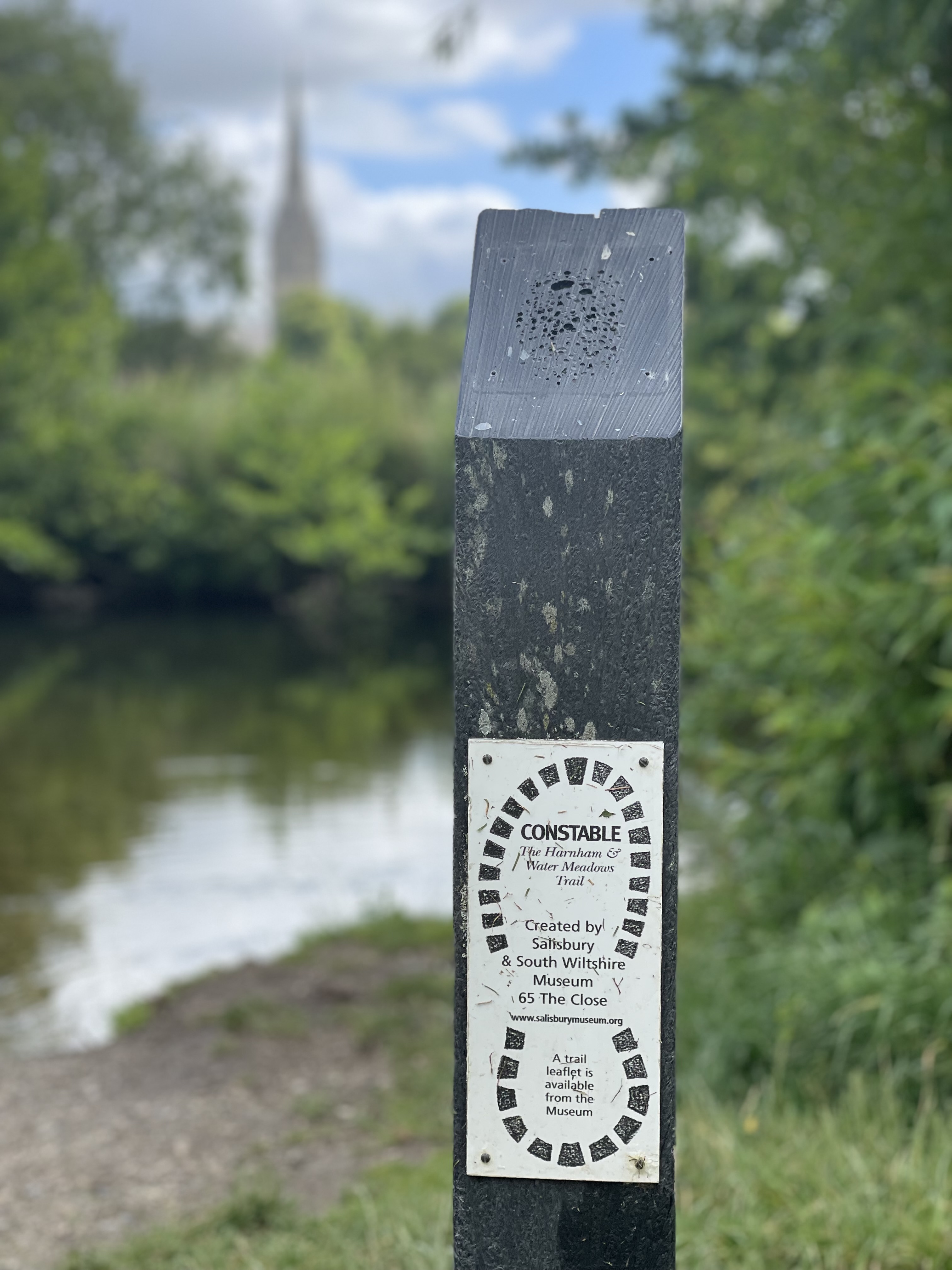 Carry on along the path and you'll come to an idyllic scene of mill and race, harnessing the River Avon. The Old Mill is now a pub - but much of the medieval exterior and interior remains intact. It's the perfect place to rest awhile.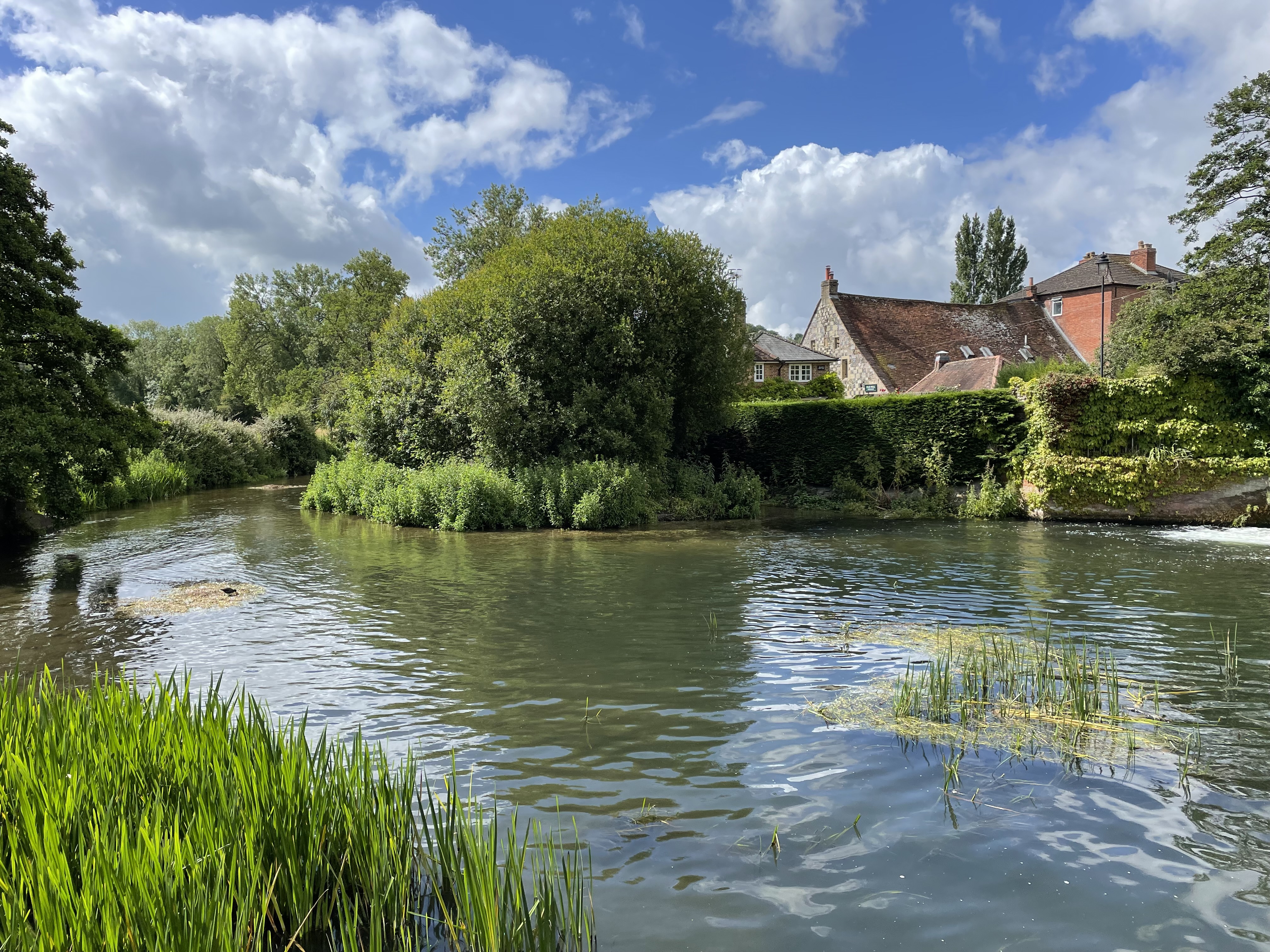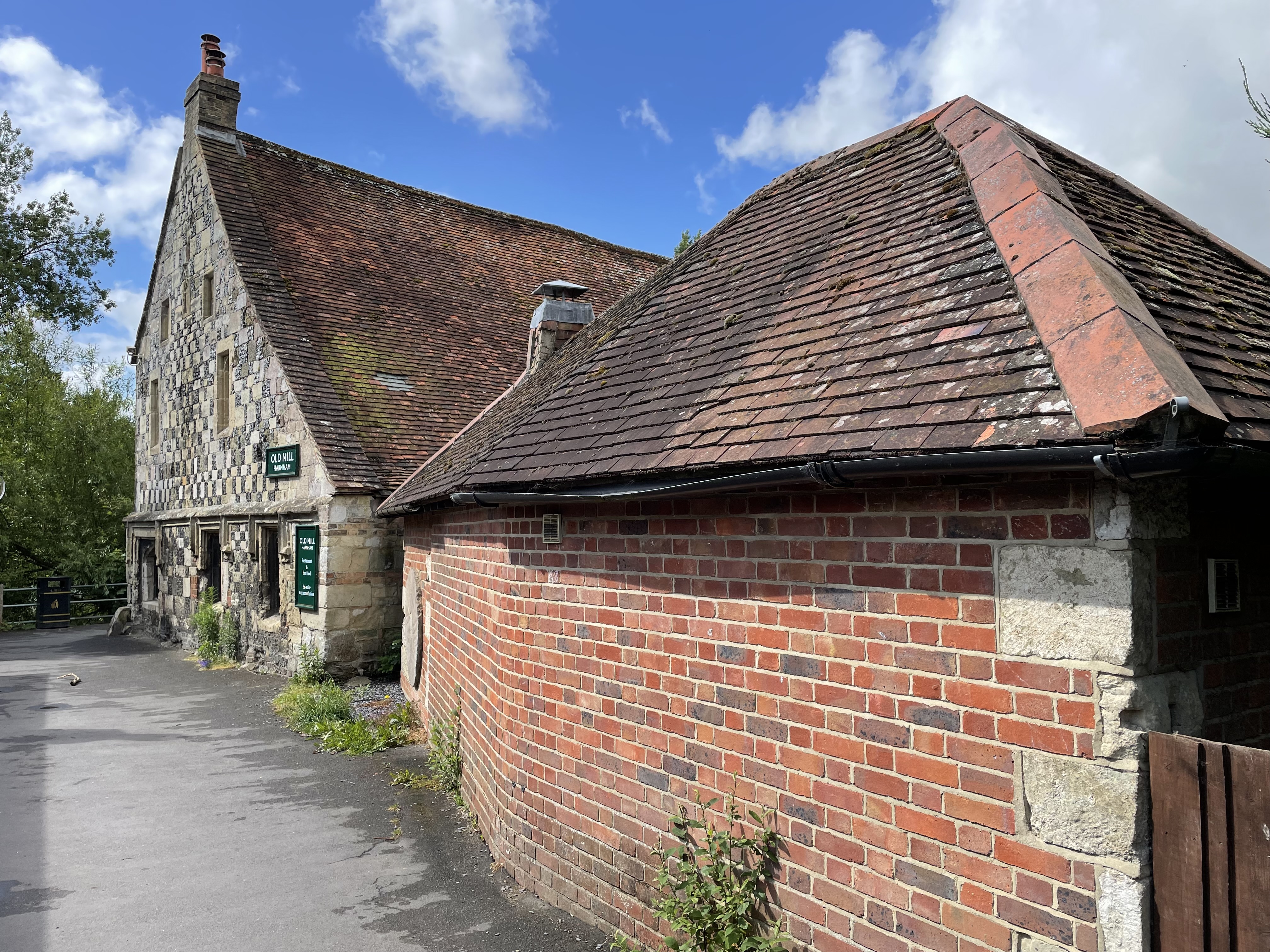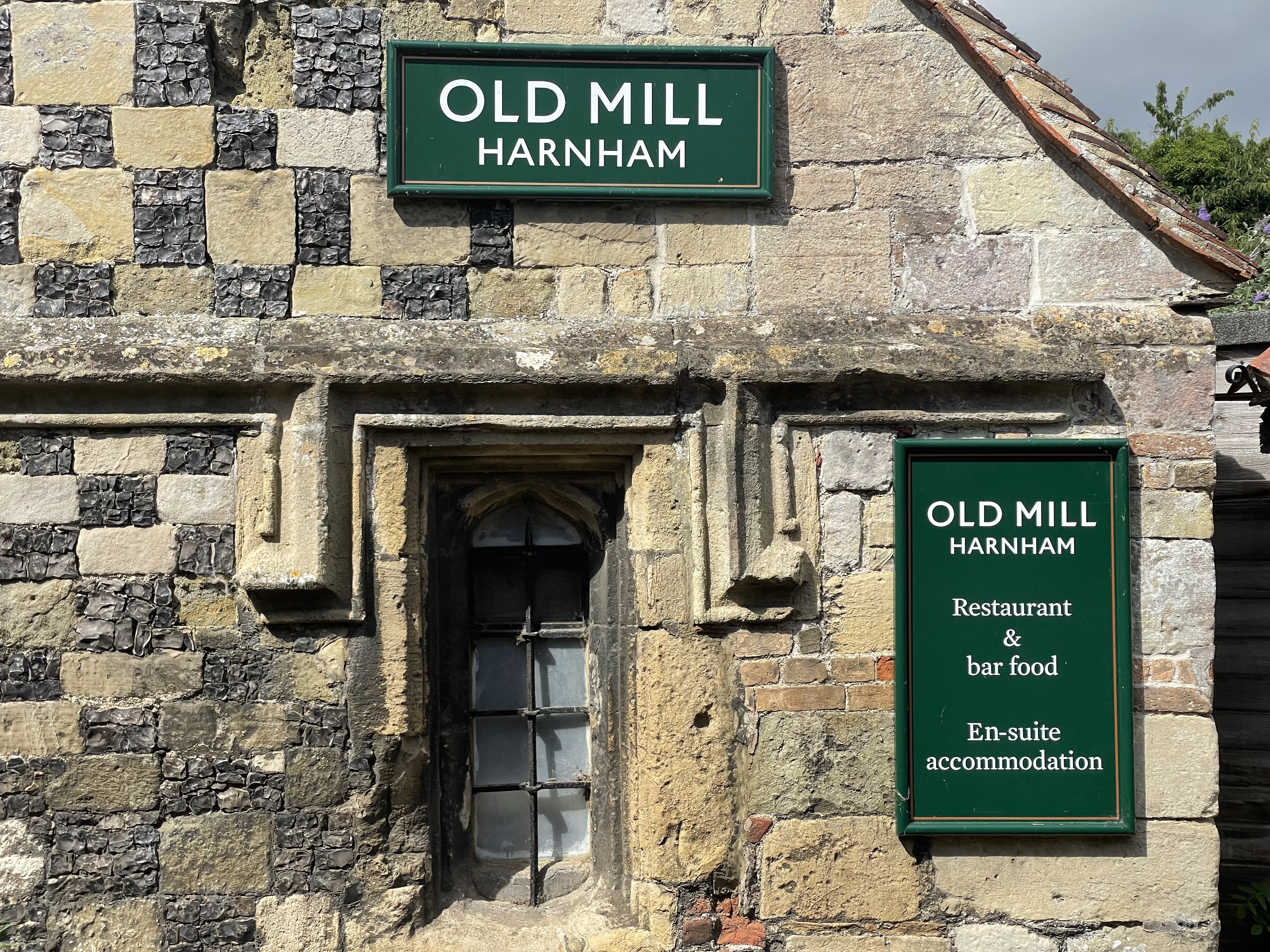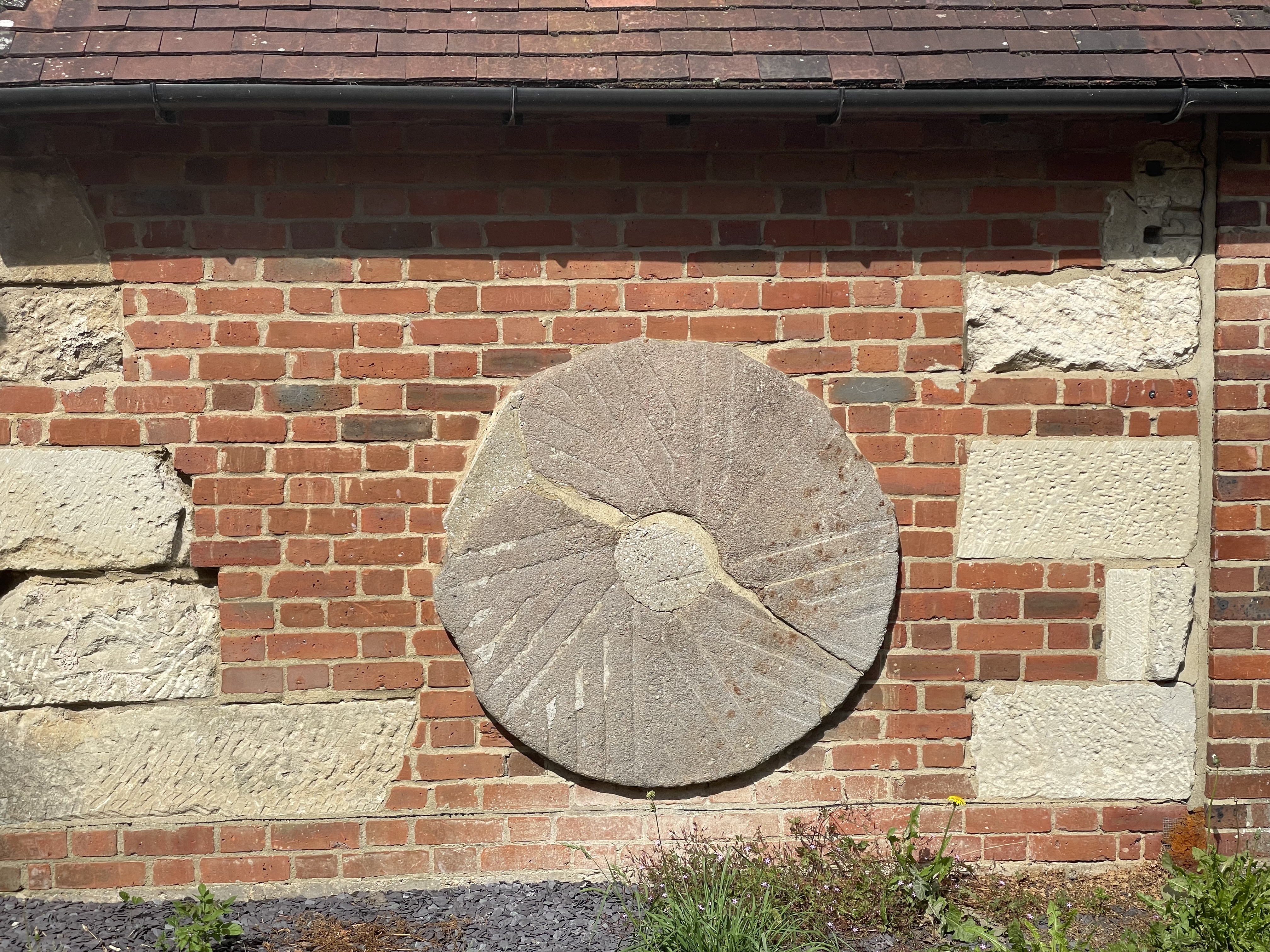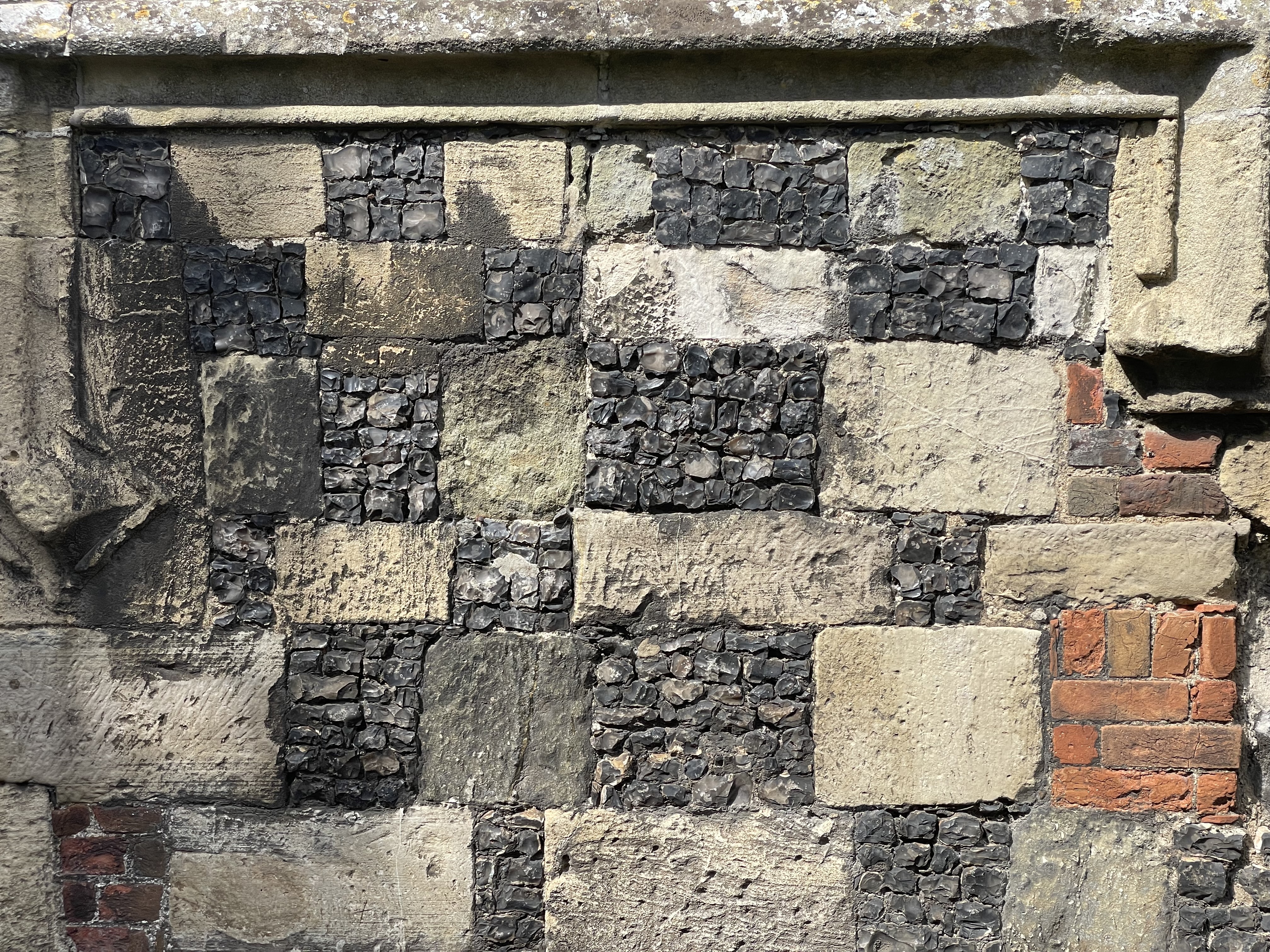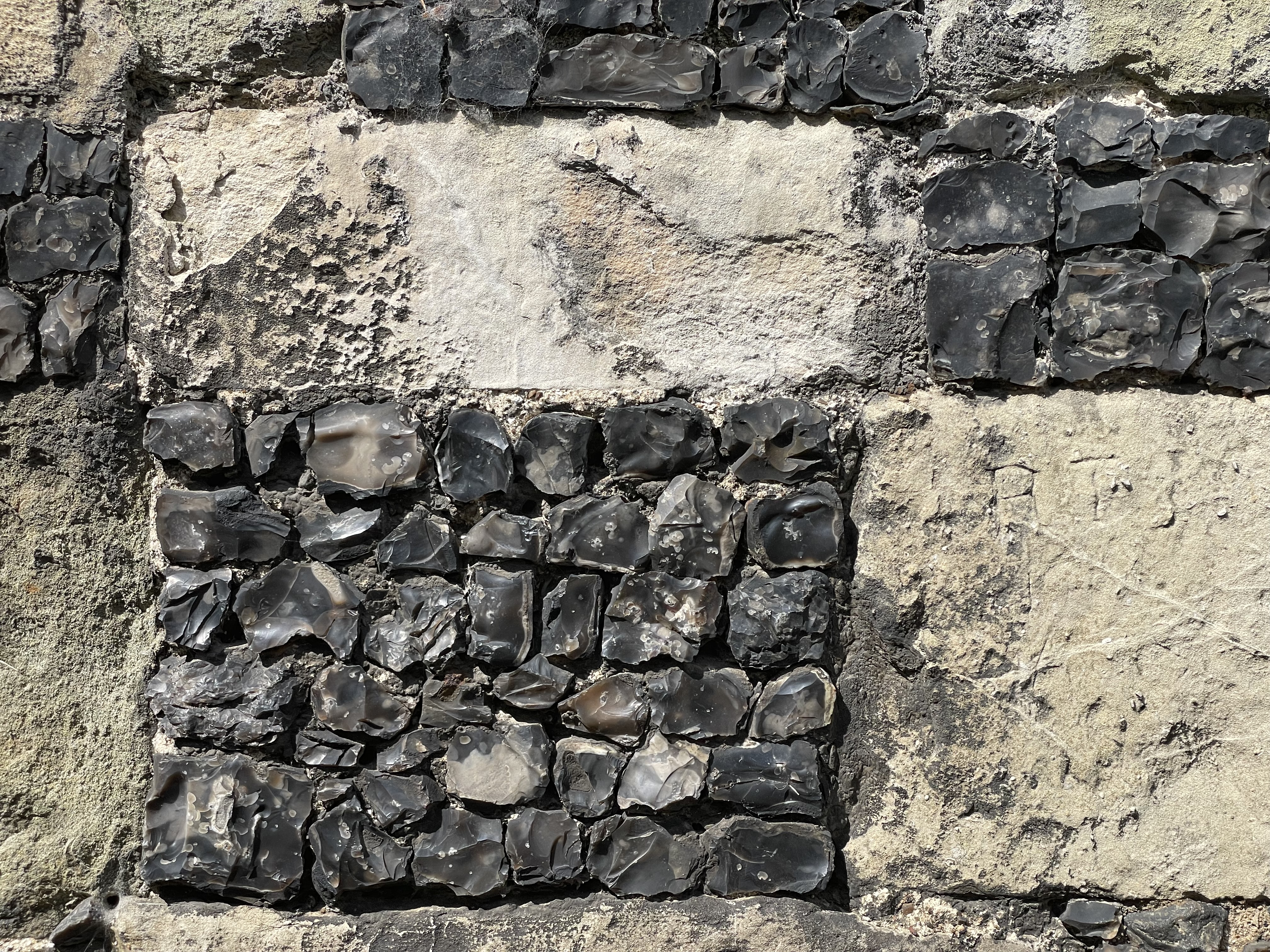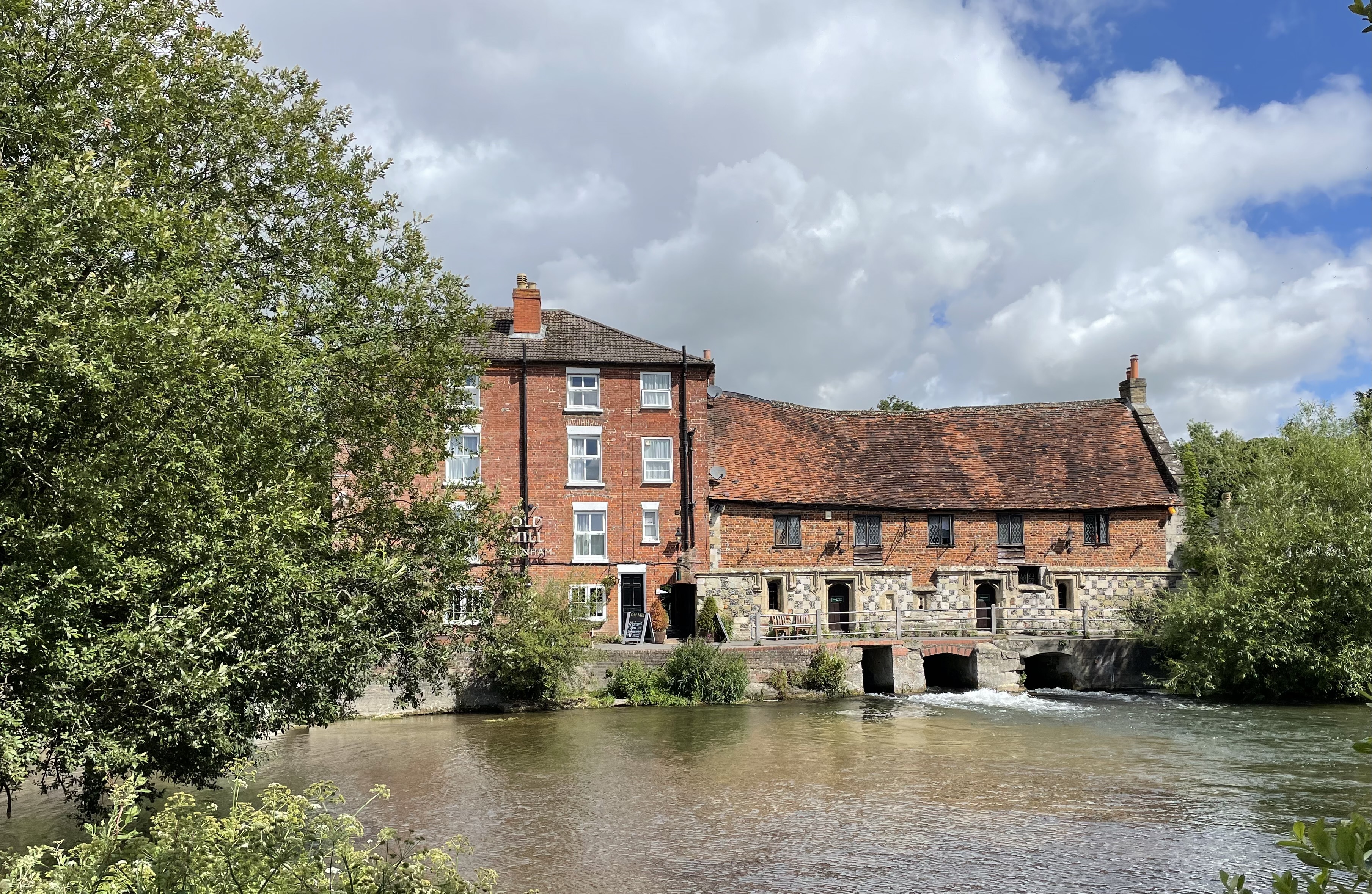 Keep heading south onto Harnham Road and follow its loop north back into Salisbury. Along the road just before the bridge over the Avon is a lovely thatched terrace with thatched porches to match. Opposite, the Rose and Crown pub has an original surviving 'wind hole' (window).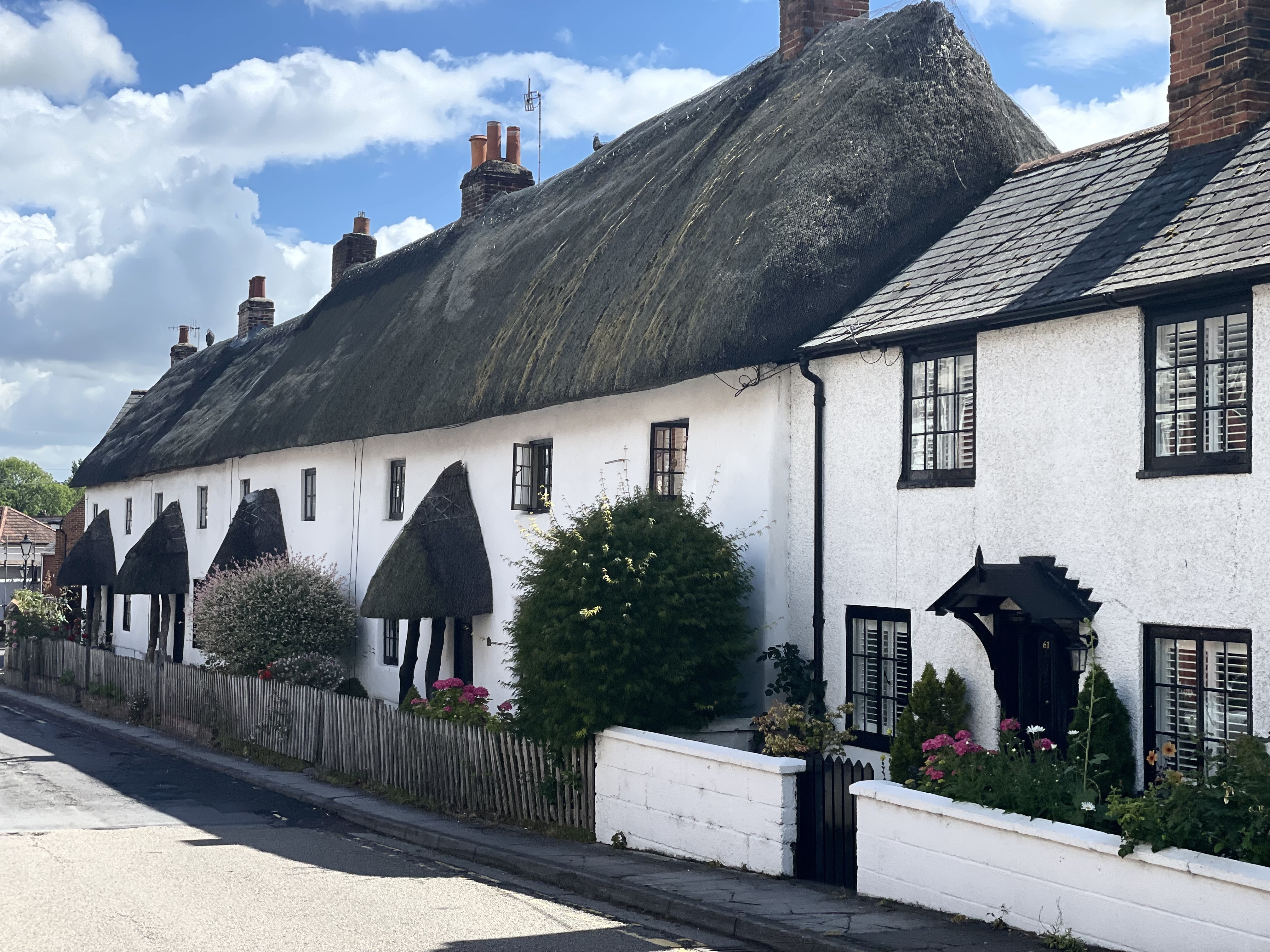 The Rose and Crown.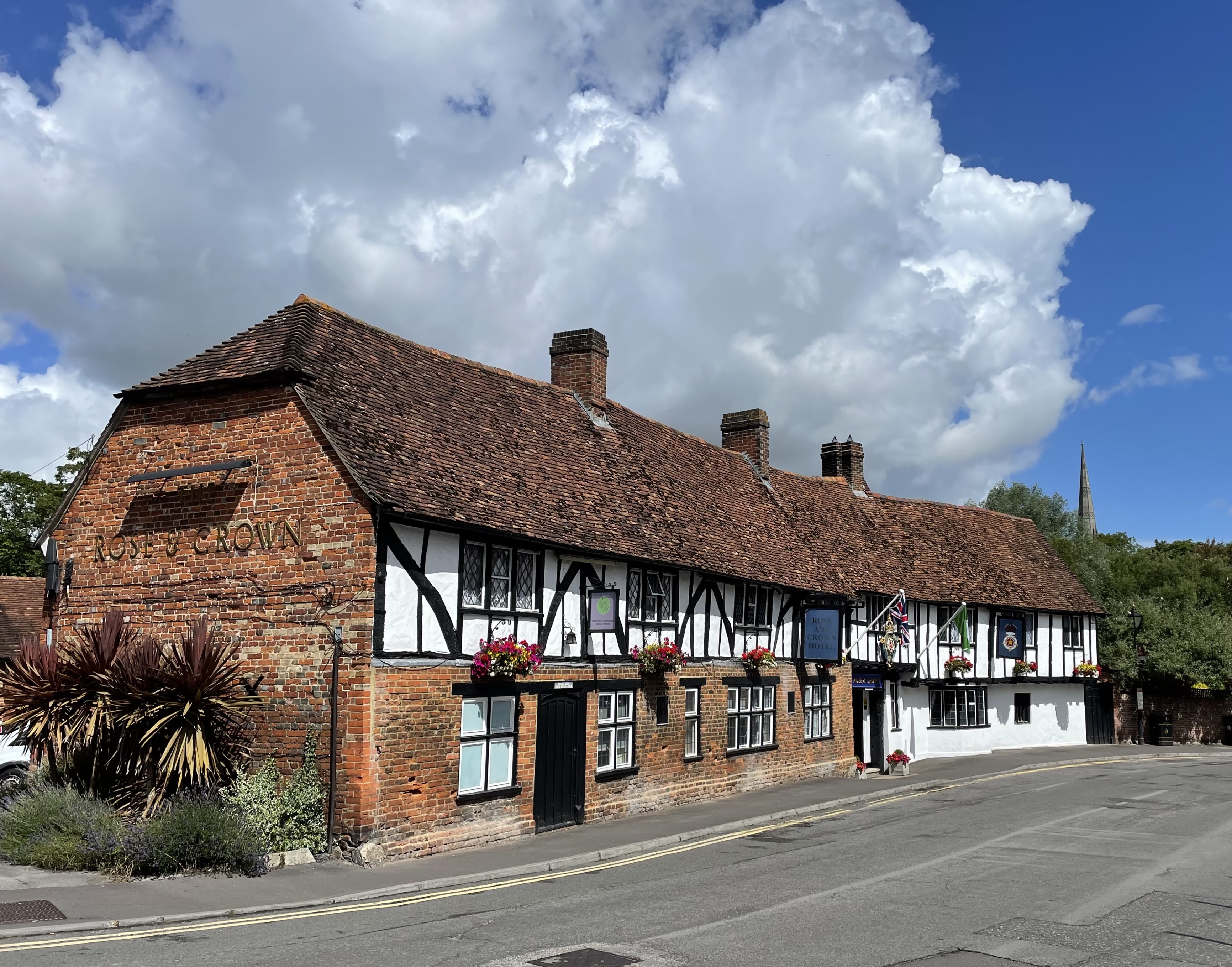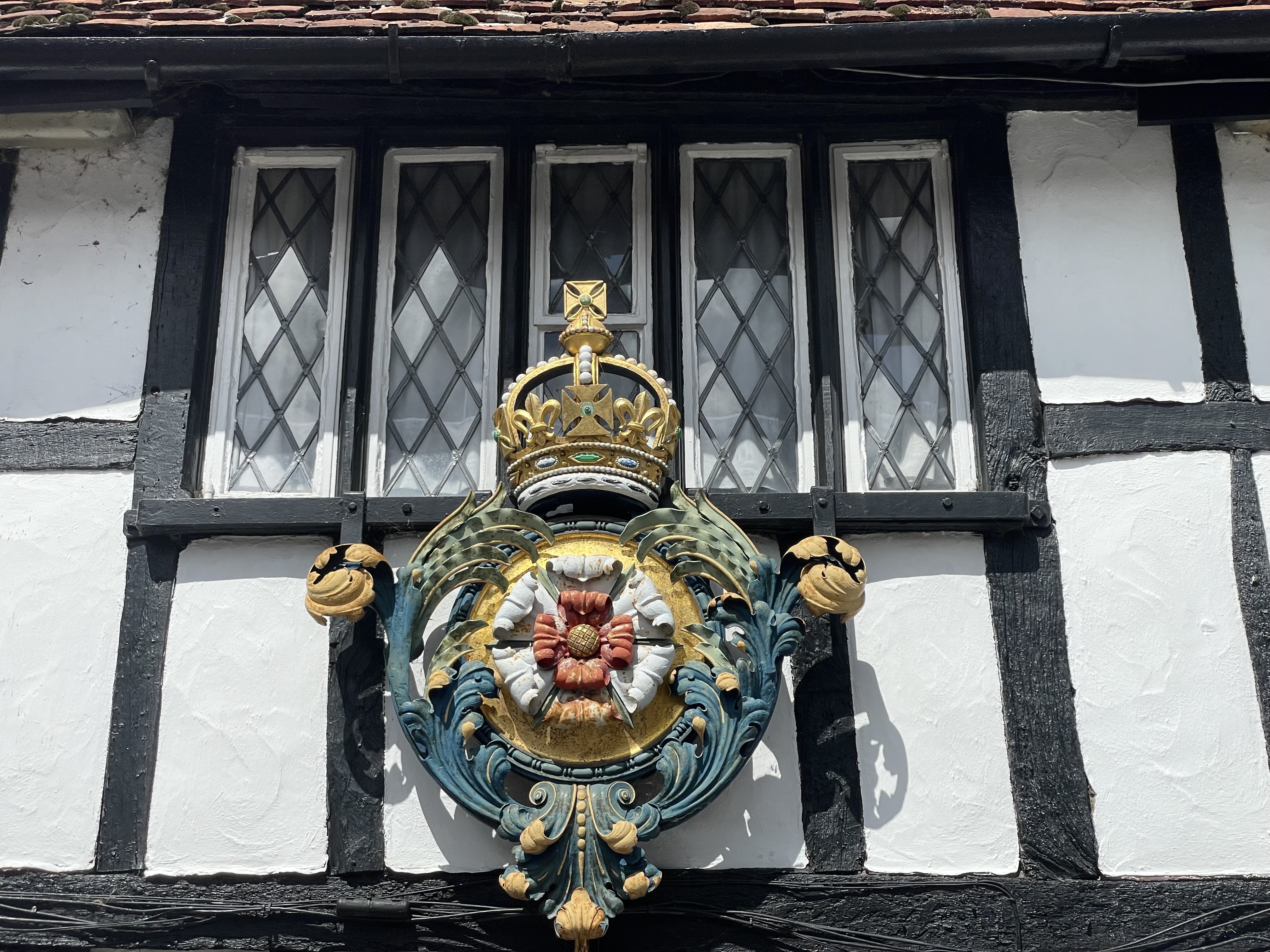 Surviving wind hole - now glazed in to the rear.
The Avon from the bridge on St. Nicholas' Road.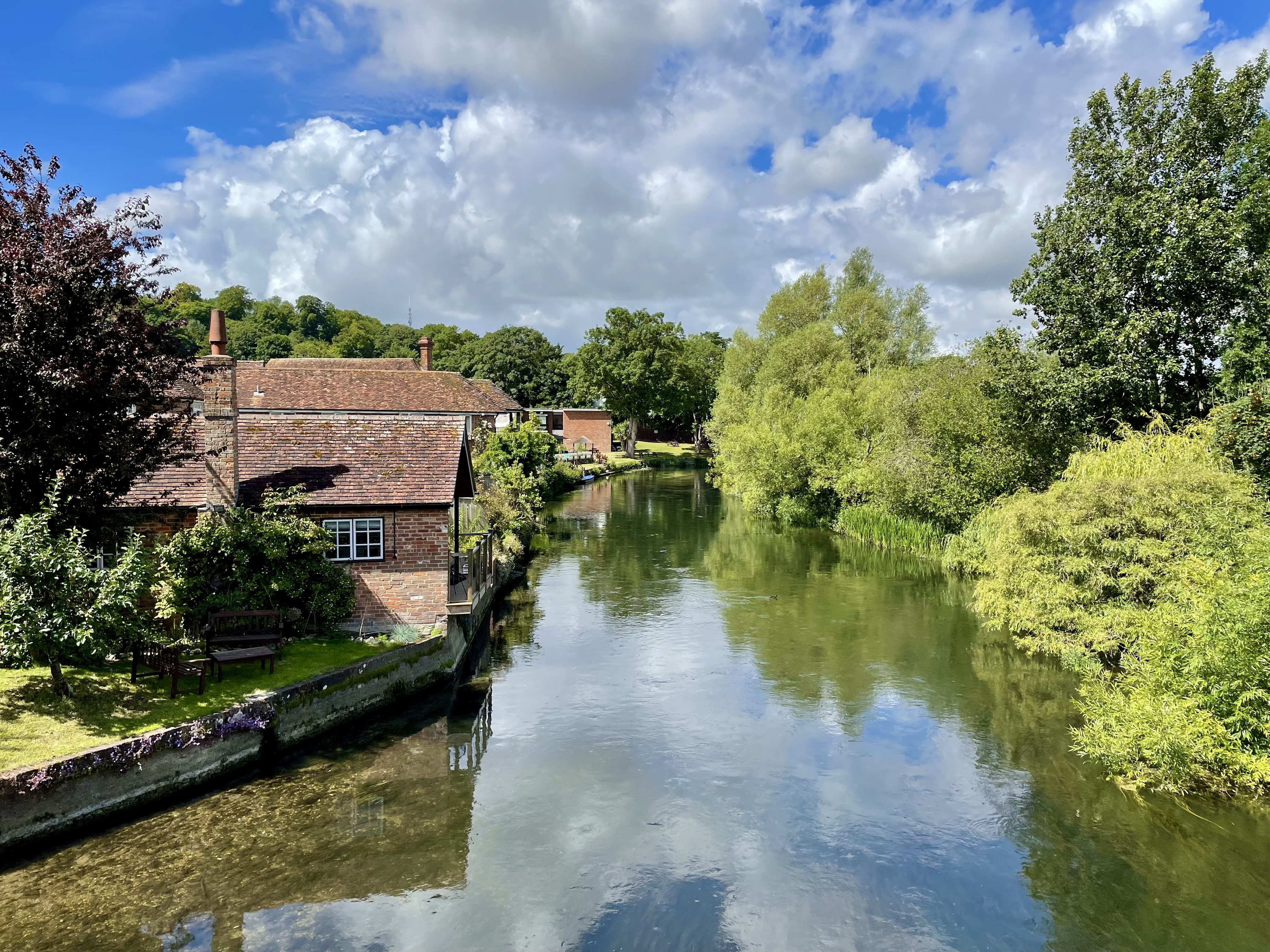 Love this house just beyond the bridge on St. Nicholas' road. The vertical tiling is wonderful.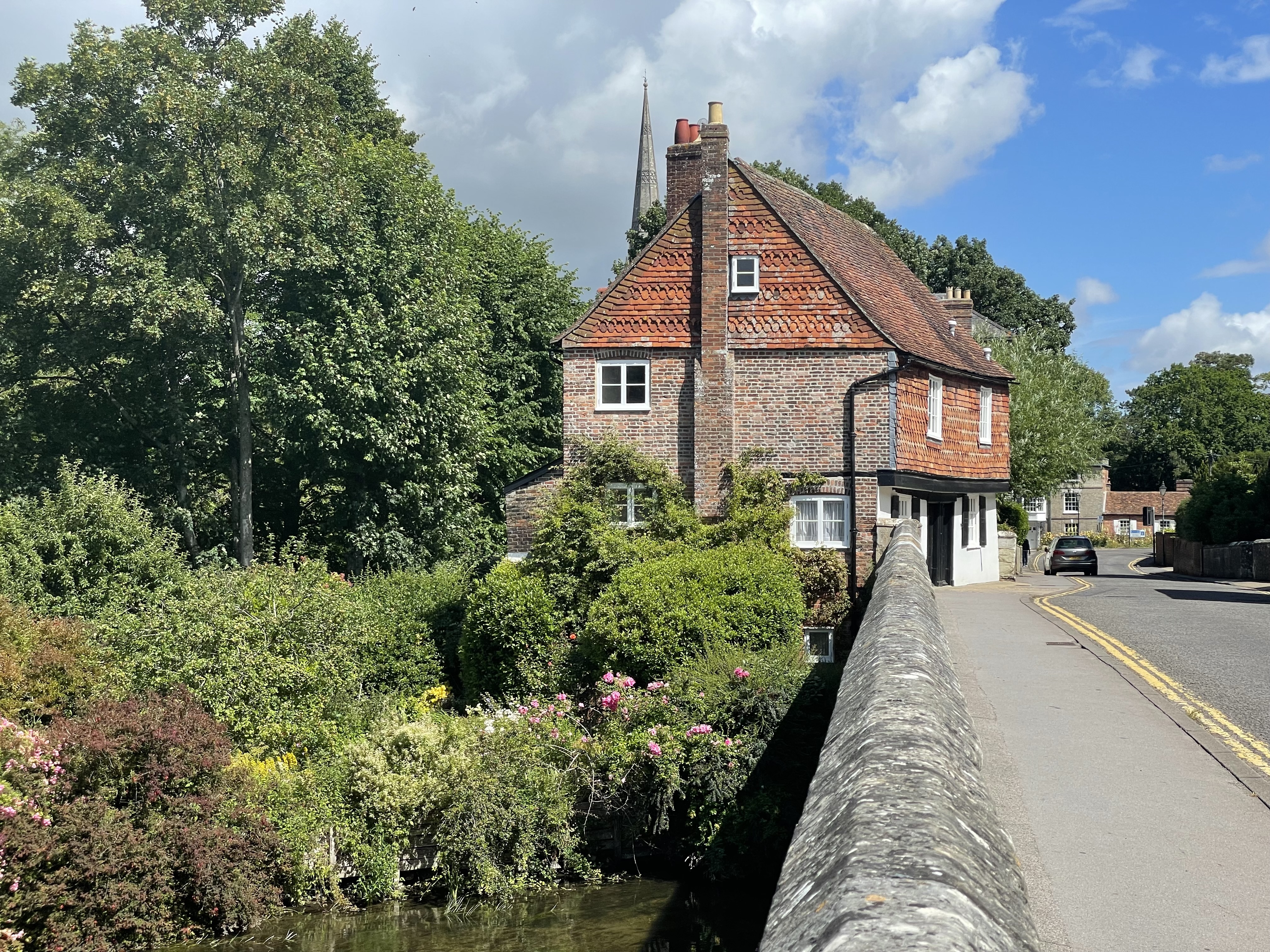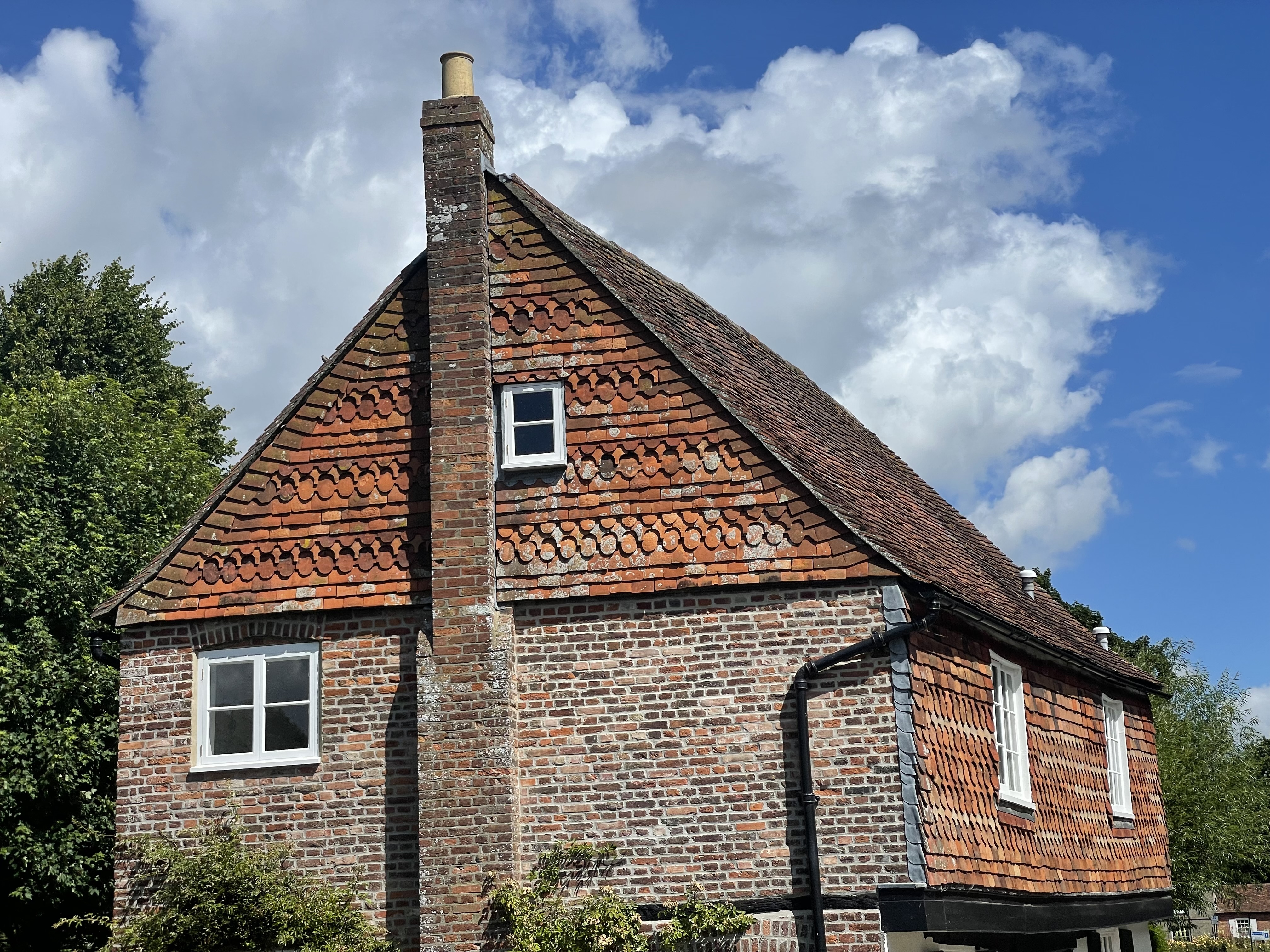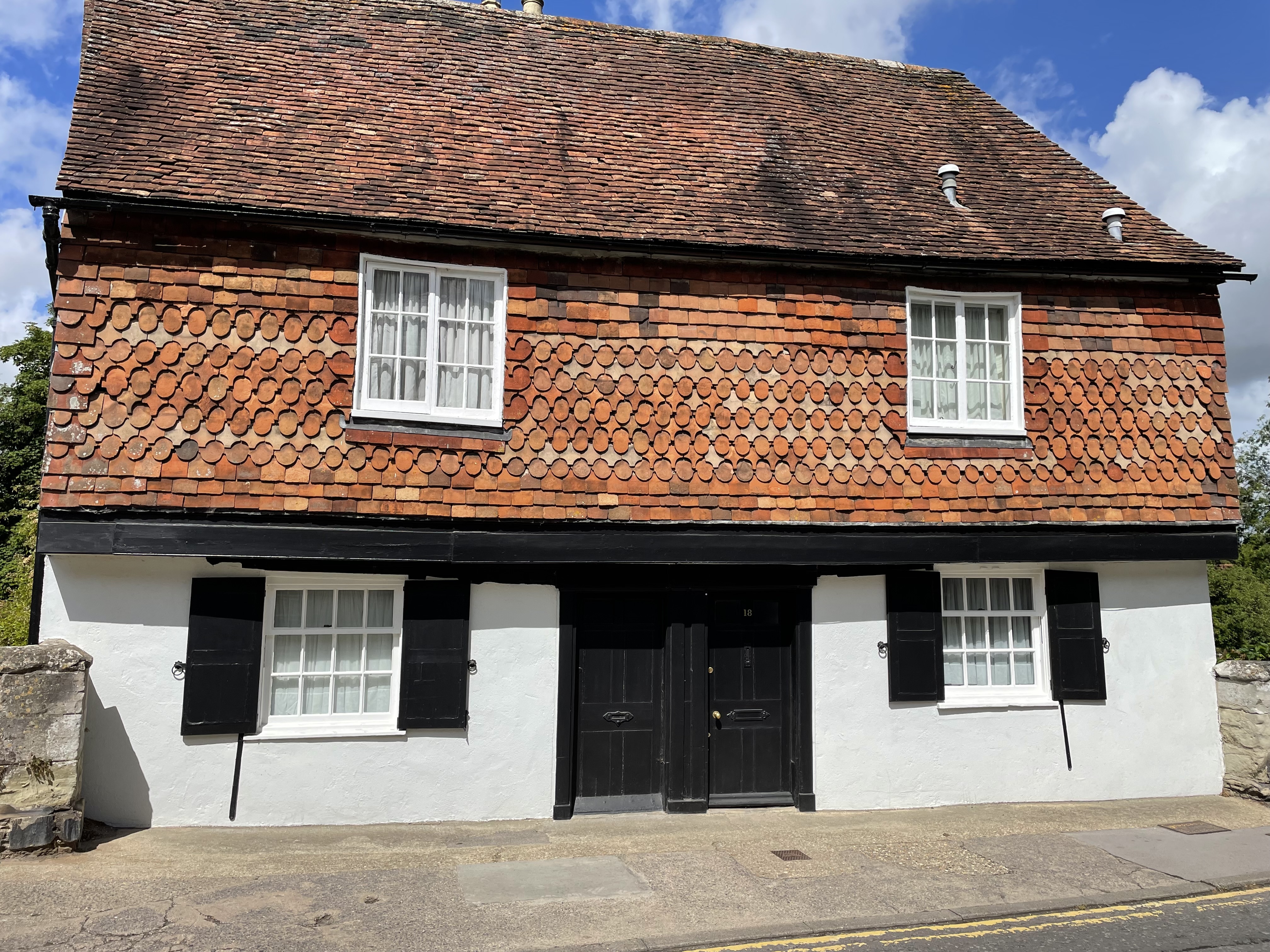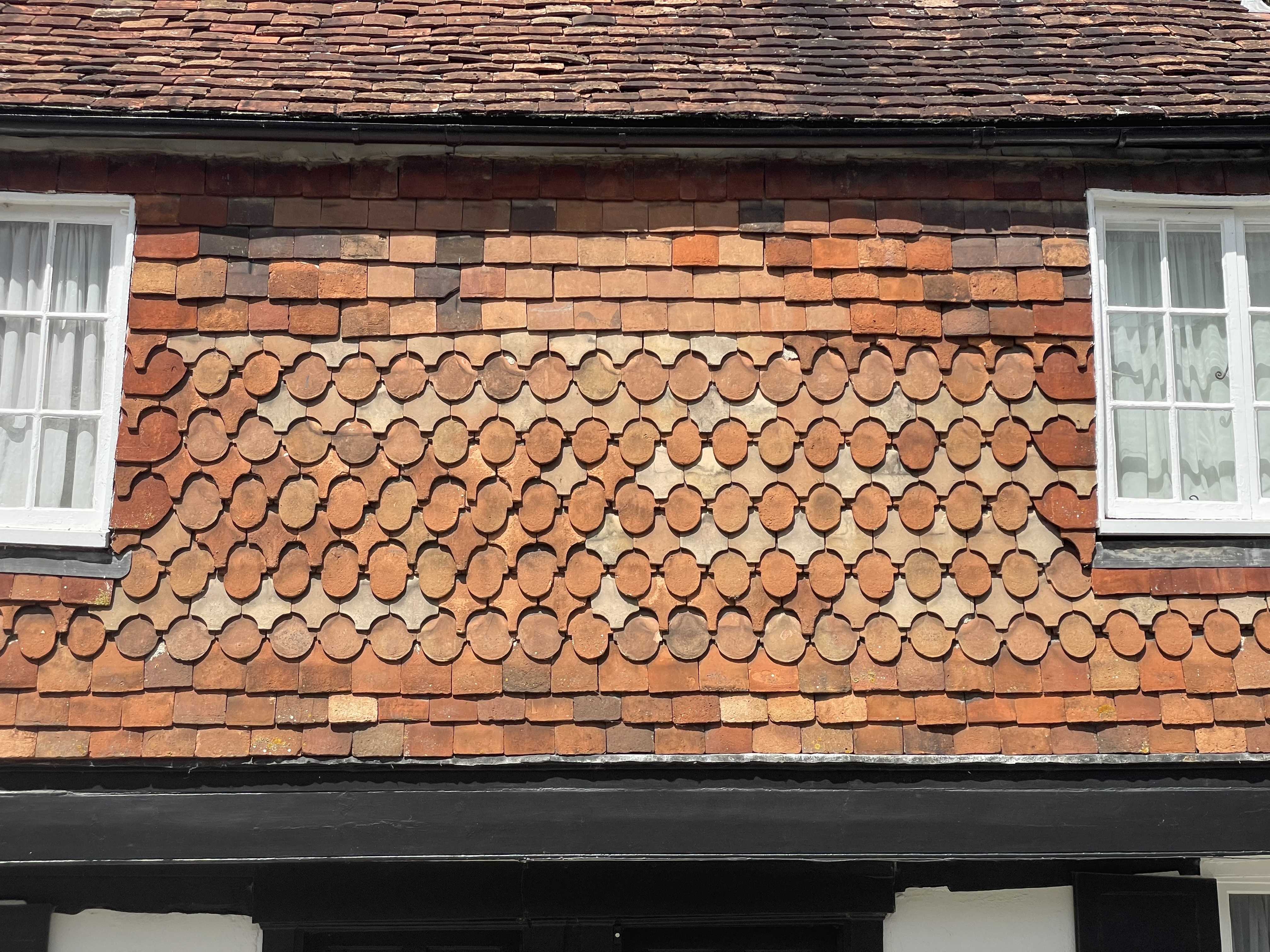 ⚡️Discover More ⚡️
Vertical Tile Hanging - a history
RW Brunskill, Illustrated Handbook of Vernacular Architecture
Alec Clifton-Taylor, The Pattern Of English Building, pp279-281, Batsford, London, 1962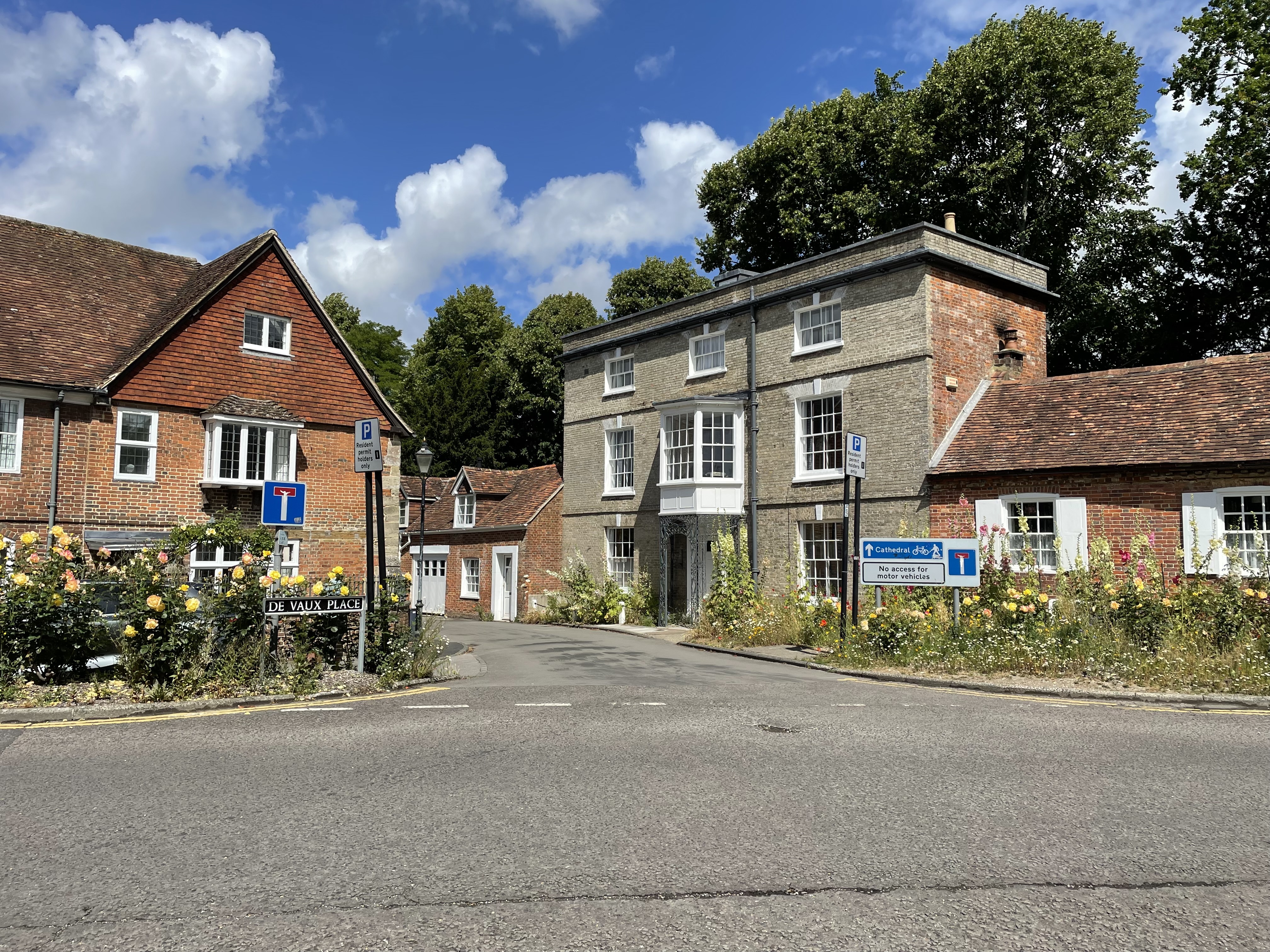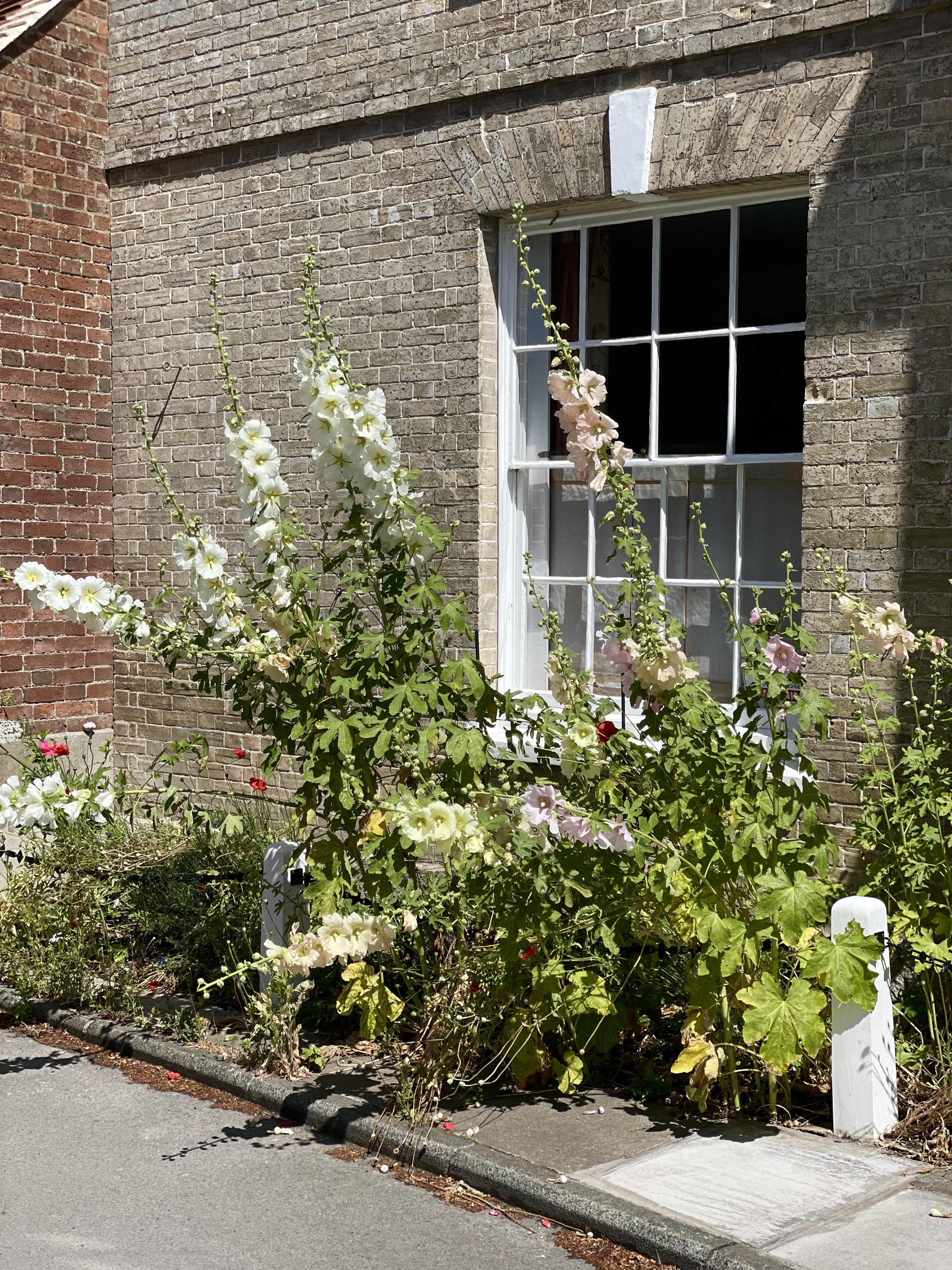 Love the central angular bay over the door on this house of around 1800.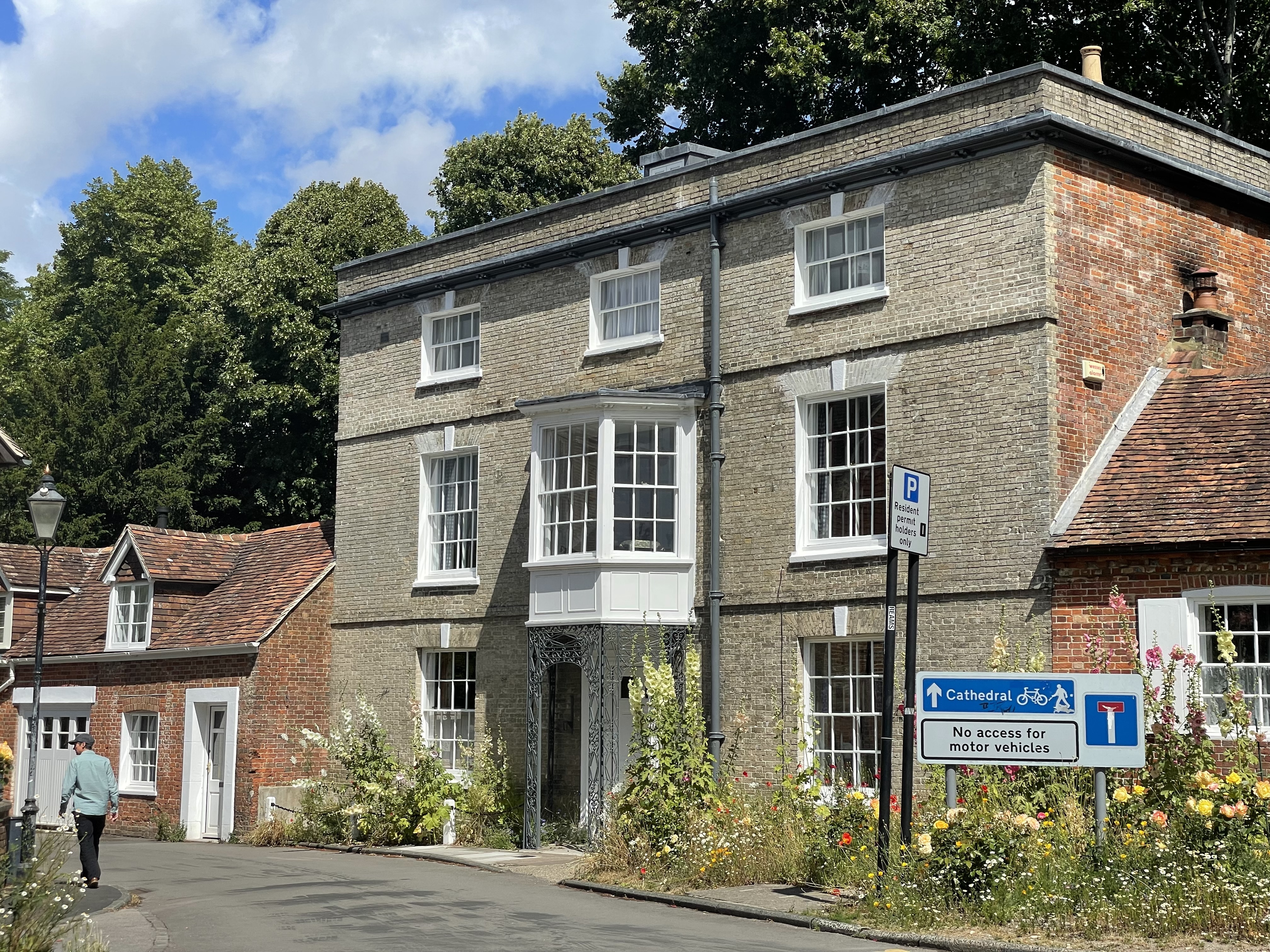 Opposite the above is De Vaux House which is of medieval origin. Delightful garden and Gothic doors. The door below is C19th. De Vaux house is standing archaeology.
Originally part of a medieval theological college, the Gothic door on the left has to be one of the oldest domestic doors in the country of the C15th. The angel carving beneath the eaves is C14th or C15th. Note the fire mark with sun motif - an insurance plaque in case of fire.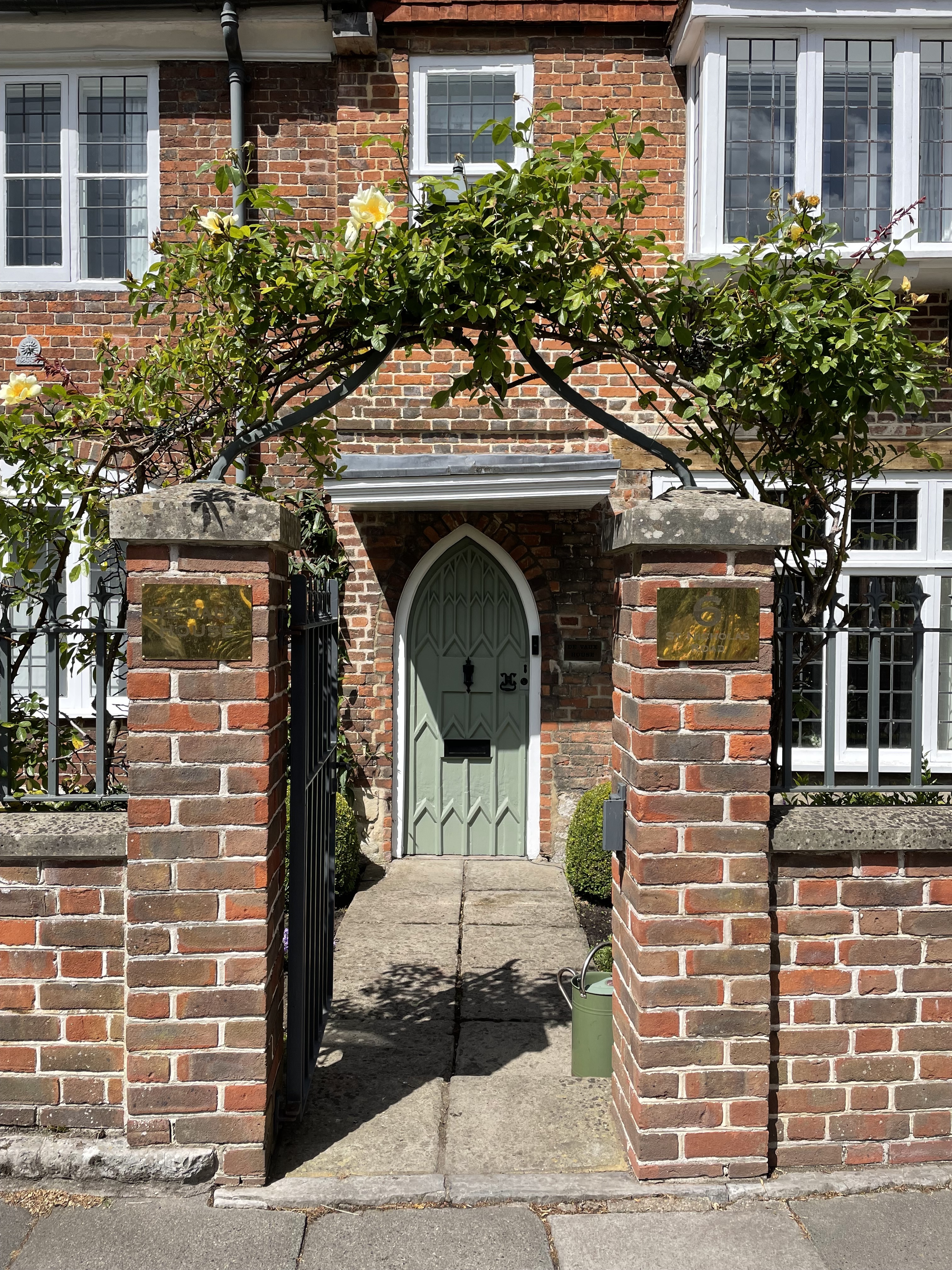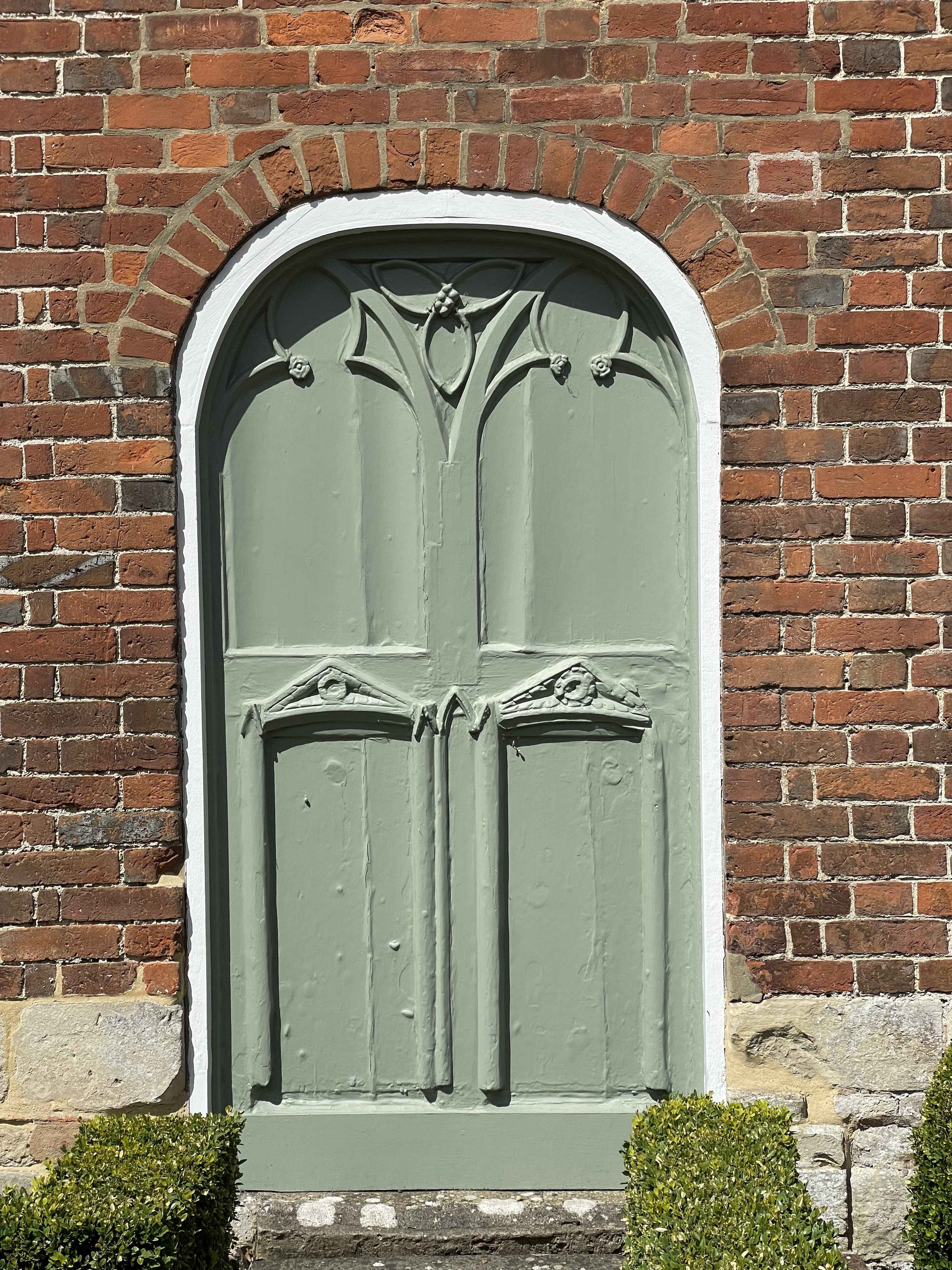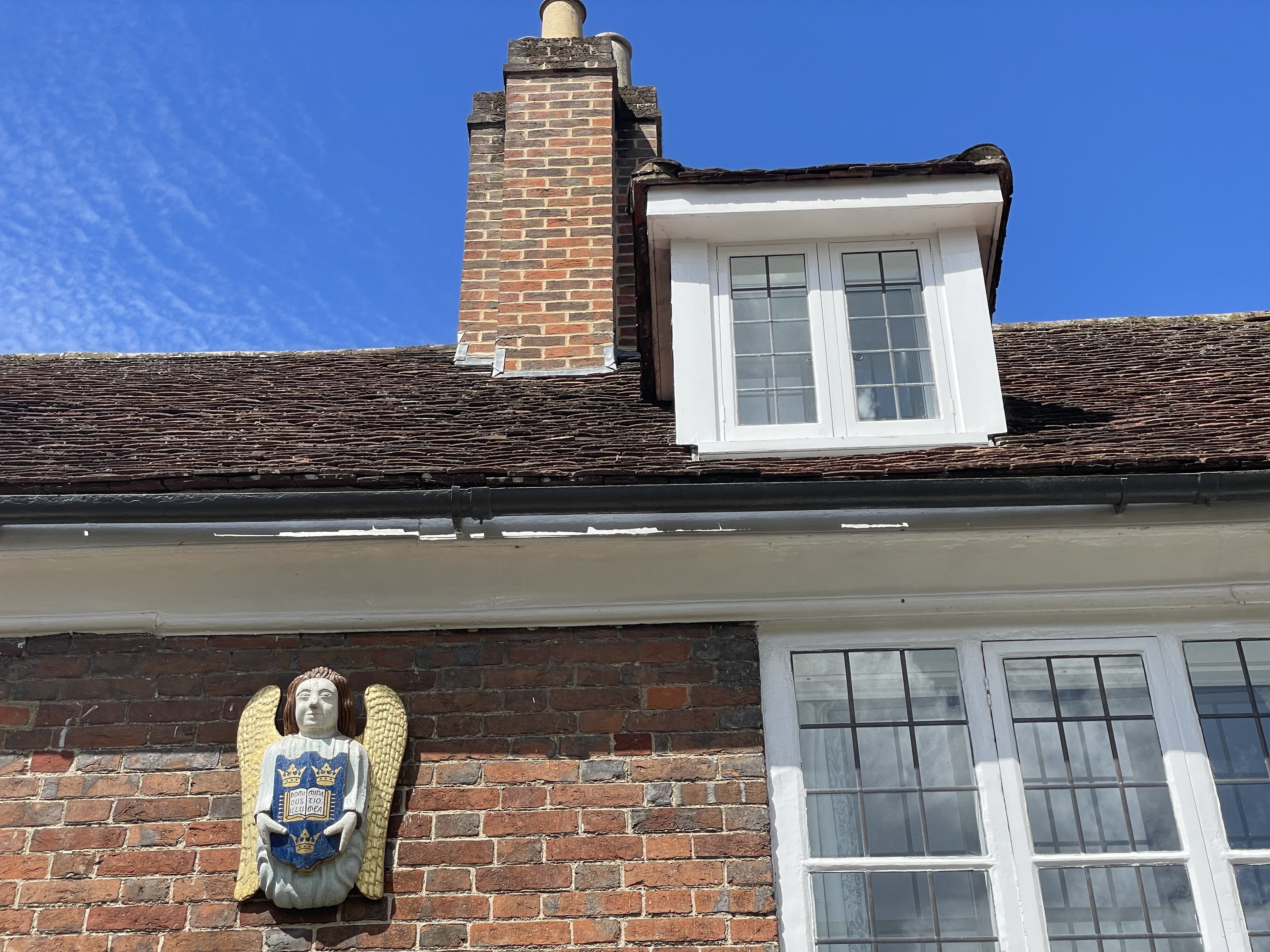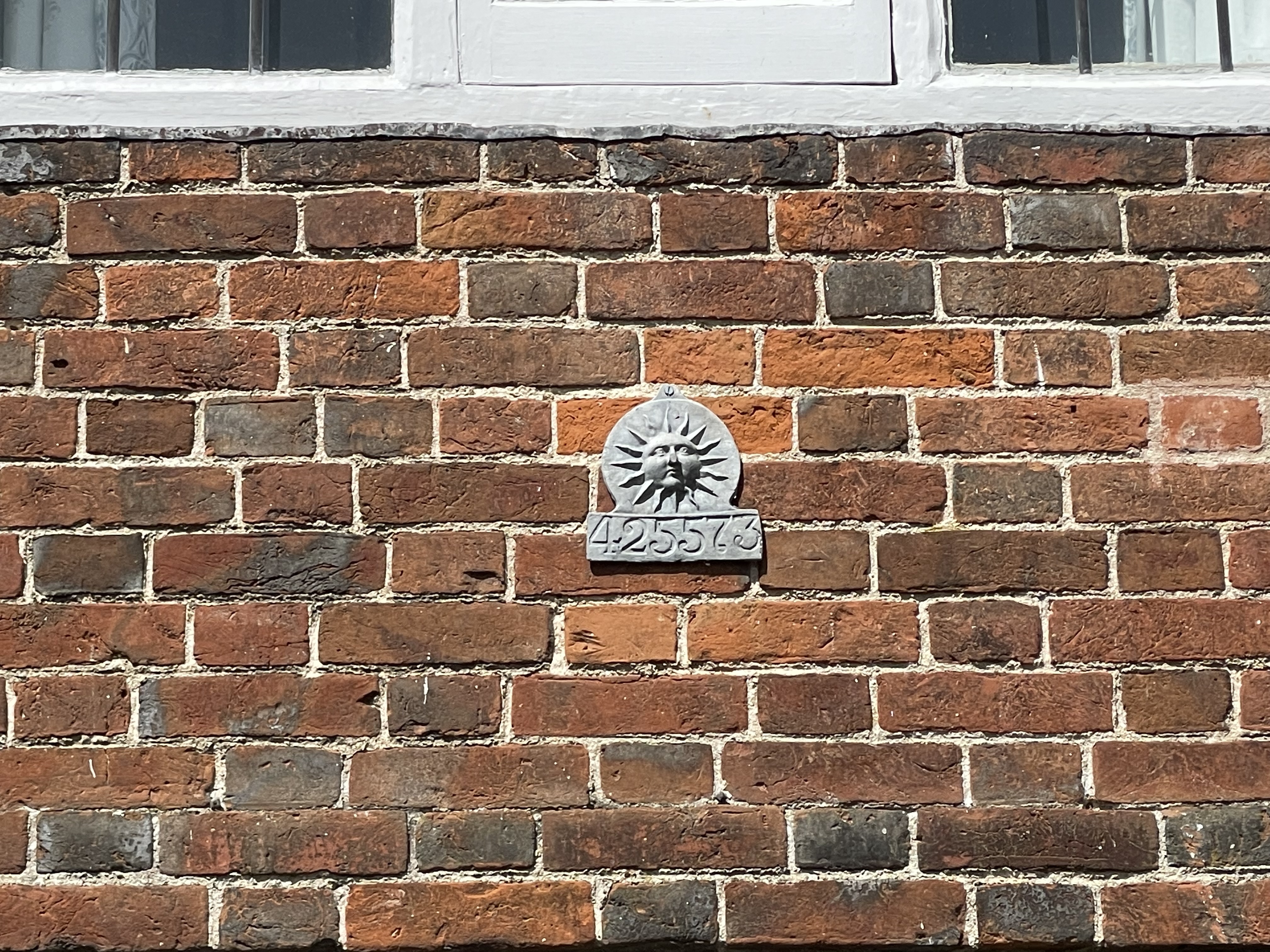 If I could bottle a lane and take it home with me, it would be De Vaux, Lane in the summer. Enclosed by a plethora of historic buildings and walls and a marvellous mixture of local materials.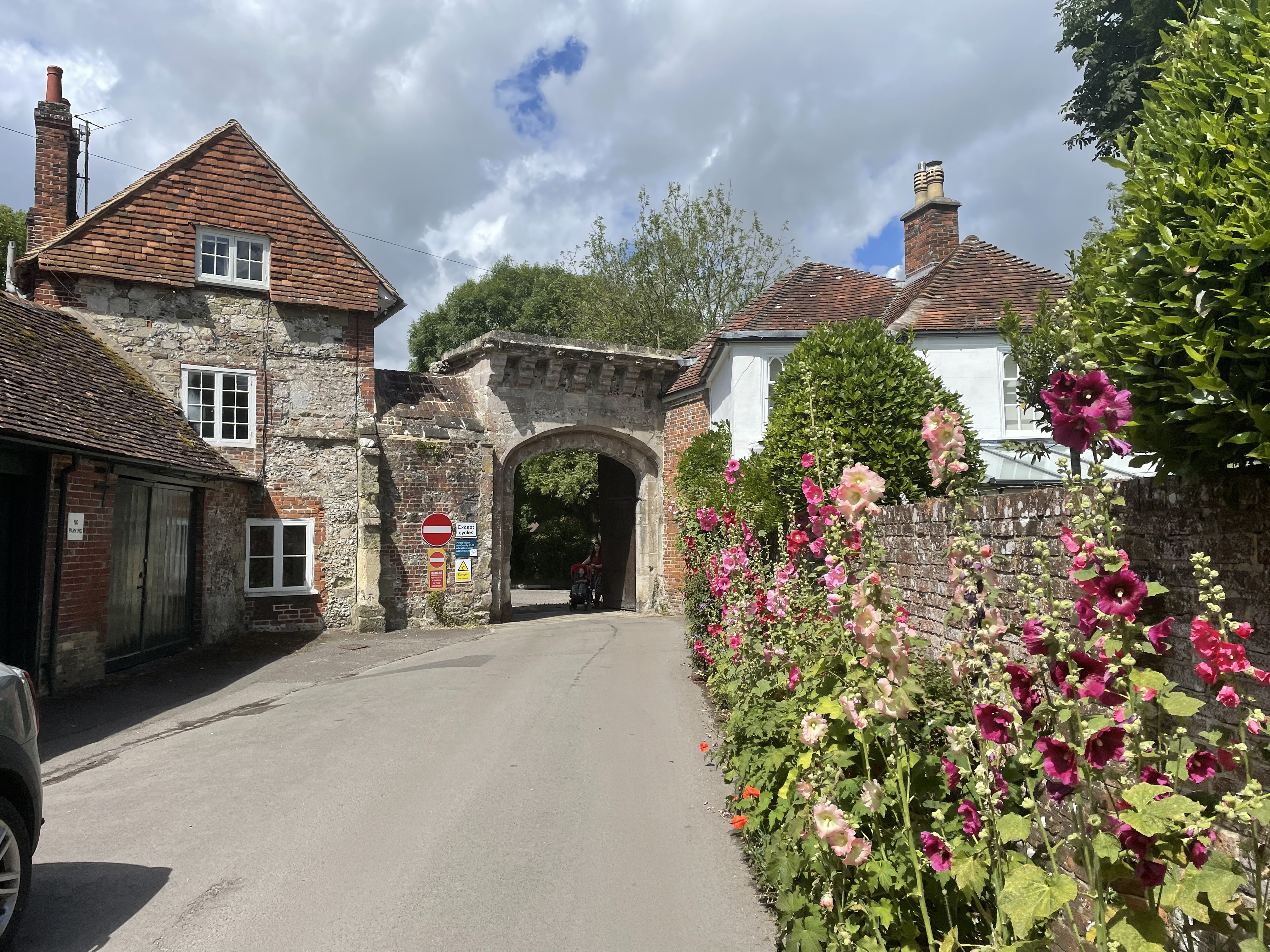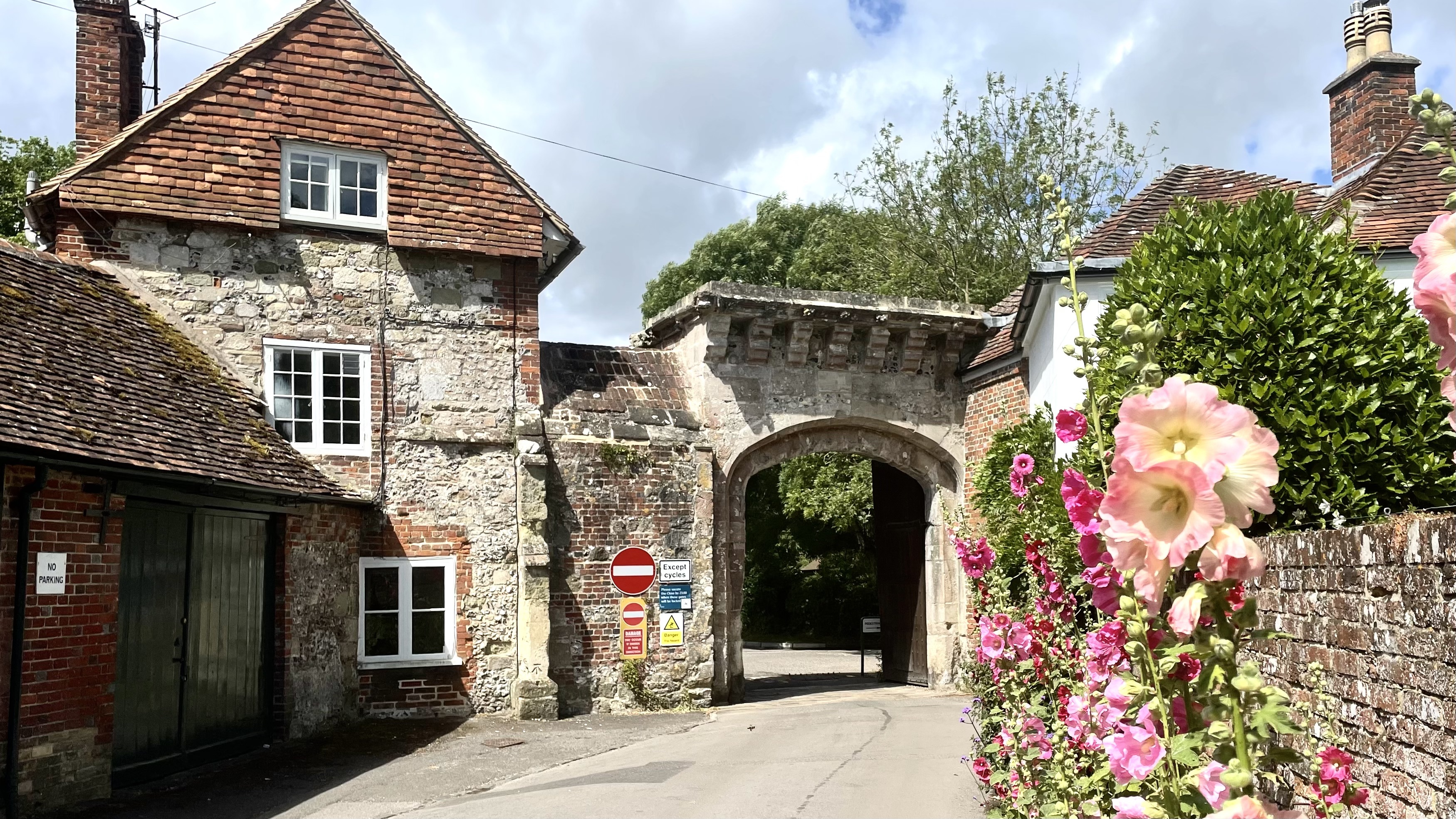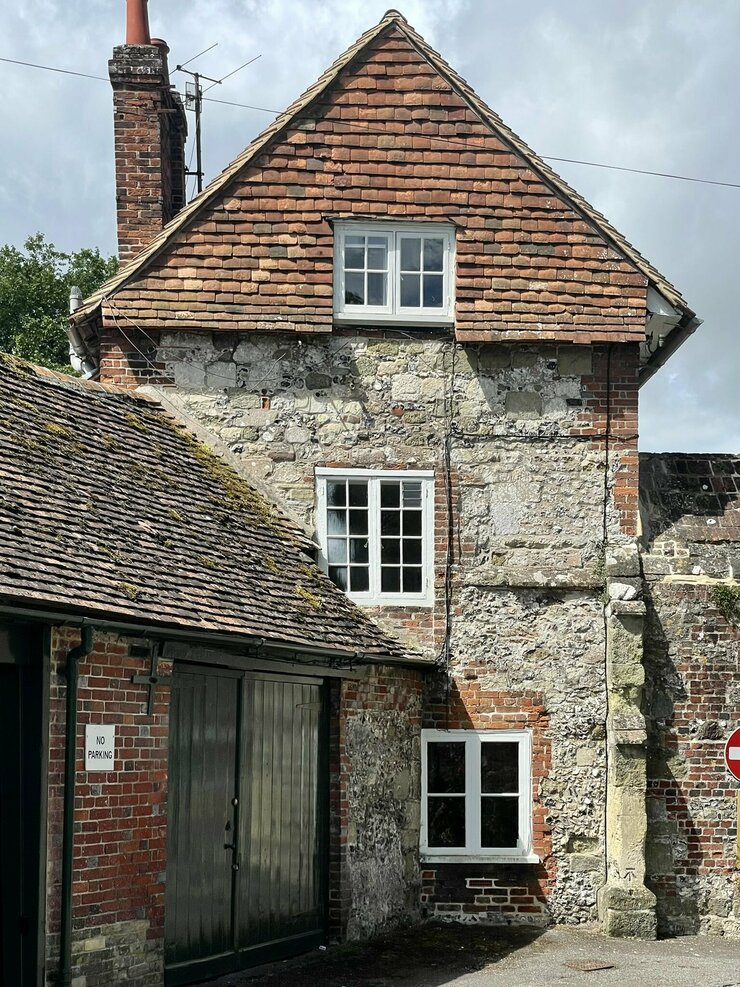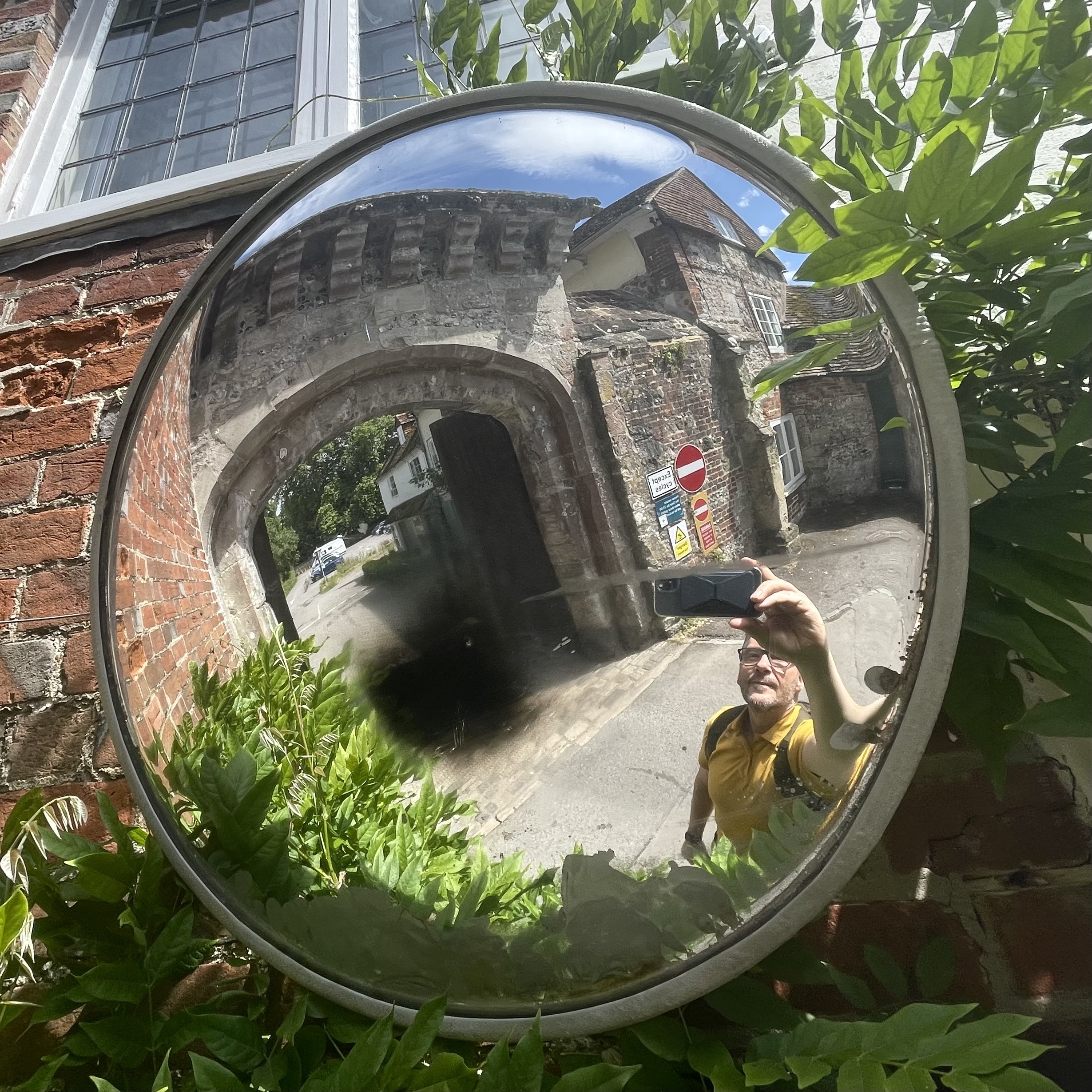 Often missed by tourists - just beyond De Vaux Place on the right is the mason's yard. Dare to take a peep and see if you can spot a grotesque being gouged with a chisel.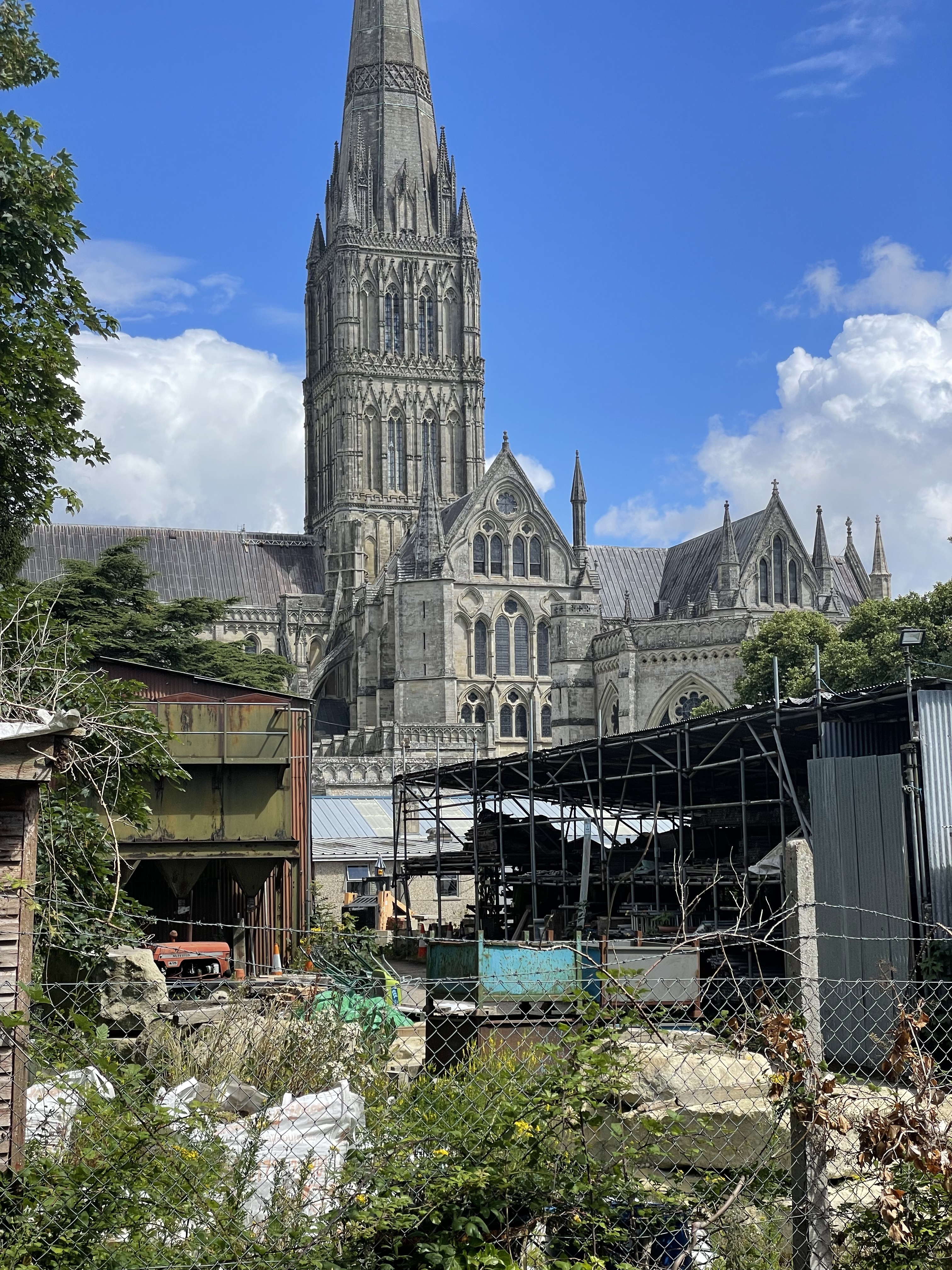 Copings, quoins and pilasters - architectural  bits and bobs in the mason's yard.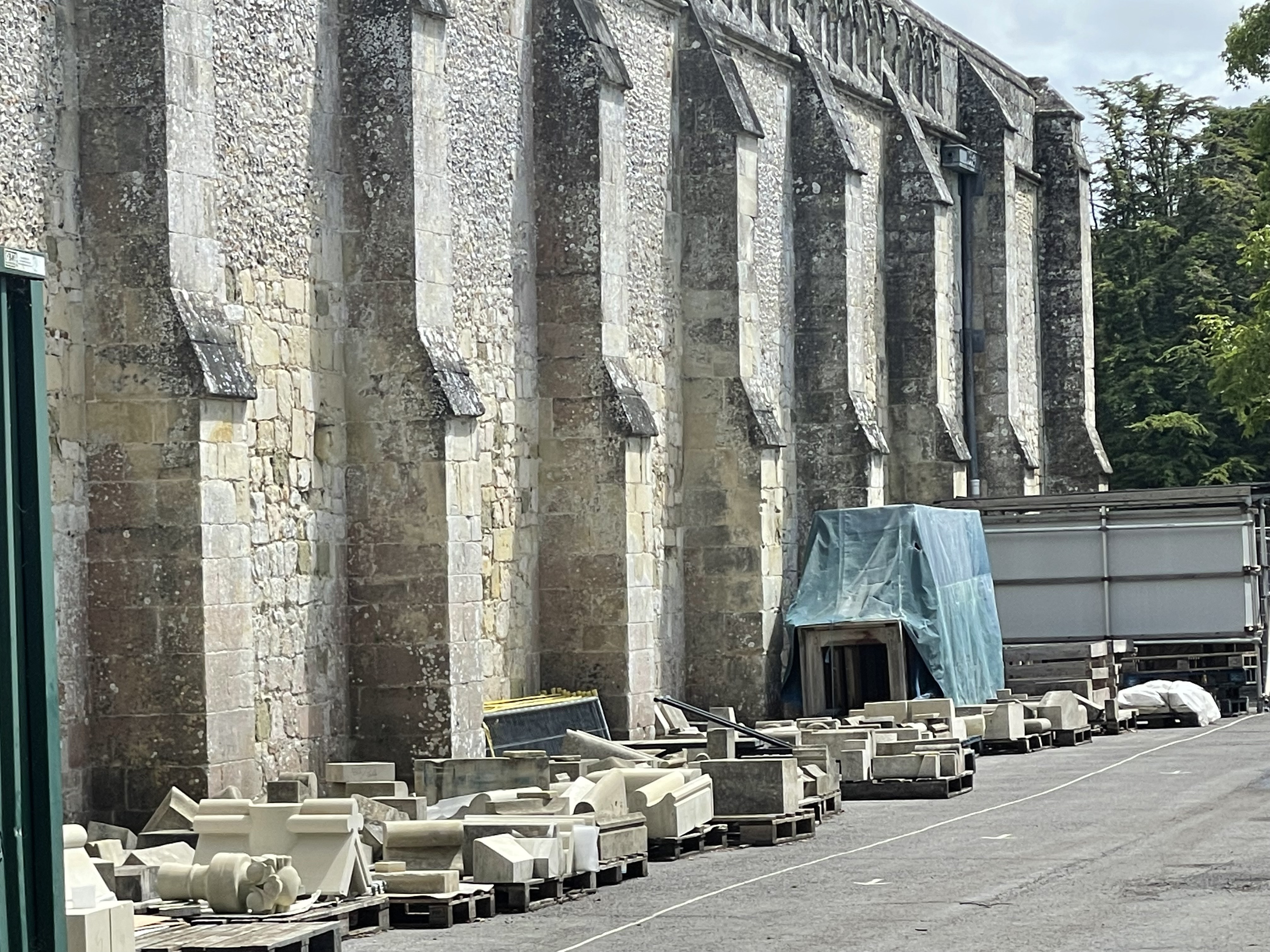 At this juncture, most people (after taking a photograph of the William Pye font inside the cathedral and posting it out on social media) toddle off back into Salisbury proper for a pie. I'm tempted, but I go for the walks.
The 'Walks' (West Walk, North Walk, Bishop's Walk and ahem.. Chorister's Square) have to hold some of the finest polite and vernacular architecture in the country - a heady mix of architectural styles, of pomp and circumstance contrasted against humble attribution. Here I take in West Walk and Chorister's Square.
West Walk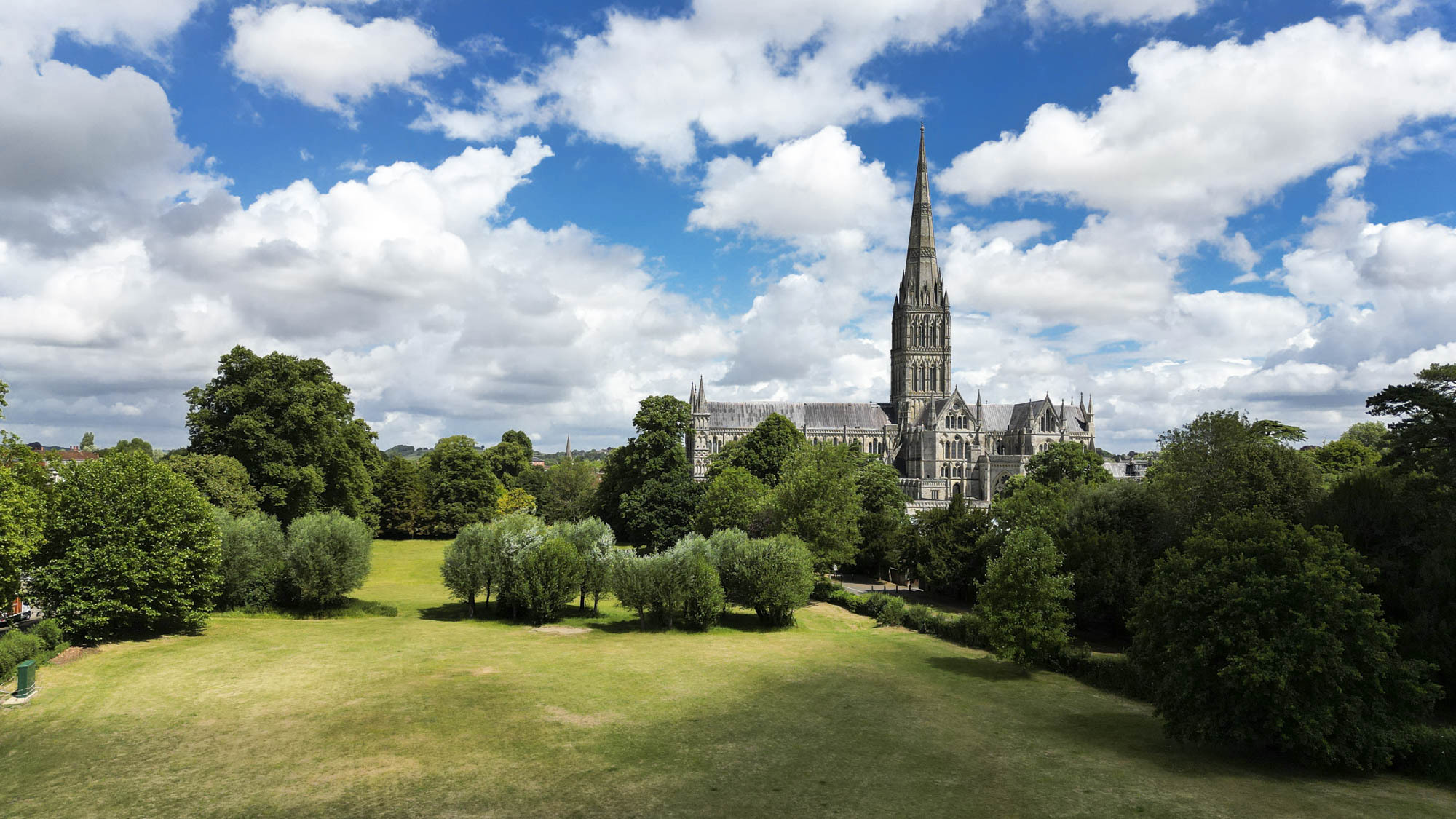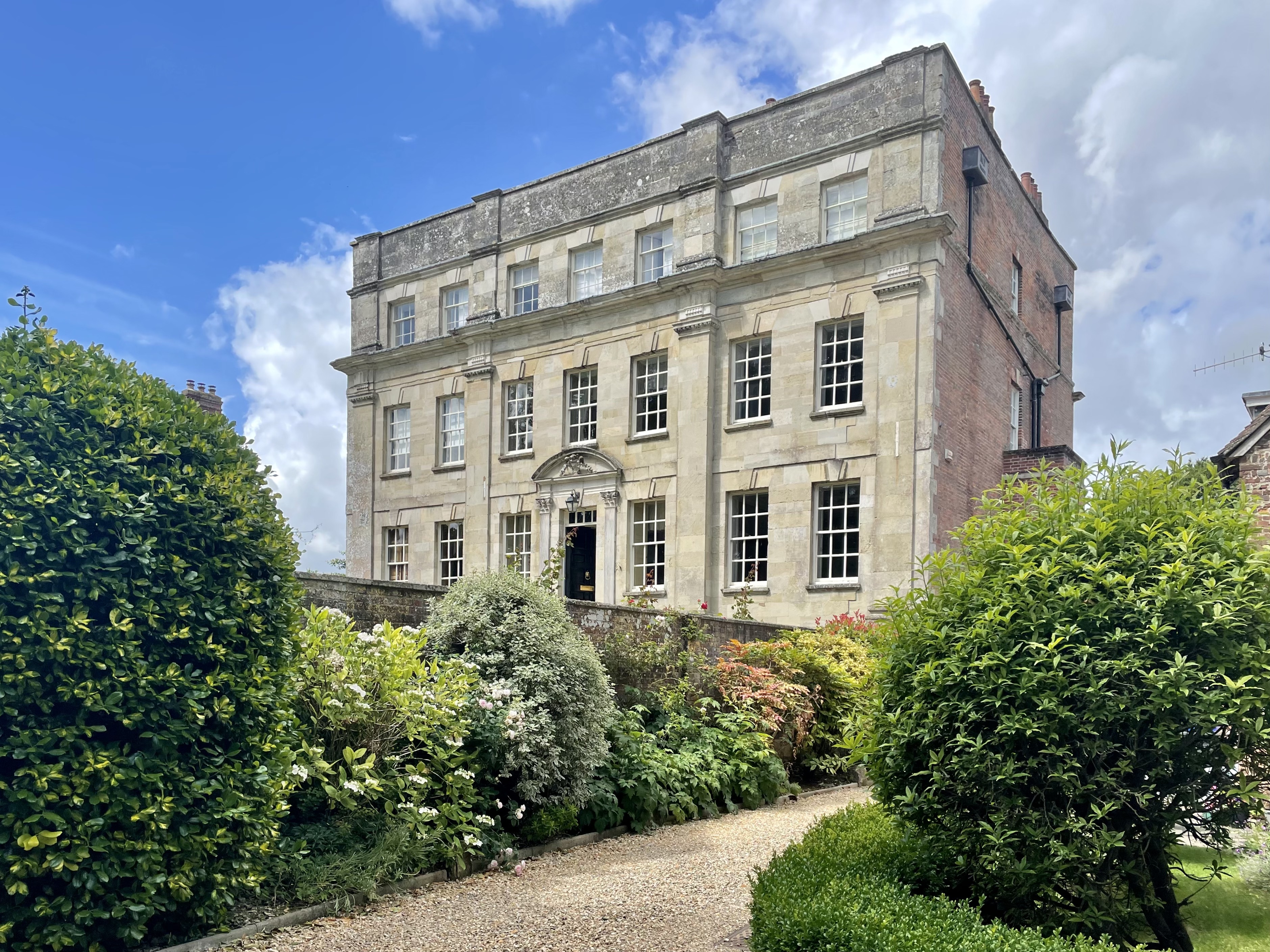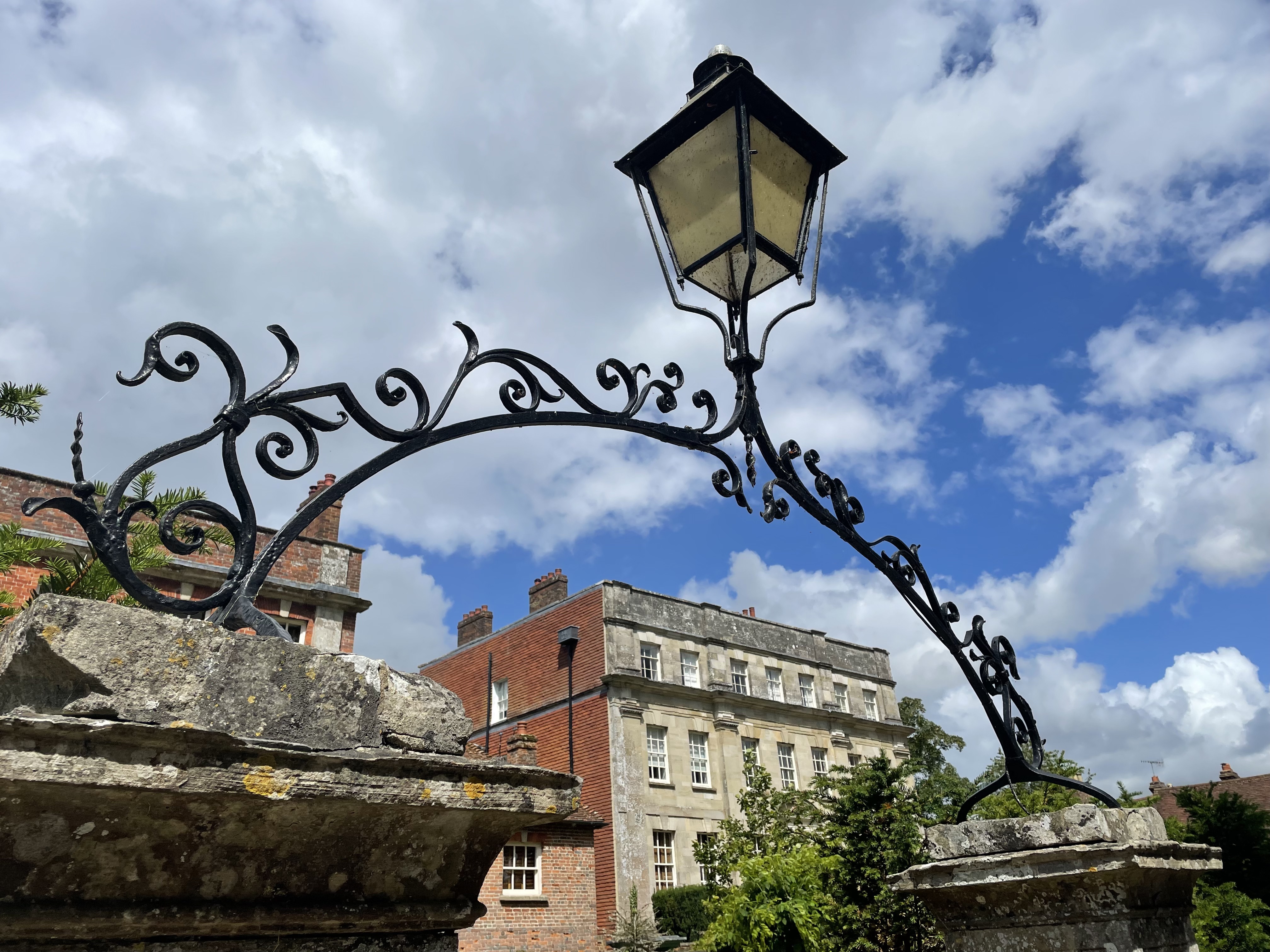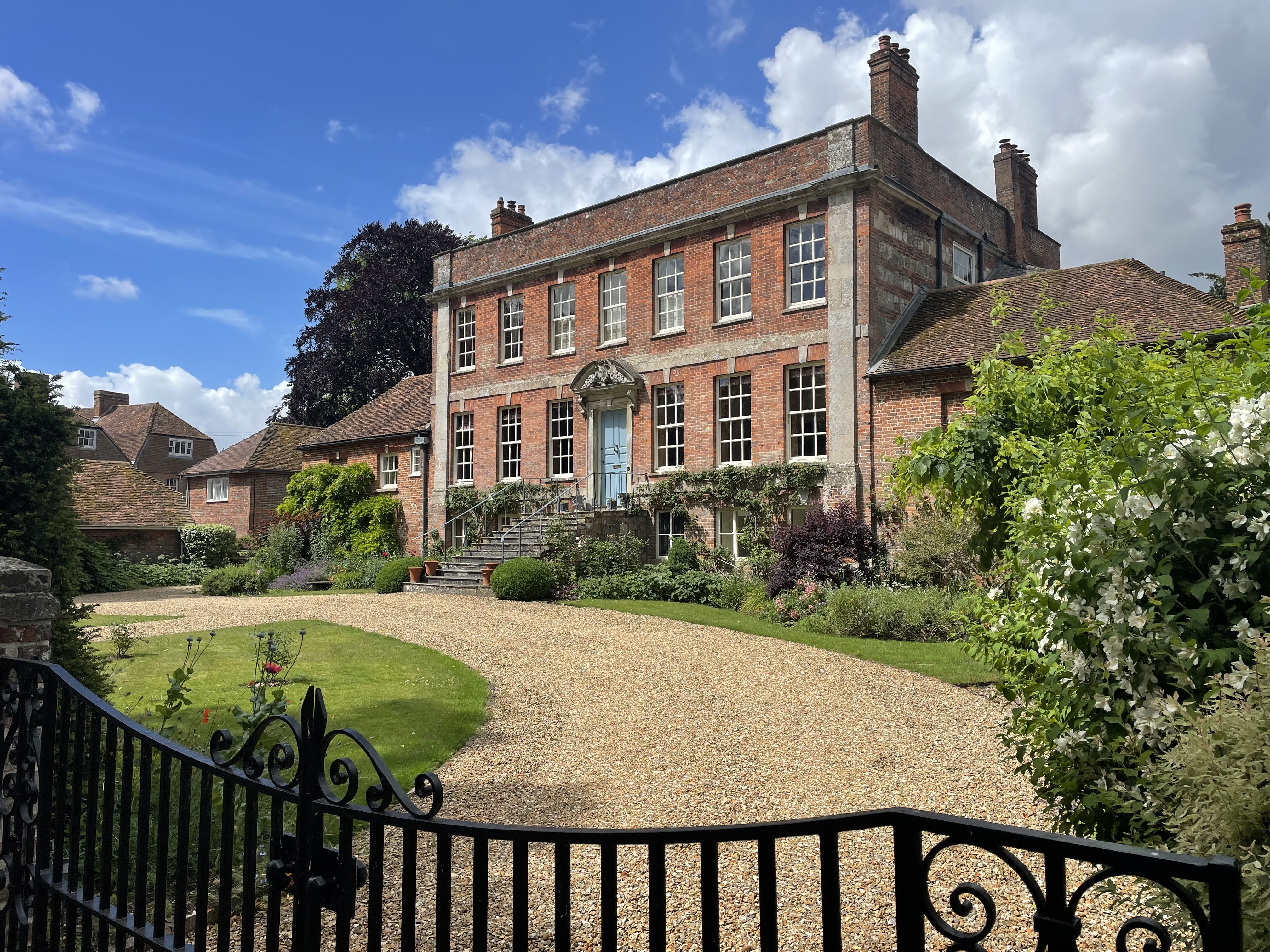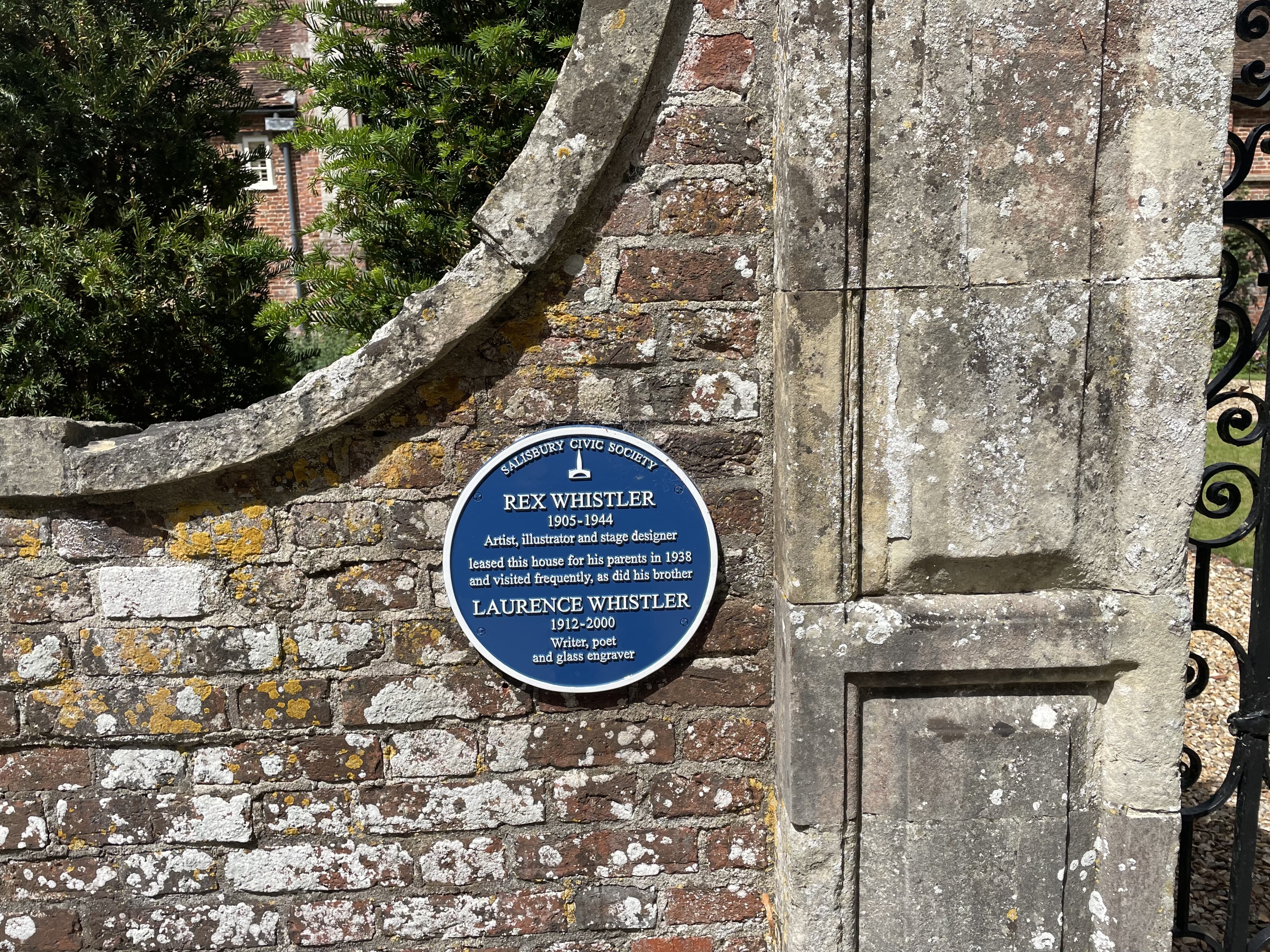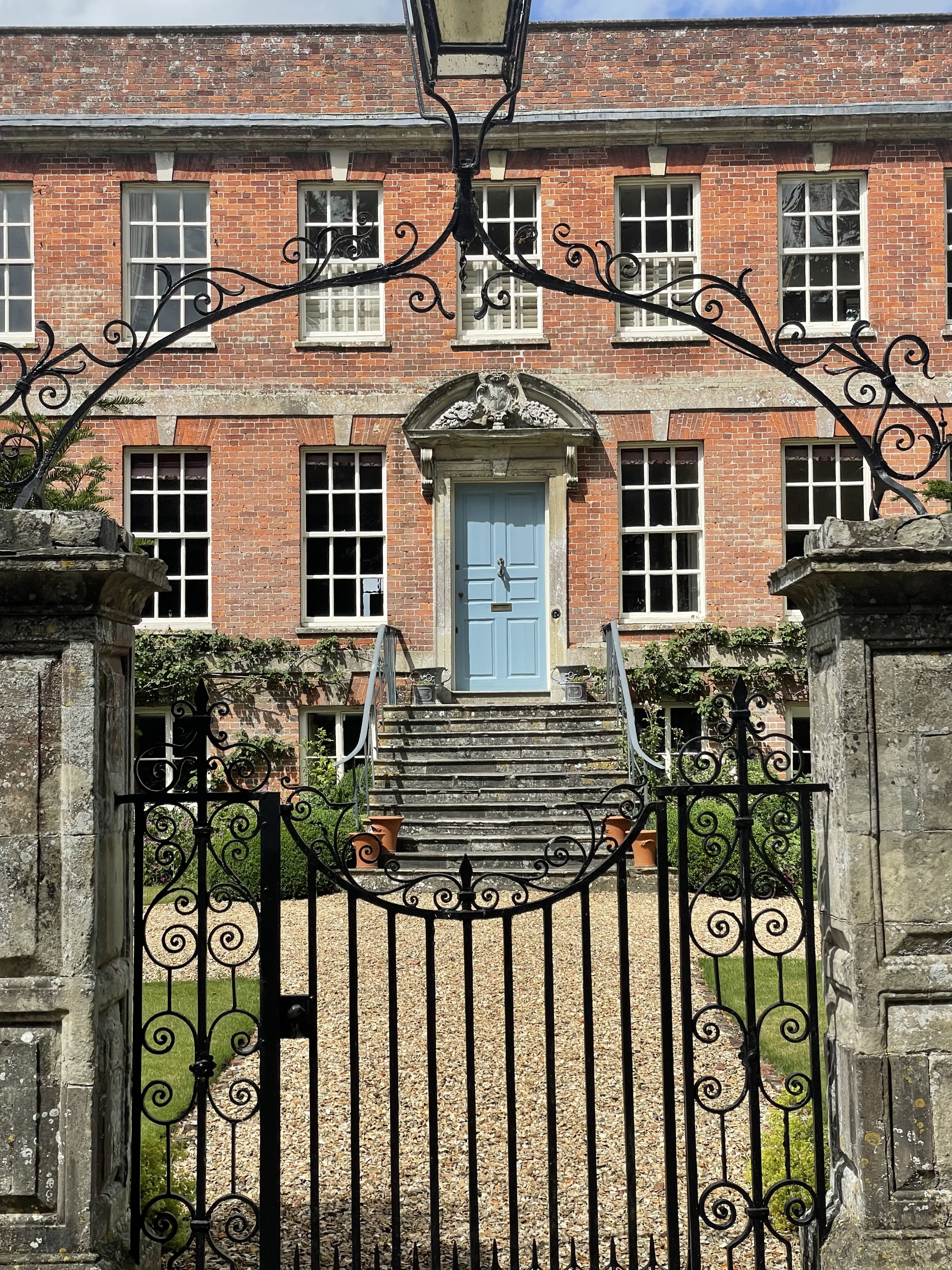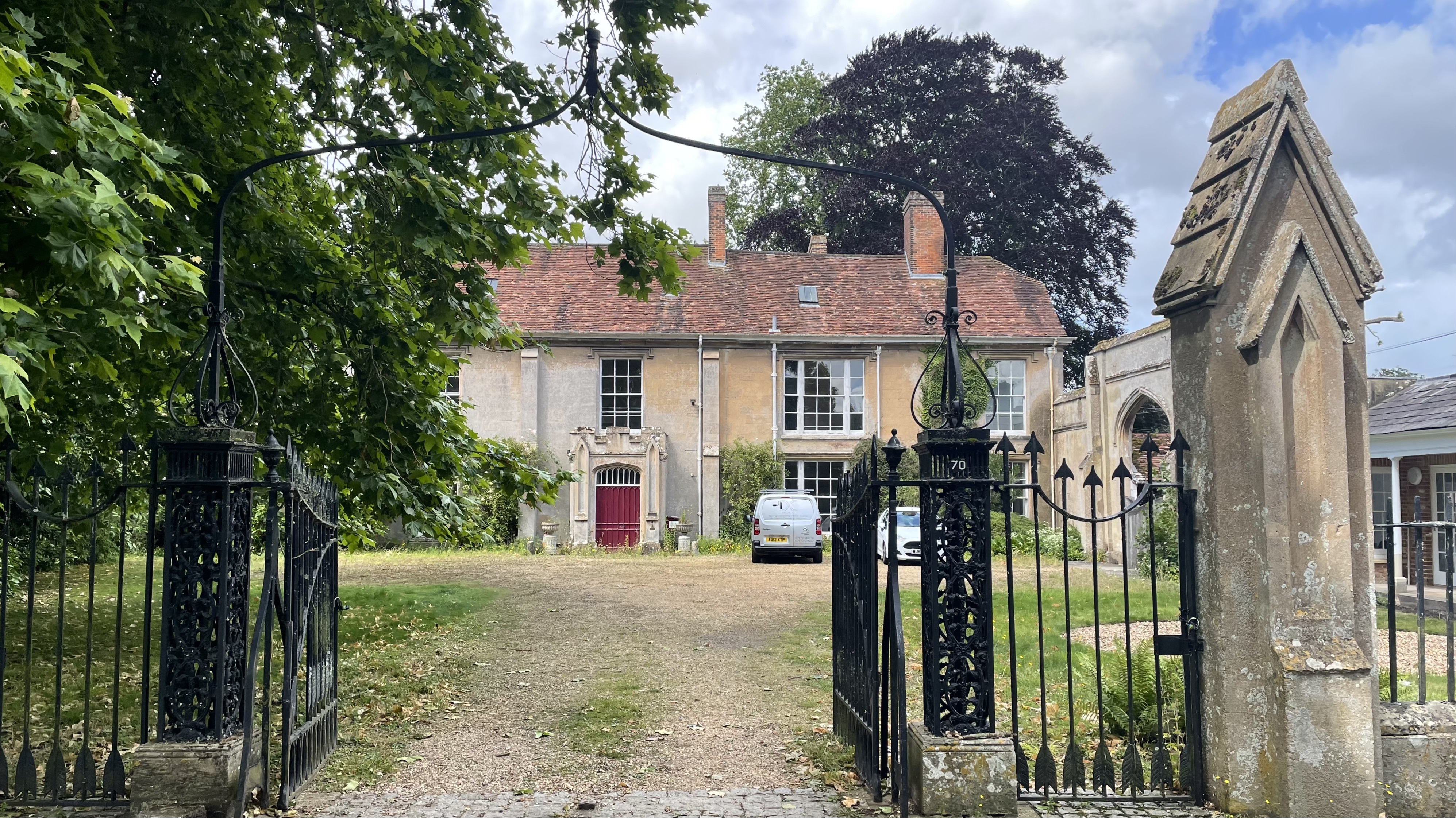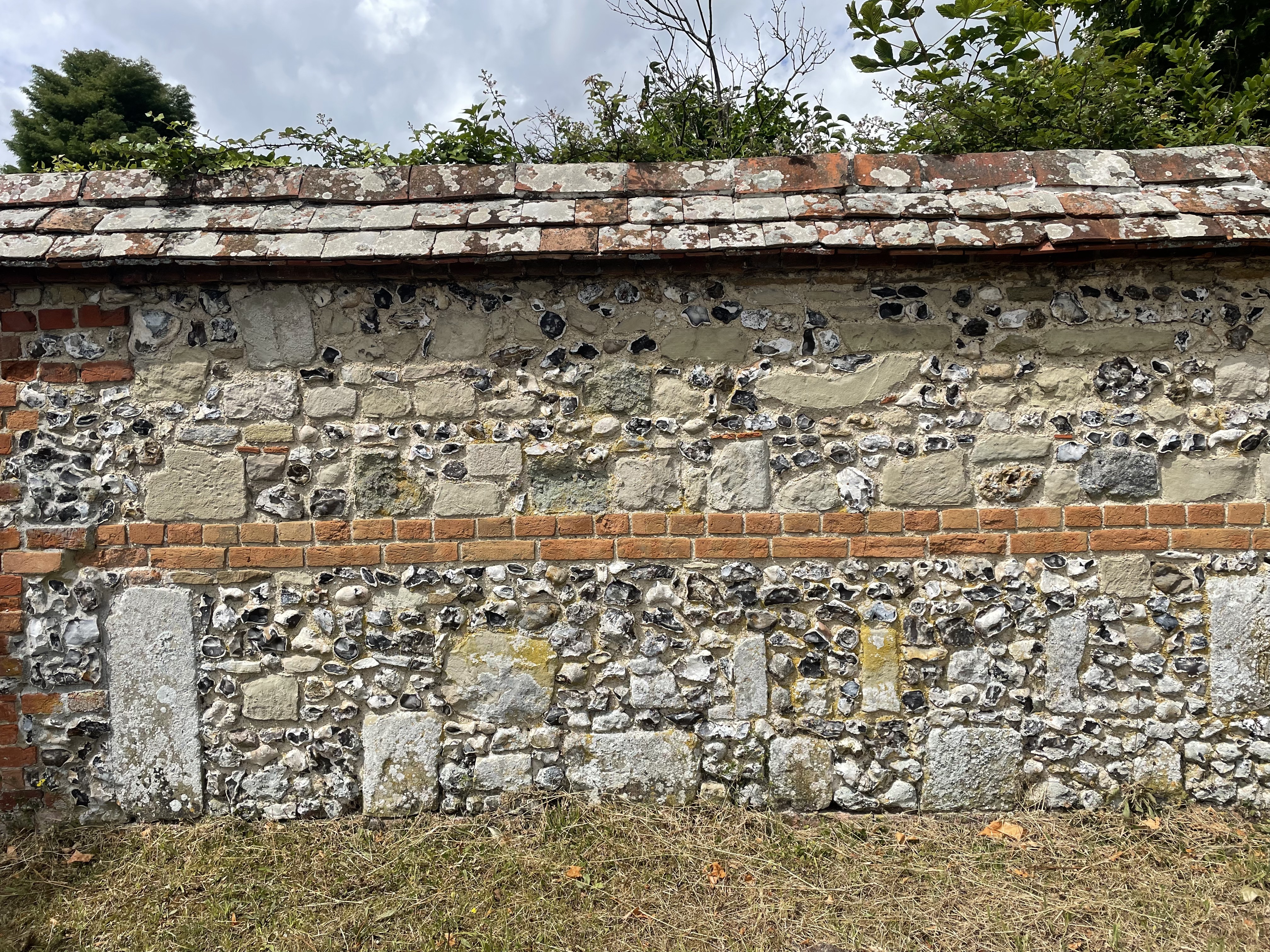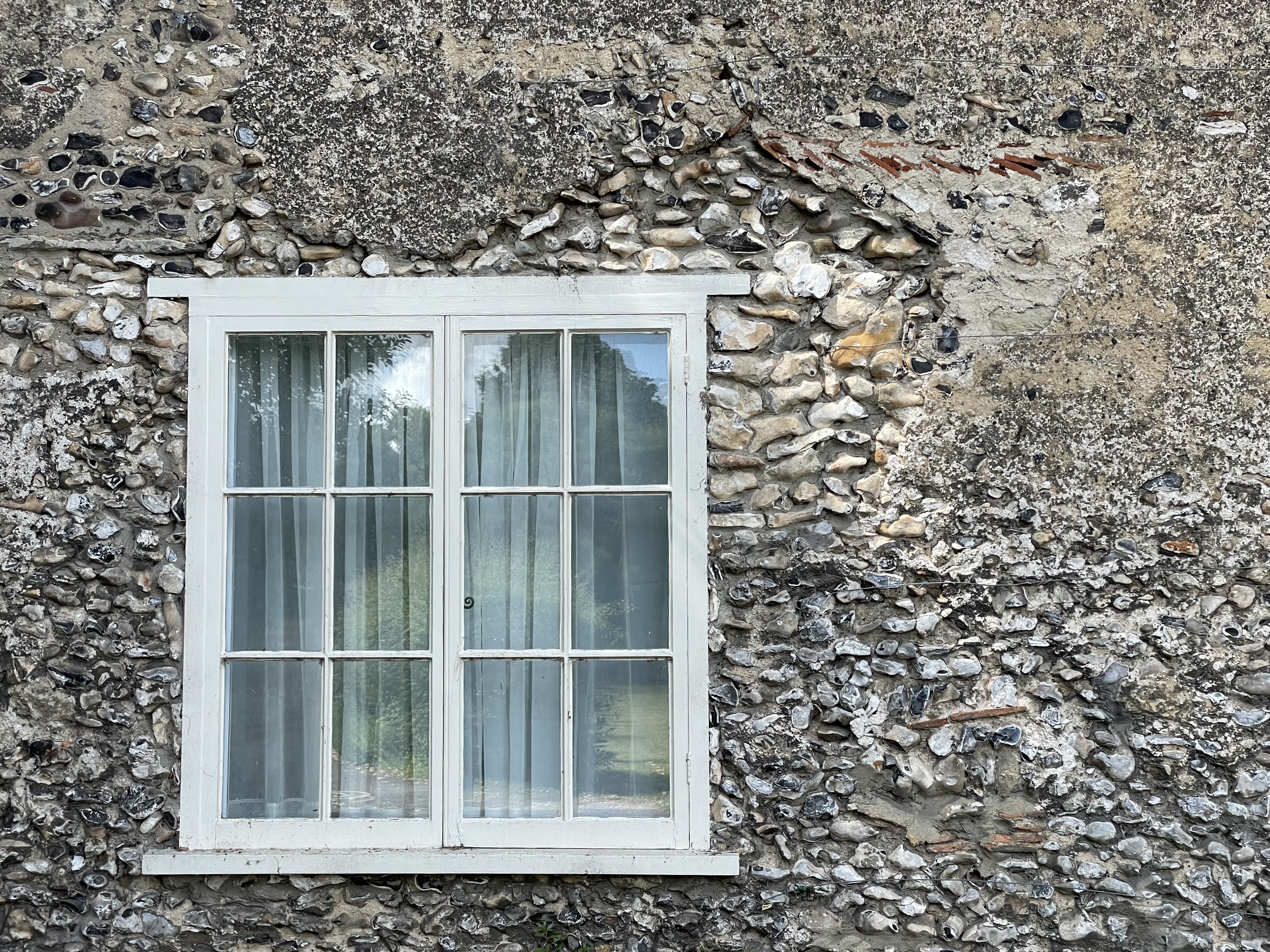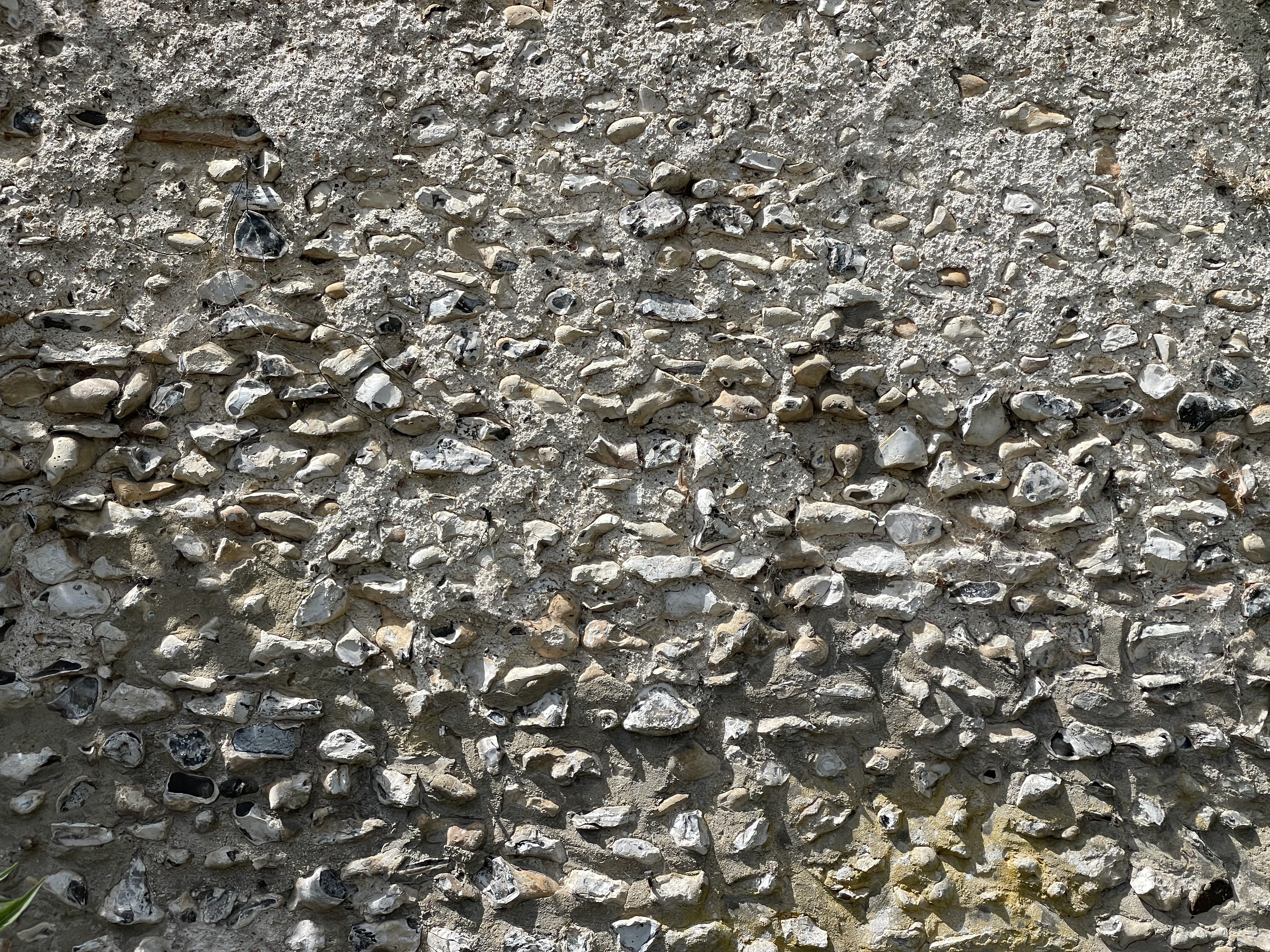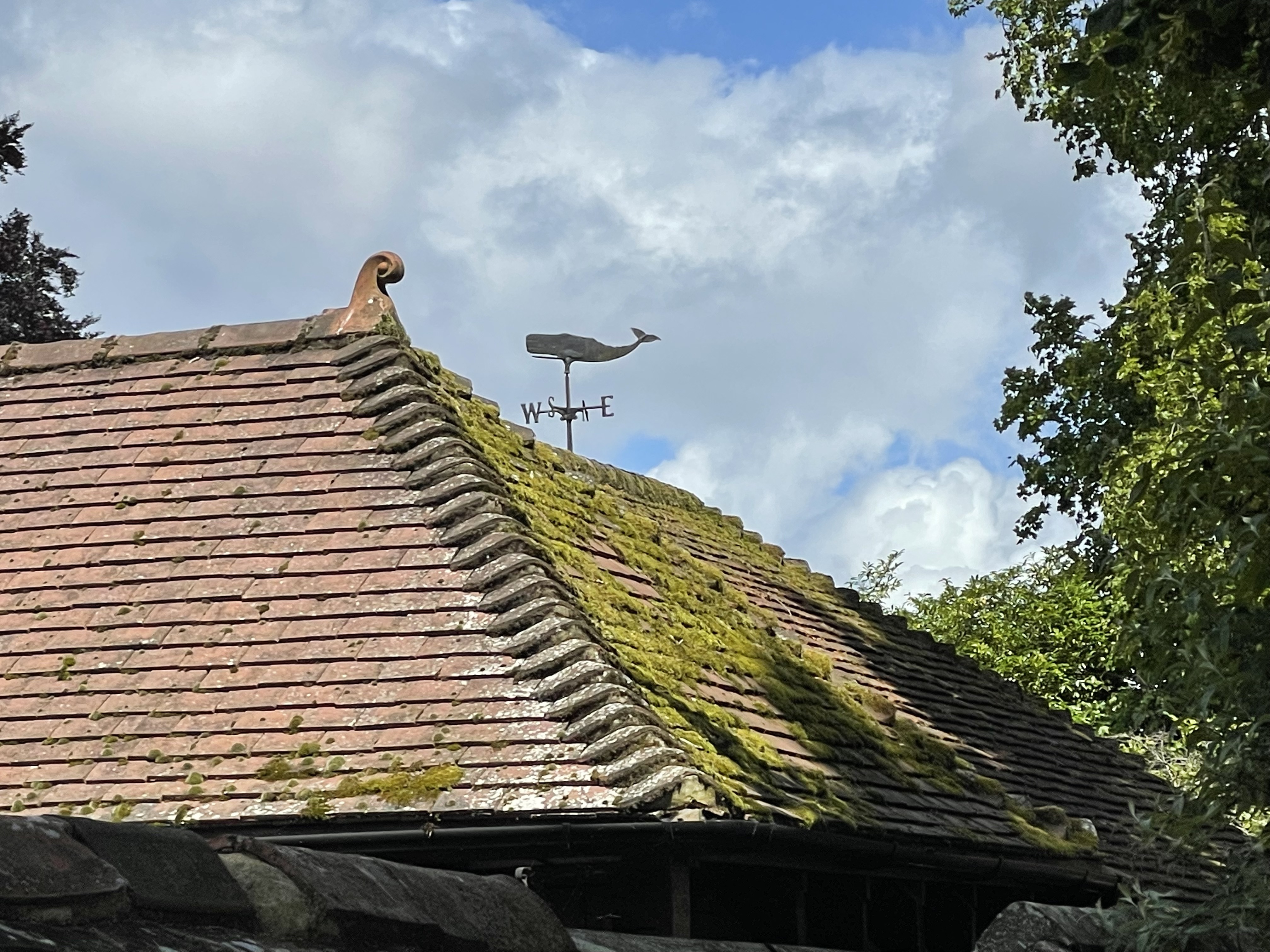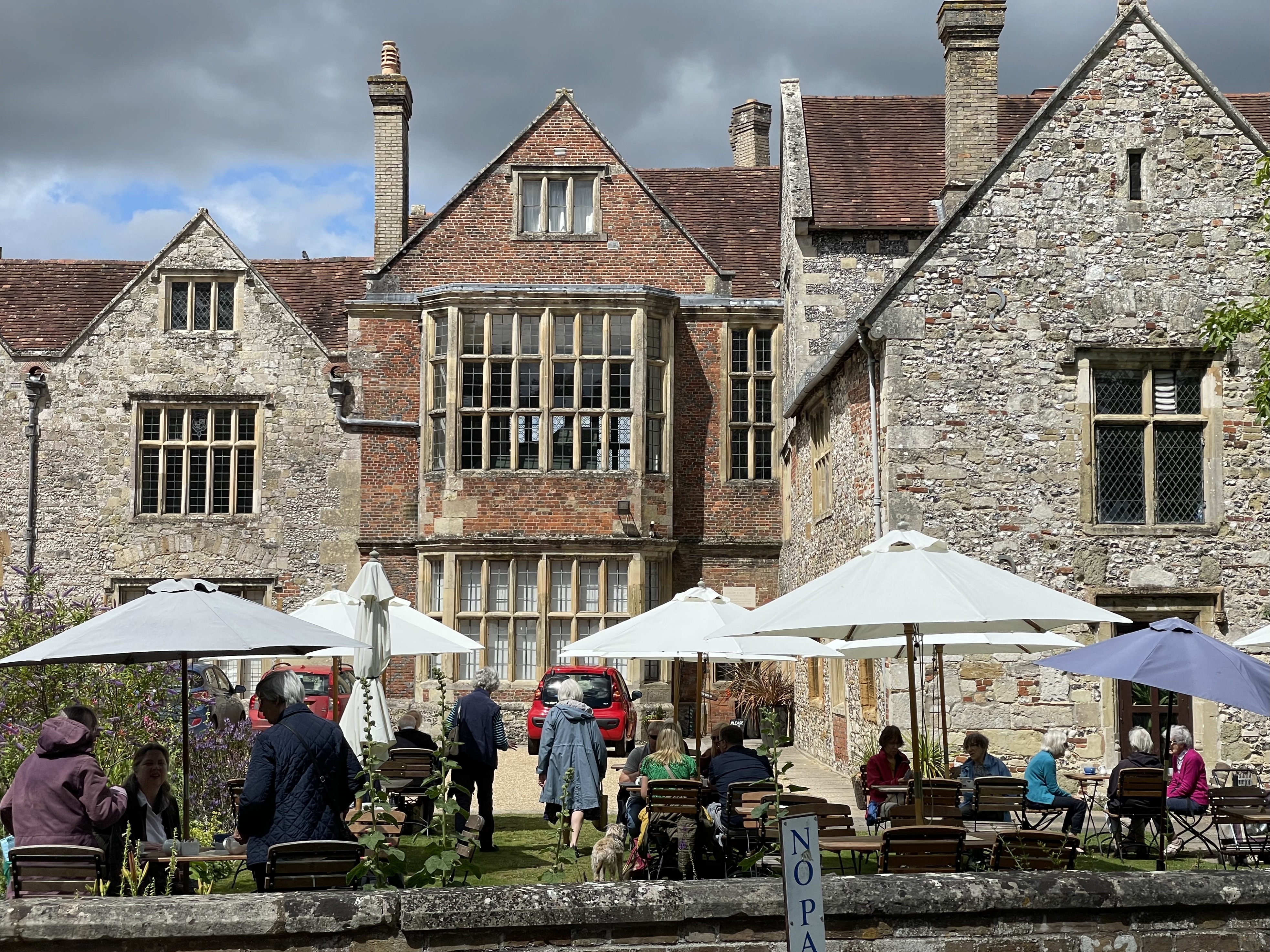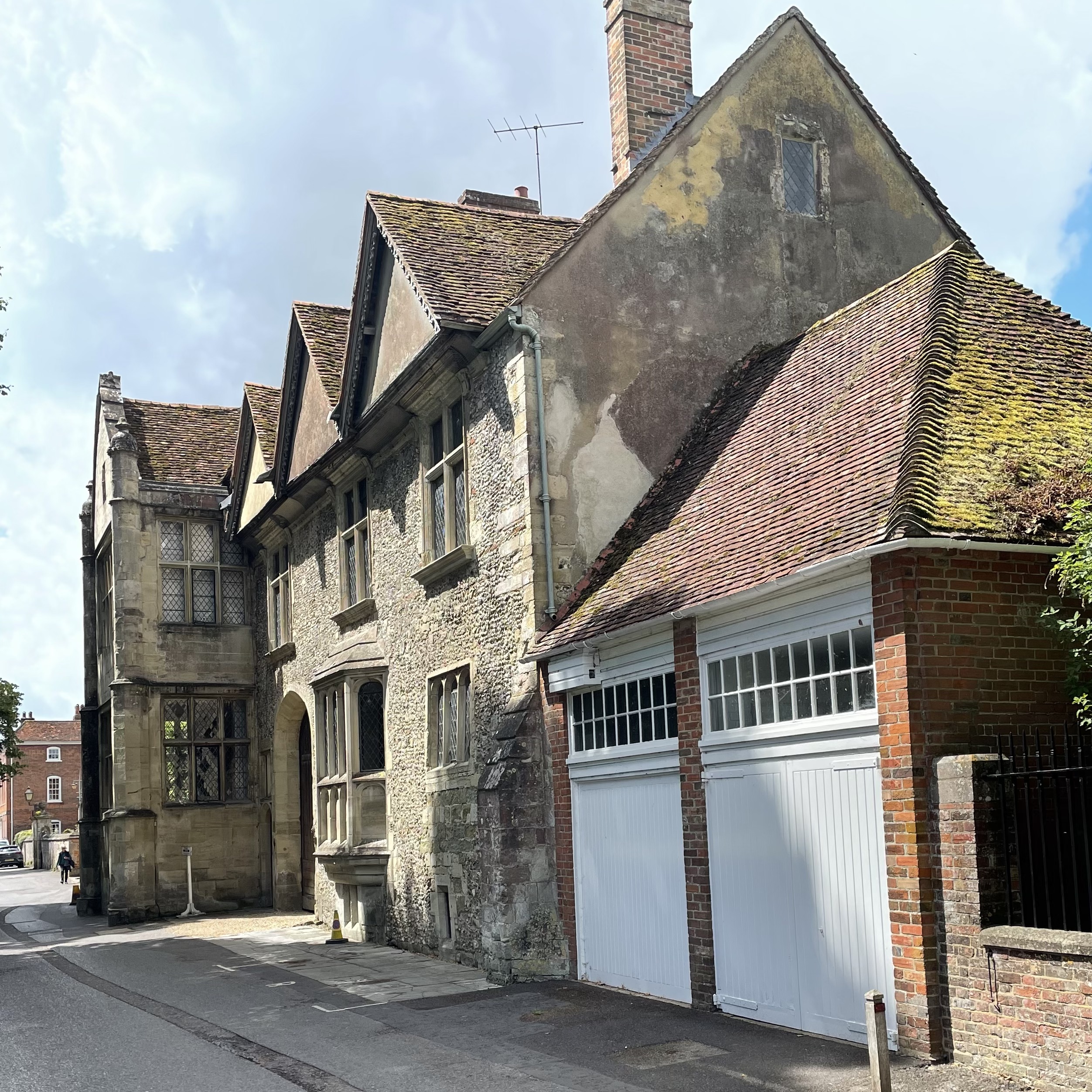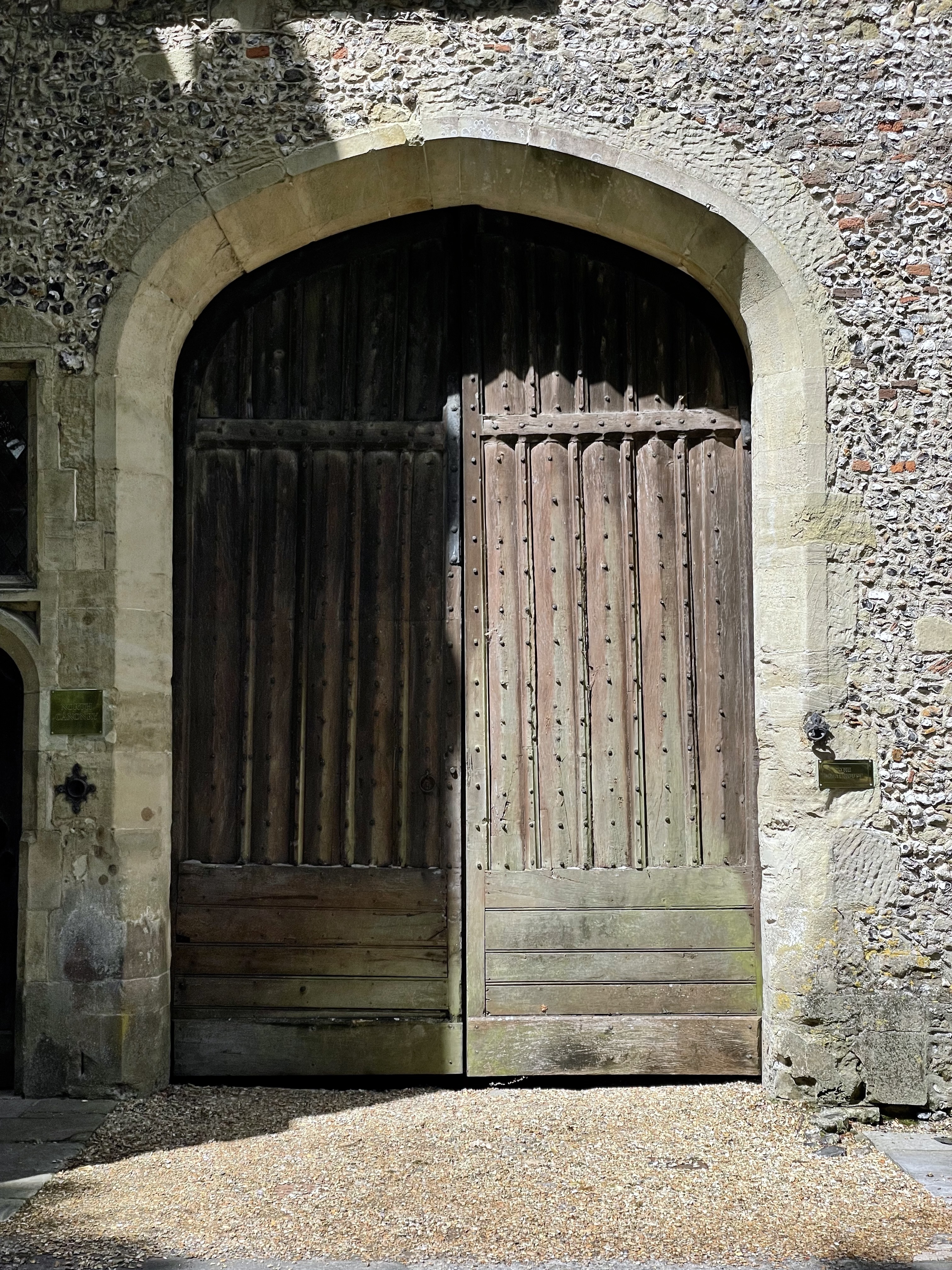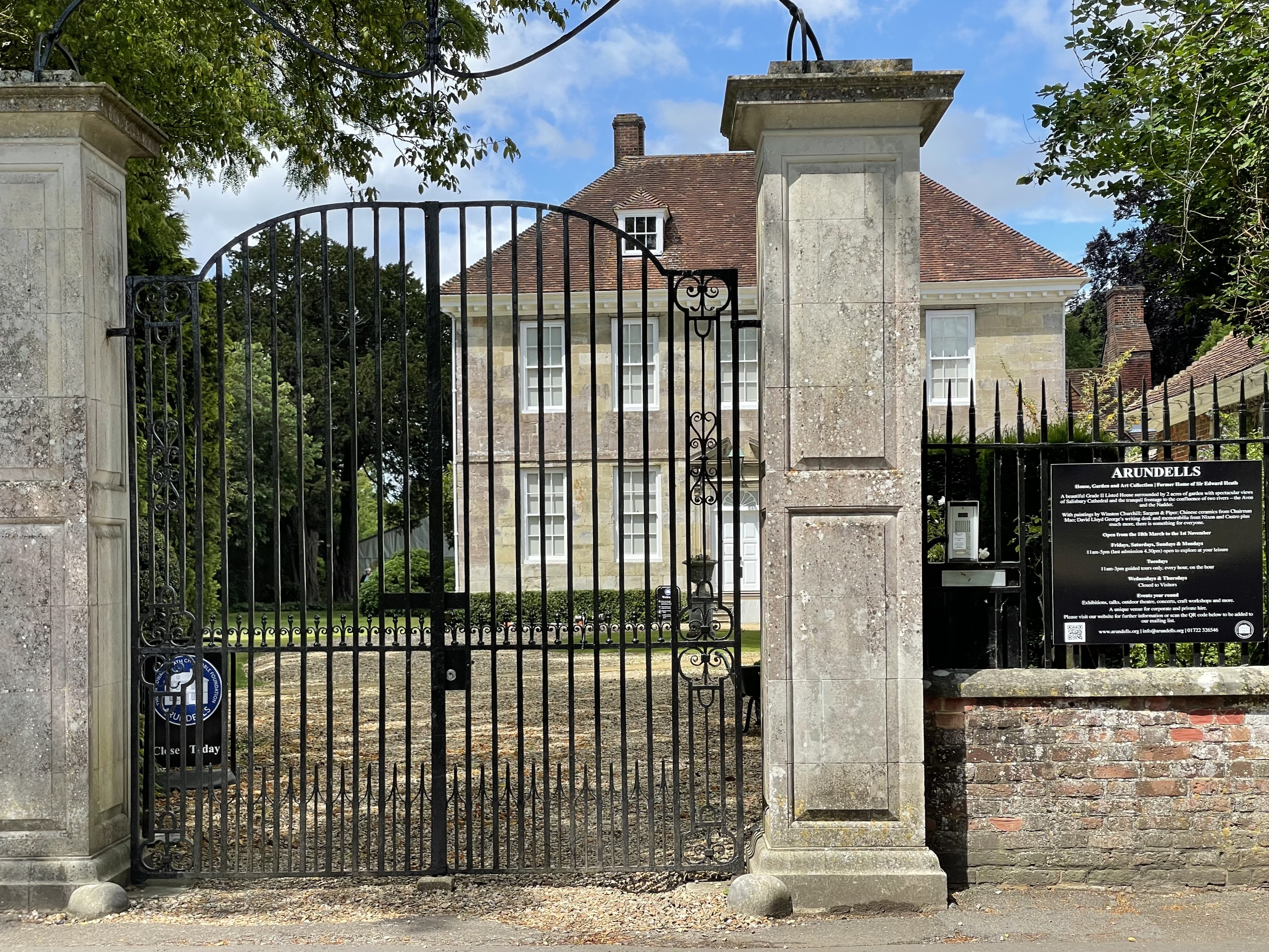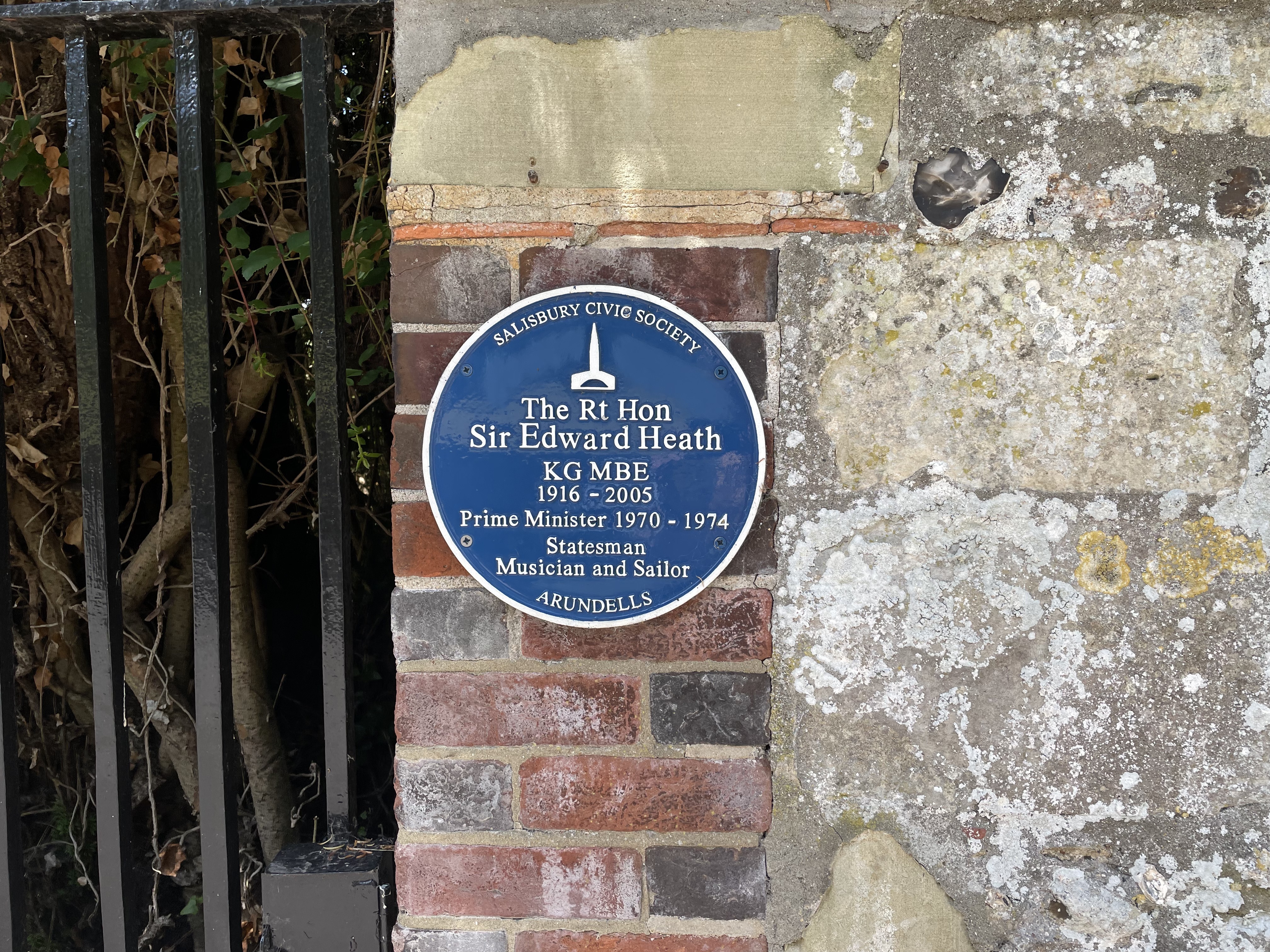 Chorister's Square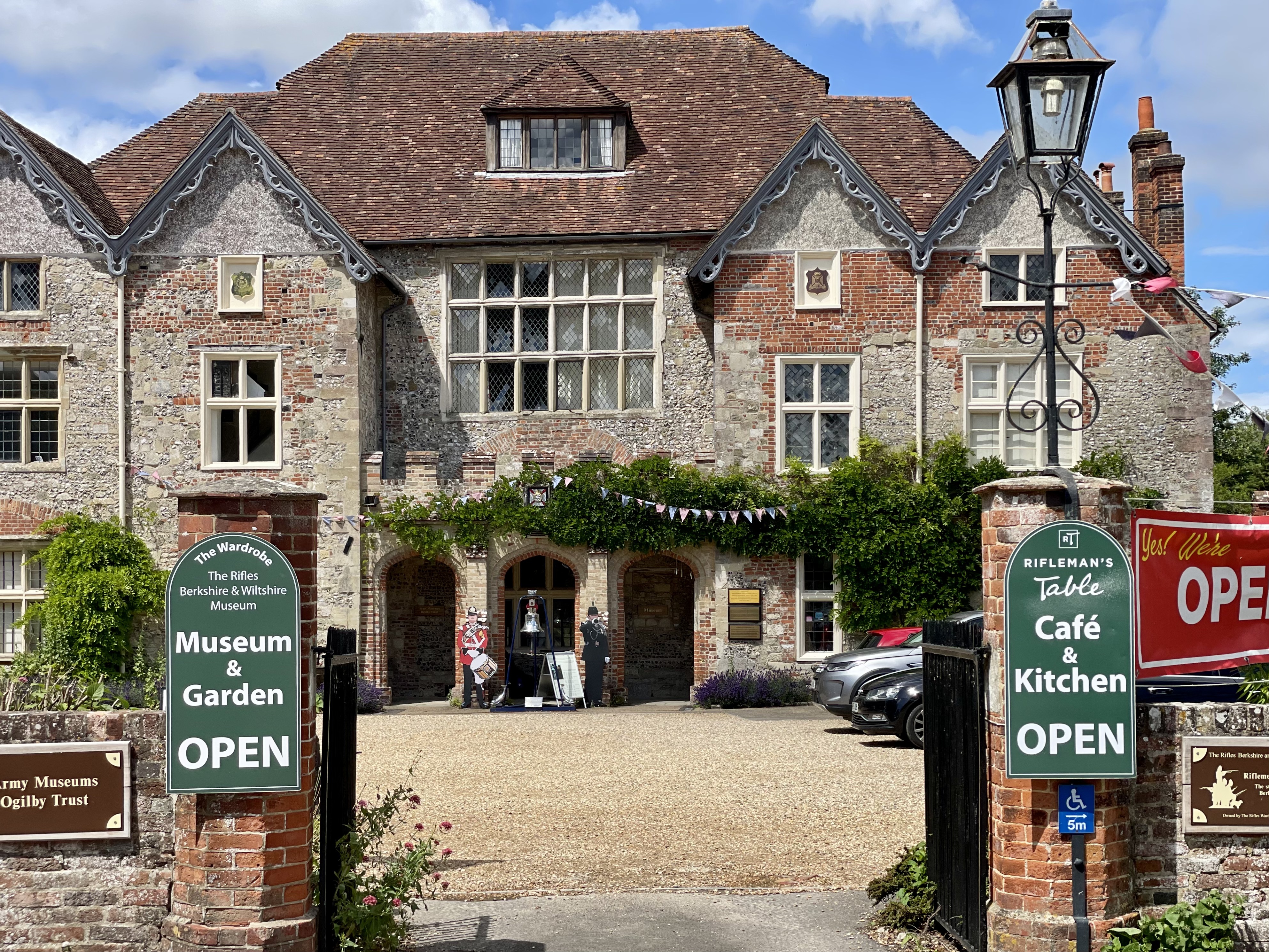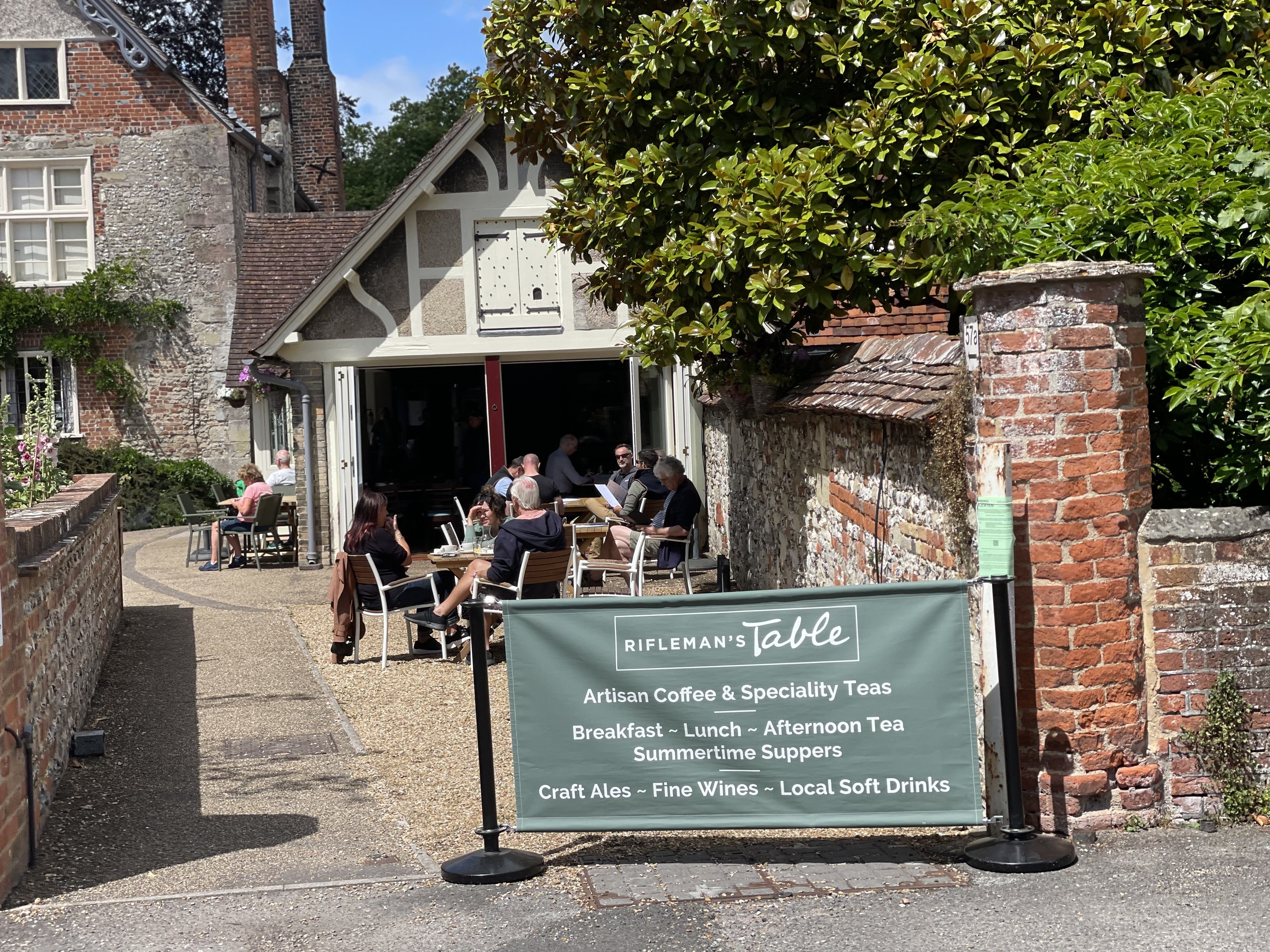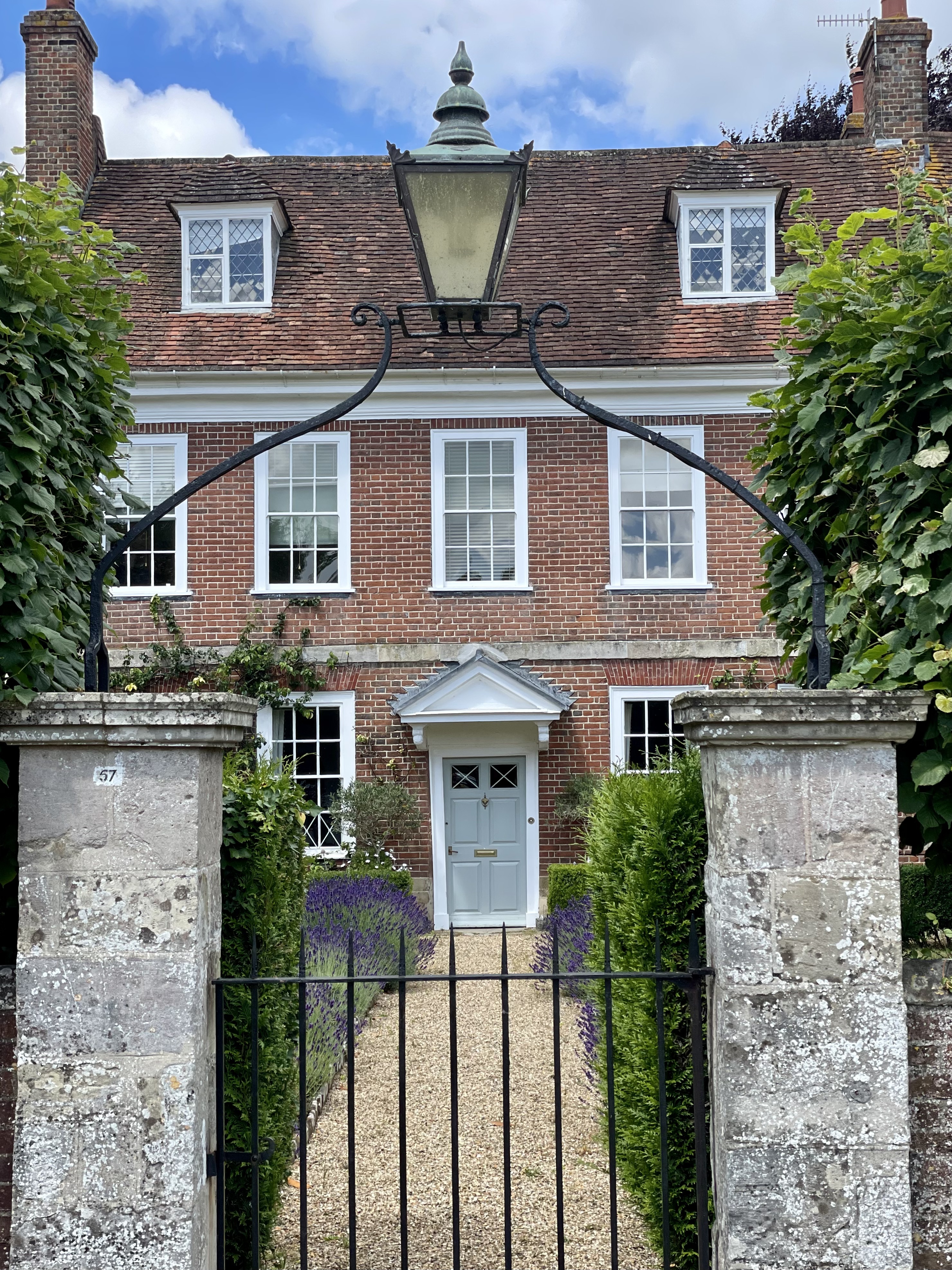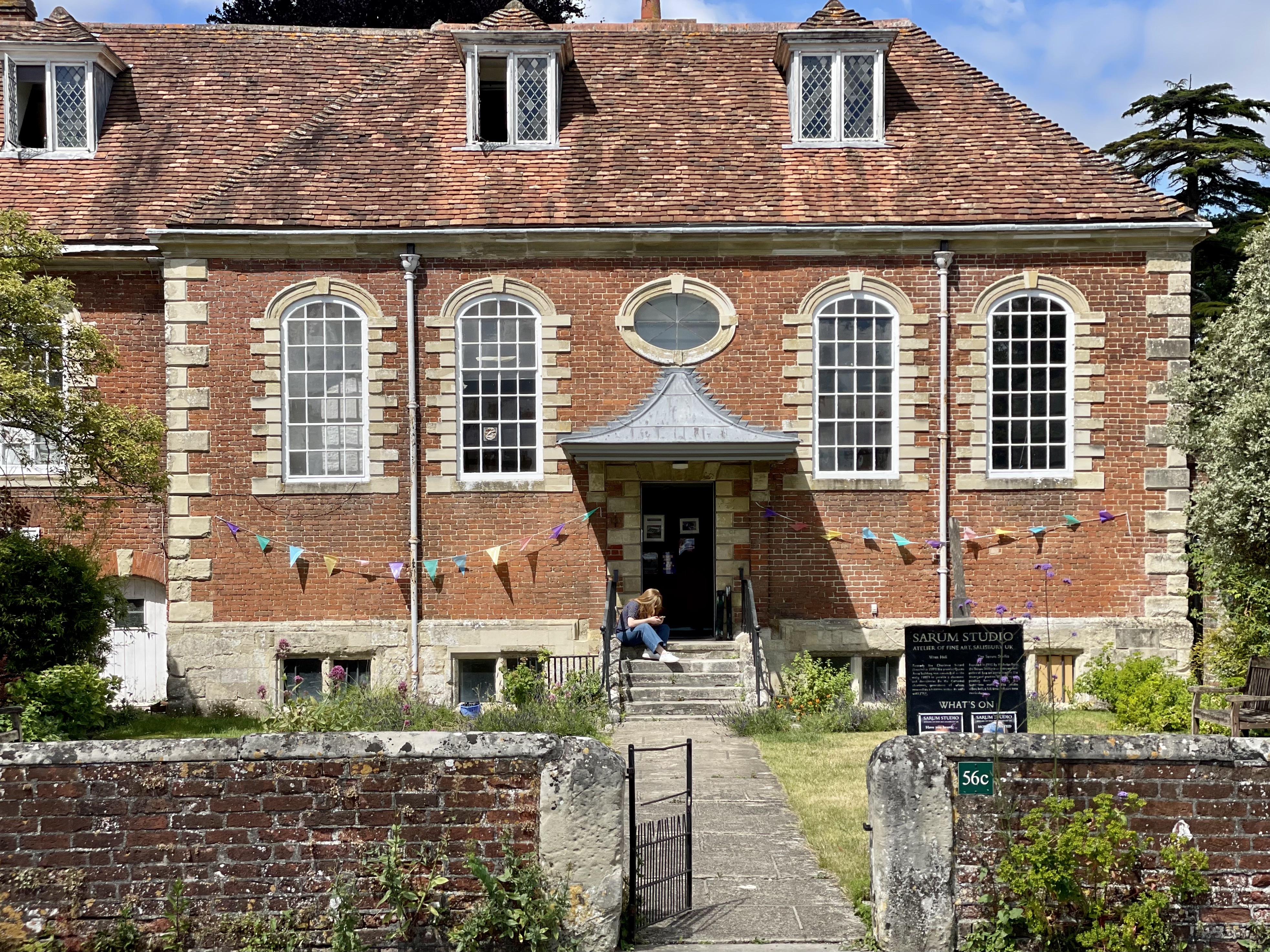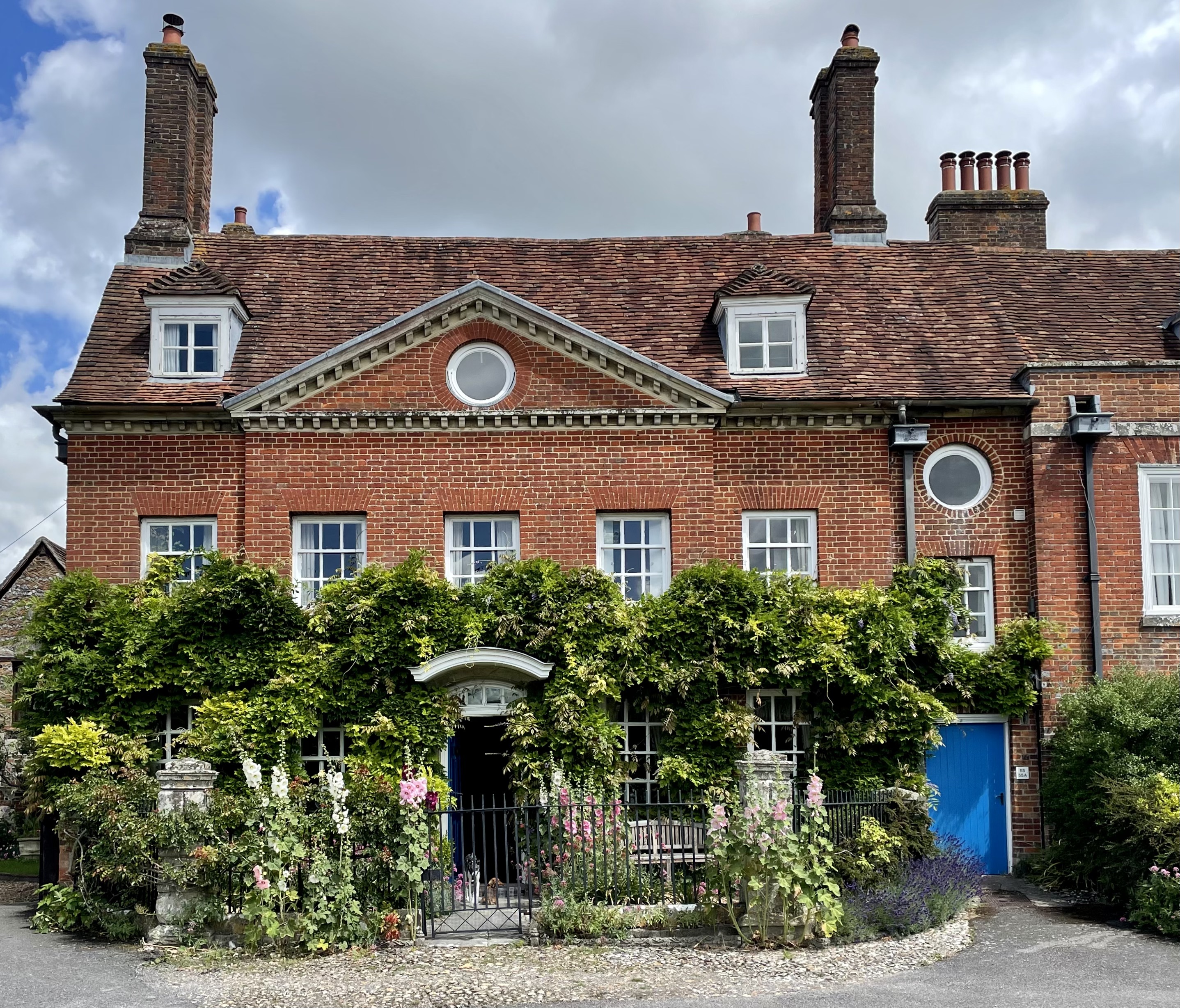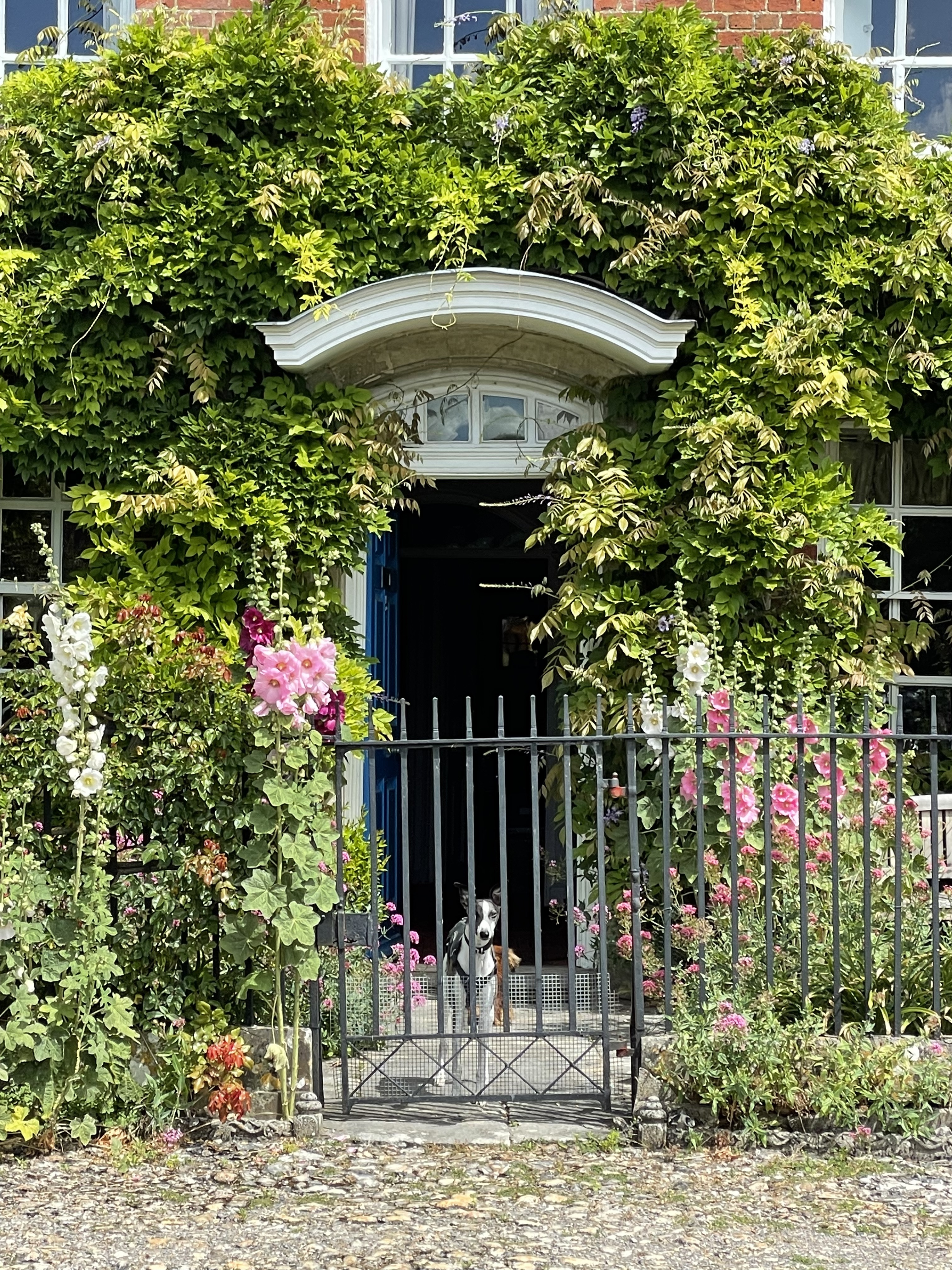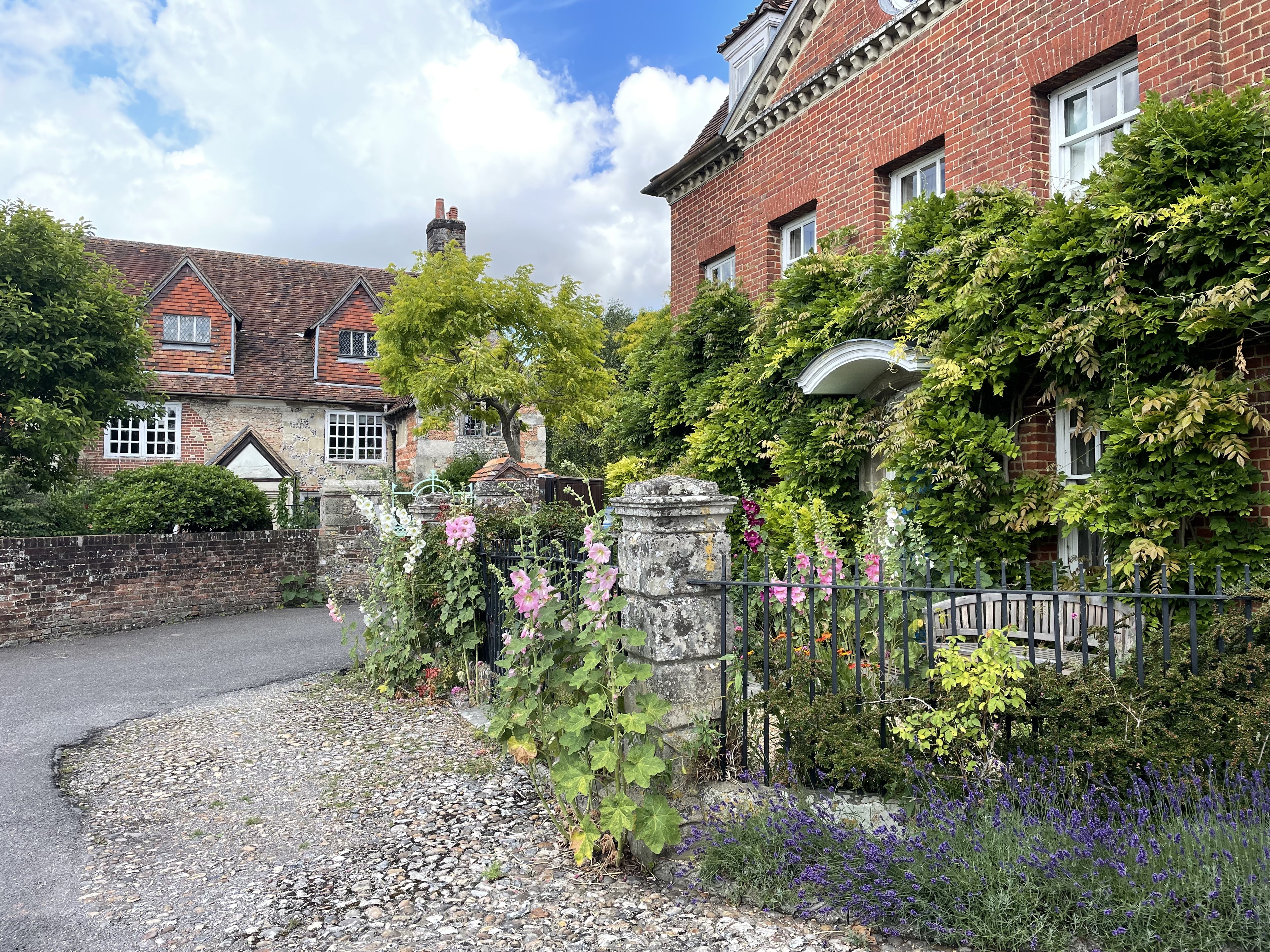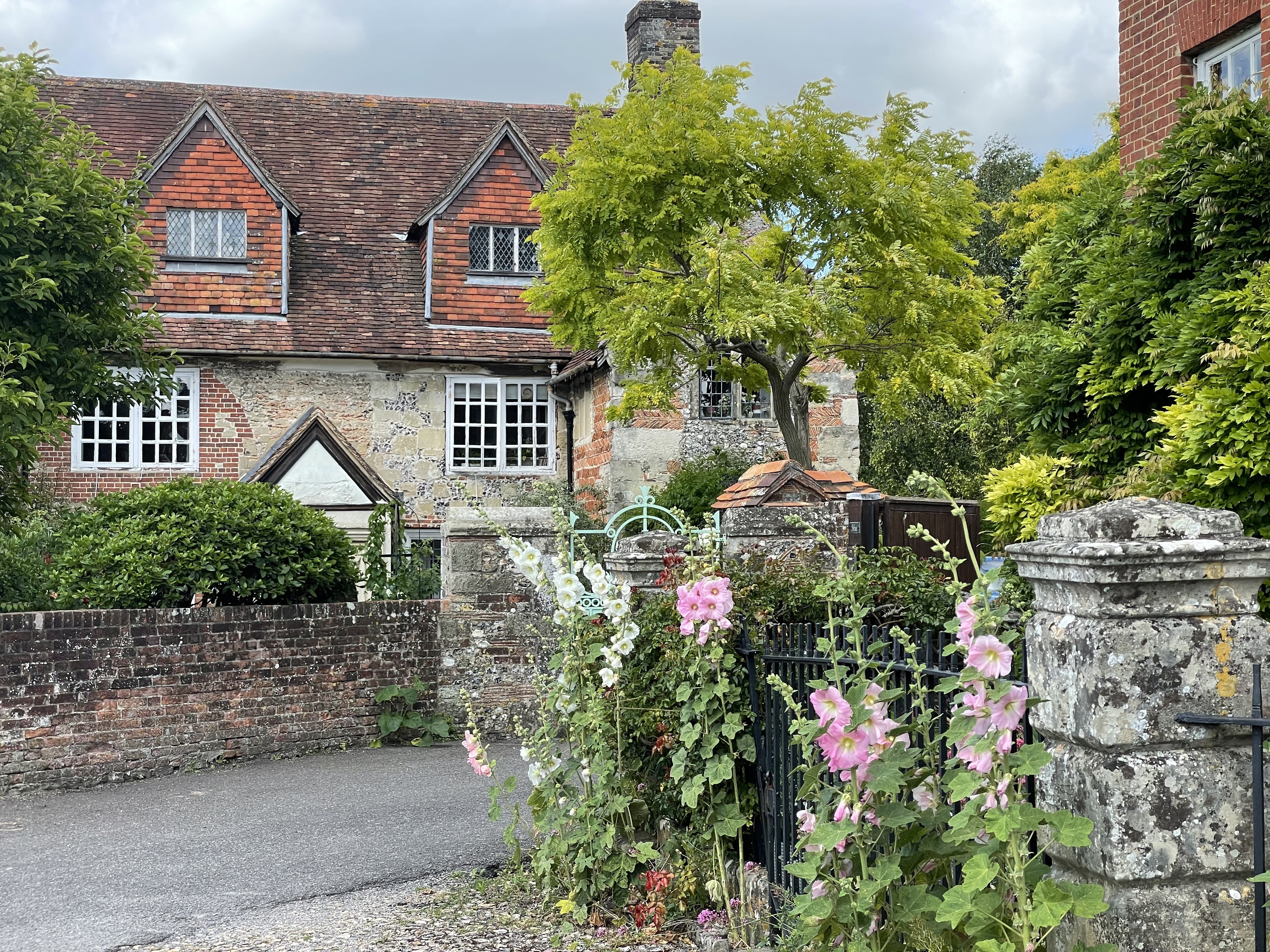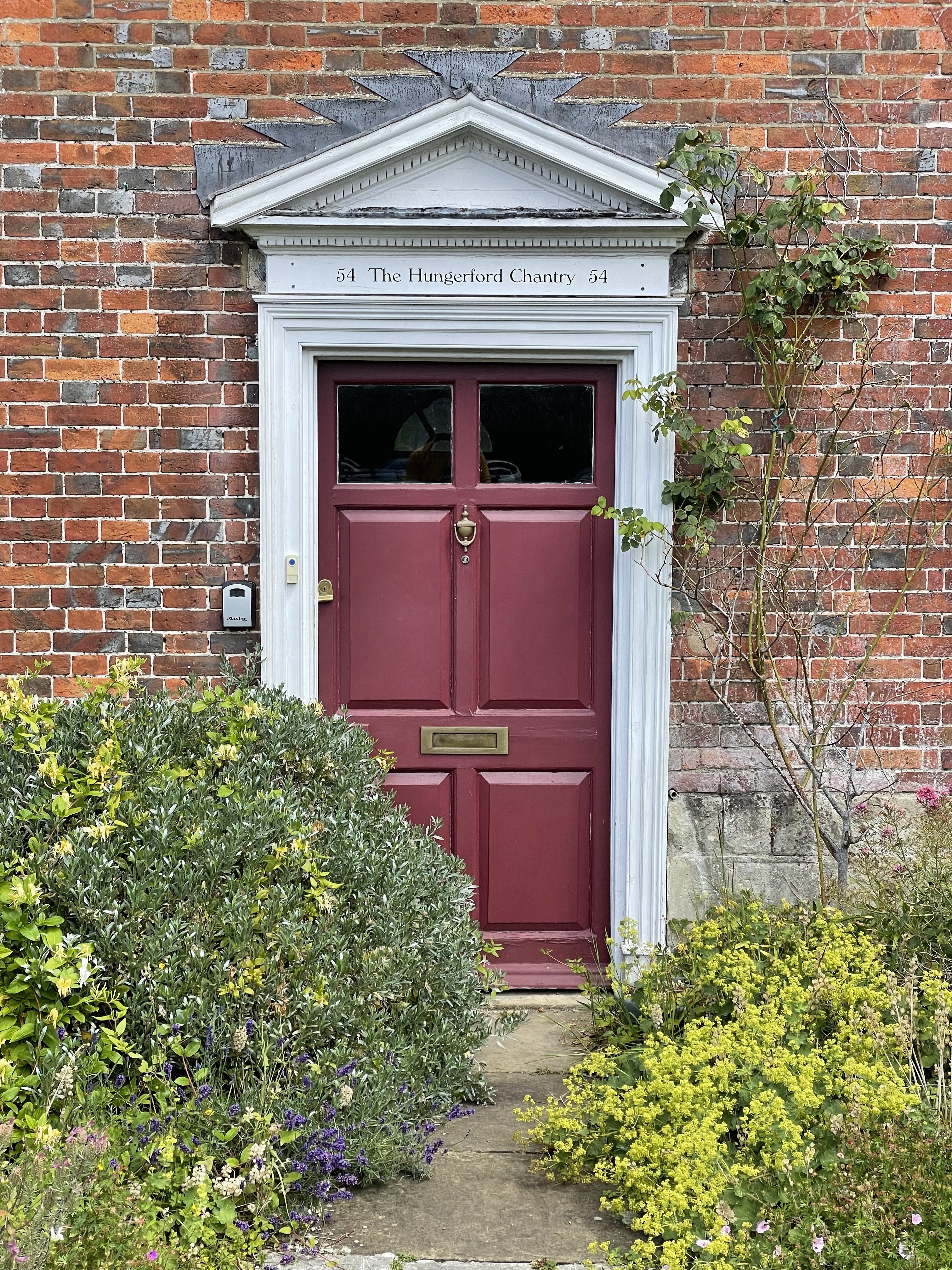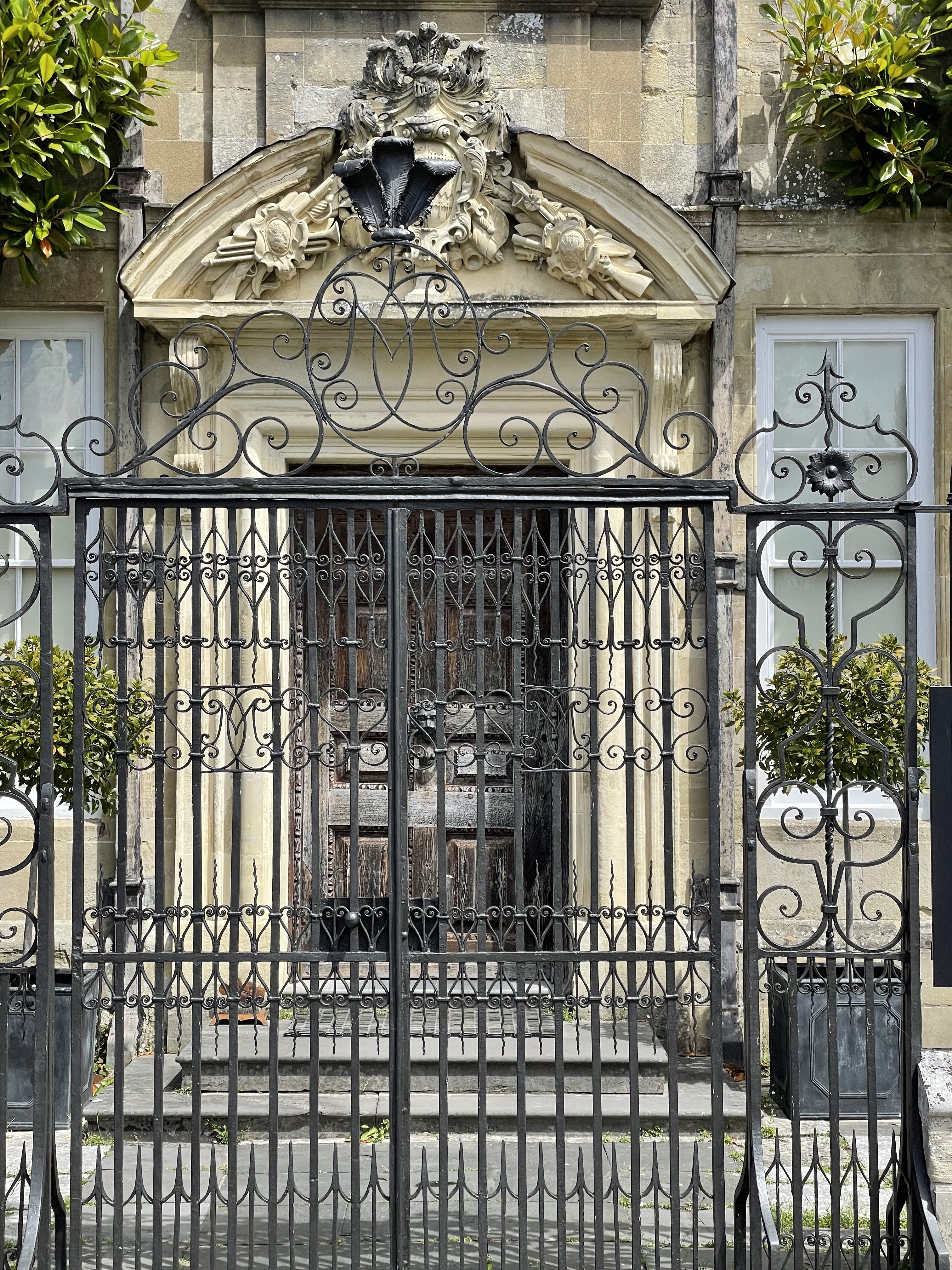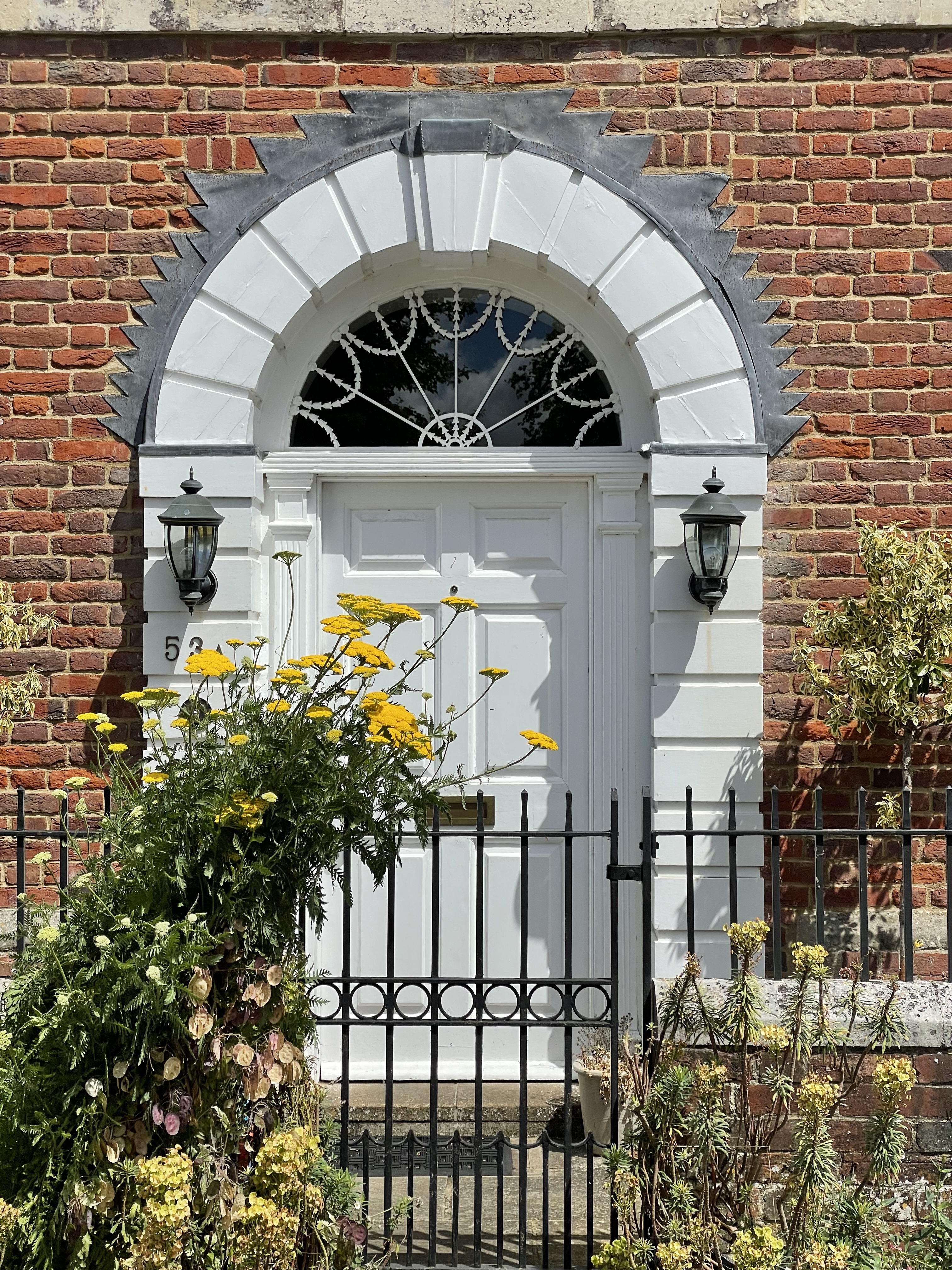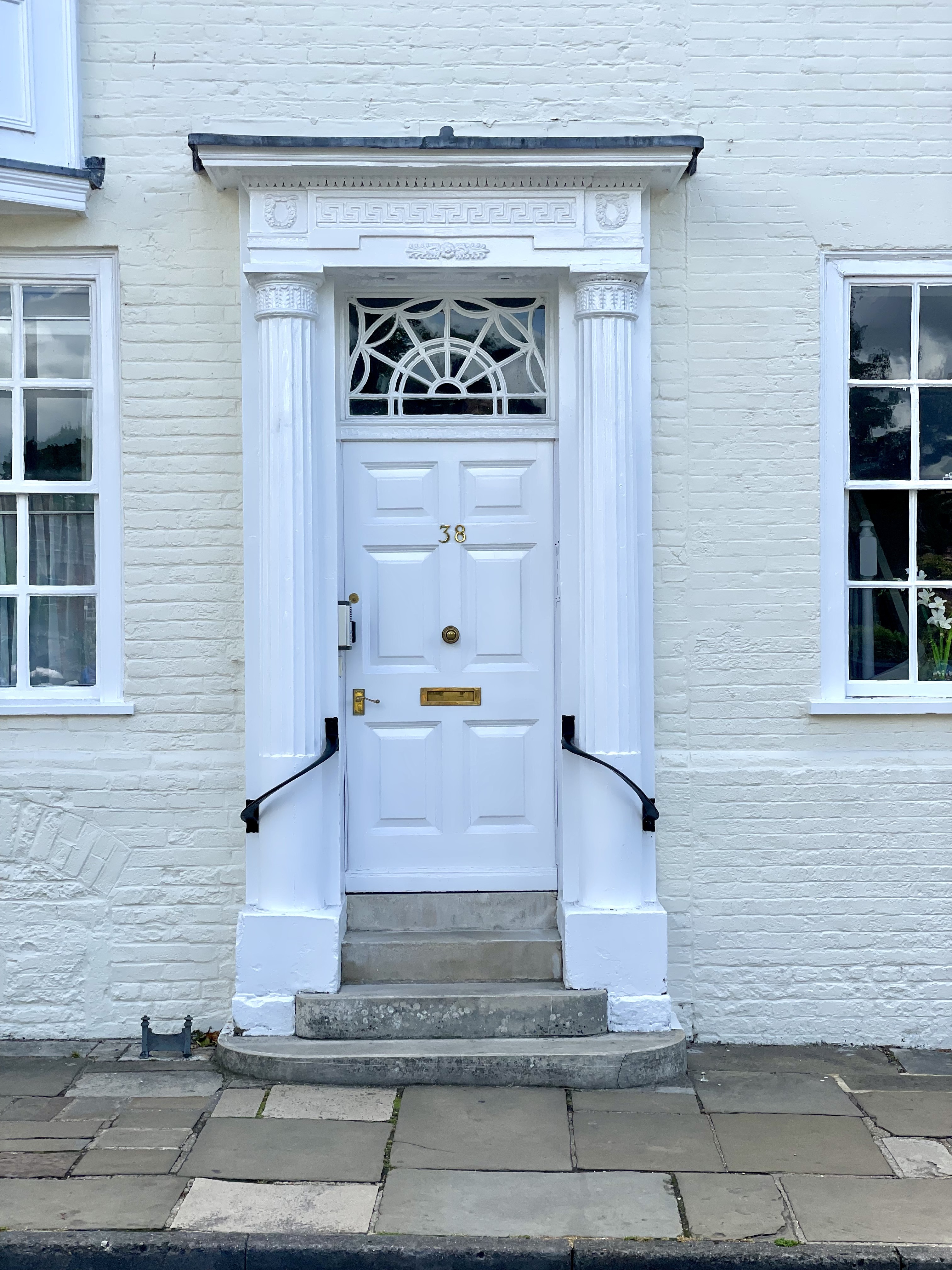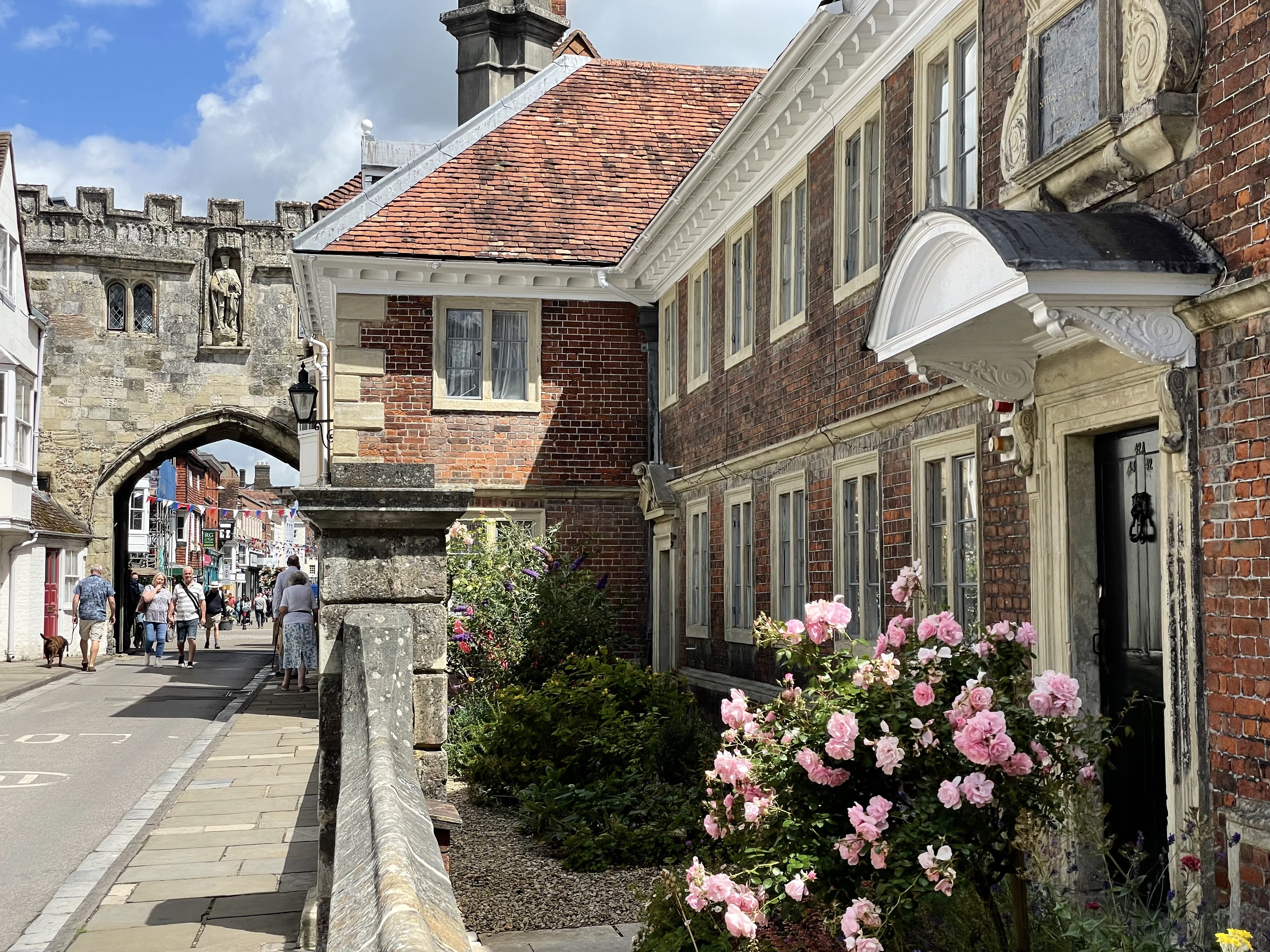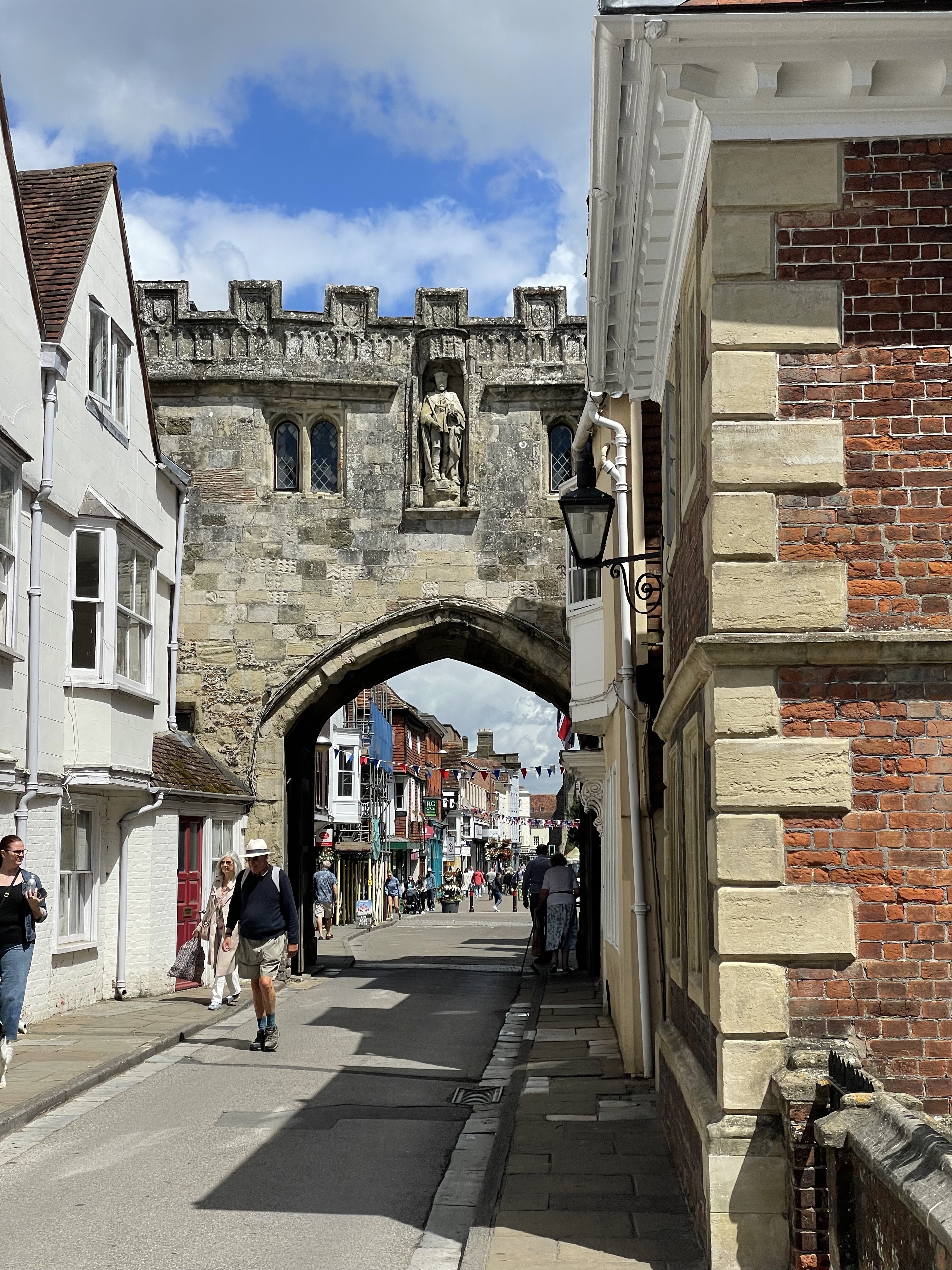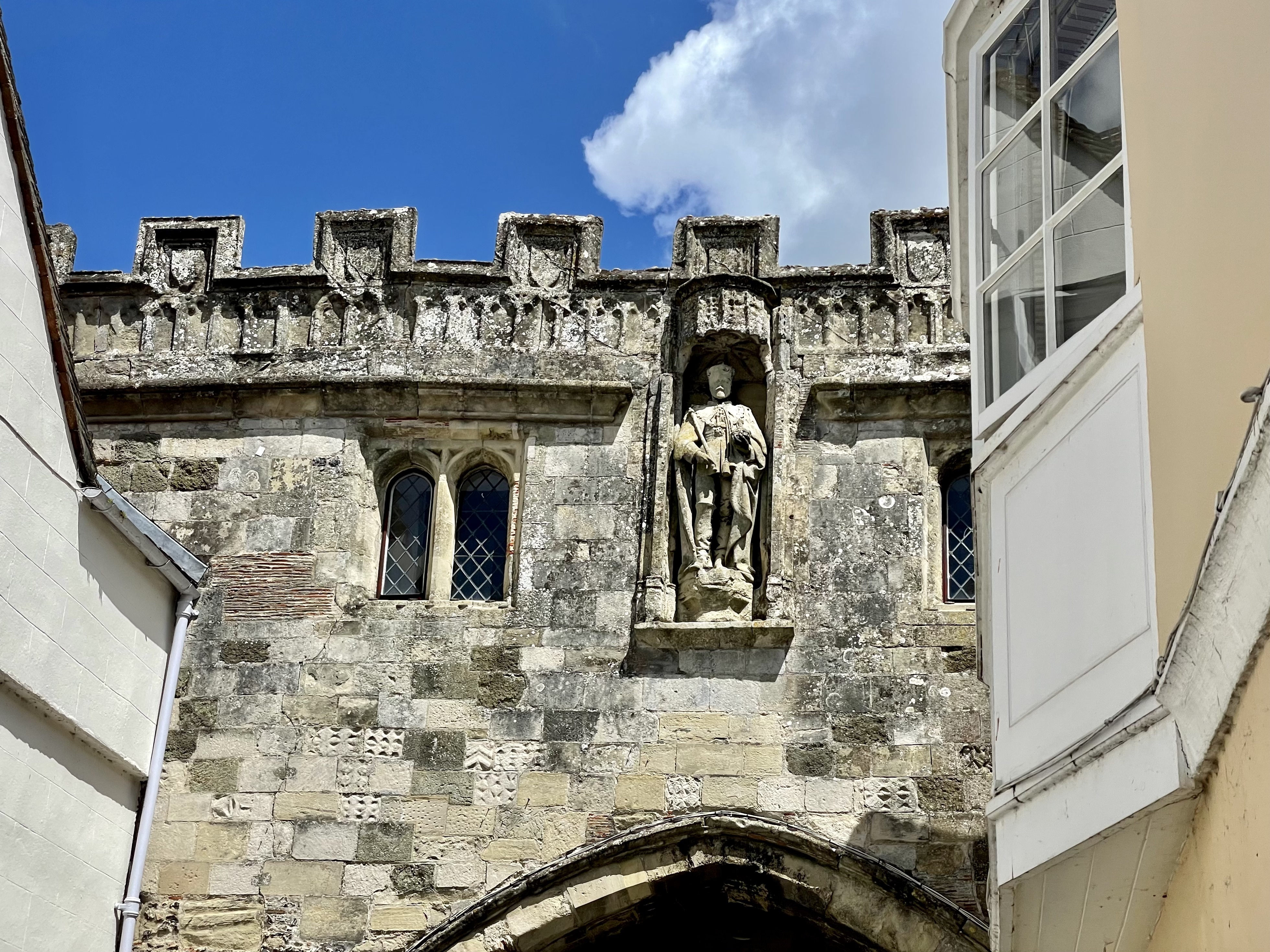 St. Thomas
I've spent many days at St. Thomas on commission photographing the interior and later, a re-ordering and new altar in the nave. The doom painting above the chancel arch is remarkable.
Insider Tip: If you want to have a quiet lunch in a lovely location - look for this little ginnel into the church close. Delightful.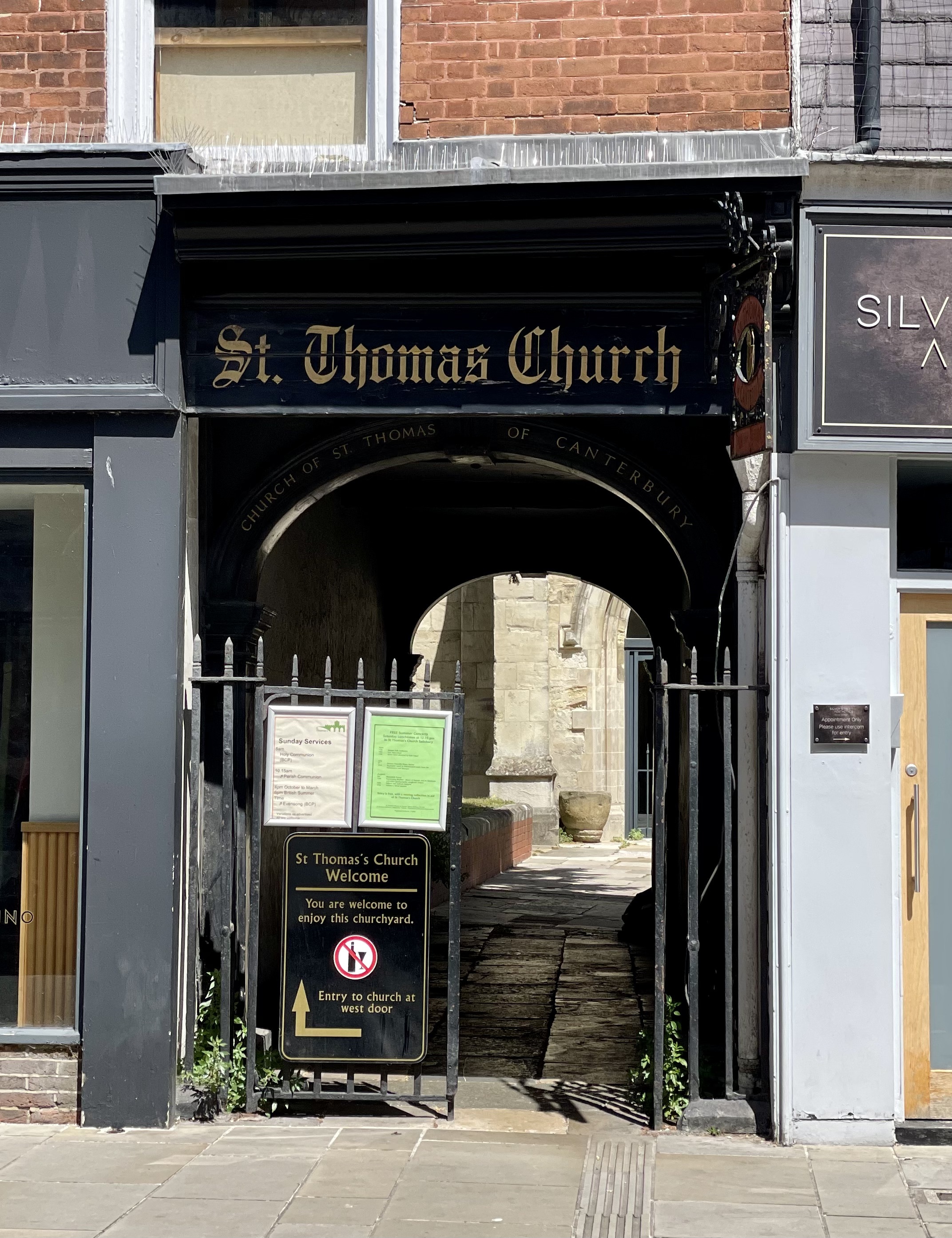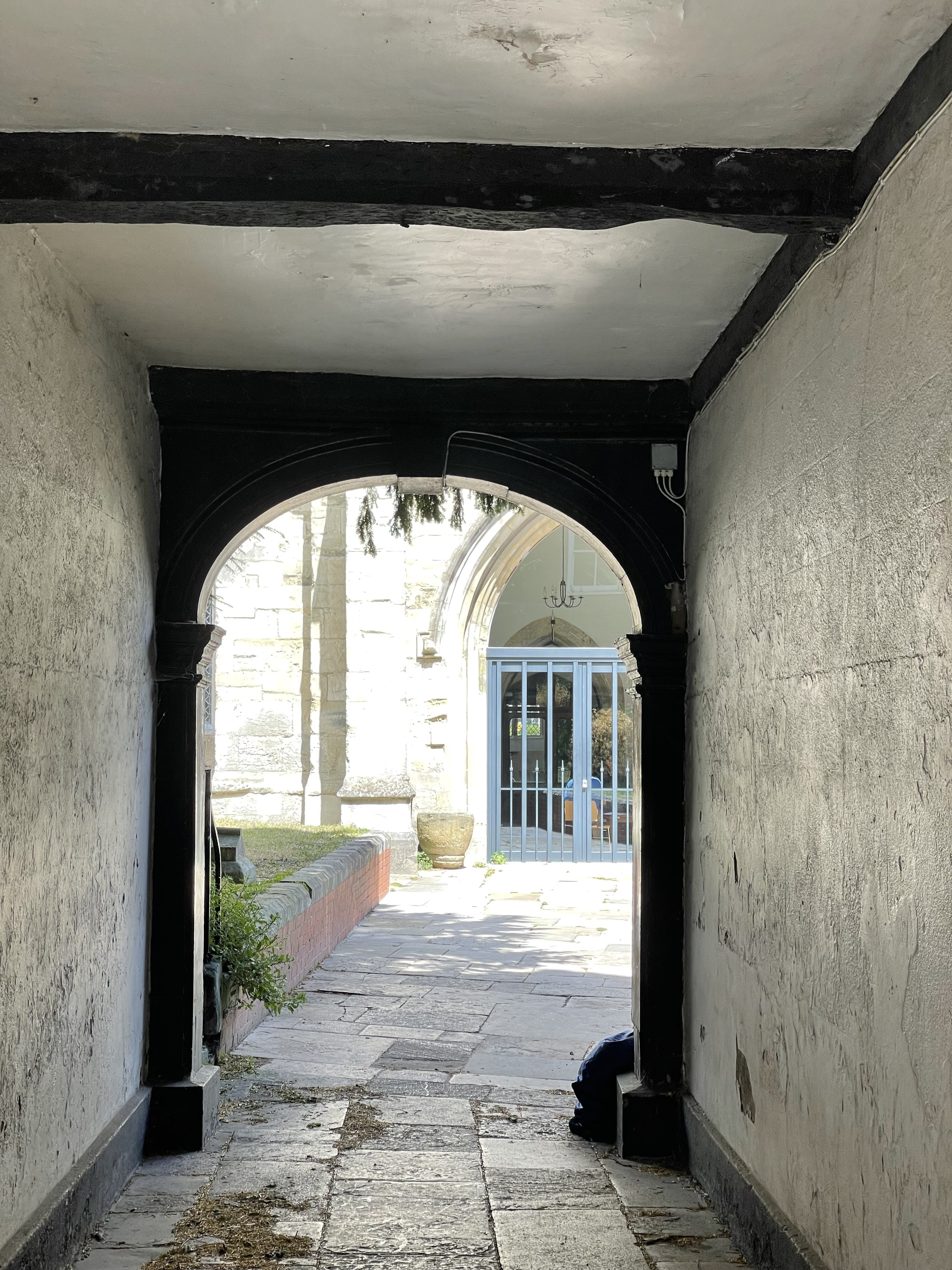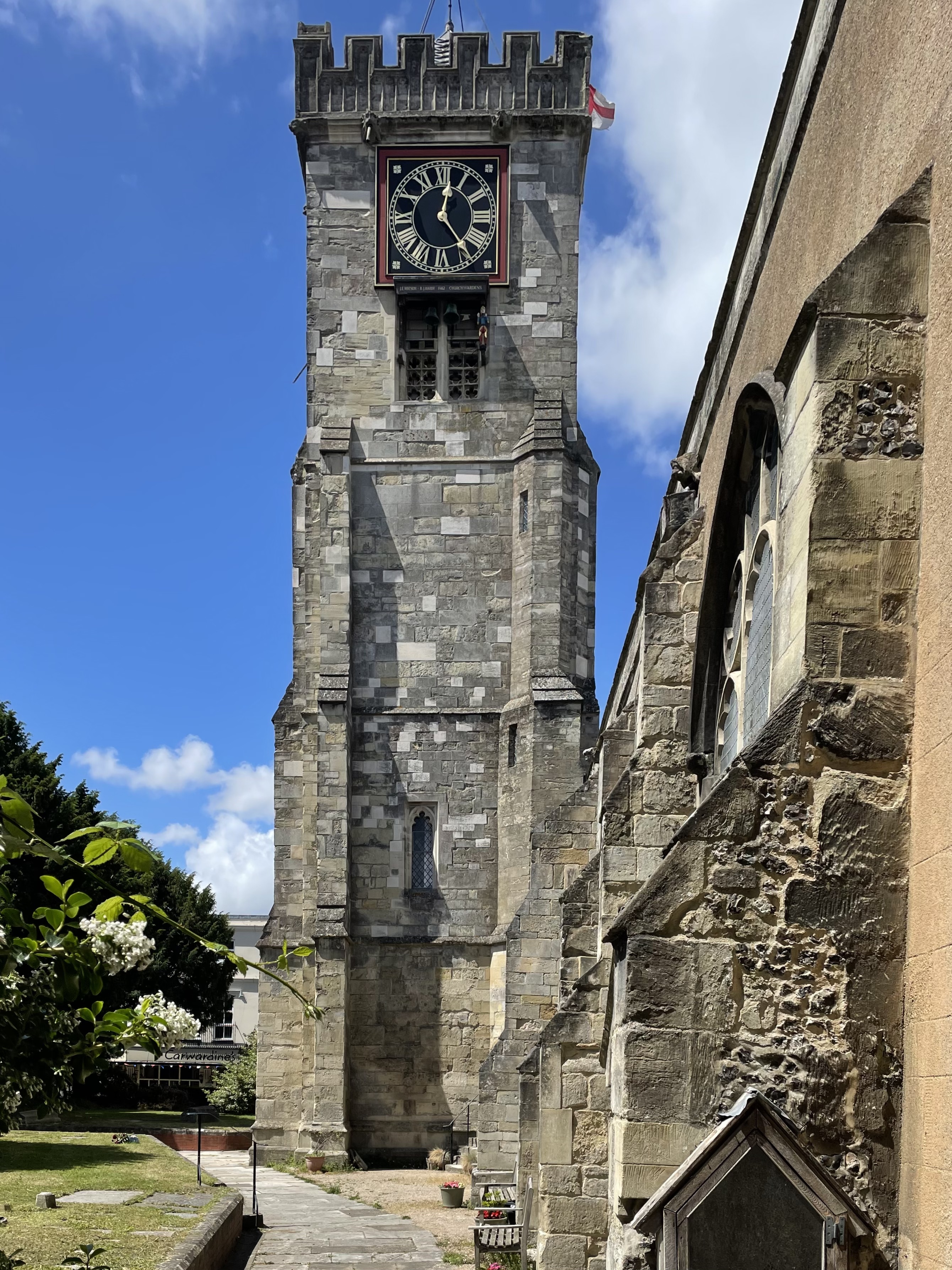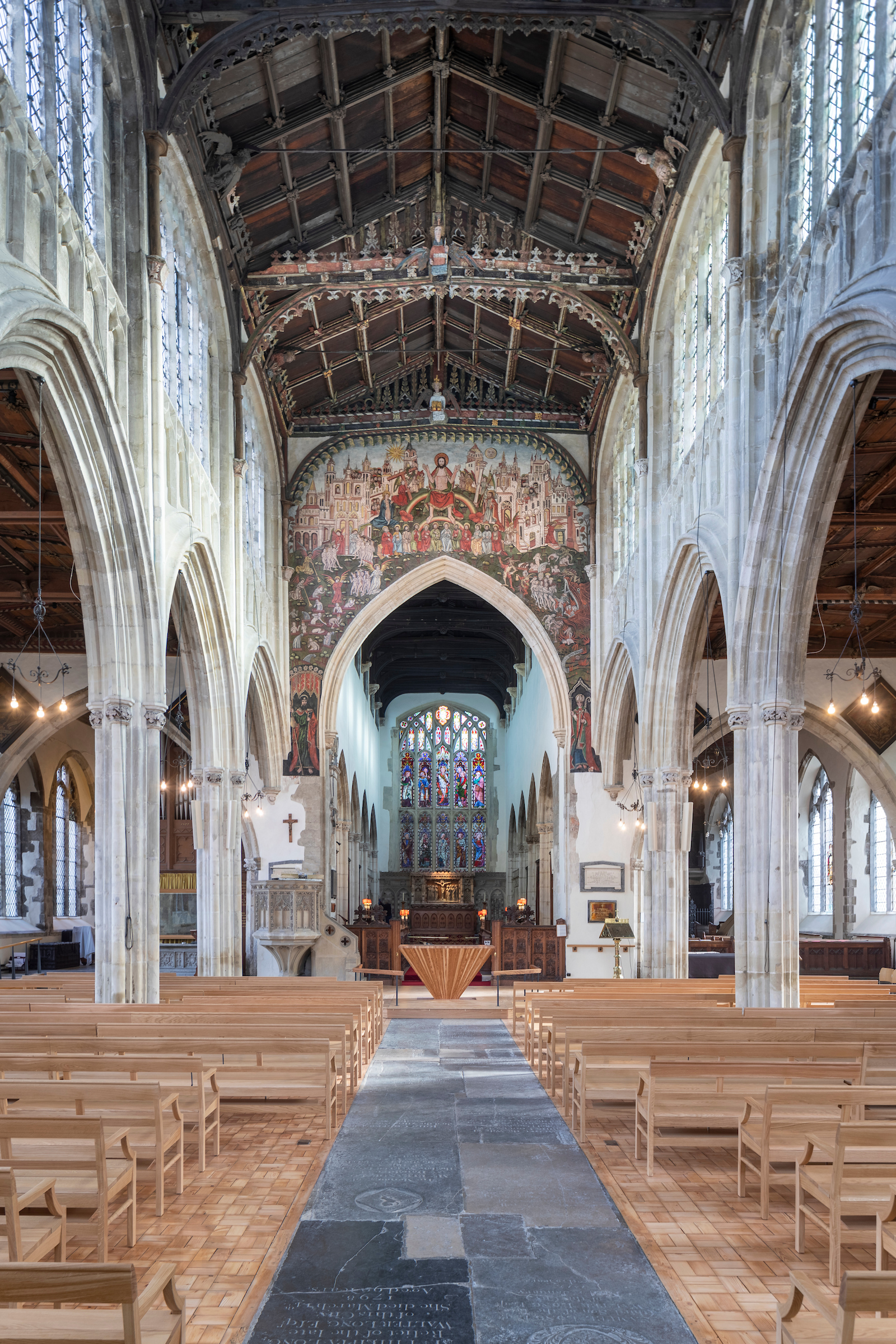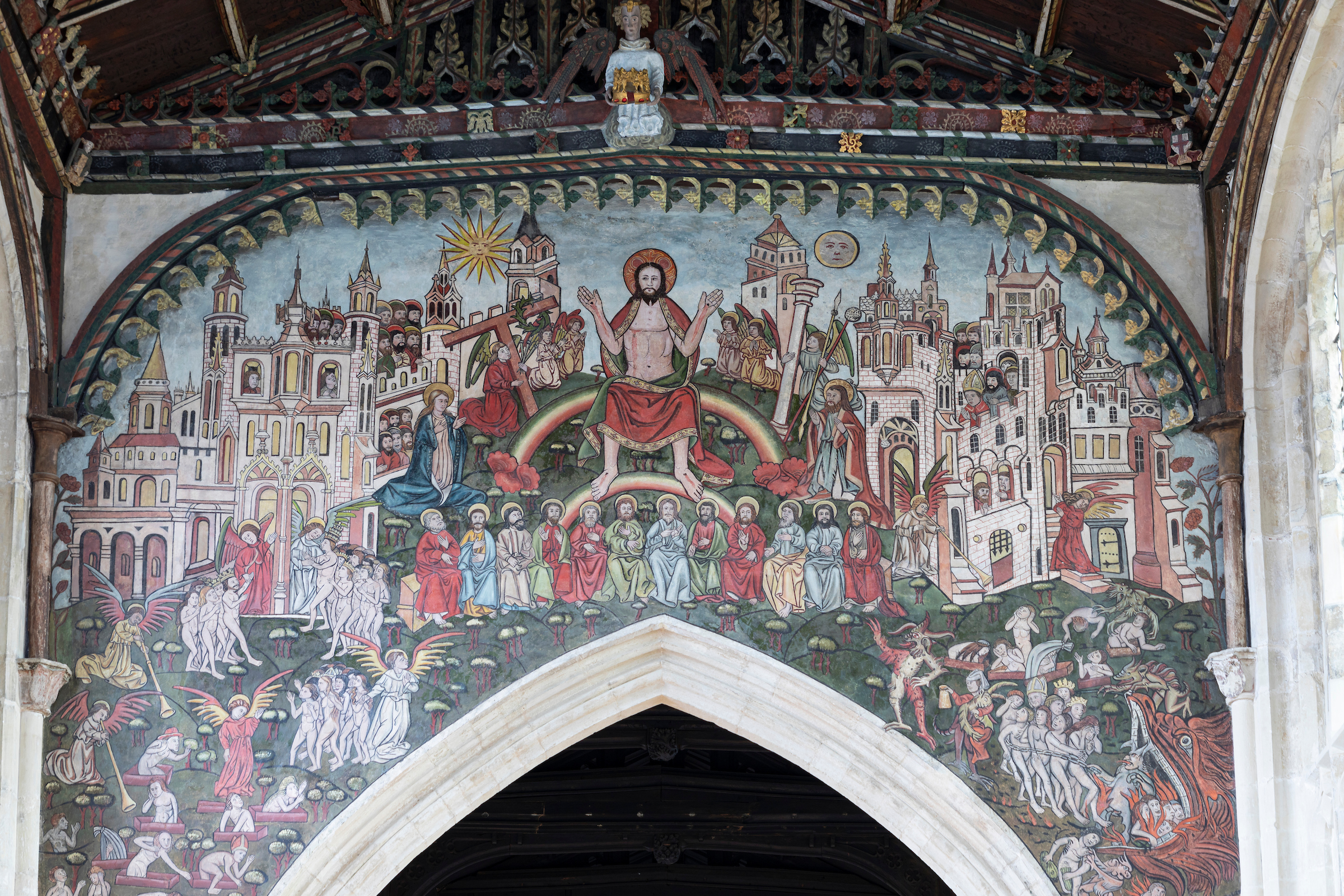 Vanlife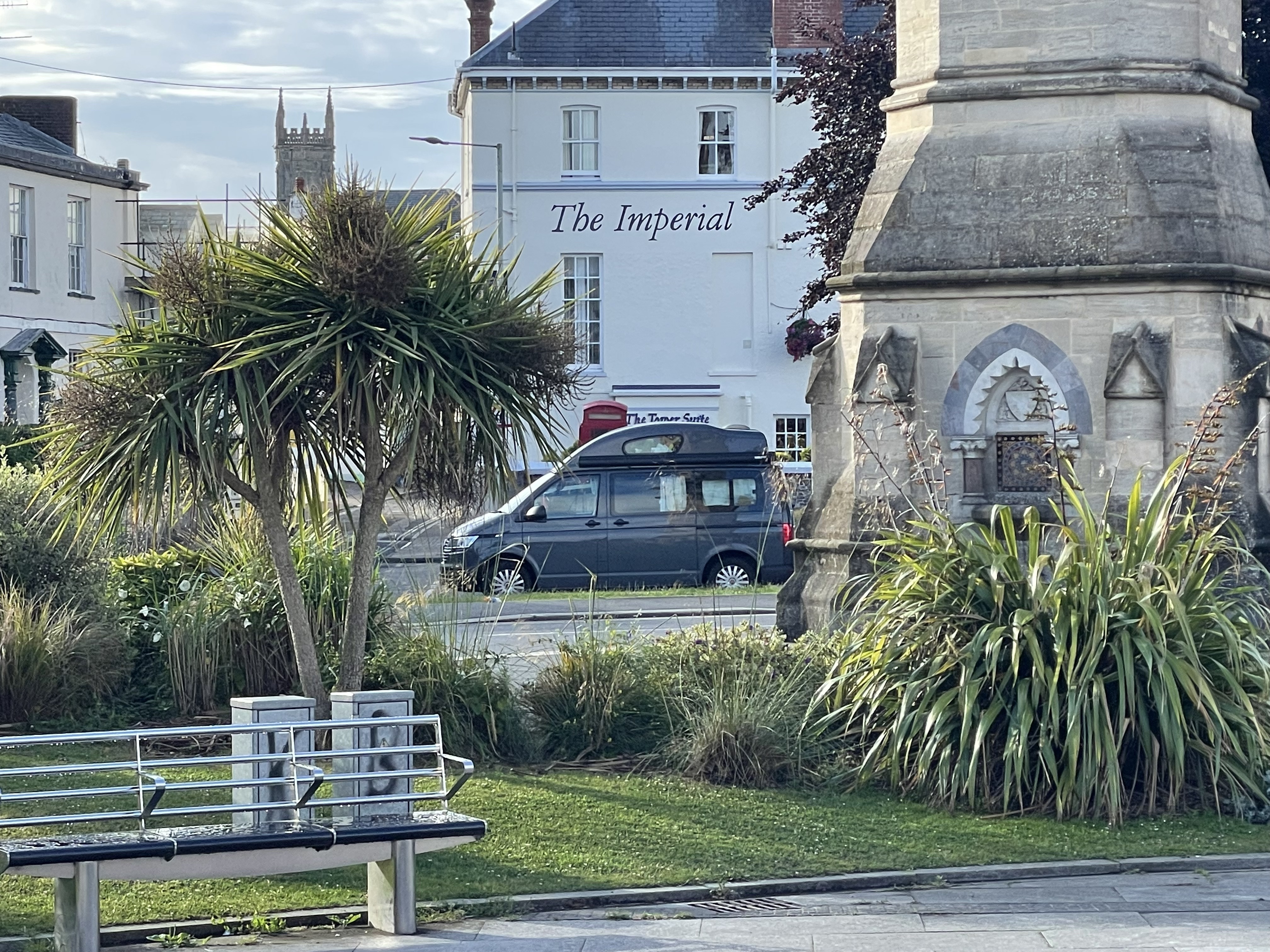 Summer is for stir fry's - and I've been making plenty. Below is one of my favourites.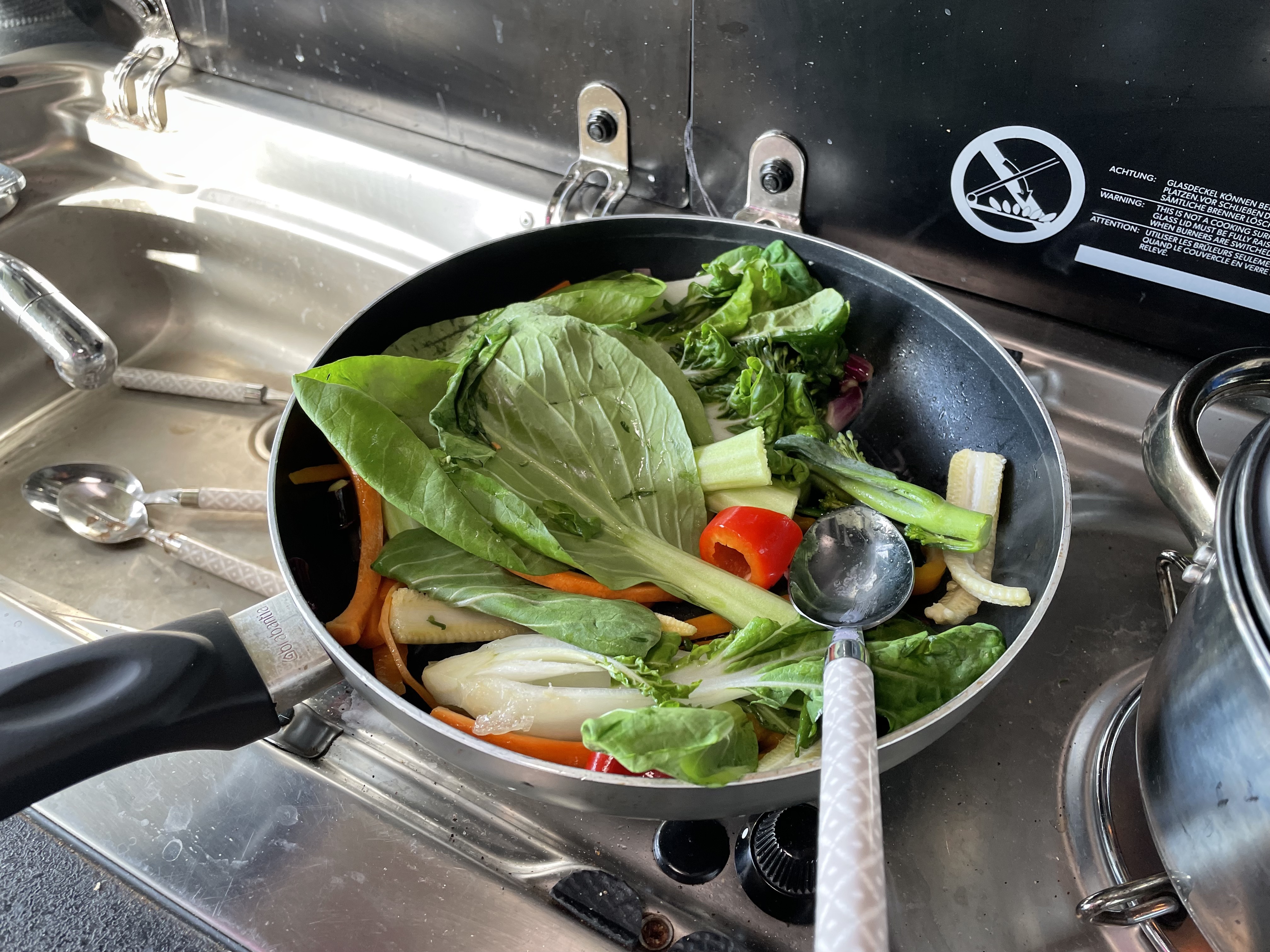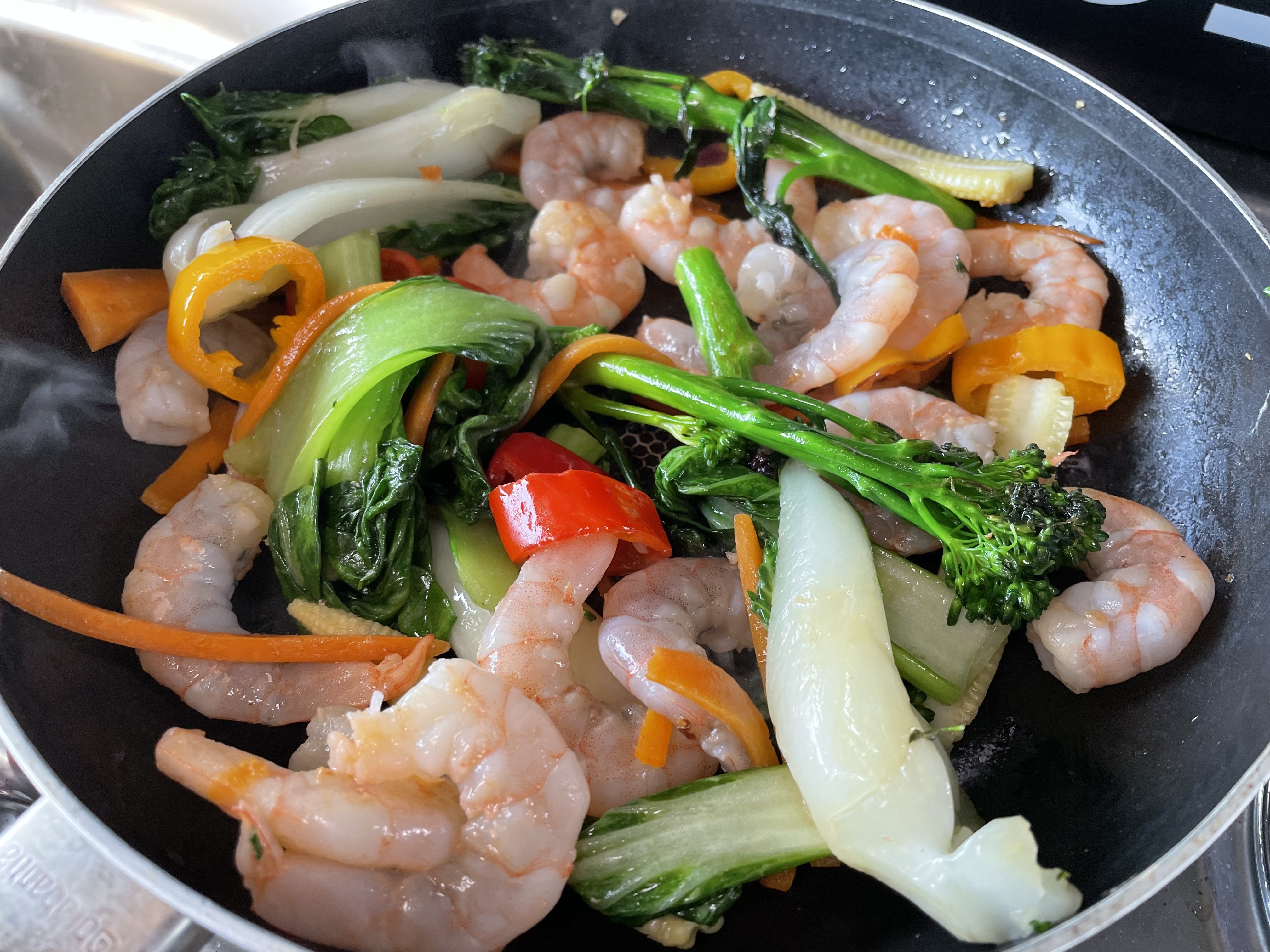 On My Coffee Table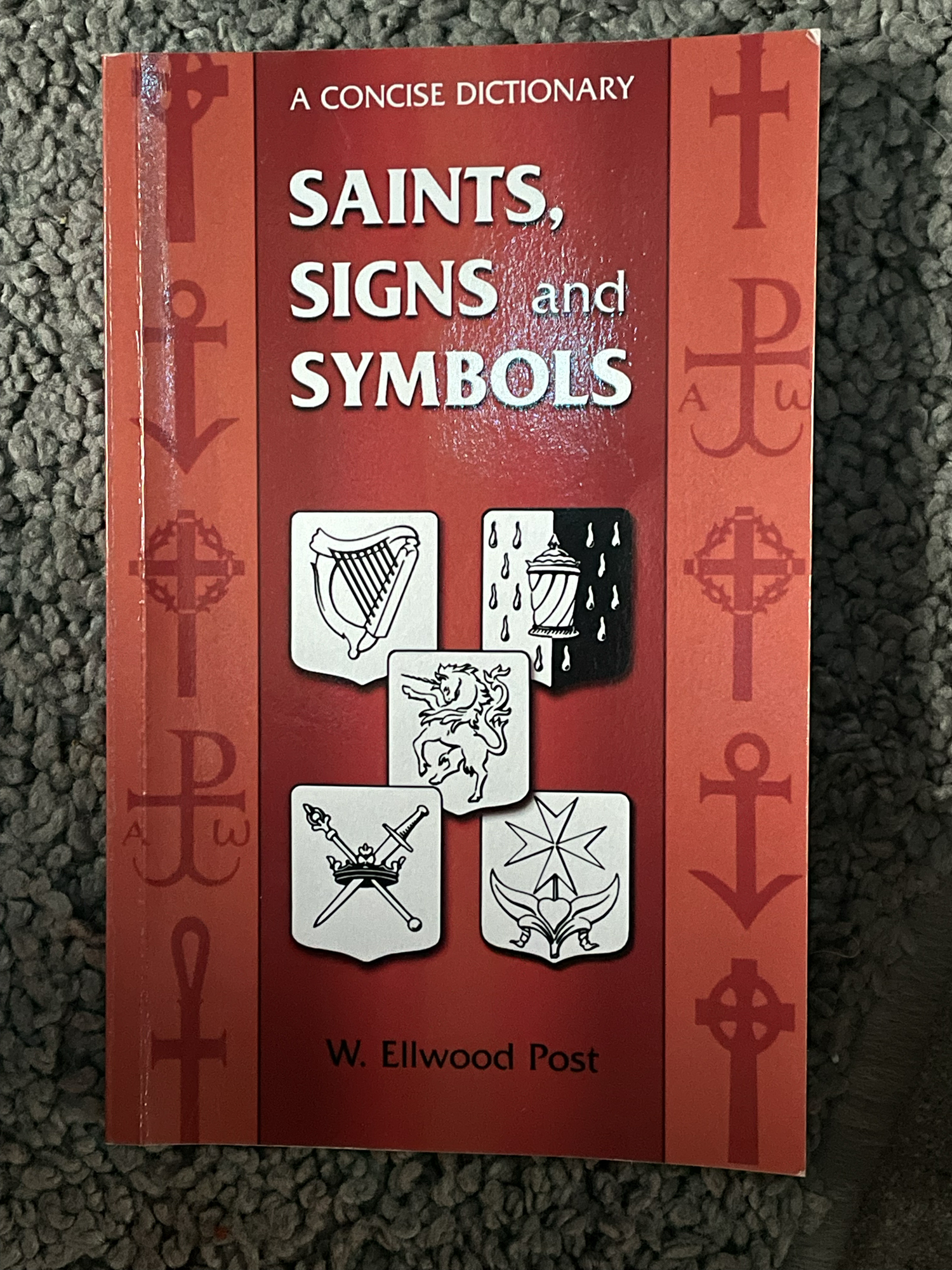 Bookmarked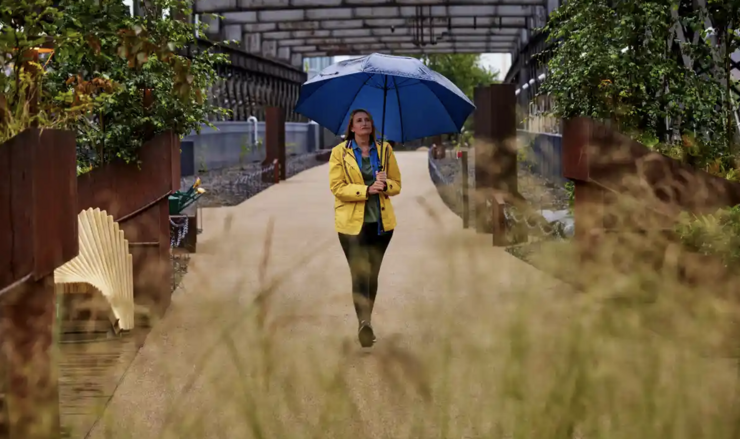 National Trust garden at Castlefield Viaduct is inspired by New York public park and features 3,000 plant species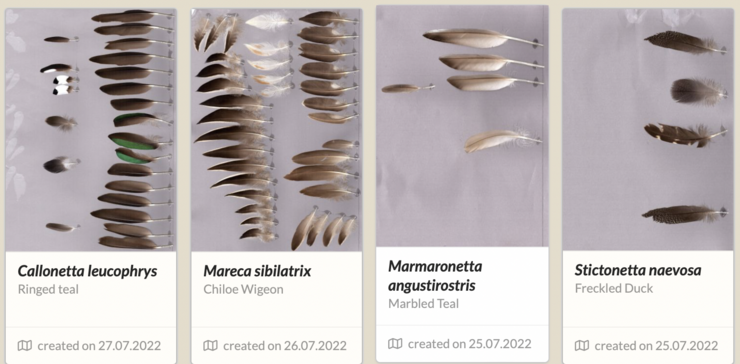 On our Featherbase Instagram Page we are presenting current projects, techniques of organizing a feather collection and specialities of plumology.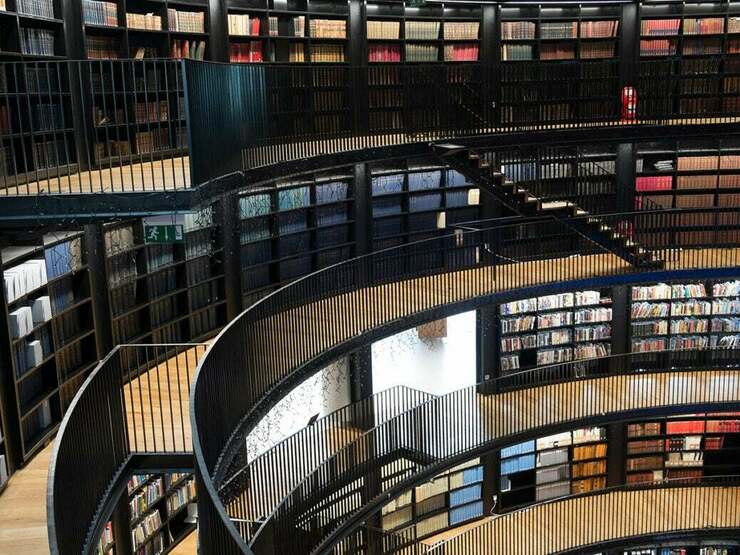 These cherished spaces will play a crucial role in regenerating the public realm.
Film and Sound
Earworm that has accompanied me on my travels all week.
Listen to Break Your Heart on Spotify. Natalie Merchant · Song · 1998.
From the Twittersphere
I took this photograph for Friends several weeks back and this church and my subsequent travels are going to be part of a future digest - but it's heart breaking to think that such a unique place, isolated in its beauty, might be damaged or lost to others ignorance.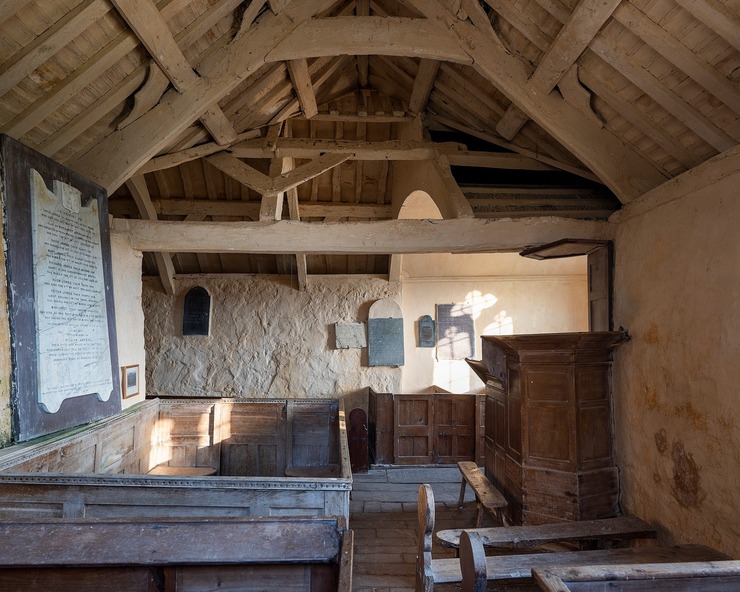 Member and Patron Posts This Week
Twitter Circle ⭕️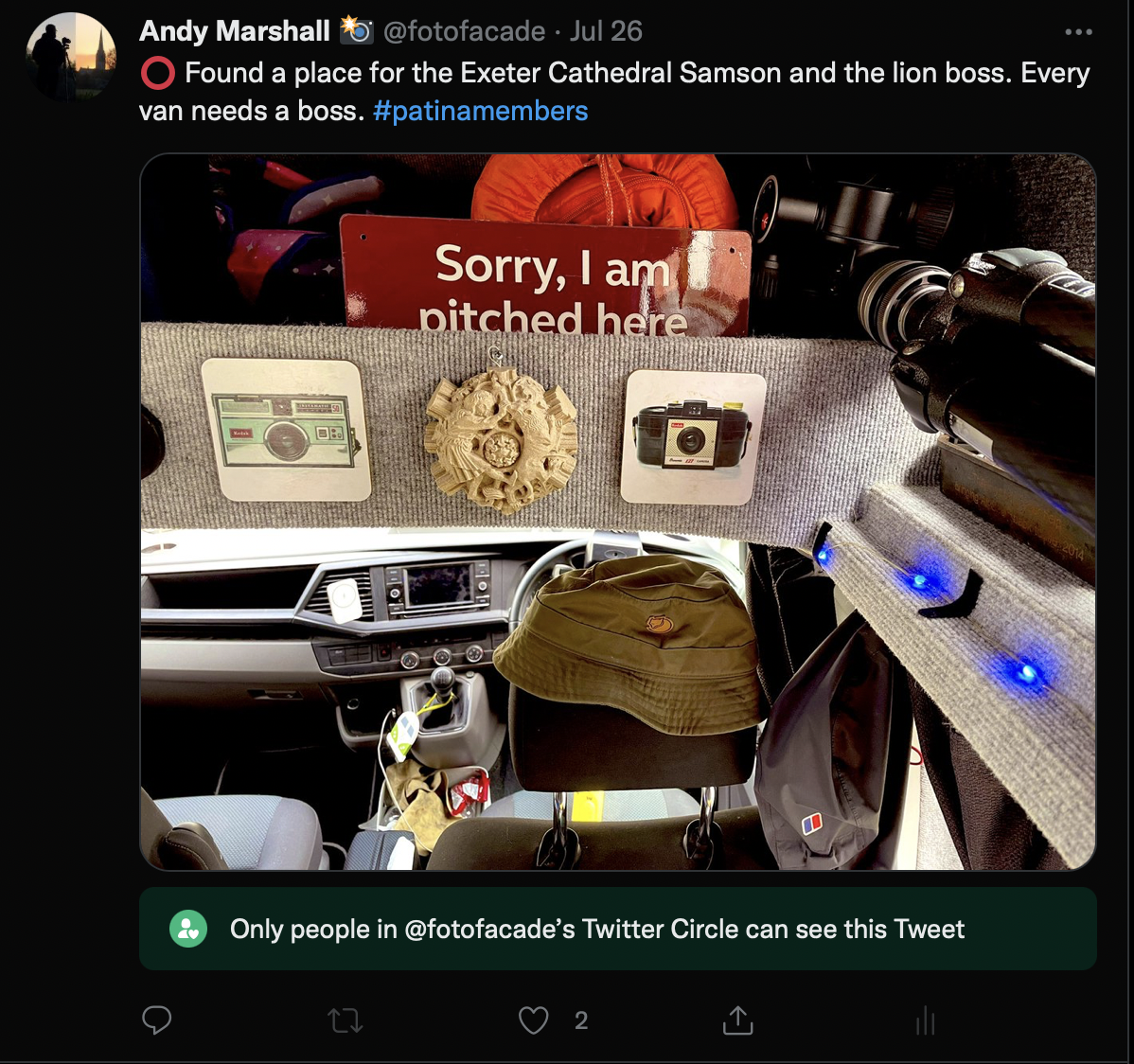 Click here to see all Twitter Circle Posts - choose the 'latest' tab.
Patrons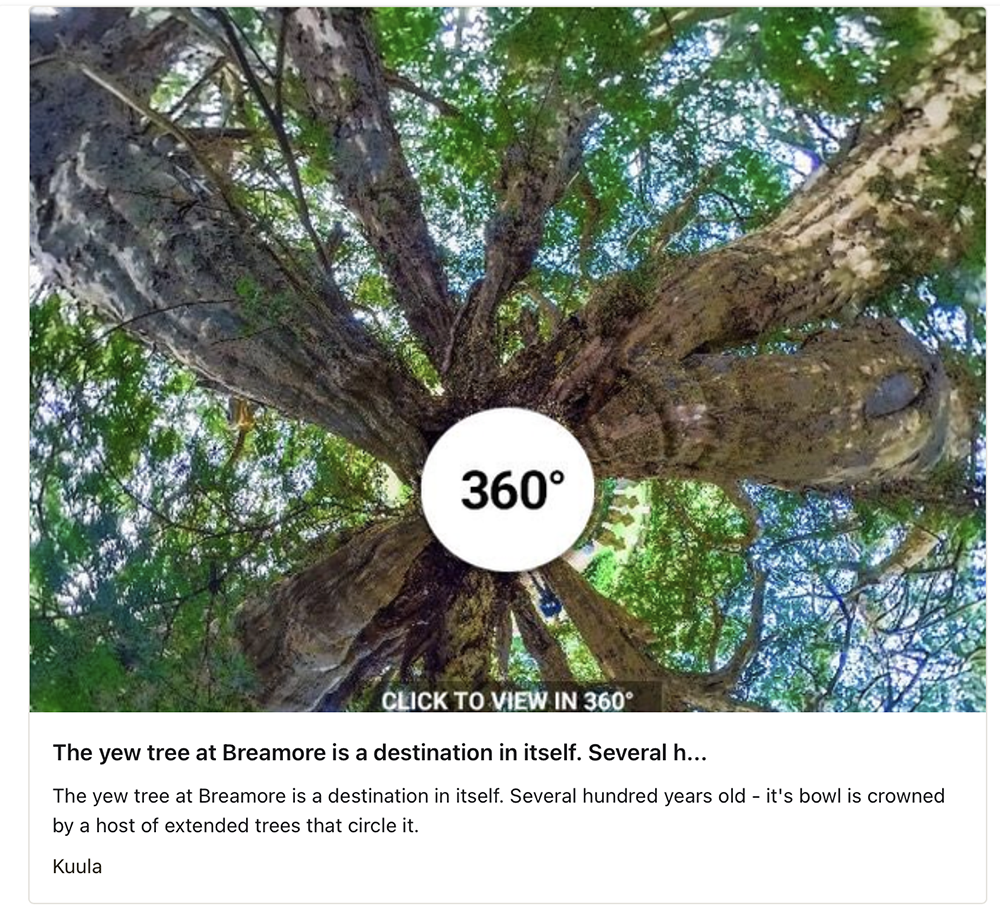 Be there with me: The yew tree at Breamore in glorious VR
Geek Out: Genius Loci Directors Cut 22 July
Exclusive aerial video St. Mary, Breamore
Follow me live through Lincs and Bucks.
Thank You!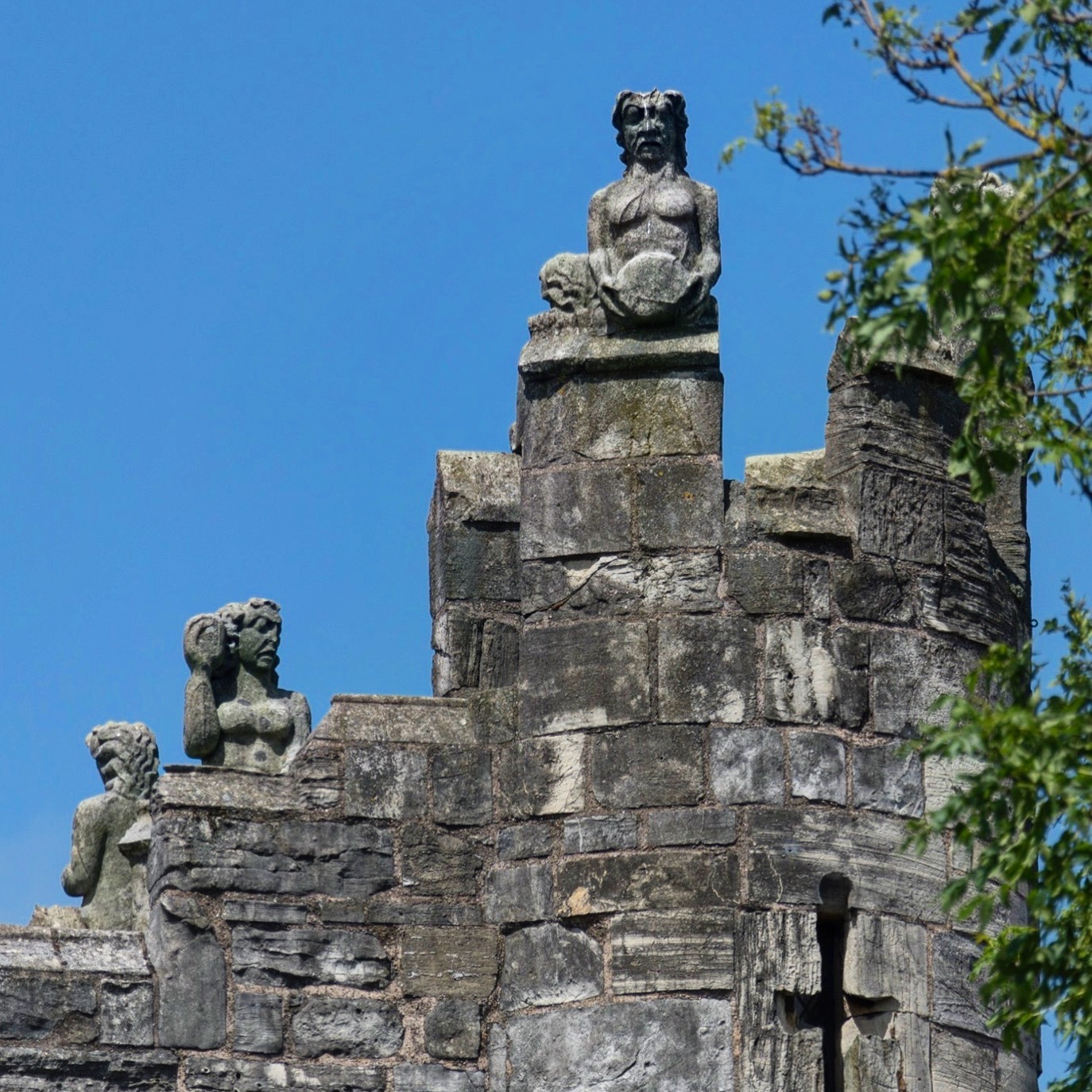 From the bottom of my heart, a huge thanks to those that have become Members and Patrons.
As well as helping me keep this digest free and public facing, your support also helps me connect with others.
I'm a niche photographer in a niche business and you are helping fill in the gaps, in a challenging climate, to help me maintain my advocacy of the historic environment.
Whilst our historic environment is increasingly under threat, I believe that we need to create emotional connections to our buildings, culture and places - no matter what country we live in. This digest is at the forefront of that.
Without attachments to place, and the values it engenders, the more practical issues of finance, conservation and environment are more difficult to advocate.
In sharing my world view I show the emotive strengths behind our built environment and how it impacts our identity and wellbeing in positive ways that are not yet fully understood. I orchestrate attachments to place that might, eventually, help protect them.
Membership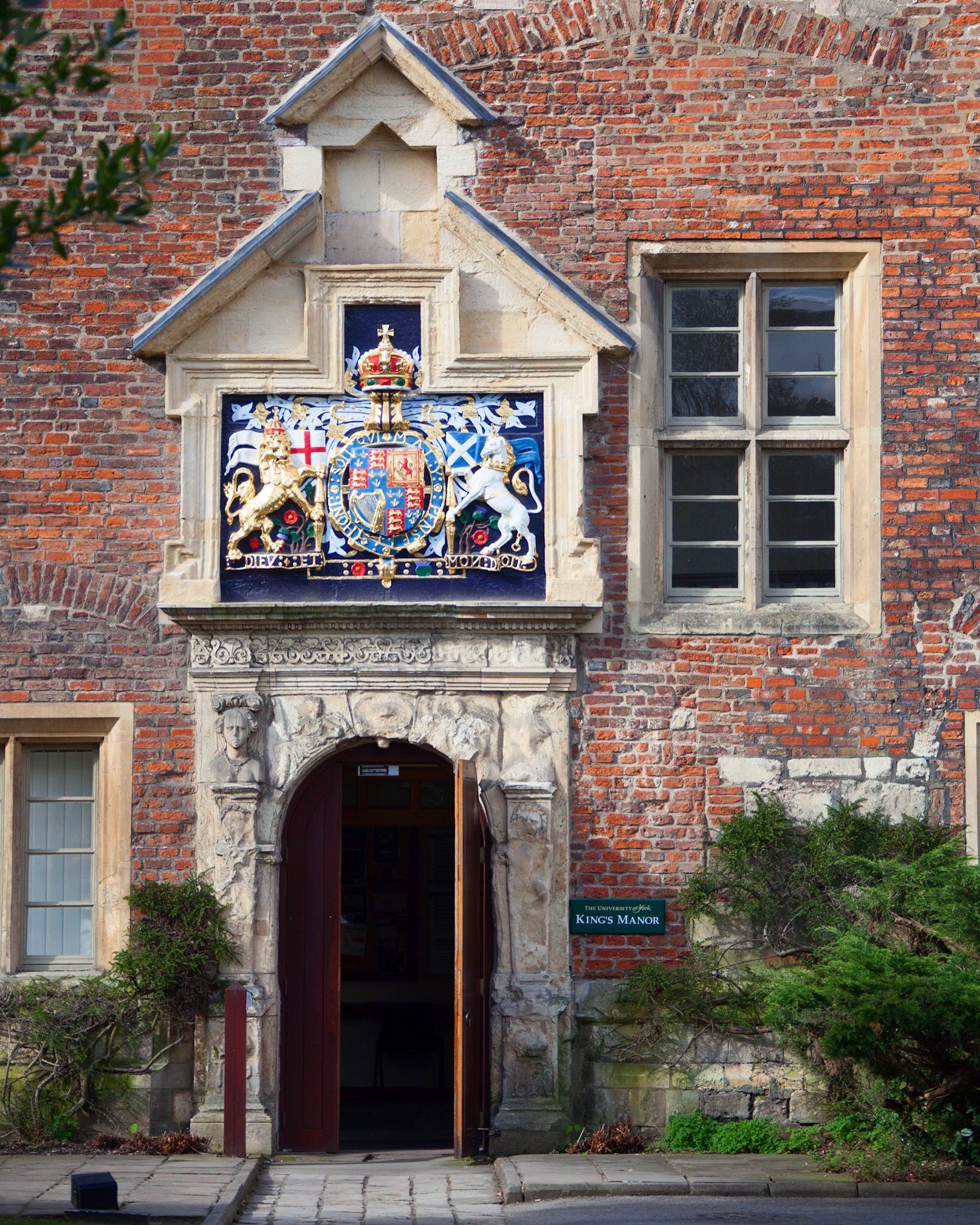 ⚡️This Digest is powered by memberships that keep it freely accessible.⚡️
I sincerely hope that my digest adds value (in a small kind of way) to your Fridays.
It takes a day every week to write my digest and I love doing it! It remains free and open to all to read on a weekly basis. If you think it's of value, you can opt in to support this digest and my work by becoming a member for £3 per month, or £36 per year. You can unsubscribe at any time. There are also some juicy member benefits.
Memberships are a huge help. Thank you.
Become A Member
📸 Click here for Monthly Membership
🚐 Click here for Annual Membership.
Or Become A Patron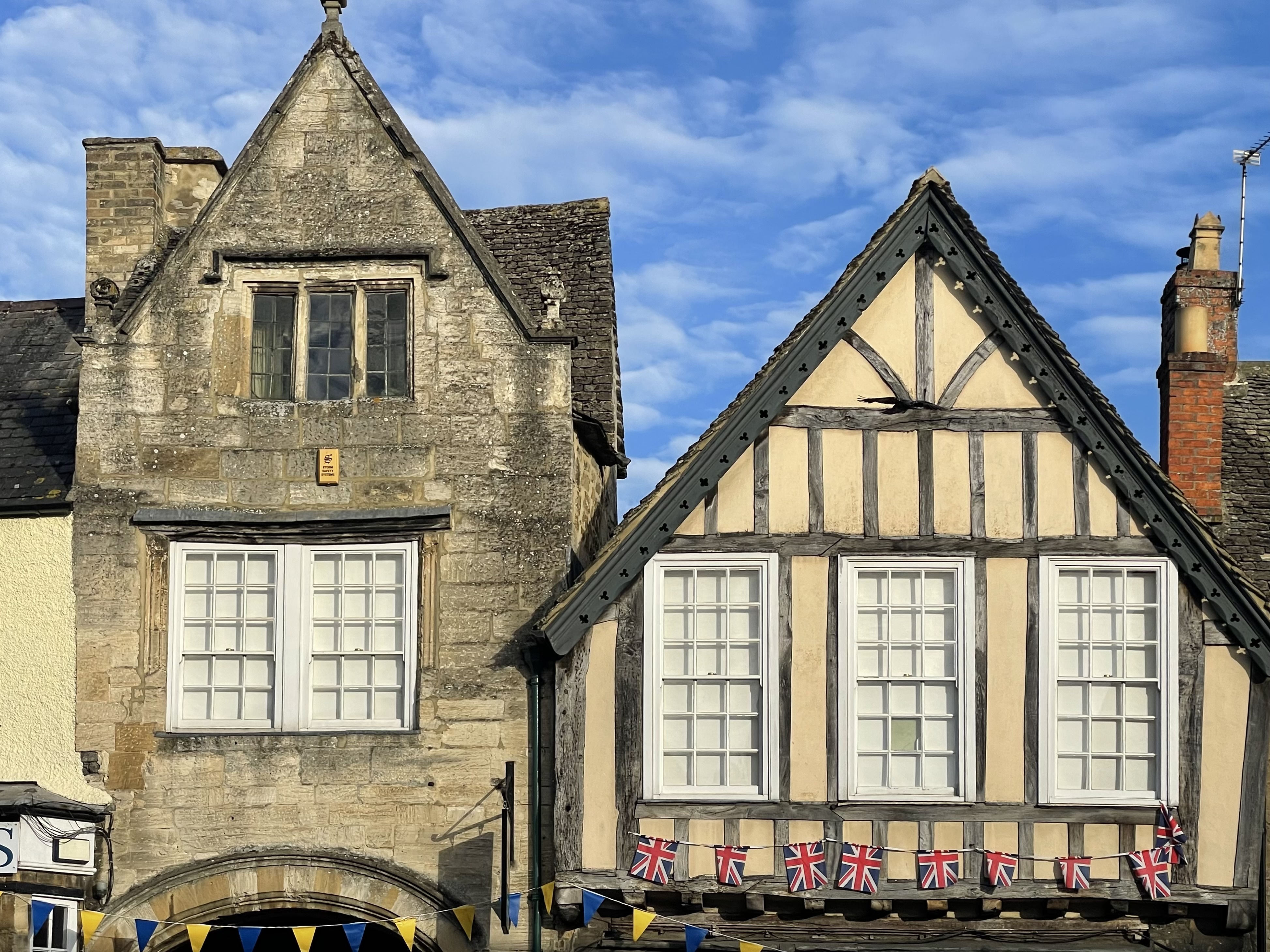 Our historic environment is a universe to explore of unimaginable complexity. Patreon gives me the space to share it in a variety of formats including virtual reality.
And Finally...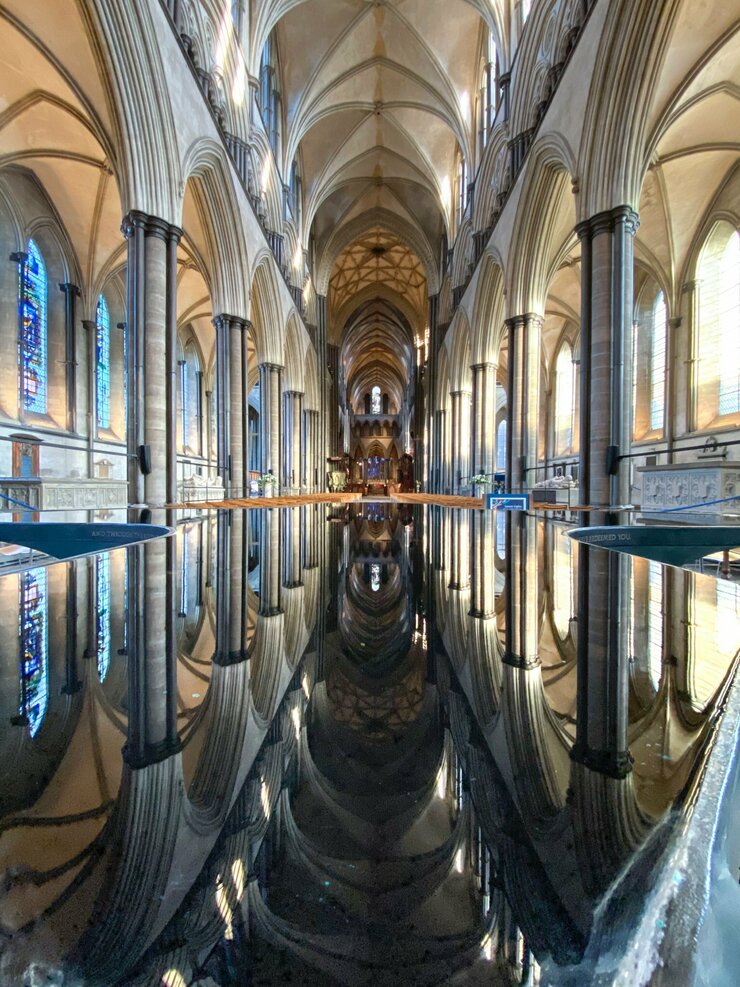 My Linktree