---
Welcome
For those that are new here: thanks for coming along..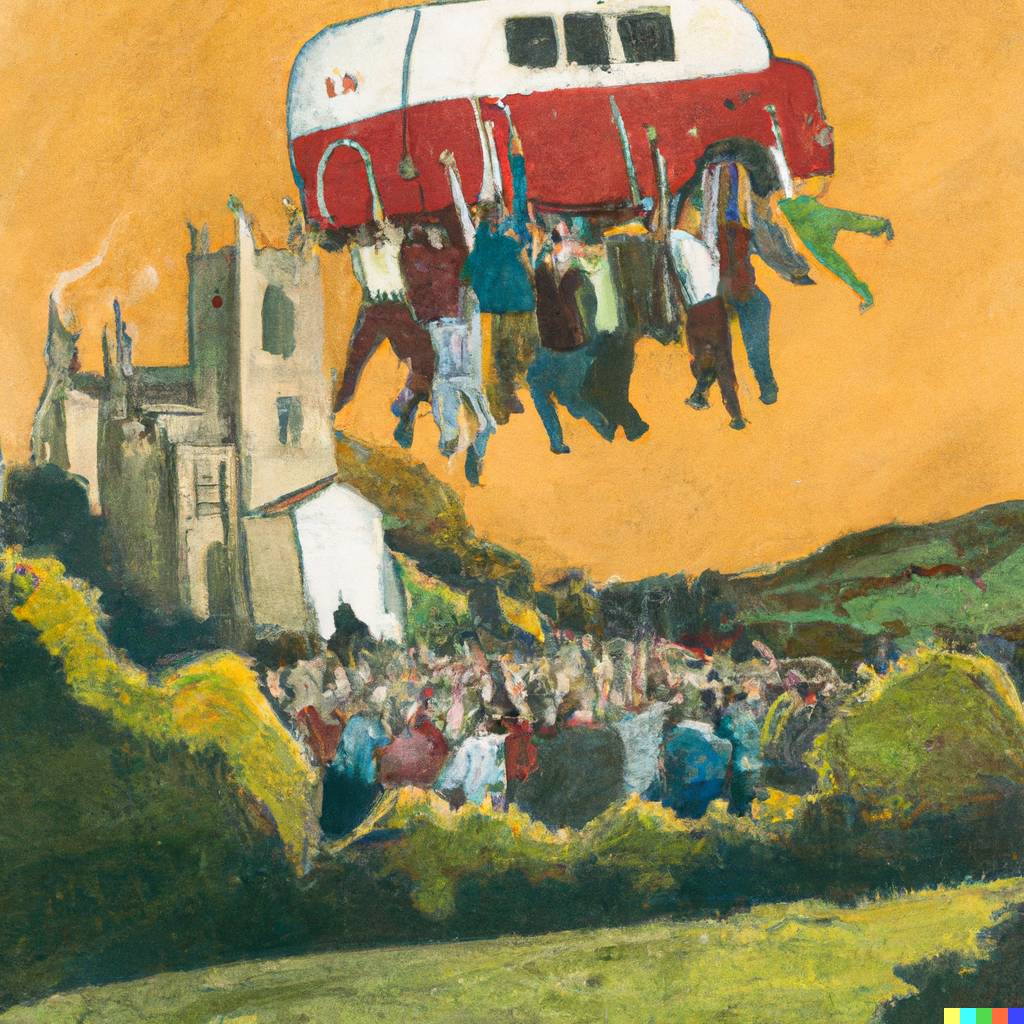 I'm an architectural photographer. I travel around Britain recording and interacting with special places that have a spirit about them. I work from my camper van called Woody and I share my experiences via this digest.
⚙️ The Genius Loci Digest is free to subscribers and is powered by 59
Memberships
⚡️ Missed the last digest? Here it is.
⚡️ View the digest archive here.
---
I'm so grateful for your support. We are just one member away from another member powered photography shoot - more information here: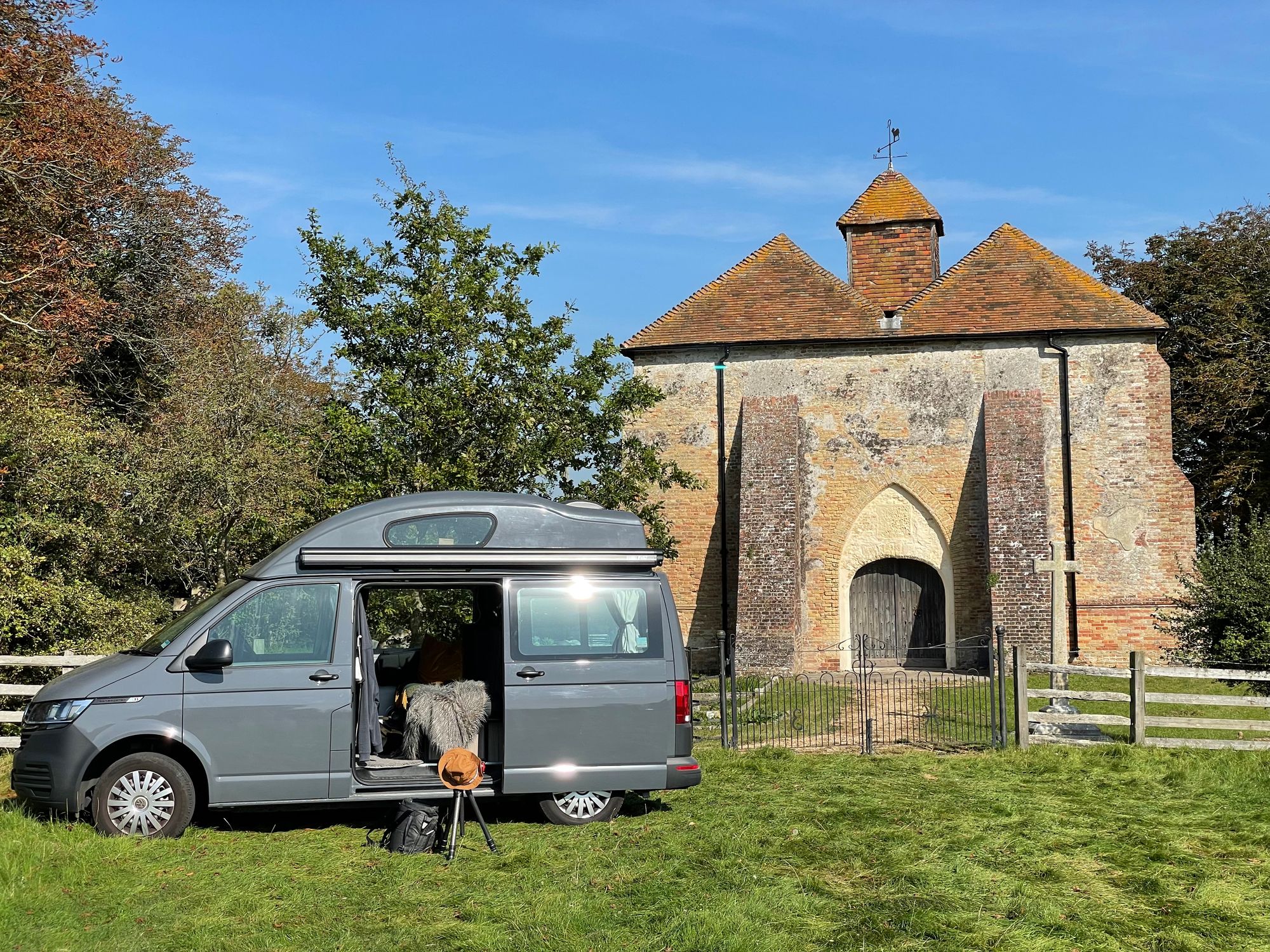 ---
Genius Loci York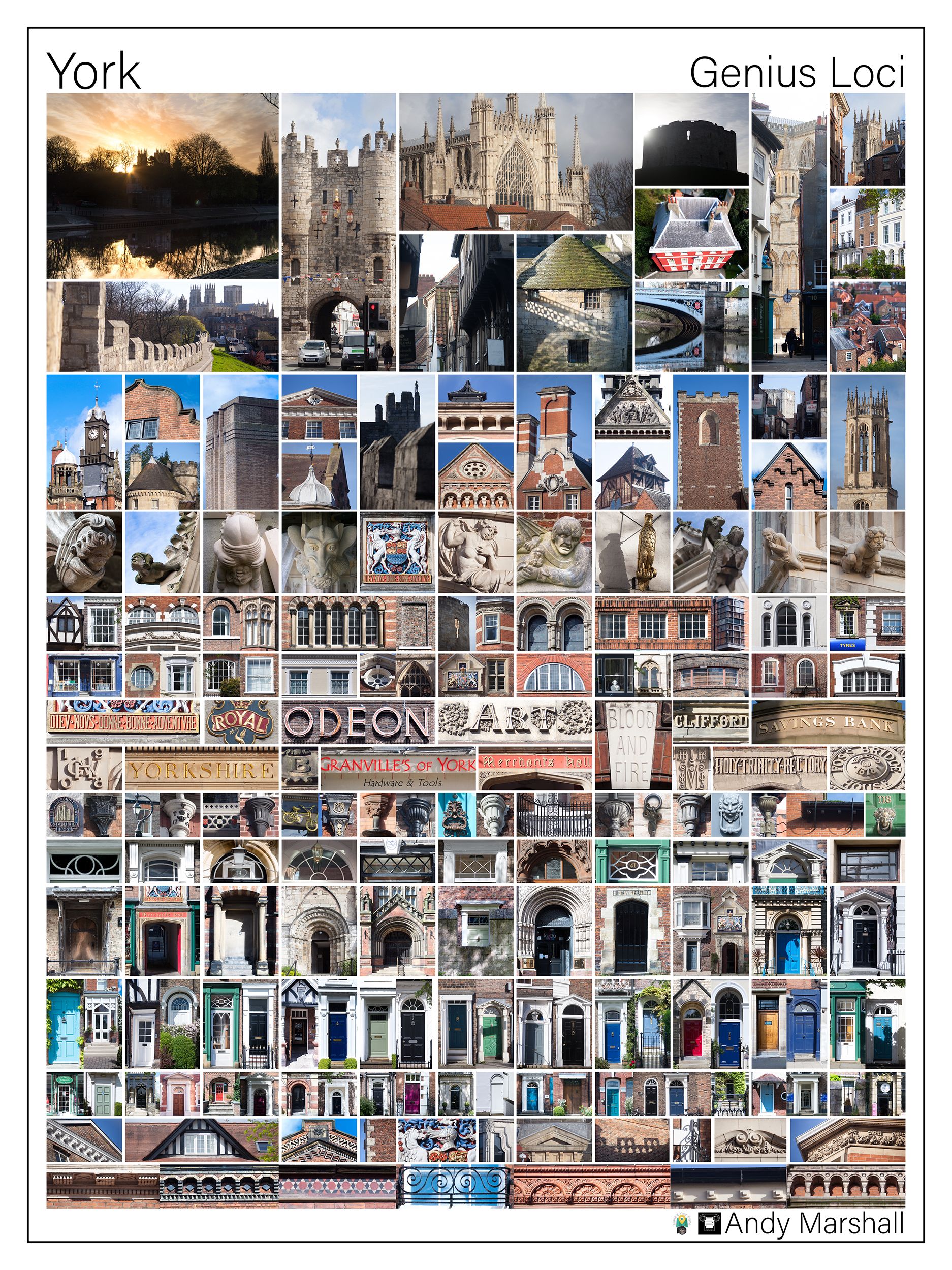 York is one of my all time favourite destinations and I spent many days over a full year capturing the essence of its architecture, typography and culture. Every detail was photographed in sunlight.
---
🎉 The Genius Loci York Digital Print in glorious hi-res is available as a download for members - more information here: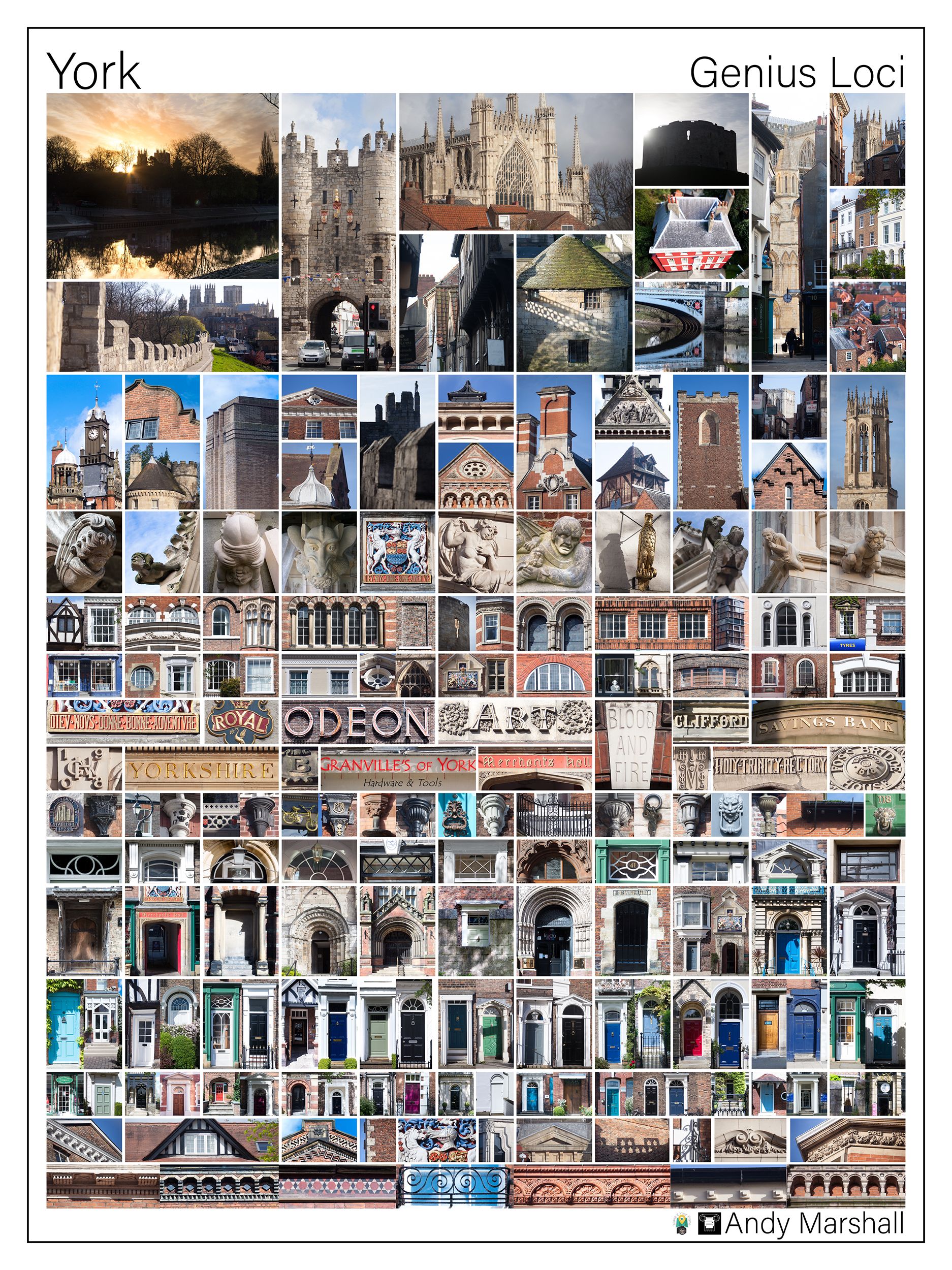 ---
"And in buildings of all kinds there is a surface to be immediately enjoyed, and layer after layer to be unpeeled as a result of which one can experience ingenuity, folly, vanity, skill, affection, pride, or adventurousness of all types of people in all kinds of locations."
Mark Girouard, Town and Country.
---
The volute and the cobbled floor.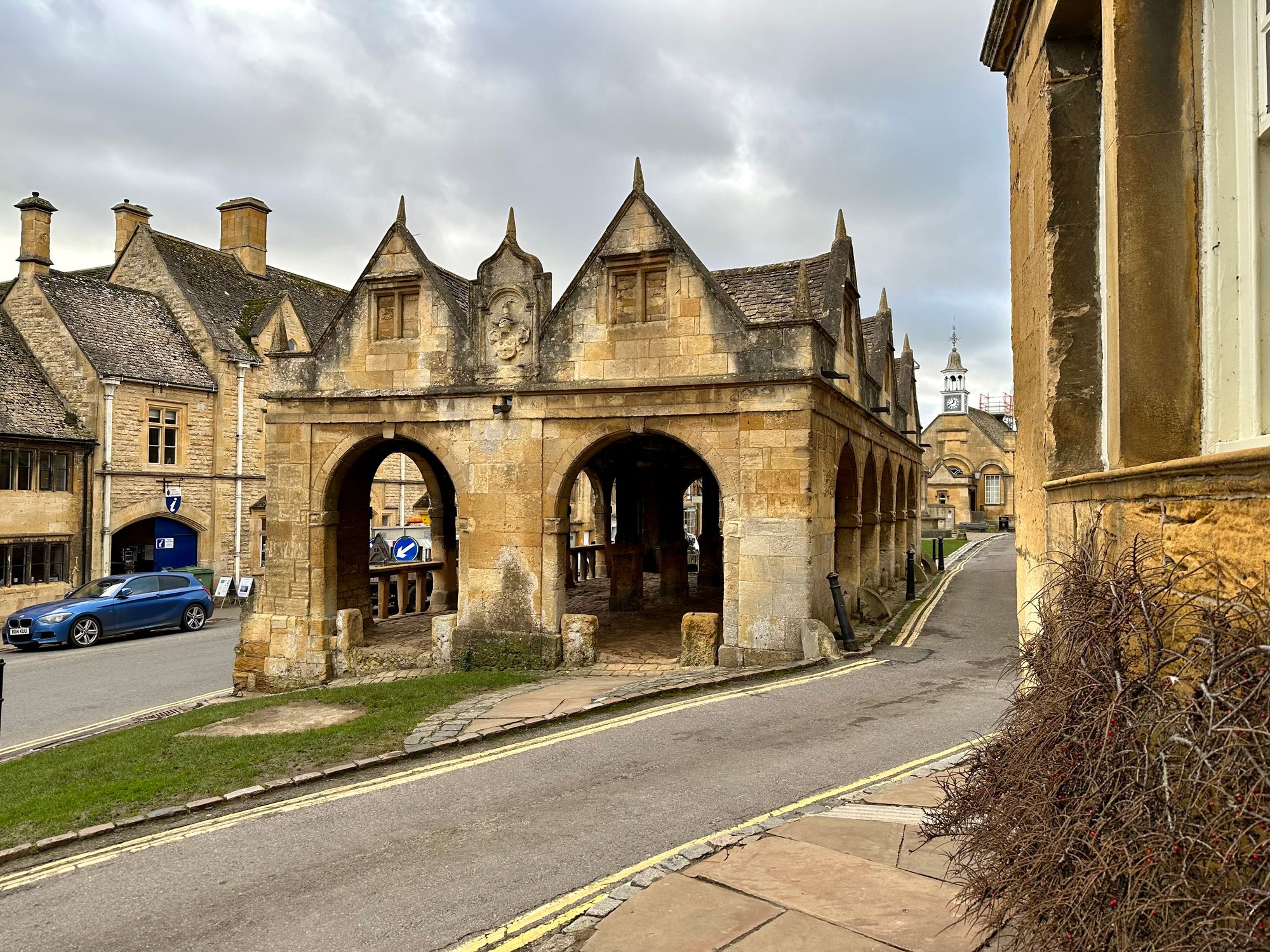 Every place is an open book and every time I visit somewhere, no matter where, I come away feeling enriched.  Chipping Campden in Gloucestershire is no exception. I have a commissioned shoot of a new theatre at the school, and I take time out to visit the town centre and church. Even though the weather isn't kind, the Cotswold stone is resonant with ochre hues - warm to the touch - retaining the latent memory of over 900 years of use.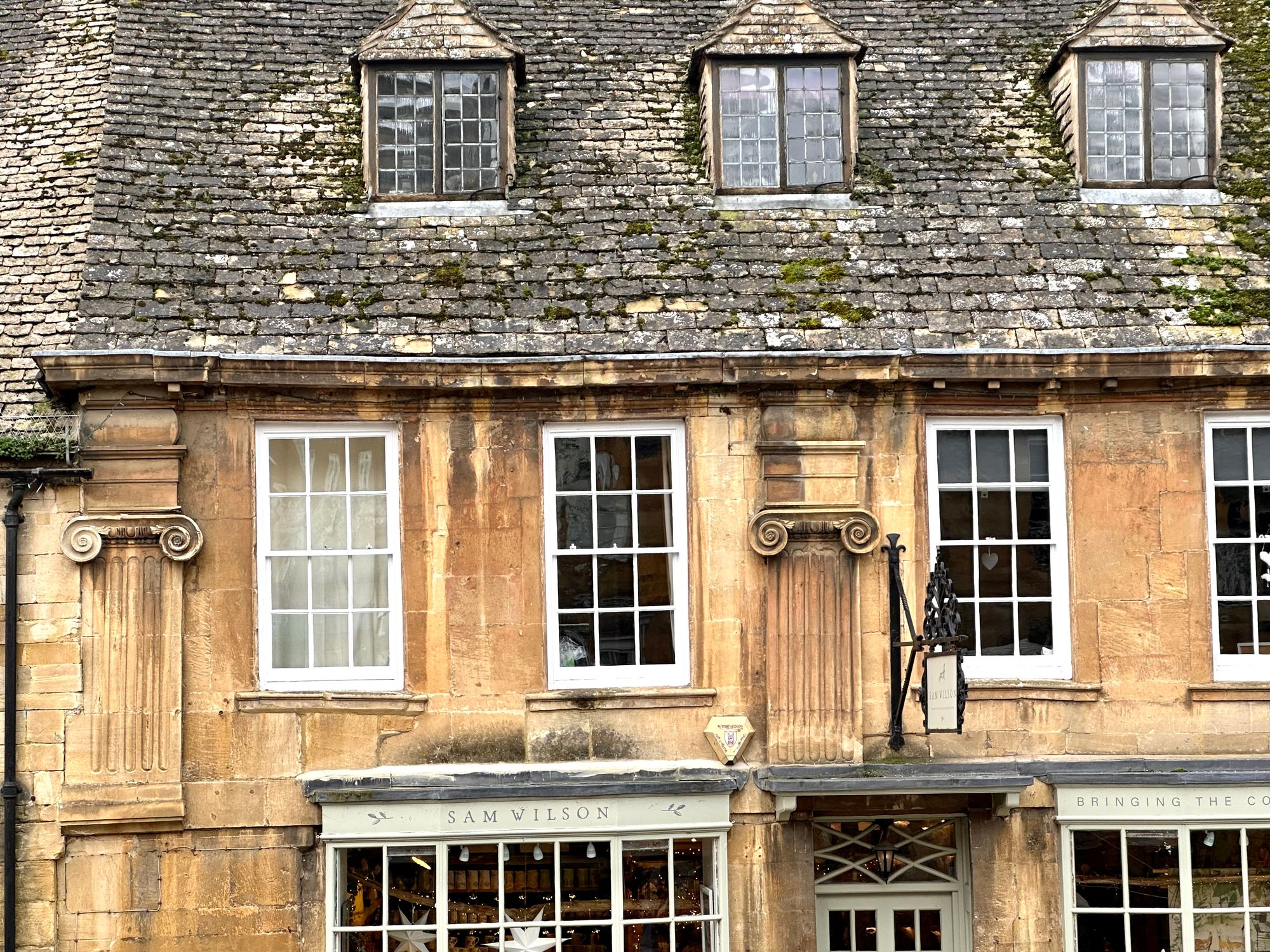 Chipping Campden's buildings betray a tantalising glimpse of the hopes, trials and tribulations of a single community throughout the growth of the town. The stylistic formality of classicism is embossed upon the jaunty angled village vernacular of a planned town of the C12th. Behind the decorum of the volute is the warm personality of a community that prospered for several hundred years. Their aspirations are writ large in the fluting, but the essence of the human disposition is percolated through the humble details.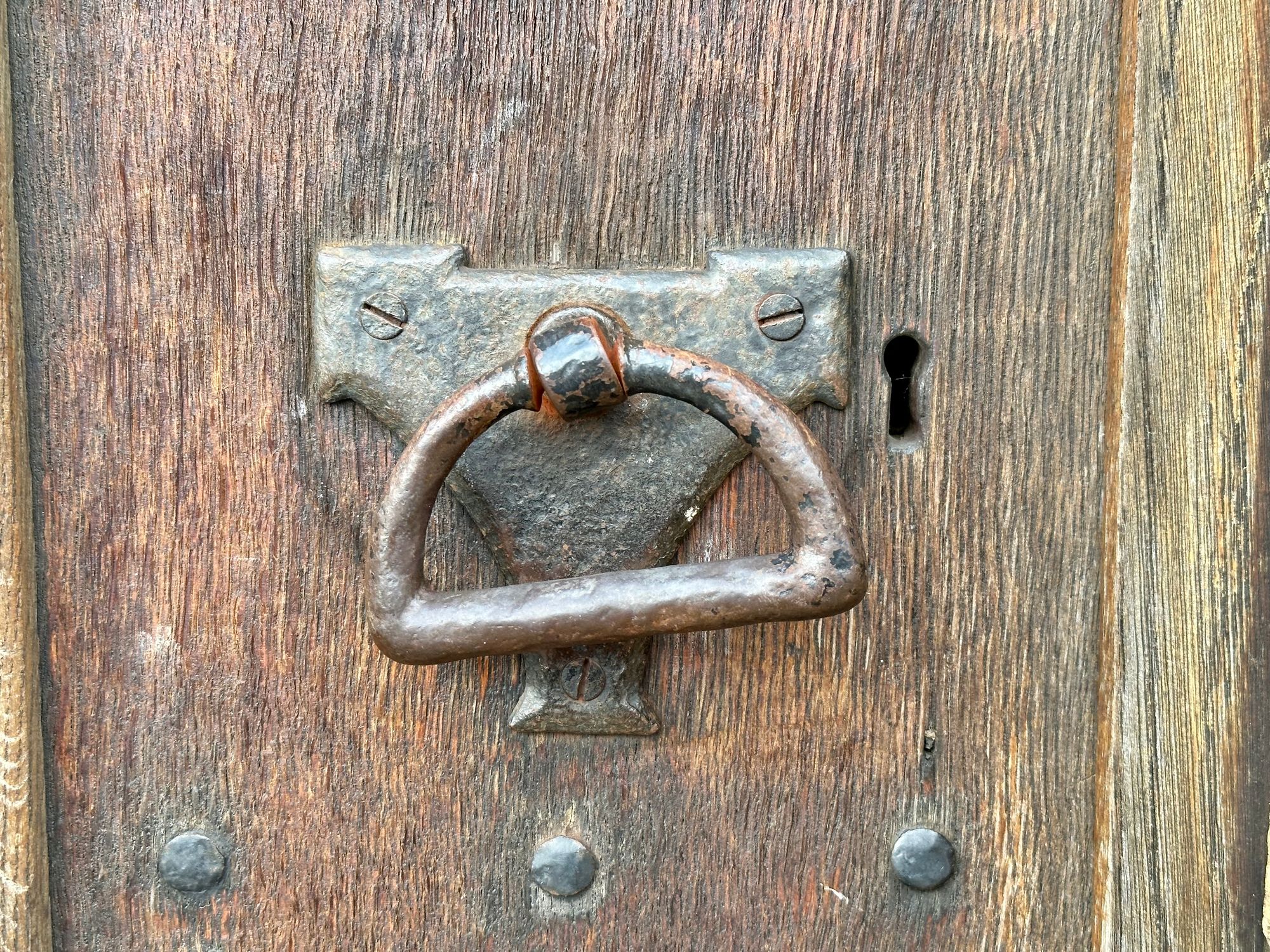 One such building is the Market Hall built by Sir Baptist Hicks in 1627. I could sit and ponder the phonetics of his name for several hours. Sir Baptist was a successful cloth merchant and built the Manor House in Chipping in 1612.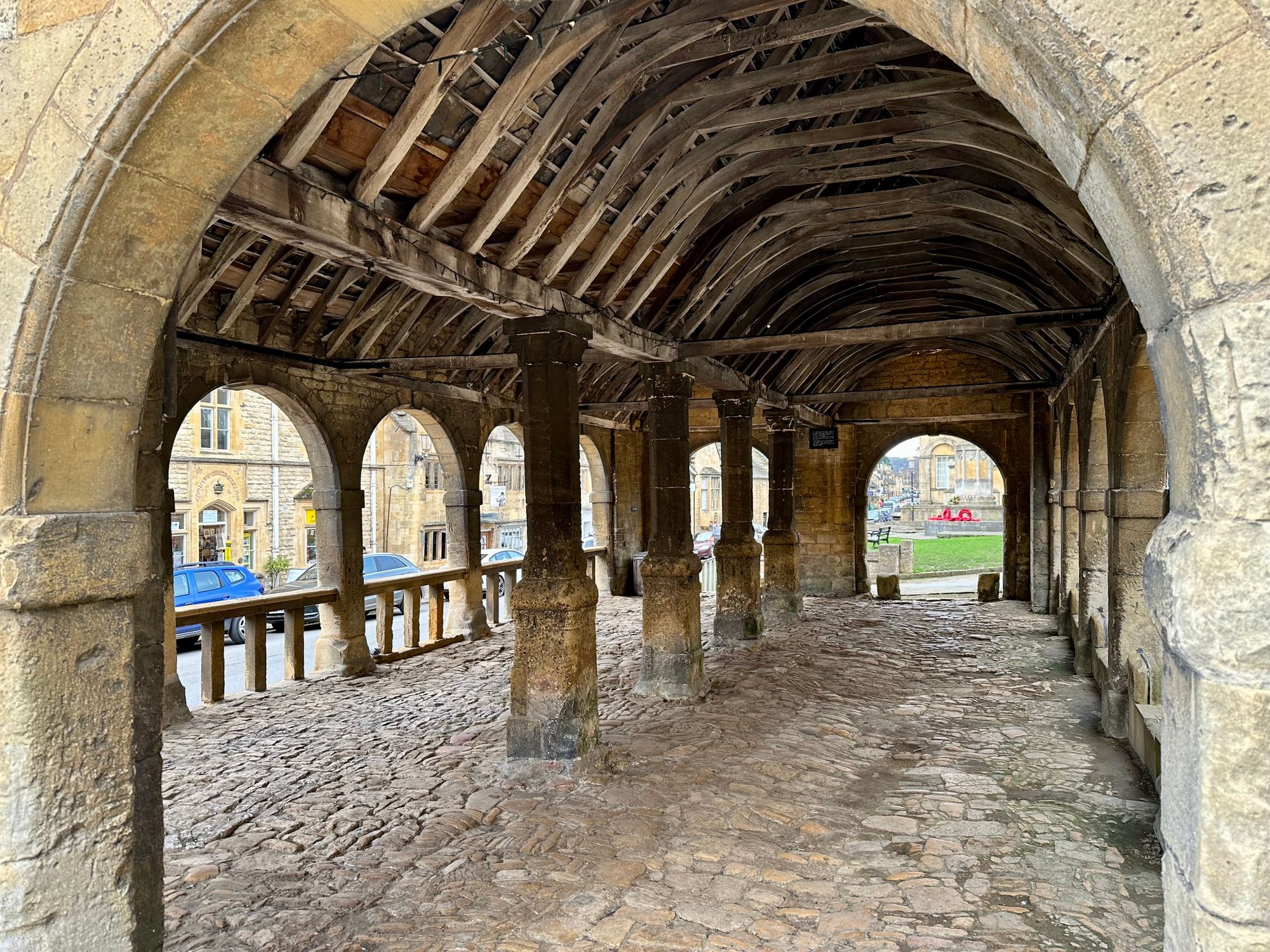 The Market Hall is a destination in itself - a classical double arcaded loggia built in ashlar with a wagon ceiling. It is full of pretension and intention but, for me, the joy of this space is the stone floor that bears its story over time with its deletions and insertions, its patina and staining and murmurative undulations. Its pattern is just as phonetic as Sir Baptist Hick's name - revealing what Ruskin called the 'voicefulness' of the things we fashion and leave behind.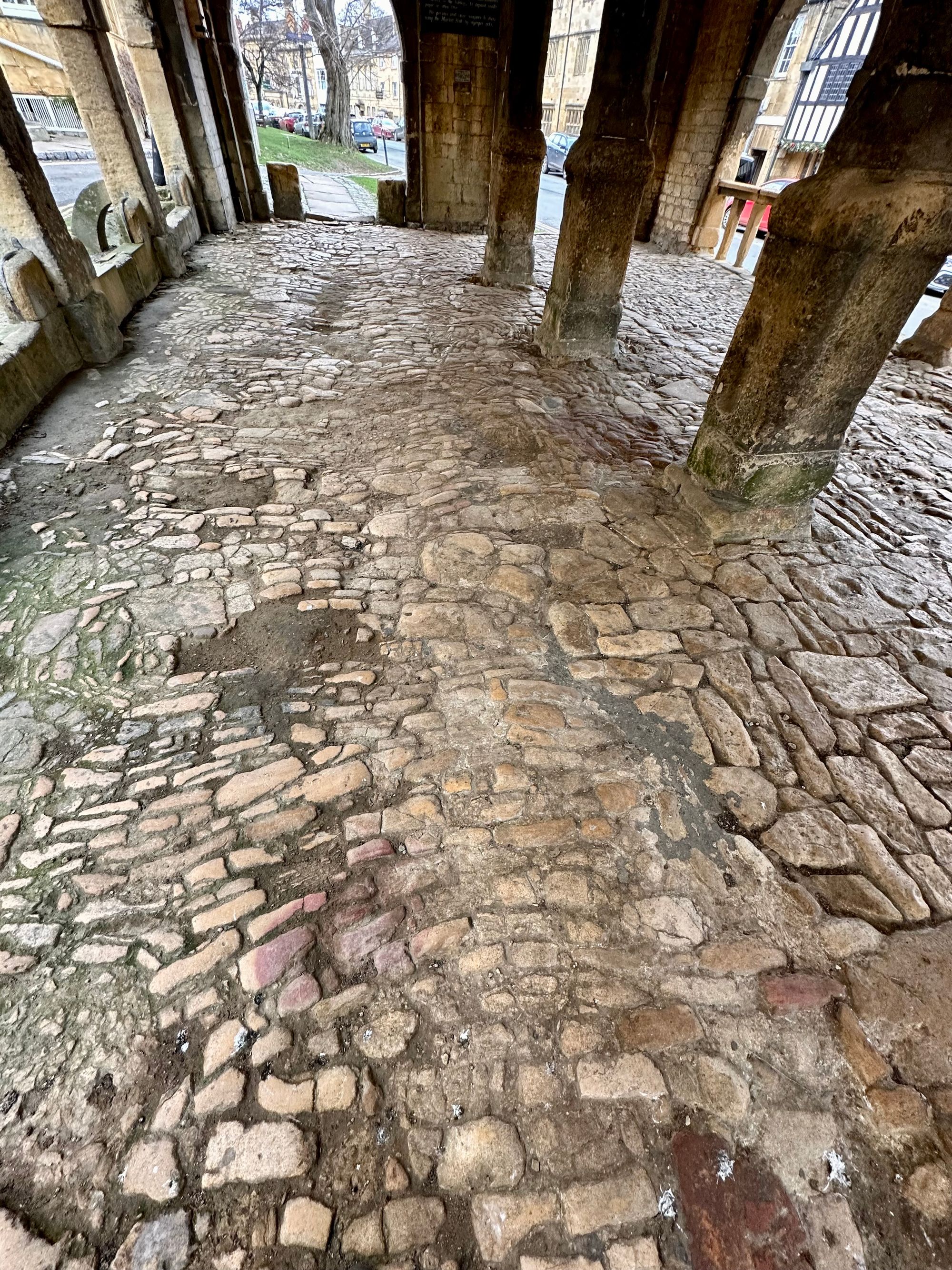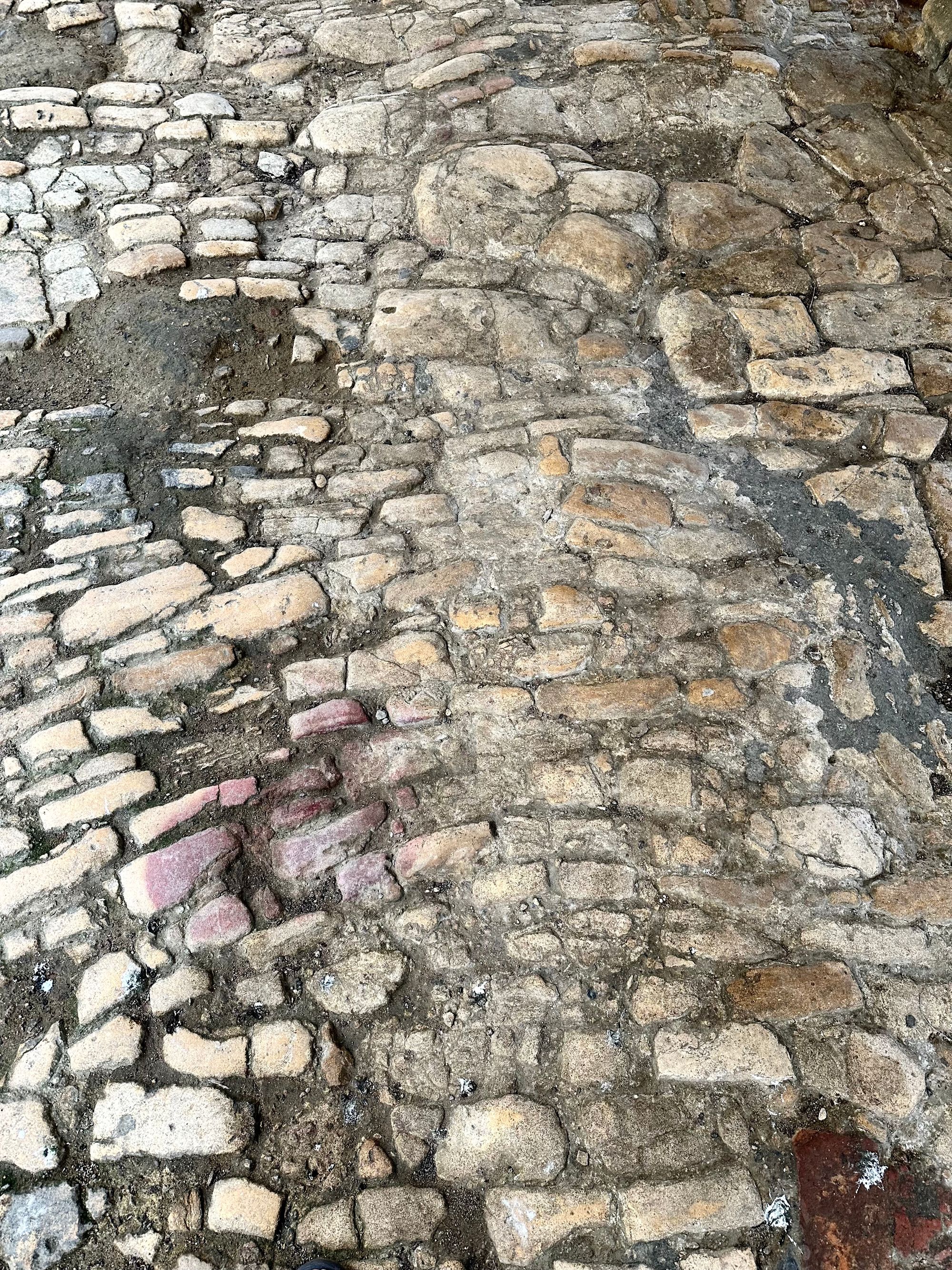 ---
The Market Hall is in the centre of Chipping Campden and is free to visit. Markets (in the town hall) are held on the second Saturday and Sunday of each month from March to December between 10:00 am and 5:00pm.
---
Can you help keep Woody on the road?
Click below for membership options and benefits
Become a Member
---
The Market Hall floor at Chipping Campden has made it onto the Treasure Hoard Gazetteer.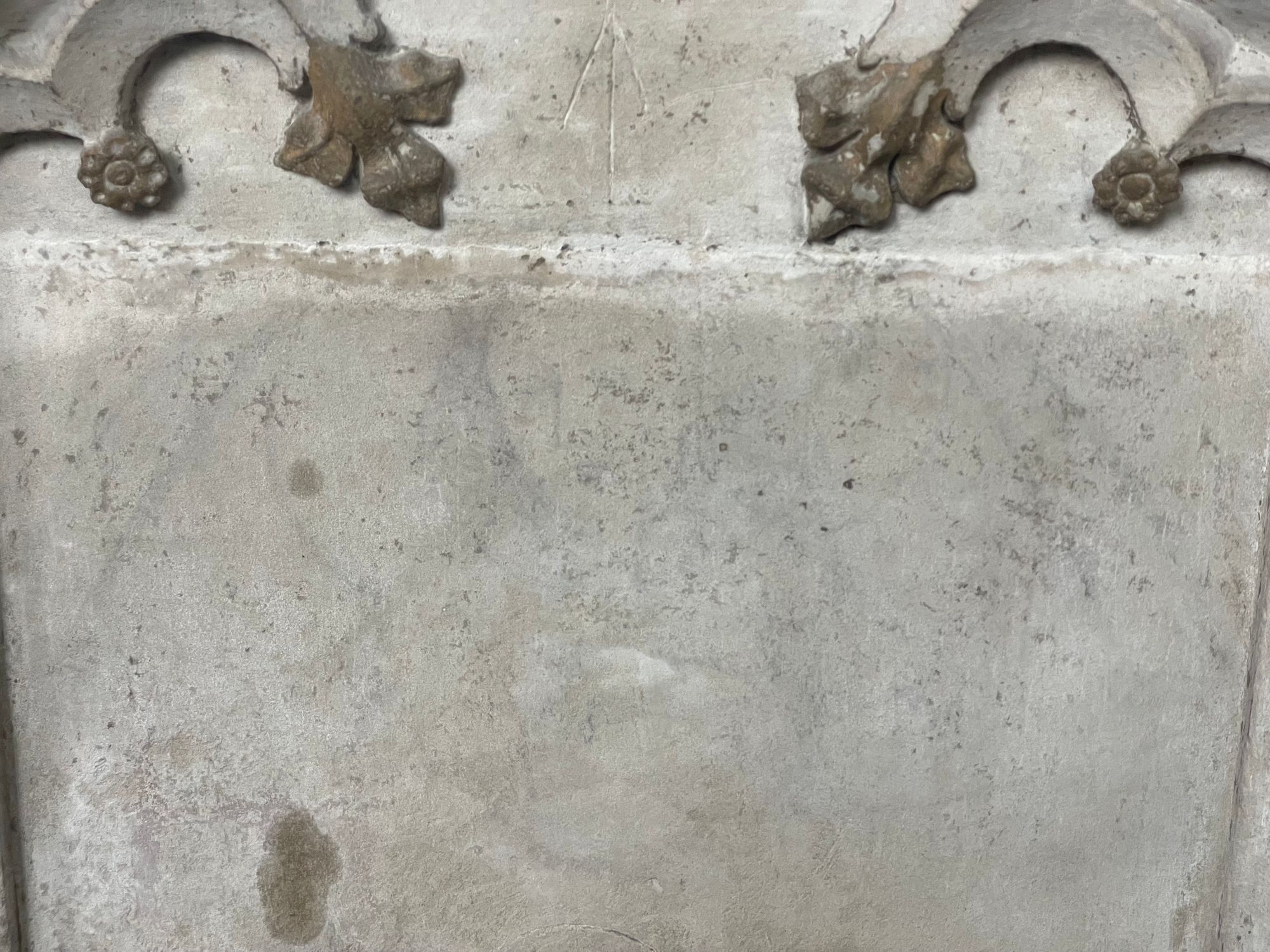 Members can see the full entry here: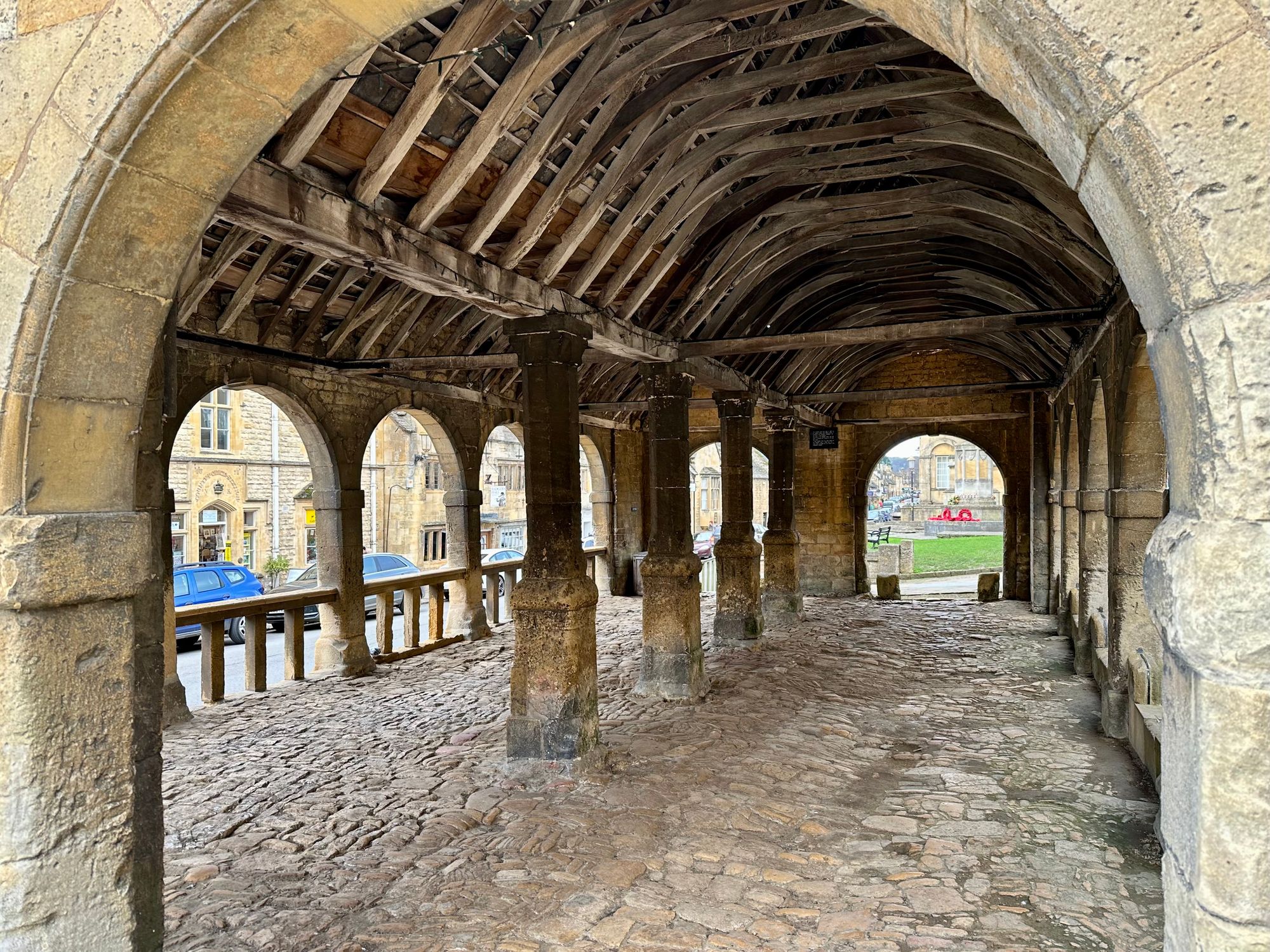 ---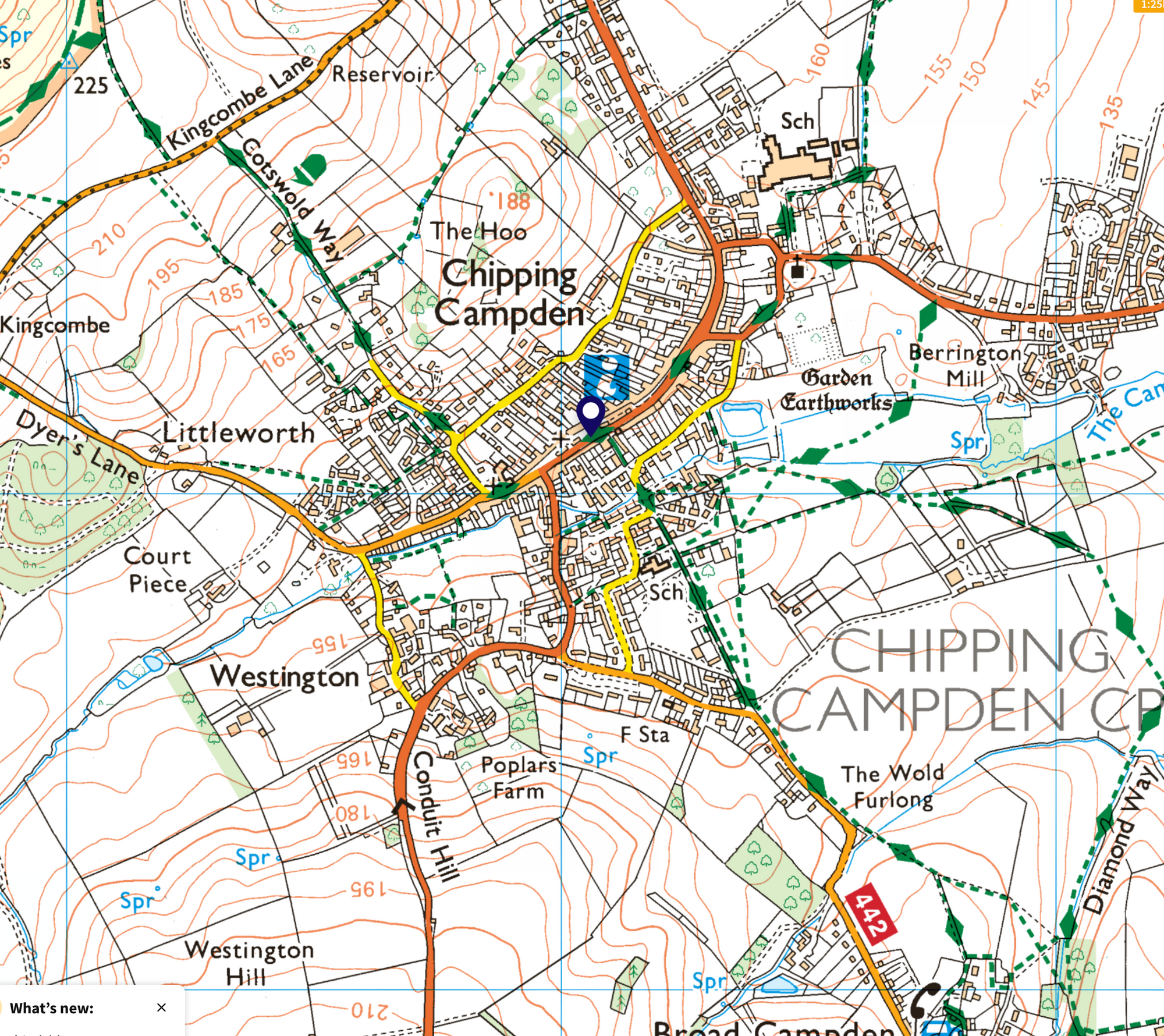 Chipping Campden.
This is a delightful town - built of Cotswold stone, full of charm with a wool church to rival any other in the country. The remains of Sir Baptist Hicks manor house (much damaged after the civil war) are still evident and can be seen as an ensemble around the church.
The buildings of Chipping Campden - no words, pure scroll.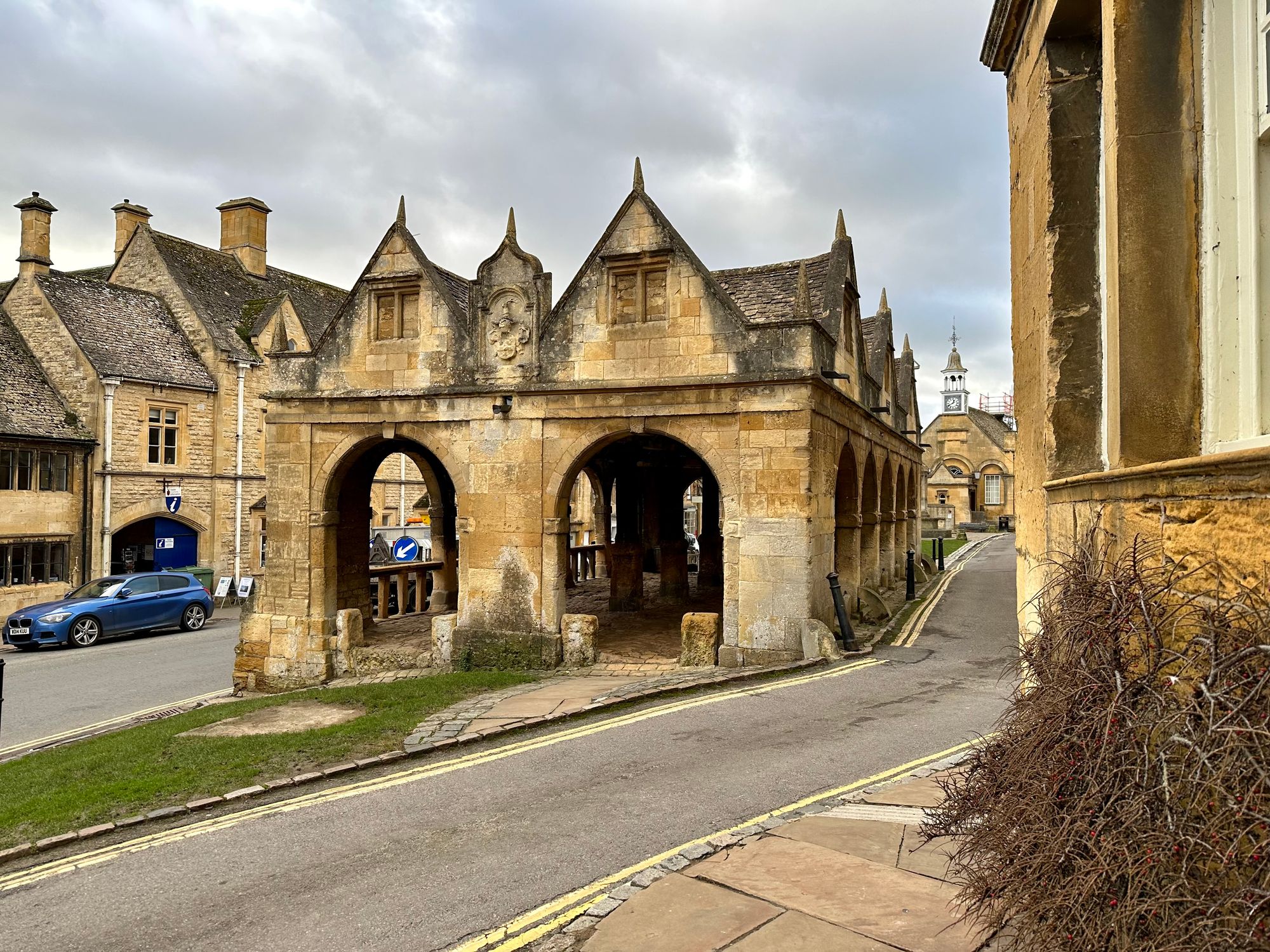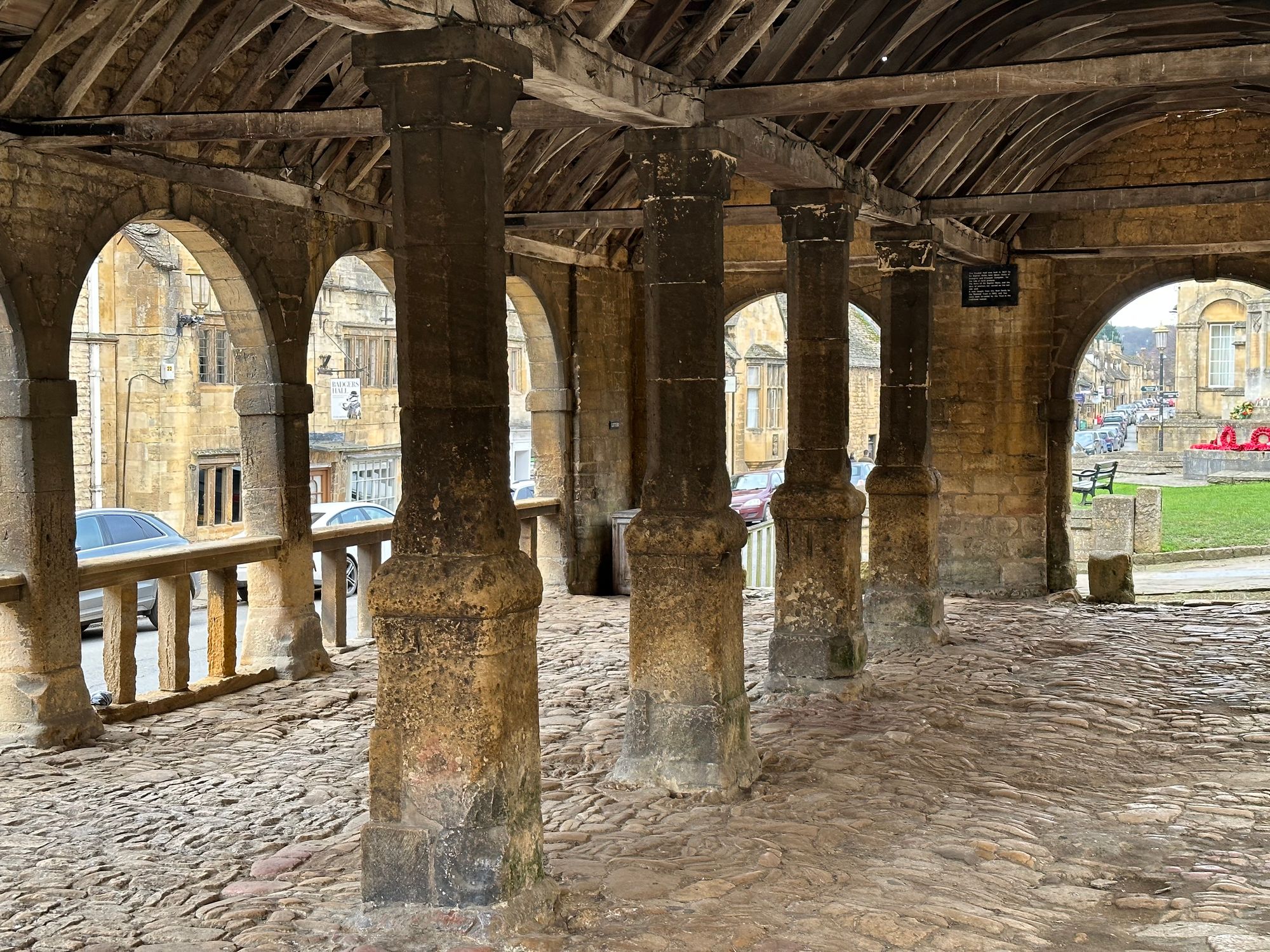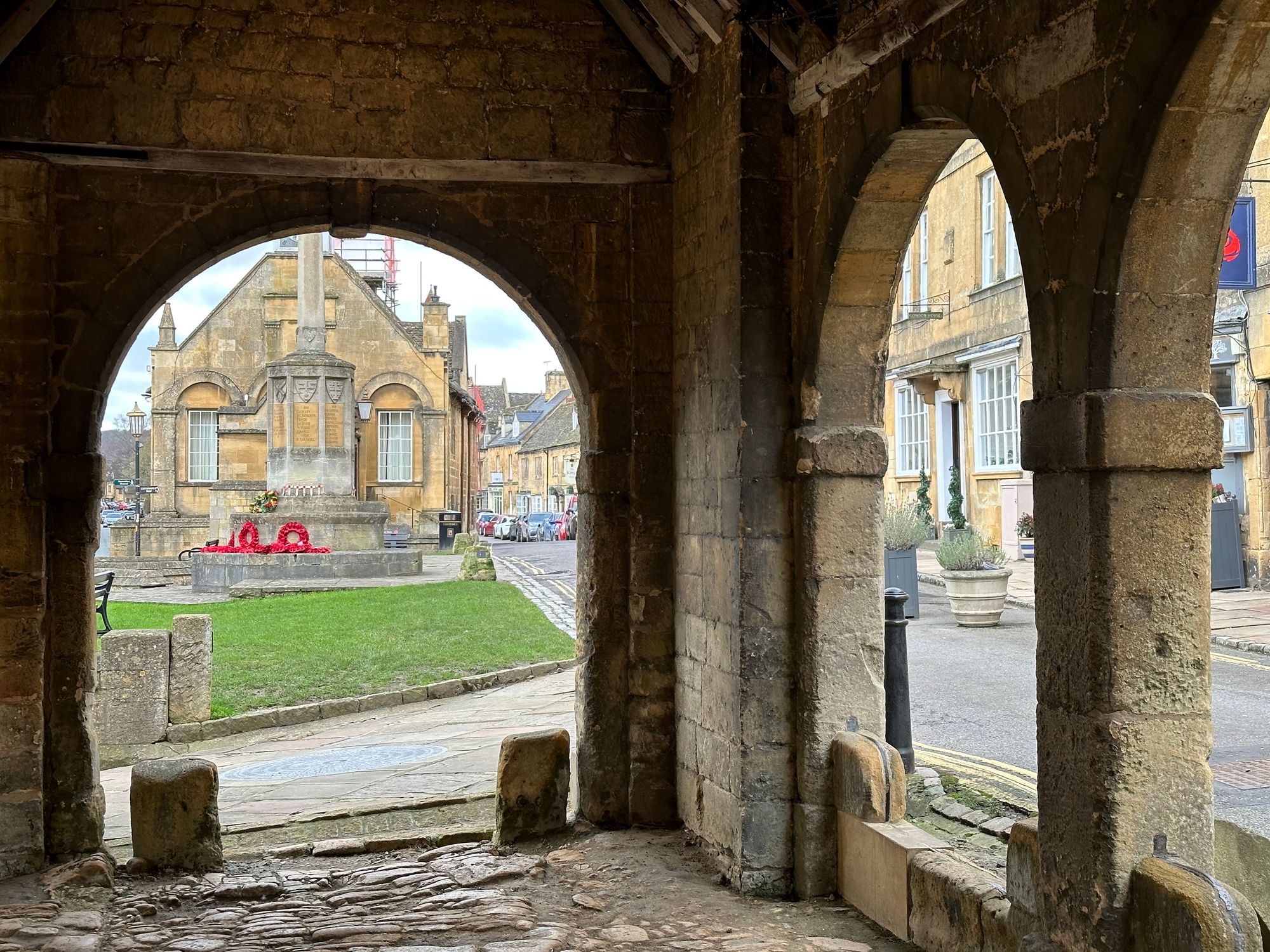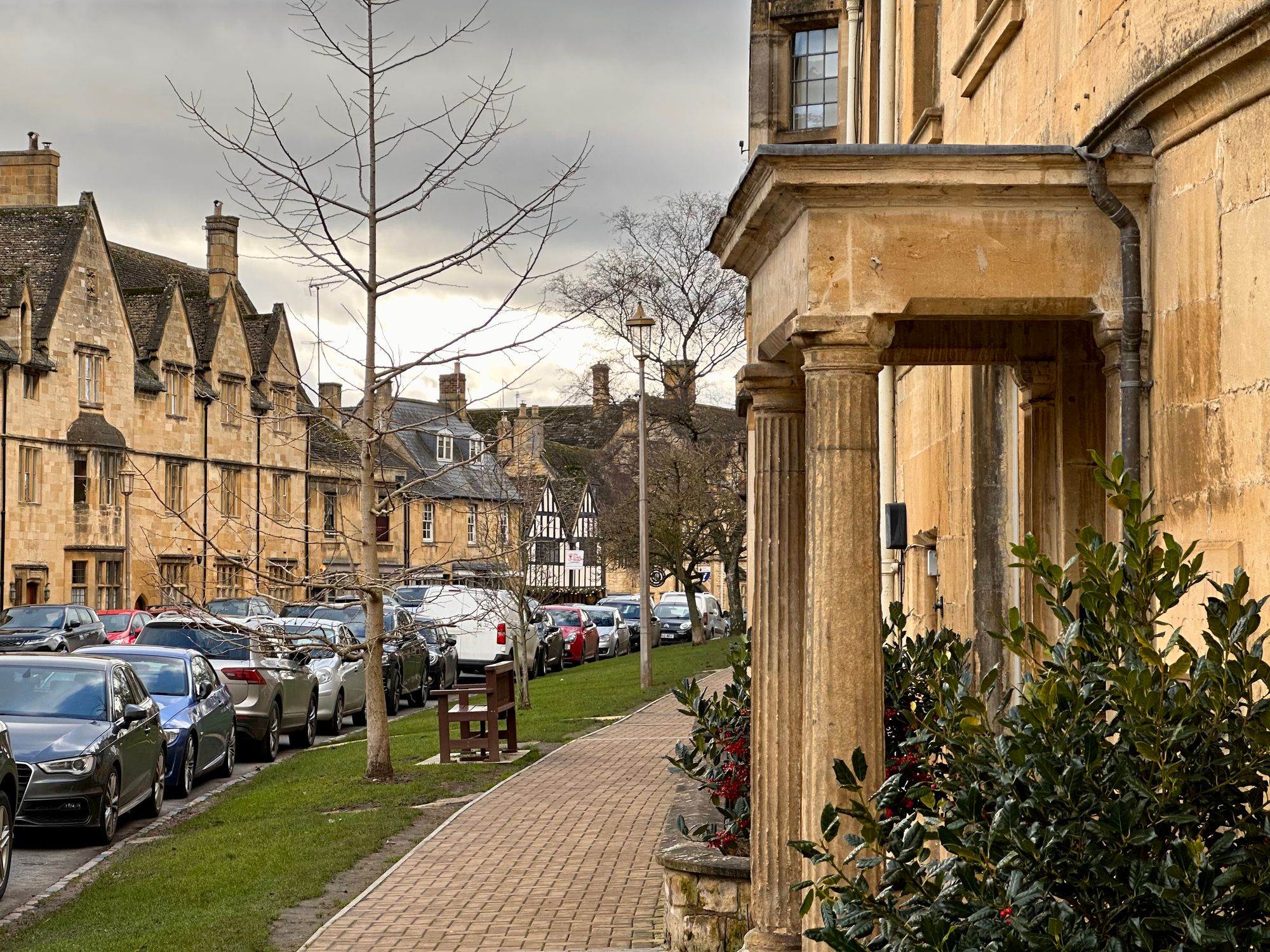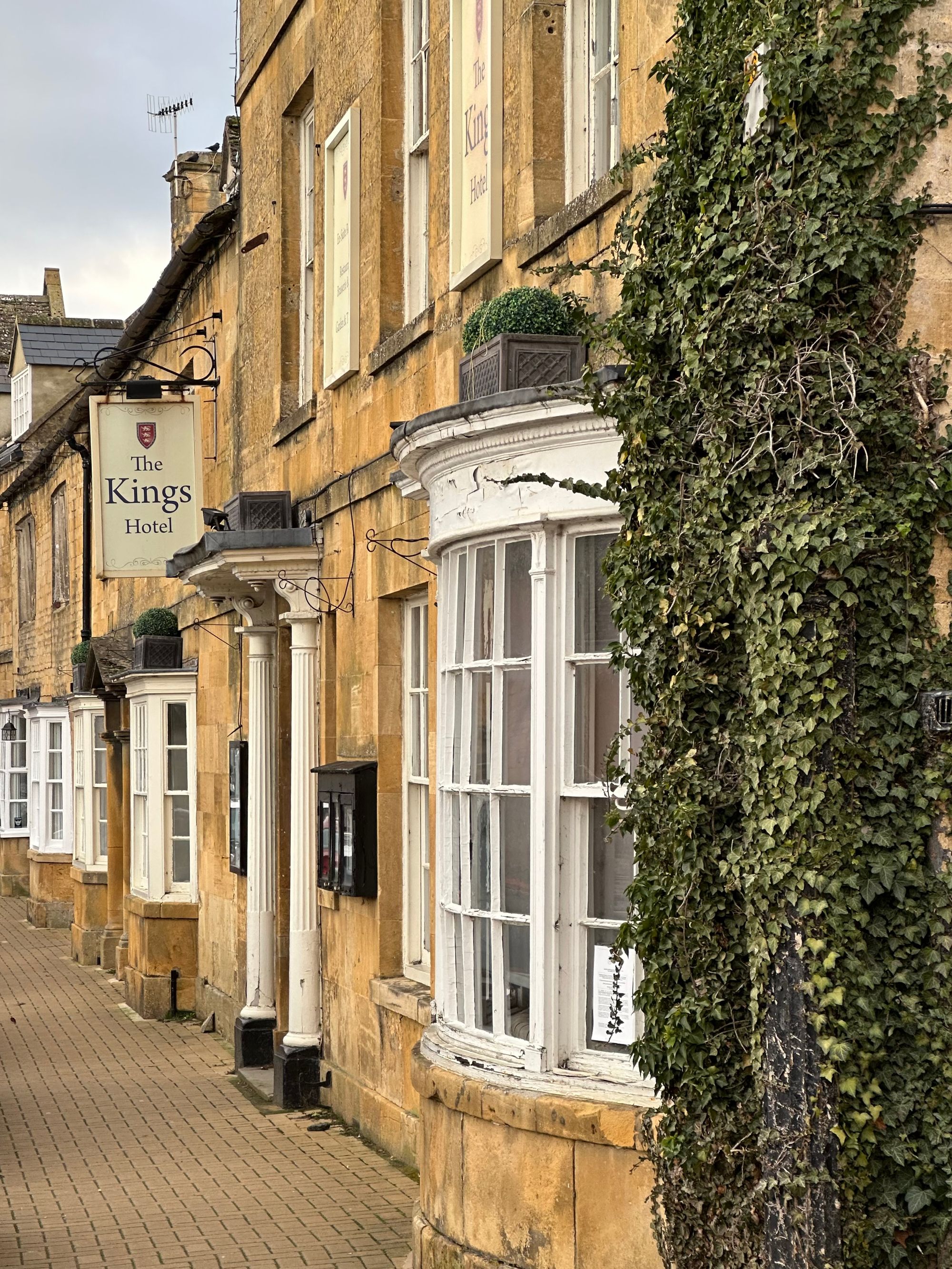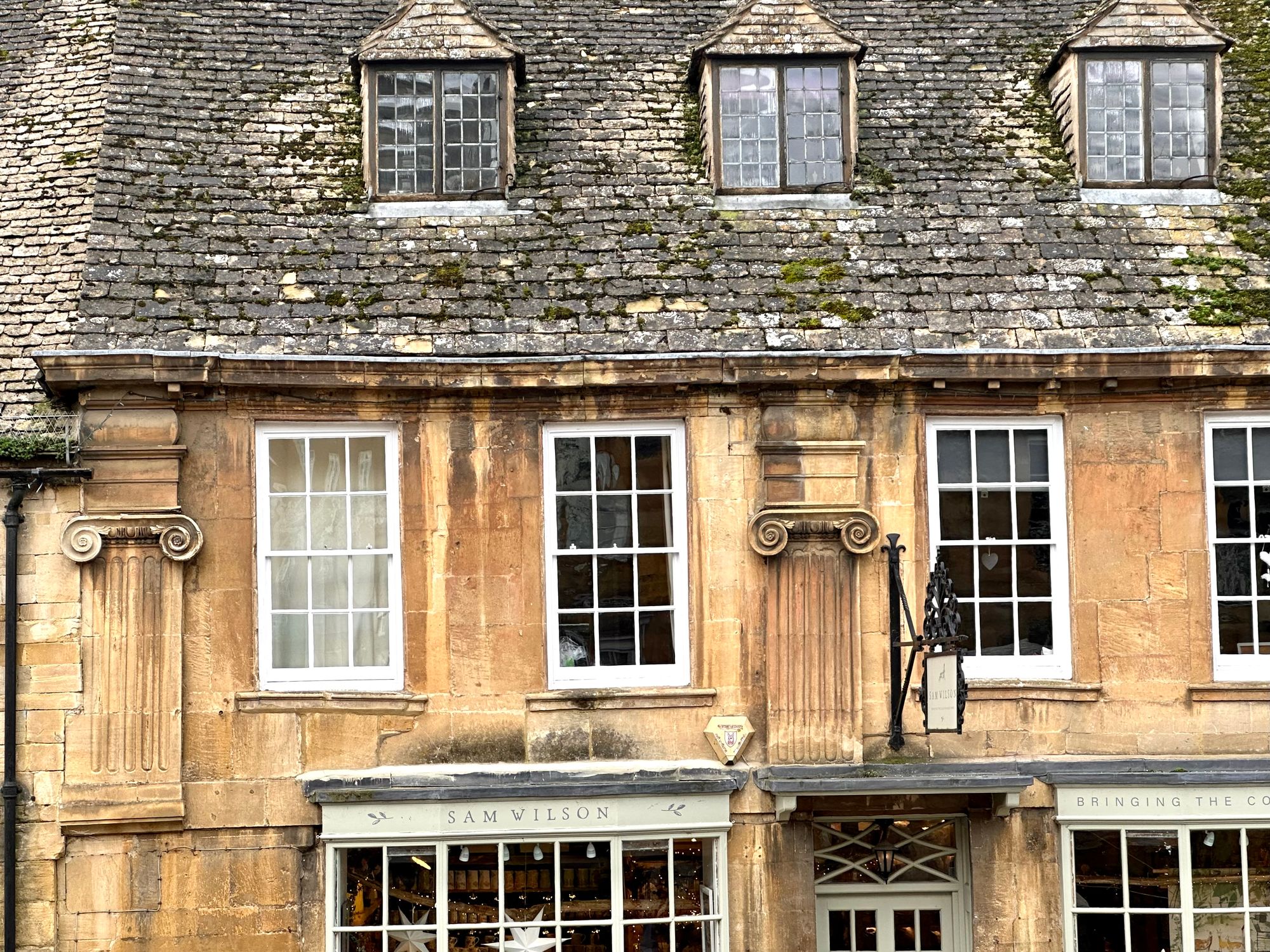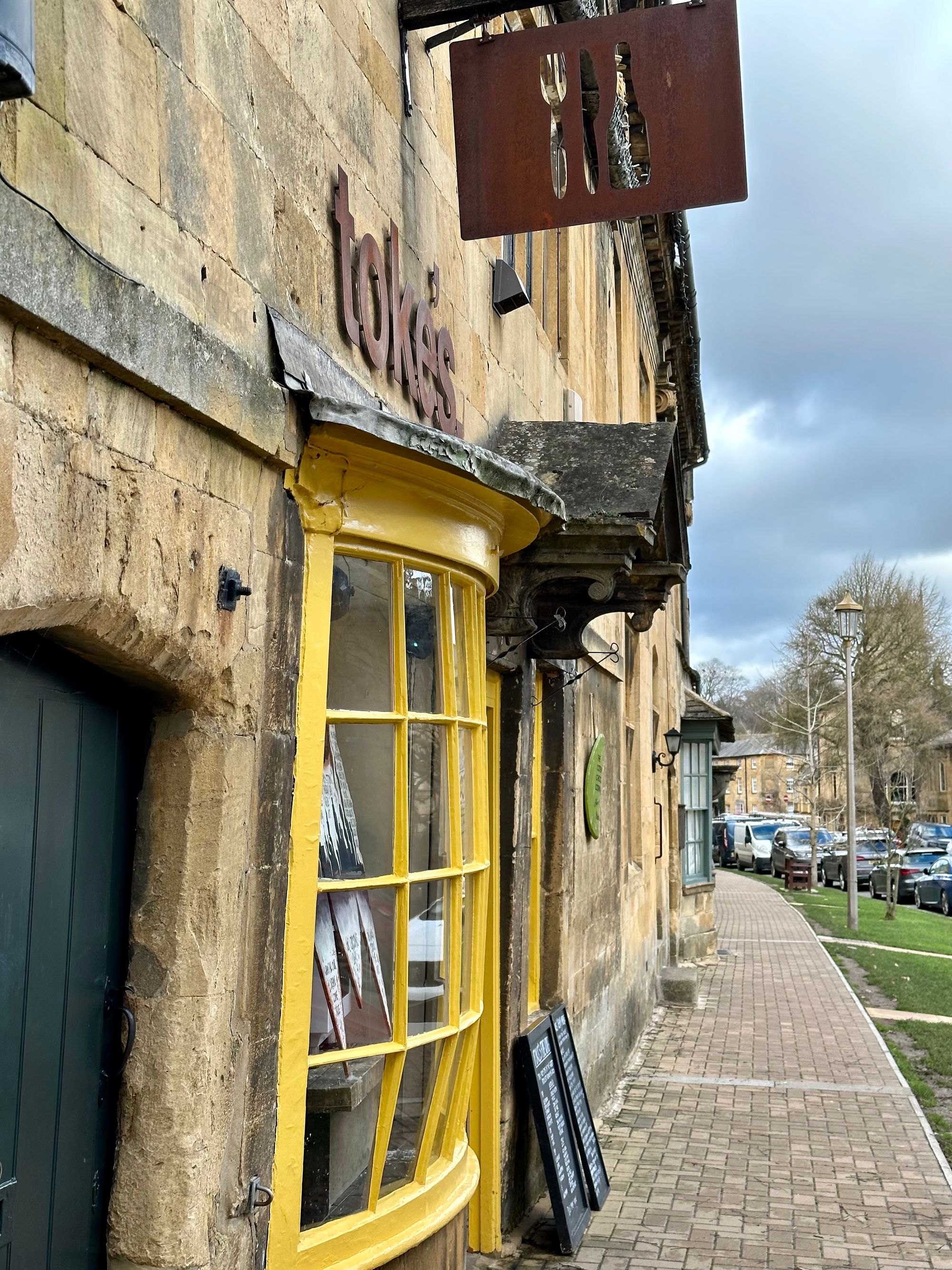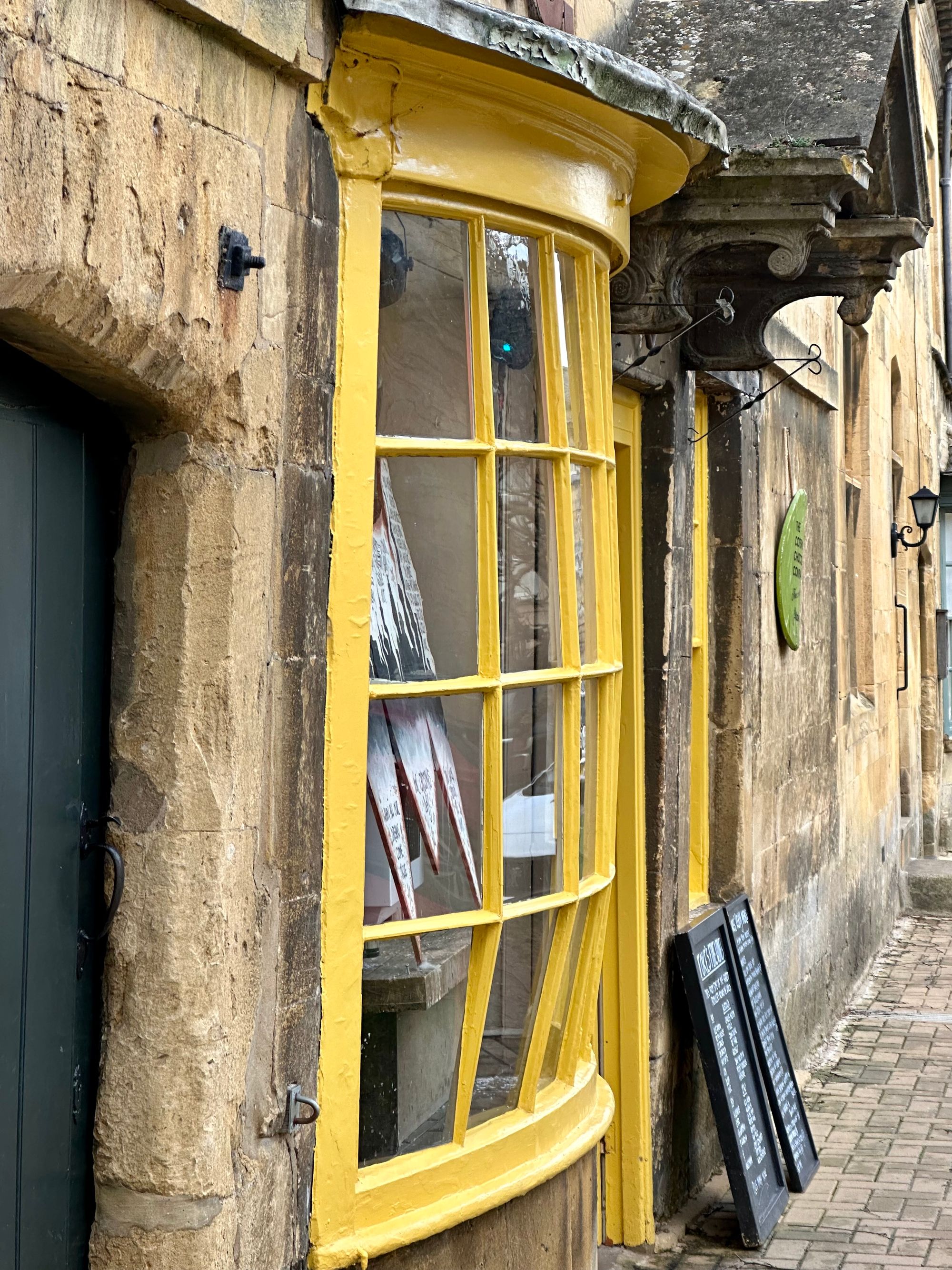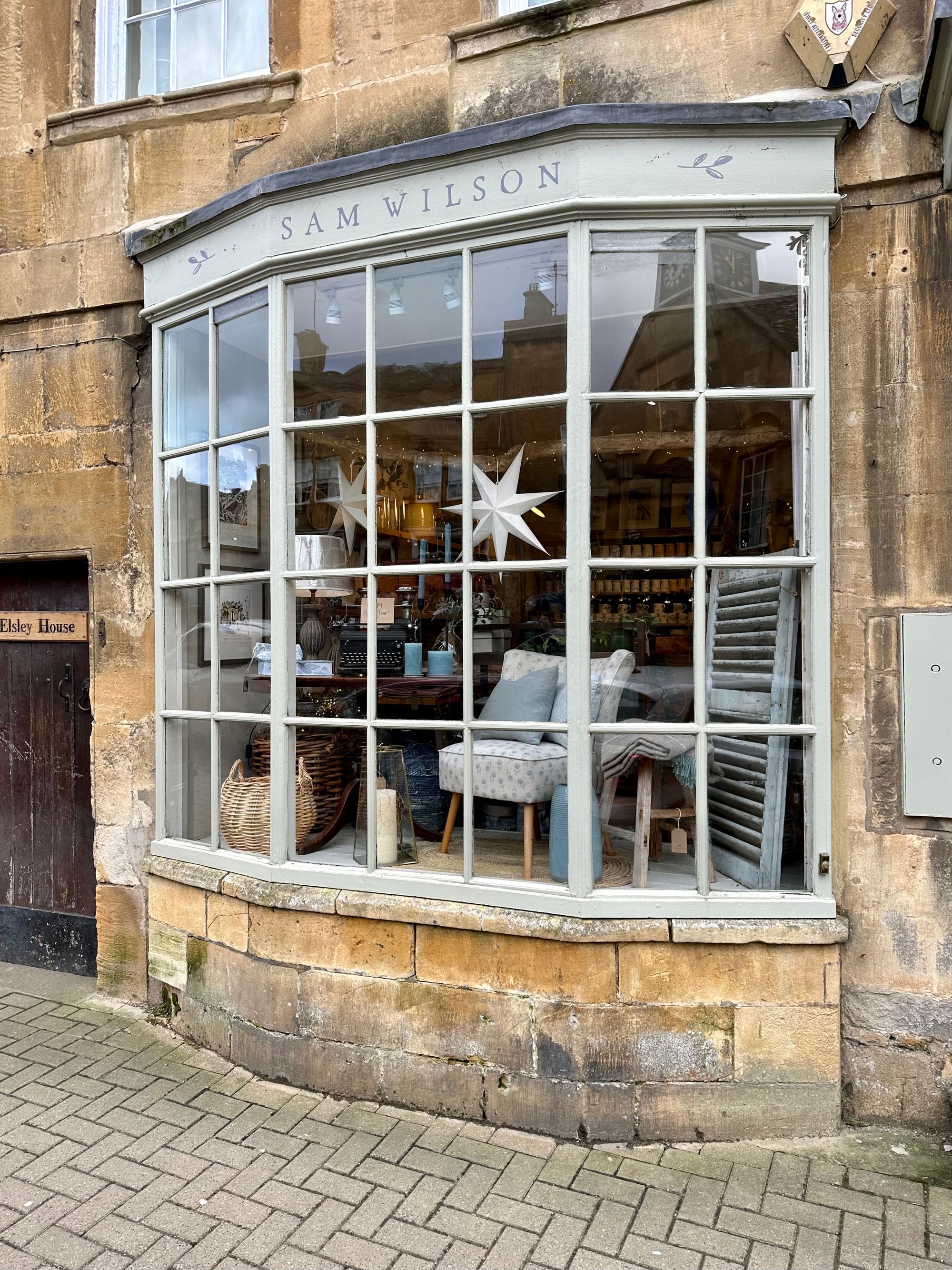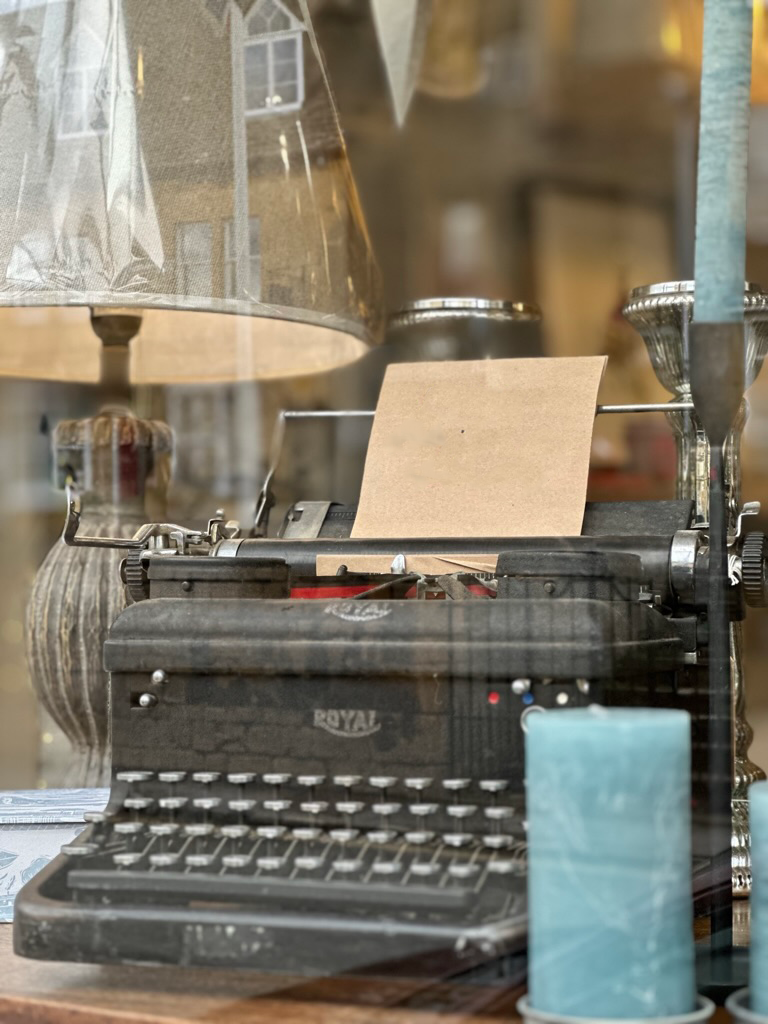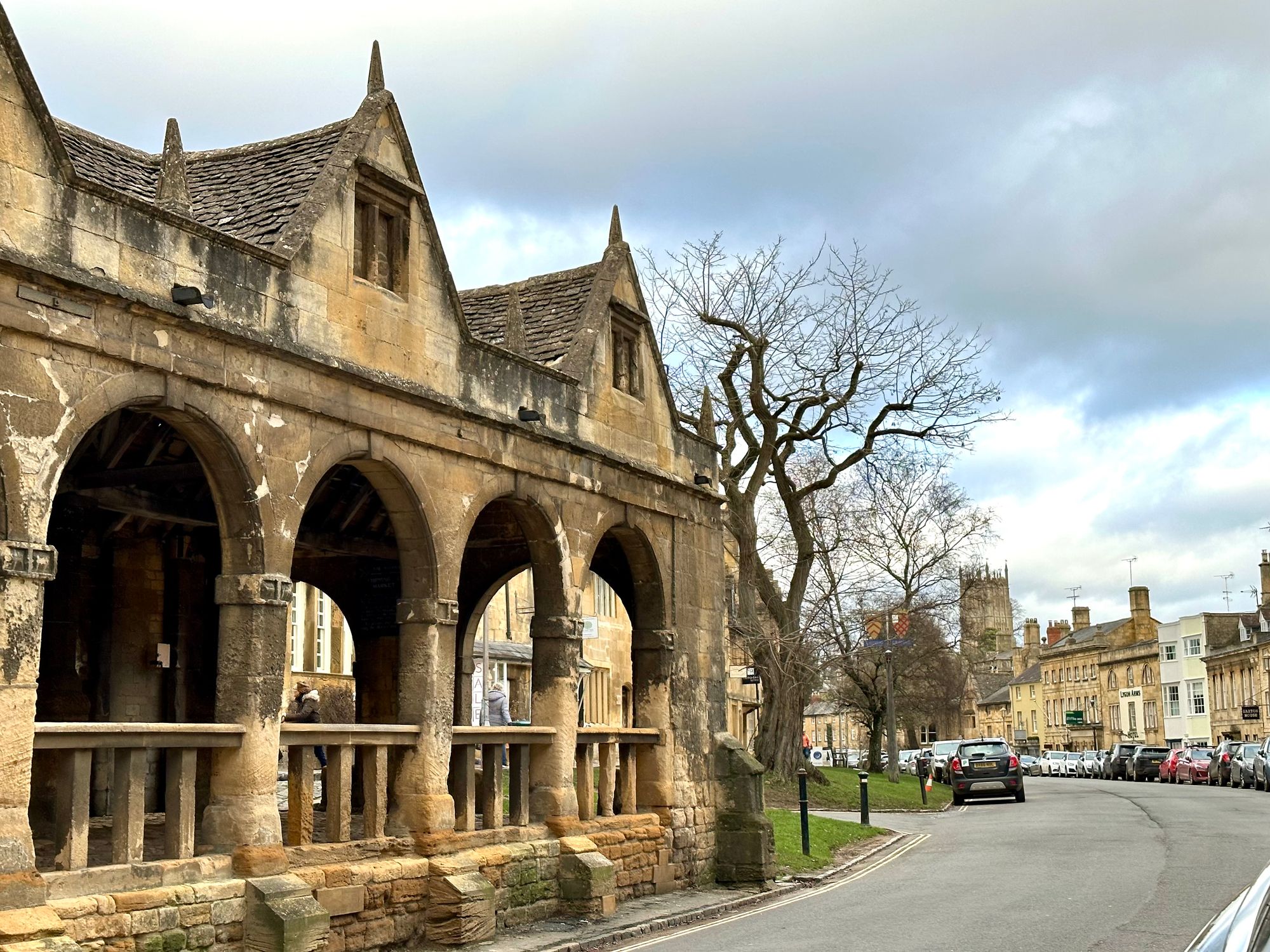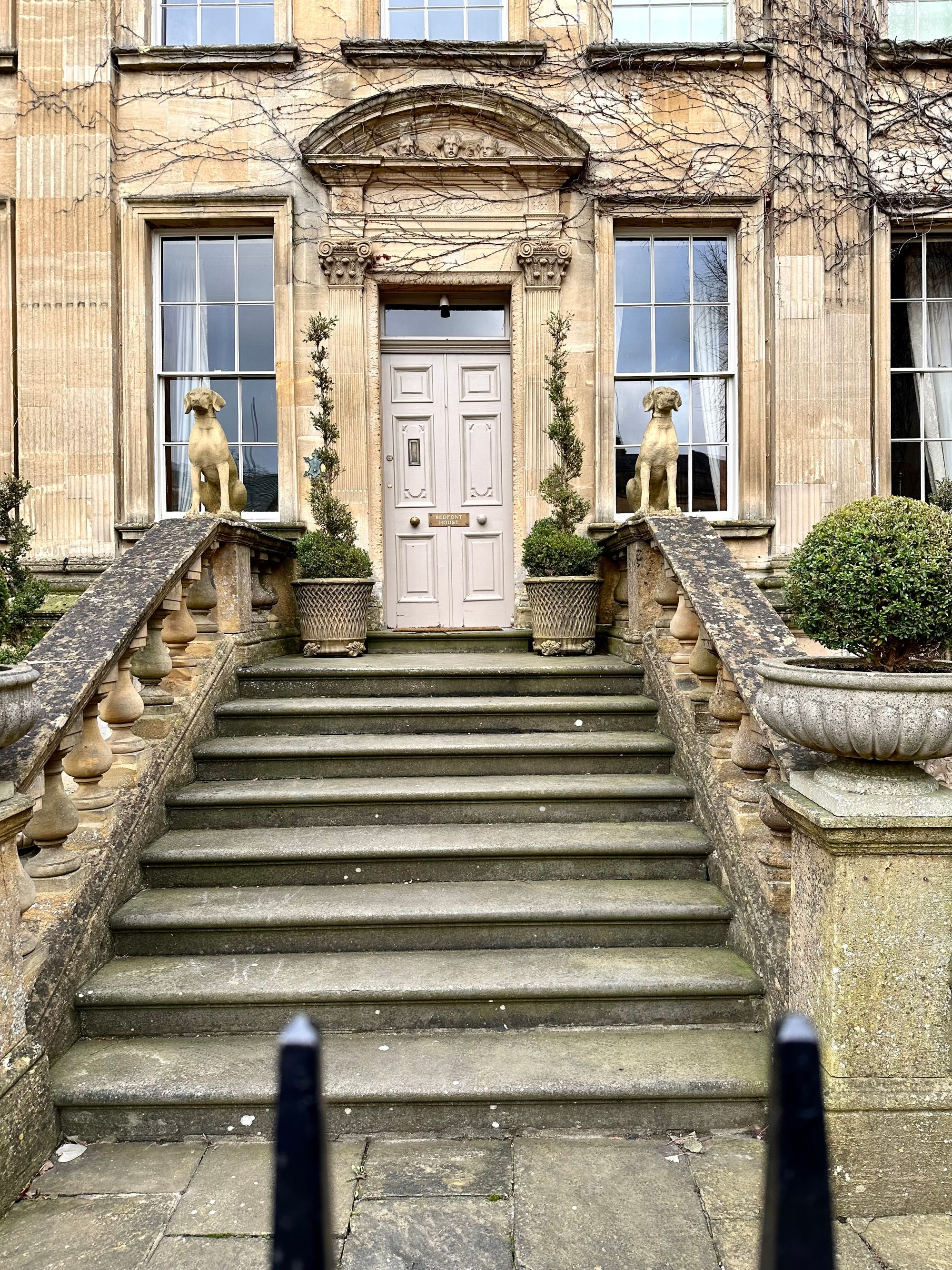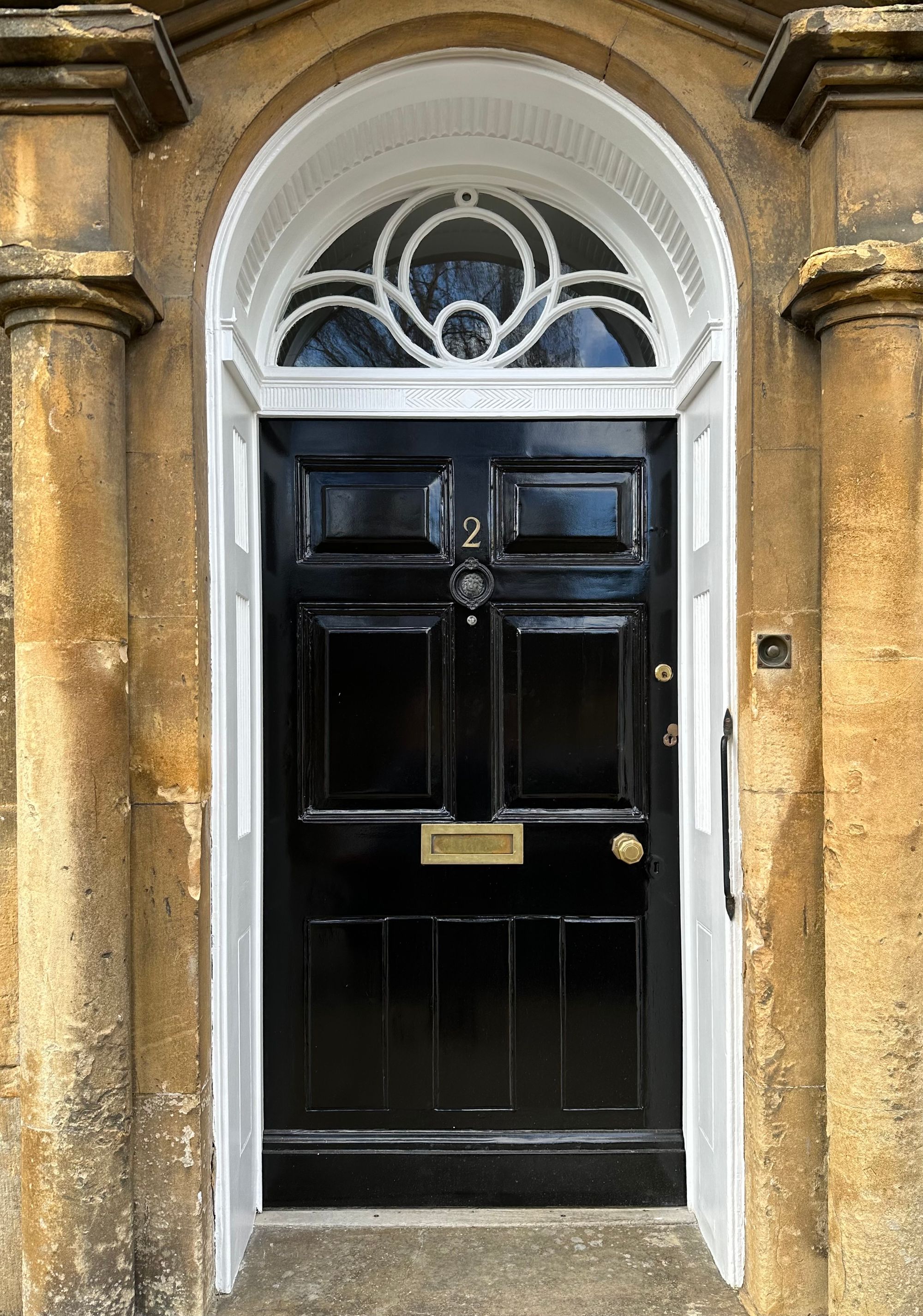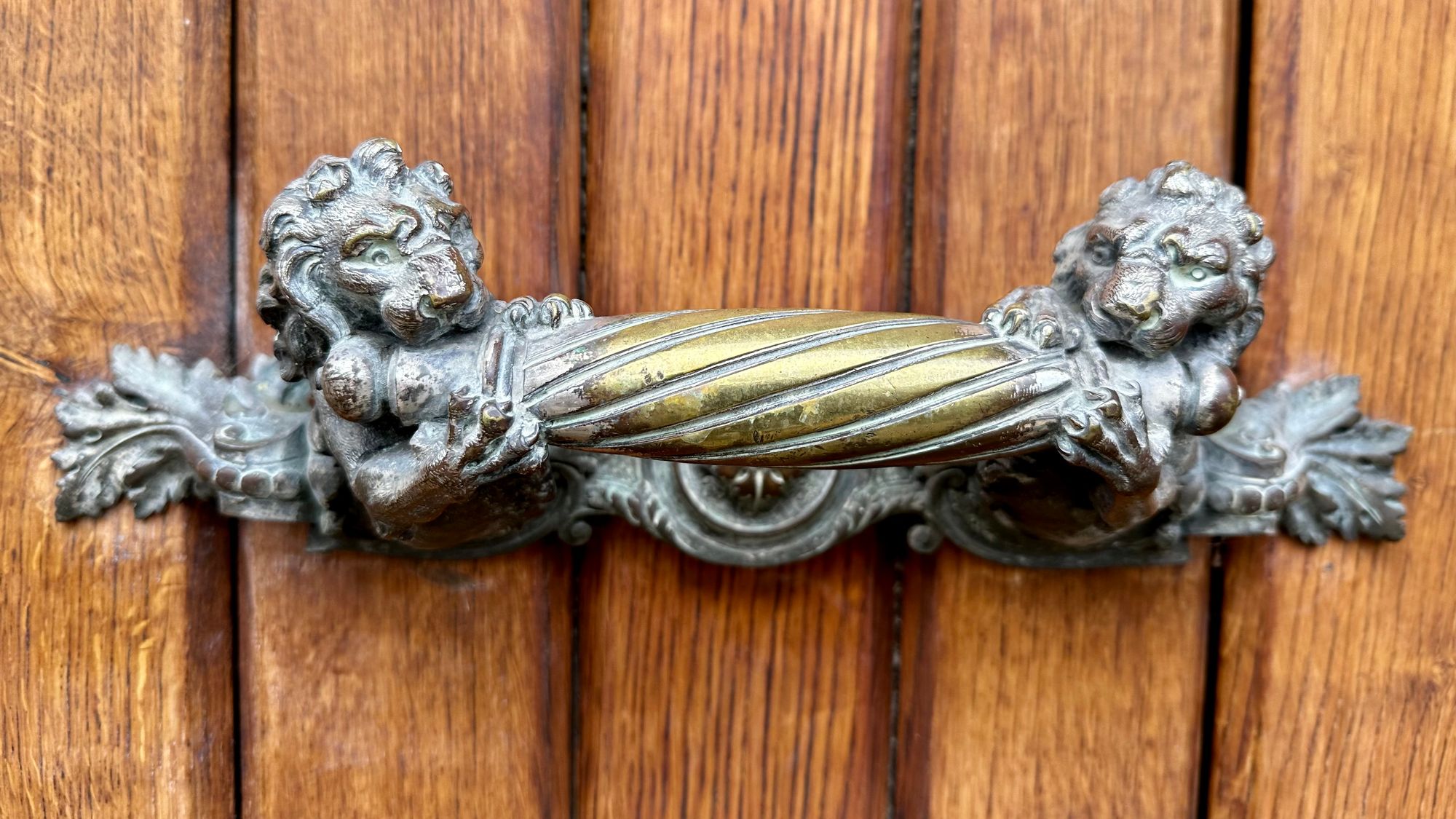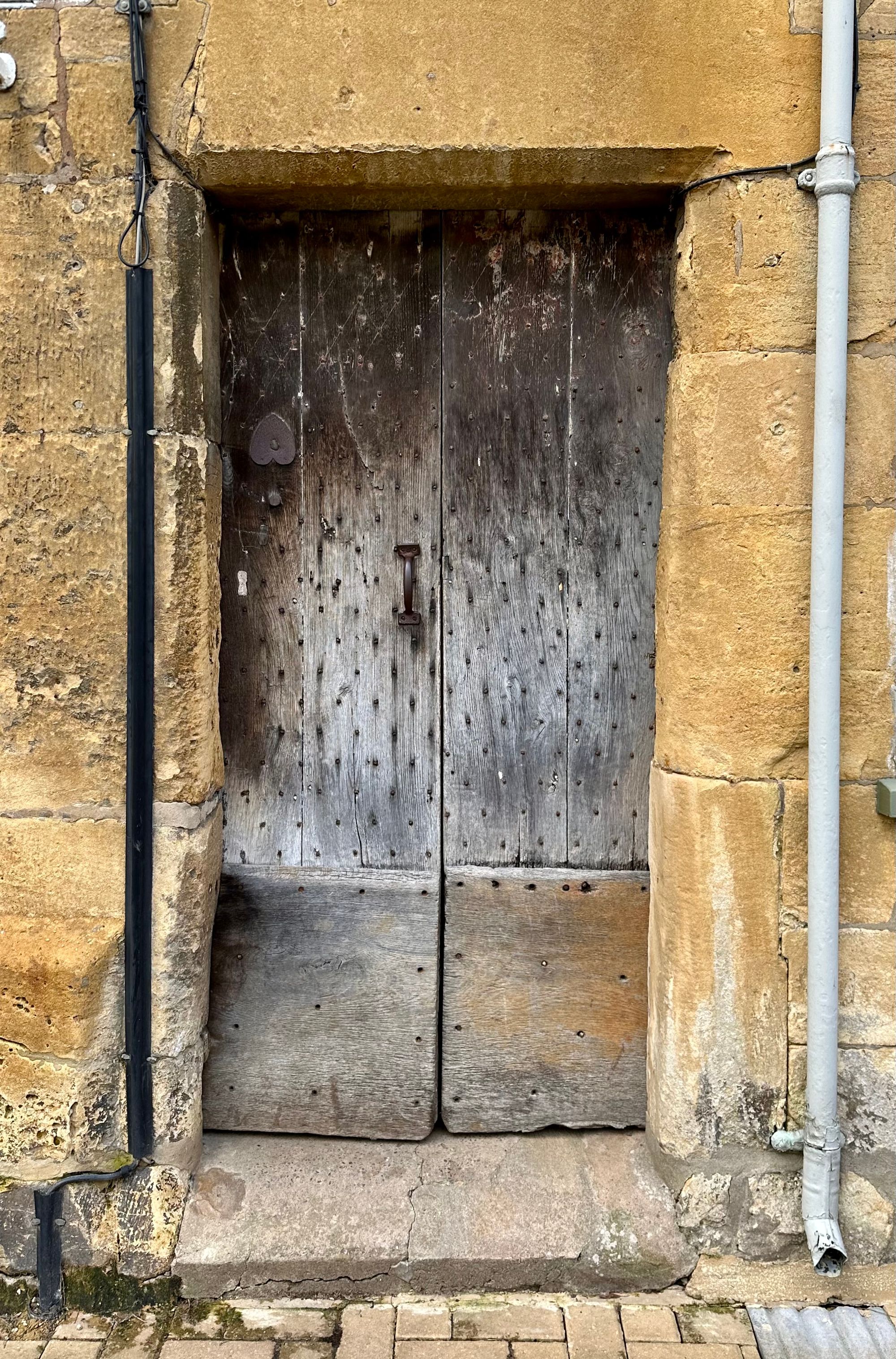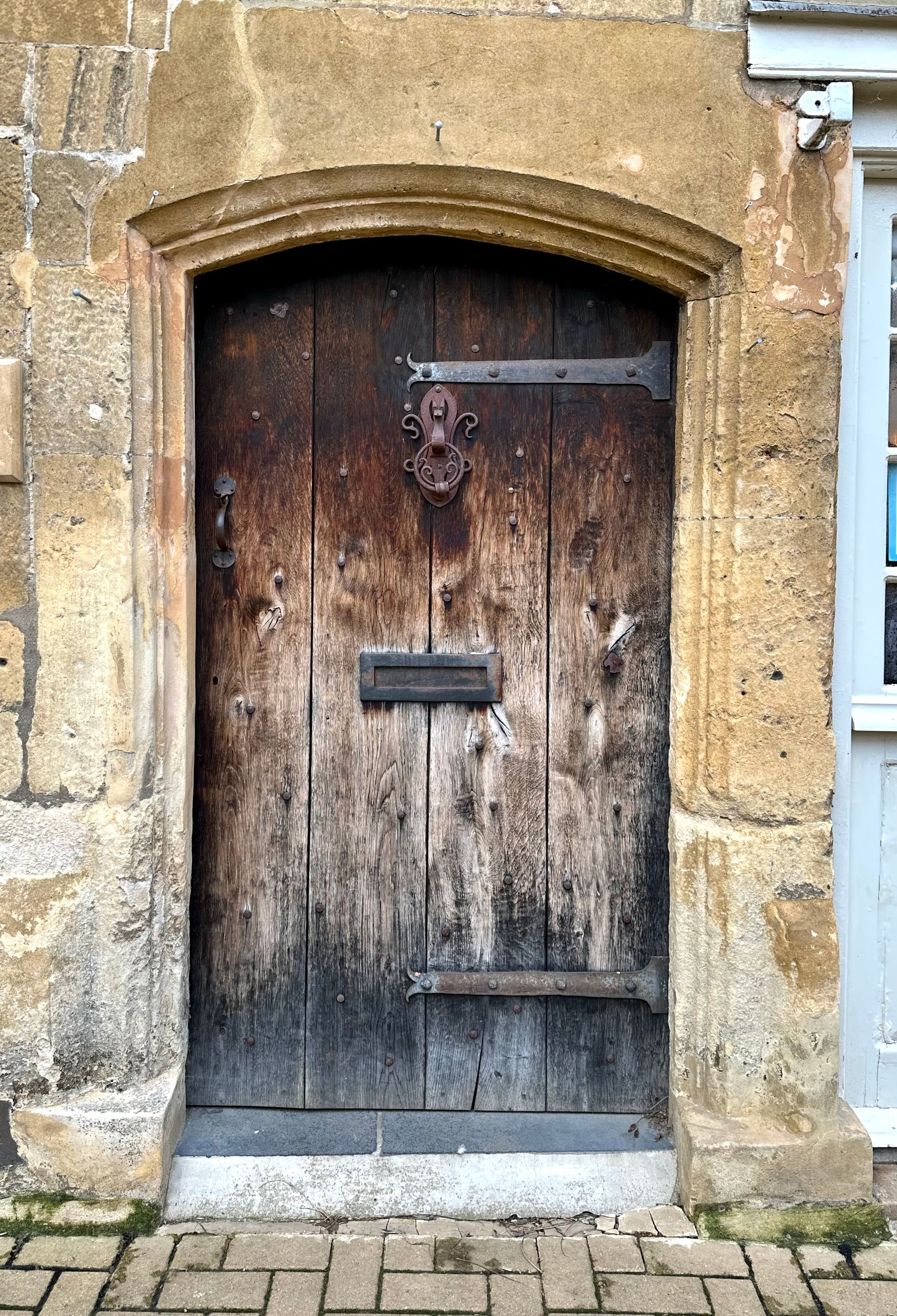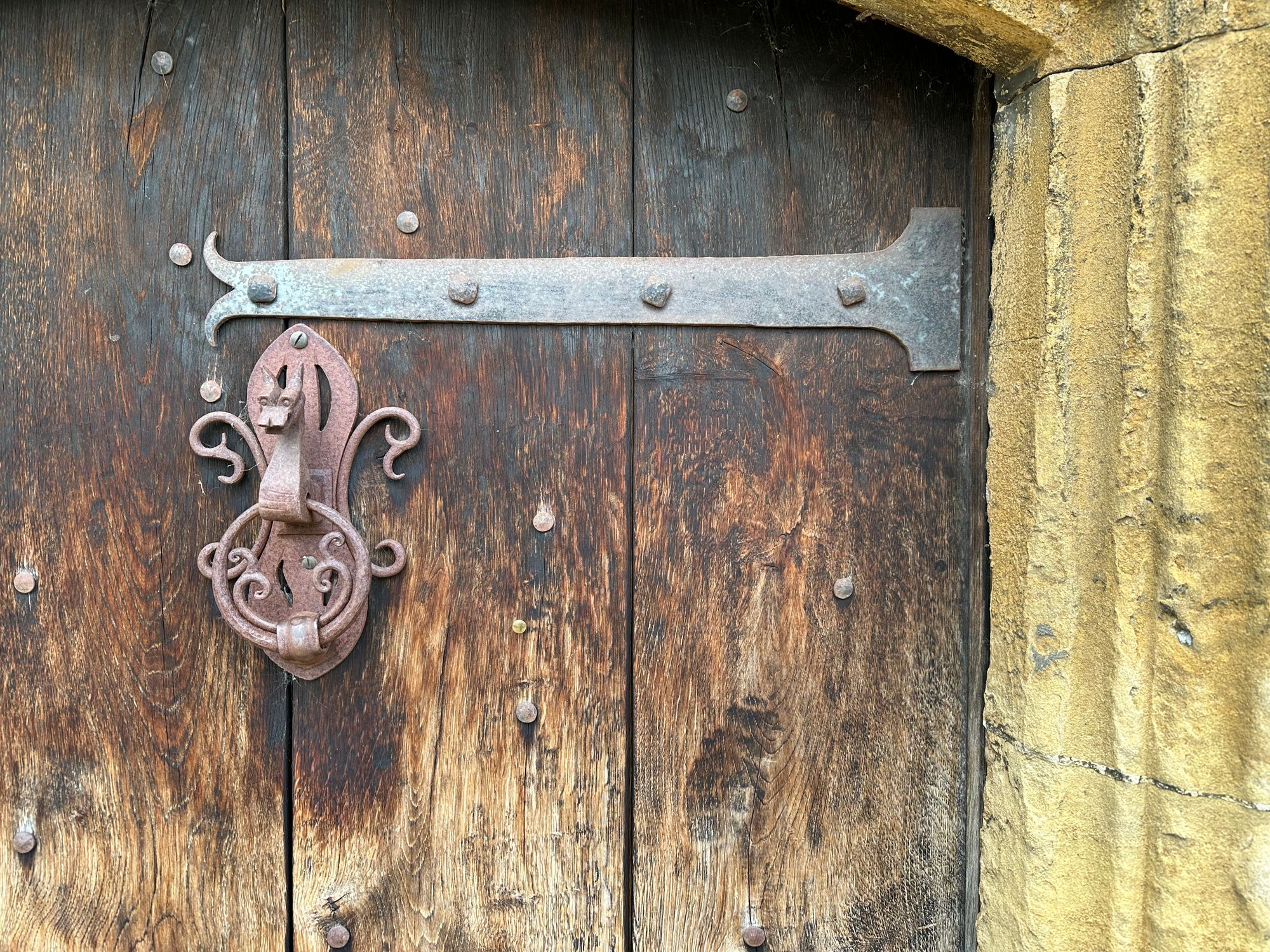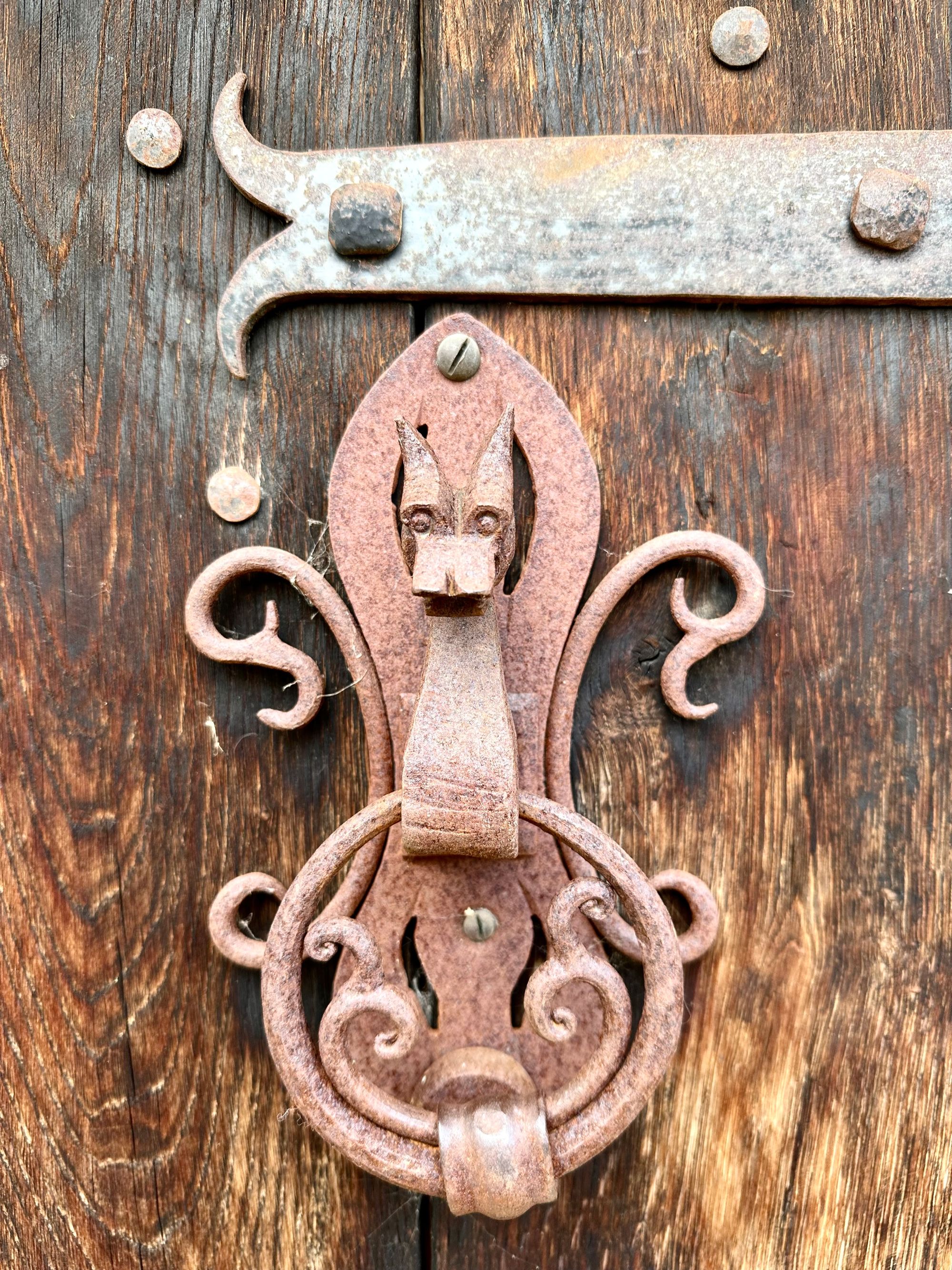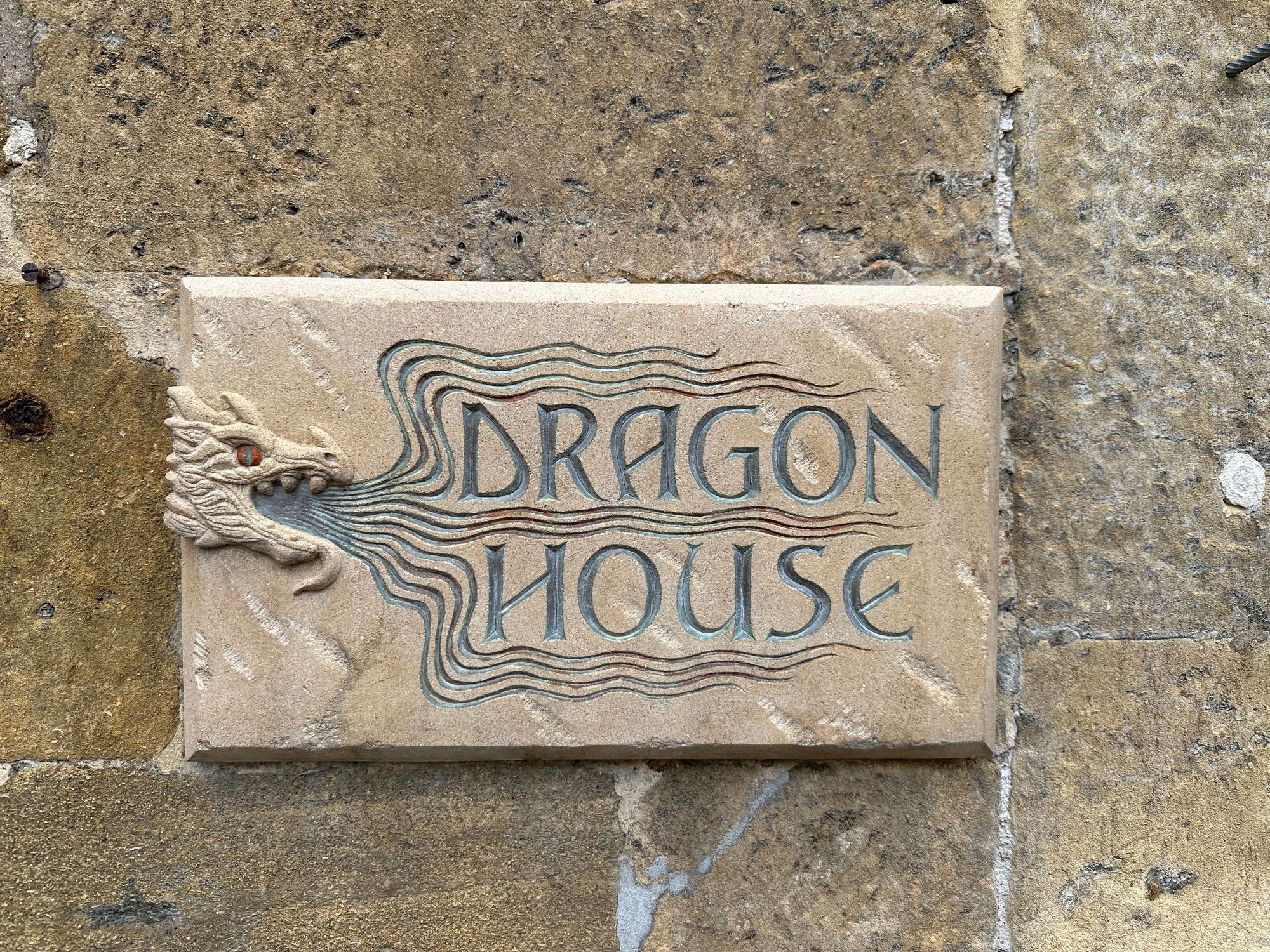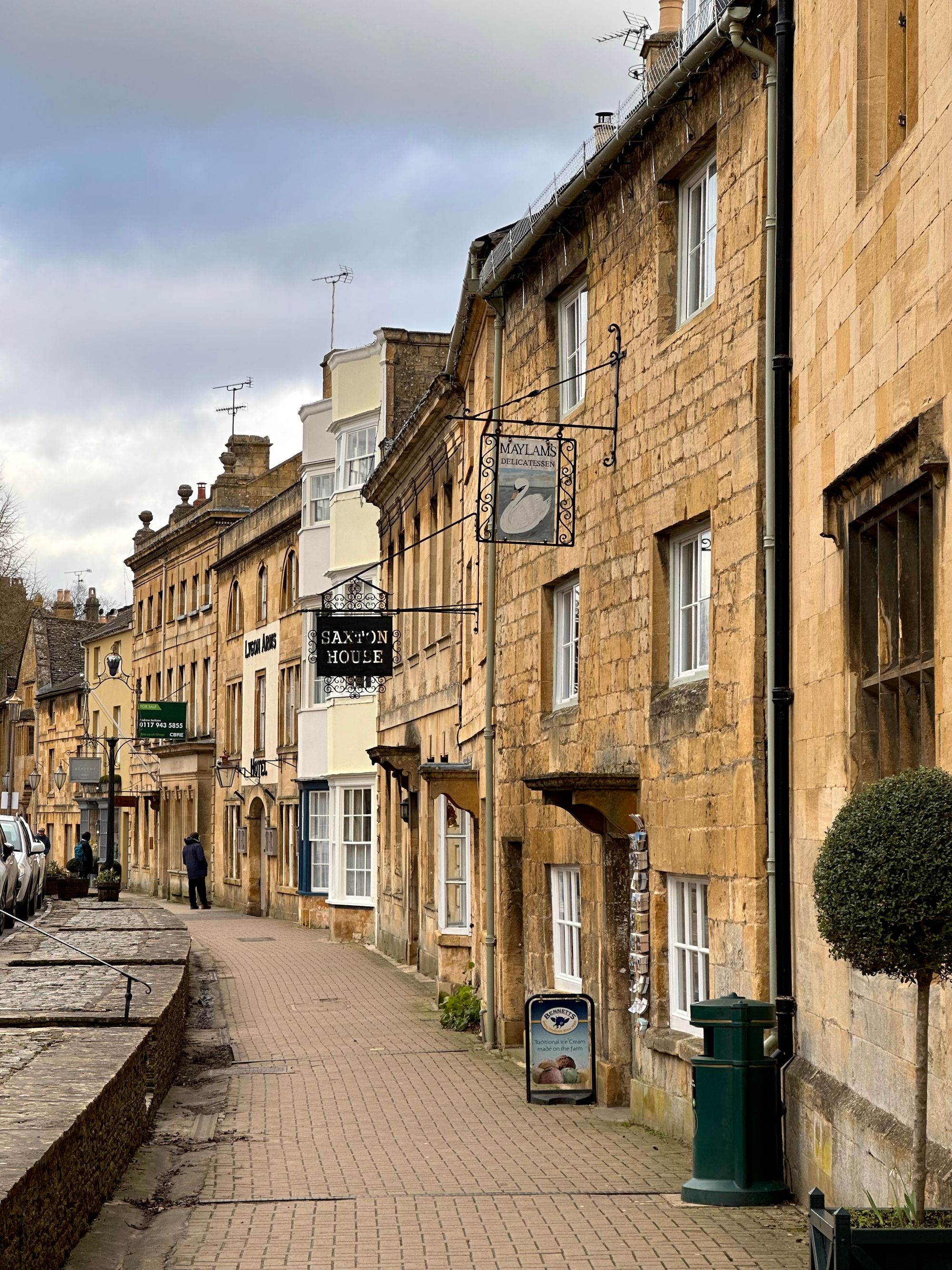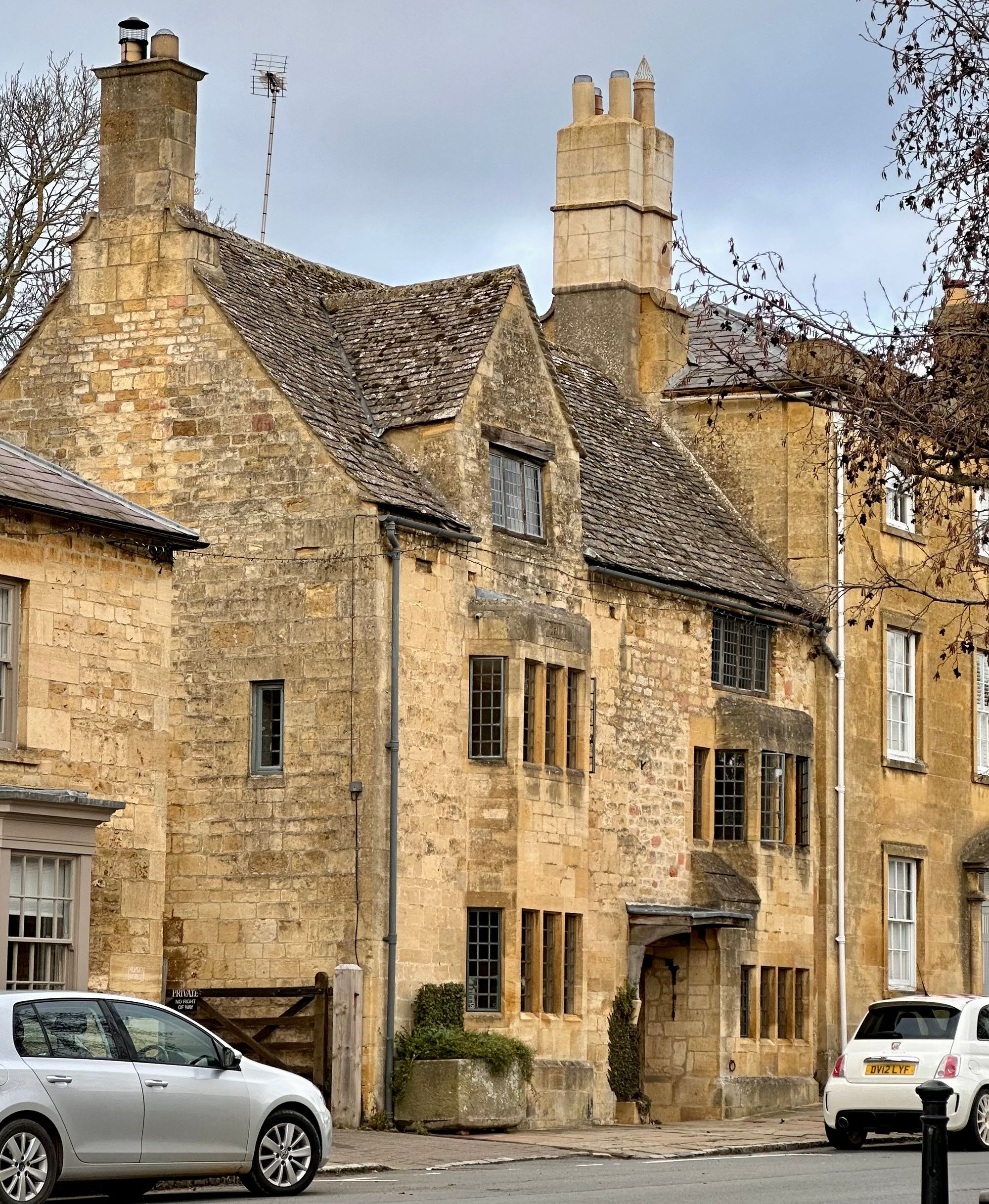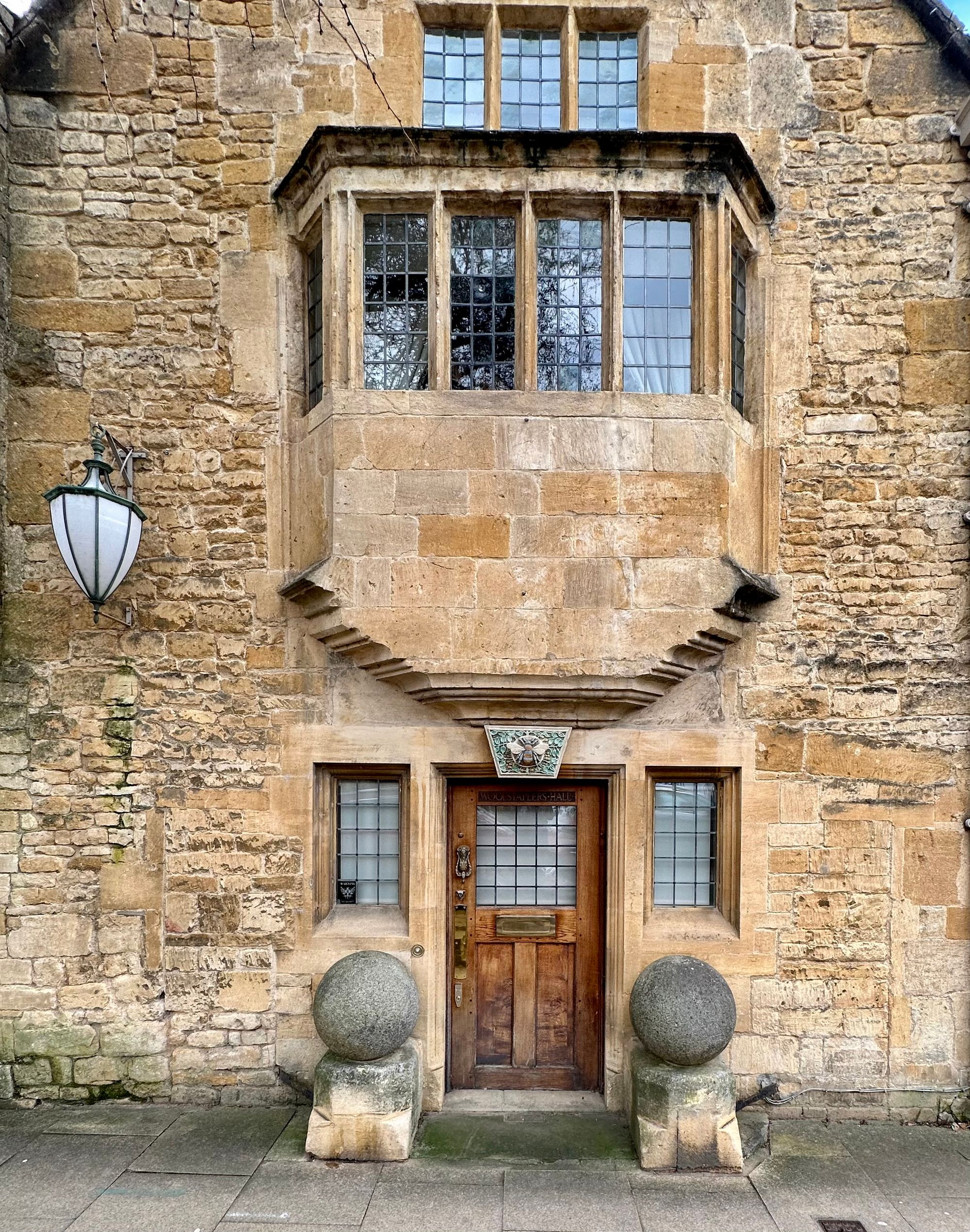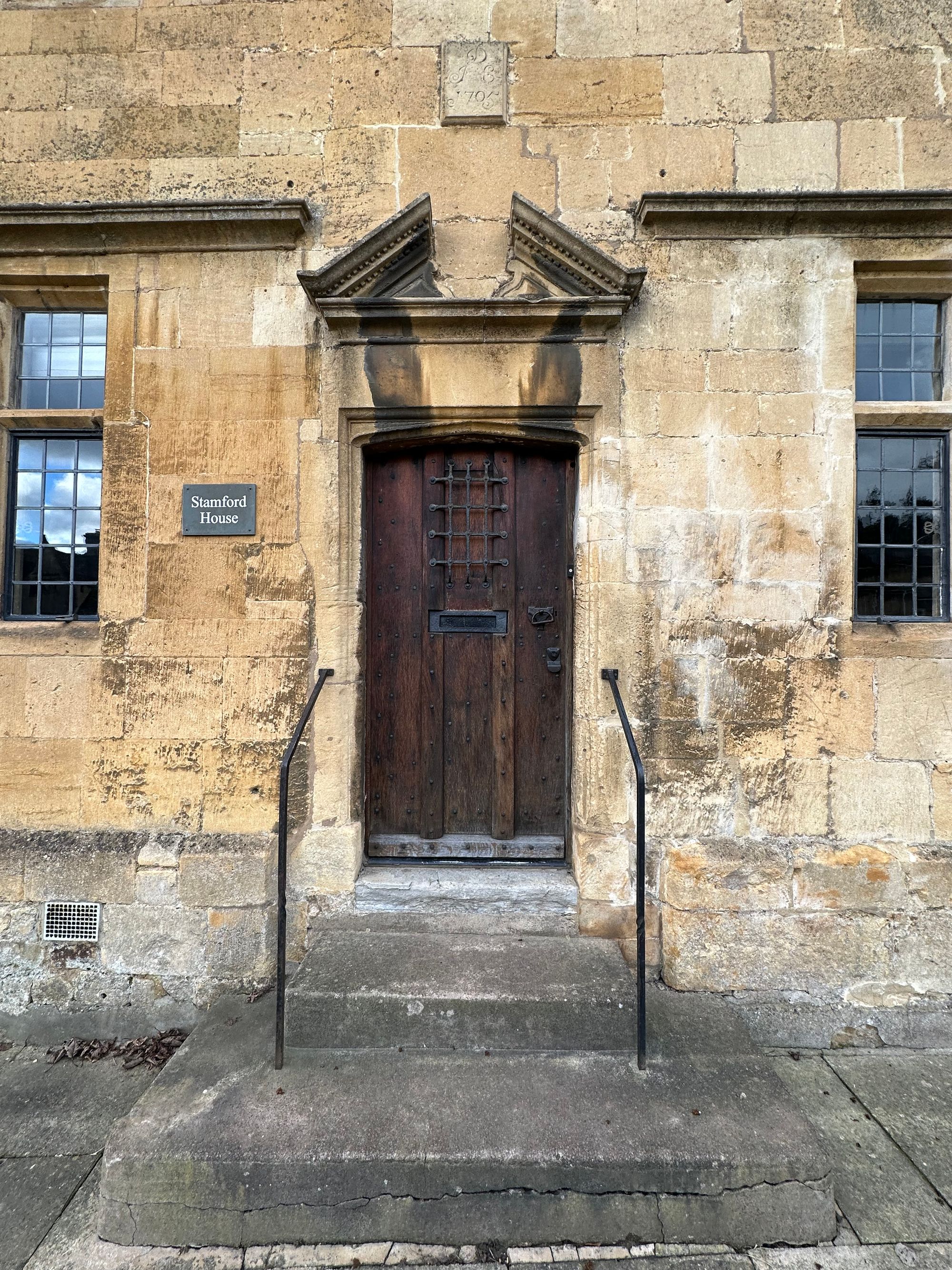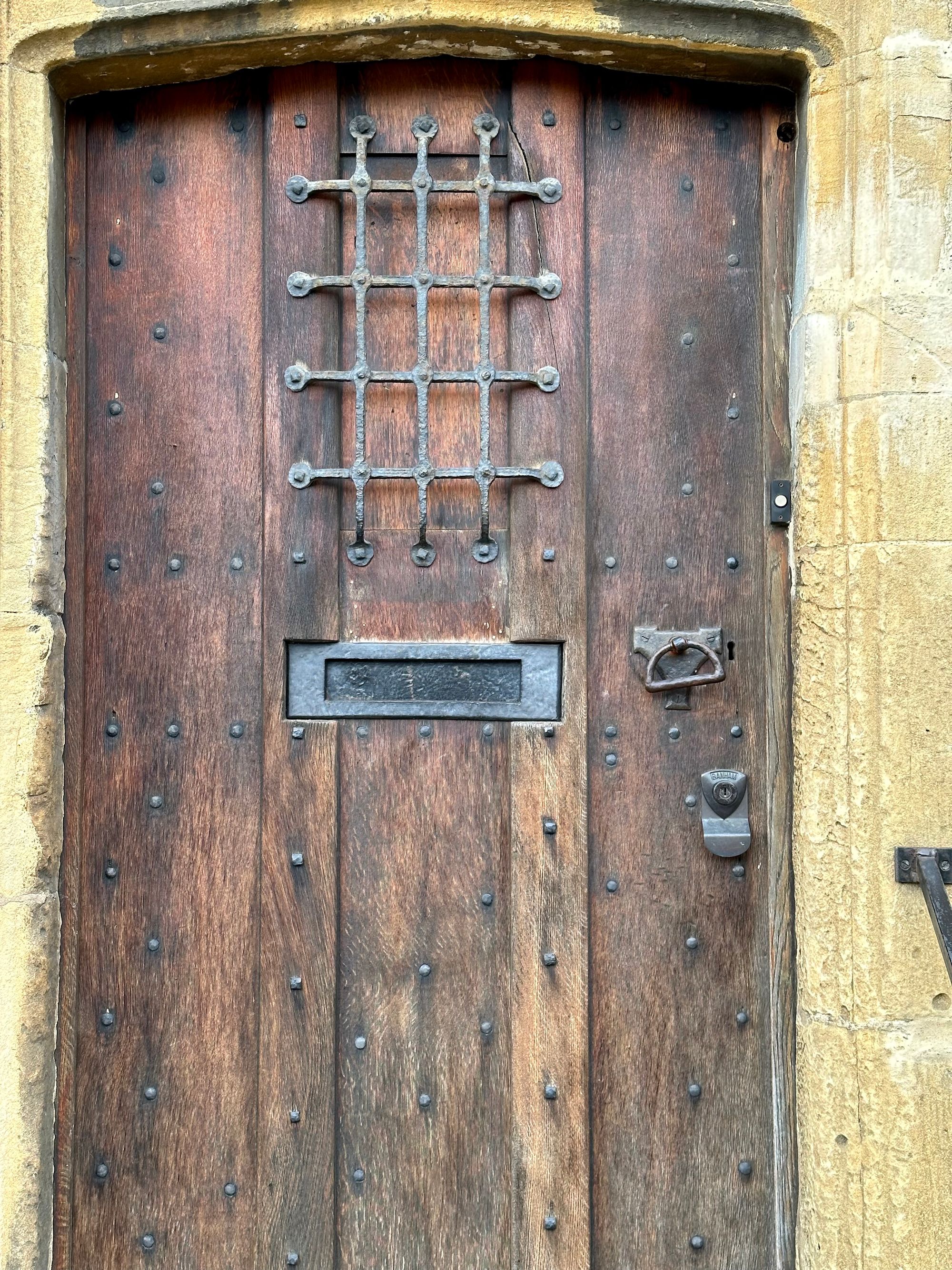 The Manor House - 1612 by Sir Baptist Hicks (much destroyed after the English Civil War)
Built in that peculiar and endearing Flemish dialect of the English Renaissance, the gateway and some outbuildings survive from the original building - making a lovely ensemble with the church of St. James. Many of the remaining buildngs of the manor house are best viewed from the church yard.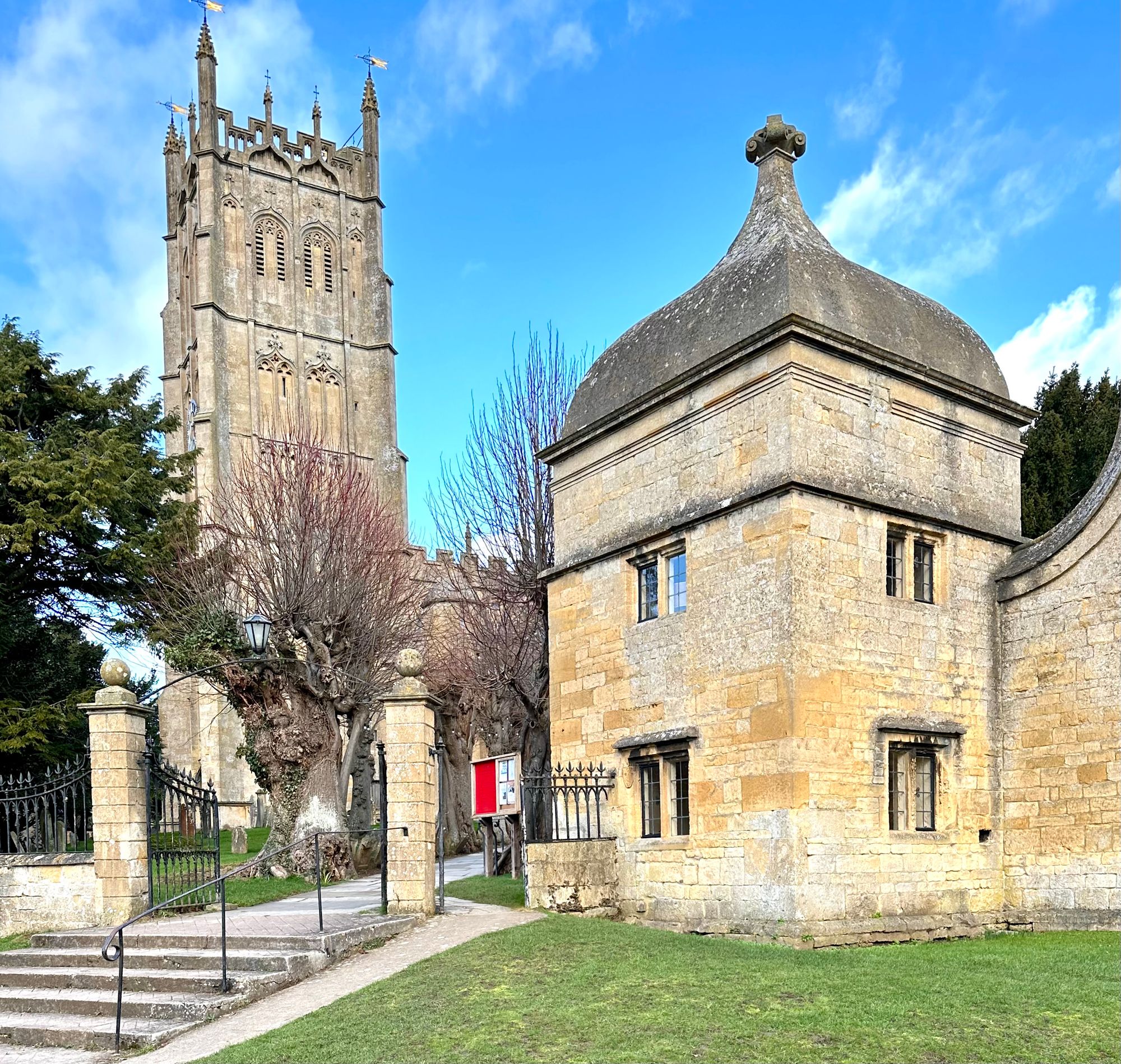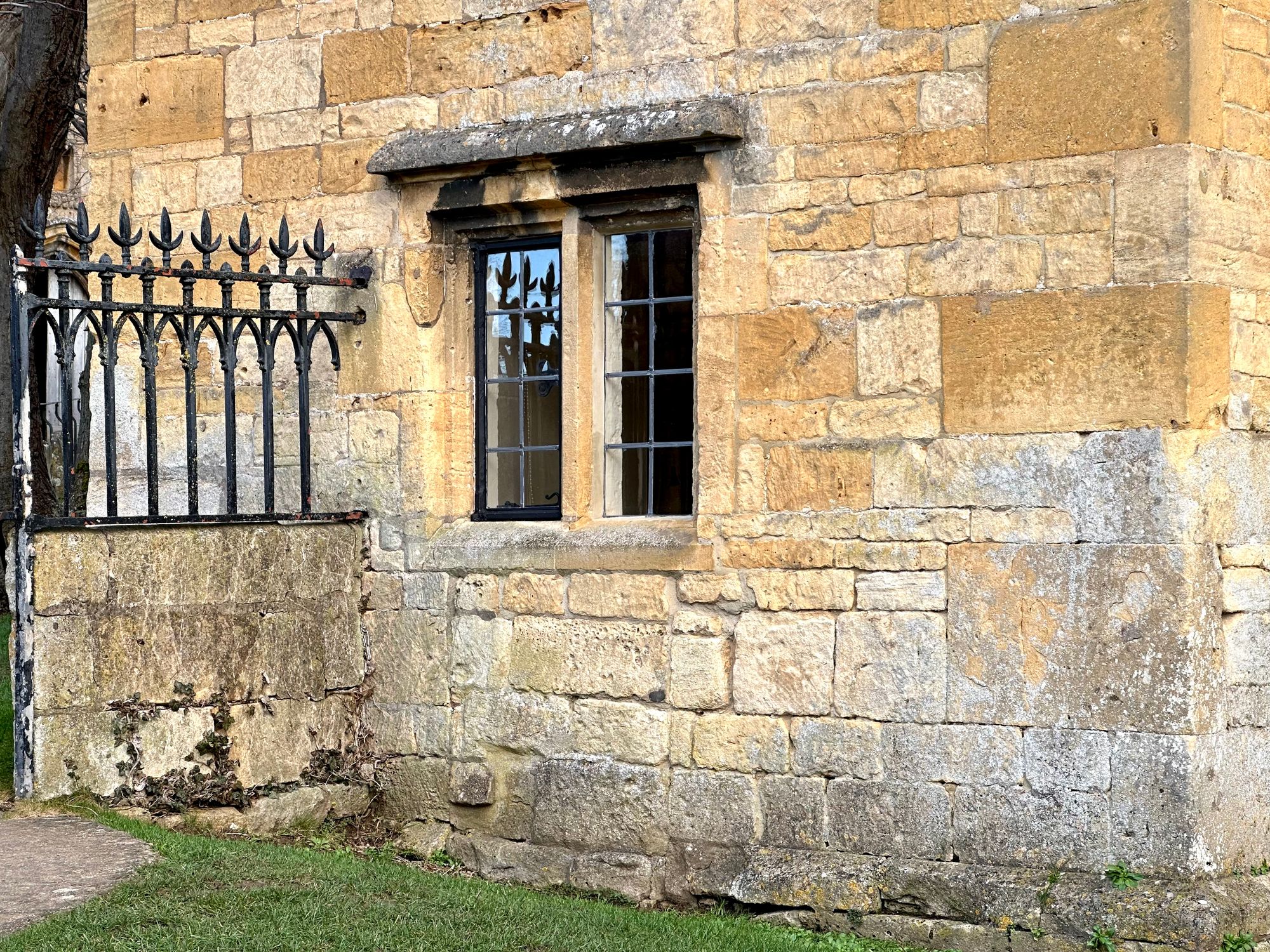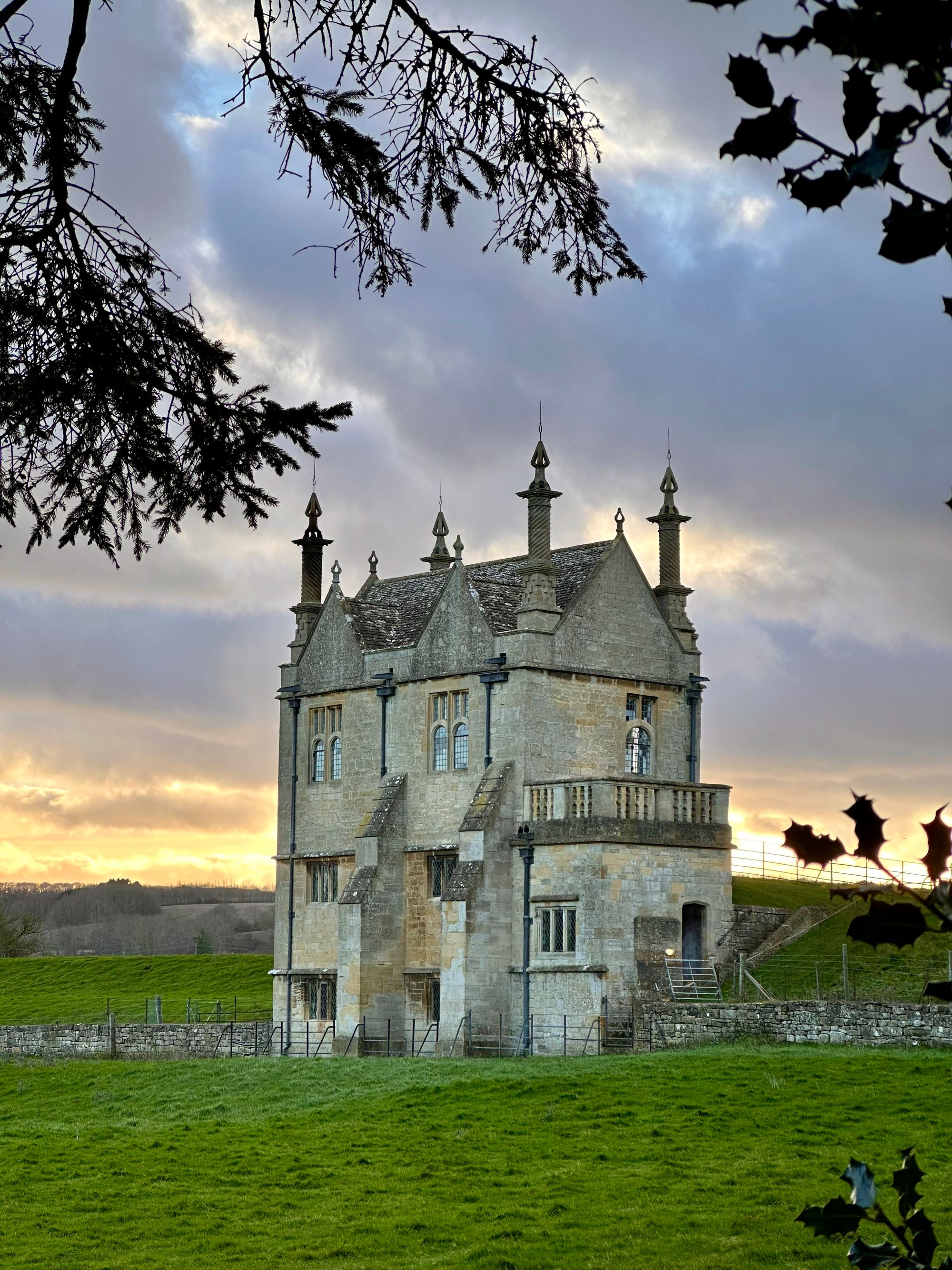 ---
Court Barn - Museum of Craft & Design
Next to the impressive entrance to the manor house is Court Barn - a survival of the Arts and Crafts movement, in particular, C. R. Ashbee and the Guild of Handicraft who established several workshops in the town.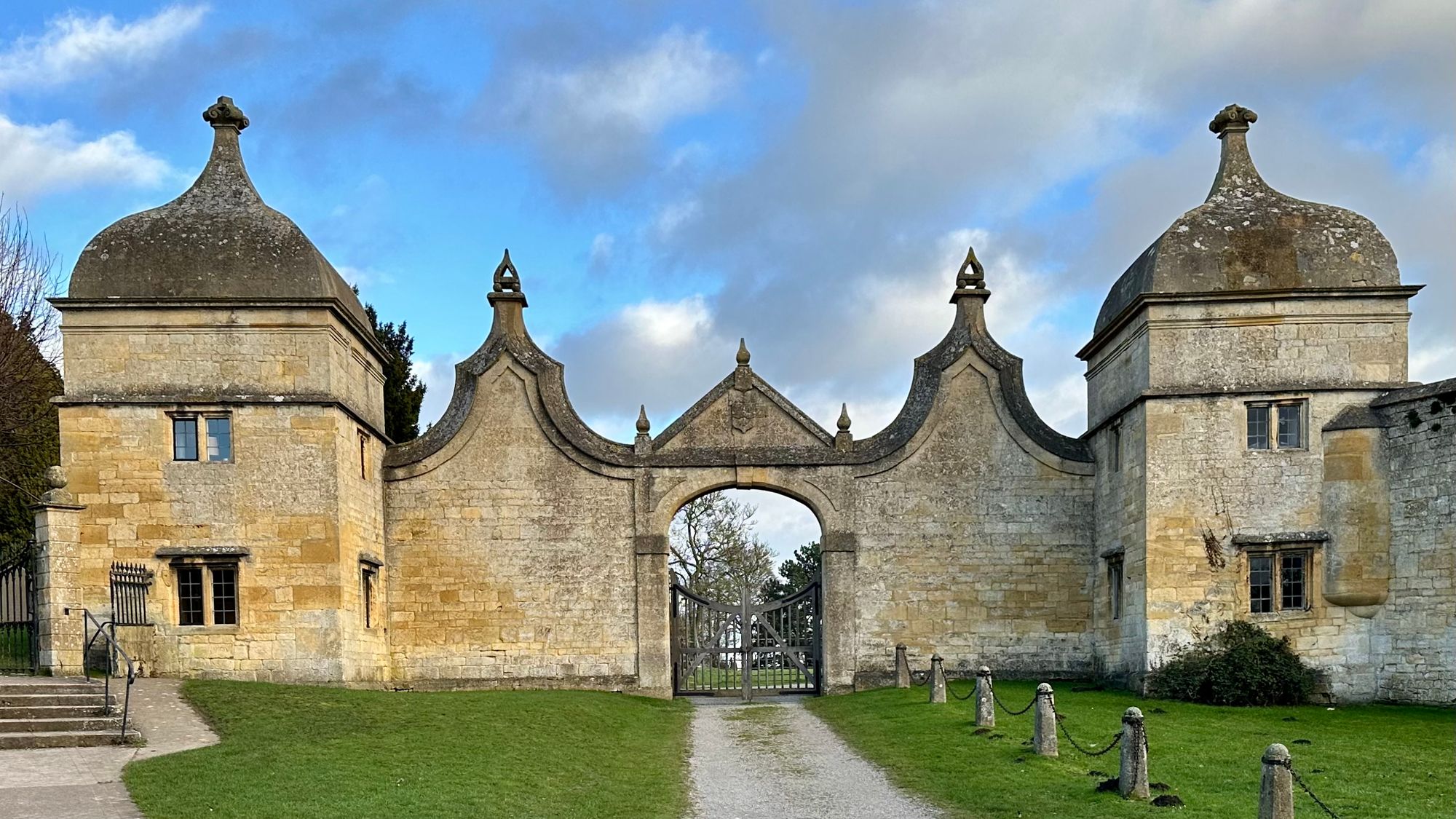 ---
St. James, Chipping Campden
Dating from the C13th and C14th, St. James is the result of a community that prospered in wool.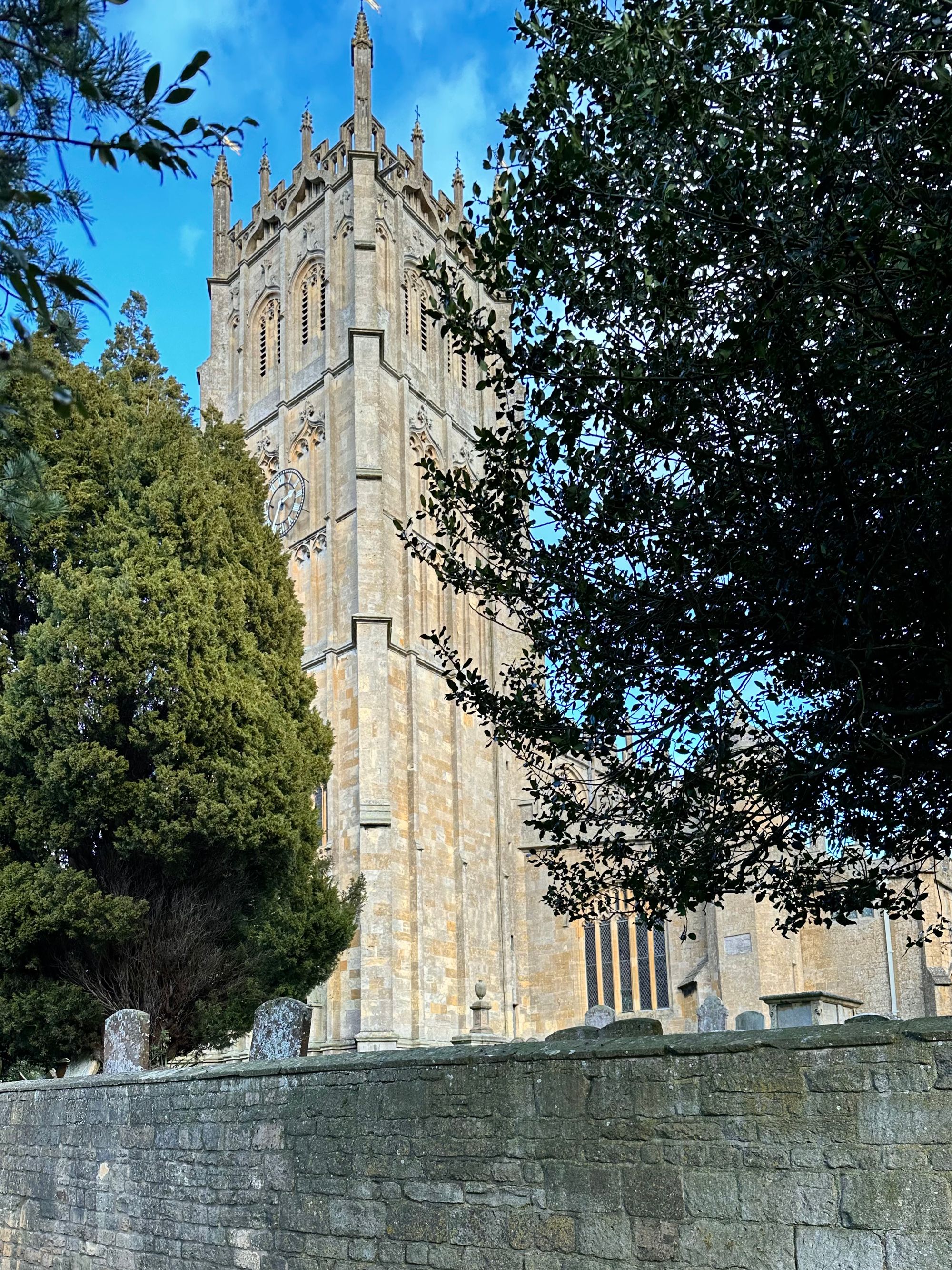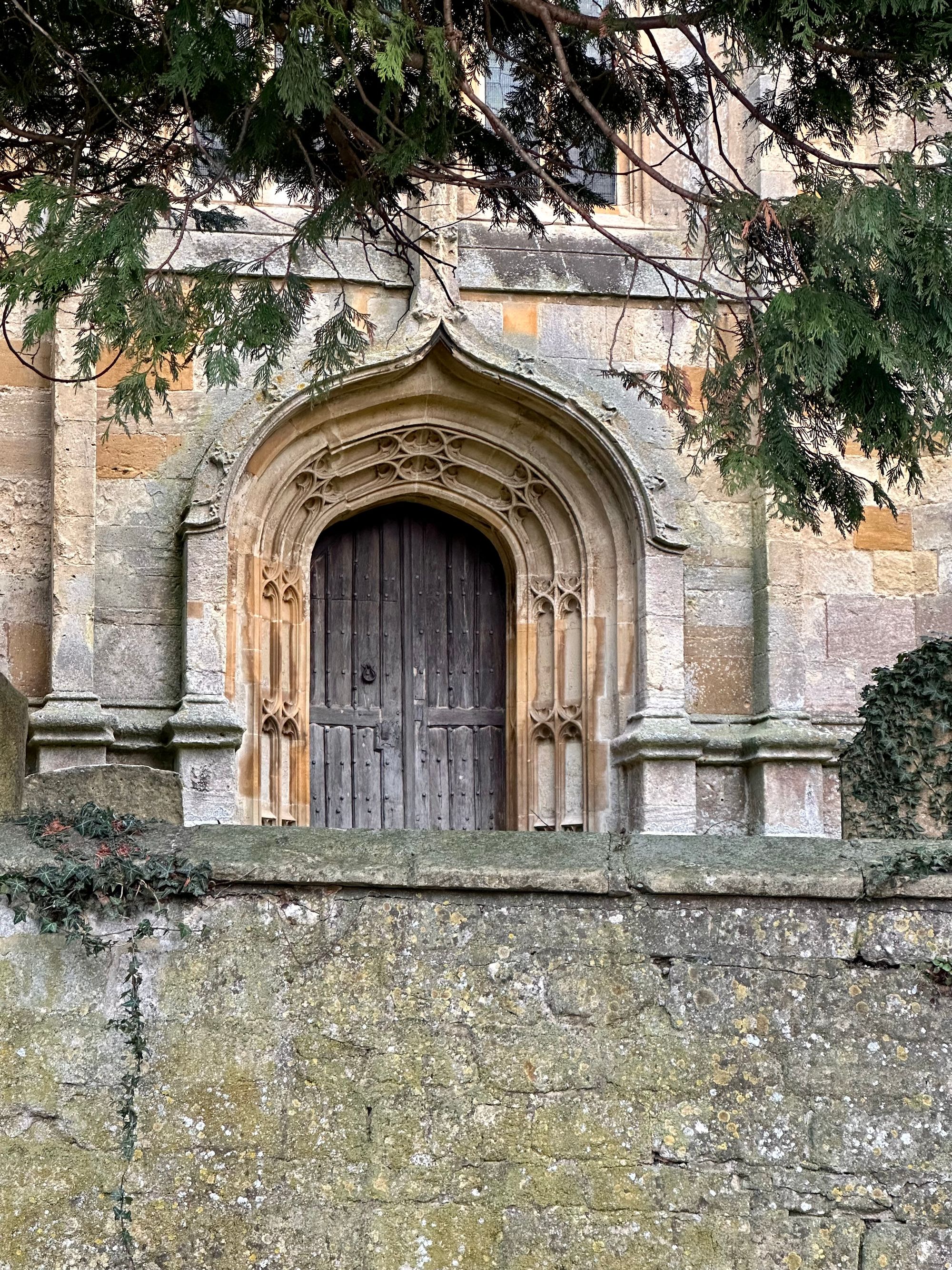 The Interior
The interior has an unusual stained glass window above the chancel arch. It also houses a beautiful textile of around 1500 and an altar cope of a hundred years earlier.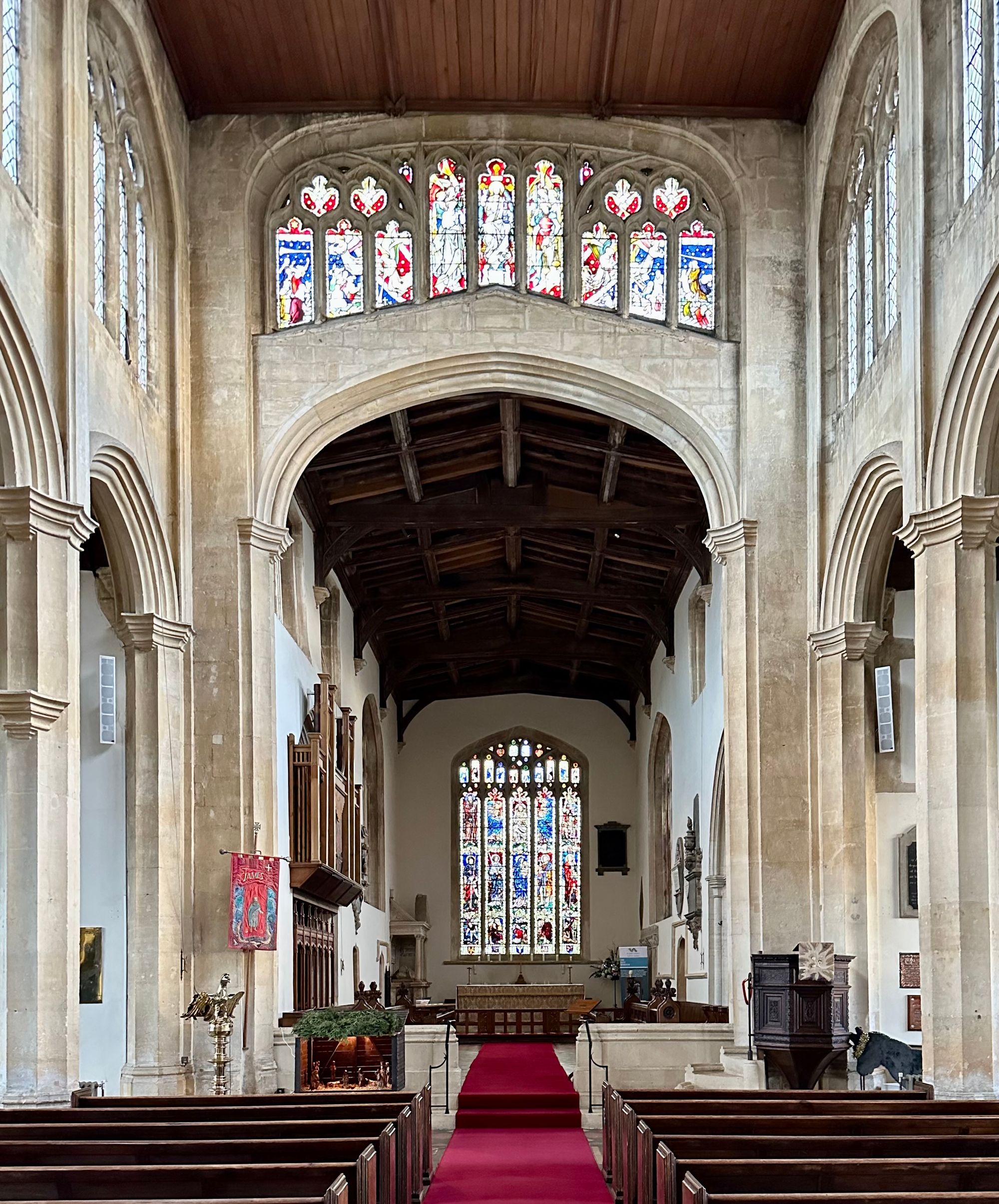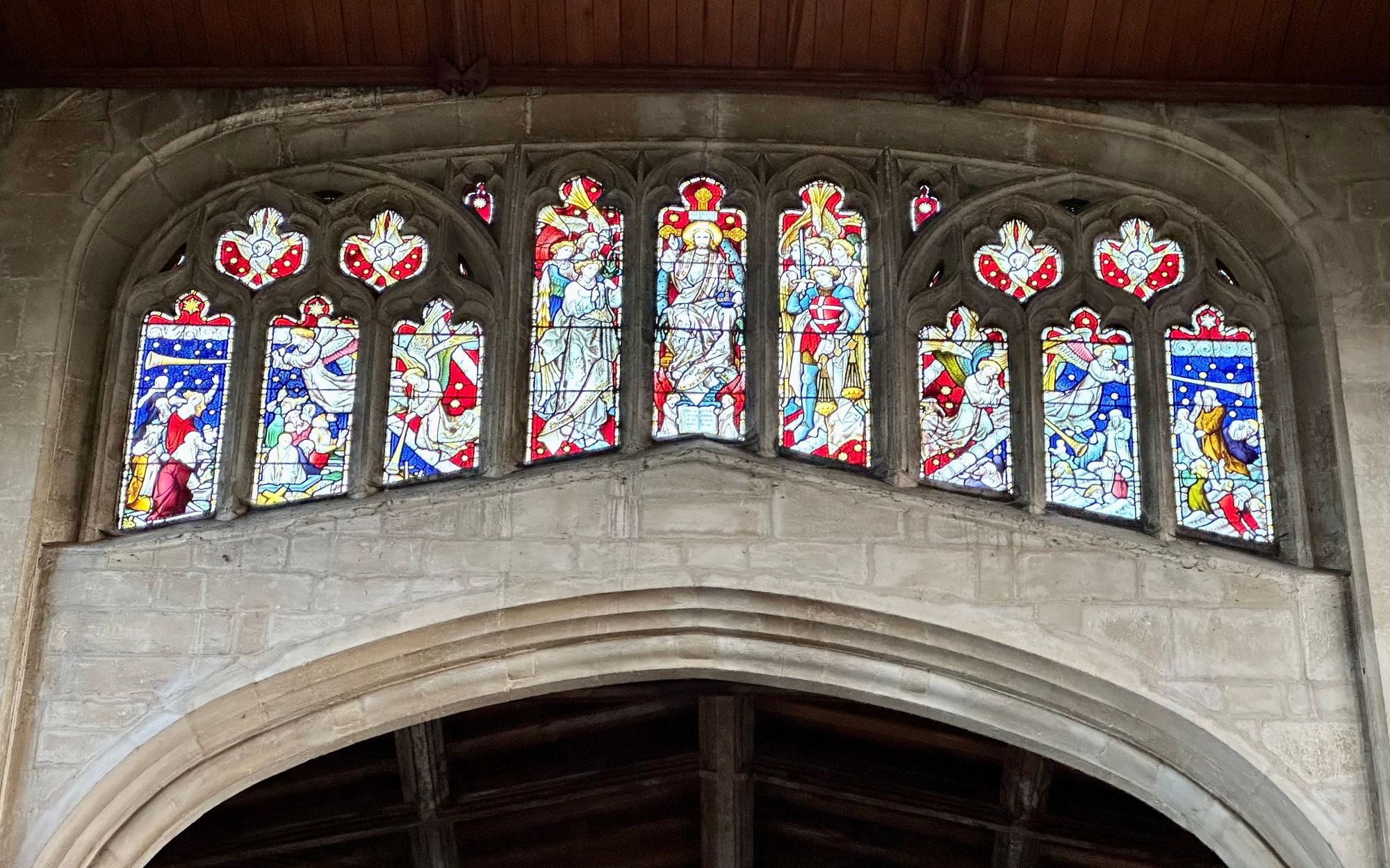 Monument to Sir Baptist Hicks and Lady Elizabeth.
Buried in the Gainsborough Chapel - the marbled monument is of a much later and refined classical style than his earthy English Renaissance buildings. Stylistic tastes have moved on.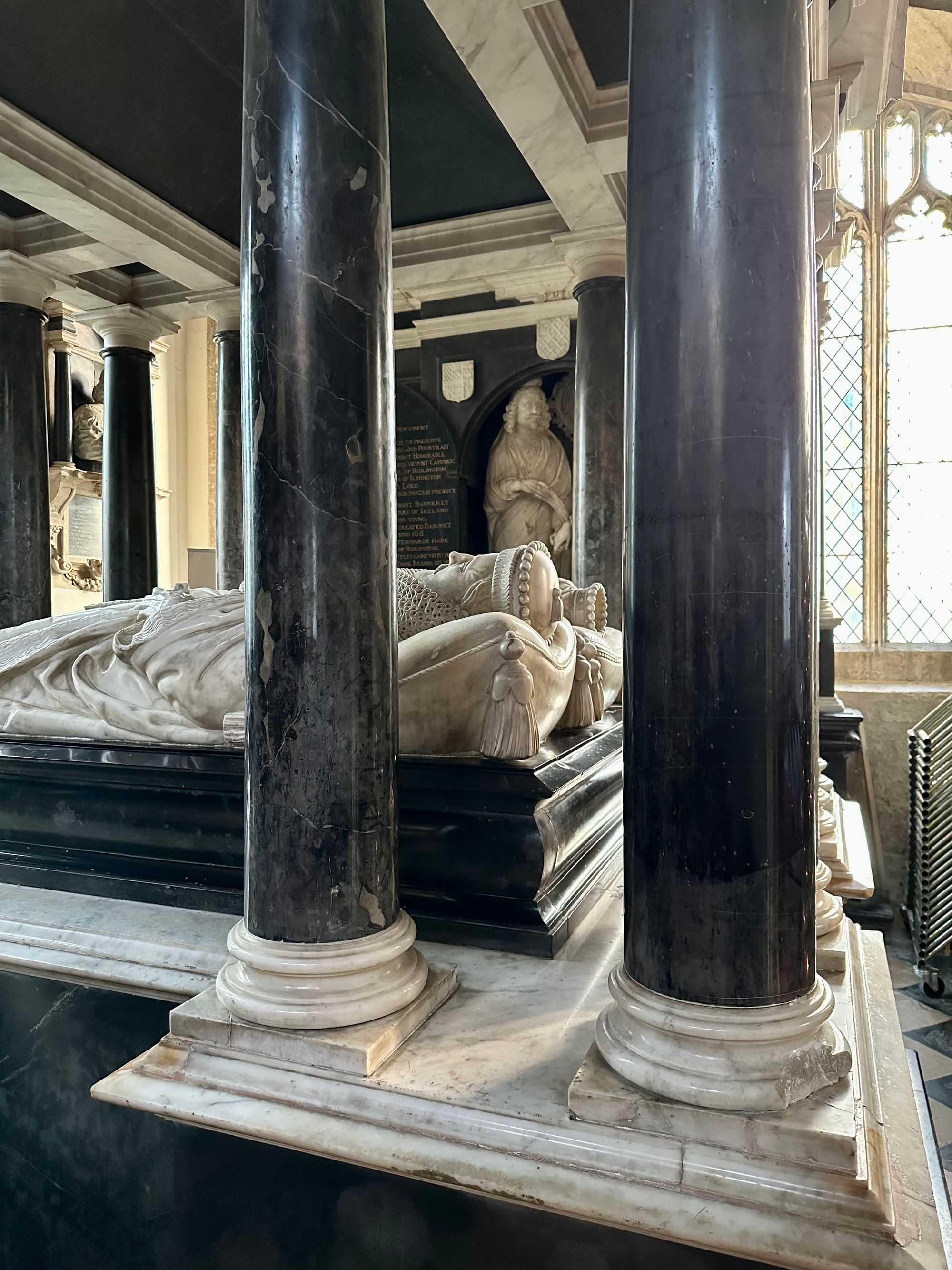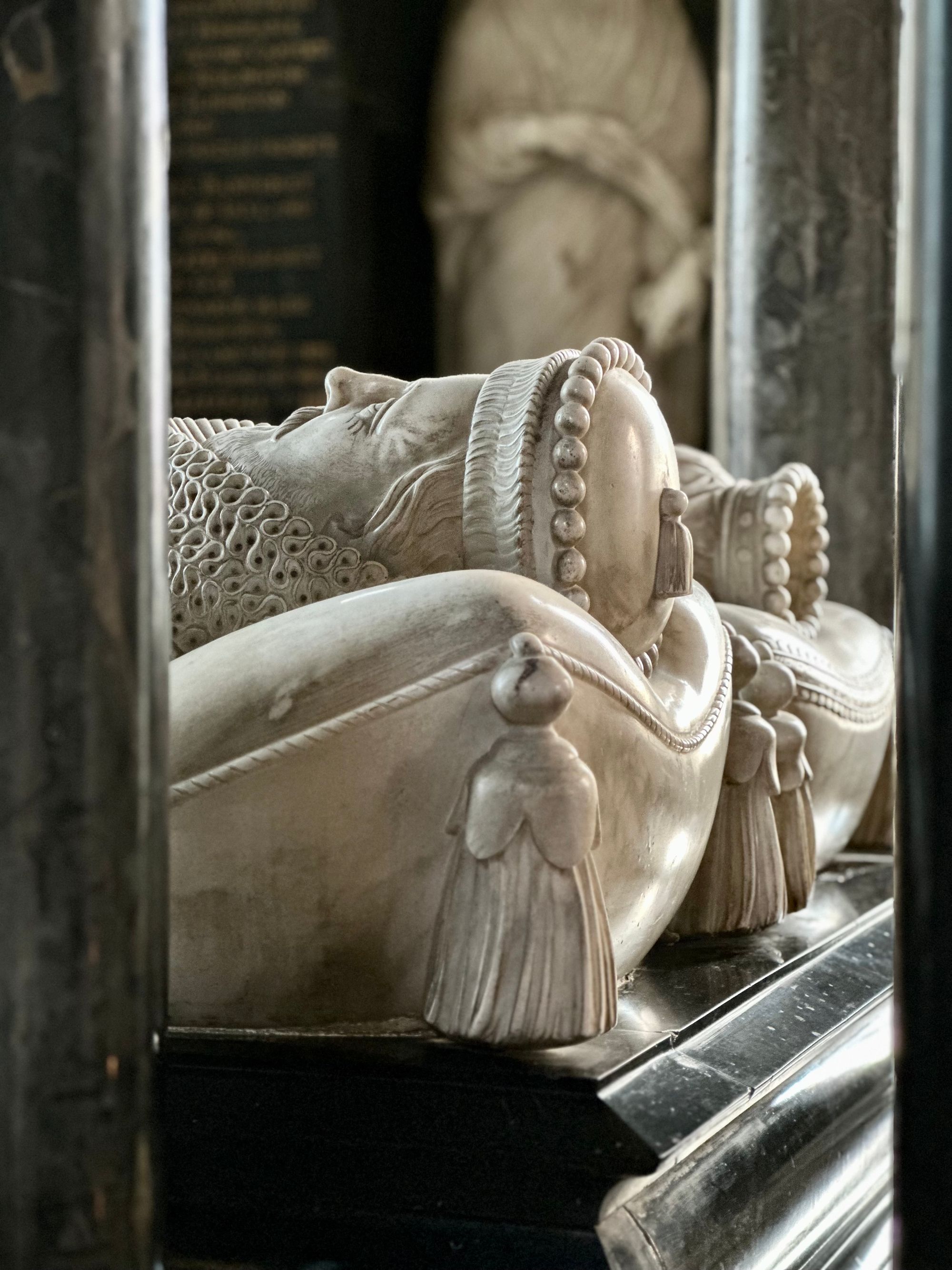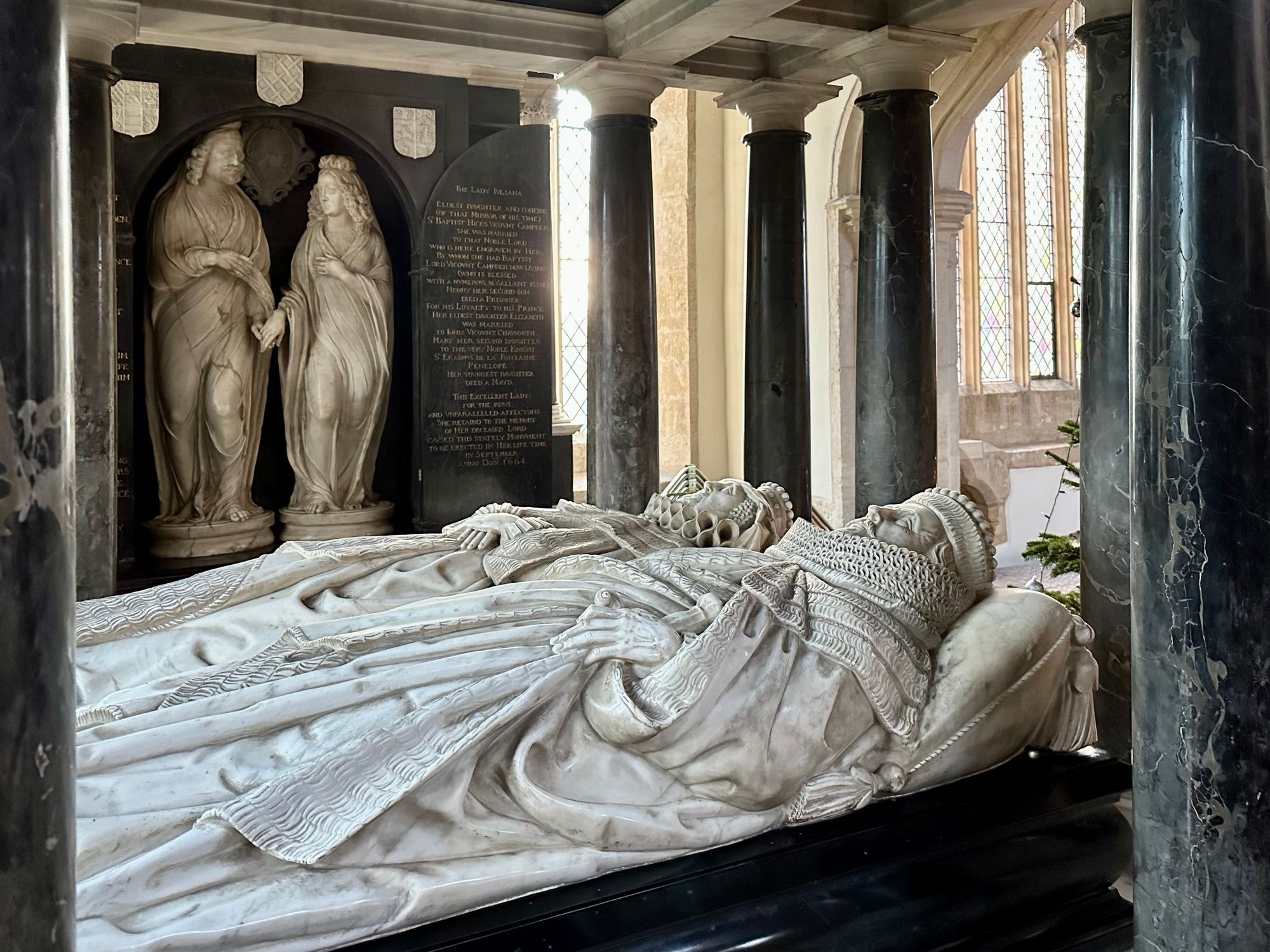 Lady Penelope Noel
Lady Penelope Noel died of blood poisoning after pricking her finger whilst sewing.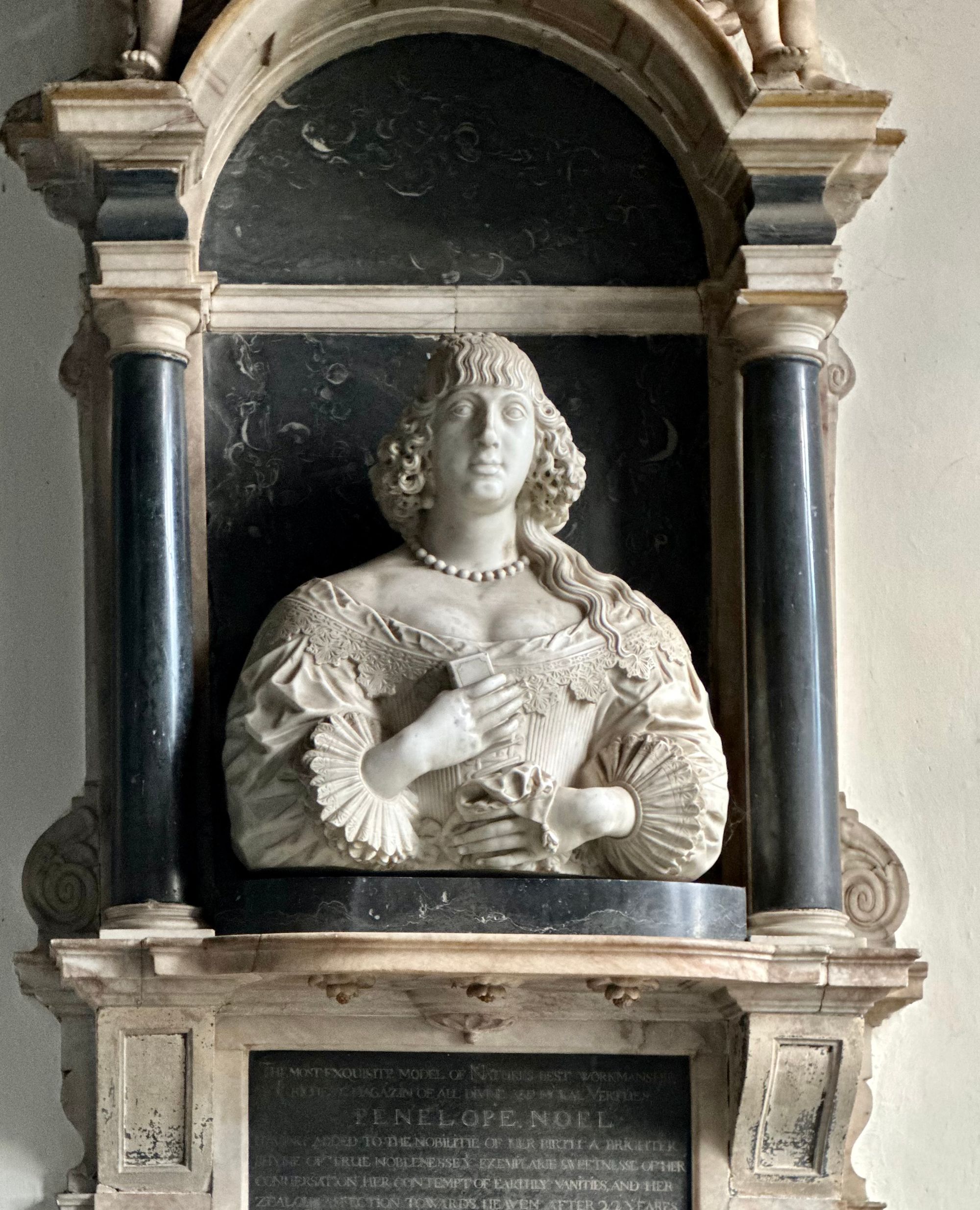 The old font is said to be Early English of around 1250 - its pattern looks transitional in nature - between Norman and Early English - my thoughts are that it might be earlier. It was cut in half in 1727 by the church warden Rowland Smith who wished to extend his family pew. Cheek of it.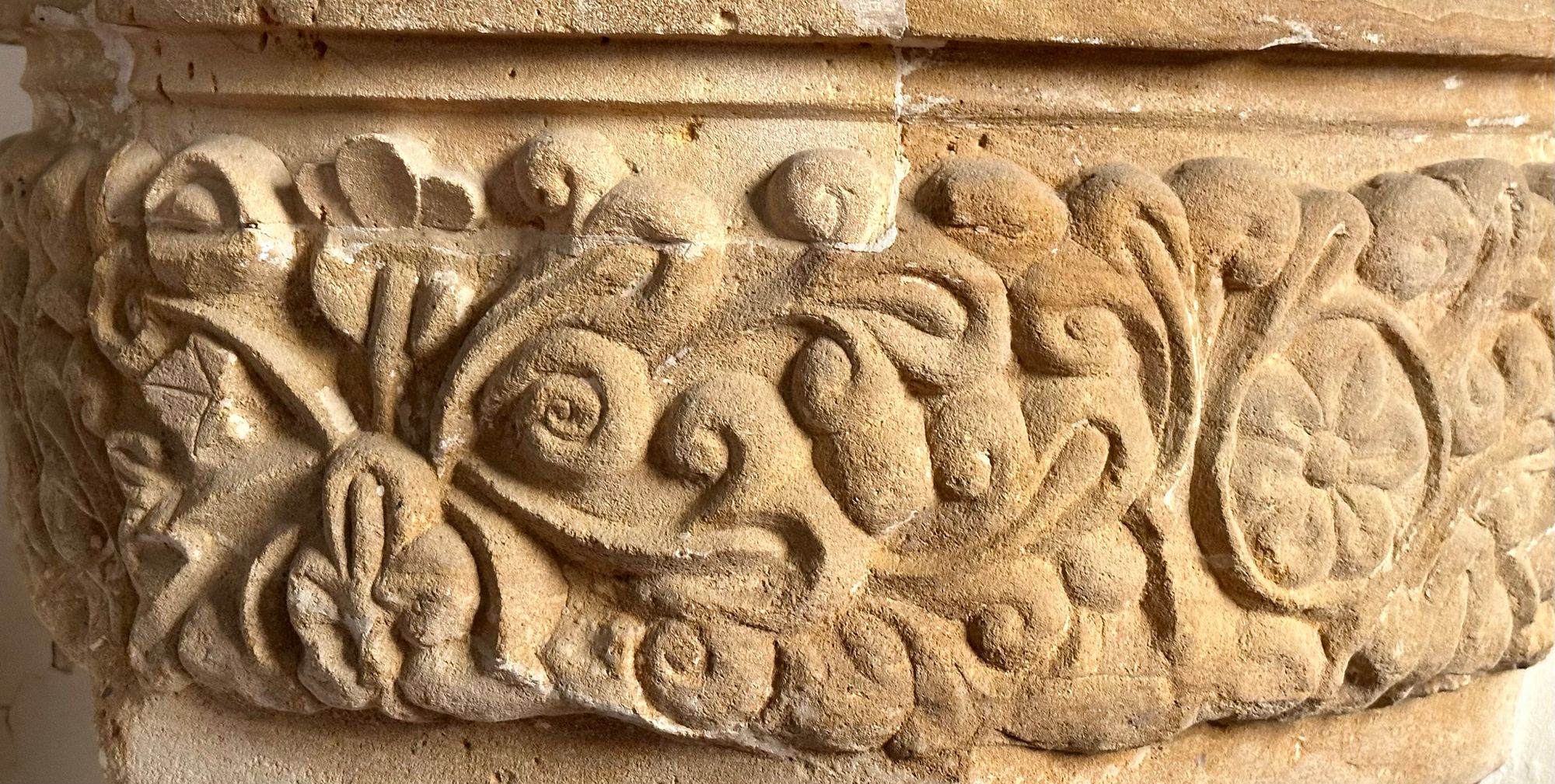 The Medieval Altar Hangings
Of around 1500, the hangings are of handwoven silk damask in a pineapple design.  In 1911, they were copied for the Coronation of King George V and Queen Mary. The central themes represent the Assumption of the Virgin Mary and the Annunciation.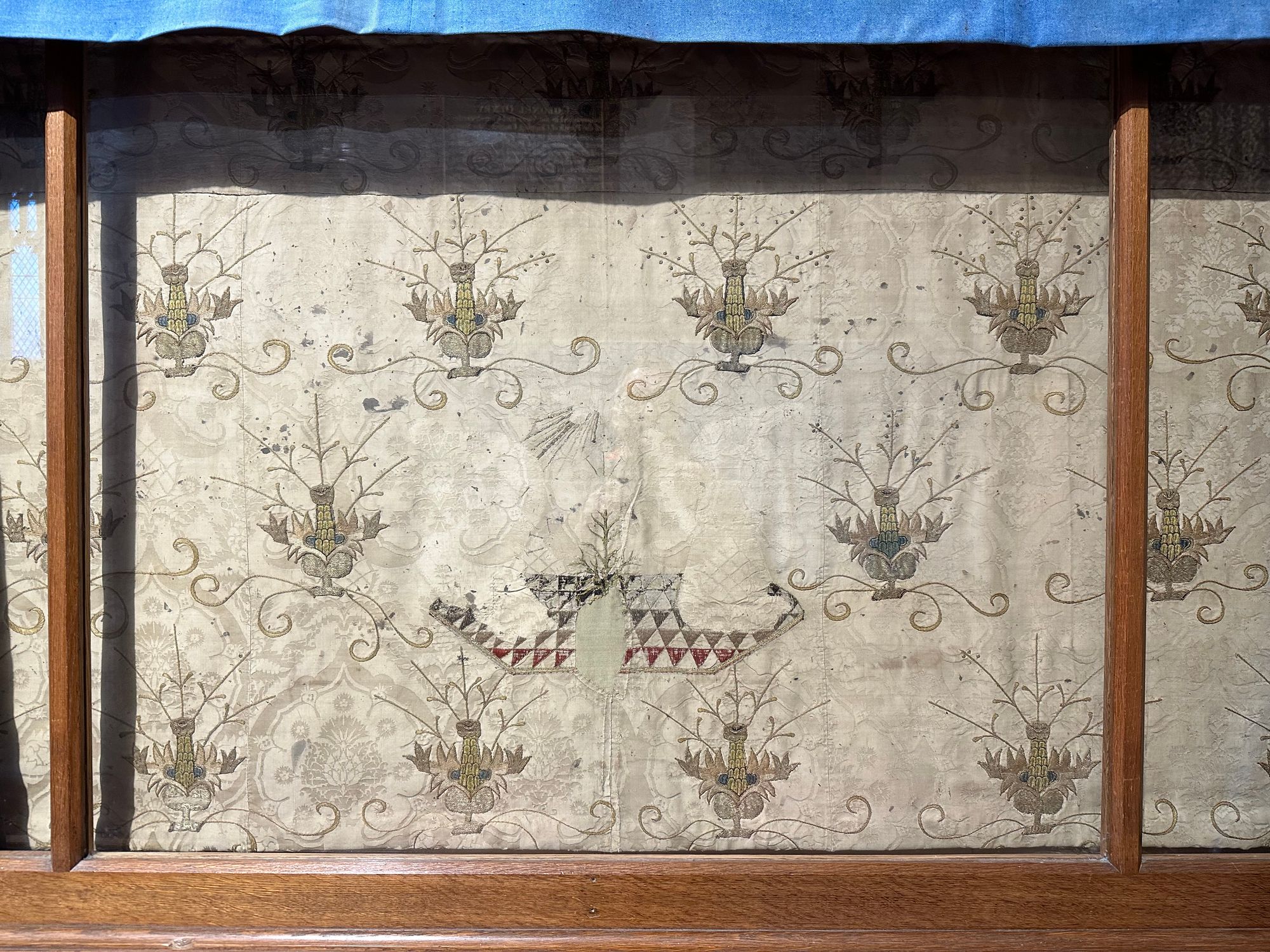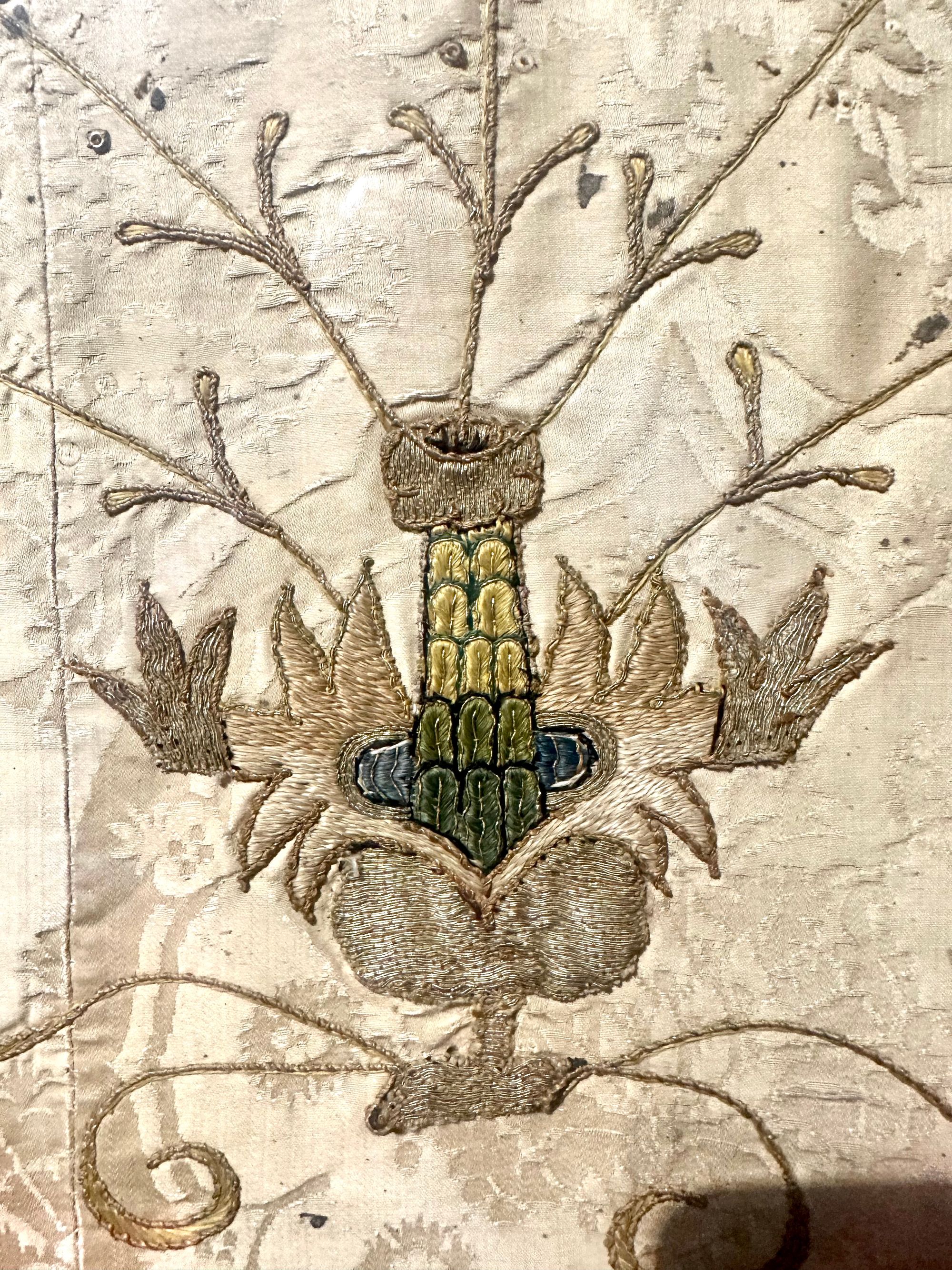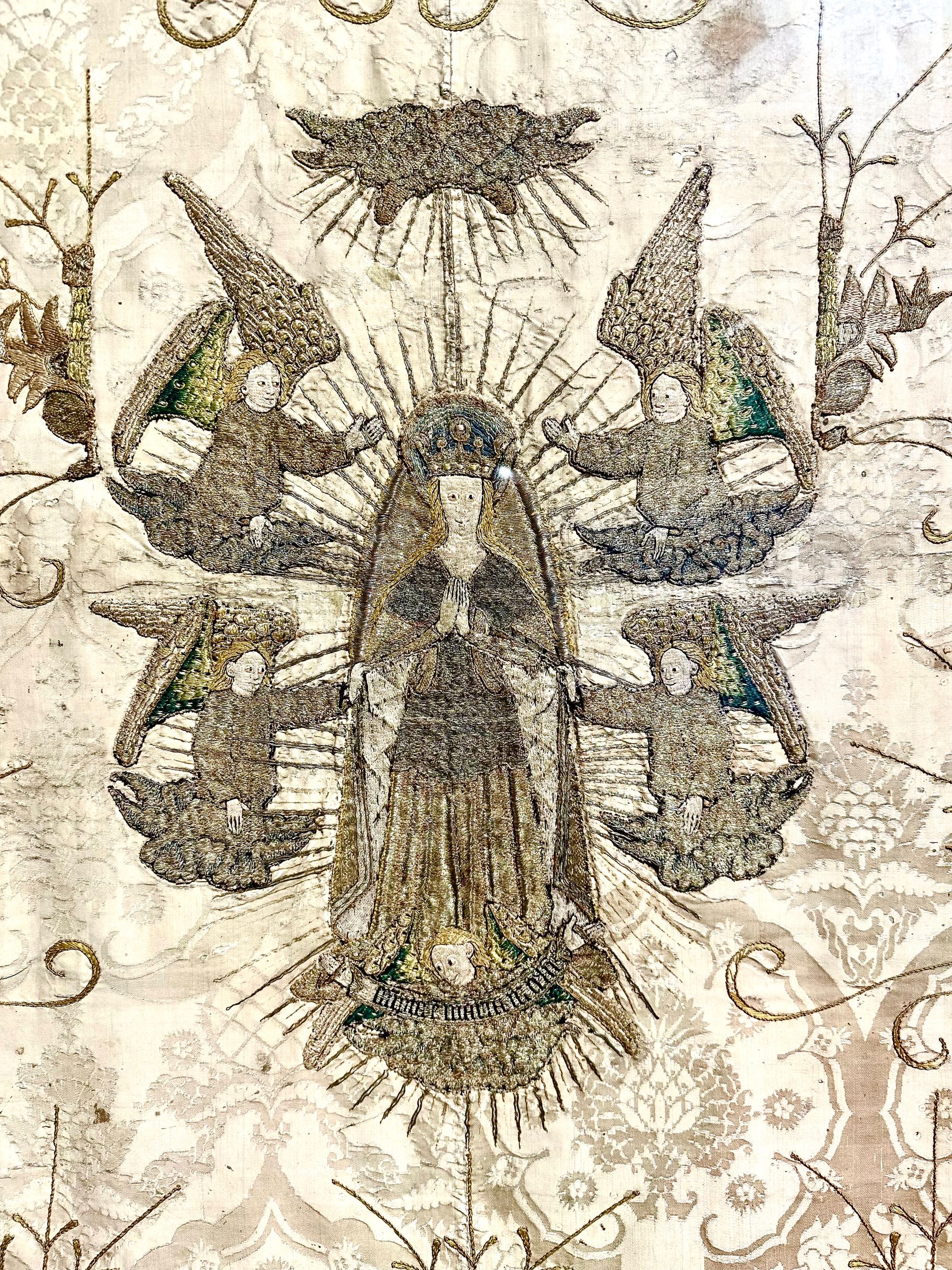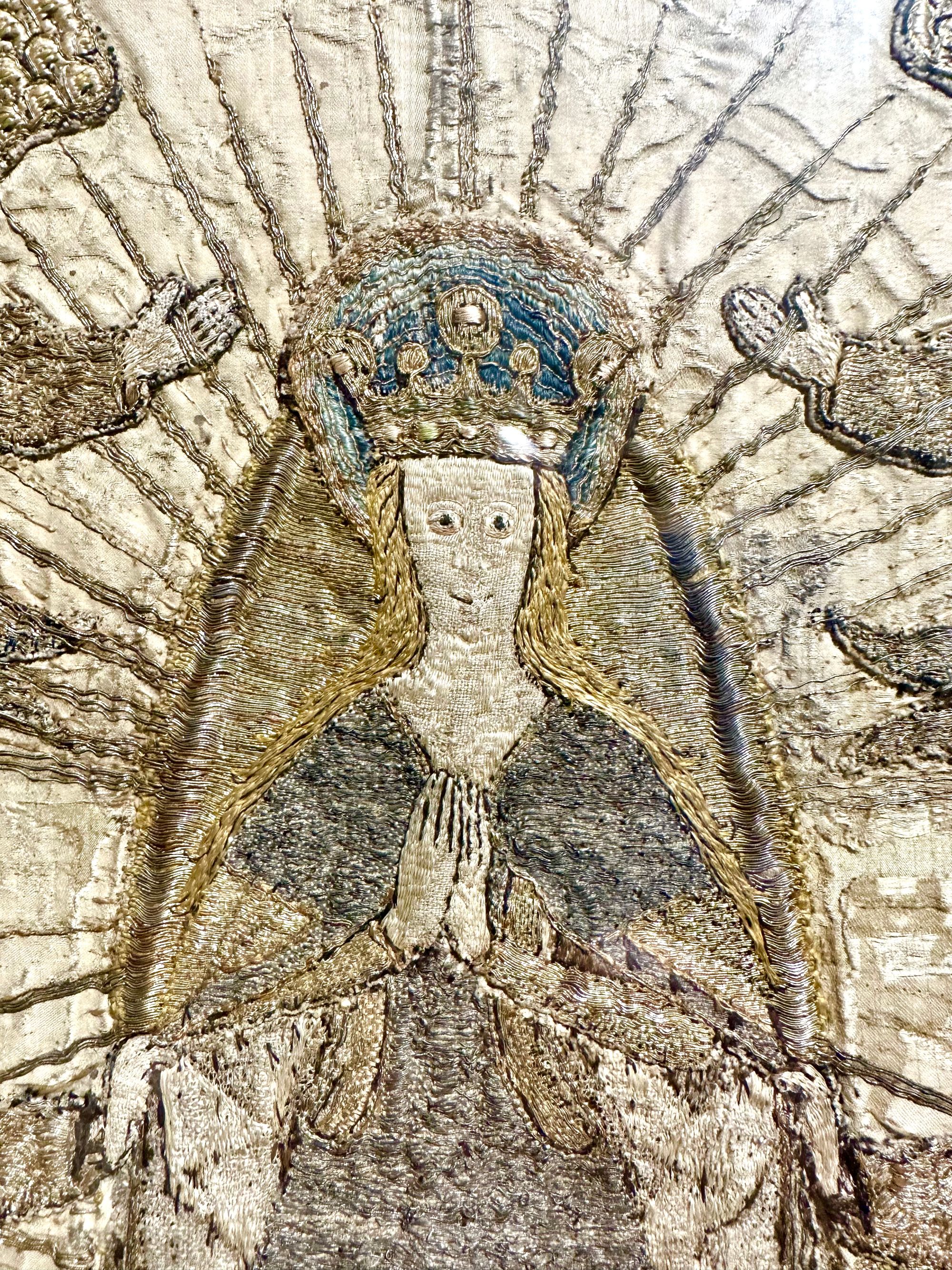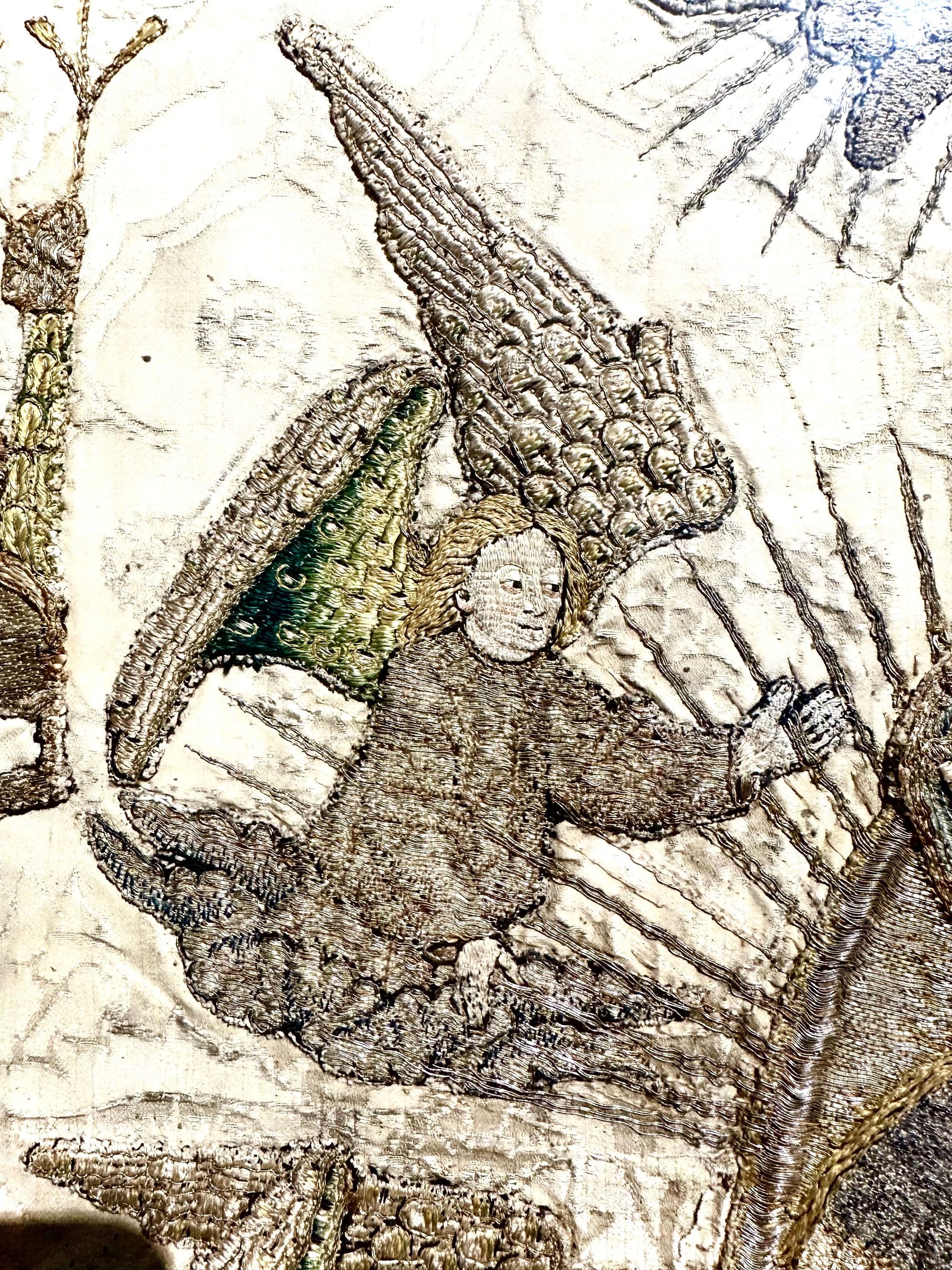 The Cope
The only surviving English cope of this period (c. 1400)- restored and conserved in the Victoria and Albert Museum.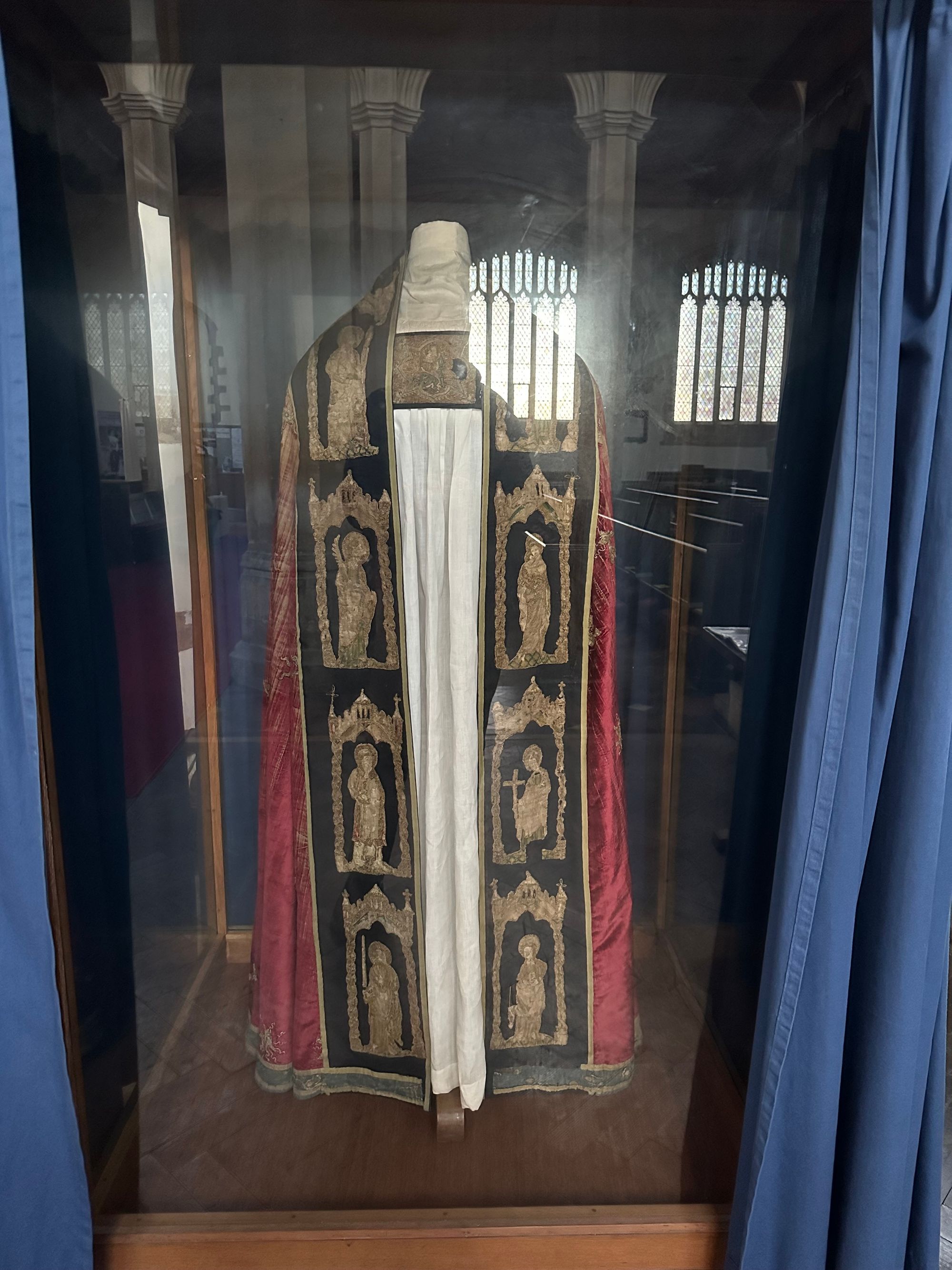 The brass lectern
I think this my favourite artefact in the church. It's full of character and reminds me of the Chester Cathedral lectern. It has a cartoon like innocence about it.
The brass lectern was a gift to the church from Sir Baptist Hicks and is of the late C16th.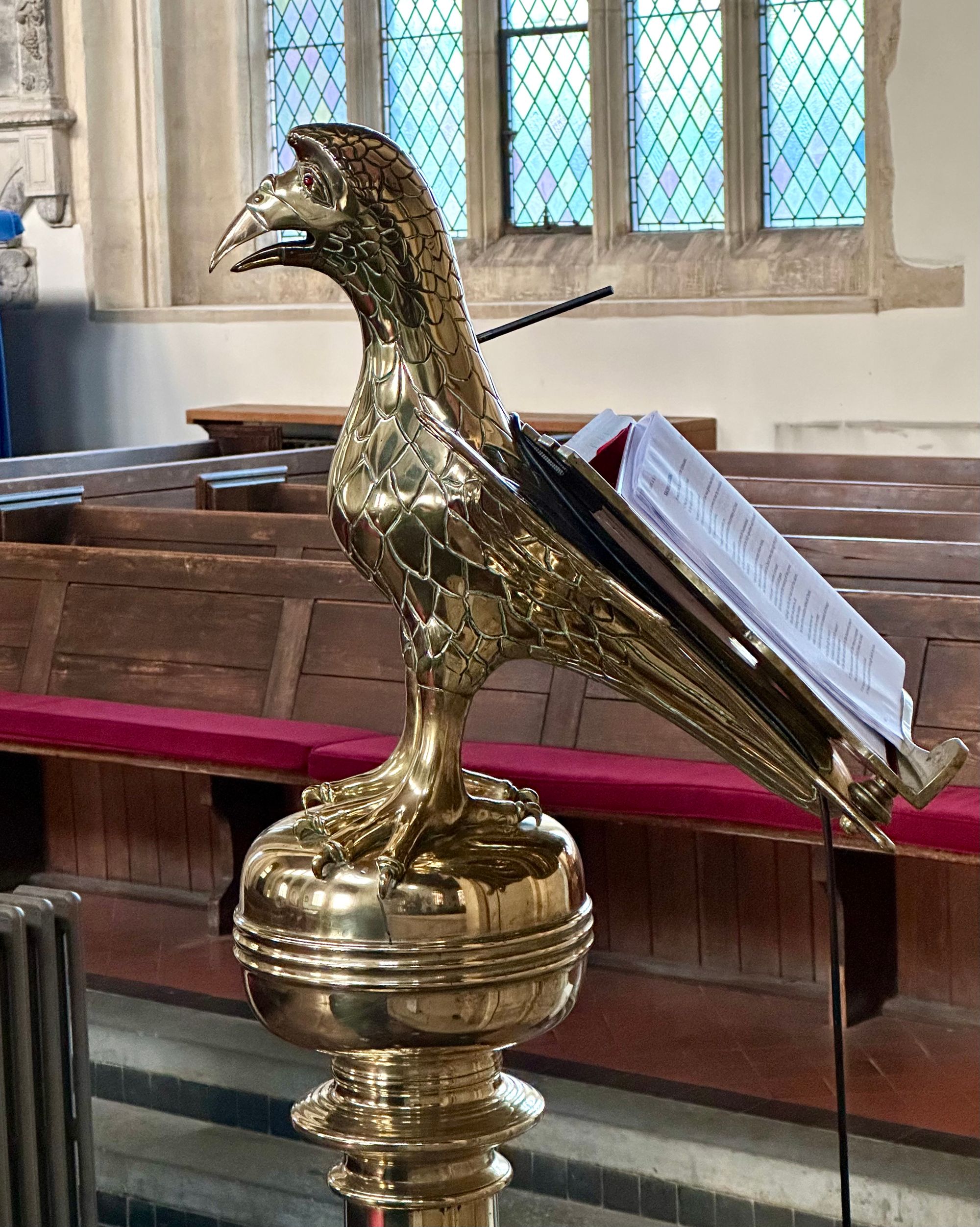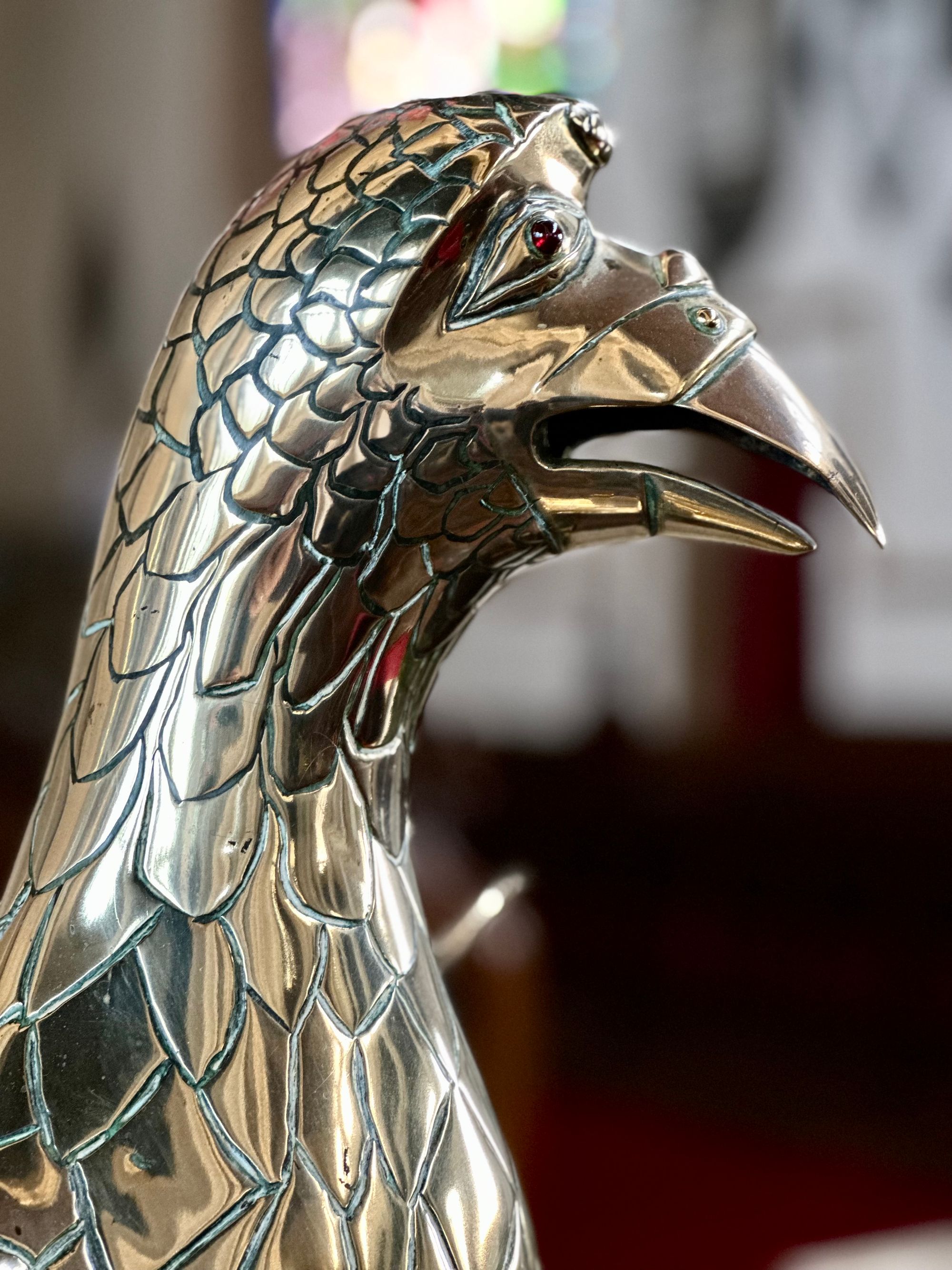 ---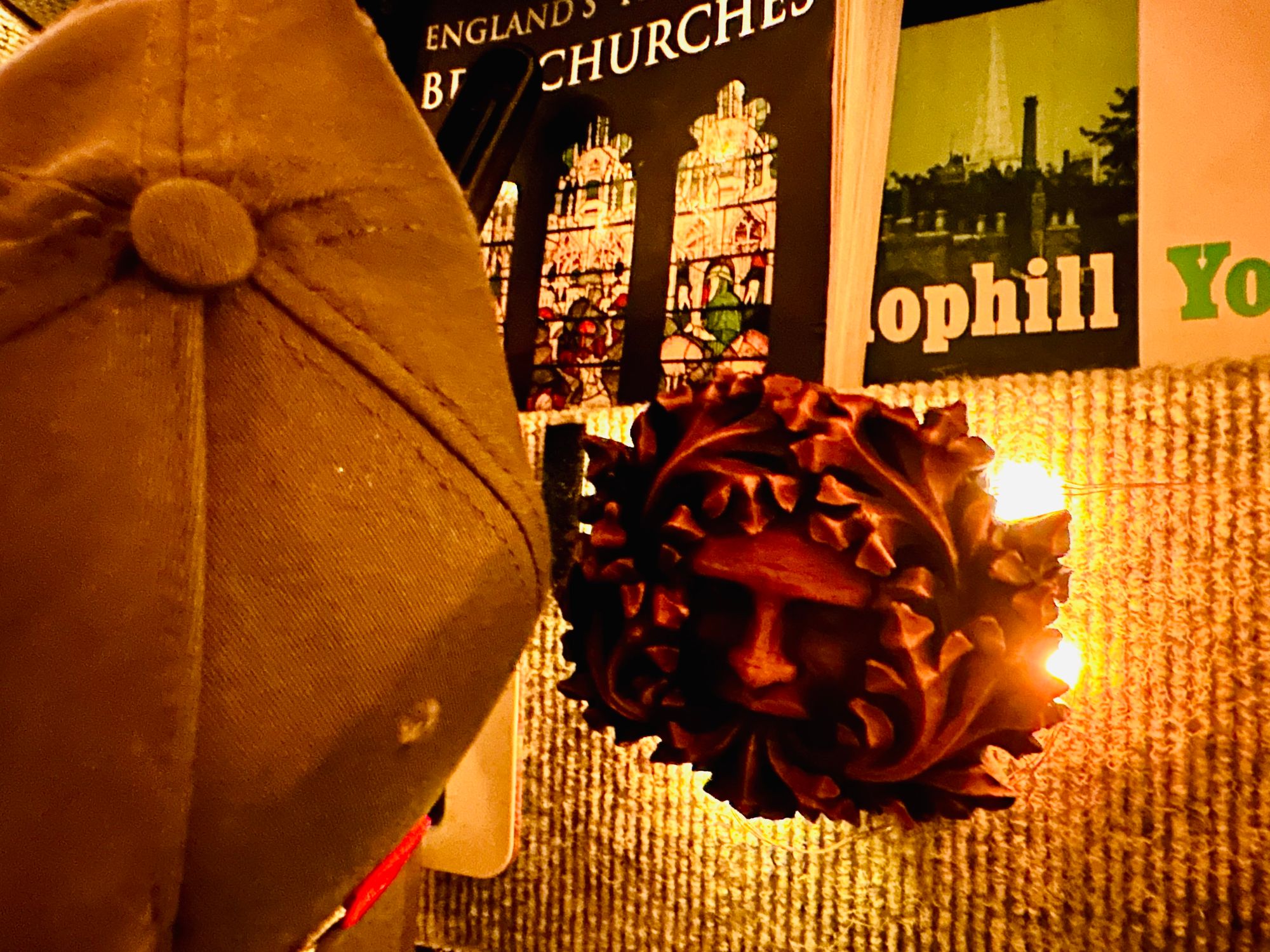 For the photo shoot at Chipping Campden, I lodge over at Moreton-in-Marsh CAMC. It's from here that C. R. Ashbee exited the train and hot-footed it over to Chipping to establish his workshops.
It's raining and I'm hungry and instead of staring at the van walls - which are richly adorned with architectural memorabilia - I decide to visit a cafe that has been recommended to me by a local.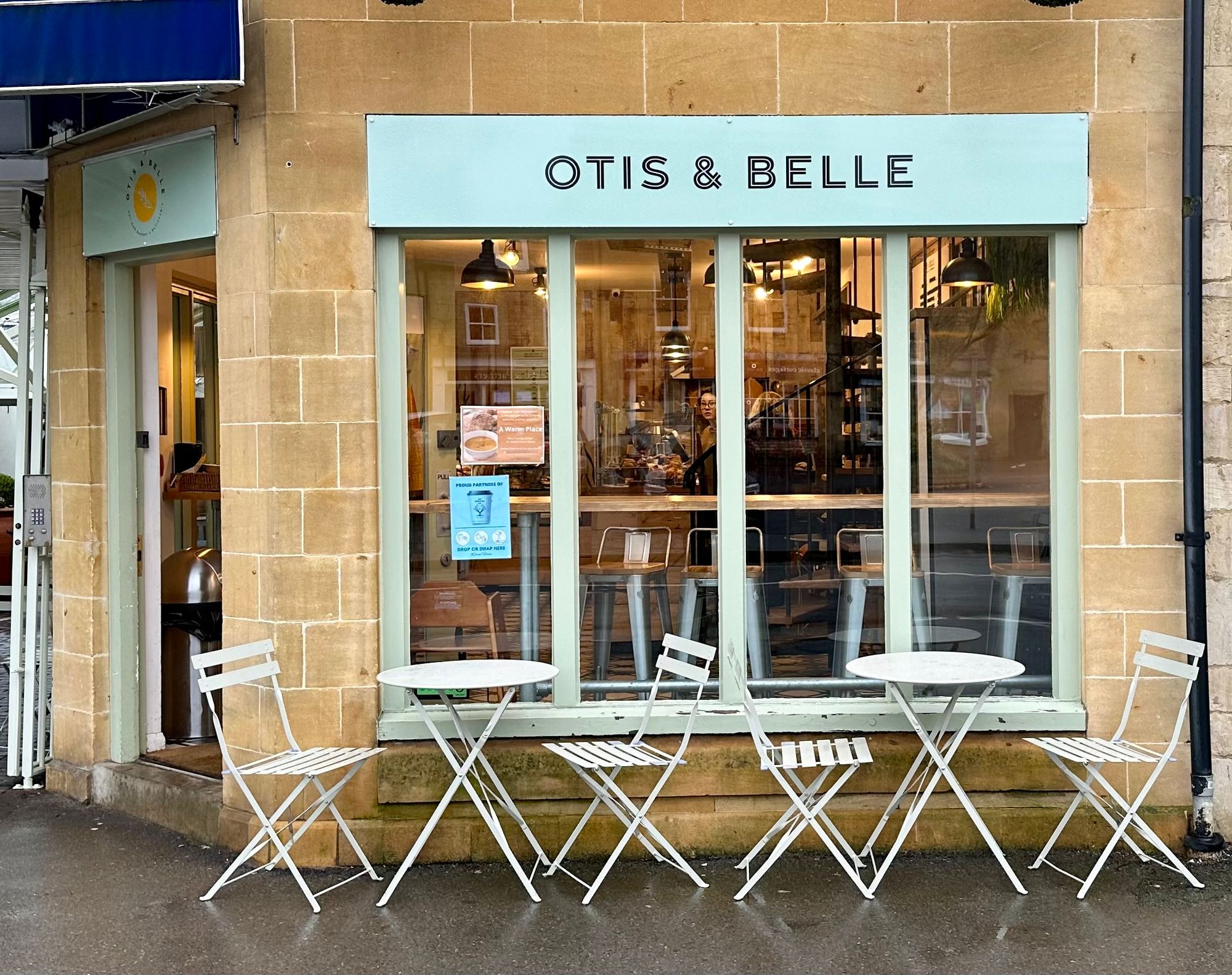 Danish Heaven! Oh what coffee! Seasonal delights!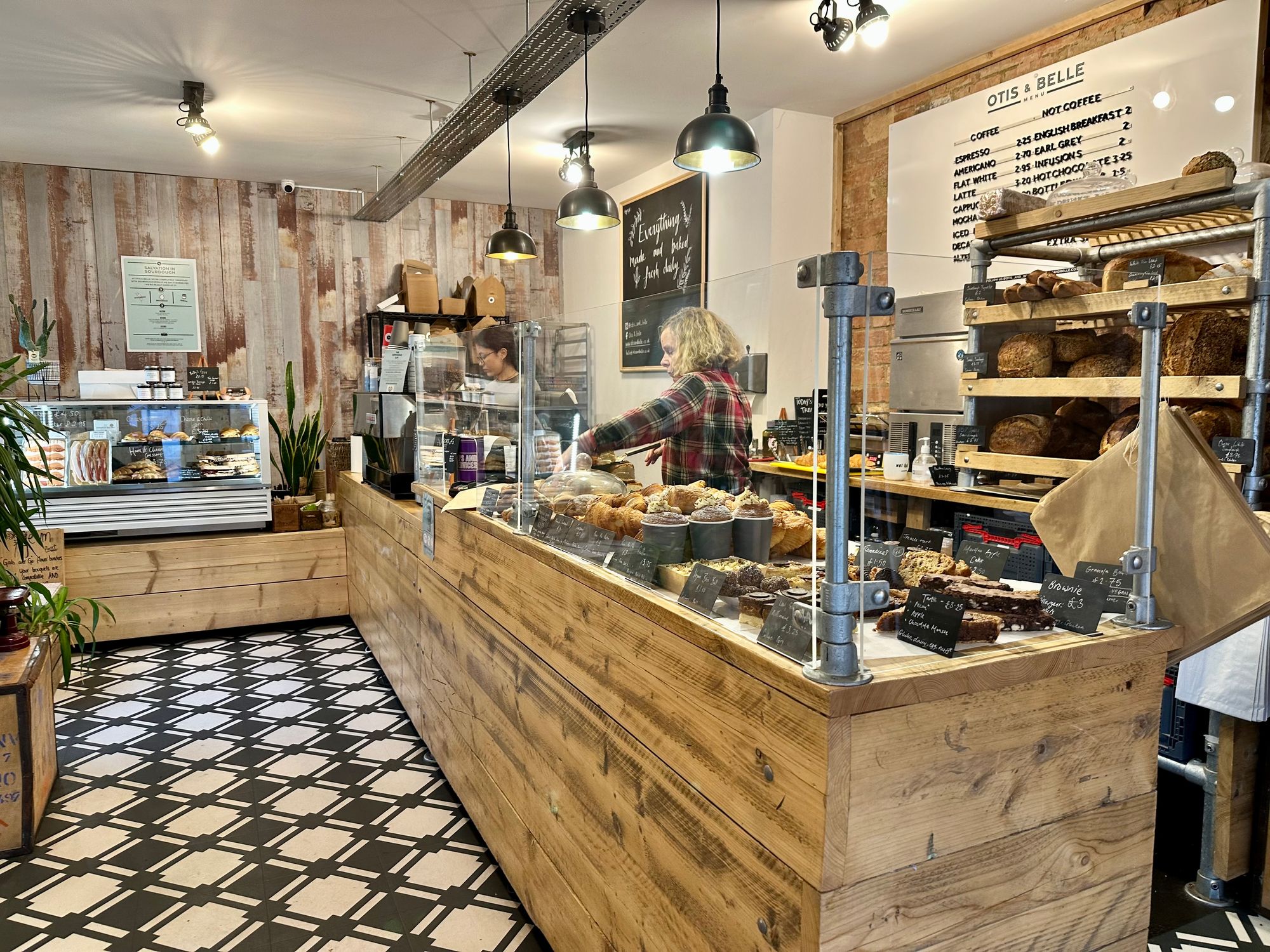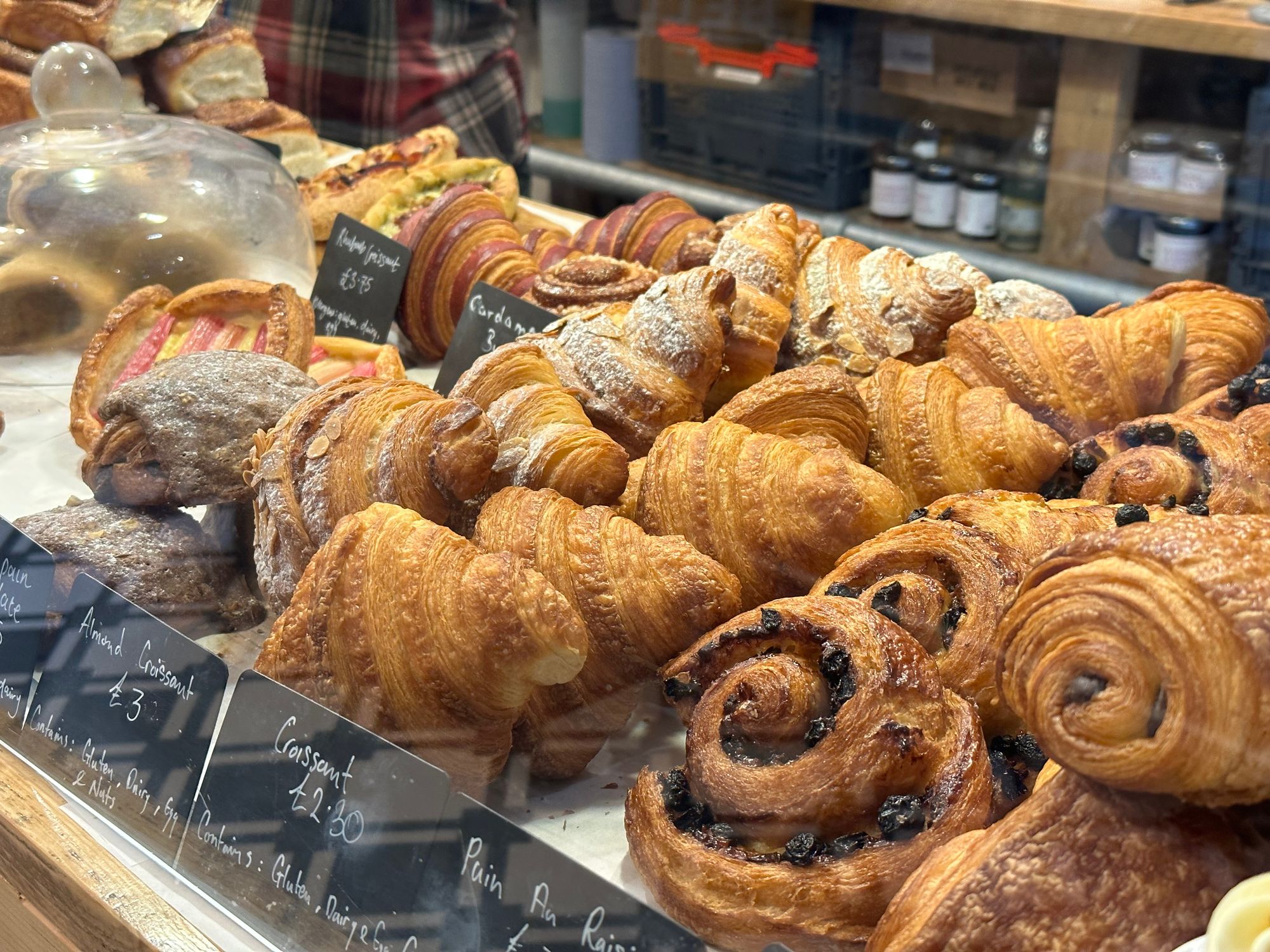 I buy some savouries and take a quick stroll around Moreton, the clouds clear and the sun makes an appearance. The buildings are as warm and flaky as my pastry.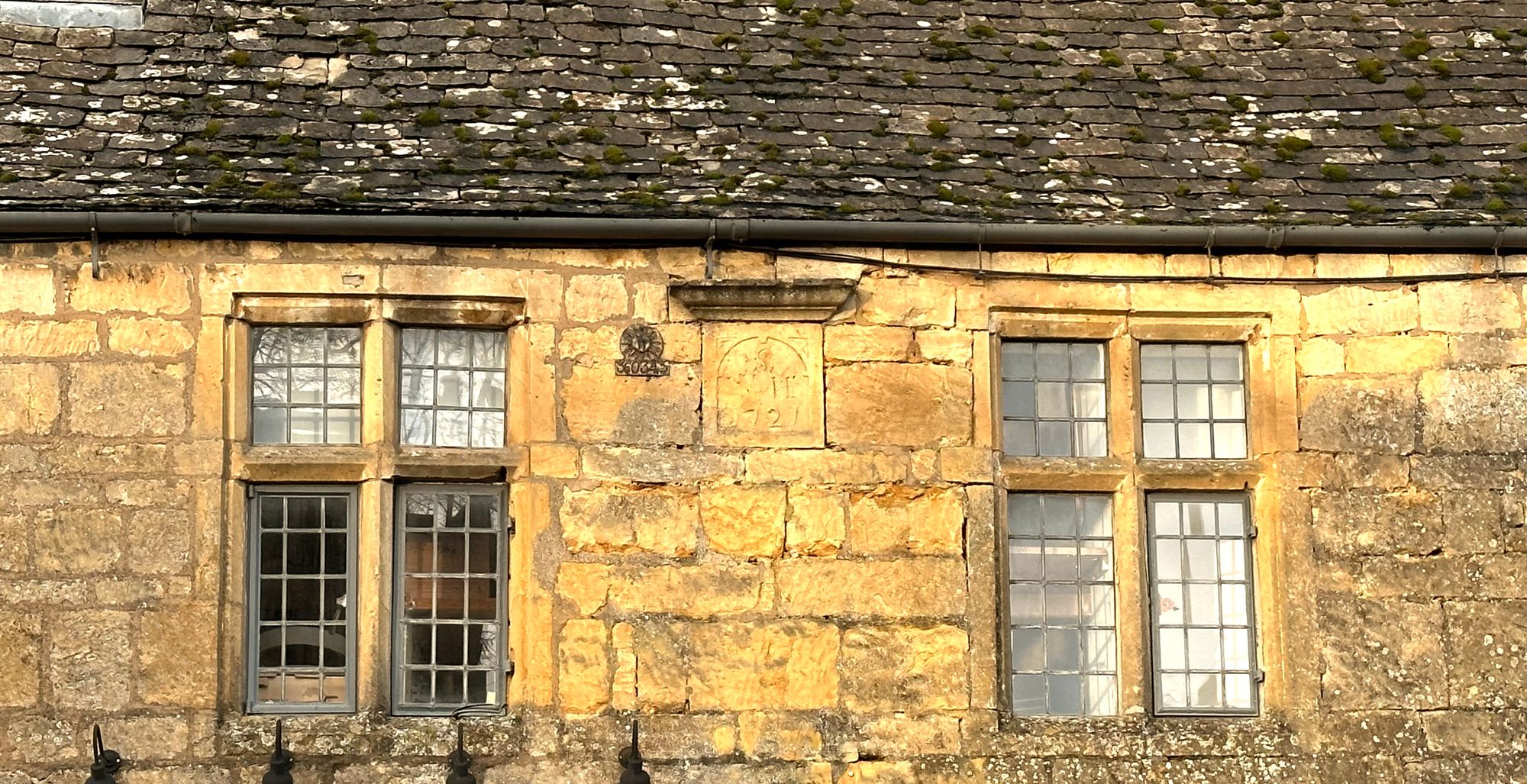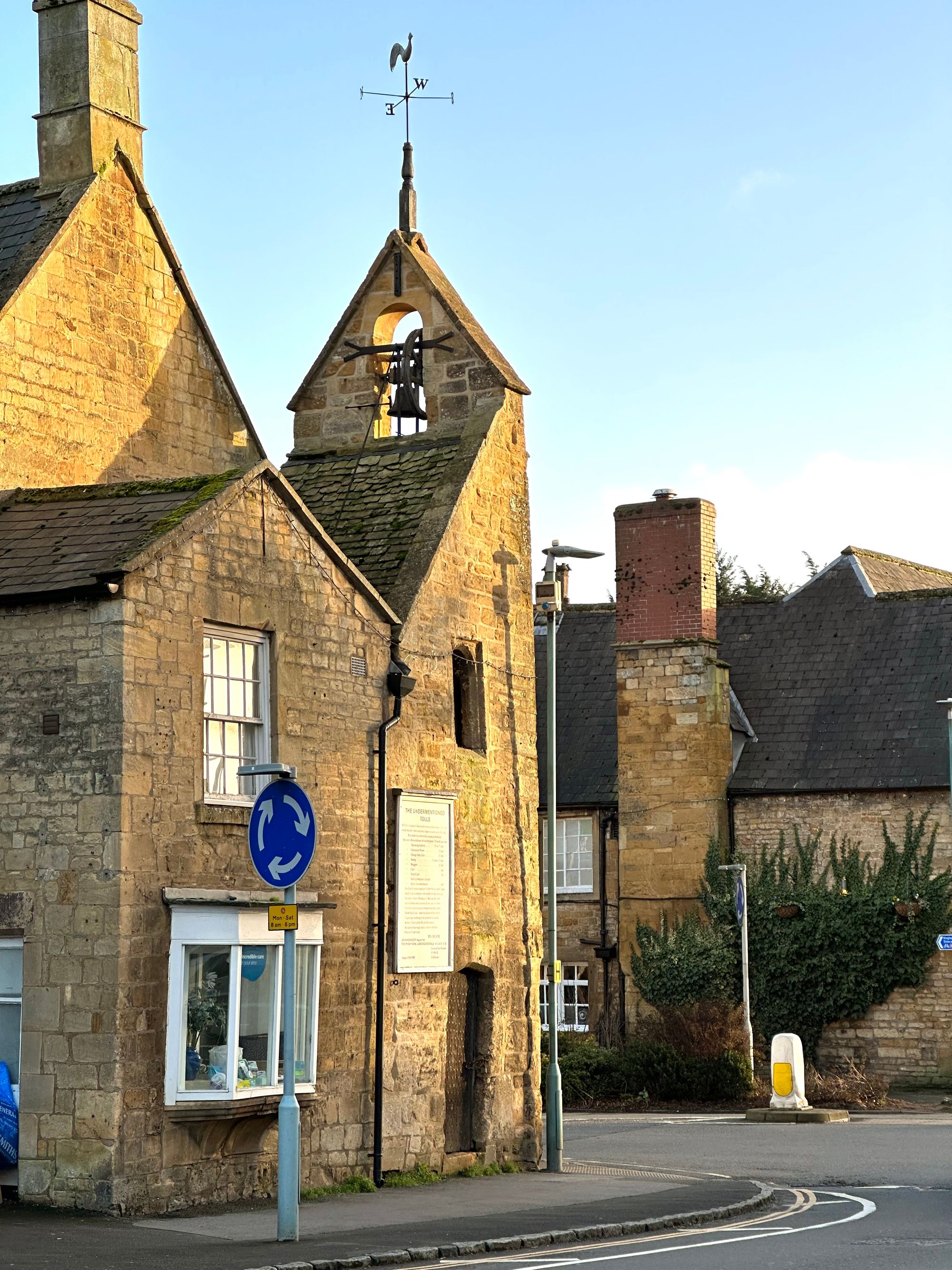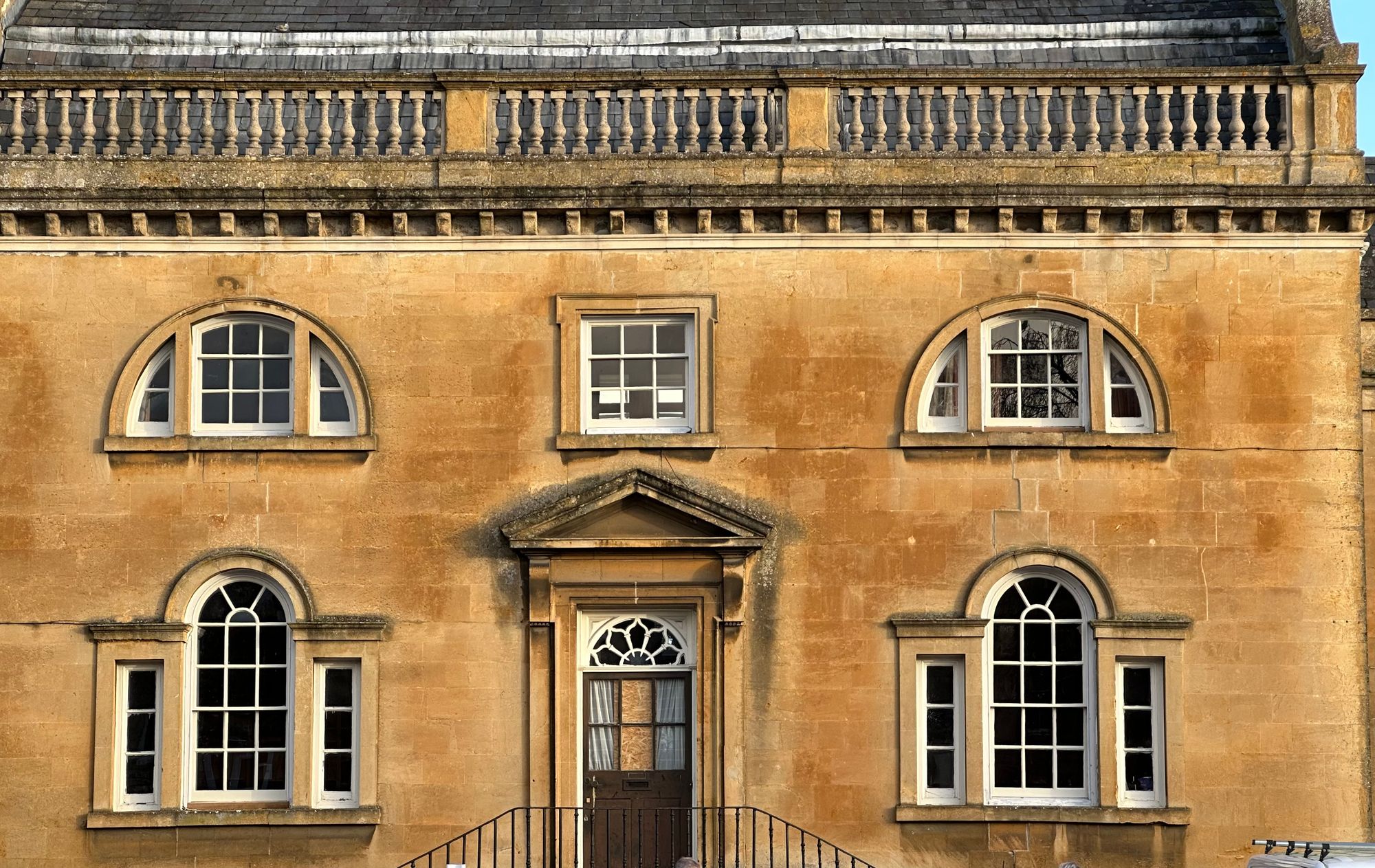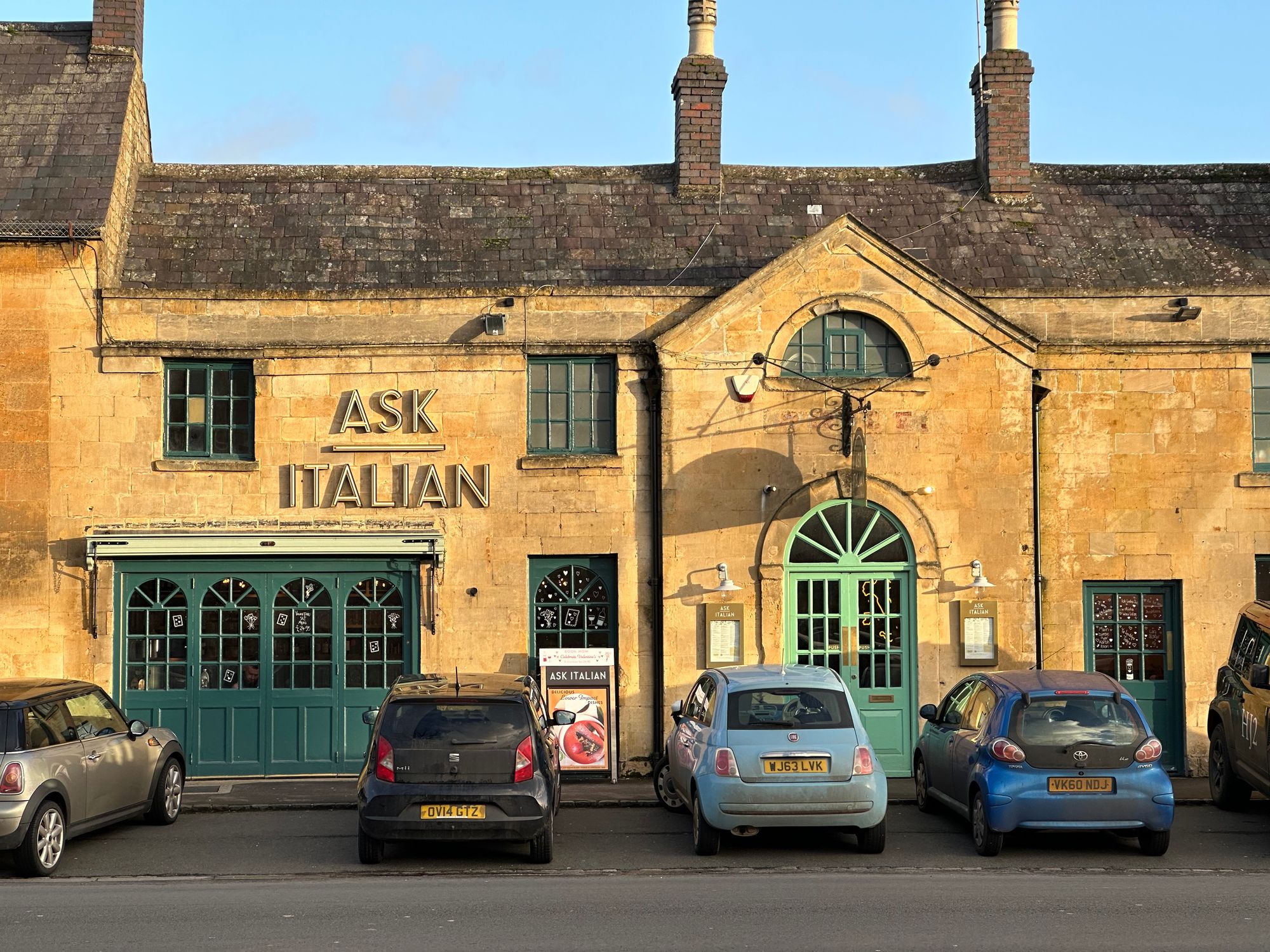 ---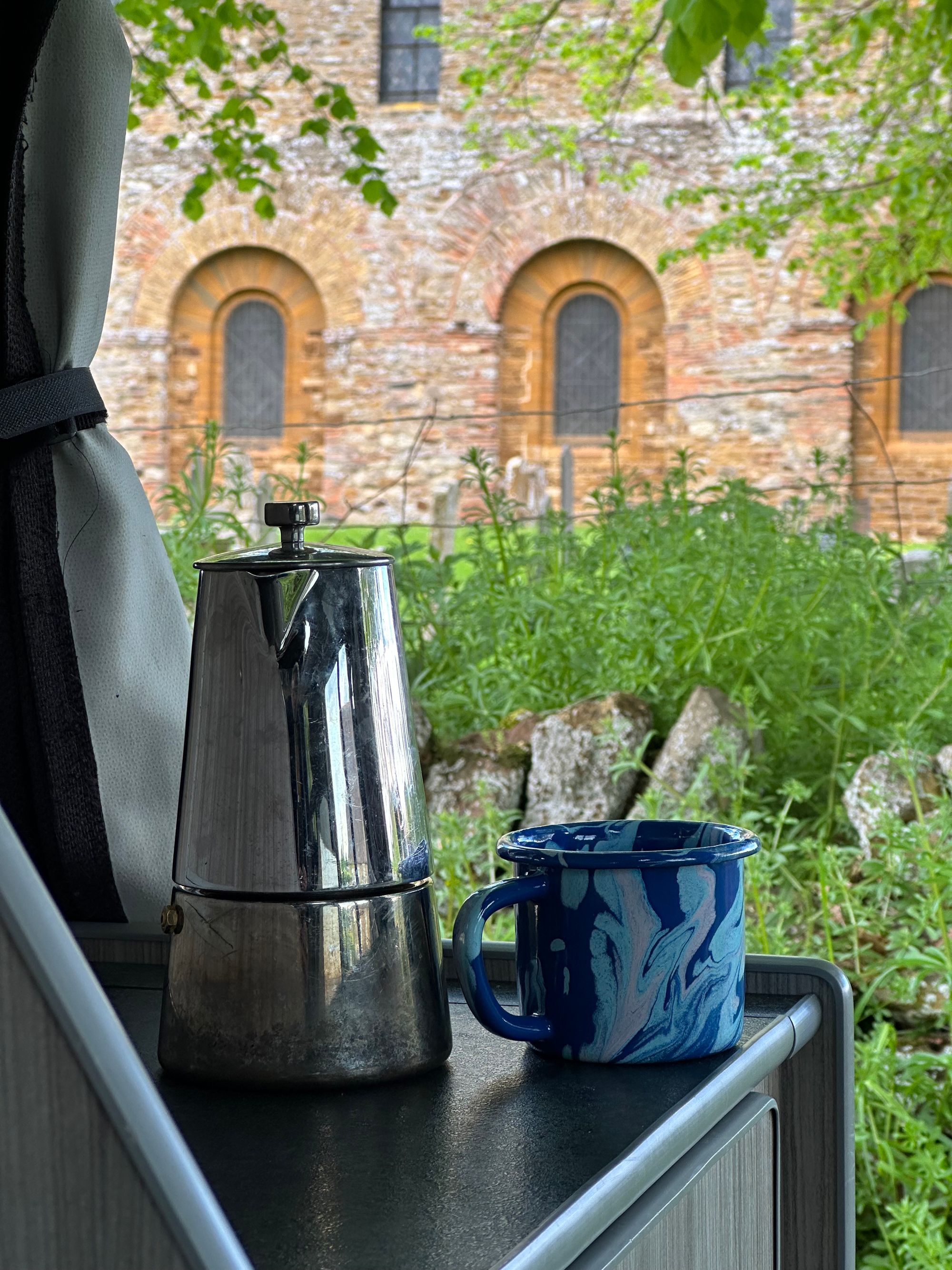 I'm using today my new Bornn ceramic mugs (a birthday present). I also have the Bornn breakfast bowls - they're hard waring and beautiful to look at.
---
Take a virtual tour of Woody my camper van.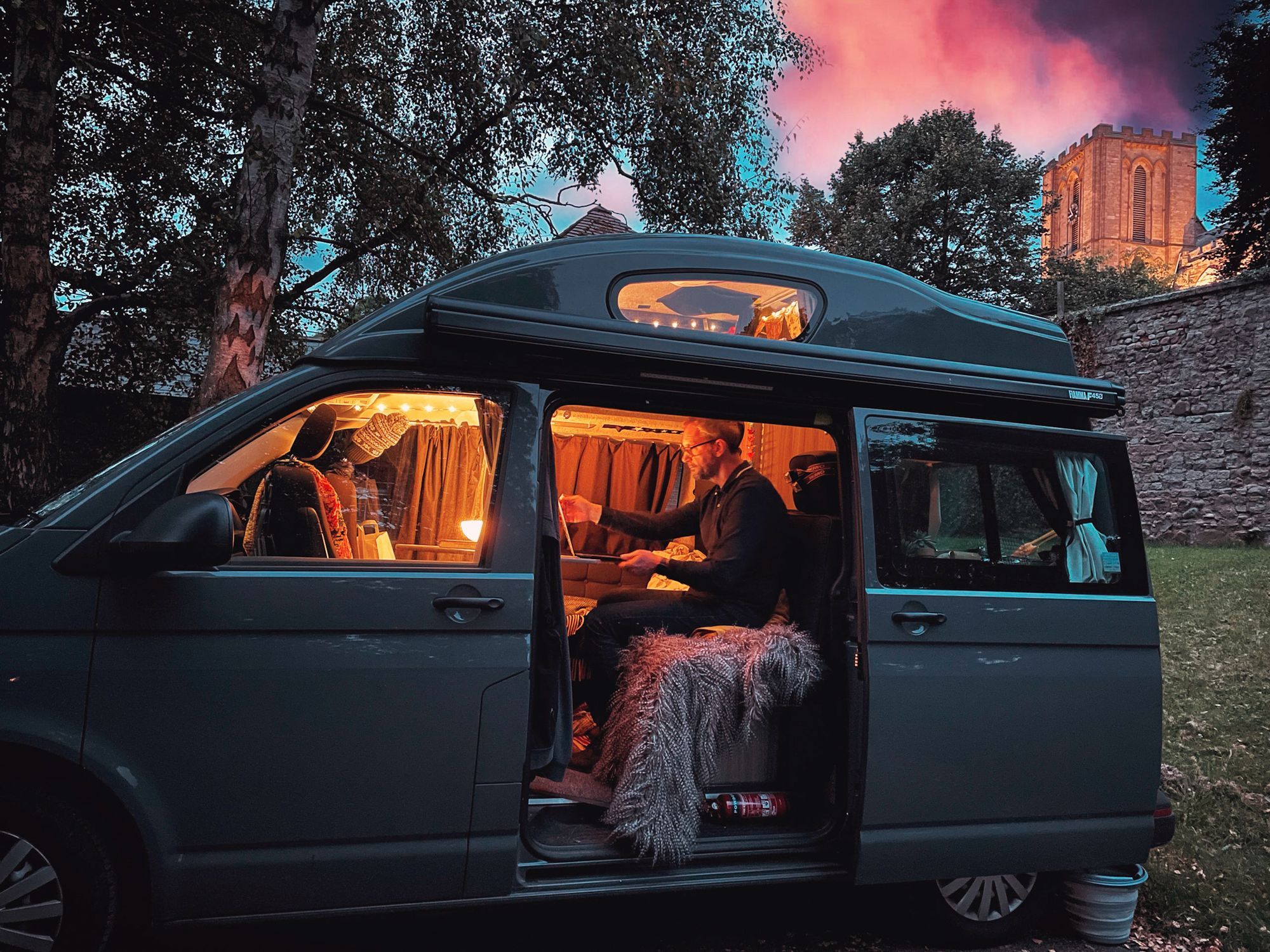 ---
"I can think of no other word to use for something which has filled so much of my time, my thoughts and my imagination from so early on in my life. I cannot look through a window, walk down a street, or drive along a road without scanning, absorbing, dating, and mentally commenting on all the buildings which I see."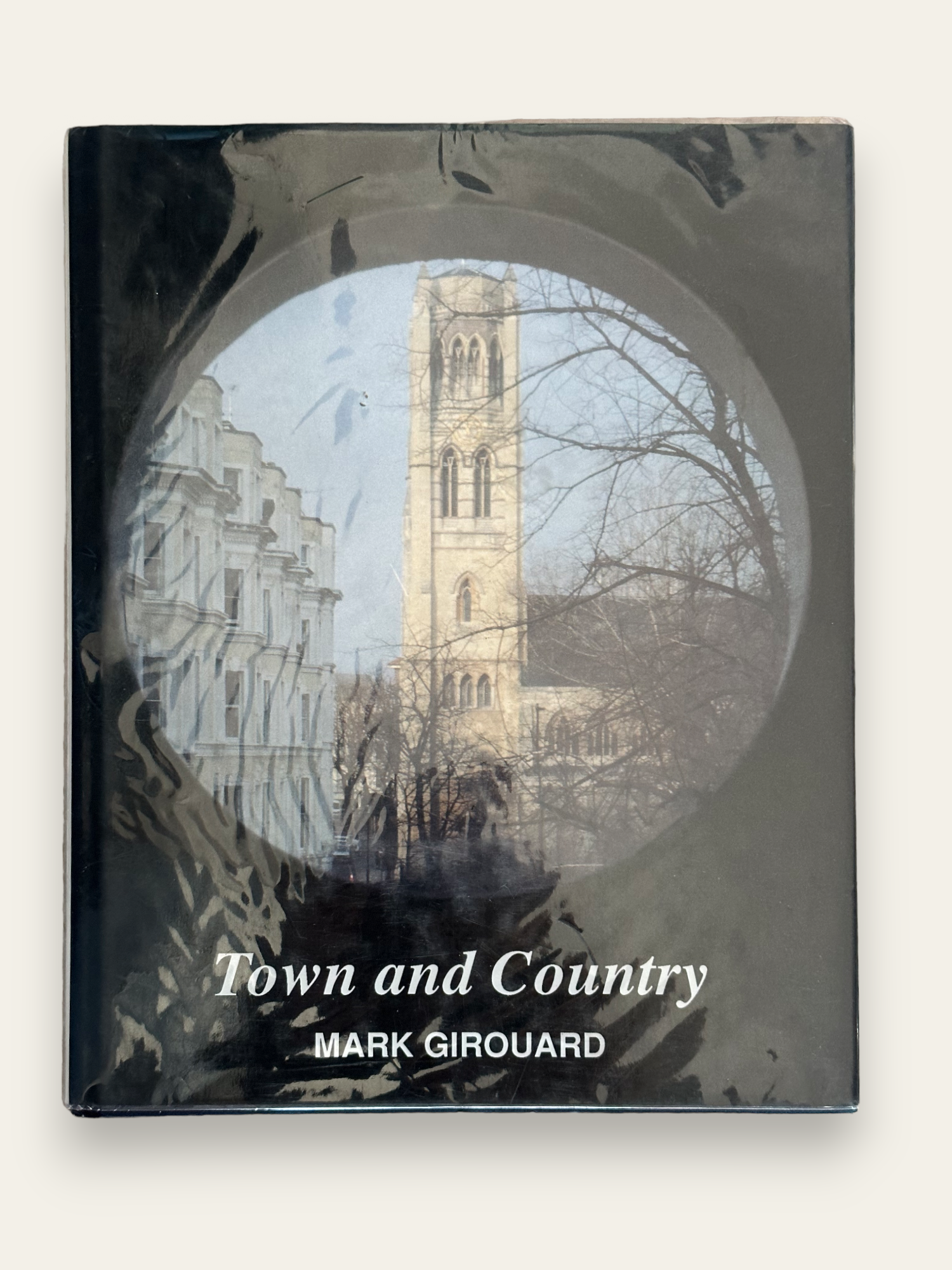 "I started with the stucco worms on the bank in Edgware Road, and every year there was more to discover.
---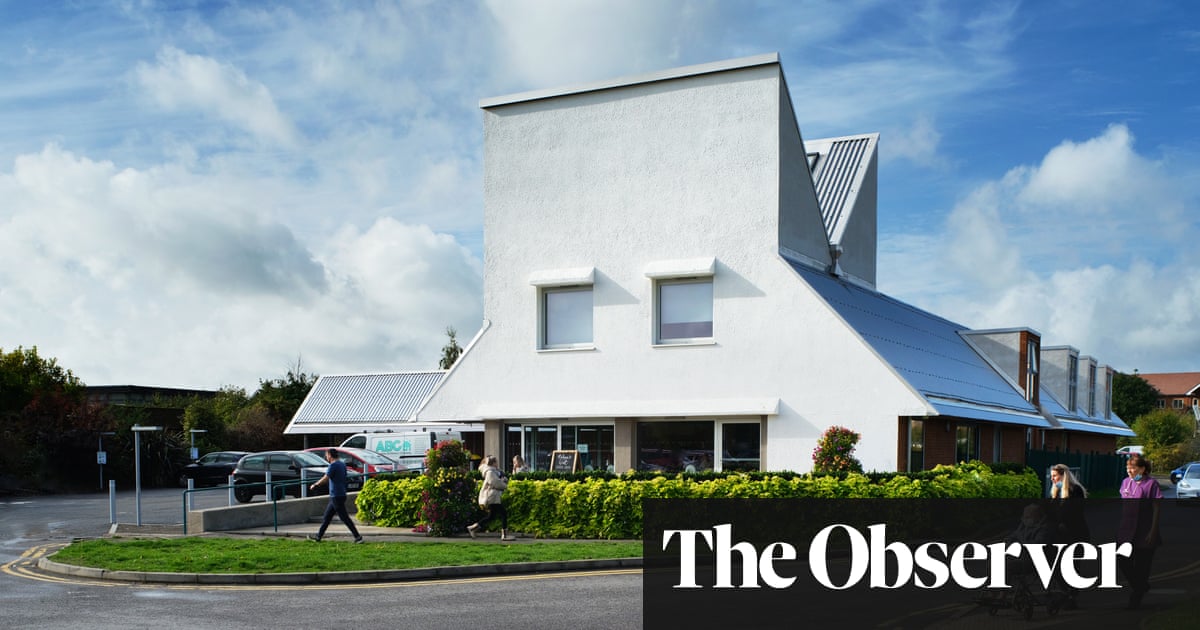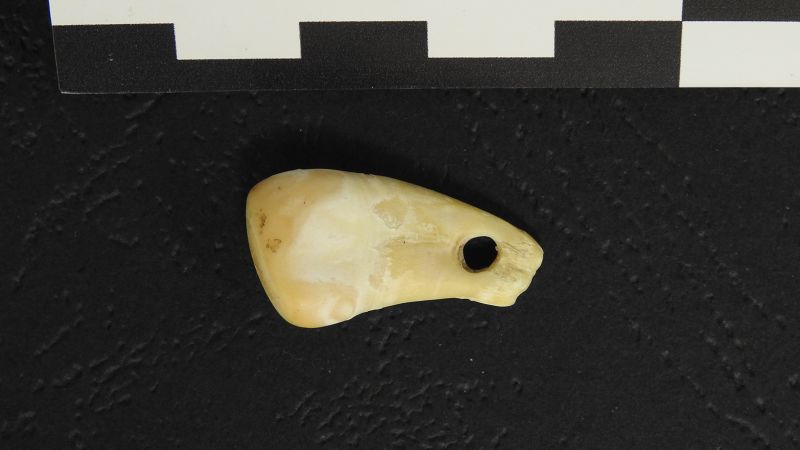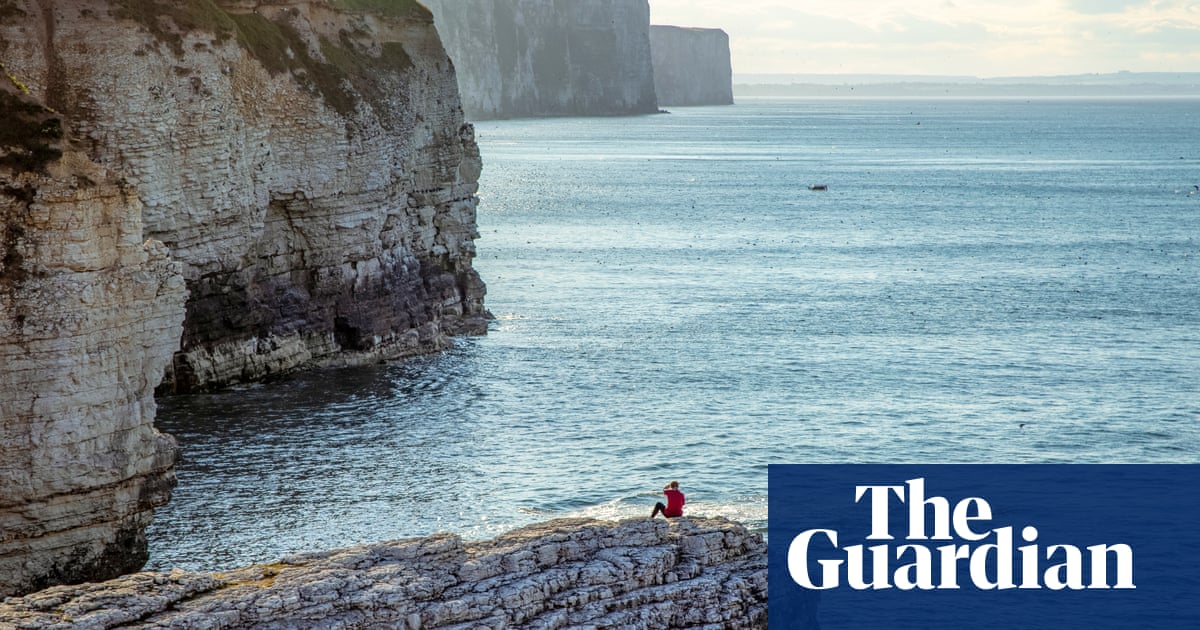 ---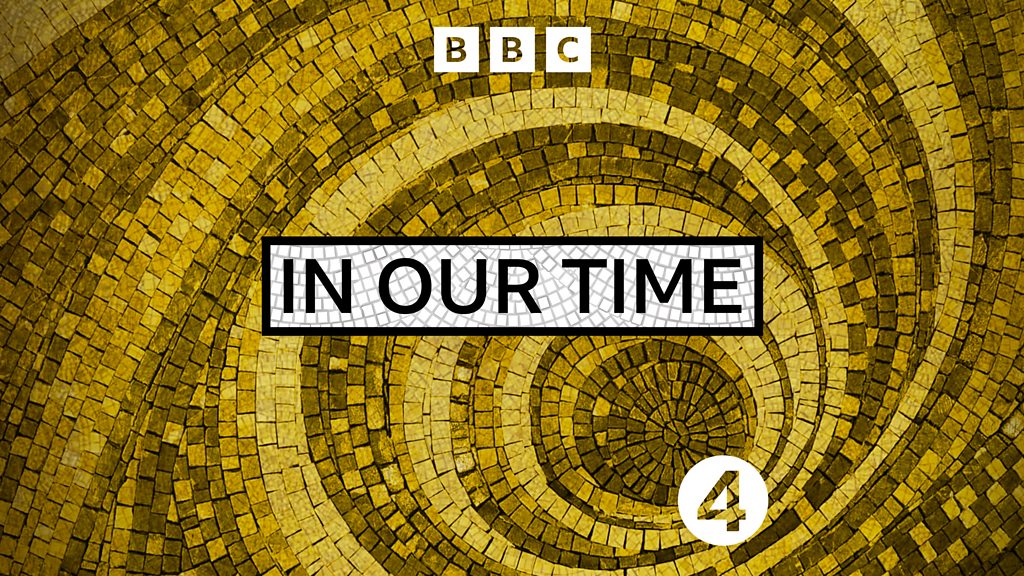 ---
My job in Chipping Campden was to photograph a theatre by architects Acanthus Clews. Here's one of the final shots - taken on a Canon 5D Mk1V - with 24mm tilt-shift lens.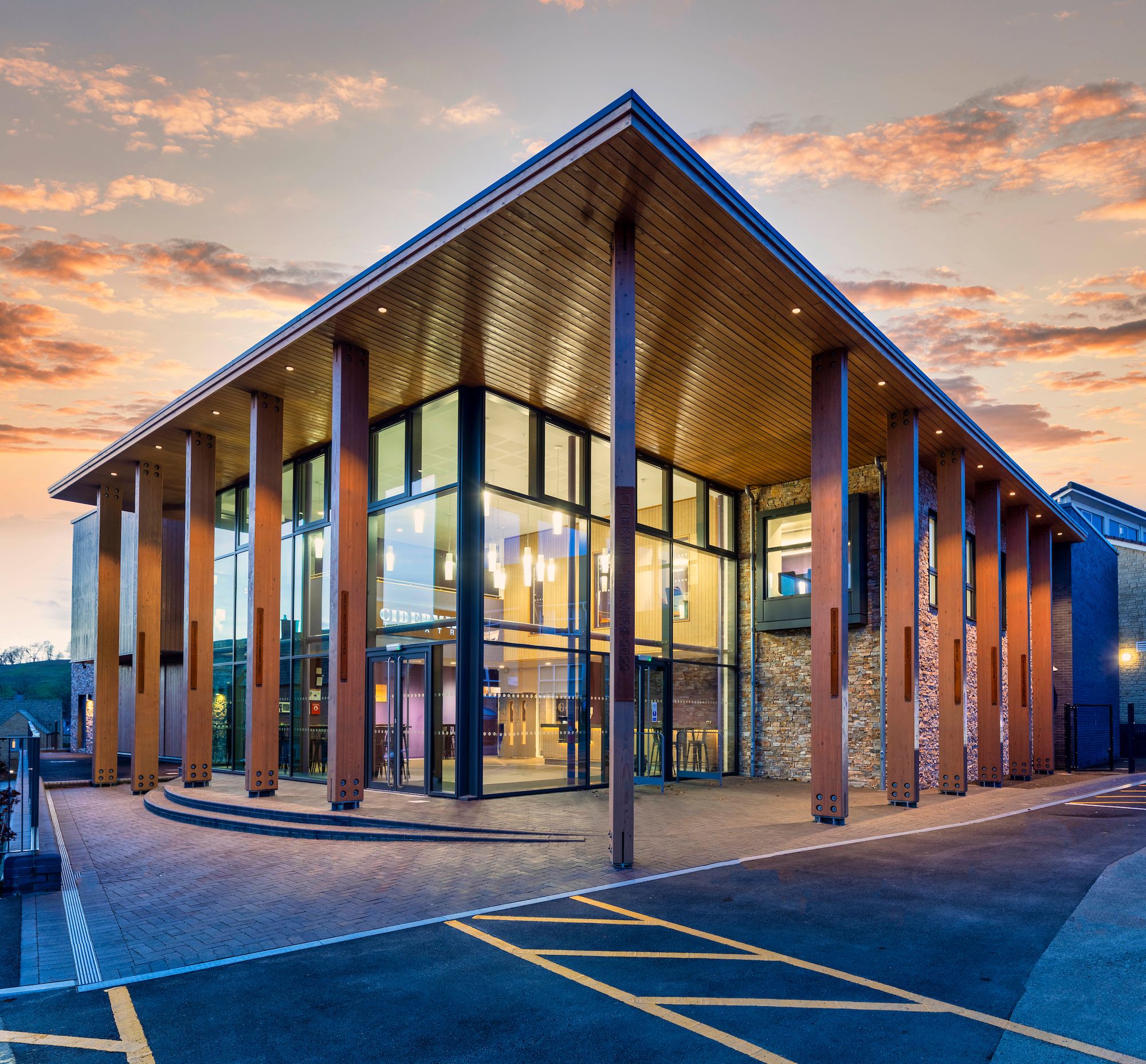 ---
Members' Area - New Content
Strap yourself in, let Woody do the time travelling...
Members' Area
---
Become a Member
It takes a day a week to produce this digest. With your support, I'm able to keep this digest free and public facing. 📸🏛🚐
Support this digest and get access to a world of immersive content. Click the box below to check out the membership options: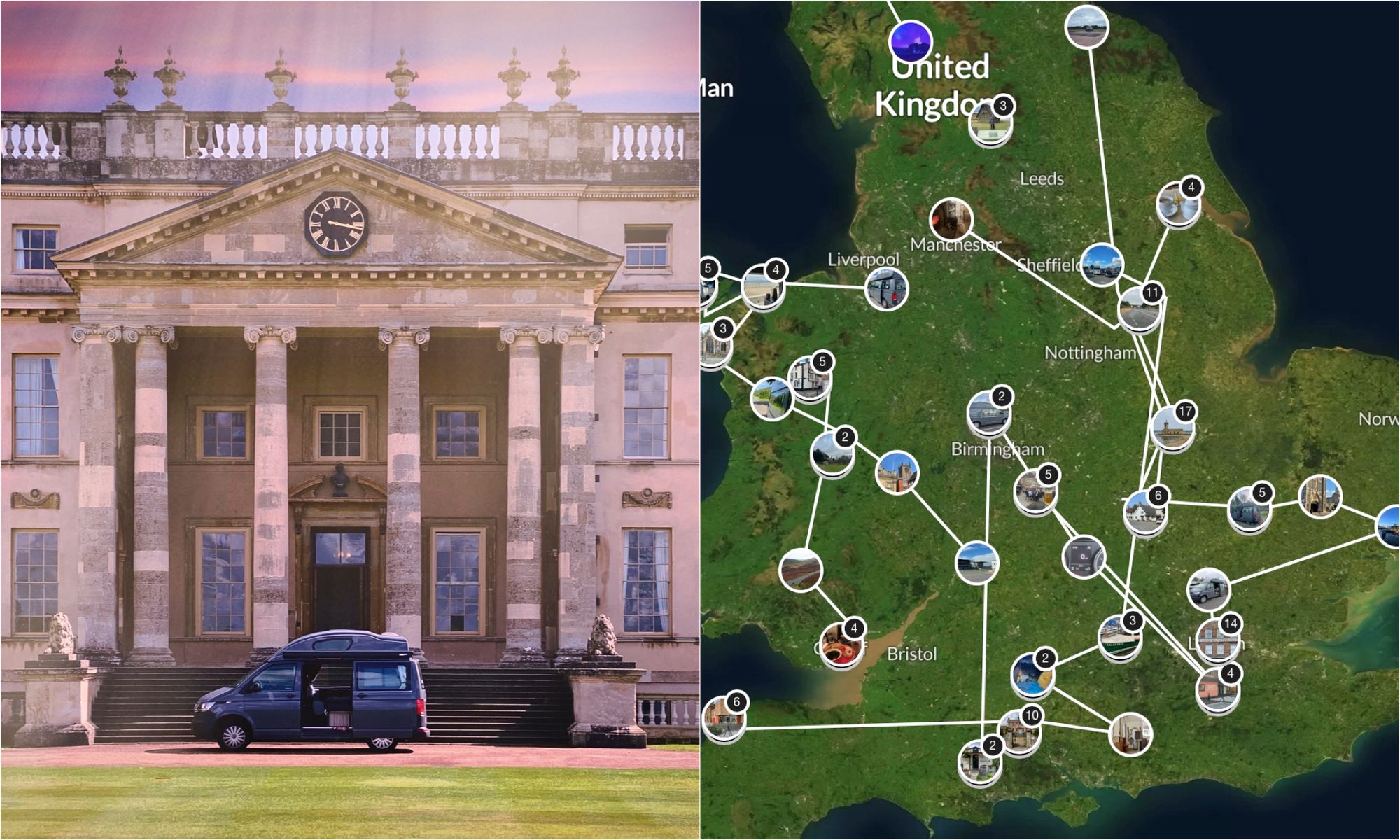 ---
Gift a Membership
Gift a membership to somebody else. They will receive an email with a message from you, and instructions on how to activate it. Gift Memberships can last indefinitely or can be limited to 12 months.
---
Free Memberships
I have a limited number of free memberships available for students studying heritage, tourism, architecture, photography, building conservation, history of art, archaeology. Also students studying the built environment and its impact on mental health and wellbeing. If you'd like to apply, drop me a line with your details.
---
Thank You!
Photographs and words by Andy Marshall (unless otherwise stated). Most photographs are taken with Iphone 14 Pro and DJI Mini 3 Pro.