Welcome!
I'm an architectural photographer.
On my van-life travels through the British Isles I'm building up a word and photo-hoard of material culture that celebrates our built heritage and contributes to a sense of place.
My van is my time-machine, it gives me fresh perspectives on our remarkable places, shared here on a weekly basis.📸🚐🏛
---
You can read this digest online and access all my previous digest posts here.
From My Photo-hoard
Gorgeously Georgian and functional - the sash with double sliding hideaway shutters at the Georgian Group HQ in Fitzroy Square, London.

100 English Door Lights.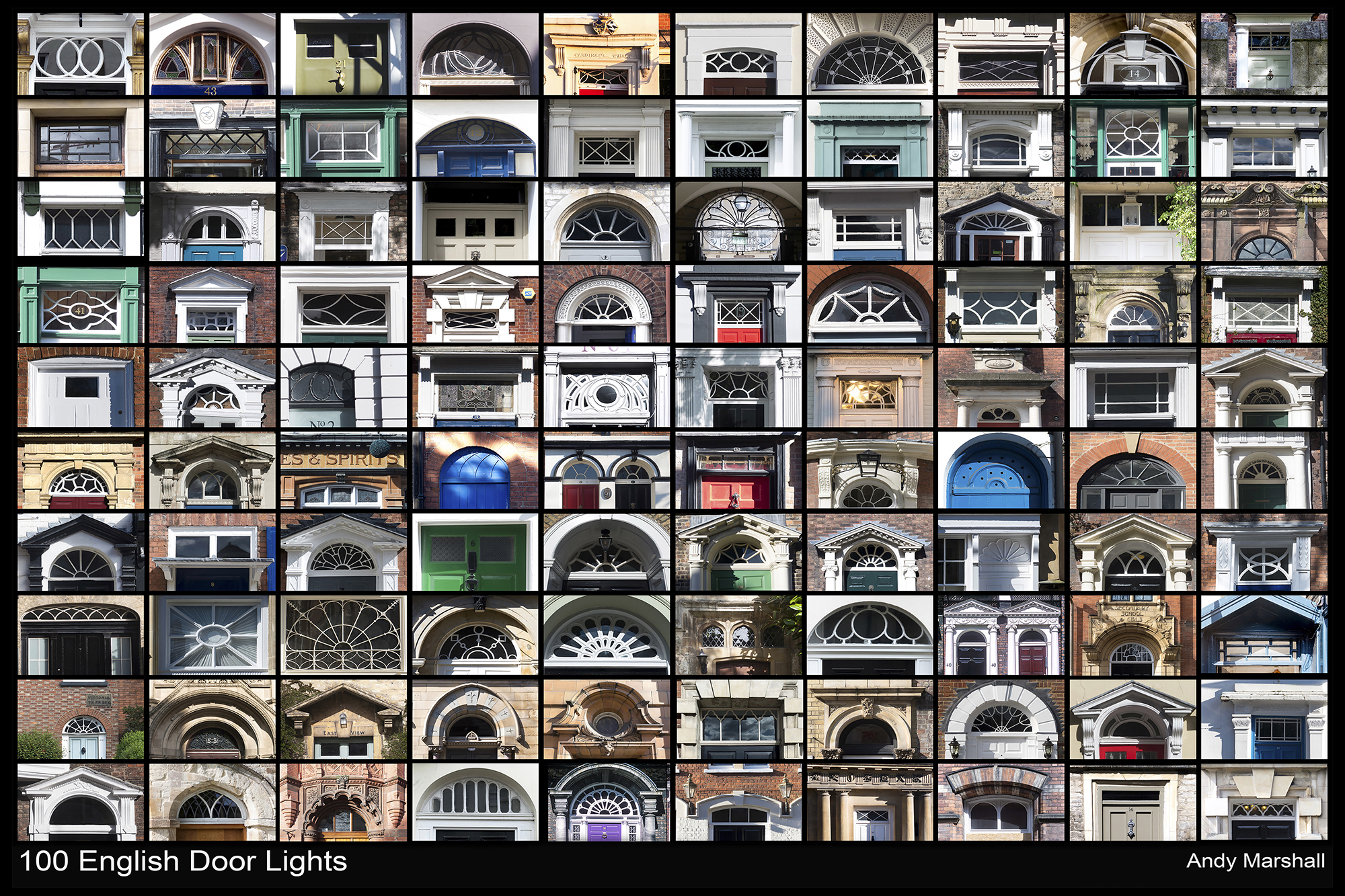 Words
Let this wind
and this winter
and this rain
and this weather
and all
the difficult blessings
of the world
find you here,
walking
in the
shelter
of white walls
under the tracery
of stone windows
in the nest
of greenness
at the valley floor
below
a sailing sky
between mountains
and green fields
among centuries
of the rested dead.
Let the green
that laps at their graves
hold your memories
in place
when they want to slip
through your hands.
Let the rest
in this rested place
rest for you.
Excerpt from Winter Grief by David Whyte
Hotspots
Northampton
Conservation of the safety screen at The Royal Theatre
The final leg of my journey (from London, to Sutton Hoo and Bury St. Edmunds) takes me from an overnight stay in Cambridge to a photoshoot at The Royal & Derngate Theatre in Northampton. Here the people at Chroma Conservation are conserving the wonderful safety screen by artist Henry Bird.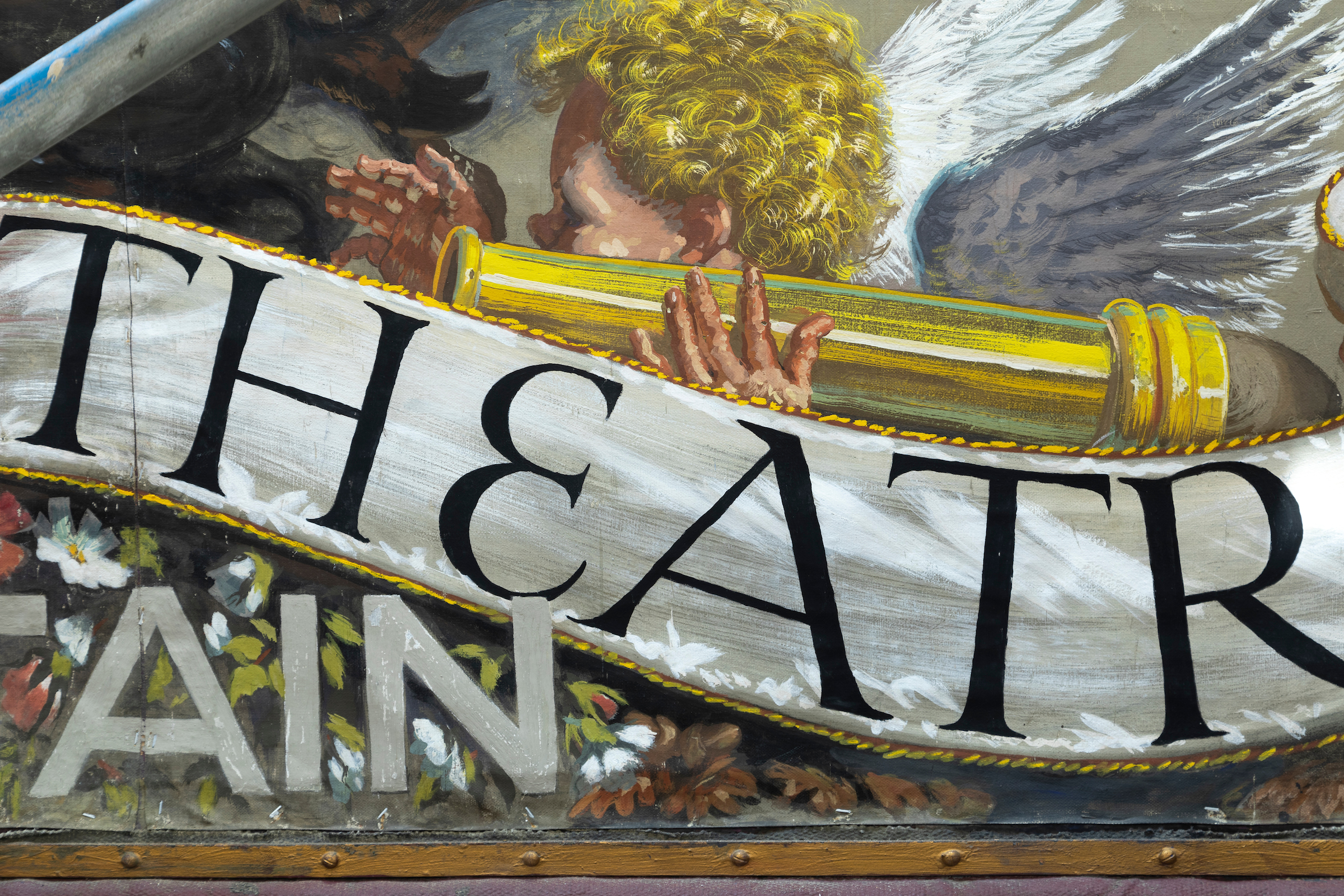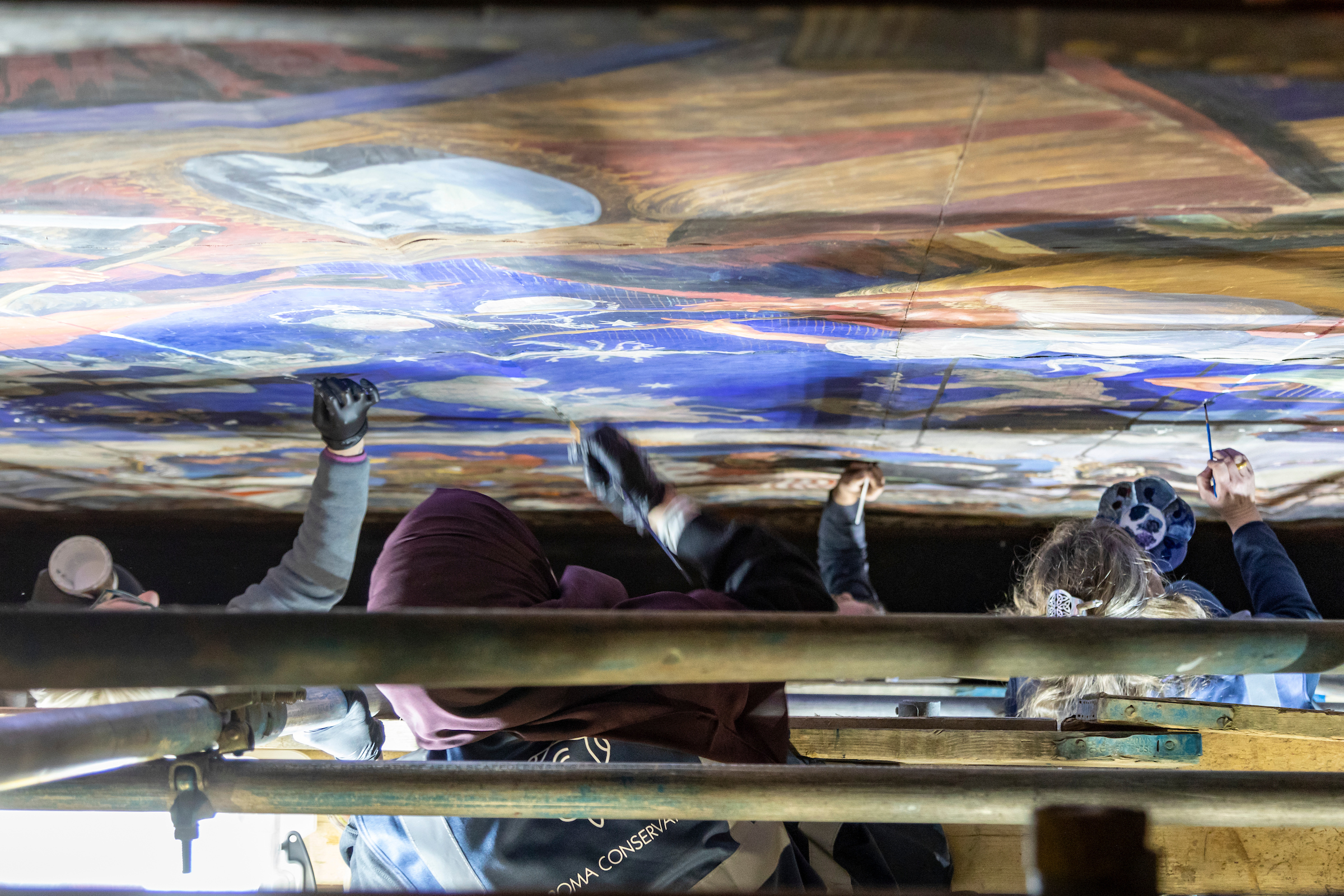 It got me thinking: should safety screens be seen as an individual art form? Should there be a review of our safety screen heritage?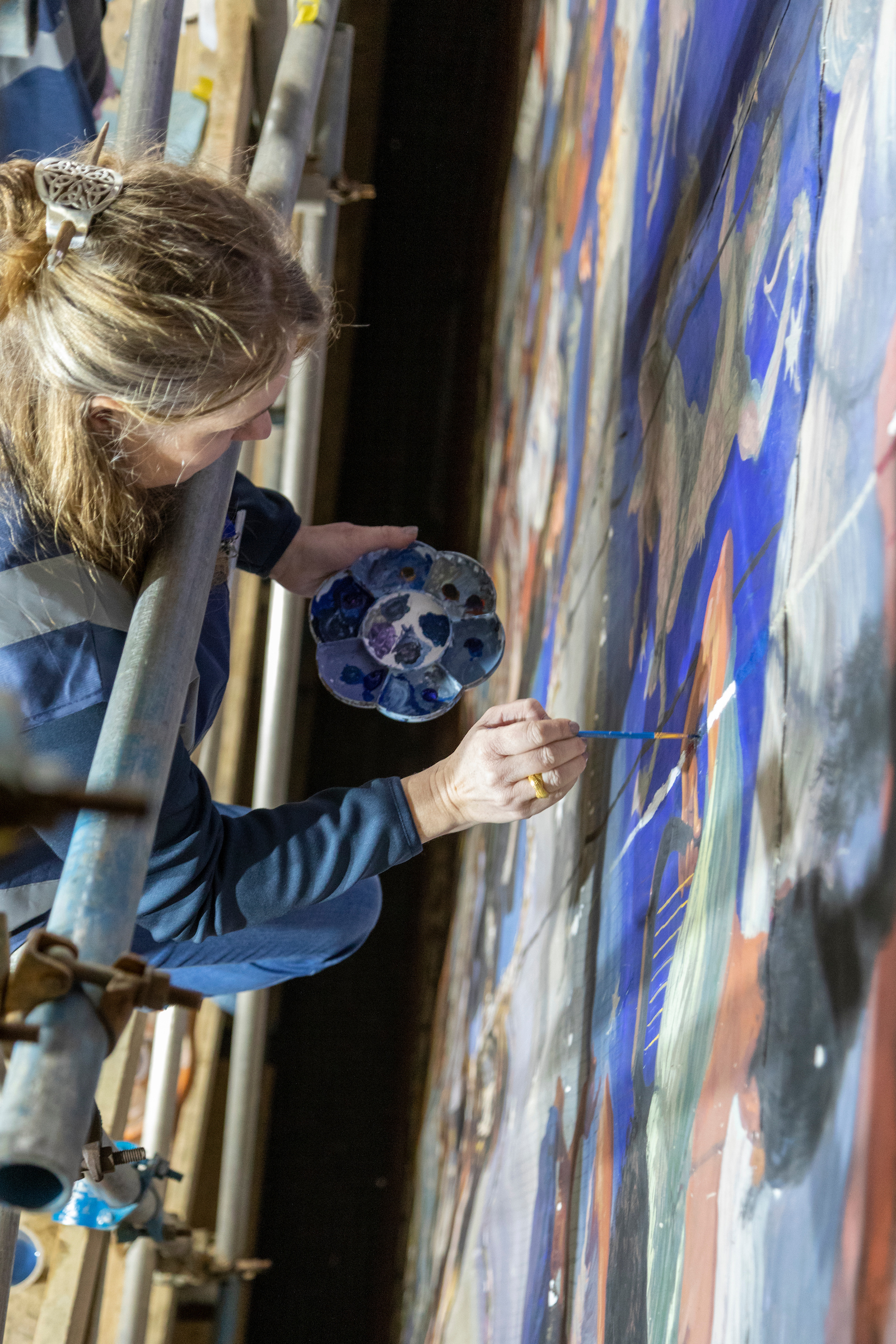 In terms of their style and themes, safety screens are as telling as an open book about the society they were created in.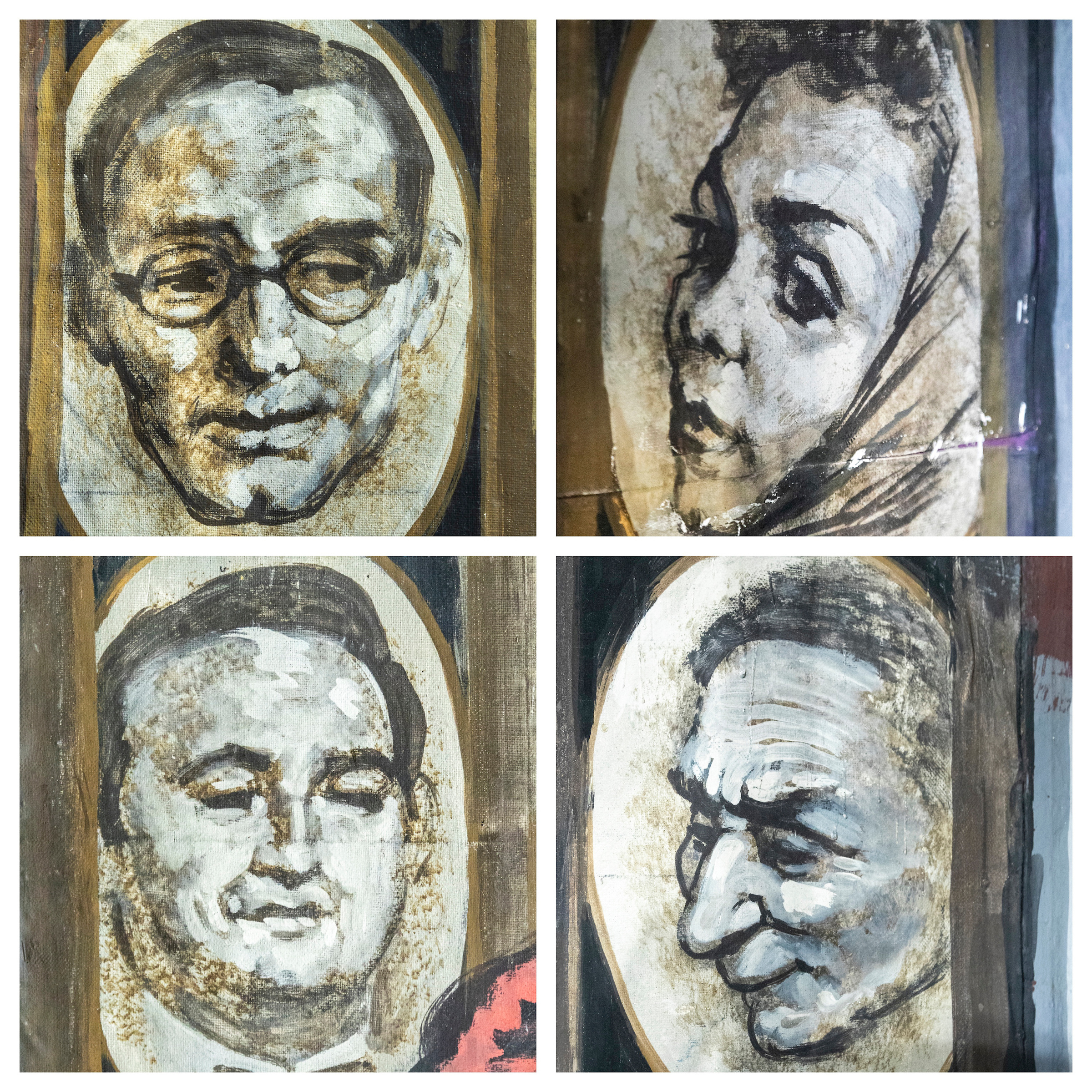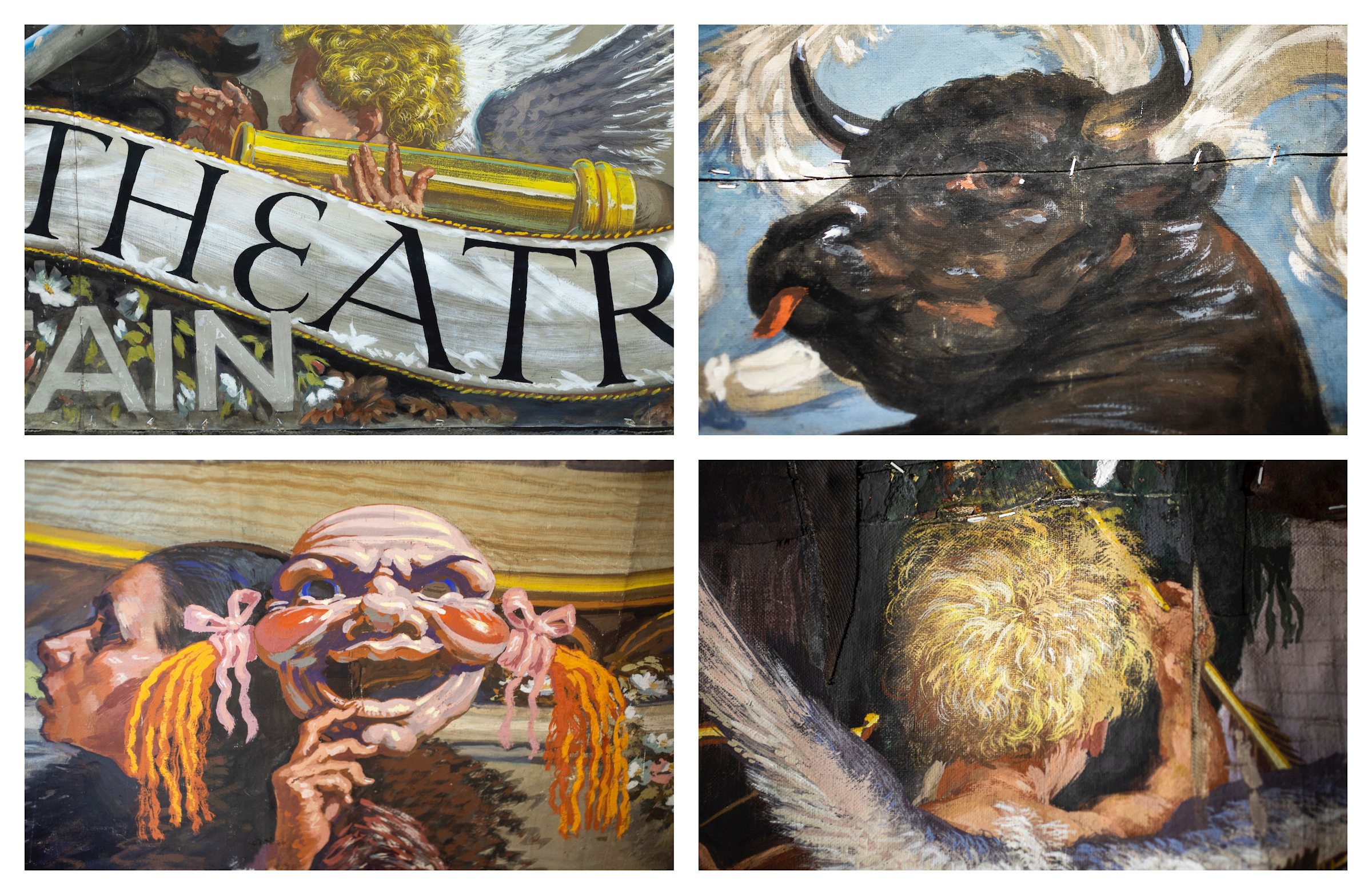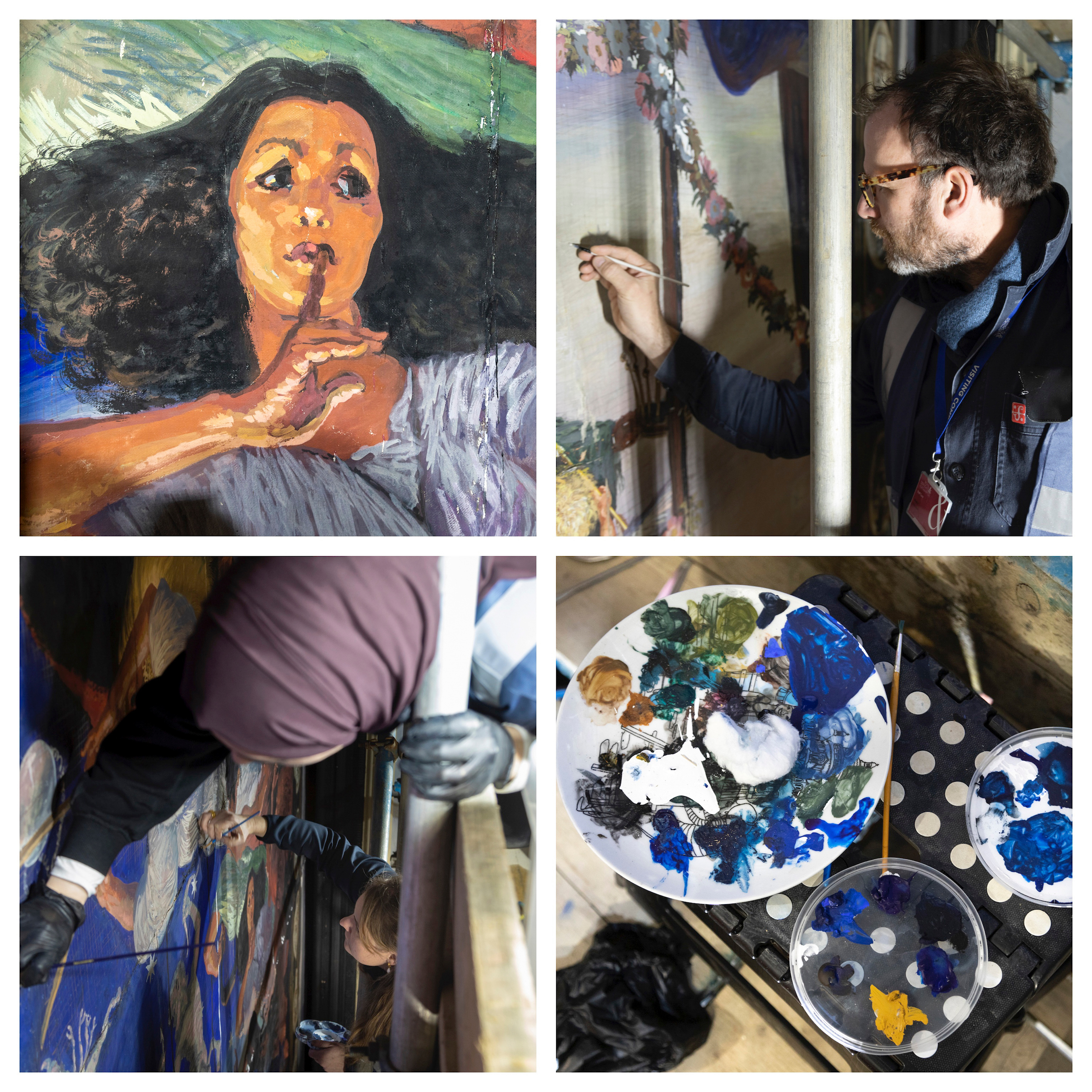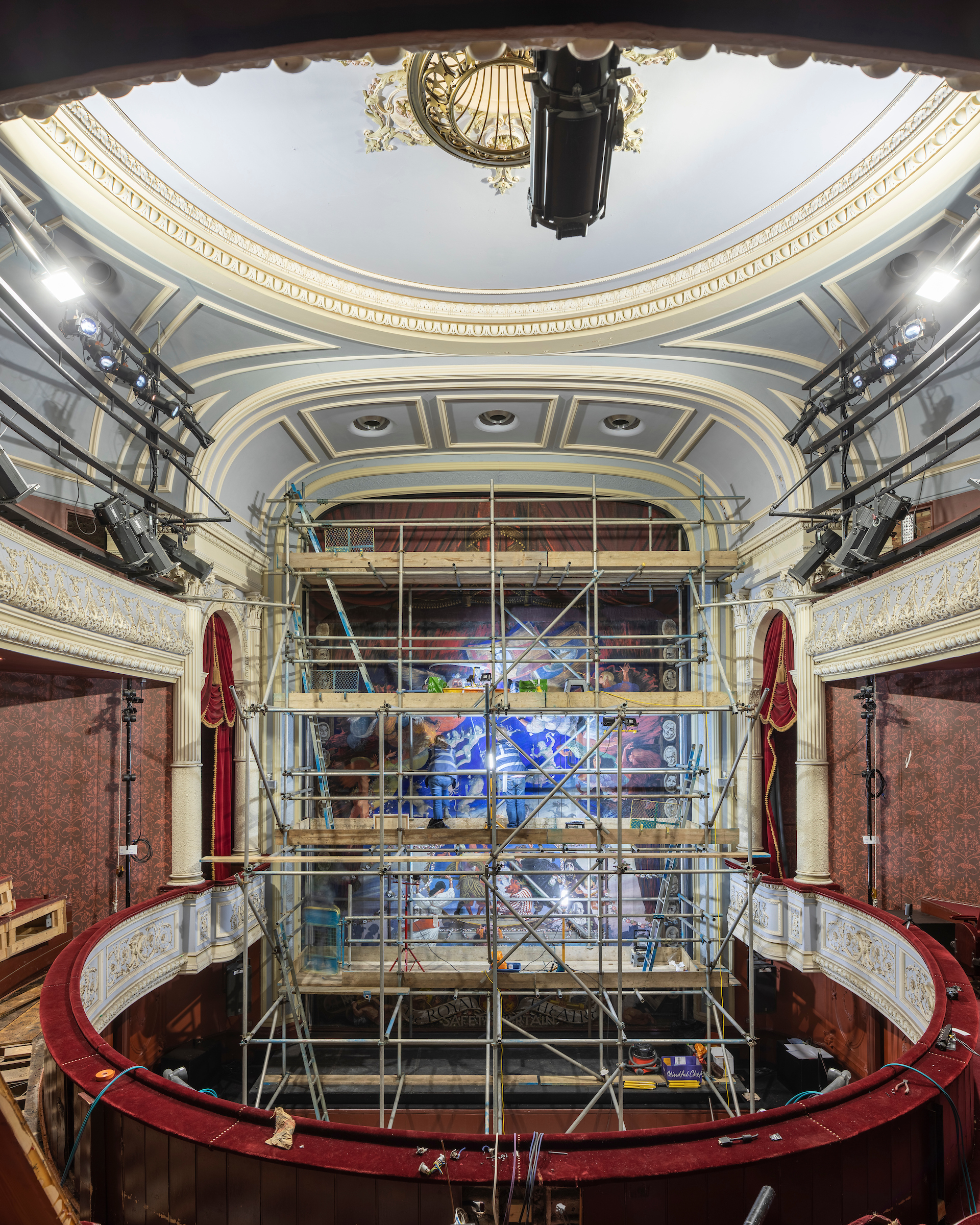 As well as photography, I also produced a short video about the conservation.
[embed https://vimeo.com/674355042]
Cheesden
The Cheesden Valley is my go to place when I need to wind down. It's situated in the Rossendale Hills in Greater Manchester. A few years back I discovered a strange quirk of nature: a babbling chronograph. Half way down the valley the brook has cut into a midden which holds the detritus of a hundred years of occupation. The valley is wild and empty now, but it once housed several mills and a terrace of workers houses.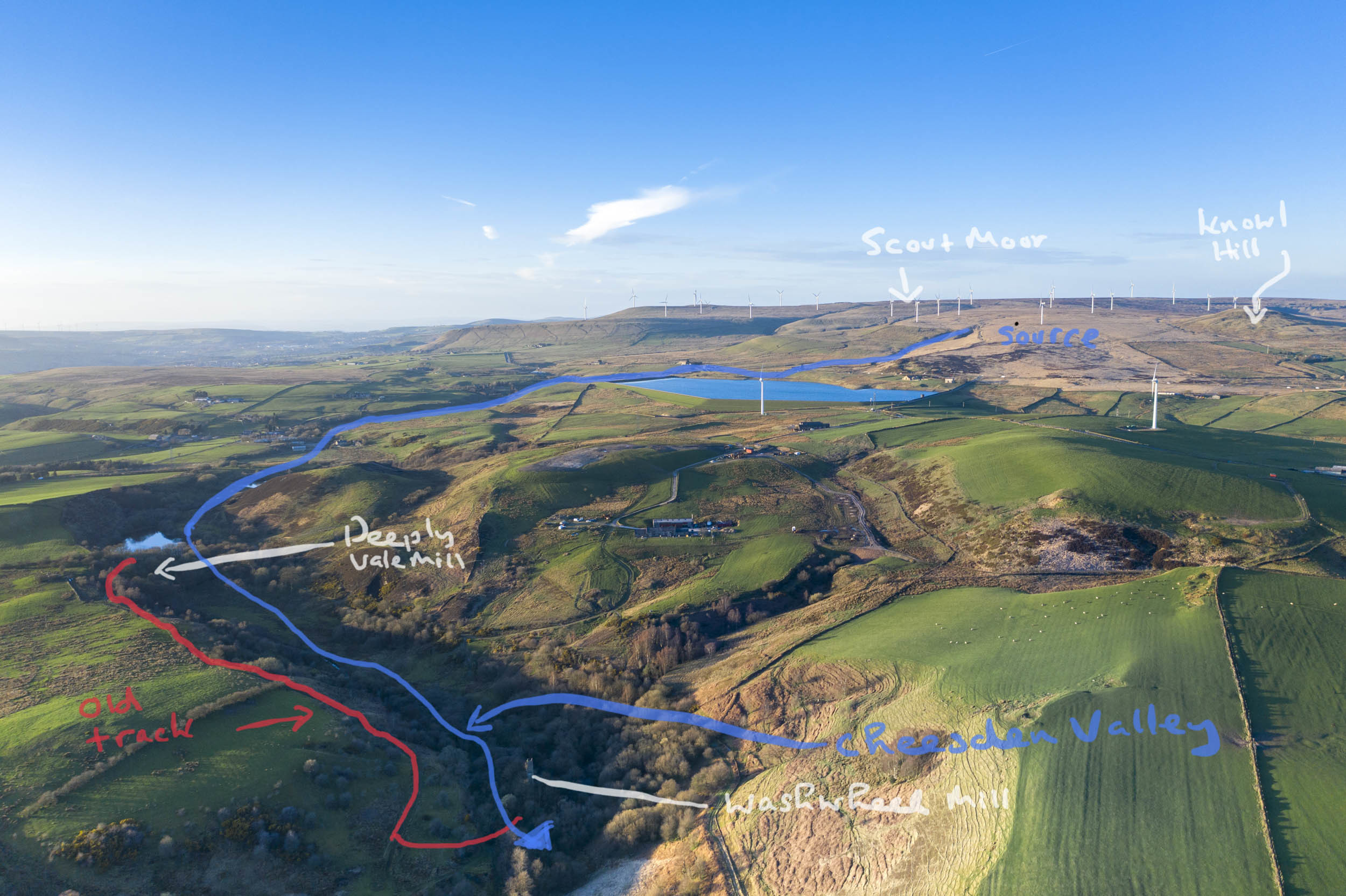 From my diary:
My walk takes me up and along to Scotland Lane which is a muddy track that skirts east to west. I've been told that Bonny Prince Charlie hid here when fleeing back home. There's been times in the past when I've ran all the way up to this point to make sure I catch the sunrise, where I've had to stop for respite, sucking in gobs of air, trying to steady my hand on the tripod and camera. Sometimes I've arrived too late along the lane, just one hundred metres from the perfect vantage point. Then I've thrown up the drone and captured the sunrise from my premature spot. It feels like cheating.
Scotland Lane Through The Seasons: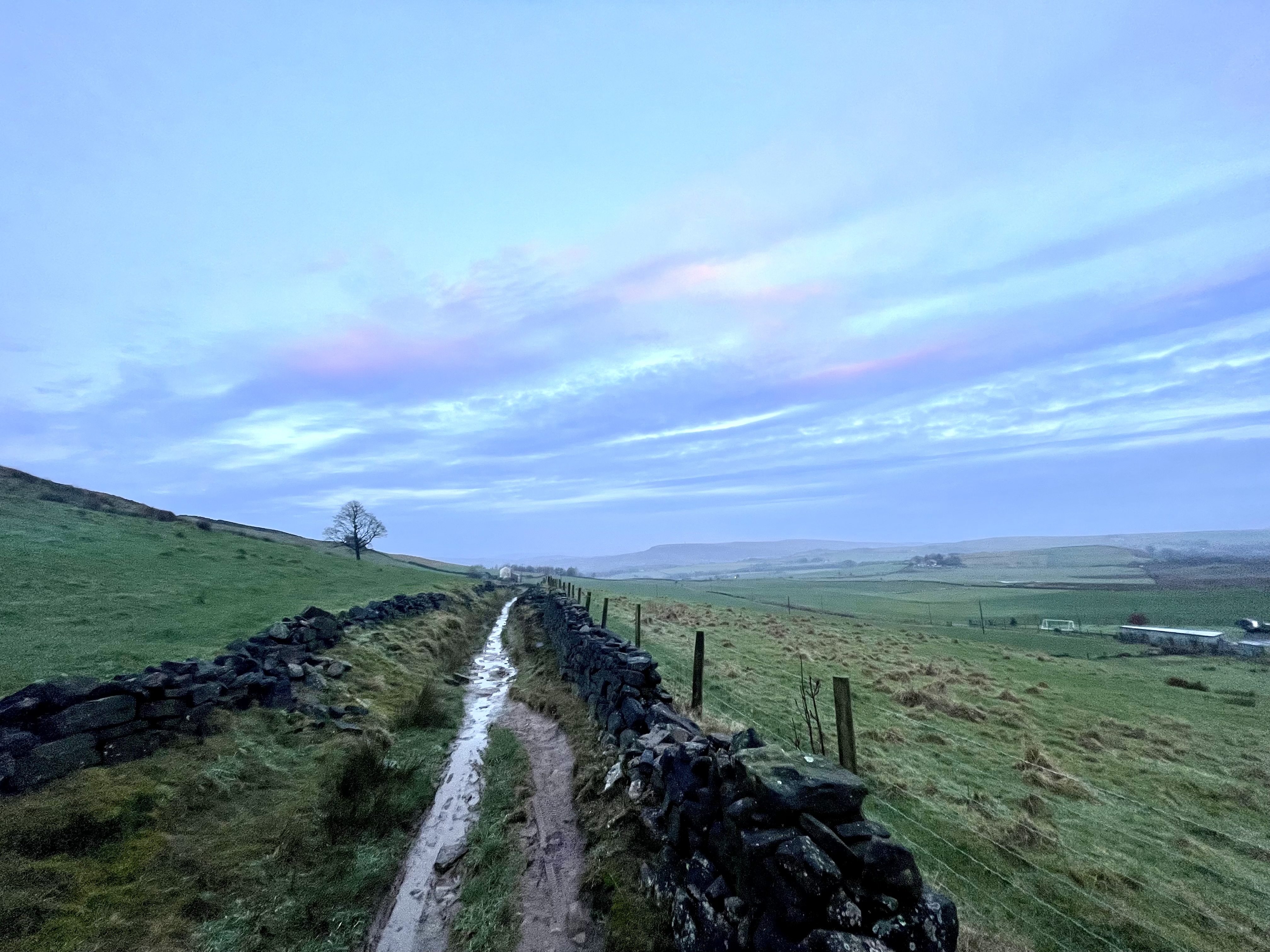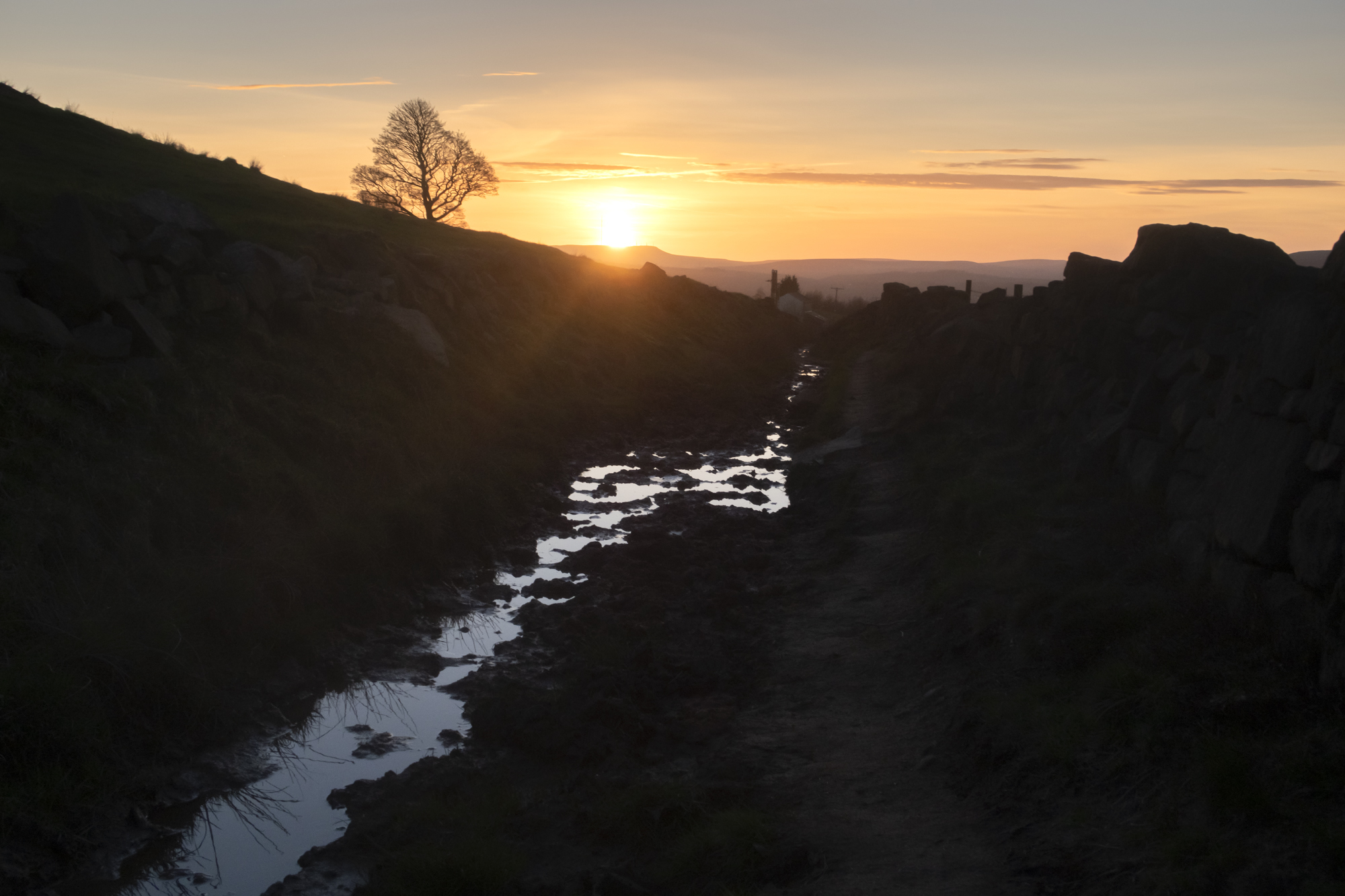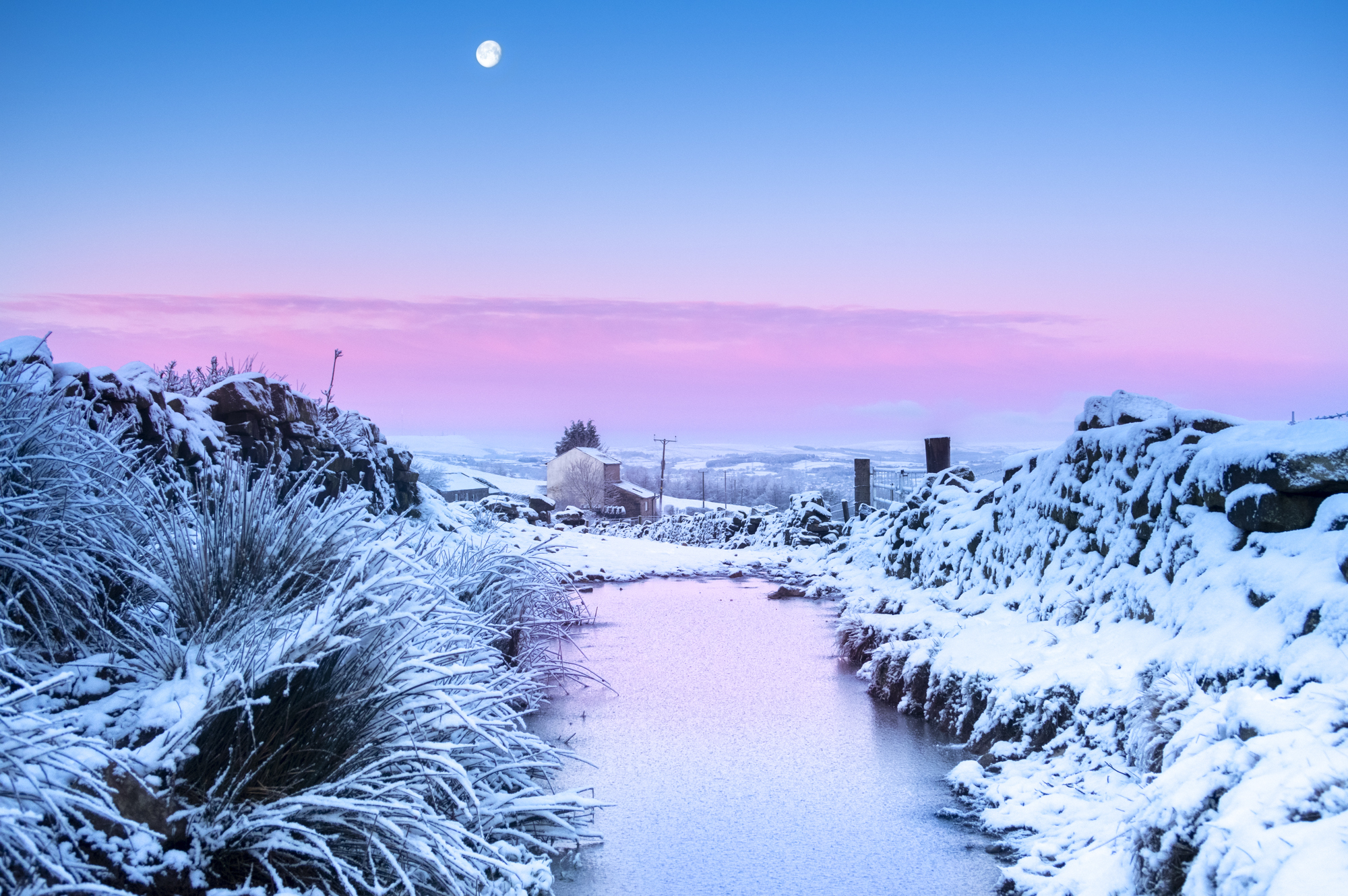 But, today isn't one of those days. It isn't a jaw-dropping sunrise - it's a soft tinted, mottled and misty affair. There's a sense of being in the atmosphere, rather than apart from it. The coziness is heightened for a brief moment by a triangle of geese flying beneath me in the valley just a matter of metres away.
Before I descend to goose height and into the Cheesden Valley, I instinctively look out for the chimney at Washwheel Mill rising up from a leafless copse. I can just make it out through a thin veil of mist that's clinging to the valley bottom. The chimney is the lodestar of the valley - it can be seen from most vantage points. I fear the day it won't be there.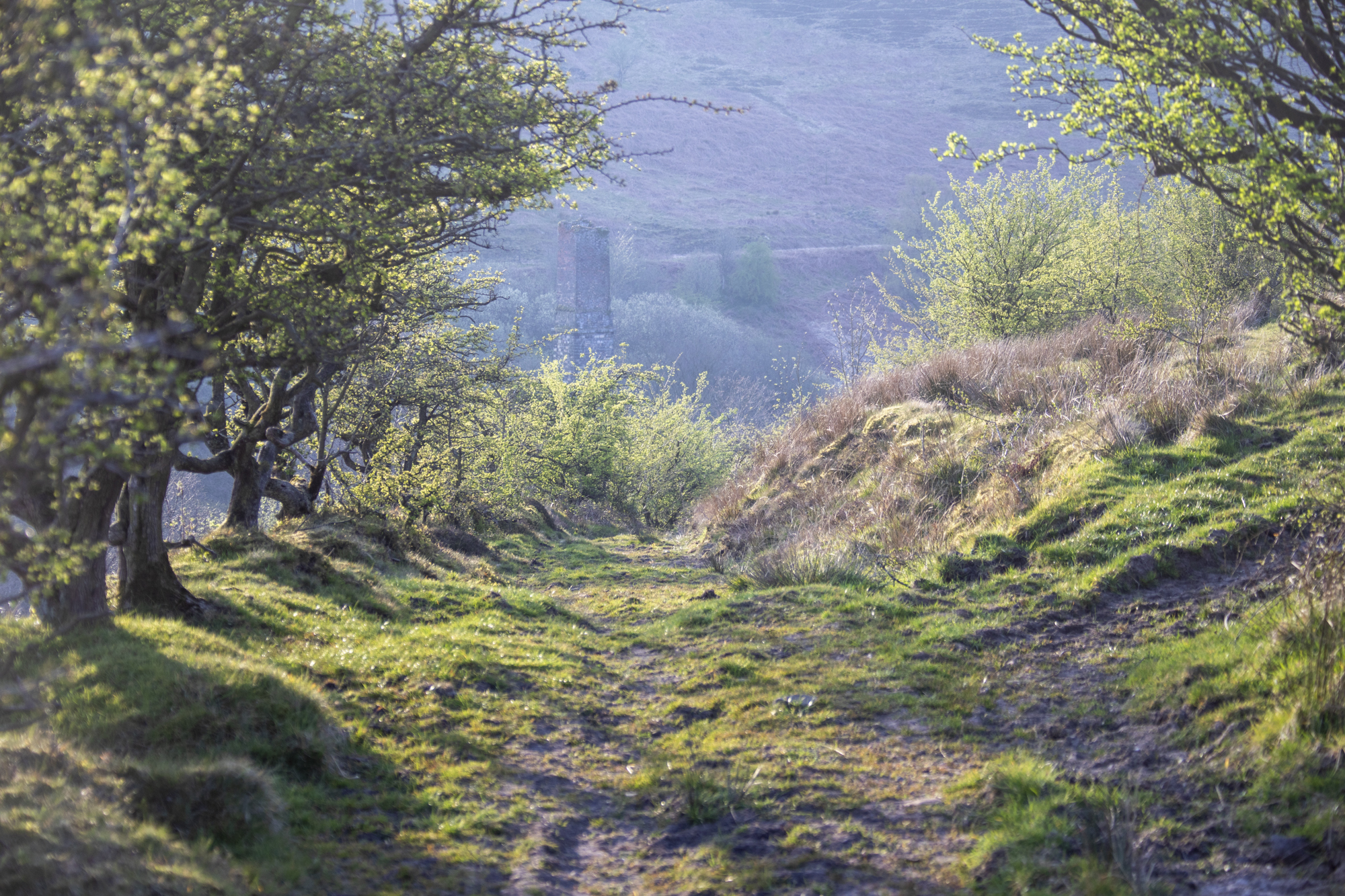 Part way down, as the mist starts to clear, the hill opposite takes on the shape of a comfy hat with a russet, auburn and bronze weave. I walk past the mill and start to climb again, along a packhorse route that hugs the side of the valley and then descends into Deeply Vale. I love this road. It's scoured and scrubbed into the hillside with its edges defined by bony hawthorn. The floor is layered with history. Tiny flecks of patterned encaustic tile tell of the hustle and bustle that this valley once witnessed. I can imagine it now: cob's saddled with textiles, heads down, hocks bent, clawing their way in the sun-baked clay. Immigrant workers from another distant county, with families in tow. Scouring liquor slopping in barrels, sidling along the humped foundations of the hedgerow. Carts laden with stone for the chimney at Washwheel. White streaks of lime dissolved into the rutting before its slaking.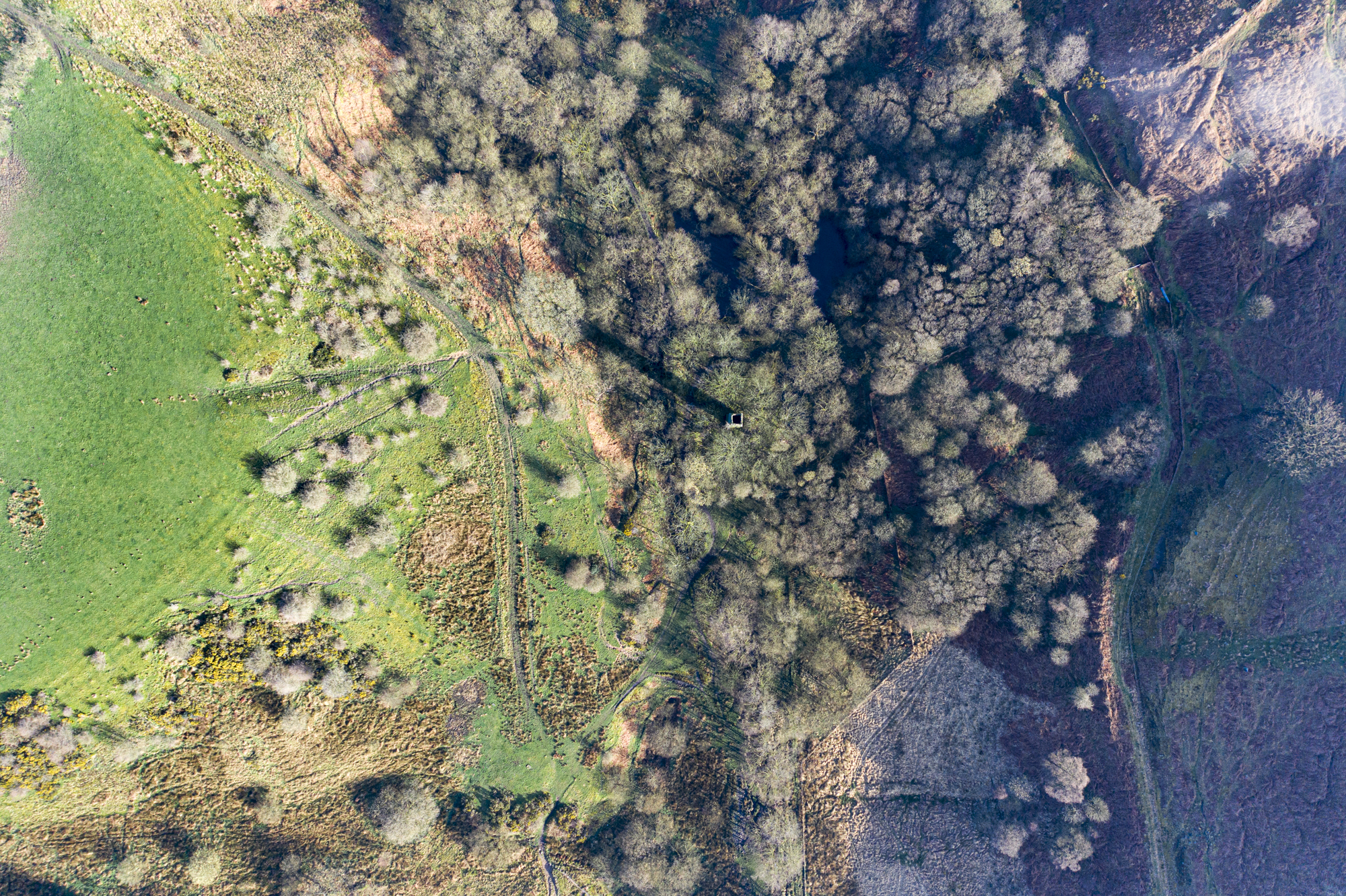 I pass the ruinous remains of the former mill at Deeply Vale. Inspite of its industrial gait, it feels primeval. I think that it's because of the decay; its inevitable succumbing to nature. The complex shapes and forms are dissolving. They look elemental: shrouded and softened by moss and lichen.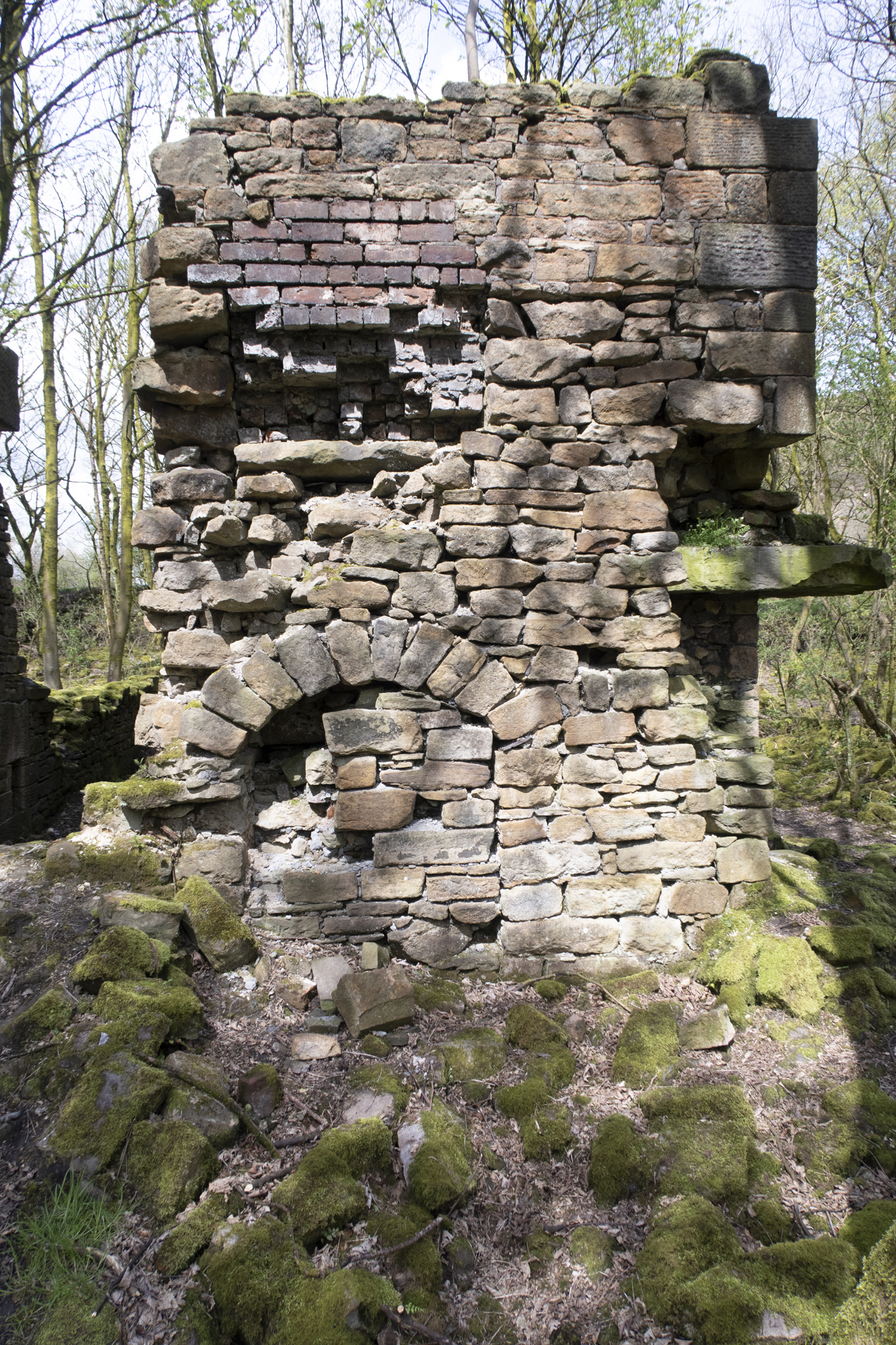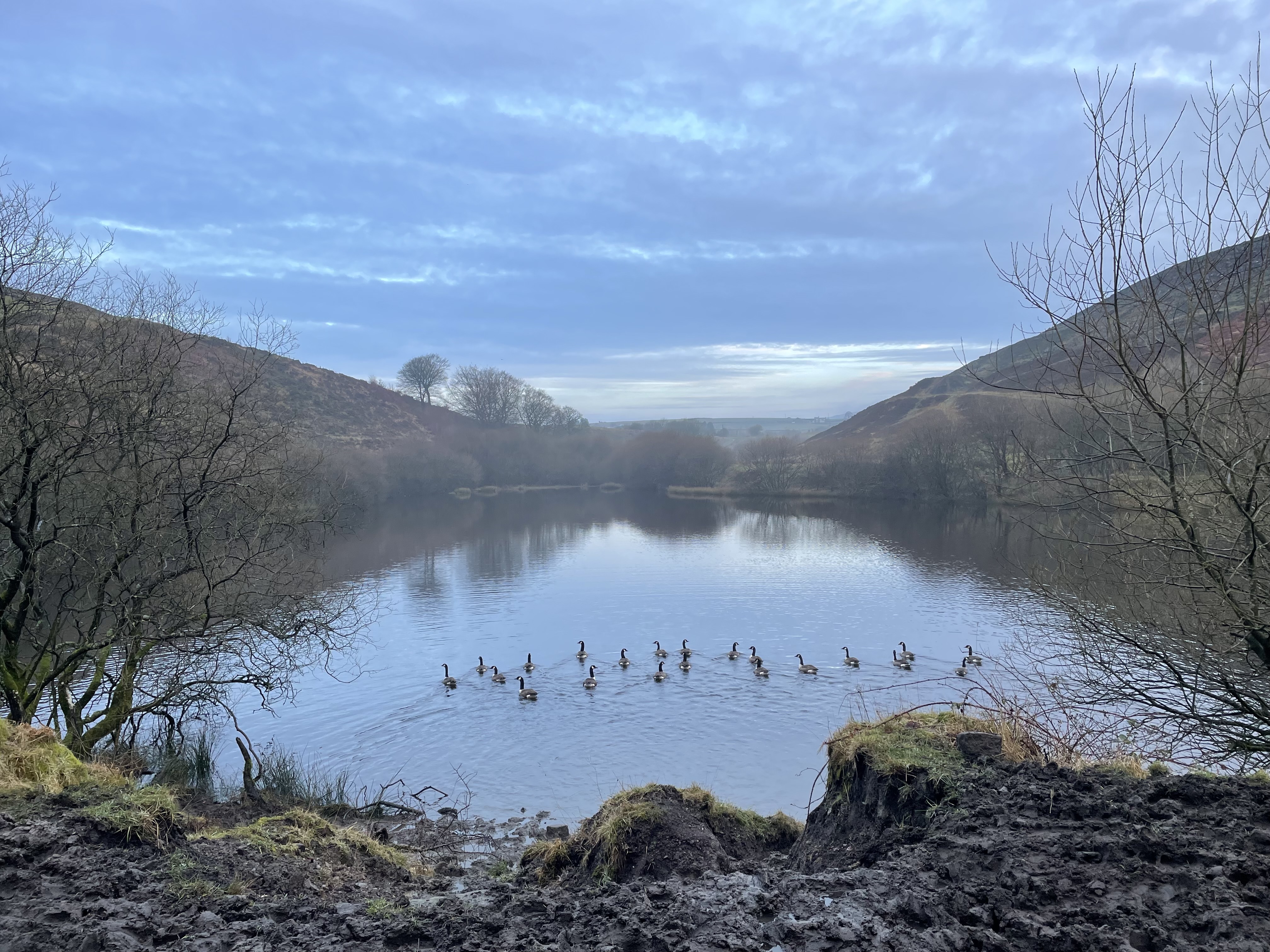 As soon as I reach the bend in the brook where the midden lies, I can see that it's changed its course once again. The embankment keeps collapsing, revealing more of the midden. I spot a cluster of bottles on a fresh collapse, they look as though they've been birthed from the earth bank. One bottle still has its contents intact. Then a women's leather shoe and some lustre-ware; a clay flagon for ginger bear; a Hoe's Sauce bottle and the base of a jar of Springfield potted meat from Southport. I spend an hour sifting.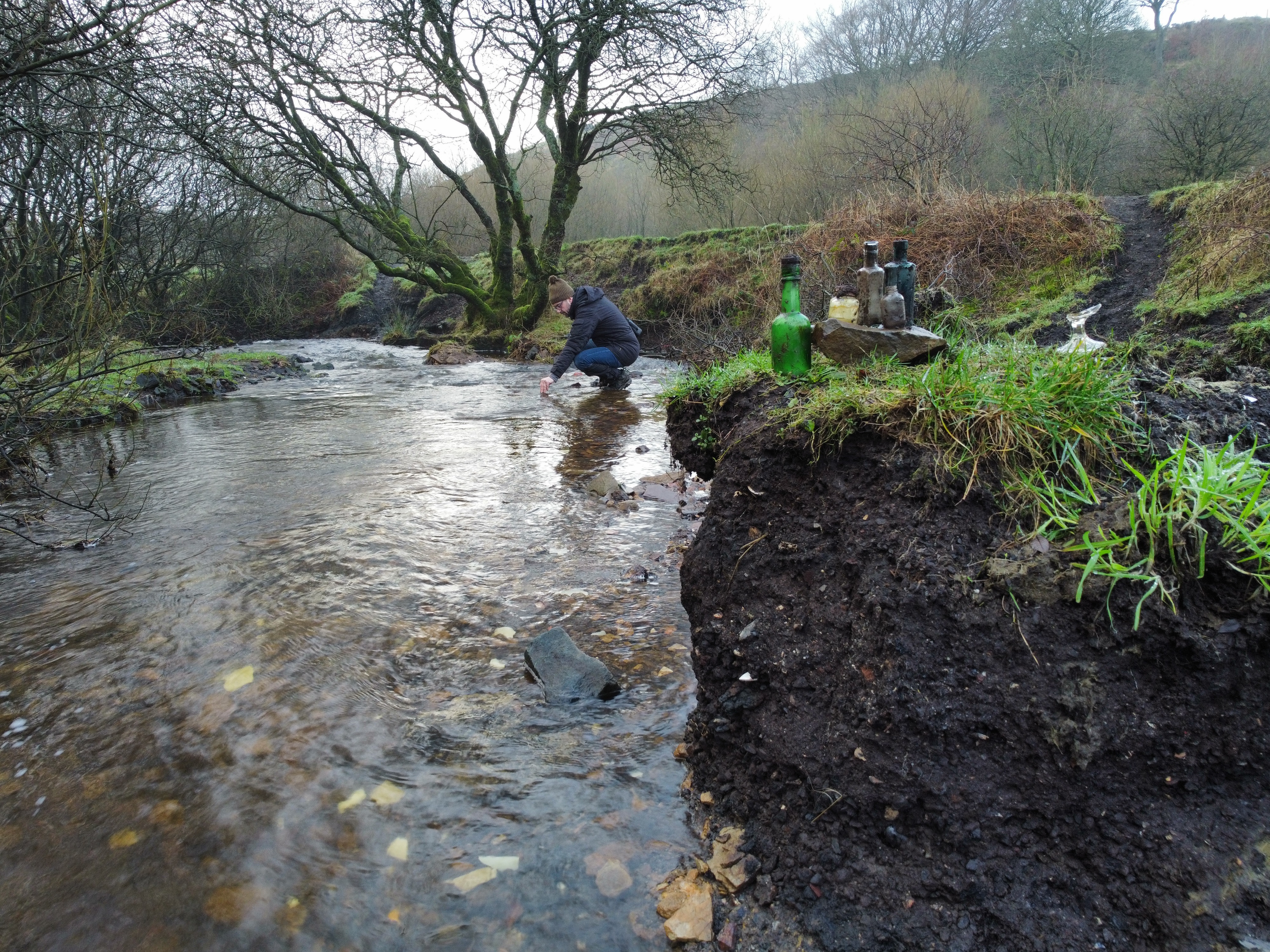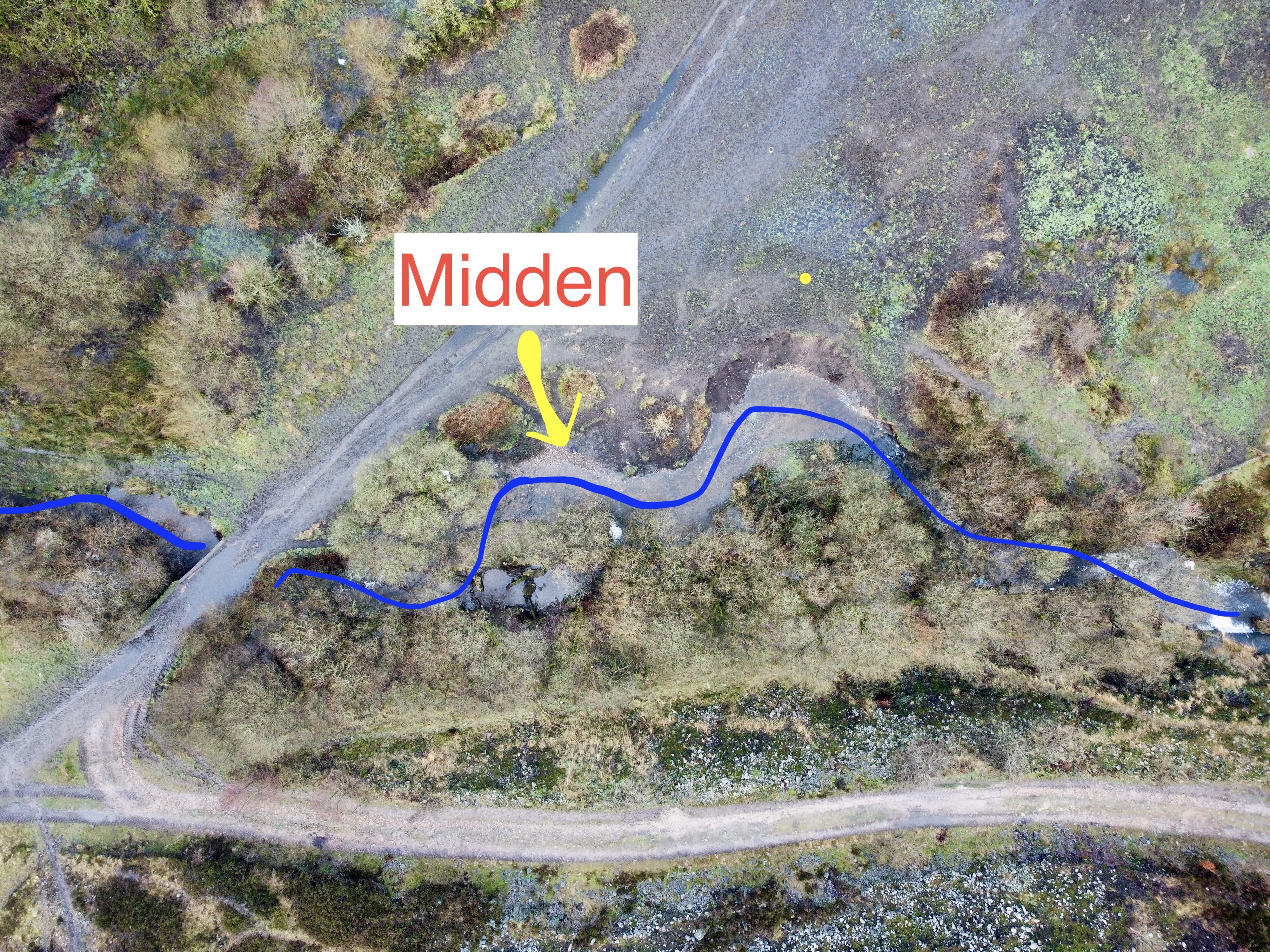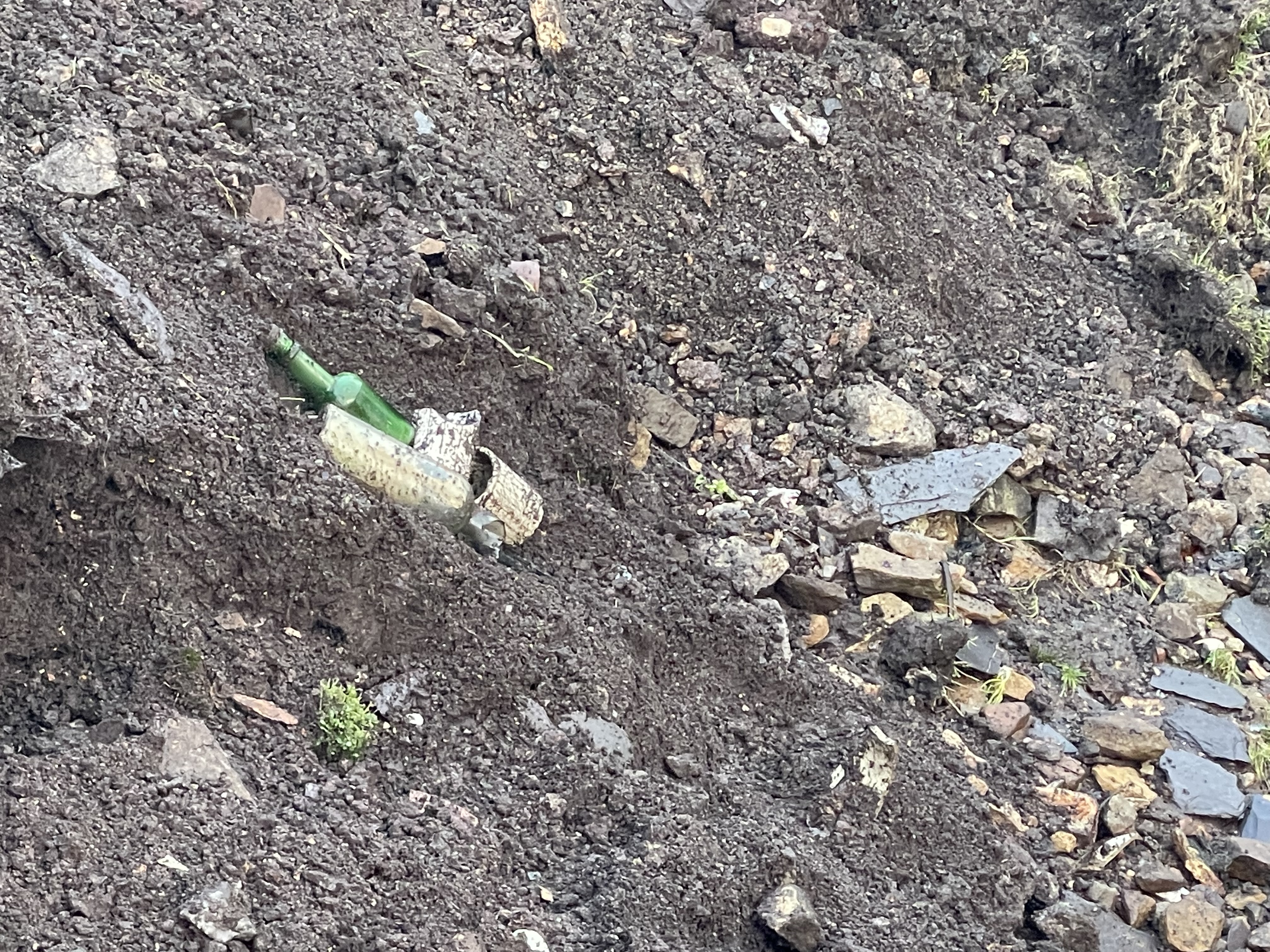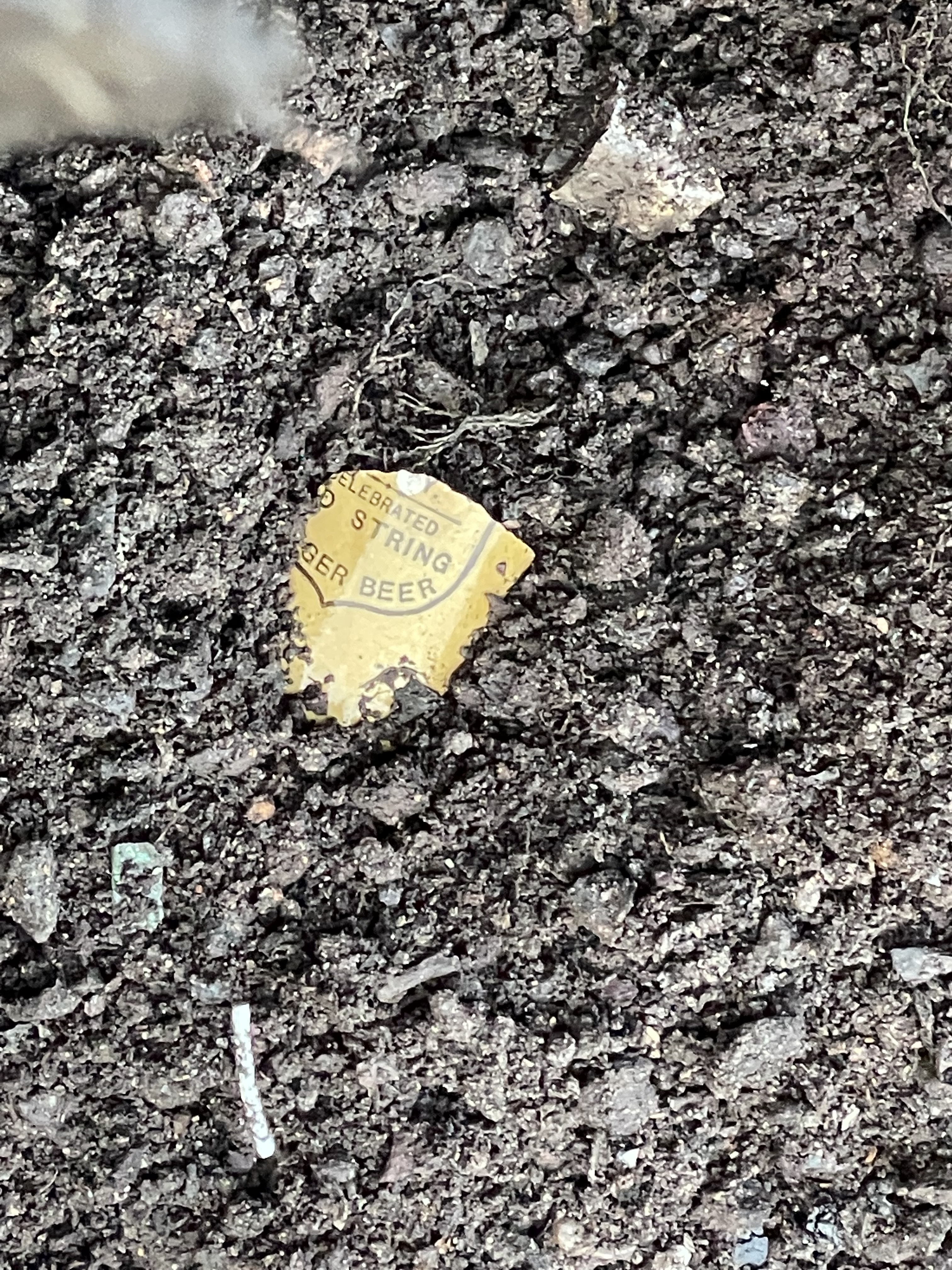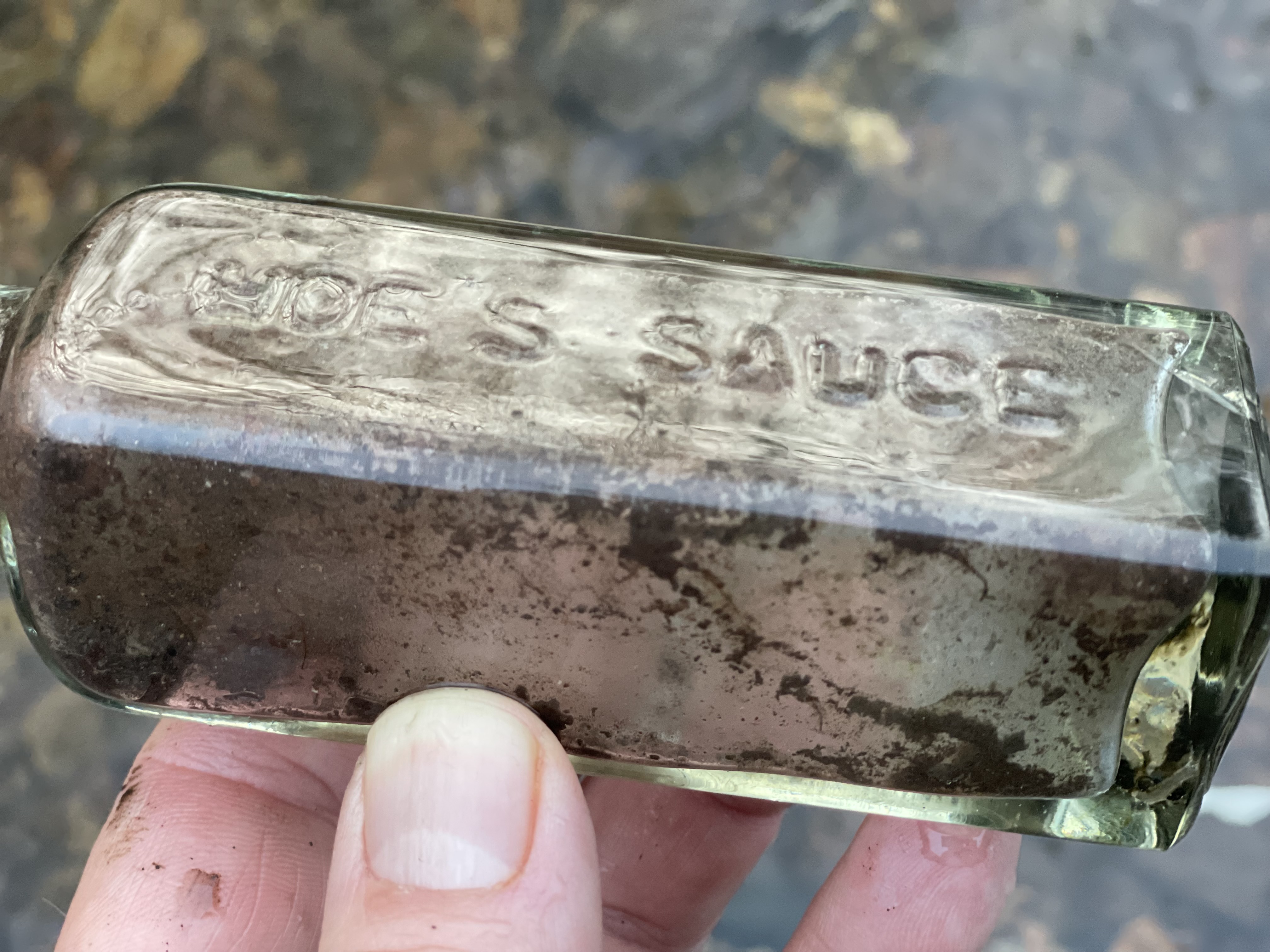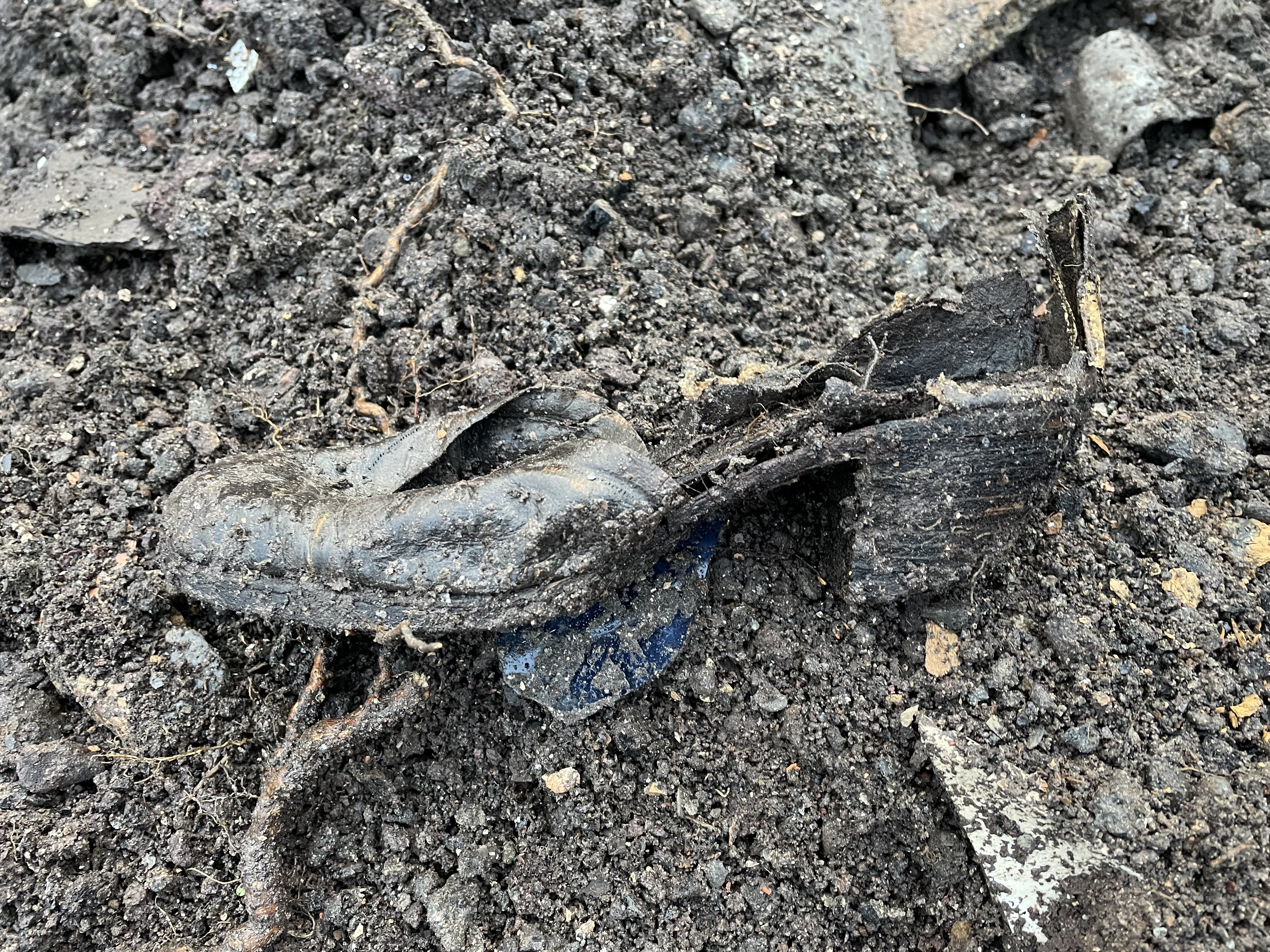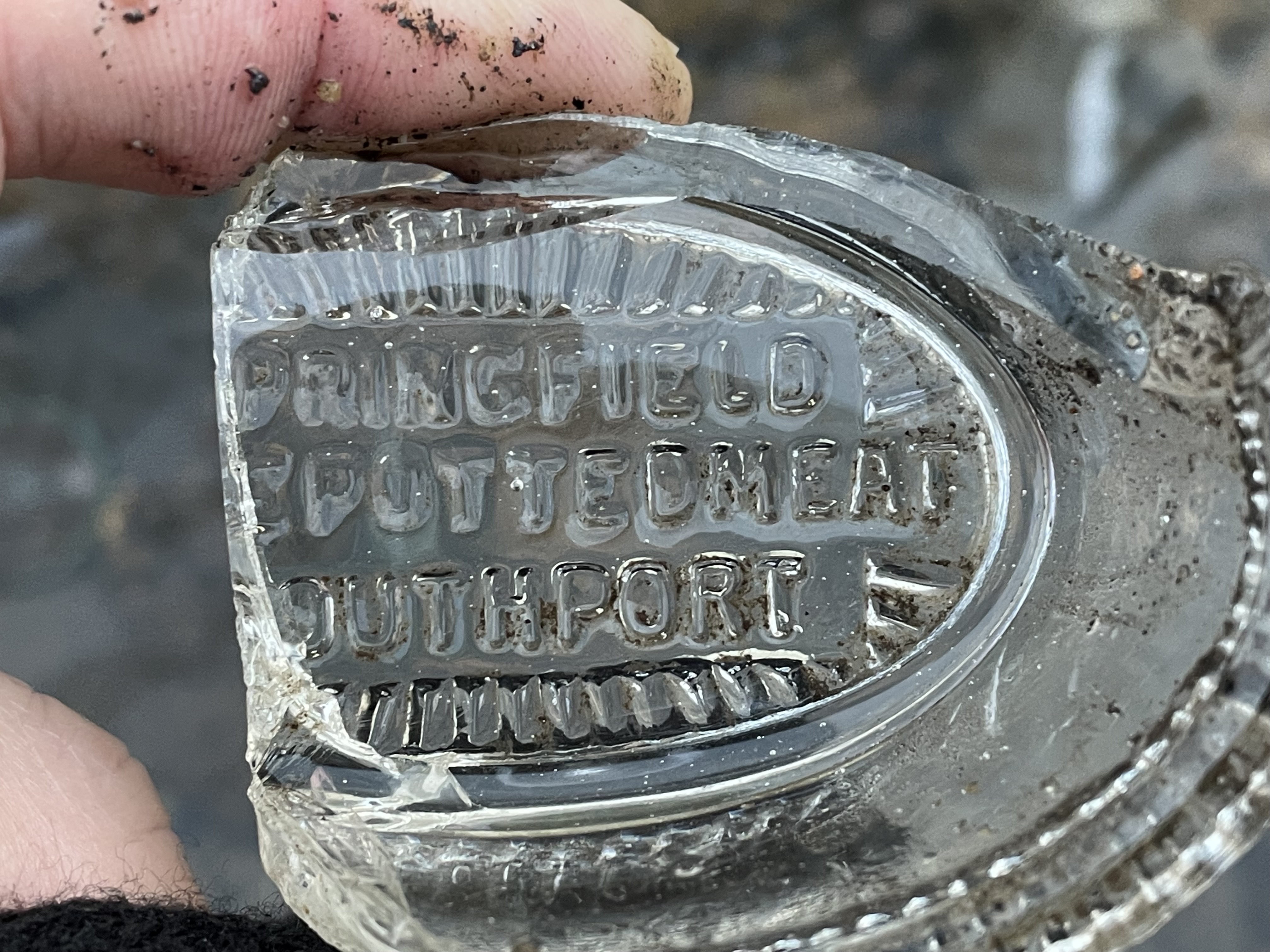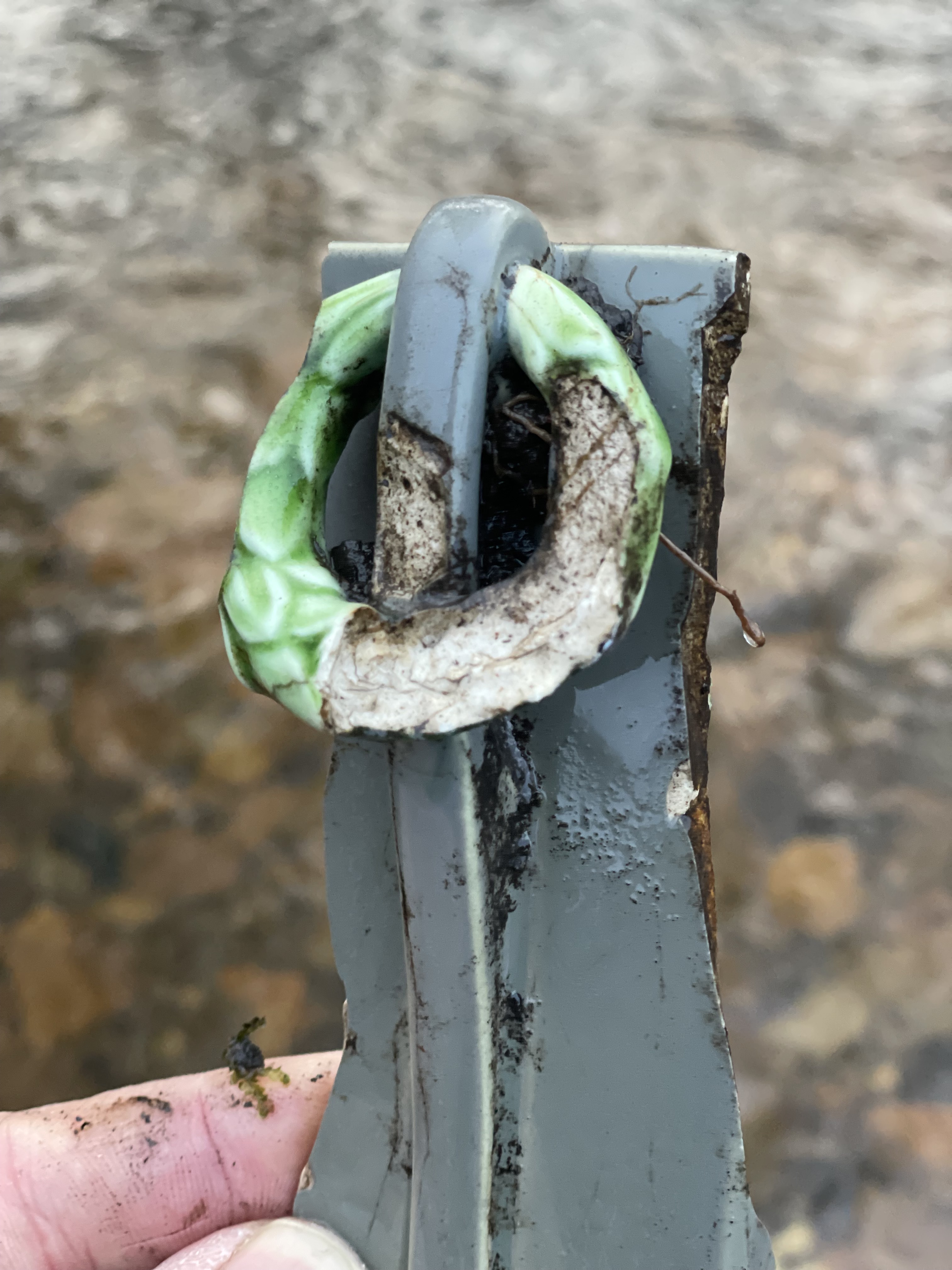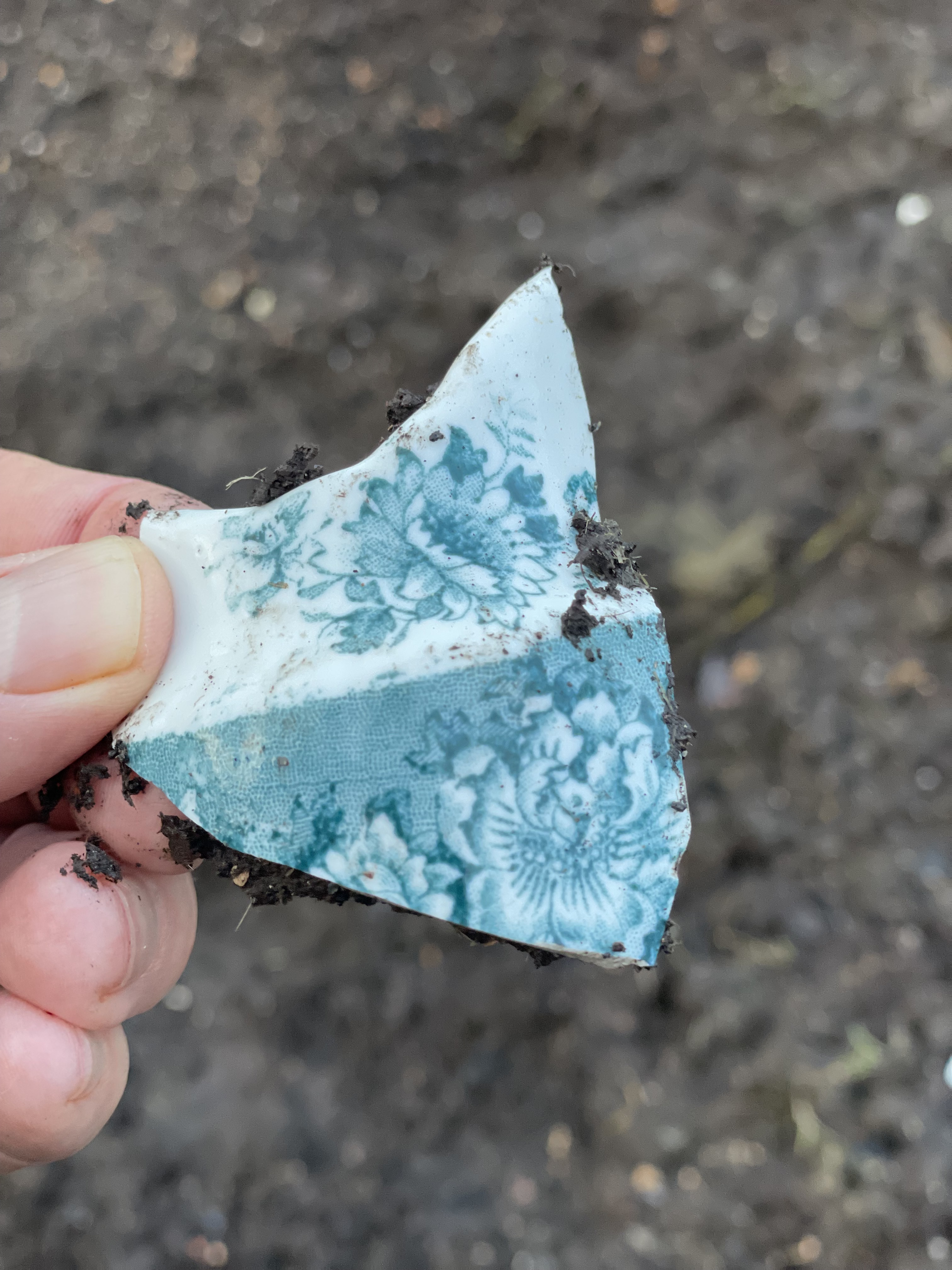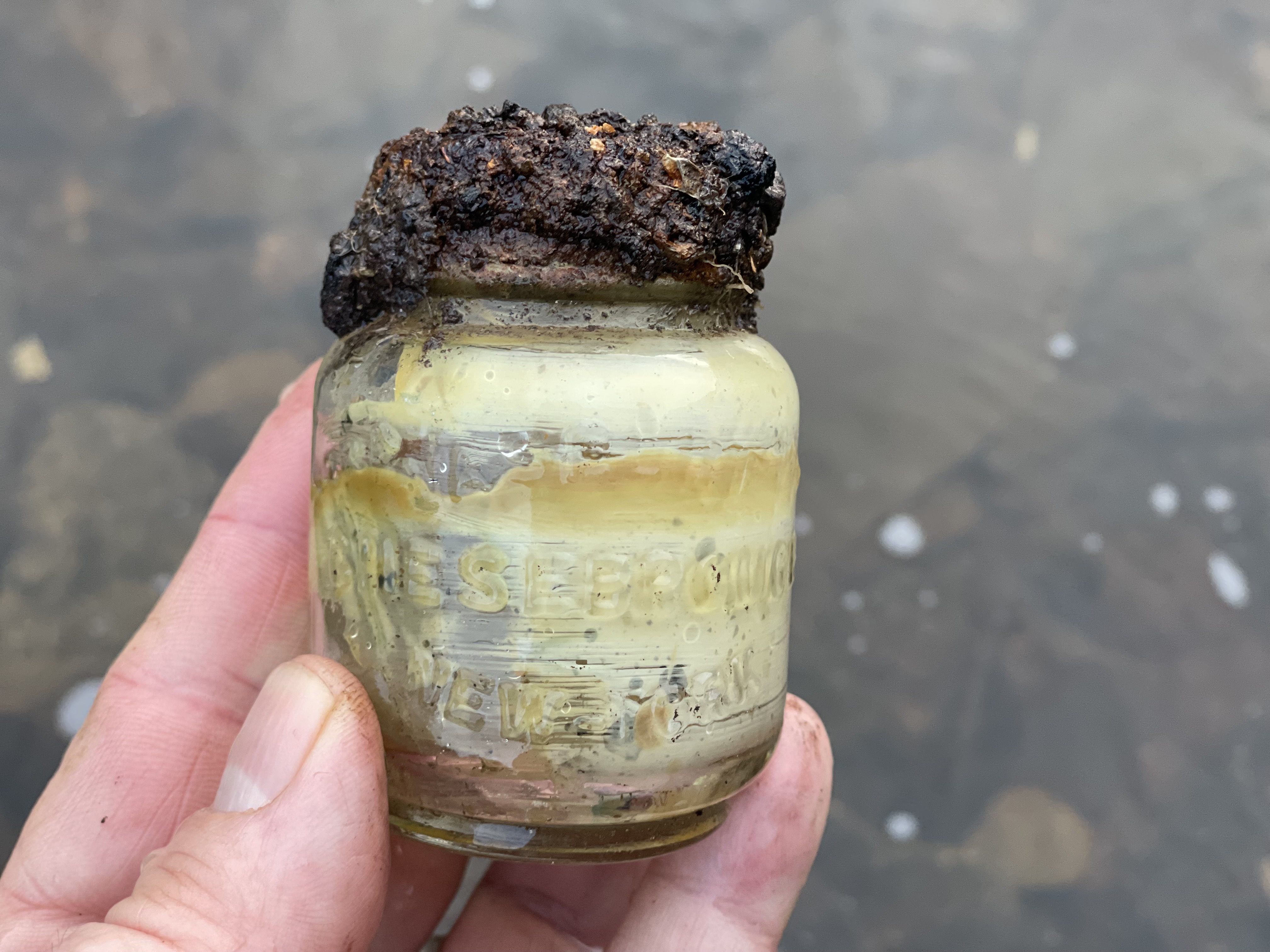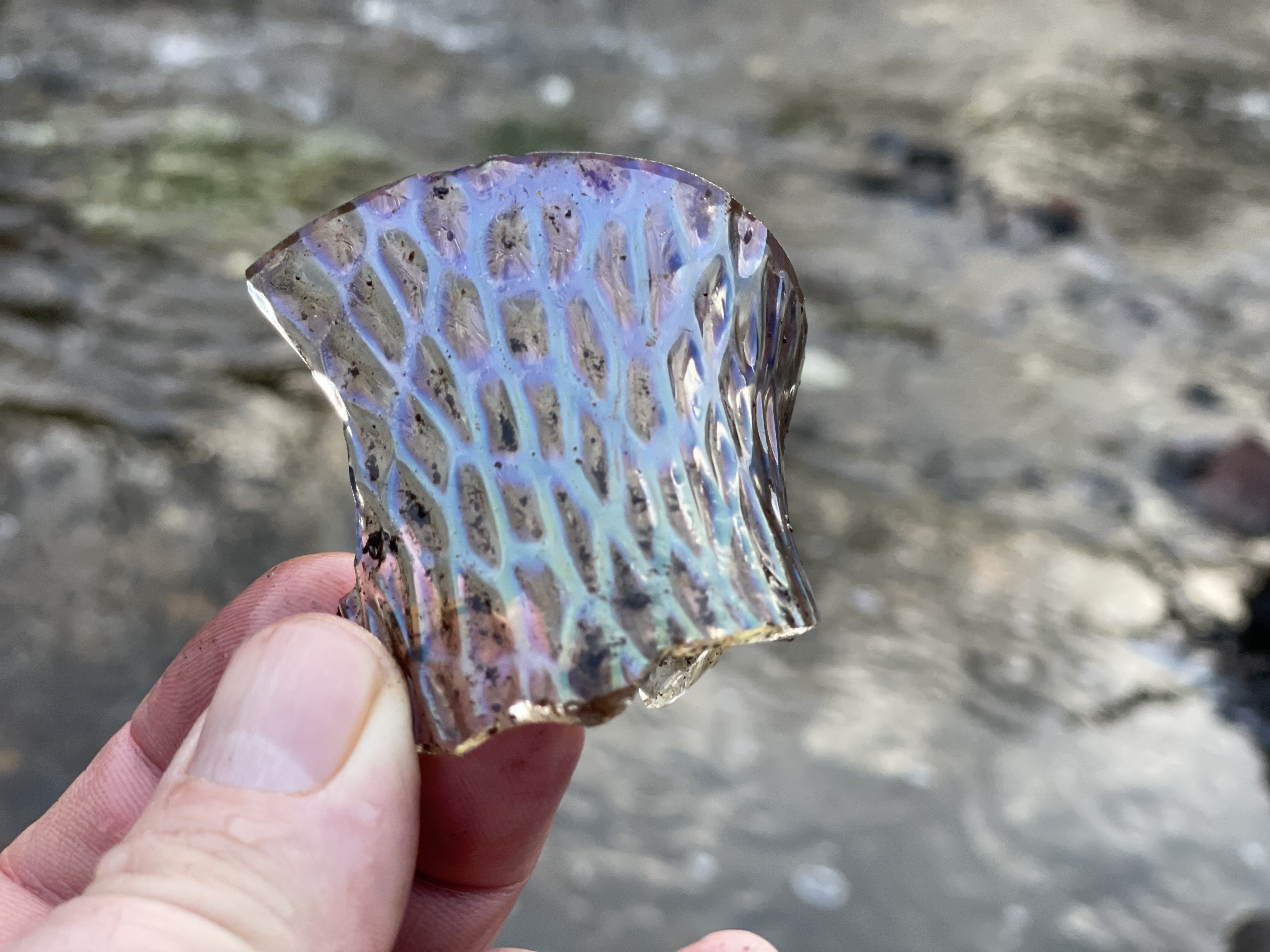 Then, on the way home, about fifty metres away from the midden, I notice some white bricks cast in the centre of bovine slurry. I make my way carefully over - they're ceramic - more than likely for a utility room. I turn around and realise that I'm besides the backyard of the former houses. Part of the wall remains, beside a lengthy rise of moss covered stone, hog-backed with self-seeding trees. Perhaps the owner of the shoe I found earlier lived here eating potted meat with a dash of hoe's sauce, washed down with a glug of ginger beer.
It's all gone now, the life in the valley is shrouded in moss.
As I leave the valley I hear a sideways call like a squeaking door. A deceit of lapwings circle around the remains of the terrace and then move on over the midden to Deeply Hill.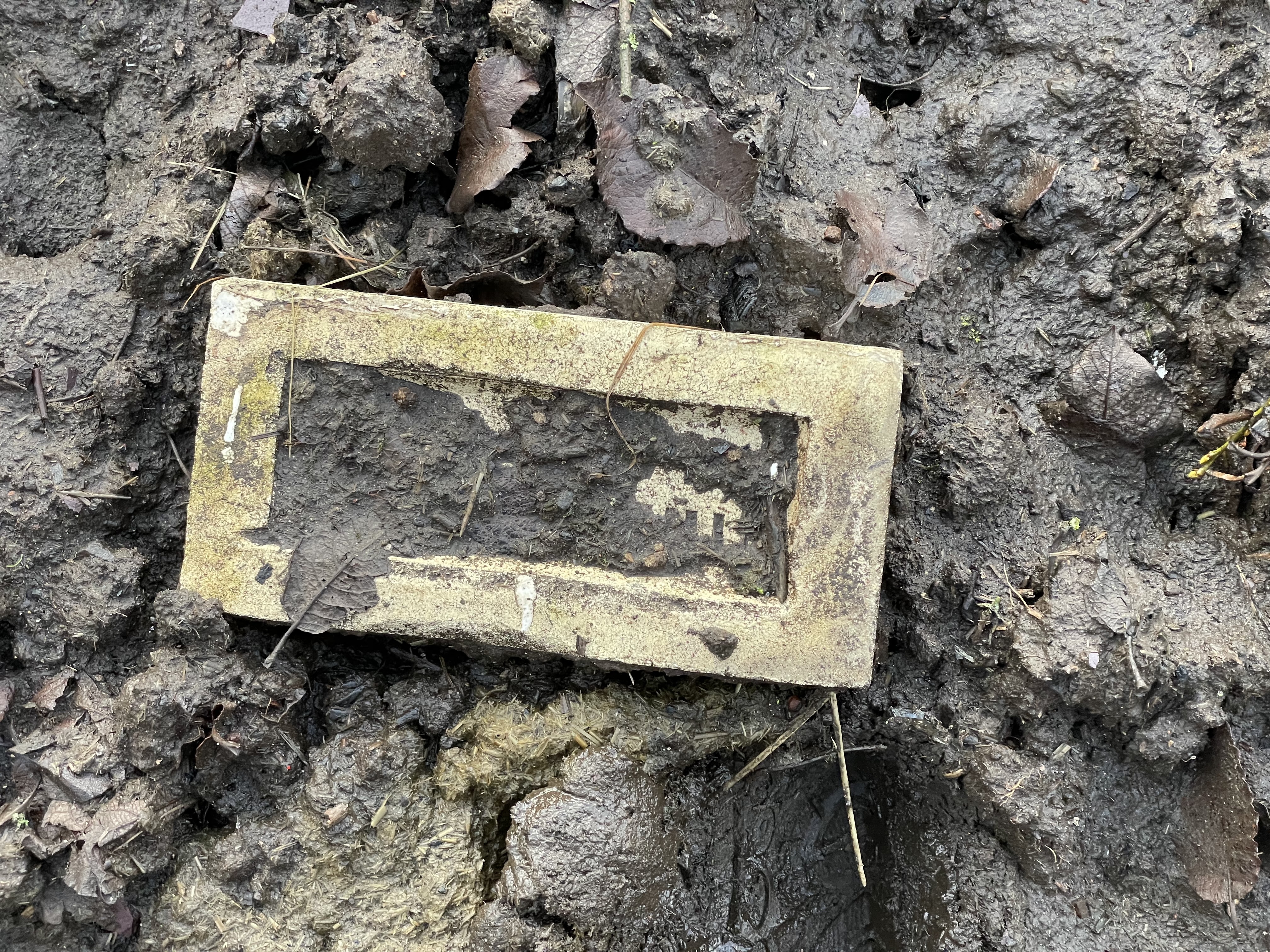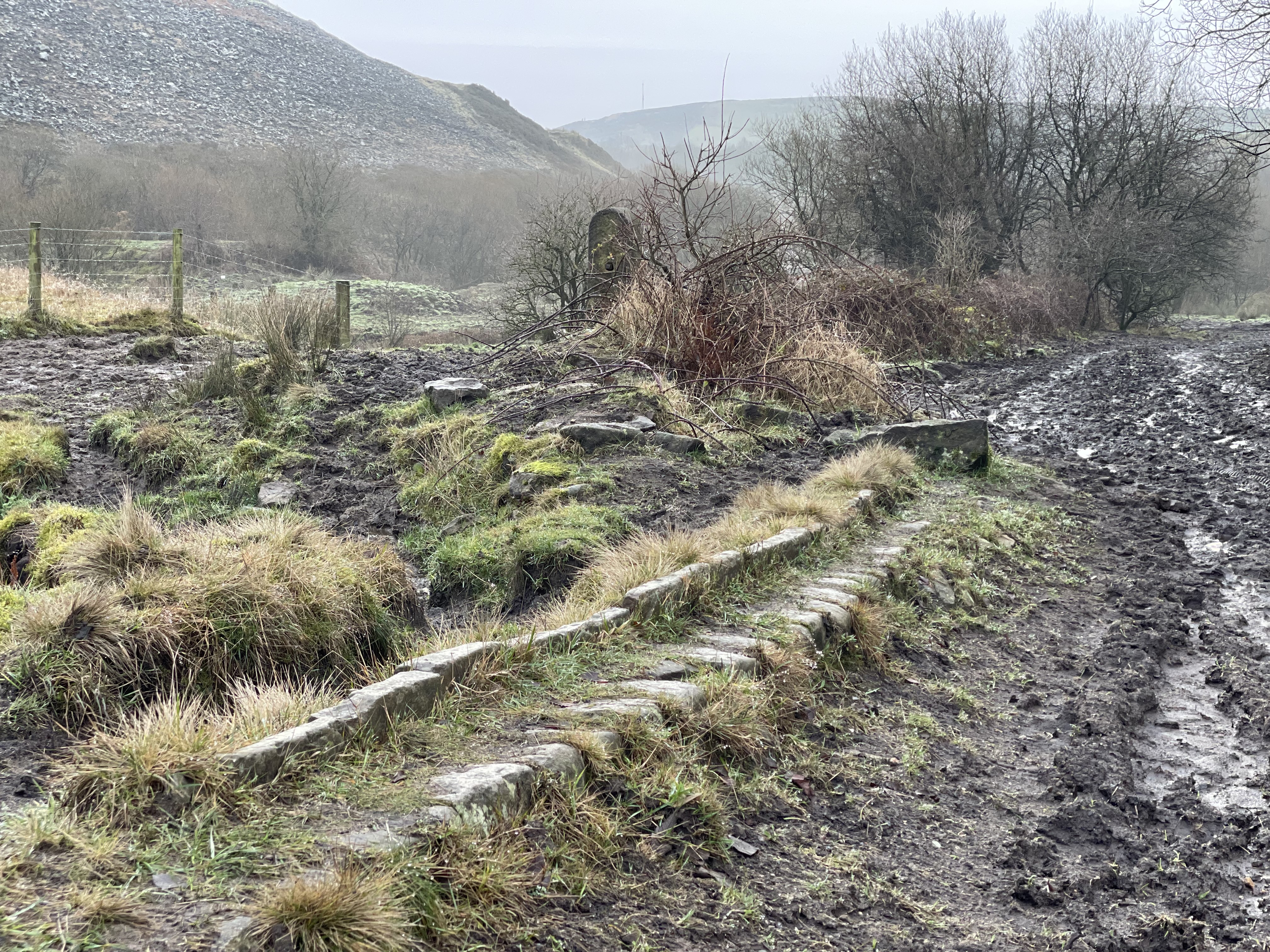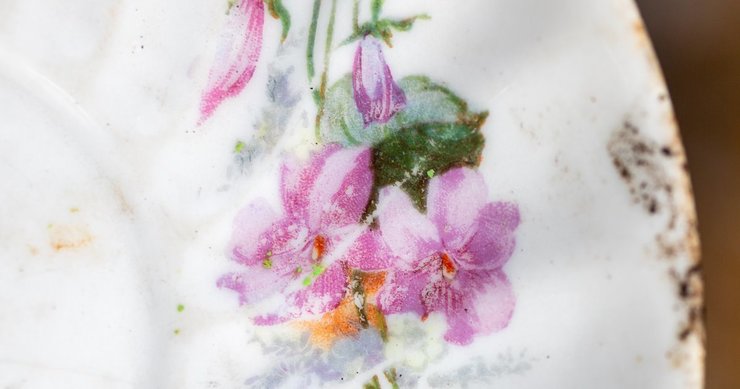 More stories about the midden here [more...]
Vanlife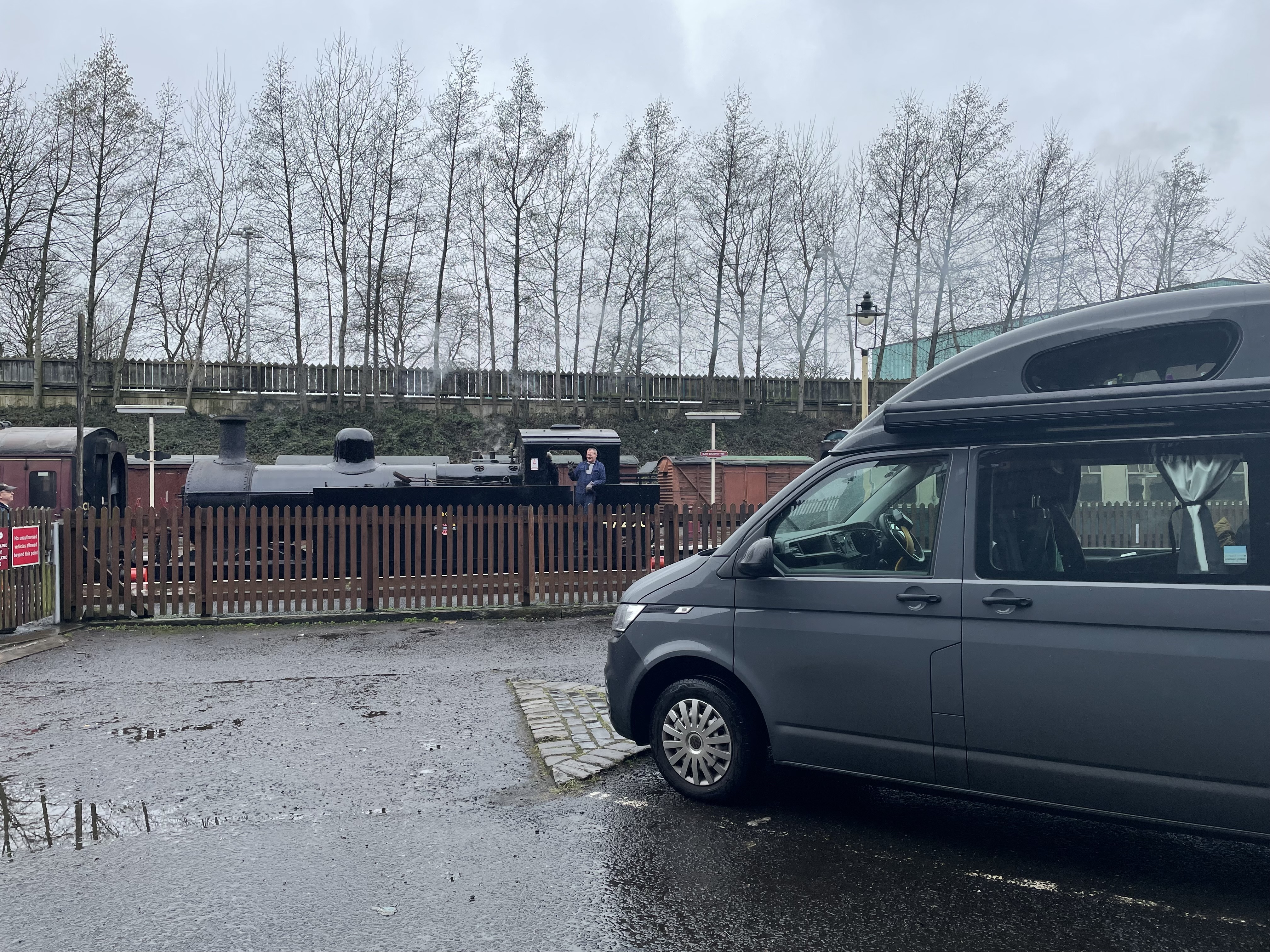 It's been a stressful week - our boiler has broken and needs replacing (flannel washes and all that) - so I took Woody out to our local nature reserve and cooked my go-to comfort food - spam and egg on a muffin - I know...
For my first ever job, I was a labourer for a roofing company and during the winter months, we had hot spam and egg muffins to keep us warm and nourished for lunch.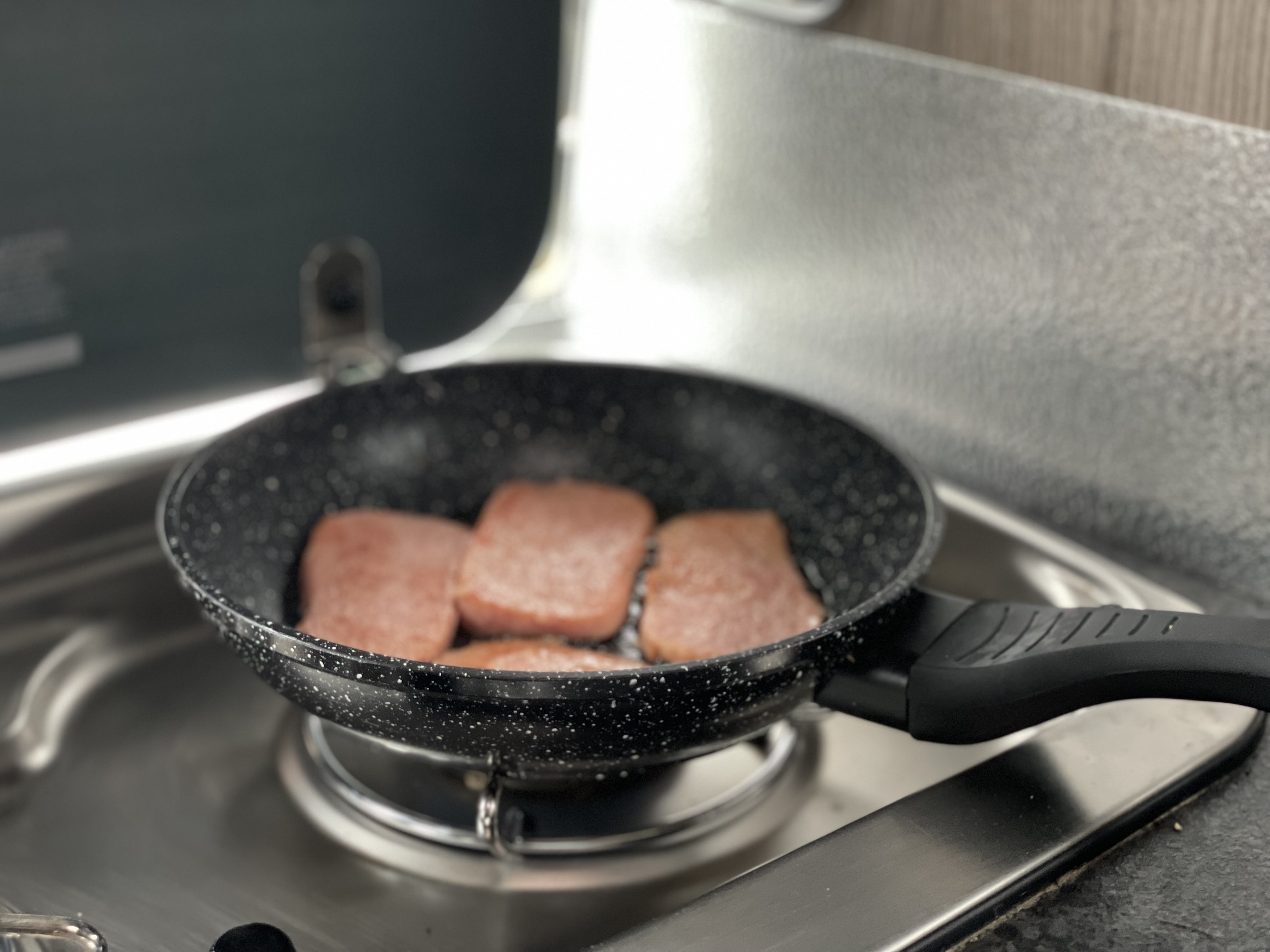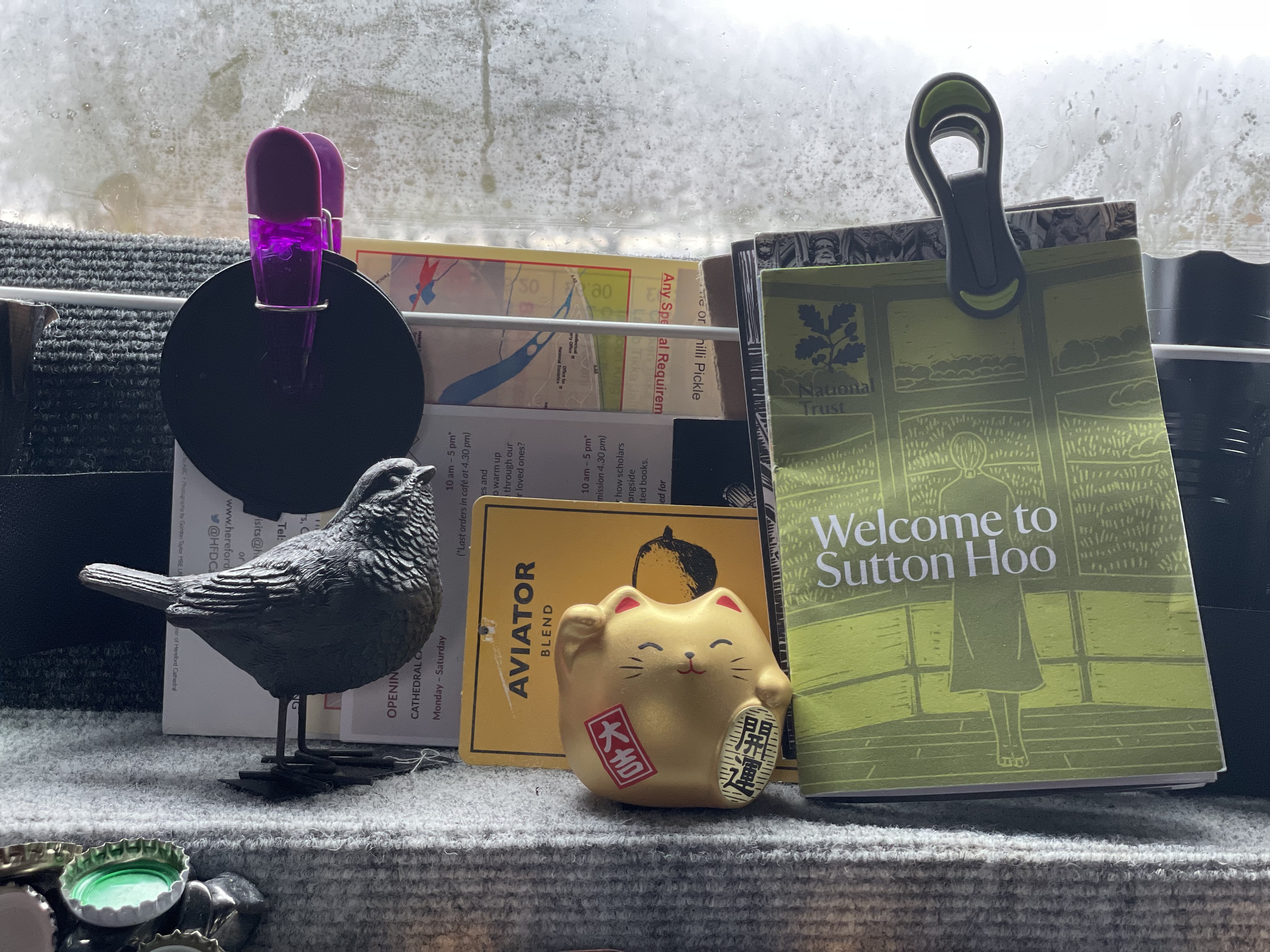 On My Coffee Table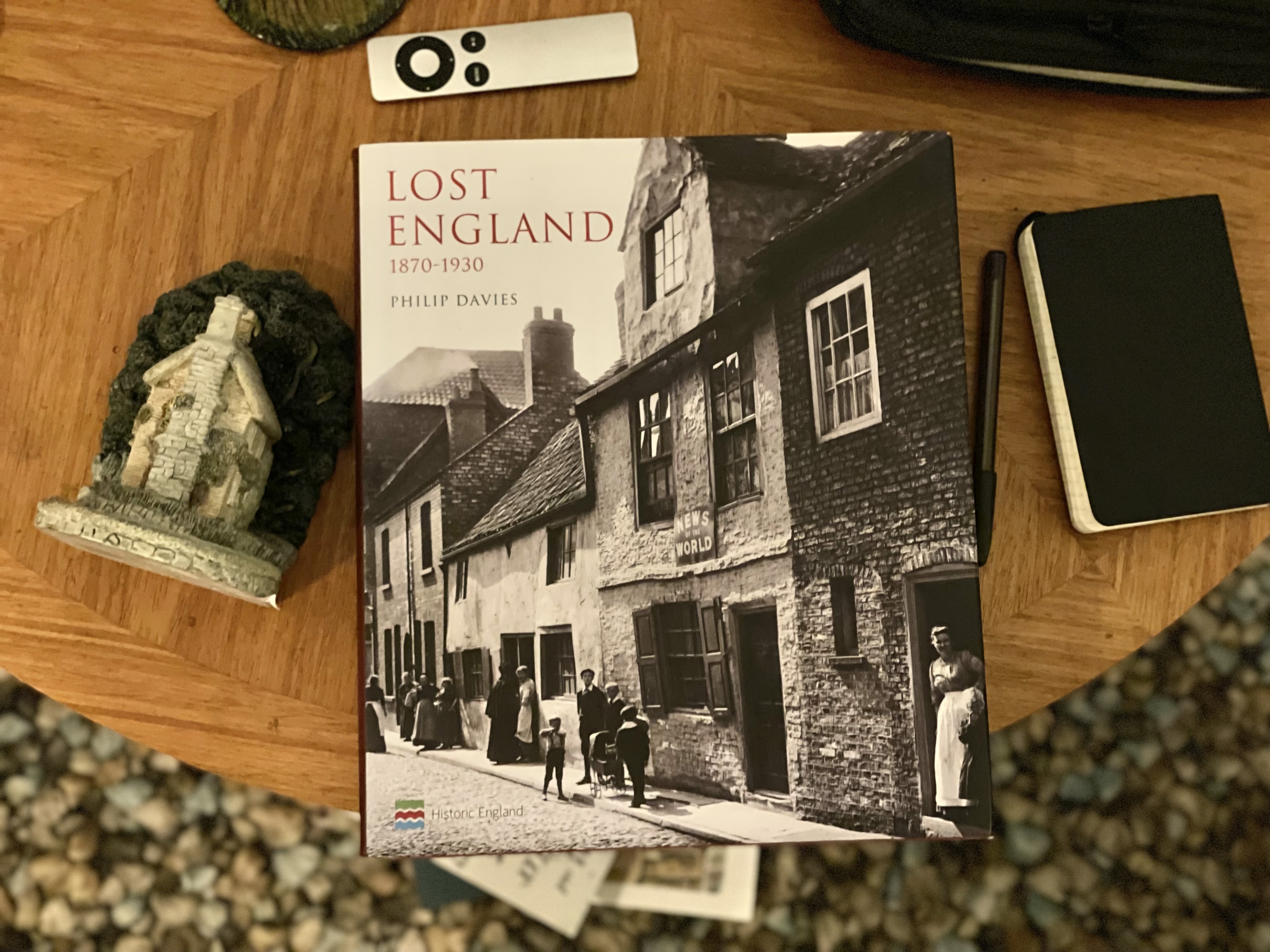 From The Charo's
The Ruins of Fountains Abbey - 75p from a charity shop in Ripon. With photographs by J Reginald Truelove. Now there's a name that rolls off the tongue.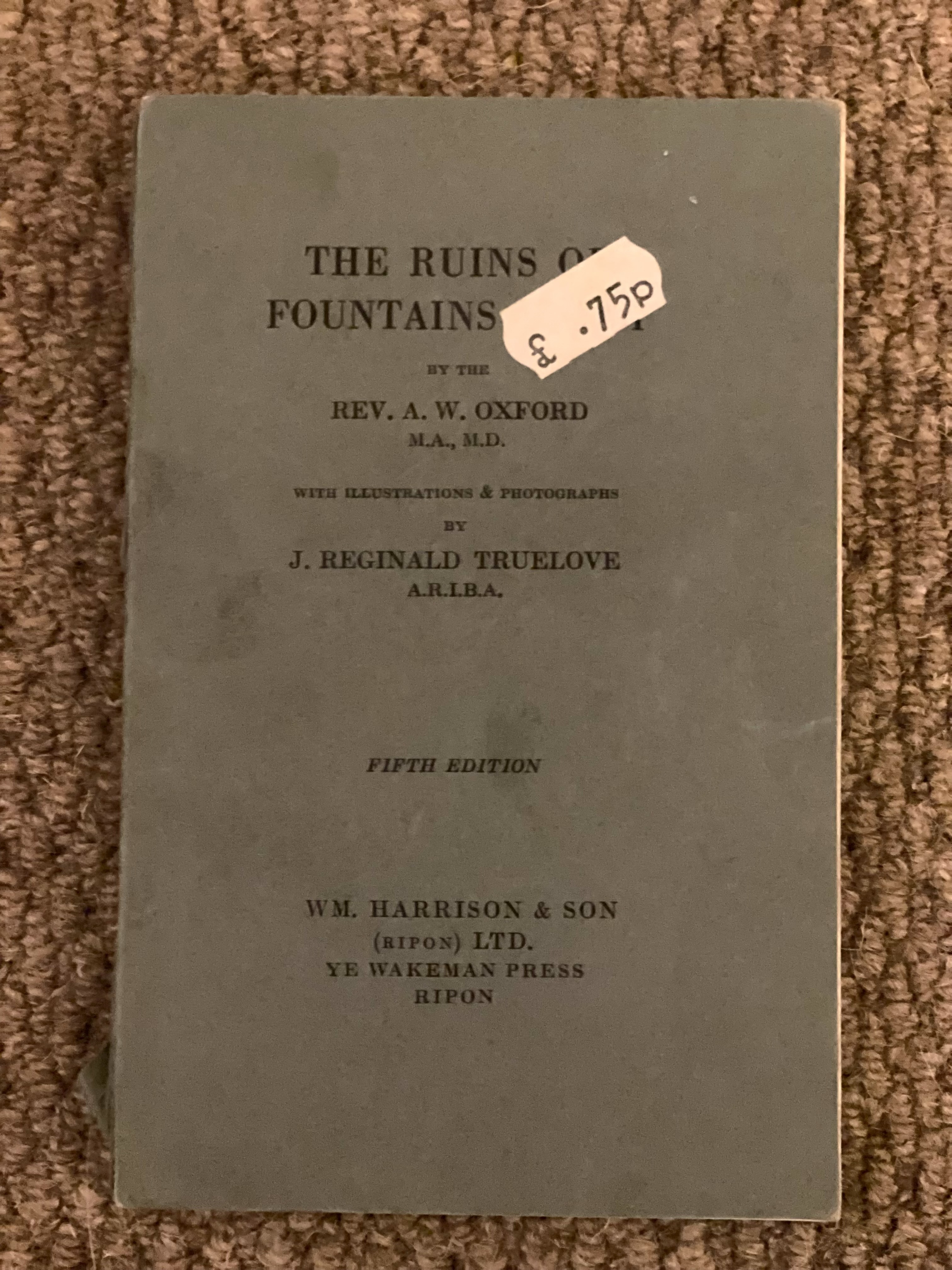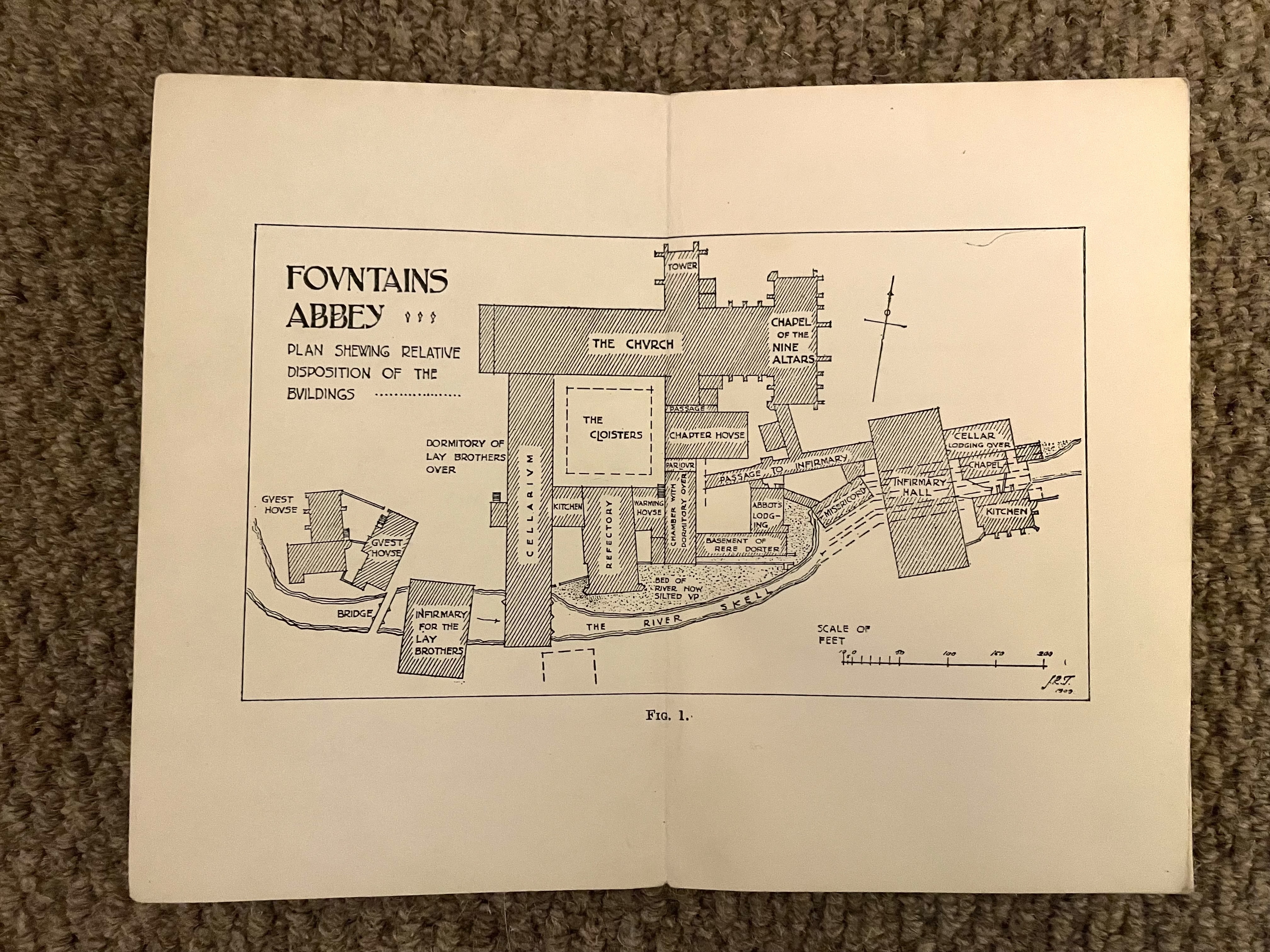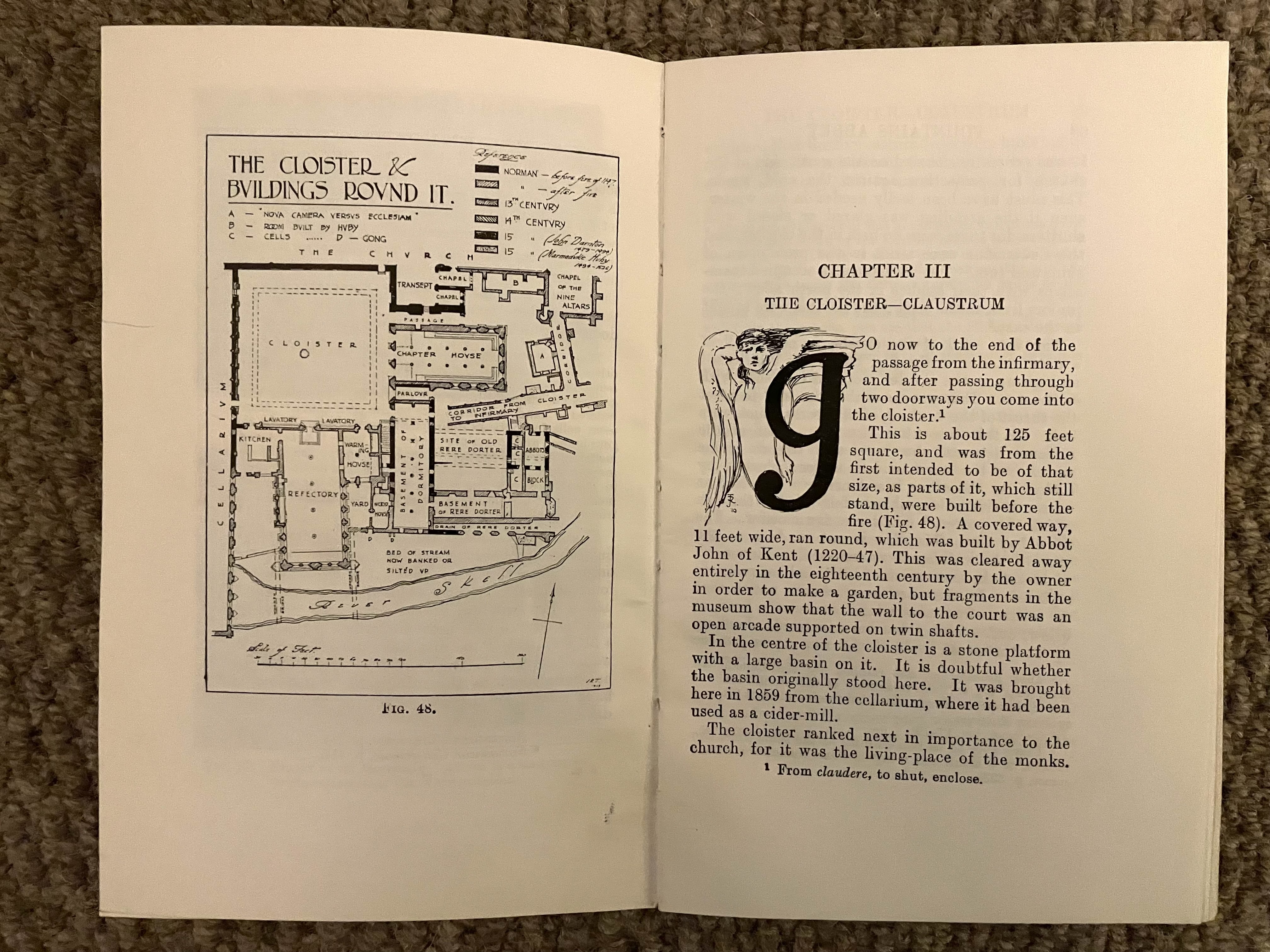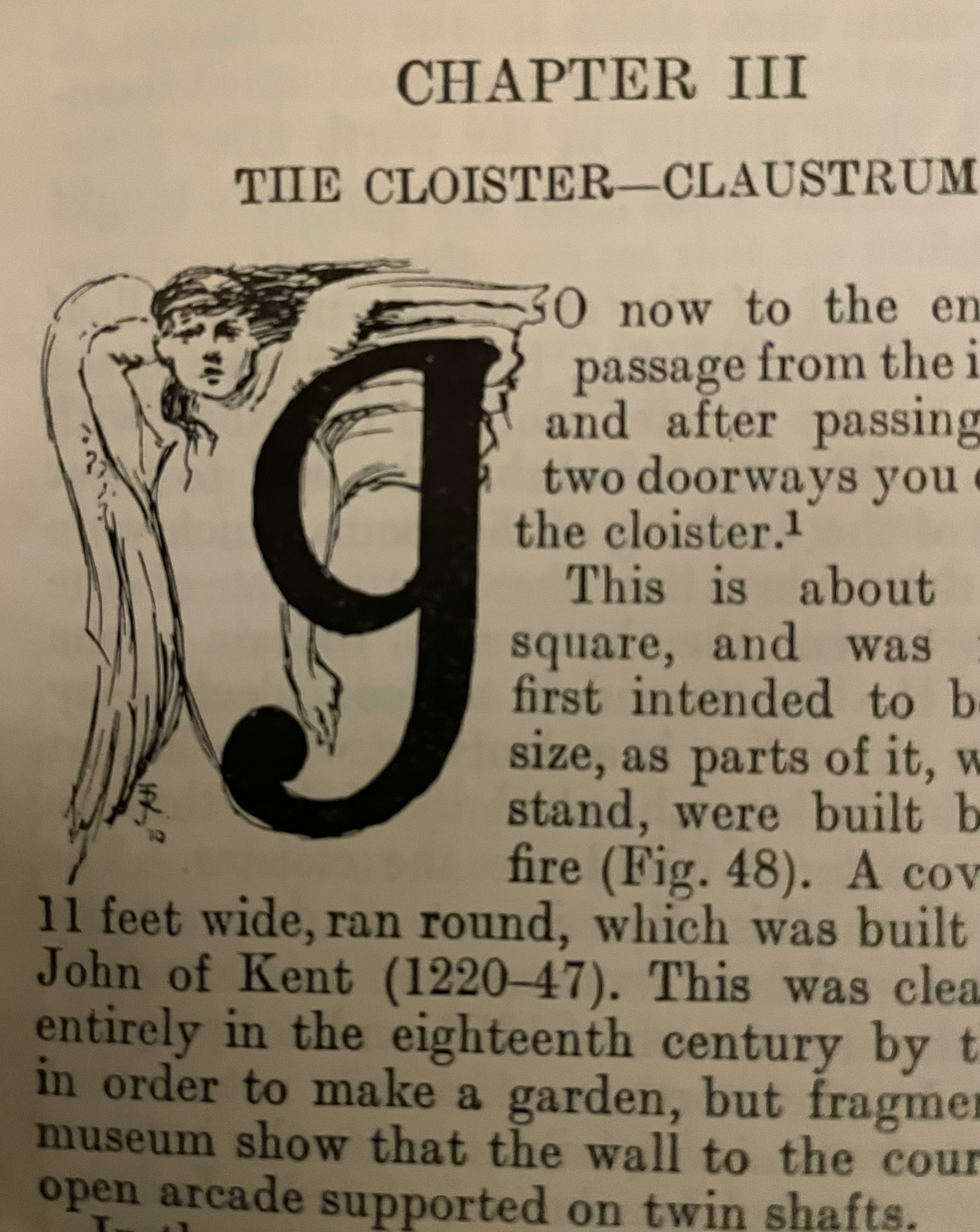 Bookmarked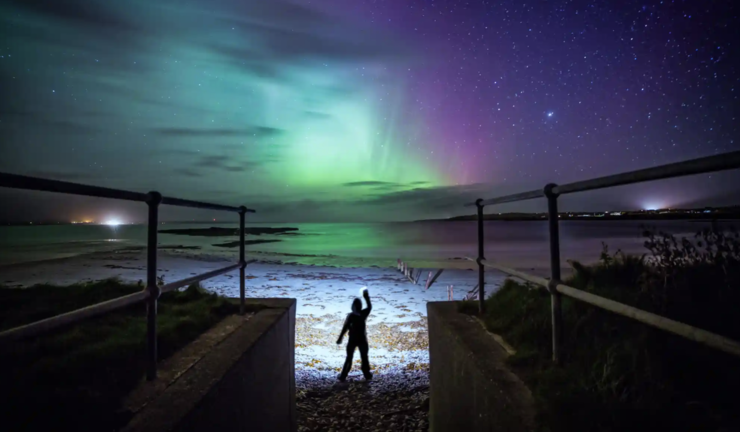 Wonderful places to celebrate the night sky, plus charming hotels to stay in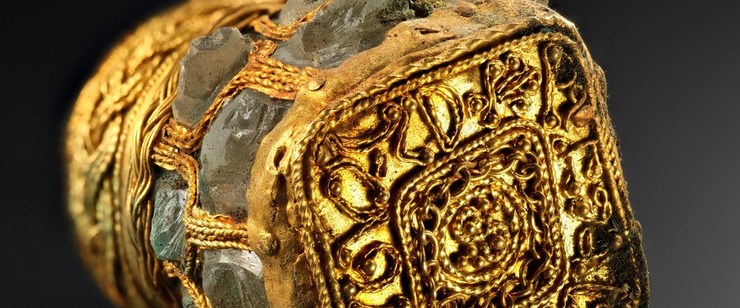 A discovery on a Roman-era rock crystal jar from the Galloway Hoard reveals the name of a Northumbrian bishop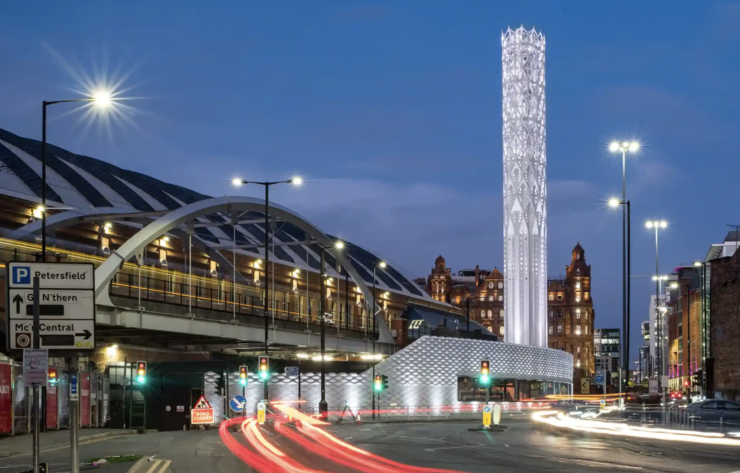 Tonkin Liu's flue for Manchester's new sustainable power system is more than just eye-catching
Film and Sound
A film I made for Peterborough Cathedral (I'm heading down to this area next week)
[embed https://vimeo.com/53515640]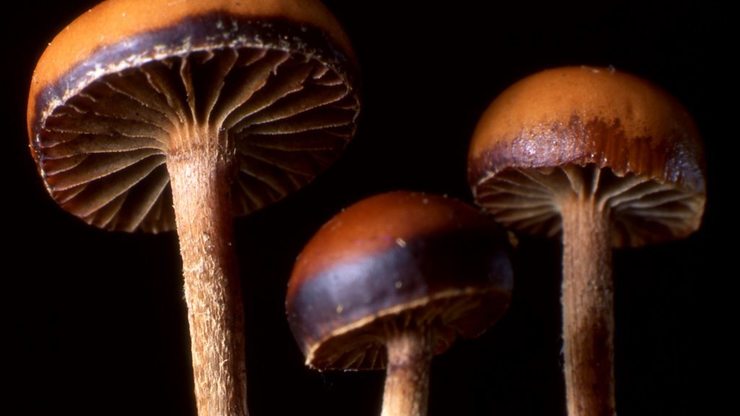 📸 Remember last week's trip to Cambridge University Botanical Gardens and the Sainsbury Laboratory? Tim Hayward visits it as part of his fungal journey. Here they are at the cutting edge of research into mycorrhizal intelligence. Over in London, Kew has the largest fungal collection in the world including a fungi that looks like (to quote the curator): "a dogs bumhole with tentacles."
Not to be sniffed at.
Observations
Bags
After spending 20 years carting my gear around, I've come to realise that bags are second only to the camera itself. I remember my first bad experience with a bag - a lowepro camera bag - it was badly balanced on the shoulder and kept tipping up - I cracked a lens using this bag.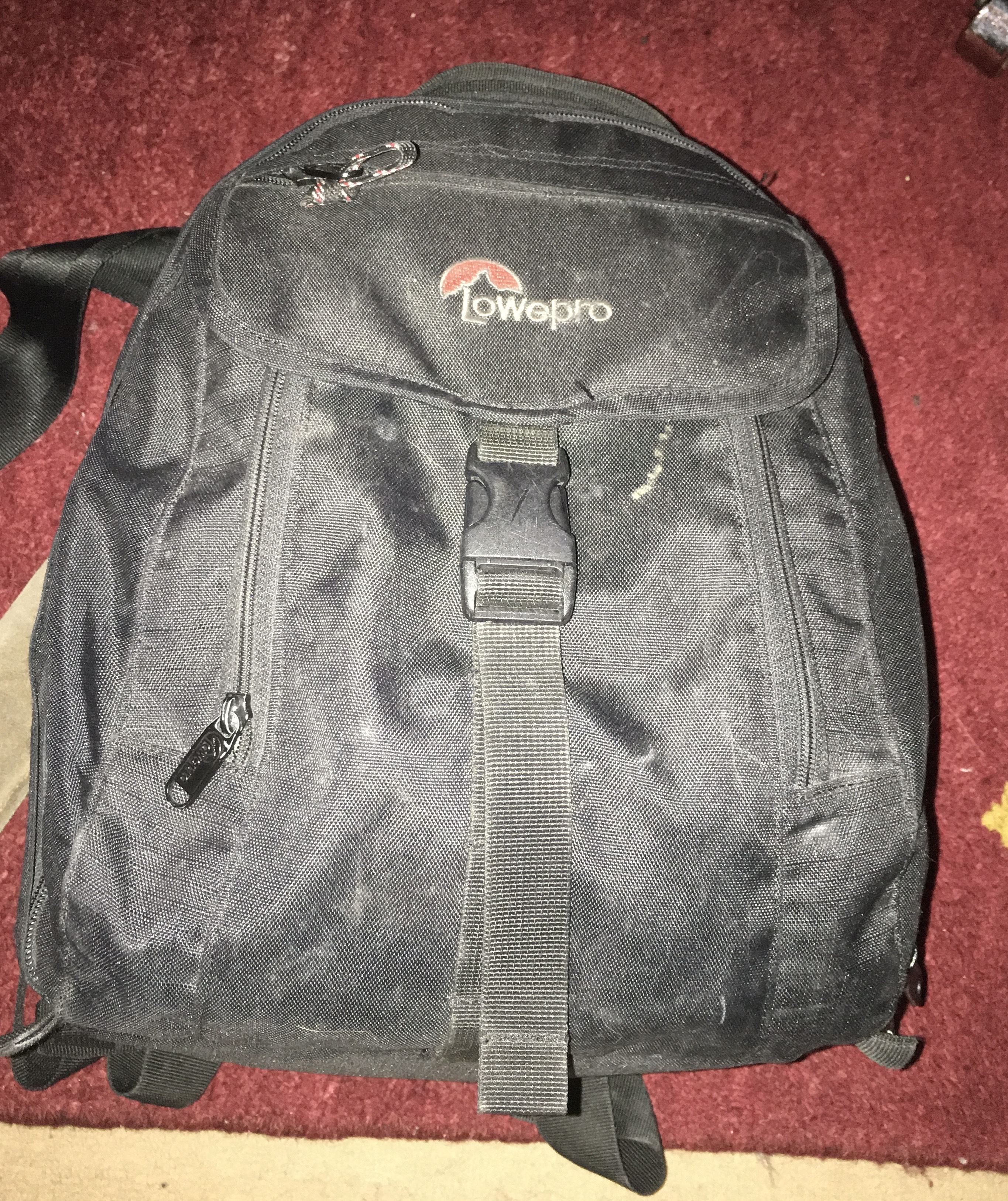 I moved on to Billingham bags and they proved to be remarkably robust - taking in every situation that I could throw at them. But, although they were refined in status - they weren't refined to my particular needs.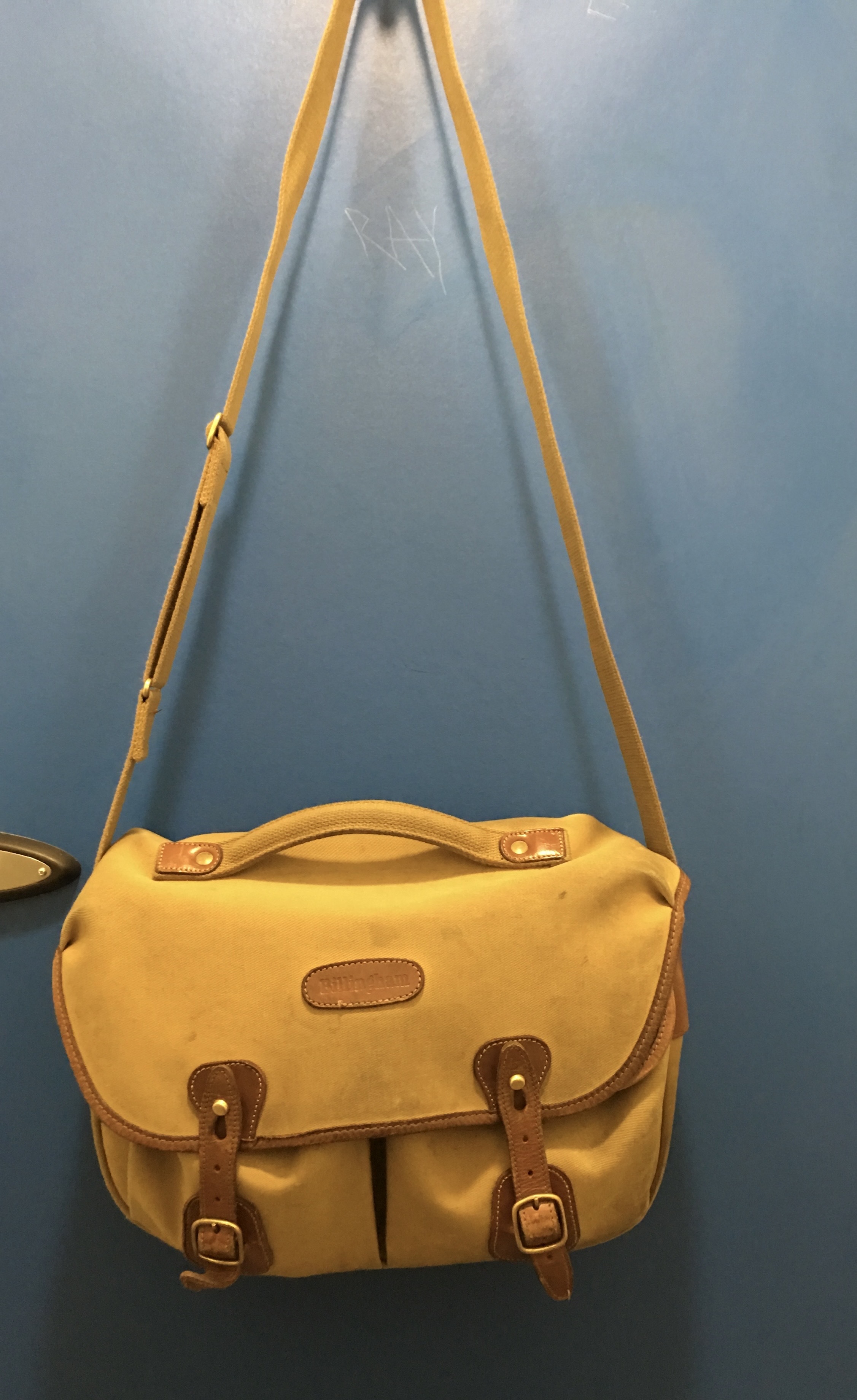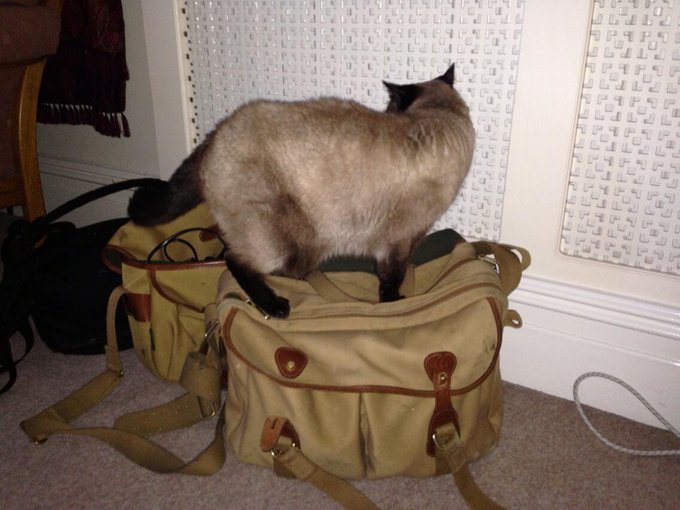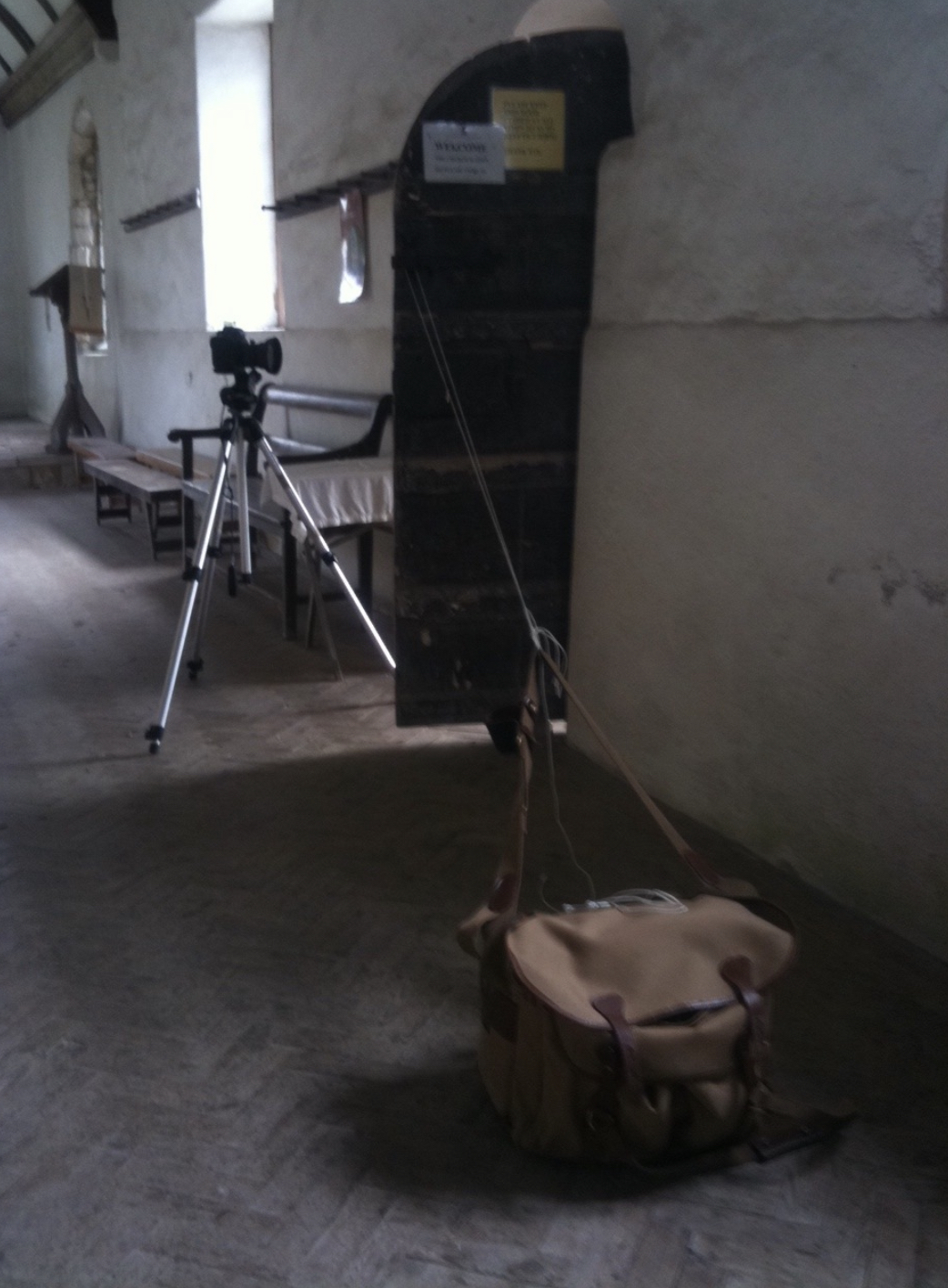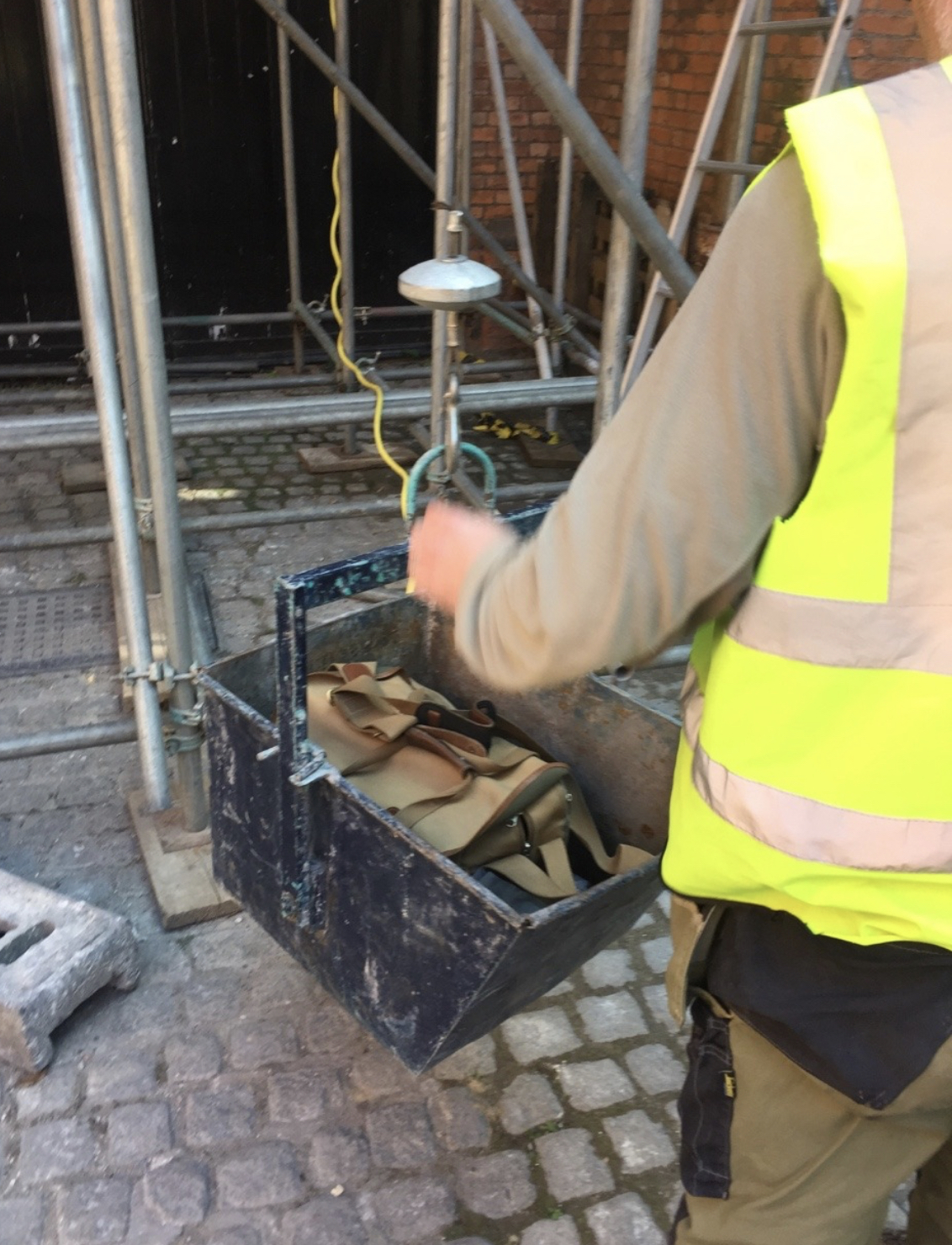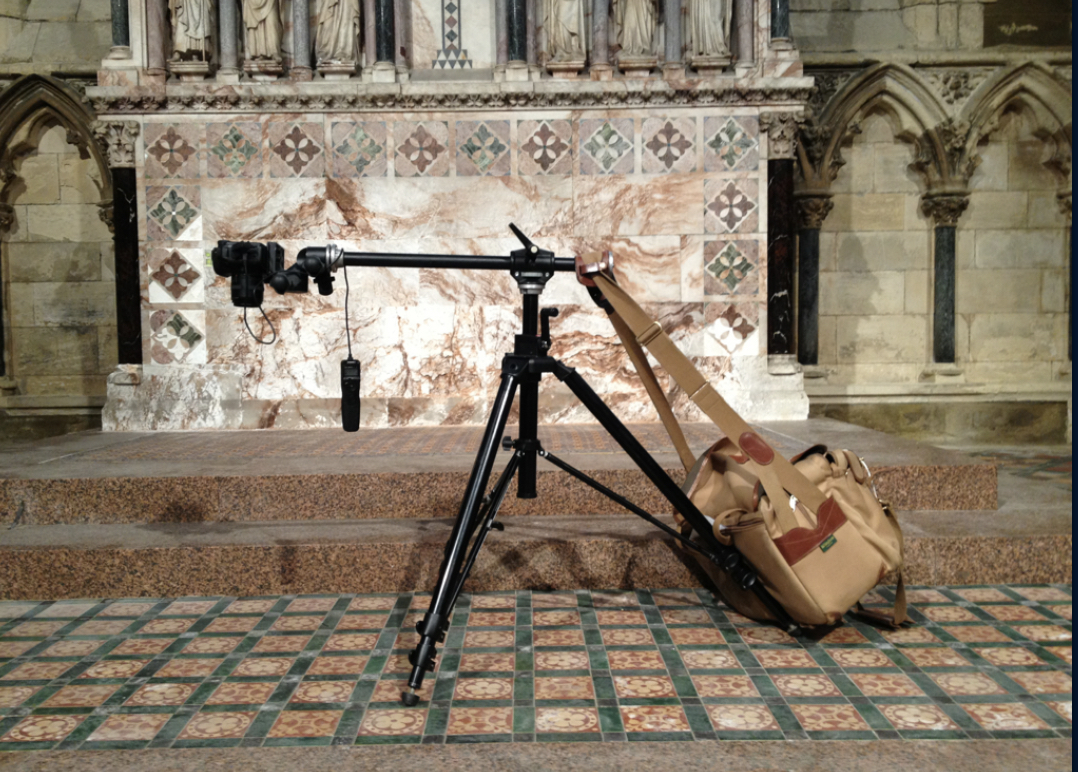 Along came Peak Design which has produced a series of bags that are real work-horses for the photographer. I use the Everyday Sling for my main drone and the Everyday Tote for carrying my cameras. I've used the Tote for a number of years - it just seems to fit my way of working. Ease of accessibility and having multiple ways of carrying the bag really helps. An added bonus is that it doesn't look like a camera bag. They're carbon neutral too.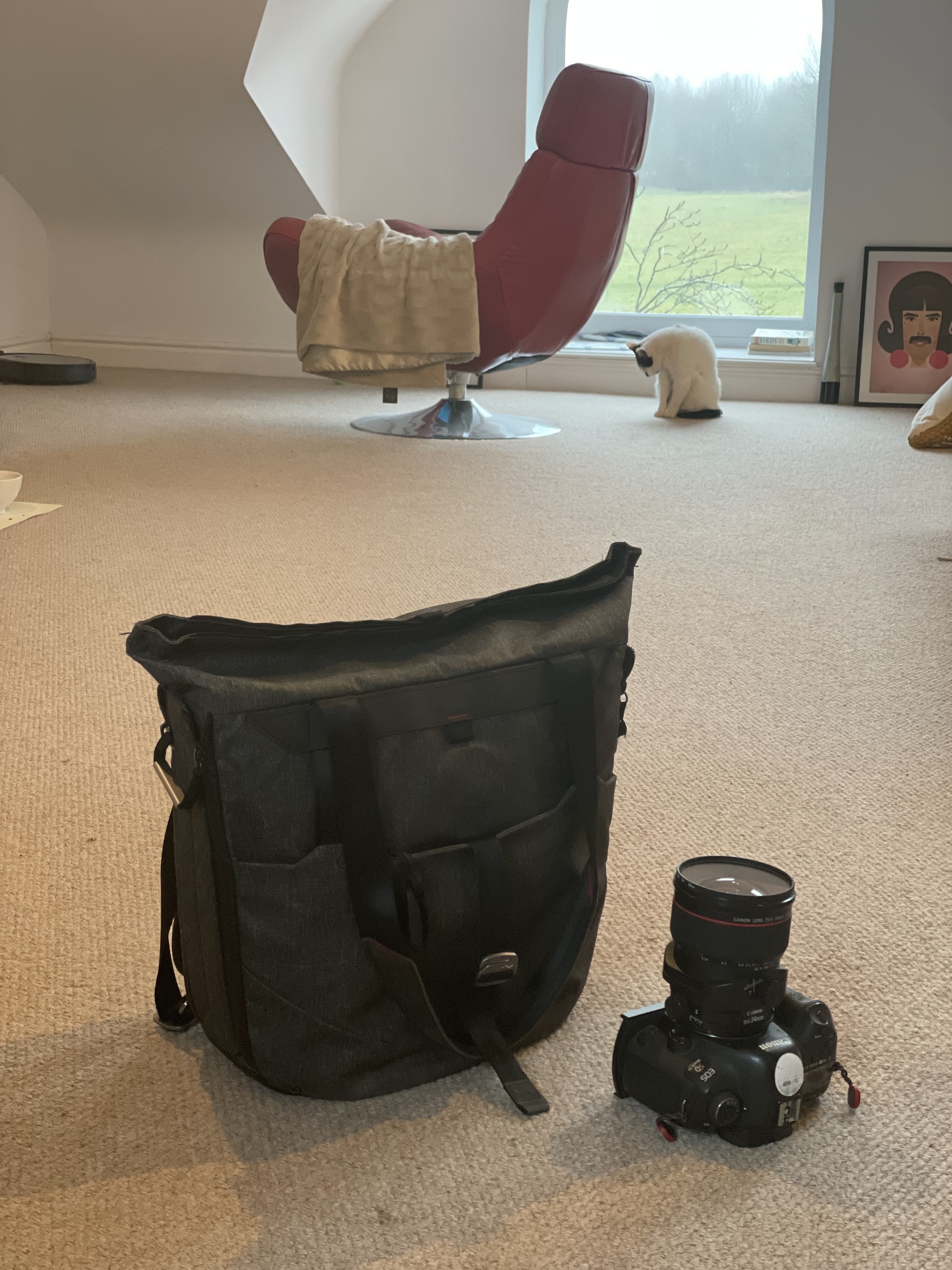 I also own bags that have a particular set of skills. My Brompton and its bag have been used to photograph airplane hangers, TV sets, Amazon warehouses and stately homes.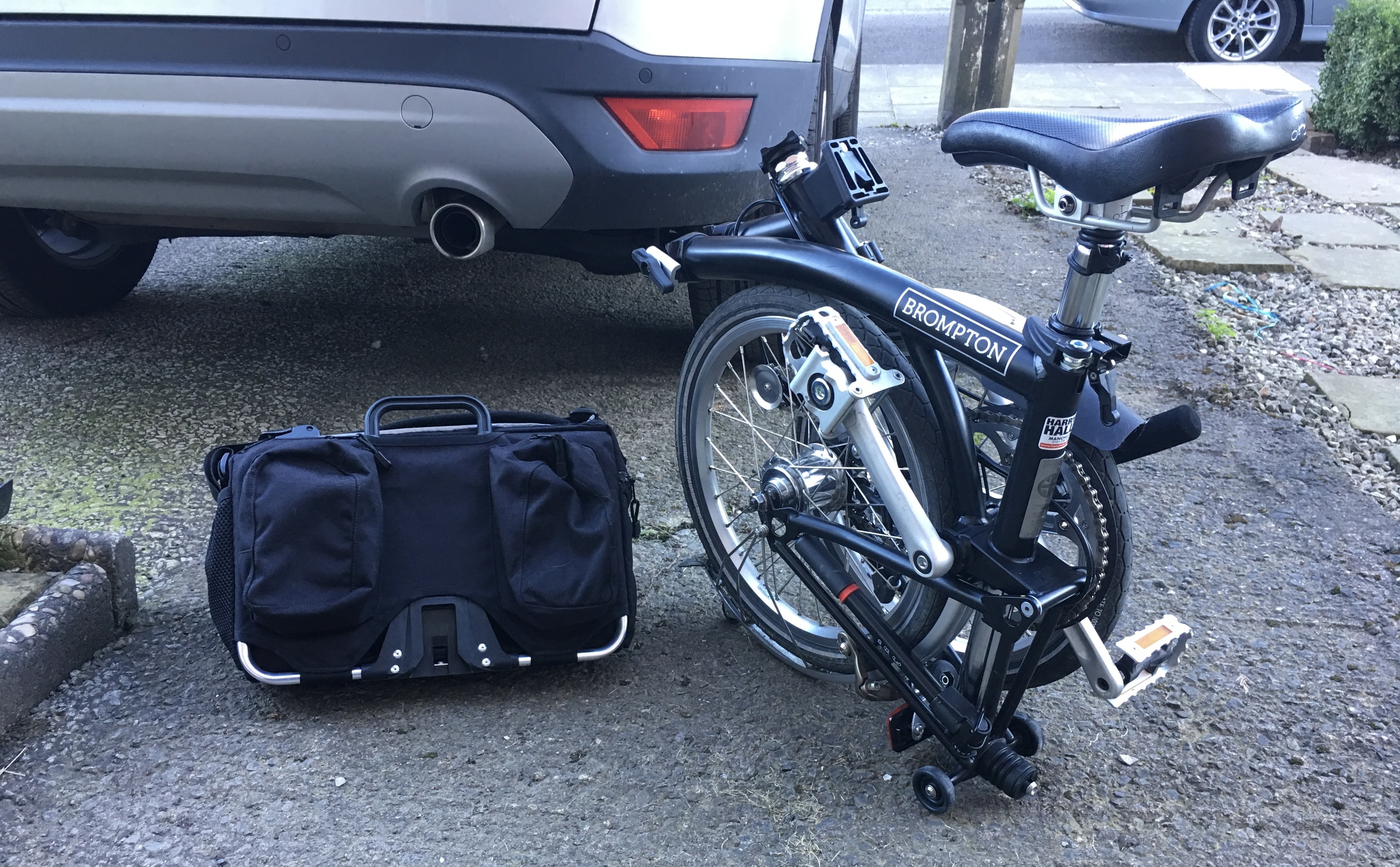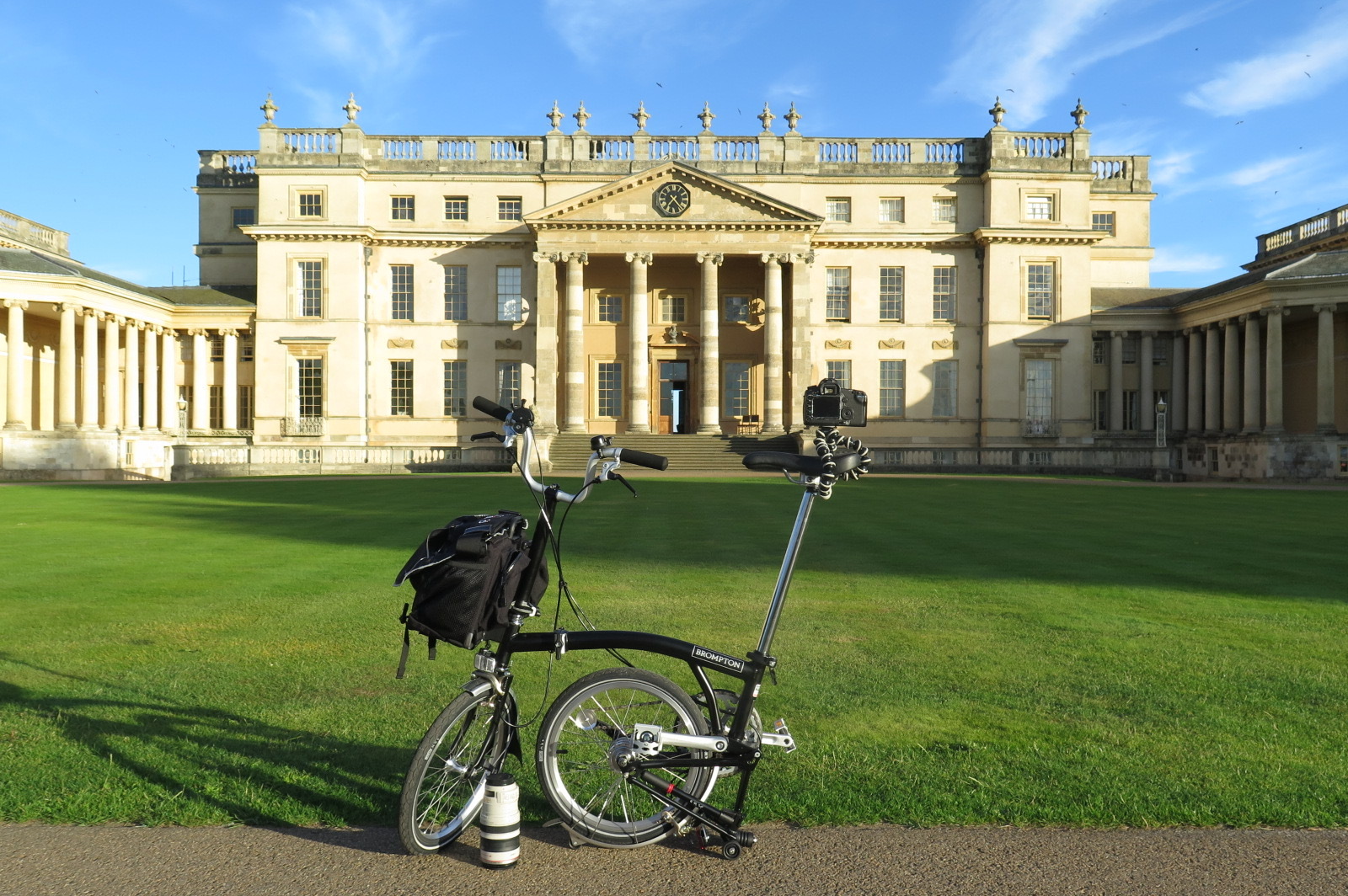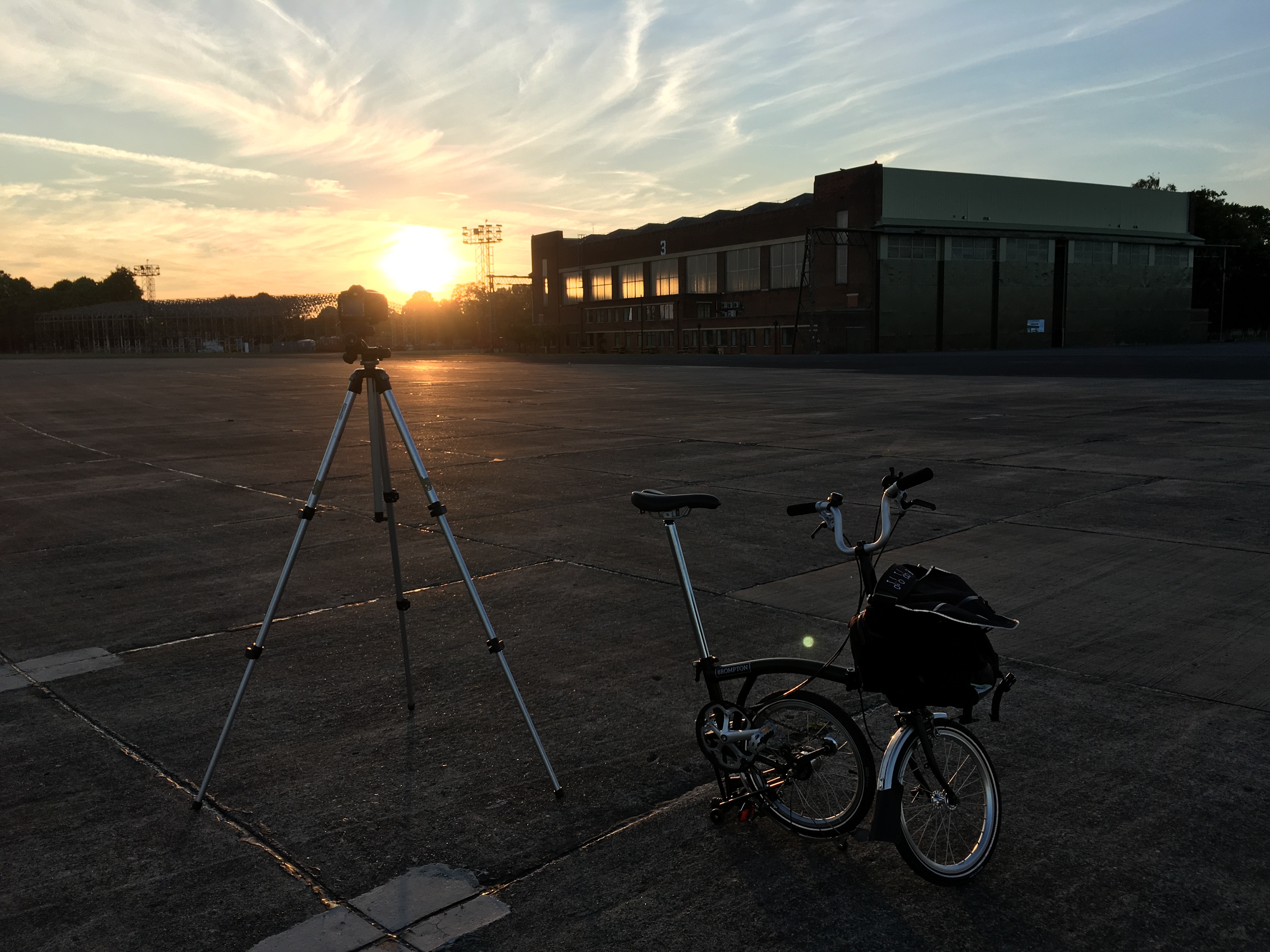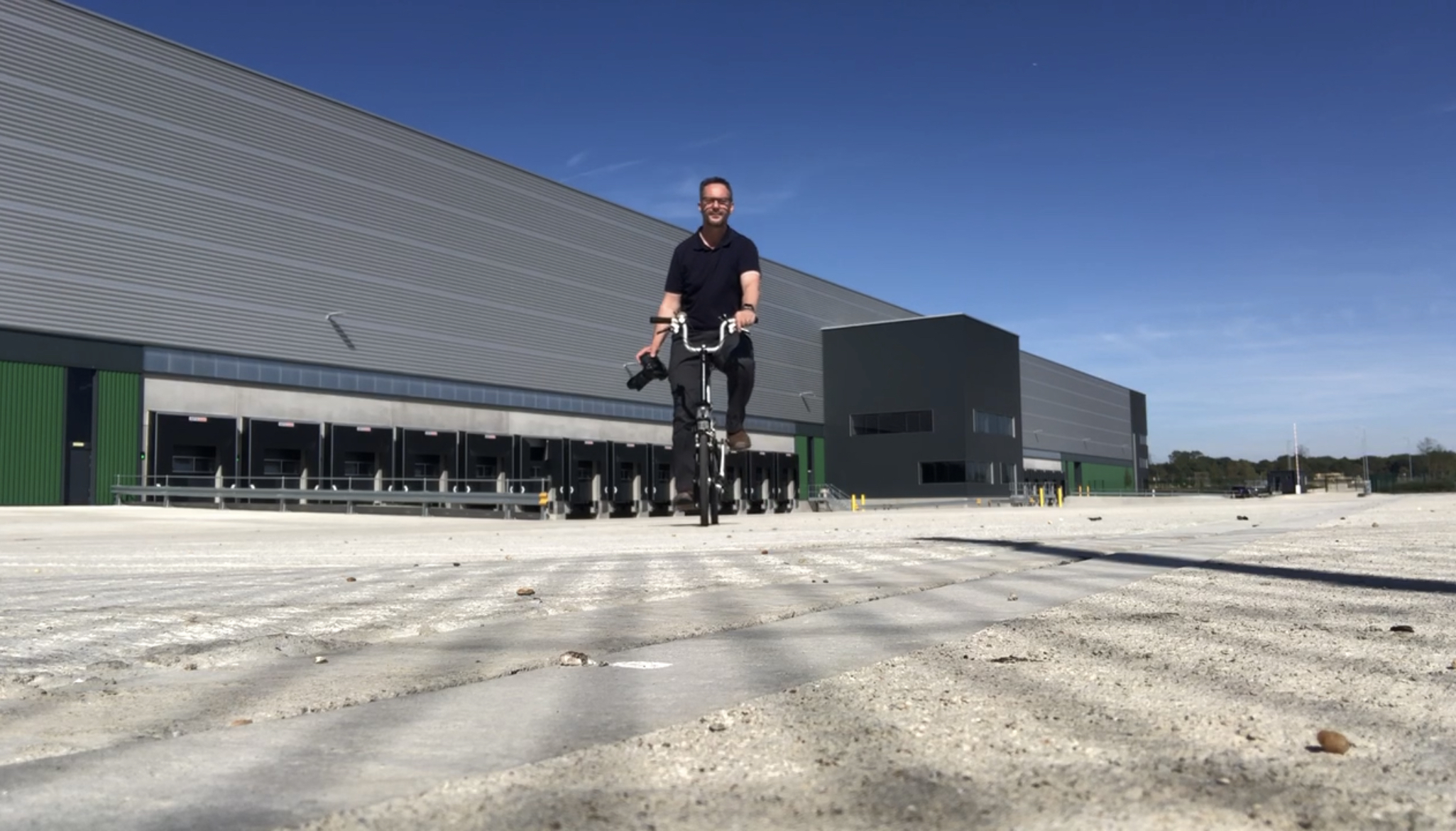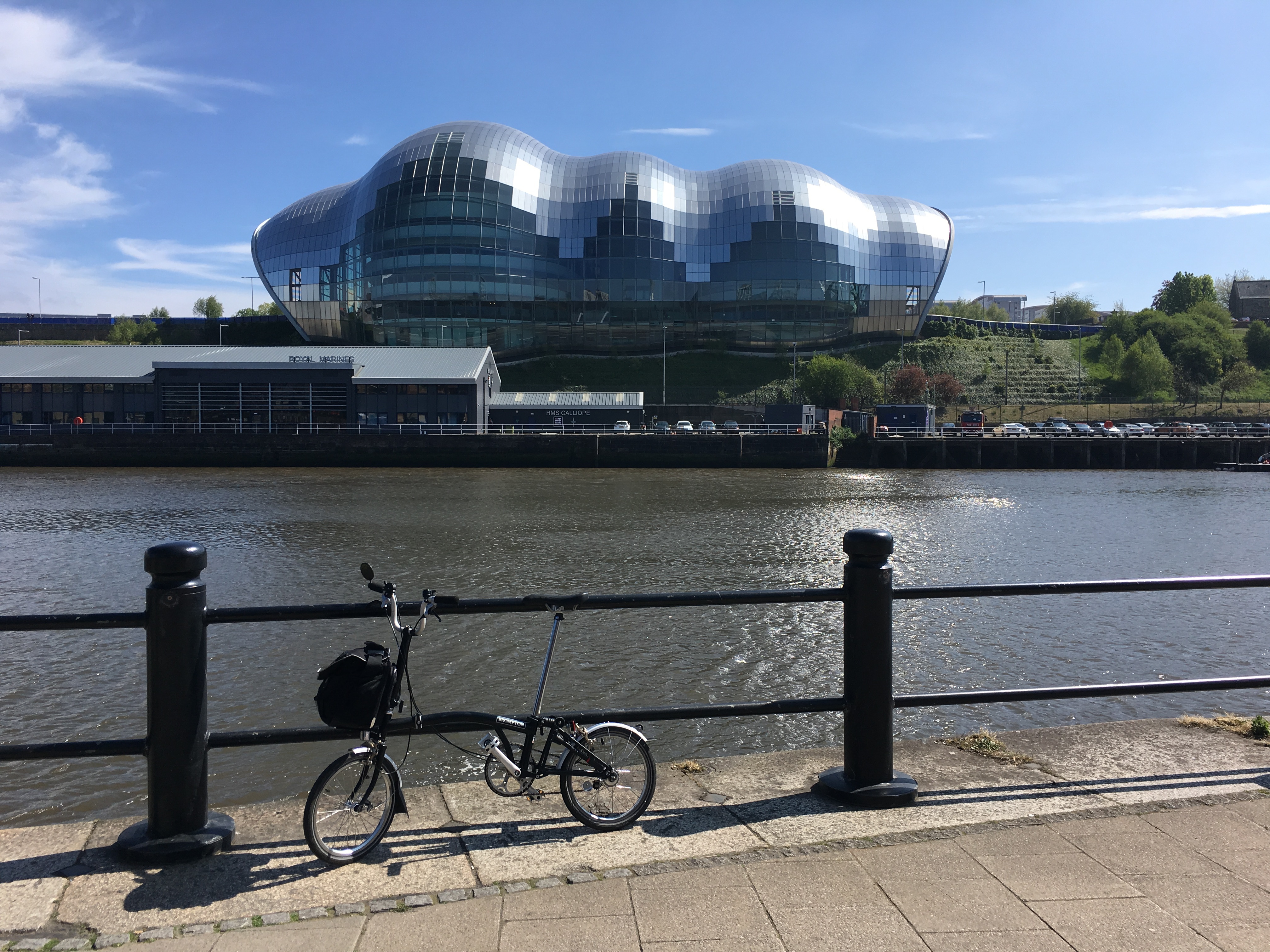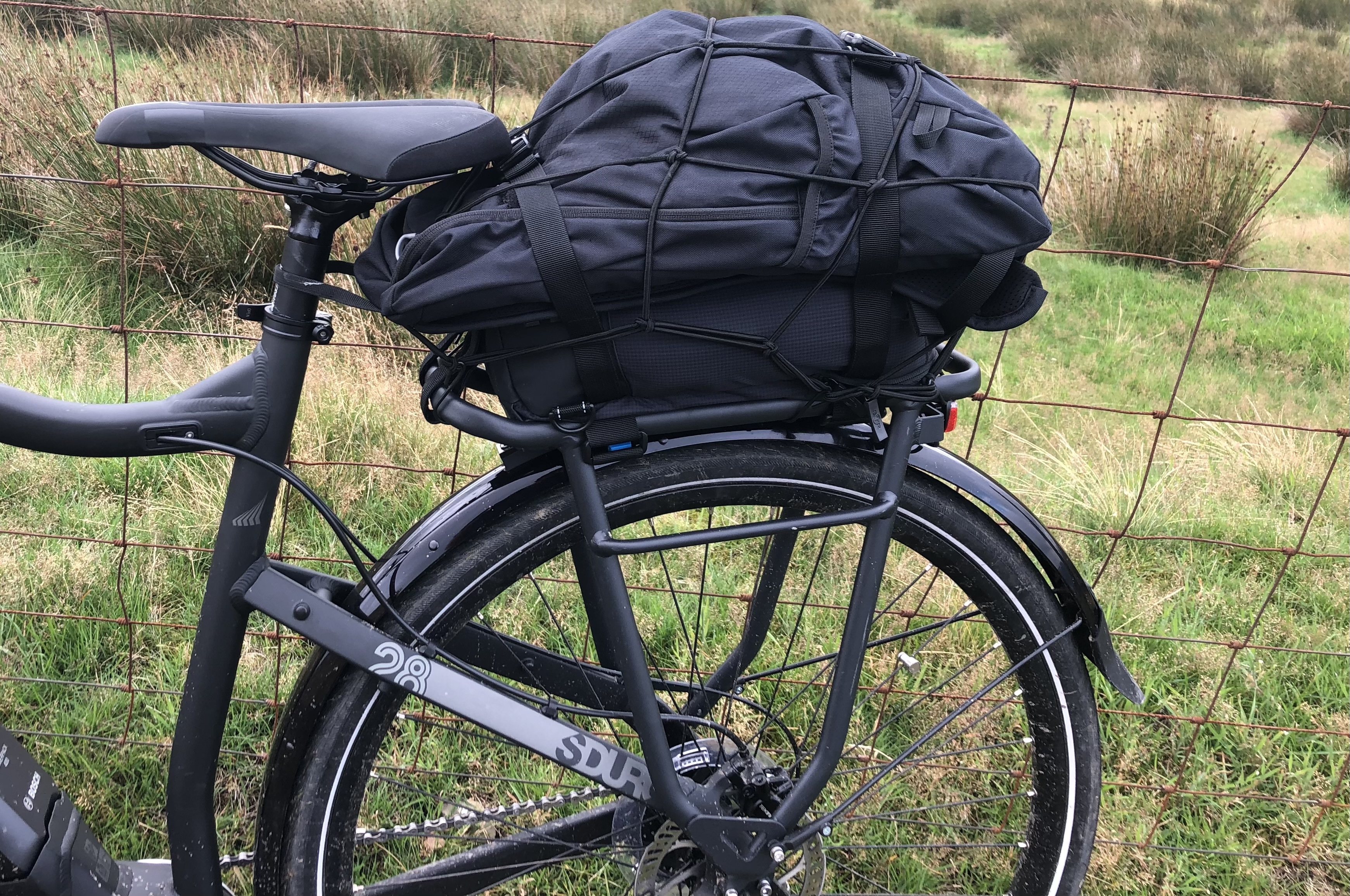 Each new bag perhaps represents an evolution of my style and the way that I work - but also takes into account changing factors on the outside. My latest bag is a Peak Design TotePack which is slimline - has access from the top and sides and holds my small 'stealth tripod'. After an incident in London, I've purchased this low key bag as a catch all to hold all of my equipment when in an urban setting. No loose ends.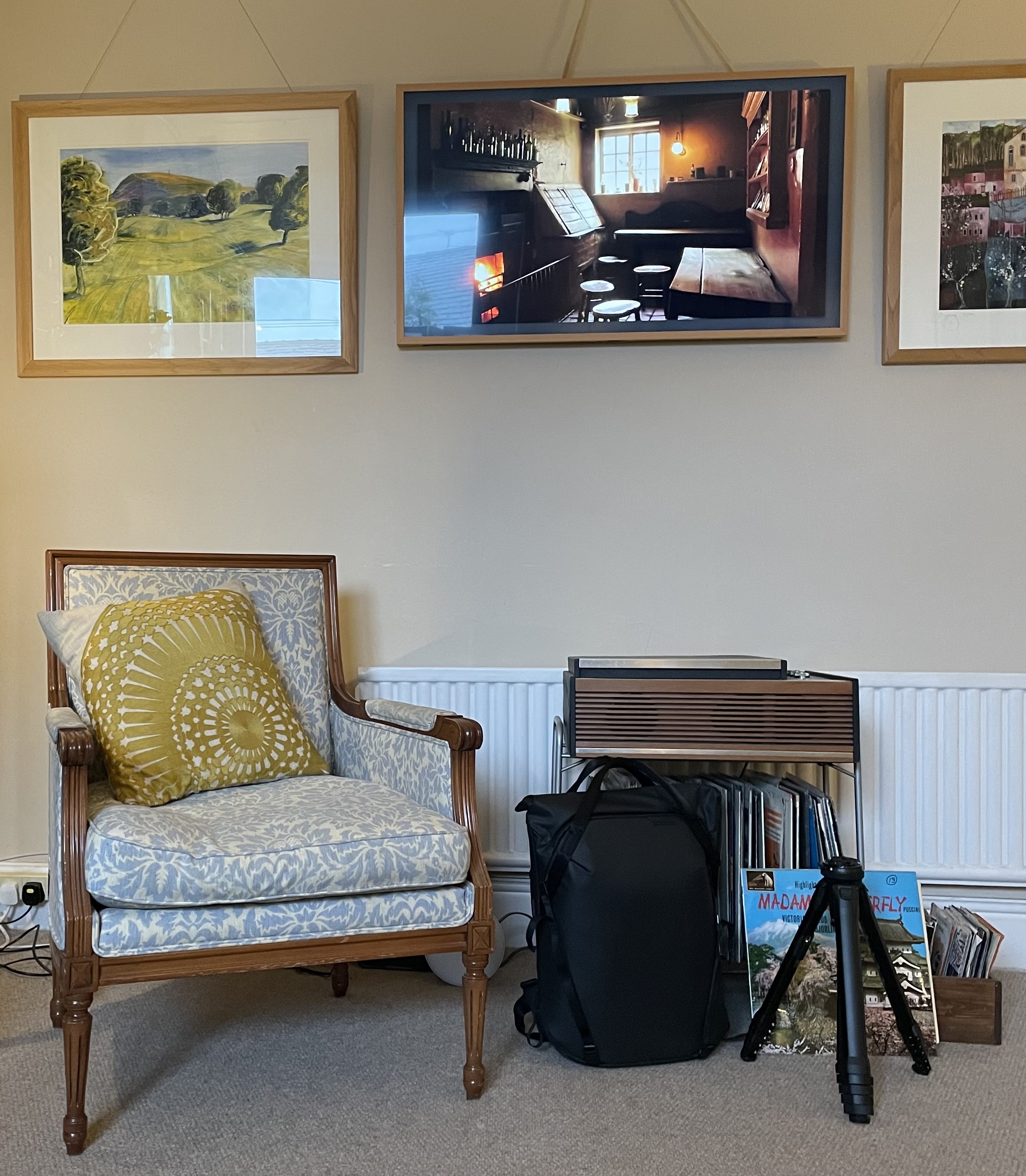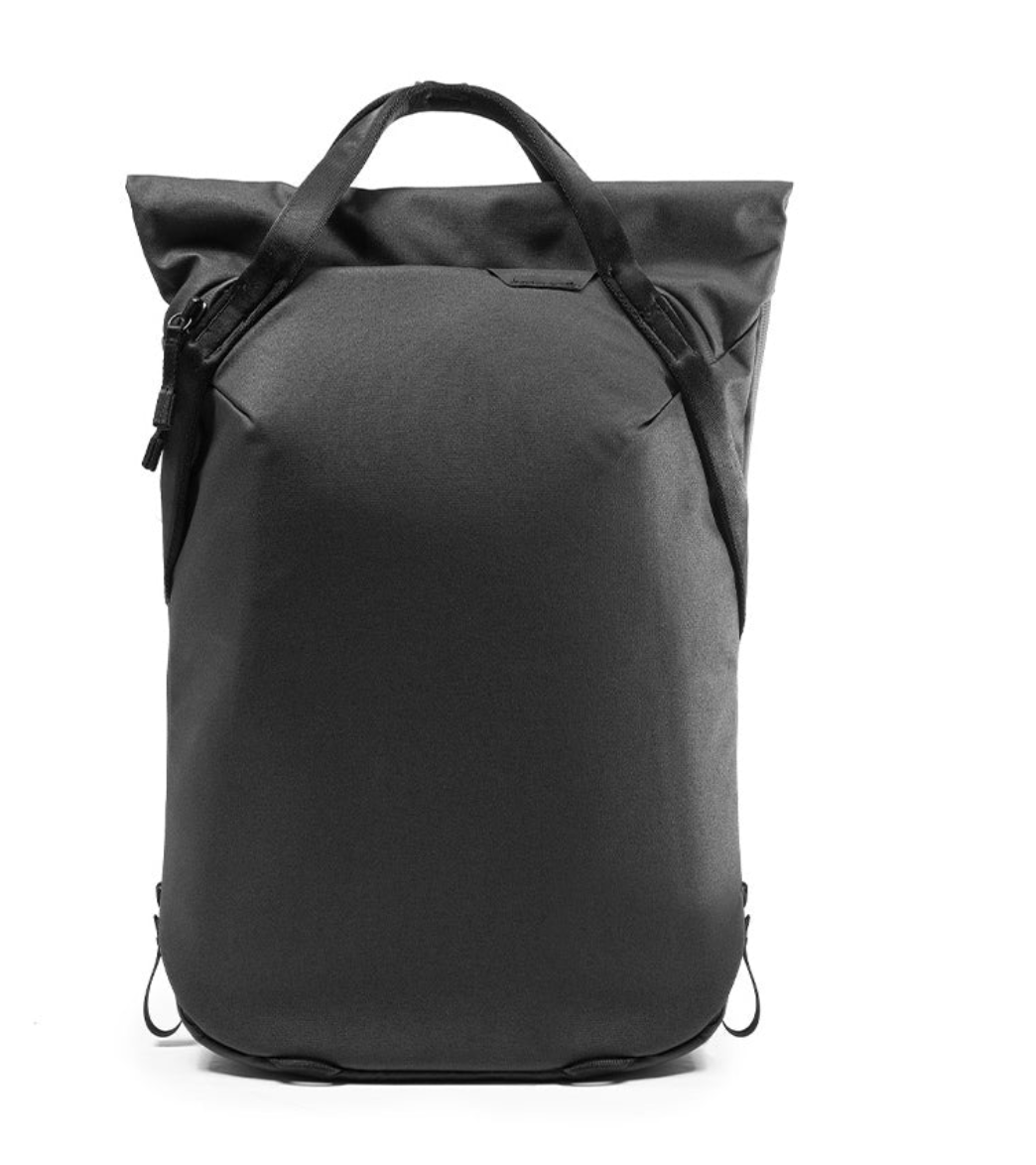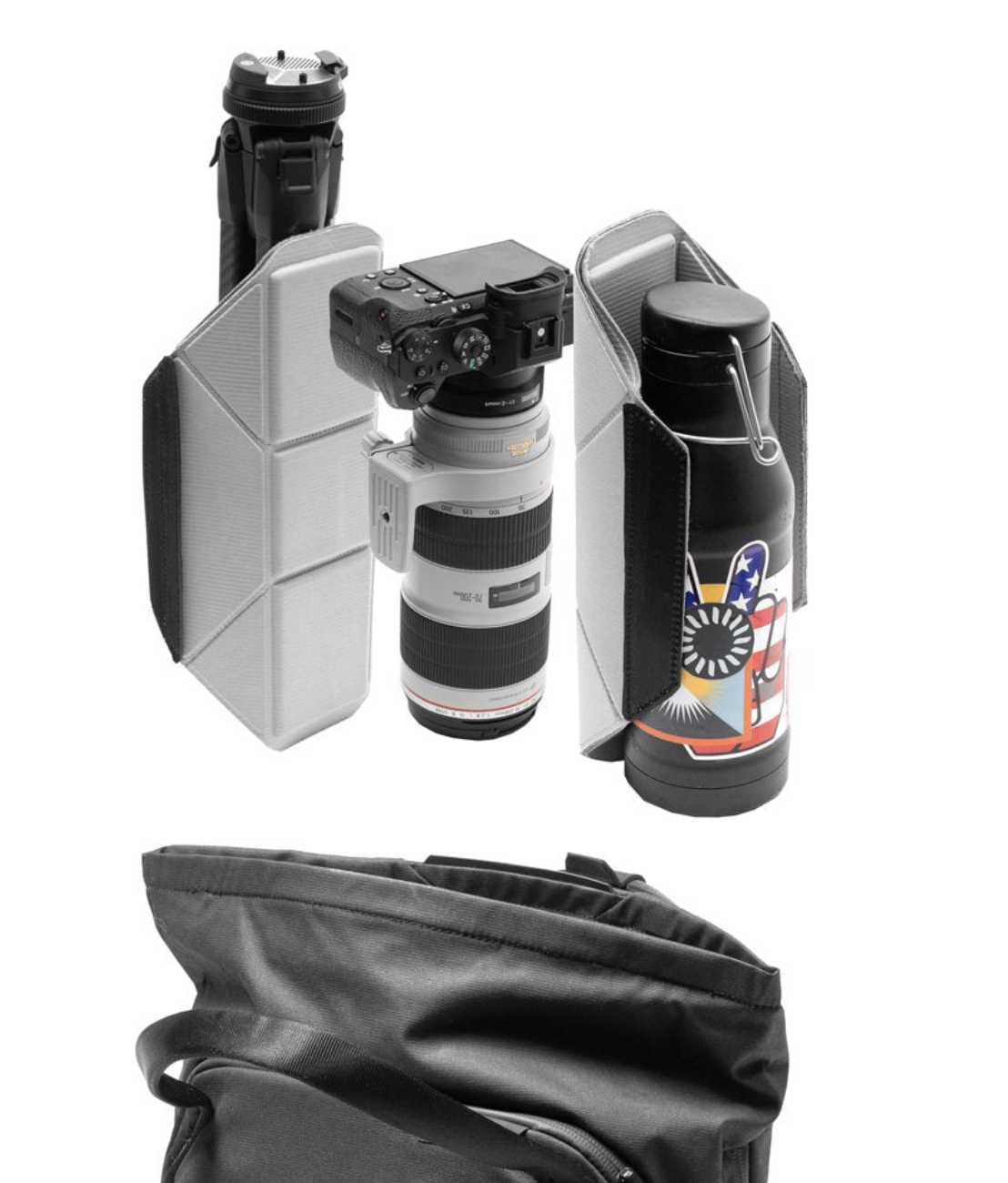 Out of all the bags I have, one of my favourites is still my little Billingham Compact Stowaway - I can't believe how much this bag holds. I still forget some of the hidden pockets that it harbours. Currently (this would have been hard to believe a few years back) this bag holds my videography kit - camera, mini-drone, wireless mics, cables, 360 cam and much more. It also doubles as a leisure bag. When I'm out and exploring it holds my compact camera, my phone and a notebook and pen.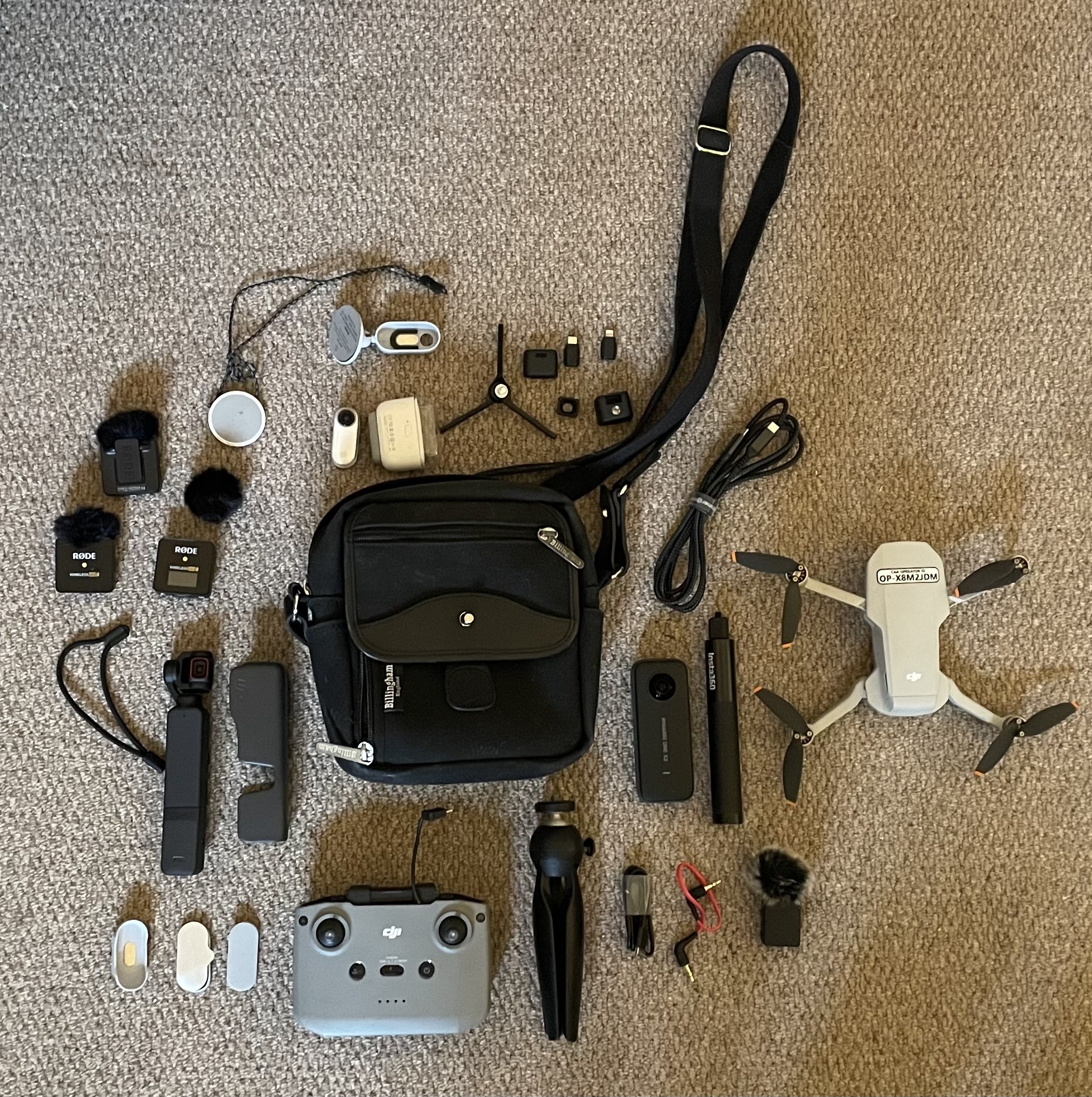 From the Twittersphere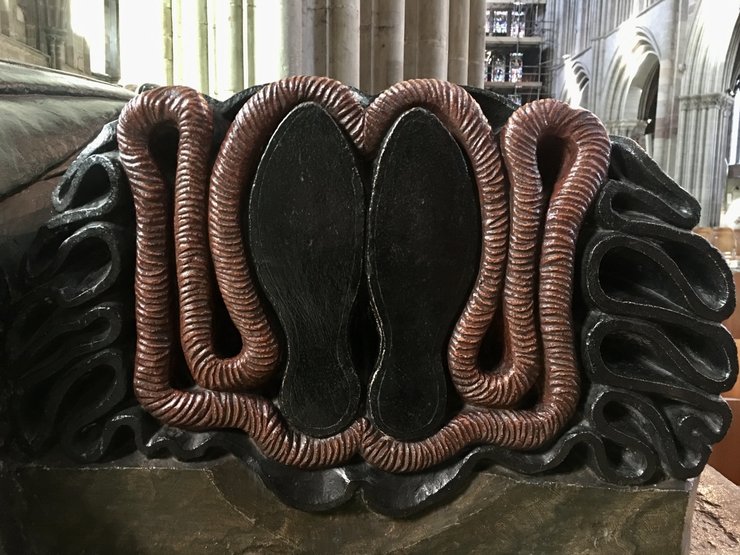 Thank You
A huge thanks to those that have signed up for membership.
As well as the weekly Digests, you'll also receive an exclusive 'Patina' monthly digest at the end of this month. Here you'll be able to glimpse insights into how my book is developing (with extracts) and also get a link to your free digital download.
New Members
New members can access the other Patina digests here. Click on the relevant Patina issue and follow the instructions to read. This is the best way to read my book excerpts from the start.
Become A Member

I love creating this digest - it's a labour of love - and it remains free to all - posted out on a weekly basis, more often than not, from my travels in my van. It documents my engagement with our increasingly threatened historic built environment (heritage). I help others form attachments, ties and obligations to place.
From a Victorian trading shack in Oregon, USA to a medieval church in Stratford, England, our heritage is a vital part of our wellbeing - it nourishes us and contributes to a sense of identity. The aim of this digest is to underpin the significance of our heritage and share it with others to confront creeping baseline syndrome and help others develop new ways of seeing and interacting with the historic environment.
It takes a day every week to produce this digest and you can opt in to support my work by becoming a member. There are some juicy member benefits too - become a member here.
Thank You. 📸🚐🏛
And Finally...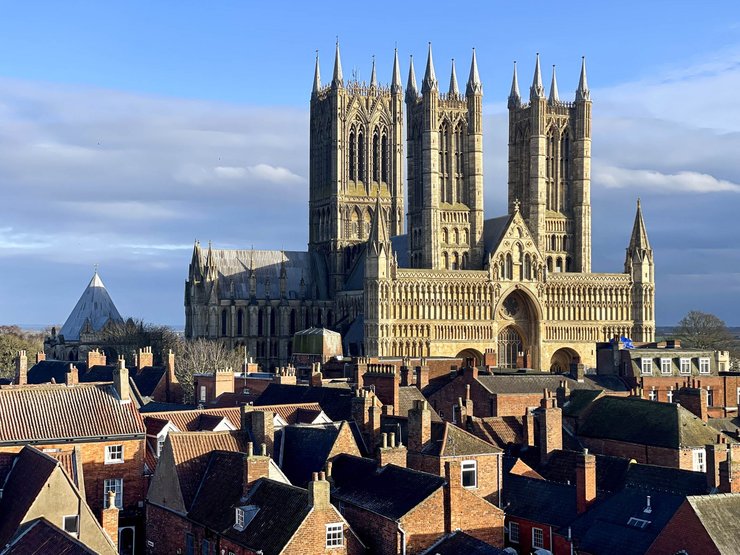 You're in for a treat next week as my travels take me to Lincolnshire and Nottinghamshire.
See you next Friday, Andy.
My Linktree