Welcome!
I'm an architectural photographer and writer.
On my van-life travels through the British Isles I'm building up a word and photo-hoard of material culture that celebrates the value and distinctiveness of our built heritage and contributes to a sense of place.
My van is my time-machine, it gives me fresh perspectives on our remarkable places, shared here on a weekly basis. 📸🚐🏛
🏛 Missed the last Digest? Here it is.
🚐 View Digest Archive here.
⚡️ Note: I'm going on holiday! The next Genius Loci Digest will be posted on the 30th September. I will still be posting out content on Twitter Circles and Patreon.
---
Photo-hoard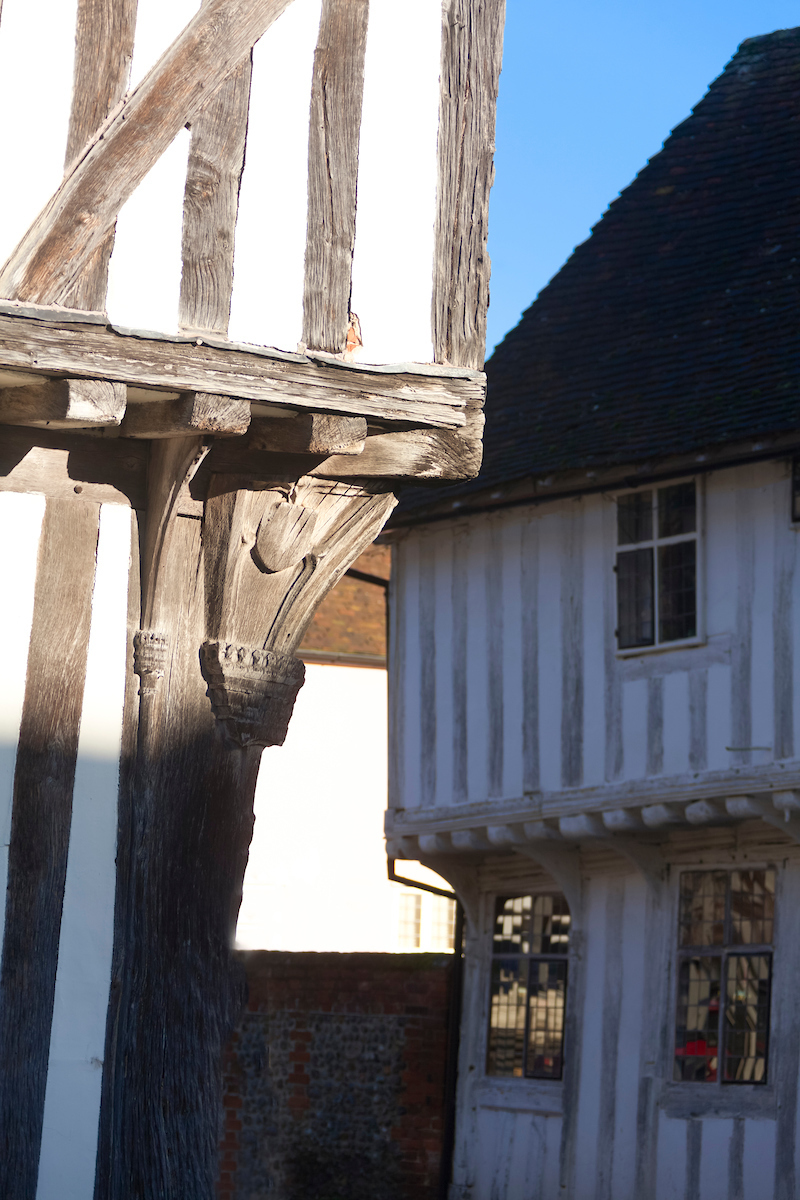 C16th Wool Hall detail (foreground) - Lavenham, Suffolk.
Words
"The creature in the corner of the dream was still gazing at her, unsatisfied and unsettled. This sense of incompletion chewed at her, and she resolved to keep at the idea until she had conquered it."
Elizabeth Gilbert. The Signature of All Things.
Observations
A Comperandum - The Facades of Oundle, Nottinghamshire.
A nod to Banister Fletcher.
Variety is the spice of life and the diversity of materials, styles, textures, details on the facades at Oundle in Northamptonshire is one of its true delights.
As an exercise in visual literacy - try scrolling the facades backwards and forwards - first follow the window designs through, then the roofs, then the doors etc.

Hotspots
After a photo shoot in the North East I head down the A1 towards Peterborough for some photography in Nottinghamshire.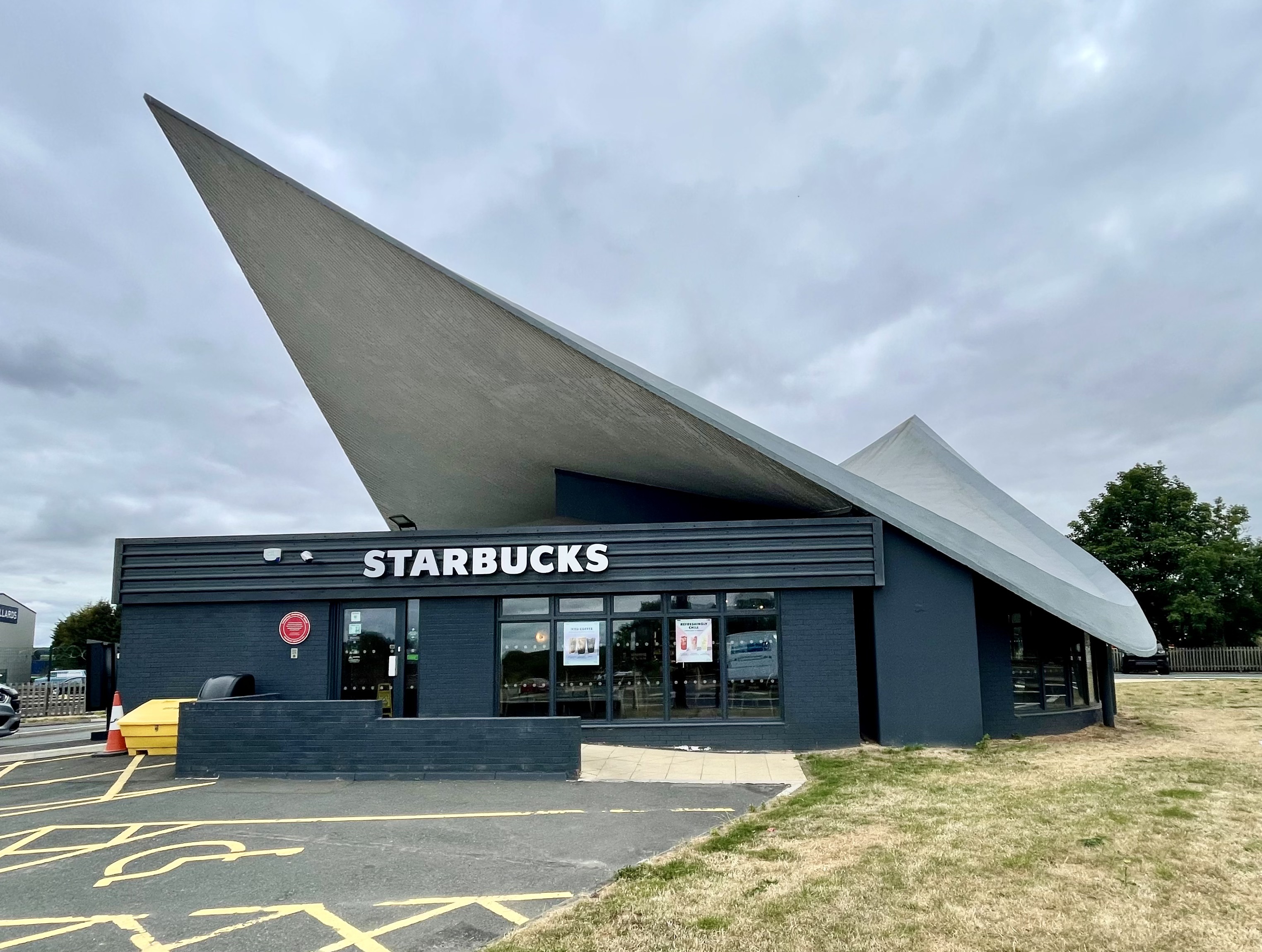 A1 Starbucks
I've always wanted to stop here, but I always miss the turn-off as I hurtle down the A1 - not this time. The canopy to this former petrol station, just off the A1 in Markham Moor in Nottinghamshire, is grade II listed by Historic England.
Here's the reason for designation:
"The canopy to the former petrol filling station, constructed in 1960-61 to designs by architect Hugh Segar (Sam) Scorer and structural engineer Dr Hajnal-Kónyi, is listed at Grade II for the following principal reasons: * Technical innovation: it is a particularly direct example of a hyperbolic paraboloid roof, an unusual and dramatic roof solution which was then being experimented with by a number of architects and engineers all over the world. * Architectural interest: it is a dramatic piece of concrete design which displays the hyperbolic paraboloid form in a daring manner. * Architectural authorship: the team of Scorer and Hajnal-Kónyi was advanced in the design of hyperbolic paraboloids. Scorer is chiefly remembered today for his three buildings that are substantially roofed in hyperbolic paraboloid shells, two of which are listed, one at Grade II*. * Architectural distinction: during a period when standardisation of petrol stations was introduced as an aid to product recognition, the example at Markham Moor is unique by virtue of its technical innovation and individual design. * Rarity: it is one of few extant hyperbolic paraboloid shell structures from the 1950s and 1960s. * Intactness: The canopy and four structural supports remain intact and uncompromised by the inserted building beneath."
Oundle, Northamptonshire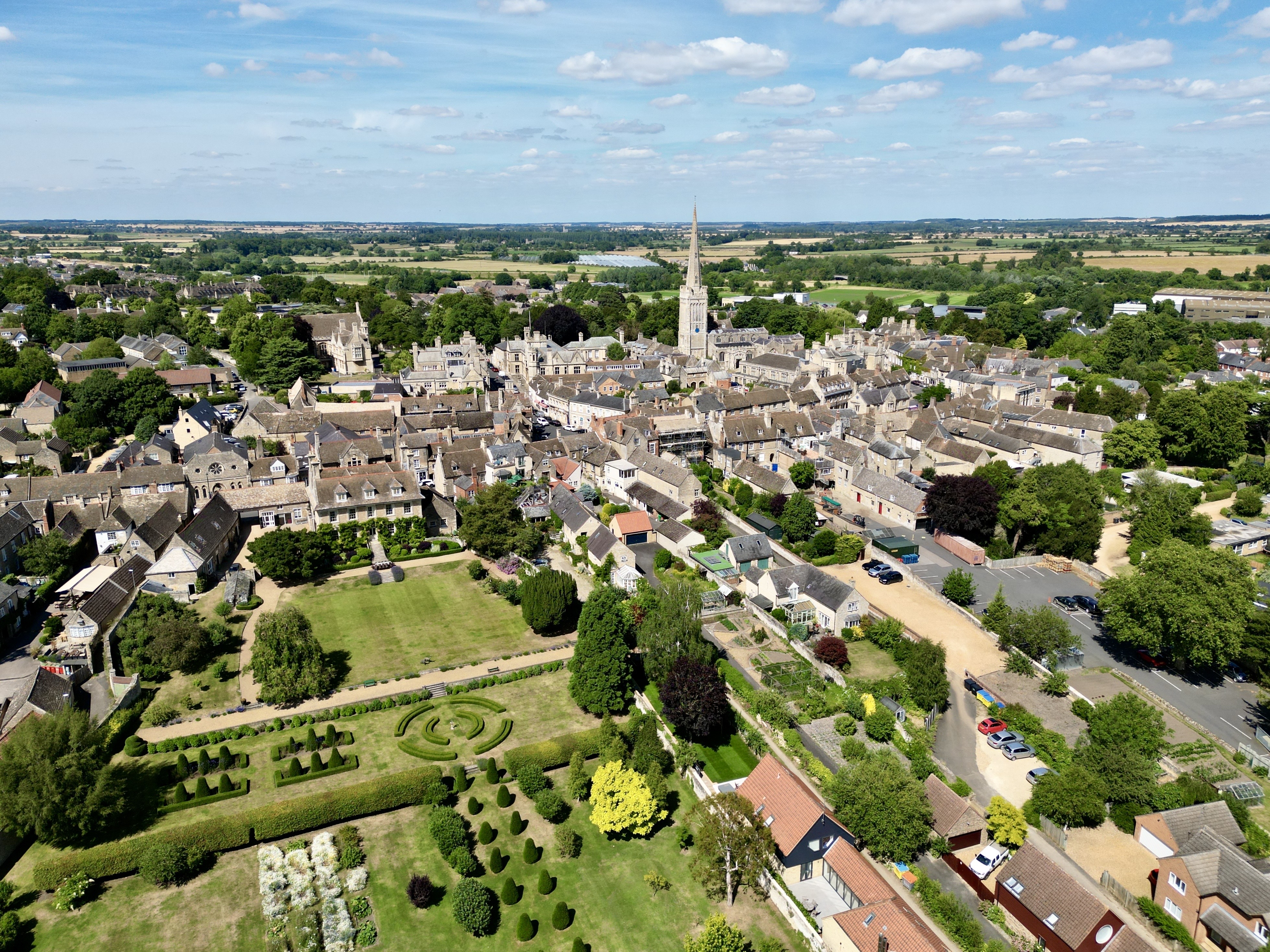 Oundle is a gem of a little town. It has some remarkable streetscapes and divine vernacular buildings dating from the medieval and post medieval period.
It has the feel of a university town with the grand architectural additions to the boarding school which is prominent in the town. The school has been governed by the Worshipful Company of Grocers of the City of London since its foundation in 1556.
St. Peter's dominates the town with its spire and is principally C13th with later alterations.
Thursday is market day and there is plenty of parking off East Road beyond the Joan Strong Centre - good for camper vans.
The Buildings and Streetscapes.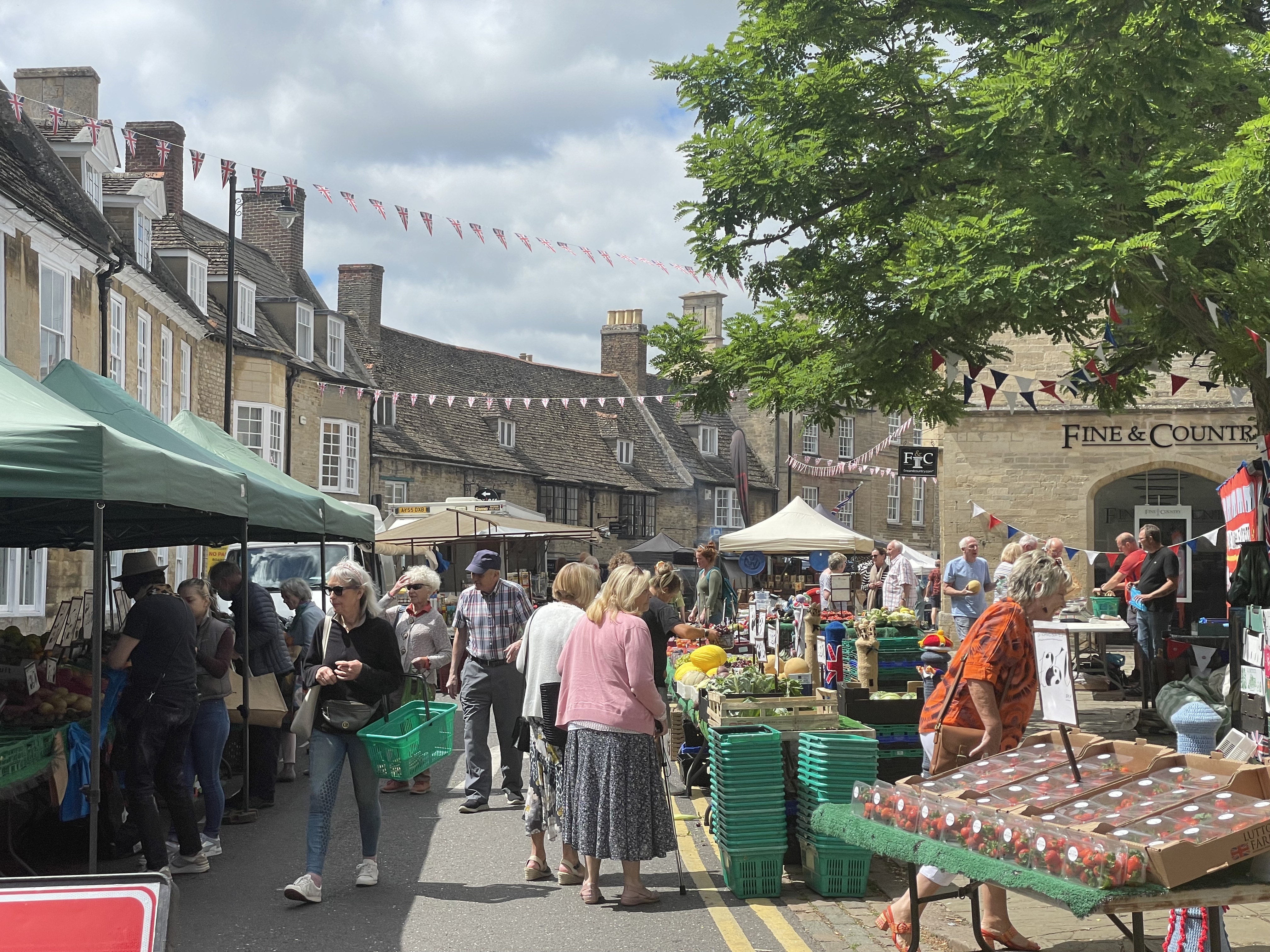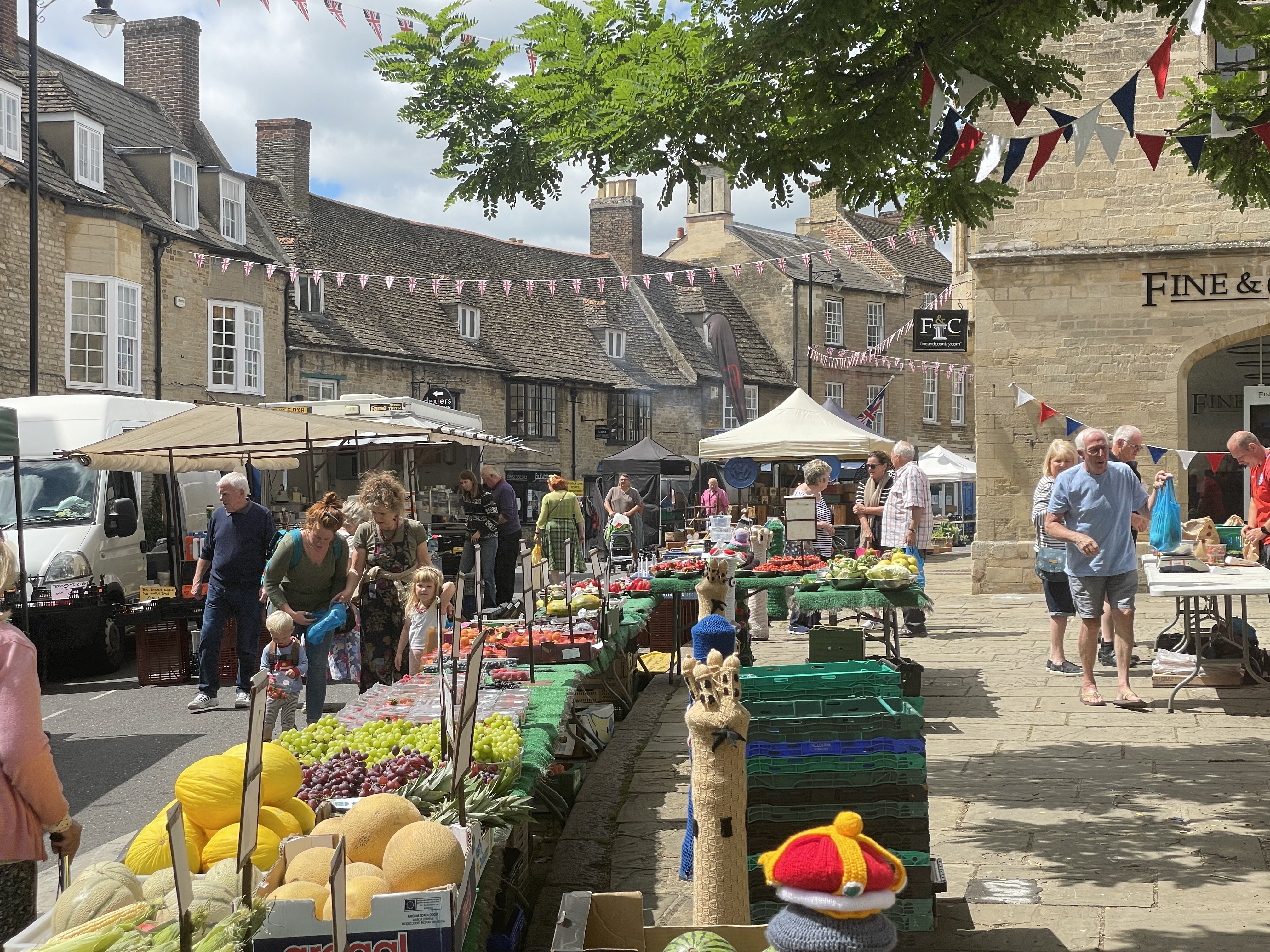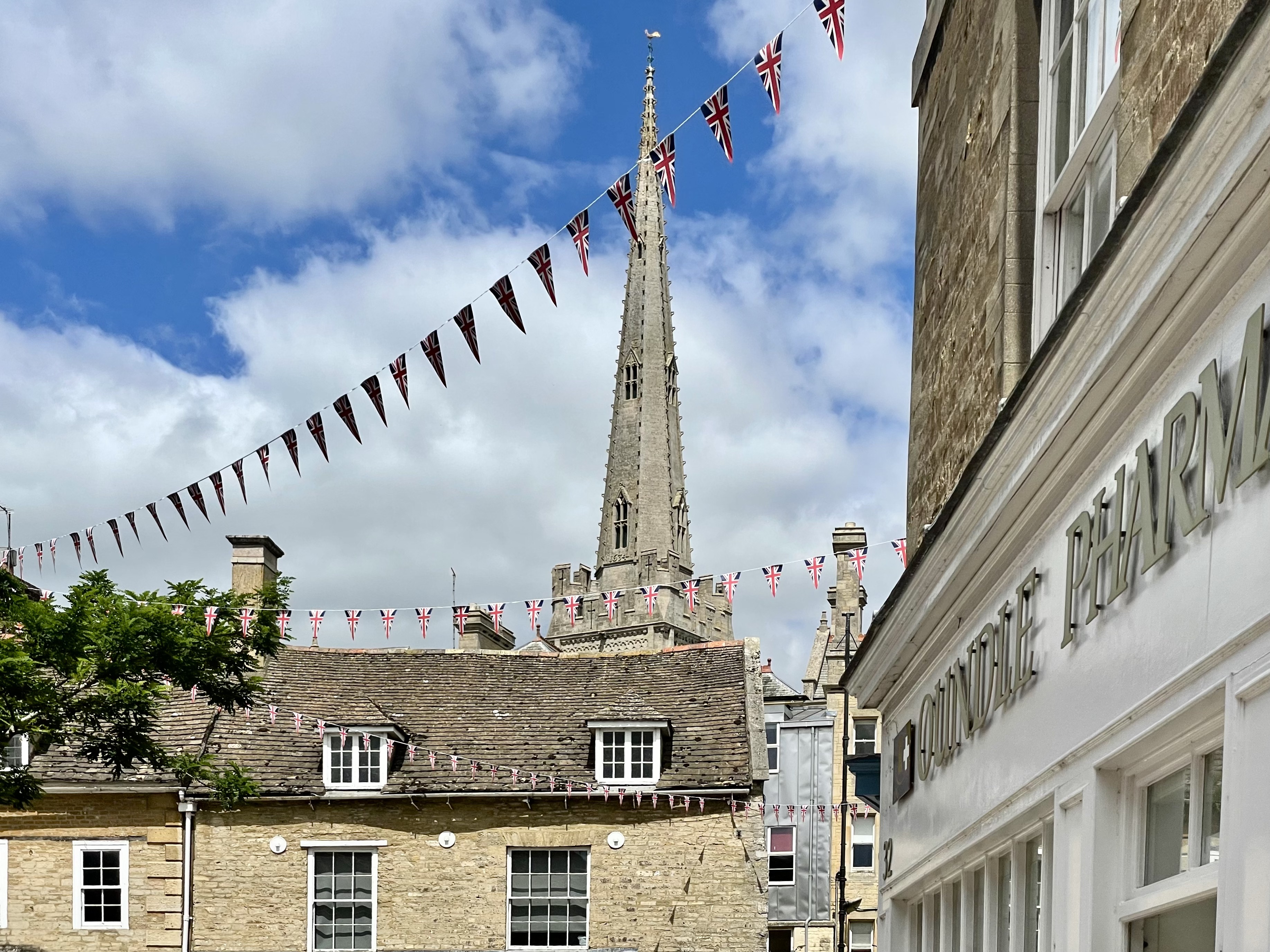 Late C17th facade with colonnade supporting a wooden lintel.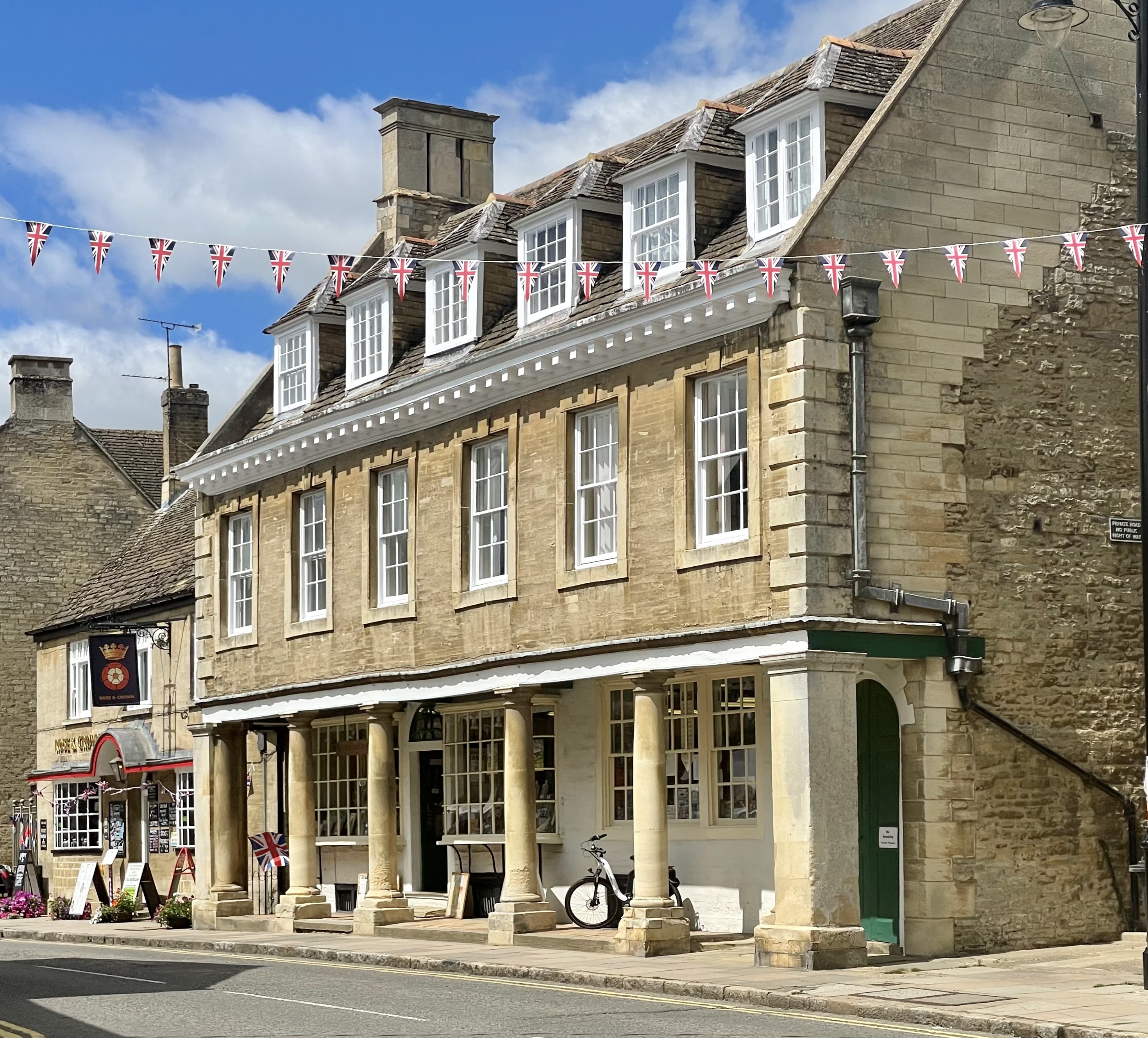 The streets are curved in Oundle - there's always a little intrigue as to what's around the corner.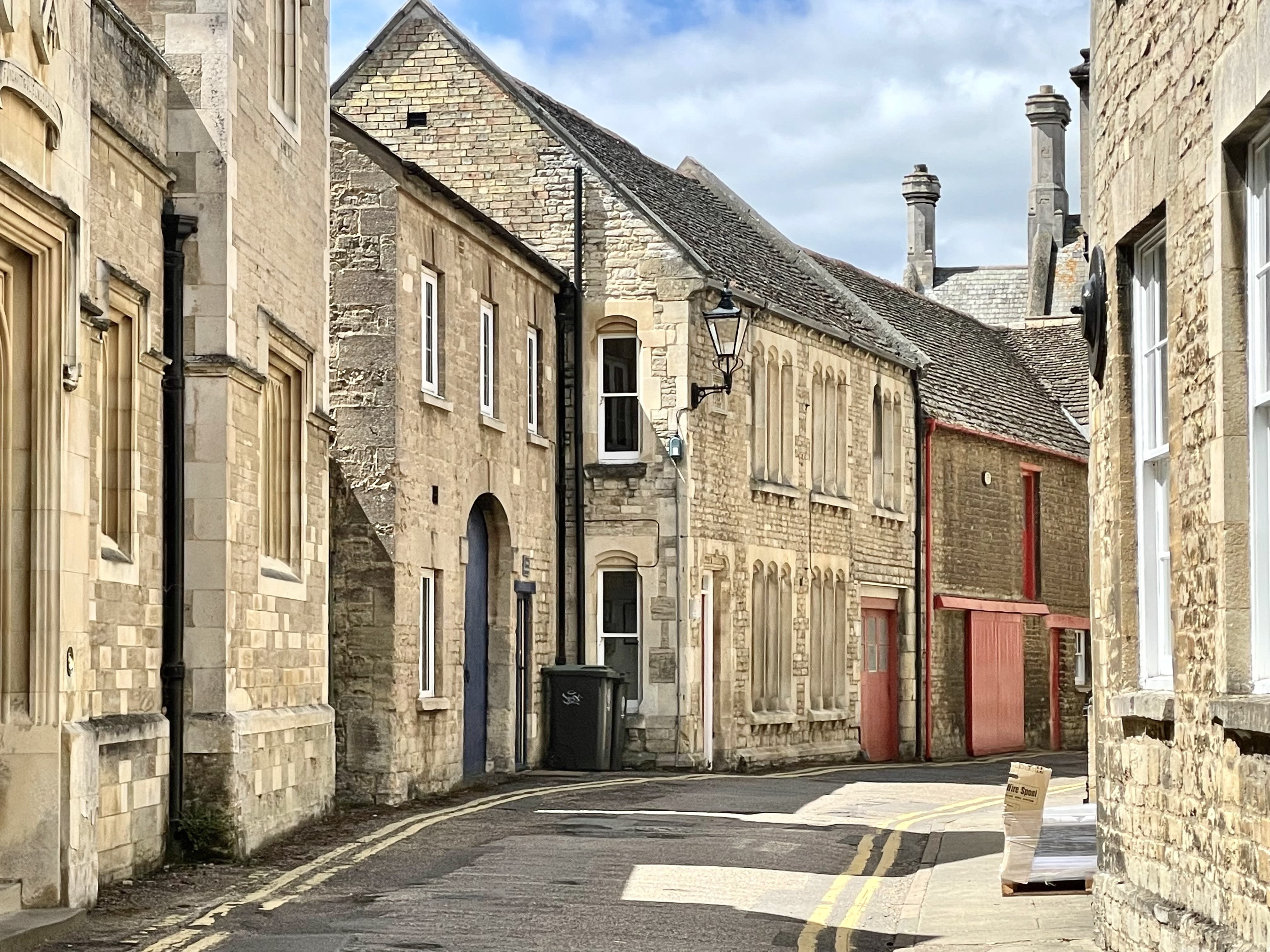 The public school has contributed to the variety in the street.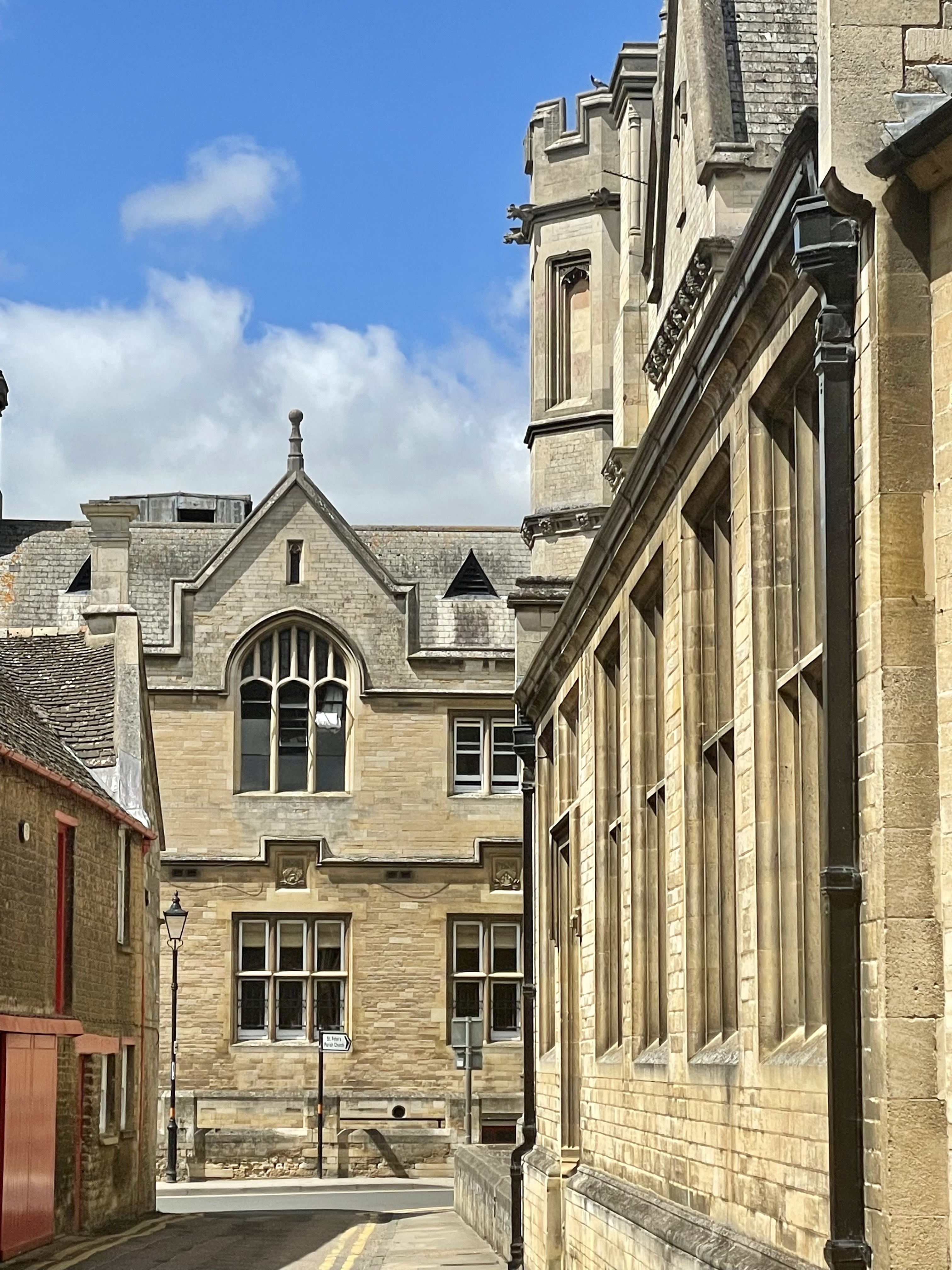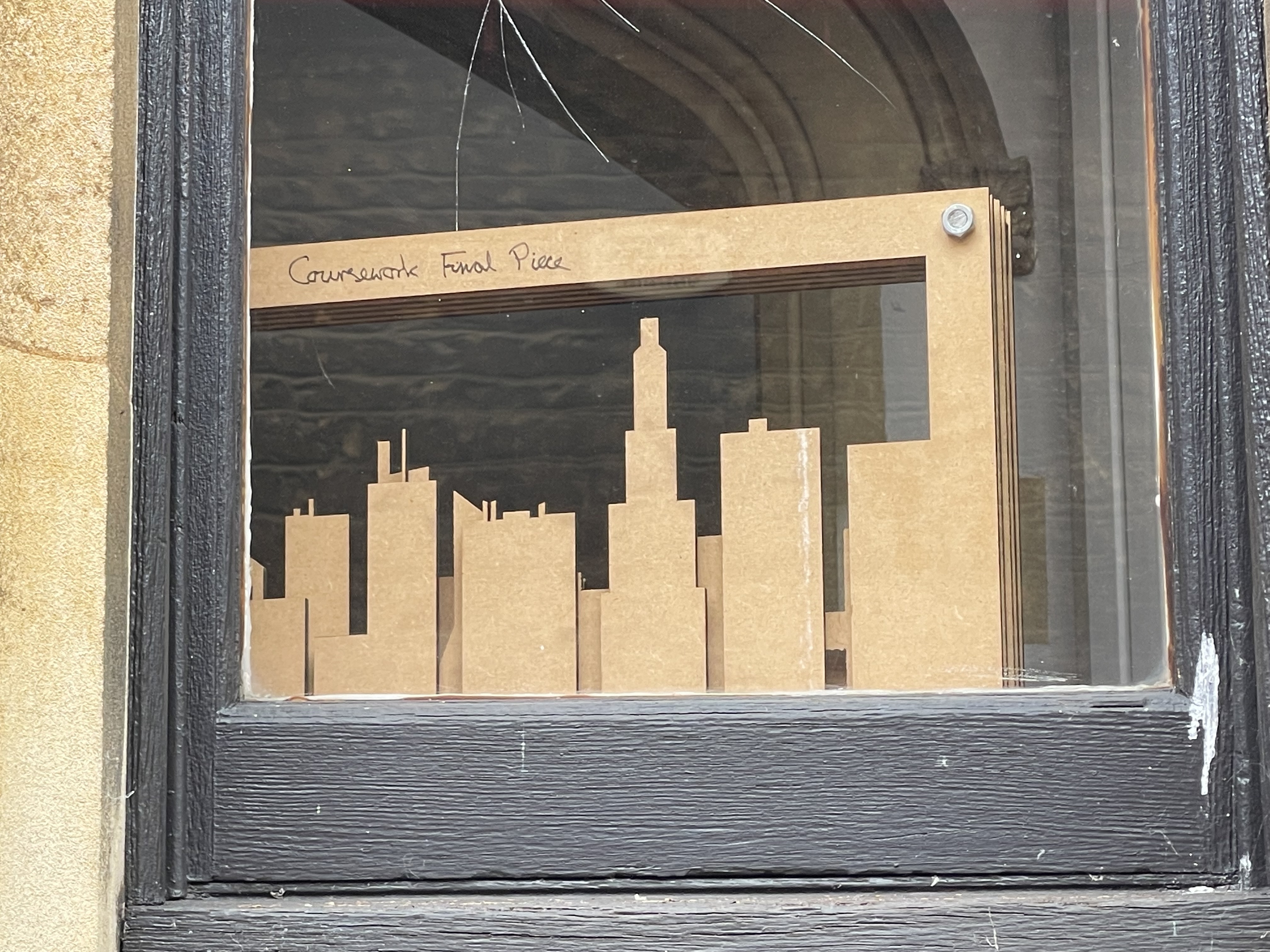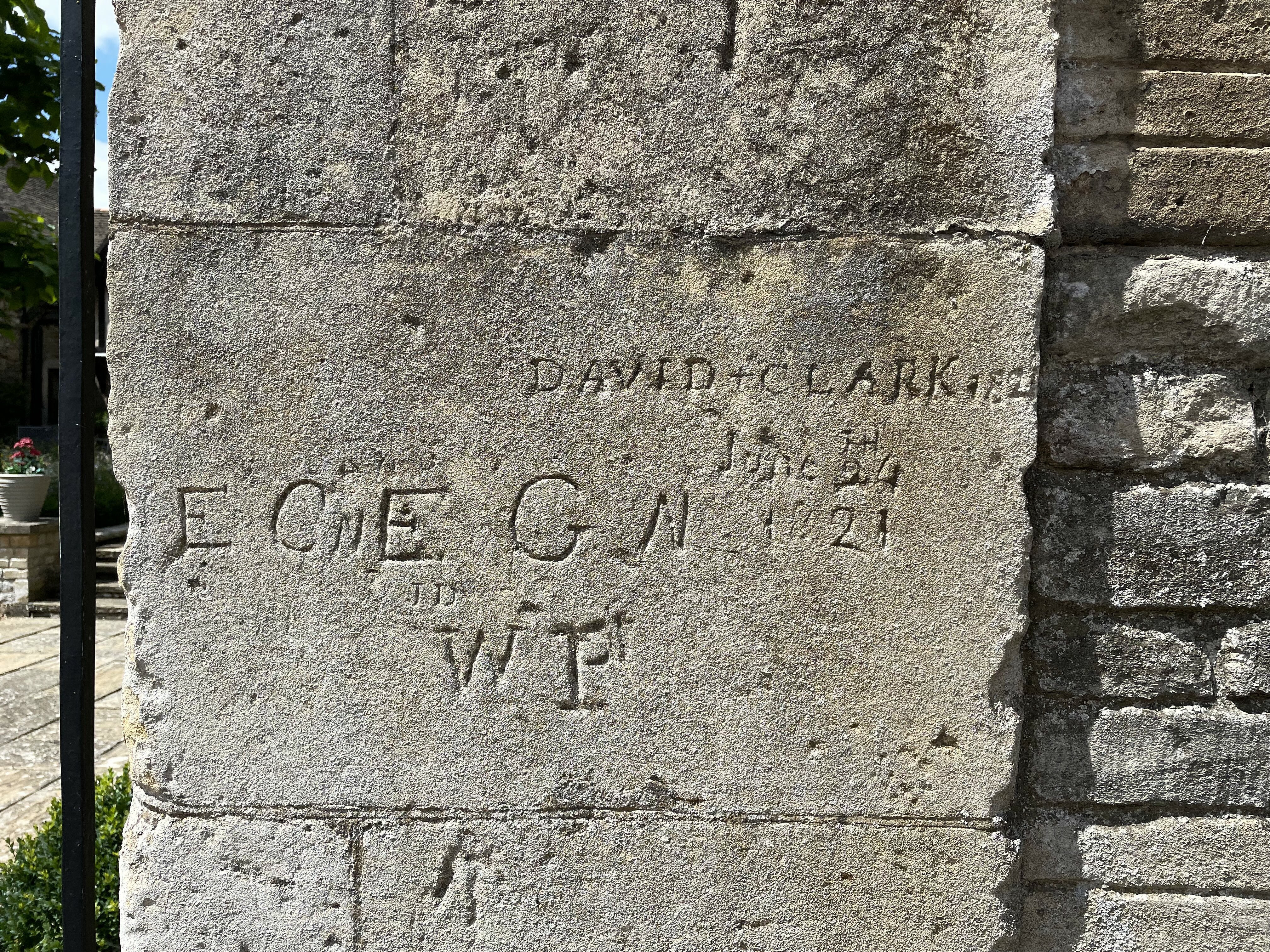 The former White Lion pub was built in the early C17th. I love this period of architecture - stone facades, projecting gables, thick-set ornate finials and chamfered mouldings.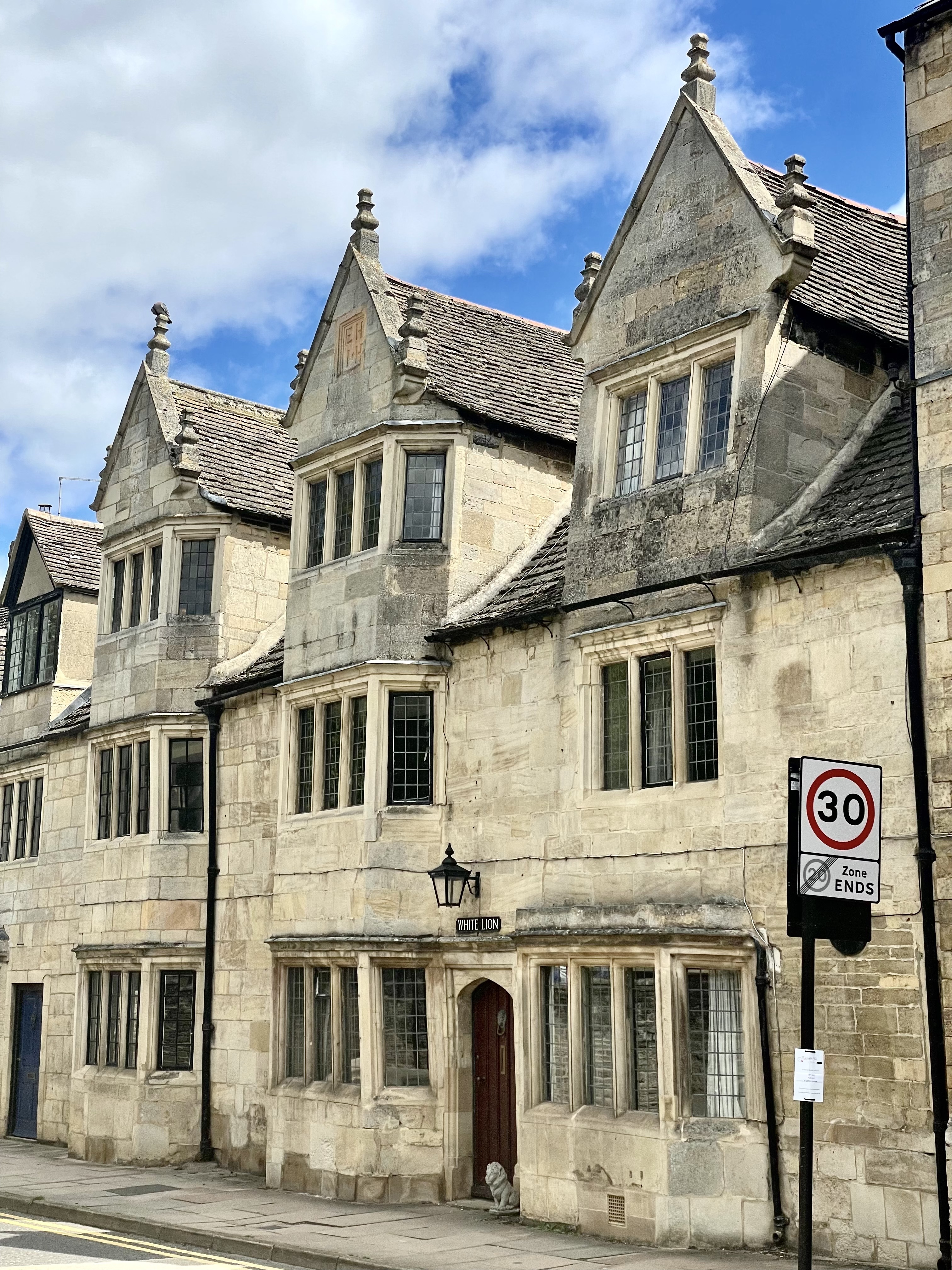 Snickets, ginnels, 'opes and entry ways are never to be passed without entering and exploring. Enter the carriage way through the C17th (with earlier core) Talbot Hotel and you walk into a world of Dickens with a delightfully random selection of timber framed former stables, barns and rooms to the rear.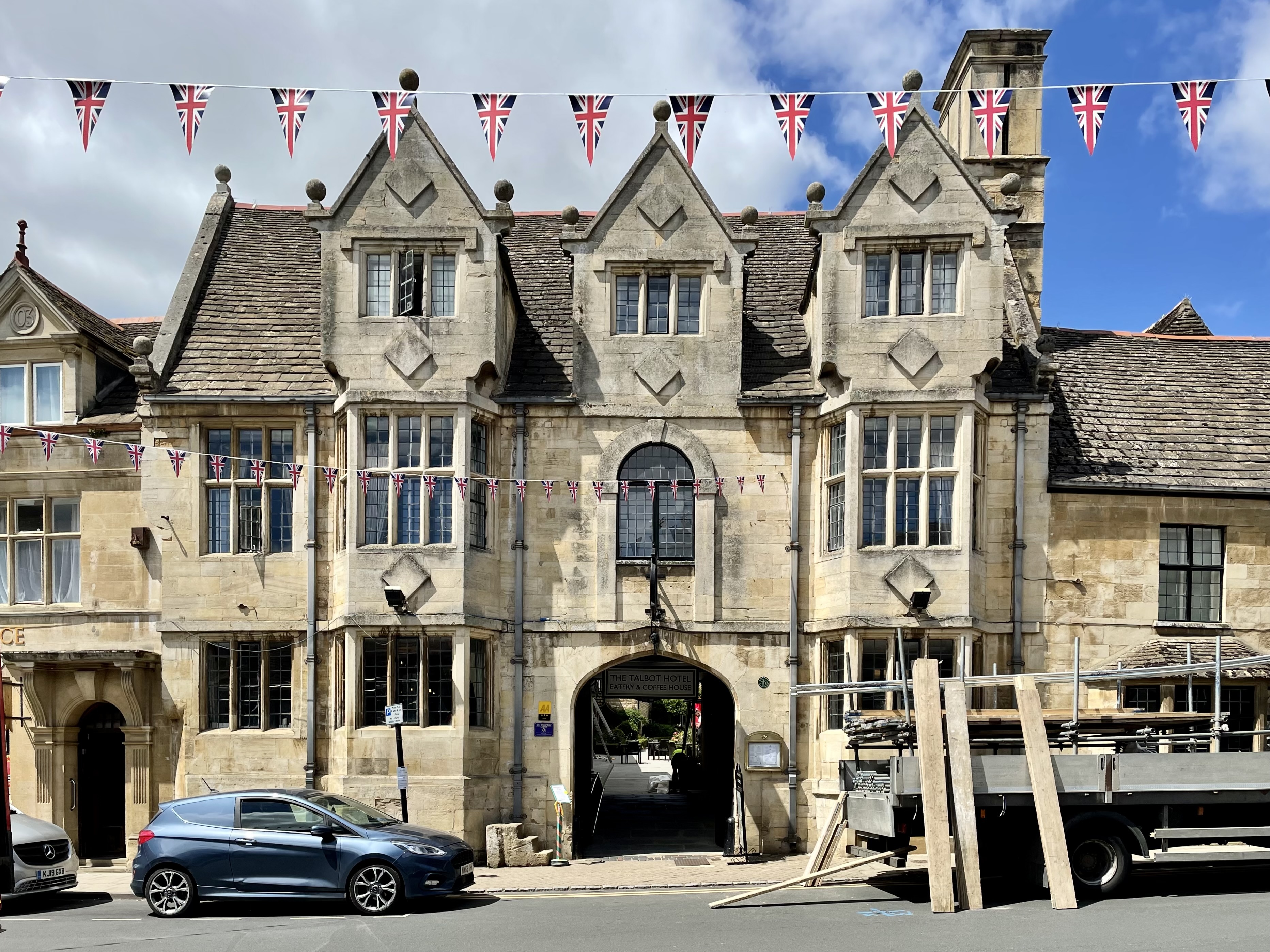 Check out this link for an earlier photograph of the below.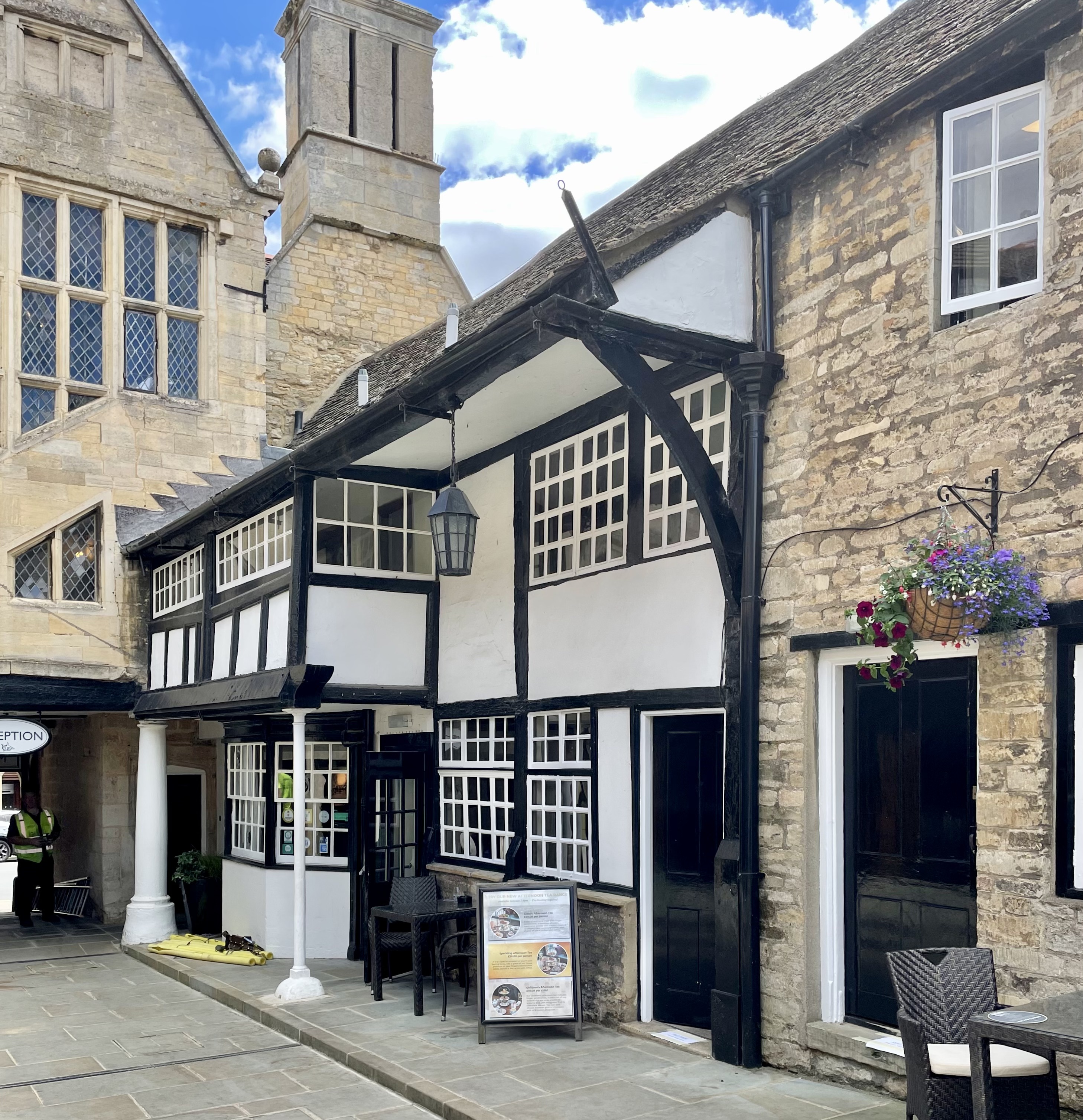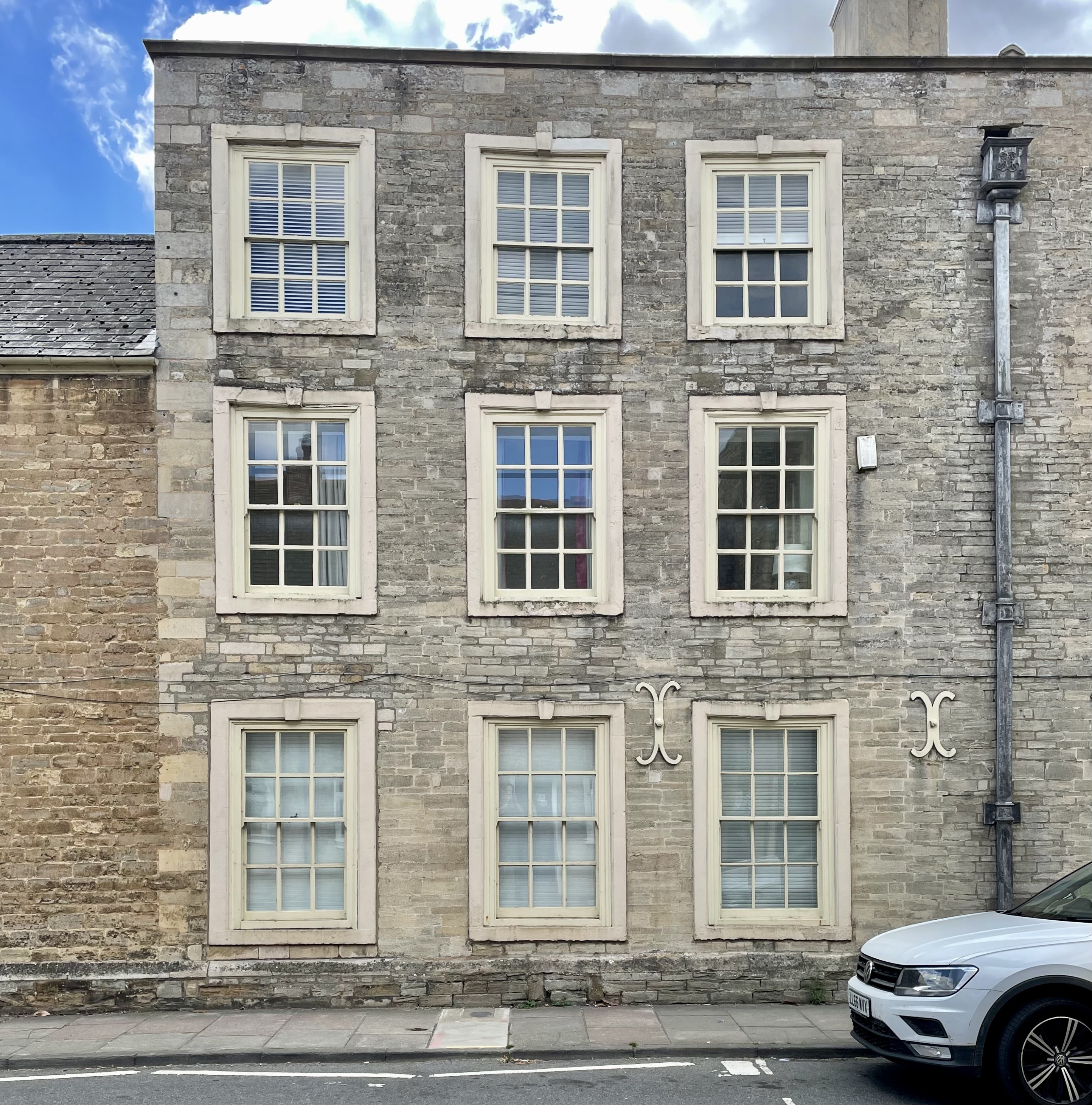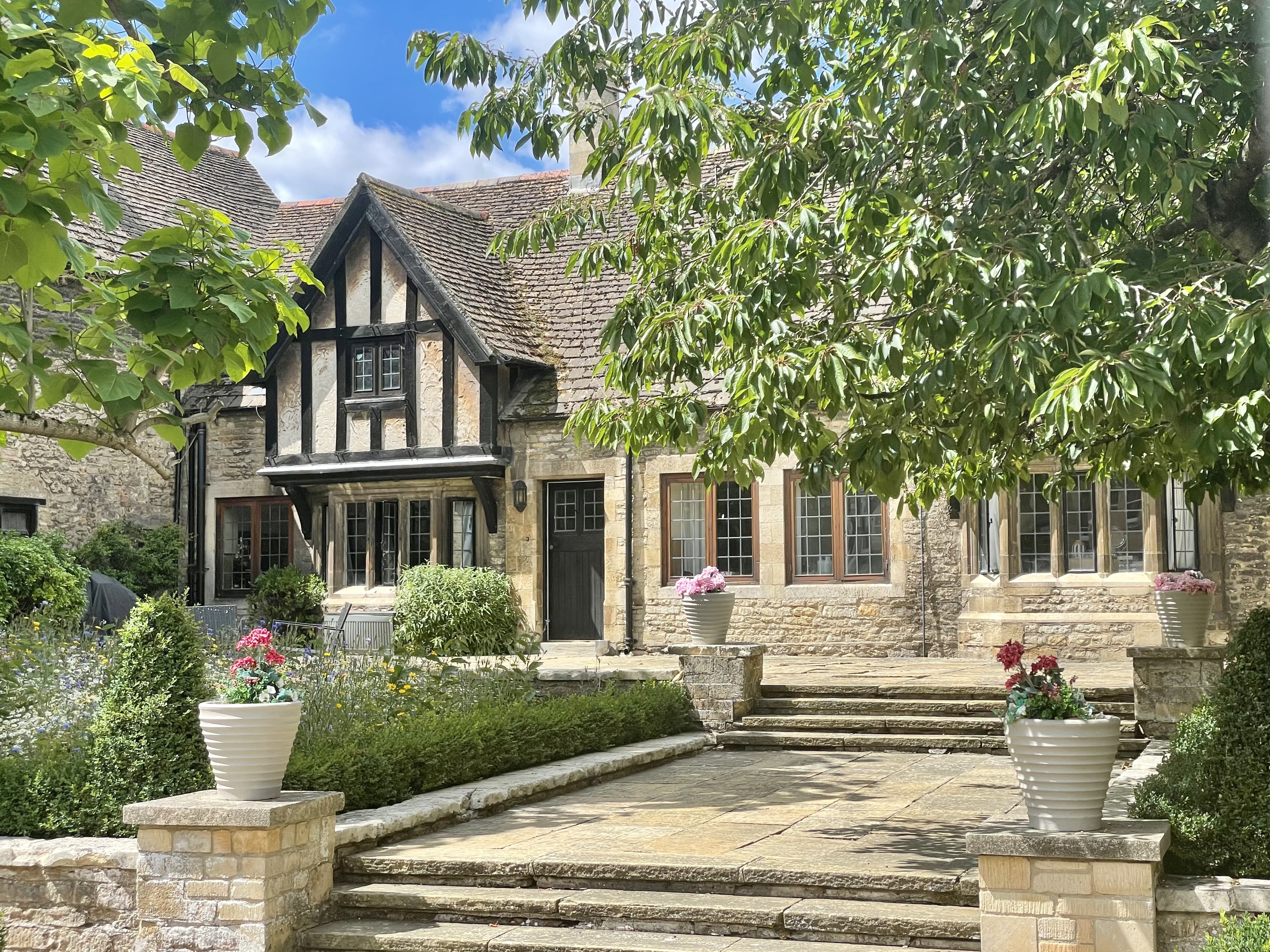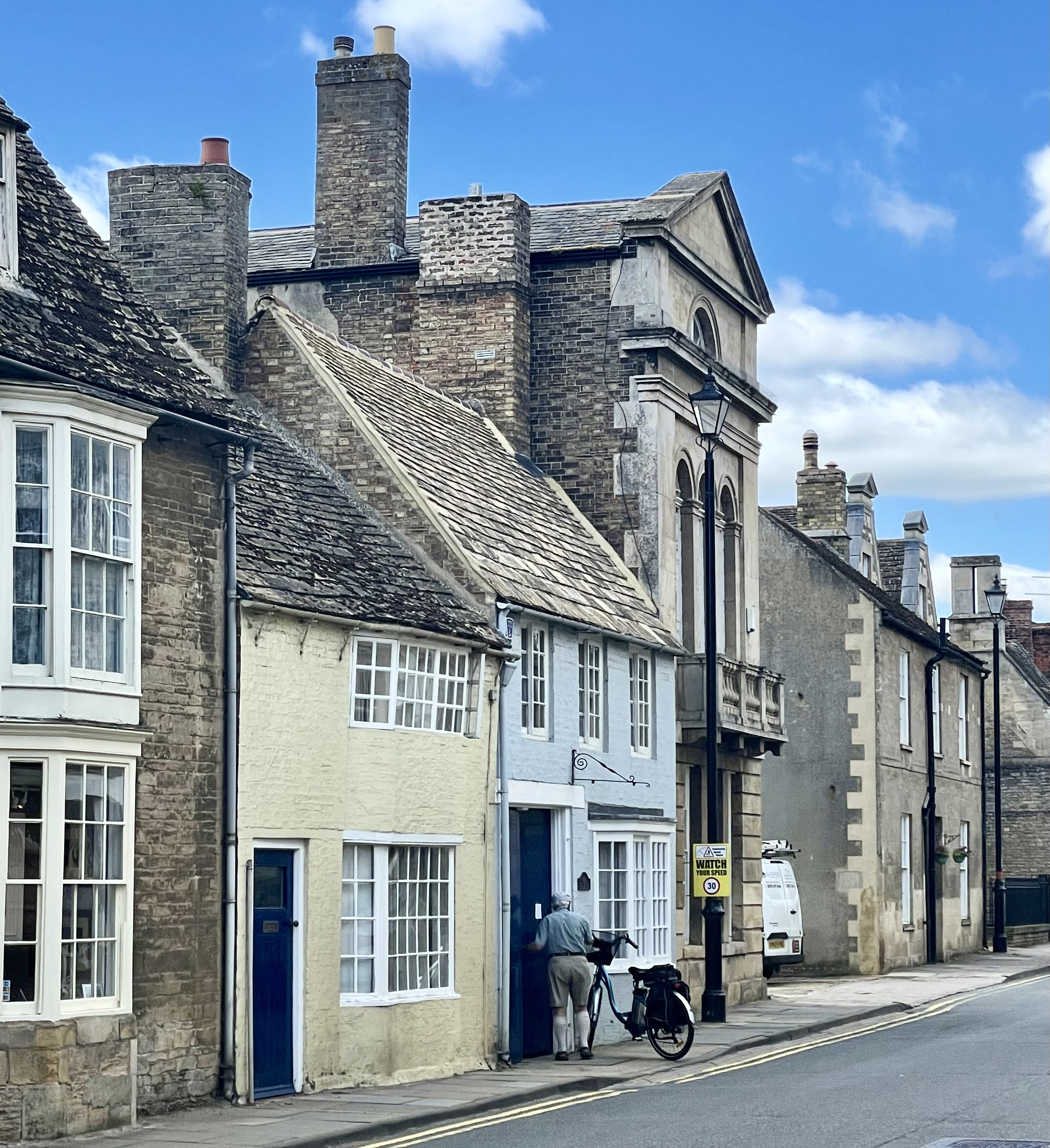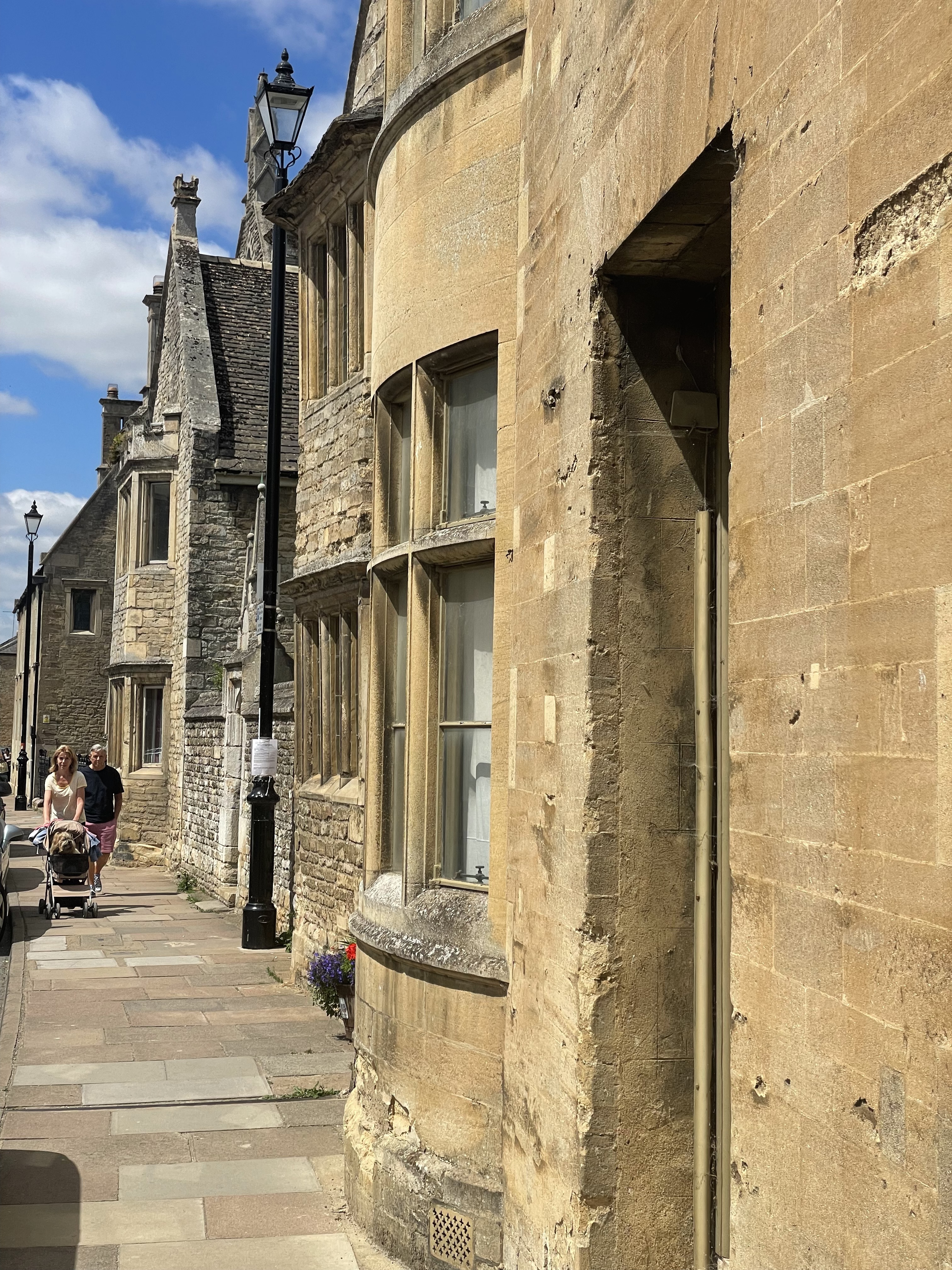 Paine's Almshouses of the early C17th on West Street.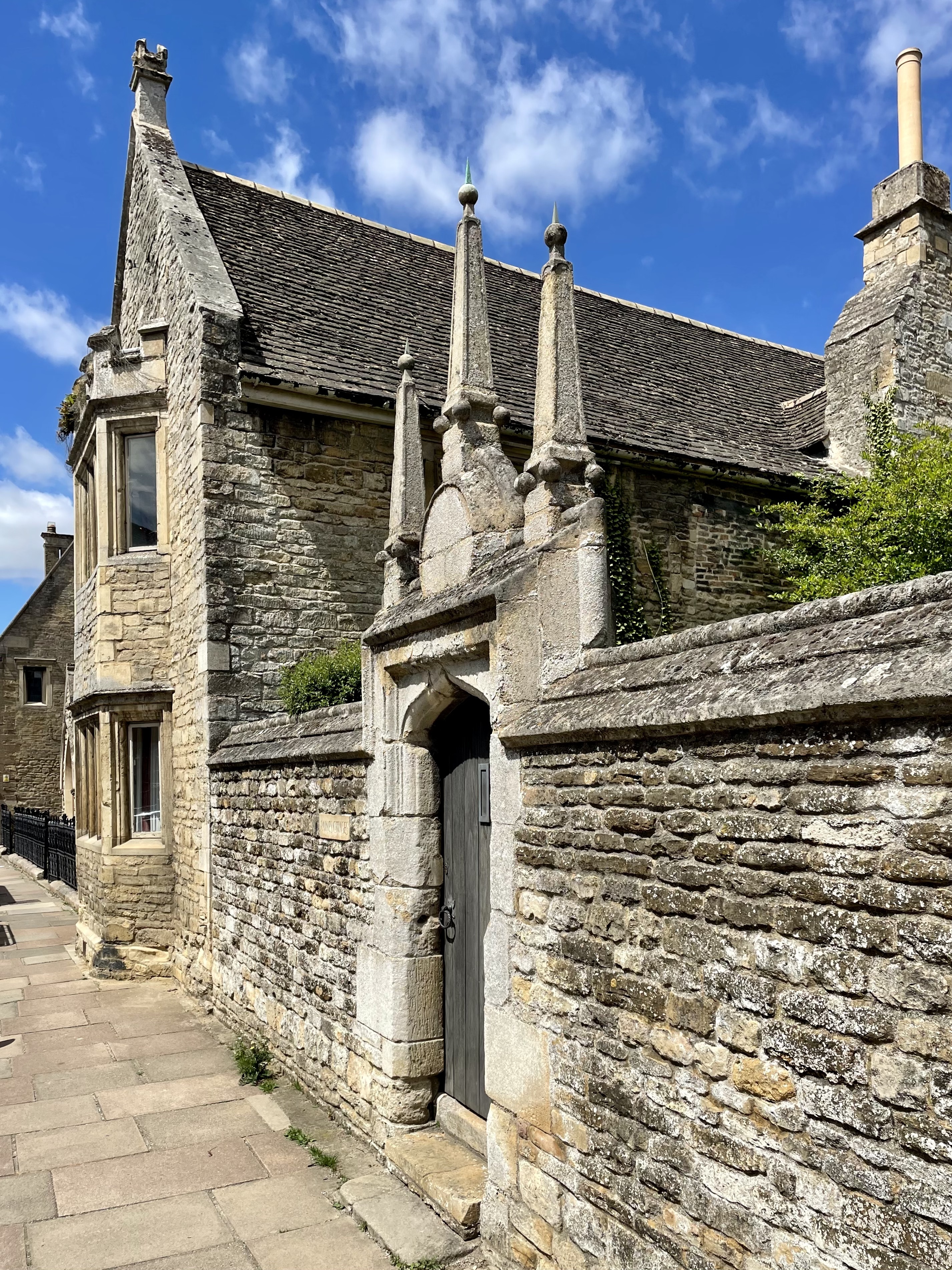 I do love an obelisk finial. They reveal a fascination with the pattern books of the late C16th and early C17th - many were produced in Europe.  These finials look as though they were out of a pattern book by Jan Vredeman de Vries (1527-1604)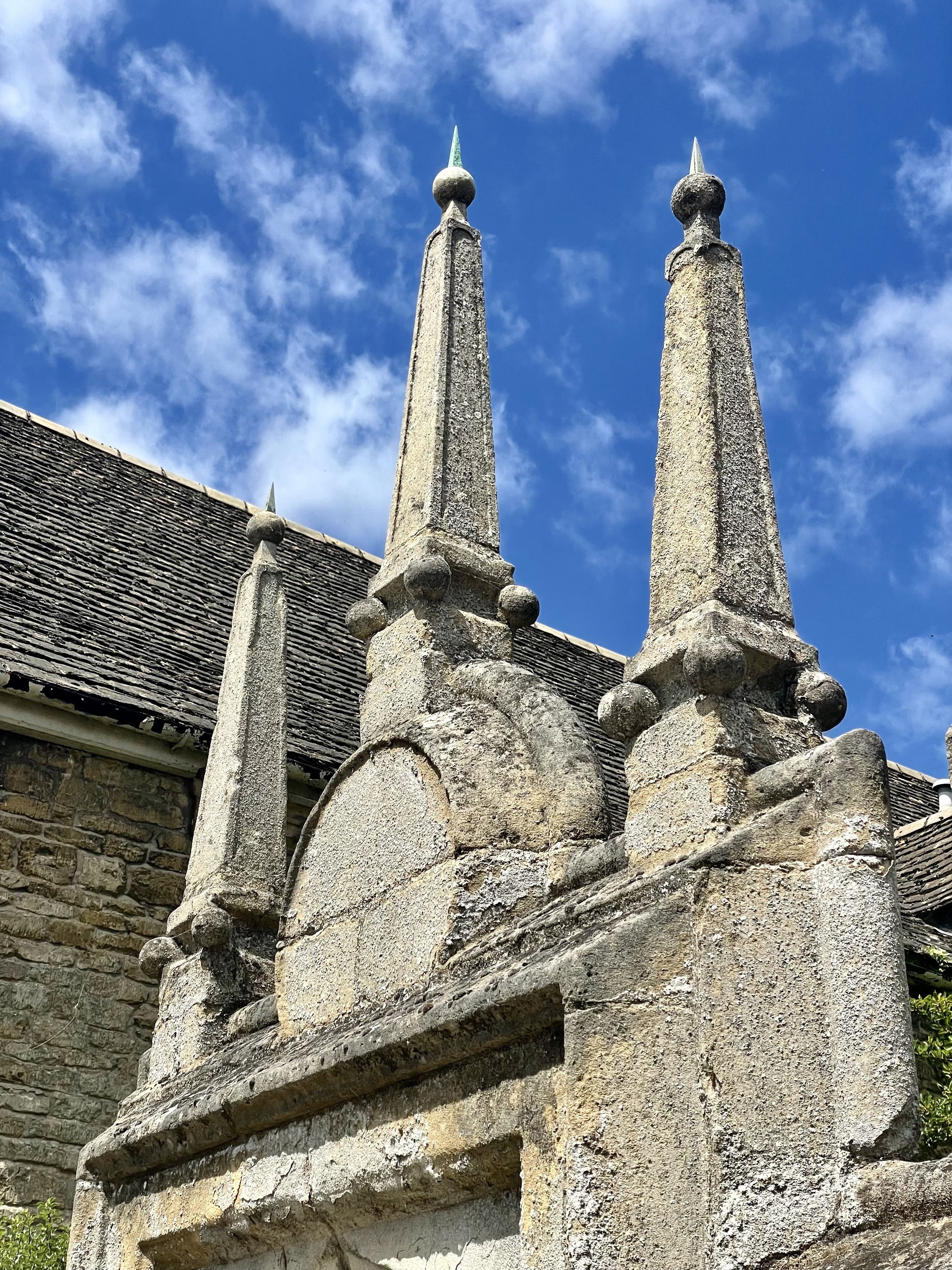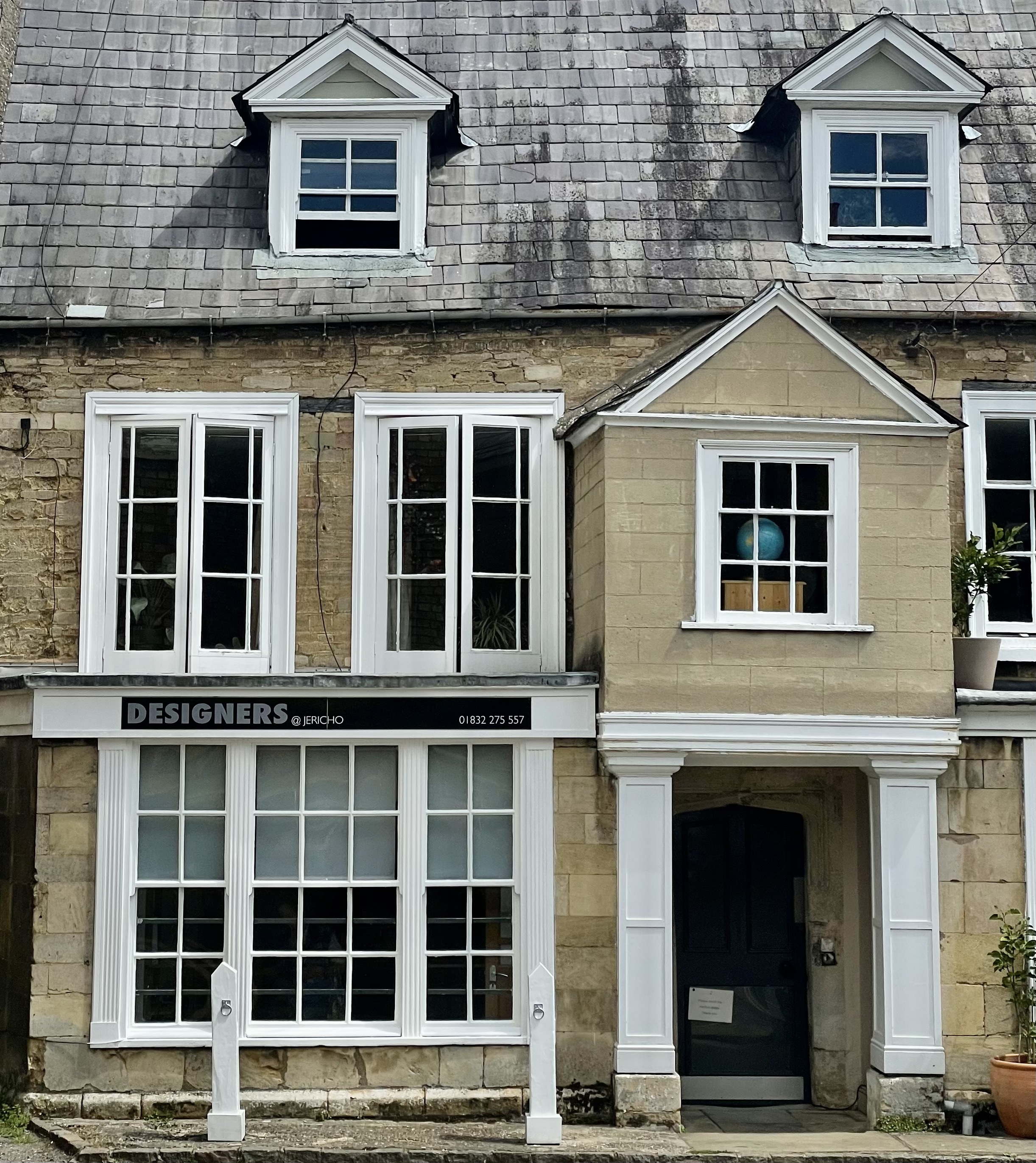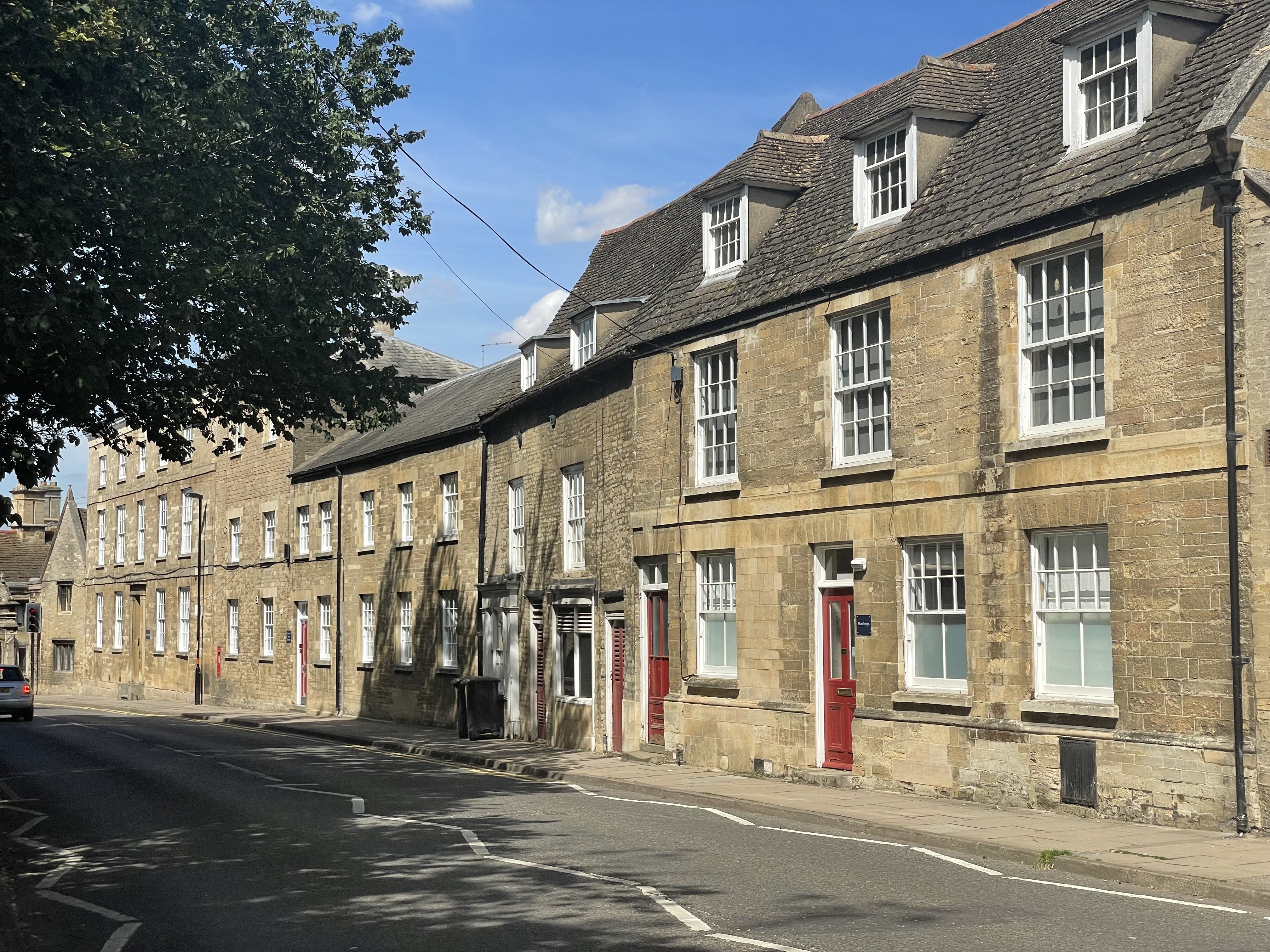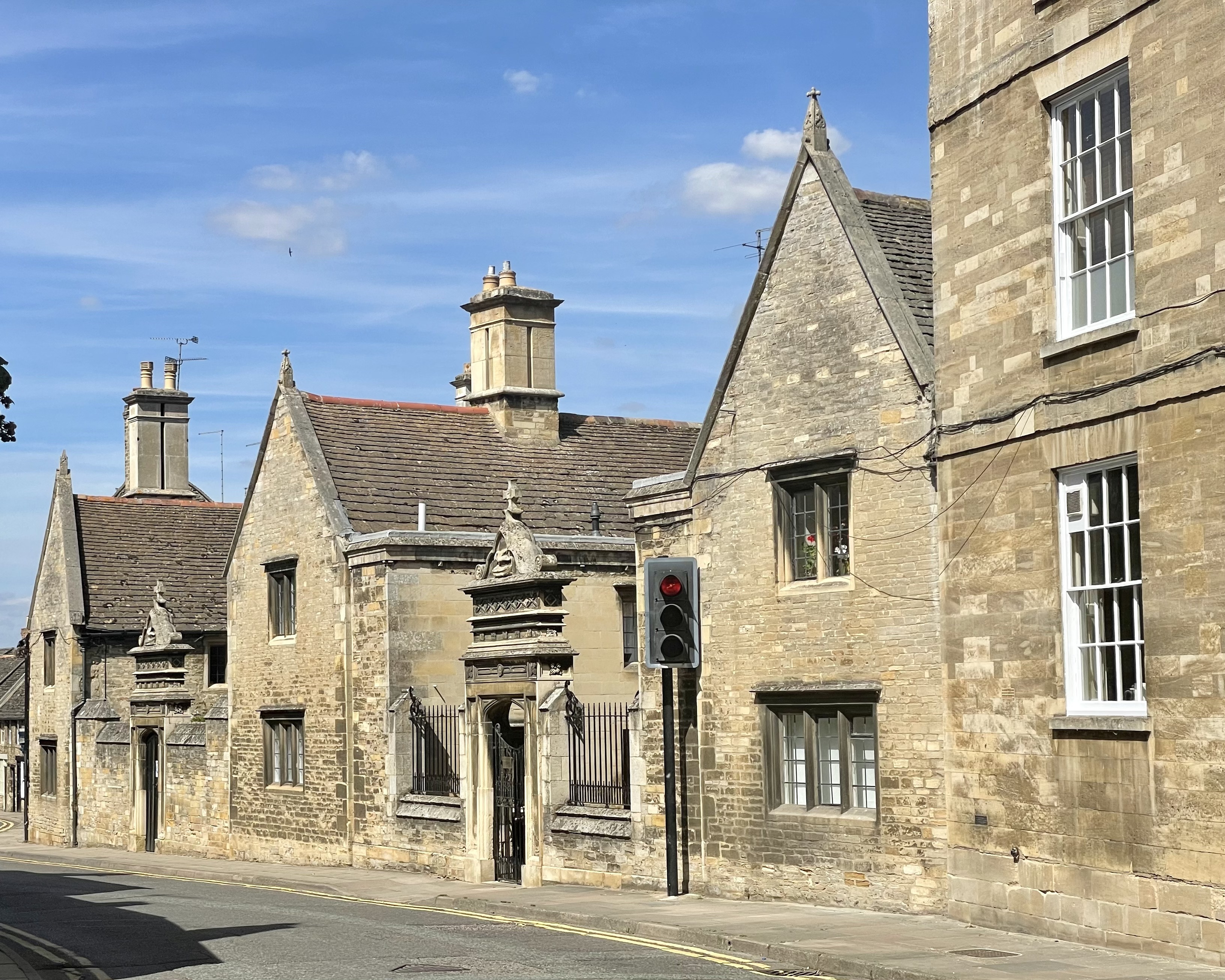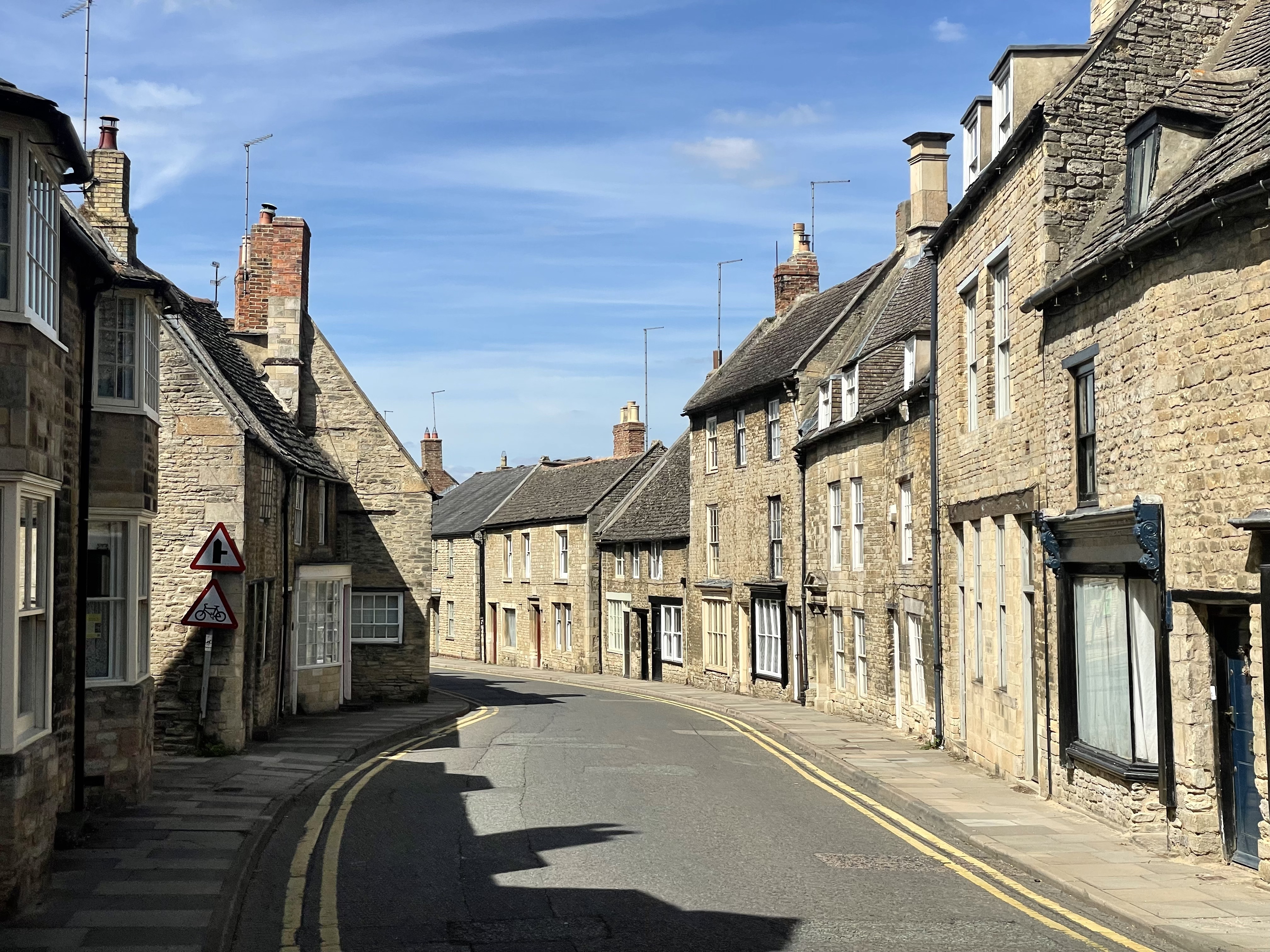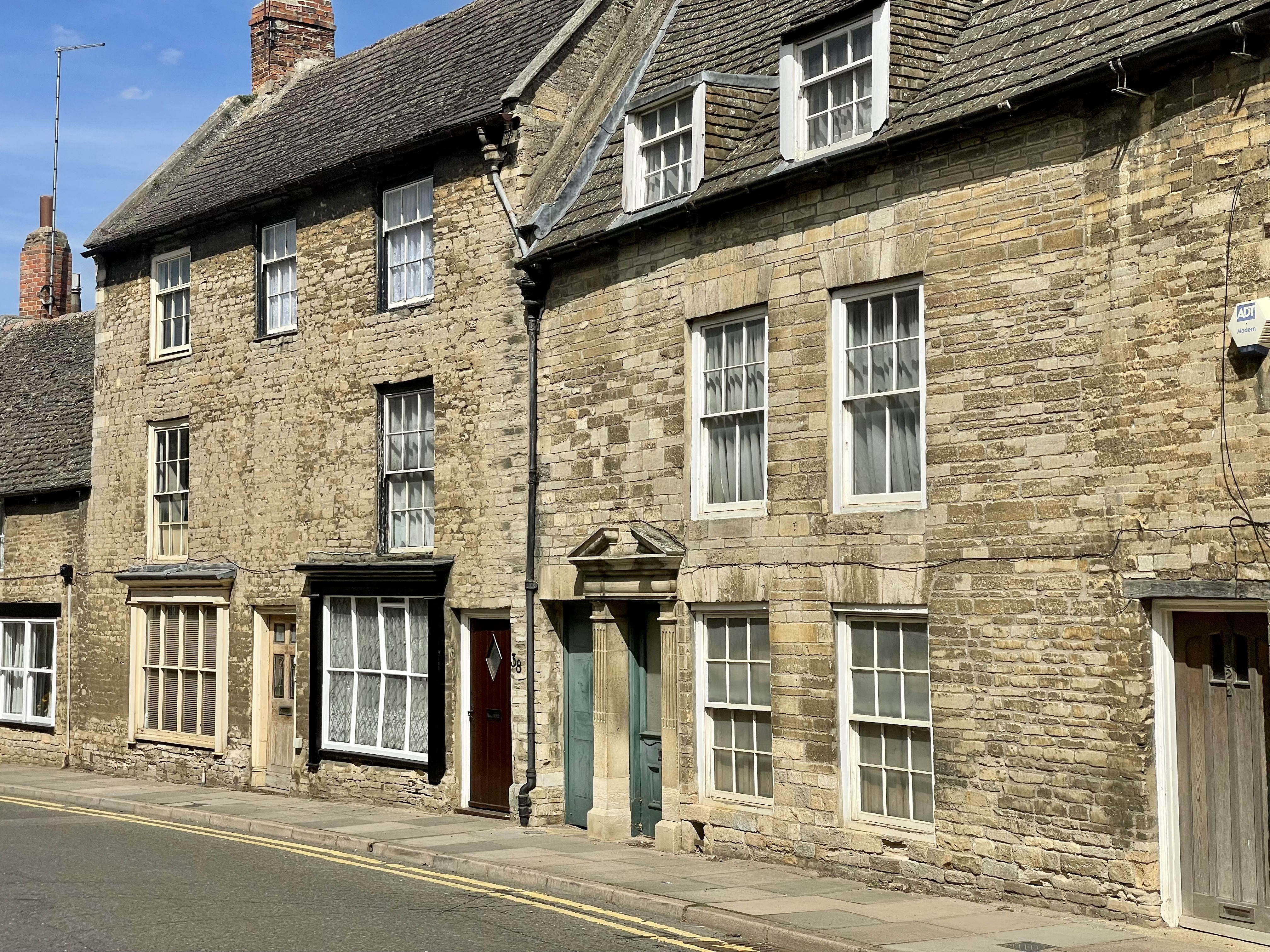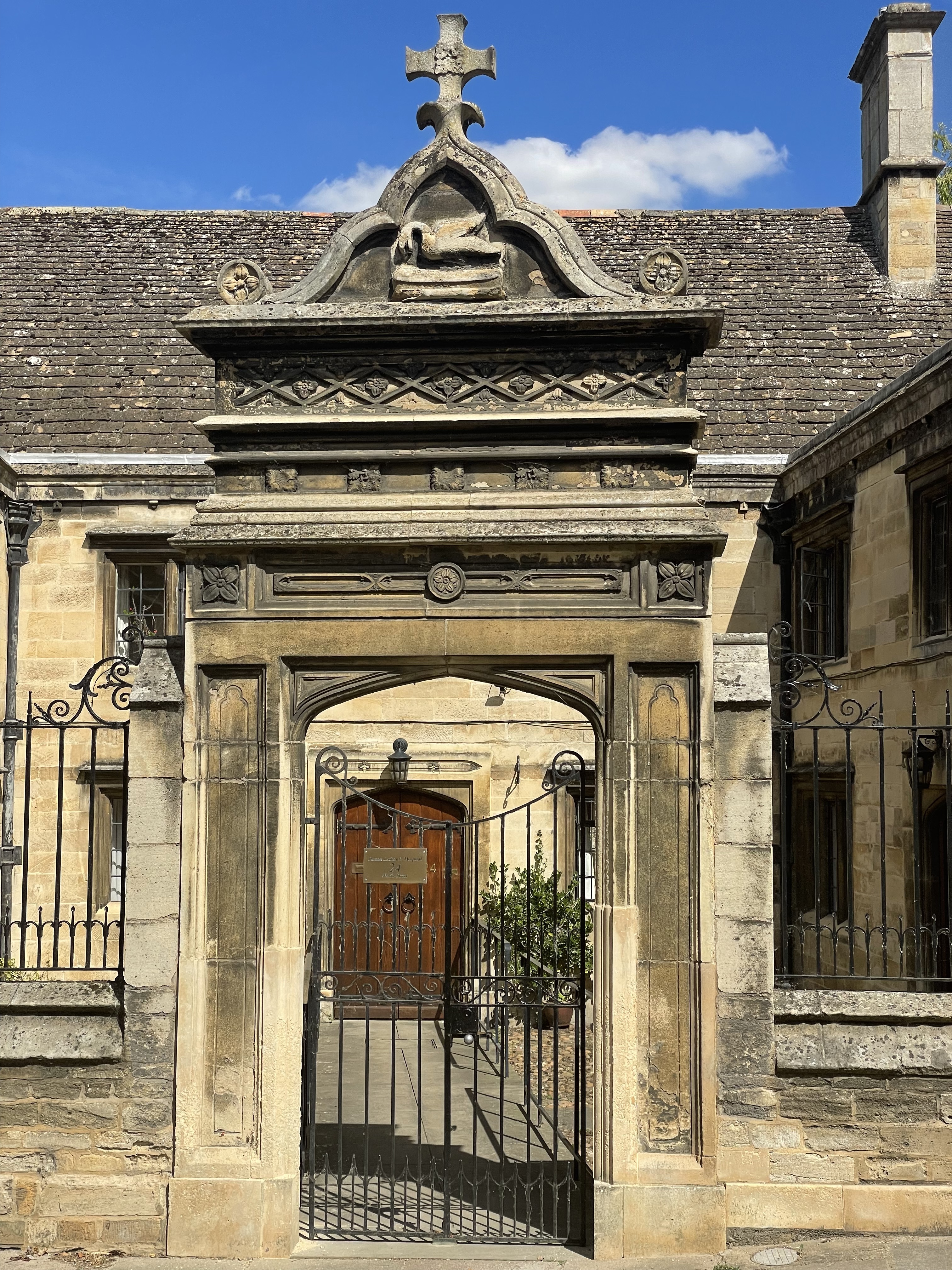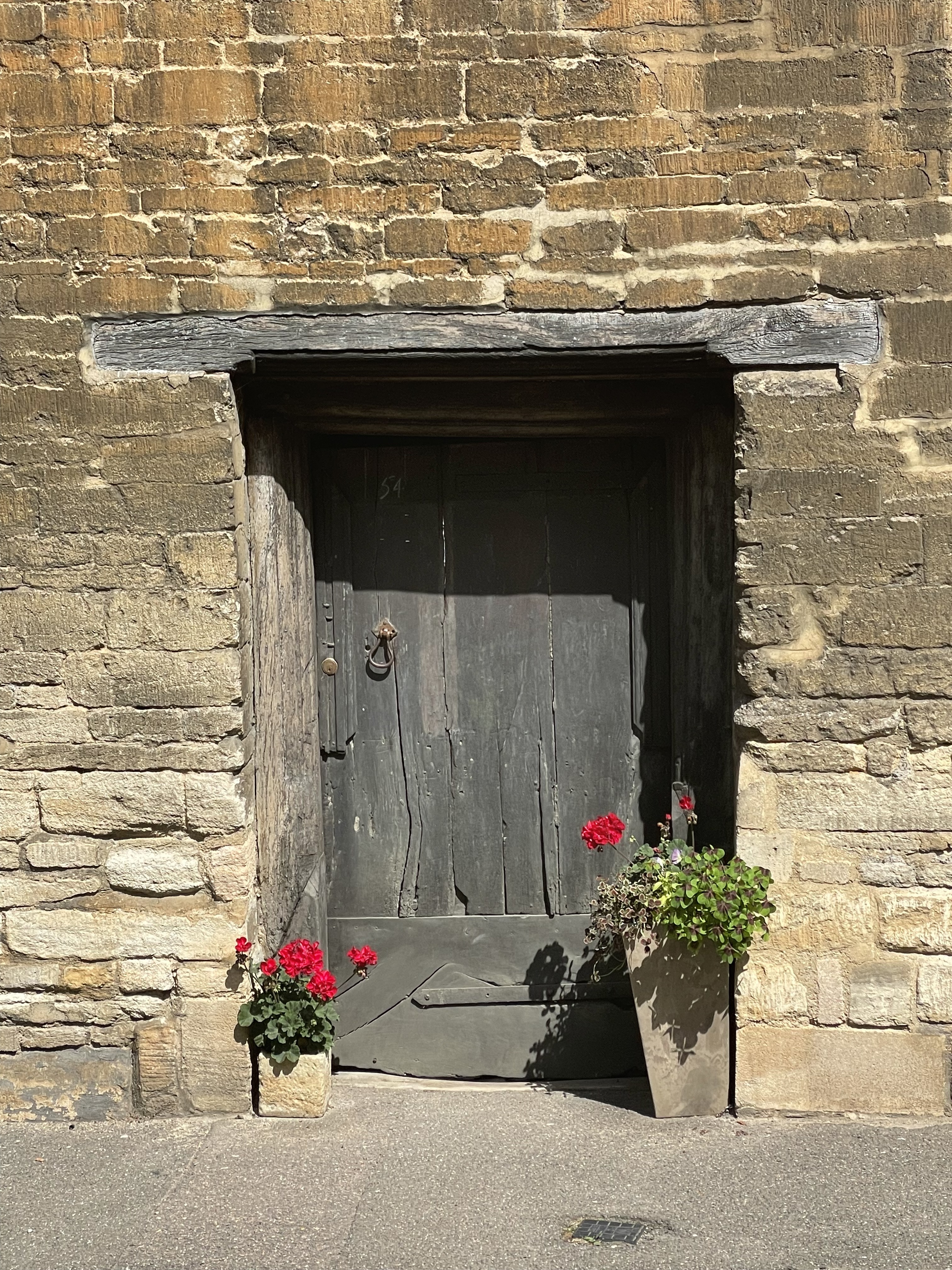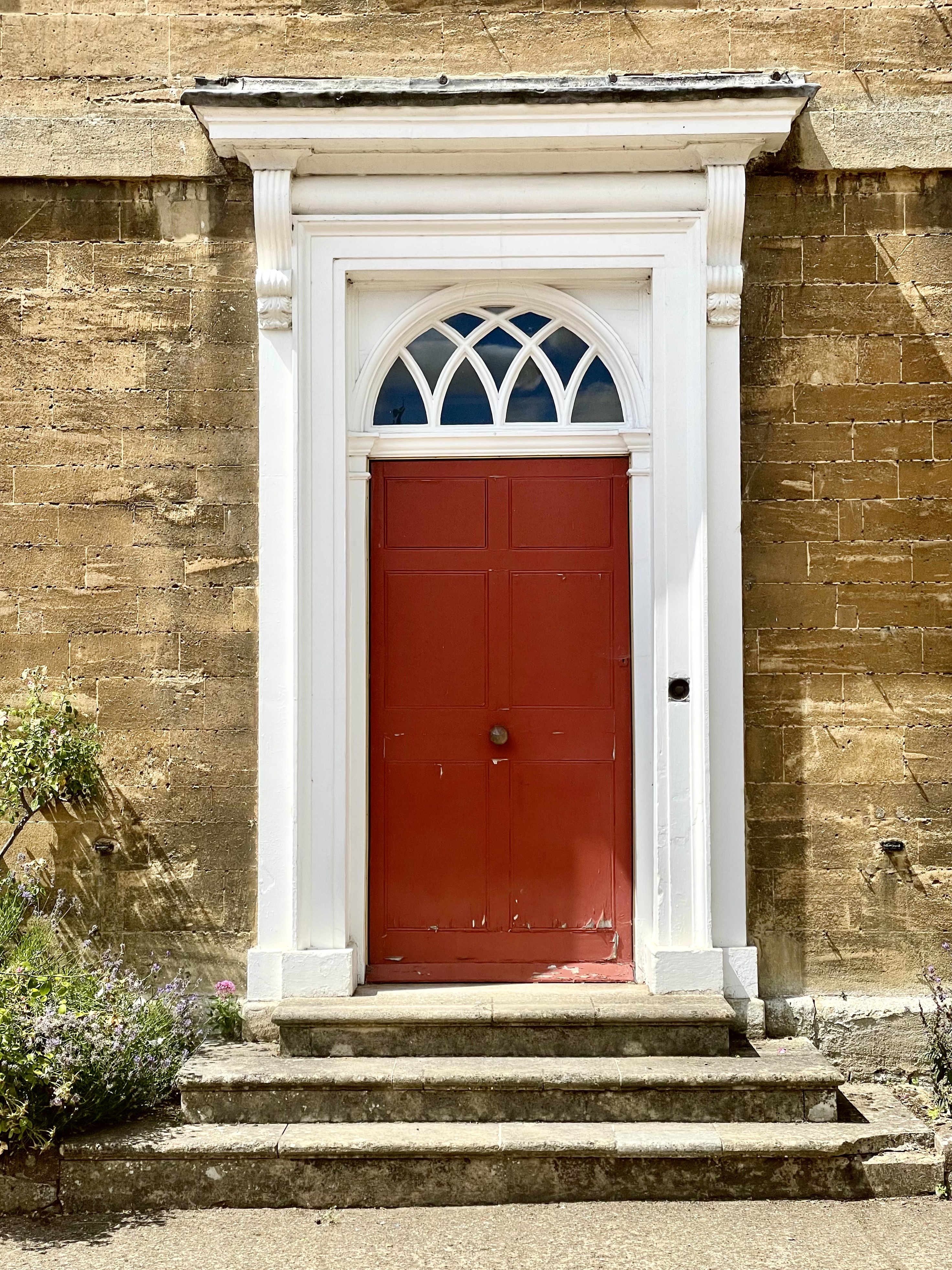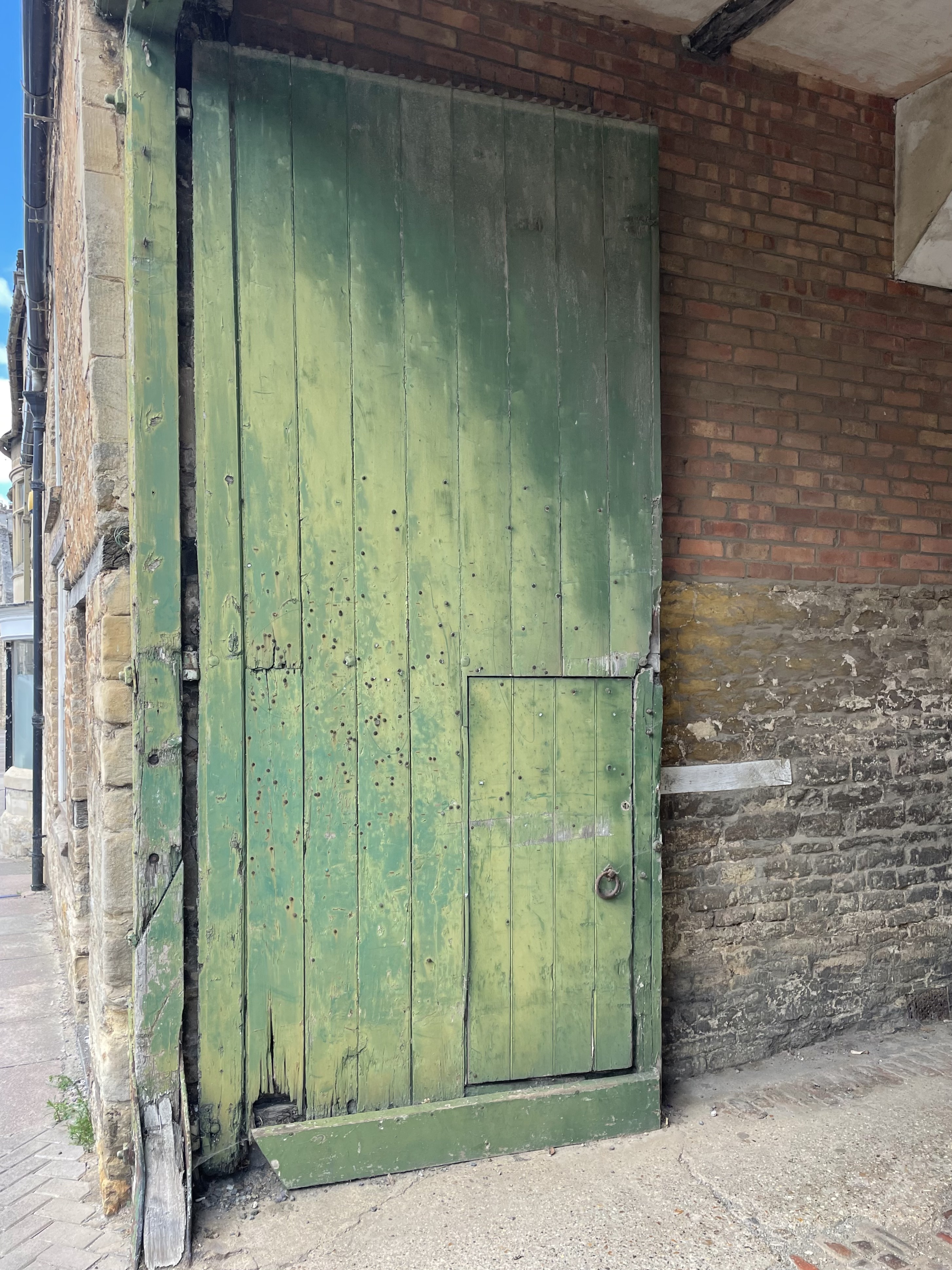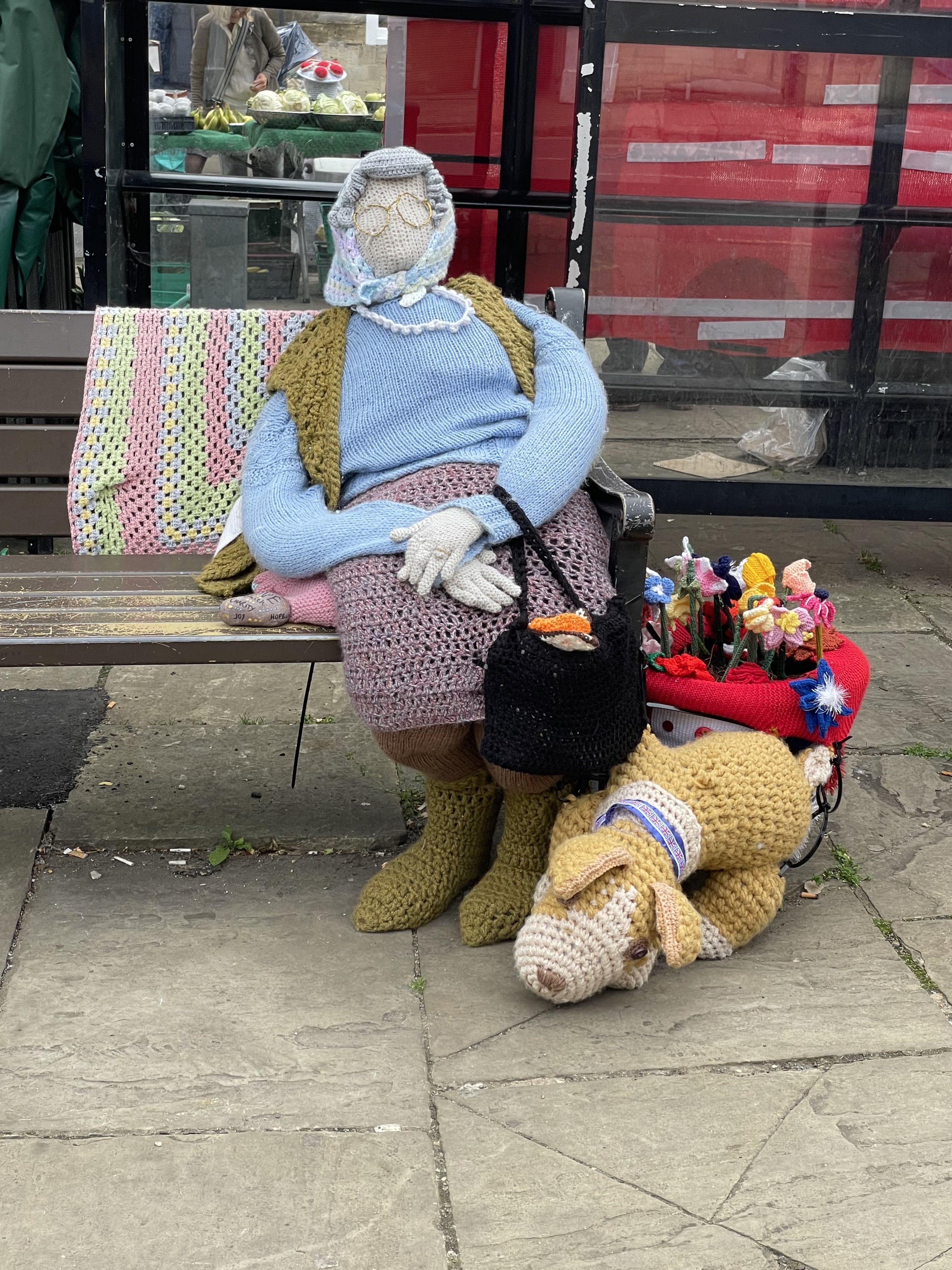 St. Peter's, Oundle
Principally C13th with later alterations.  Spire re-built in 1630's. The church sits within a curtilage that is buffered by C17th and C18th buildings to the west - this is the view that rewards.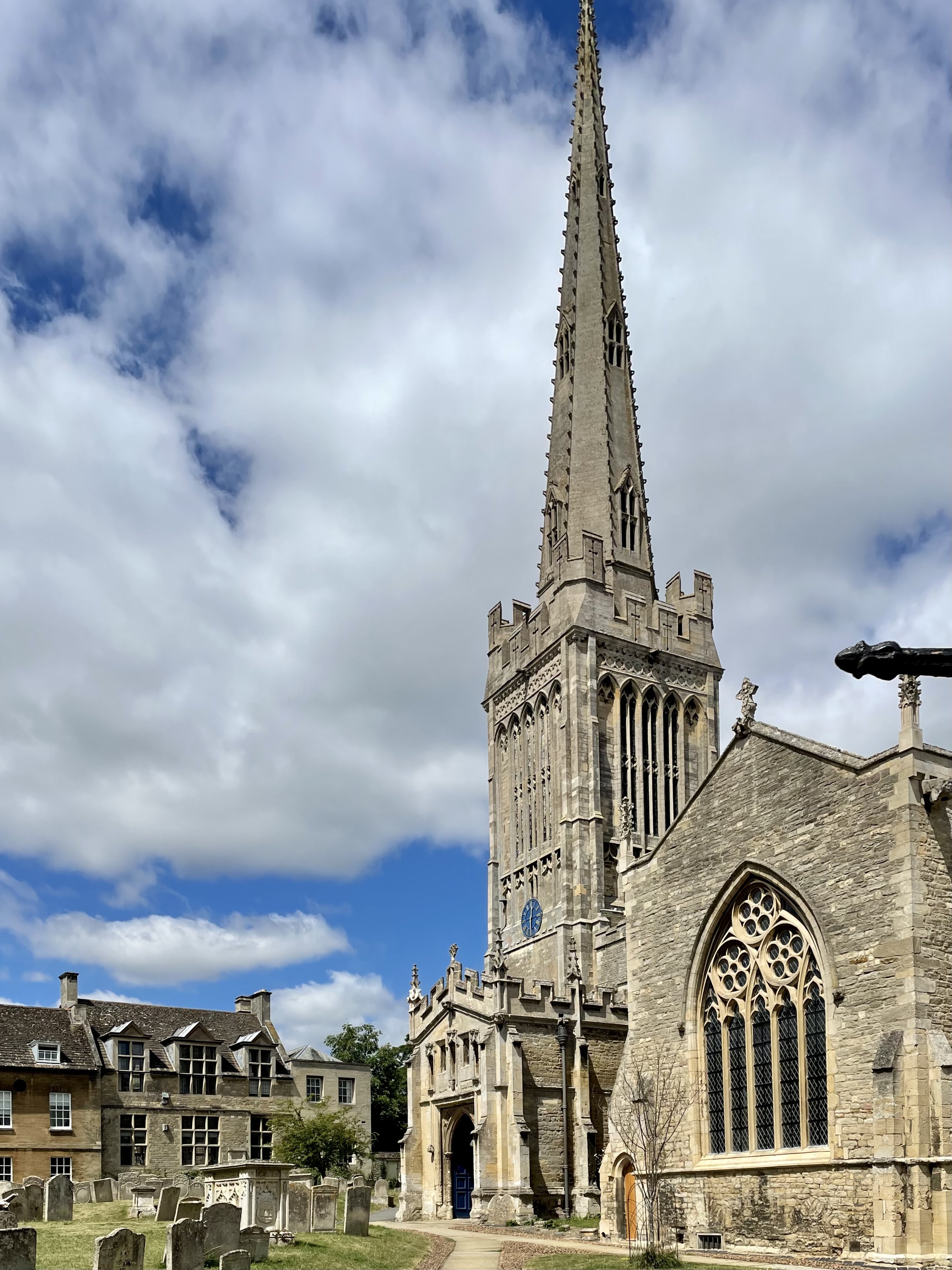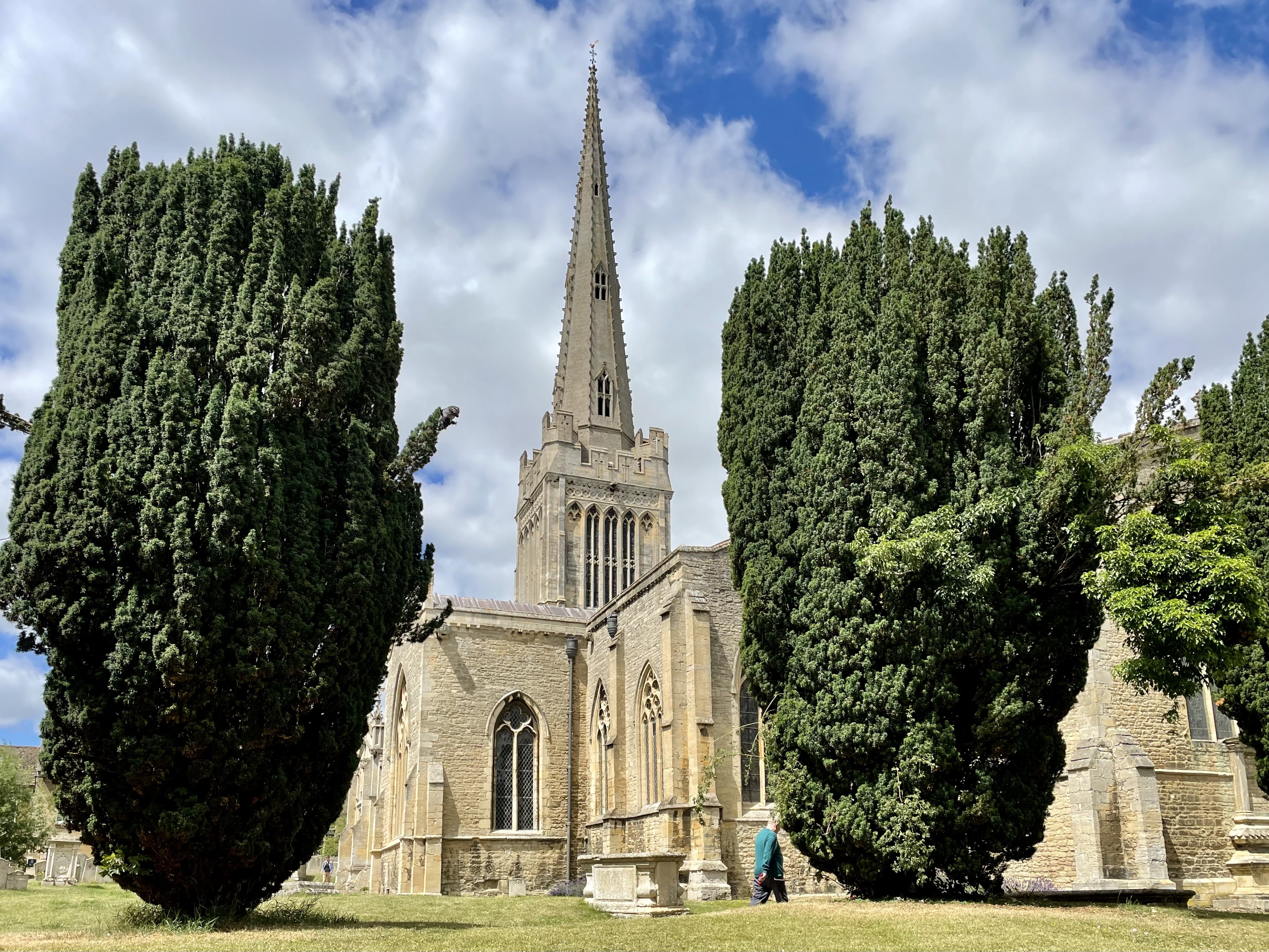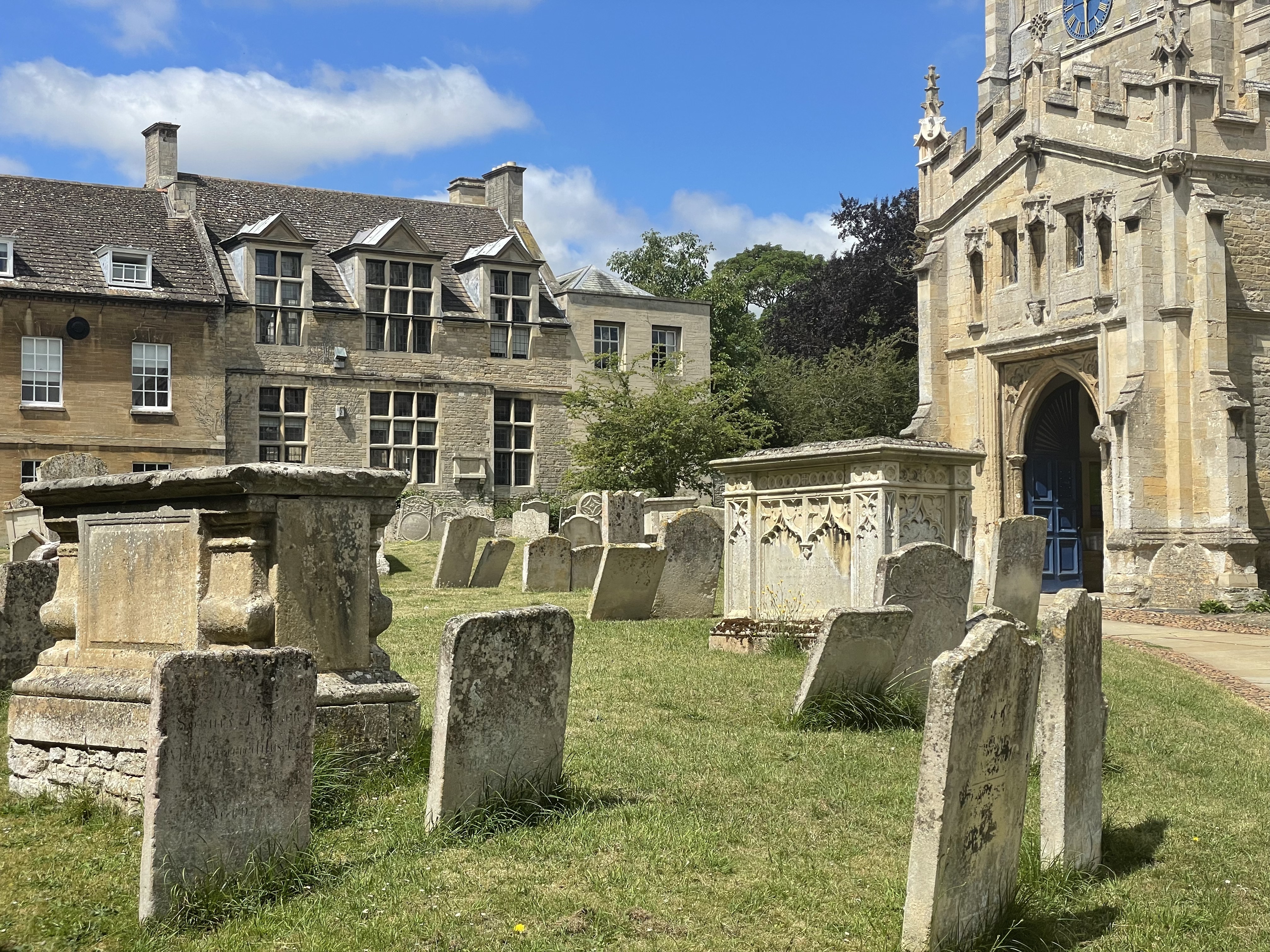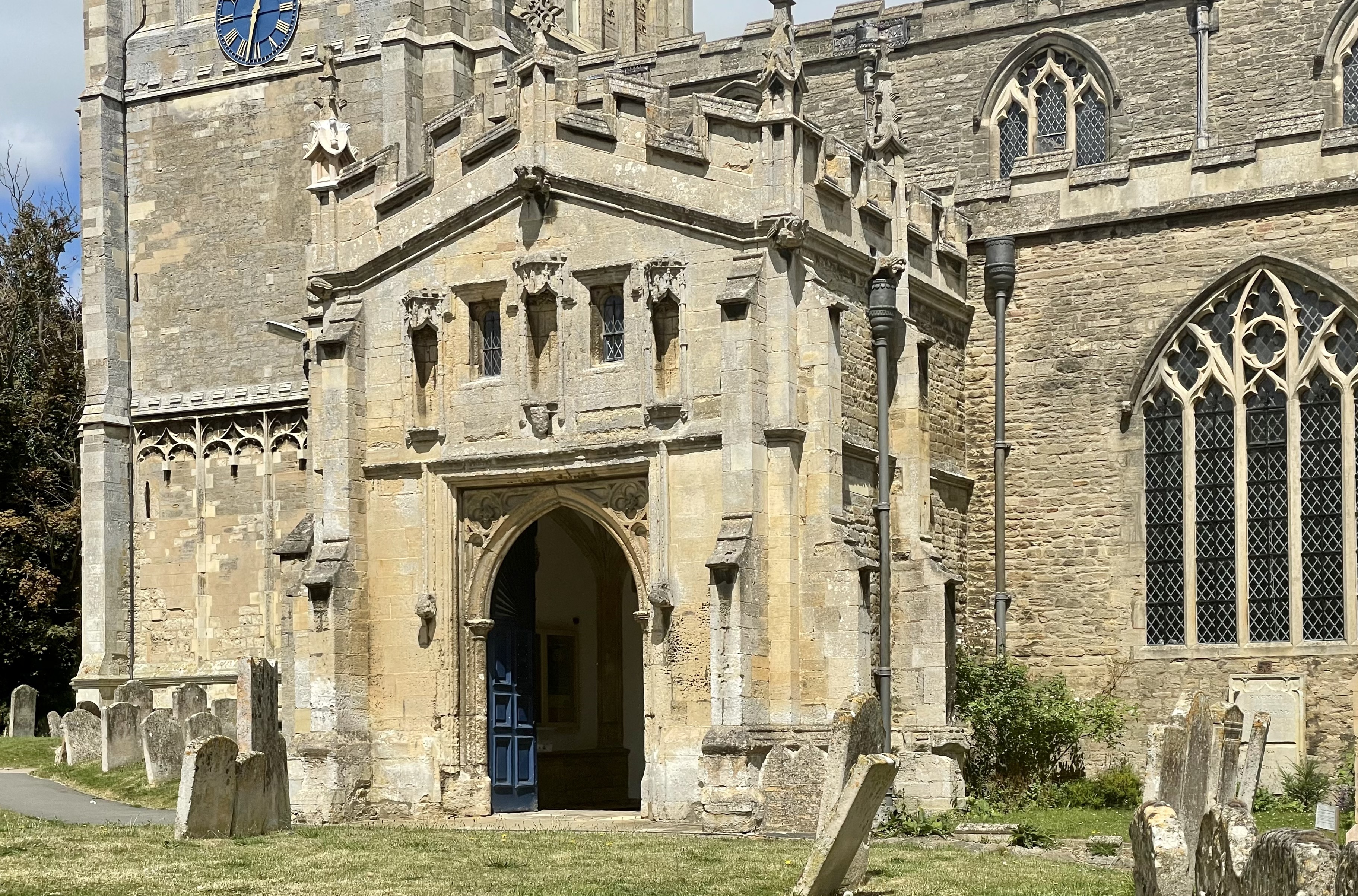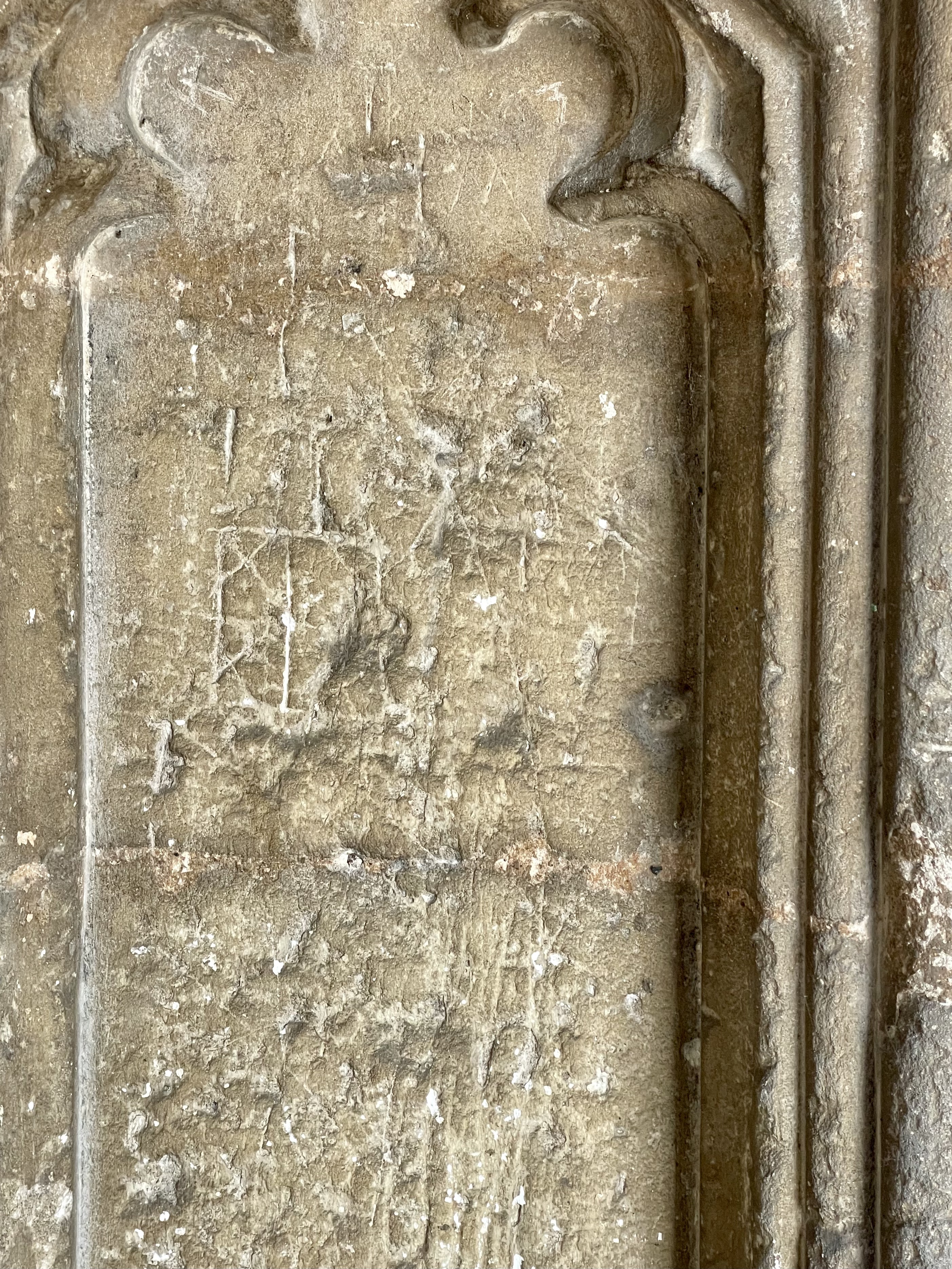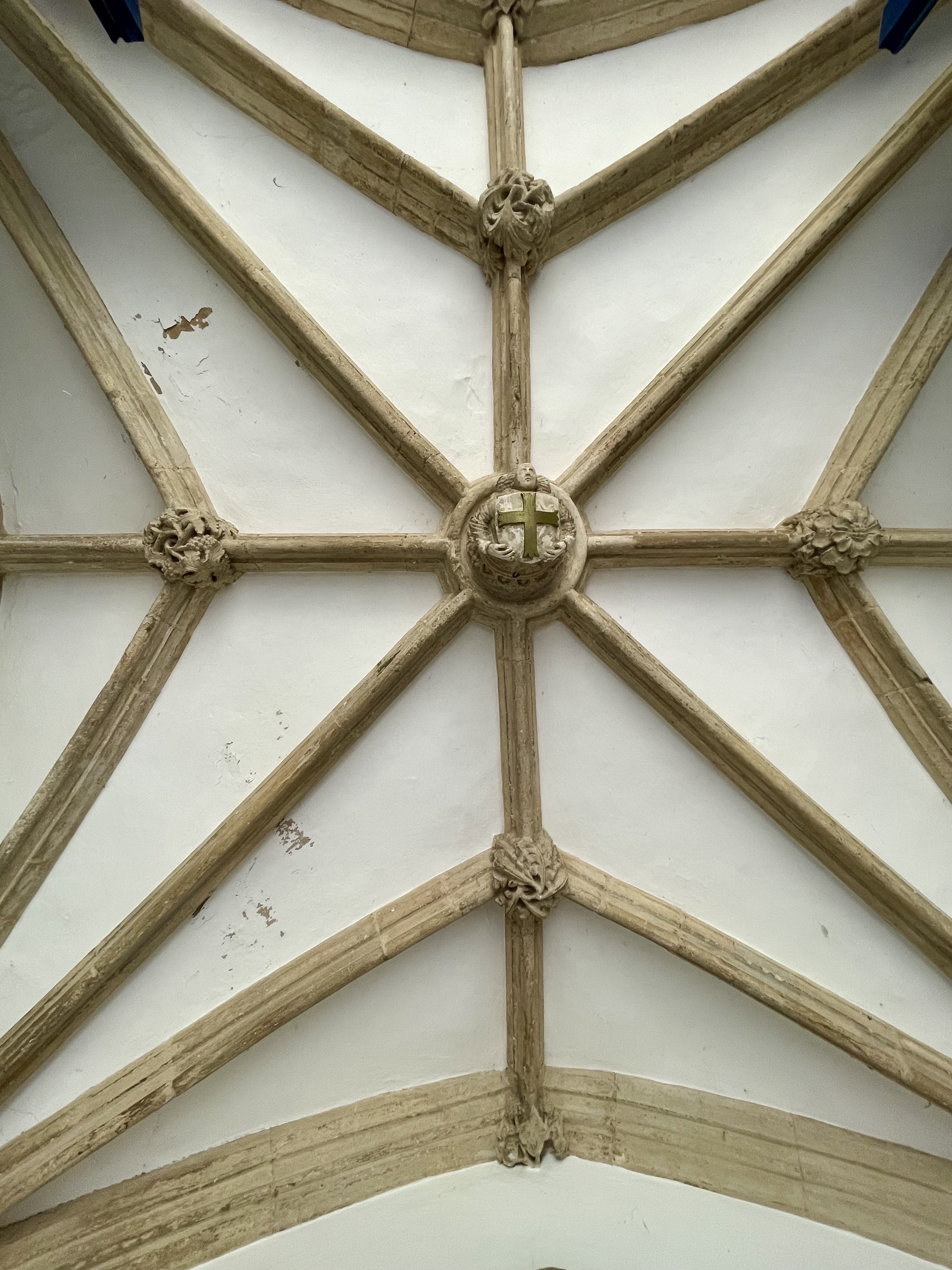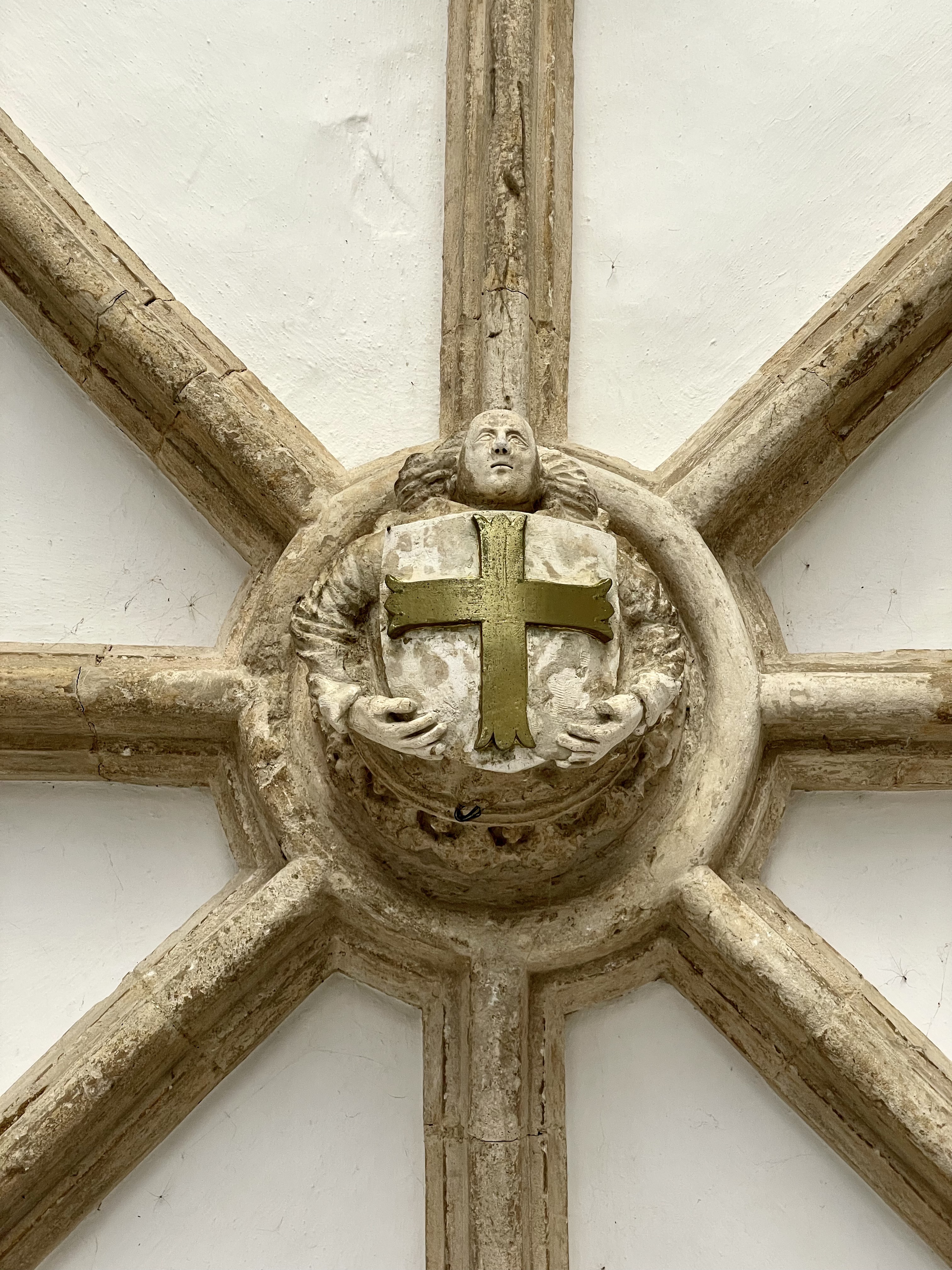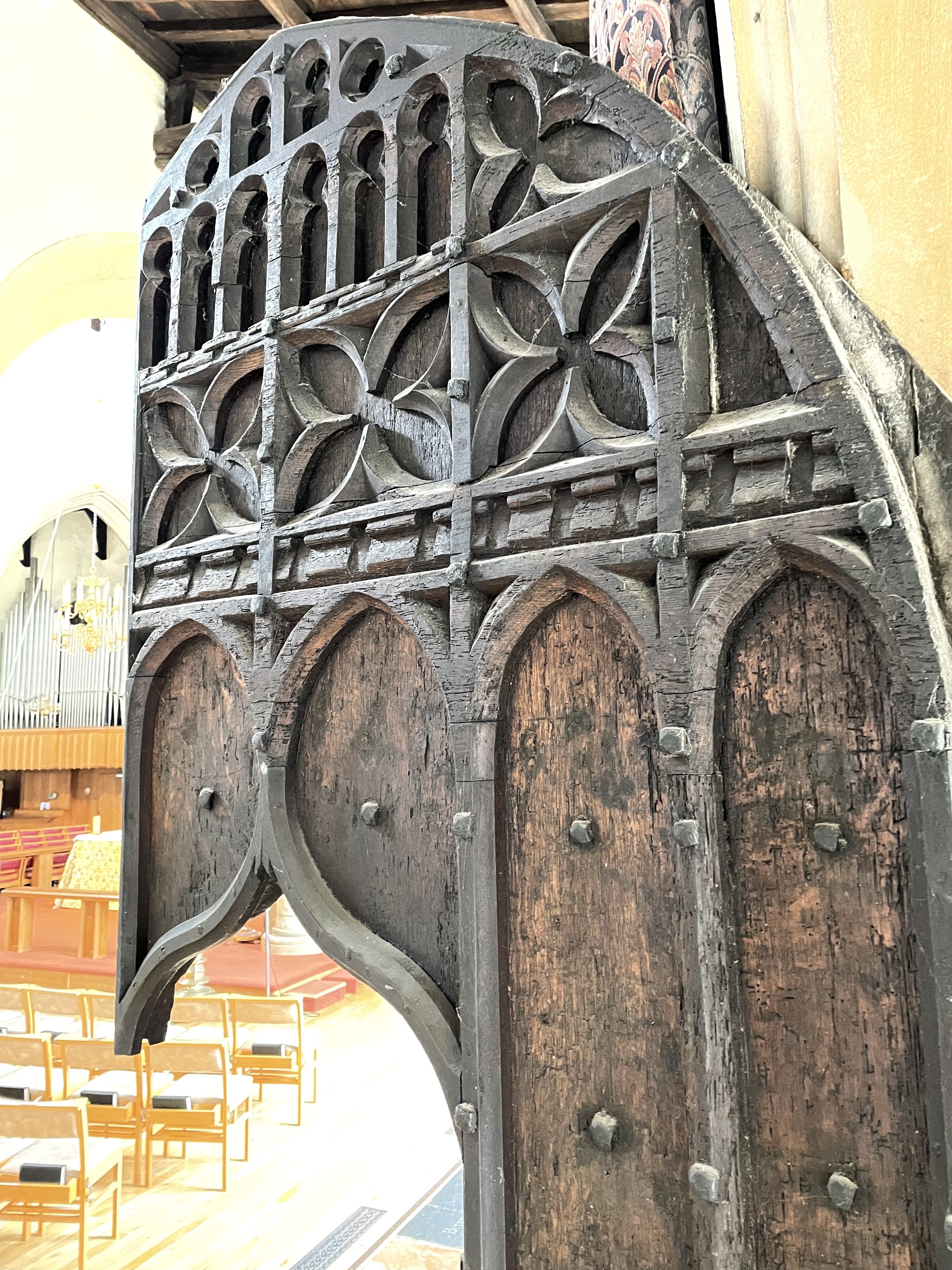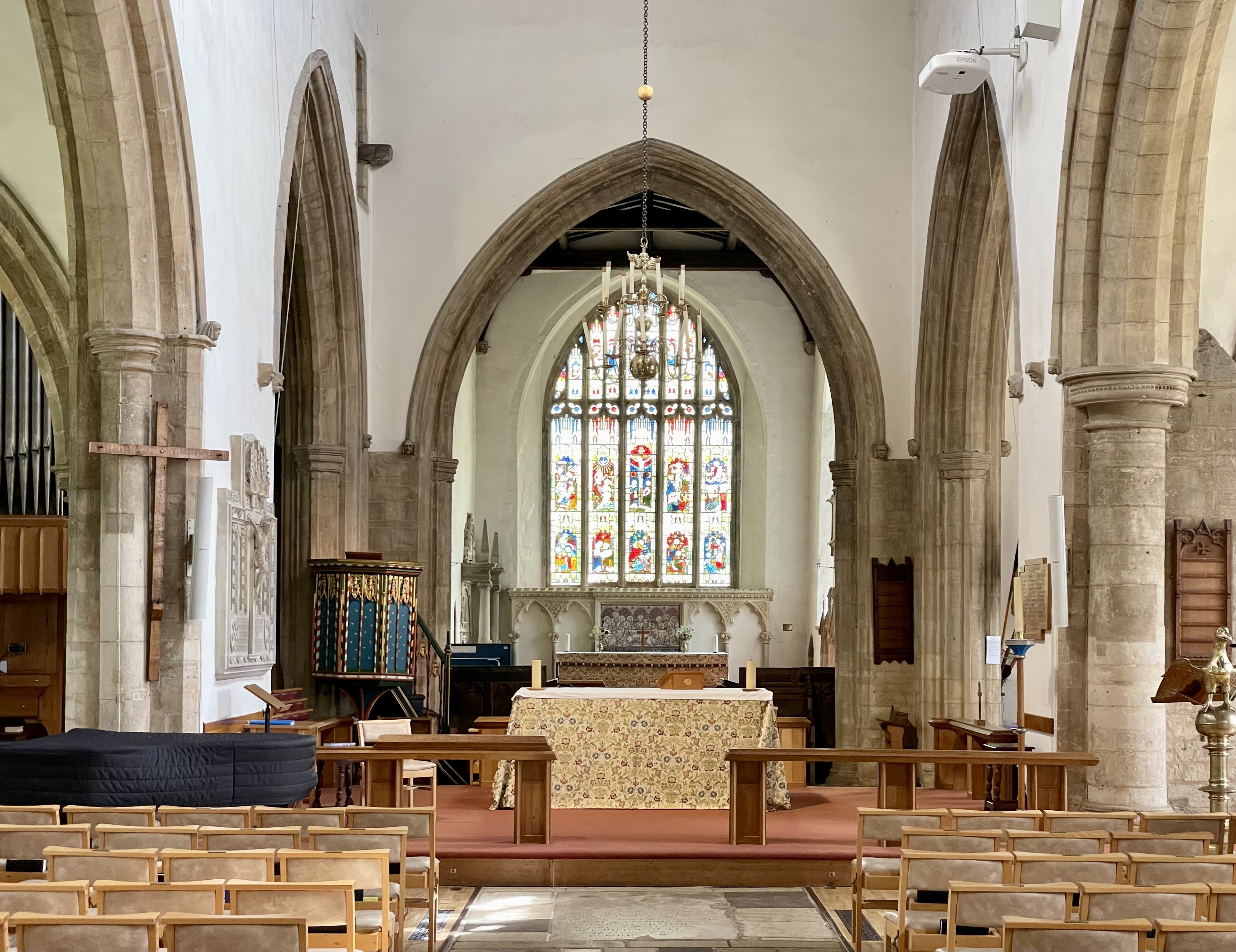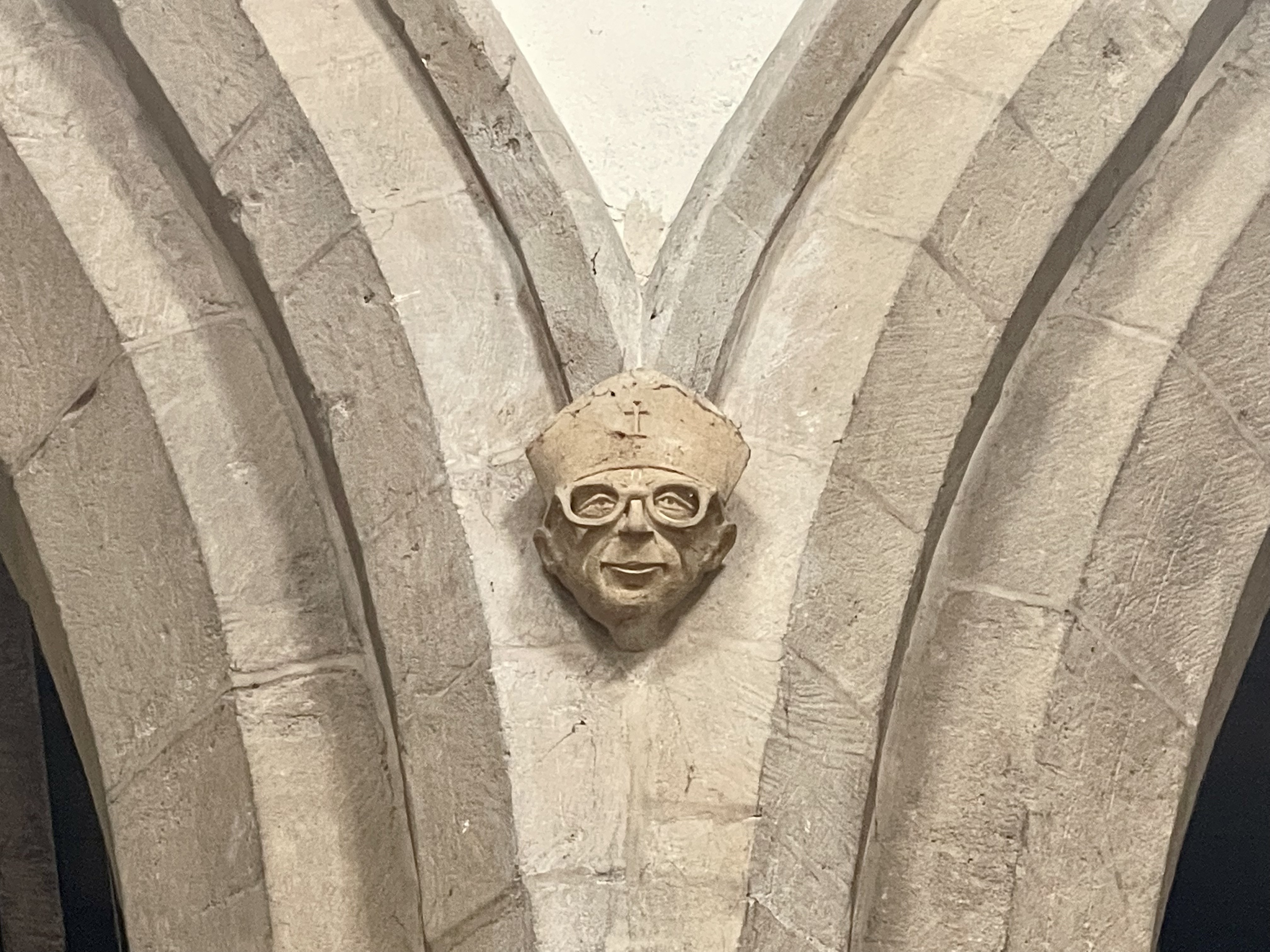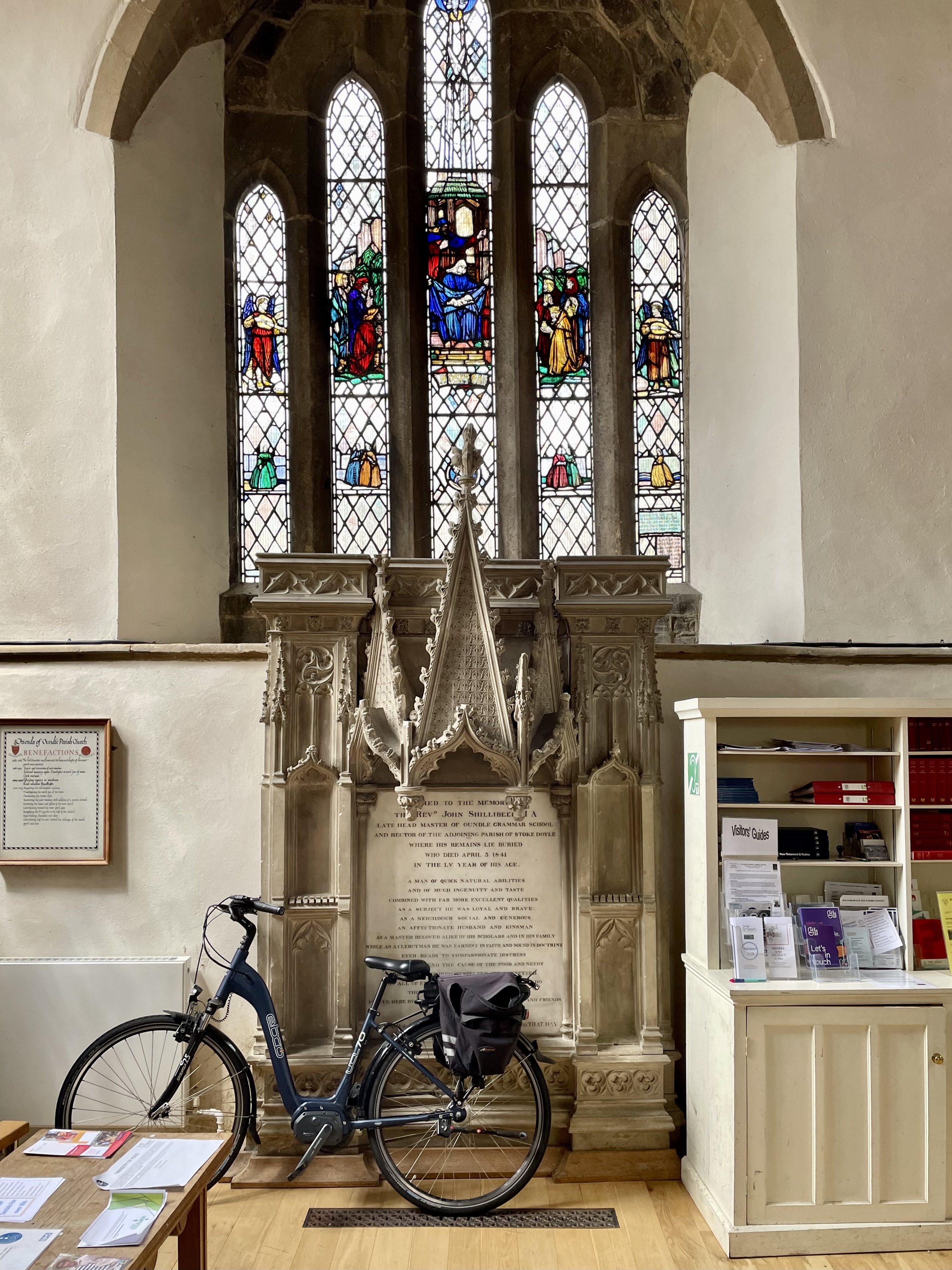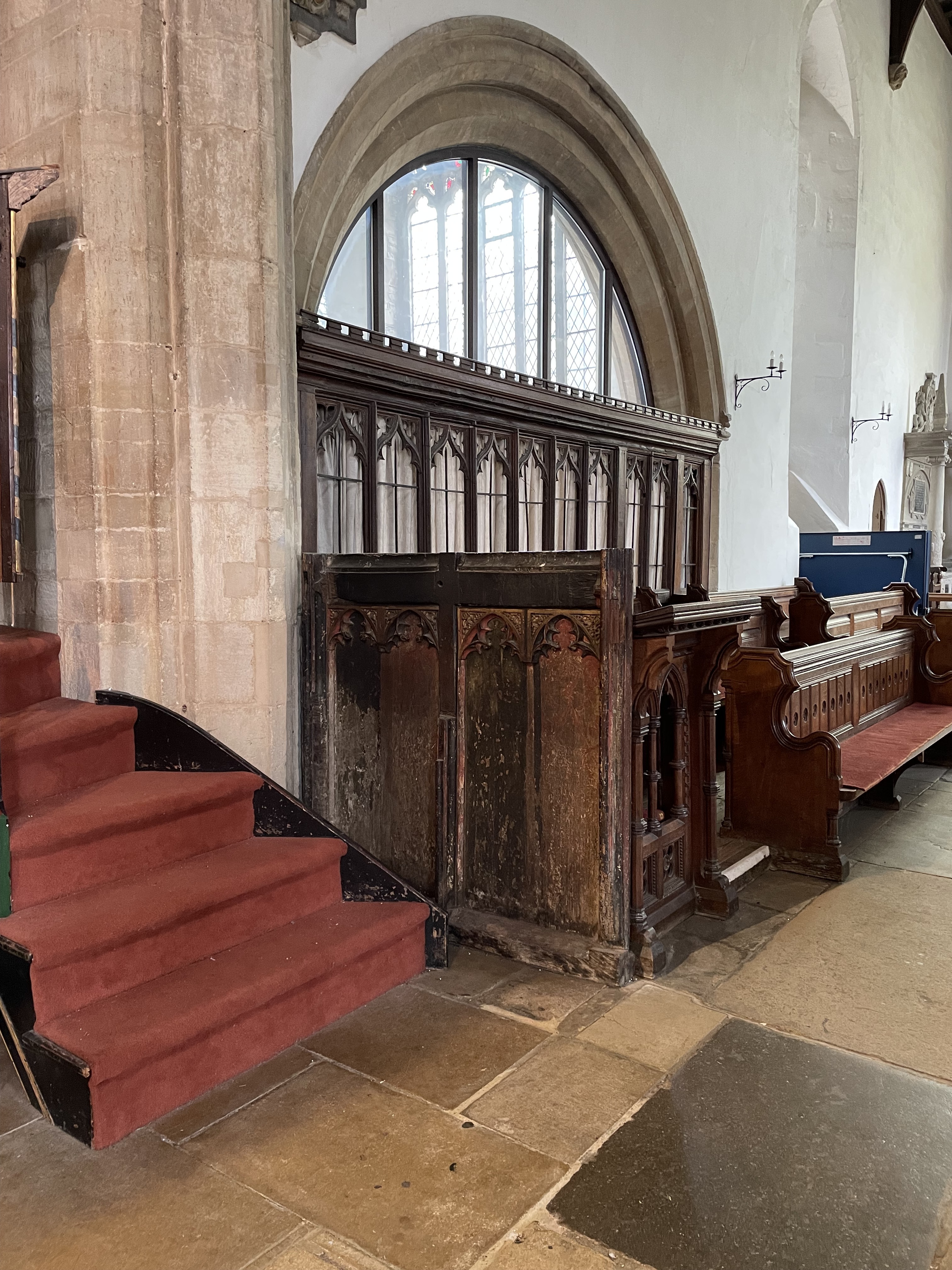 Looks like a C17th lectern - of the same date as the former White Lion across the road. These lecterns, to me, have a cartoon like quality. Much more agreeable to the square faced, bald eagle type.
Evidence of vine scroll painting on the chancel arch.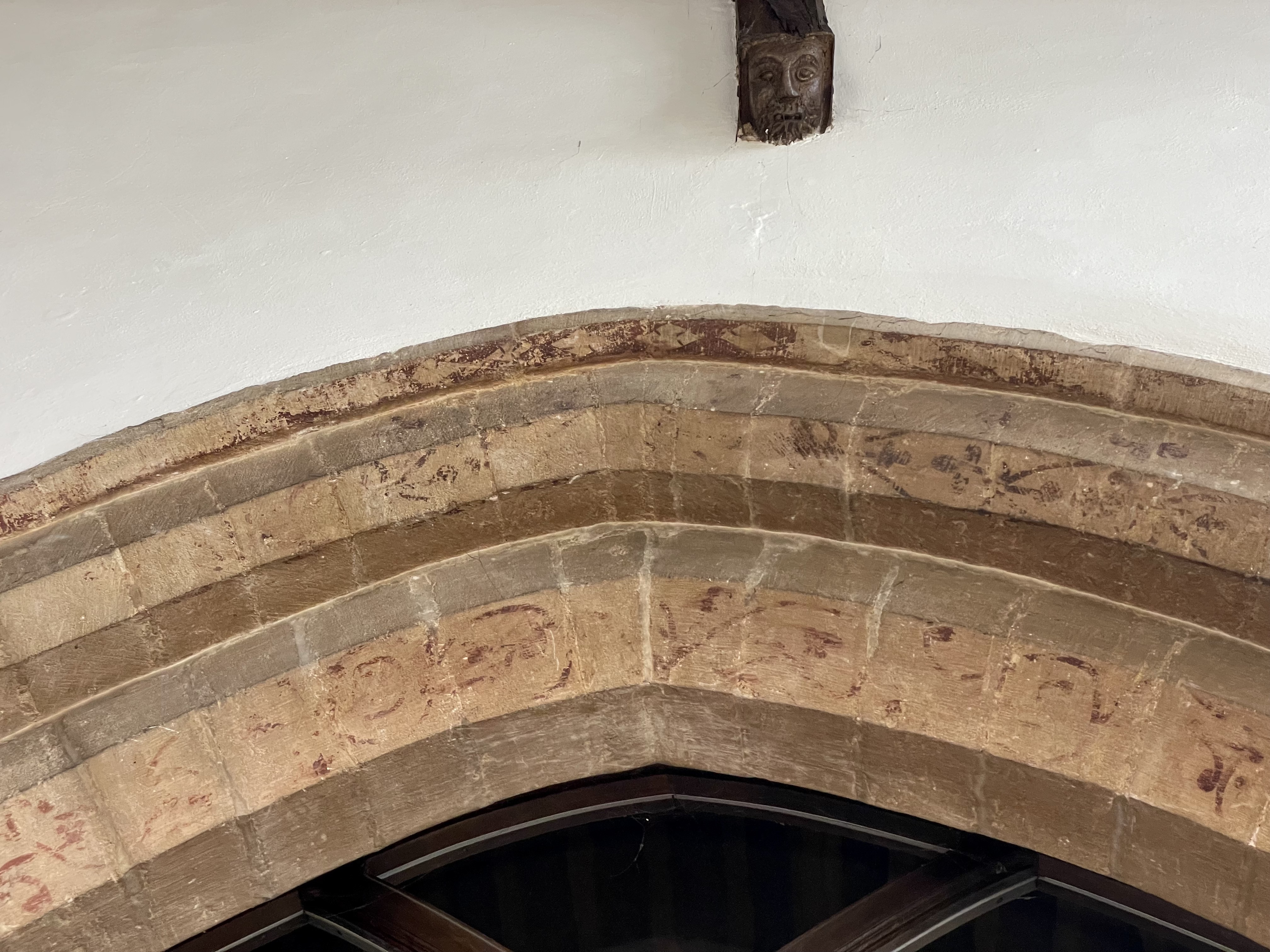 Piscina and Sedilla.
Fotheringhay, Northamptonshire.
A small, charming village on the river Nene, that caused enormous ripples in the time continuum.
Fotheringhay Castle was razed in the C17th but you can see the motte in my photograph below besides the river Nene.
This castle and this small Northamptonshire village was the home of the Yorkist line. Richard III was born here and Mary Queen of Scots was tried and beheaded. On this spot her body lay for several months before being interred at Peterborough Cathedral and later Westminster Abbey.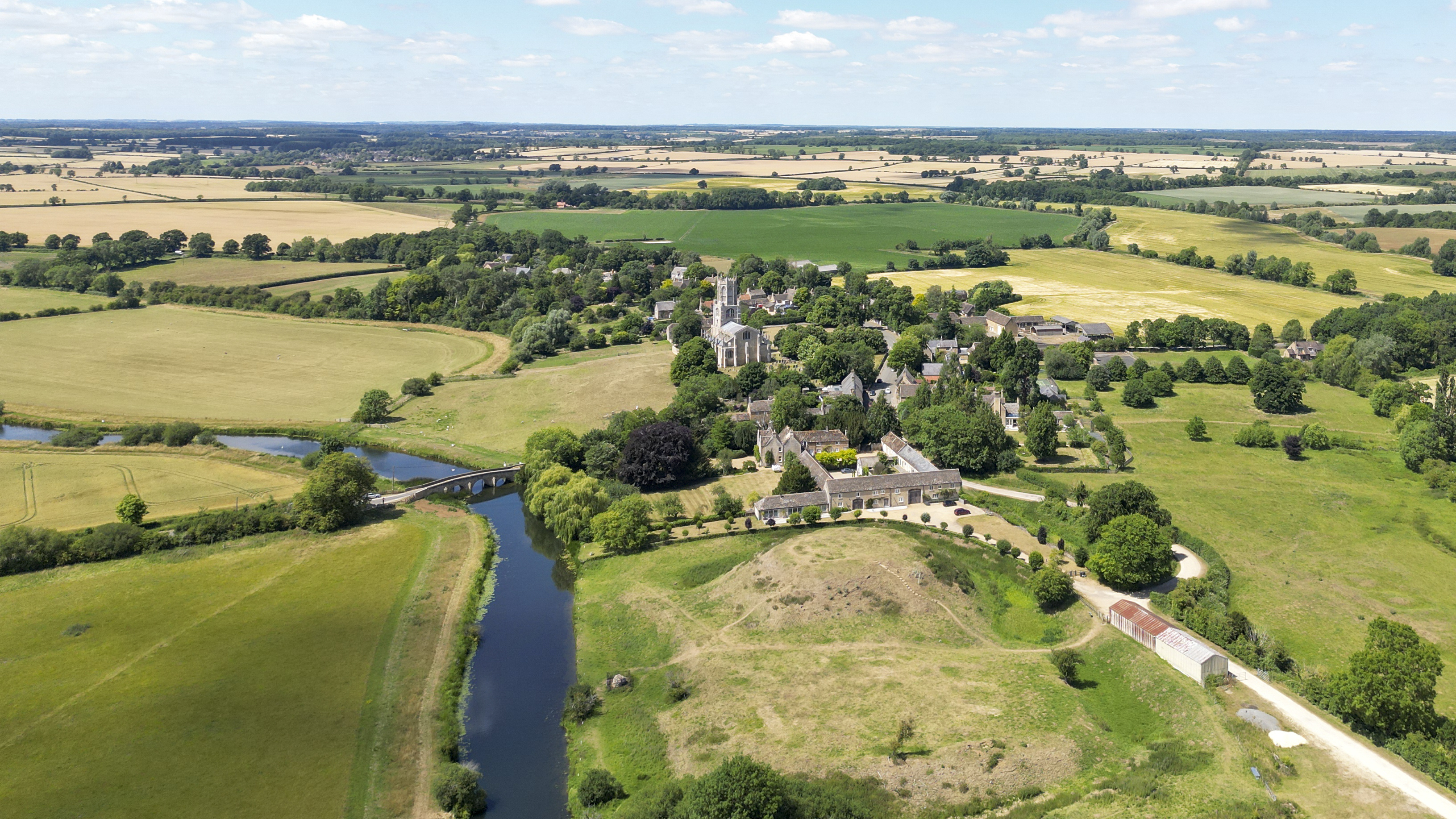 The Village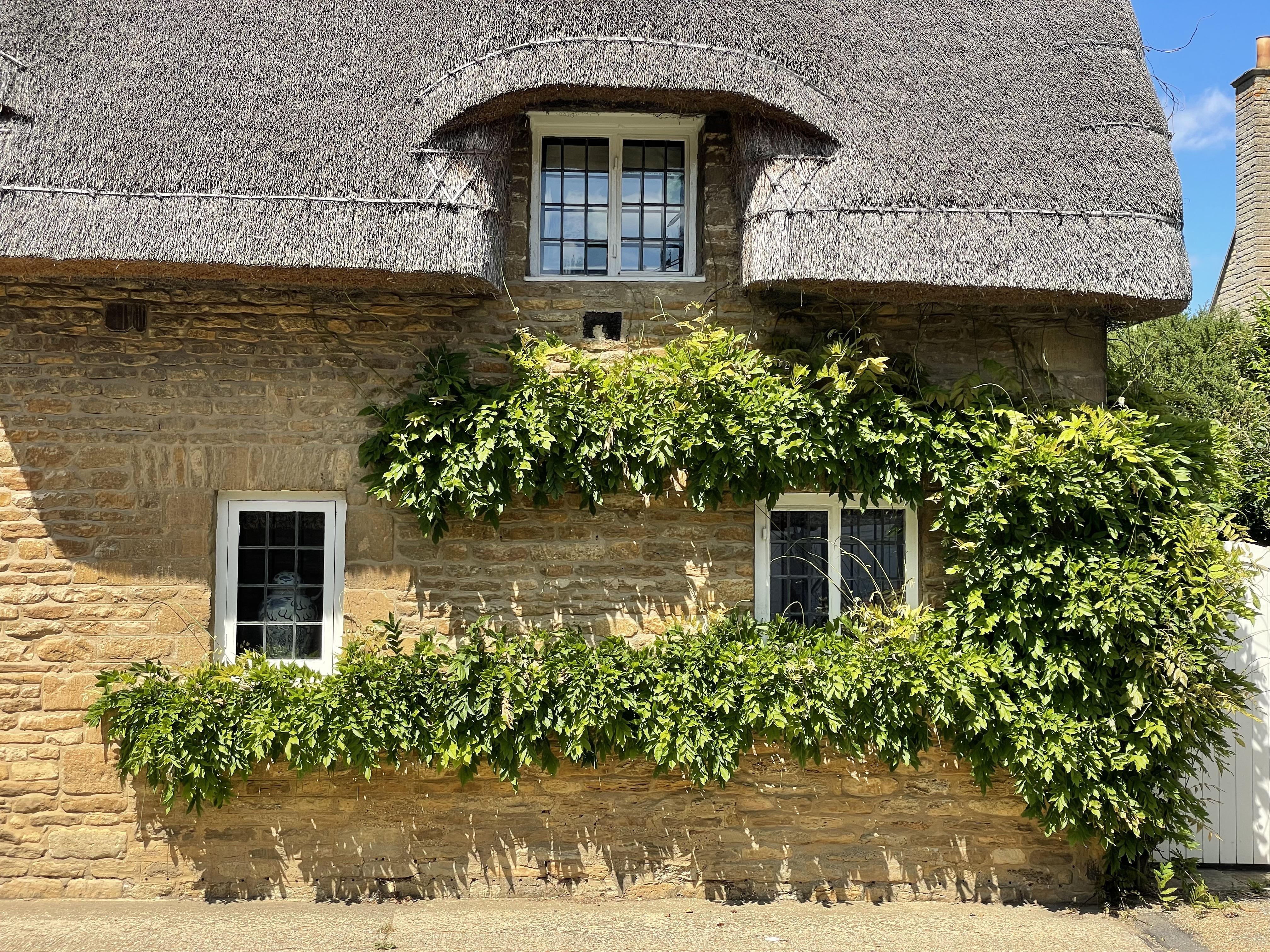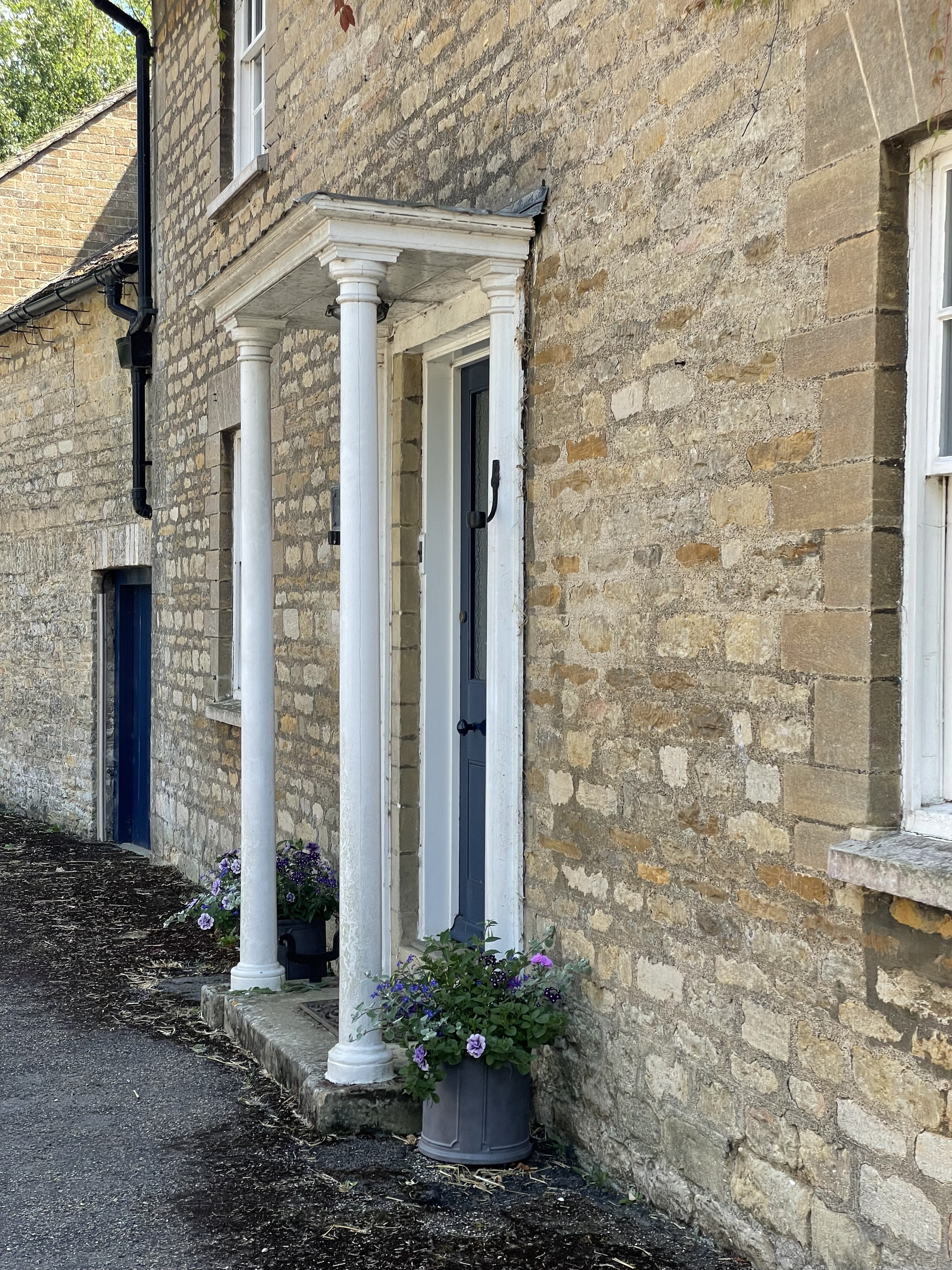 Fotheringhay isn't far from Oundle and I recommend a trip to both in the same day - perhaps lunch in the Falcon. On road parking available outside. The Falcon is the symbol of the House of York.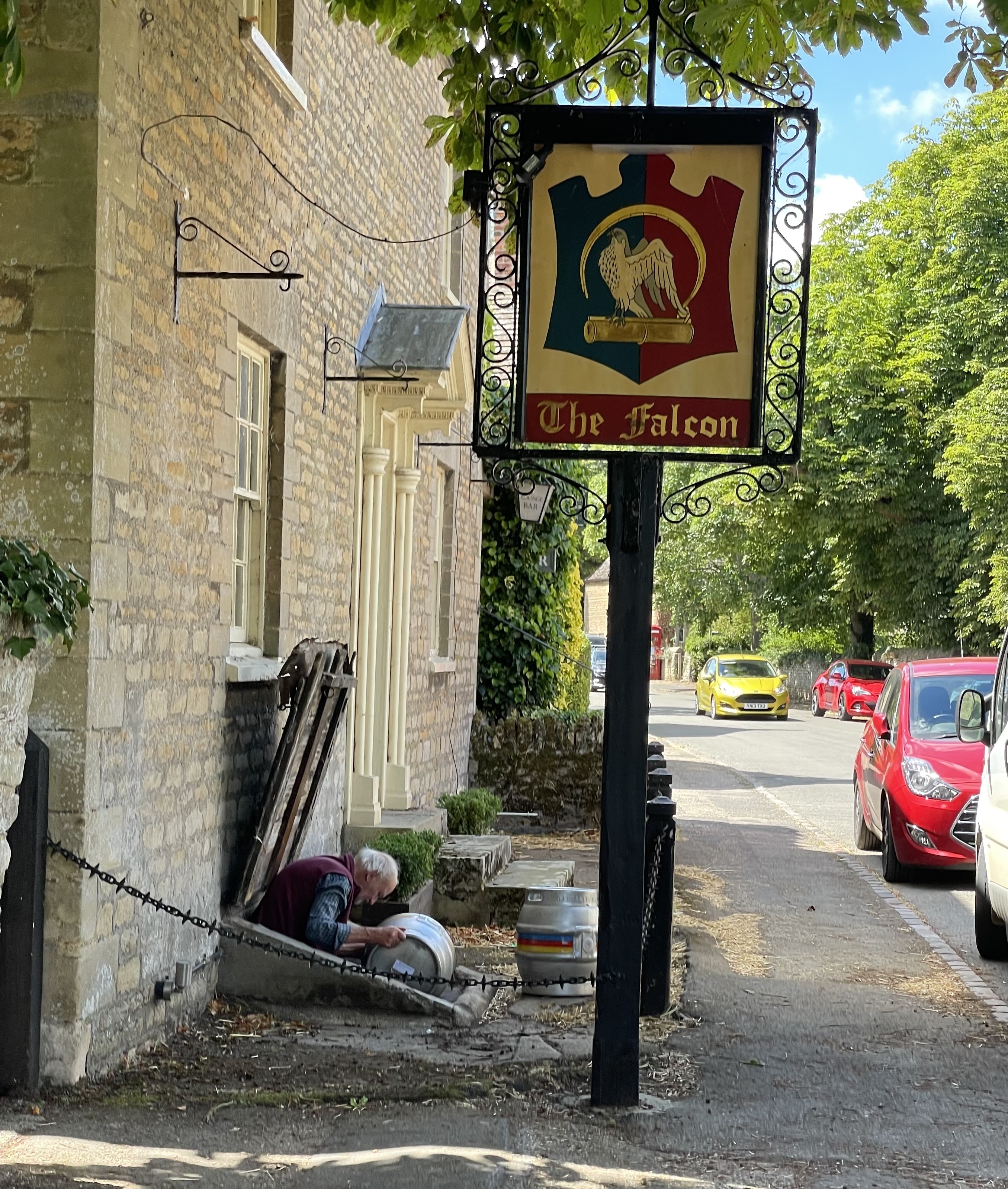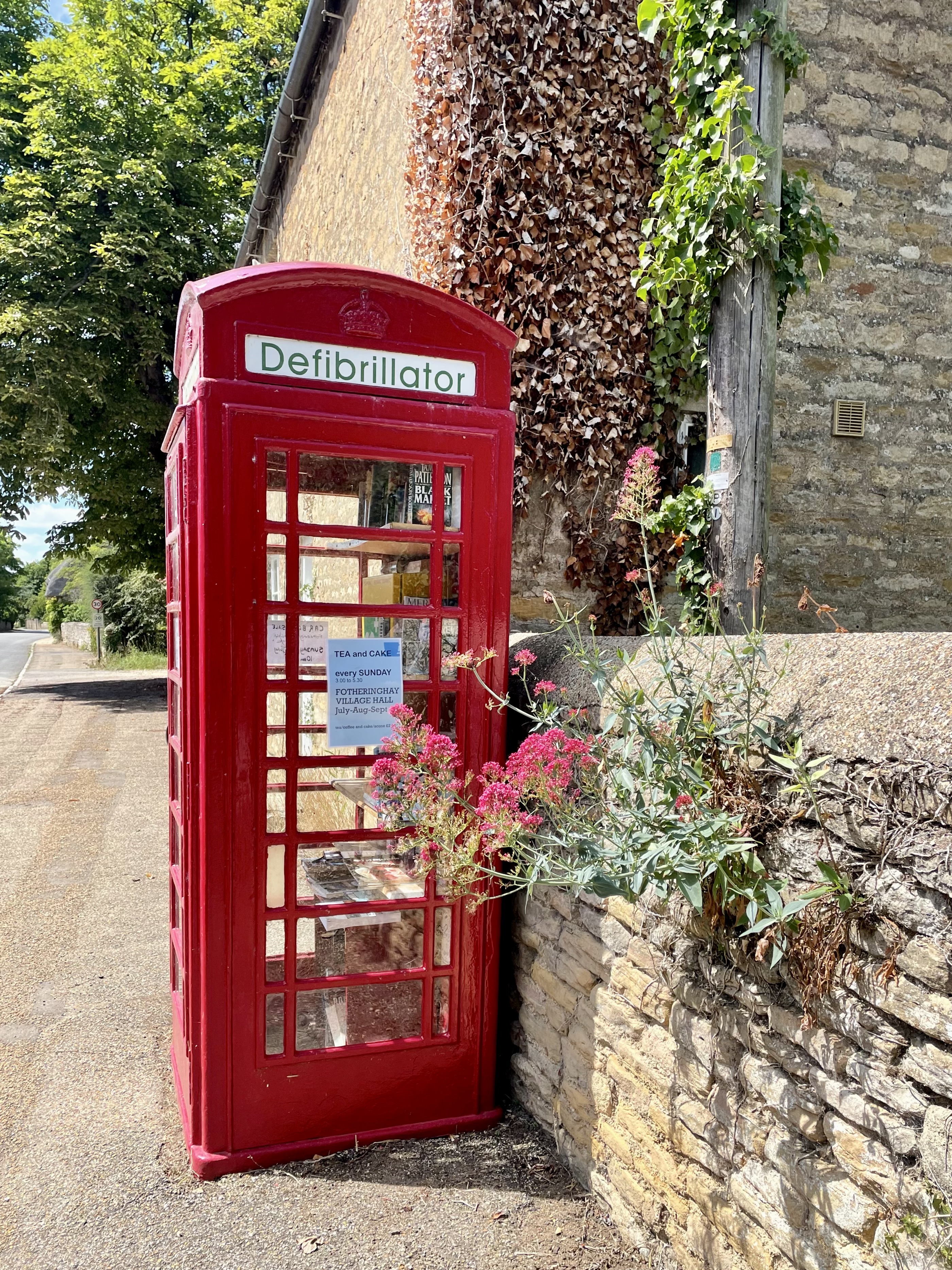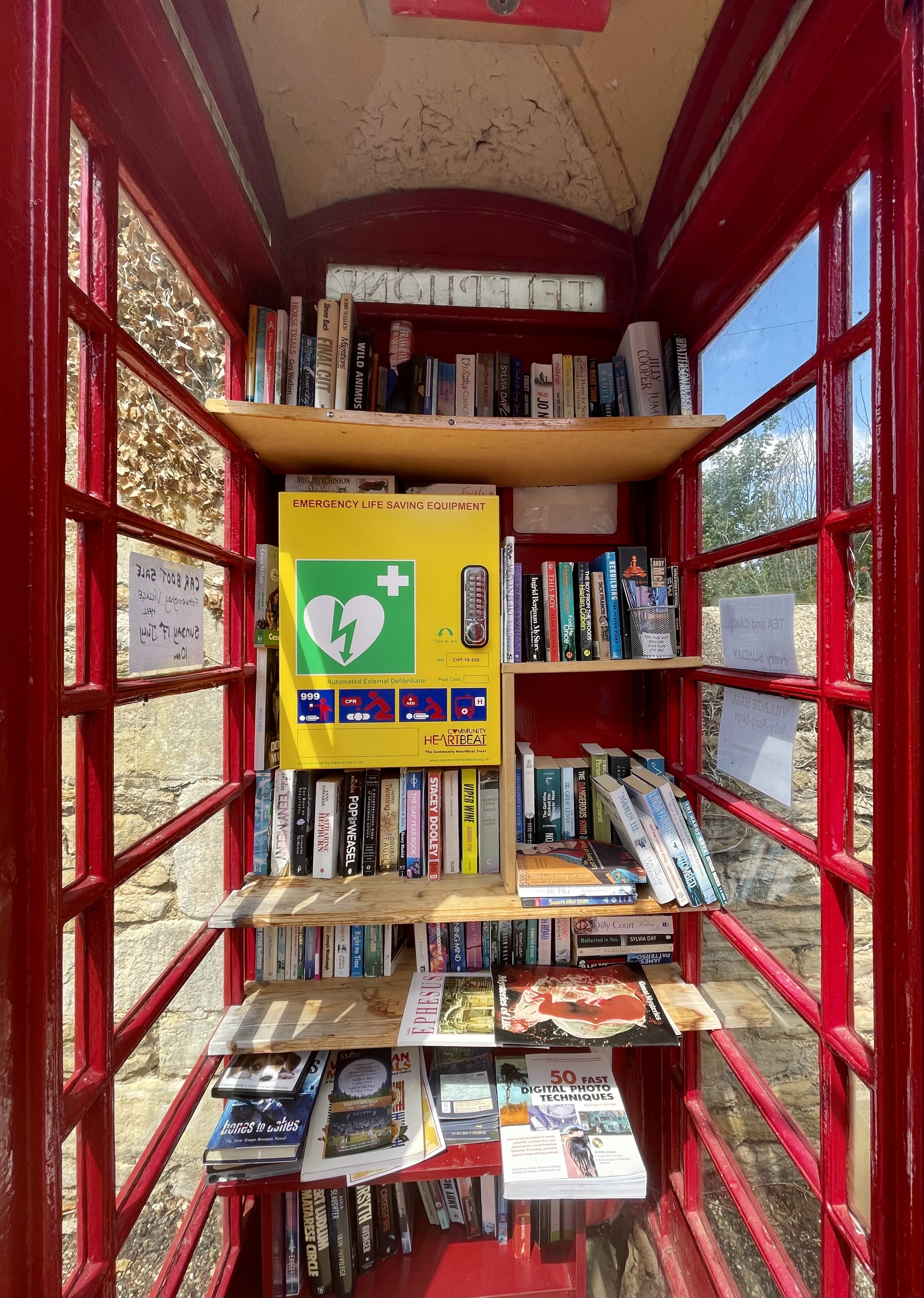 I managed to fly my drone above the river Nene and take a shot of the old bridge at Fotheringhay.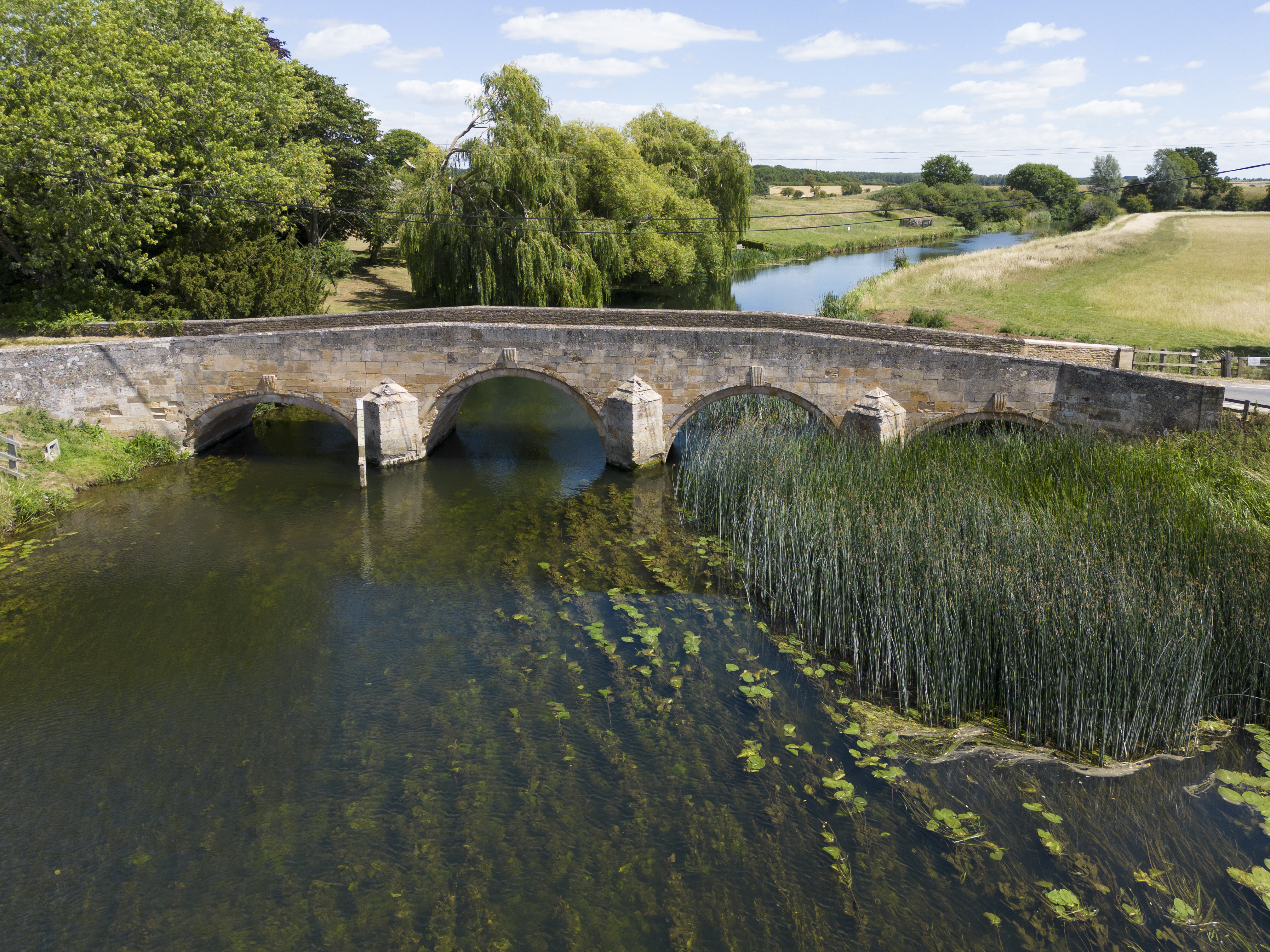 St. Mary and All Saints, Fotheringhay
On my first siting of the church at Fotheringhay, I thought it was a cardboard cut-out. It stands aloft on a rise in perfect perpendicular unity. It is a rump, of course, which was part of a larger collegiate church and cloisters built by Edward III.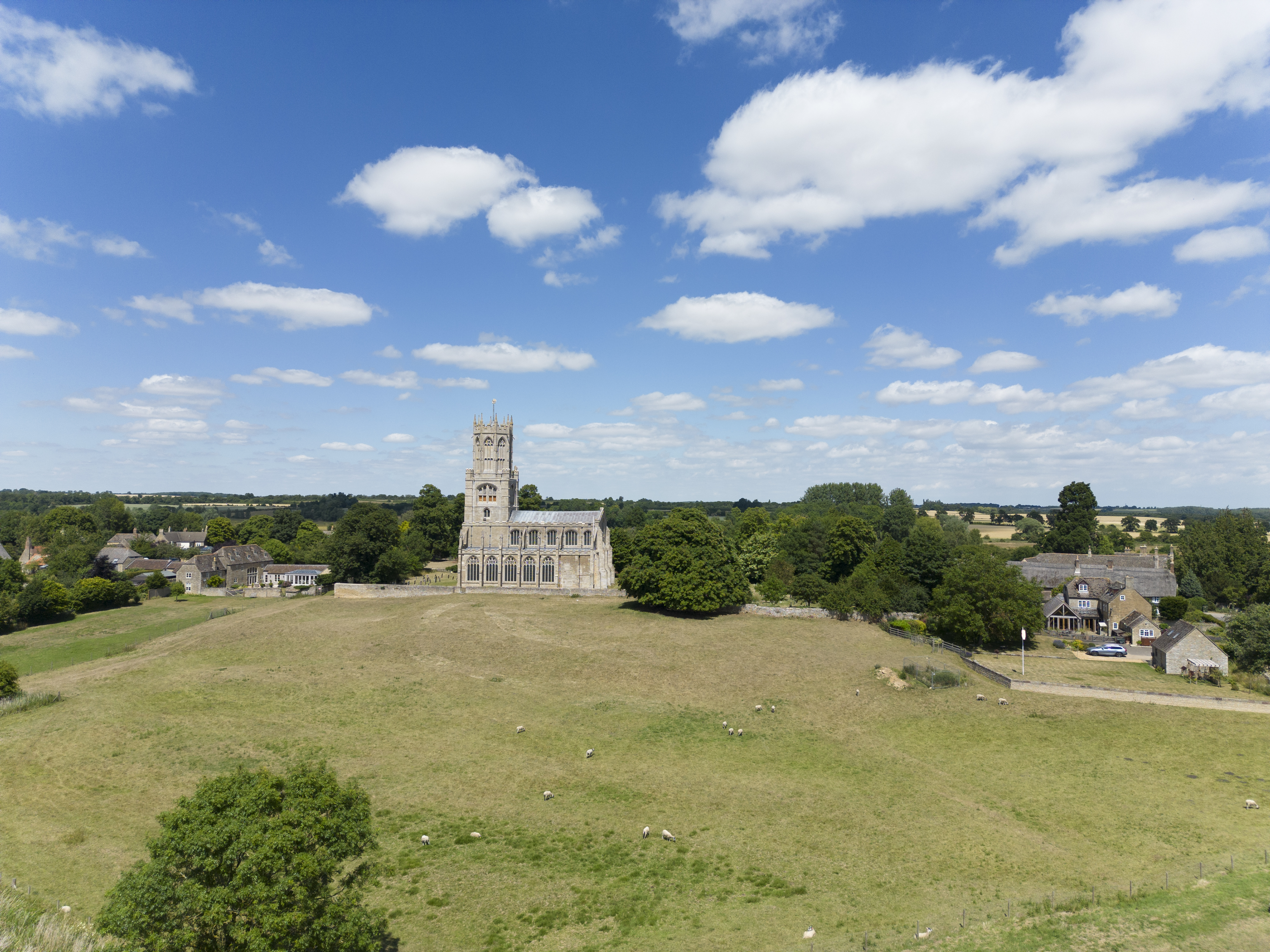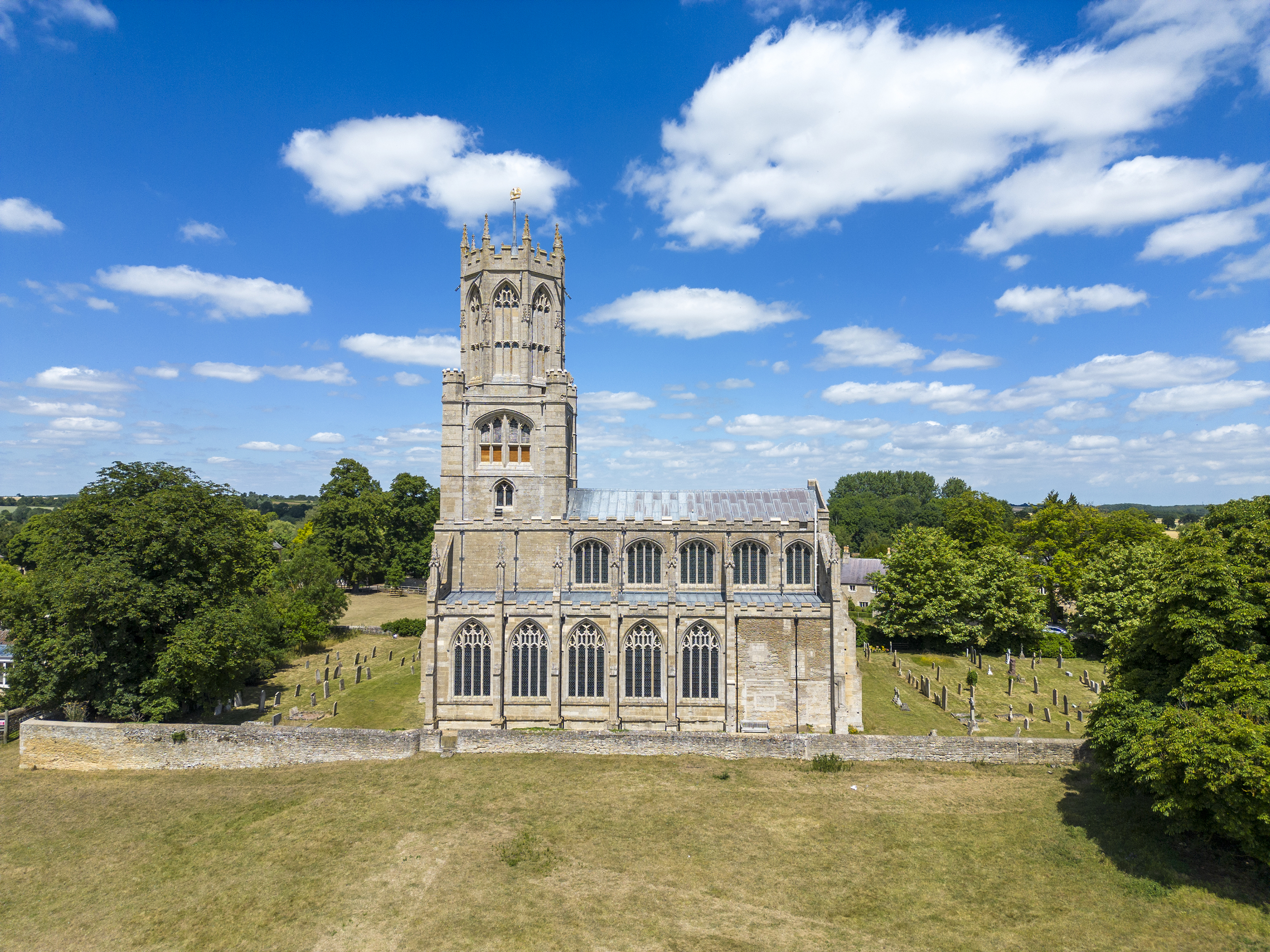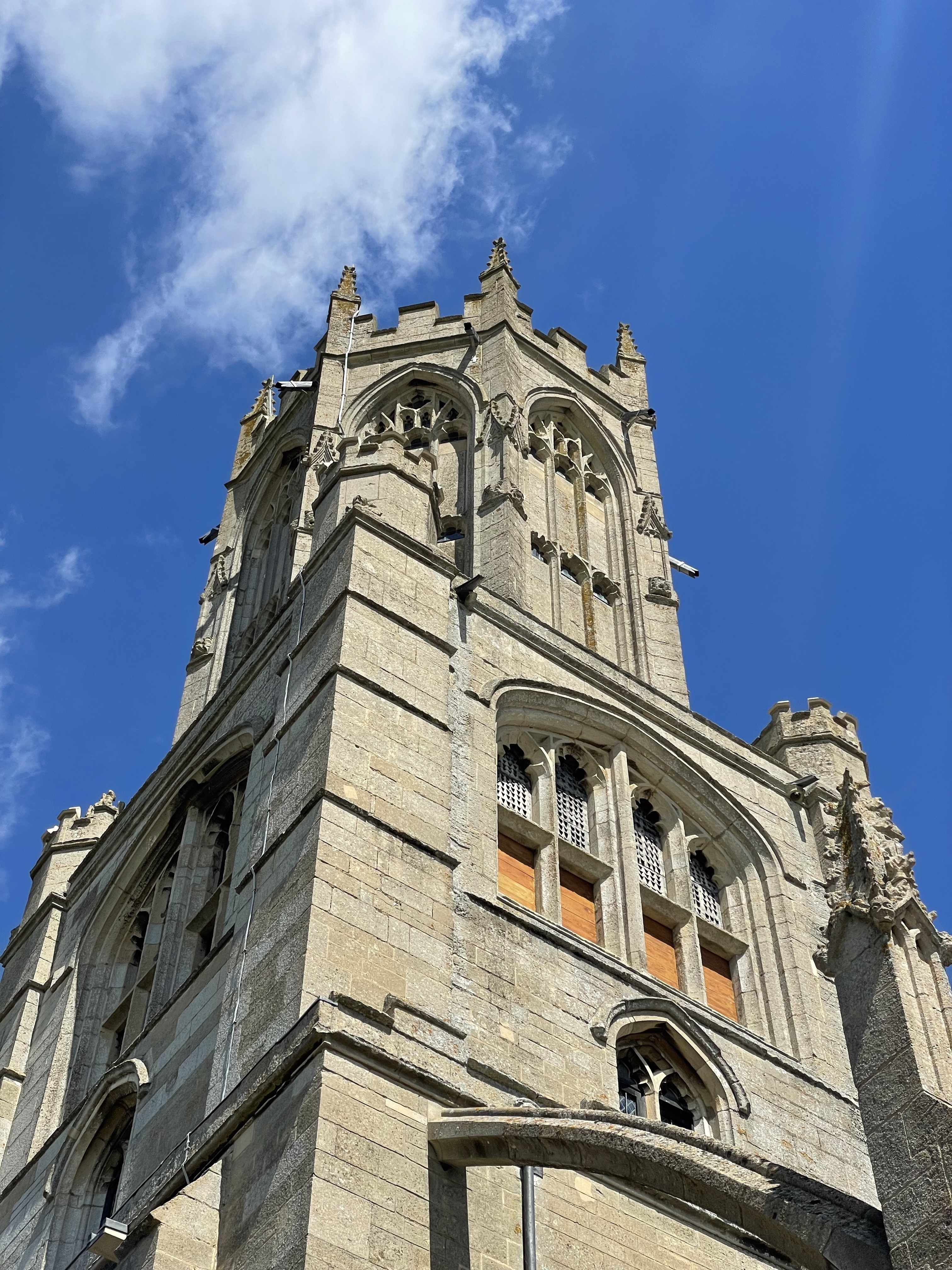 Signs of the larger collegiate church (a truncated chancel) can be seen in the gable below.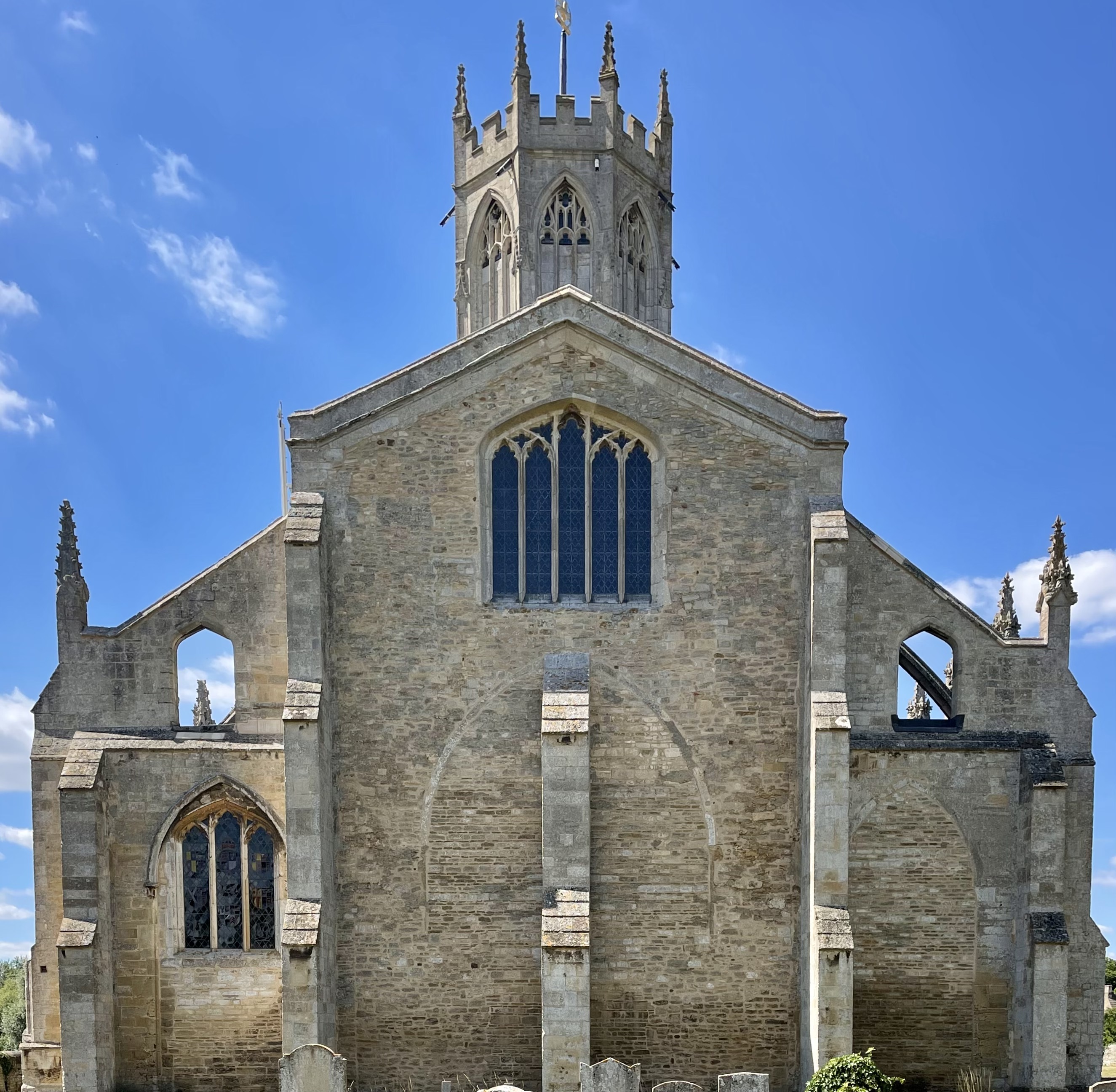 Graffiti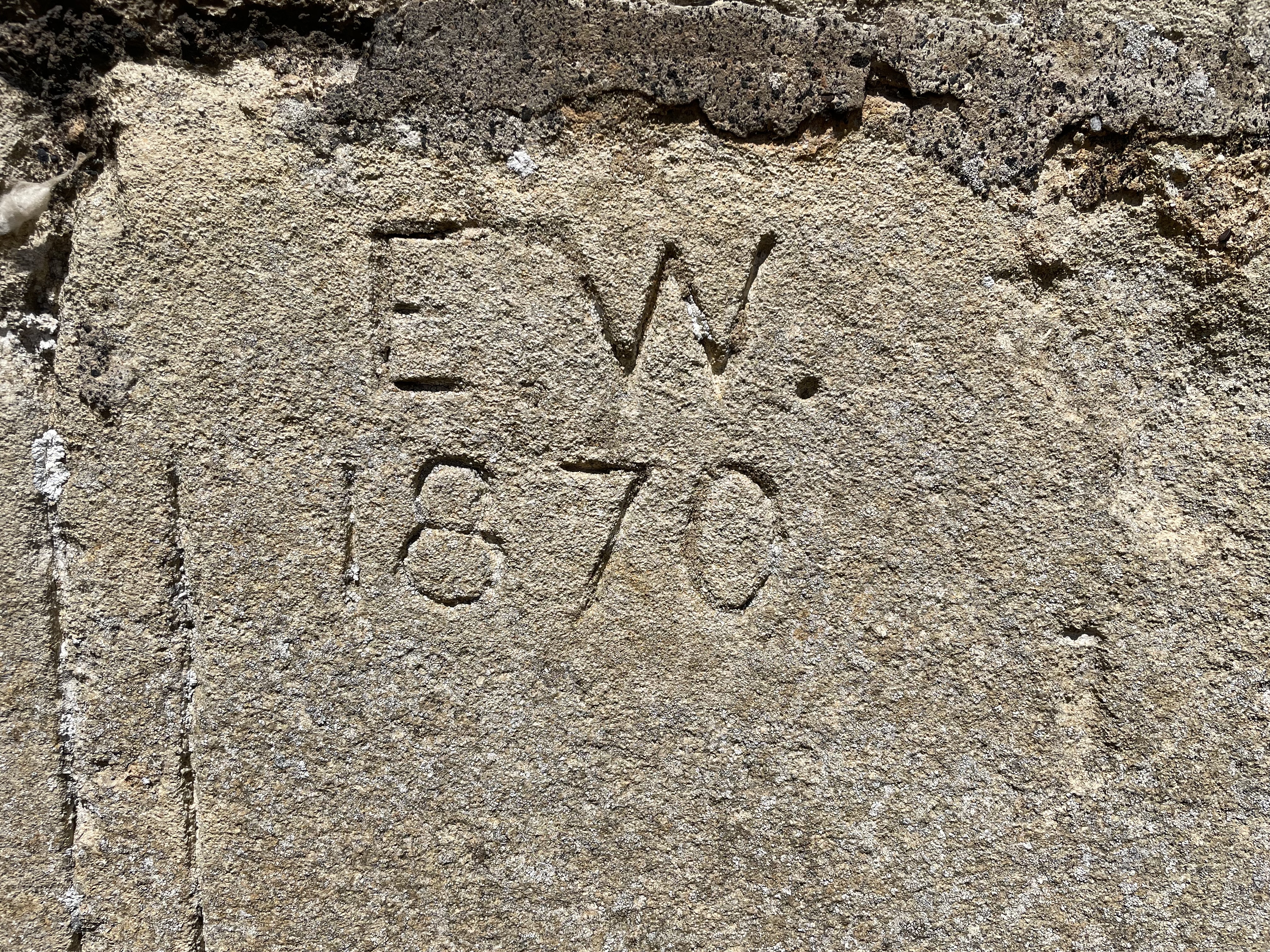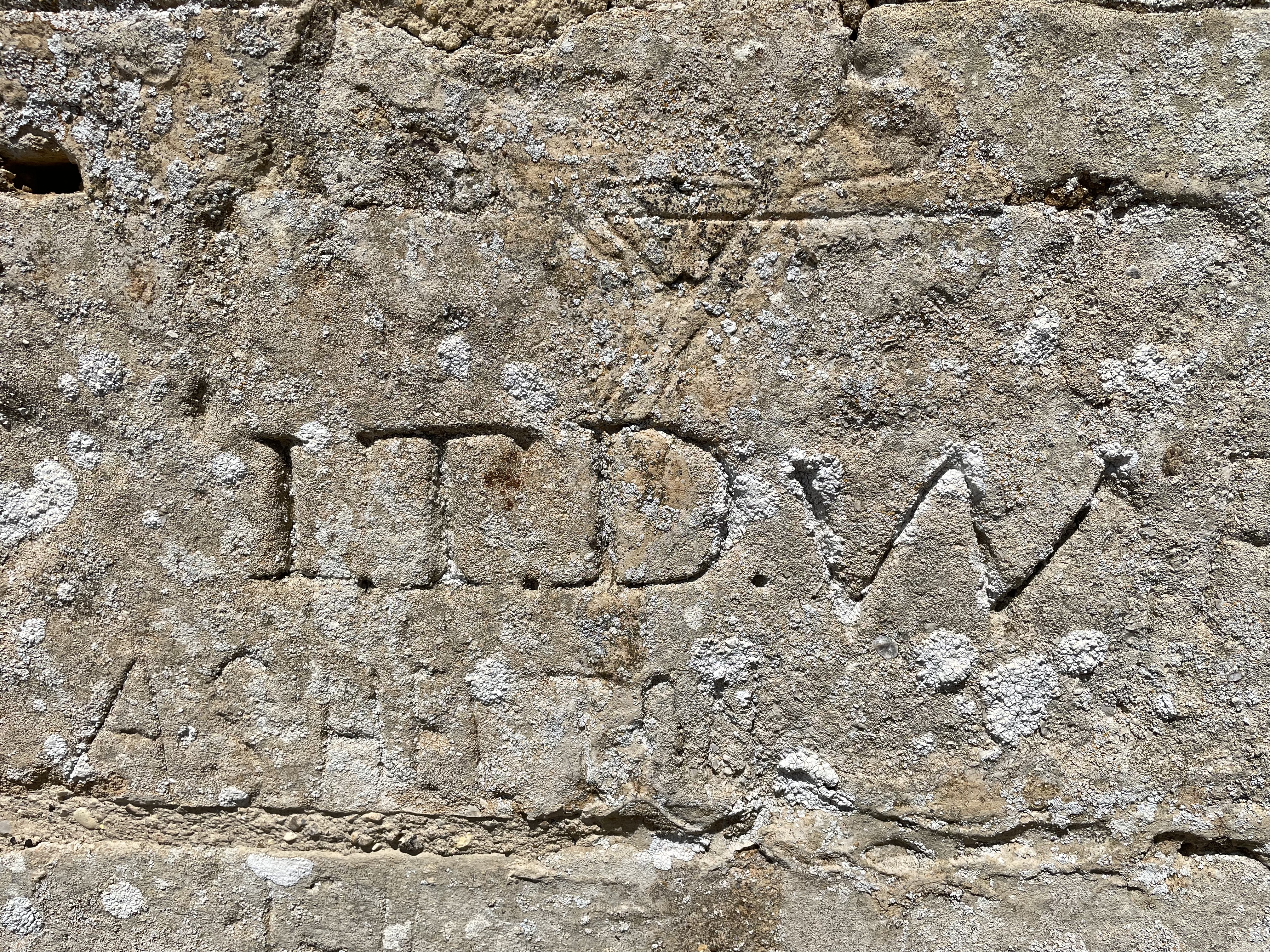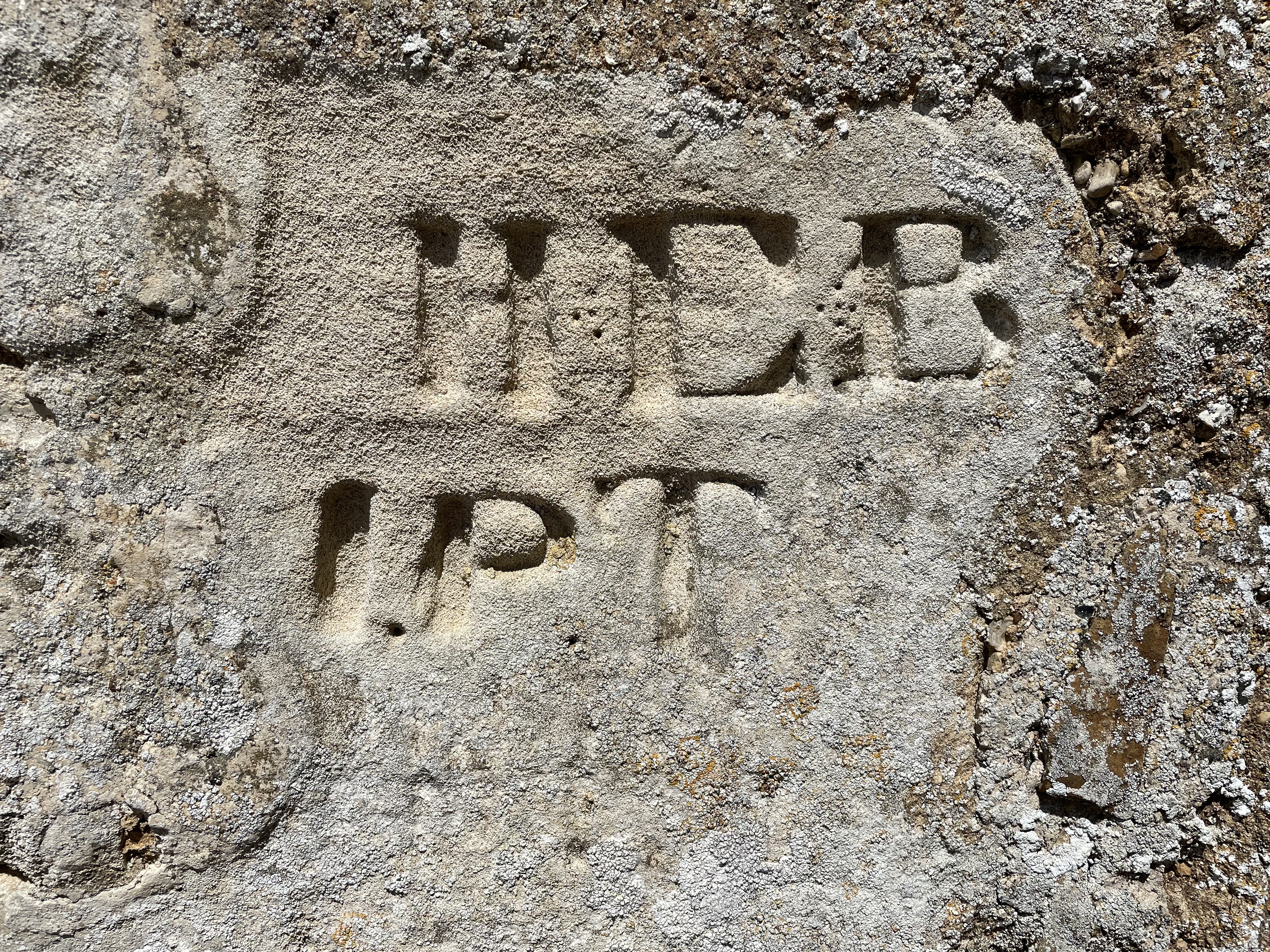 On the day I visited the sun was raking against the church yard monuments and the light-sculpted limestone and lichen performed admirably.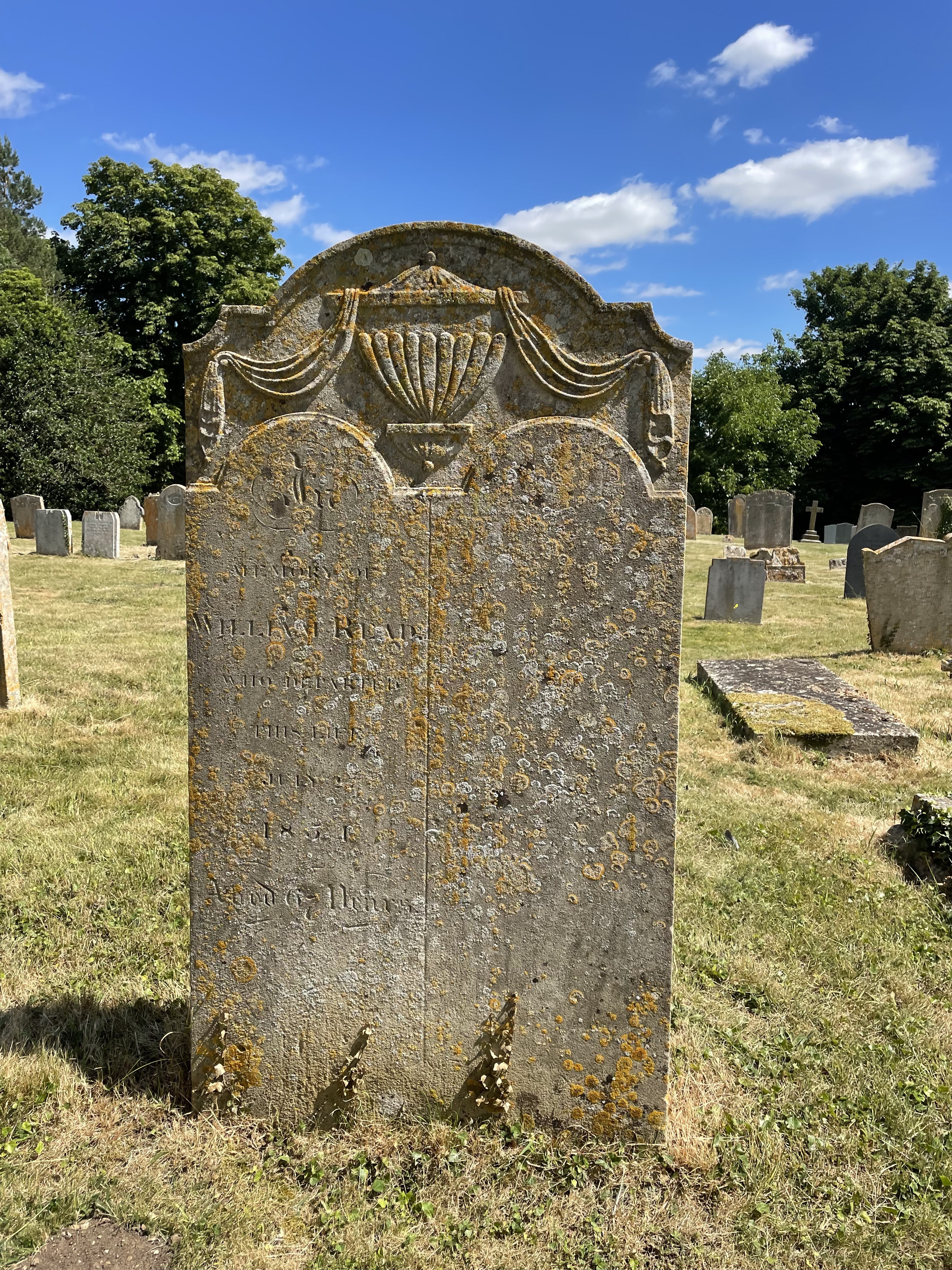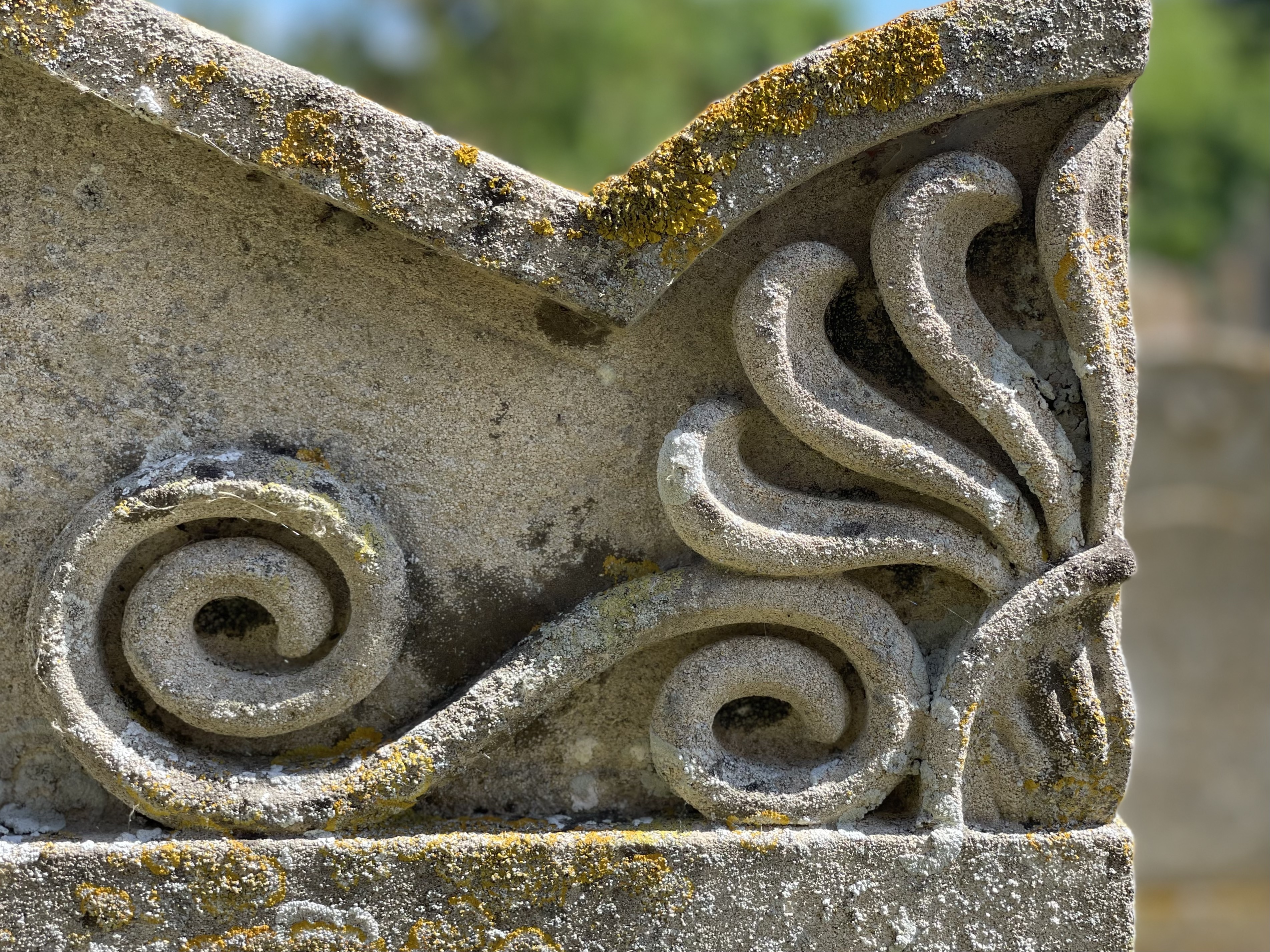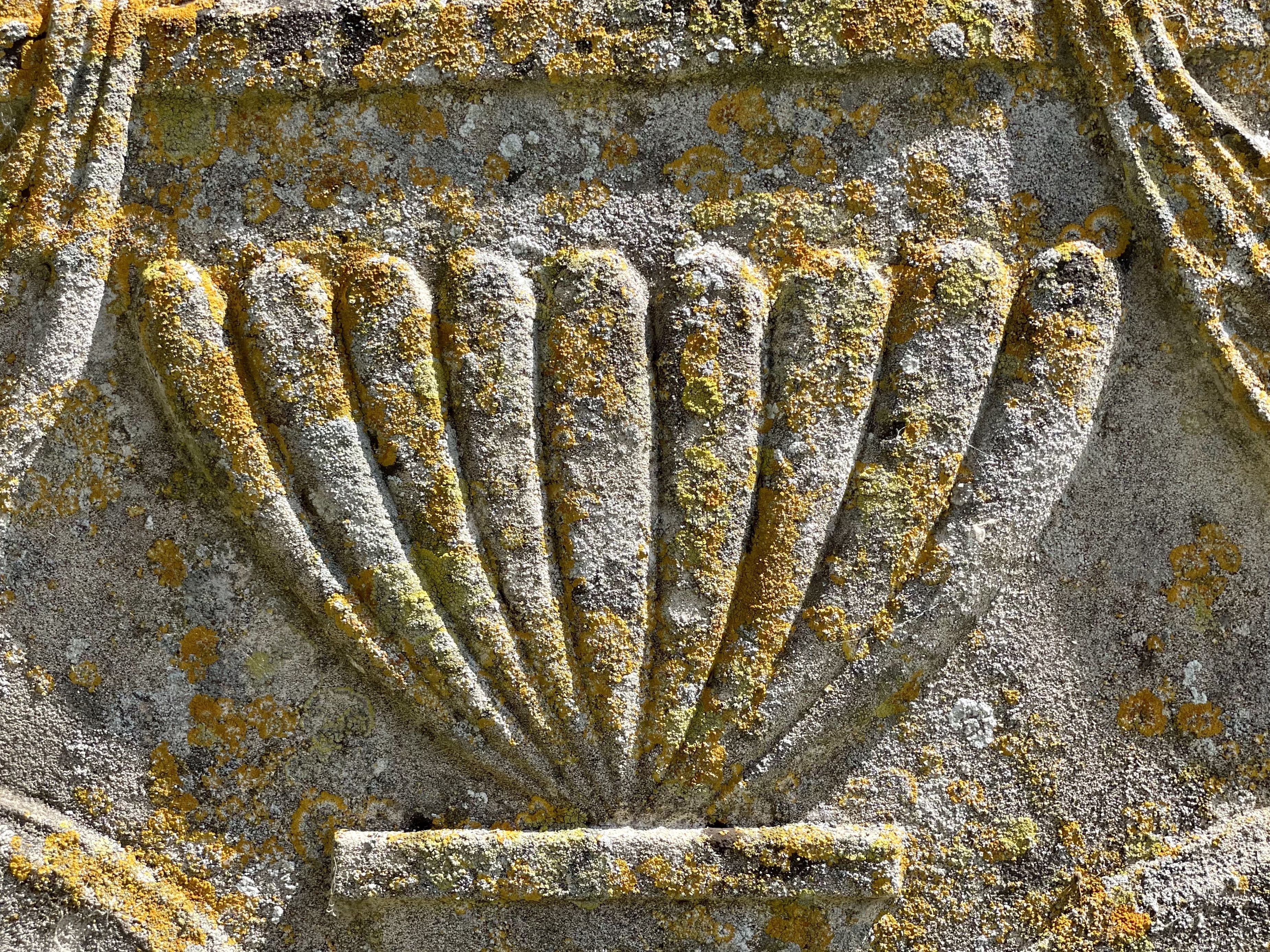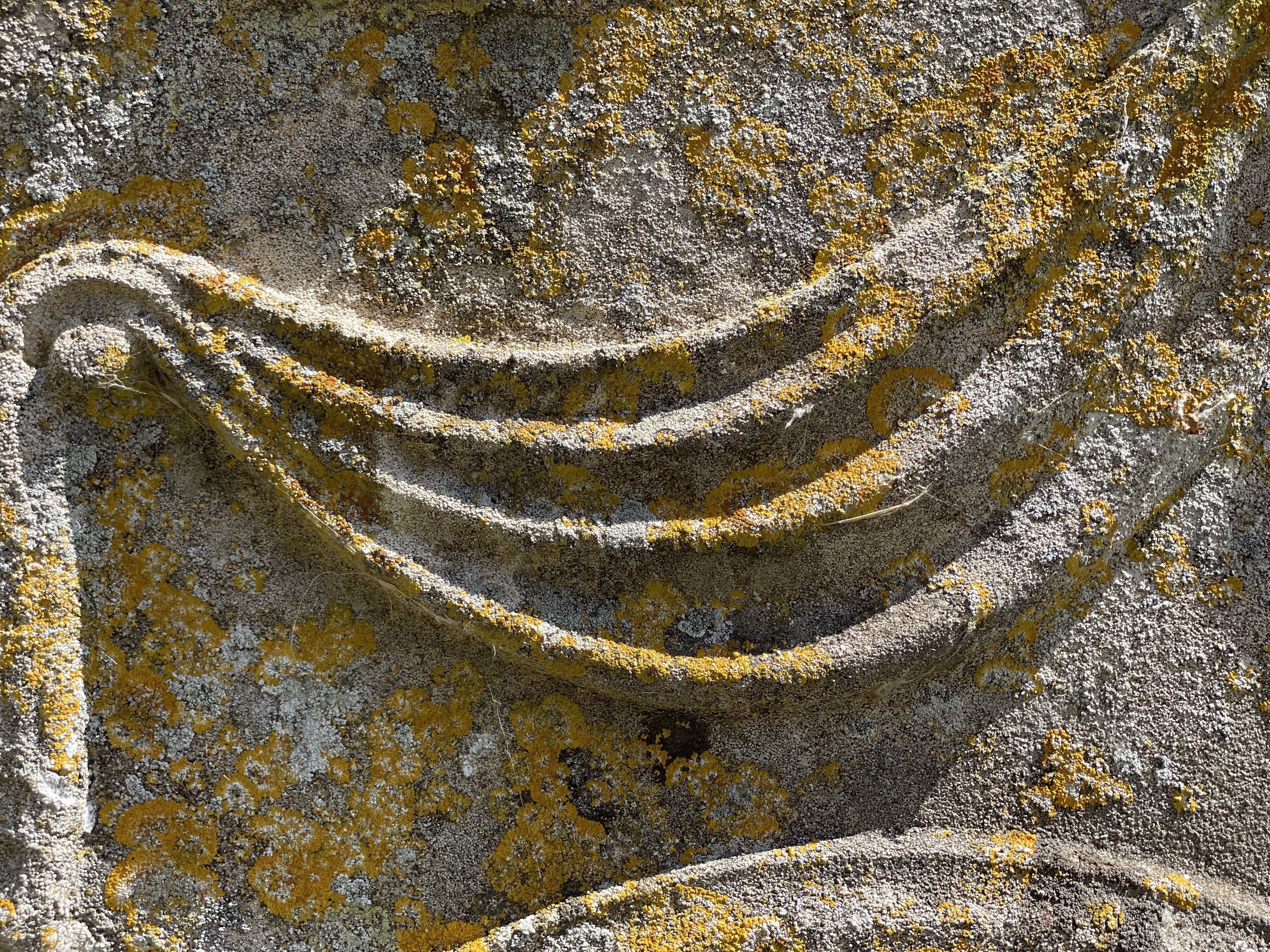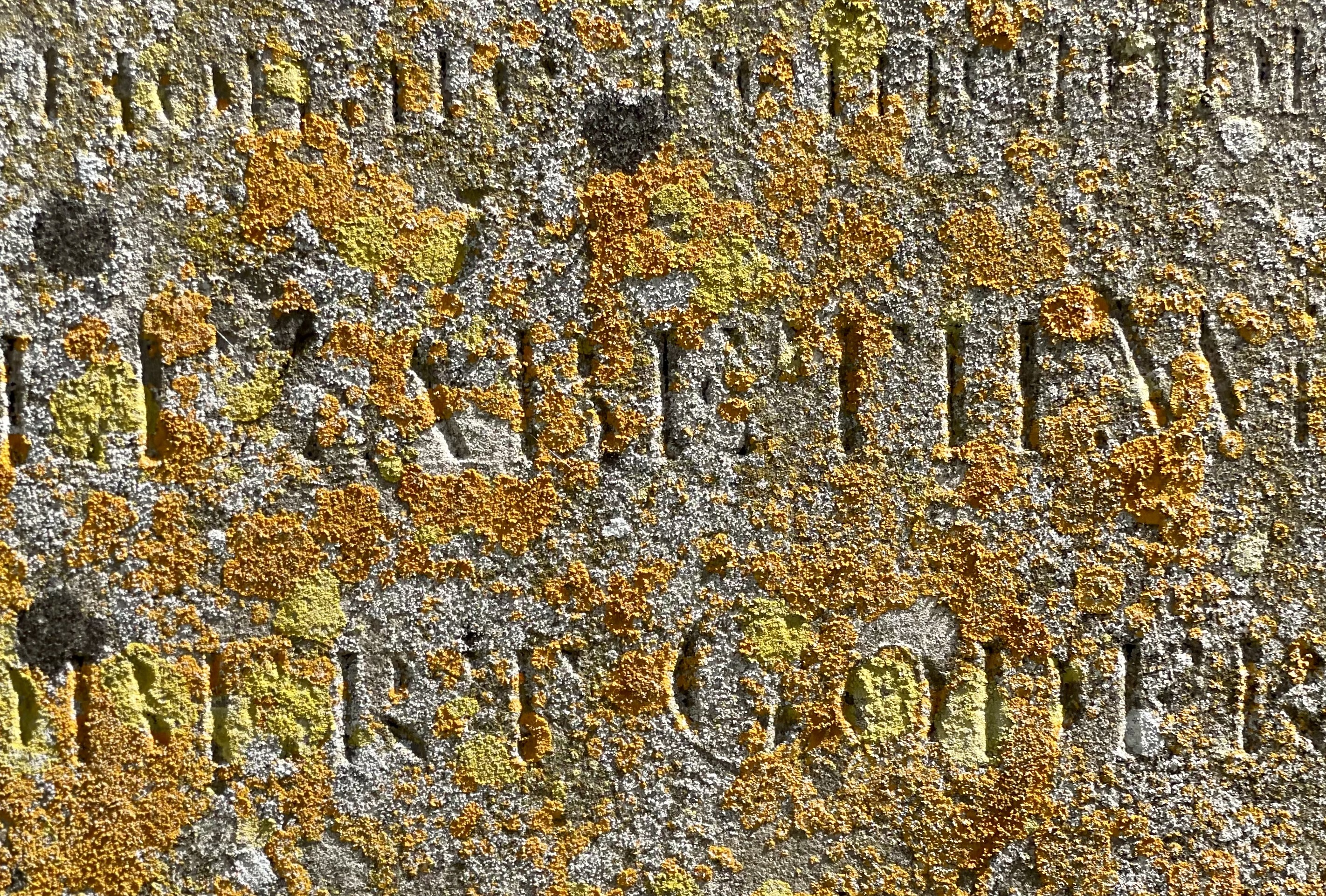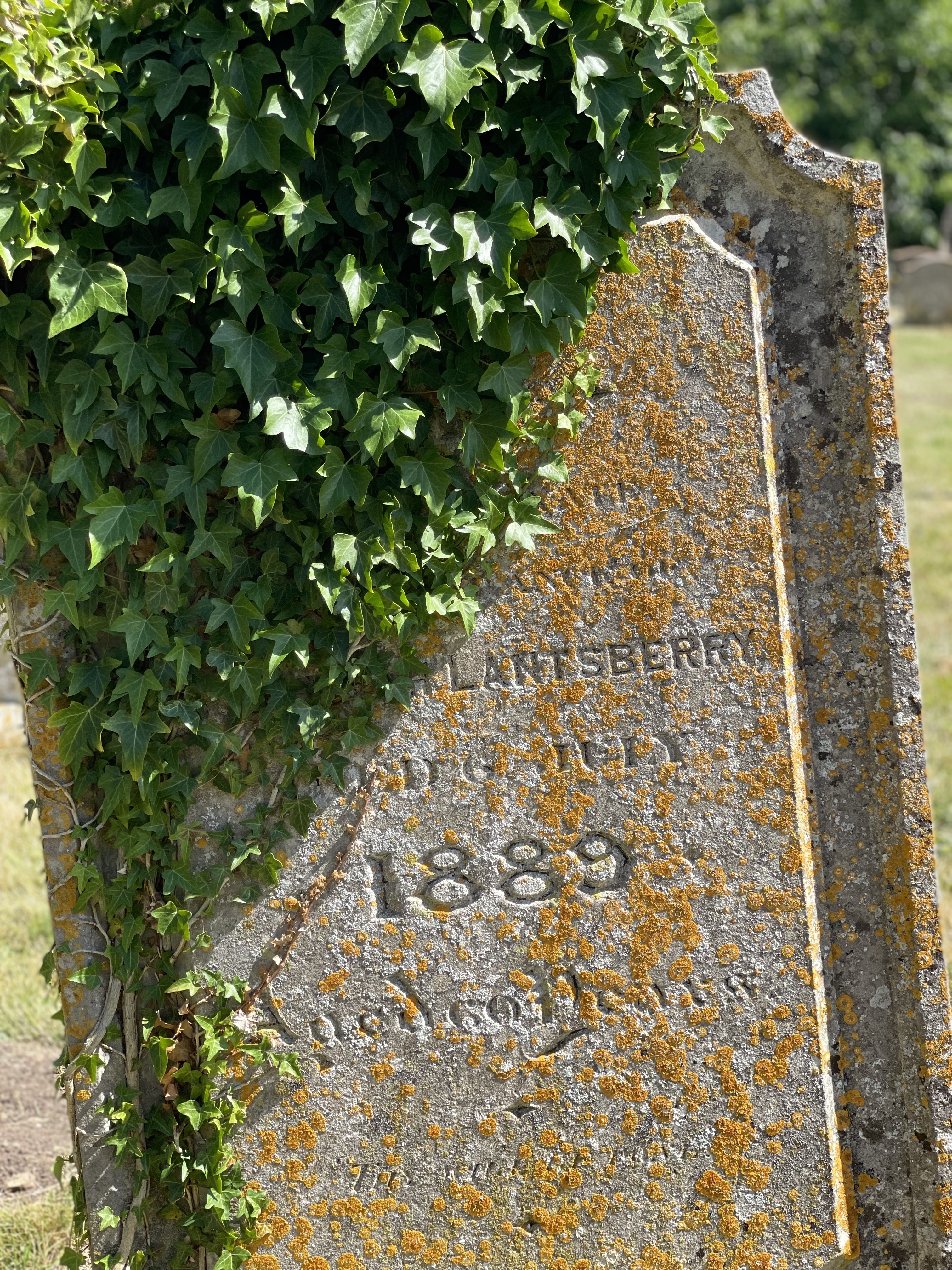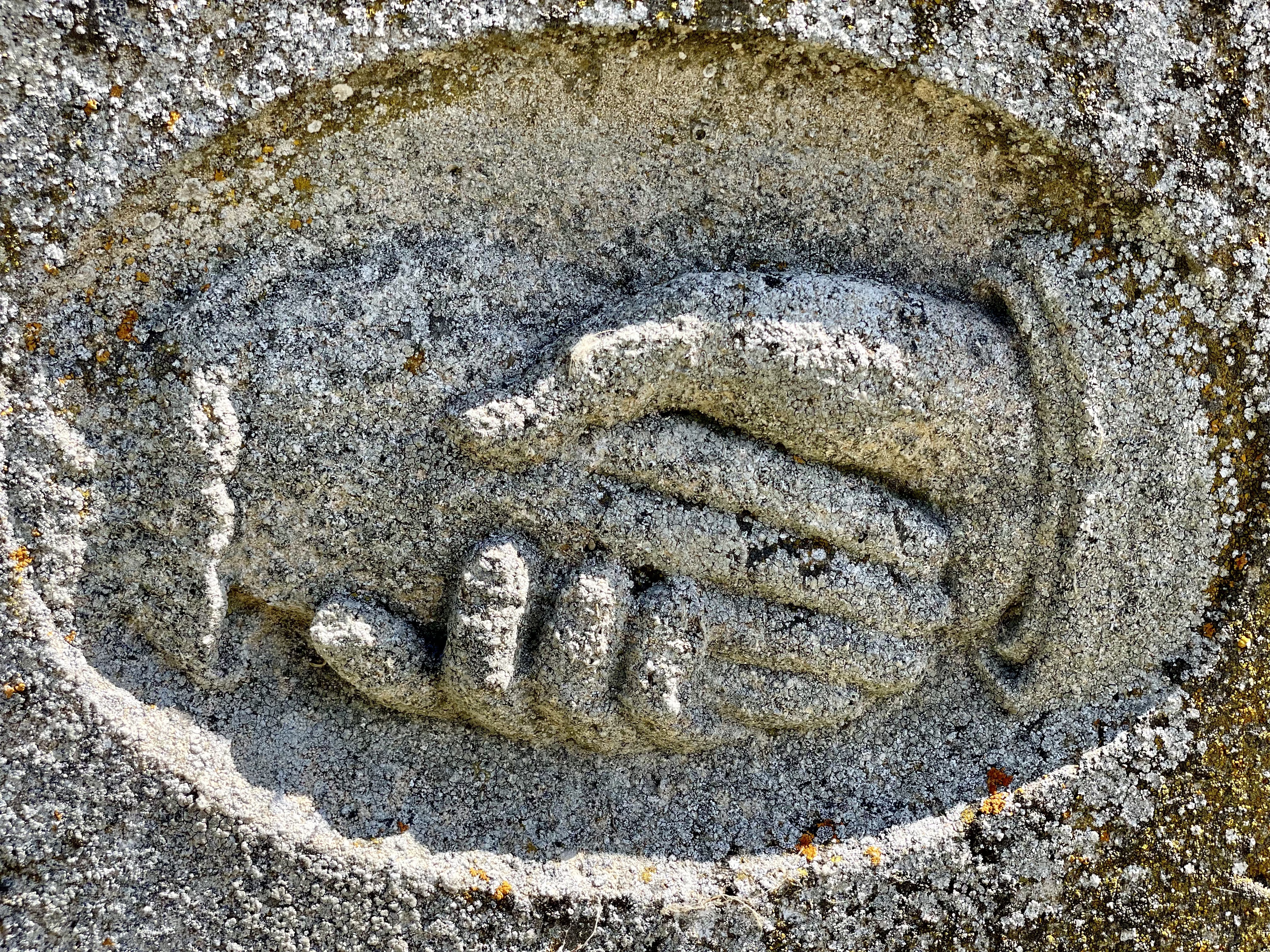 The Interior
Either side of the altar are two memorials erected by Queen Elizabeth I in 1573 to Edmund Second Duke of York and Richard Third Duke of York.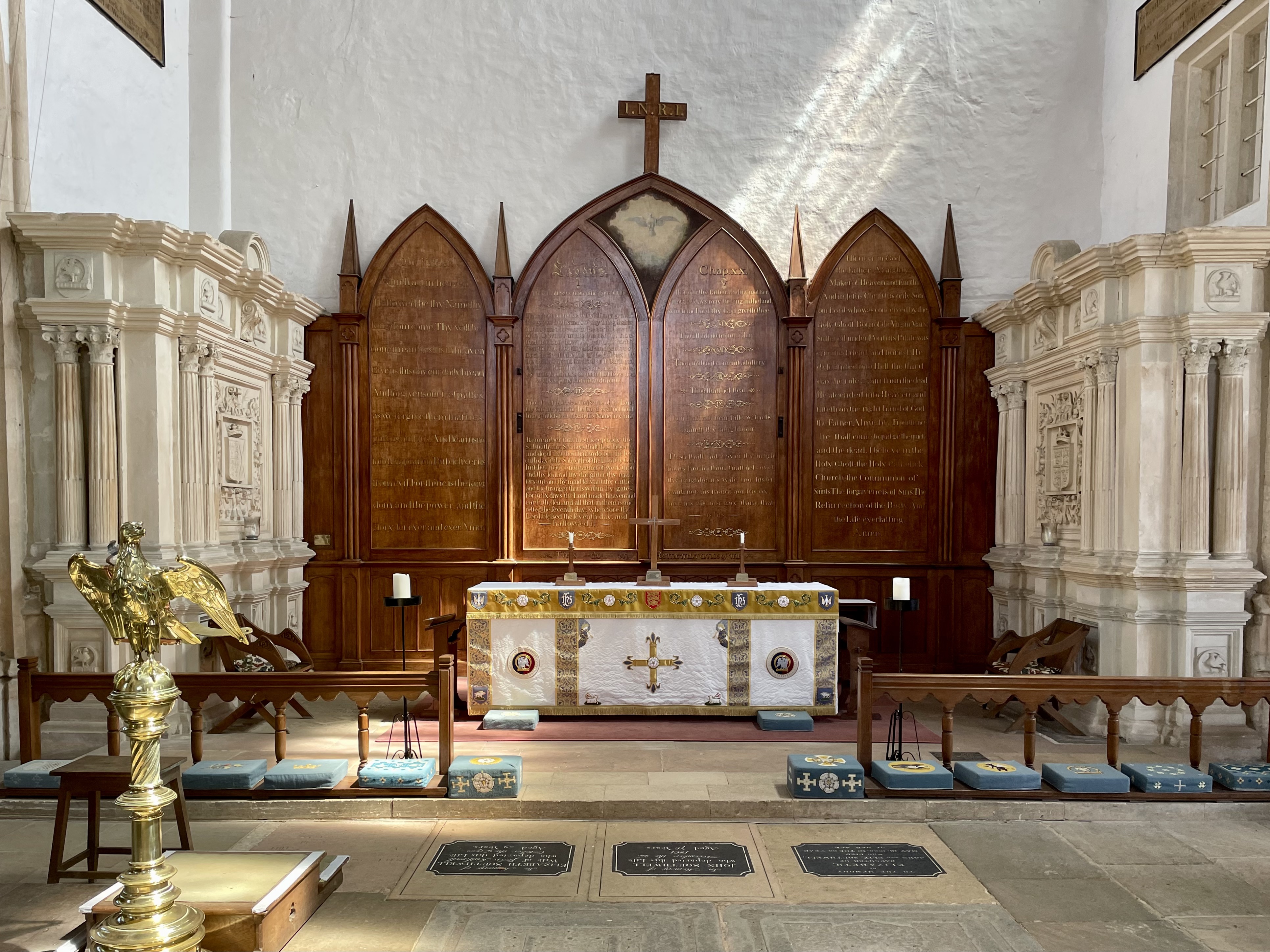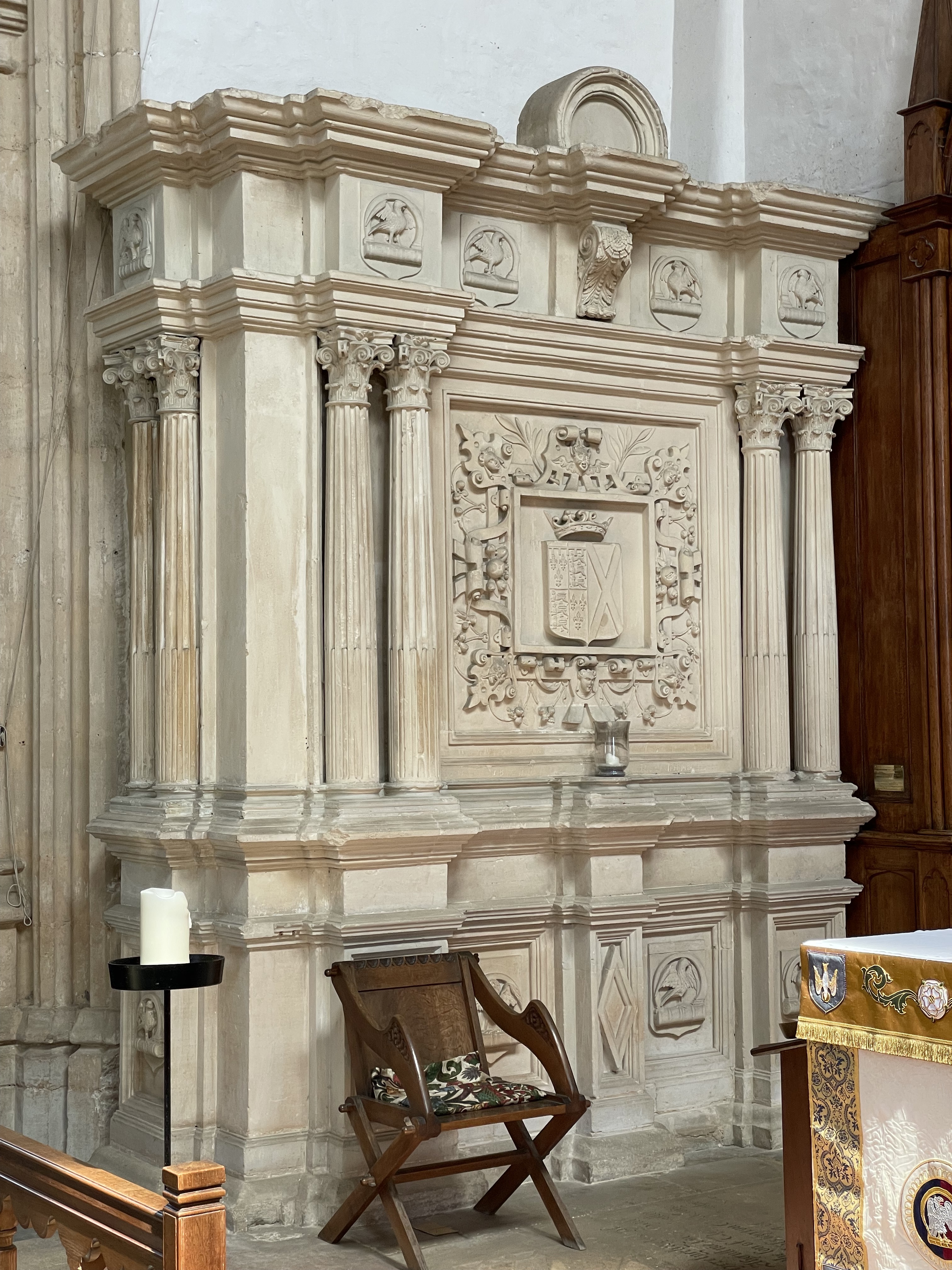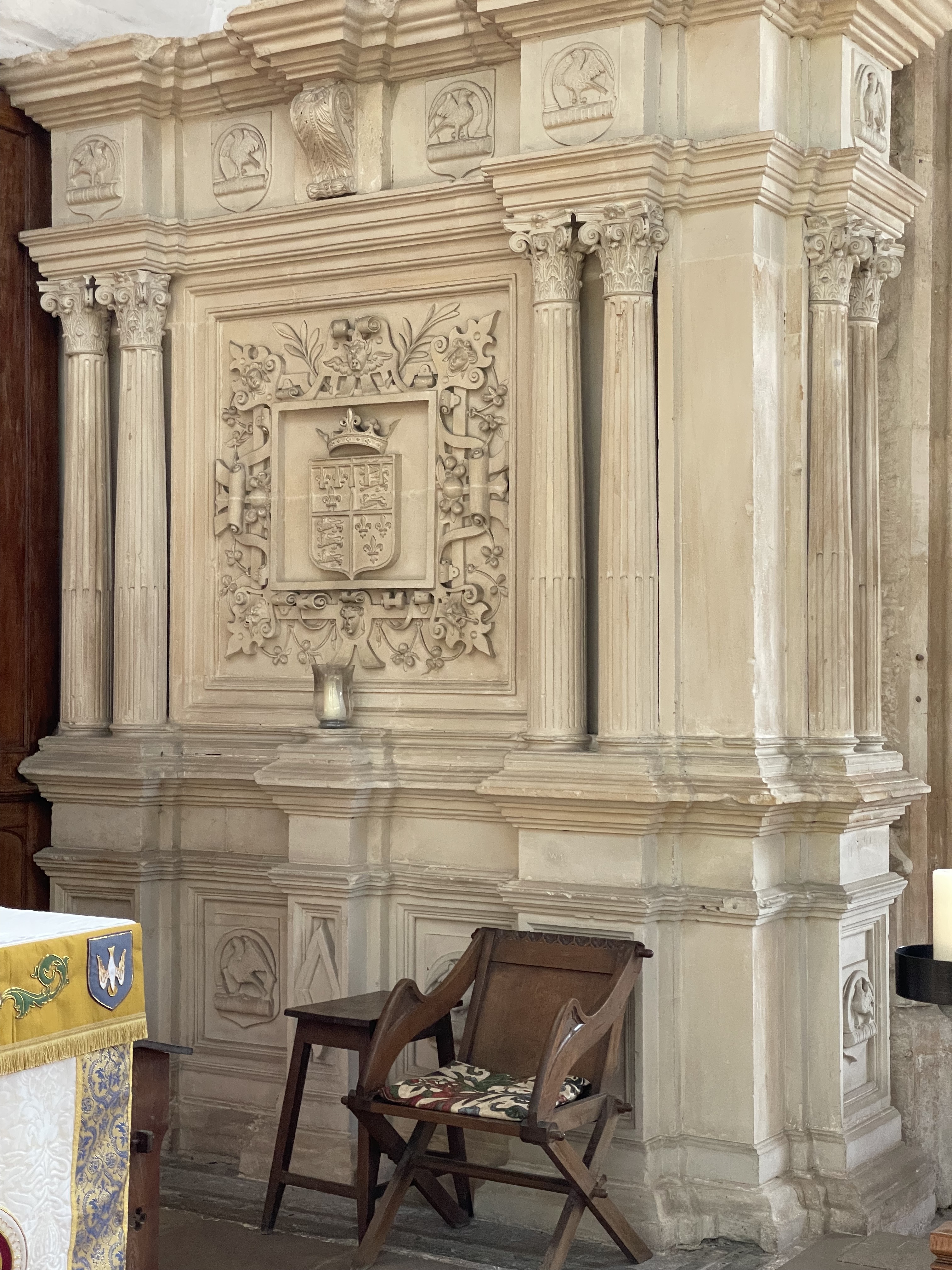 Below: now go back and check out that pub sign.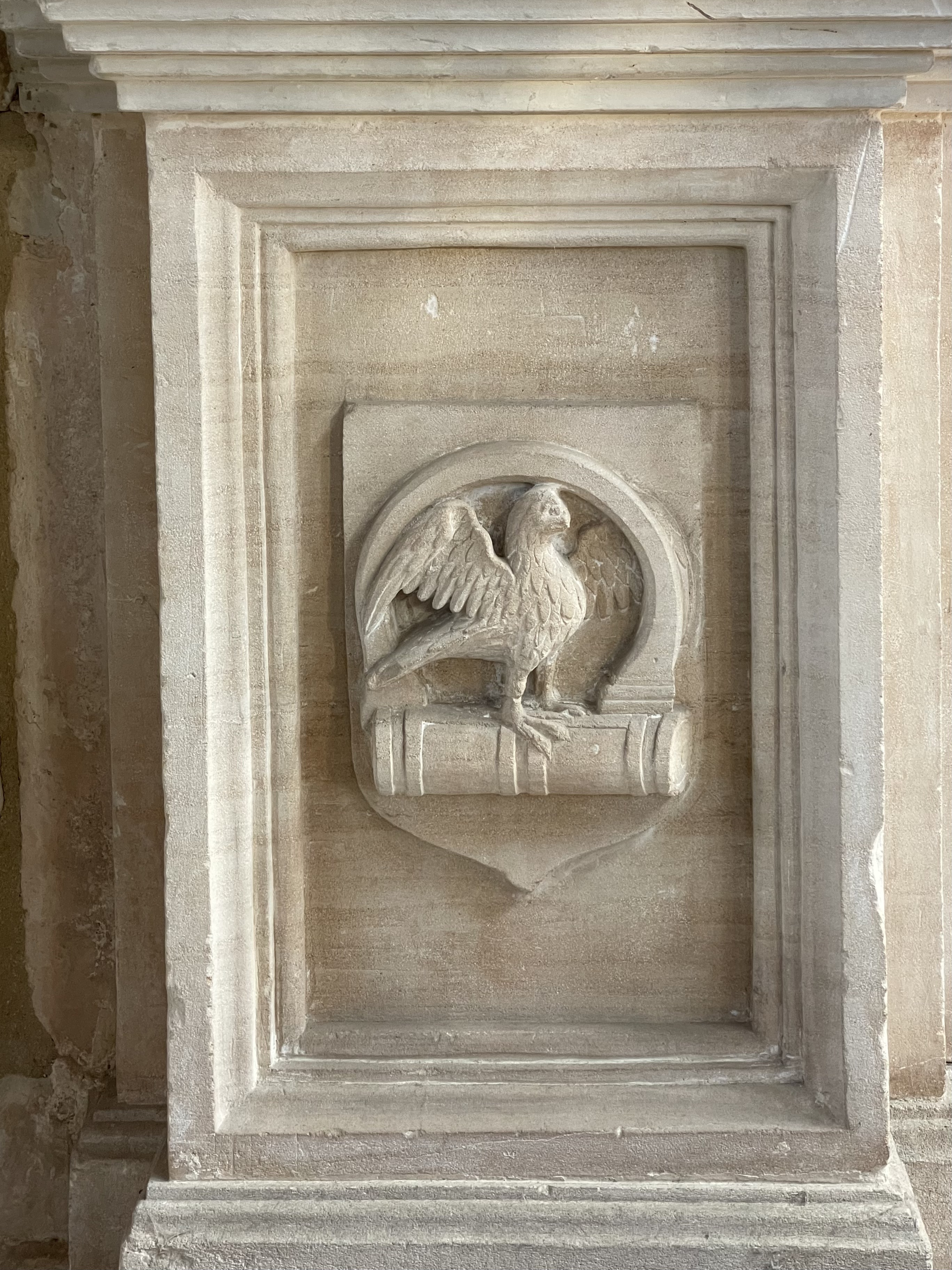 A ghost structure in the altar wall above the reredos marks the siting of the former chancel arch.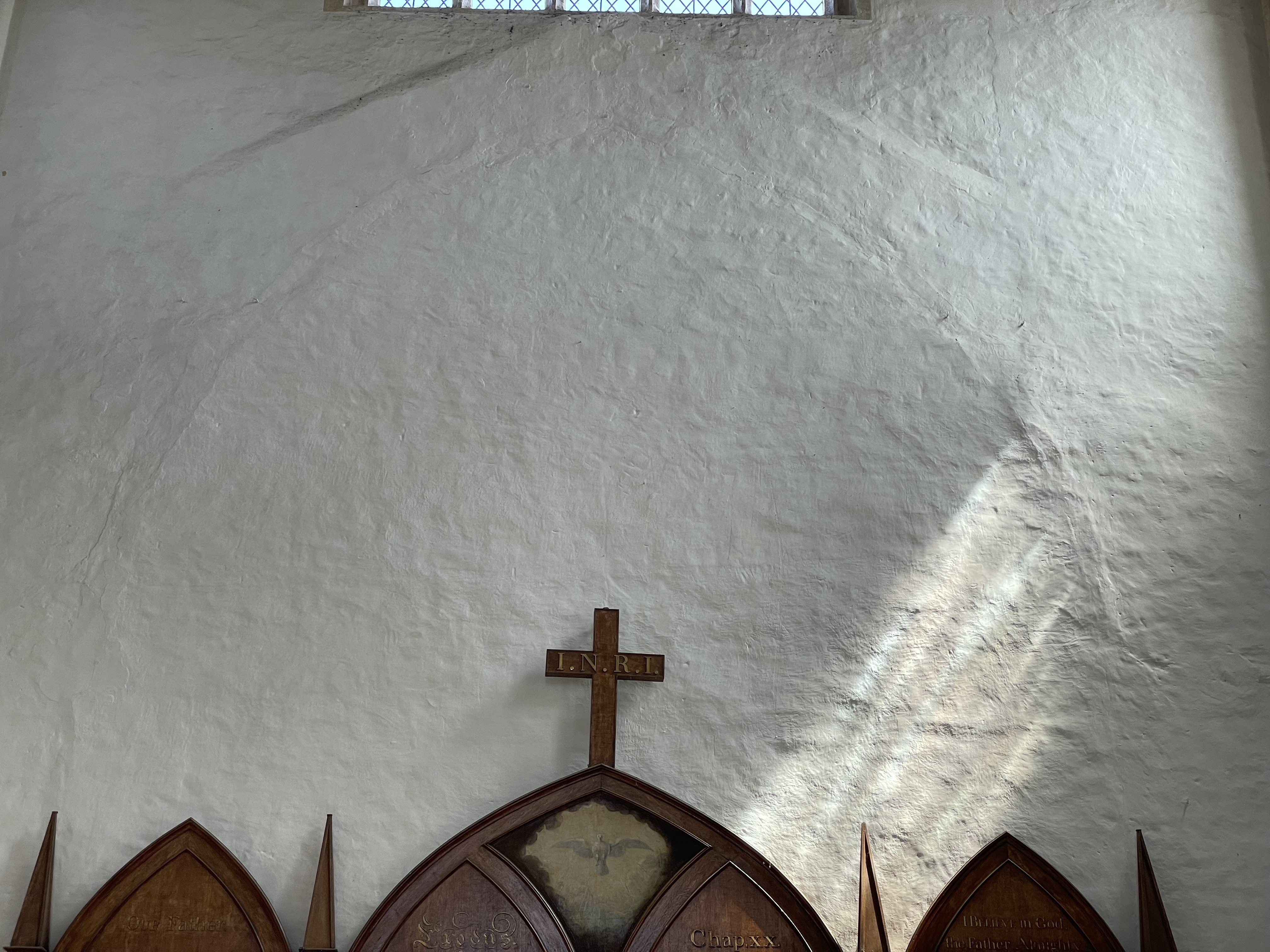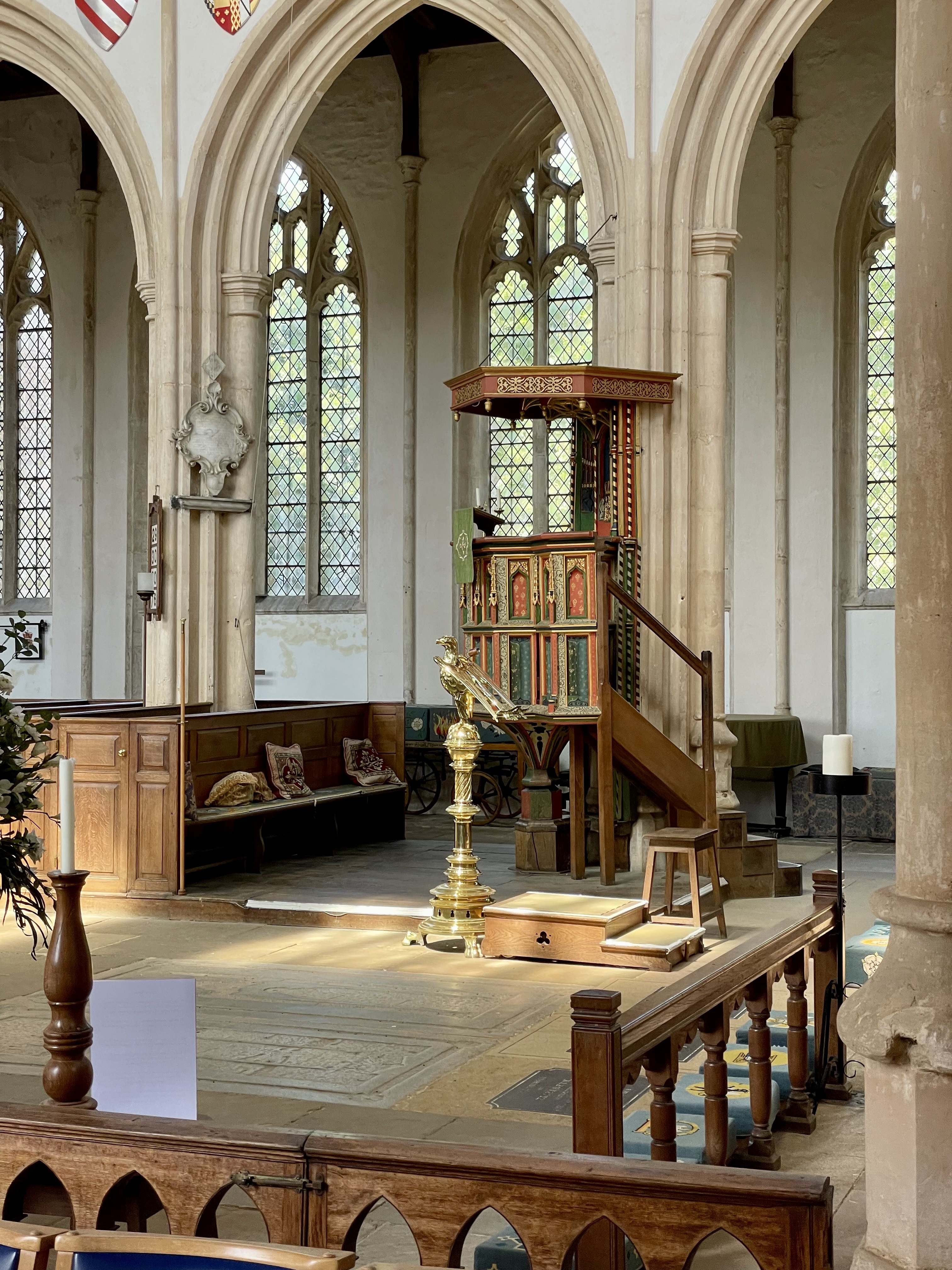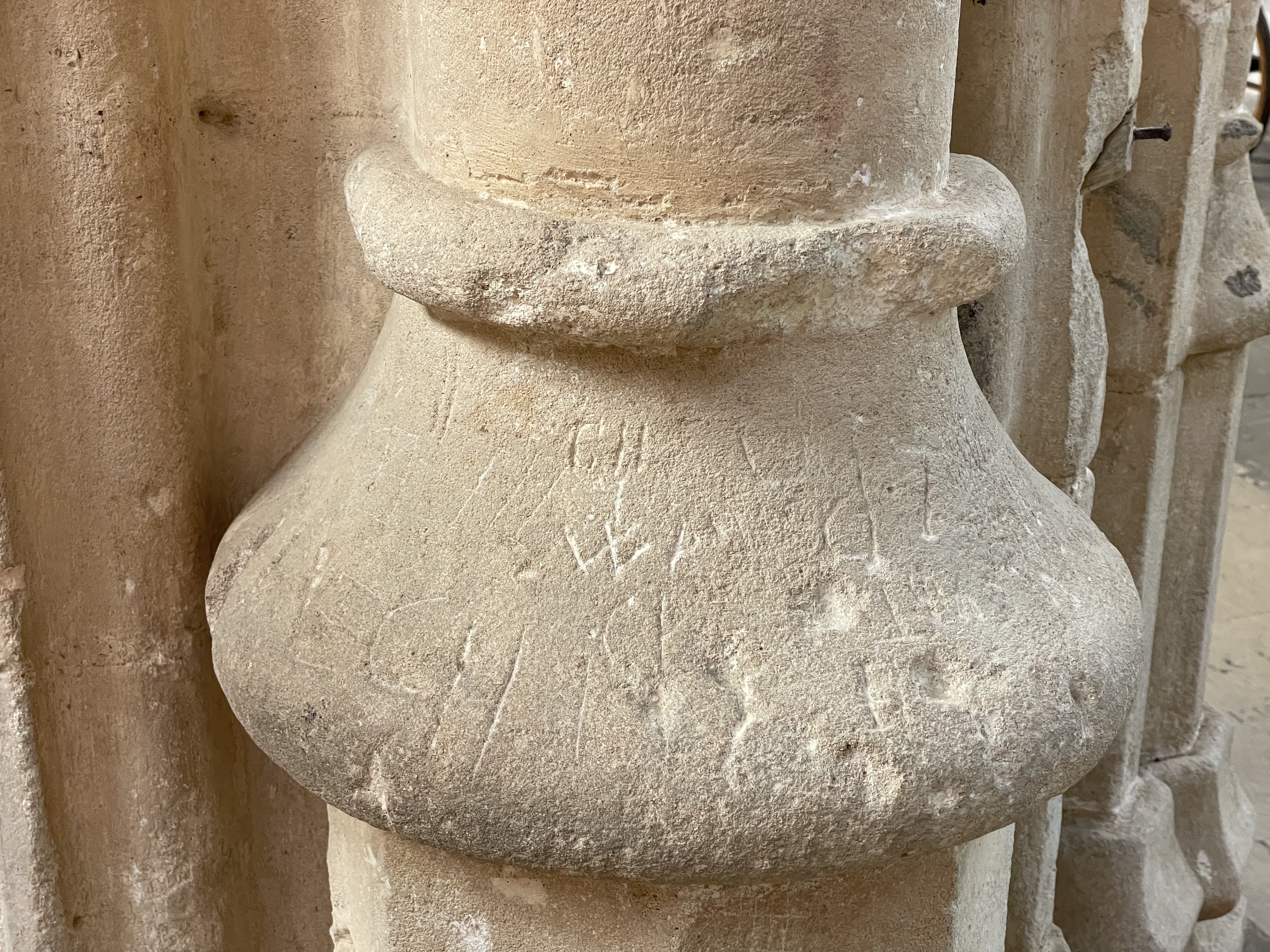 The font has an unusual cover which looks like it's been cobbled from a pair of misericords.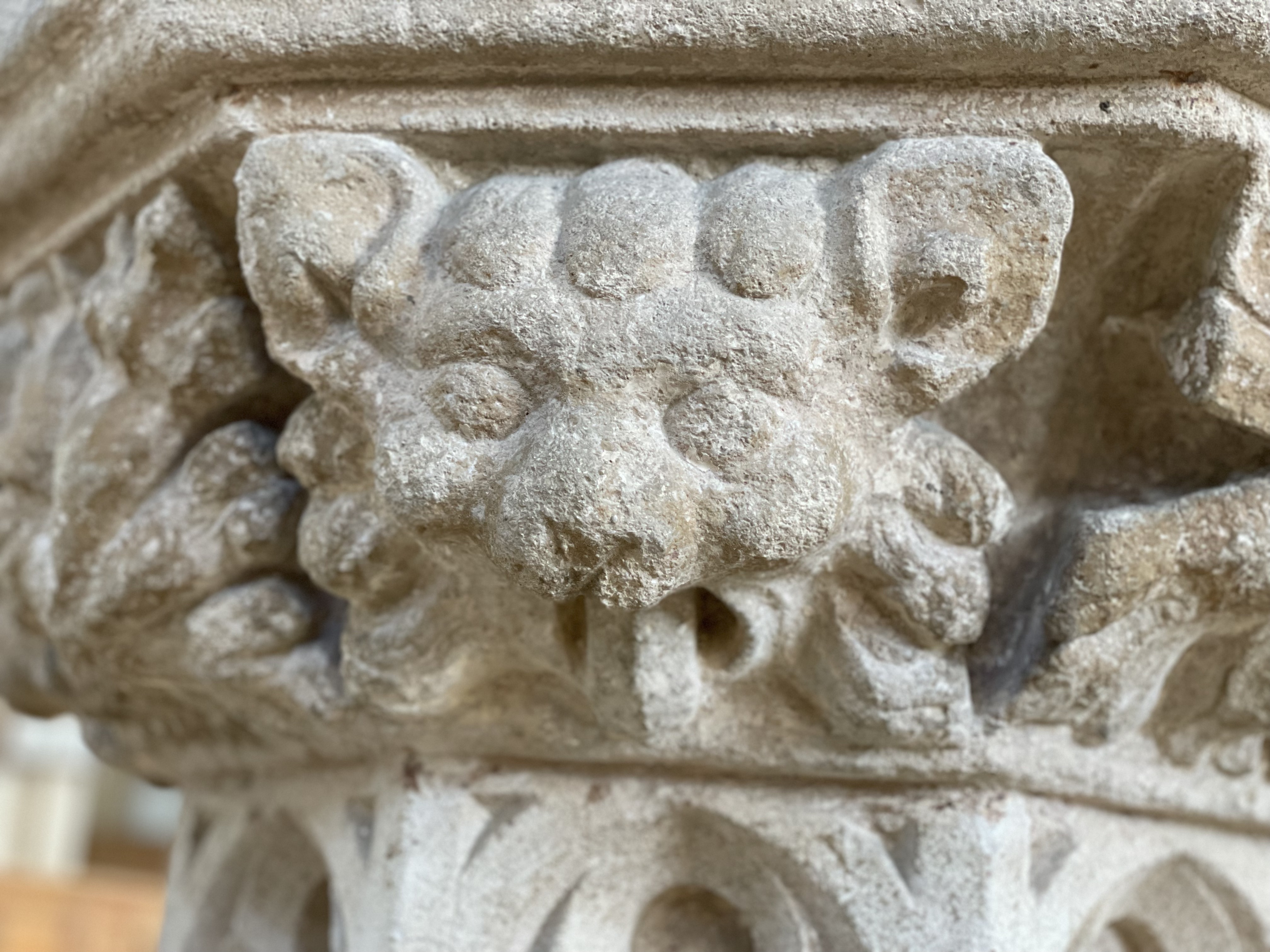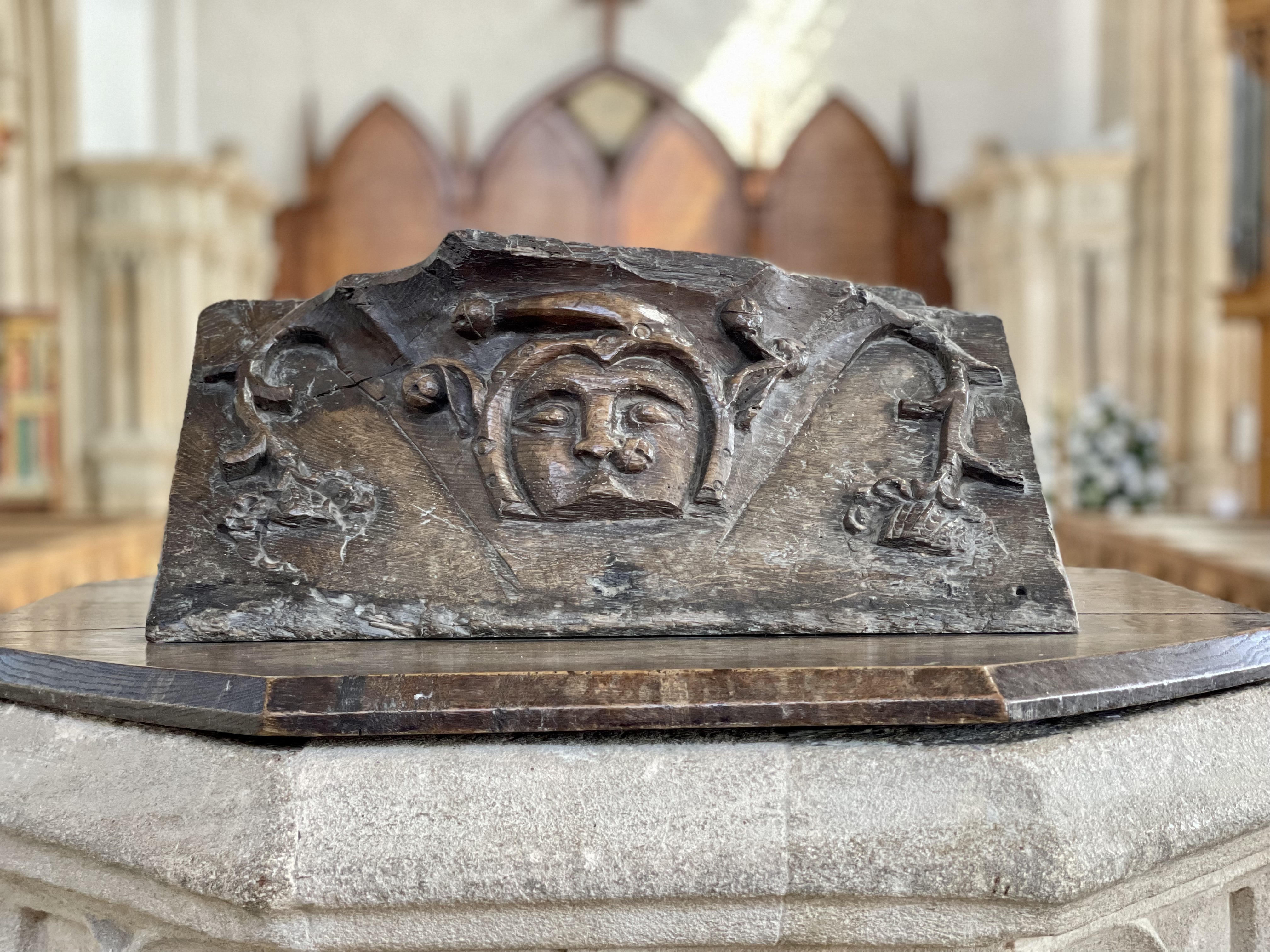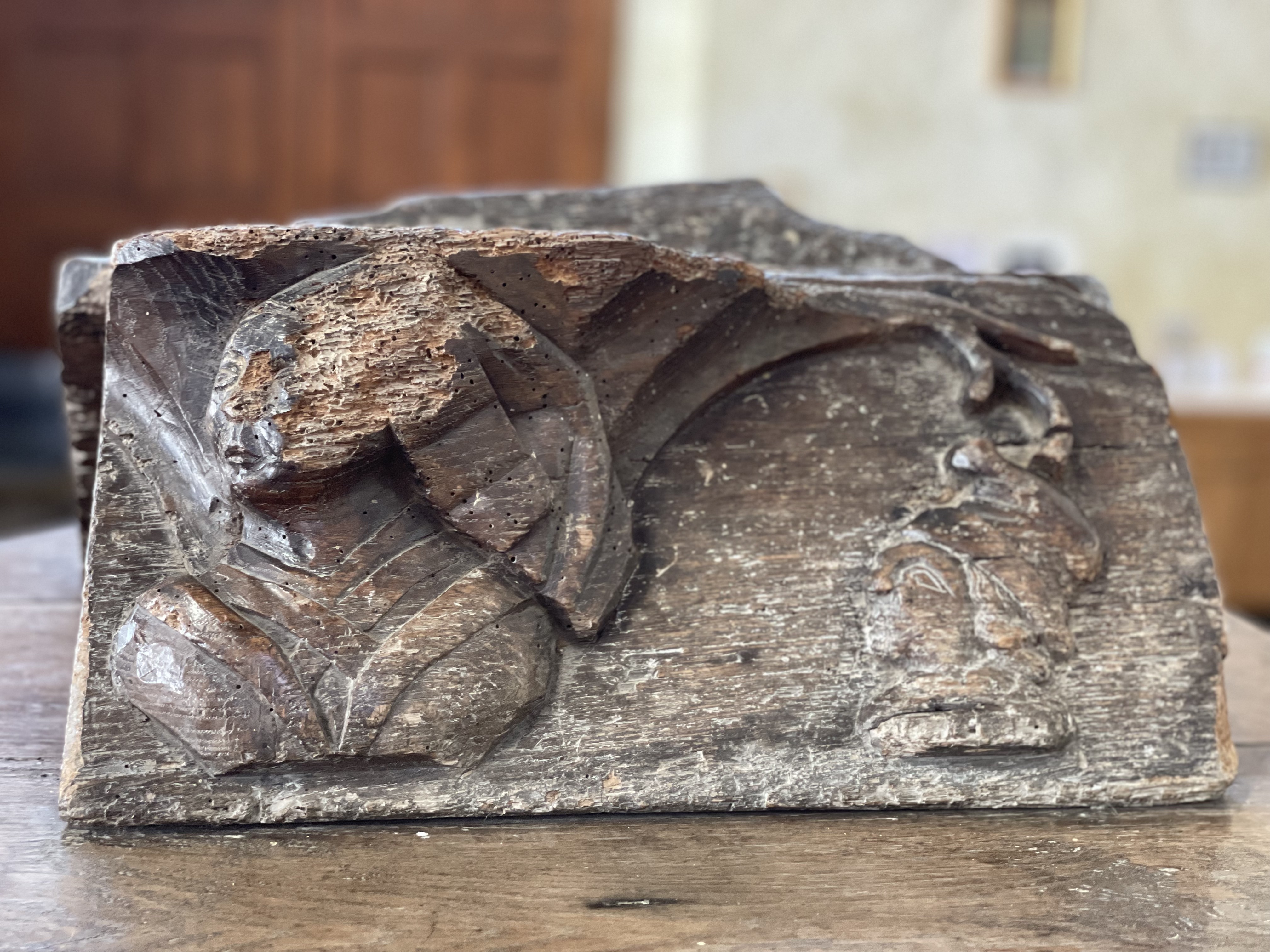 Fan vaulting beneath the tower dated to 1529 with a modern decal of the House of York (Falcon and Fetterlock) in the central rose.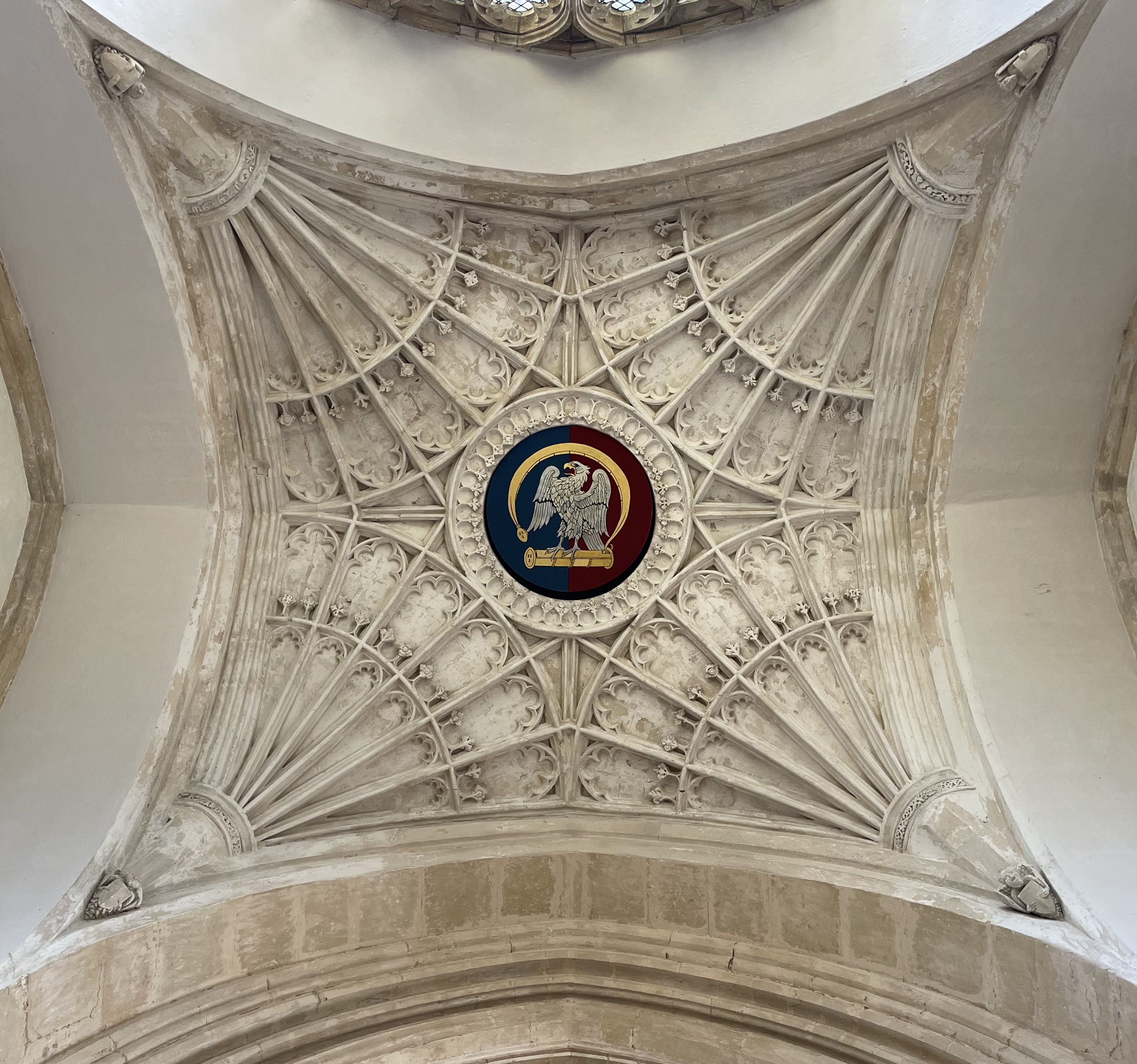 Perpendicular font with Jocobean tester.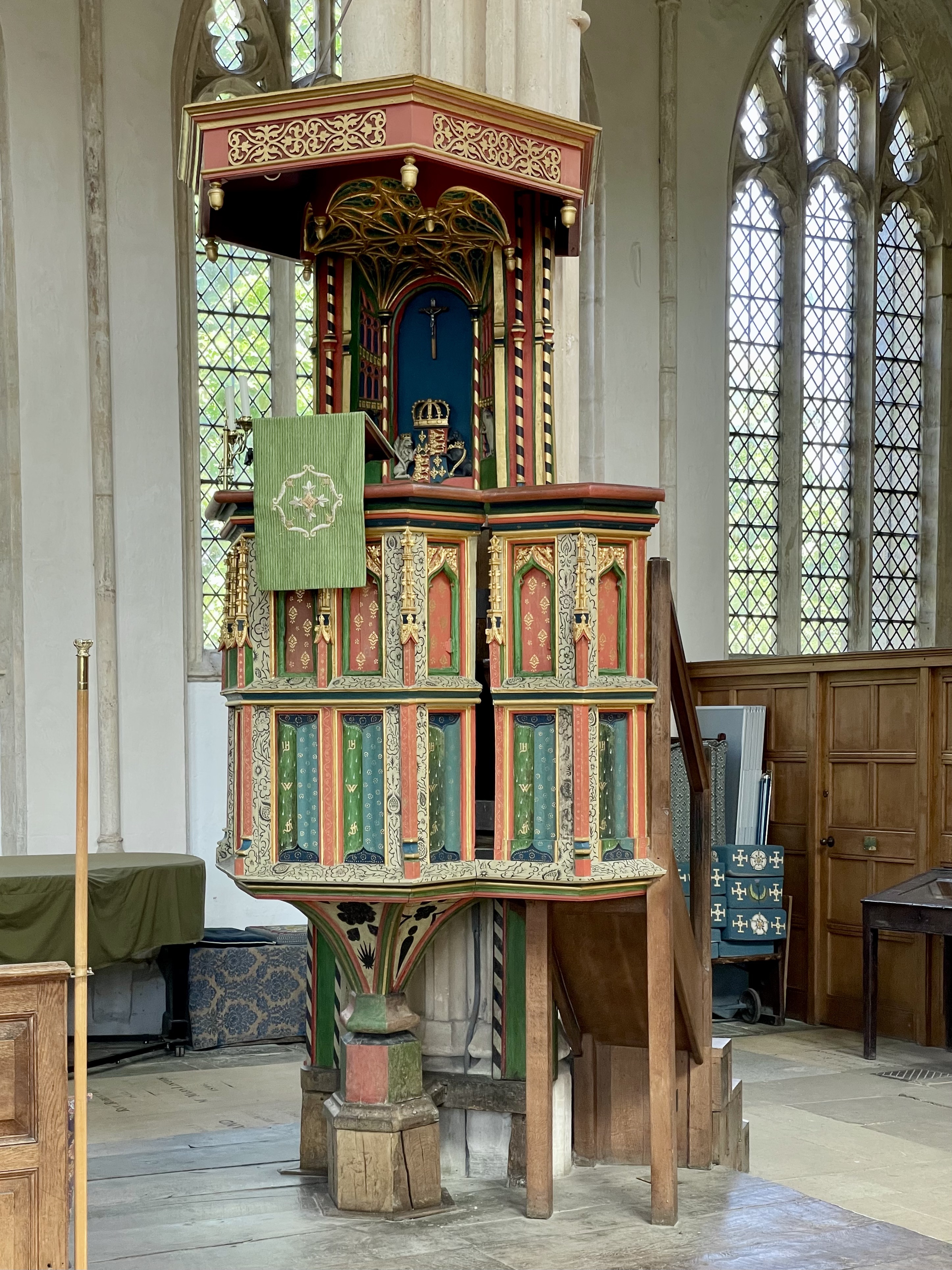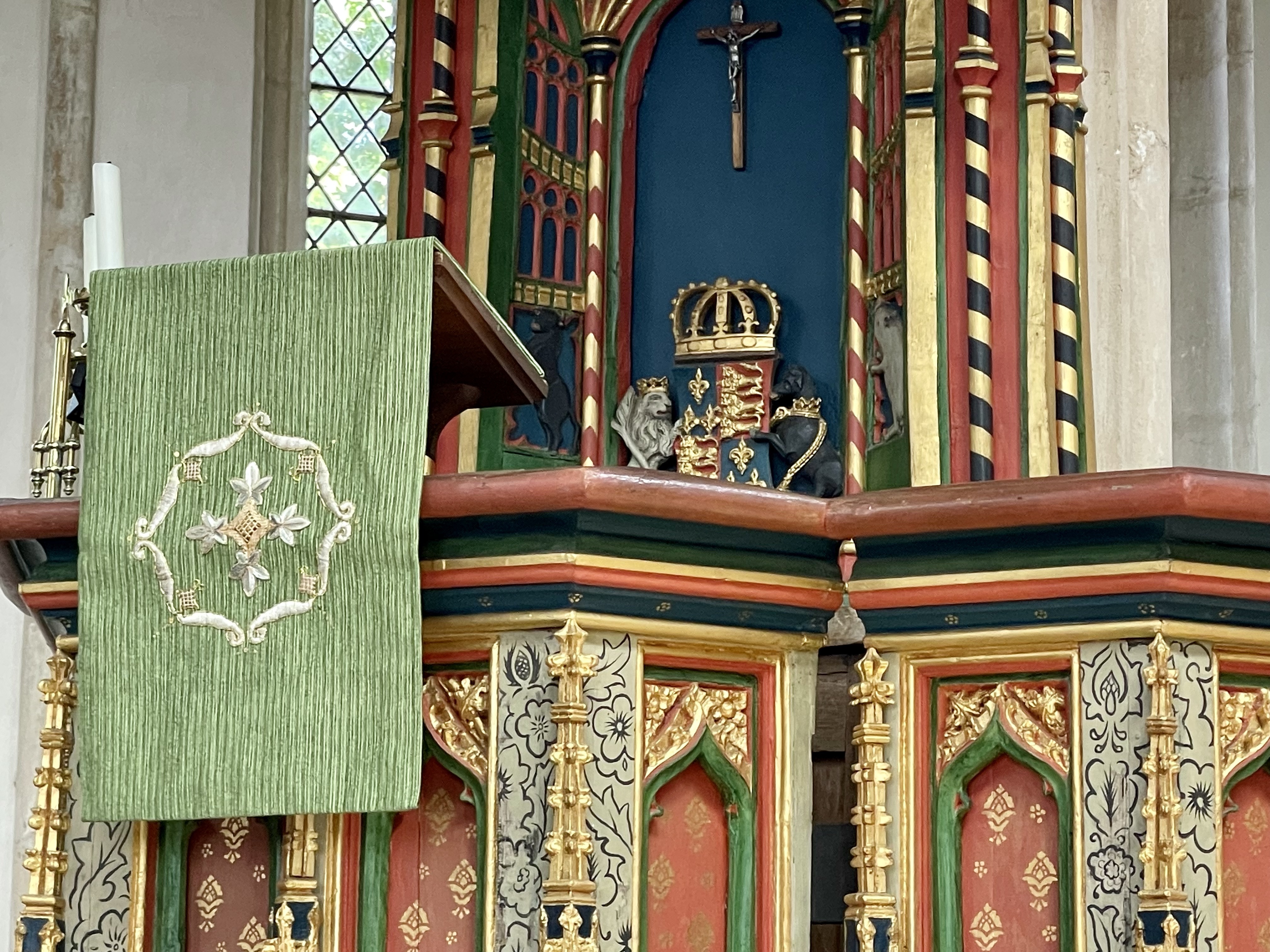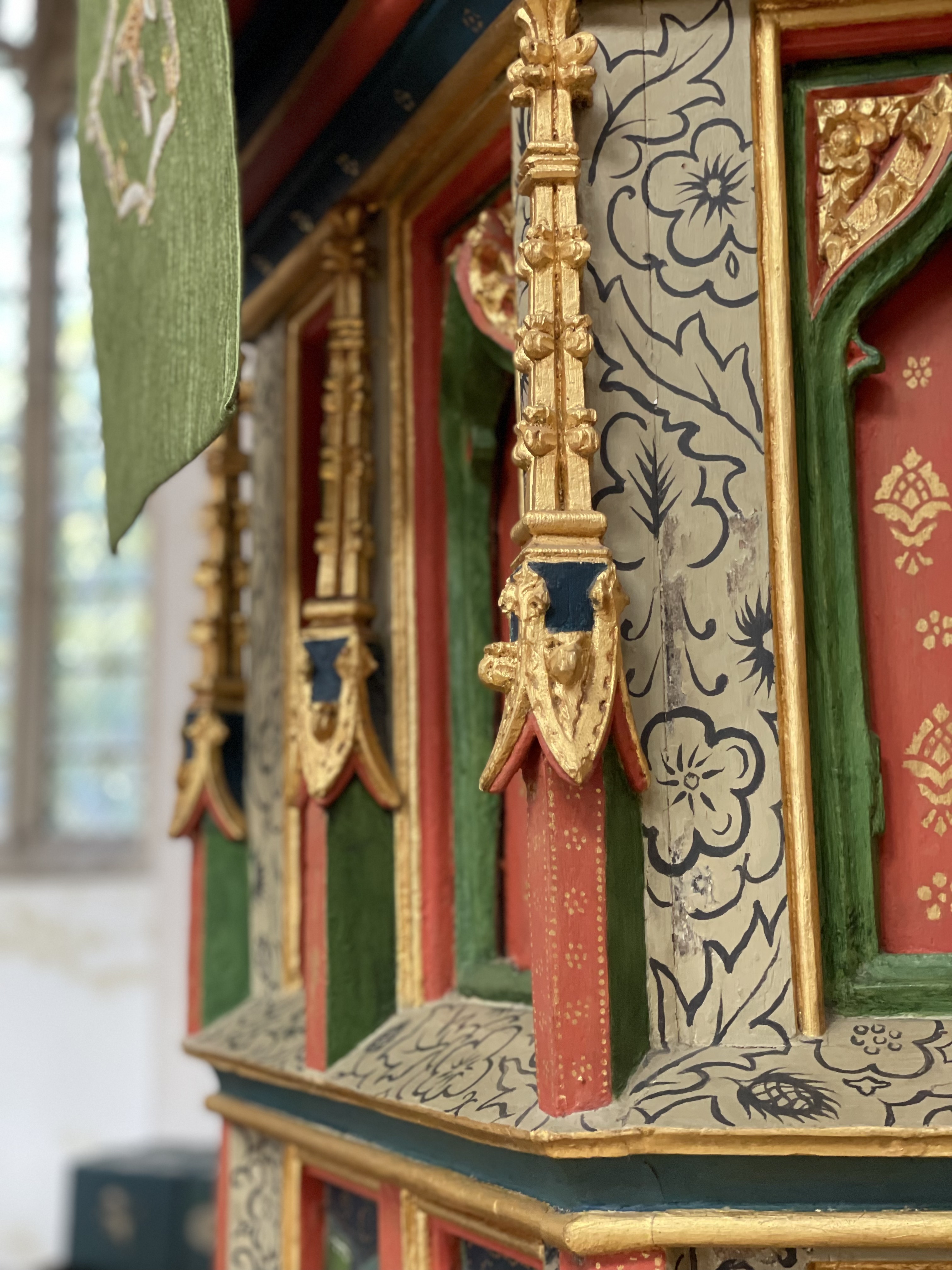 Vanlife
Warm days mean outdoor cooking, but my single gas stove is a bit unsteady on shiny surfaces (tables etc) - so I decide to look into getting a new outdoor stove that's a little more stable.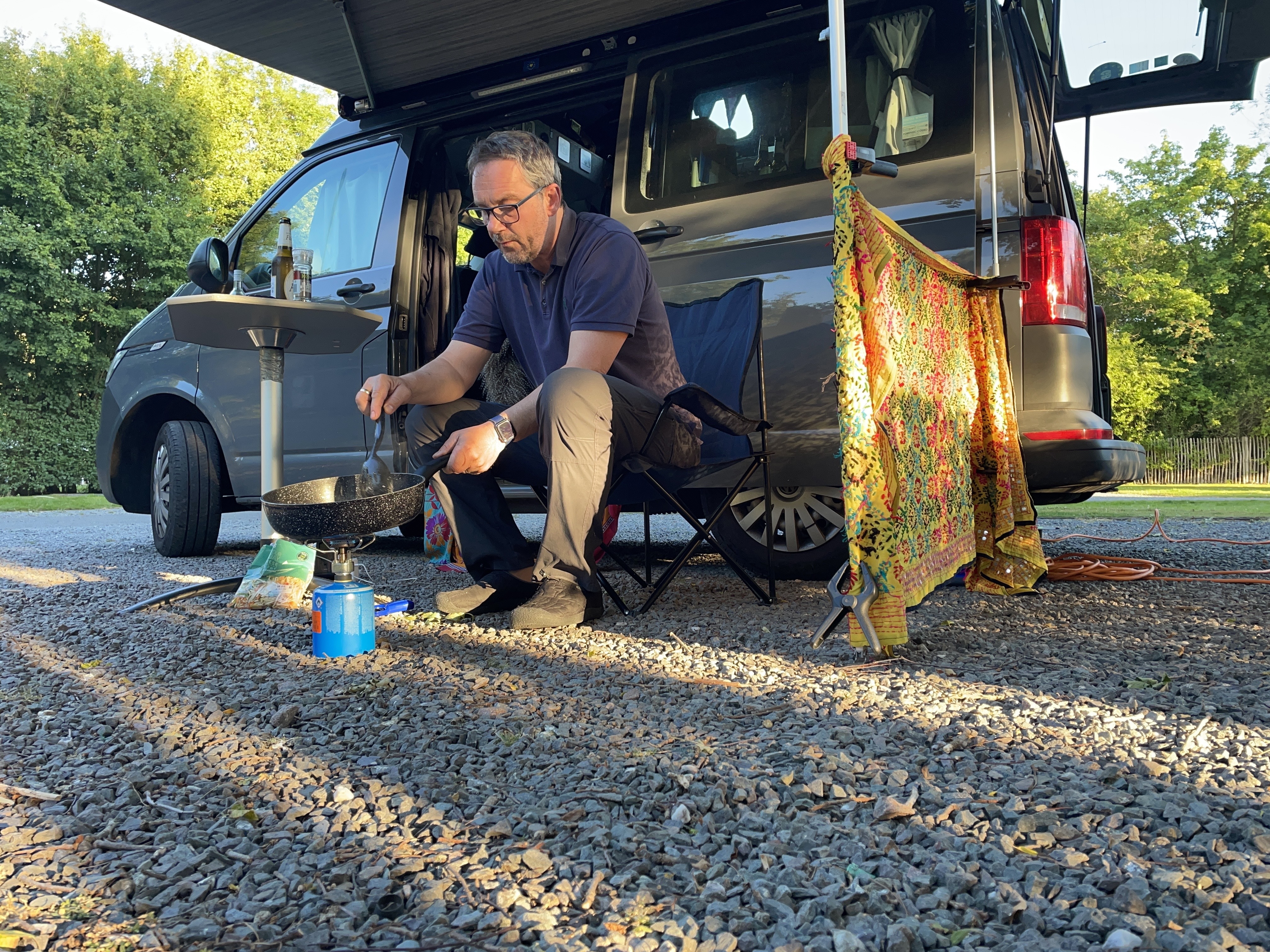 I stay over at Ferry Meadows Caravan and Motorhome Club Site near Peterborough. It's a large site and quite busy in the summer, but its central location allows lots of exploration. Good place to take bikes too with lots of trails nearby.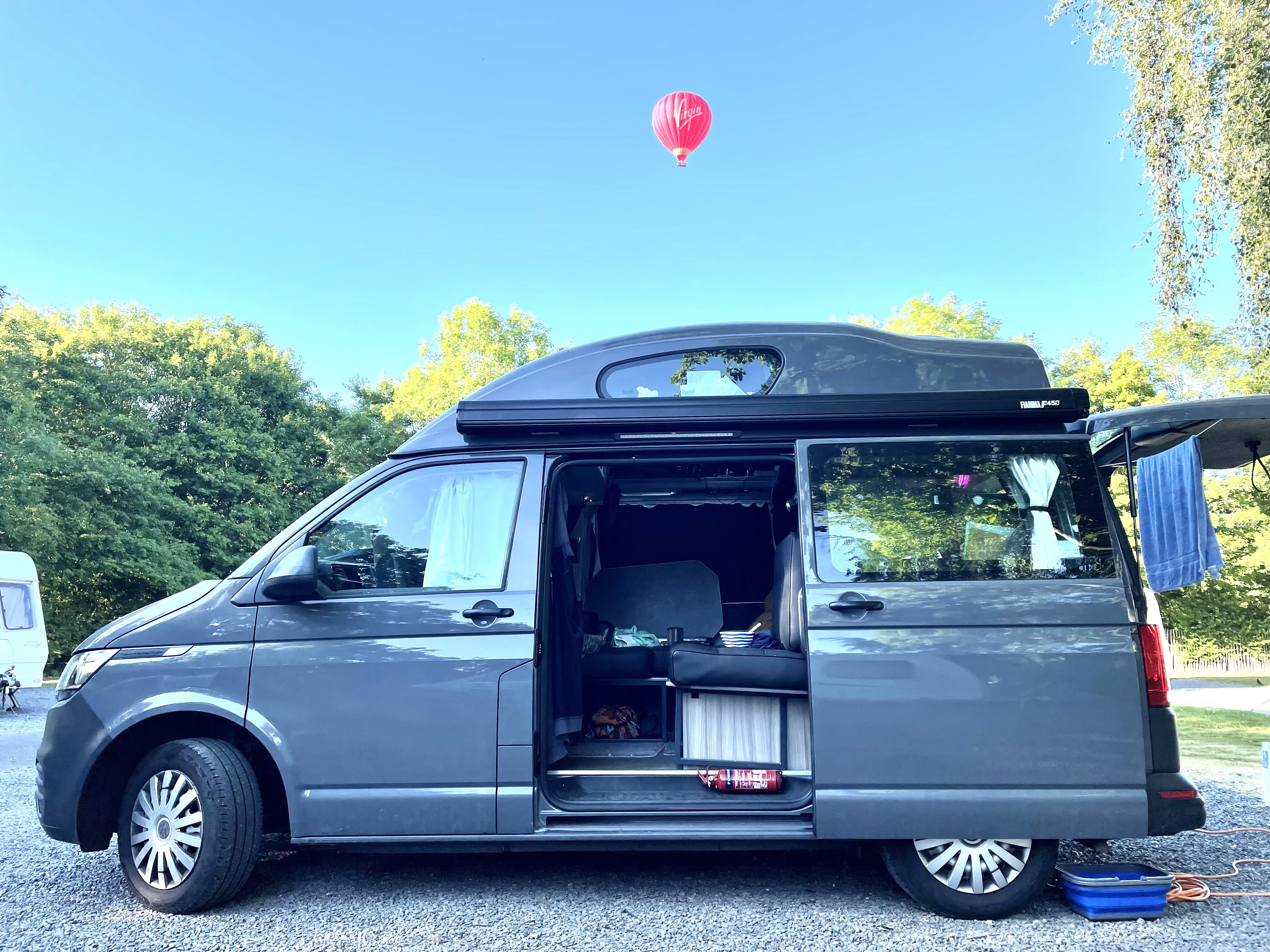 I love my Aeropress Express coffee maker.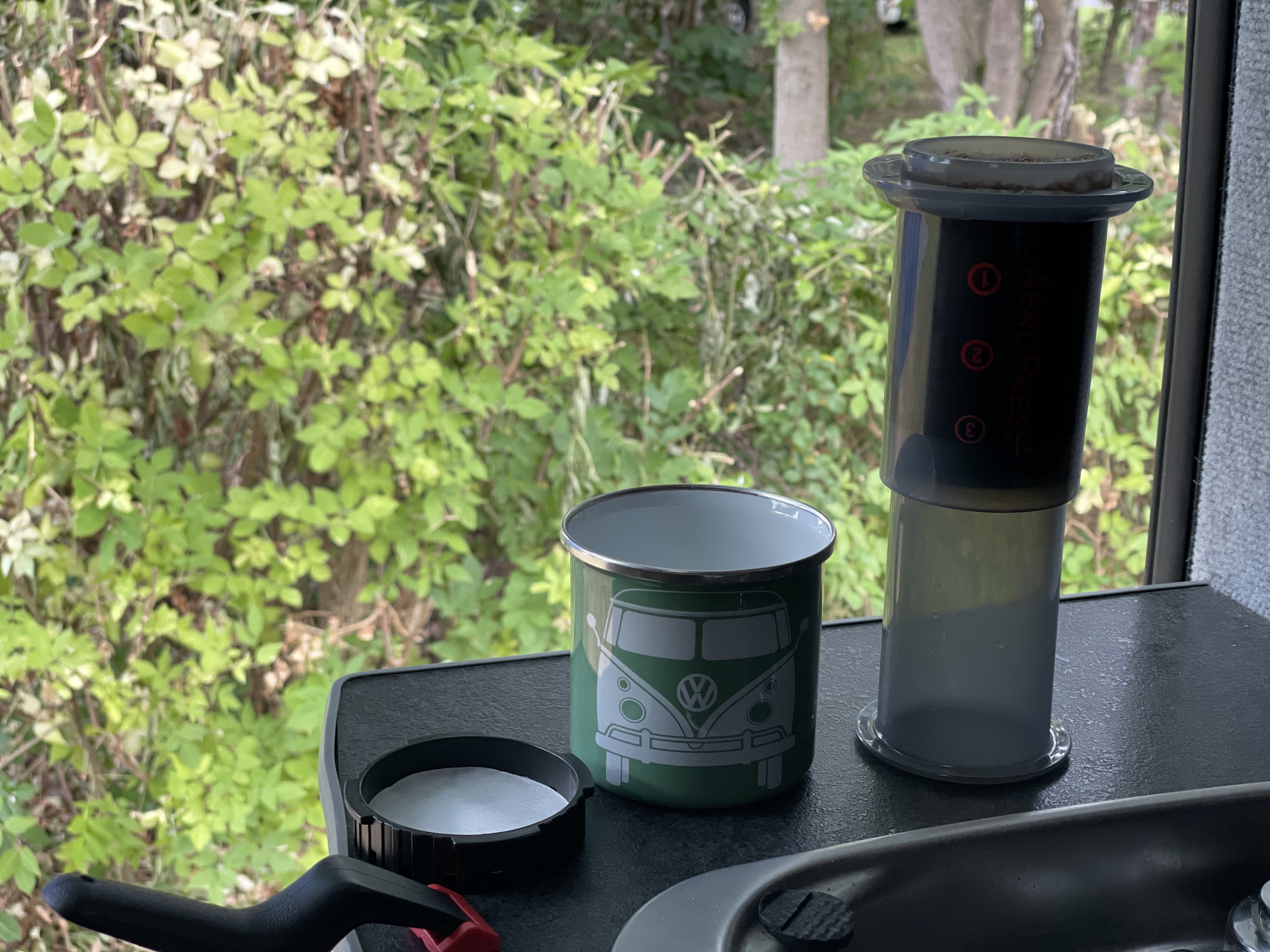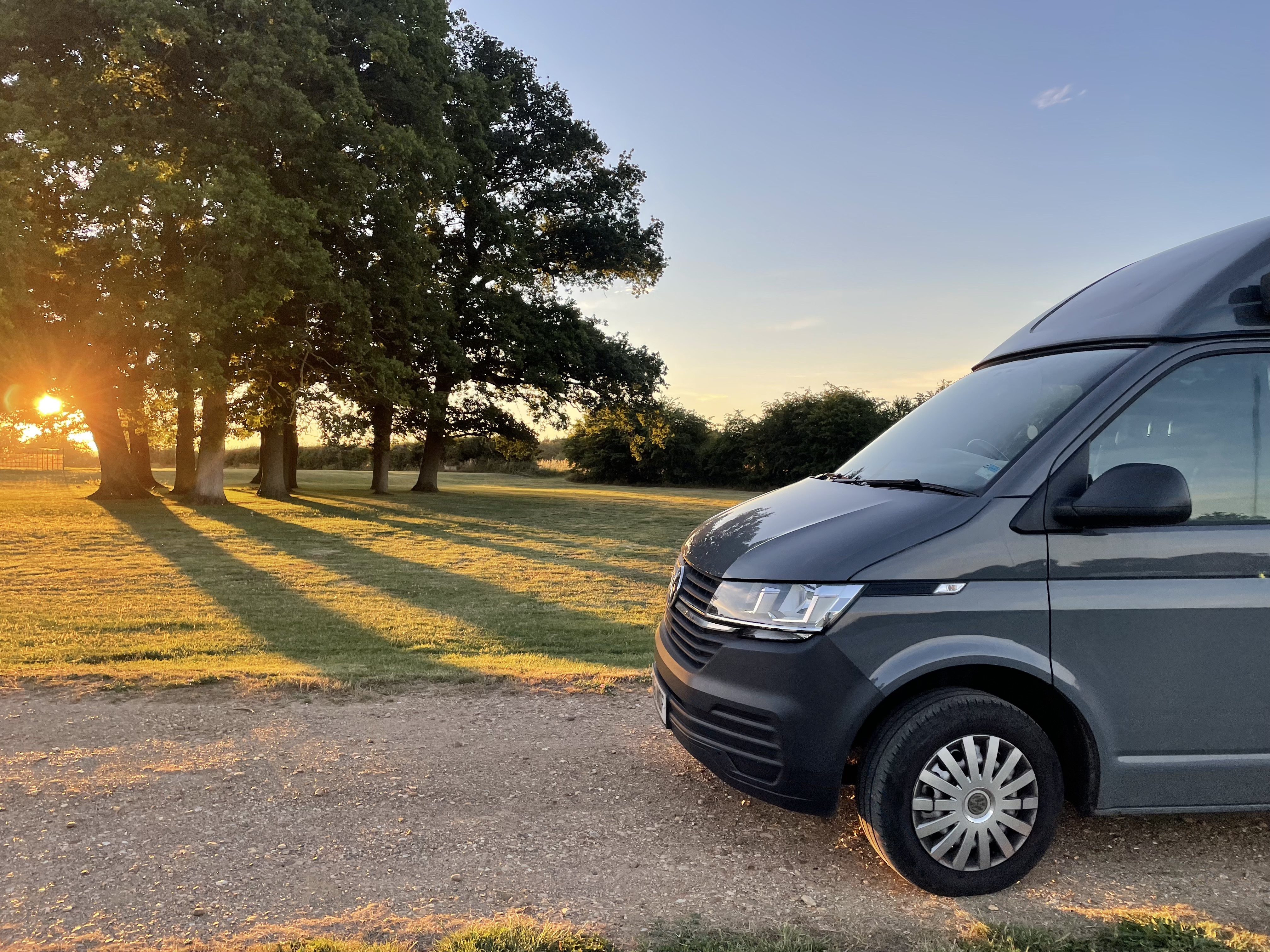 V'Envy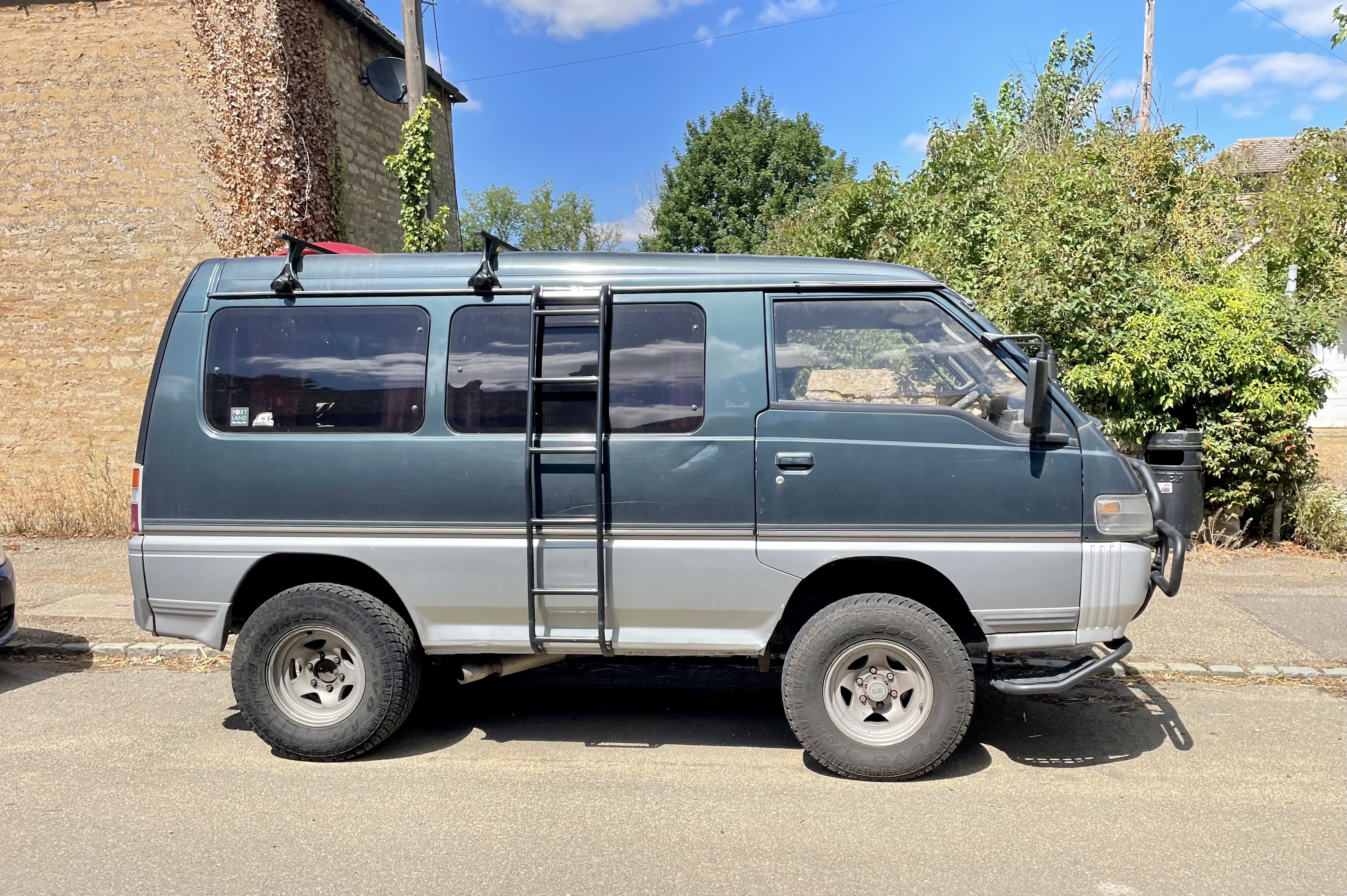 On My Coffee Table
It's a little dated in places, but the articulation of the Welsh mountain landscape is superb.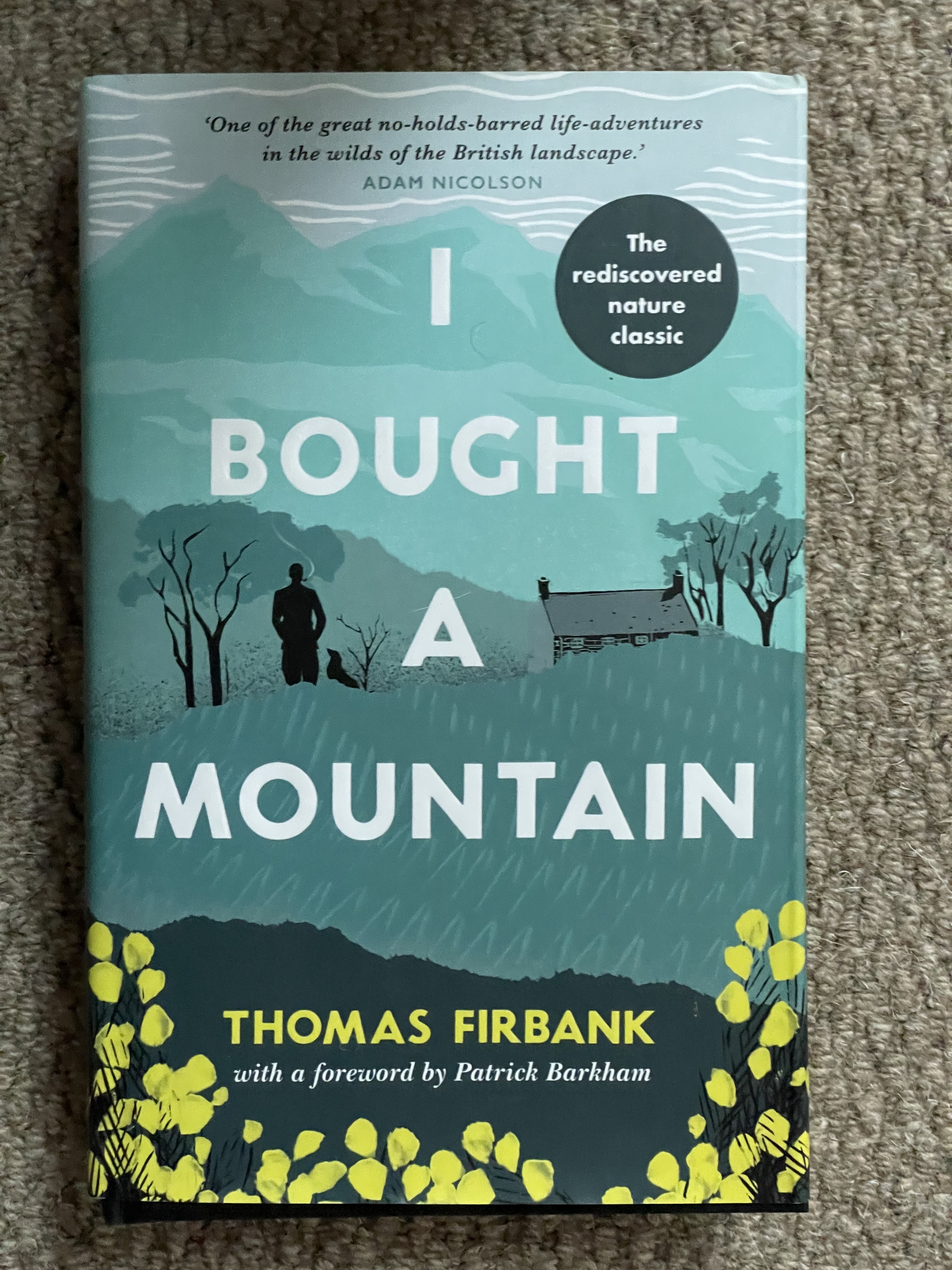 Bookmarked

They were found around the neck of a skeleton during an excavation of a cemetery area.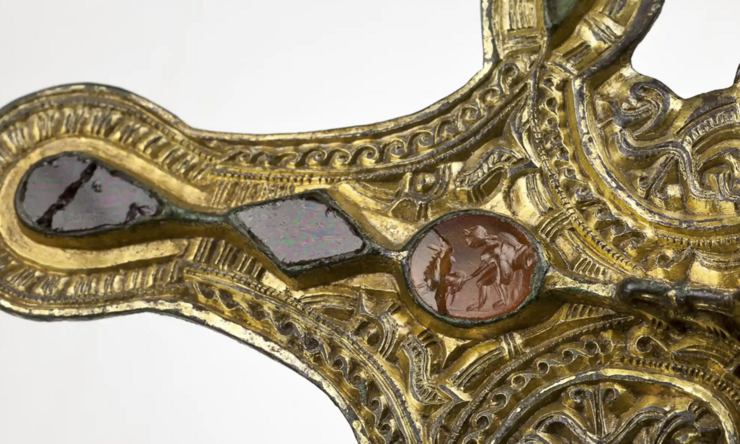 British Museum among those loaning items help Ad Gefrin visitor centre tell story of Northumbria's golden age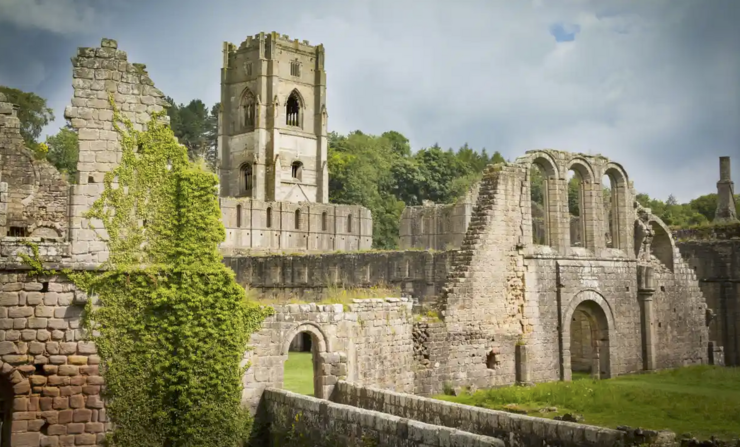 Ruined monastery in North Yorkshire and decommissioned royal ship in Edinburgh voted joint favourites in Which? poll
Film and Sound
This series turned the length of the M6 into a seemingly 5 minute journey. This particular episode had me gripped - how we create a sense of place by telling their stories.
James Runcie, author of the Grantchester Mysteries series, is a writer in search of the best way to tell a story. In this series he meets high profile authors to discuss the craft of novel writing. Using extracts from the author's own work, as well as classic texts, the conversations will reveal the secrets of the storytelling craft. In this episode James is joined by Kamila Shamsie to explore the art of creating a convincing sense of place, using analysis of Dickens's Bleak House and Calvino's Invisible Cities, and Kamila's own prize-winning novels including Home Fire and Burnt Shadows.
From the Twittersphere
Member and Patron Posts This Week
⭕️ Twitter Circle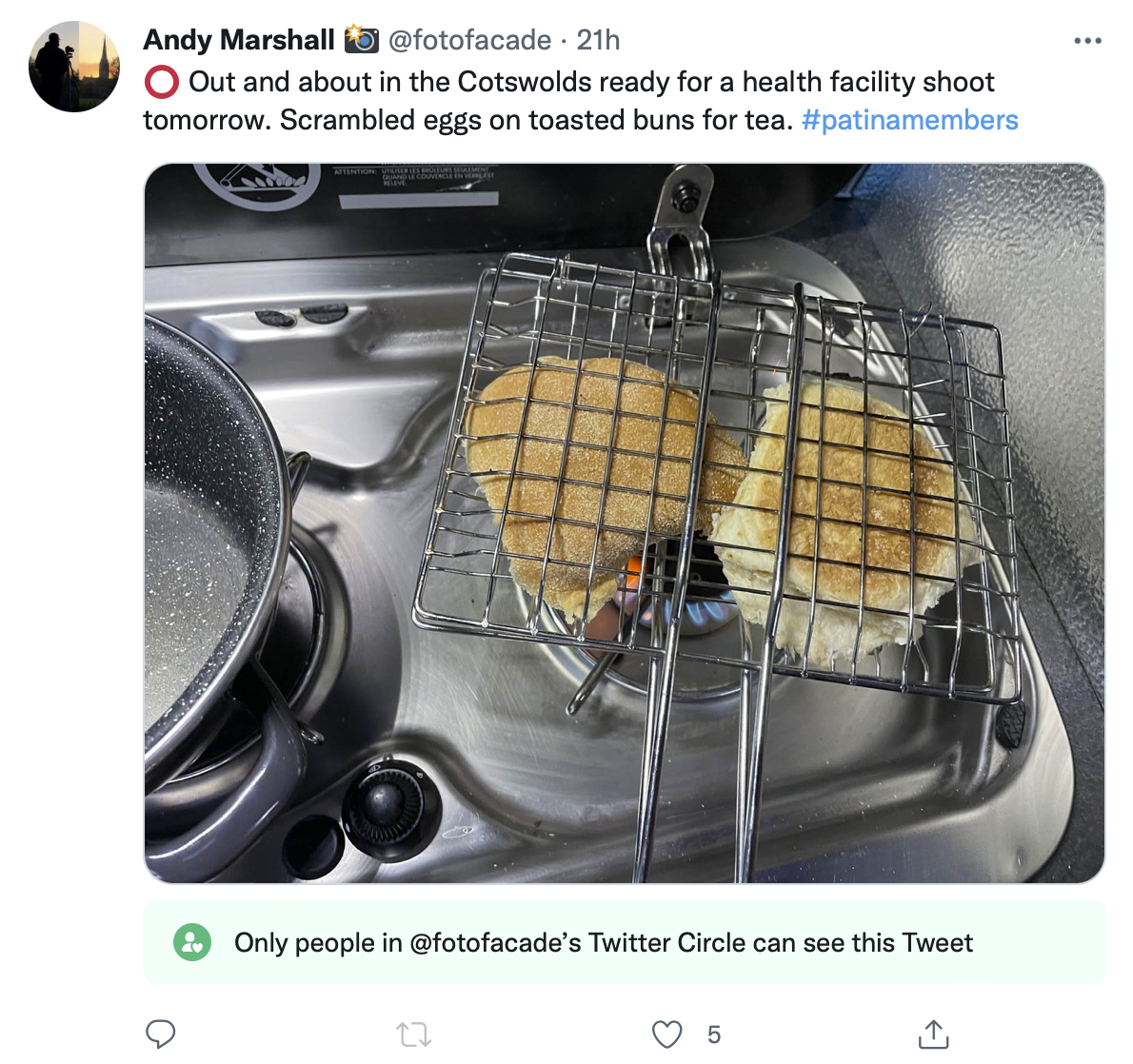 Click here to see all Twitter Circle Posts - choose the 'latest' tab.
Are you a member or patron and not in the Twitter Circle? Send me your handle and I'll add you to it. I'm @fotofacade on twitter.
🔥 Patreon
Into The Looking Glass: St. Wendreda, March
The Comperandum: A nod to Bannister Fletcher
Place Writing Series: The Whitten Tree
I've now added a full and growing index for my Patreon posts:
Can You Help?
I'm creating Patron powered photography where I am able to gift my services to places in the historic environment - giving such sites access to gold standard photography and videography and enabling them to invest the funds saved into urgent need projects. [click the link below for more info]
Thank You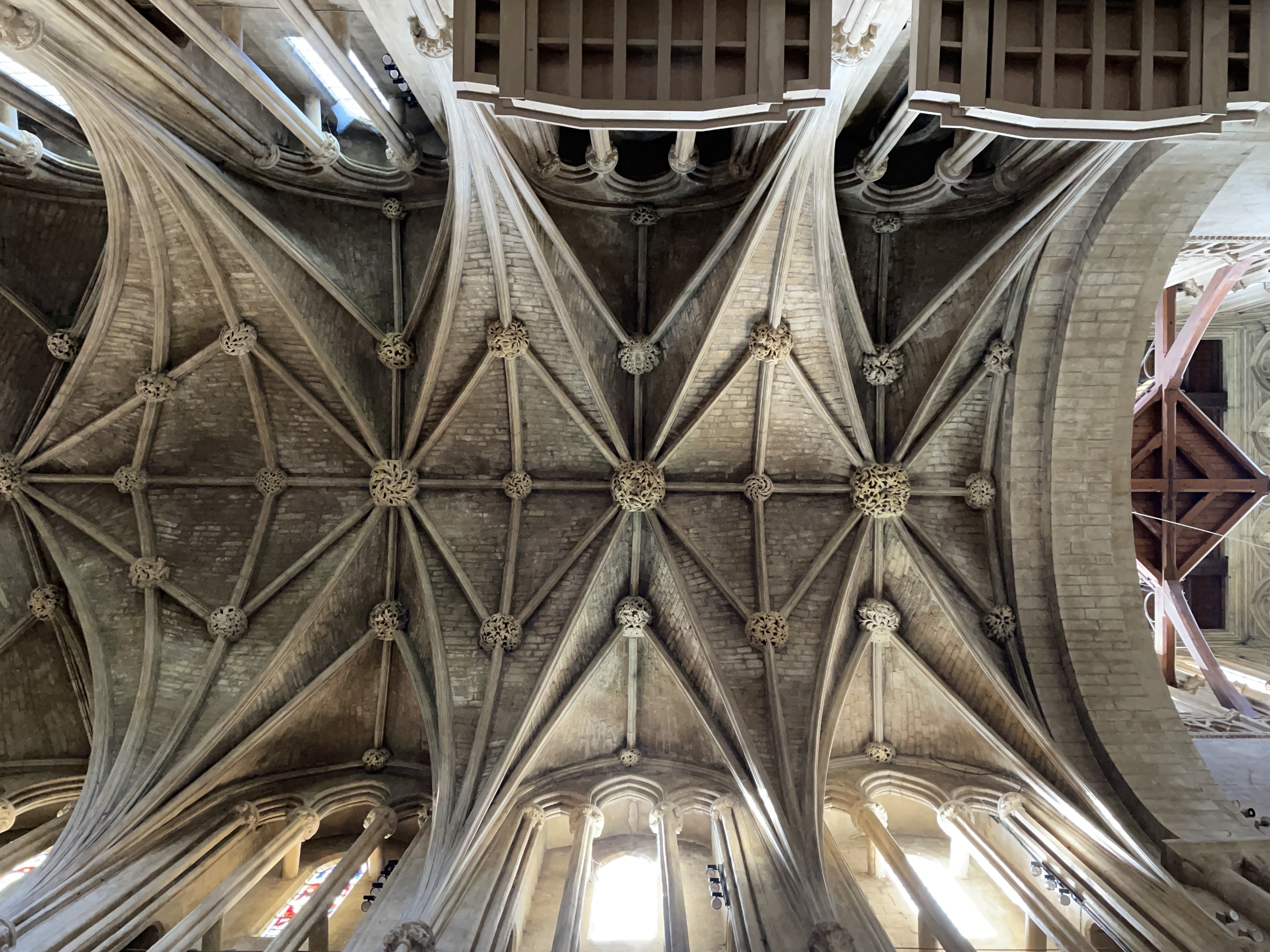 Thanks to all subscribers for your continuing support
Thanks to Patrons and Members for helping keep the Genius Loci Digest free and public facing.
Treasure Hoard Gazetteer
Andy Marshall's Treasure Hoard Gazetteer Map
My Treasure Hoard Map is open to all. It is an evolving enterprise and I'll be adding more entries as time passes.
View the full map on Google maps
View the full map on Google Earth (recommended)
More on the Treasure Hoard Gazetteer
And Finally...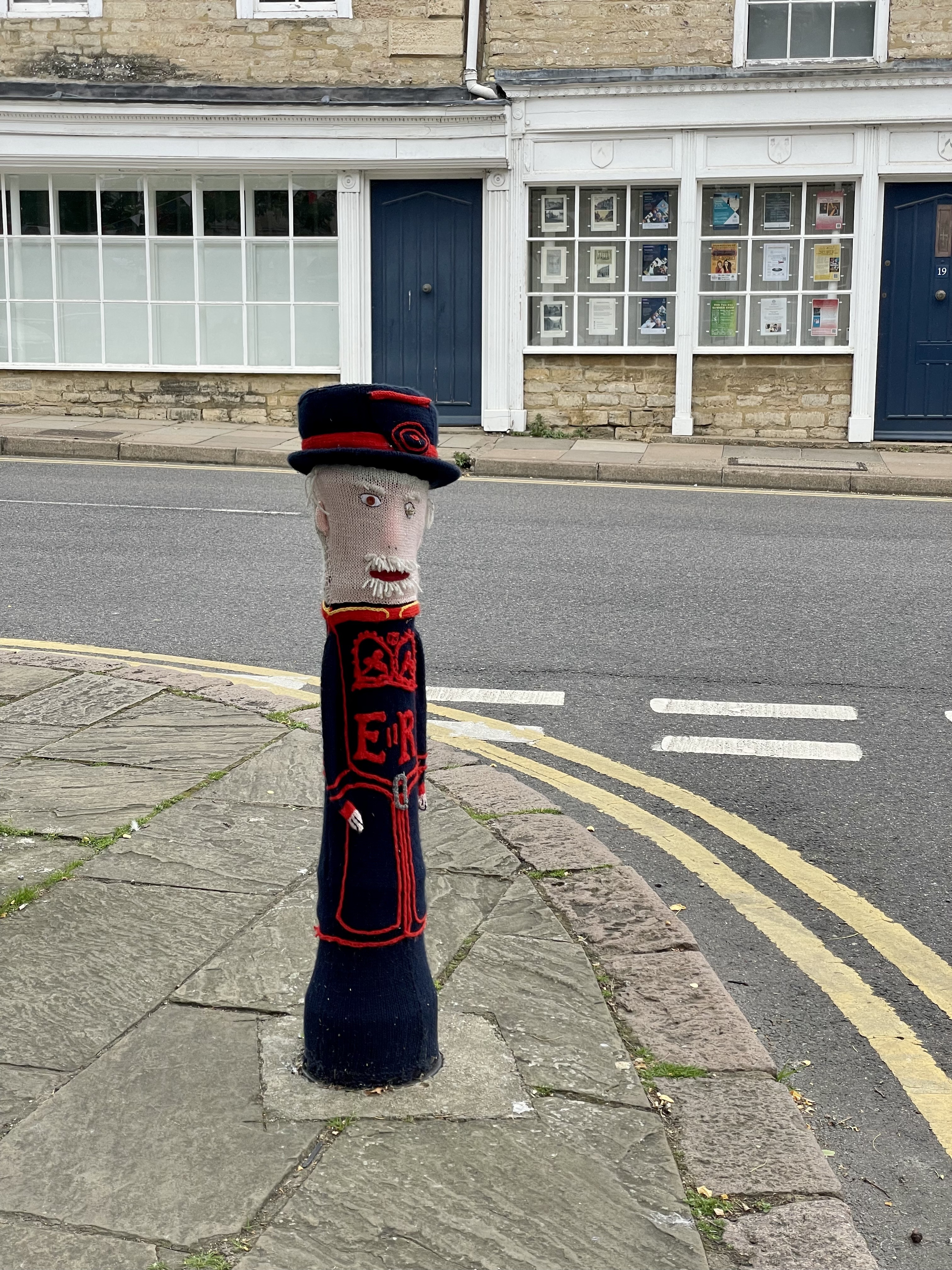 My Linktree