---
Welcome
This digest is best viewed online.
Welcome to the new home of my Genius Loci Digest.
I hope that you like the new digest - the format hasn't changed, but the site is more visual and moves seamlessly between content. All the previous memberships (Revue and Patreon) have been incorporated into this site which now houses the additional immersive content for members.
For those that are new here: thank you for subscribing. I'm an architectural photographer that travels around Britain in my camper van recording and interacting with special places that have a spirit about them. I share my experiences via this digest.
This Digest is a protest and an antidote, and my photography is another way of telling. It says that these things matter, that they contribute to the quality of our lives, our wellbeing and our identity. It tells us that there are many nuanced layers to the past and to us, as human beings.
In a fast changing world this digest focuses on slow time, refinement, relevancy, and ultimately continuity.
⚡️Read more about how the Genius Loci Digest came about.
⚡️ Missed the last digest? Here it is.
⚡️ View the digest archive here.
There is a new re-designed Members' Area at the bottom of this digest which gives supplementary content to this digest and links to new content.
---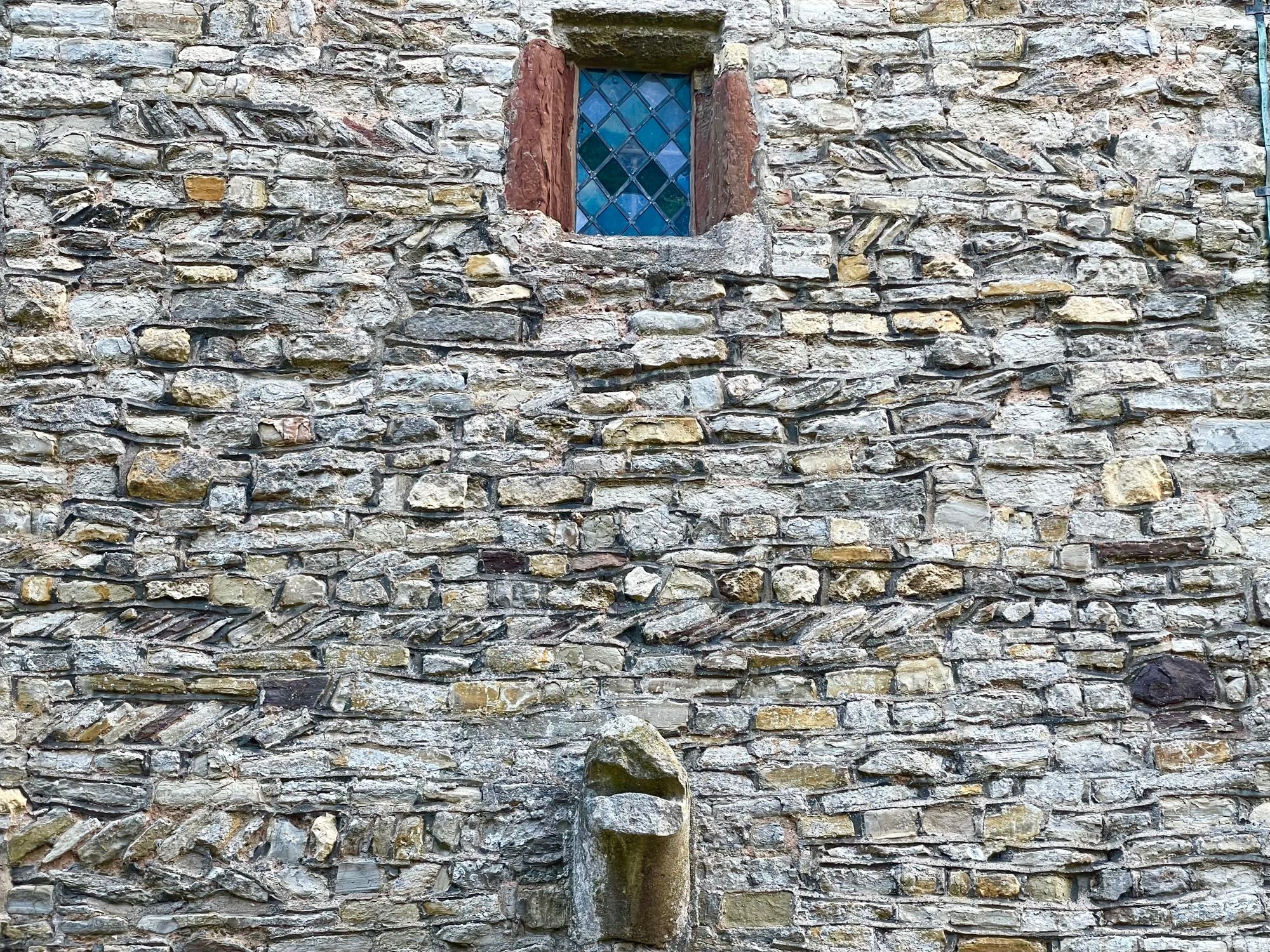 "A wall is a wall." the man said to me. He couldn't comprehend why I wanted to photograph it. St. Mary, Deerhurst.
---
"Walking and observing, time becomes dense. There are so many layers of experience to be soaked up that the days feel huge, distended. Each hour of this time carries the same weight. In lessons as a young child, in days full of incident and peaks of concentration, time is like this: by the evening , the morning has become distant and remote, as if in a previous age. So much has happened. Is it possible that it can still be the same day? The same self? This is not like working time, narrowed by pace and necessity. It is not like holiday time, subject to novelty and schedule, to accommodating the plans of others. This is extreme time, heavy time, Pilgrimage time.
---
Hiraeth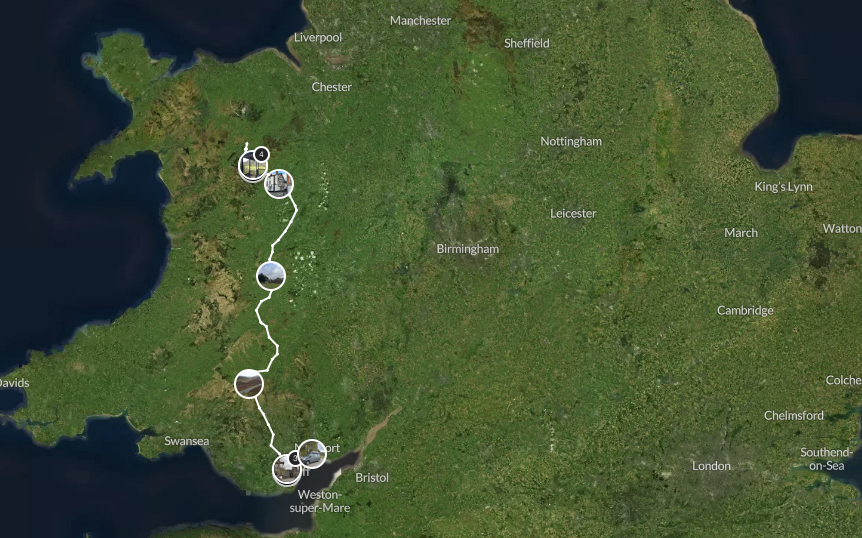 Warm thanks to subscriber Mick Green for telling me about Pennant Melangell.
Last month I travelled from Llandaff Cathedral through the heart of Wales to a place of pilgrimage at St. Melangell's shrine. I had booked into the shepherd's hut at the shrine centre. My aim was to get a little time to work on a chapter of my book.
---
There are a just a few places that I have visited that seem to be accessed via a time slip. Normally, it isn't a sudden thing, but a transitional feeling whilst driving or walking towards a place. In the Langstrothdale valley, in the Yorkshire Dales, it occurs somewhere along the road to Hubberholme. There's a sense of chronological delamination - a stripping back of time. On the road to Cooling, in the salt marshes of Kent, it is more like an evaporation of the present day. On my most recent journey to St. Melangell's in North Wales, the time slip was more defined. It occurred at Llangynog on the turn into the single track road that took me deep into the fold of the Tanat valley.  As soon as I turned into the road, and passed the church, there was a marked change in atmosphere.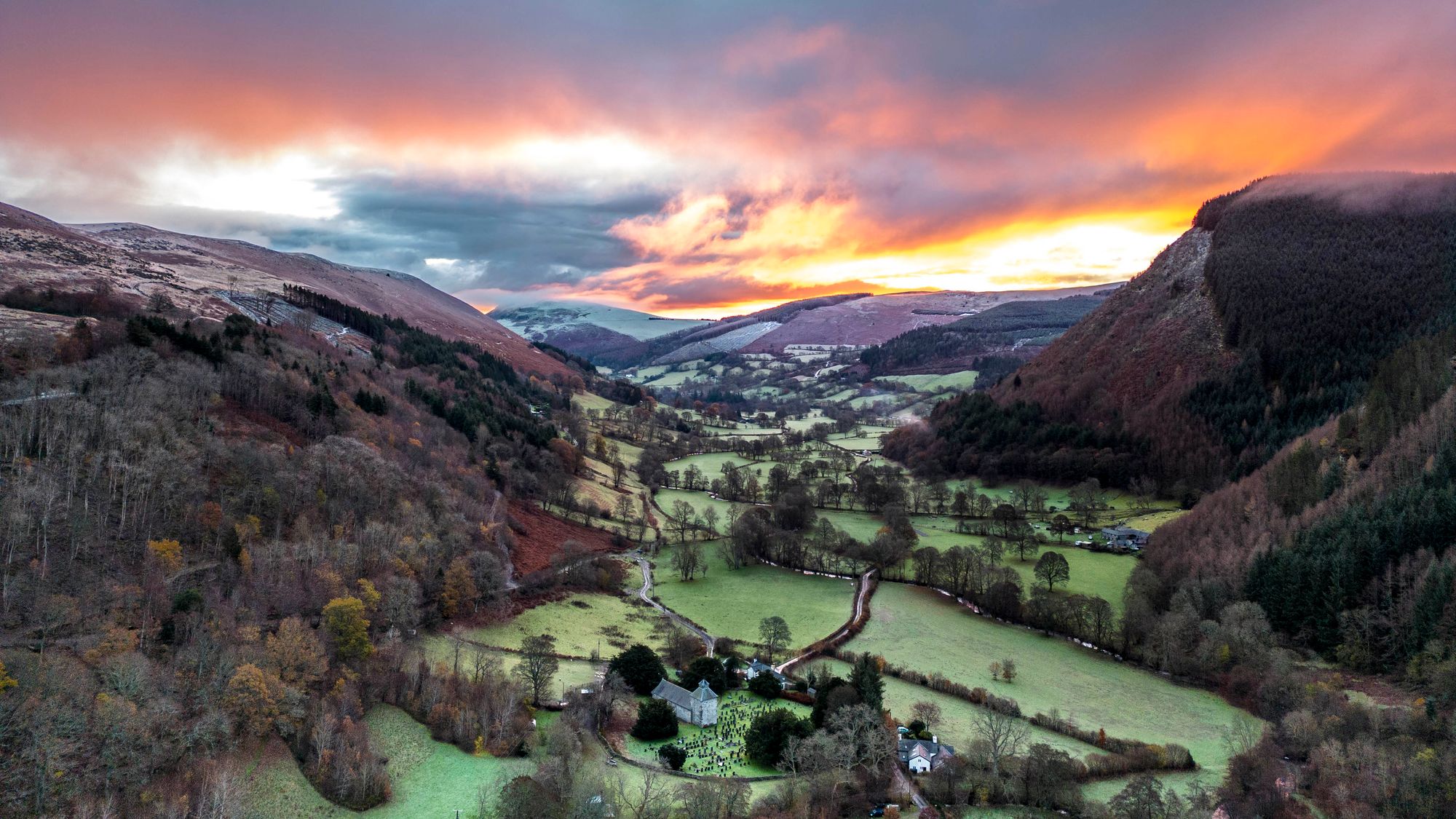 Travelling along the lane to St. Melangells is an act of filtration, a redaction of modernity. The pressing matters of the day are pared down with each passing turn. The landscape provides a correspondence with the transition of time - the valley bottoms out into flattened serenity, as the Berwyn hills rise like embattlements pitched against any sense of doubt as to the magic at play.
When I arrive at St. Melangell's, I'm welcomed by Christine and Karen. They tell me that it's shooting season. The shots that ring out temporarily break through the sanctity of this place.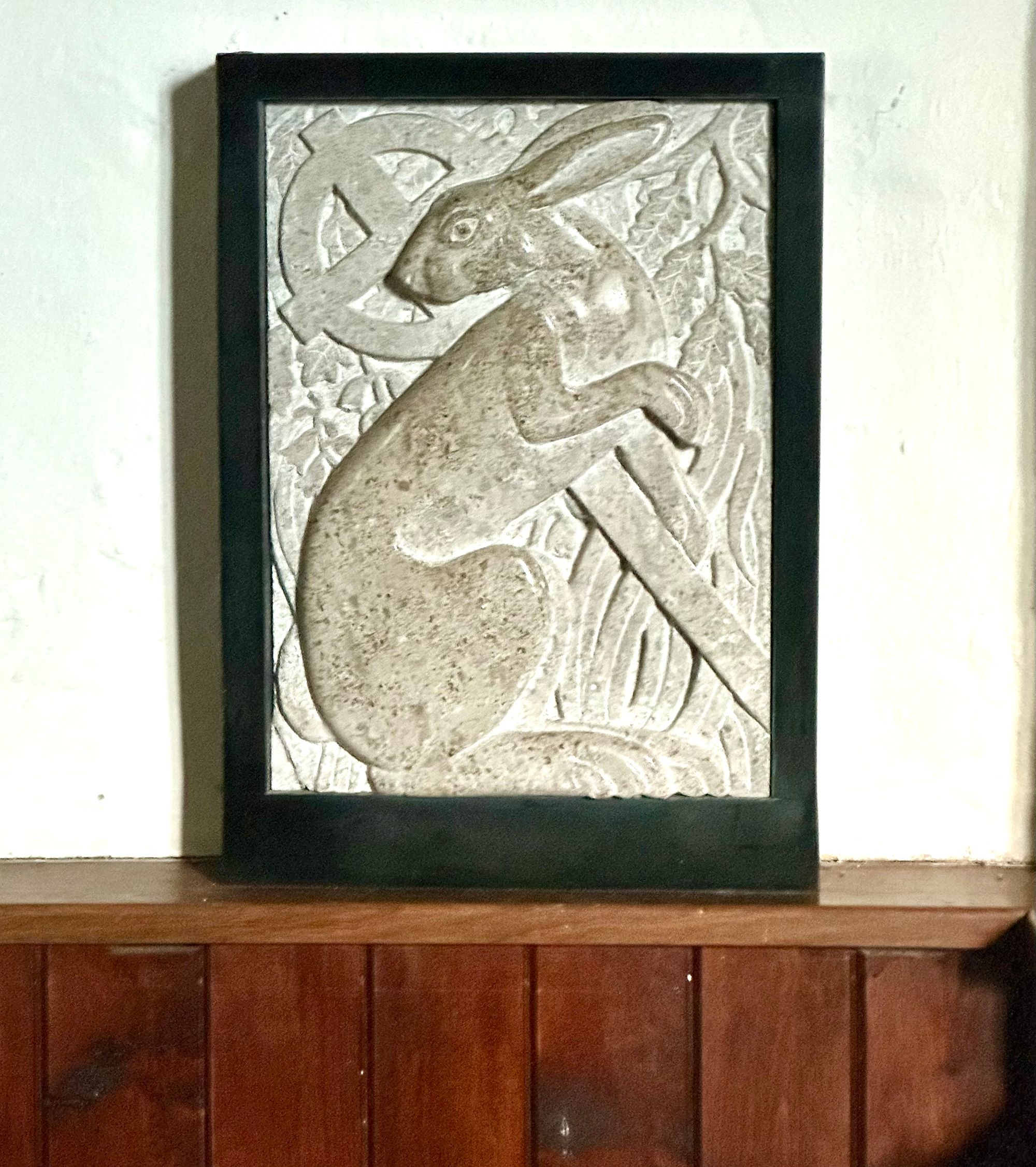 It was to be a hunting expedition in the C7th that helped define Pennant Melangell. Legend has it that Brochwel the Prince and his party were hunting hares, and came across a young girl in a copse, praying with a hare hidden in the folds of her clothes. The dogs would not approach and the horses were unsettled. It was the first human contact for Melangell who had lived in the copse for 15 years. She was an Irish princess who was estranged from her country. Brockwel, thought it a miracle and granted the girl sanctuary, giving her the land where she established a church and convent. Melangell became the patron saint of hares. Her shrine is one of the most evocative places that spring from the times of pilgrimage - it might have been ported from an apse in Rome.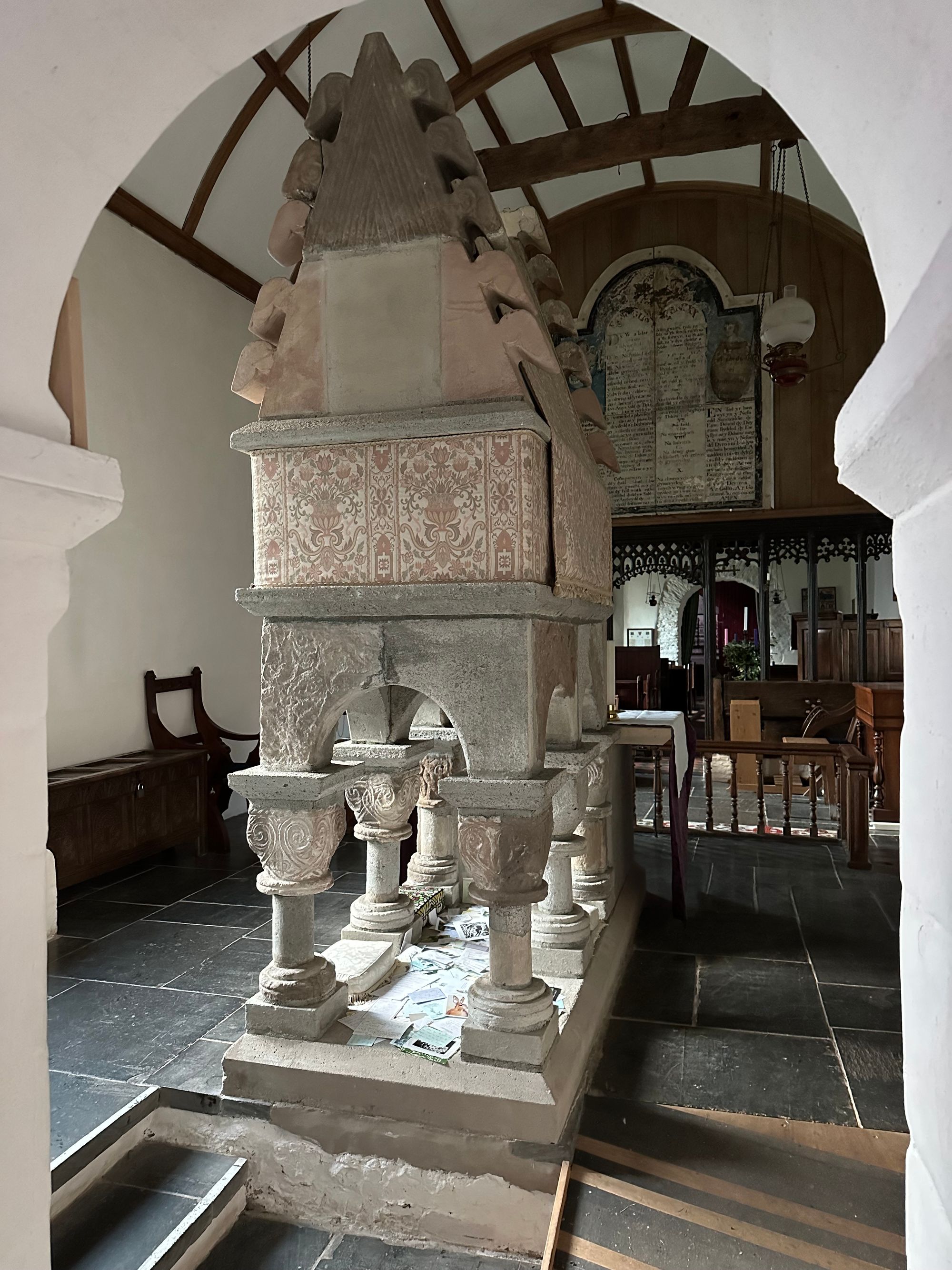 It's a story that stirs something deep in the human psyche: of compassion, of harmony with nature, and of sanctuary.  I'm reminded of some words by Diane Kalen-Sukra.
"Offering sanctuary is a revolutionary act; it expresses love, when others offer scorn or hate. It recognizes humanity, when others deny and seek to debase it. Sanctuary says 'we' rather than 'I'. It is belonging—the building block of community."
I enter the shepherds hut at St. Melangell's and make it my sanctuary. I hang my coat, and empty my bag. I place my books on the bedside table, my shoes at the end of the bed. I perch my radio on a shelf and my MacBook on the desk. I look inside the drawers and fidget with the heater. Settled, I lie on the bed and listen to the cackle of pheasant out along the valley. Then, with time on my hands, I sit at the desk and begin to write.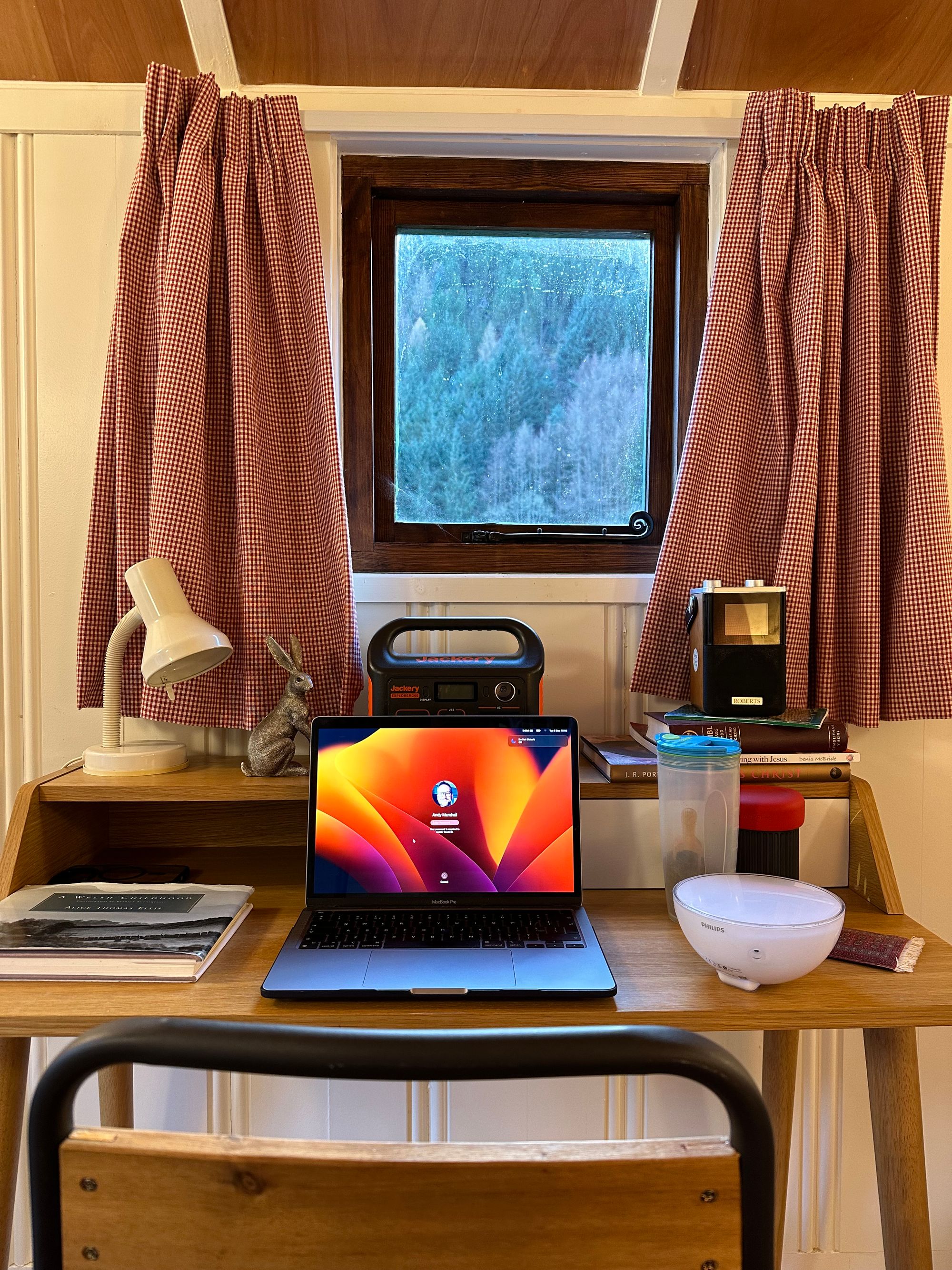 I'm writing again.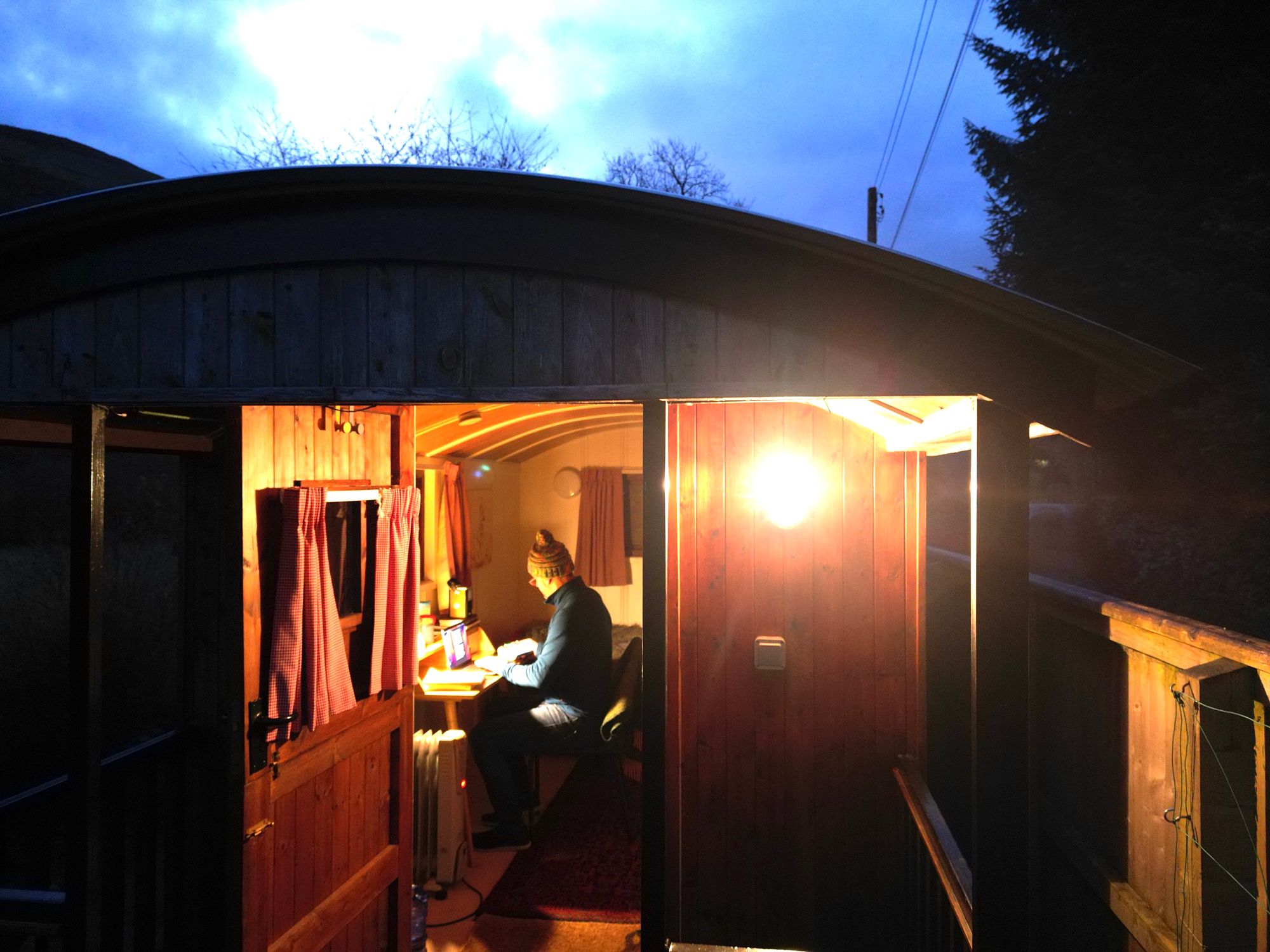 After a while working at the desk, I notice a book placed on the table to my left called "A Welsh Childhood" by Alice Thomas Ellis. A previous occupant of the hut has left a note inside. It reads:

"There is a word in Welsh, "Hiraeth" which is a life-long yearning for what is gone or out of reach. And in a place like this we have moments of consciousness when we realise that time passes and will never come again."

There is Hiraeth here, but there's also a comforting bend in the river of time that seems to slow things down. The church is rooted in generations of occupants that have each left their mark upon the furniture and walls; and, outside the church, we are reminded of a deeper time: three yew trees that are 2000 years old, surrounded by an oval Bronze Age boundary and a slip of land called the sanctuary.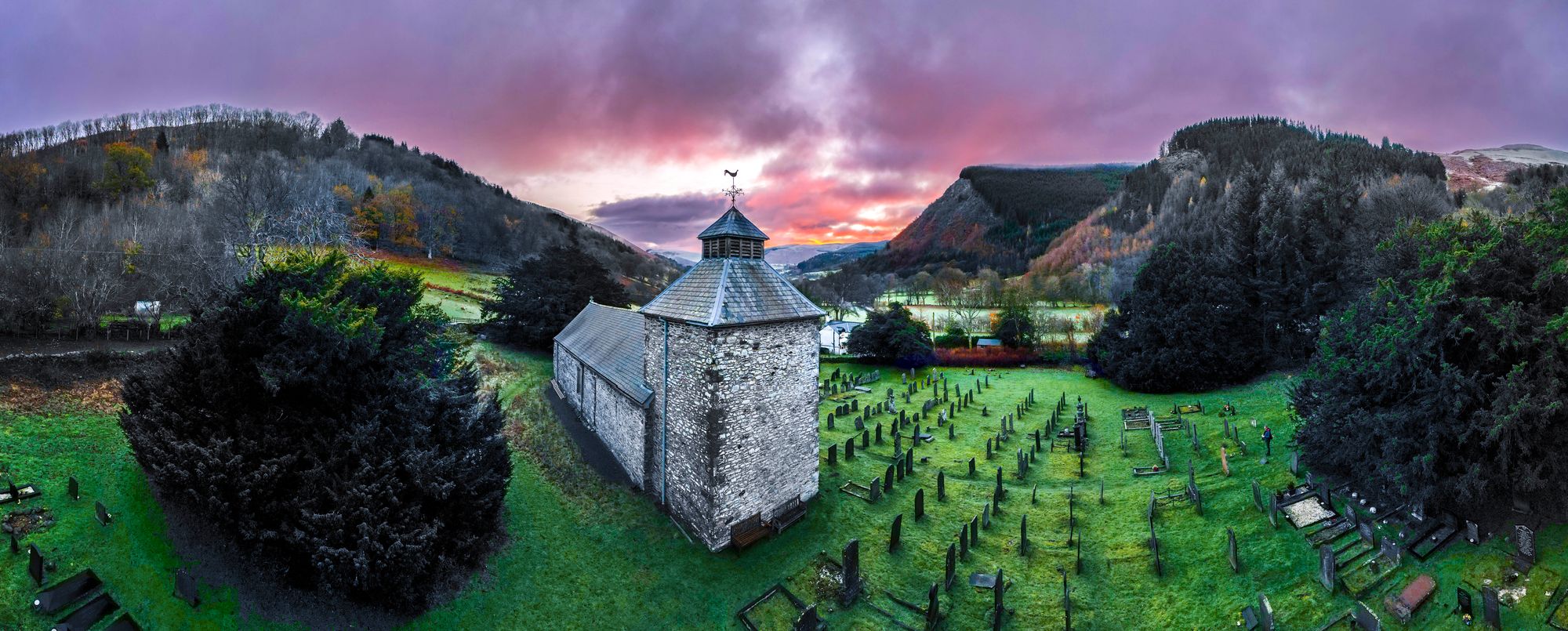 I'm grateful for places like this, and grateful to Melangell and her story, to Christine and Karen and Mick (who showed me the way), and to the unknown occupant that took the time to share the spirit of this place. They unwittingly gave me sanctuary - a place to write.
I'd like to leave another word for this place: a Gaelic word: Caol Áit - a thin place - where the membrane between heaven and earth is so thin that you could almost touch it.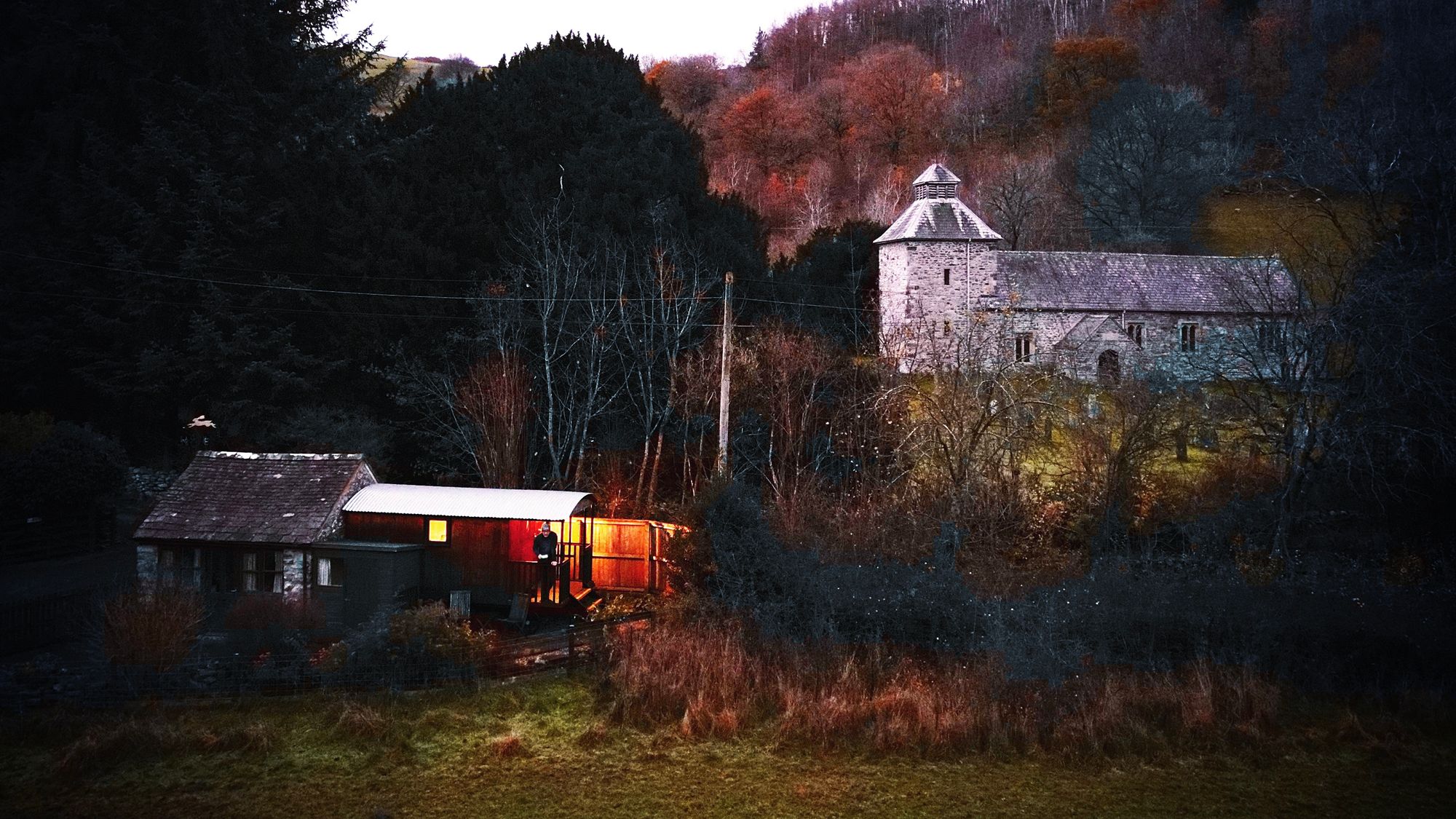 ---
It takes a day a week to produce this digest. With your support, I'm able to keep this digest free and public facing.
Support this digest and get access to a world of immersive content. Click the box below to check out the membership options: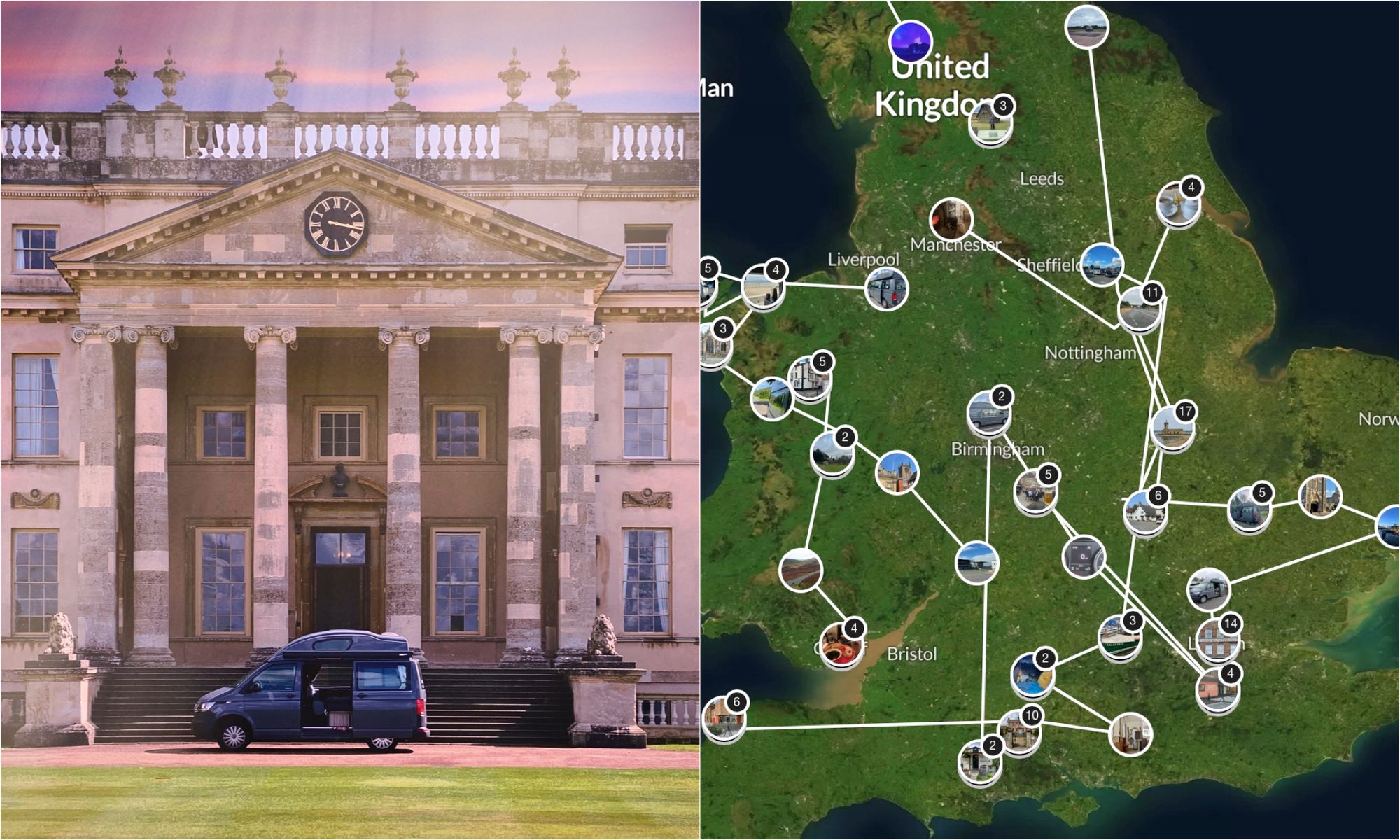 ---
Pennant Melangell, Wales
The journey from Llandaff and up through the heart of Wales is for another digest. Pennant Melangell lies in one of the most beautiful valleys. There is a sense of timelessness. It is cupped by the Berwyn Mountains.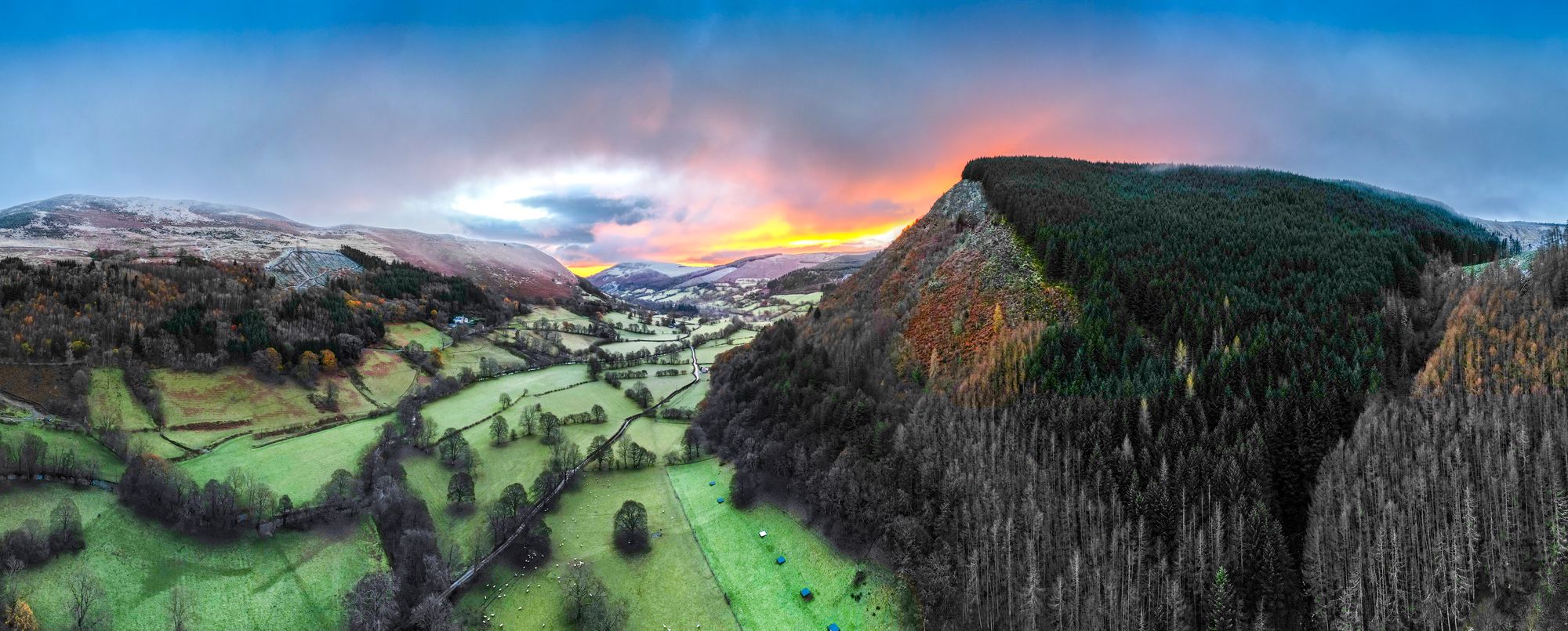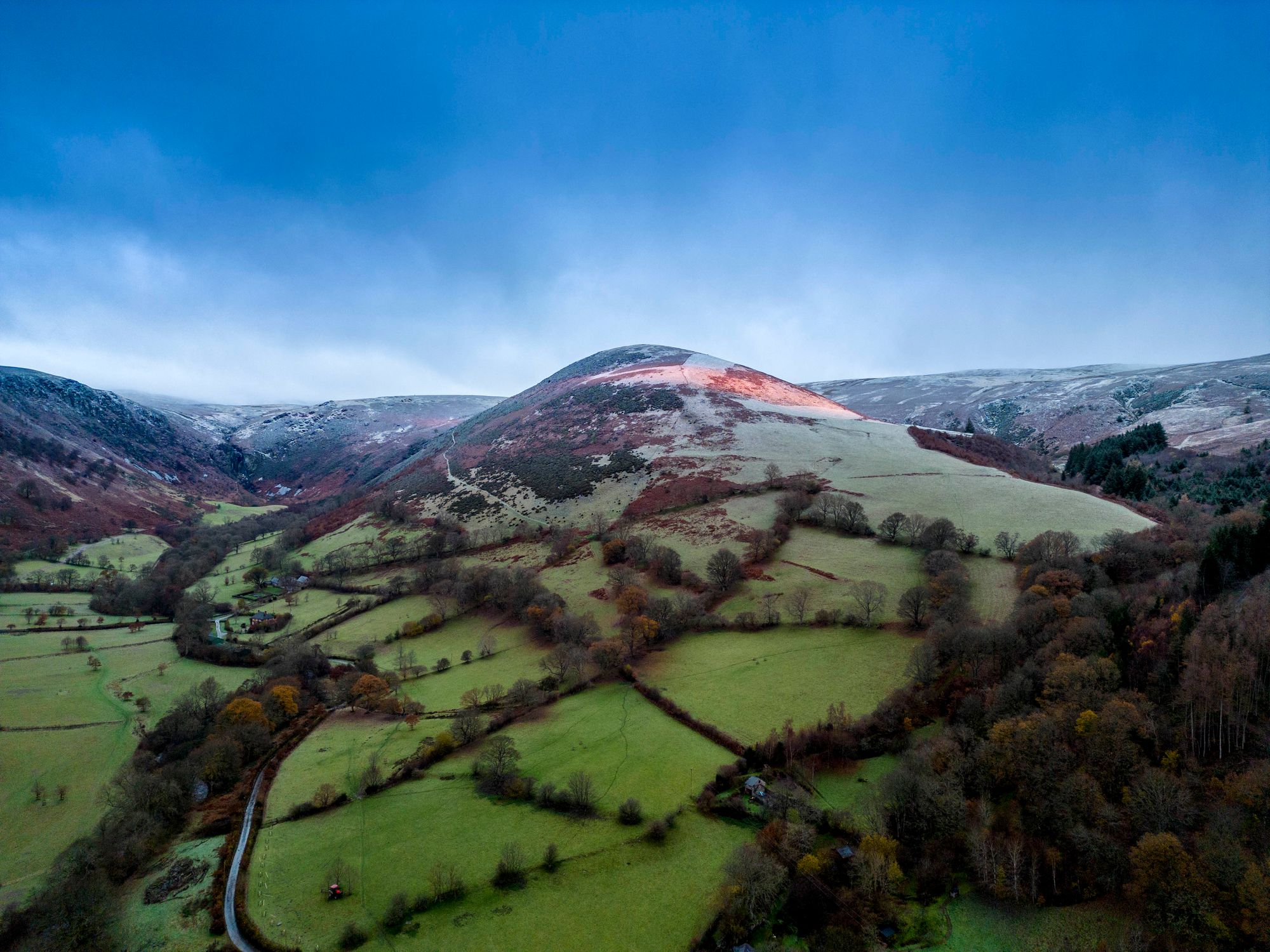 Up and up we went, the road, the car and I, entering a lovely if desolate world of rocks and rivers, tough mountain heather and gorse, with the sun piercing a hole in the gathered clouds like a peeping tom at a keyhole. Bunches of snow began to appear at the side of the single track road. Descents and chasms came into view at every yard; the world rolled away from beneath my feet.
Leslie Thomas on the Berwyn Mountains in The Hidden Places of Britain.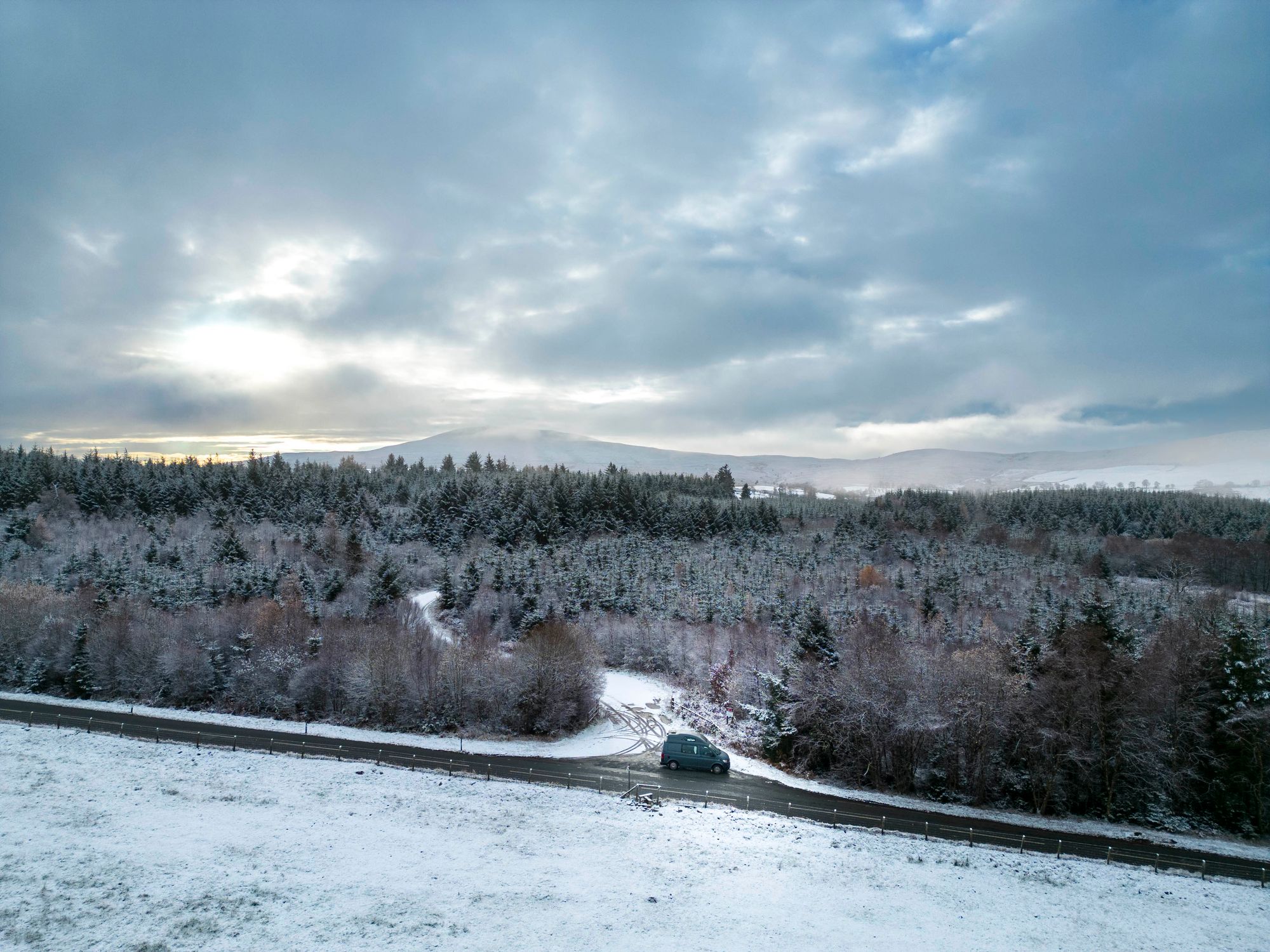 St. Melangell
The church is divinely set within the landscape in an oval bronze age boundary.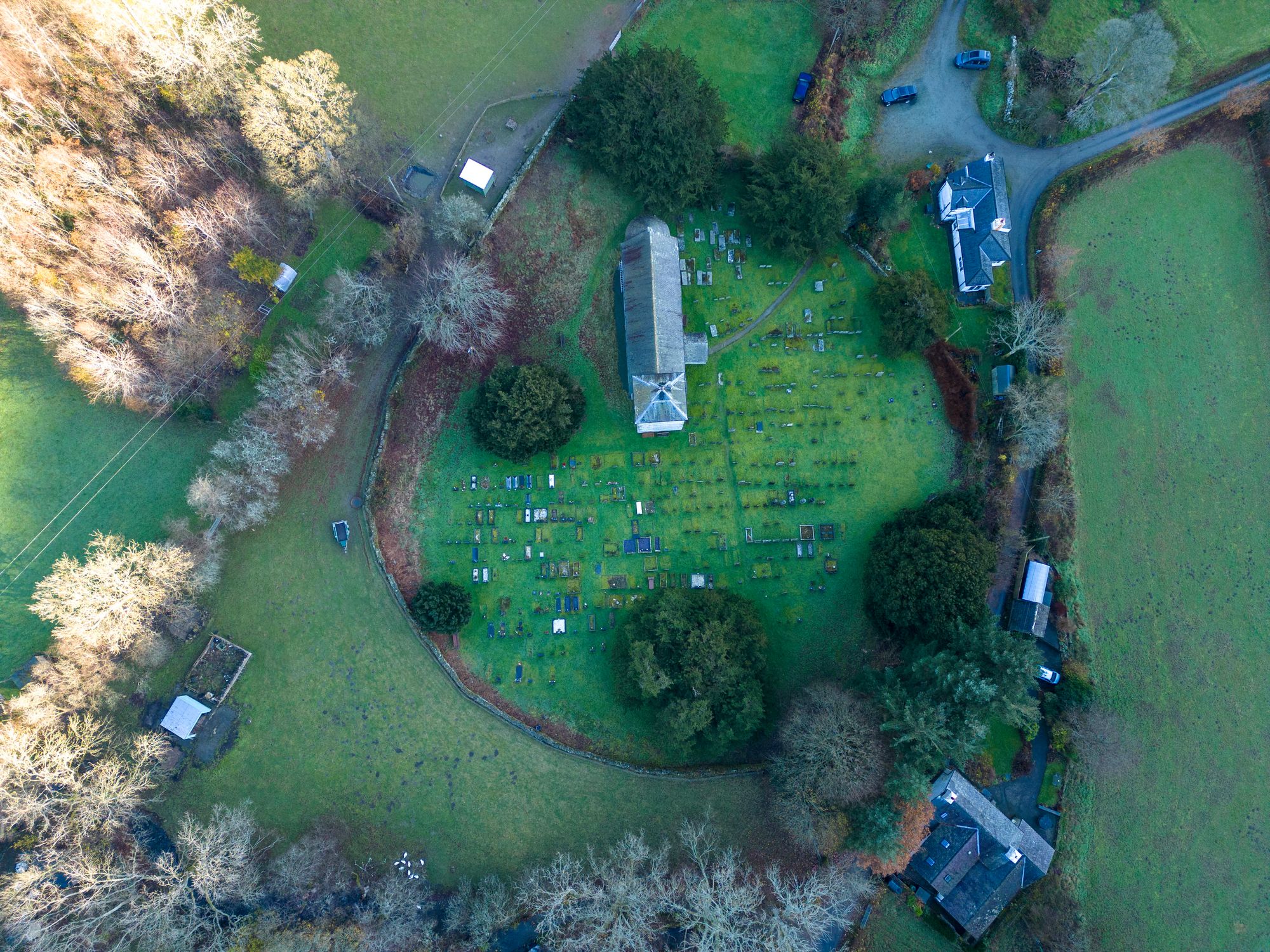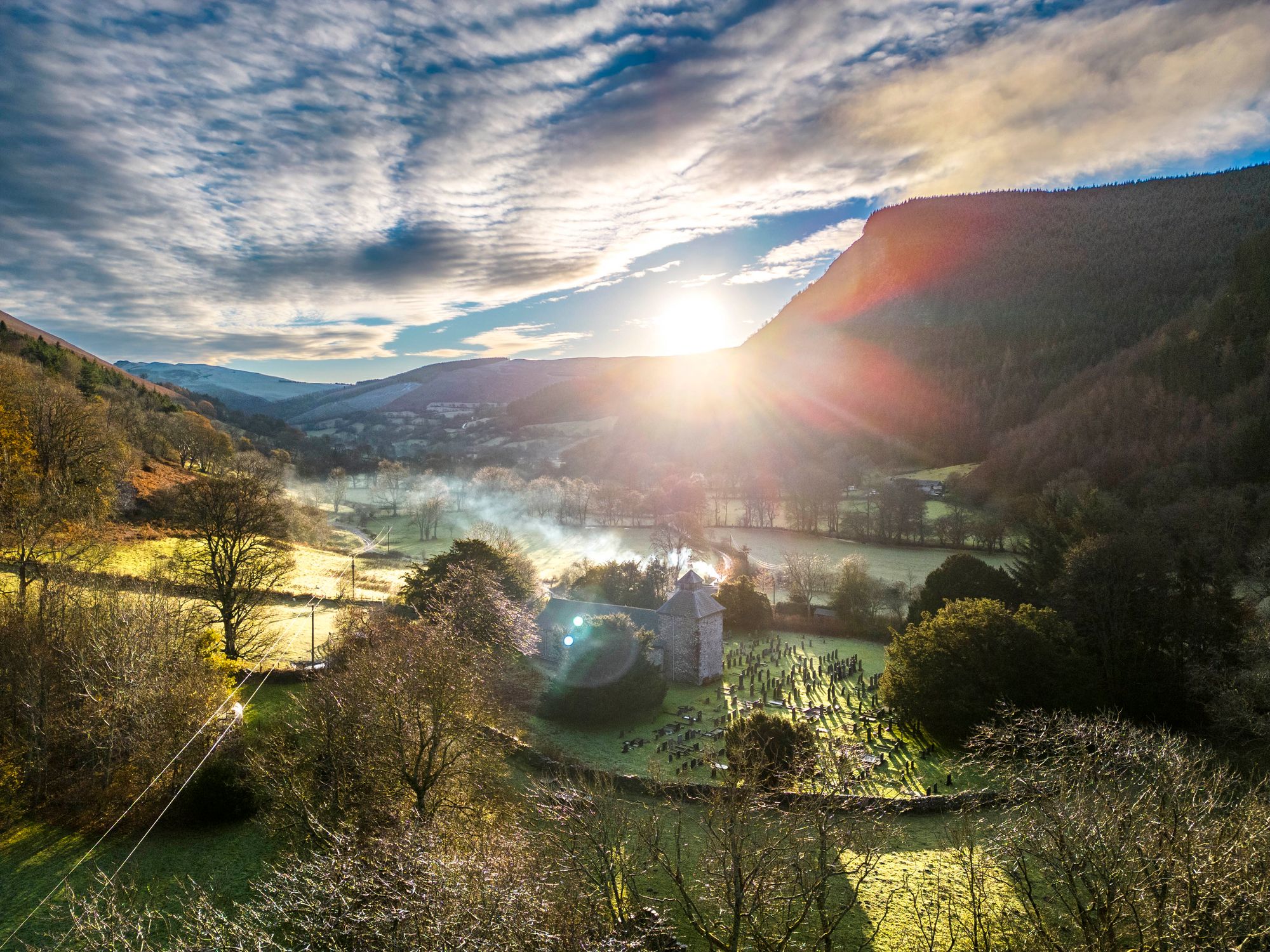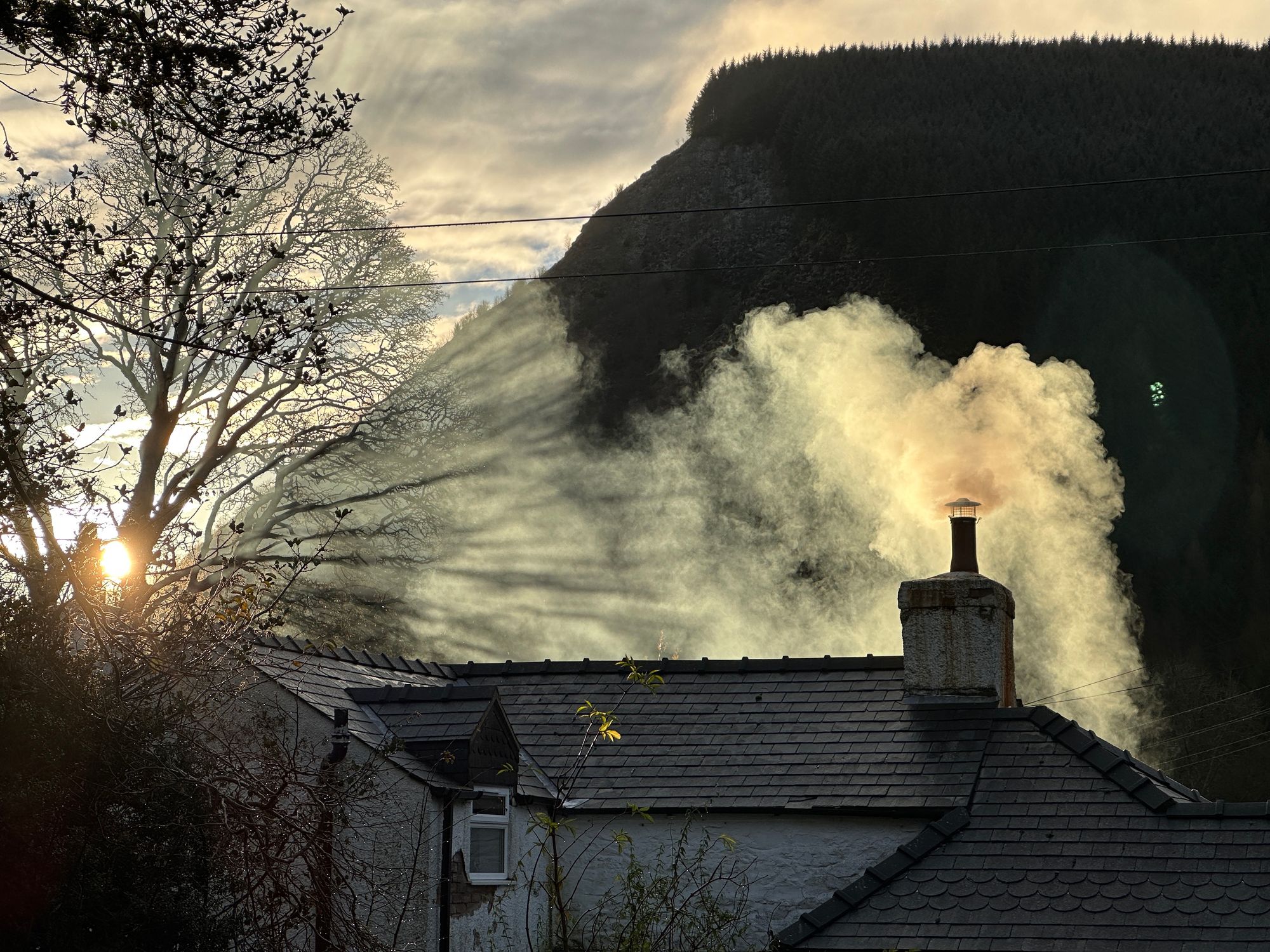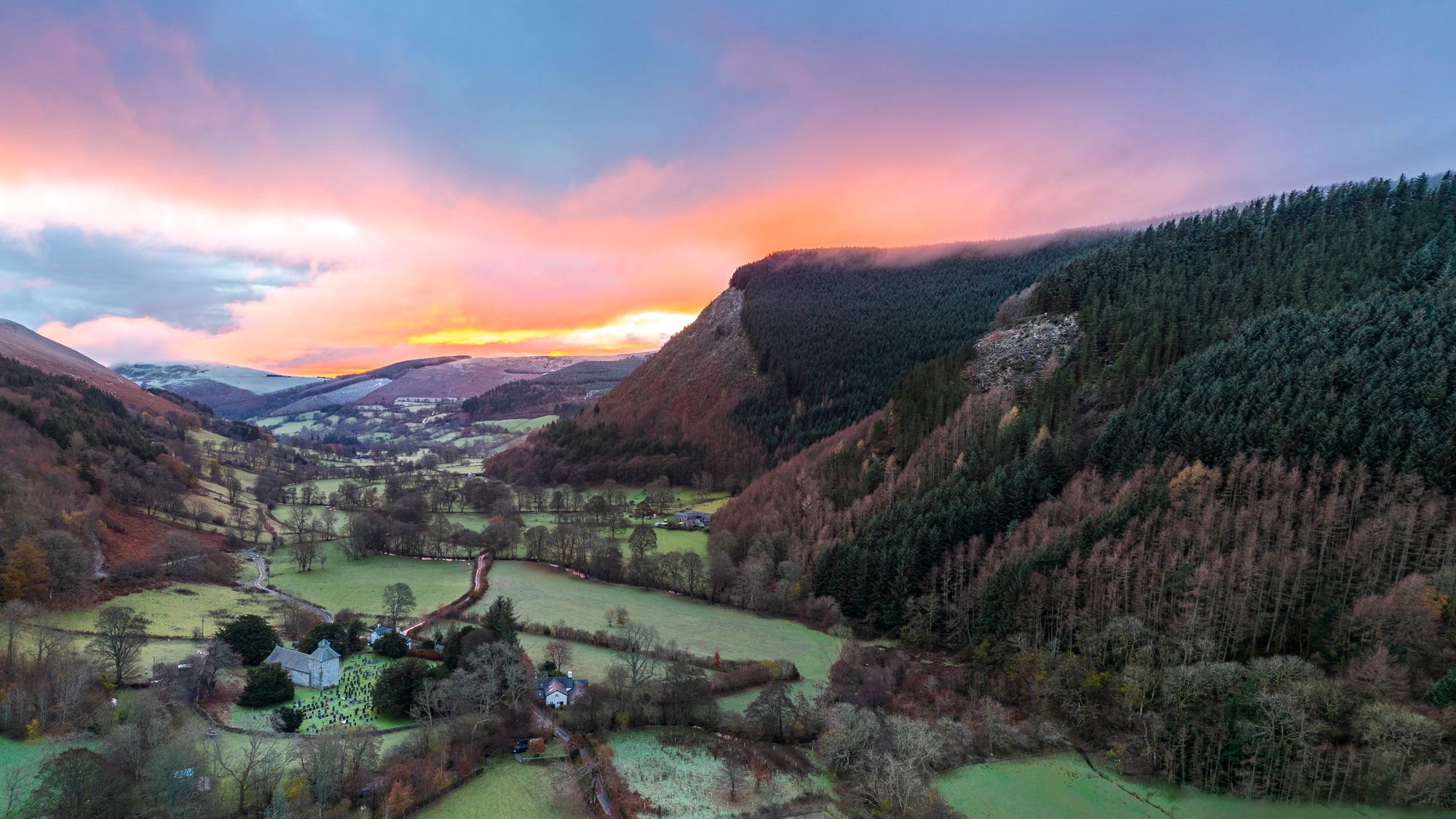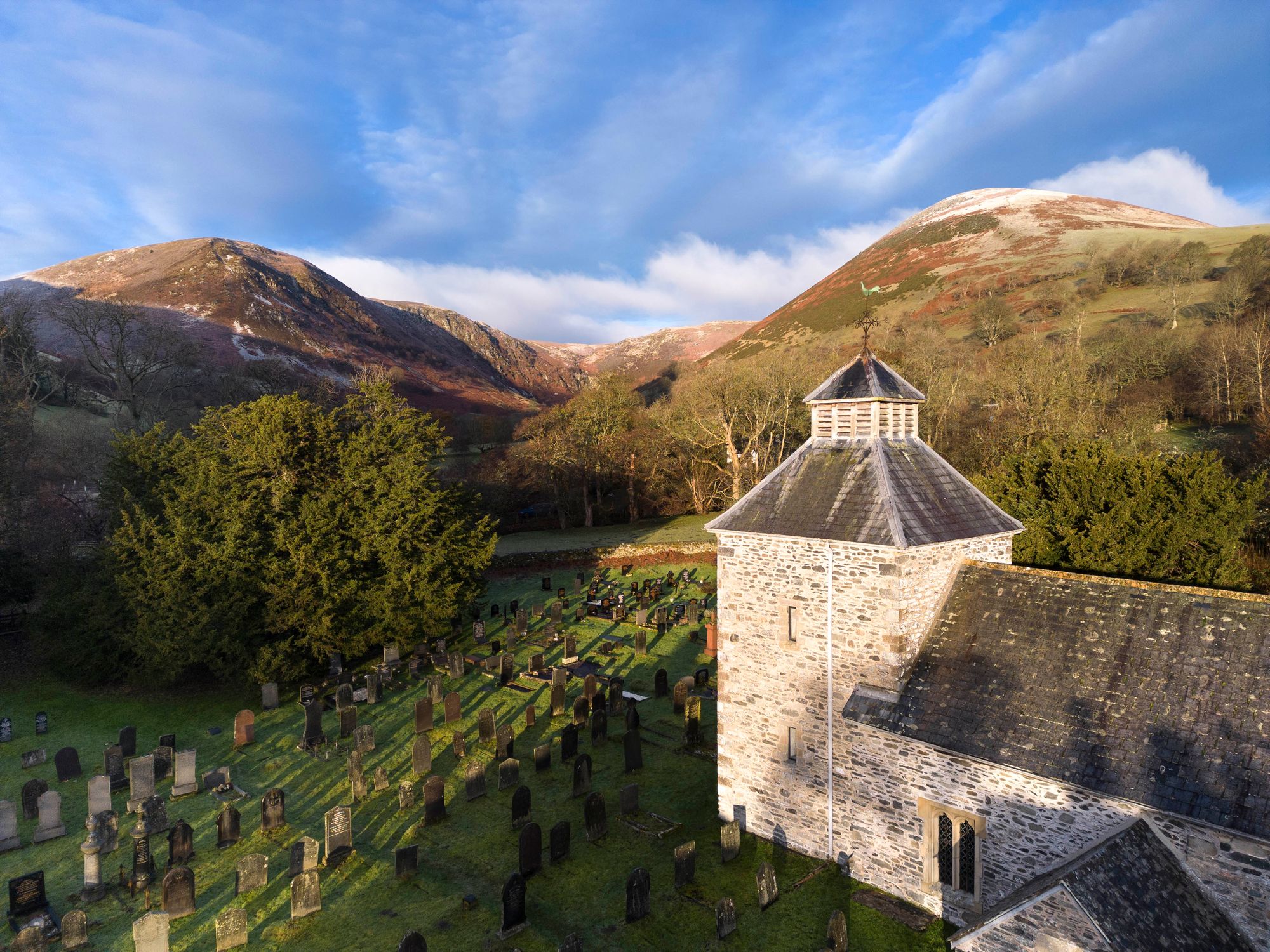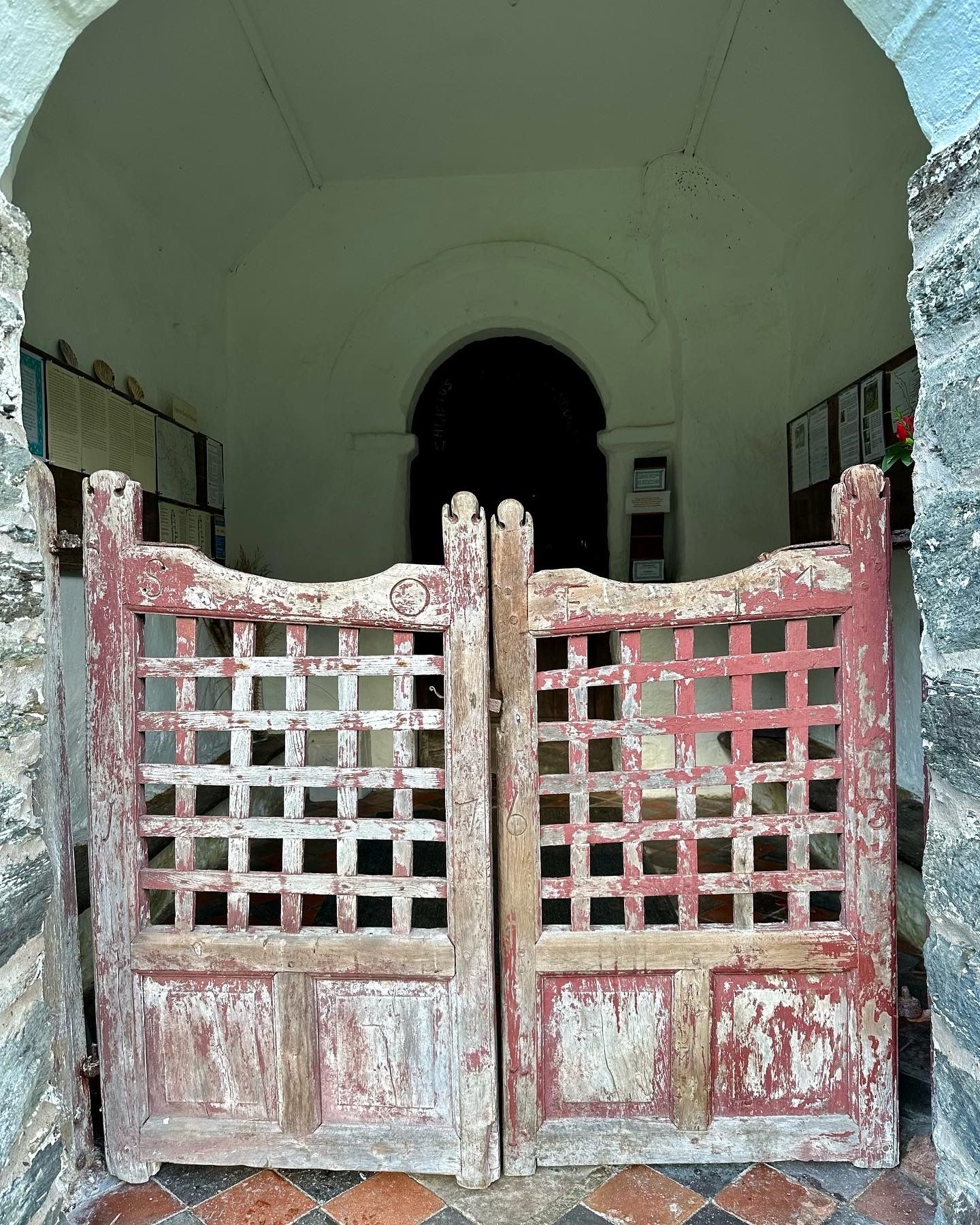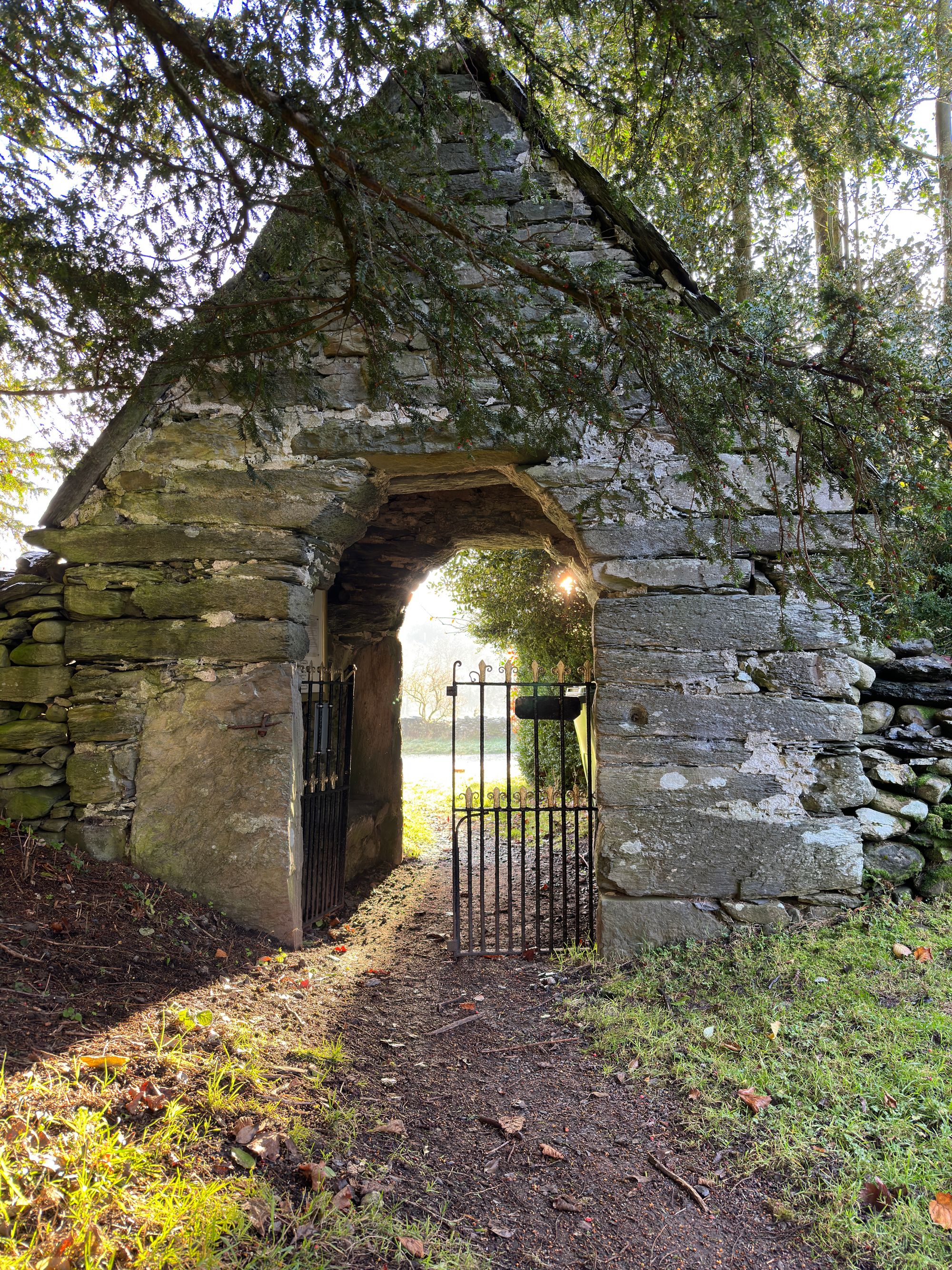 Interior
The shrine lies beyond the medieval rood screen.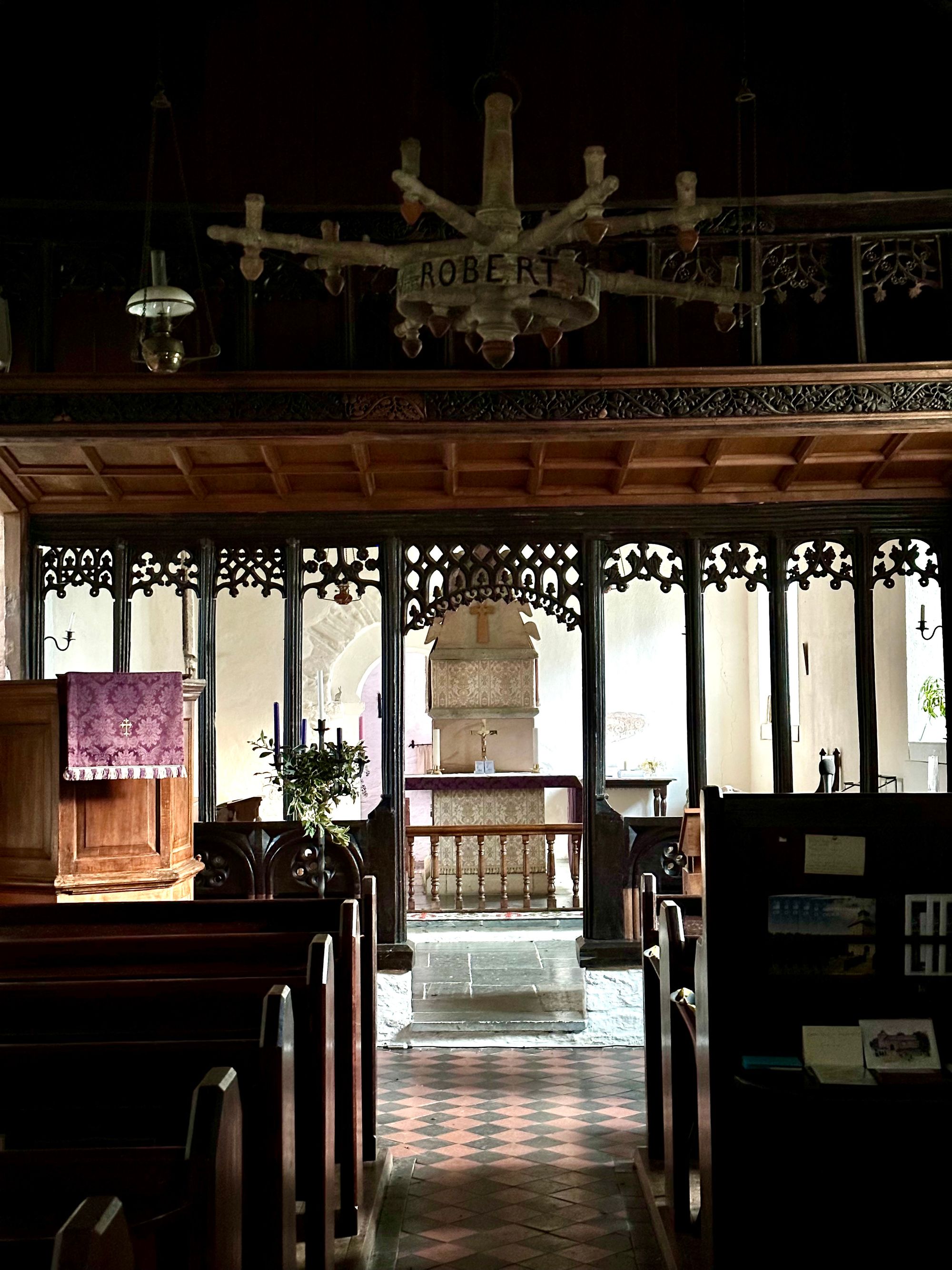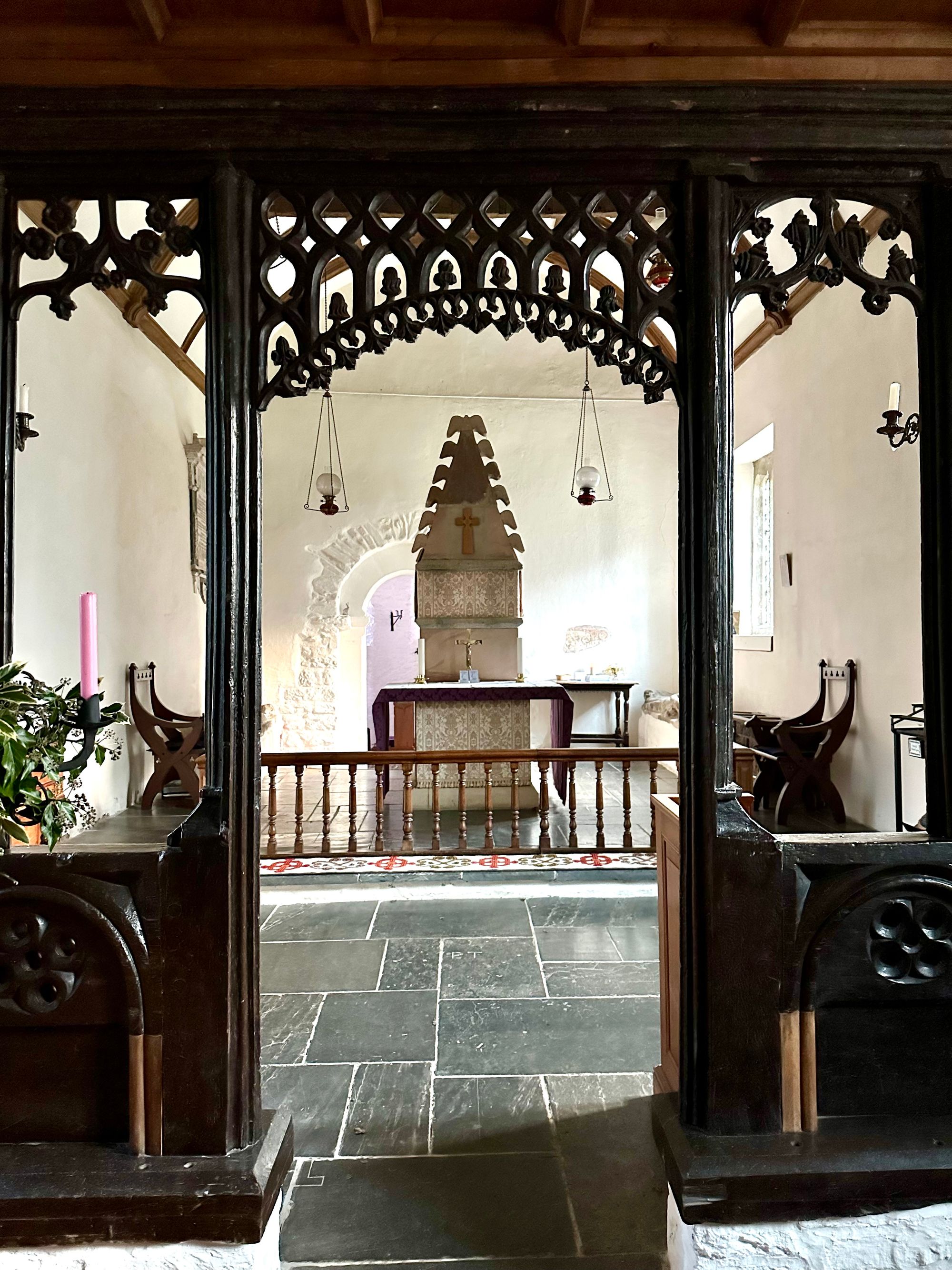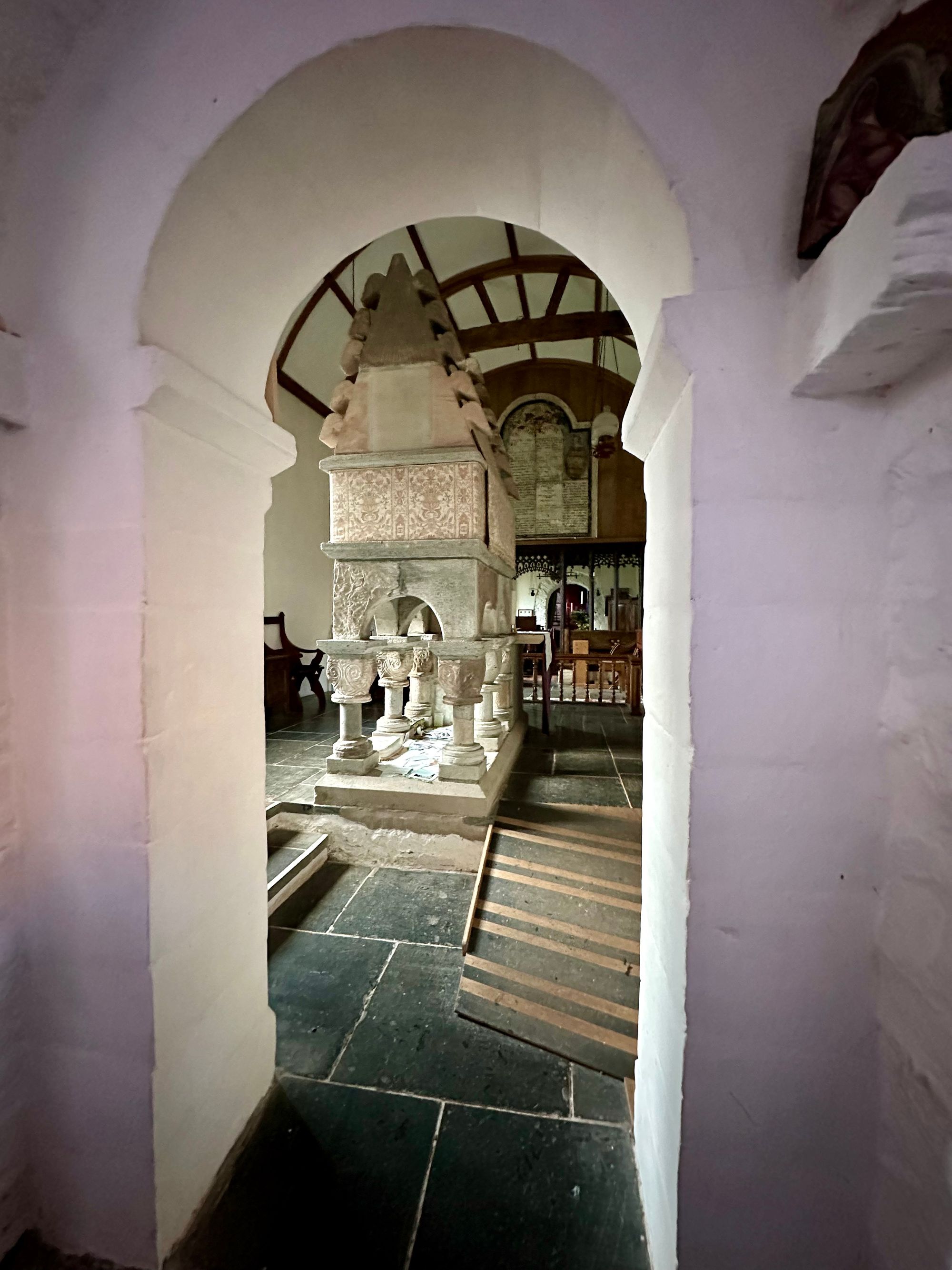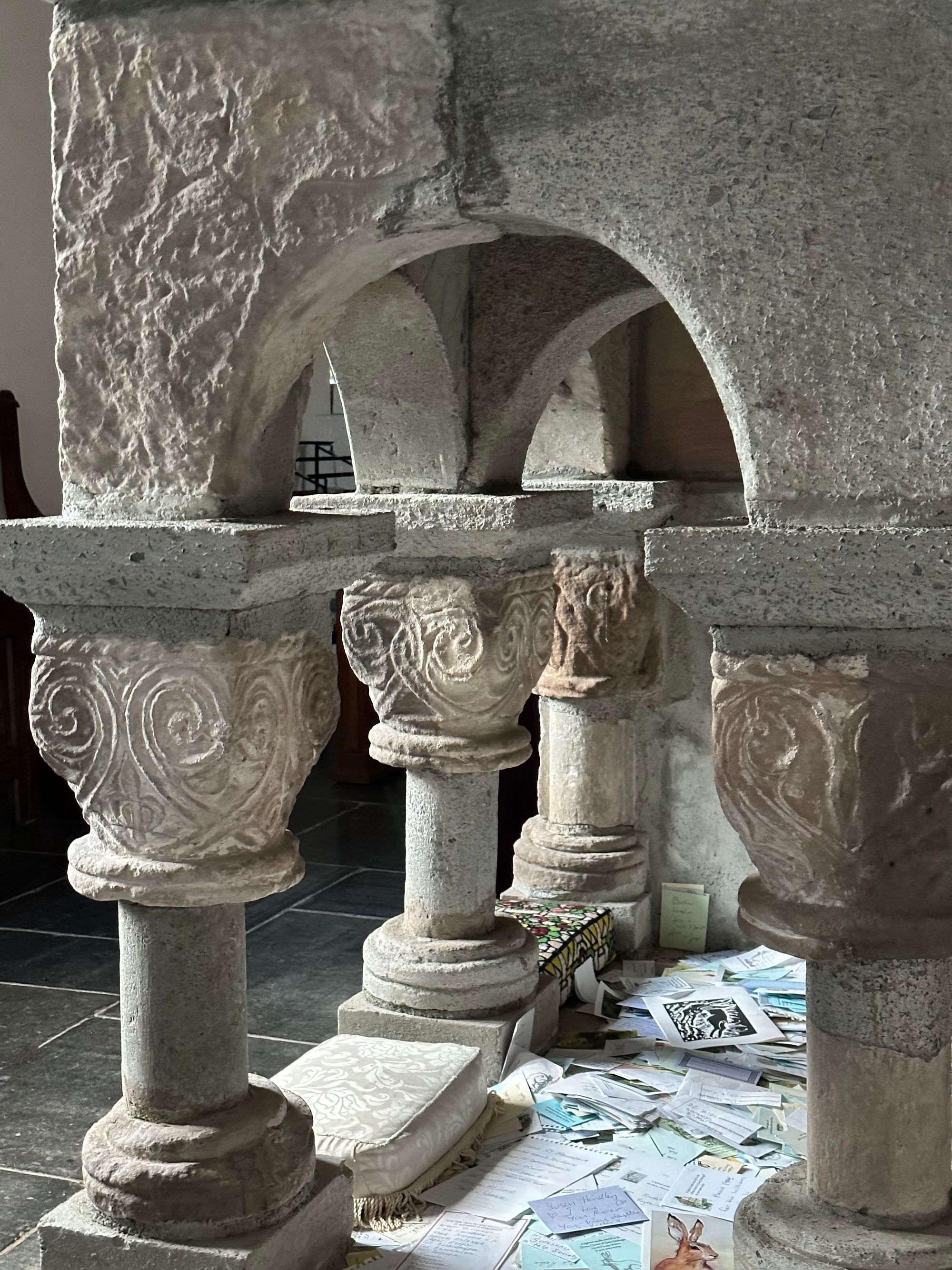 The shrine is Romanesque and has been re-built from fragments found about the church.
To the side of the shrine is a C14th effigy - thought to be that of St. Melangell (with hares beneath her arms)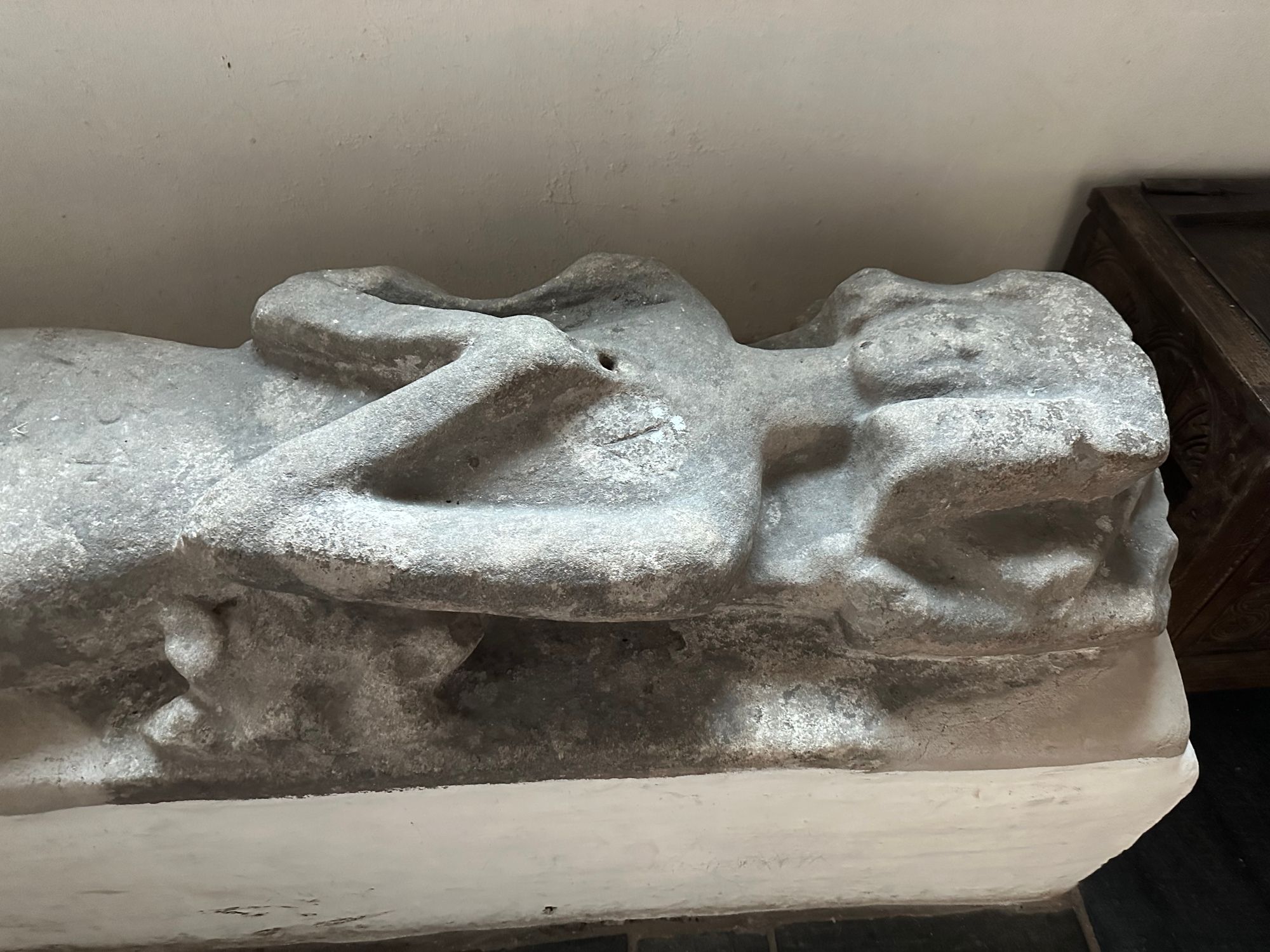 Behind the shrine is an apse that is thought to hold her original gravestone.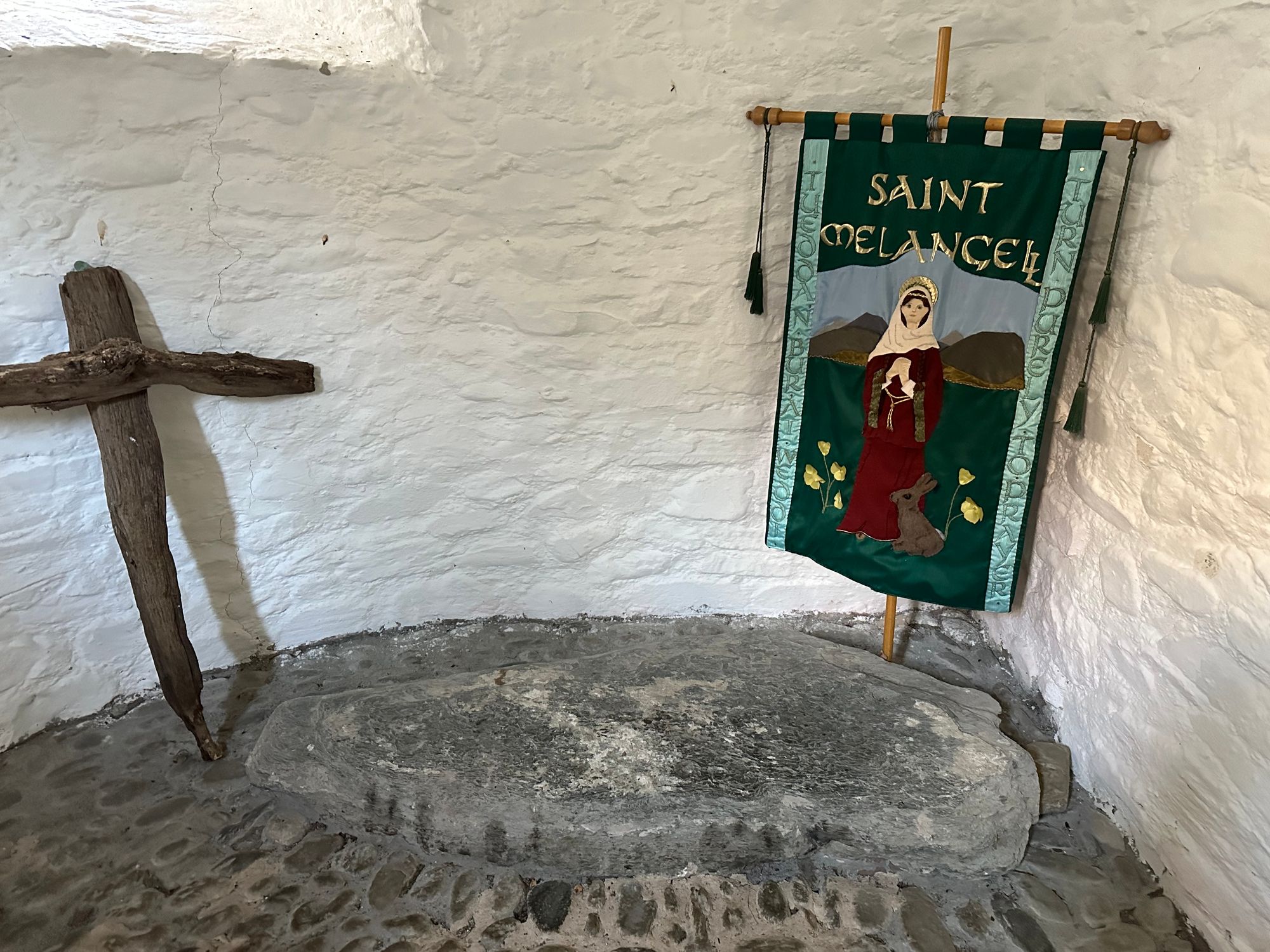 The Yew Trees
Pennant Melangell is a rare place indeed - for it has a number of yew trees that are over 2000 years old. Each has its own personality, each branch carries the weight of time, their roots are rooted in pre-history.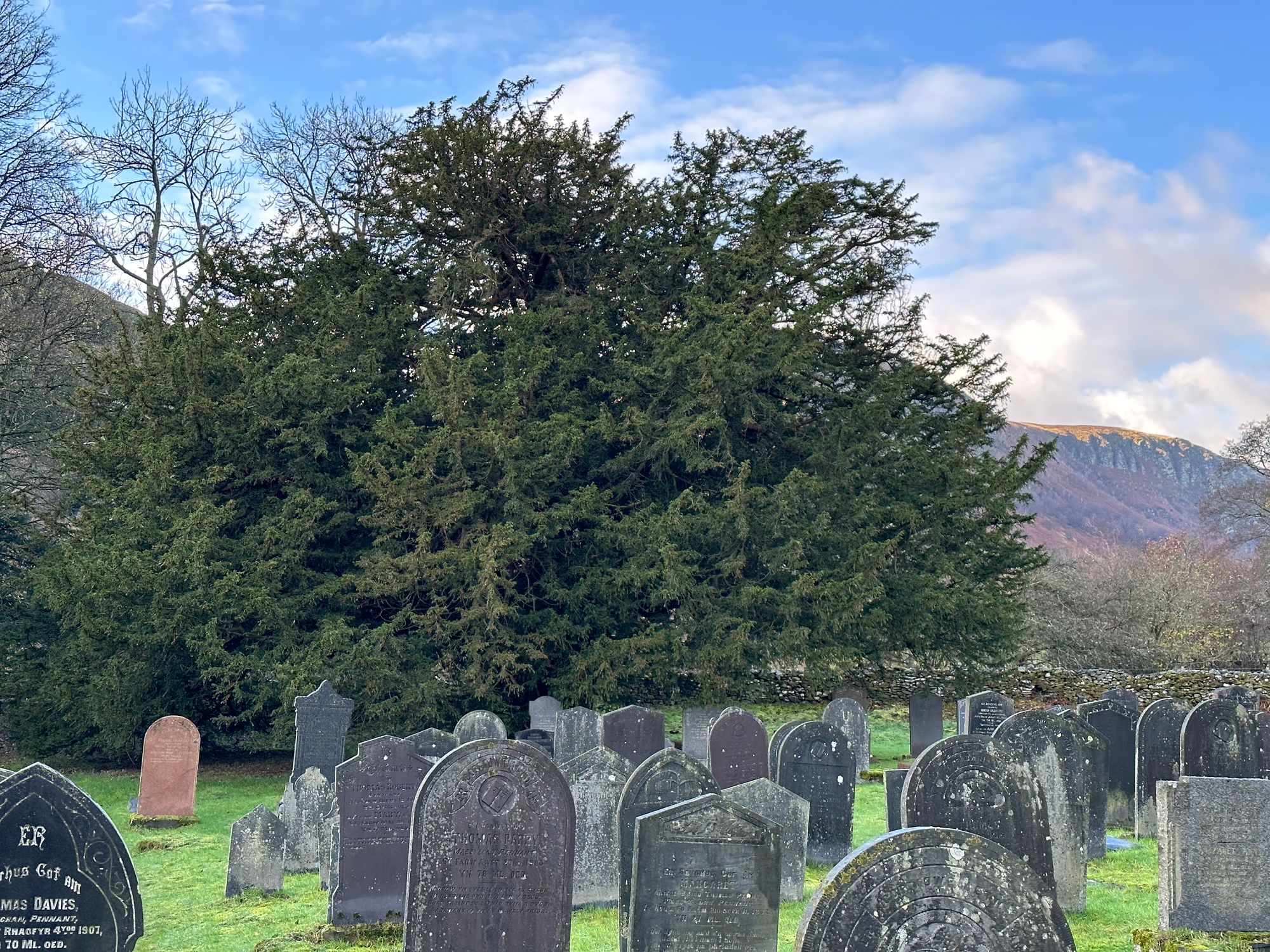 When walking to the yew tree to the north west of the churchyard - there is a glimpse of an impish figure, within the folds of the tree.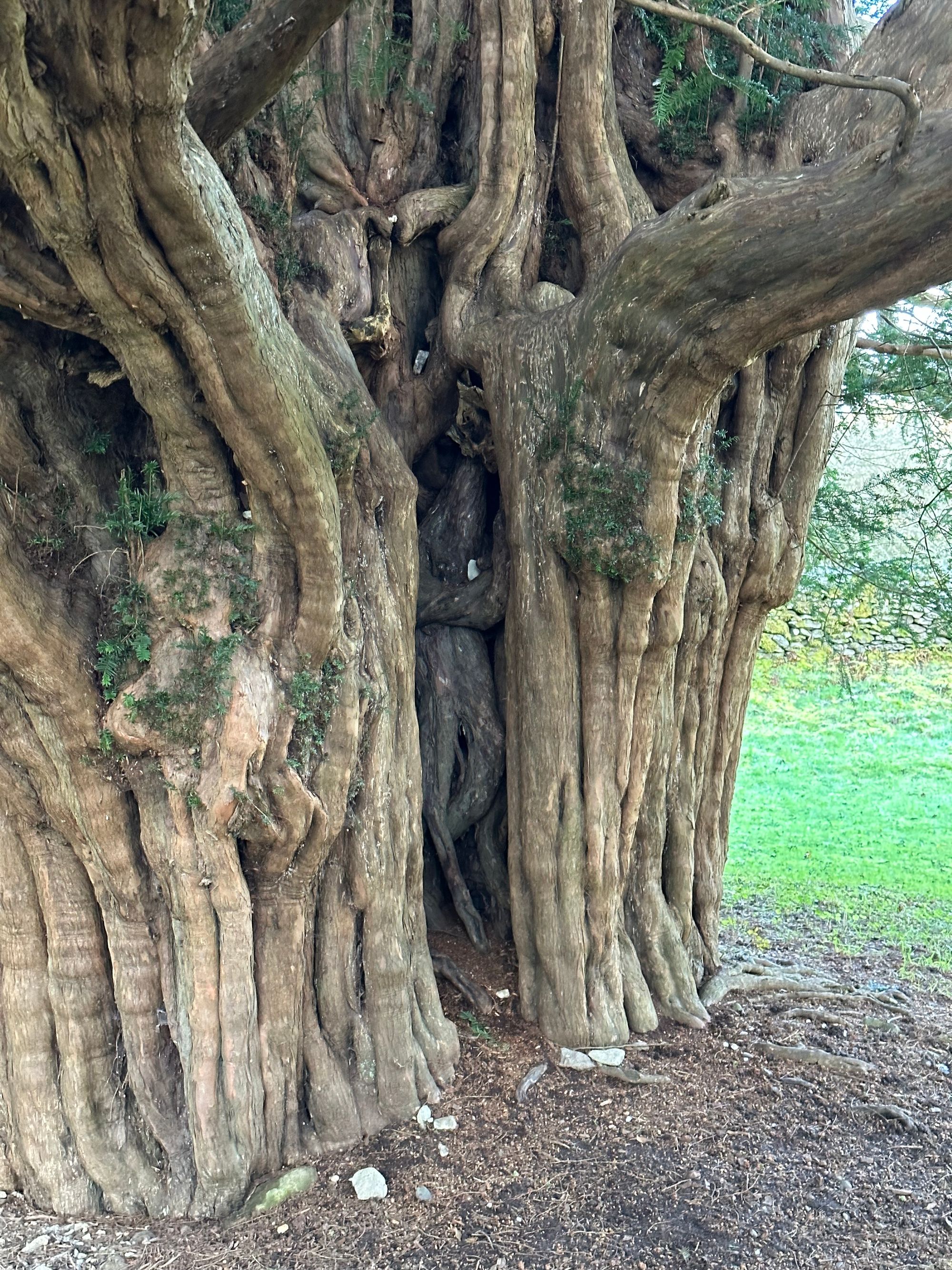 There are shapes within the flux of growth that morph into faces and animals befitting of a bestiary.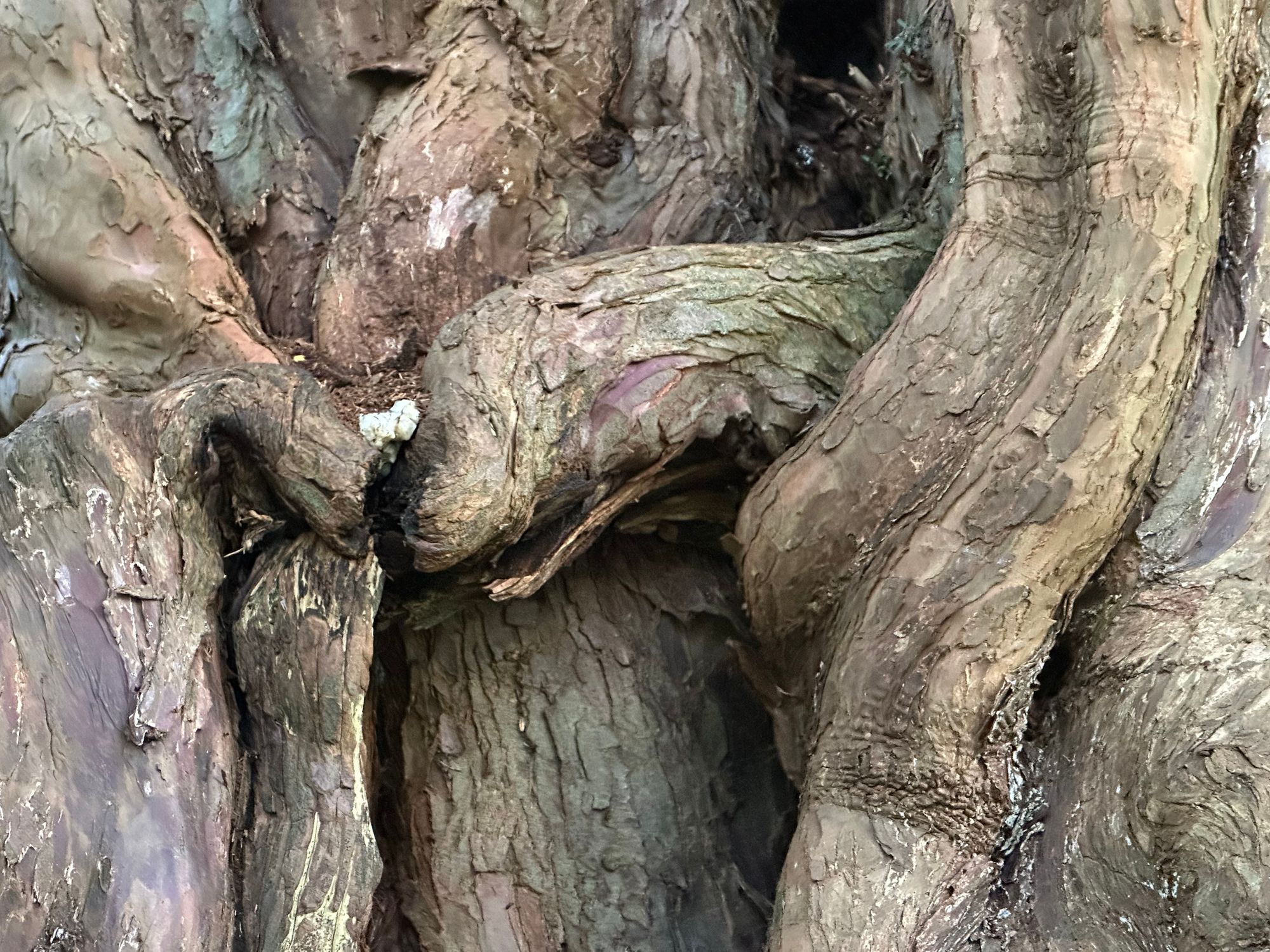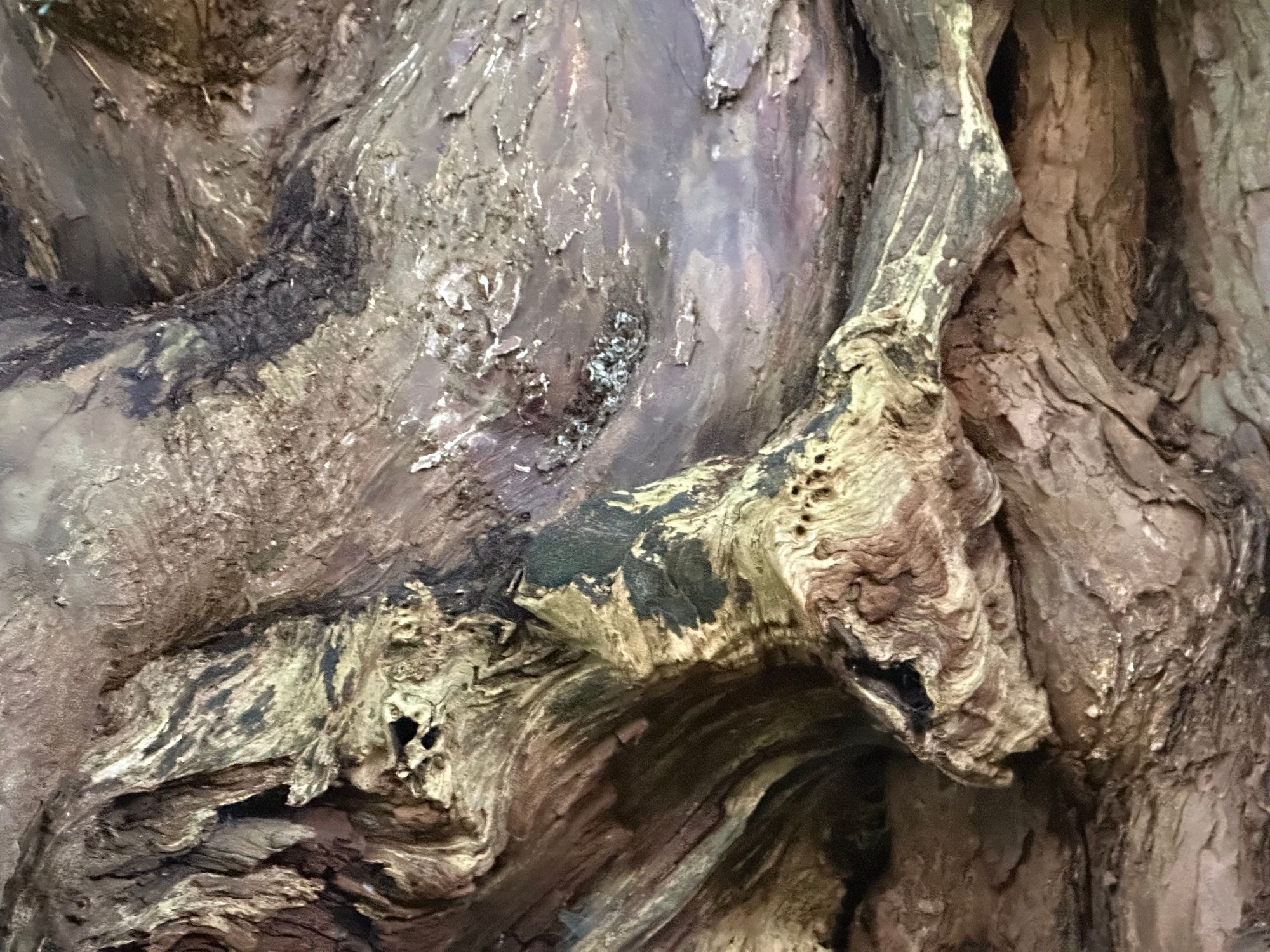 Grafitti
On one of the gravestones in the churchyard are shoe outlines. I've come across these all over the land in various places - mostly on lead roofs. People making their mark in time...hiraeth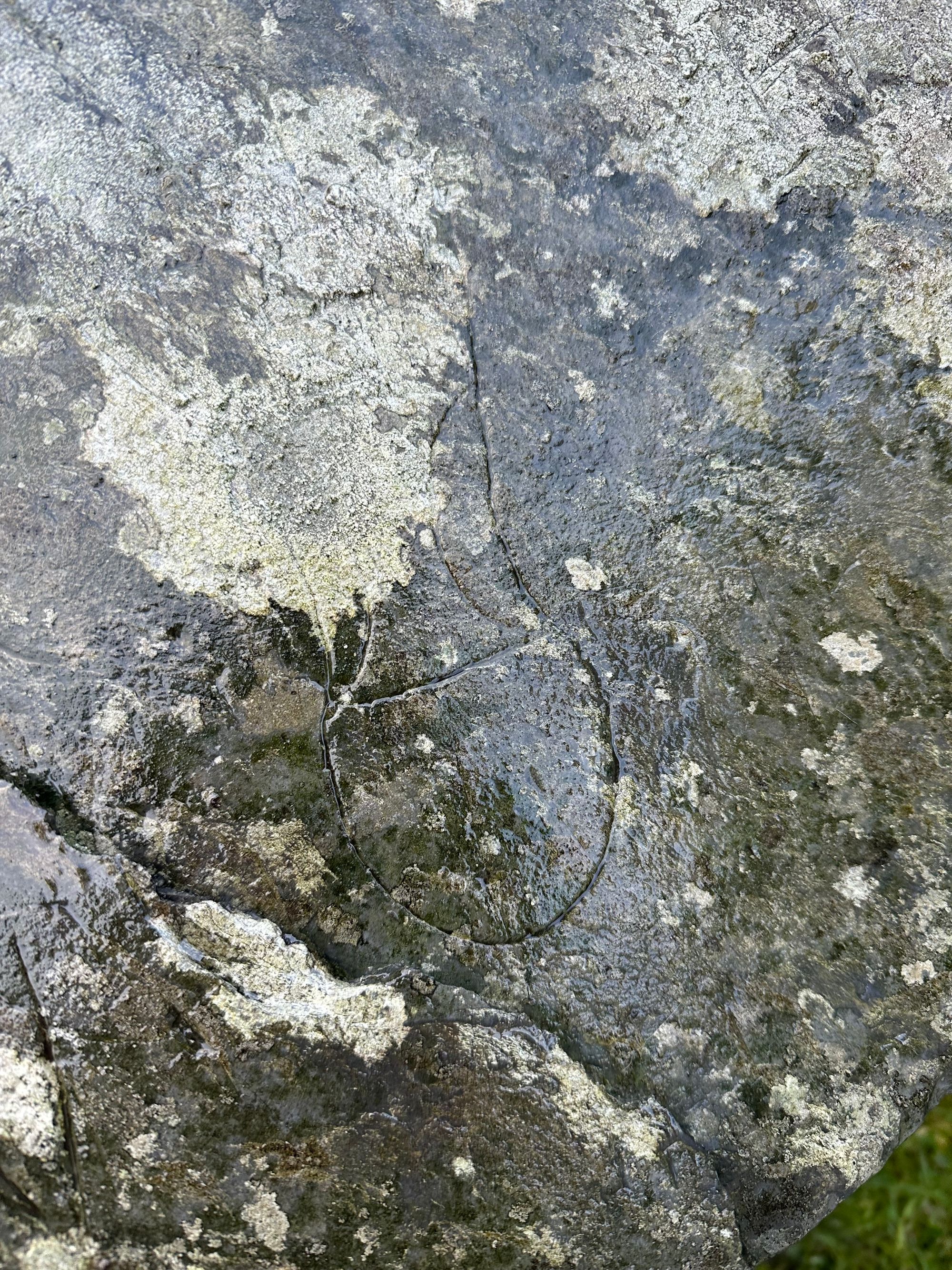 [Below] Foot graffiti at Beonna, All Saints' Church in Benington, Lincolnshire. I love the ones with little patches on them..a kind of humility that is rare. In the caves at Lascaux they recorded their hands too - millenia of mark making.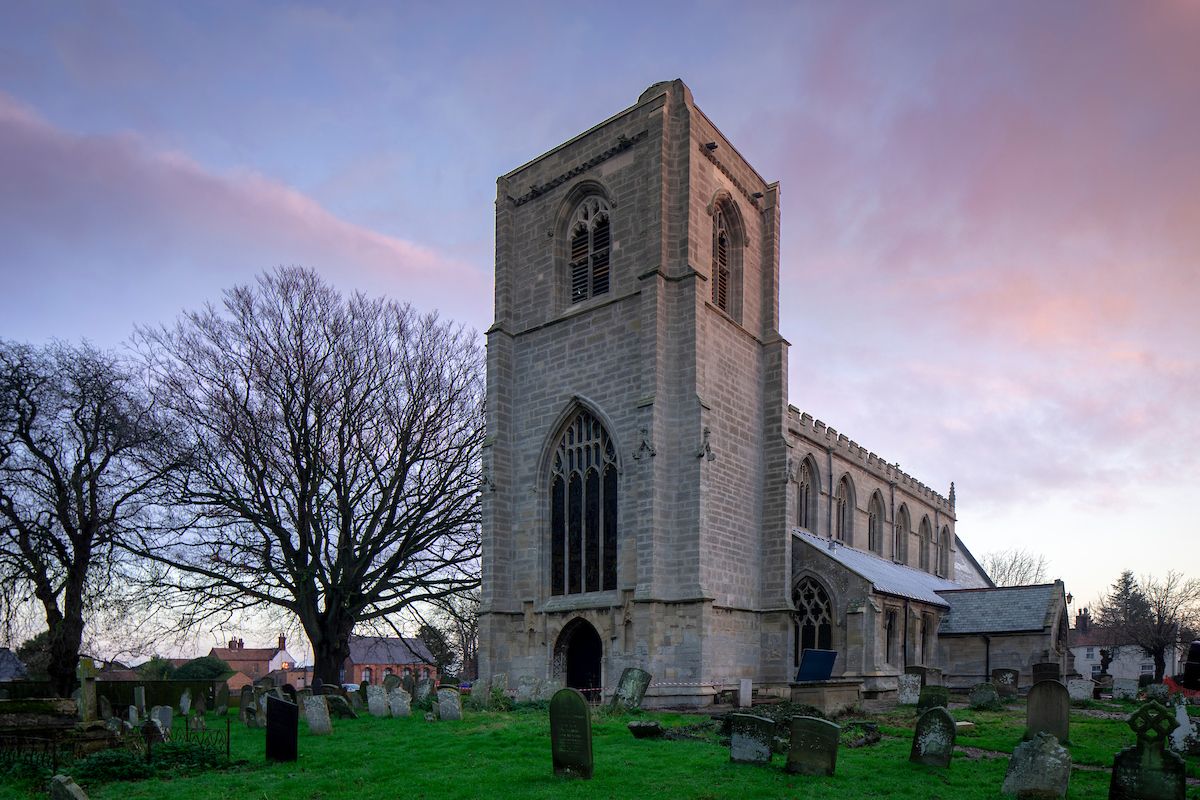 This is me photographing the roof at Benington - the graffiti was on the lead roof of the tower. My photography is my mark making.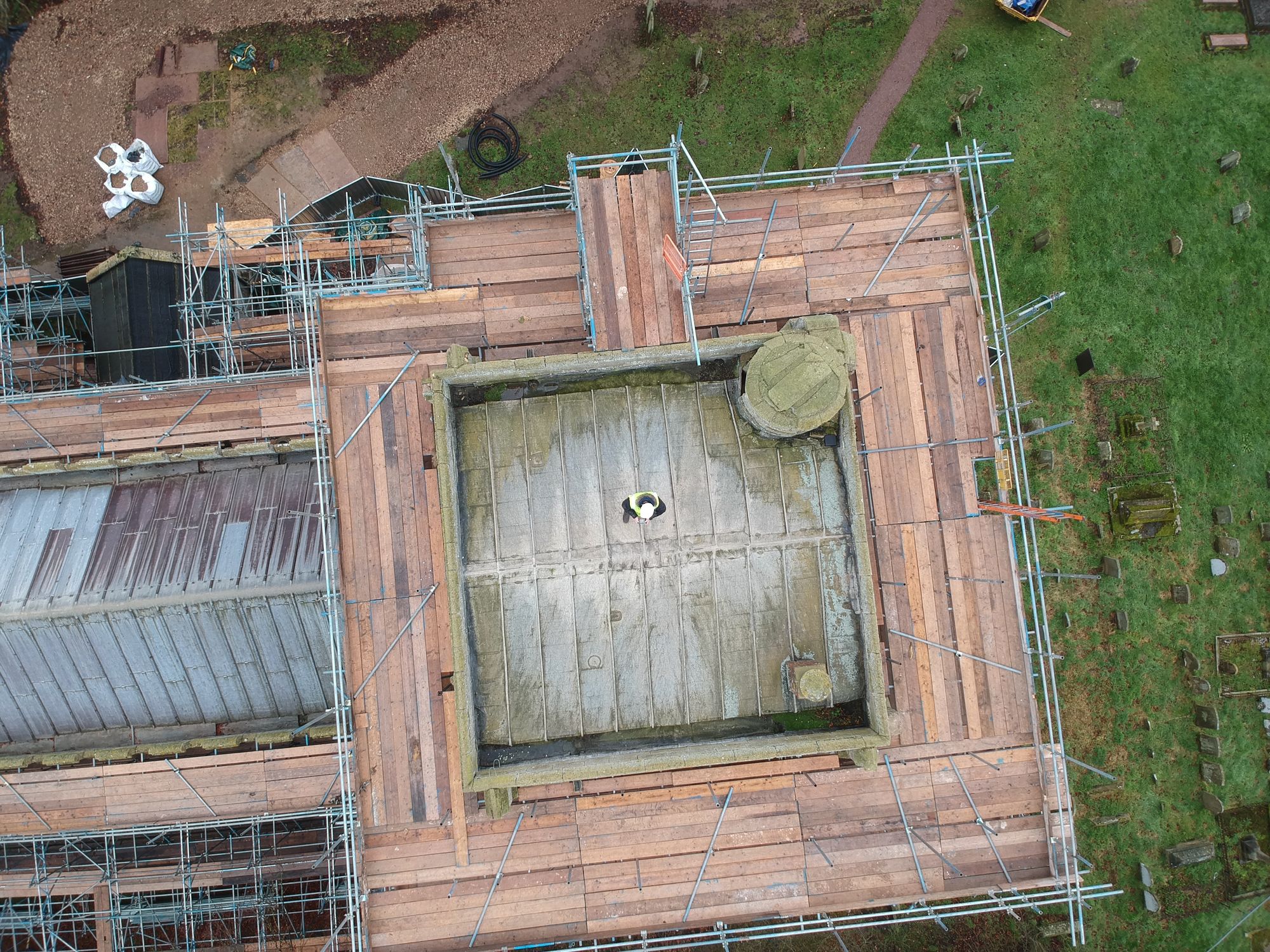 It was more shepherd's-hut-life than vanlife at Pennant Melangell. The hut comes with the Beaudy Bach - an old cow shed that harbours all the mod cons. But, with the van nearby, I made a couple of meals on the hob, because of familiarity.
I do love a van and a cabin combo...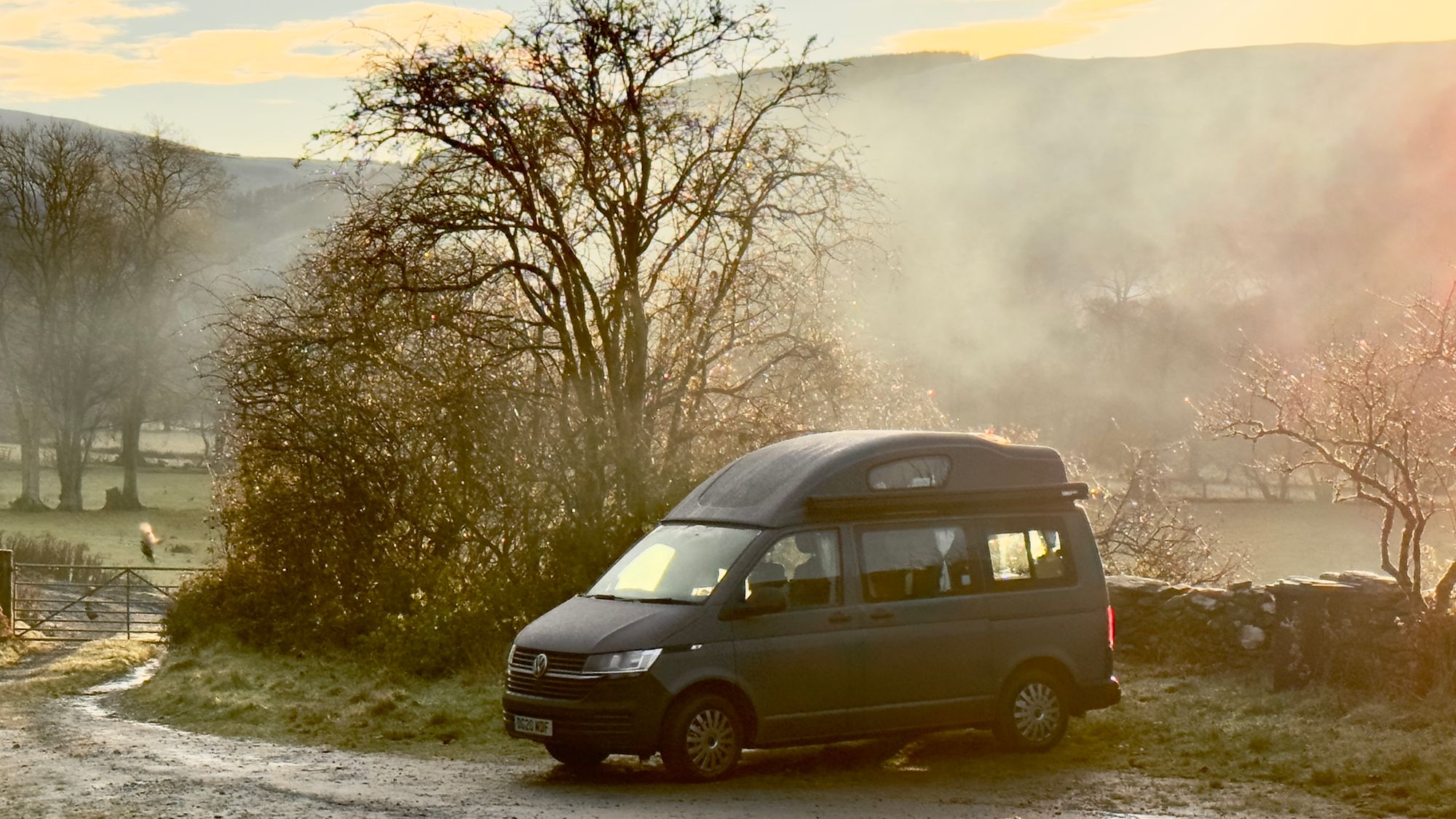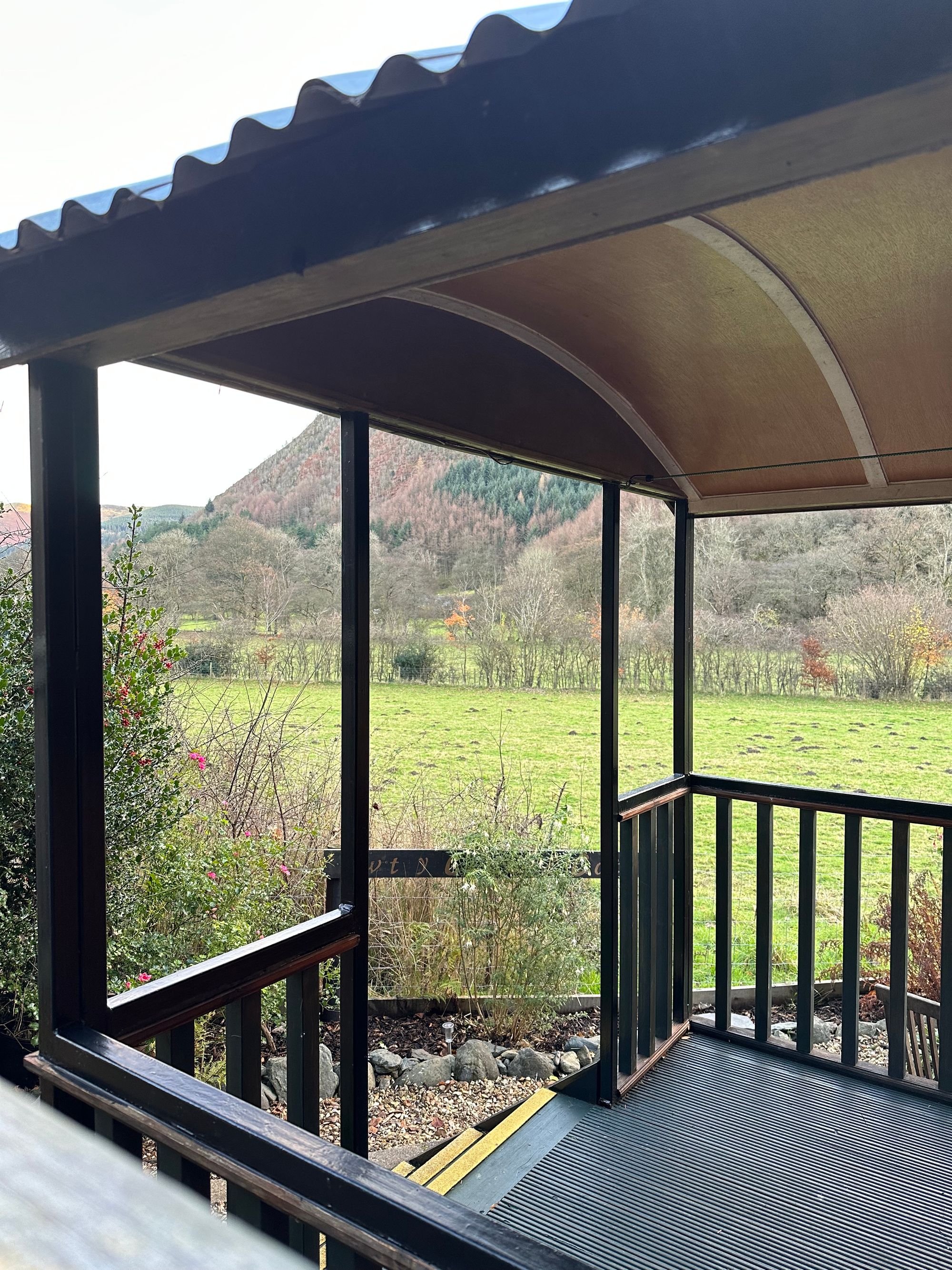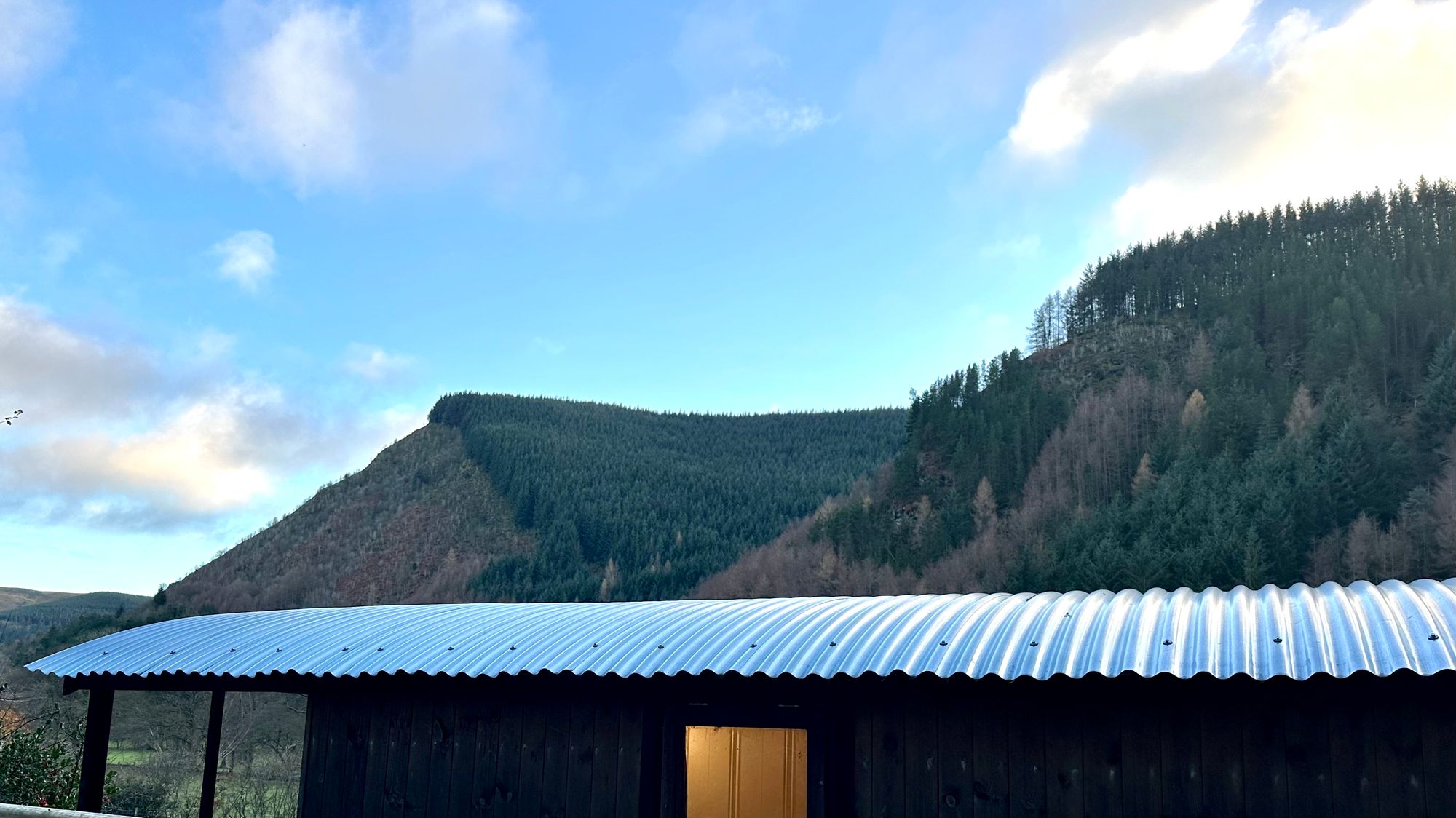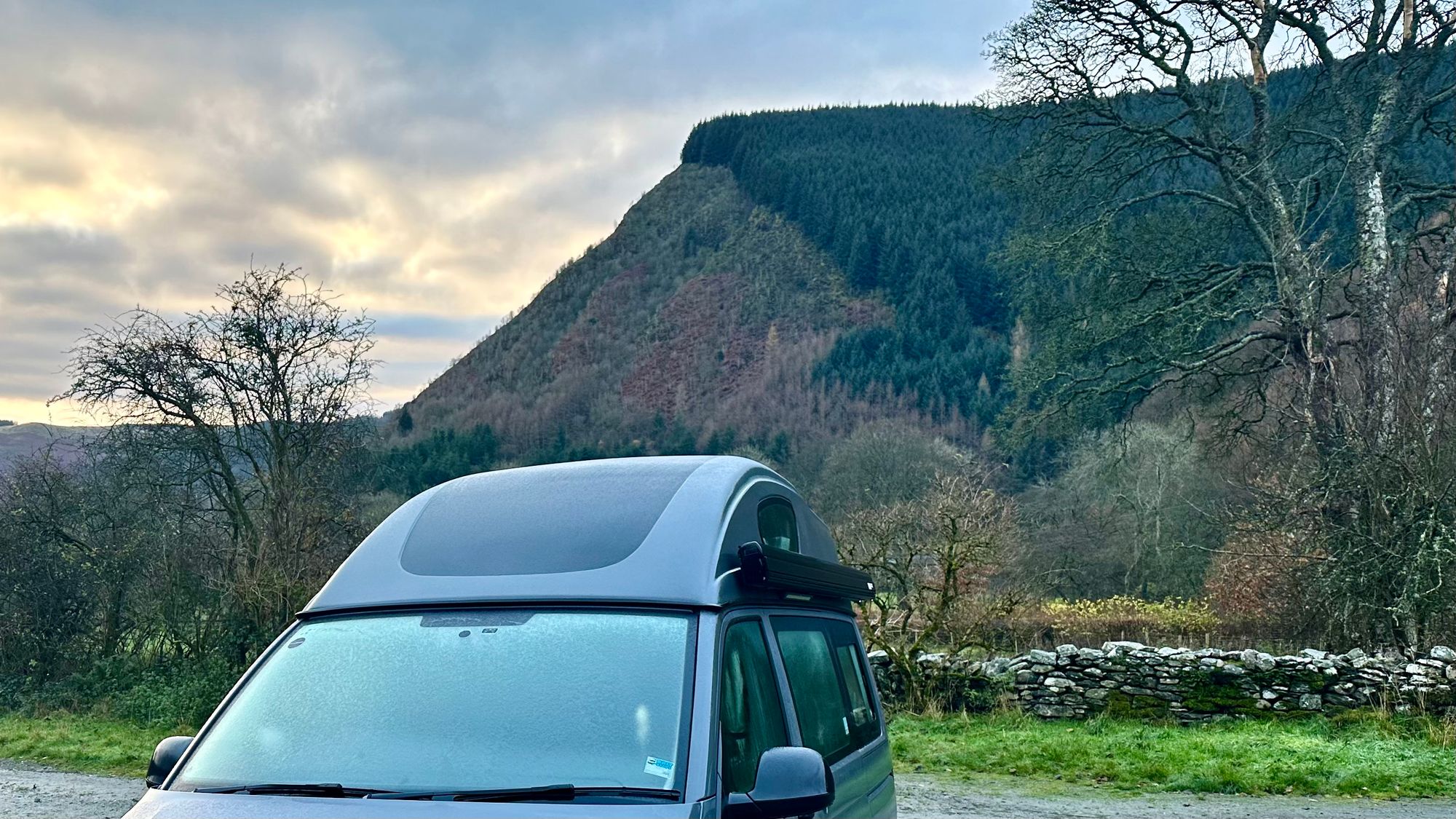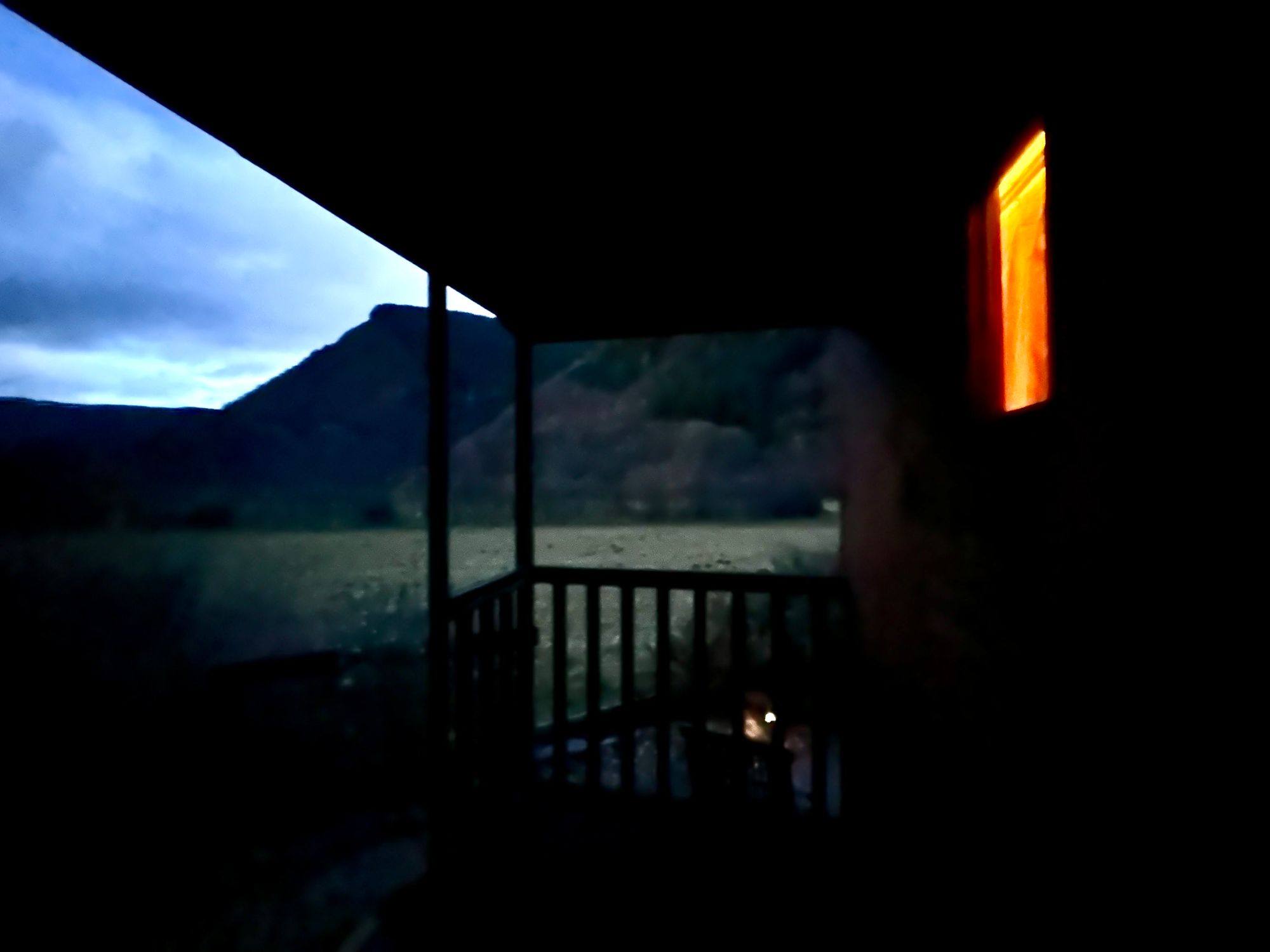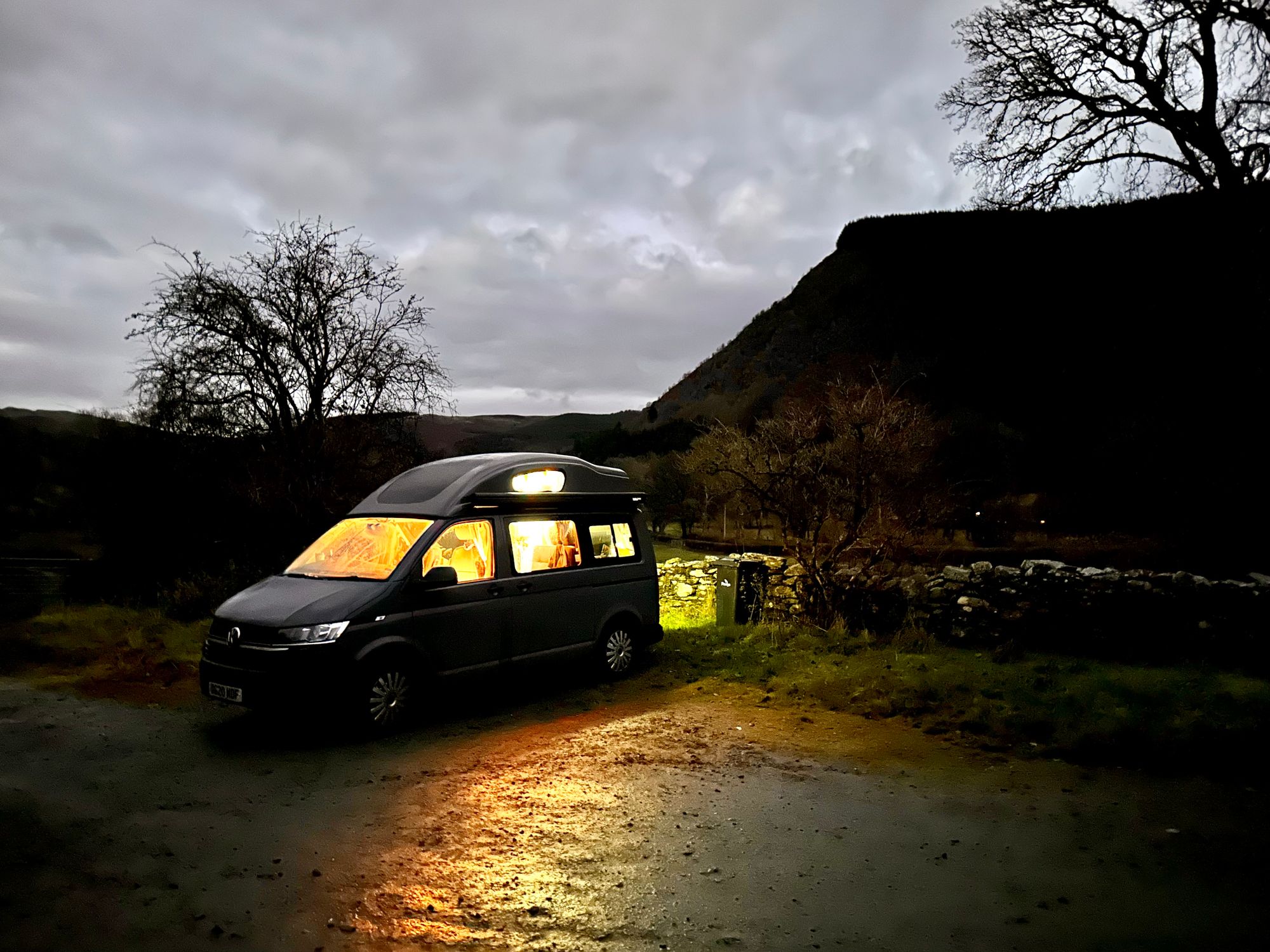 ---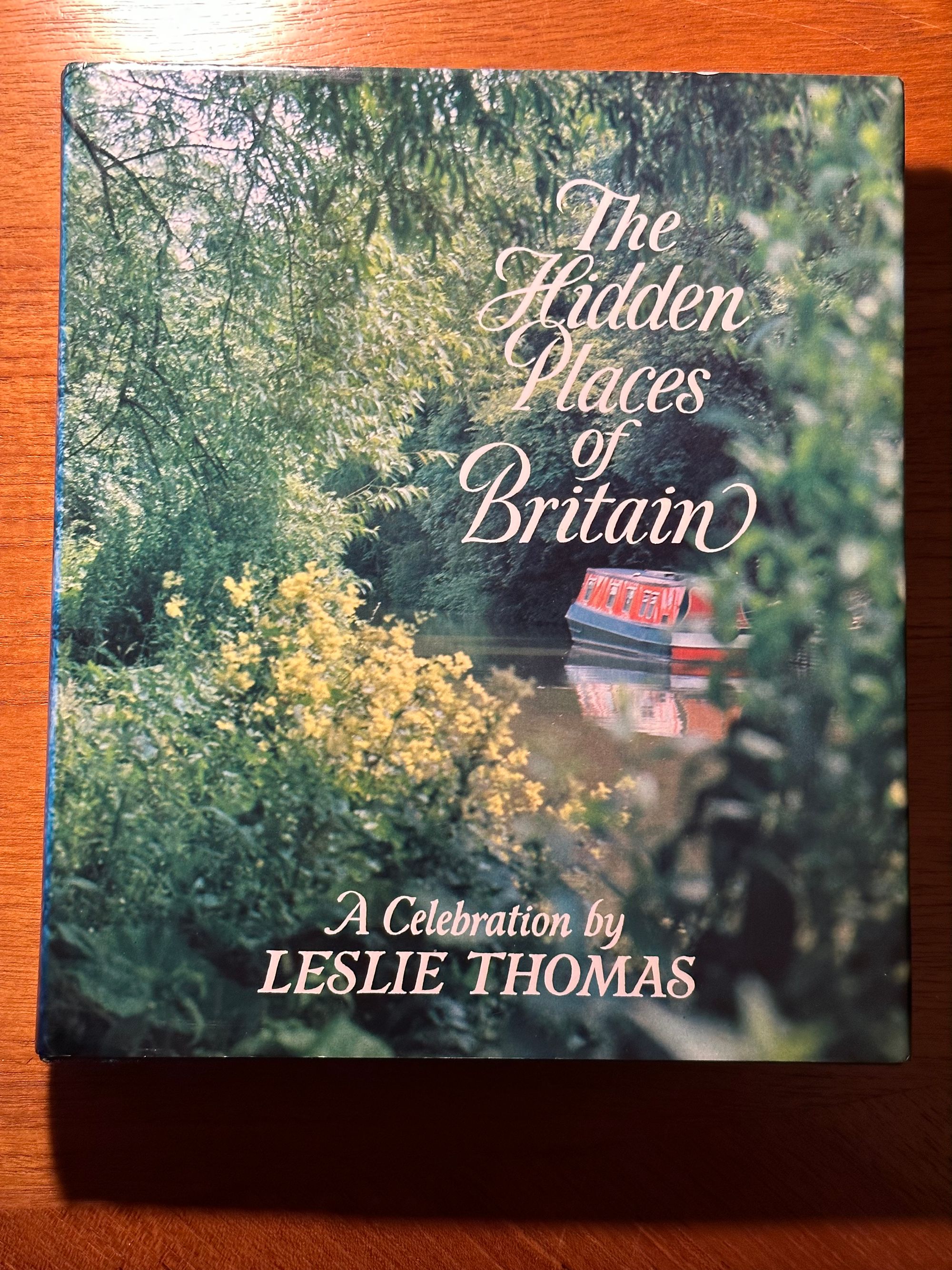 This book was in the shepherd's hut at Pennant Melangell. It has a lovely chapter on the Berwyn Mountains and the shrine. Leslie Thomas finds his way into a local hostelry and listens to the stories being told.
He tells the story relayed by one of the locals who
" remembered a boy from Llangynog who was harrowing a field at the foot of the mountains. When the middle of the day arrived he let the horses graze and sat down himself to rest. Along came the meddling minister who asked why he was lazing about when he should be working.'
"But the horses have to rest," explained the lad.
"There's nothing for me to do."
"Nonsense, boy," reproved the minister. "Just because the horses need a rest it doesn't mean you have to slack. You're a strong boy. Pull the harrow along yourself."
The following Sunday the lad's father appeared at chapel with a bag of potatoes which he handed to the surprised minister who asked what they were for. "For you to peel," said the man. "Give you something to do while we're praying."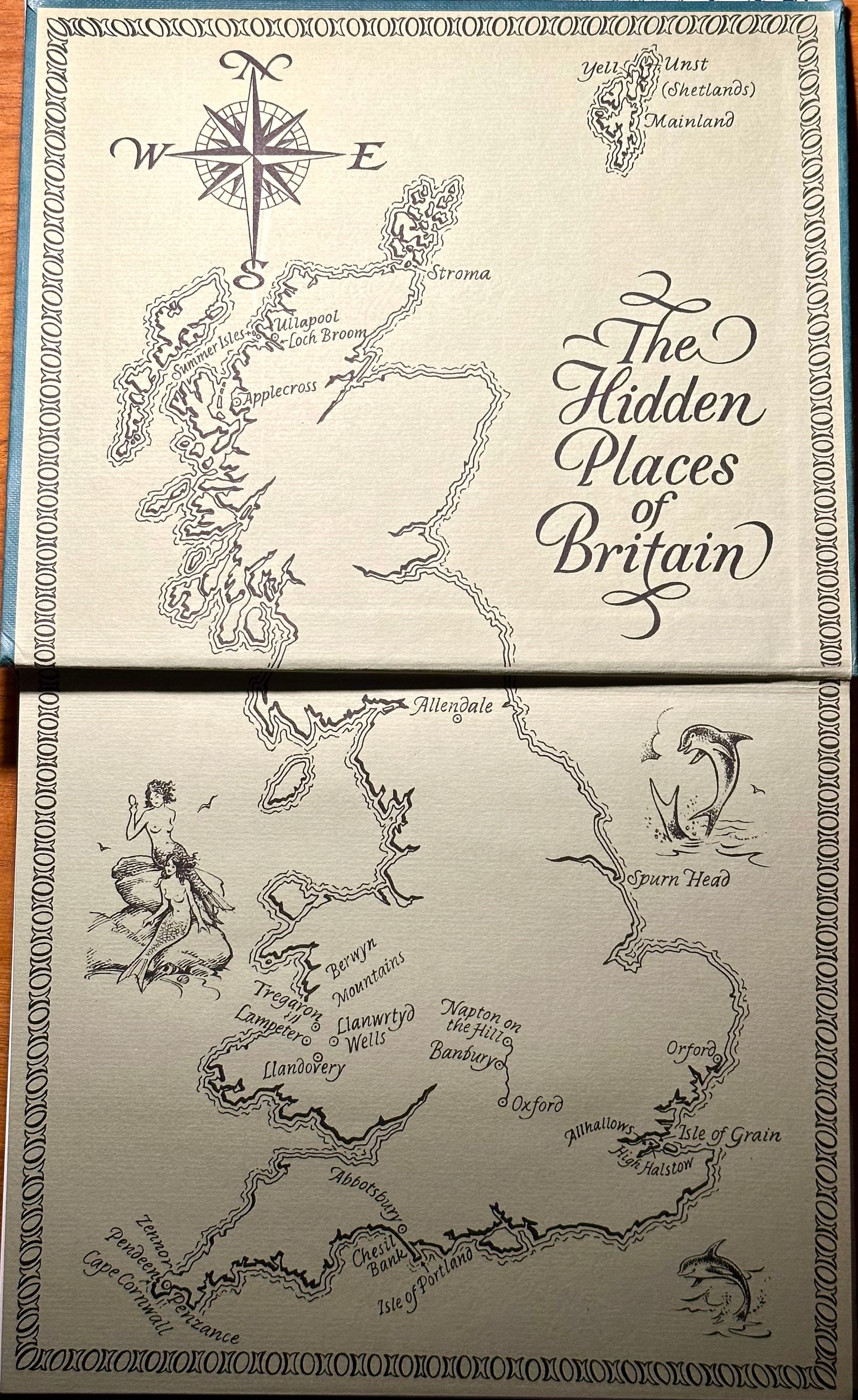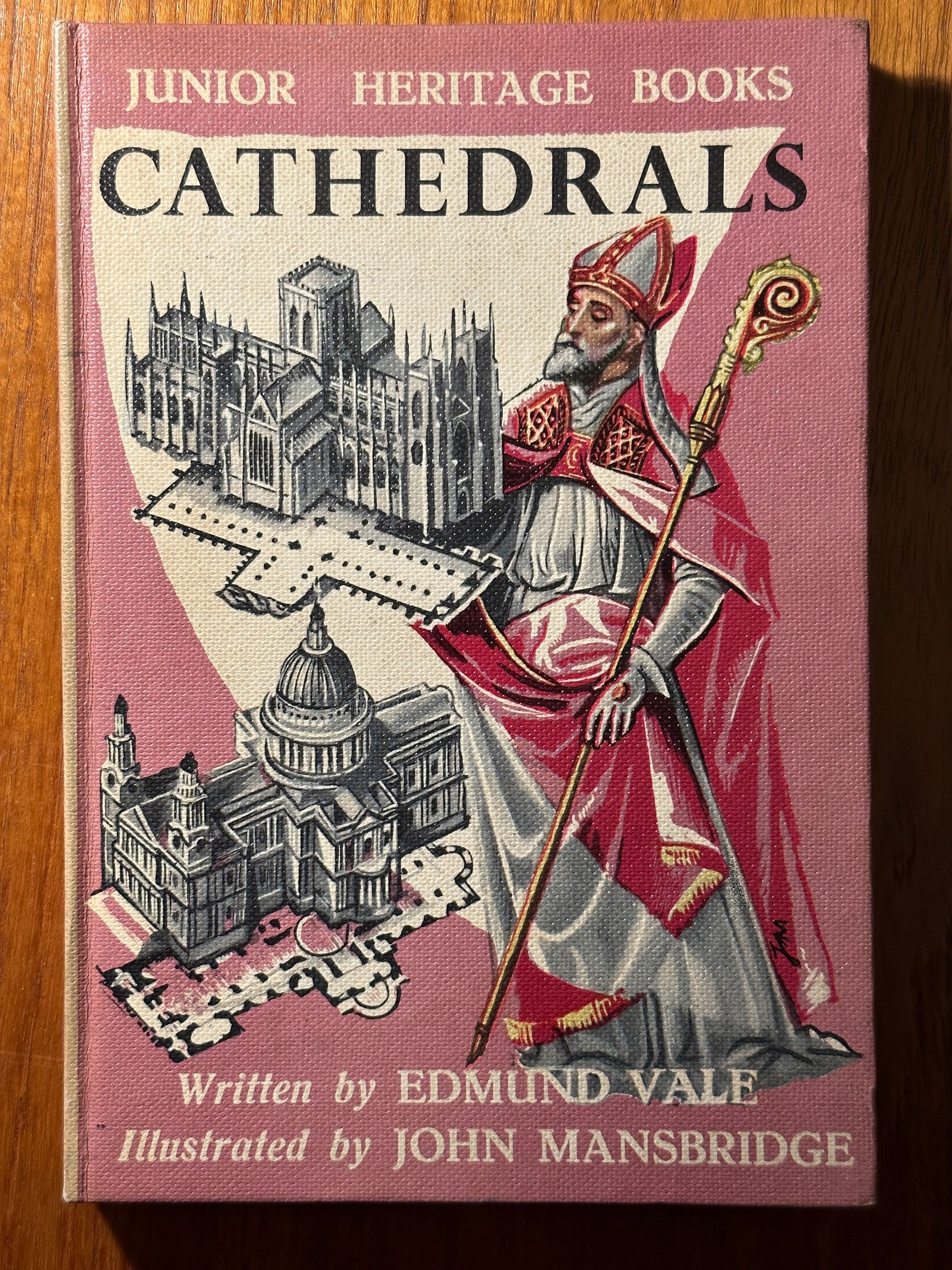 ---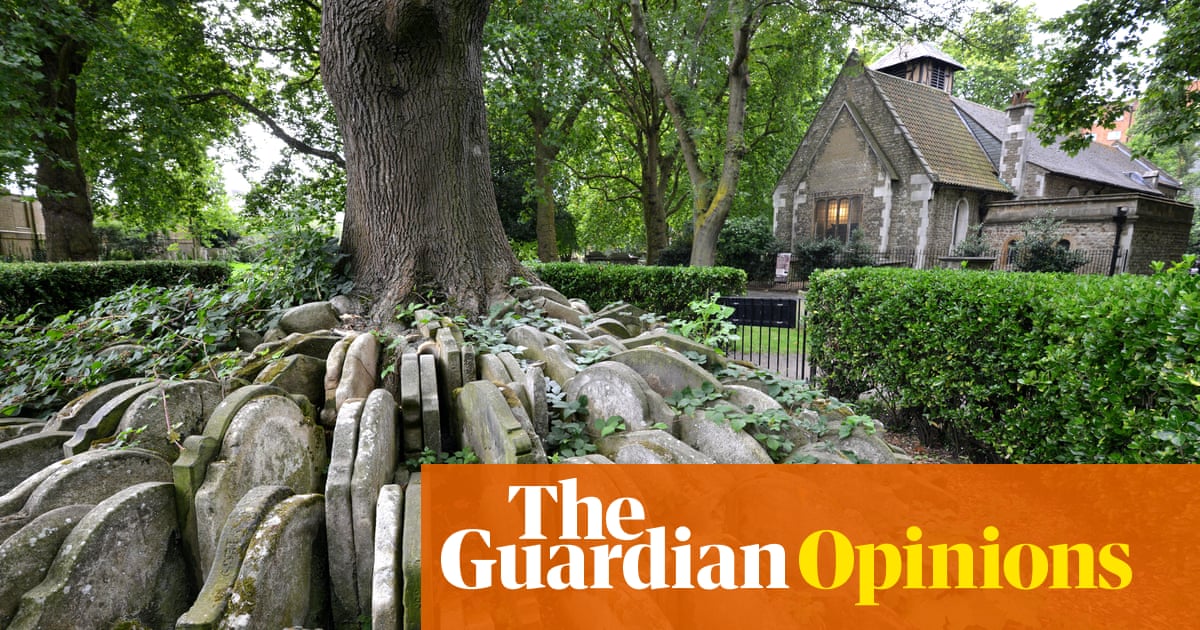 ---
---
---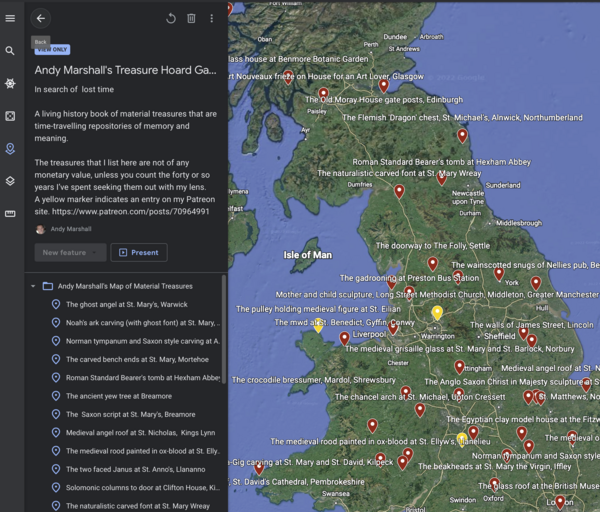 Andy Marshall's Treasure Hoard Gazetteer Map
My Treasure Hoard Map is open to all. It is an evolving enterprise and I'll be adding more entries as time passes.
View the full map on Google maps
View the full map on Google Earth (recommended)
More on the Treasure Hoard Gazetteer
---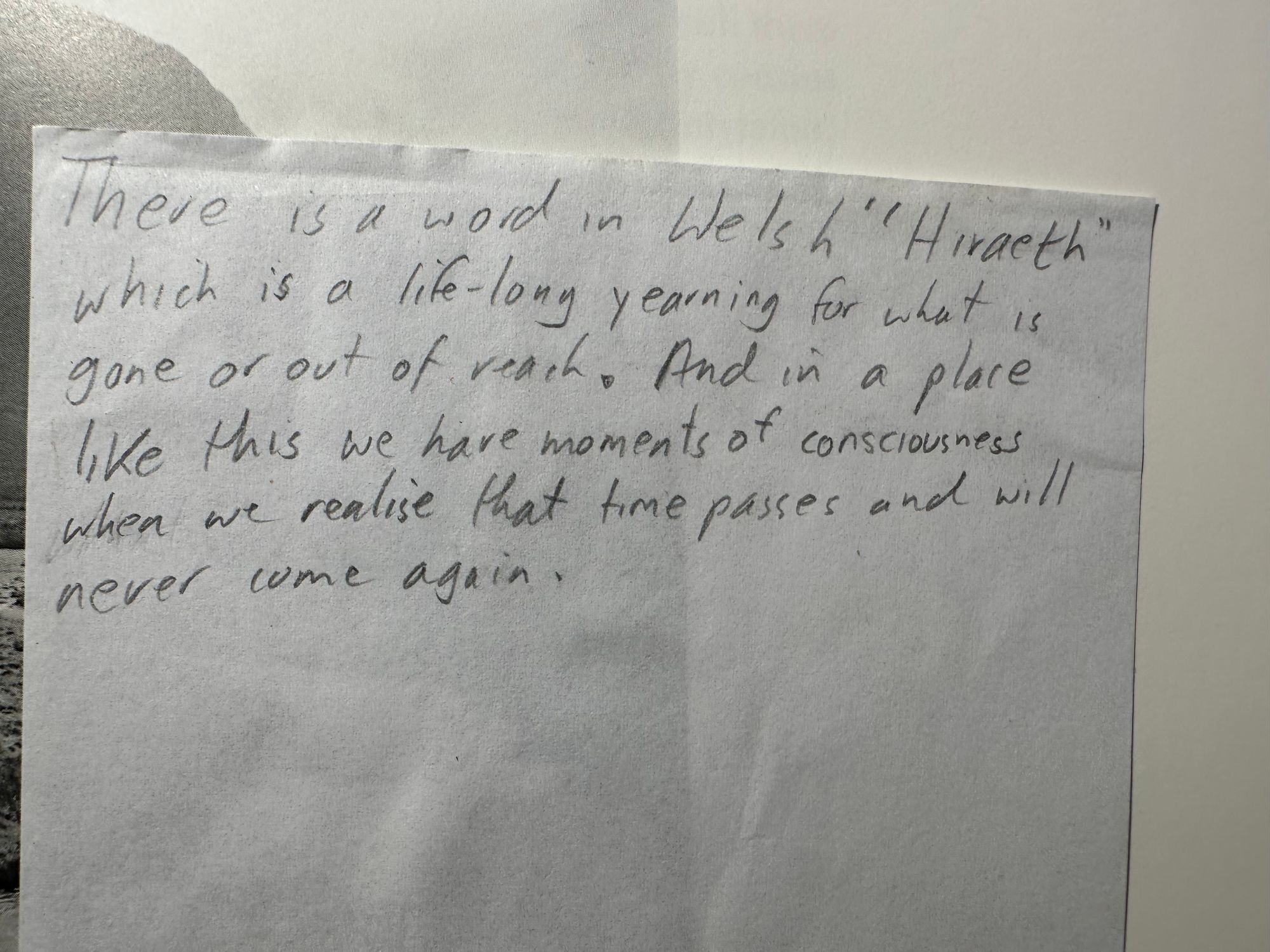 ---
It takes a day a week to produce this digest. With your support, I'm able to keep this digest free and public facing. Read more about my Genius Loci Digest Journey.
Support this digest and get access to a world of immersive content. Click the box below to check out the membership options: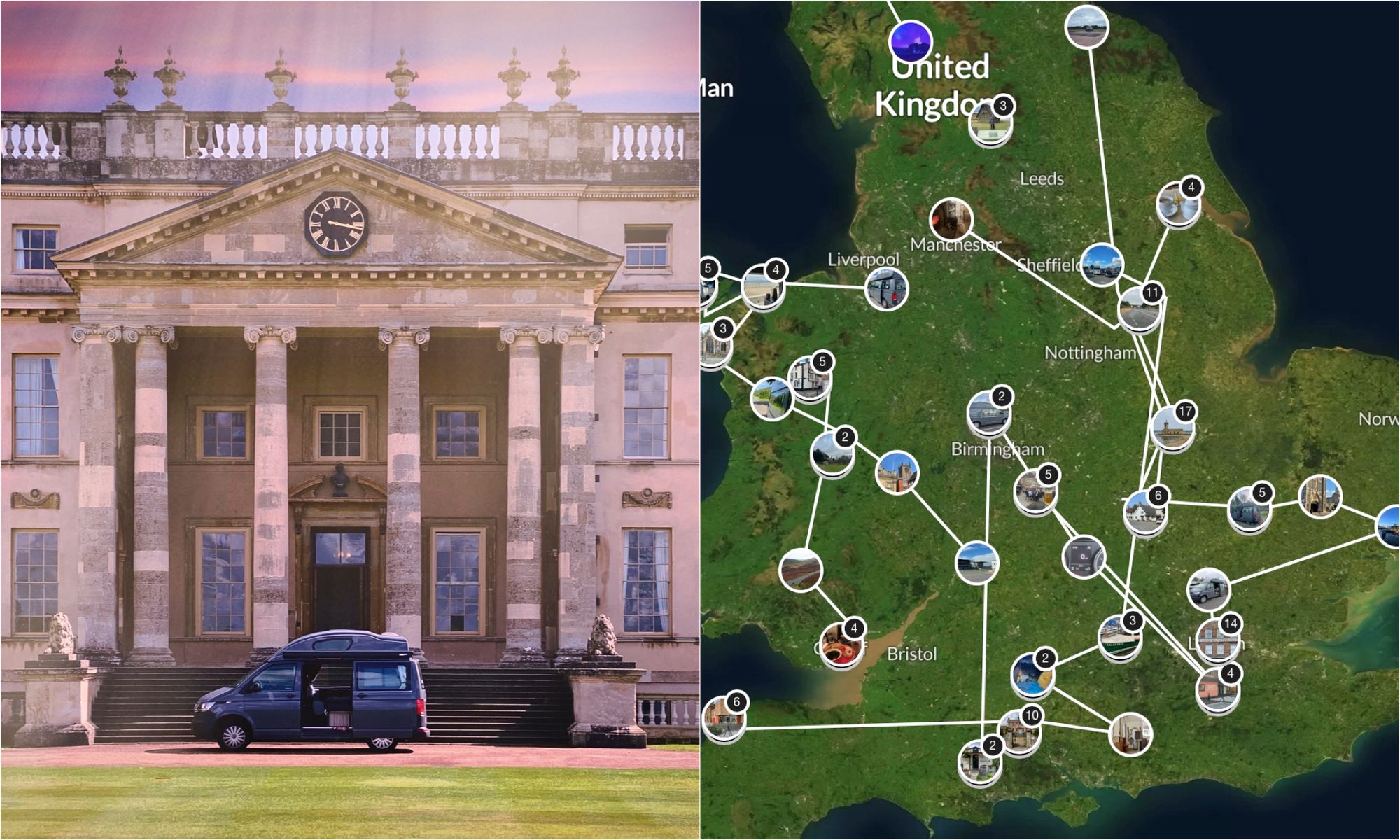 Free Memberships
I have a limited number of free memberships available for those unable to afford membership and students studying heritage, tourism, architecture, photography, building conservation, history of art, archaeology. Also students studying the built environment and its impact on mental health and wellbeing. If you'd like to apply, drop me a line with your details. There is no visible distinction between paid and free memberships.
Gift a Membership
You can gift a membership to somebody else. They will receive a card through the post with a message from you and instructions on how to activate it. Gift Memberships can last indefinitely or can be limited to 12 months.  Contact me for more details.
---
Members' Area
New Posts and Immersive Content for Members
Genius Loci Digest 2.0 Members Content
I've been working on the new digest for the past 5 or 6 weeks. The new site offers members more opportunities to get closer to the places that I visit in a more immersive way. For those that are outside the British Isles, or those that are unable to visit - the VR content will get you closer to some remarkable places.
You can check out the growing VR content here (it can be viewed on any device and also on VR goggles)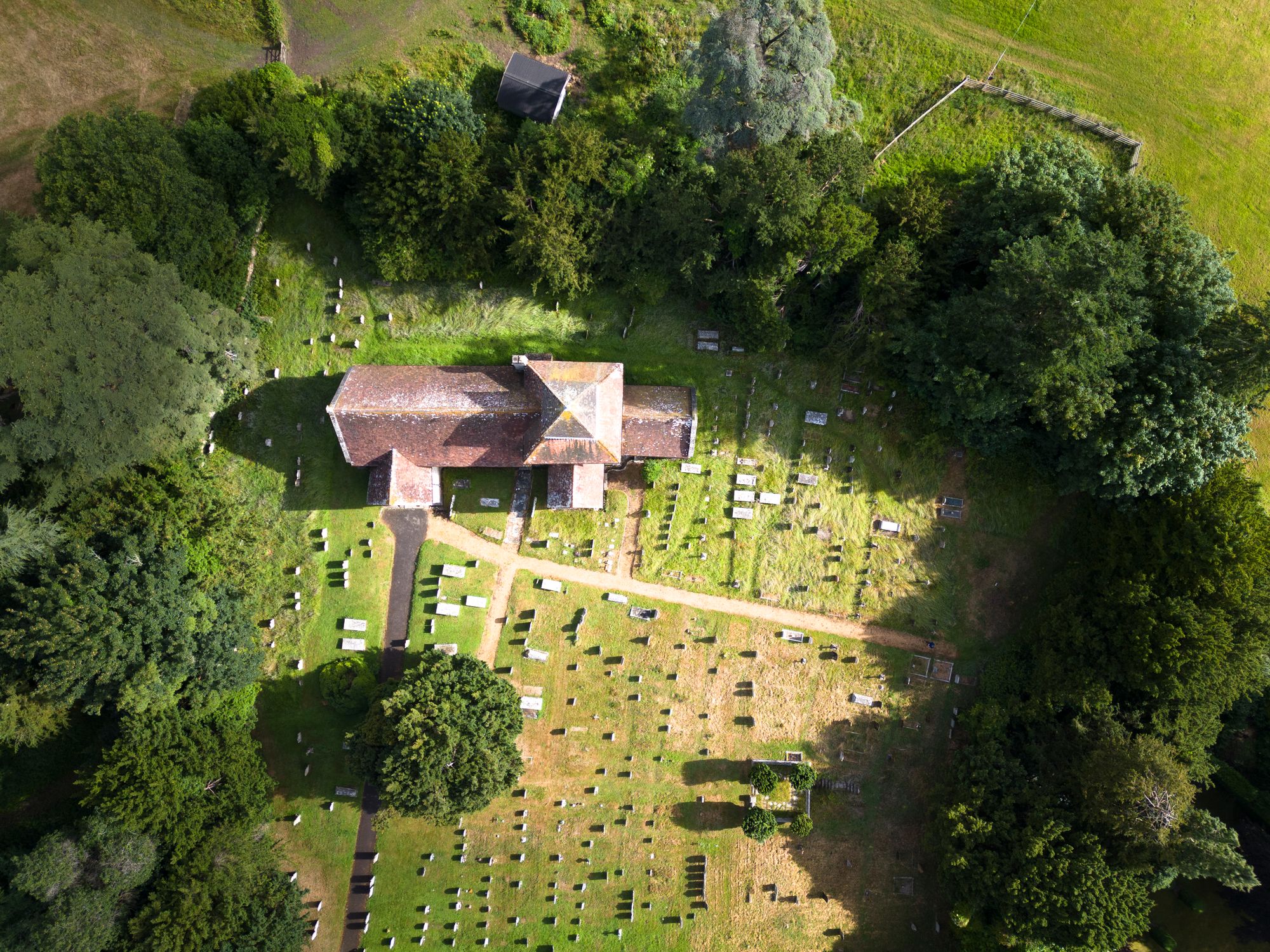 Follow Me Live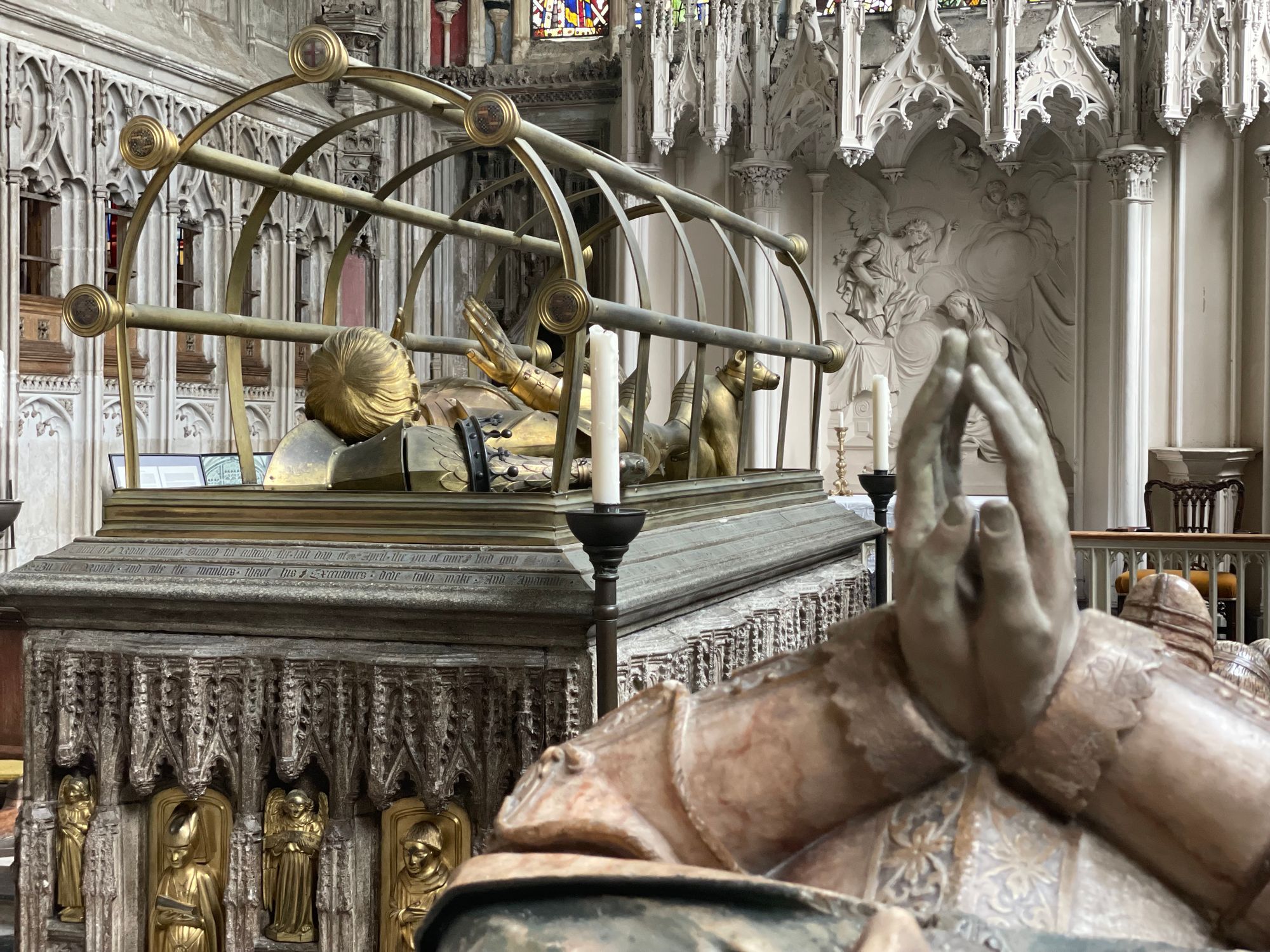 Heads Up - I'm heading out into Warwickshire next week and members can follow my journey exclusively, live on Polarsteps. I'll be photographing the magnificent Beauchamp Chapel at St. Mary's, Warwick and sharing my journey with you.
How do I join in?
I'll send members a link via email when the time comes. In the meantime here's all my previous travels on Polarsteps. Click on the box below to see them all.
---
Click here to see all Twitter Circle Posts - choose the 'latest' tab.
Are you a member and not in the Twitter Circle? Send me your handle and I'll add you to it. I'm @fotofacade on twitter.
---
Click on the boxes to see more.
Extra content on St. Melangell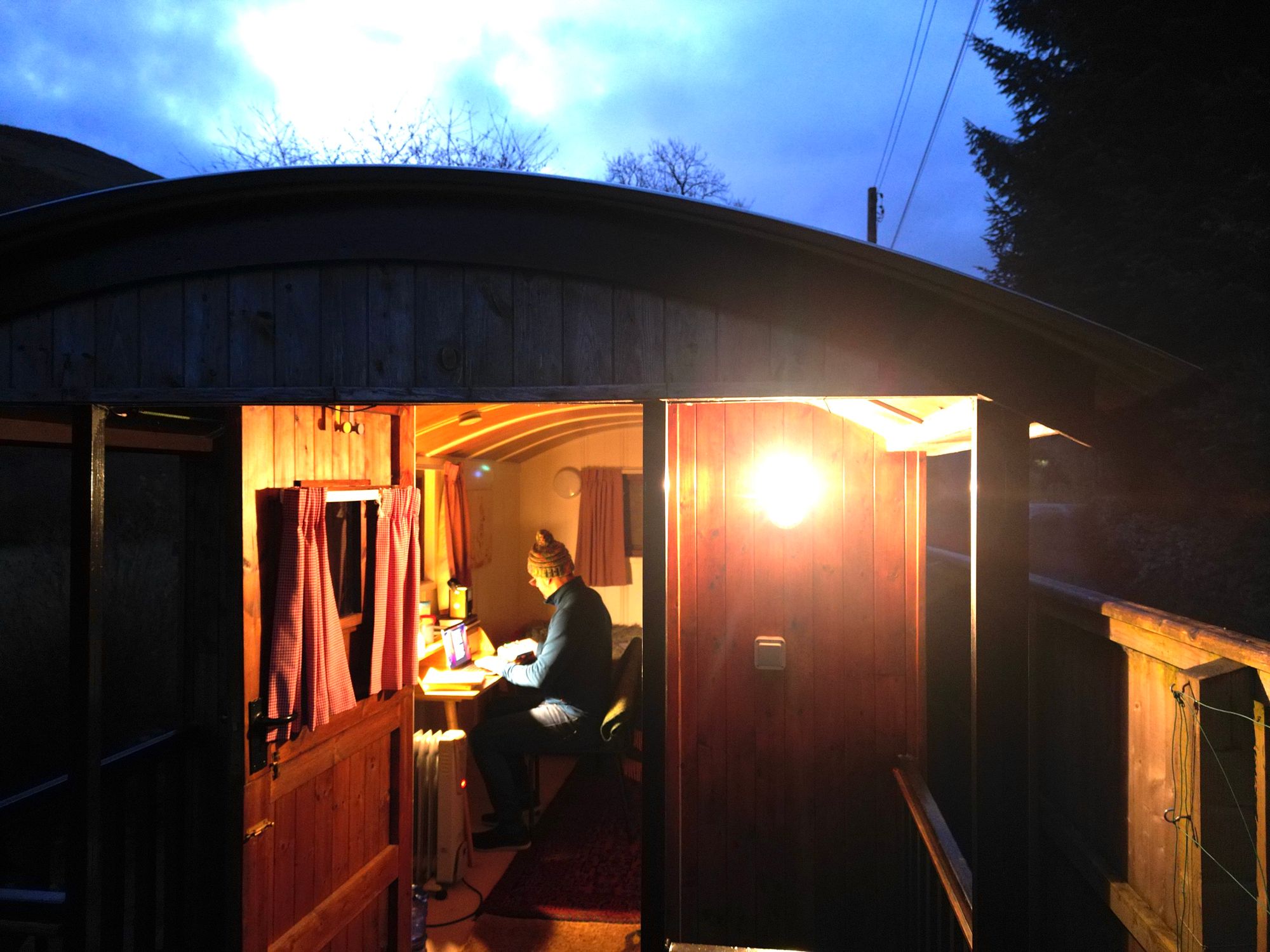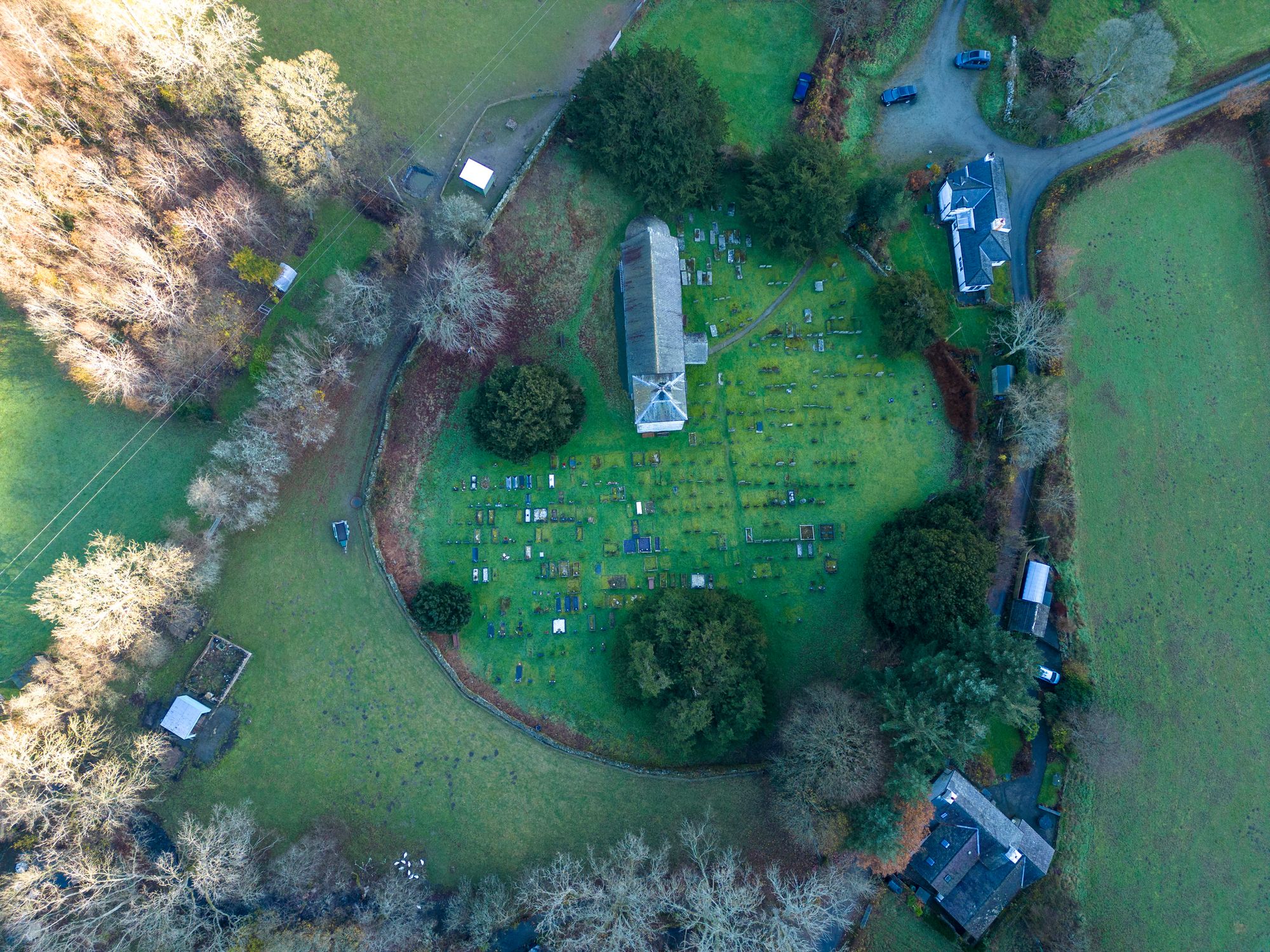 New Posts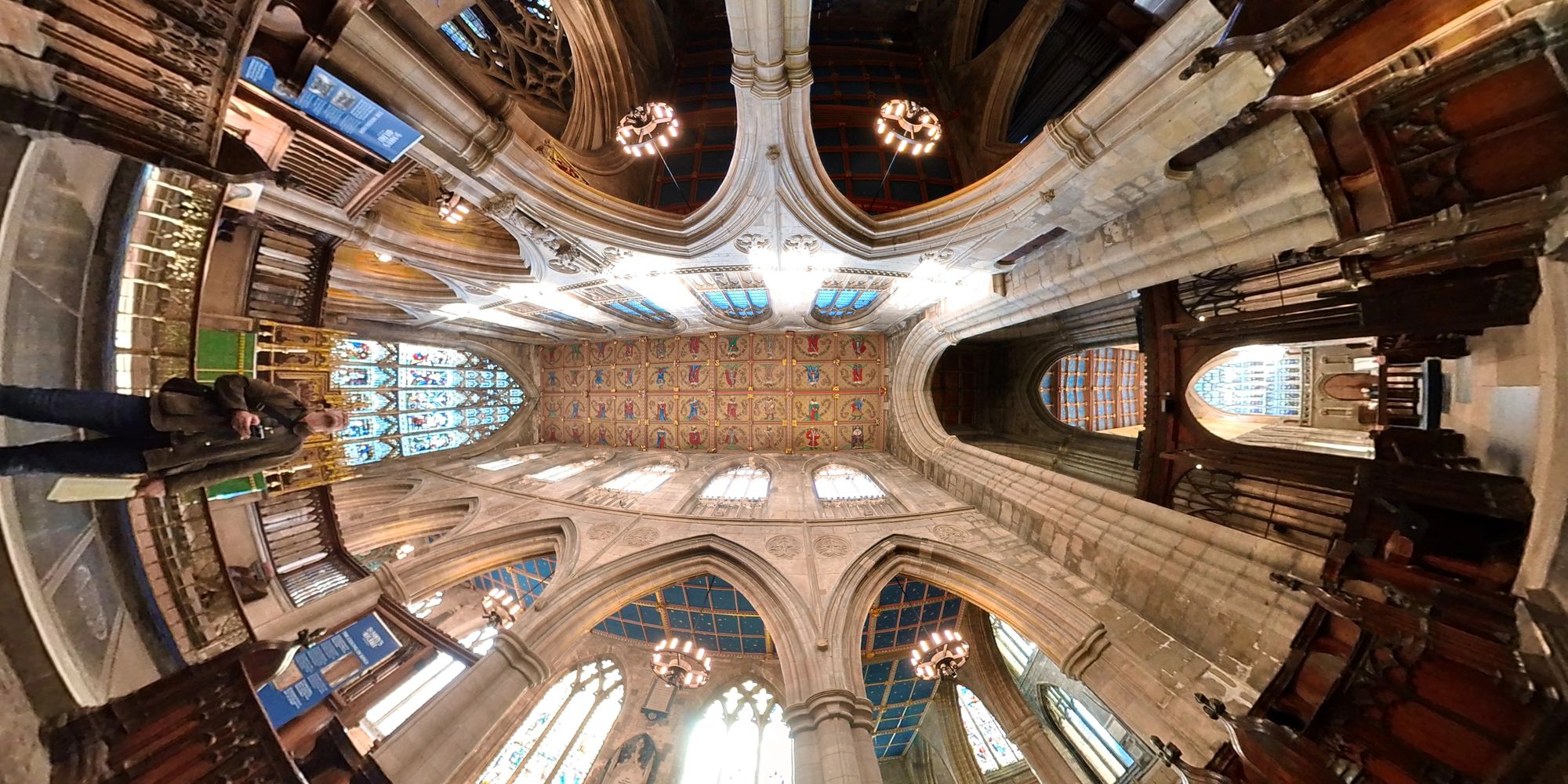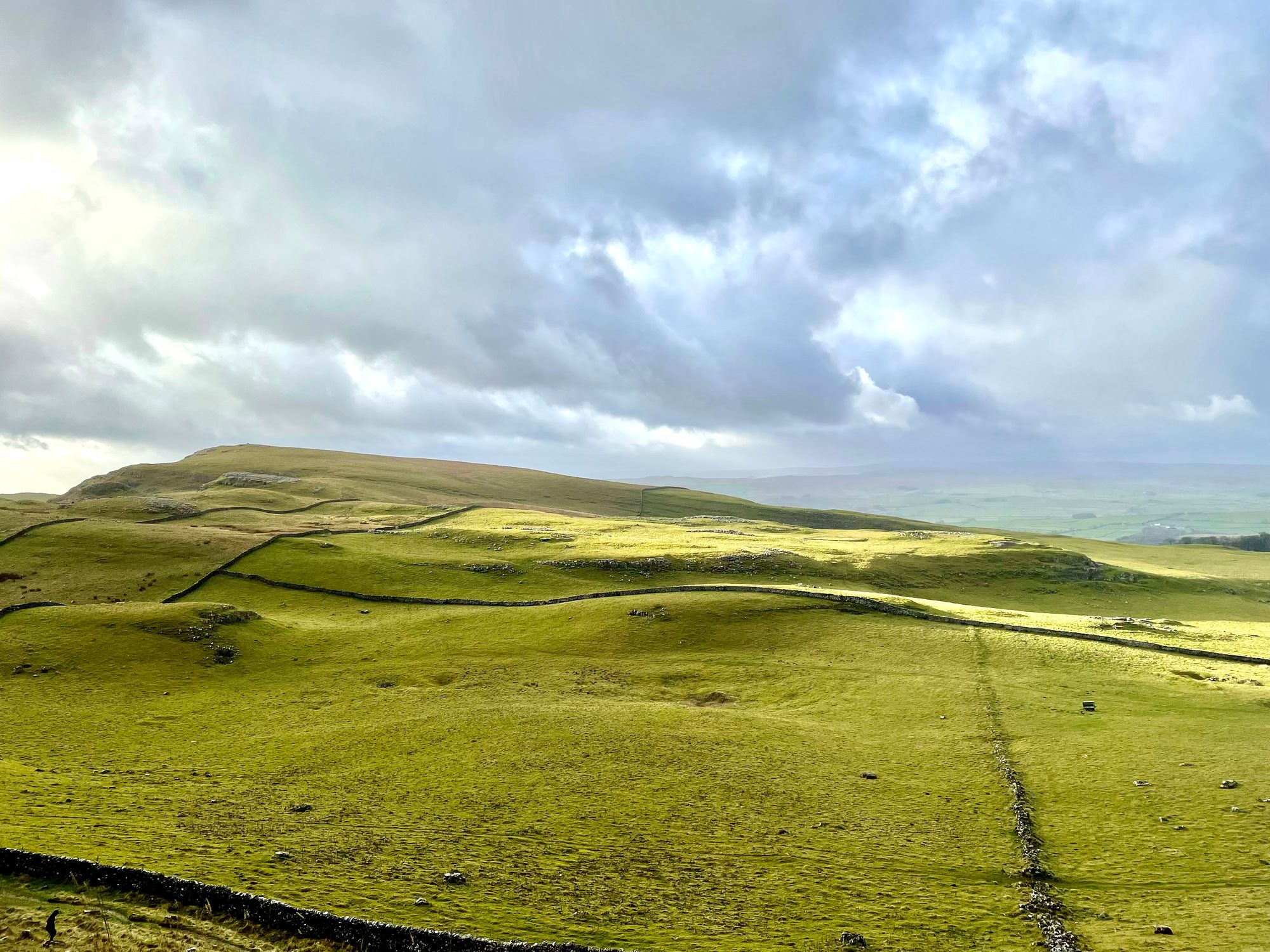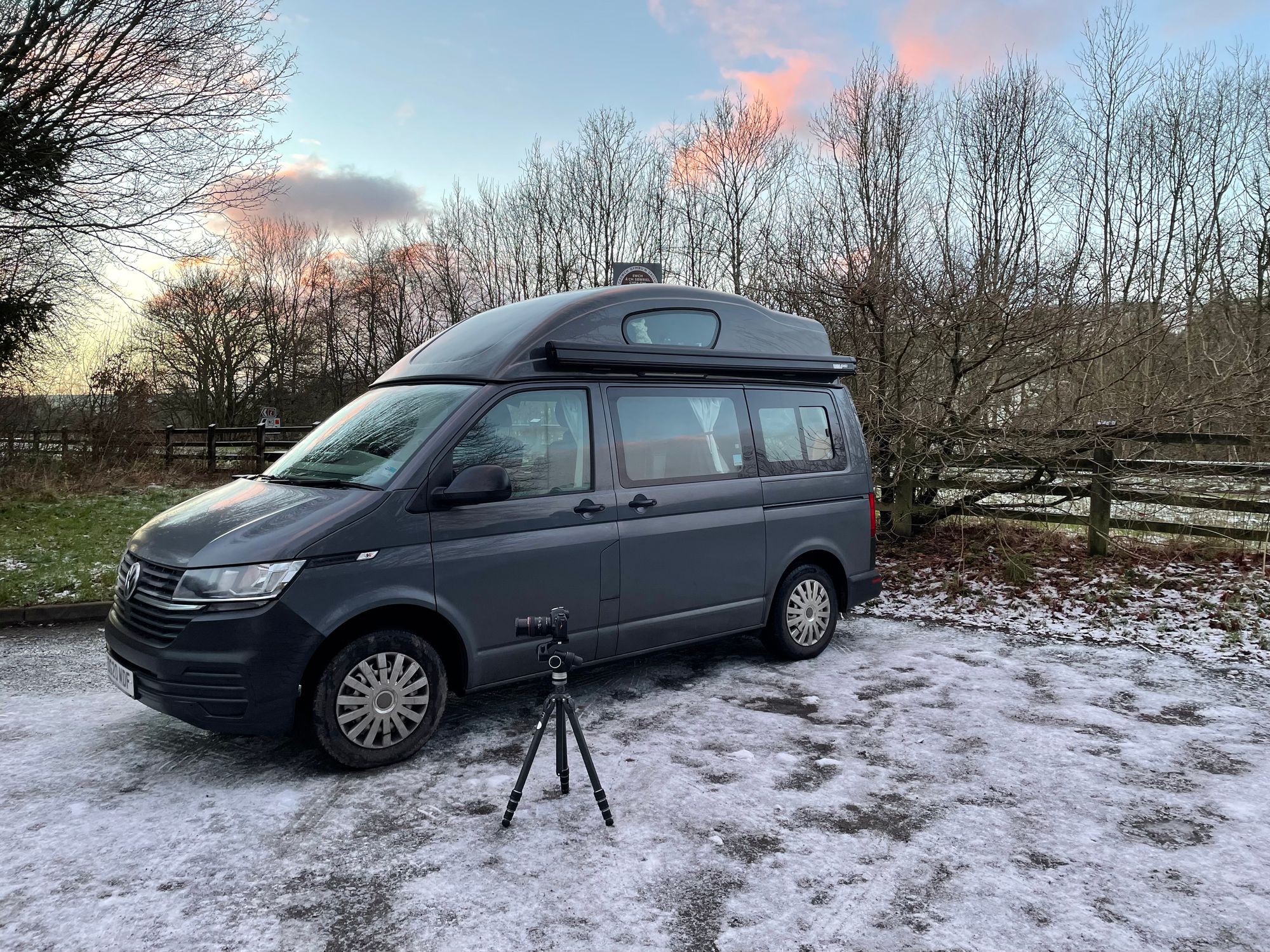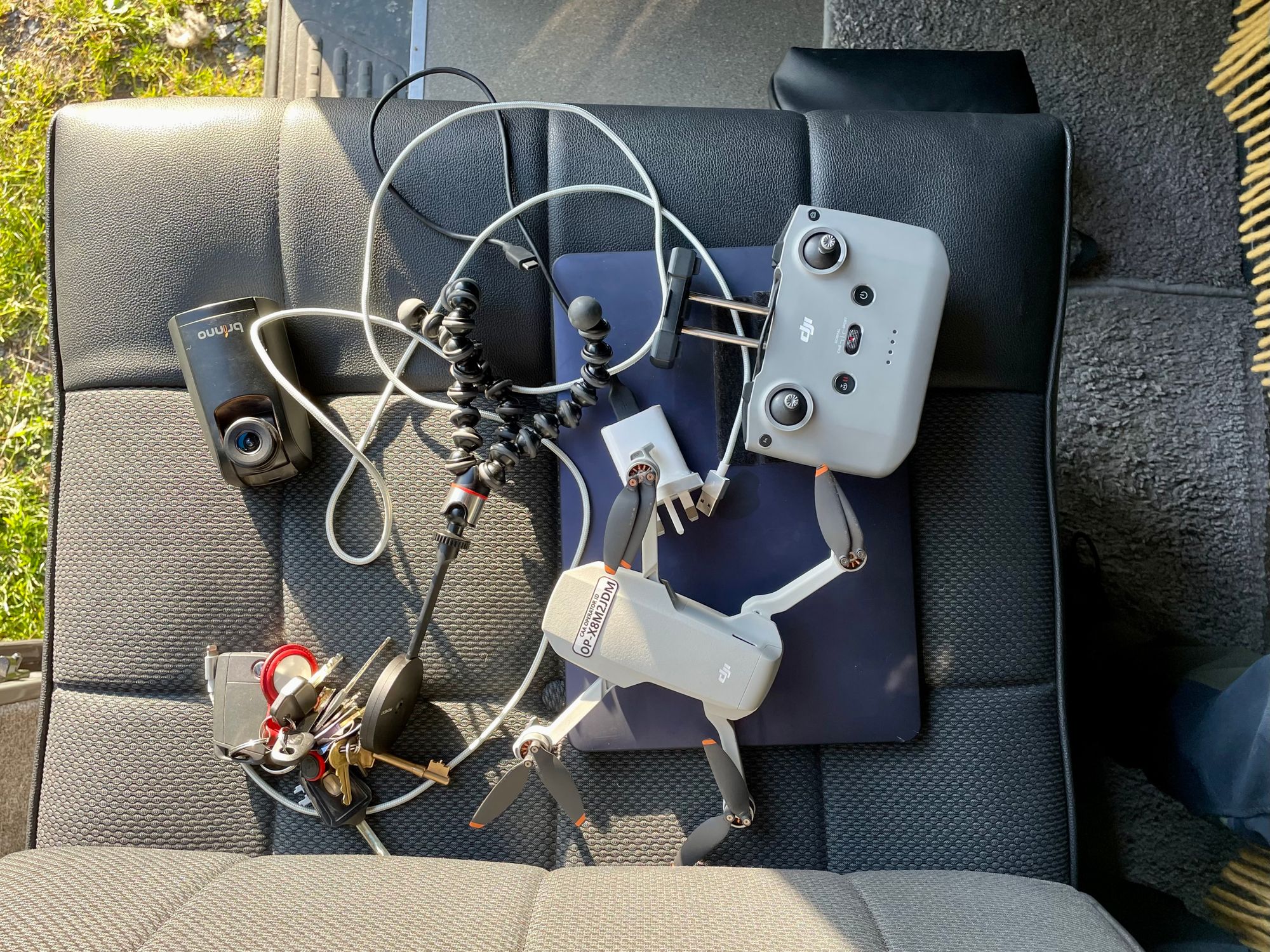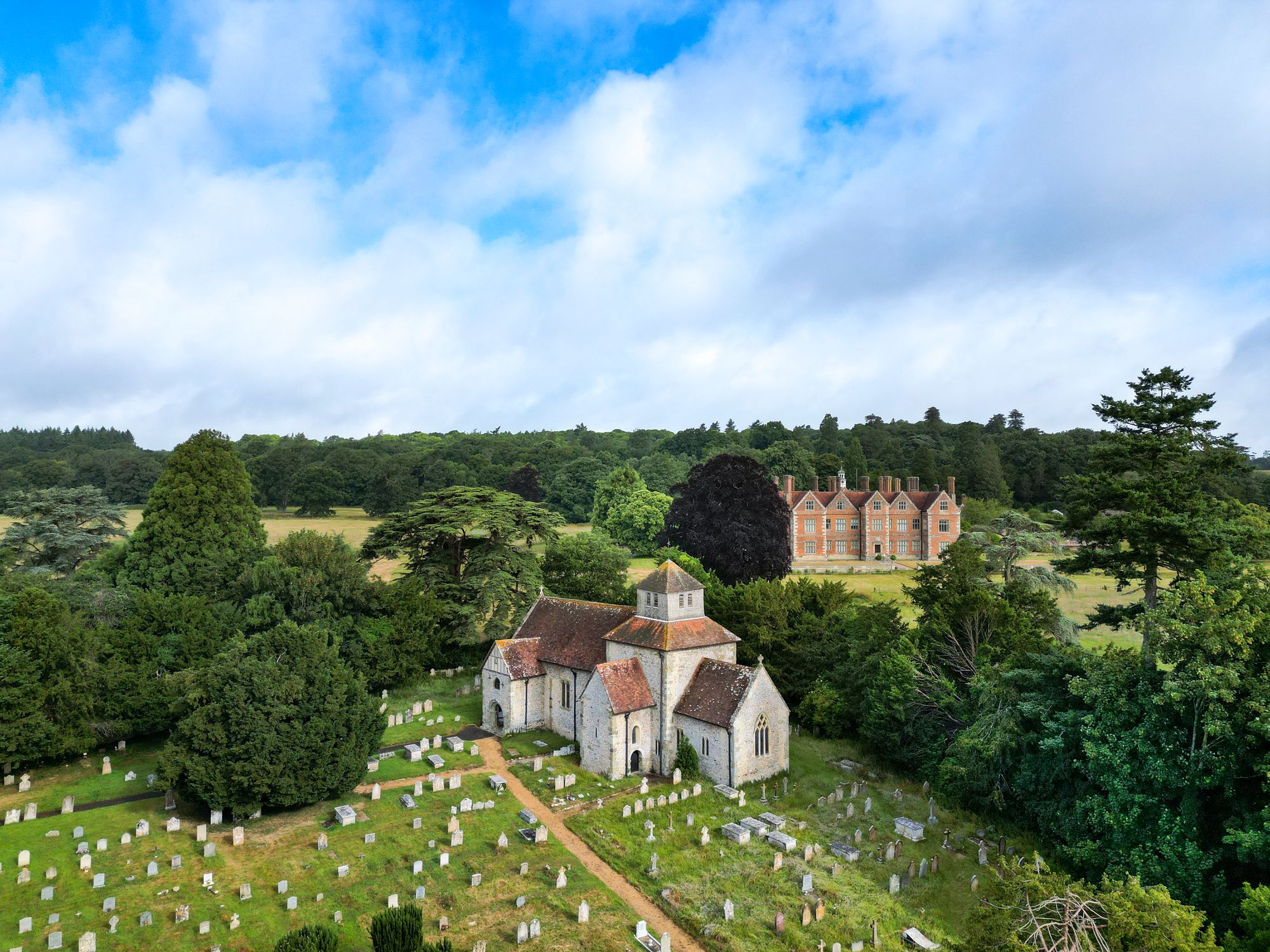 Church Crawling
Quick Access
Notes for New Members: See here
How this Digest came about: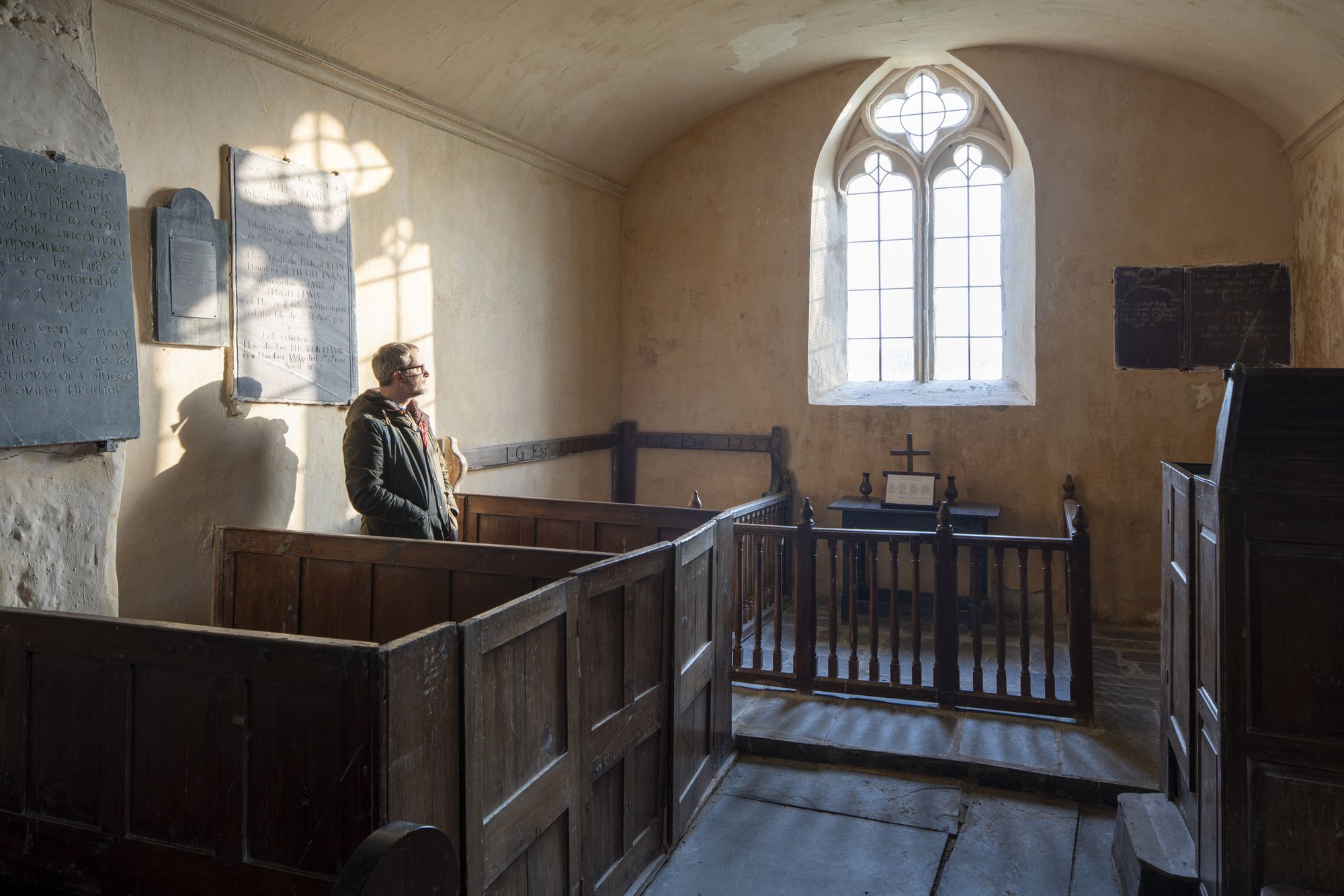 Treasure Hoard Index: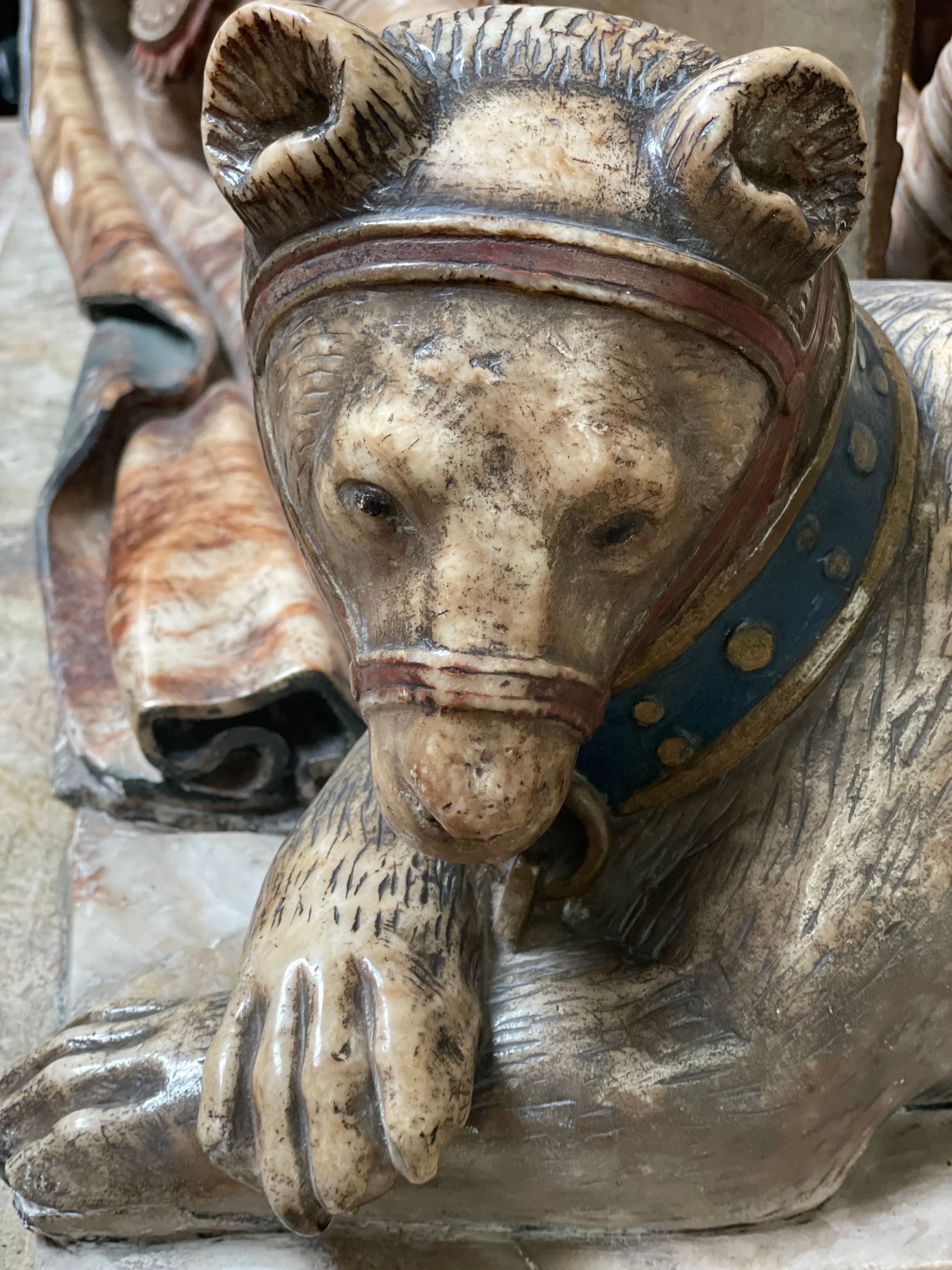 Free Downloads: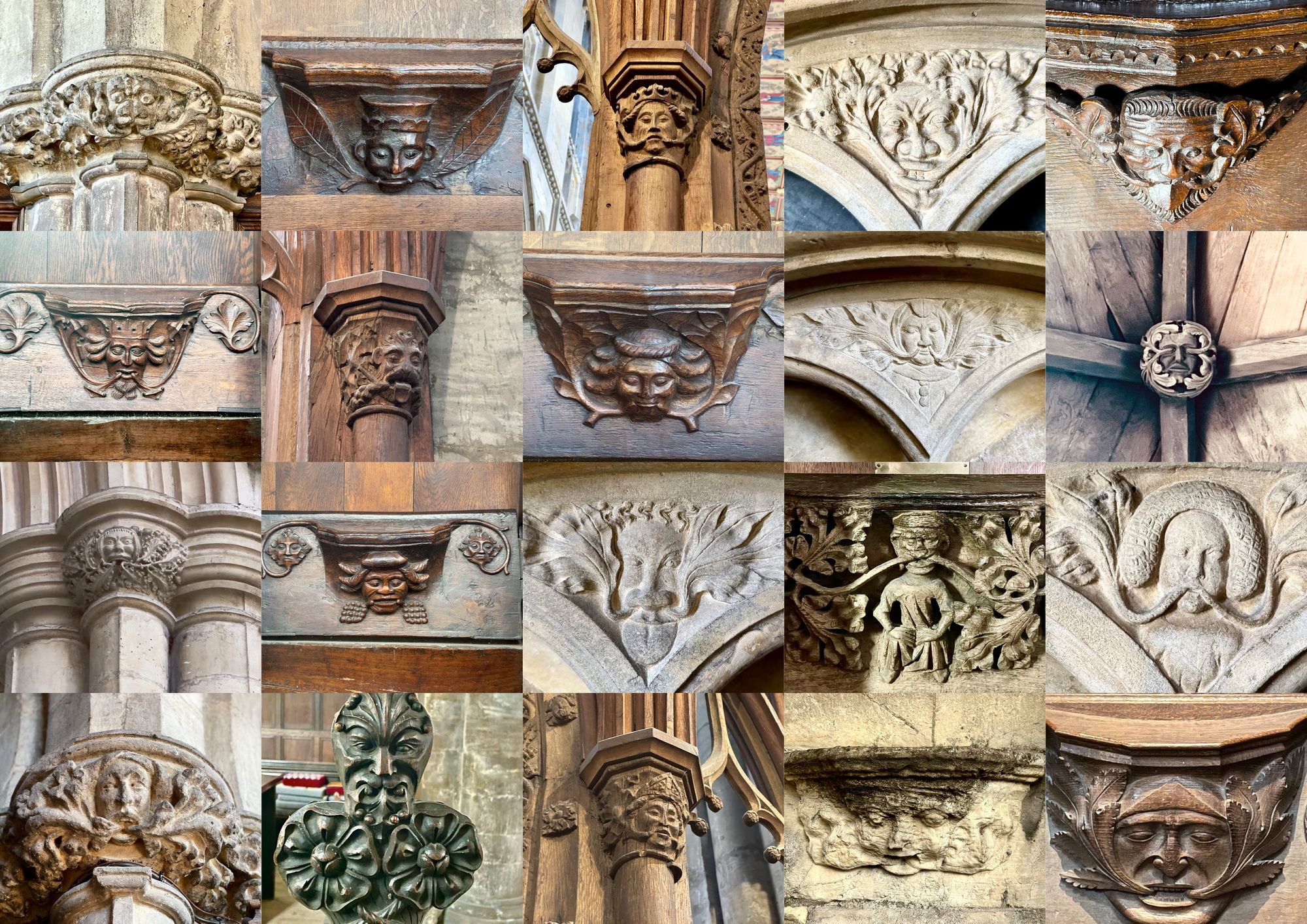 The Comperandum: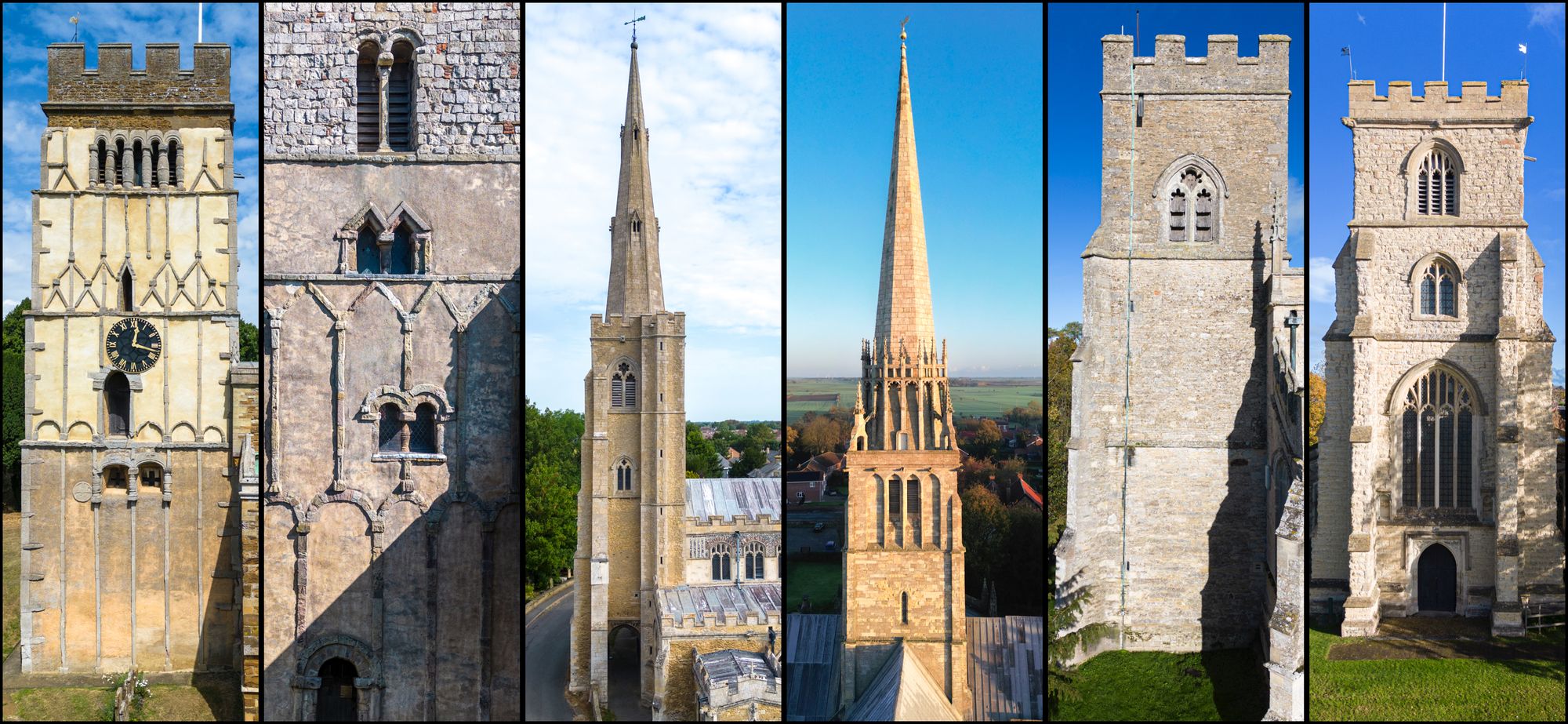 Ways of Seeing, Mental Health and Wellbeing: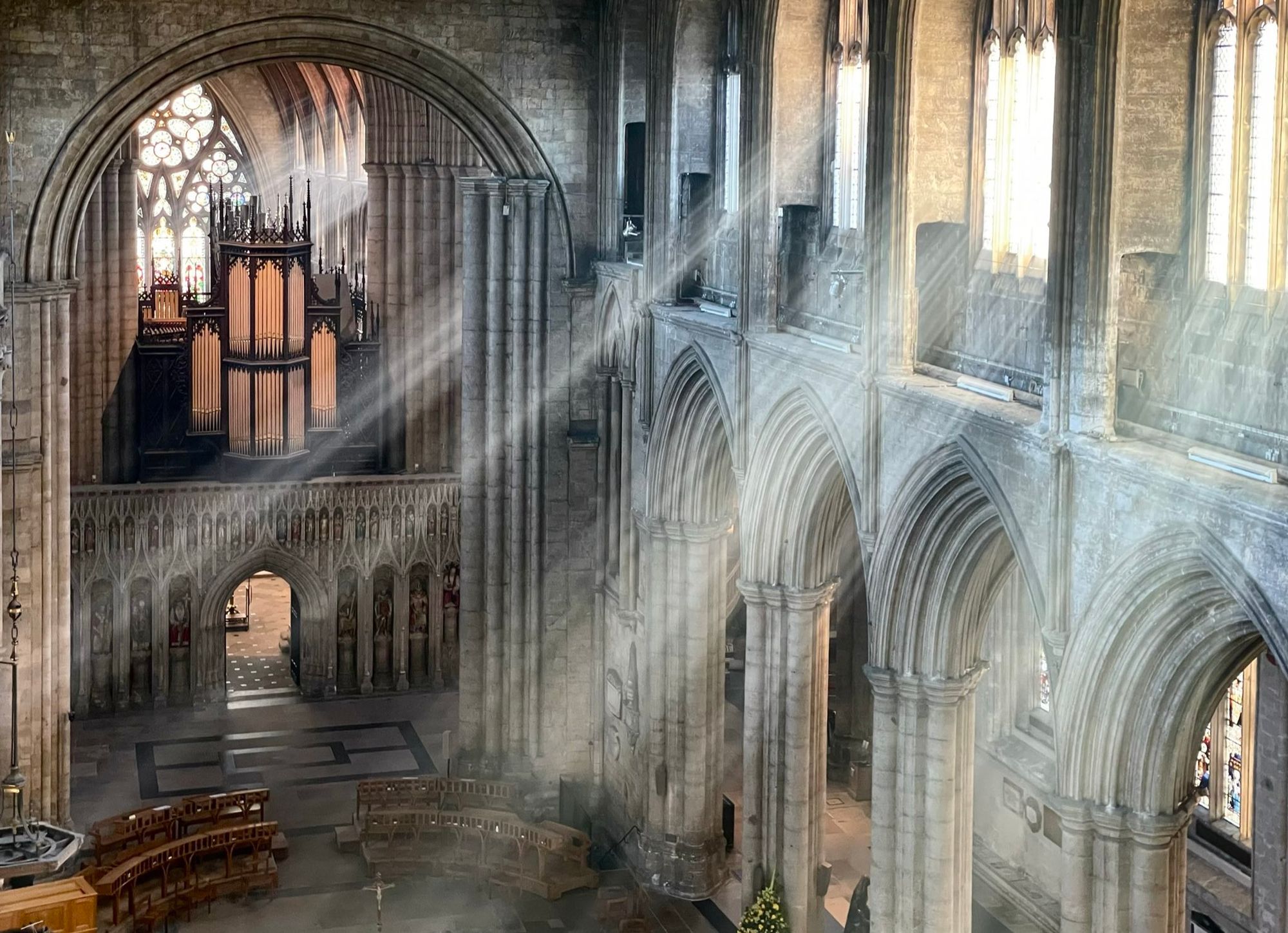 Yew Tree Visitors Guide: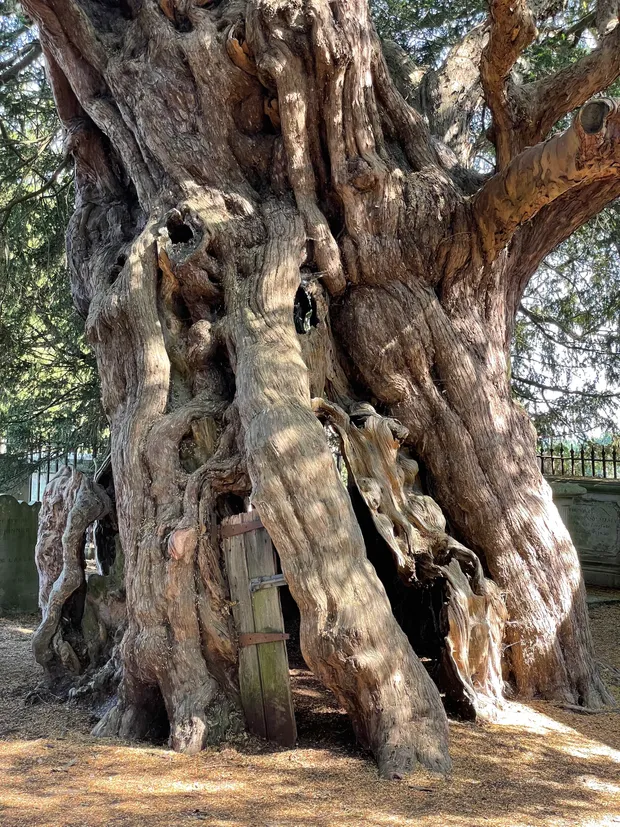 Wallpaper: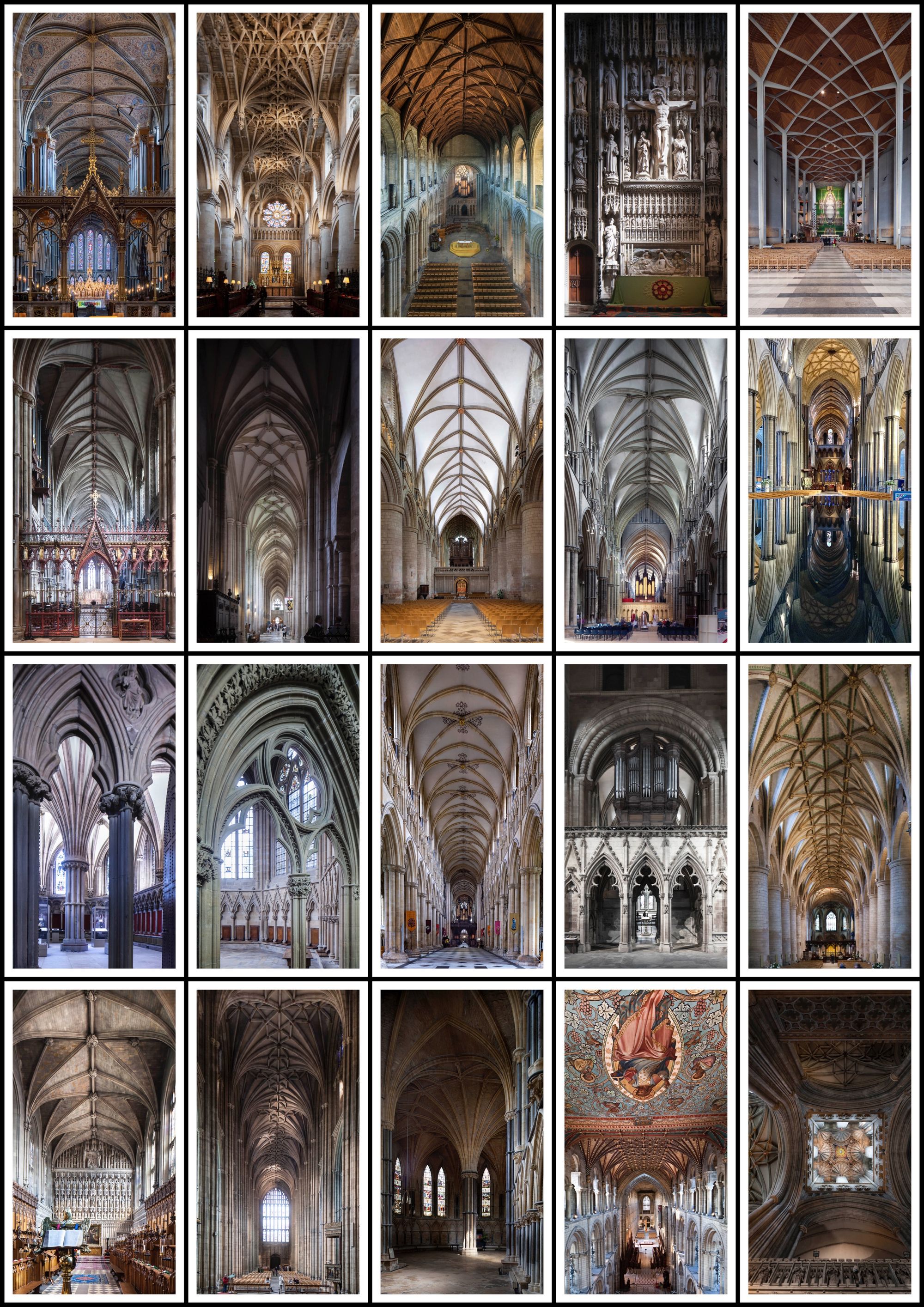 Video: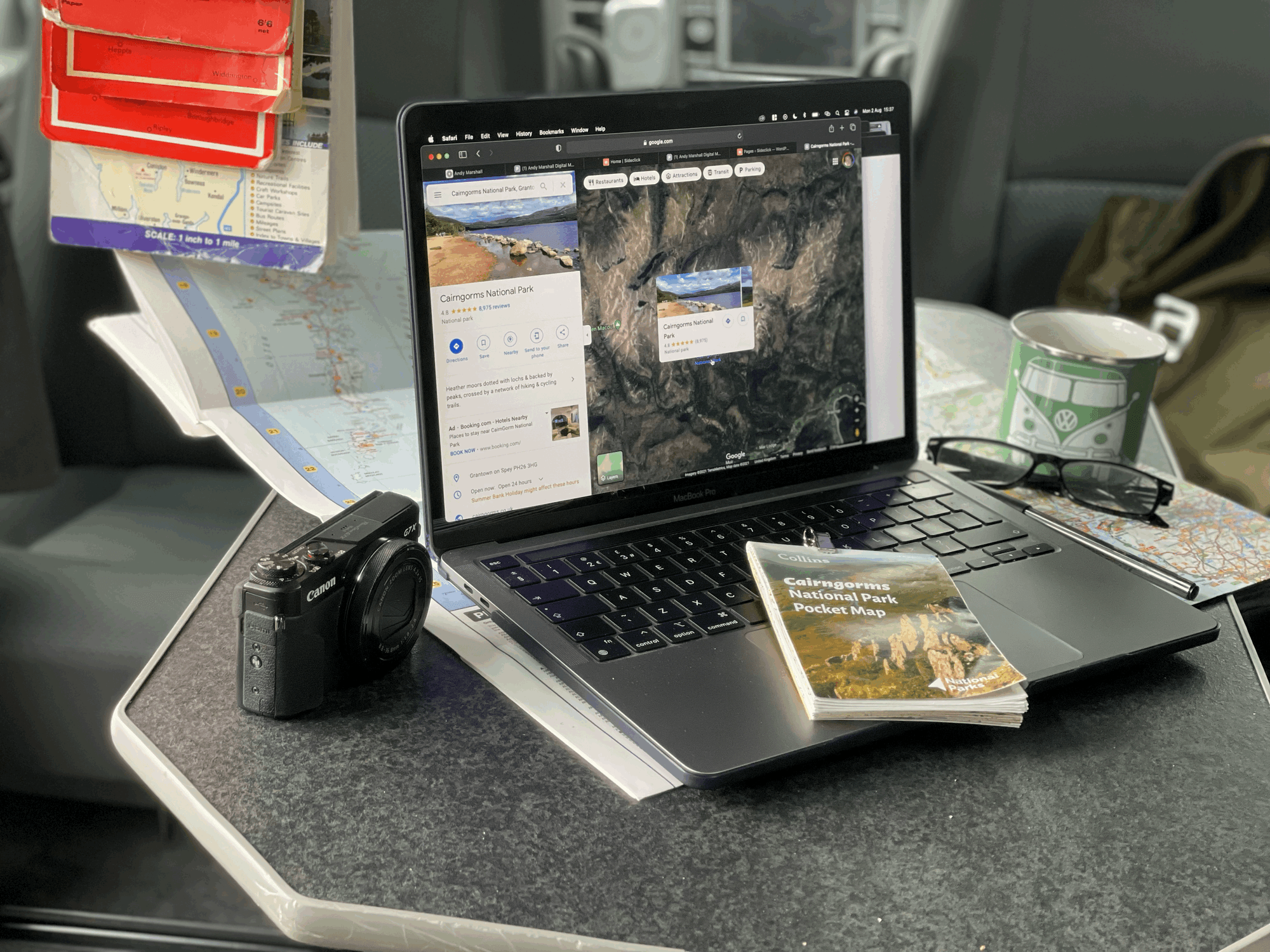 Place Writing: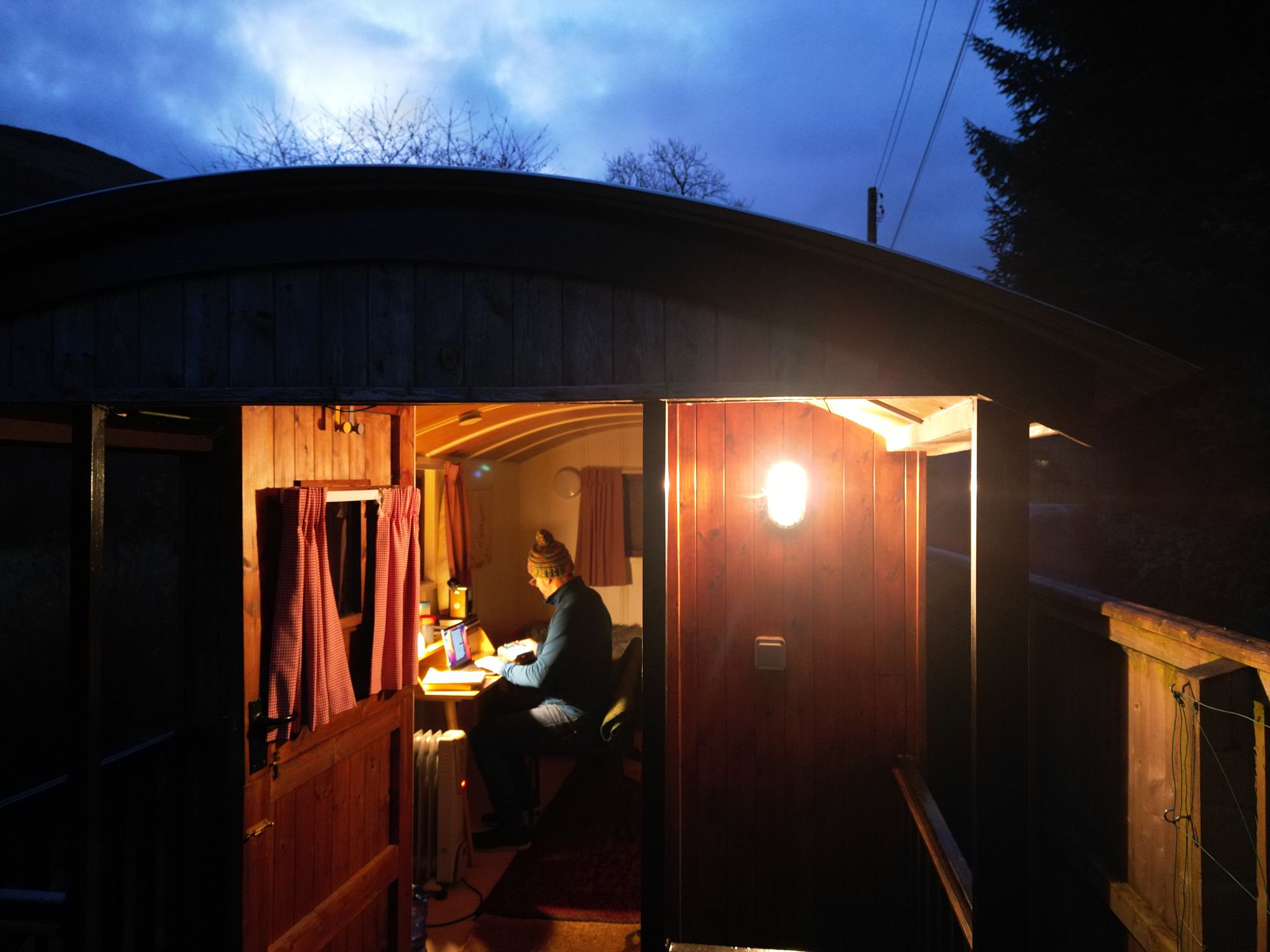 Photography: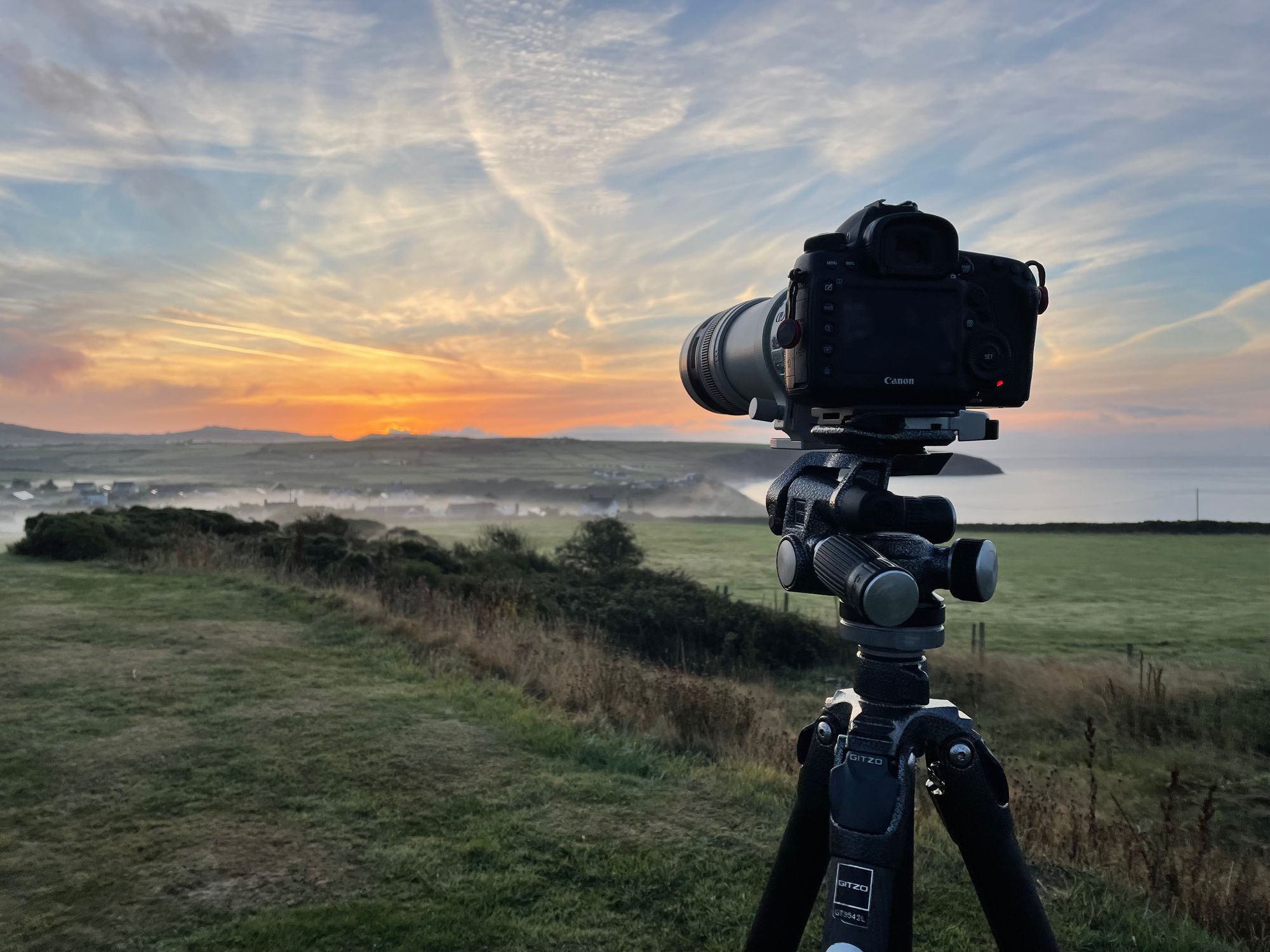 Virtual Reality: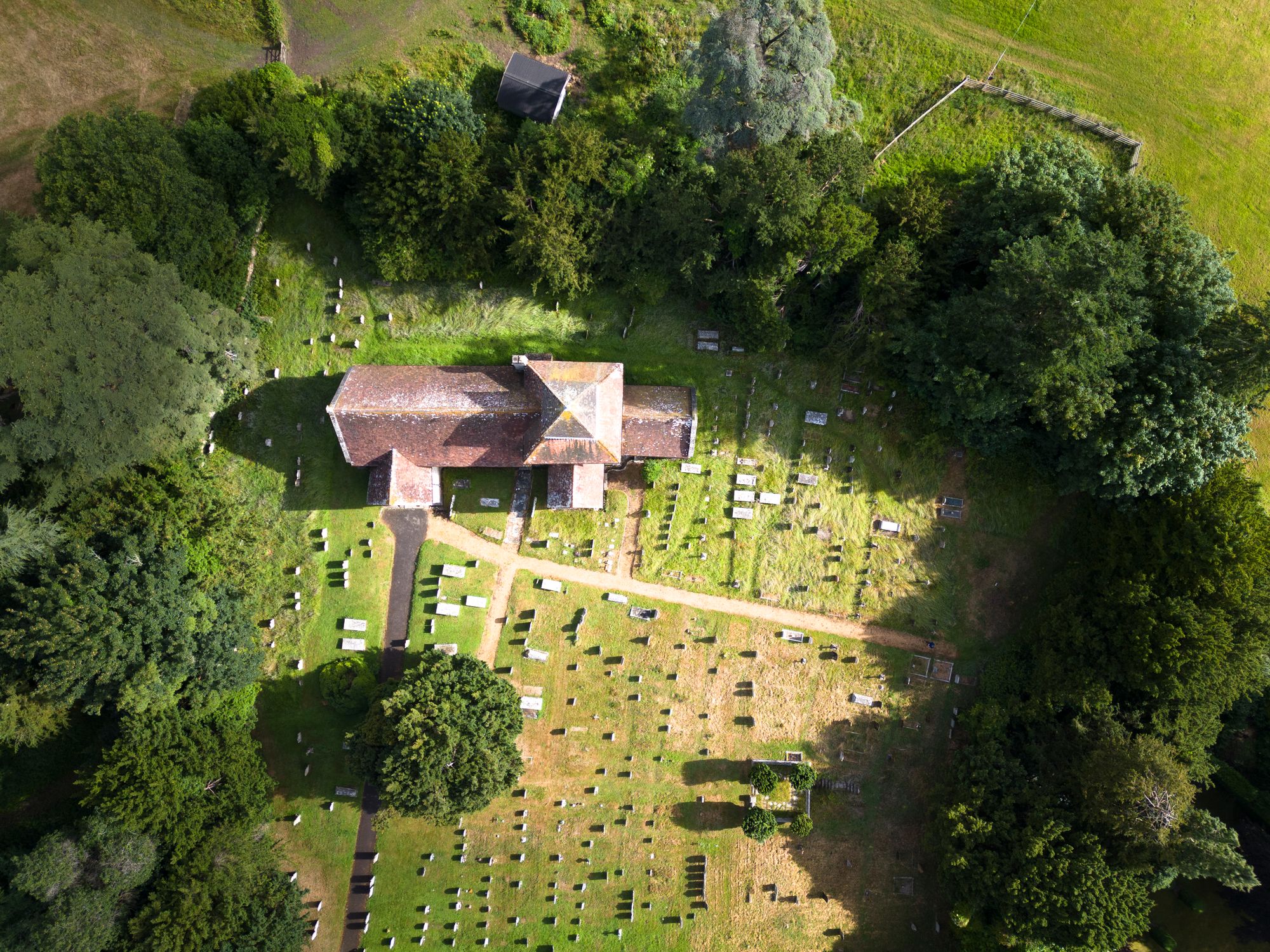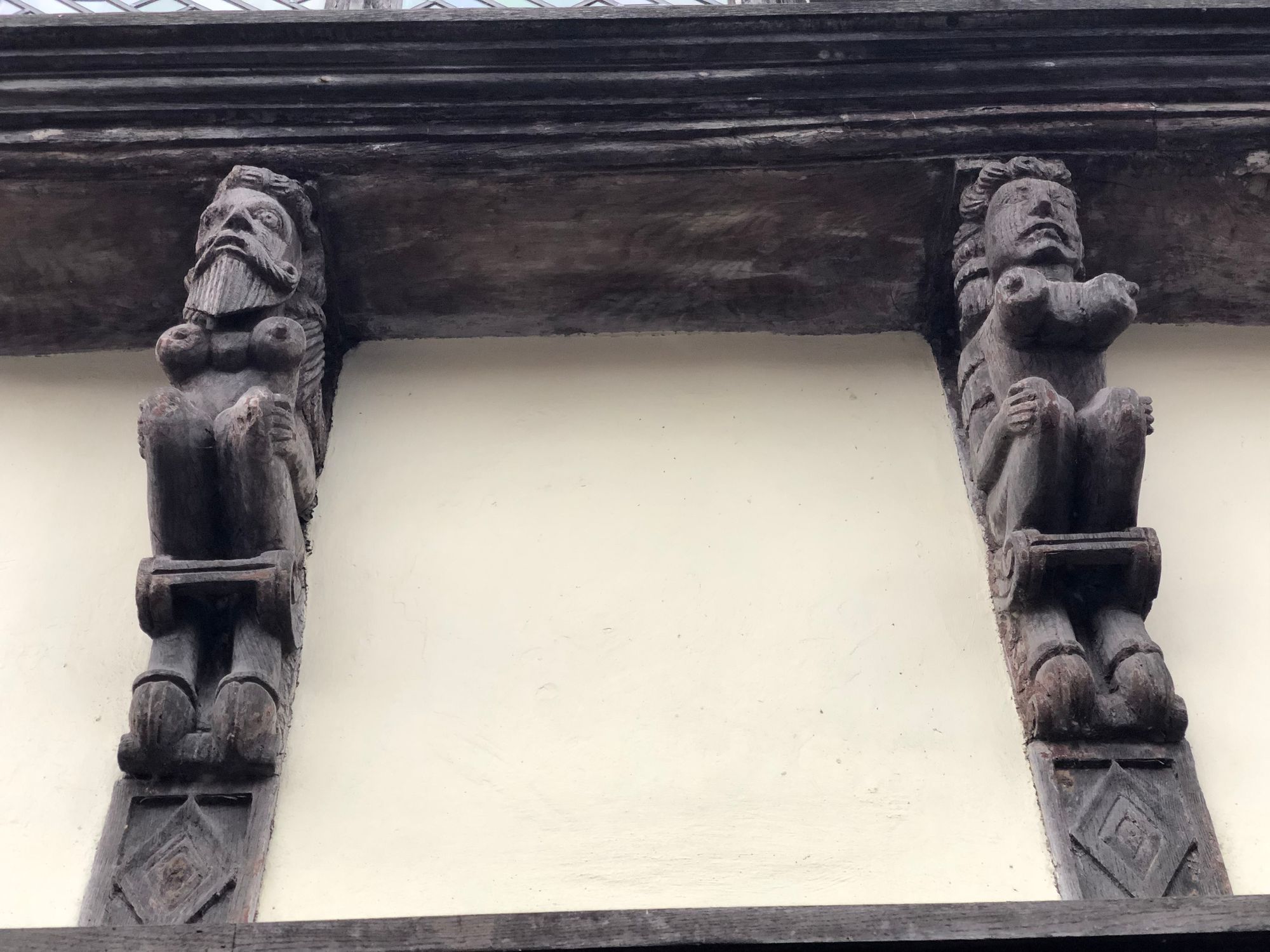 Road Trips: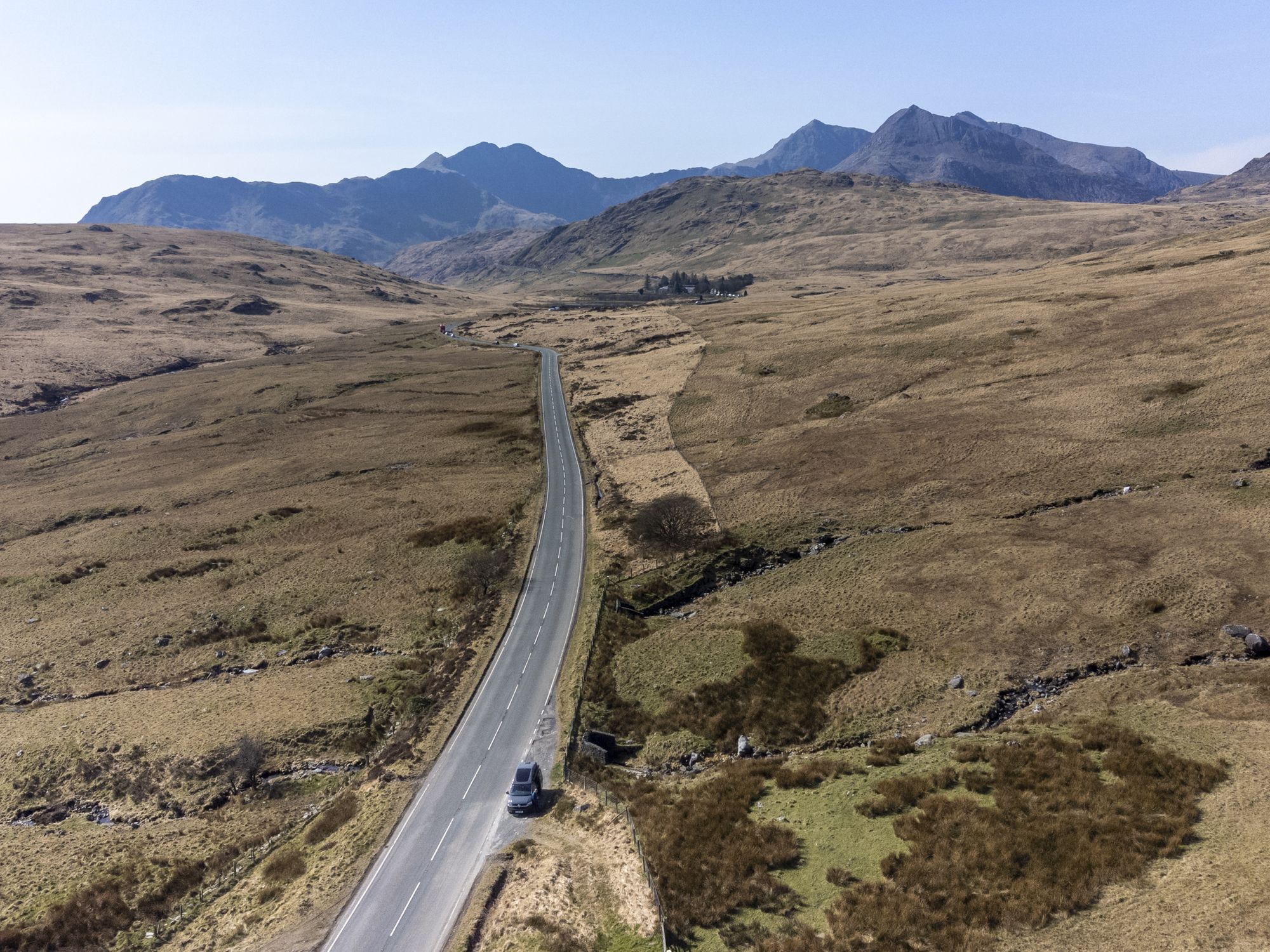 A Year in the Life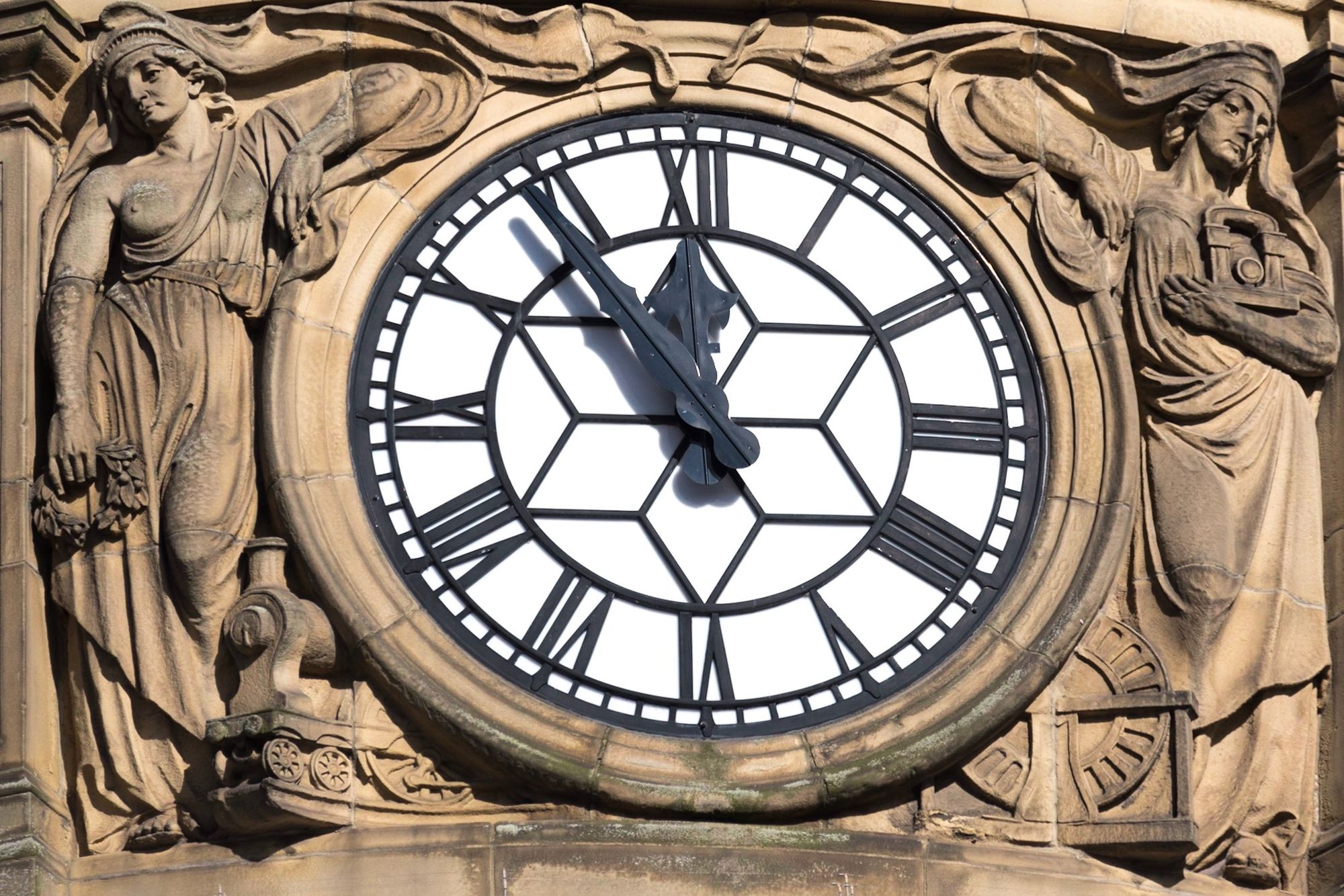 ---