---
Welcome
💡
This digest is best viewed online. Click the view online link next to the title above.

For those that are new here: thank you for subscribing. I'm an architectural photographer that travels around Britain recording and interacting with special places that have a spirit about them. I share my experiences via this digest.
⚡️Read more about how the Genius Loci Digest came about.
⚡️ Missed the last digest? Here it is.
⚡️ View the digest archive here.
There is a new re-designed Members' Area at the bottom of this digest which gives supplementary content to this digest and links to new content.
---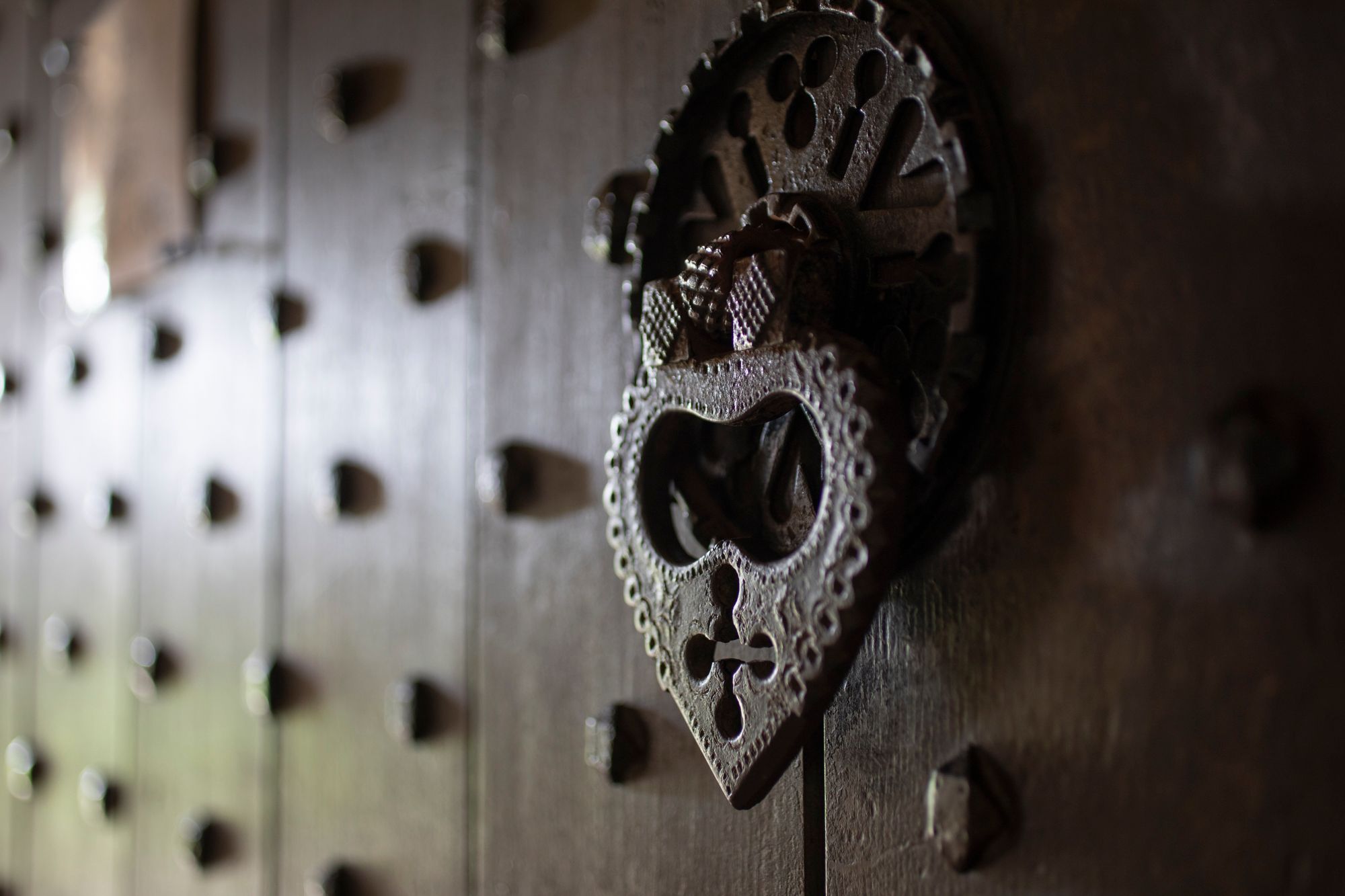 The door handle at St. John the Evangelist, Elkstone, Gloucestershire.
---
"Looking closely is valuable at every scale. From looking closely at a sentence, a photograph, a building, a government. It scales and it cascades — one cognizant detail begets another and then another."
---
The Joy of Small Differences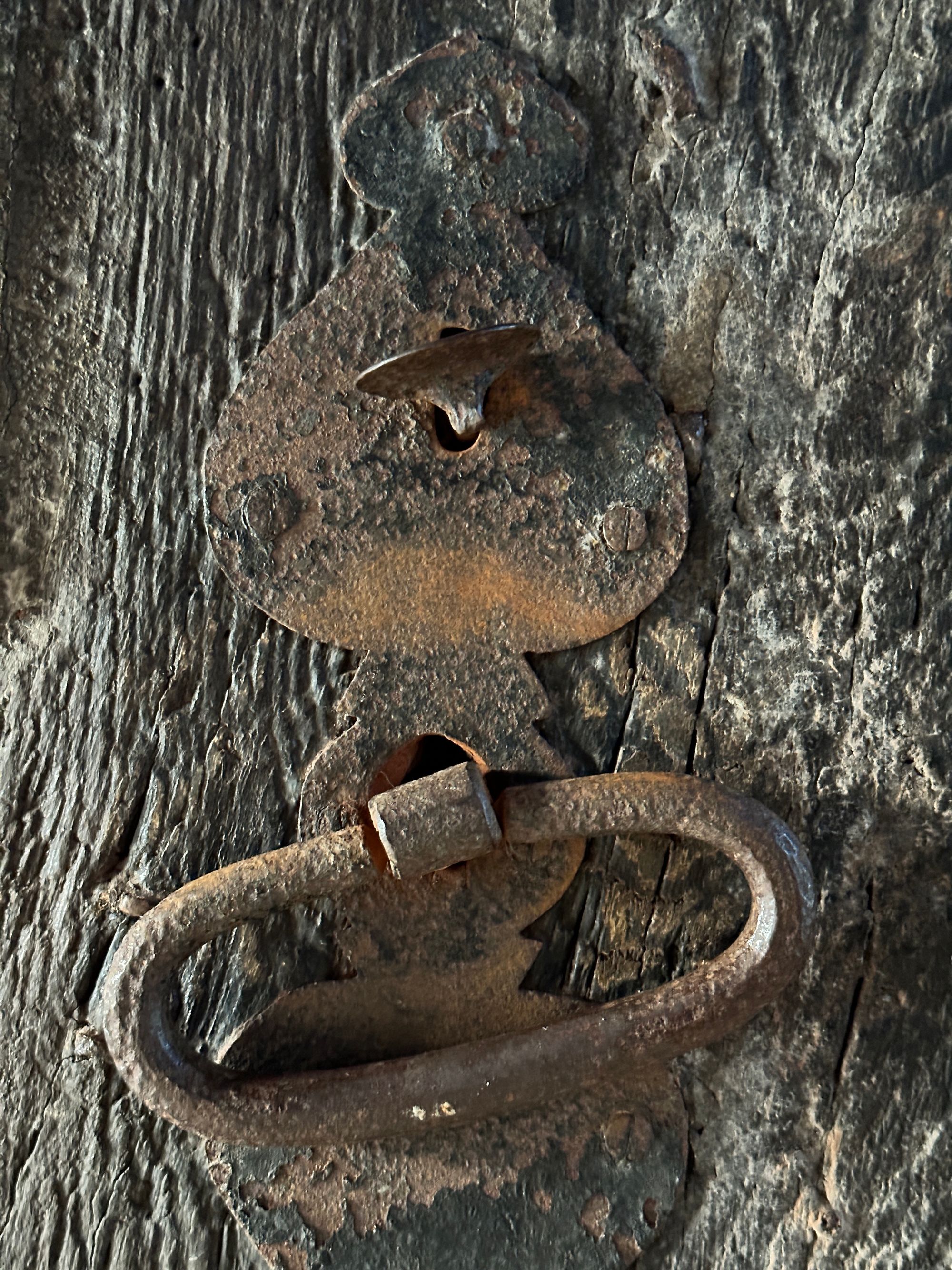 Champion the ordinary and the everyday.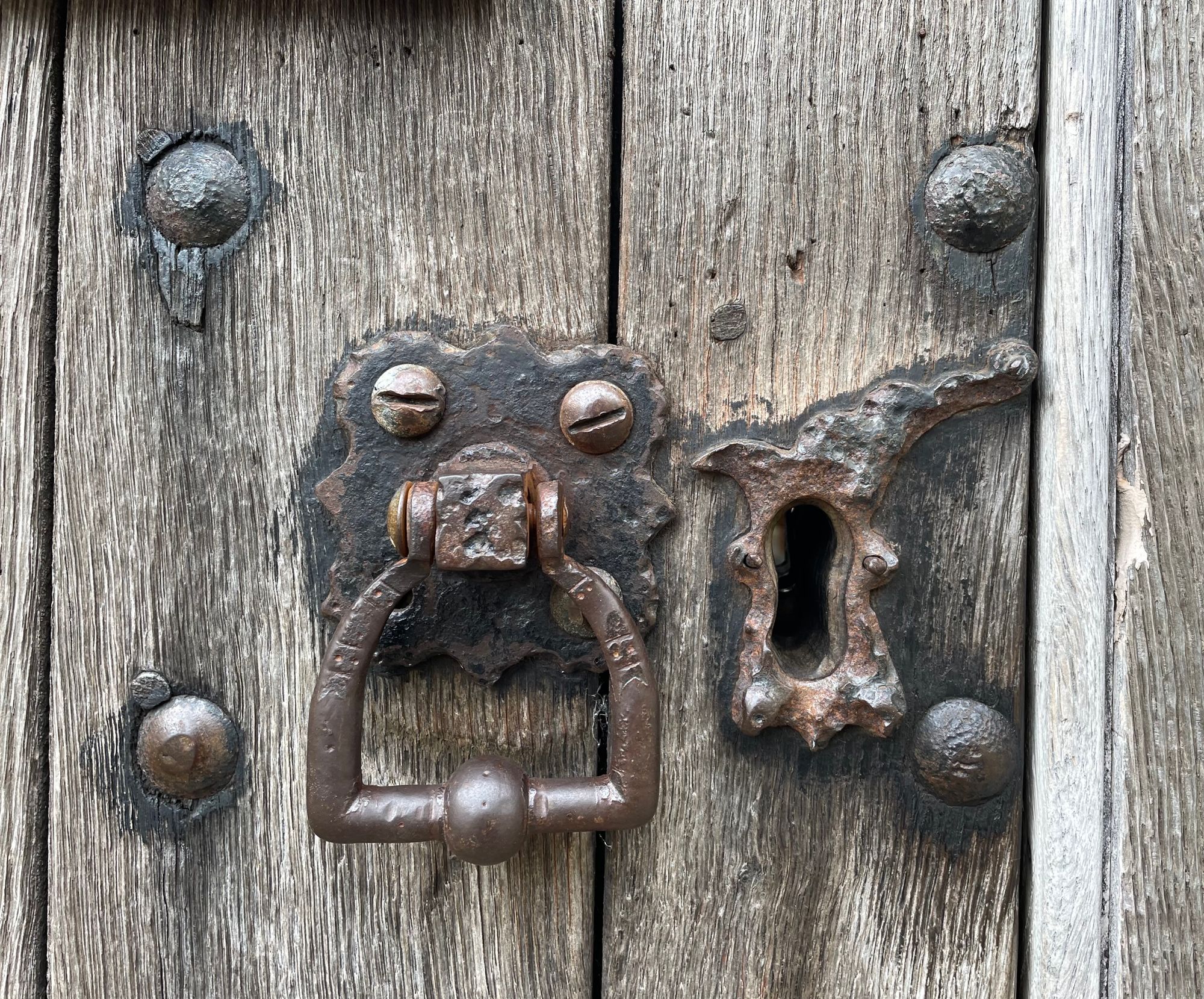 Defend detail. Respond to the local and the vernacular.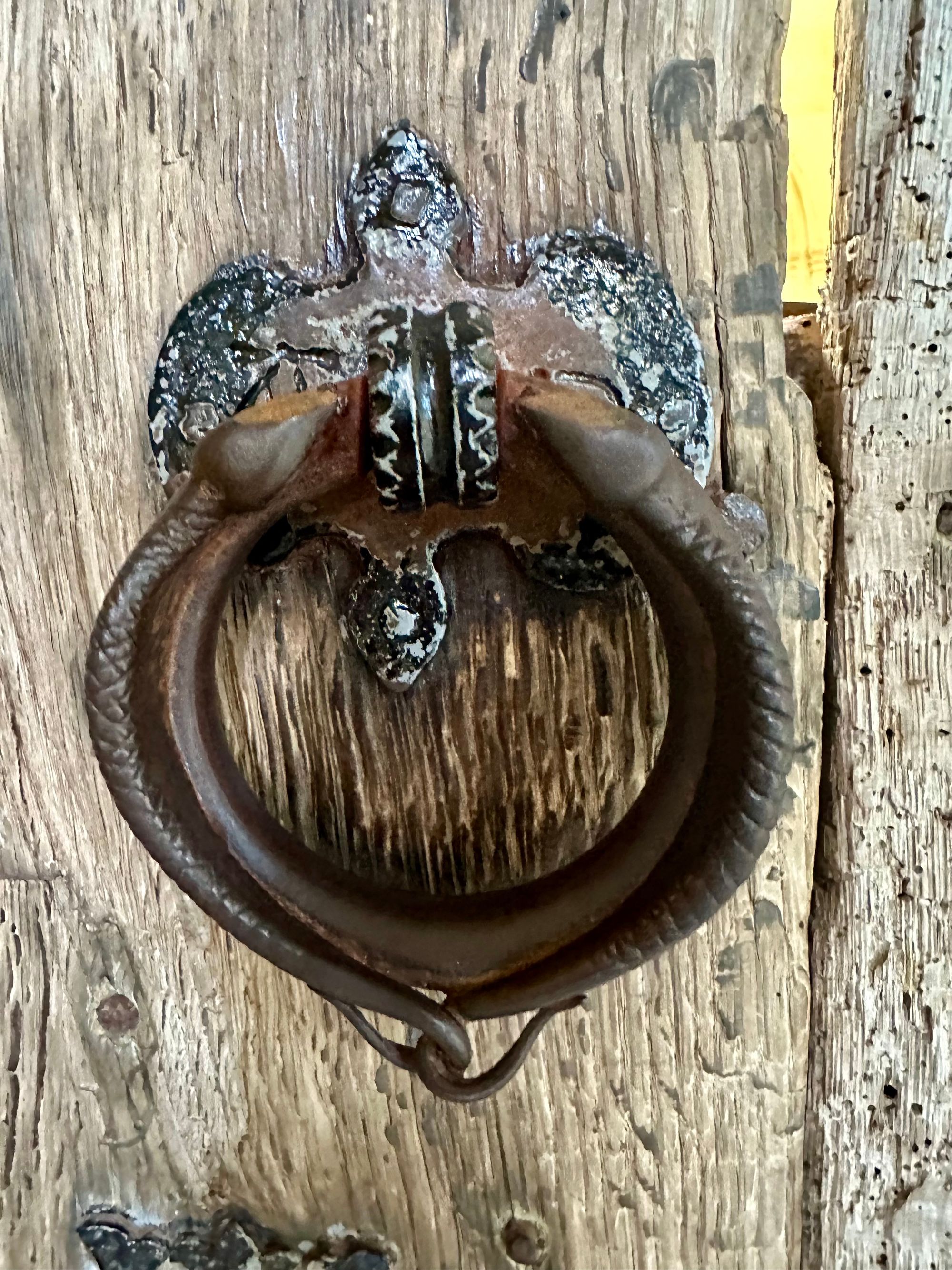 Our imagination needs diversity and variegation. We need standards not standardisation.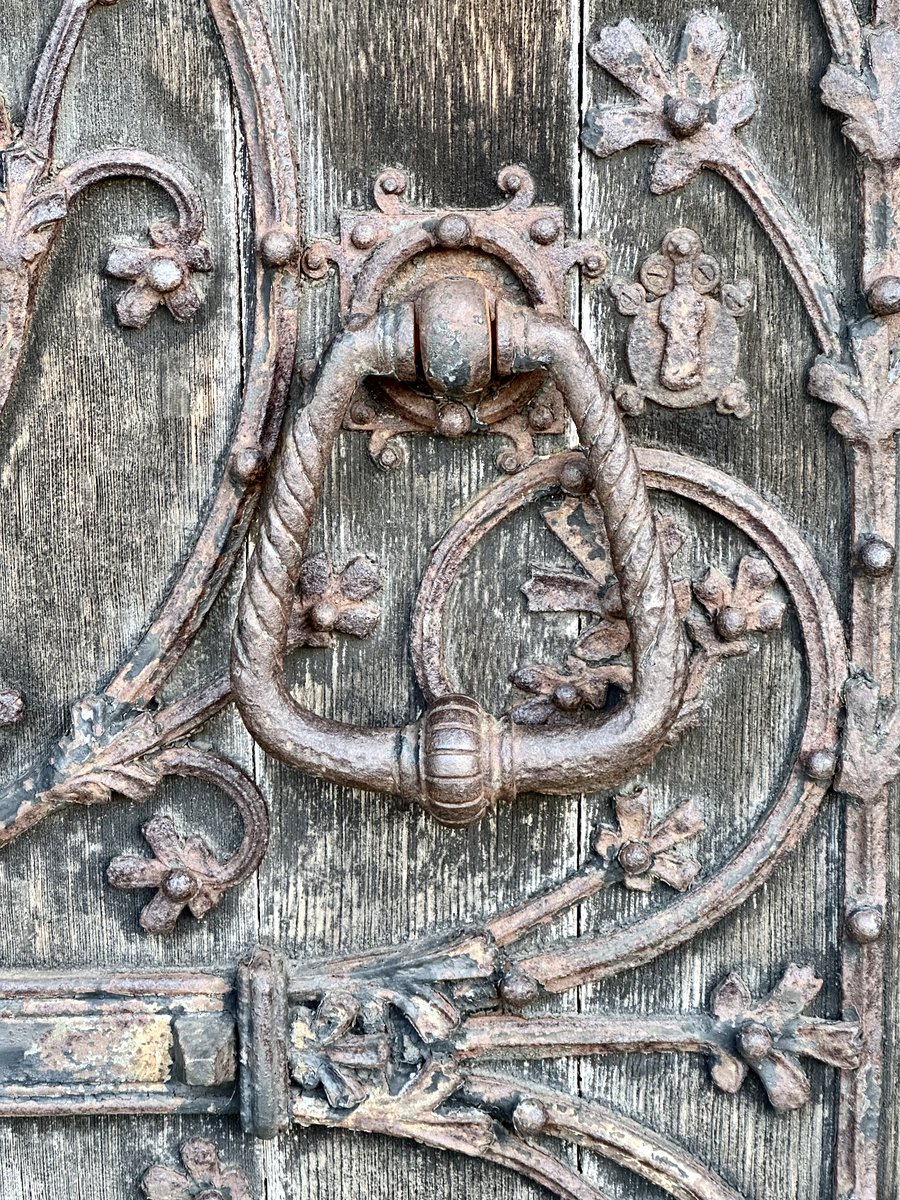 Get to know your place intimately. Search out particularity and patina. Help add new layers of interest.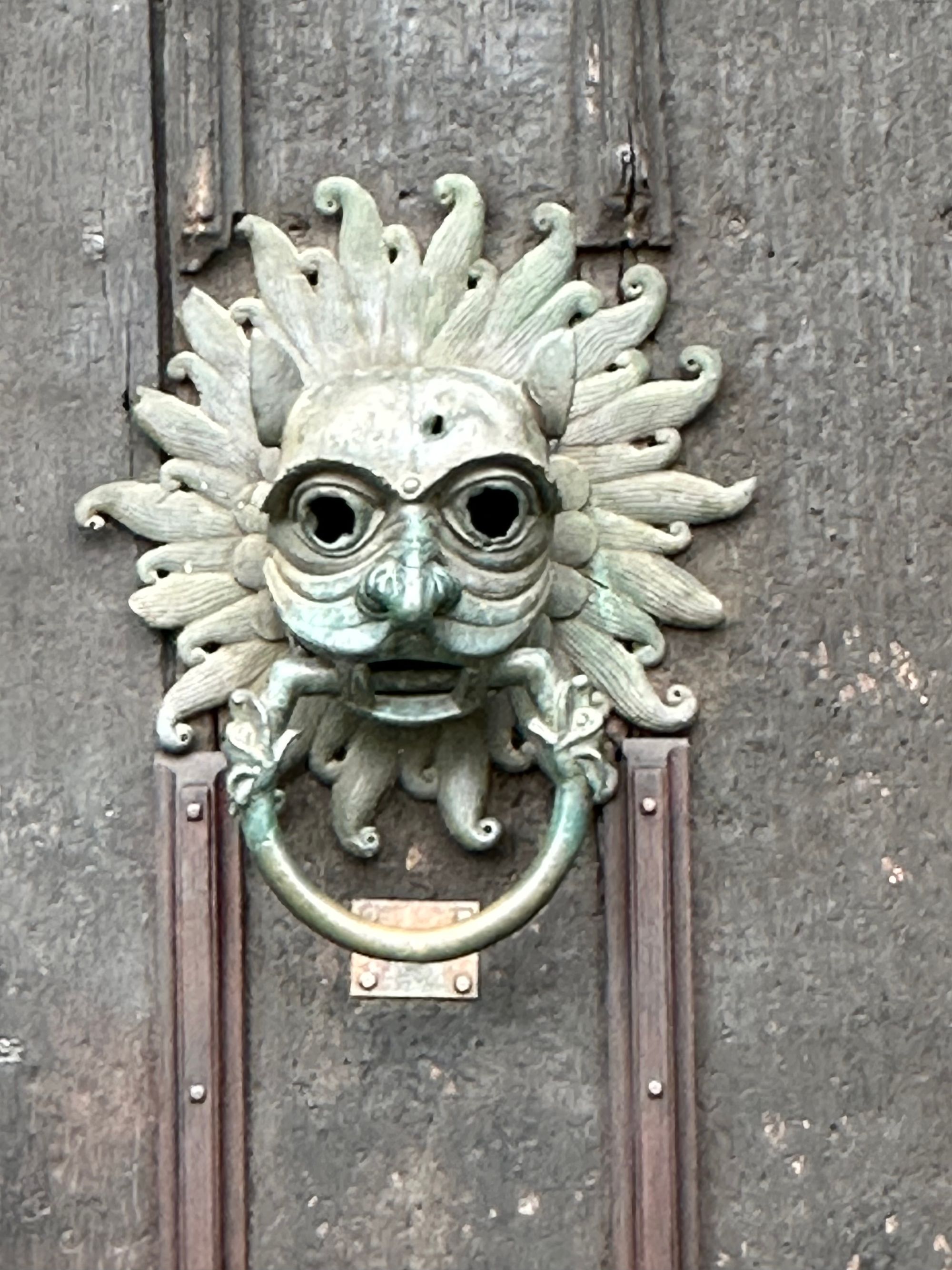 Personality often resides in subtlety and idiosyncracy. Look closely and often.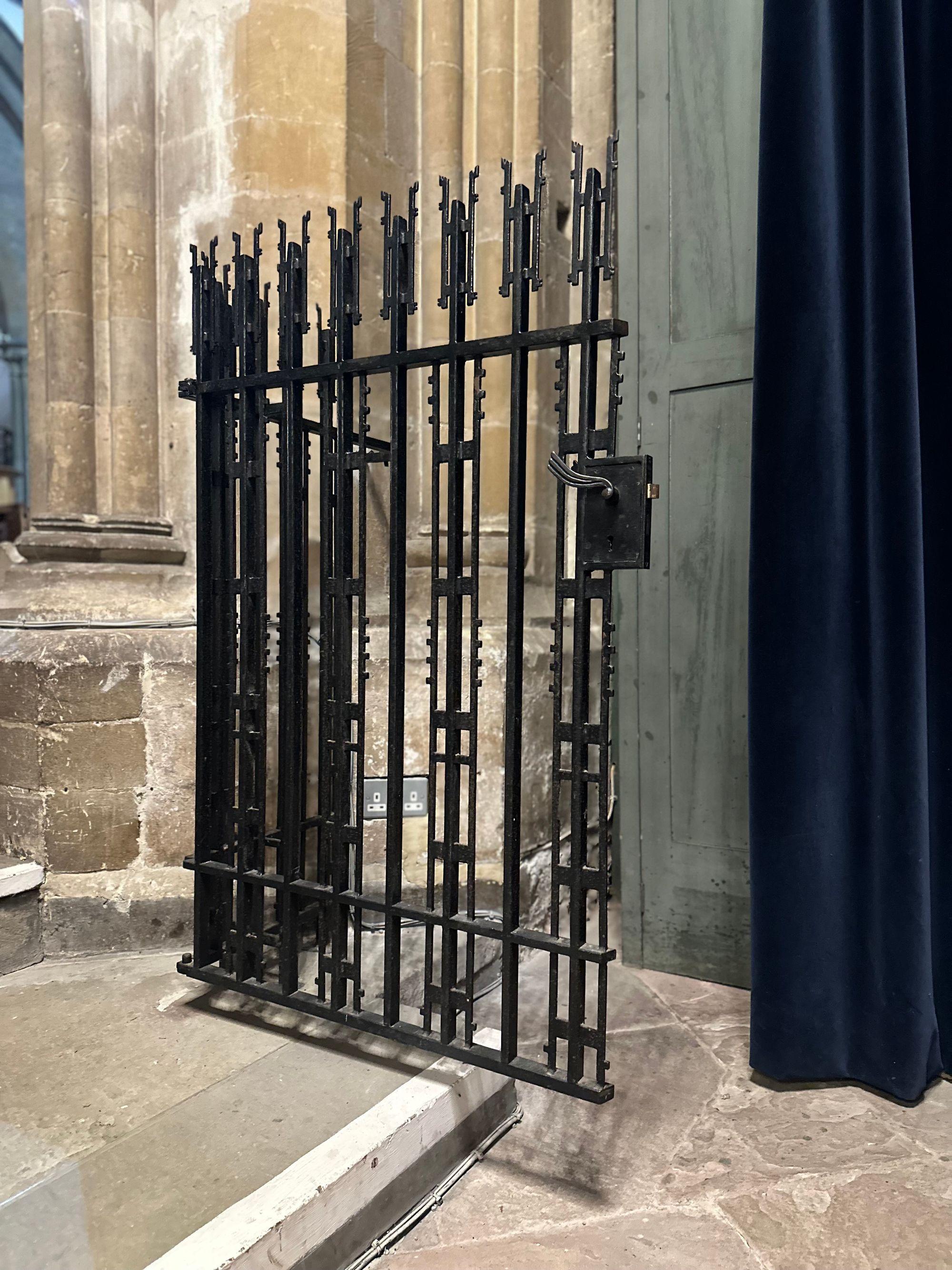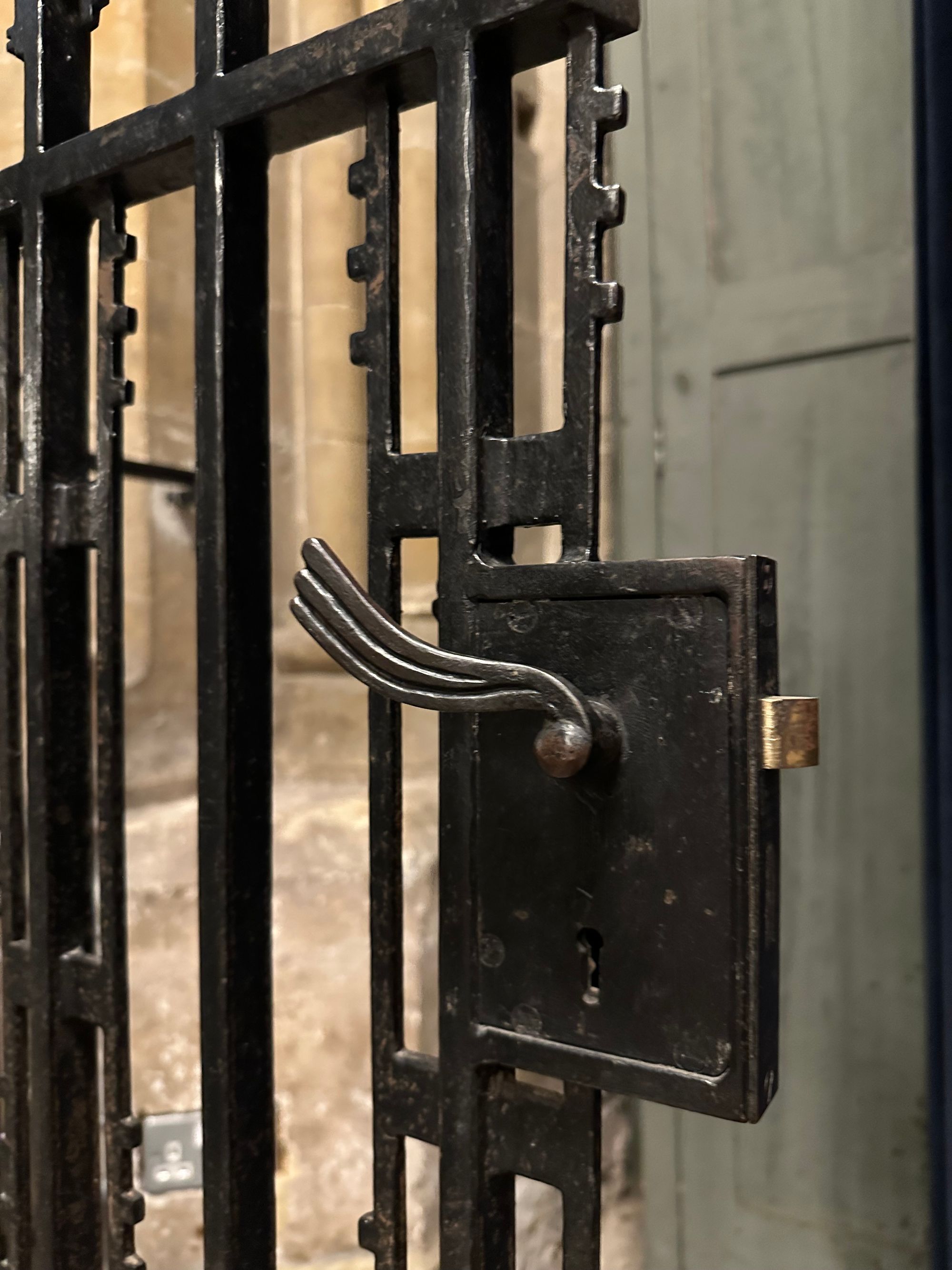 Words with a little help from Sue Clifford and Angela King
It takes a day a week to produce this digest. With your support, I'm able to keep this digest free and public facing.
Support this digest and get access to a world of immersive content. Click the box below to check out the membership options: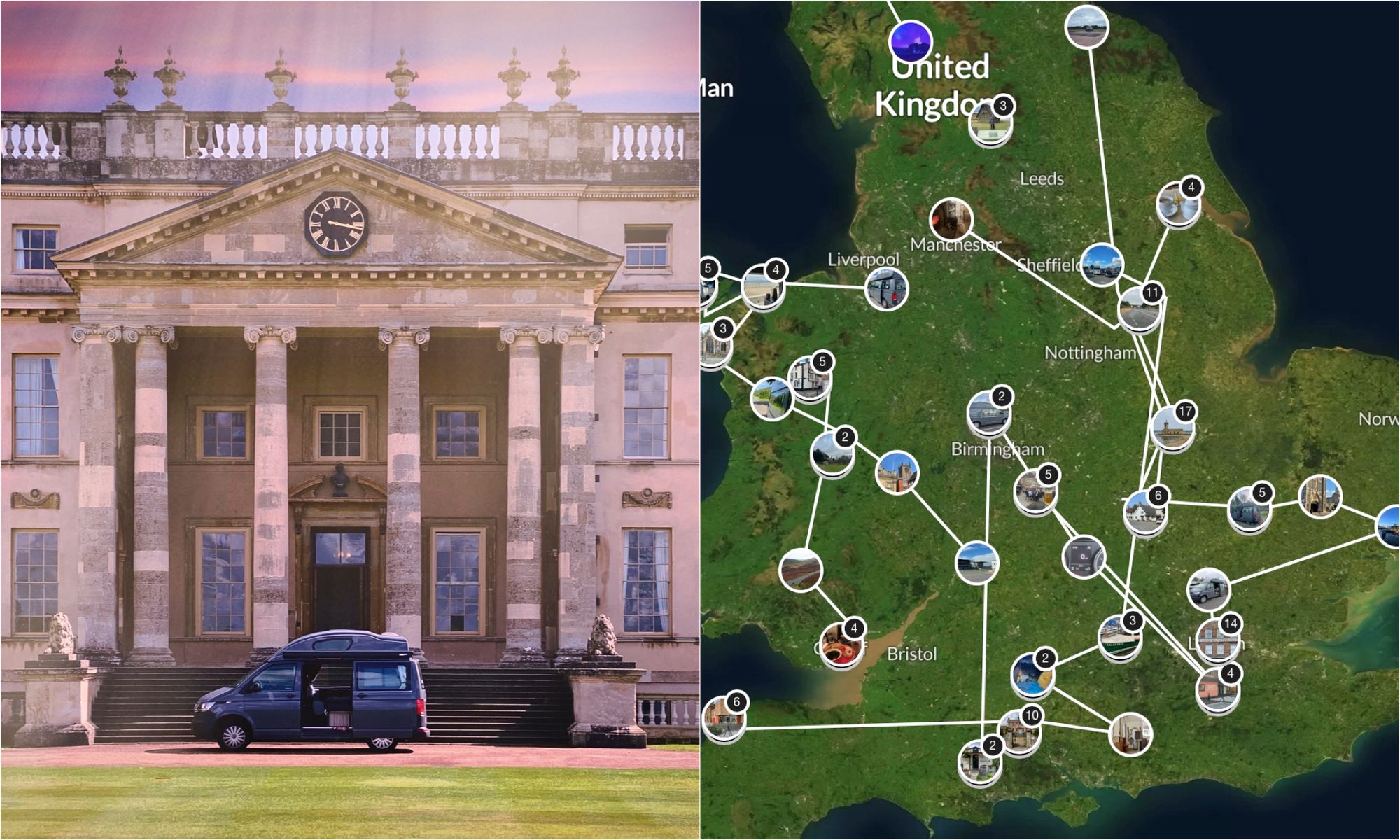 ---
Llandaff
Llandaff is to Cardiff as Vatican City is to Rome - although on a much smaller scale. A village city with a remarkable cathedral that holds the seat of the Bishop of Llandaff. There's been a religious site here since the C6th.
If you're travelling to the West Country from Pembrokeshire (or vice versa) - there's an urban sprawl to negotiate around Cardiff - instead of hurtling through - stop off at Llandaff - you won't regret it.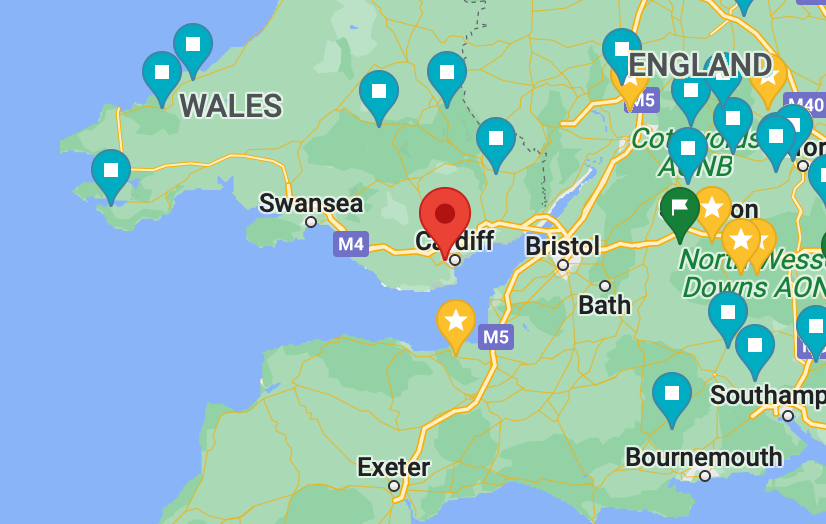 During my visit I bump into Christine Kinsey at the Cathedral and she recommends a small place called Porro for a bite to eat in the centre of Llandaff - a fusion of Welsh and Italian food. "Diolch Mille", I say after paying my bill.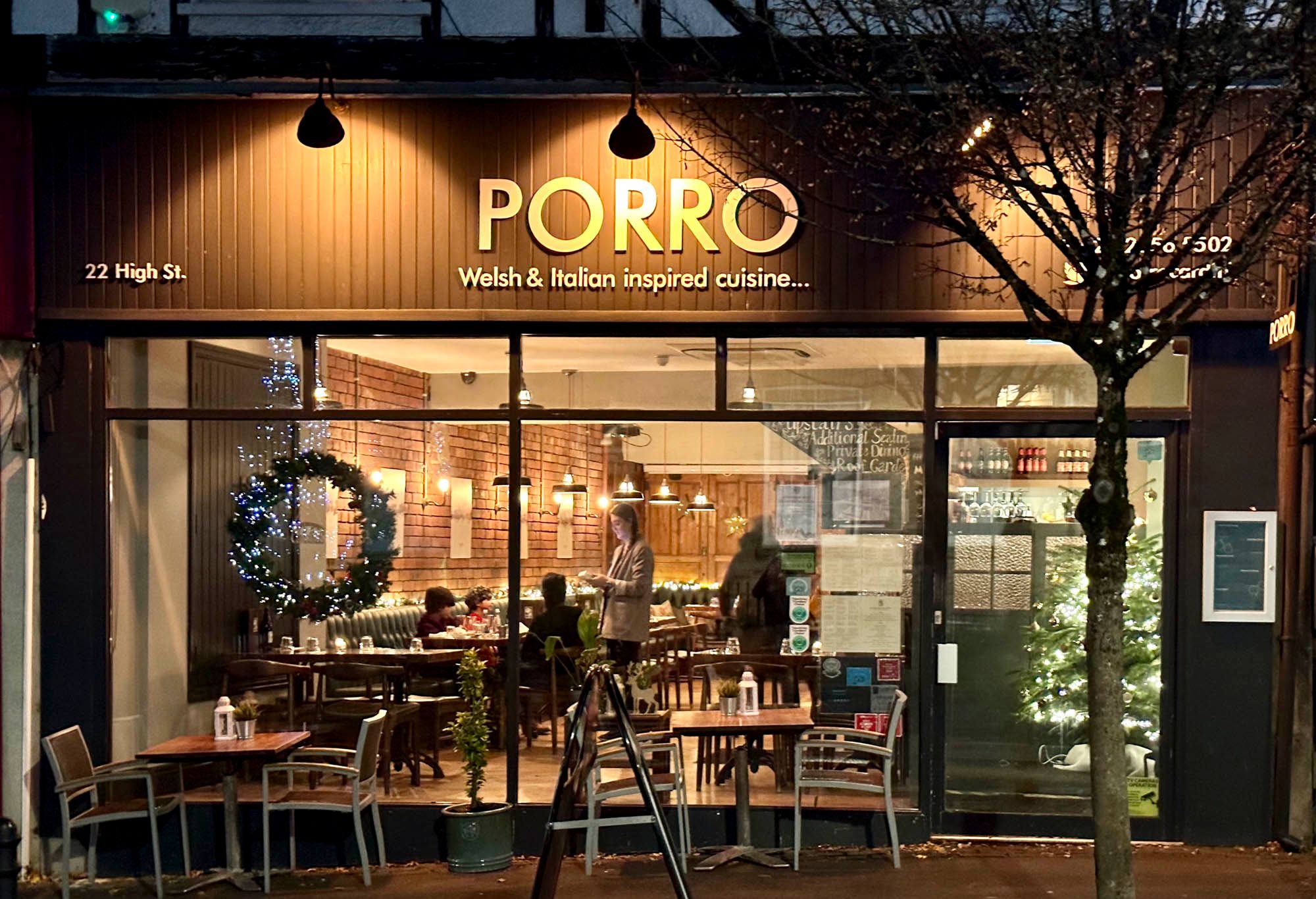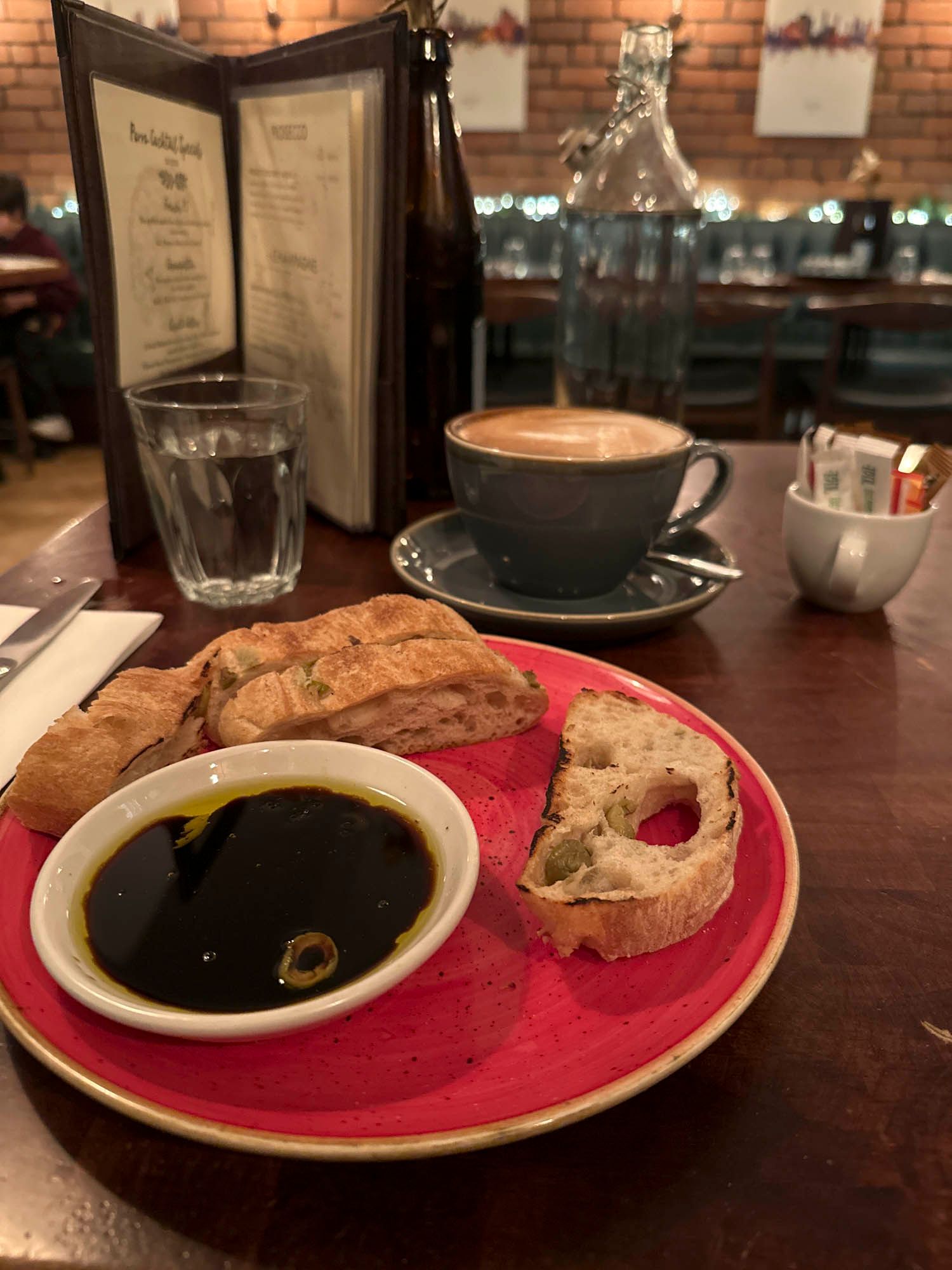 I visit the cathedral during the day and in the evening (I attend evensong which is highly recommended). I'm caught between the daylight views contrasted against the evening tungsten glow.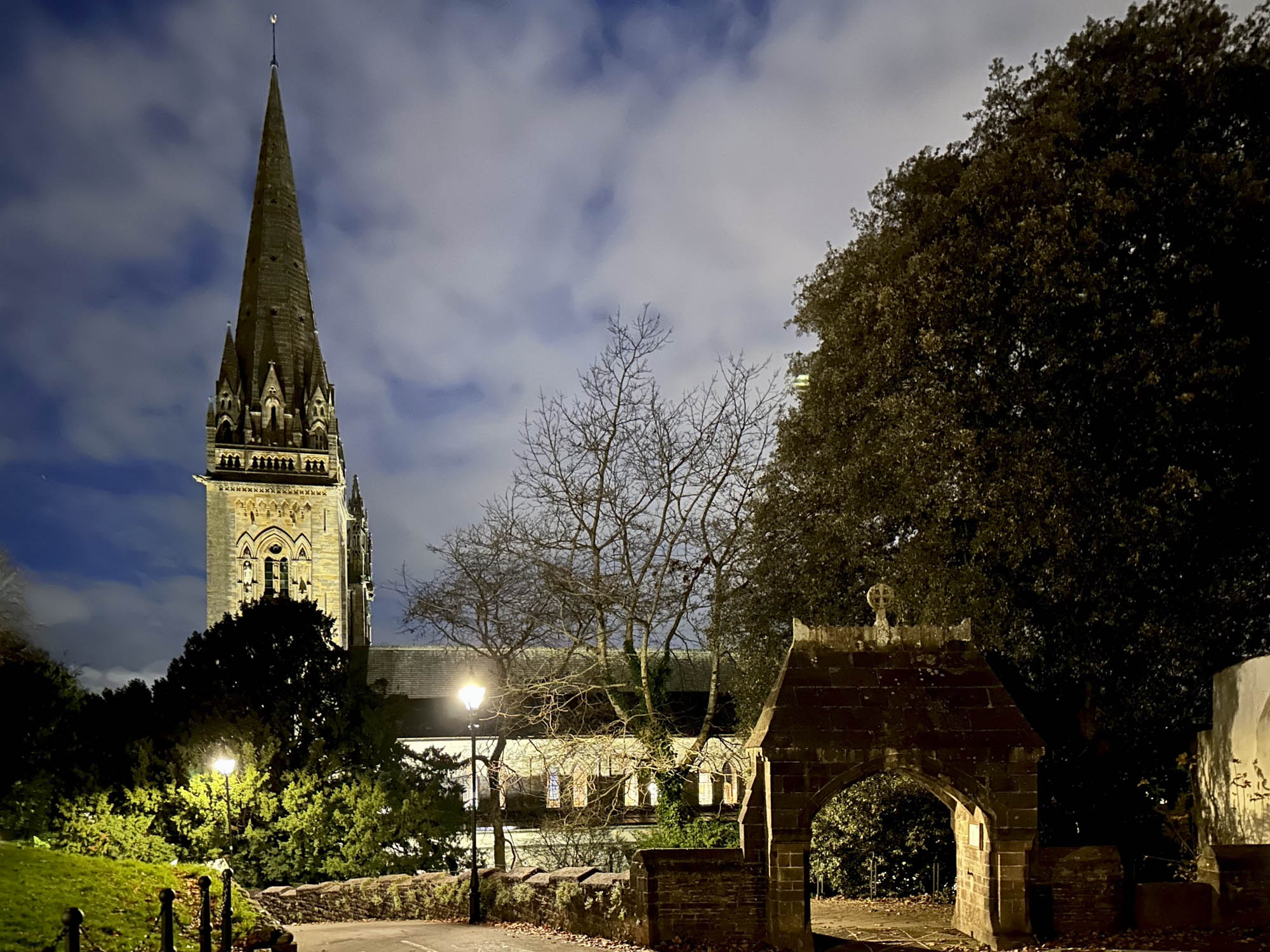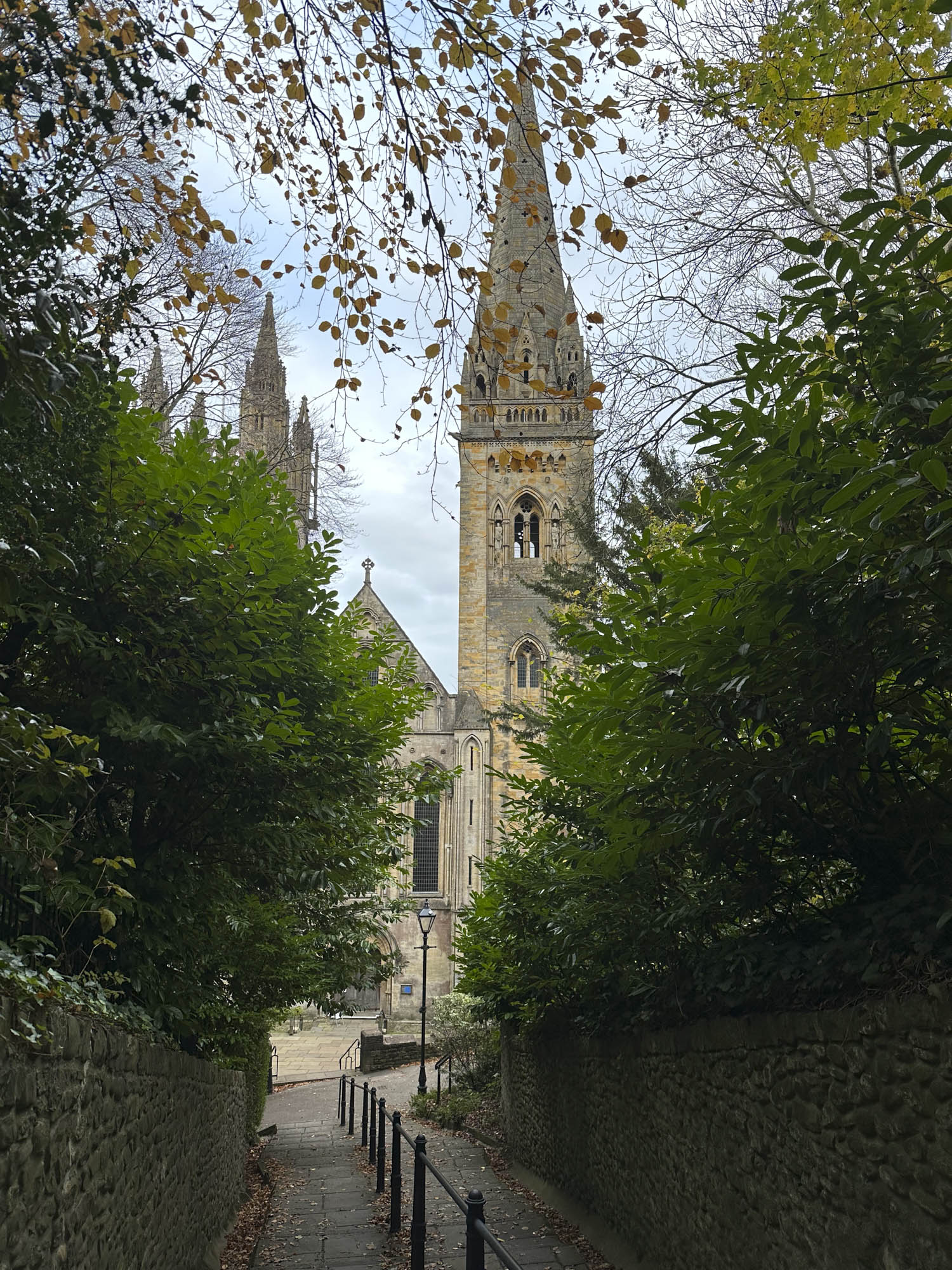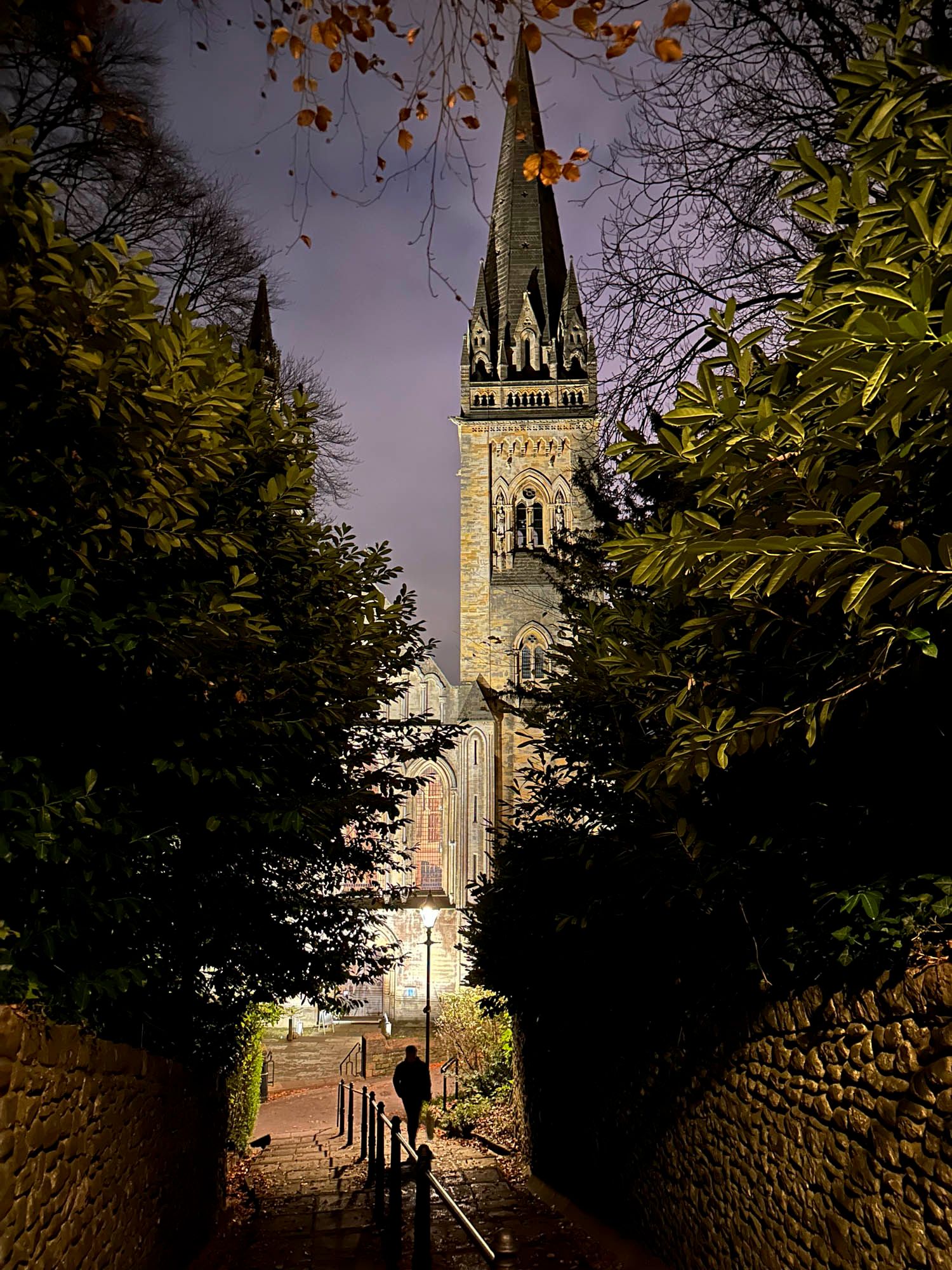 The west door has the feel of age, but I notice clues as to a C20th influence. Looking closer, I can see butterfly dove-tails along the panels of the door.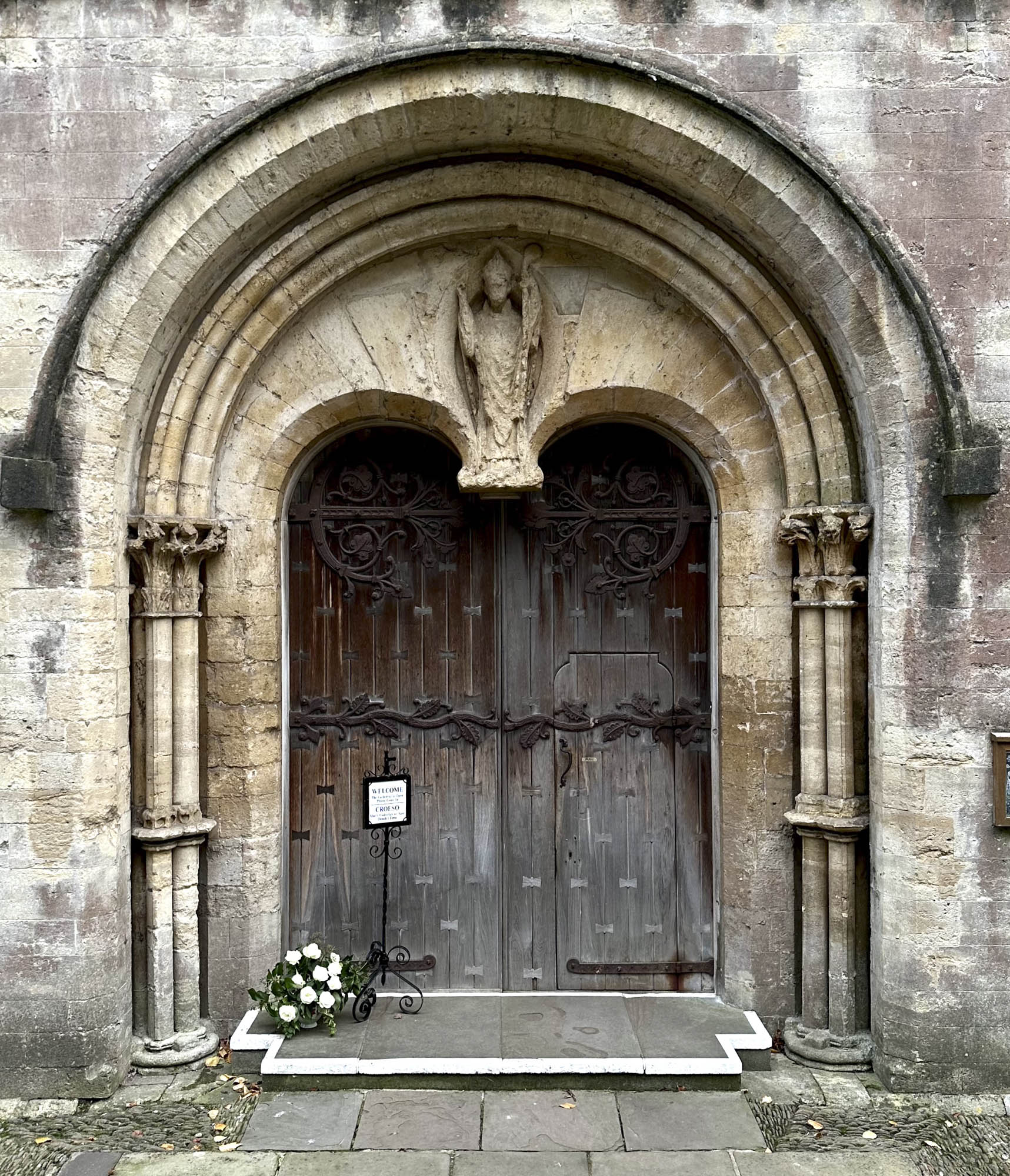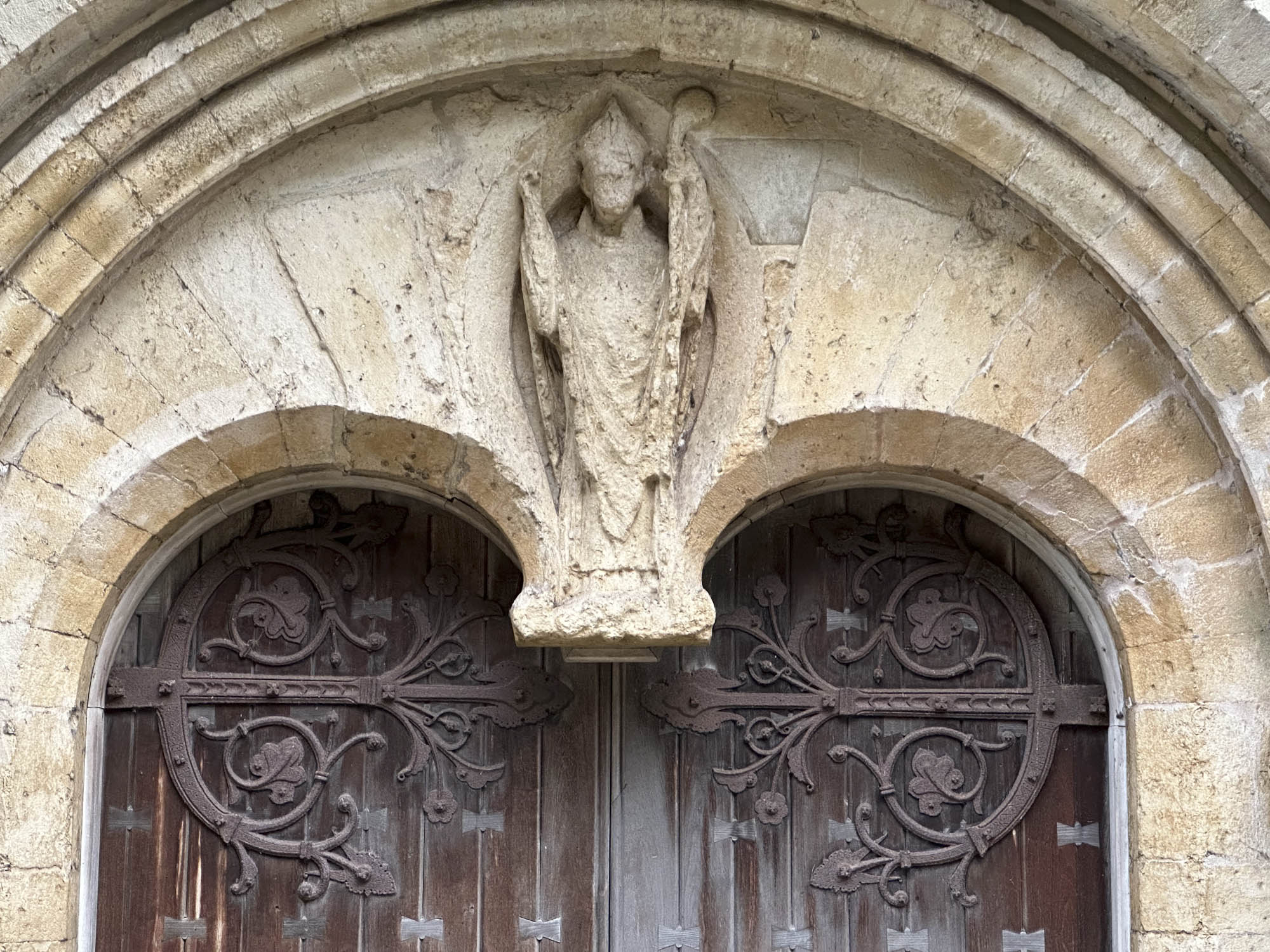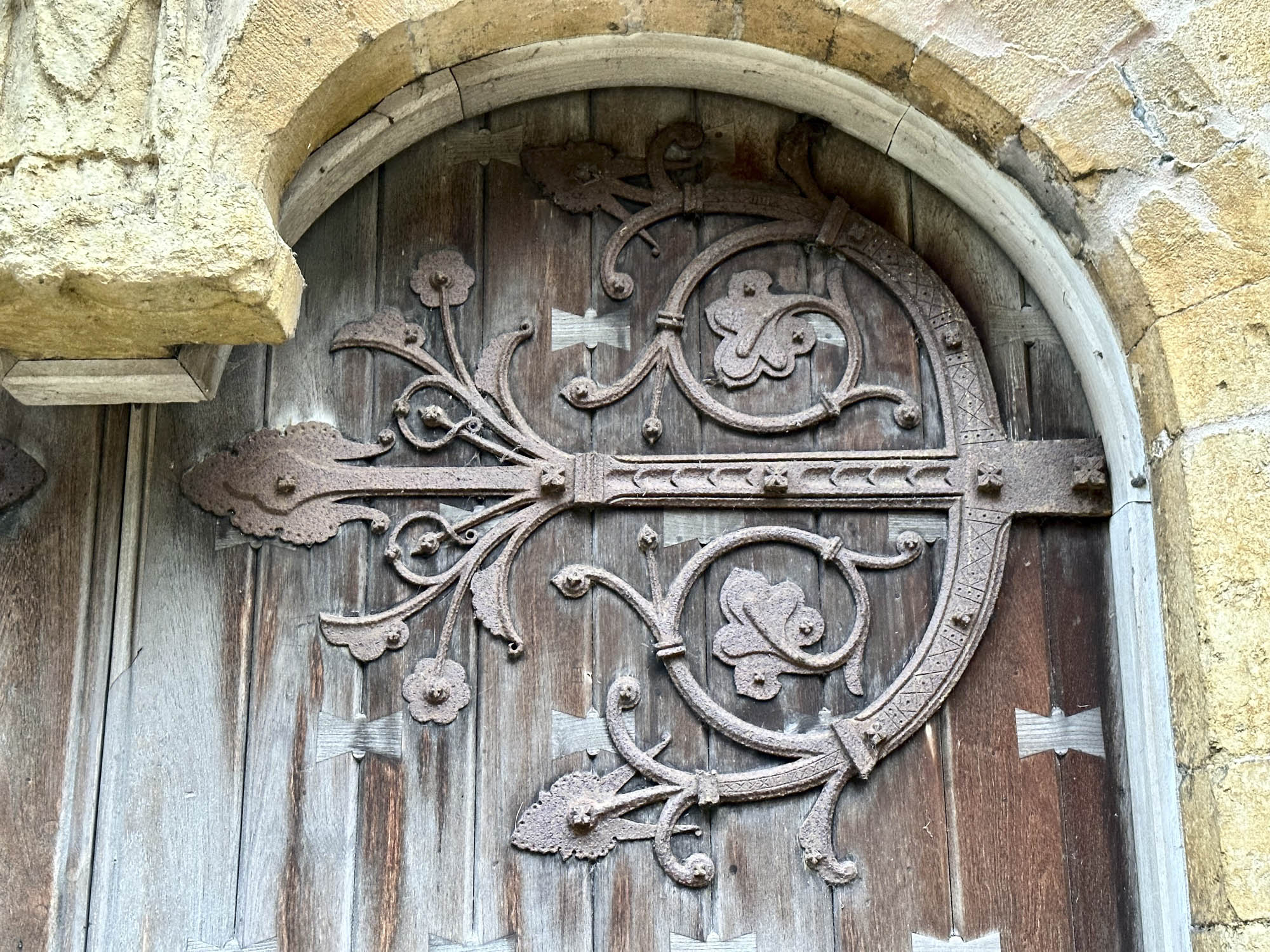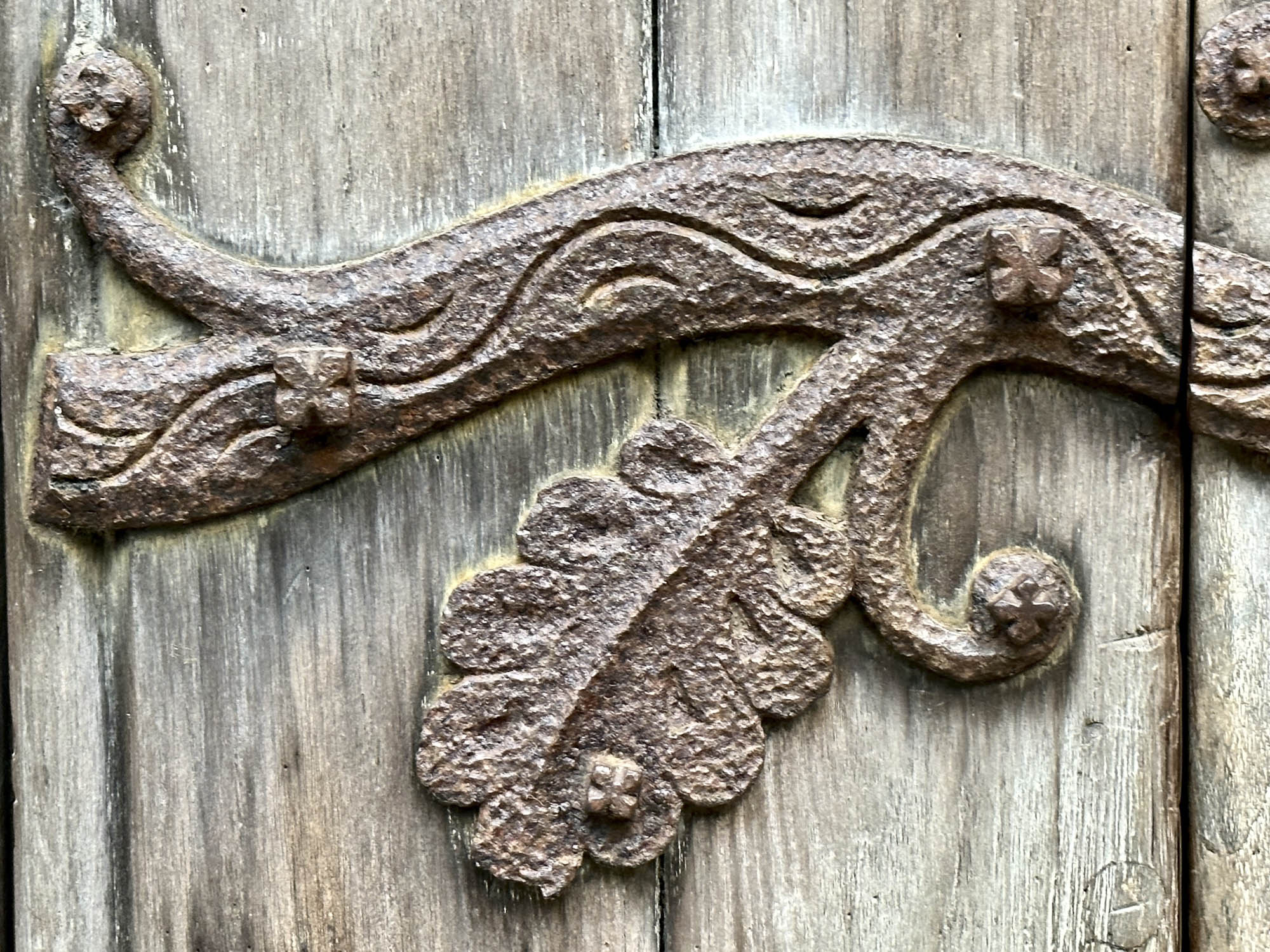 I've seen them before - they're the mark of an architect called George Pace. They are both functional and beautiful at the same time. What marks George Pace out from many others is his bravery and honesty in representing his own times through his designs which were underpinned by a devotion to detail and craft.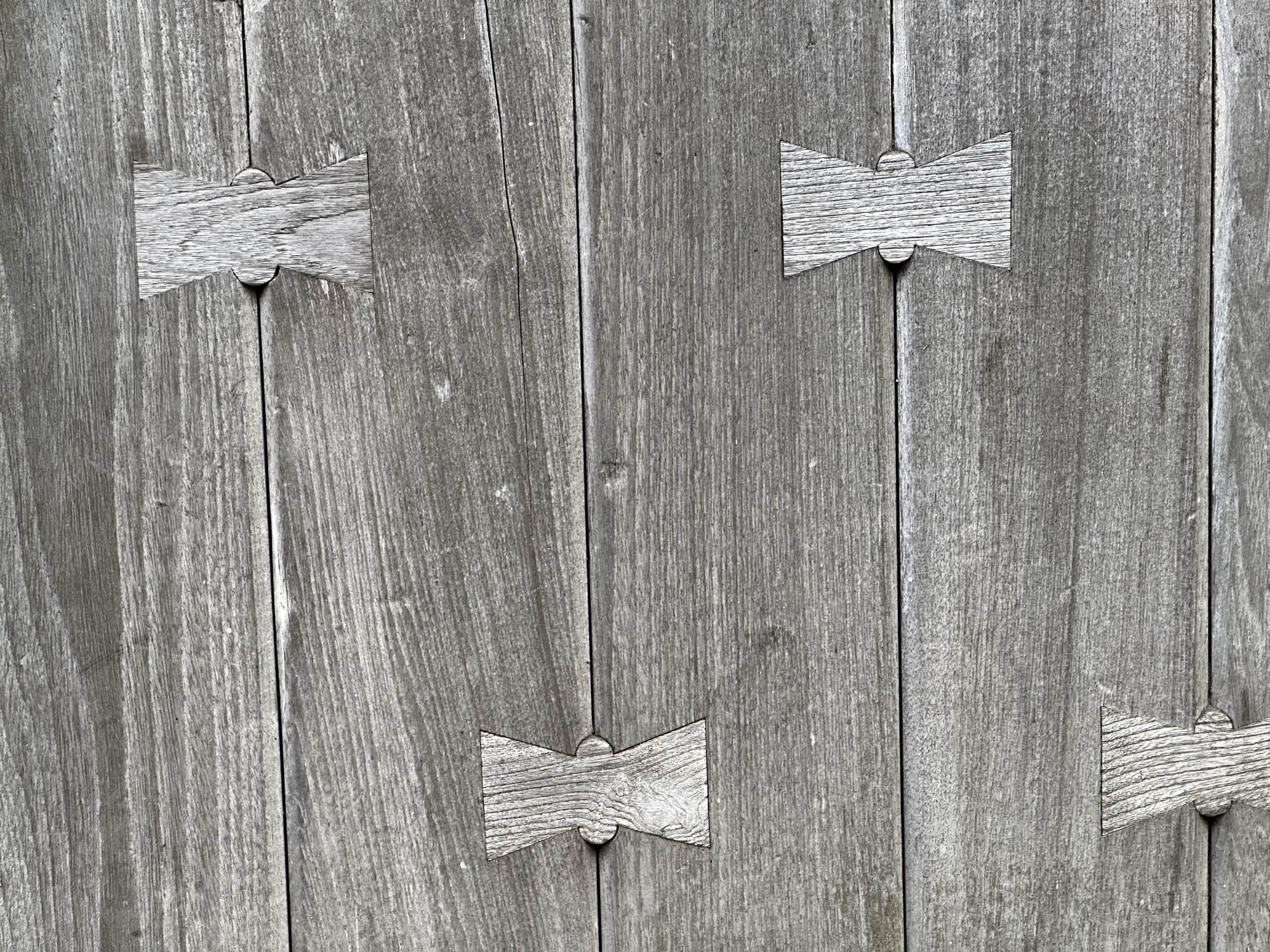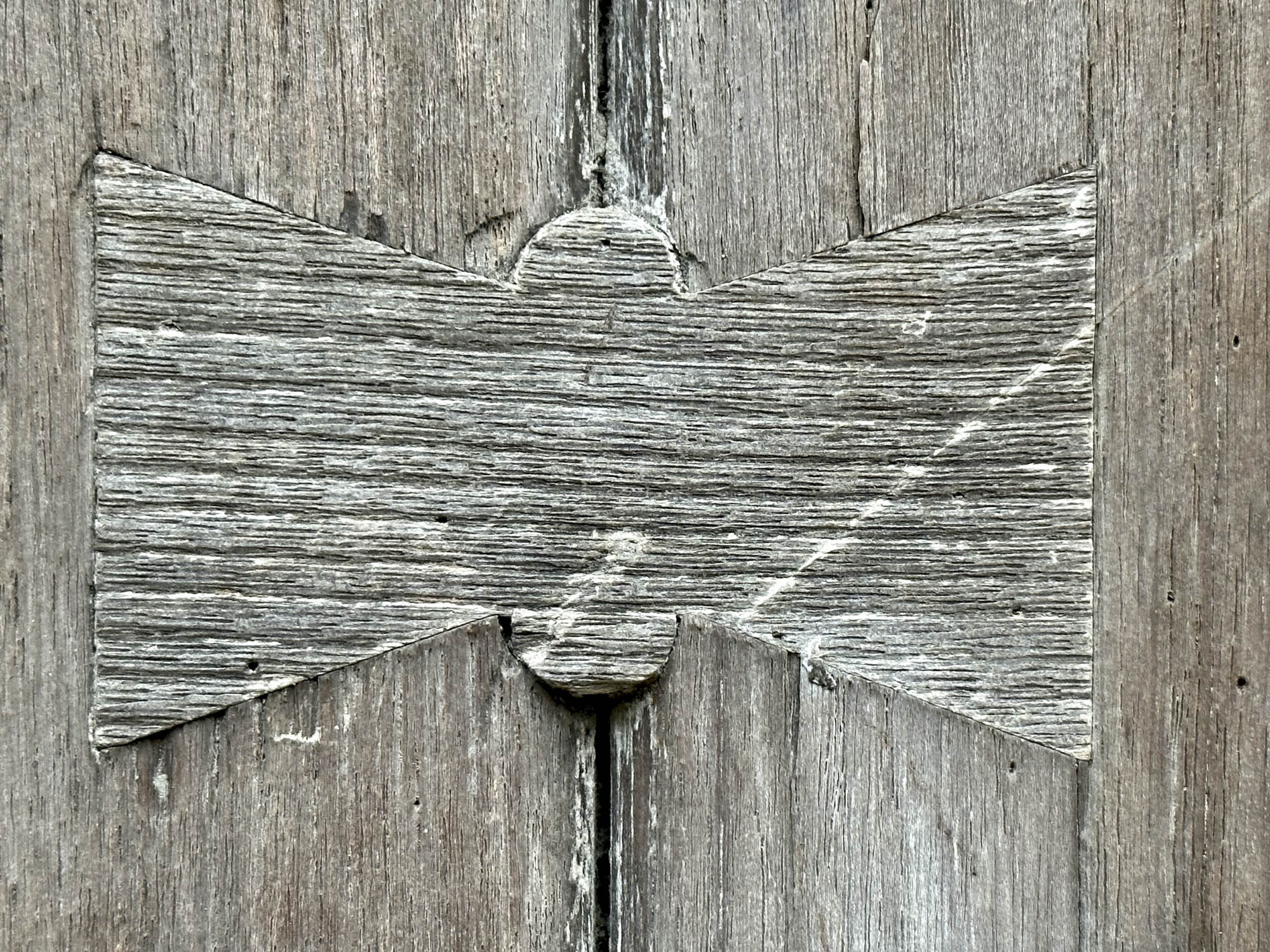 The Majestas
In January 1941 a parachute bomb badly damaged the nave at Llandaff. George Pace was commissioned to re-build and re-invigorate the interior. His design focused around creating a new pulpitum. His words:
Mystery should be veiled and vista should open upon vista; from the moment of entering the Cathedral the journey to the High Altar should be by subtly designed stages.
For me, the wishbone design is magnificent. It speaks of the mid-C20th with it's focus on space travel, transport and concrete. It is honest in its representation. It isn't just a cheap piece of concrete casting - it has been carefully designed and is a functioning part of the organ. The Christ figure is 16ft high and was designed by Jacob Epstein.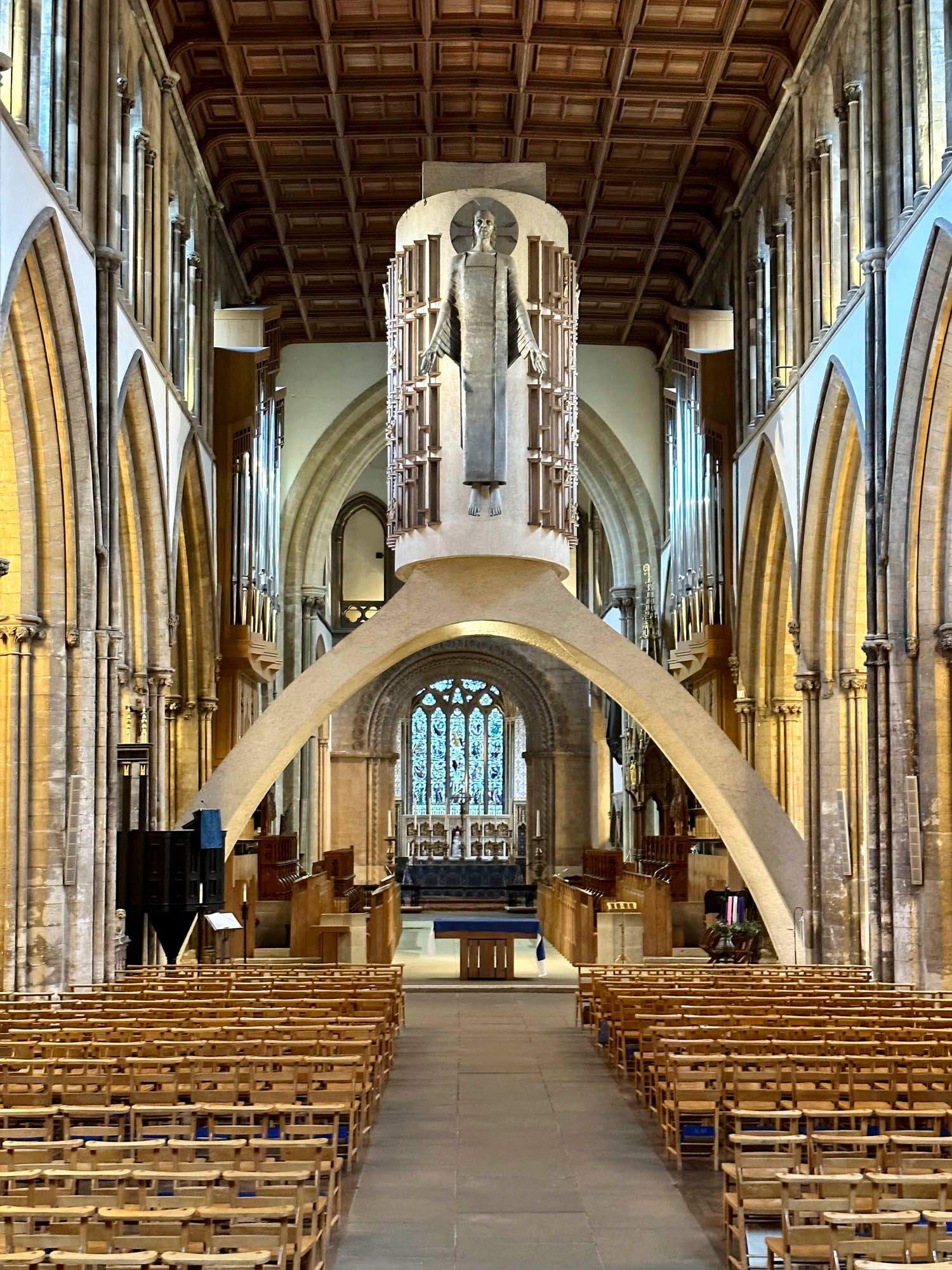 ---
Comperandum - compare the Epstein Christ with the Sutherland Christ at Coventry.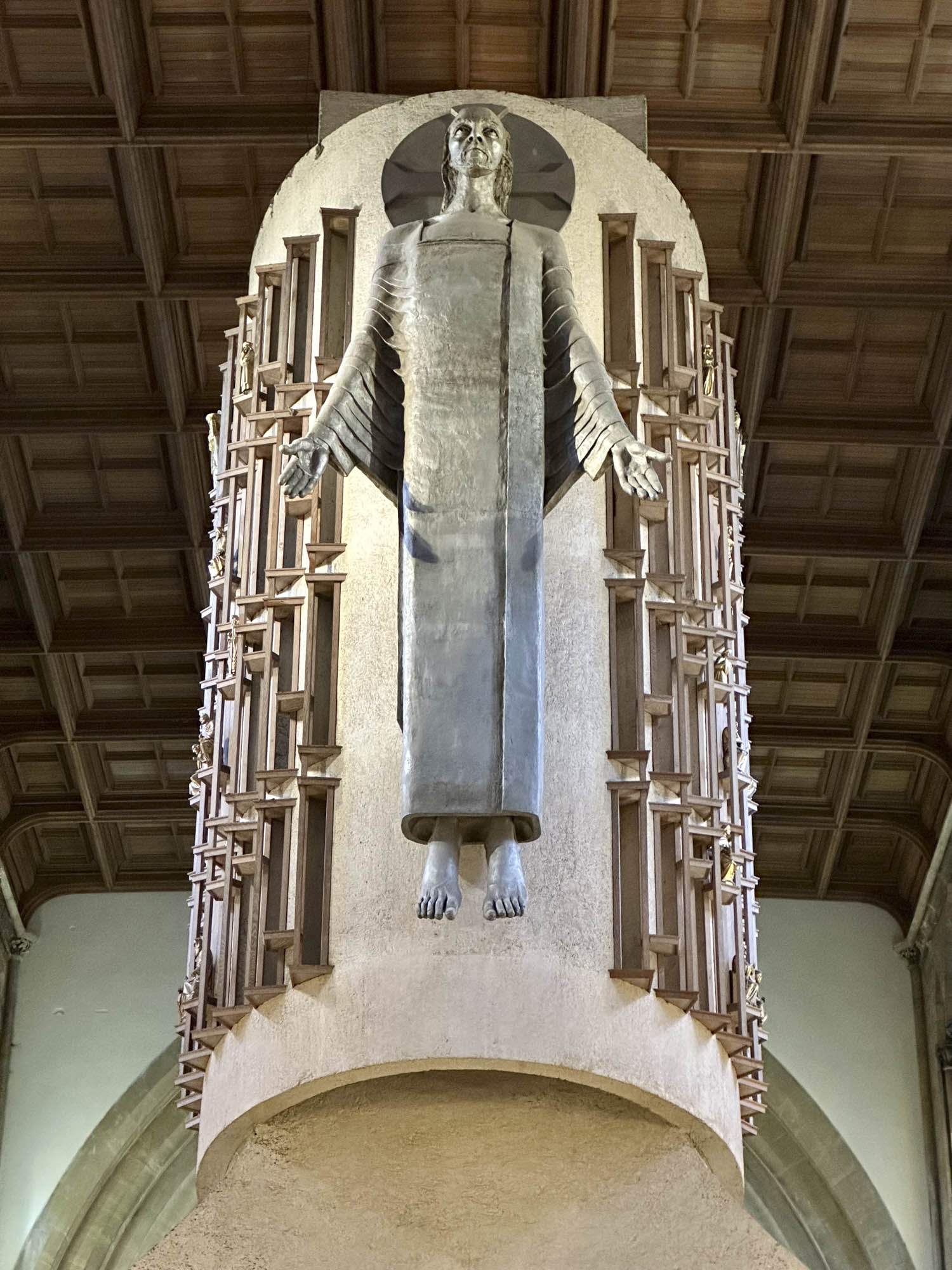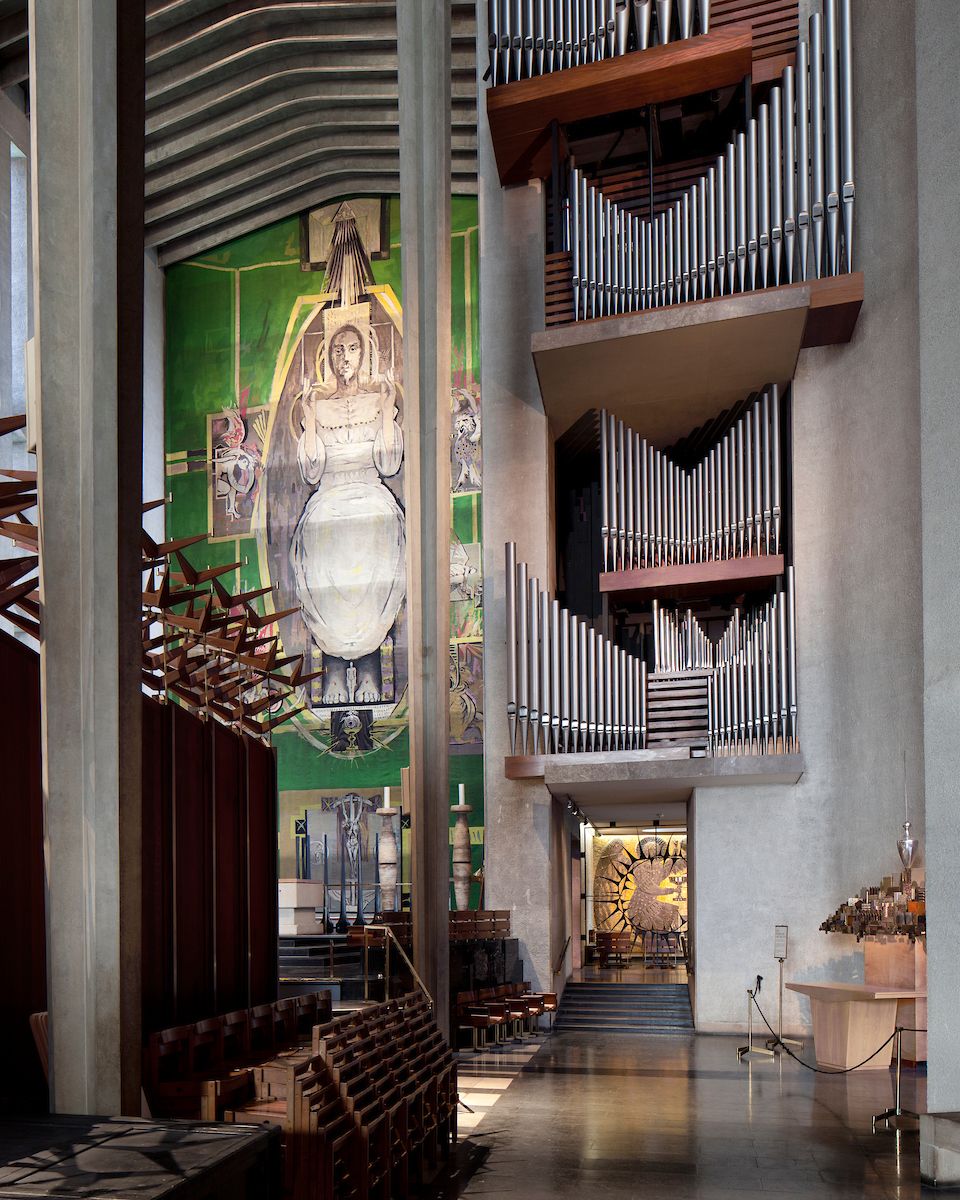 ---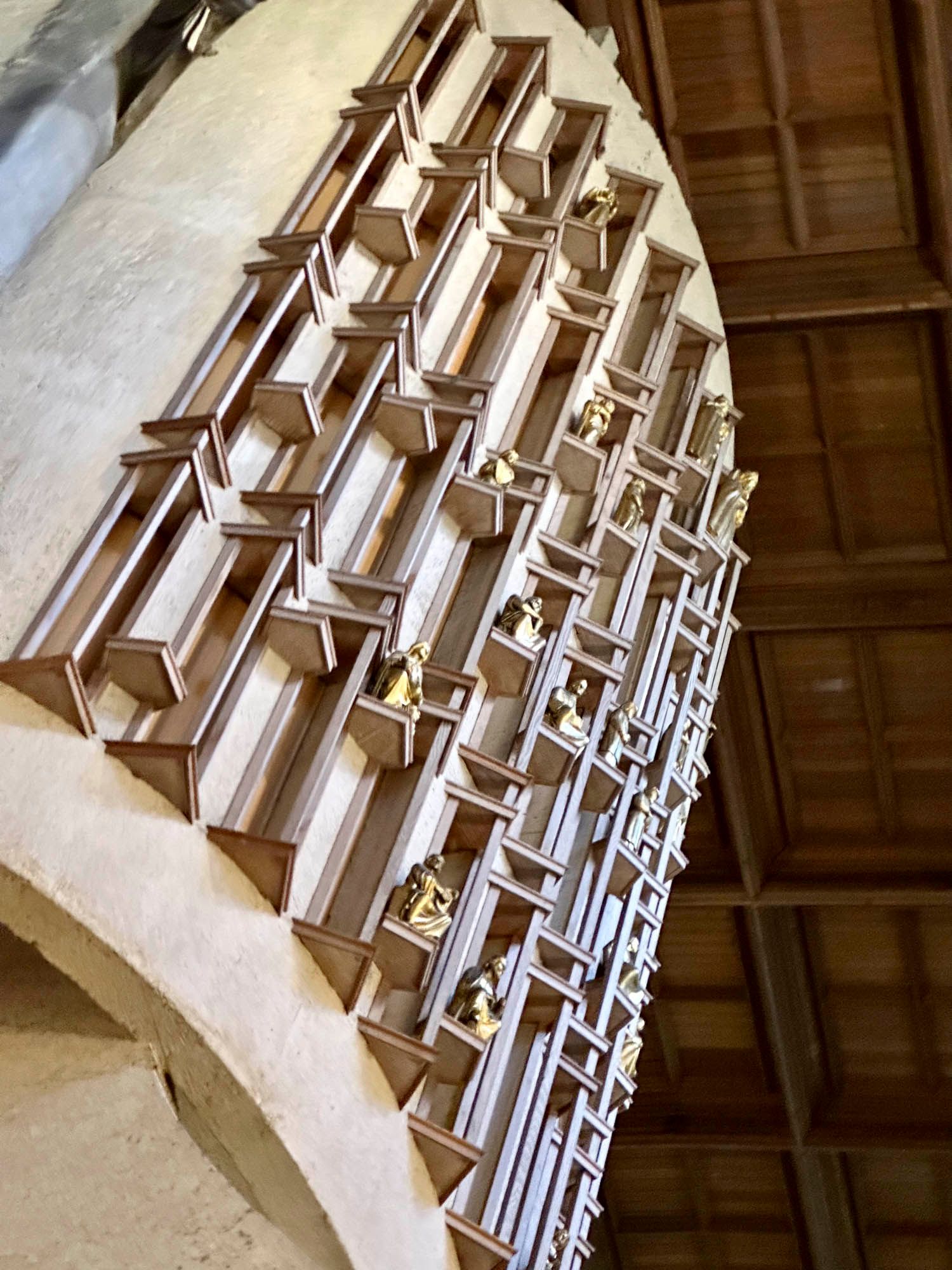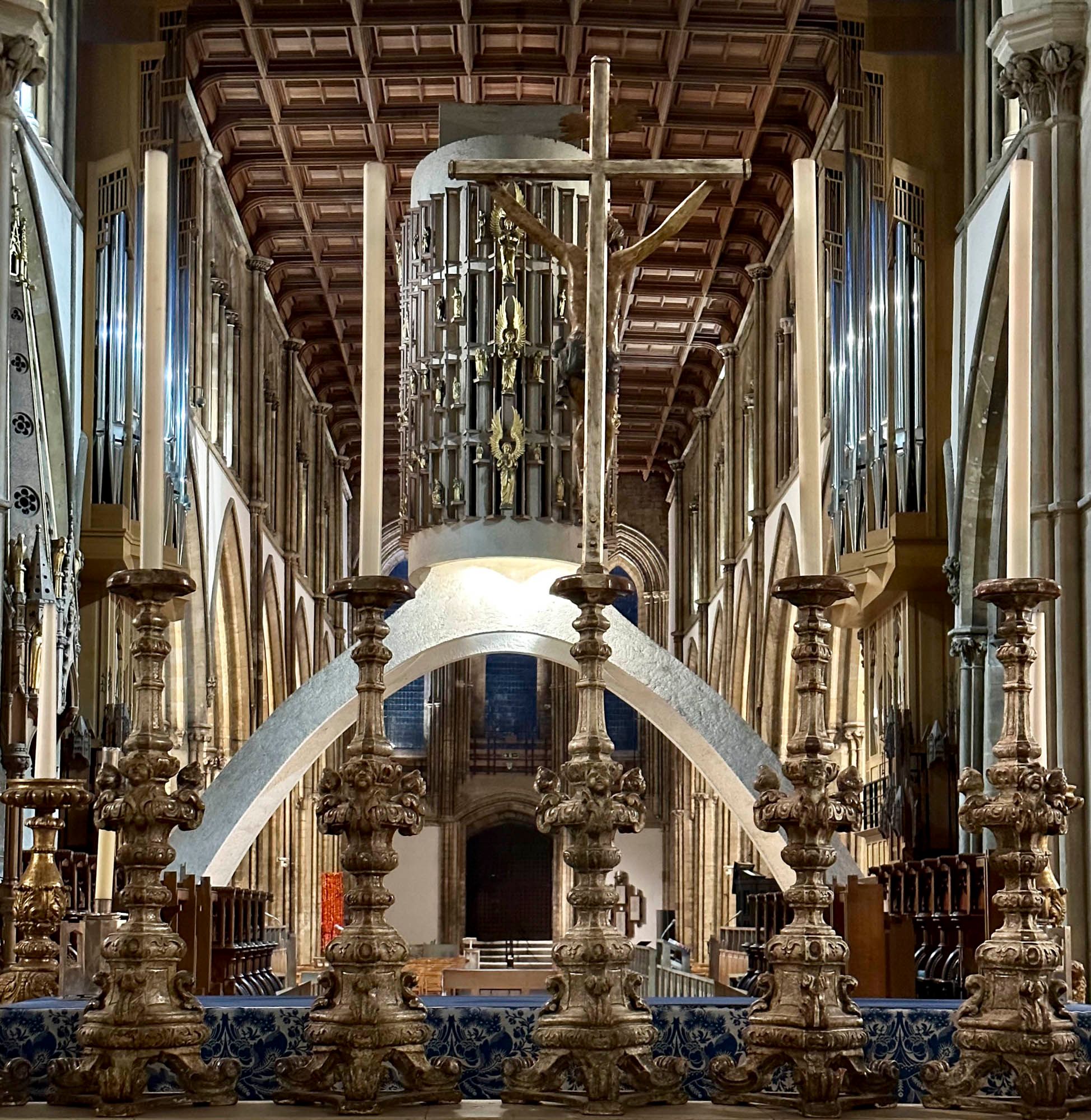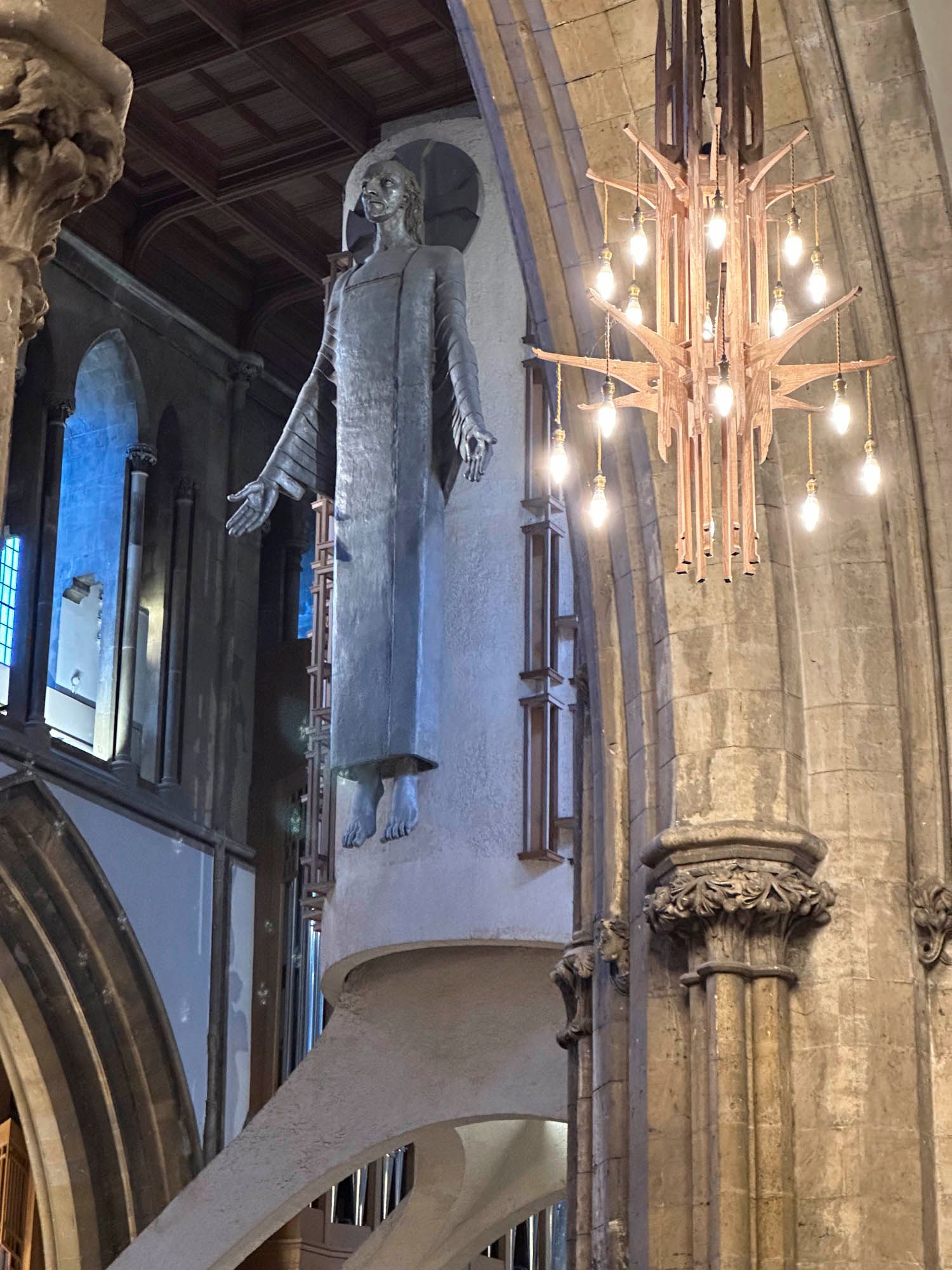 Below: A robin on the altar rail - designed by George Pace (the altar rail).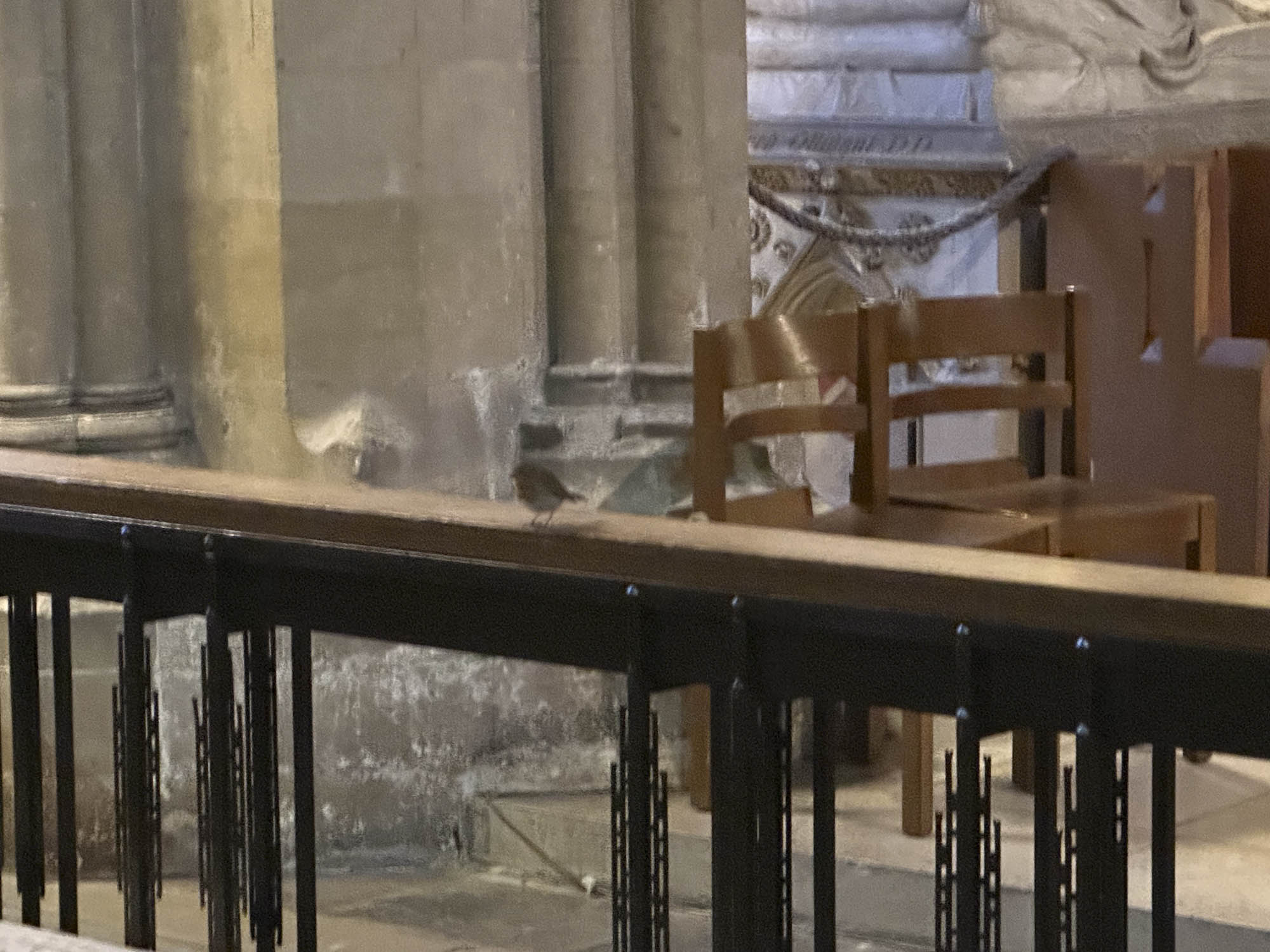 Below: Looking through the Norman arch into the Lady Chapel of 1280.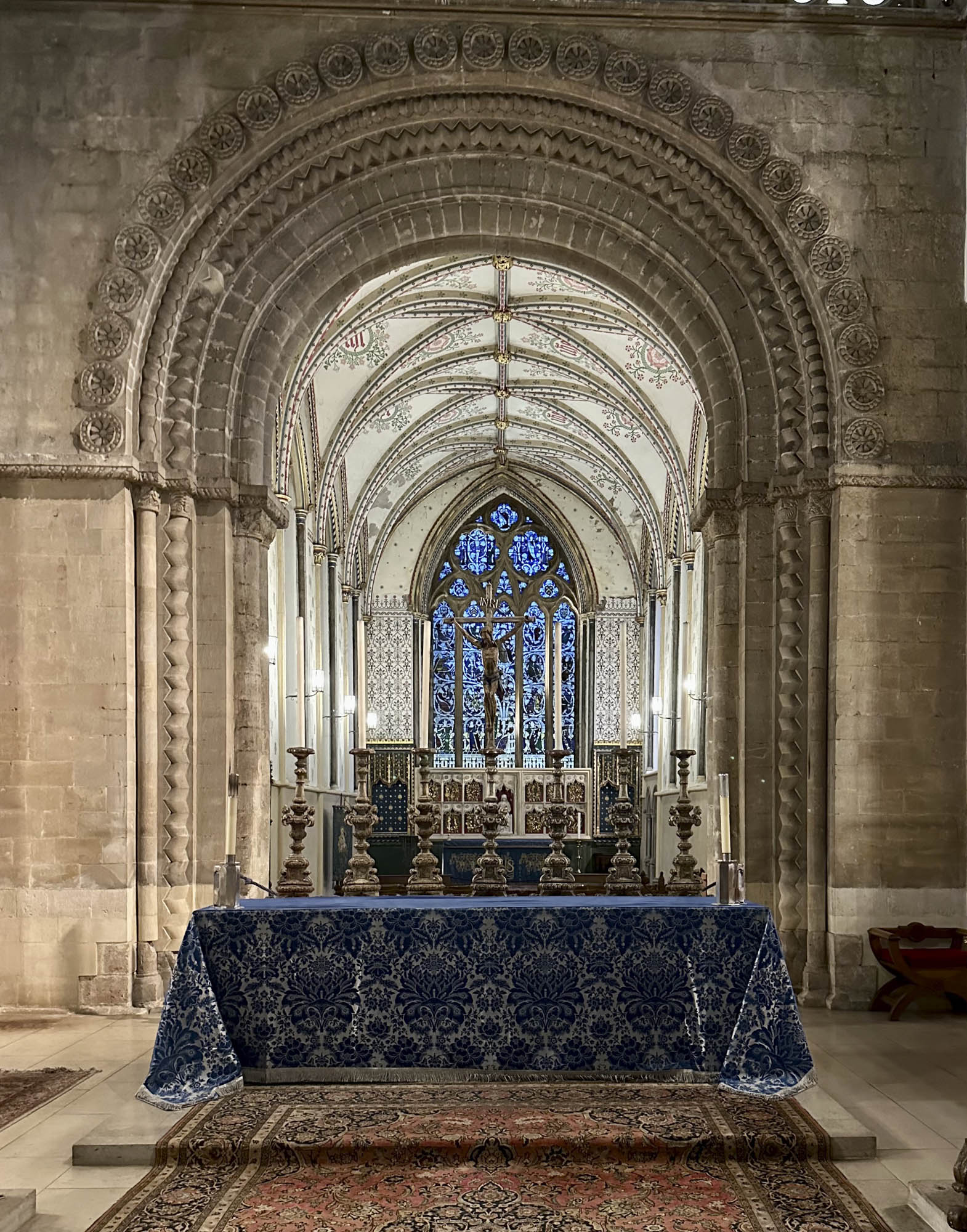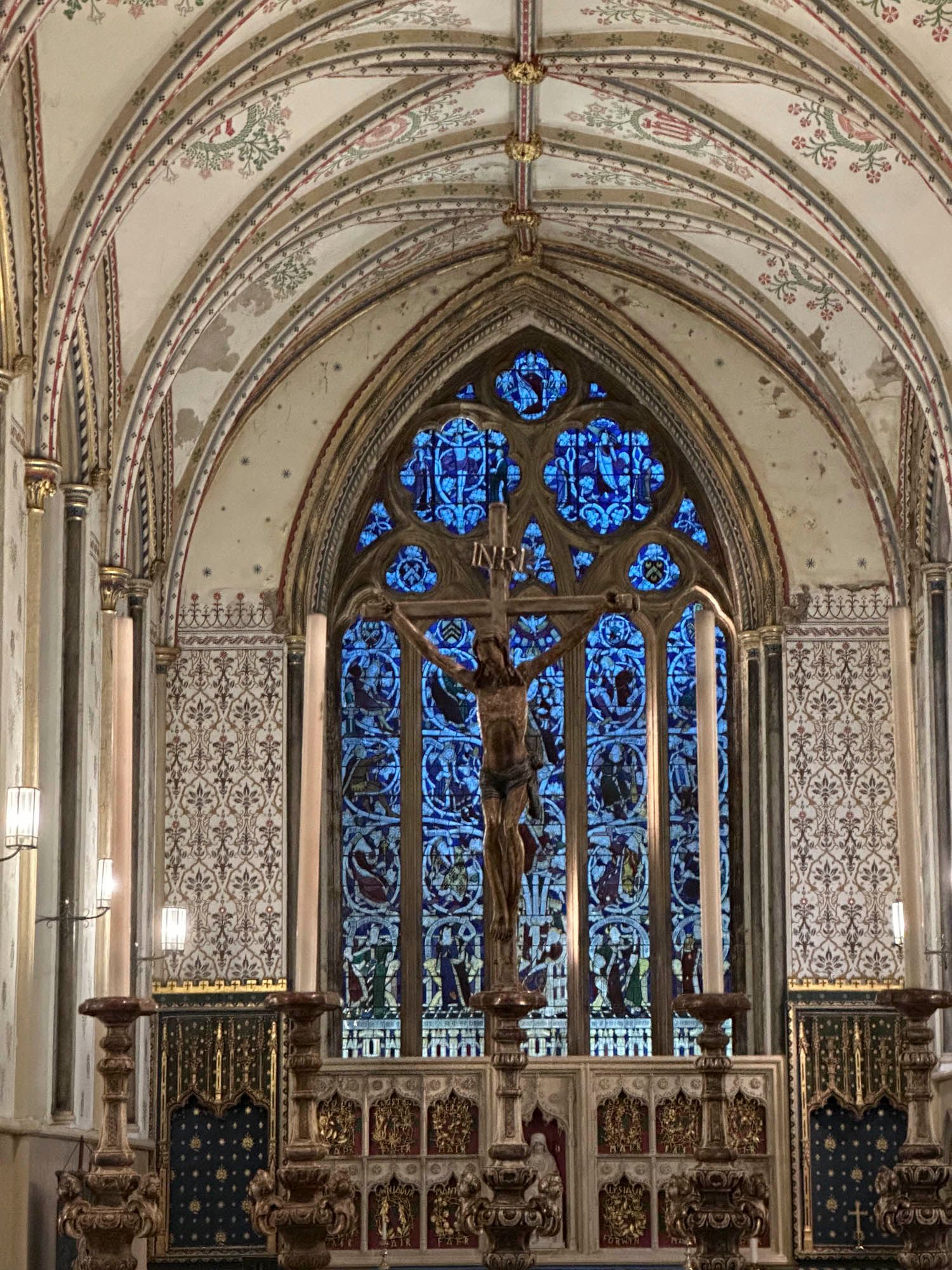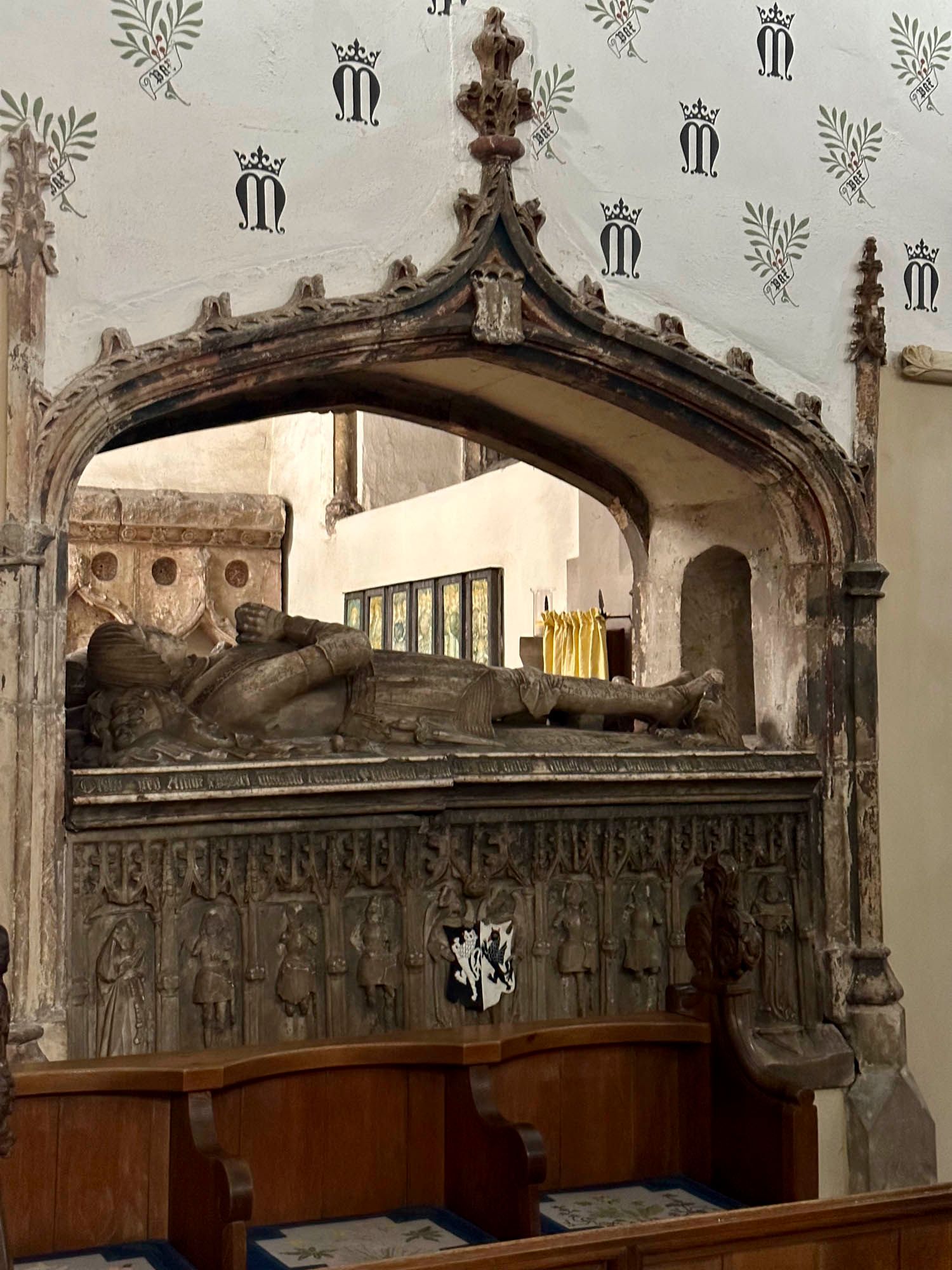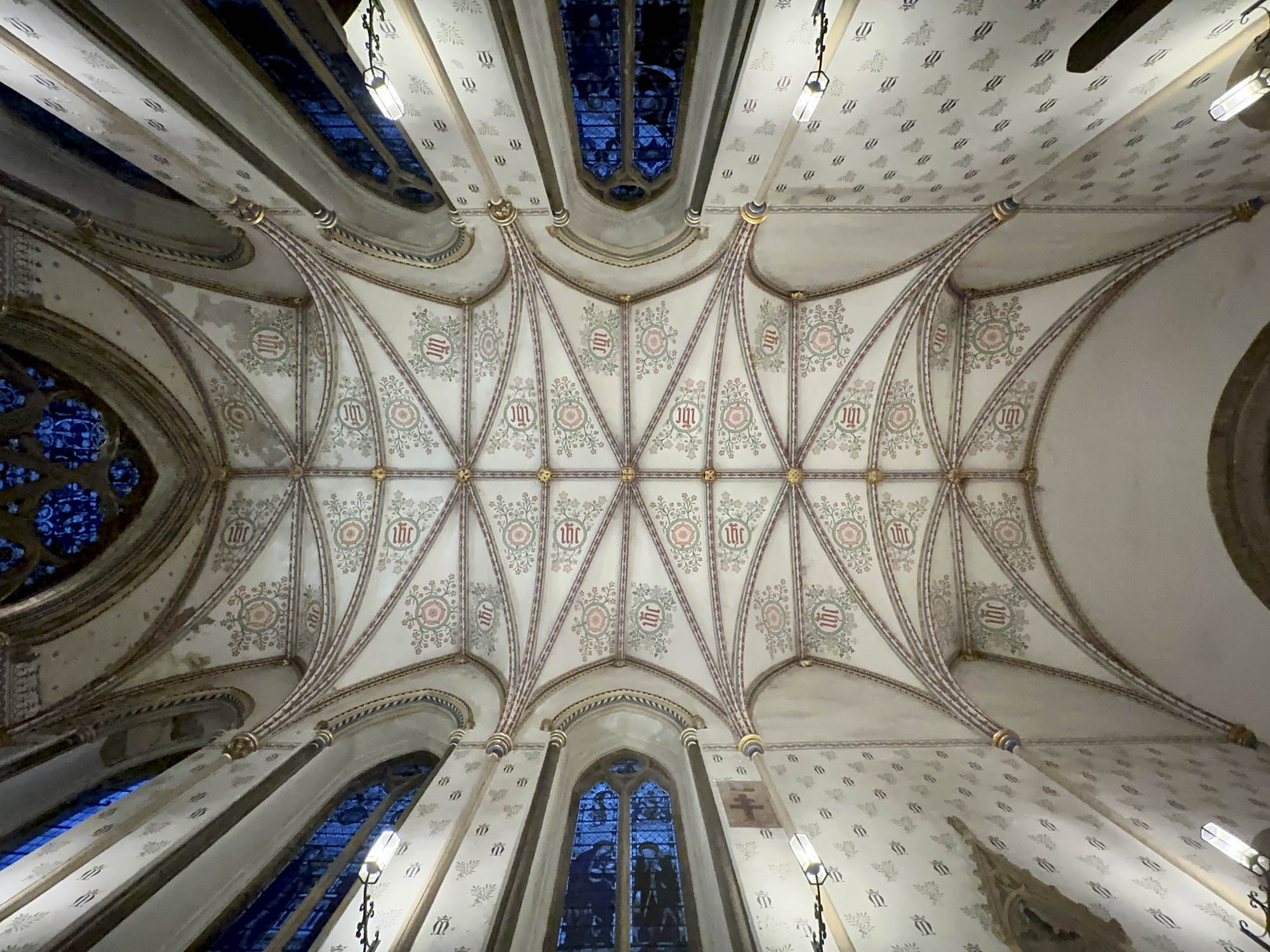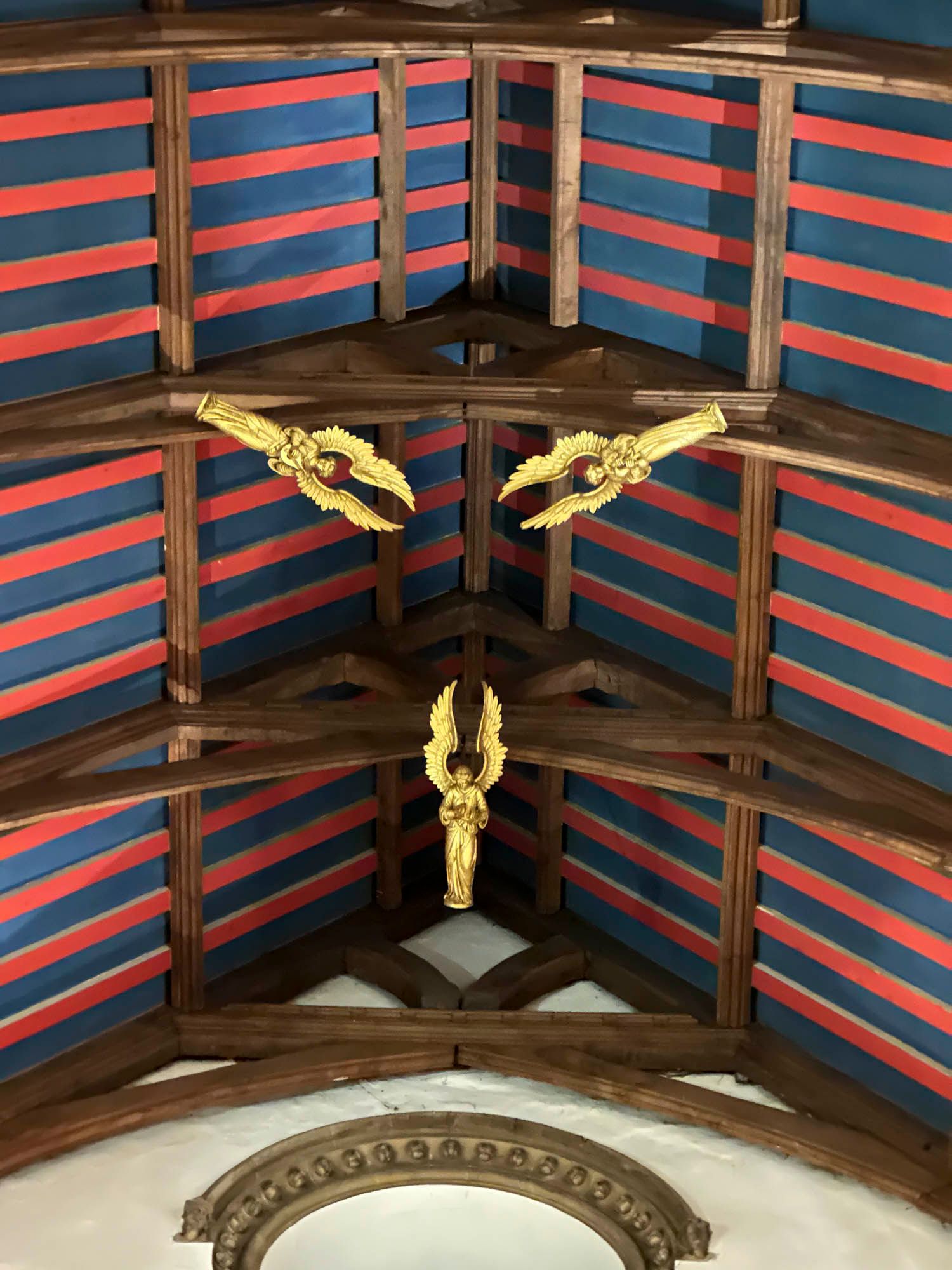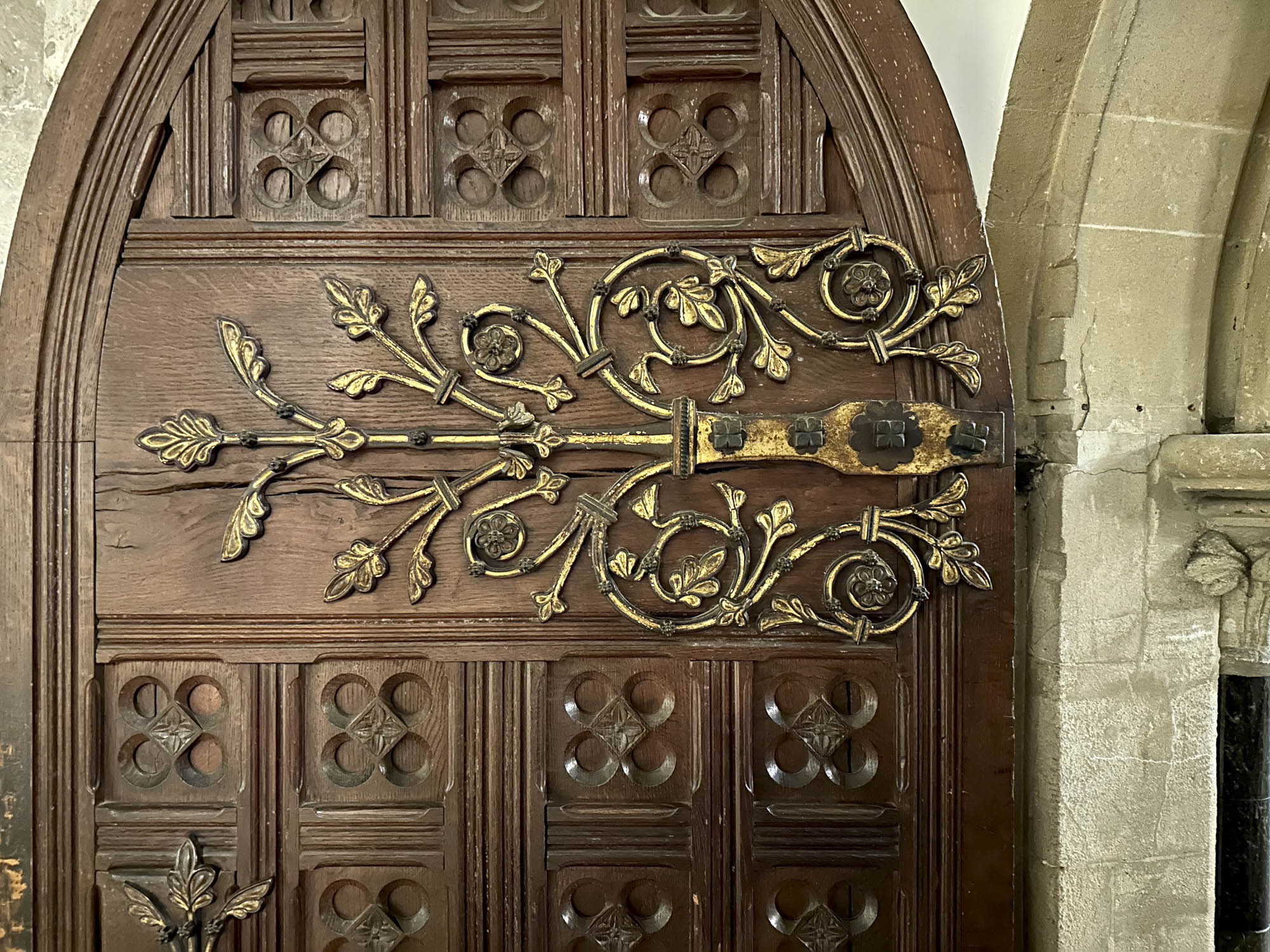 The Marshall Panel
The panel was part of bishop John Marshall's (not a relation) episcopal throne and is a remarkable survival of medieval painting from the C15th. It depicts the Assumption of the Virgin Mary into Heaven on her death.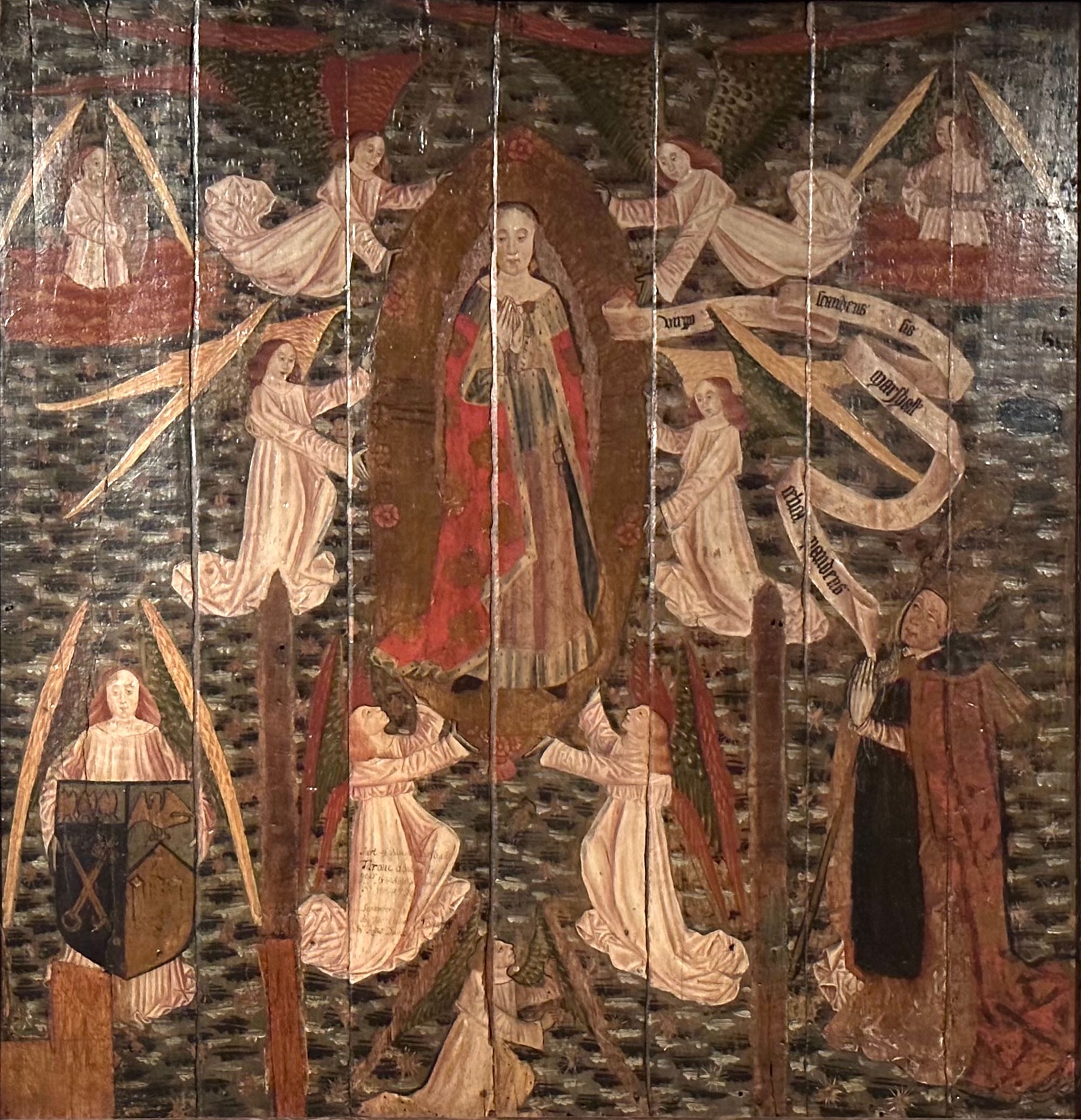 The ribboned latin inscription makes a slant reference to the bishop, it says: ' O Virgin who ascends in state, open to Marshall heaven's gate'.
Below: Came across this lovely chair - Bishop's Seat? Cathedra? I was struck by the finials, of which, the hare was a portent for my visit to St. Melangell.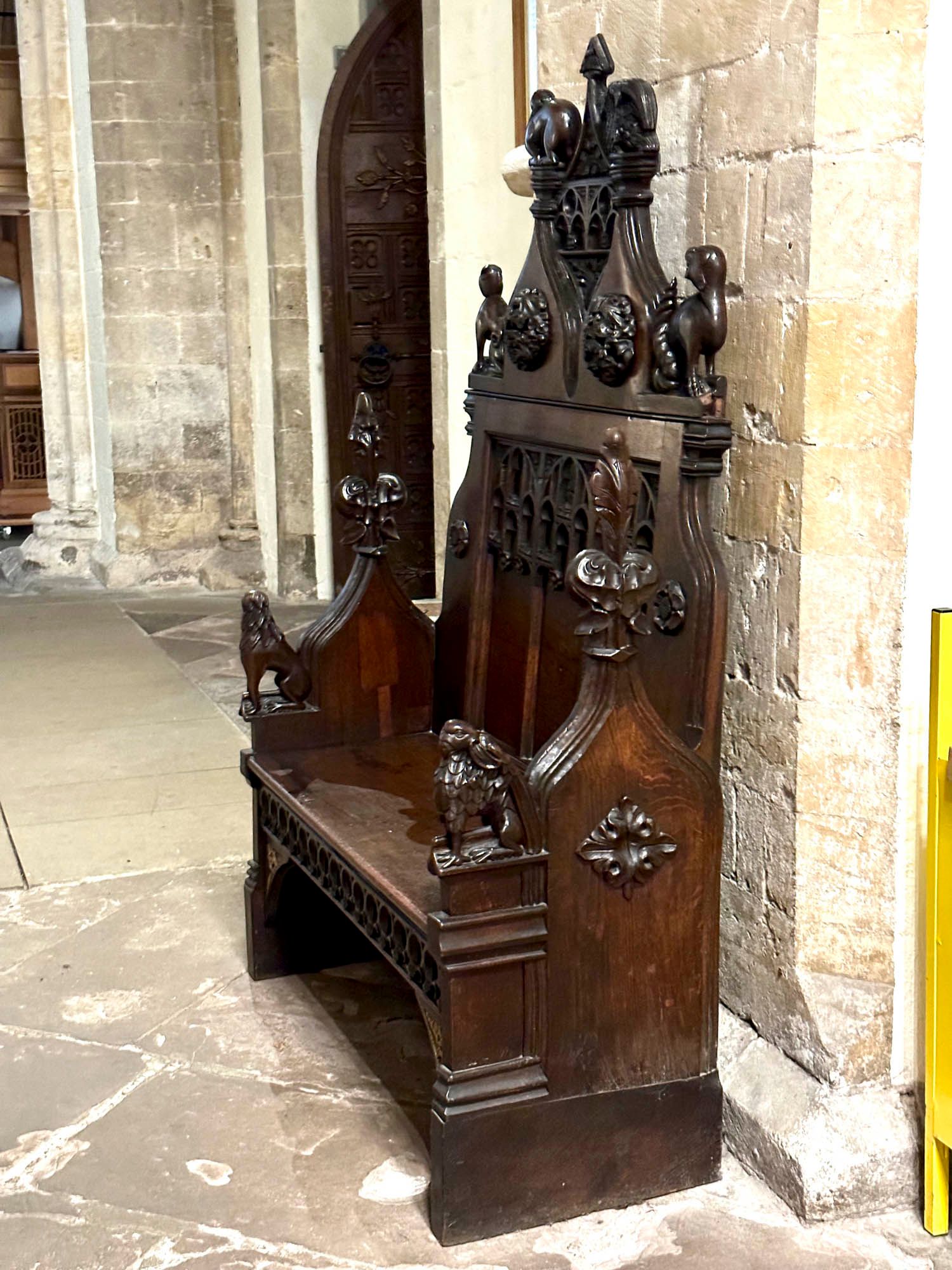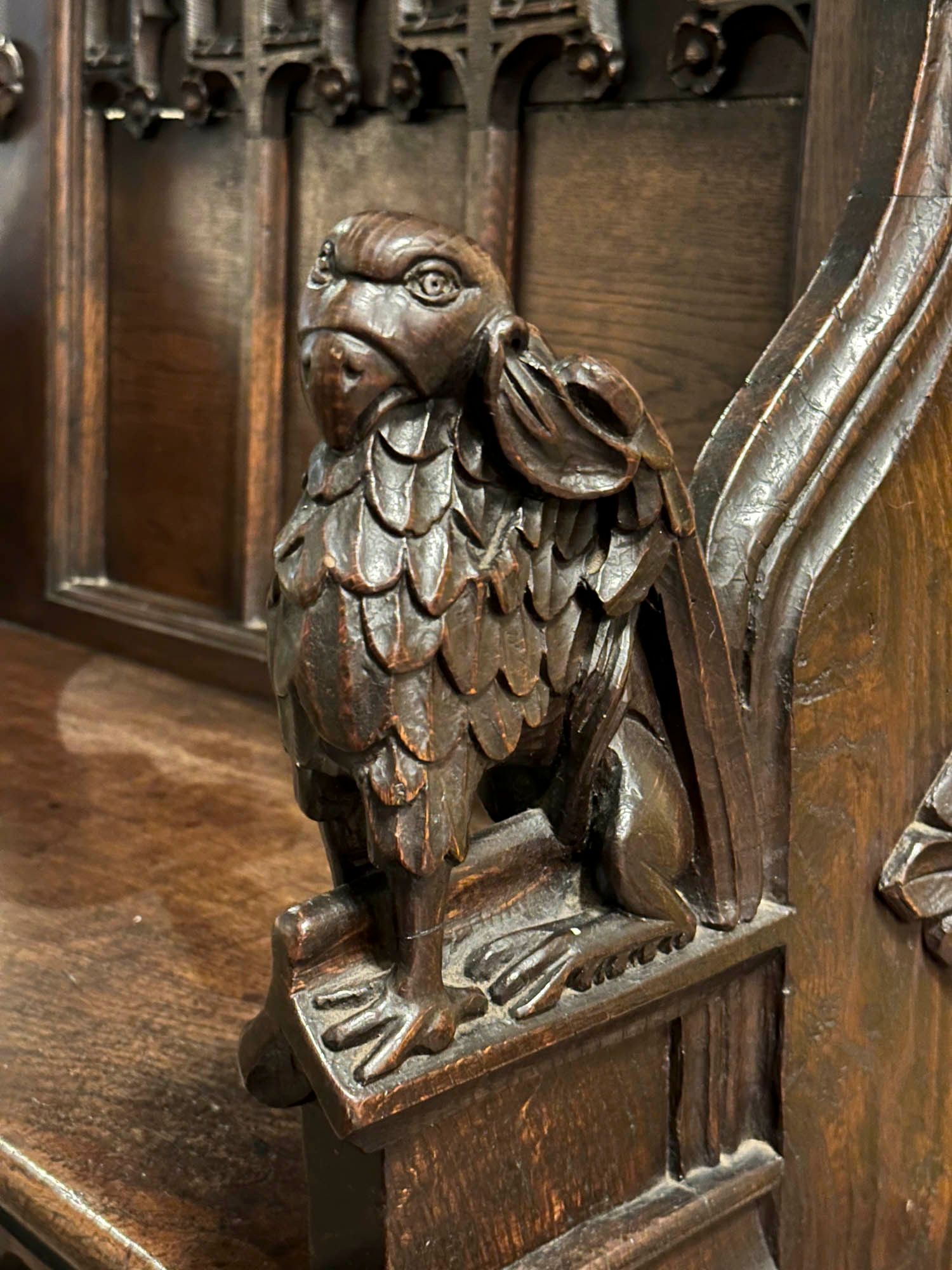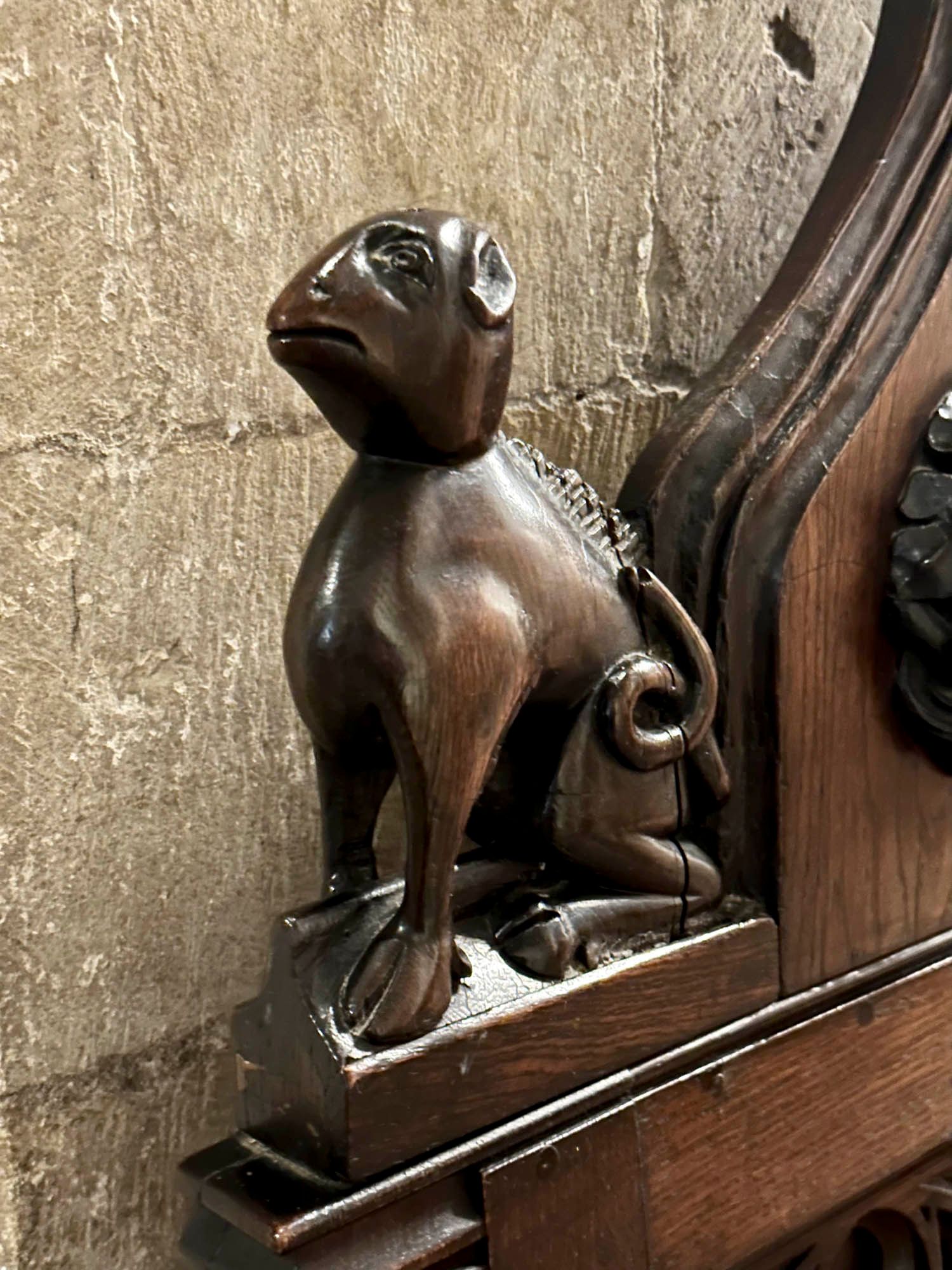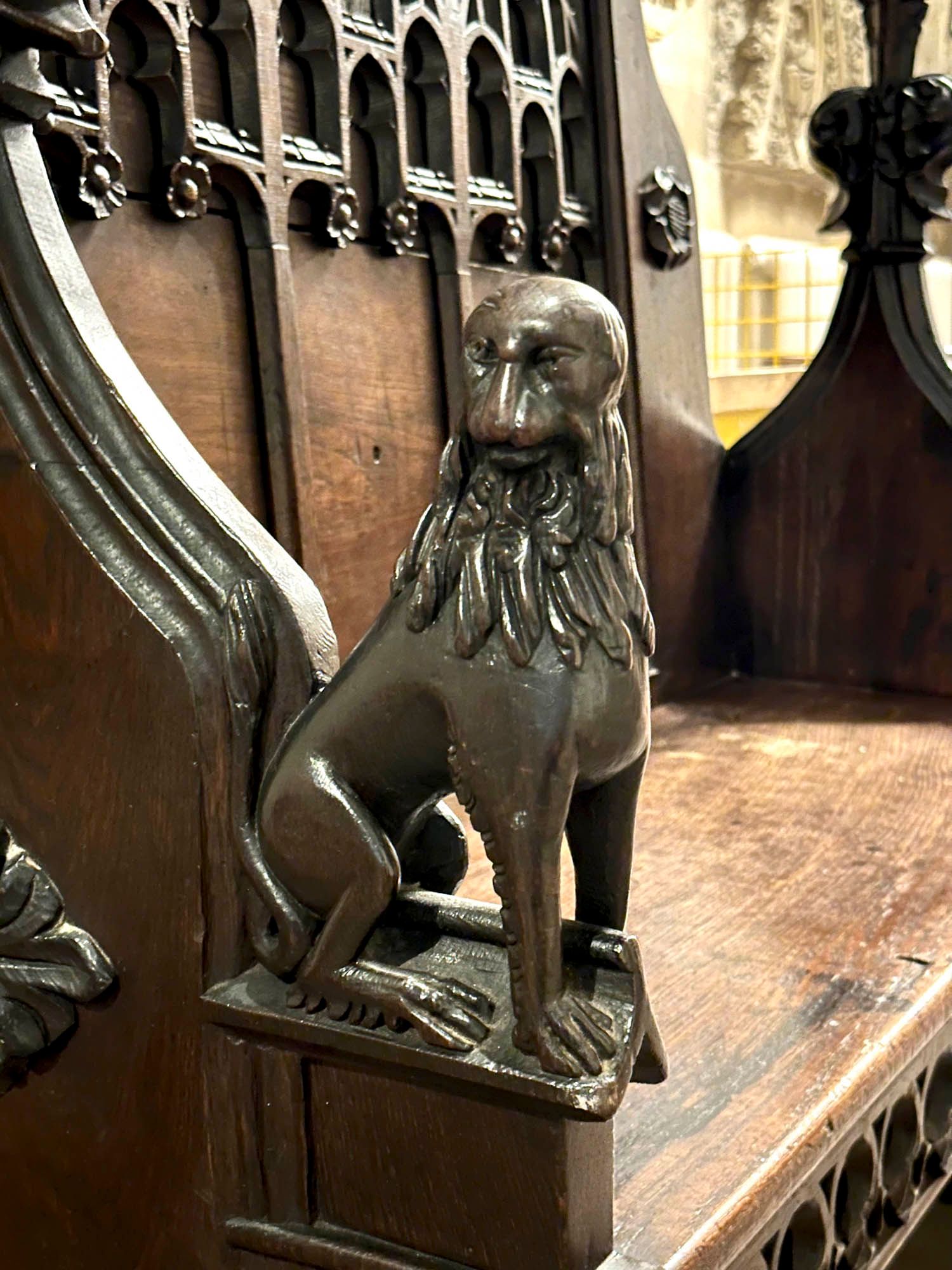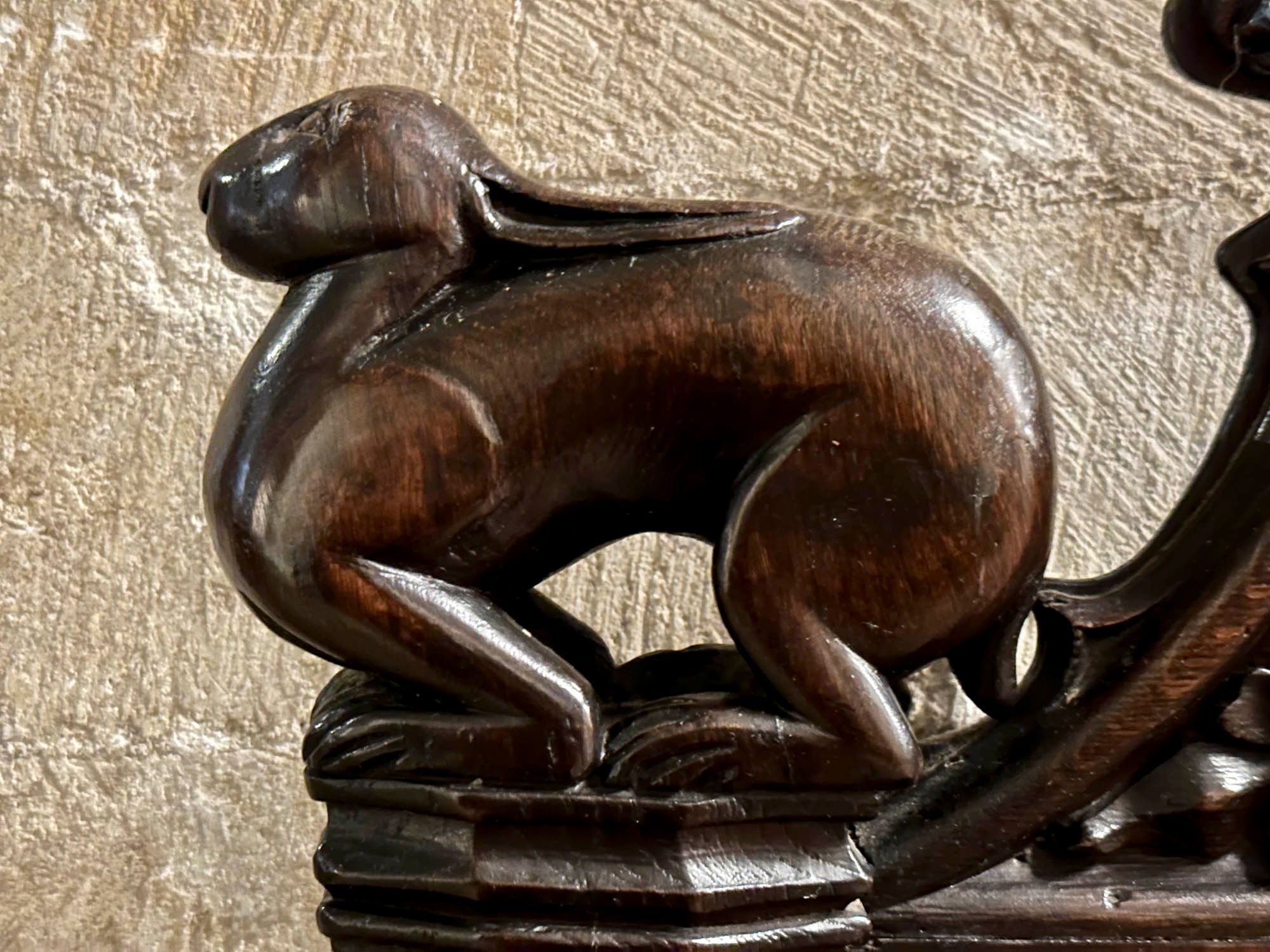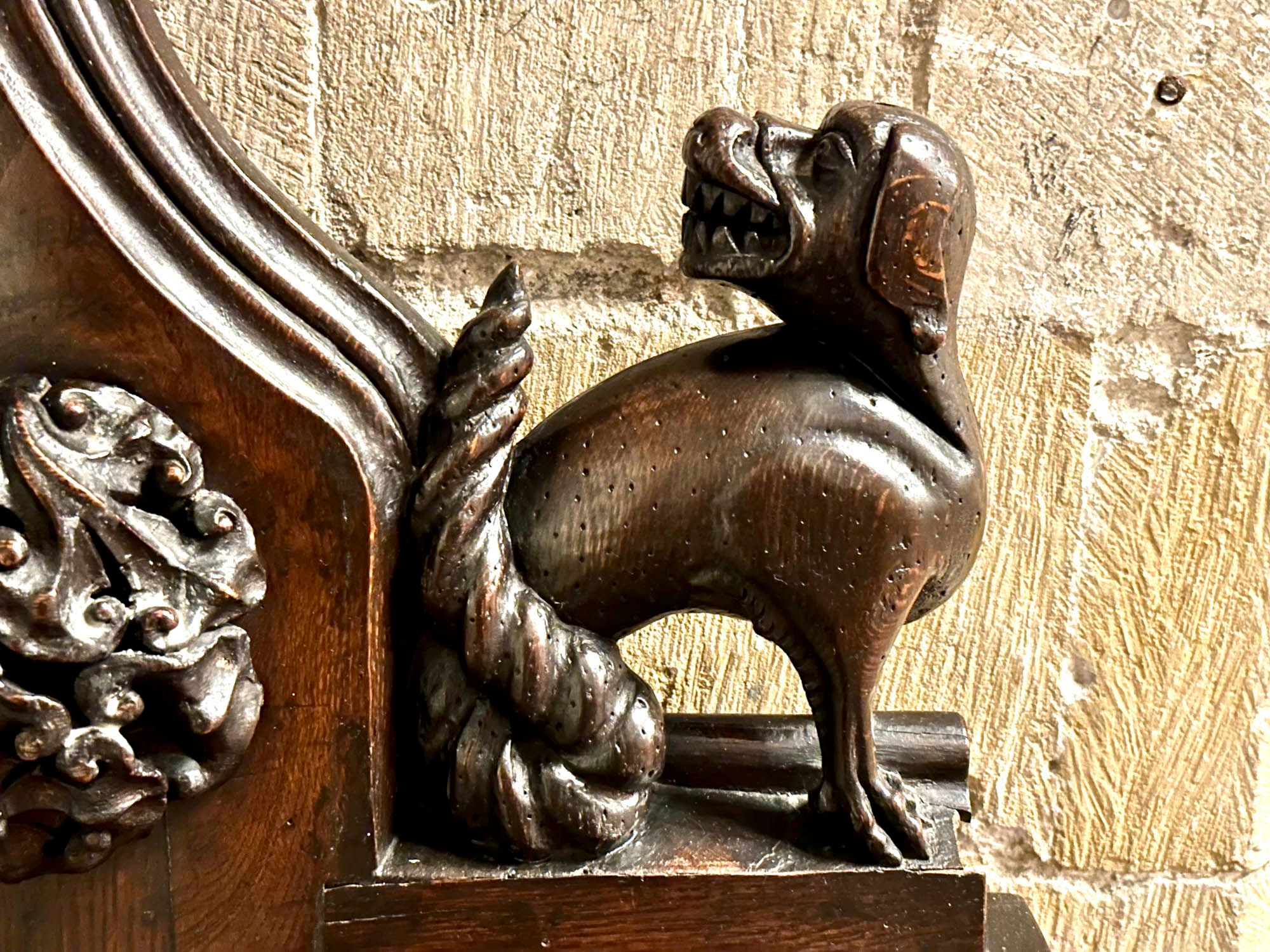 George Pace
Pace was such a remarkable architect (one comes along like Pace every hundred years or so). For me he was an architect who managed to create something new out of the past that didn't jar with it.
When I was starting out as a photographer of architecture, I had an insatiable desire to study the architectural styles. I read that Gothic was sectioned off into periods called the Early English, Decorated and Perpendicular. Each style was extruded from the other. Gothic reached its zenith in the C15th, and it wasn't until I came across George Pace's interpretation of the Gothic style, that I realised I was seeing a new strand of Gothic architecture. Quite remarkable. No other architect has managed to do that. From the C15th, the only stepping stone between Perpendicular Gothic and Pace Gothic was Strawberry Hill Gothik.
Pace is an inspiration for all creatives.
Take Pace's gates, screens and rails - they're obviously modern and so obviously Gothic - but not a pastiche Gothic.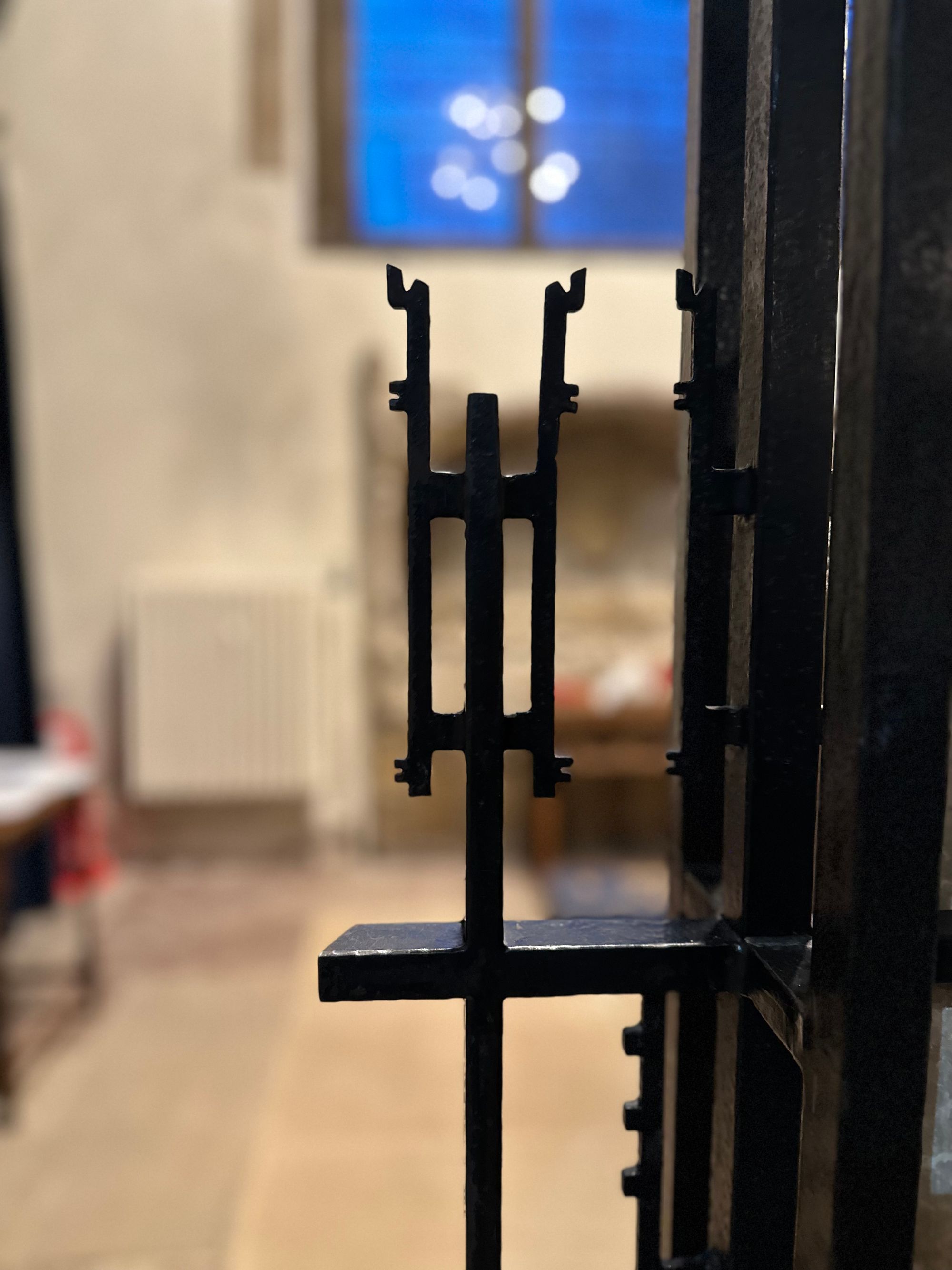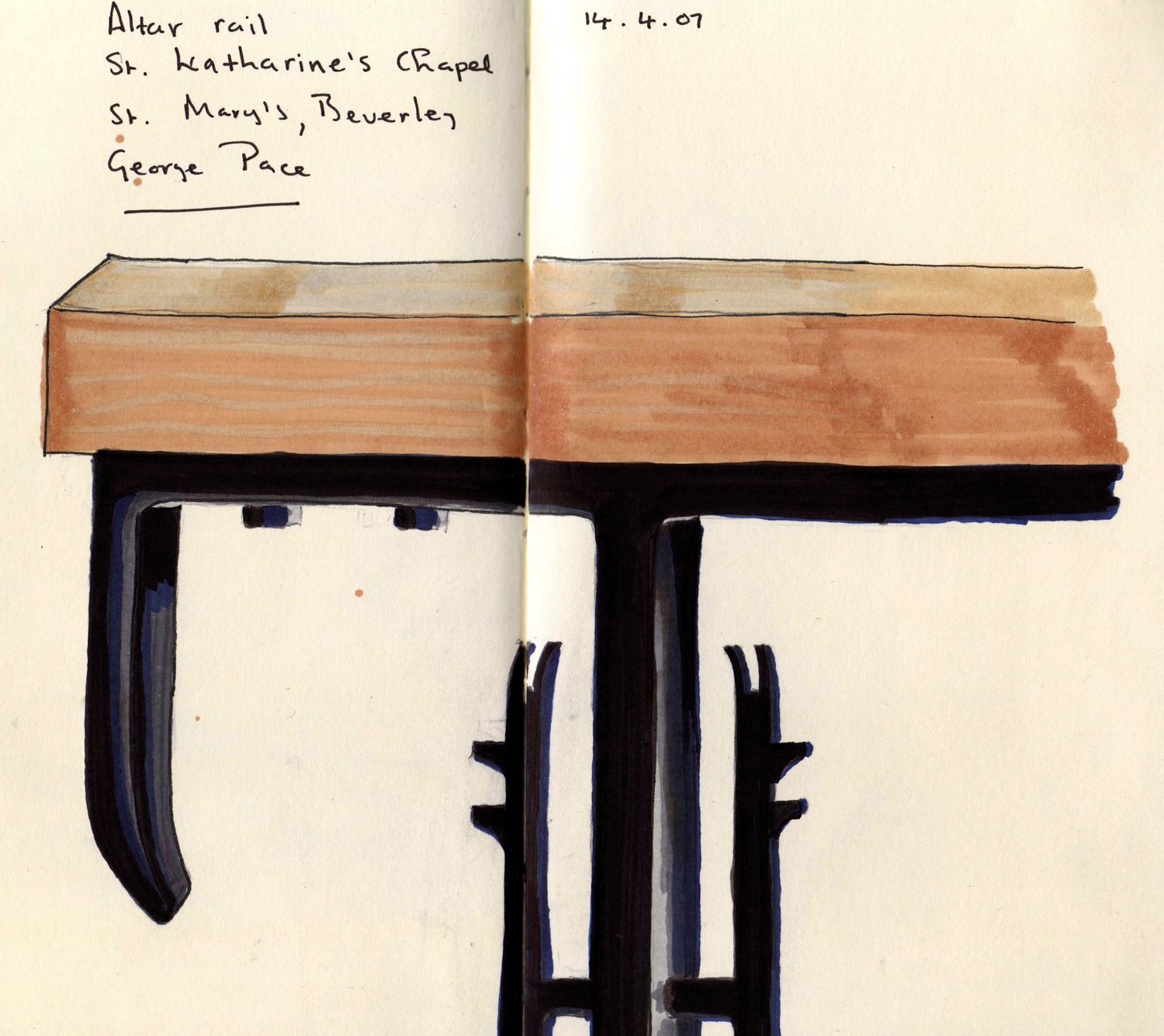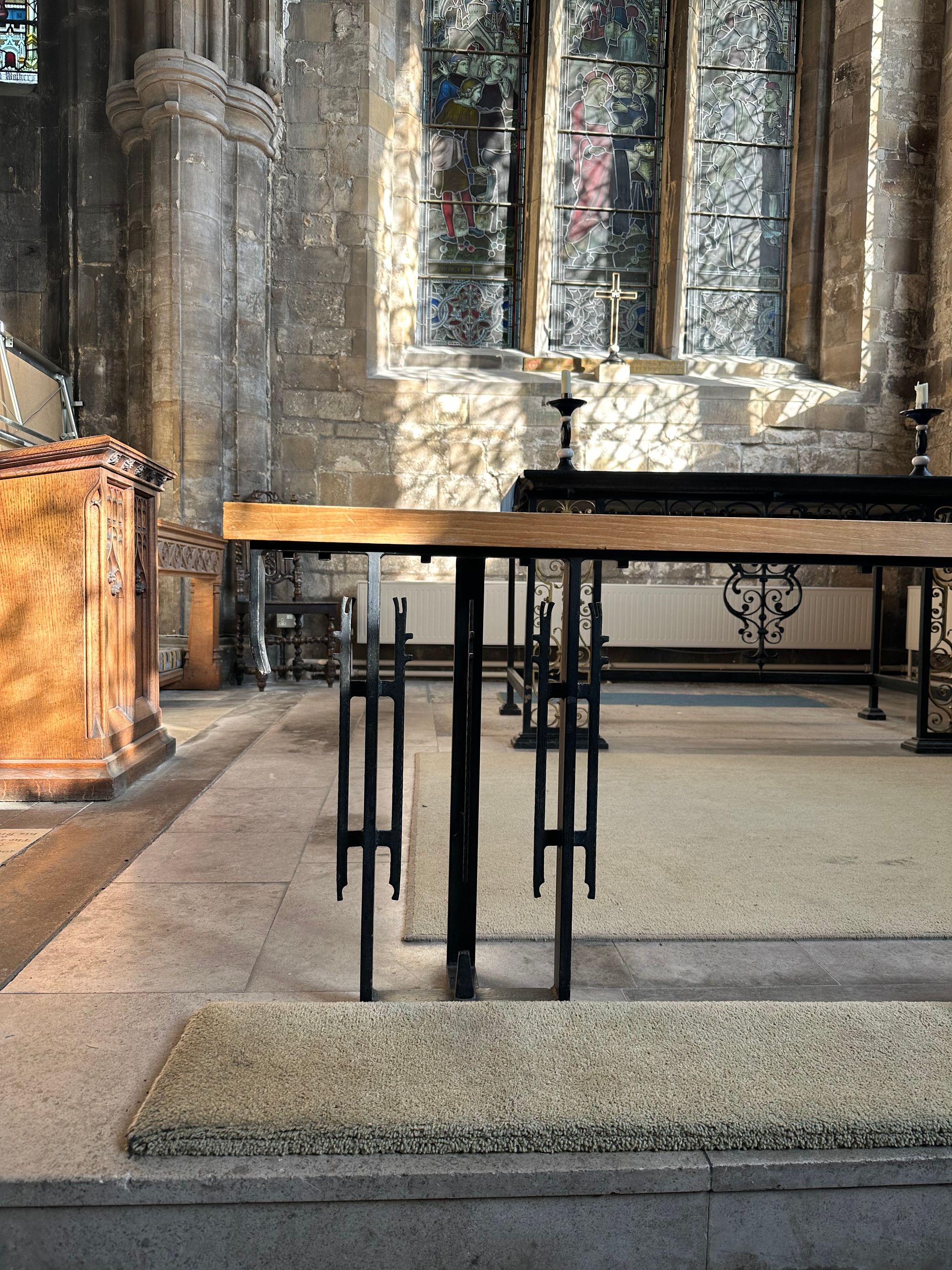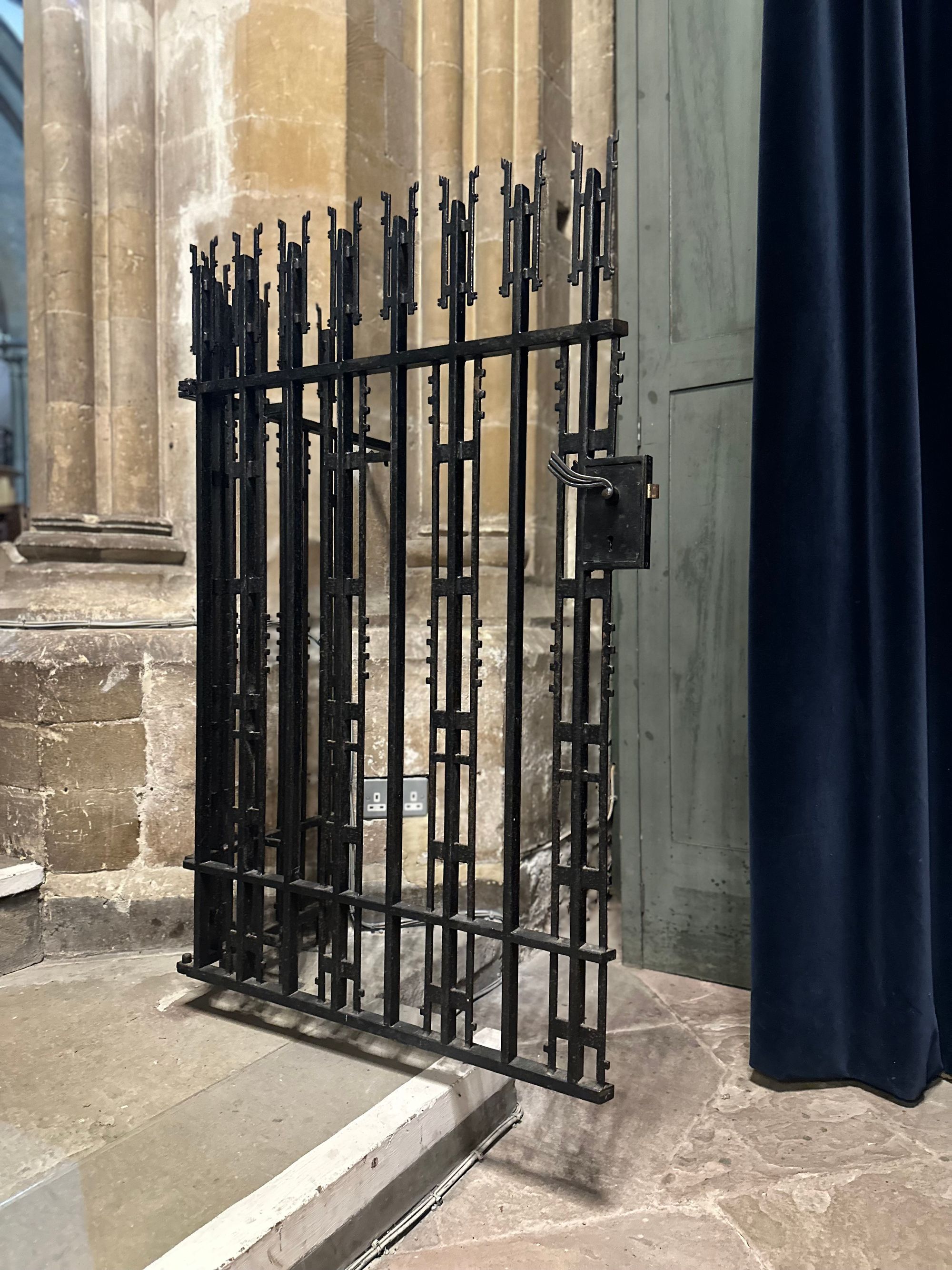 His lights are of such a modern design but pull off the trick of nodding to the Gothic style.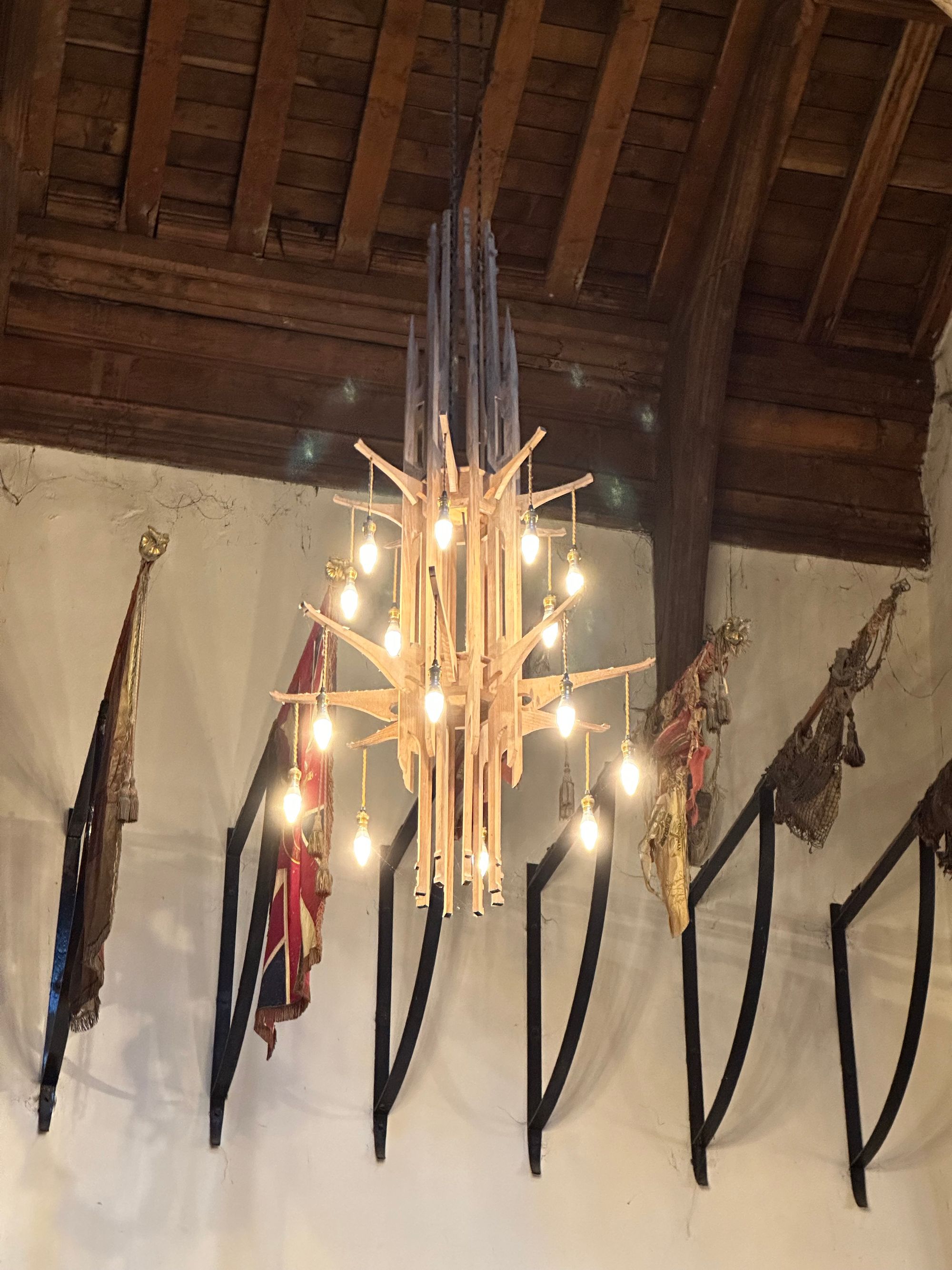 His St. David's Chapel in Llandaff is an example of a style that incorporates the Arts and Crafts philosophy of total design. Pace designed the building, the furniture and the typography. All in his new Gothic style.
St. David's Chapel.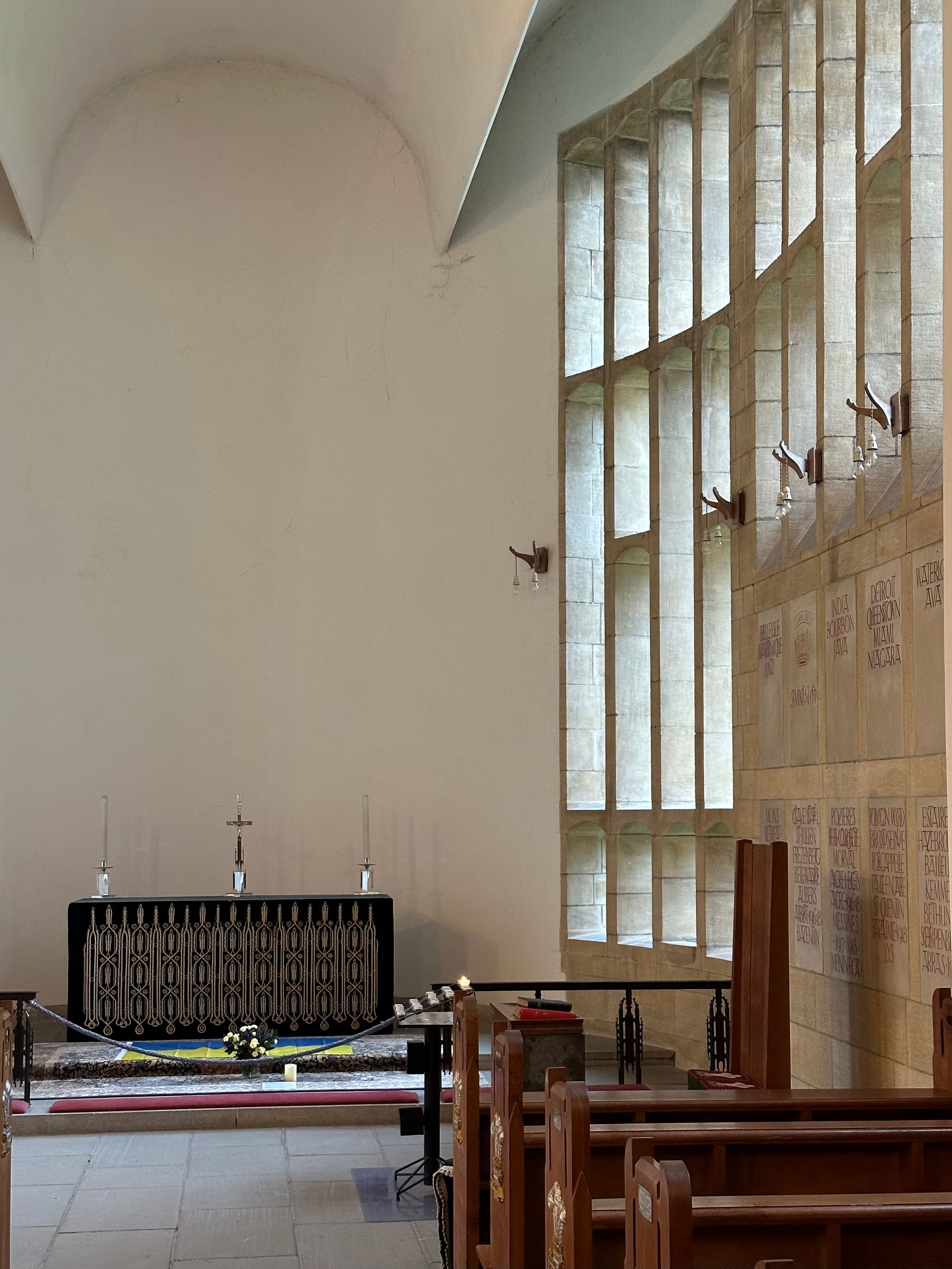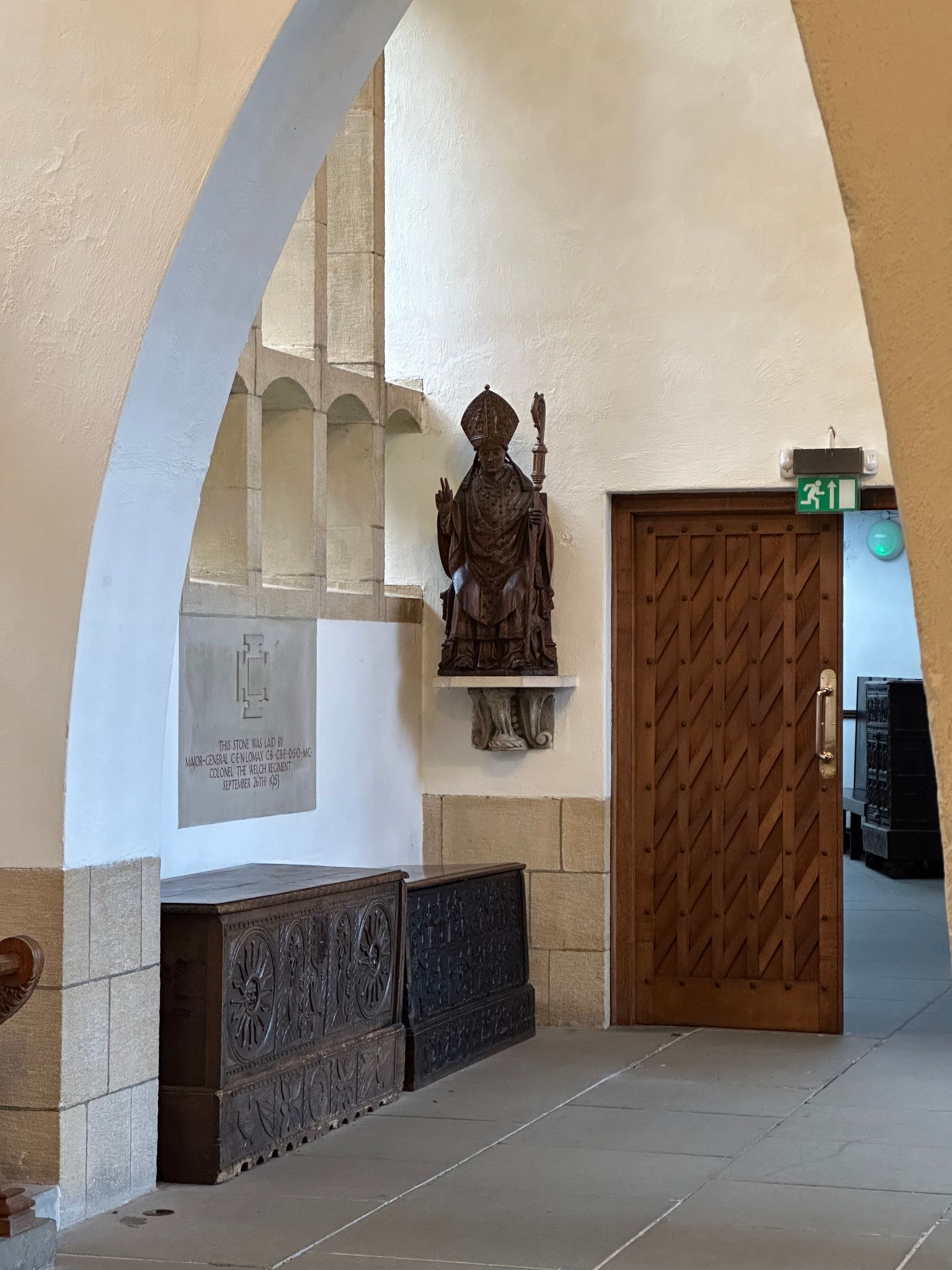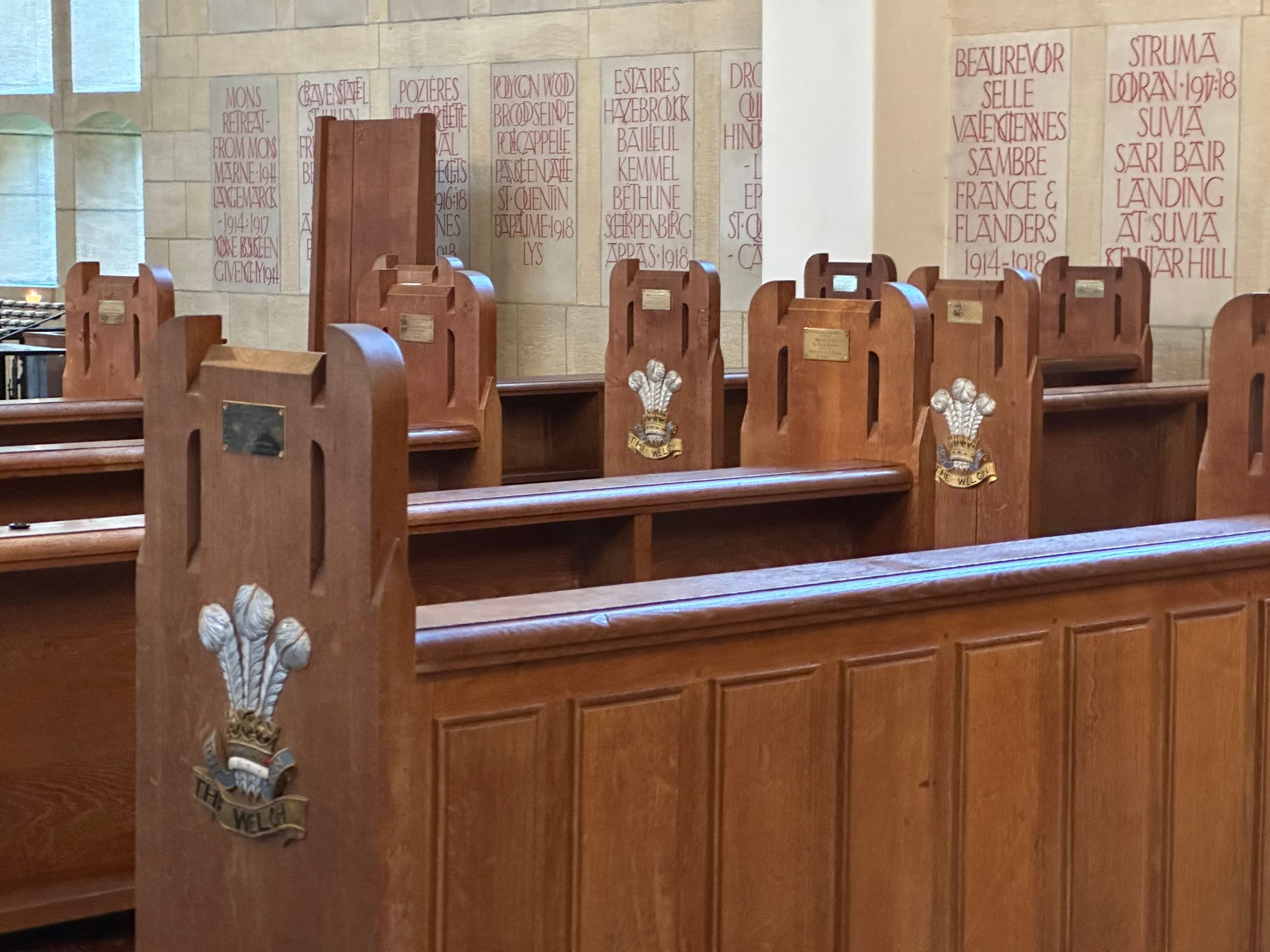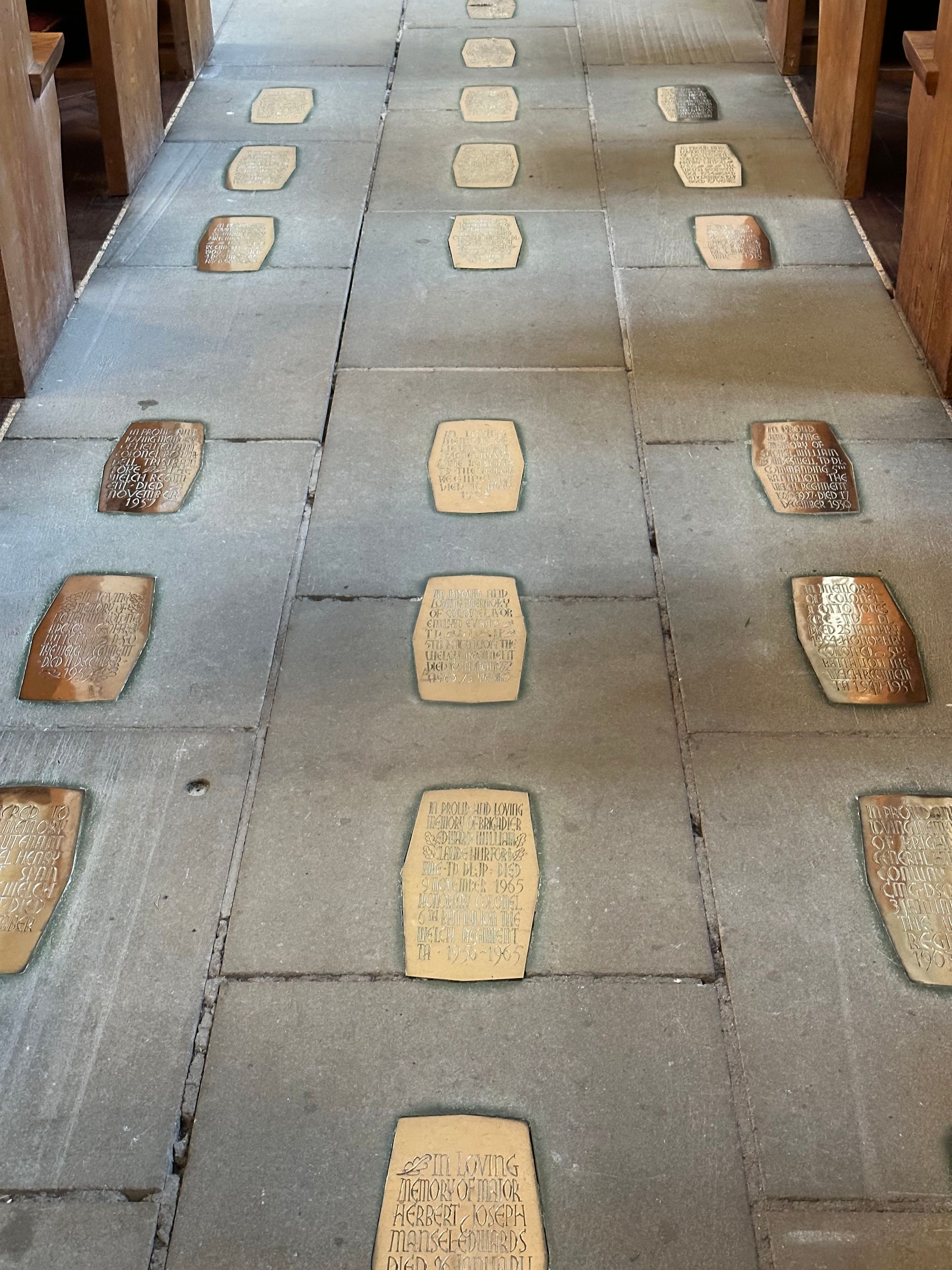 Typography
Pace developed his own typography.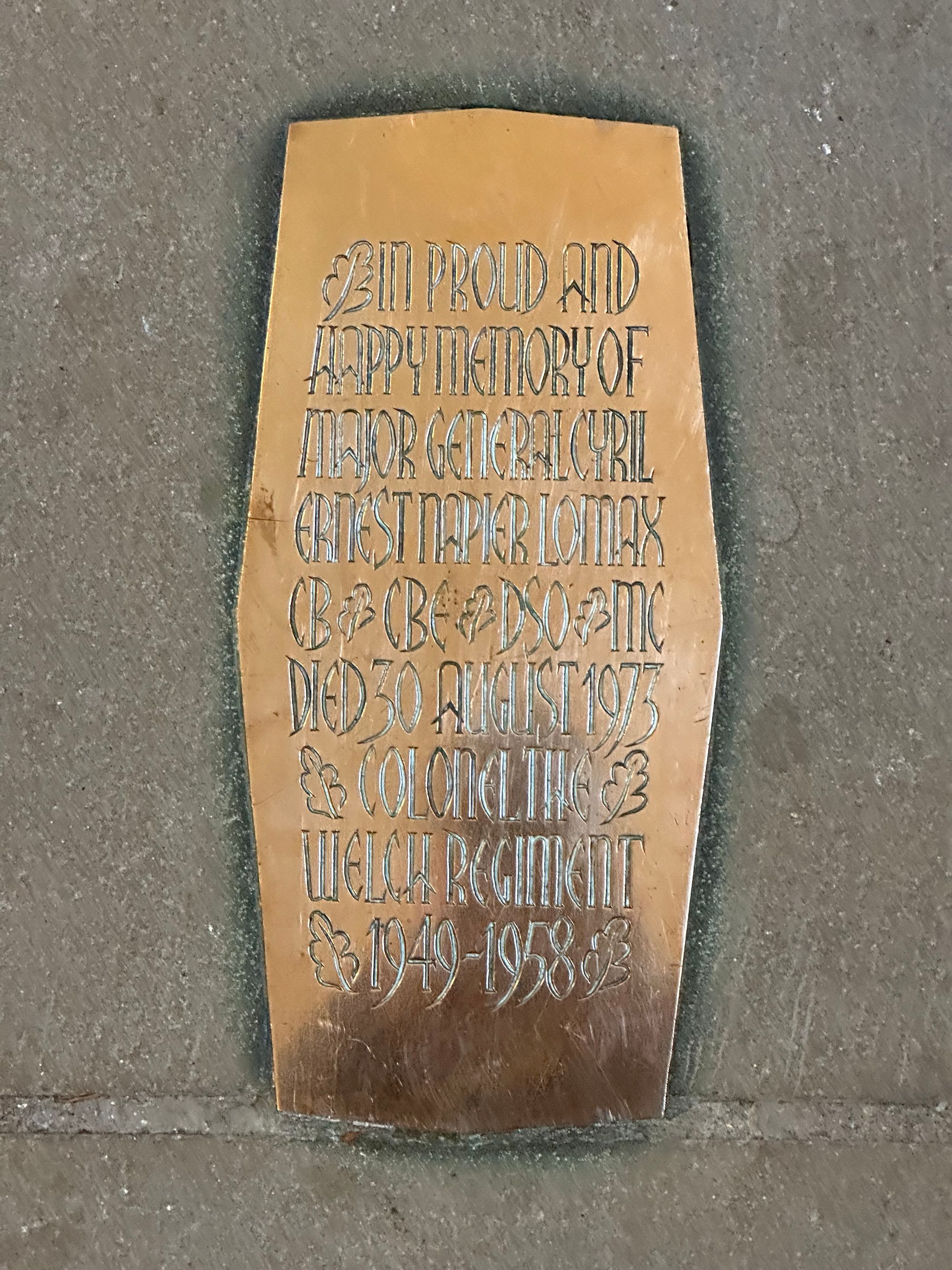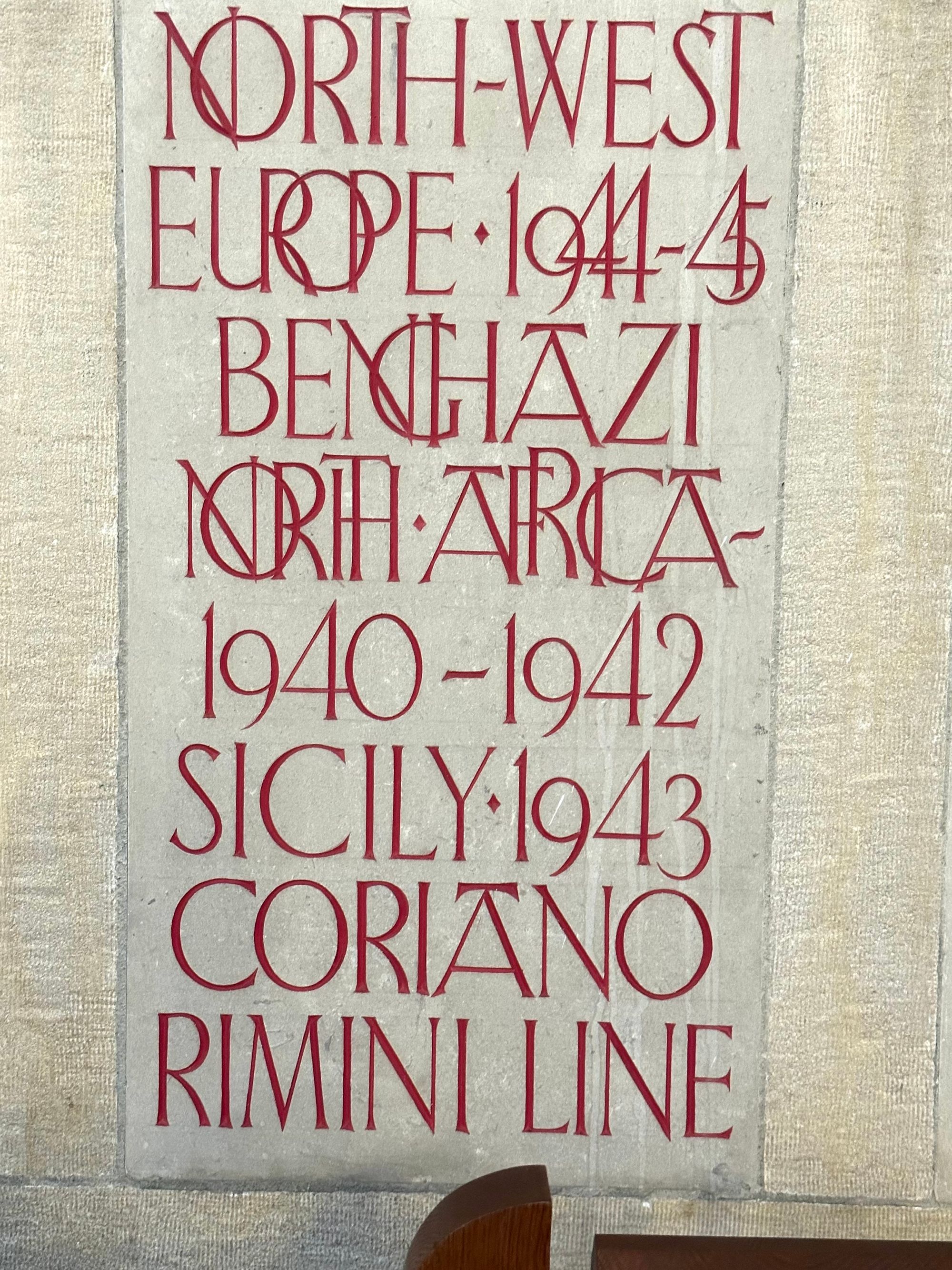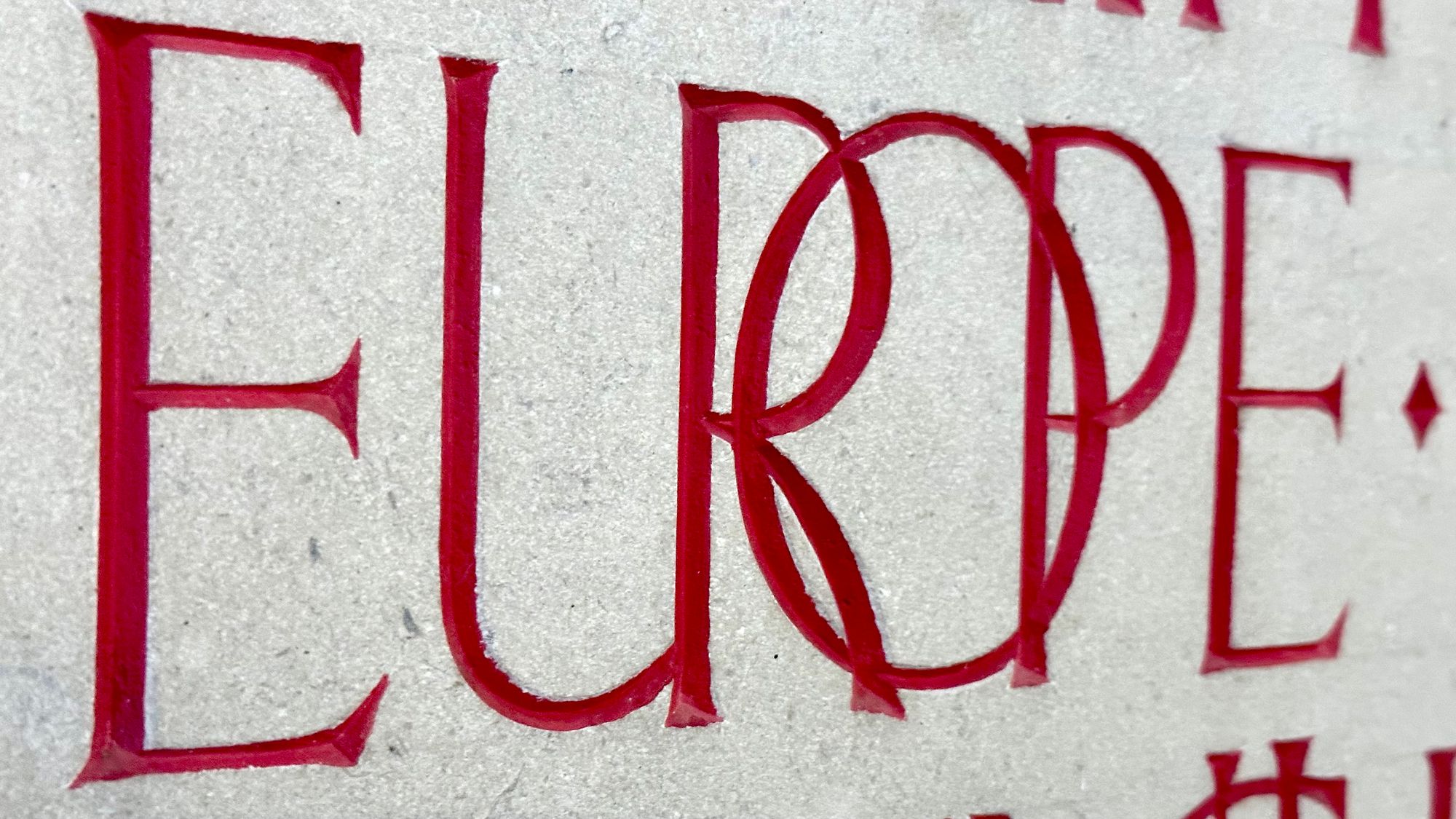 Below: Recognise the style here from St. David's Chapel?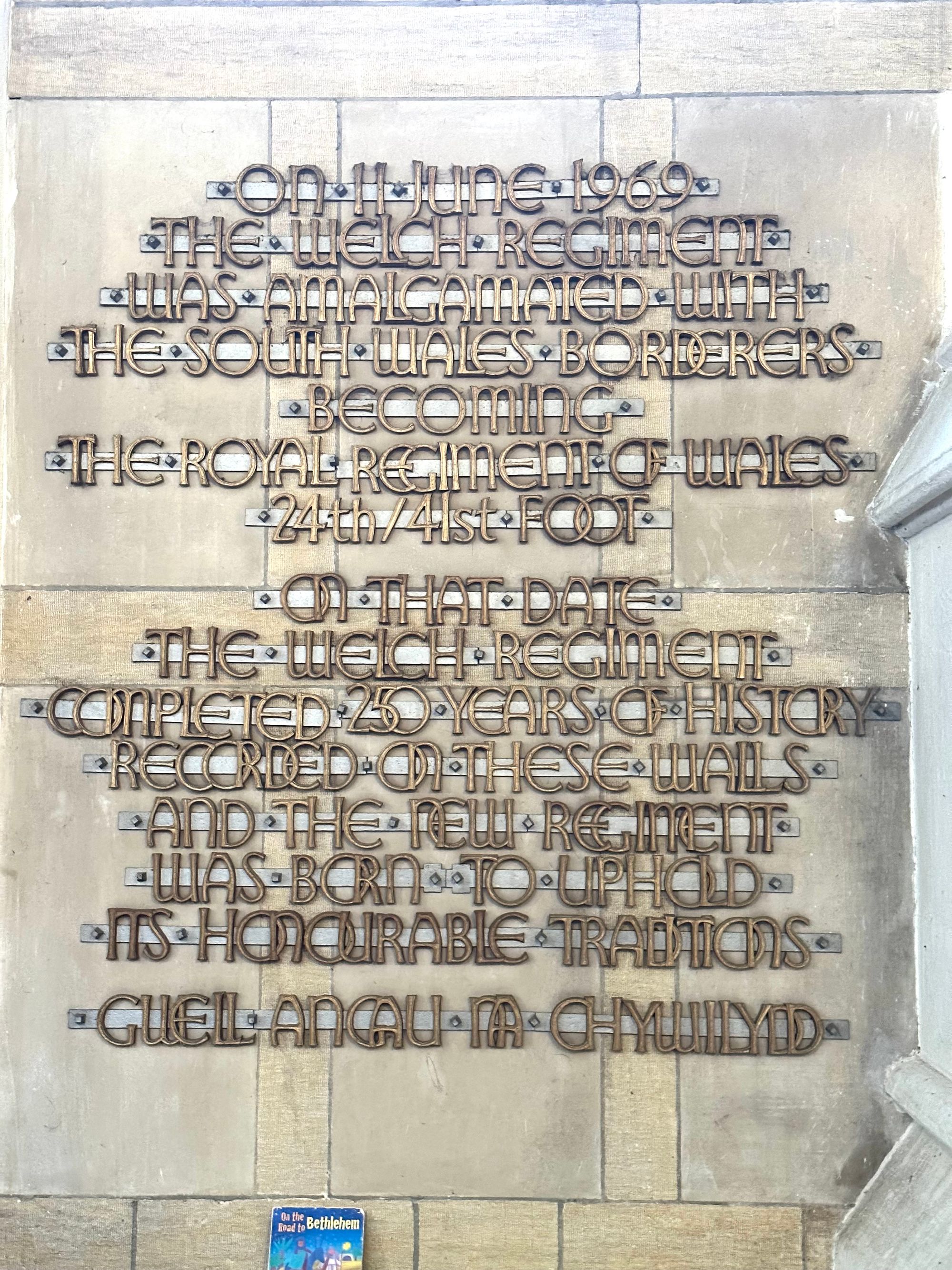 Here it is at Bede's resting place at Durham Cathedral. Designed by Pace - and made by Frank Roper.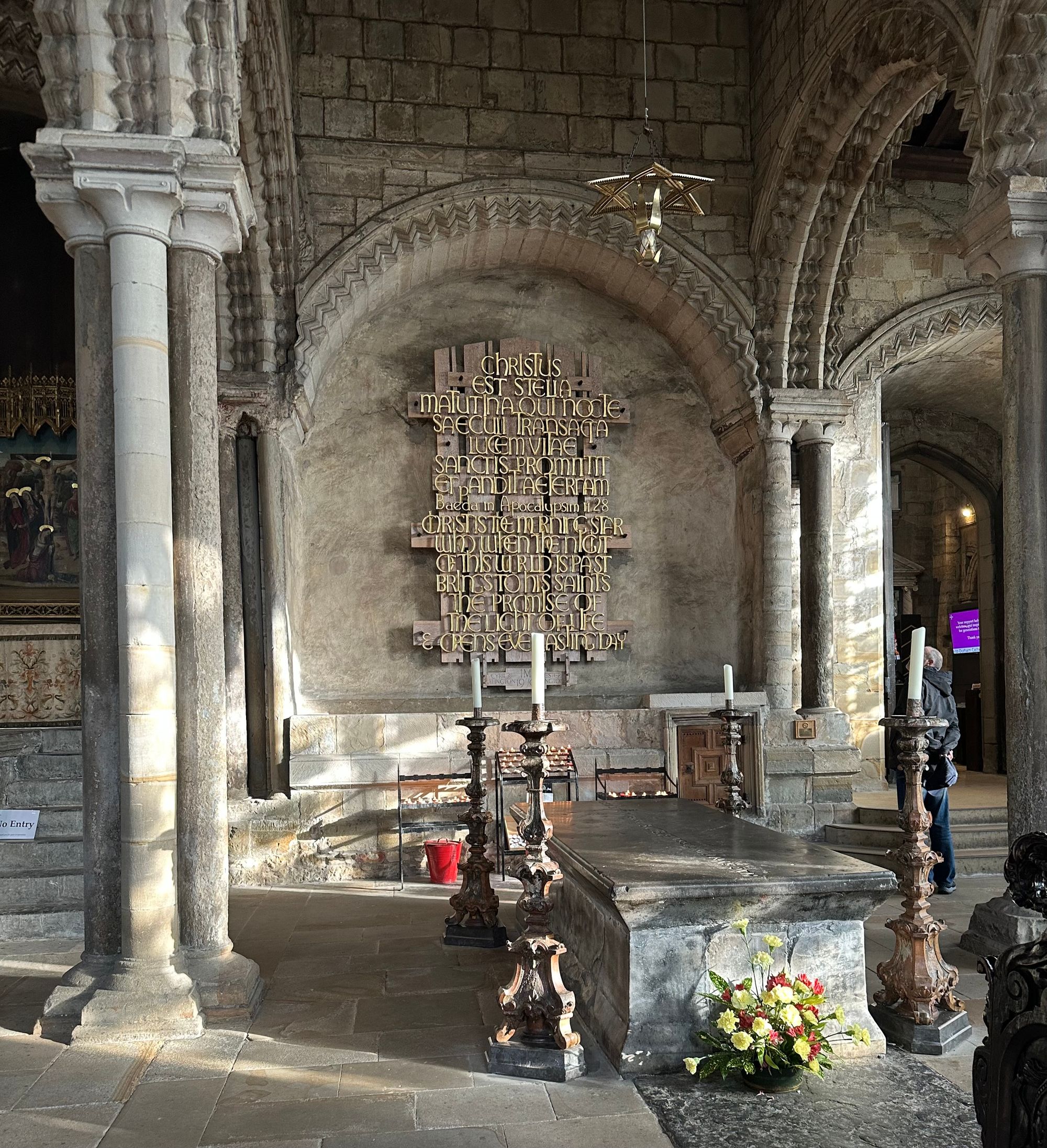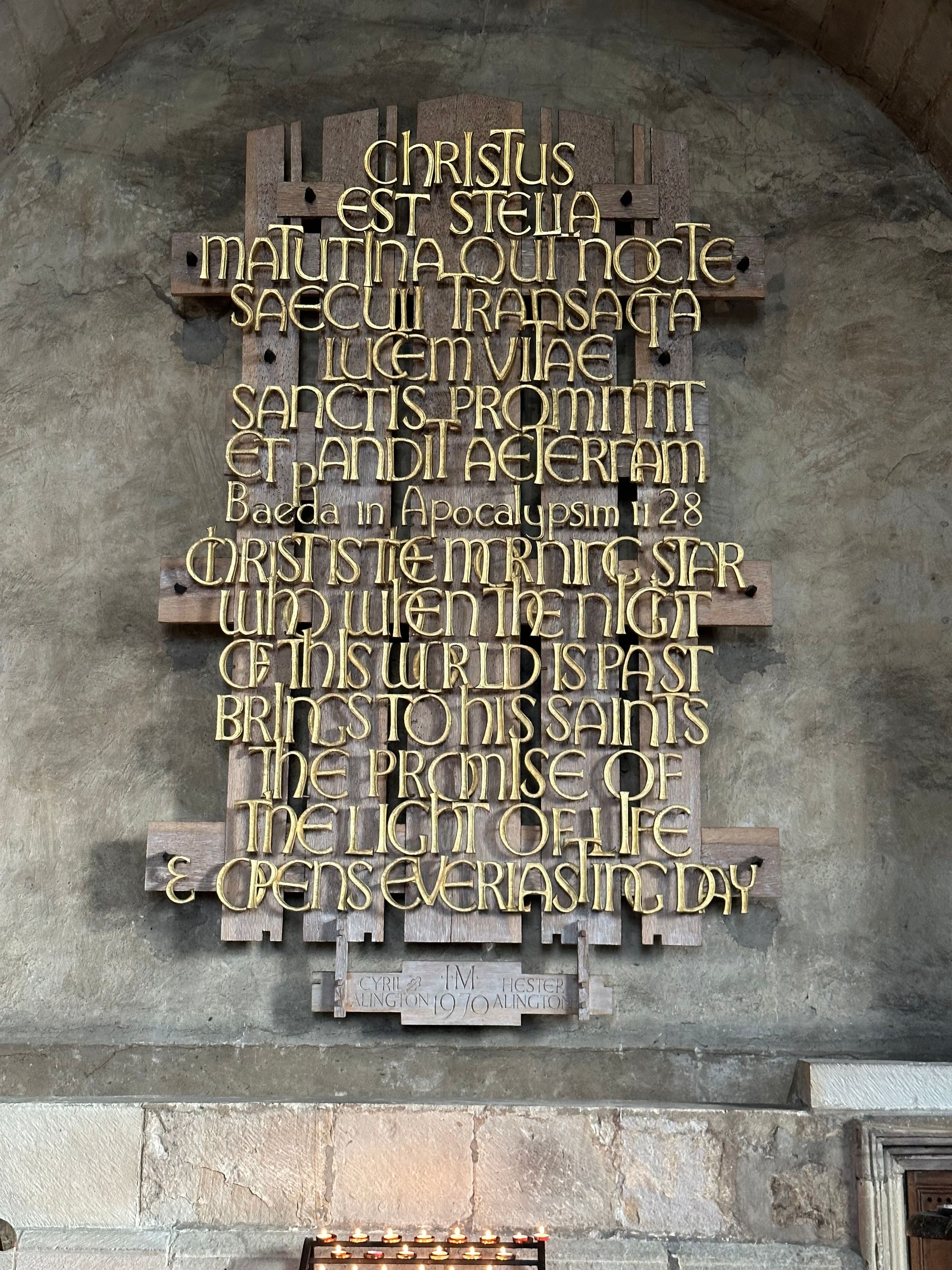 It was my dad who introduced me to George Pace - he found a book in a second hand bookshop and bought it for me.
It set me off on a long journey of photographing George Pace buildings. In my early days I set up a George Pace Project on Flickr and also bought some items that were from his own personal library: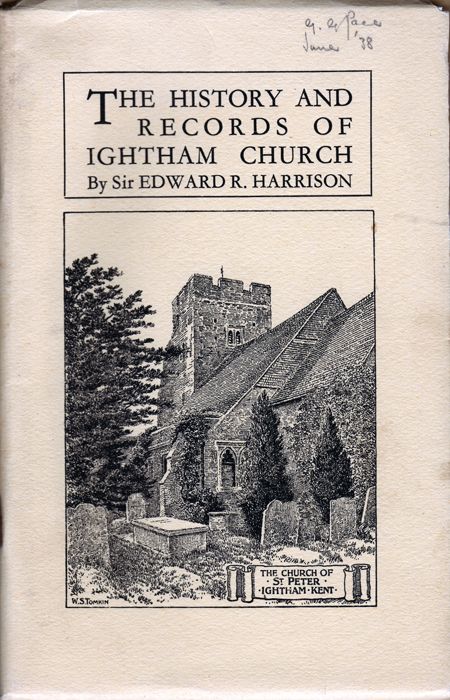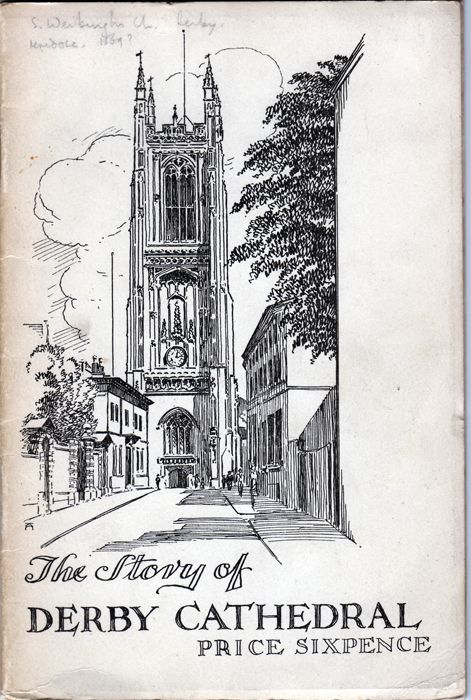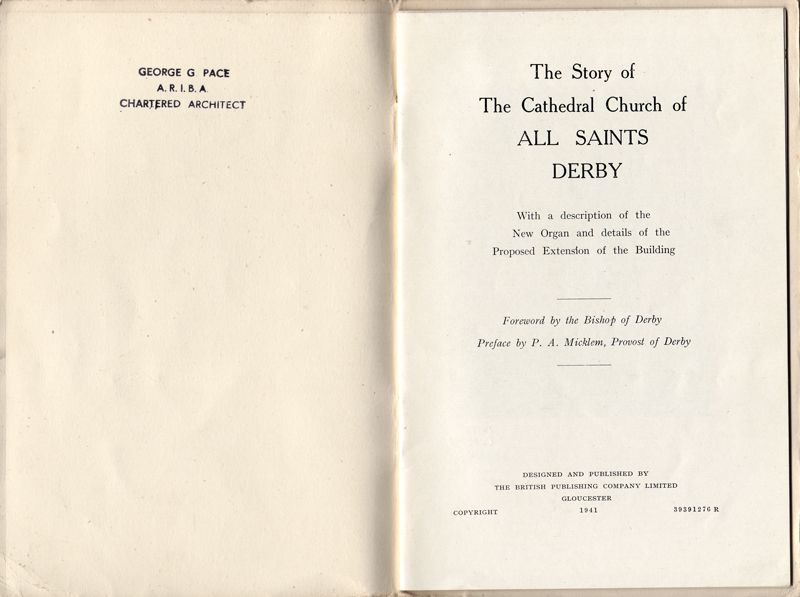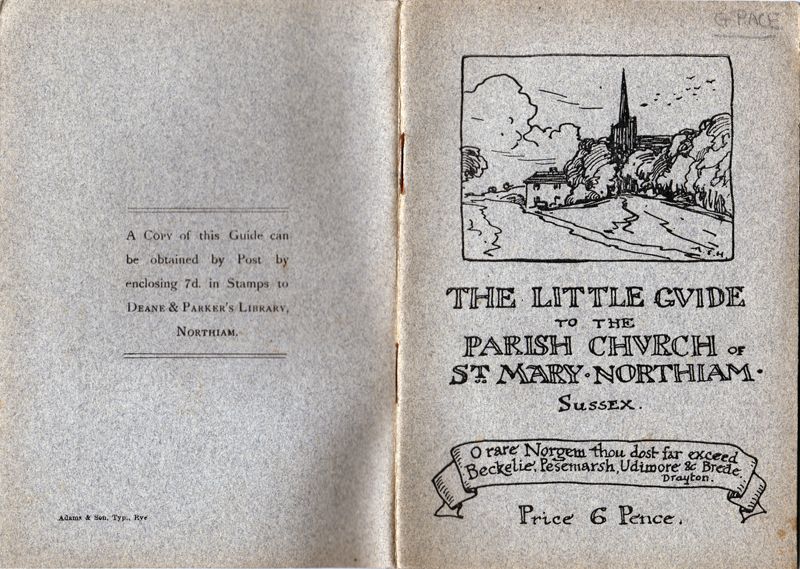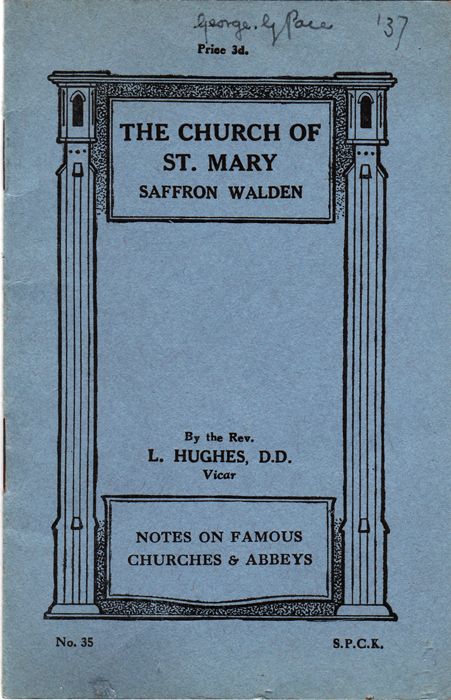 ---
Llandaff was the start of my trip to St. Melangell's (featured in last week's digest). The full Llandaff to St. Melangell trip is now open to the all subscribers on Polarsteps - check it out below.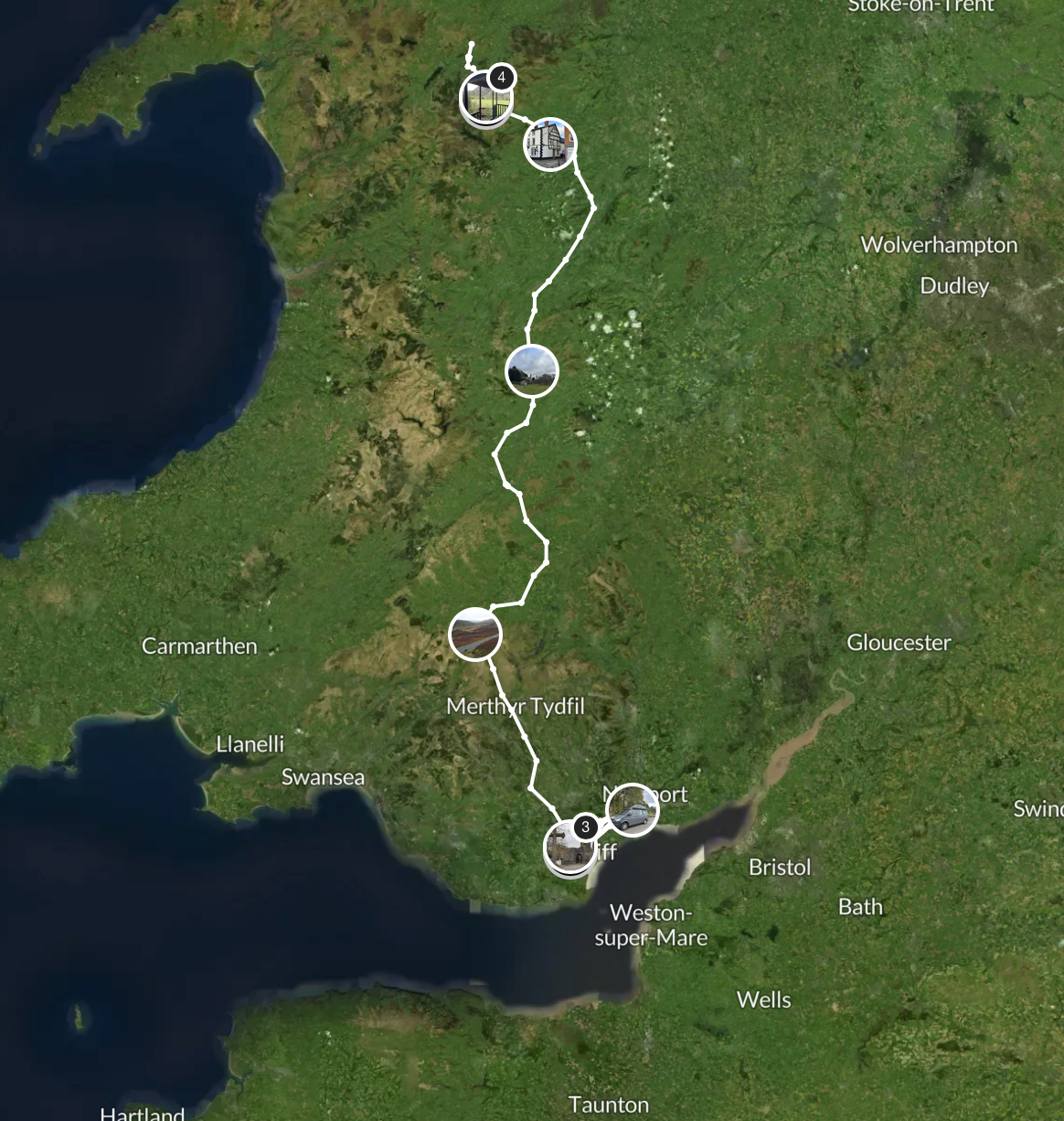 Coffee Making in the Van
Making coffee in the van with my trusty Aeropress Go.
---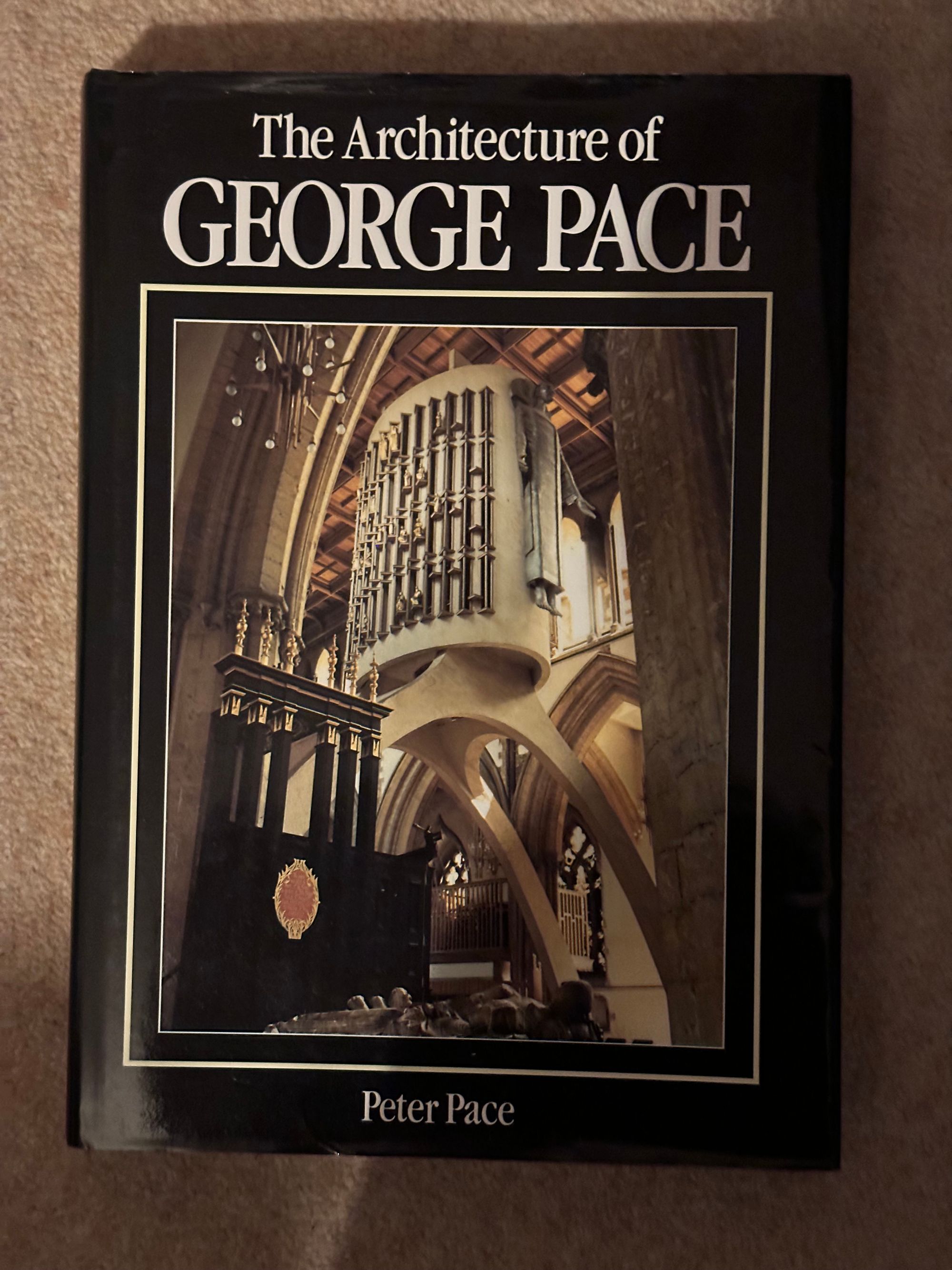 ---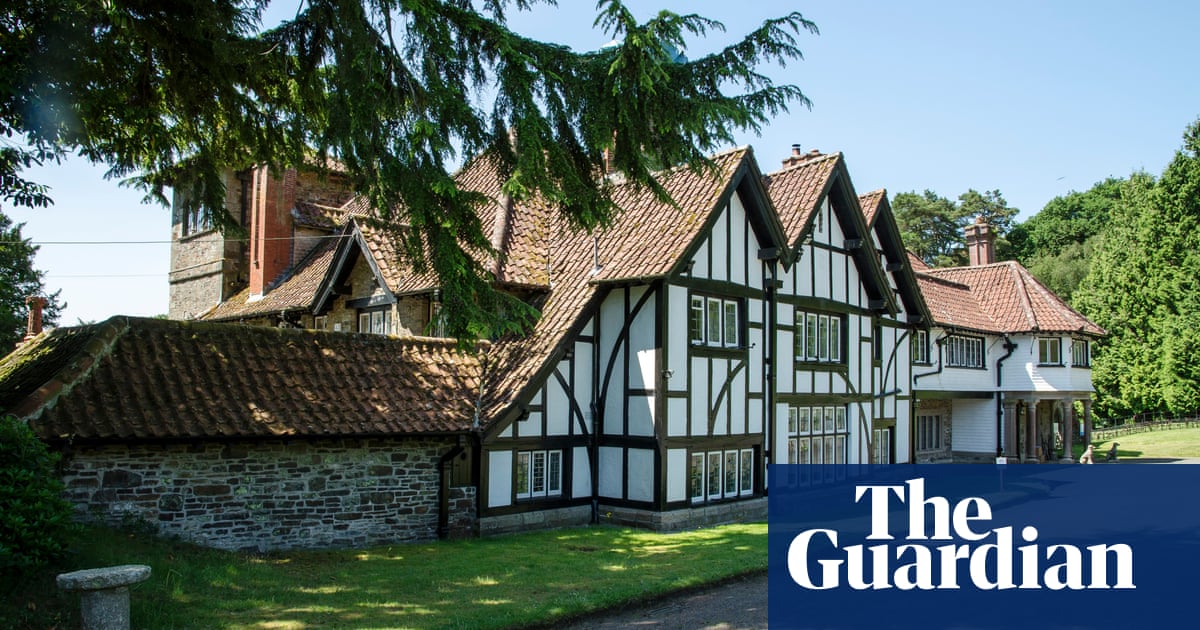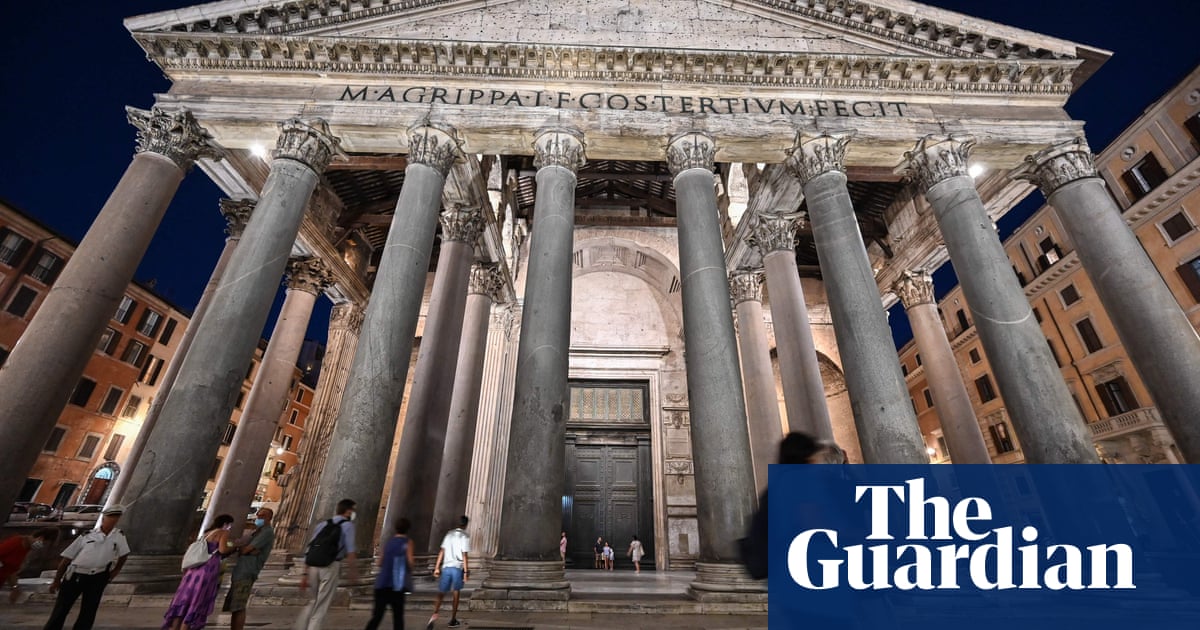 ---
---
---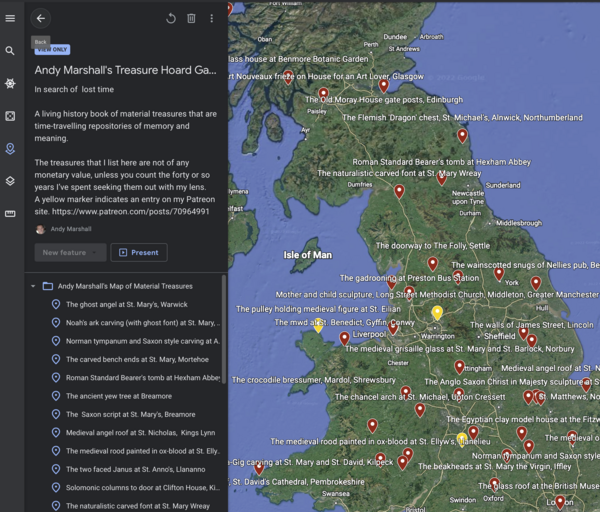 Andy Marshall's Treasure Hoard Gazetteer Map
My Treasure Hoard Map is open to all. It is an evolving enterprise and I'll be adding more entries as time passes.
View the full map on Google maps
View the full map on Google Earth (recommended)
More on the Treasure Hoard Gazetteer
---
A real delight in St. David's Chapel, Llandaff - a chest, of some age, with remarkable enigmatic figures dancing. I asked of its origin, but nobody could tell me. A real thing of beauty - worth the visit to Llandaff on its own. A few 'disco dads' in there. Felt like dancing after seeing it...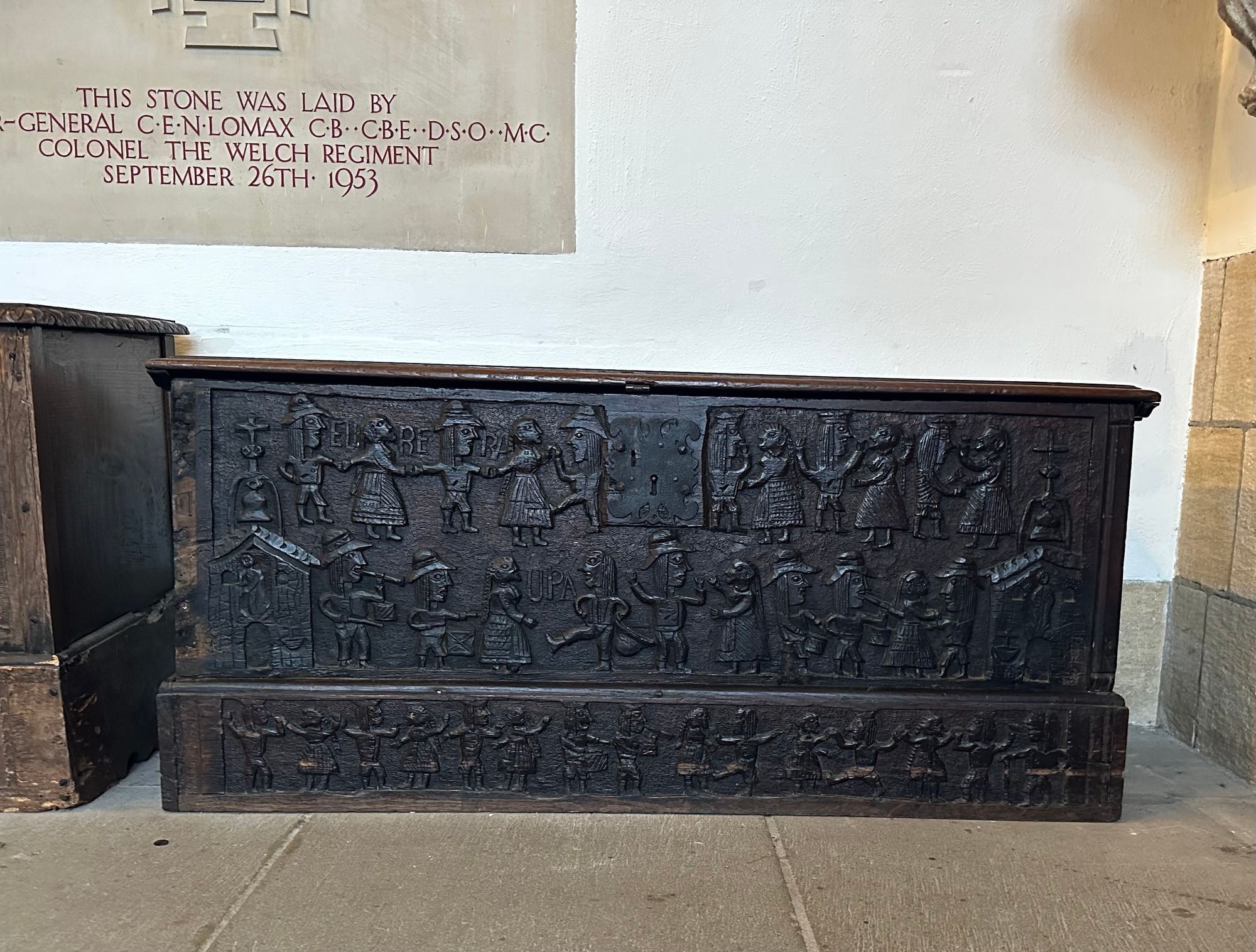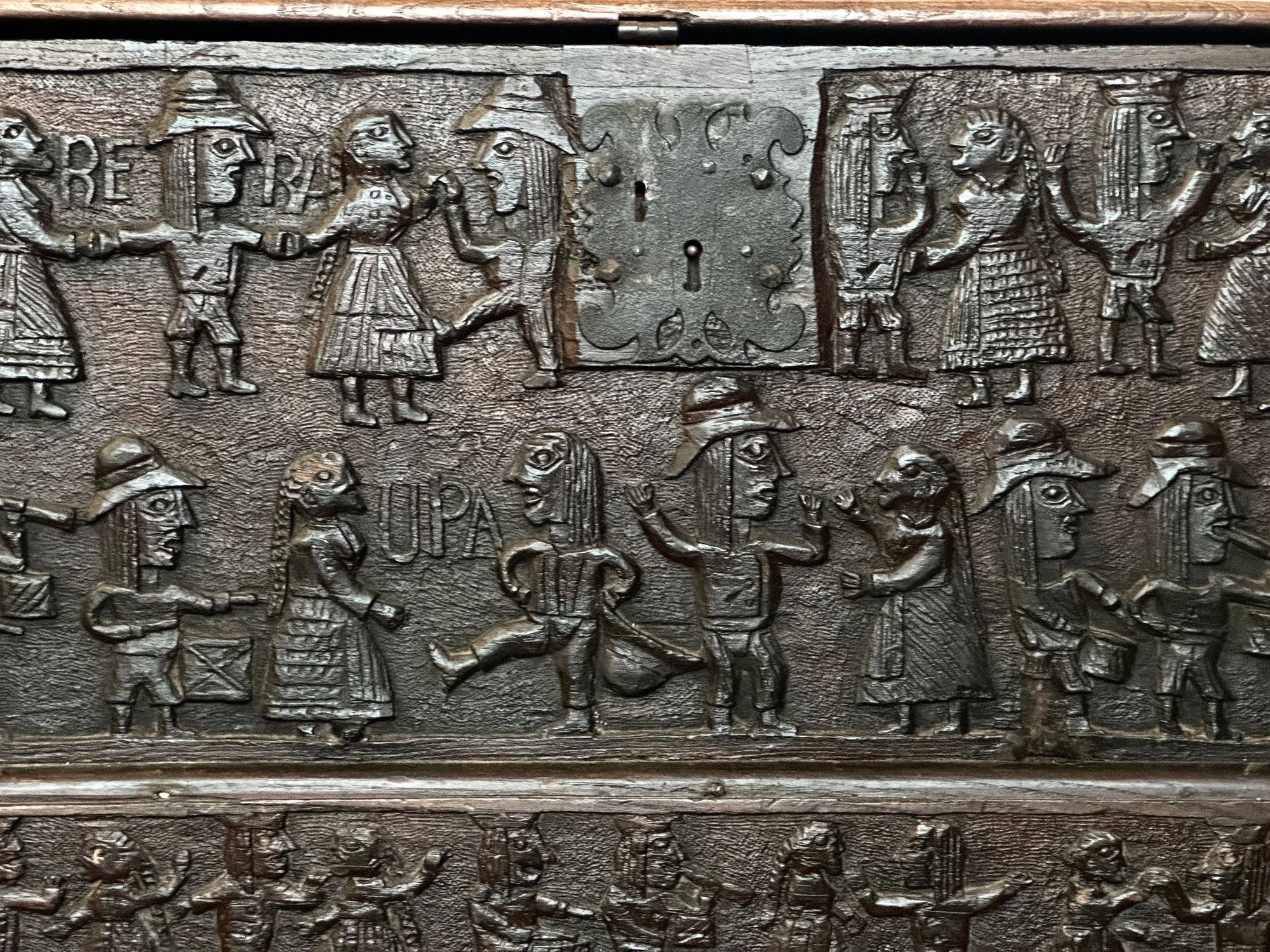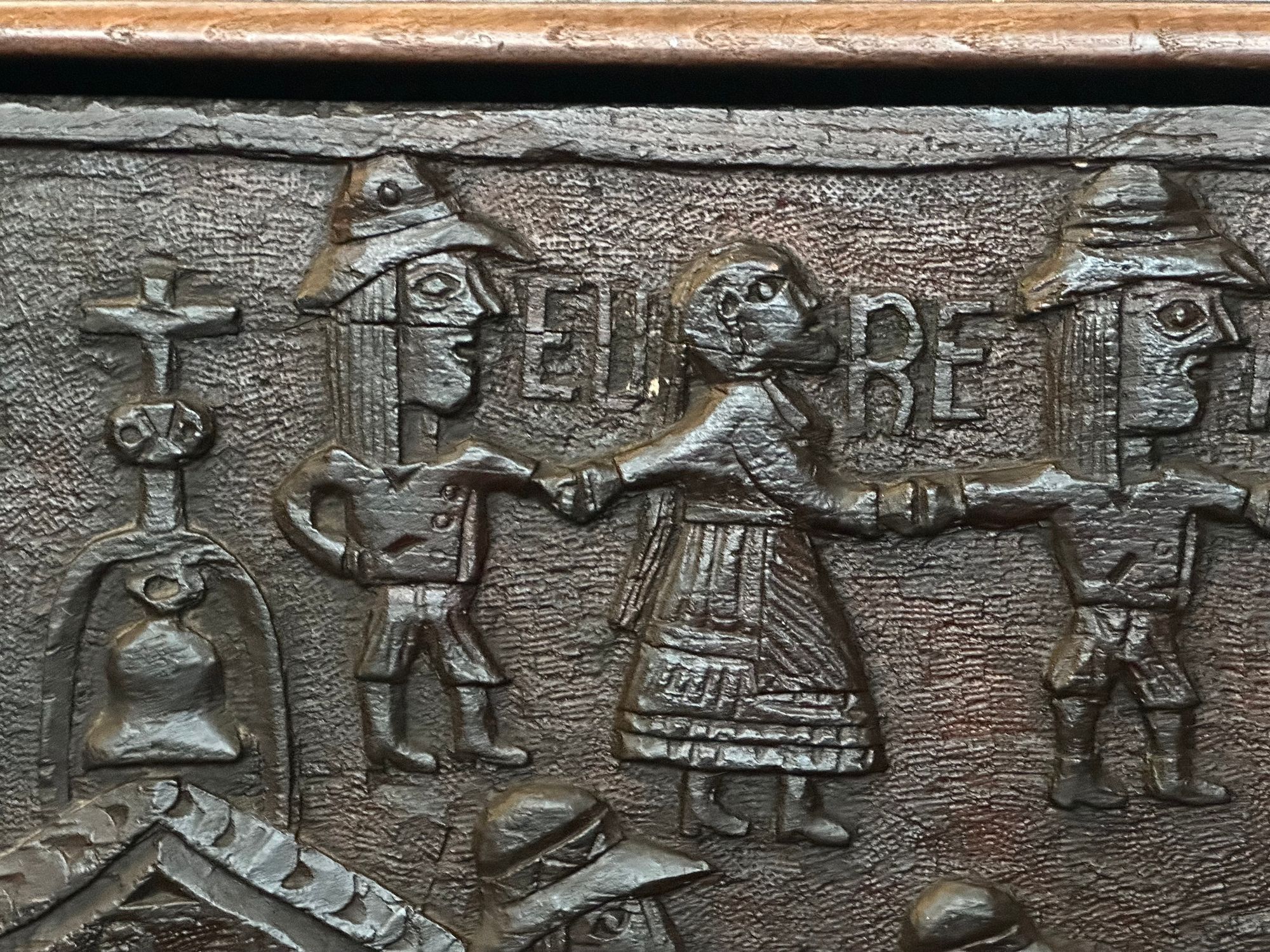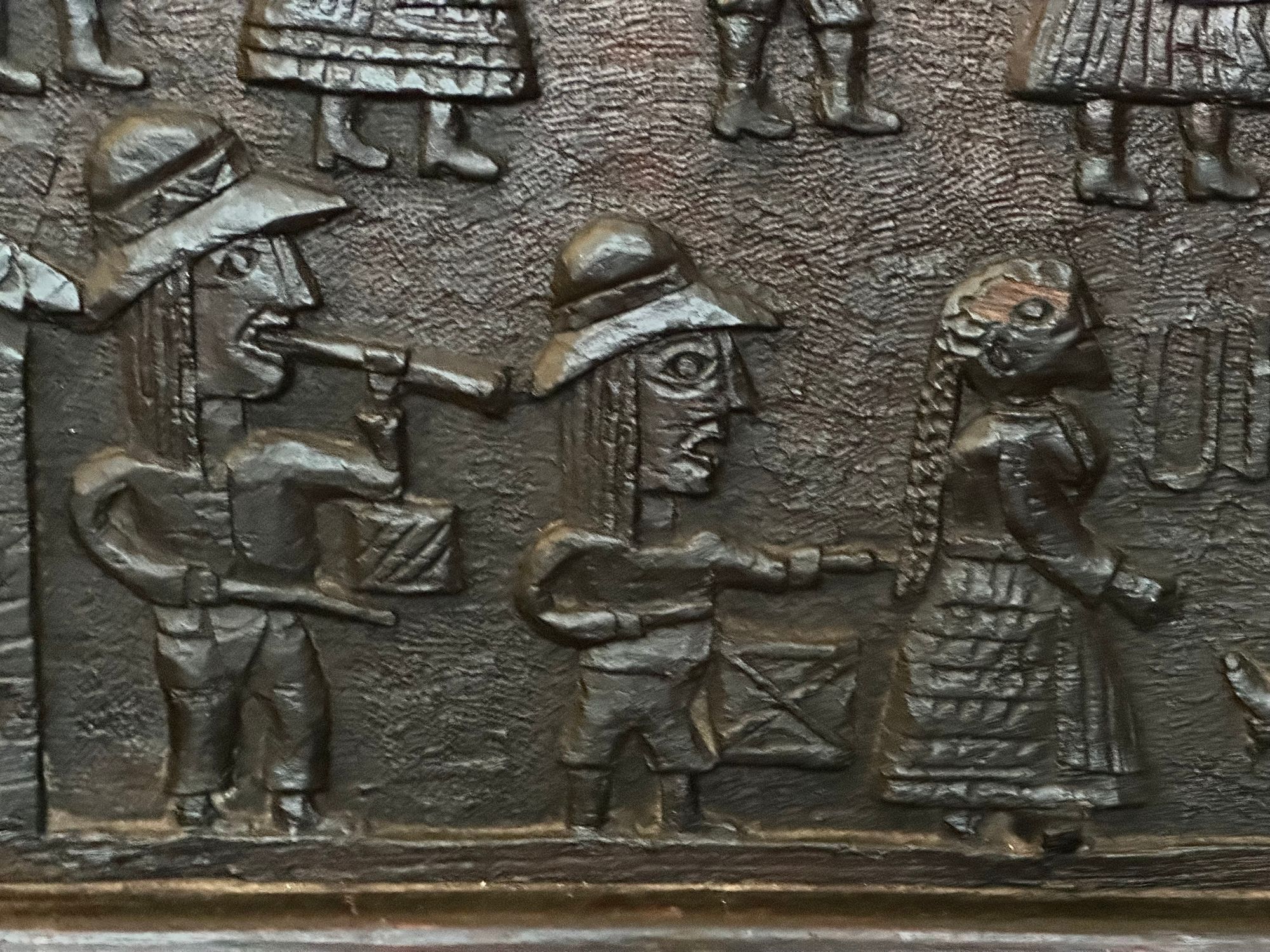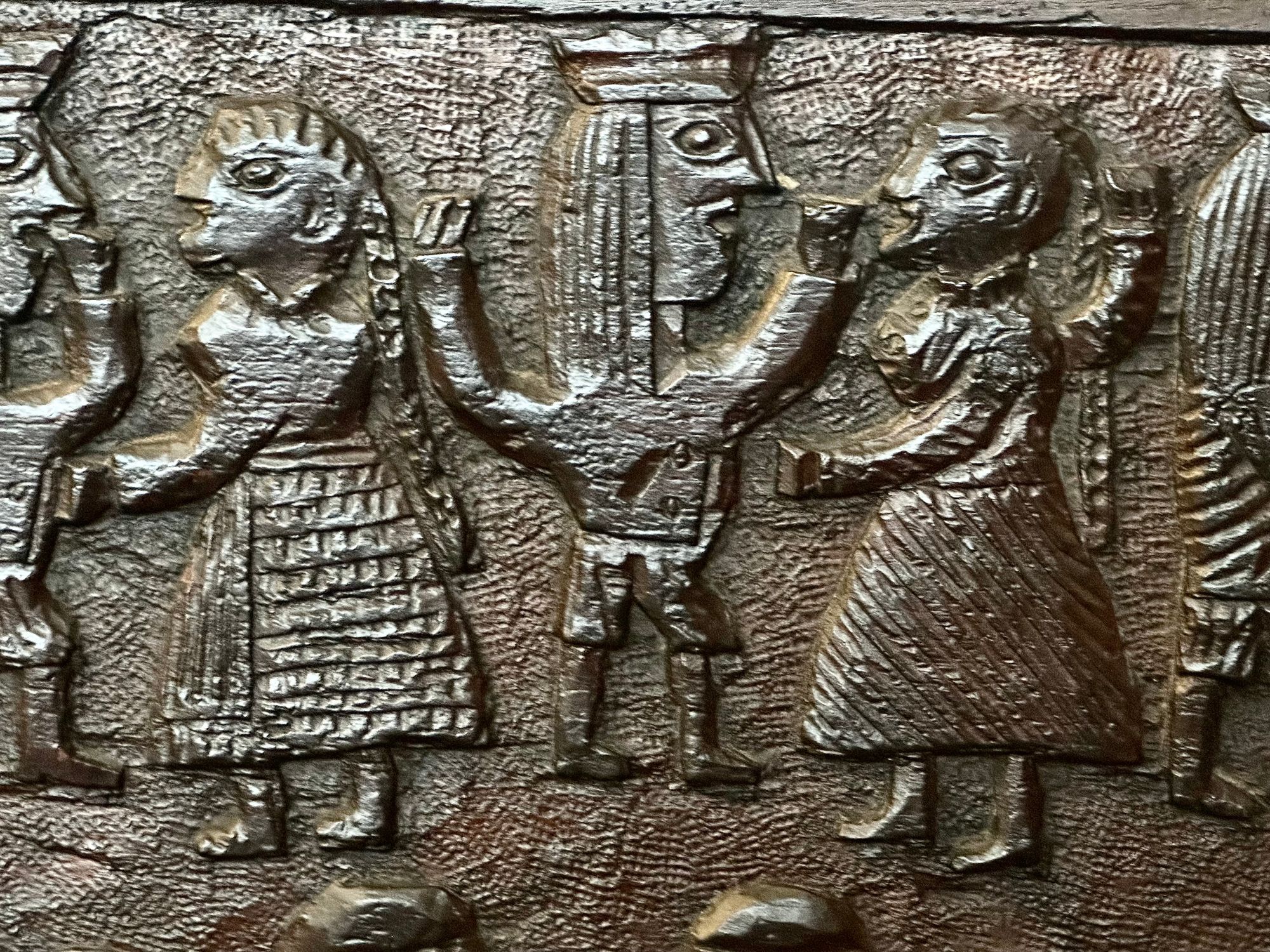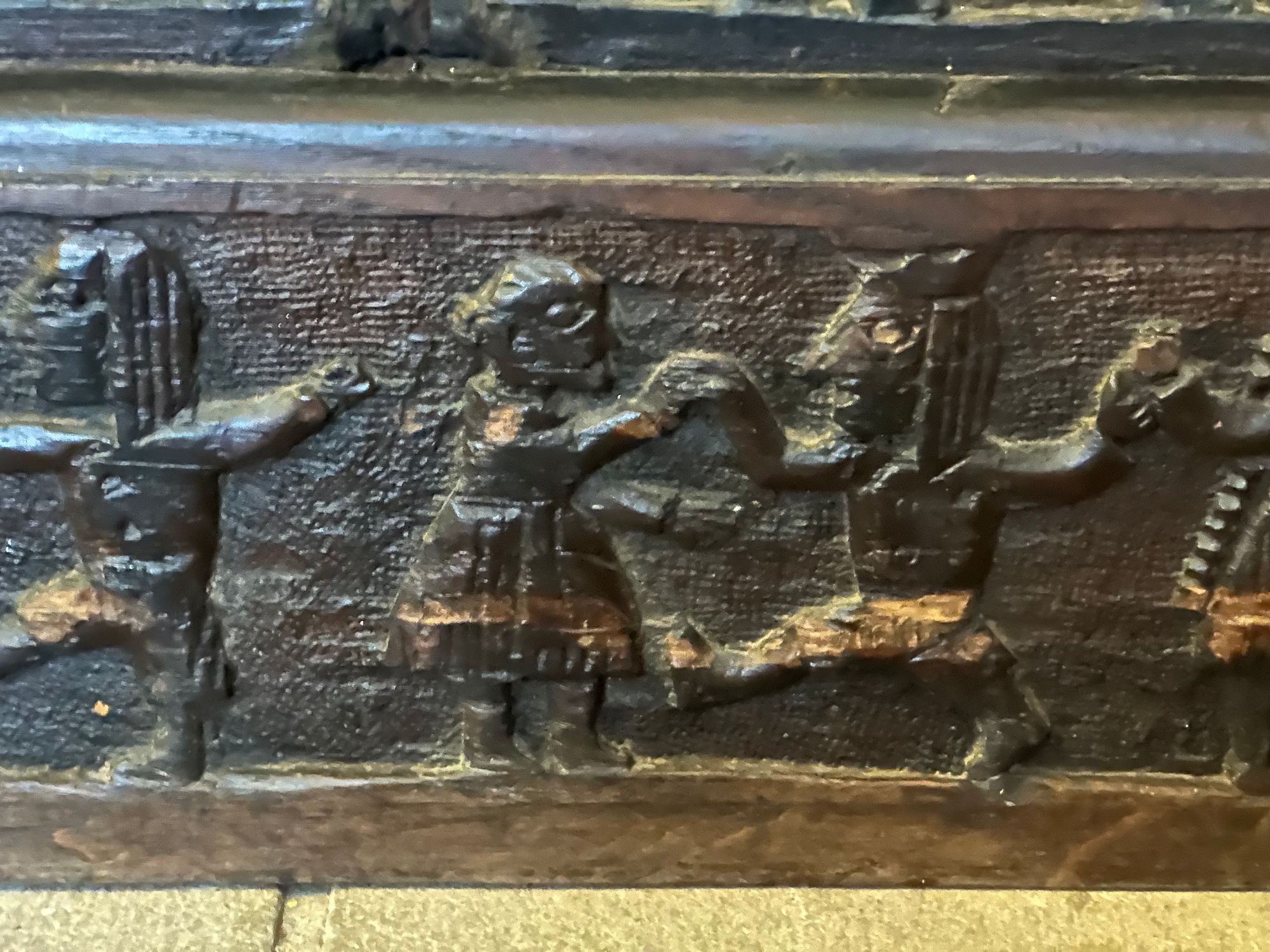 ---
It takes a day a week to produce this digest. With your support, I'm able to keep this digest free and public facing. 📸🏛🚐
Support this digest and get access to a world of immersive content. Click the box below to check out the membership options: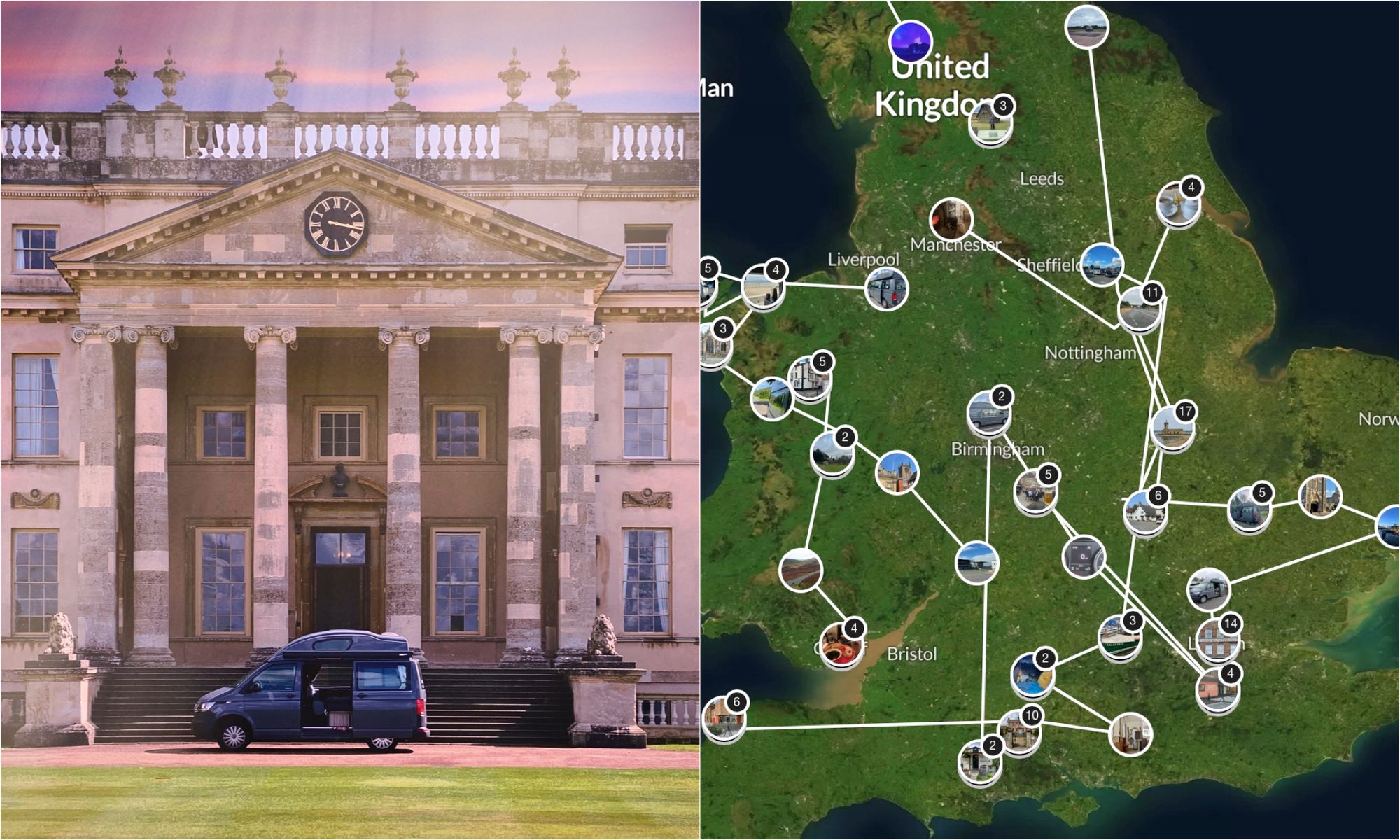 Free Memberships
I have a limited number of free memberships available for students studying heritage, tourism, architecture, photography, building conservation, history of art, archaeology. Also students studying the built environment and its impact on mental health and wellbeing. If you'd like to apply, drop me a line with your details.
Gift a Membership
You can gift a membership to somebody else. They will receive a card through the post with a message from you and instructions on how to activate it. Gift Memberships can last indefinitely or can be limited to 12 months.  Contact me for more details.
---
Members' Area
New Posts and Immersive Content for Members
---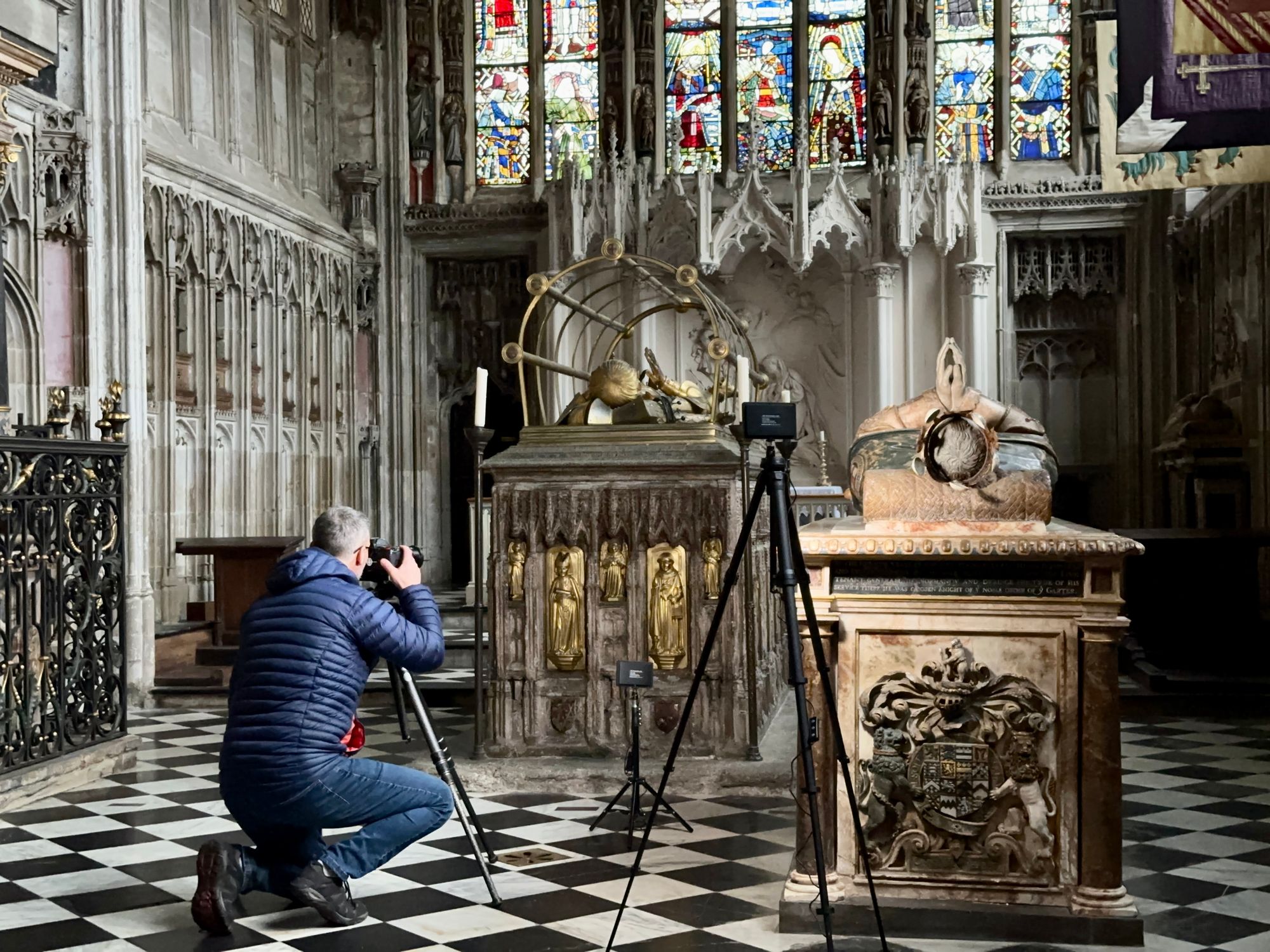 This week I've been on an epic journey into Tudor times - at the Beauchamp Chapel in Warwick. You can follow me live via Polarsteps and also see some extra videos and outtake photography here: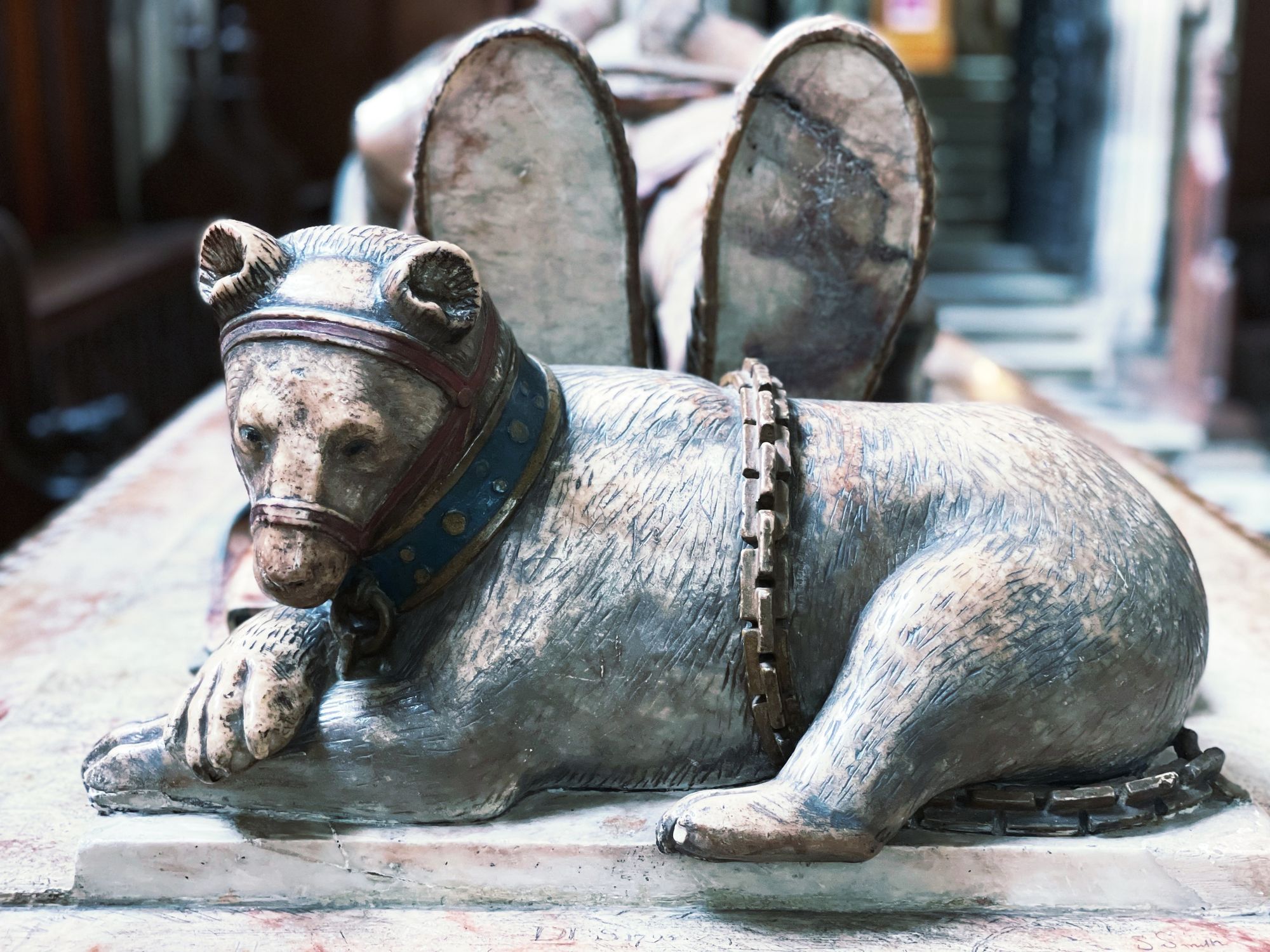 ---
Click here to see all Twitter Circle Posts - choose the 'latest' tab.
Are you a member and not in the Twitter Circle? Send me your handle and I'll add you to it. I'm @fotofacade on twitter.
---
Extra content Llandaff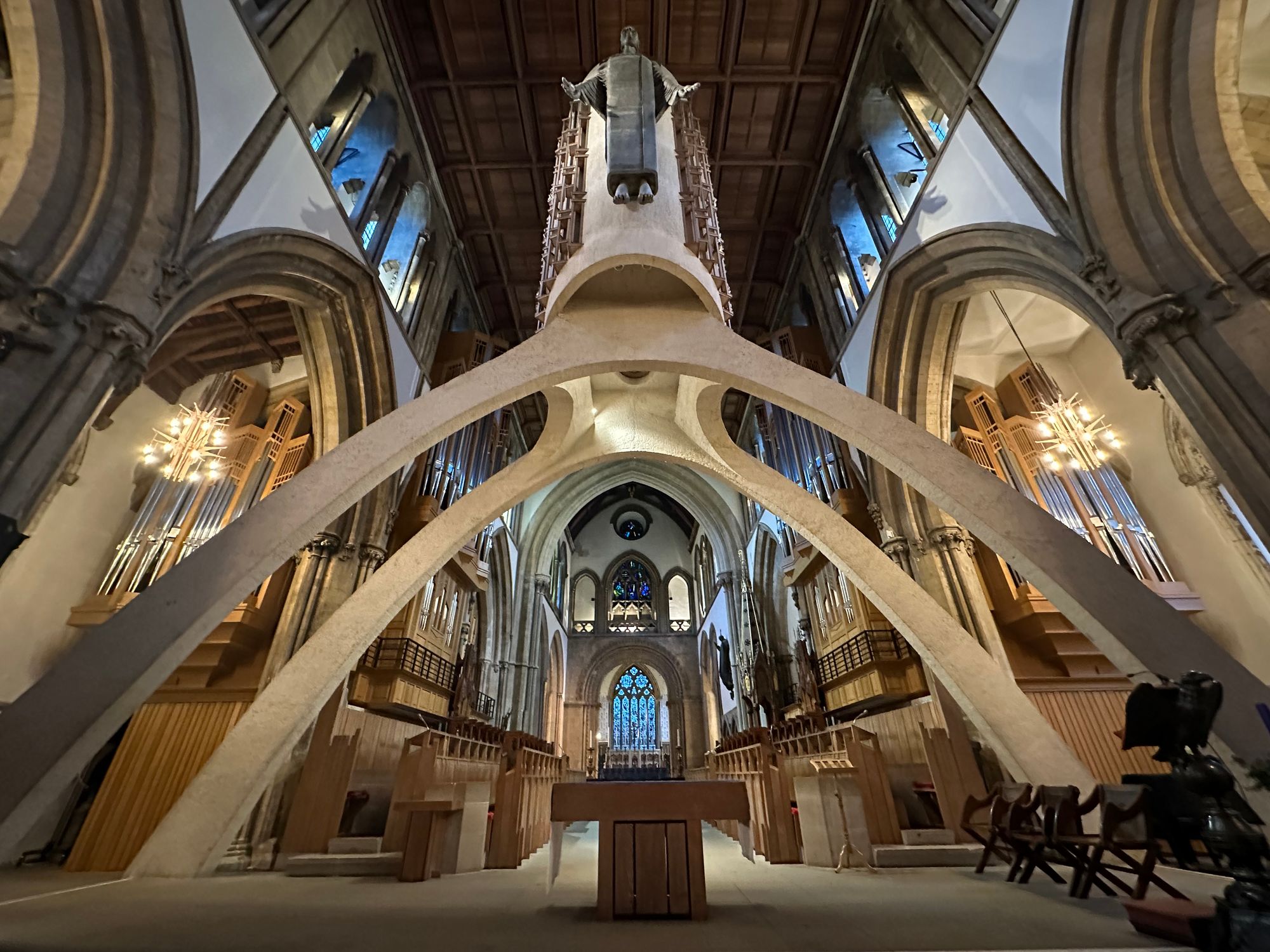 New Posts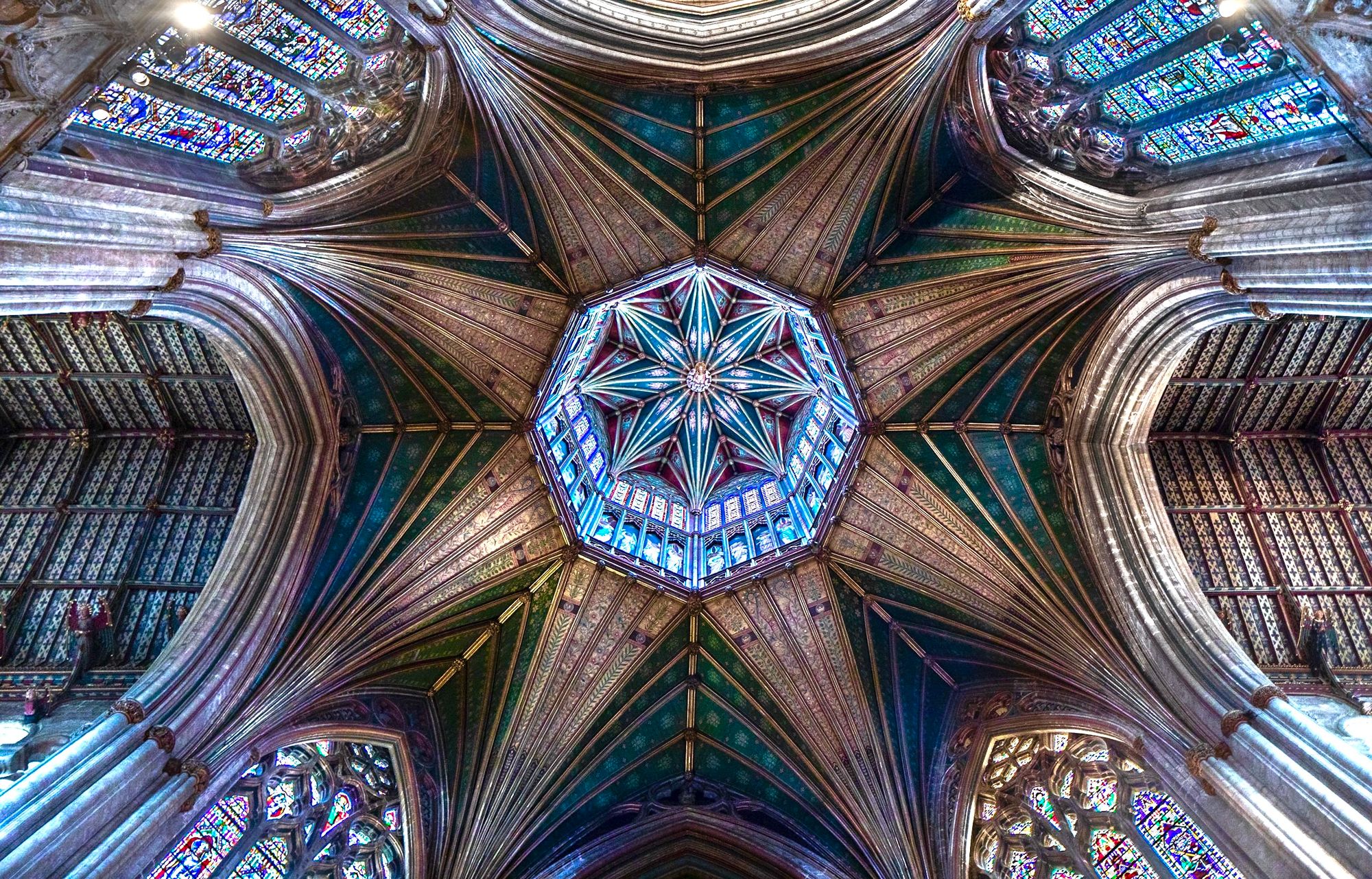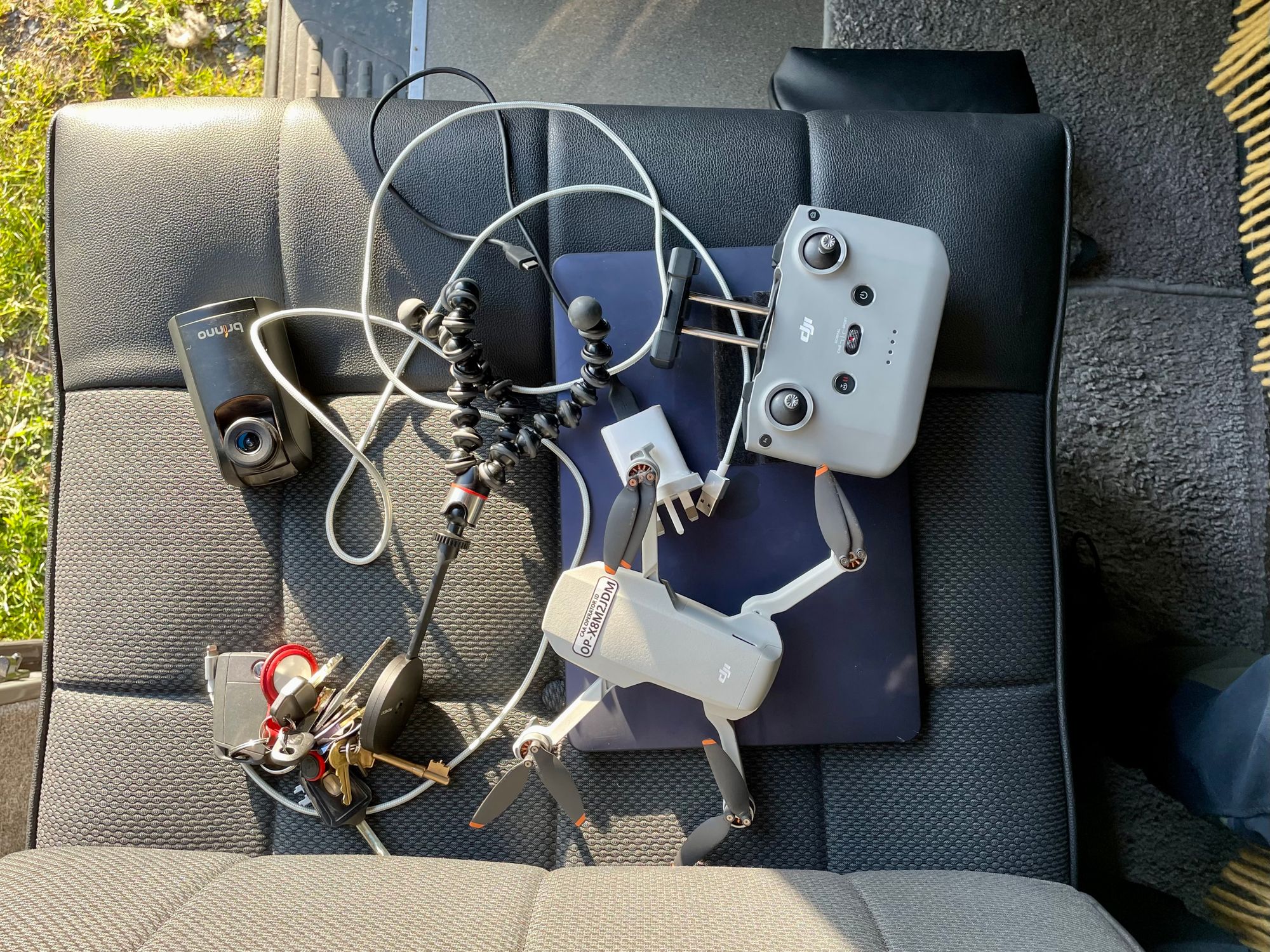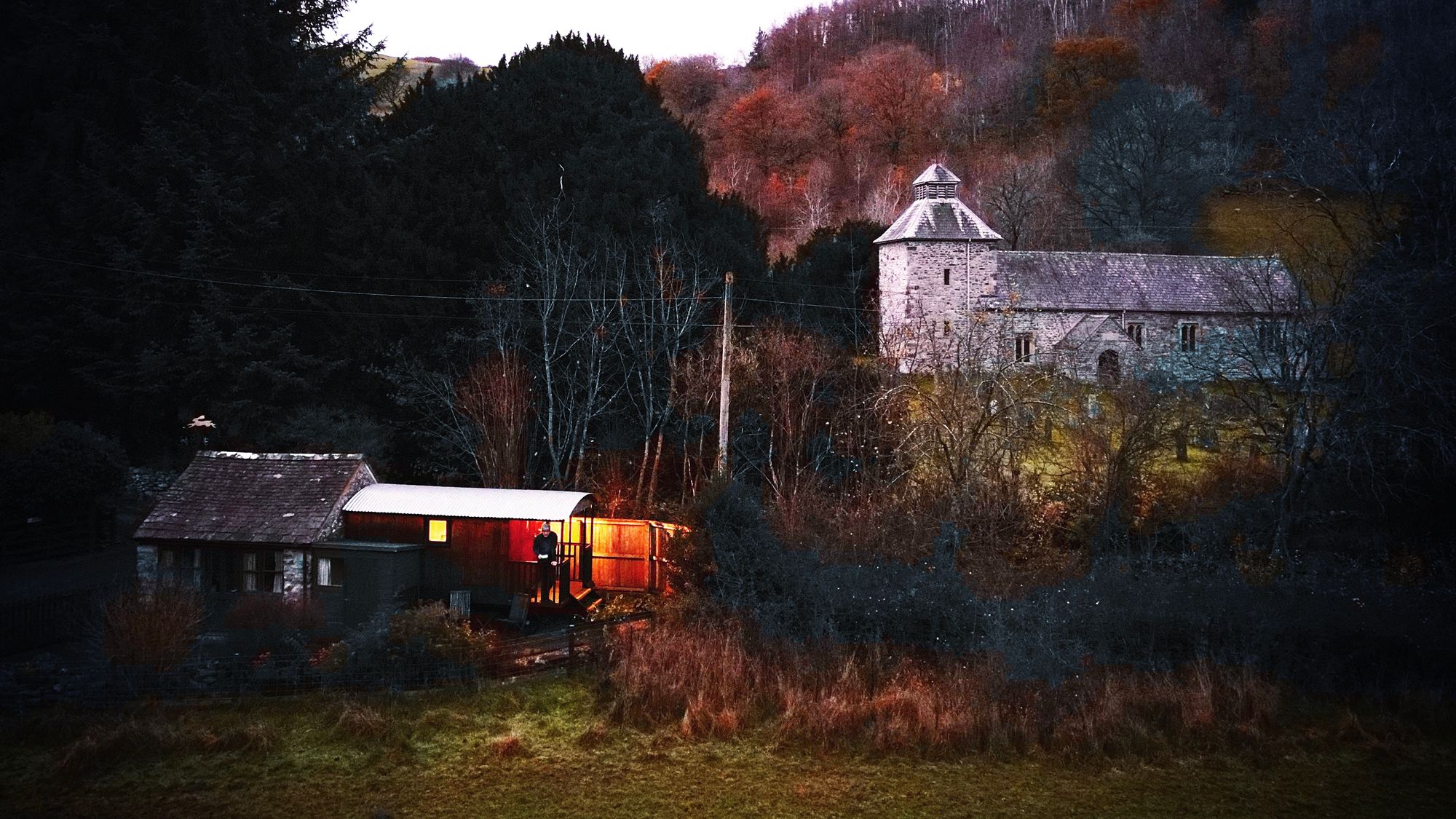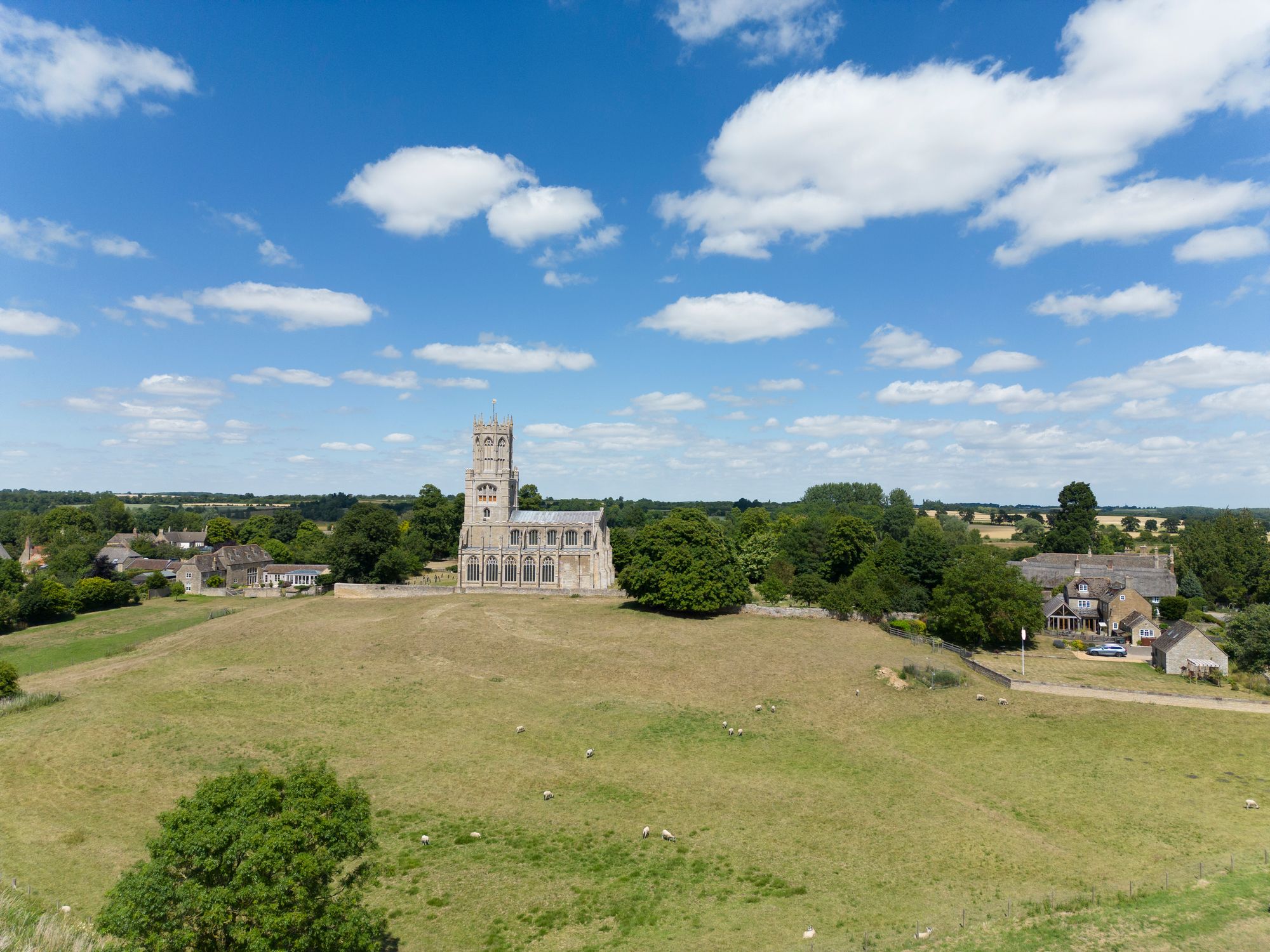 Yorkshire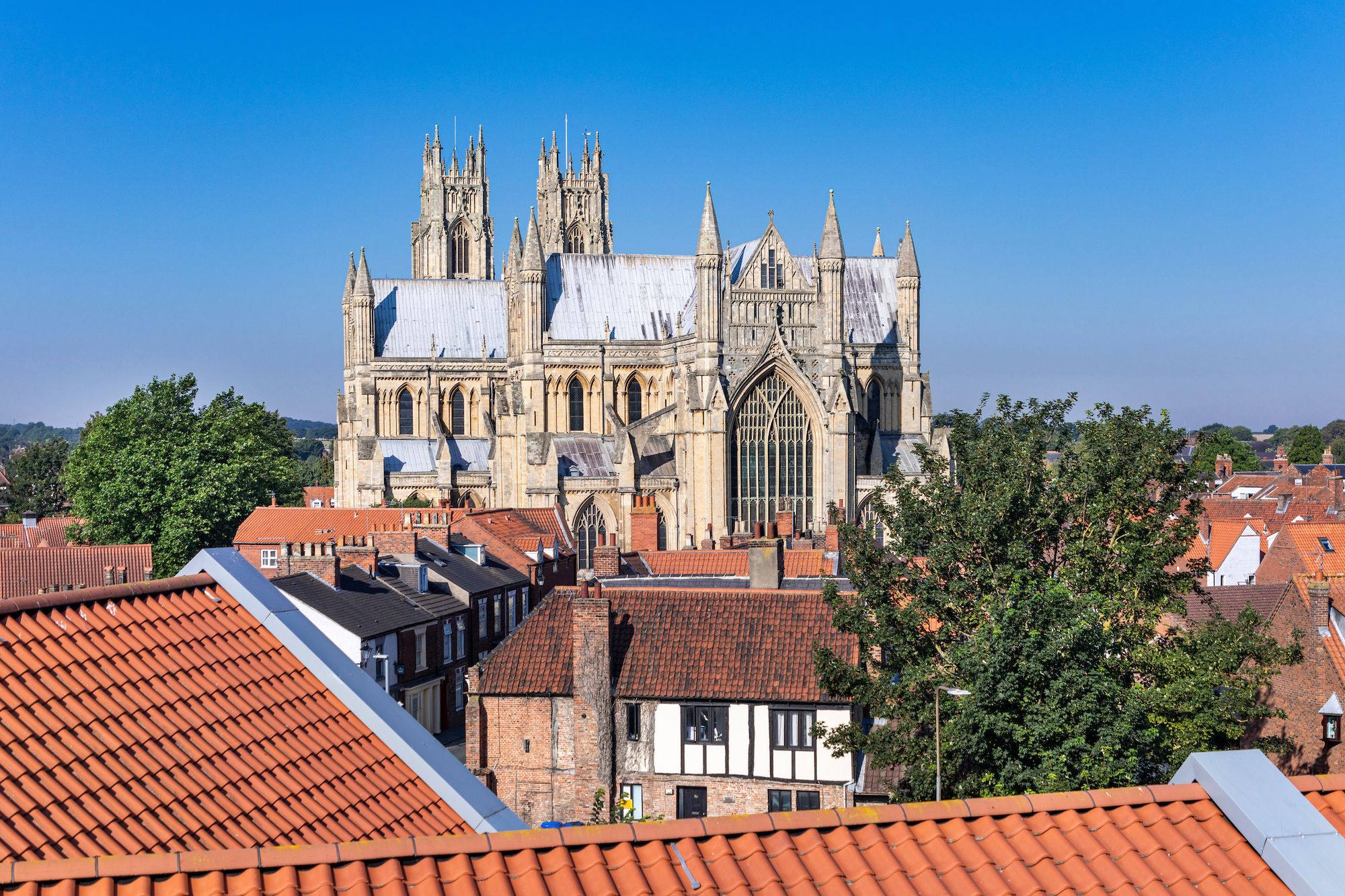 Quick Access
Notes for New Members: See here
How this Digest came about: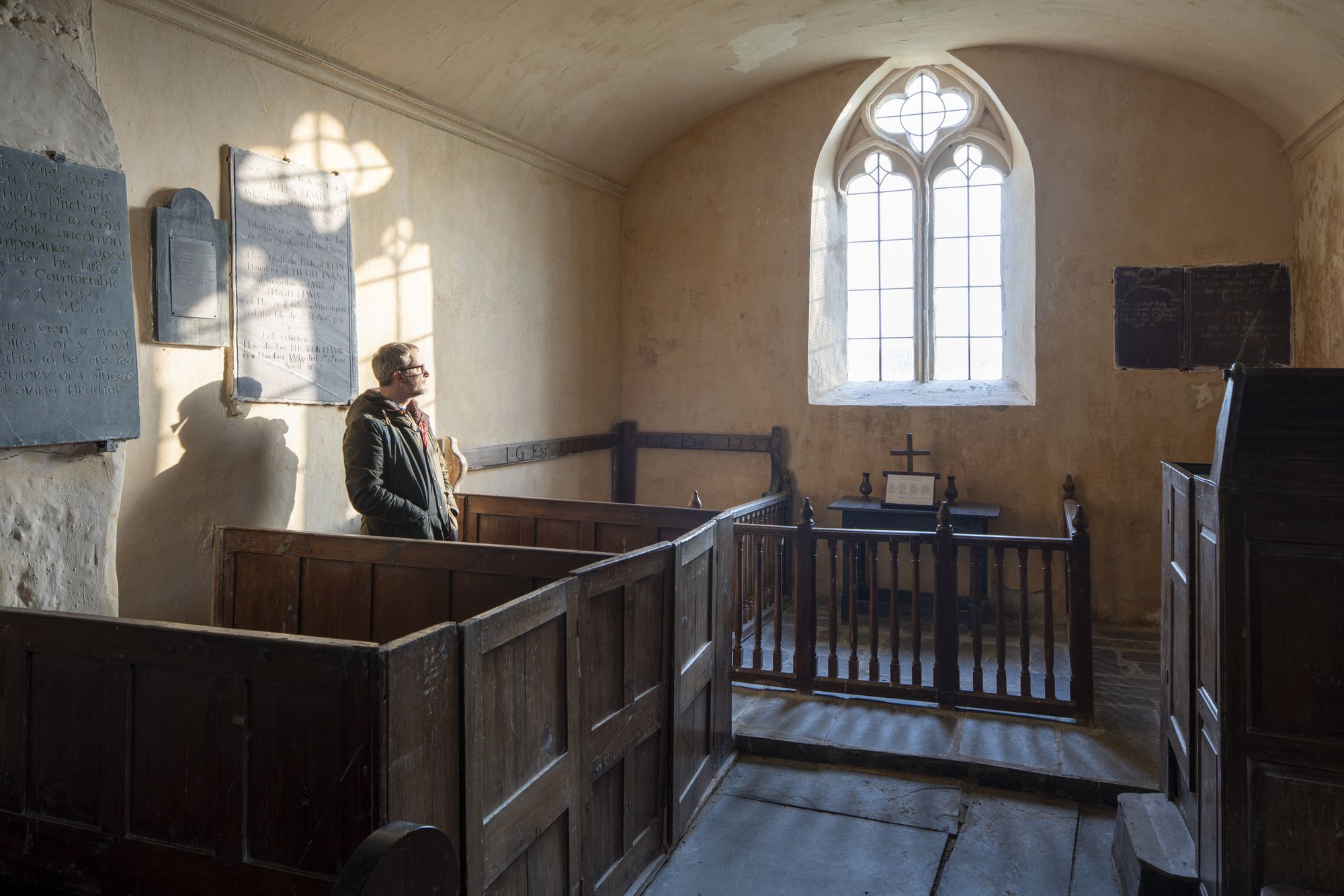 Treasure Hoard Index: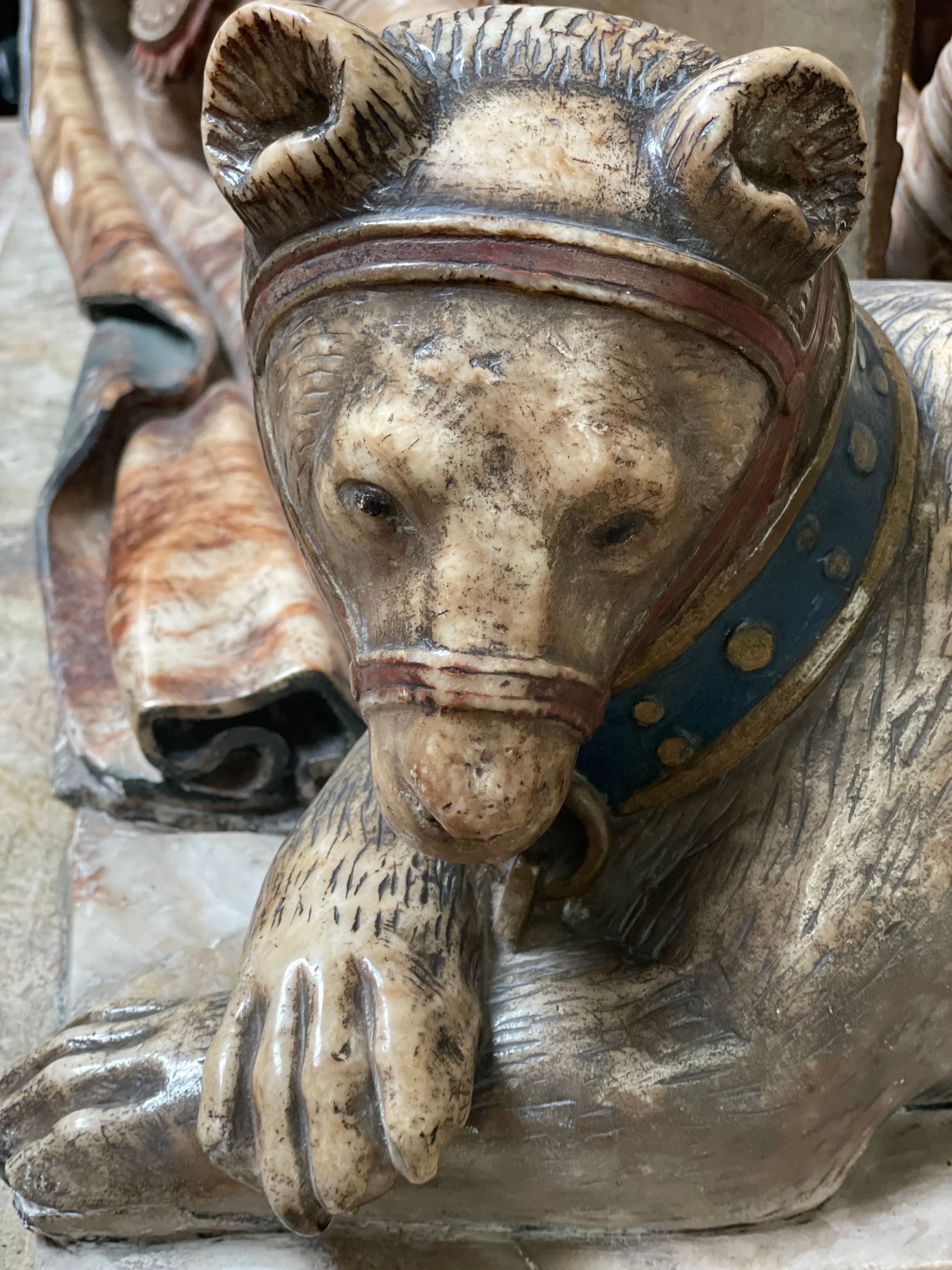 Free Downloads: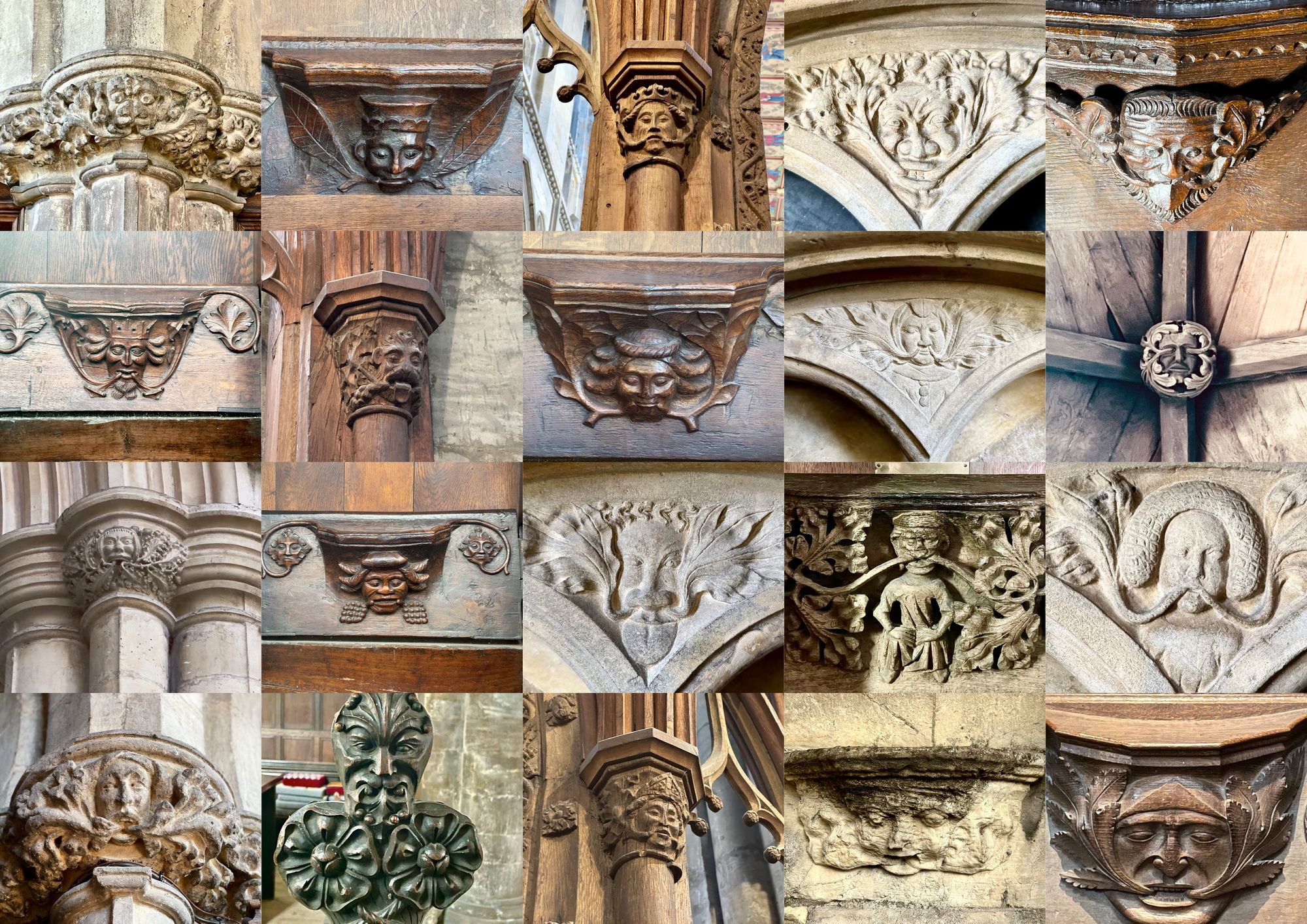 The Comperandum: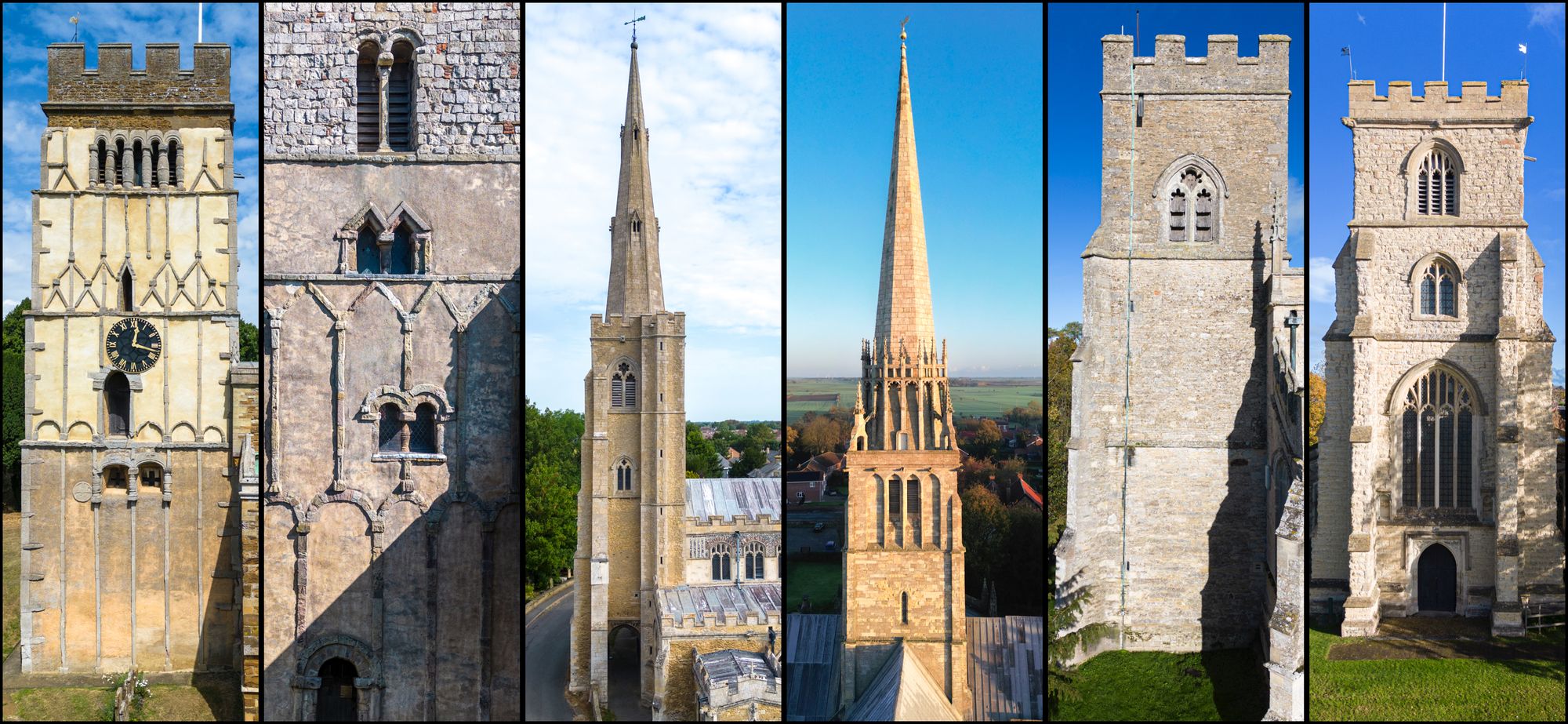 Ways of Seeing, Mental Health and Wellbeing: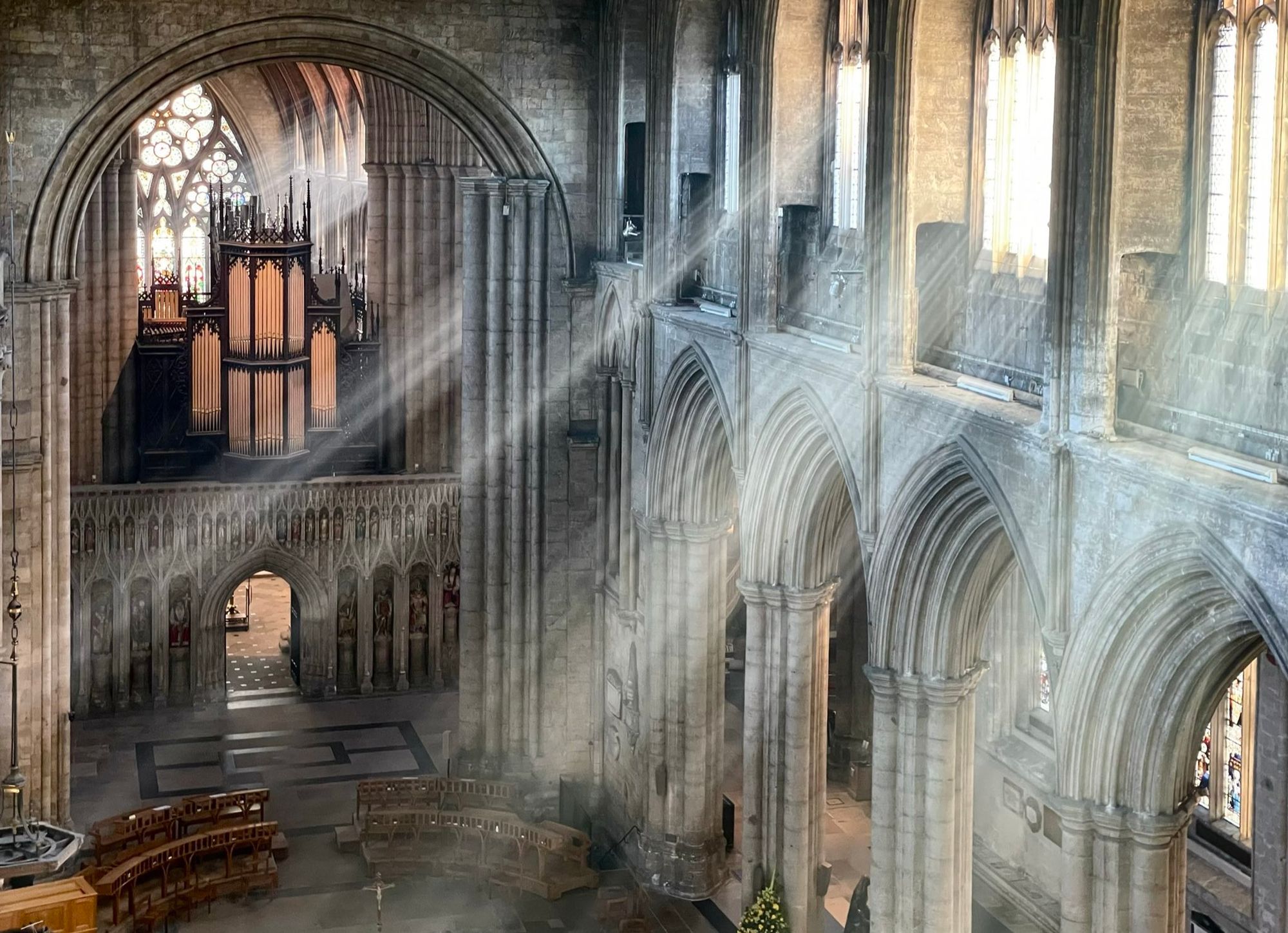 Yew Tree Visitors Guide: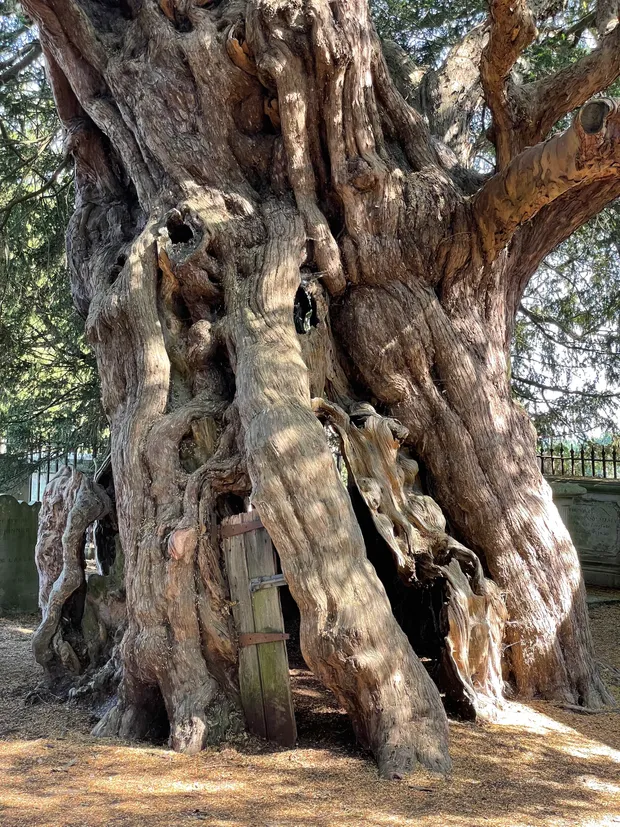 Wallpaper: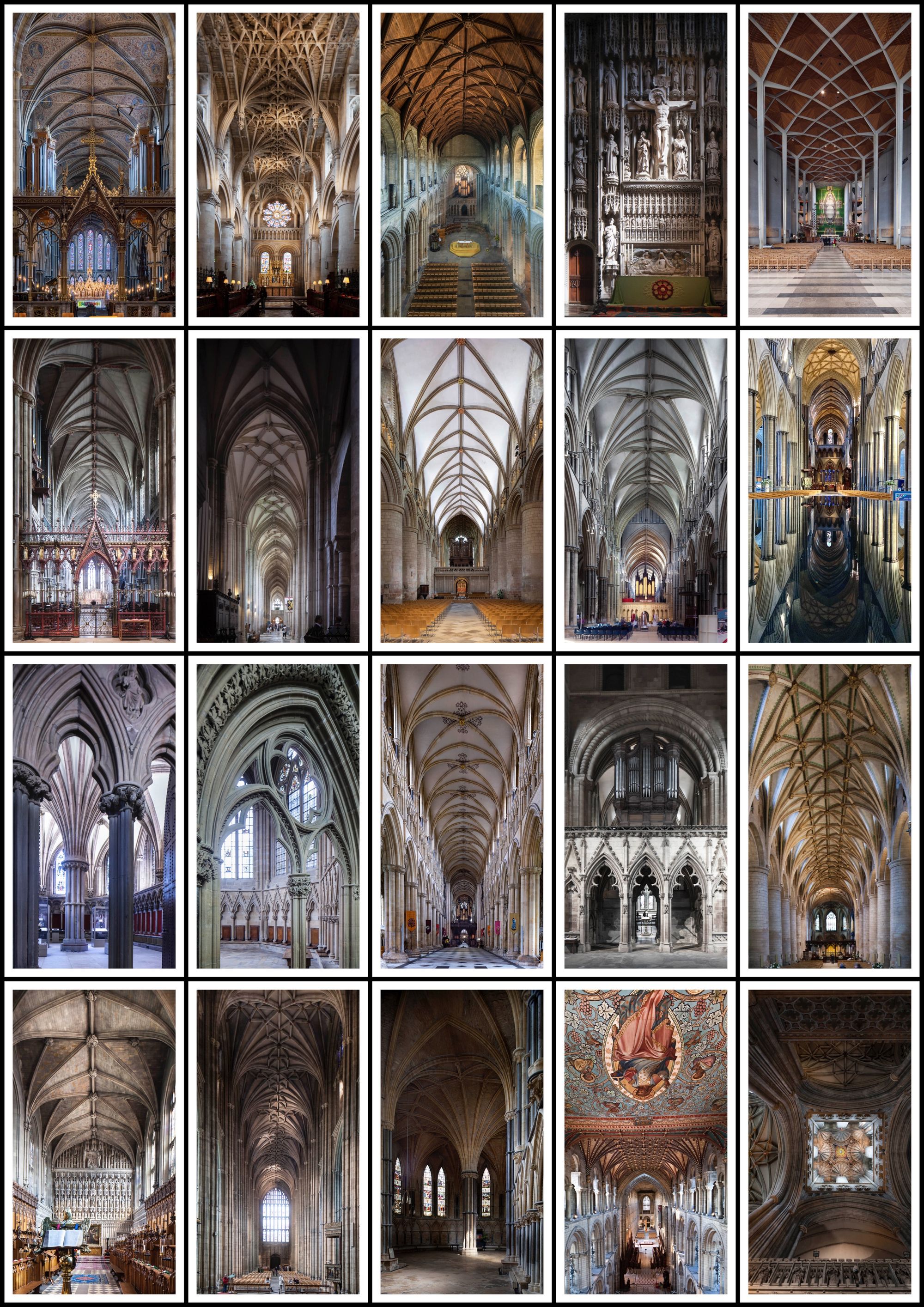 Video: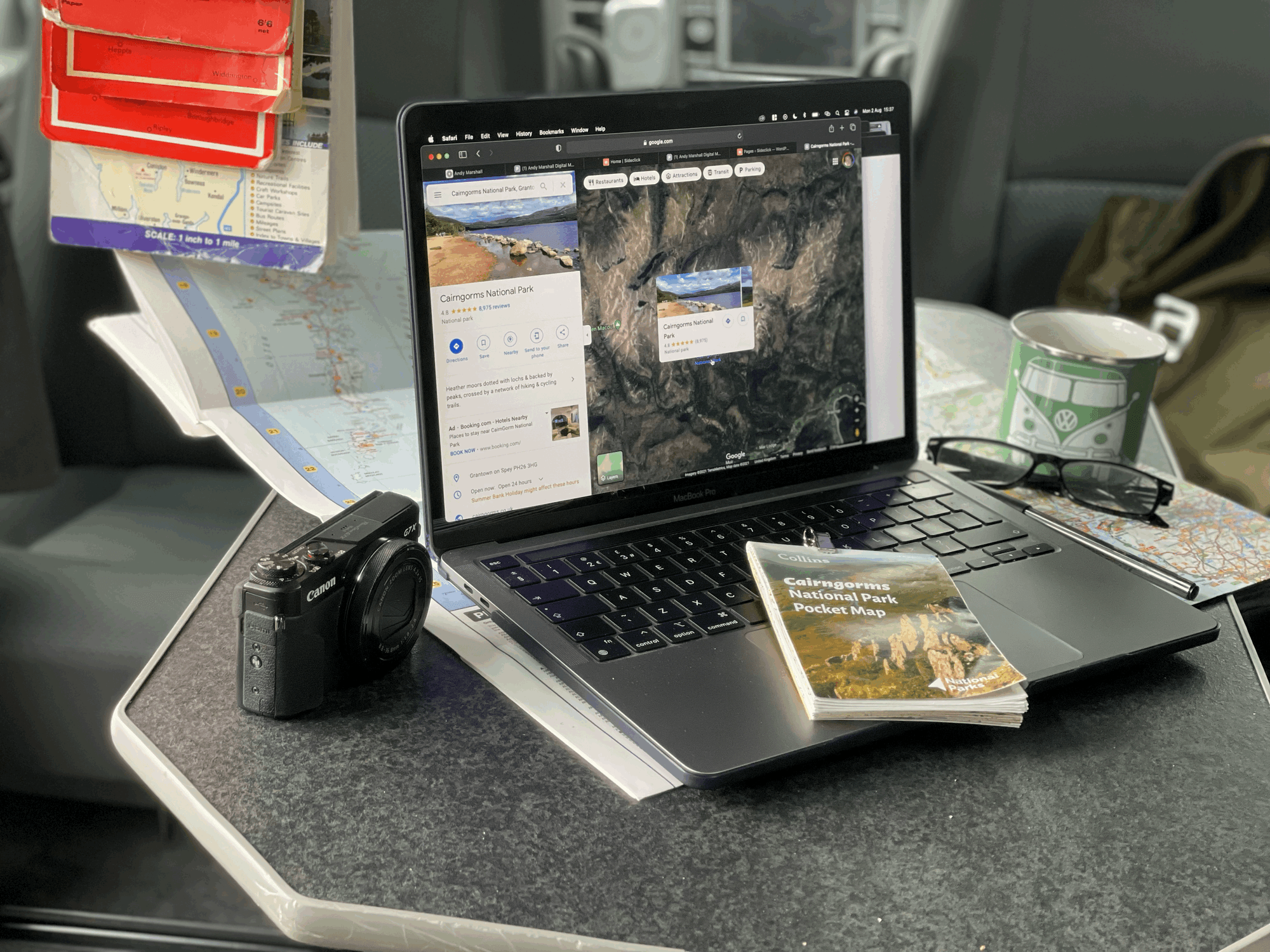 Place Writing: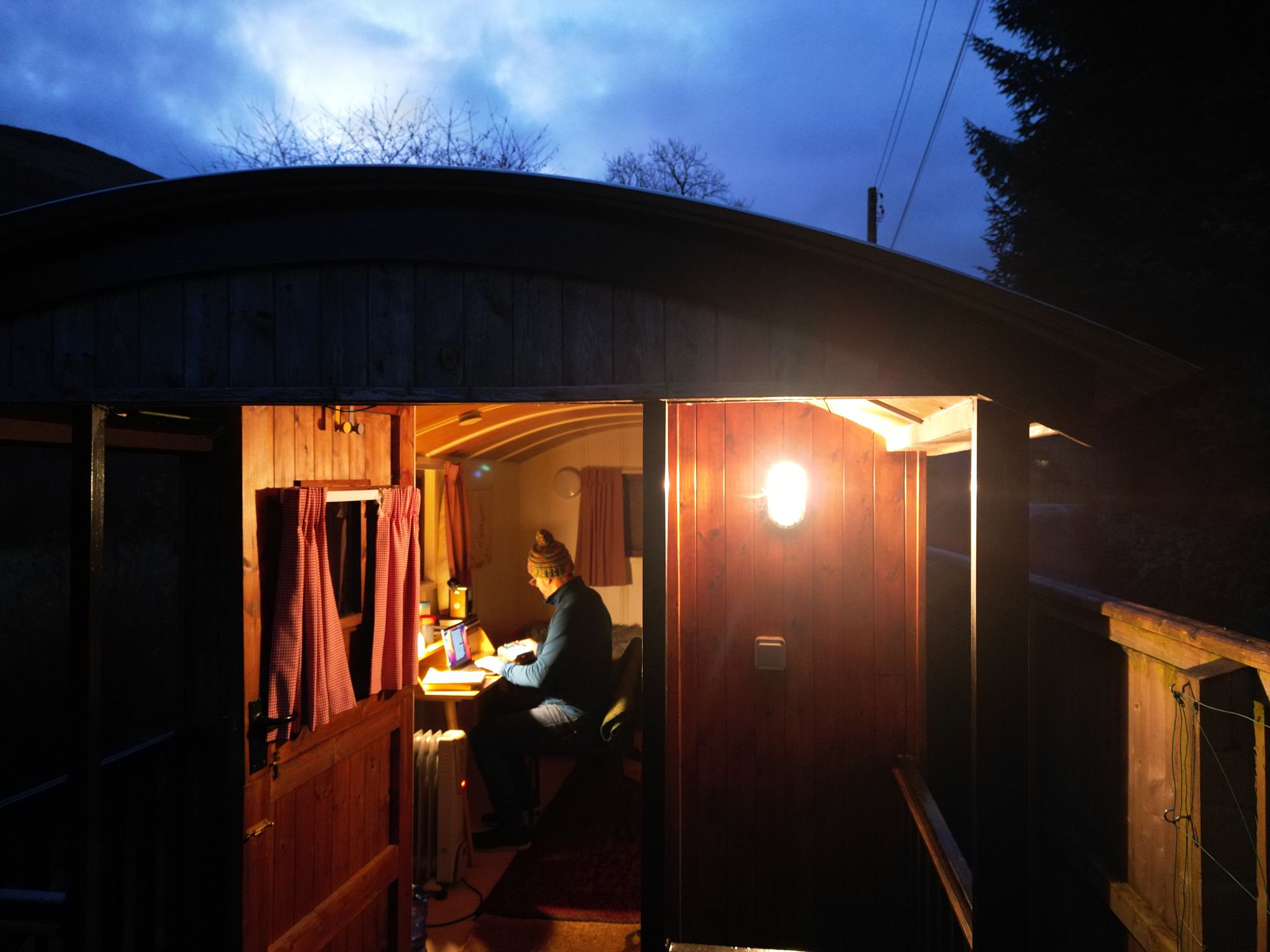 Photography: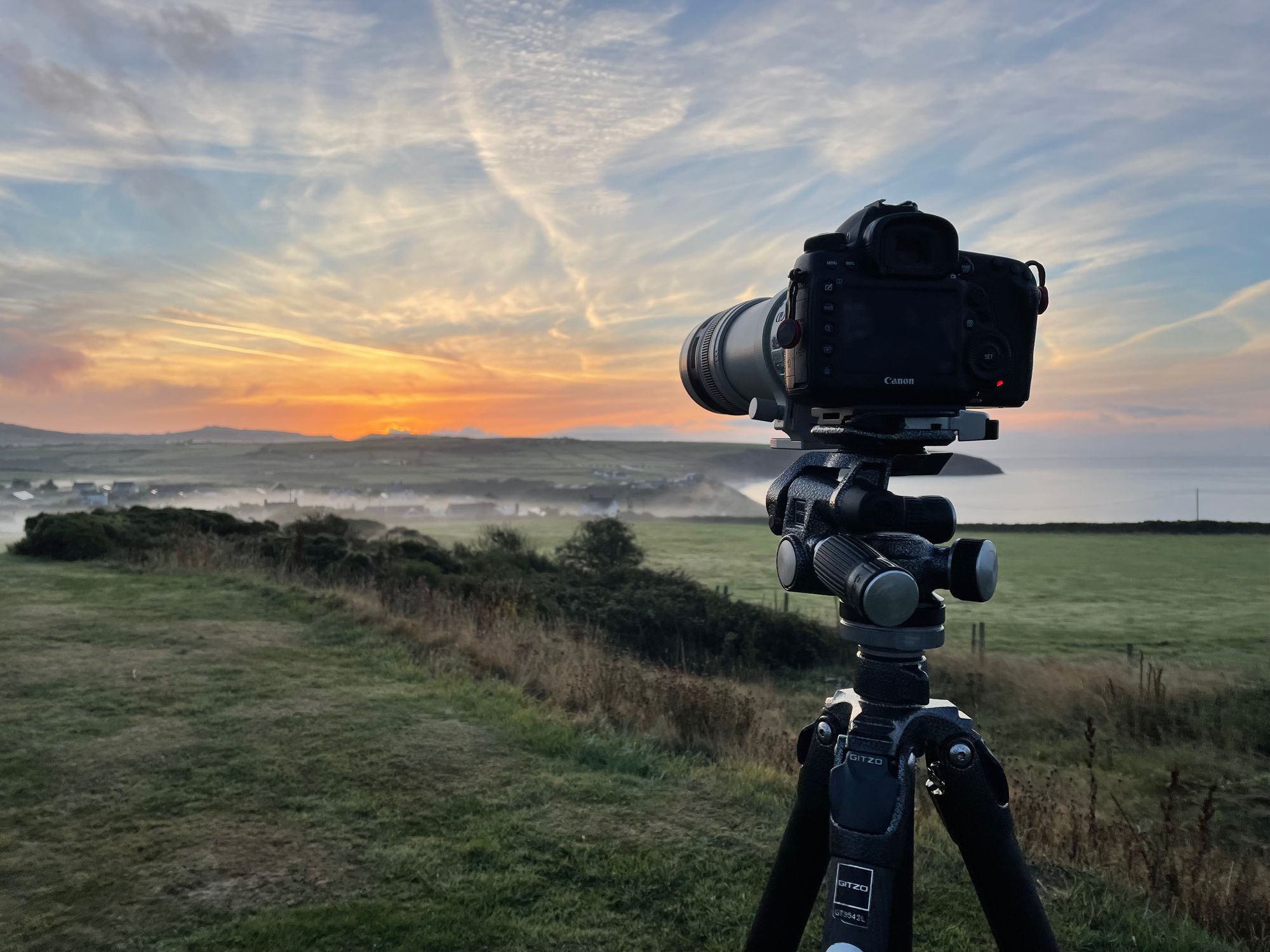 Virtual Reality: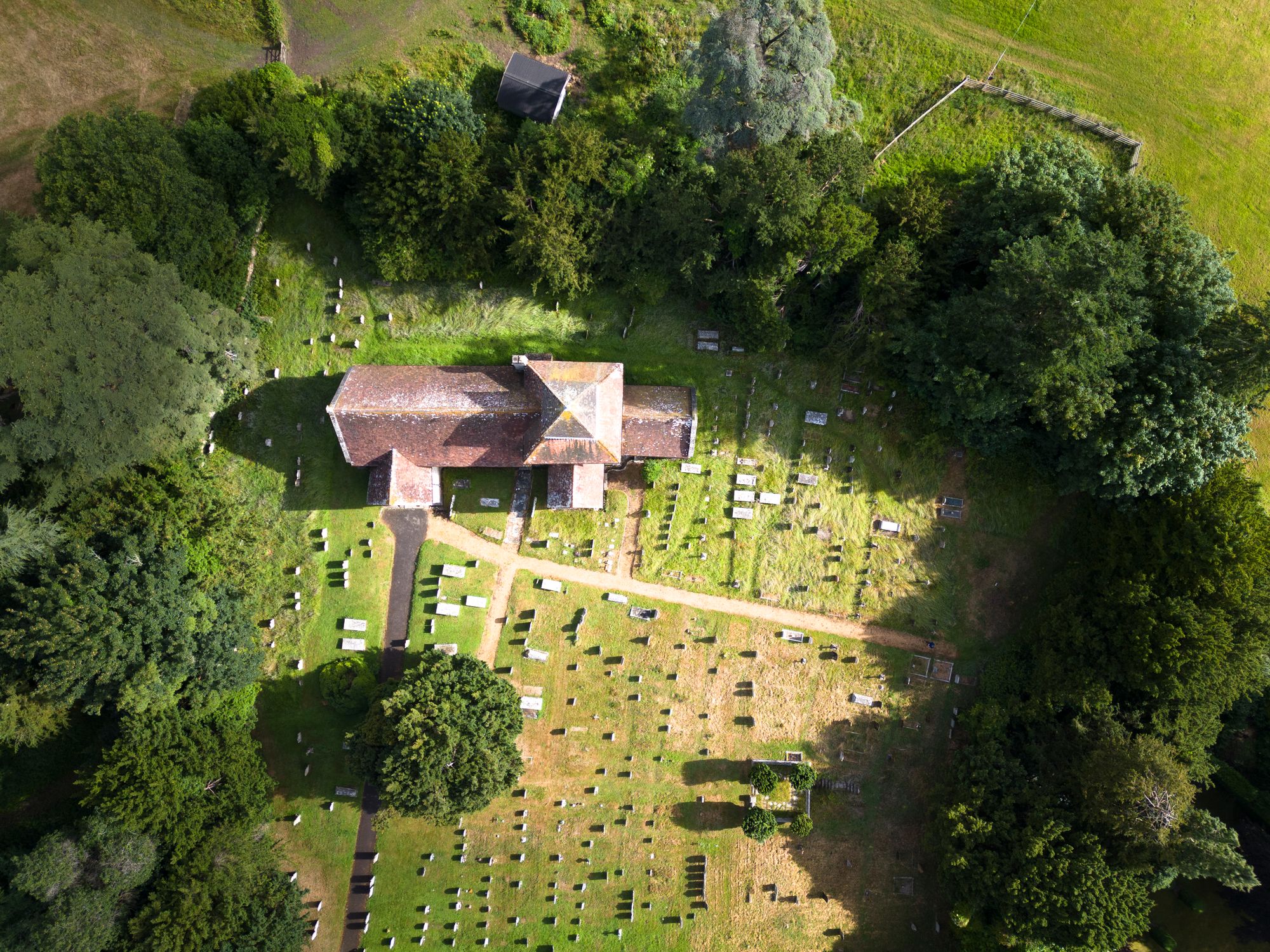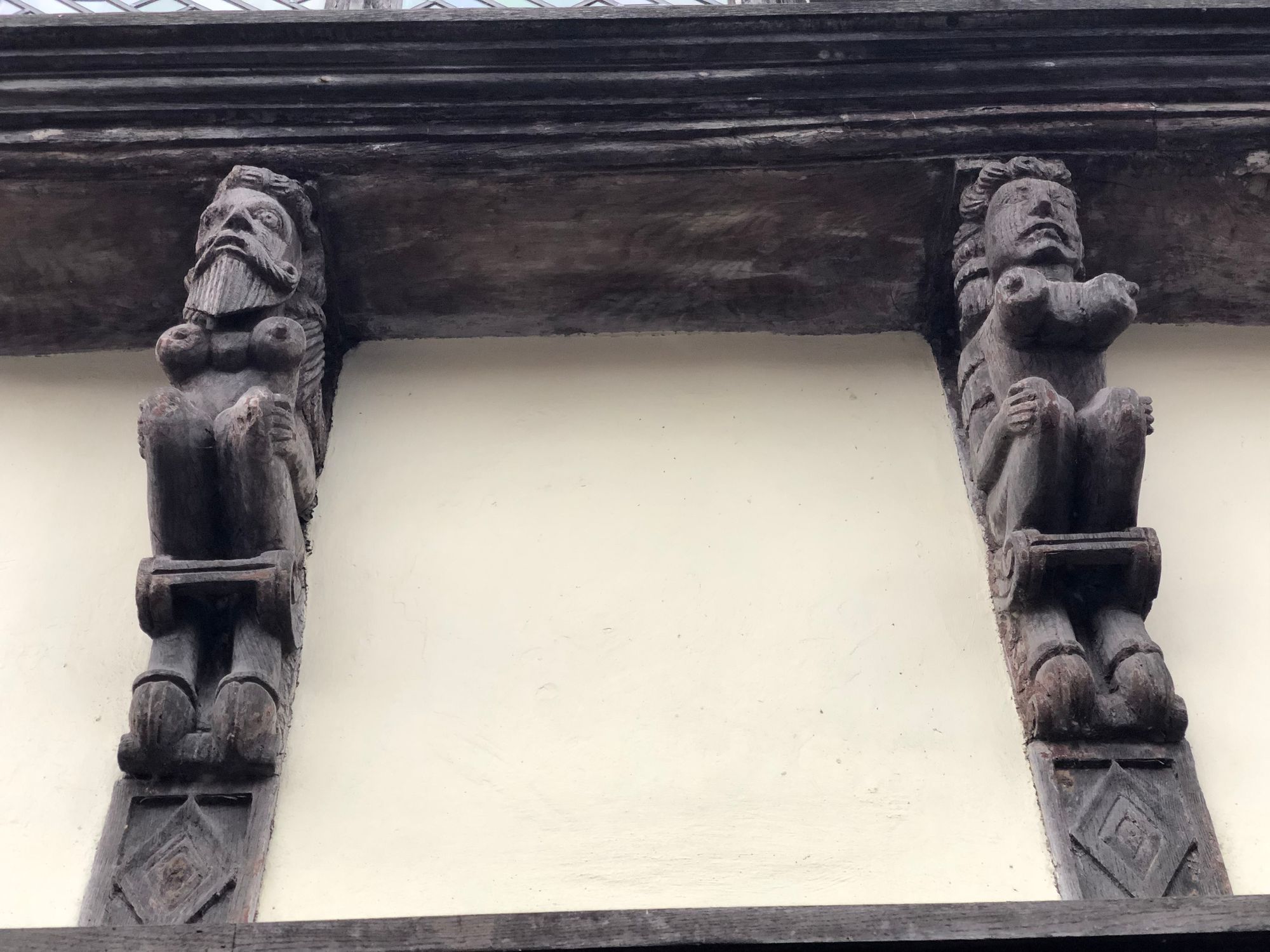 Road Trips: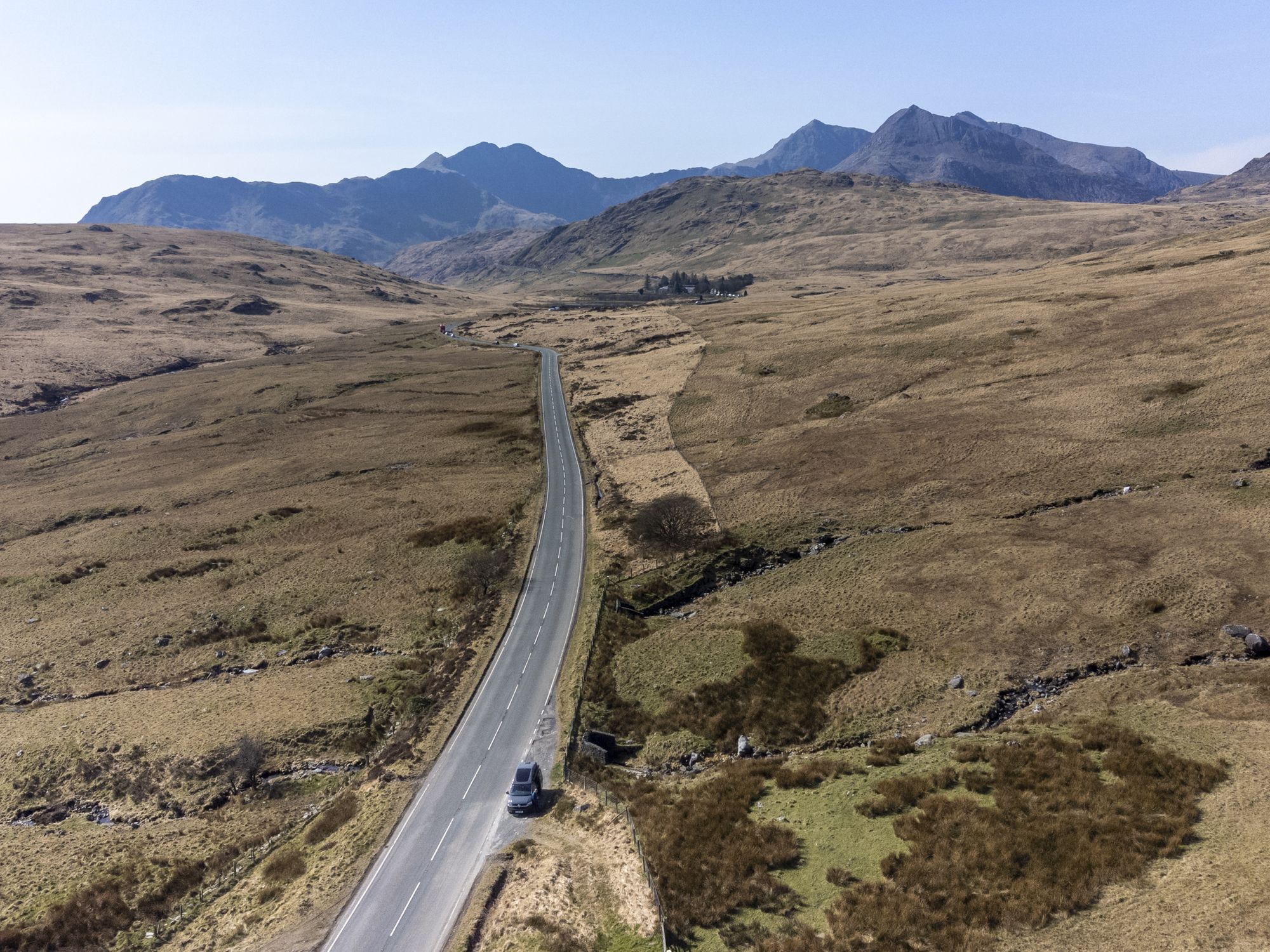 A Year in the Life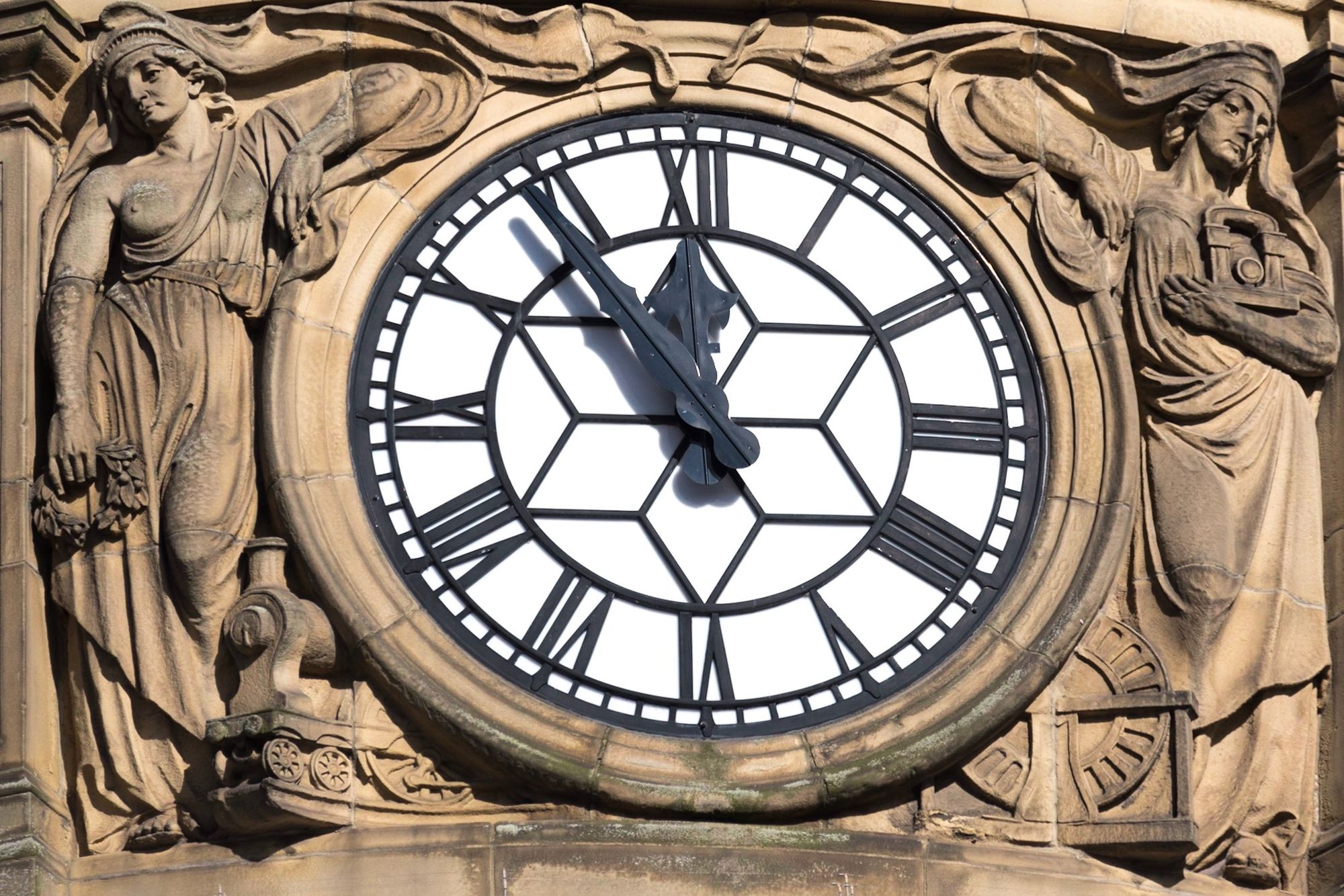 ---