---
Welcome
For those that are new here: thank you for subscribing.
I'm an architectural photographer. I travel around Britain recording and interacting with special places that have a spirit about them. I work from my camper van called Woody and I share my experiences via this digest.
⚡️ Missed the last digest? Here it is.
⚡️ View the digest archive here.
I love to hear your comments and feedback. Email me from here.
---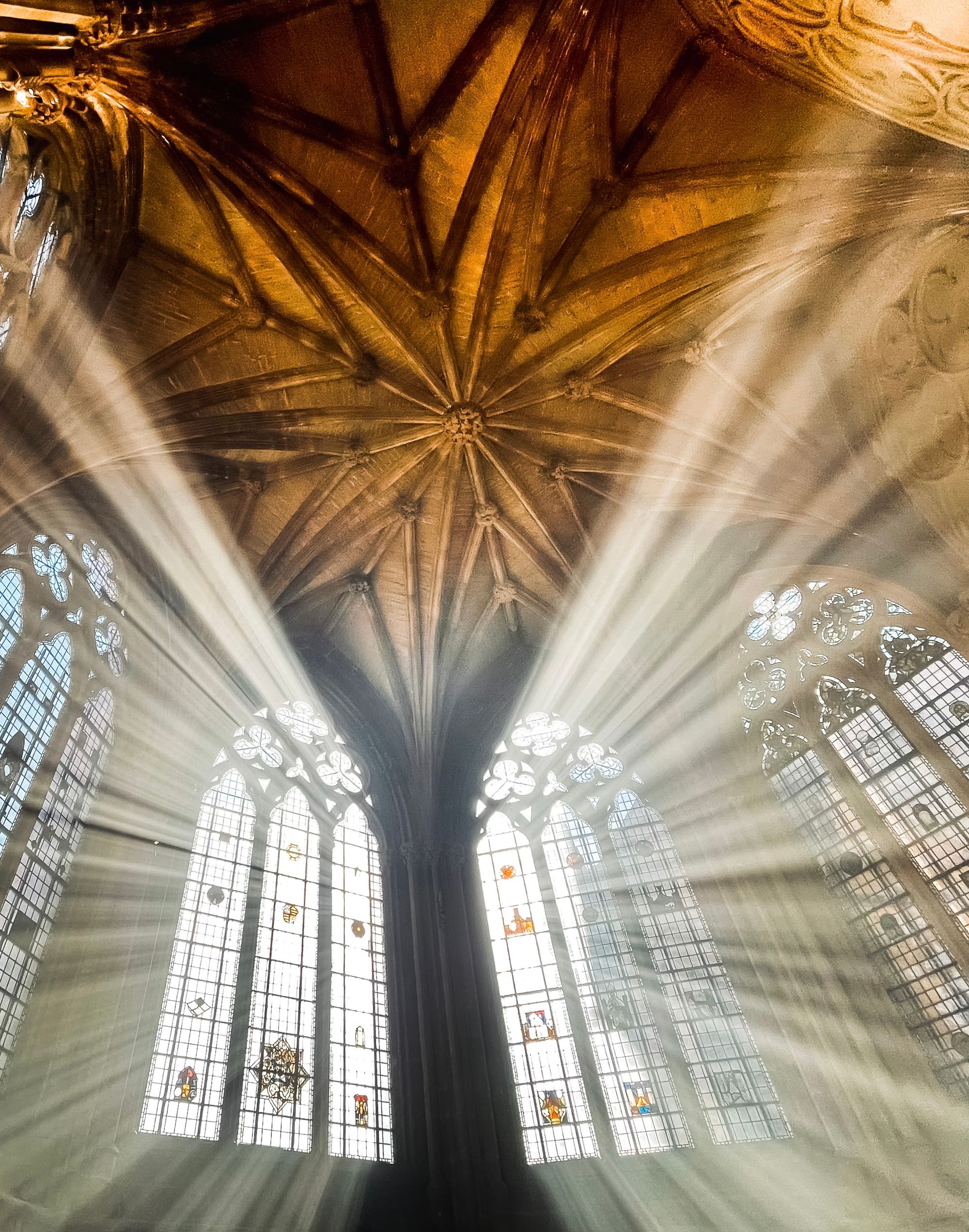 Unlike many other chapter houses, the ribbed vaulting of Southwell Minster's C13th chapter house doesn't have a central pier - it hovers over the space allowing light to flood into the heart of the building.
---
"If the man in the moon
Gazing at the waning earth, watches
How the frayed edge of the sunset catches
Thimbles and nodules of rock,
Hachuring distinct with threads of shadow
All that is hammered flat in the earth's brass noon;"
With thanks to Isabel Rogers on Twitter.
---
An Anxiety of Memberships
---
"You digest is nourishing, like a big hot bowl of steaming broth."
Member's comment.
---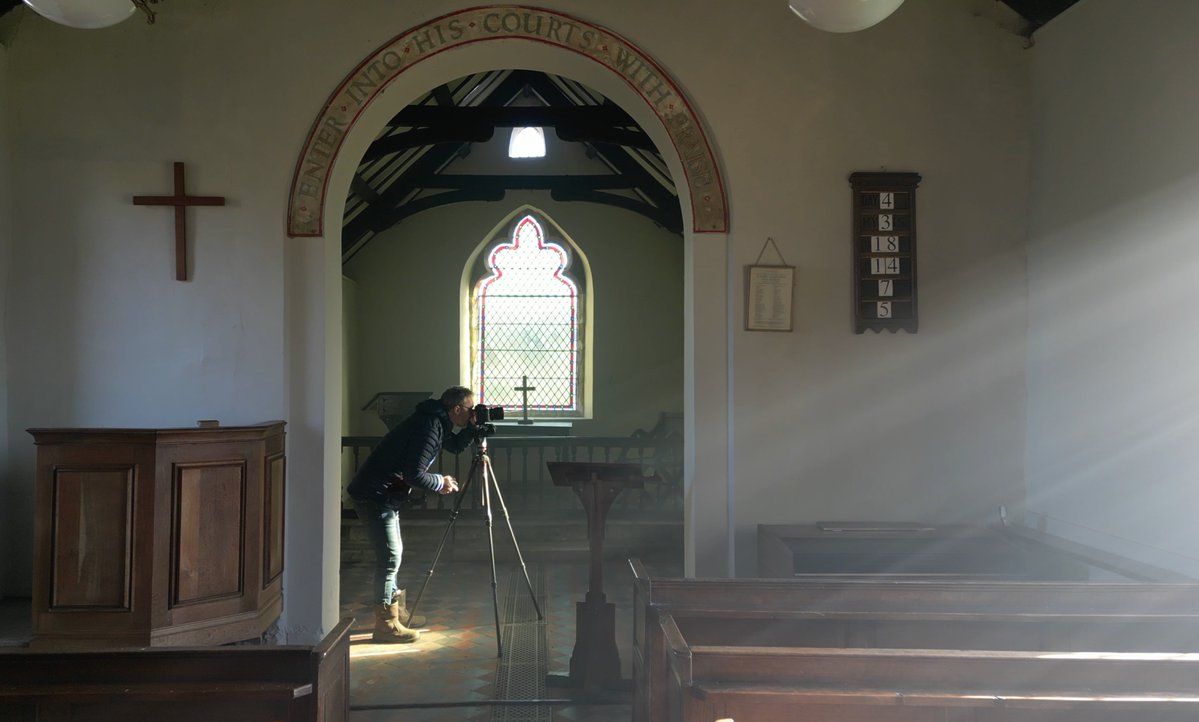 When the idea of starting a membership programme with paid members was suggested to me, I found myself doing that familiar thing we all do when faced with something uncomfortable - I plugged my ears and shut my eyes.
I've written in this digest of my trials and tribulations and the joy of finding a career in the creative arts through breakdown; but one of the residual elements that has plagued me ever since is a low self esteem - a kind of imposter syndrome.
I still find it difficult to look in the mirror and say to myself: "You are a photographer." Sometimes, when I see my photography in a book or a magazine, I think that it must have been taken by somebody else.
It's an odd condition.
---
I still find it difficult to look in the mirror and say to myself: "You are a photographer."
---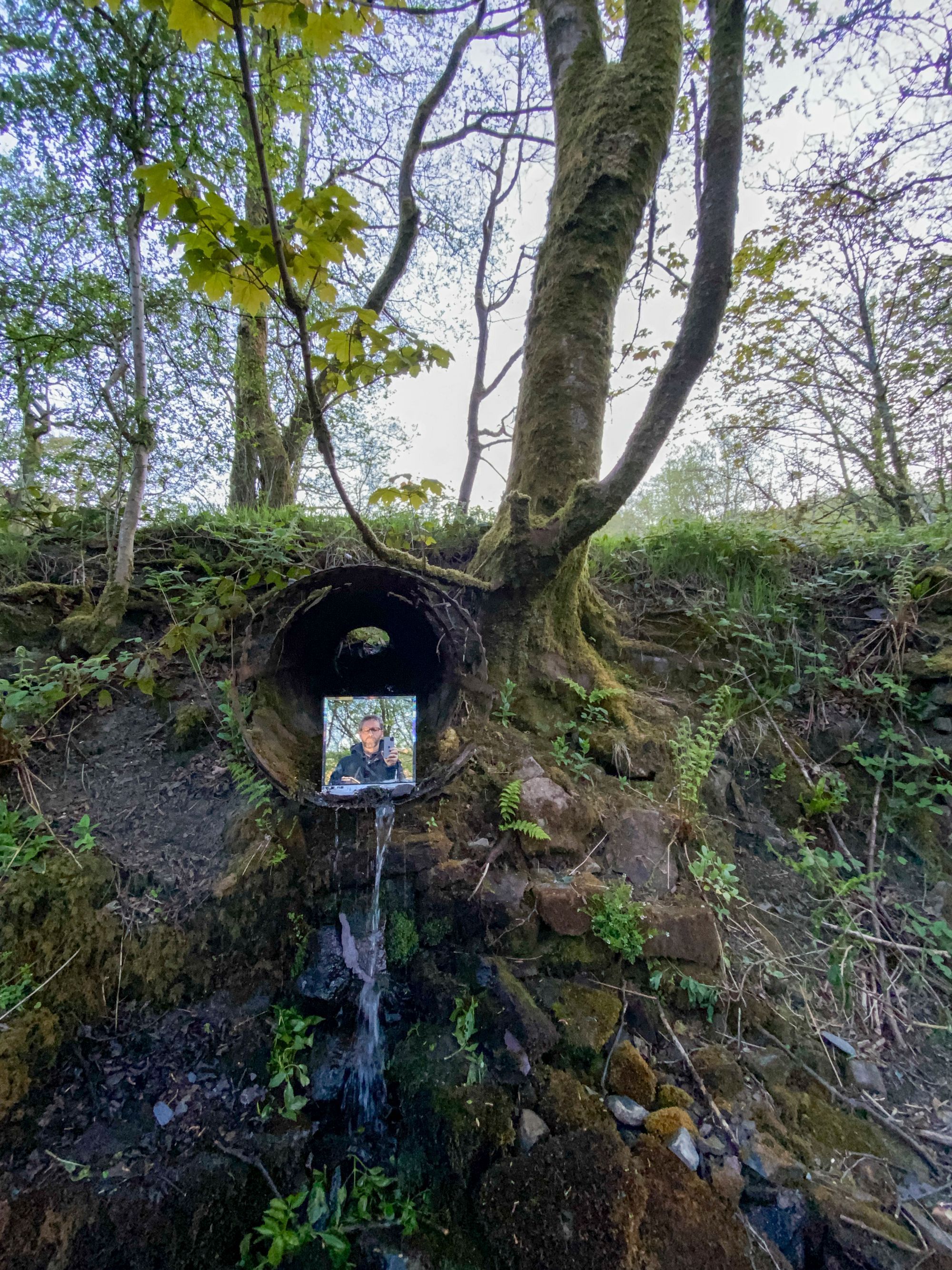 I deal with it by seeing it as a gift - a way of keeping me grounded and a method to ensure that my work is the best that I can give.
But, when I think of the membership programme, my gift becomes a millstone around my neck. It makes me extremely anxious.
My unease stems from several sources. Firstly, every fibre of my being whispers that I am unworthy and incapable. Secondly, I fret that my valued acquaintances and connections may perceive me as having sold out to some unscrupulous entity. Thirdly, being English, I feel that engaging in such endeavours is simply not within my cultural DNA. And finally, if I am to be honest, I am afraid of falling short.
What lifts me up and out from all this is the cadence of this digest. The regular ebb and flow of overnights in the van, the visits to places that nourish, and the writing up of the digest itself. Above all, the sublime pleasure of sharing my discoveries with others, and the satisfaction of knowing that my words have made a positive impact on people's lives, is simply indescribable.
I have lost track of the number of people who have reached out to me to share their transformative experiences after visiting locations from this digest. This fills me with an unparalleled sense of joy, making it all worthwhile.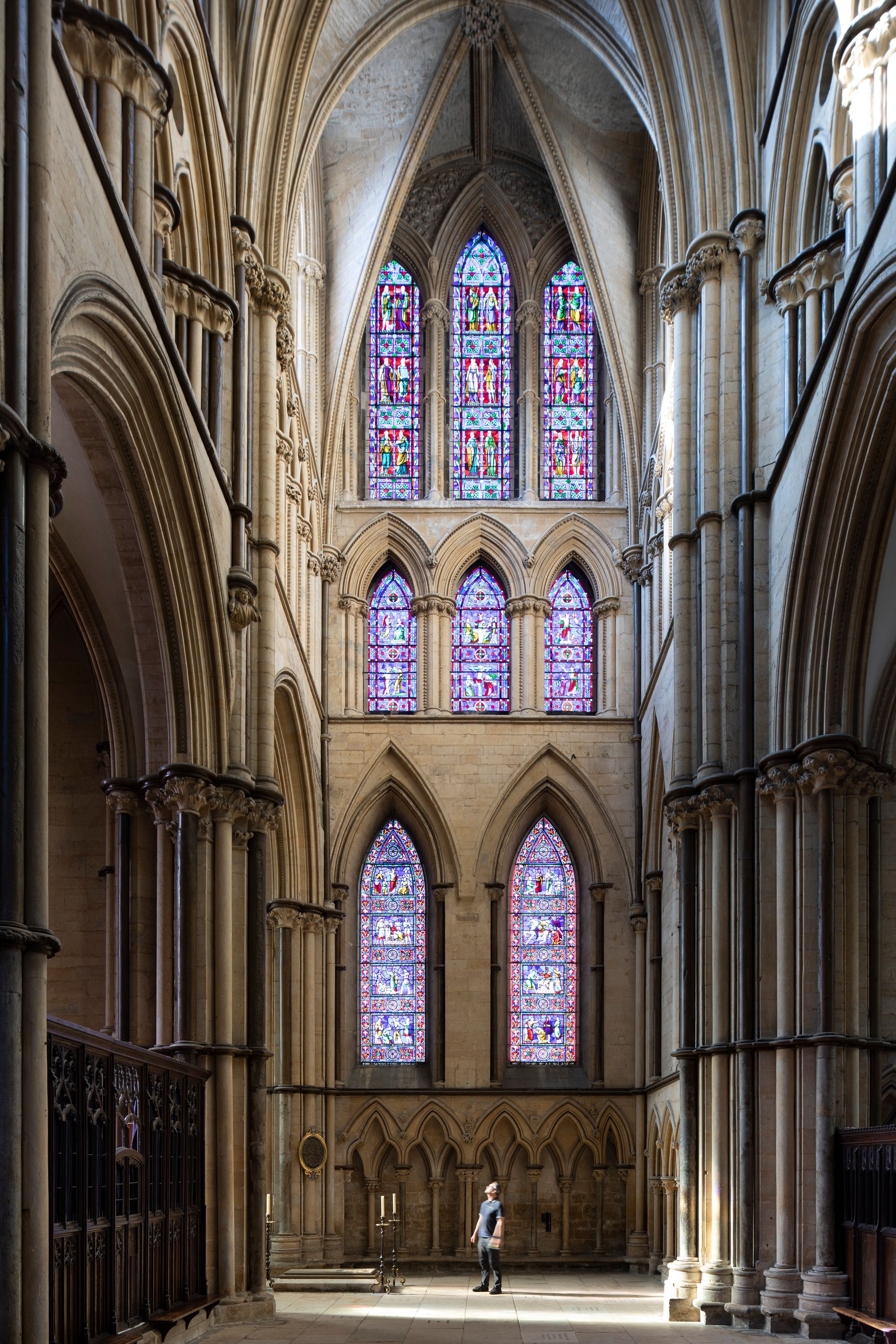 The environment has changed massively for a specialist photographer, and the pure and simple aim of the memberships is to give my absolute best in return for a financial lifeline to the future that enables my camper-van-camino of discovery to be shared through the Genius Loci Digest.
To this date the membership has increased to 41 members and I'm so grateful and thankful. The membership is the base of a lovely, warm and connected community that cares and cossets me through my discoveries in Woody. It is also a vital ingredient in the hot bowl of steaming broth that is this digest.
When I'm capturing the beauty of an inspiring location through my lens, I can't help but think that Woody, my camper van, isn't powered by electric and diesel, but by your membership subscriptions.
---
"The membership is the base of a lovely, warm and connected community that cares and cossets me through my discoveries in Woody."
---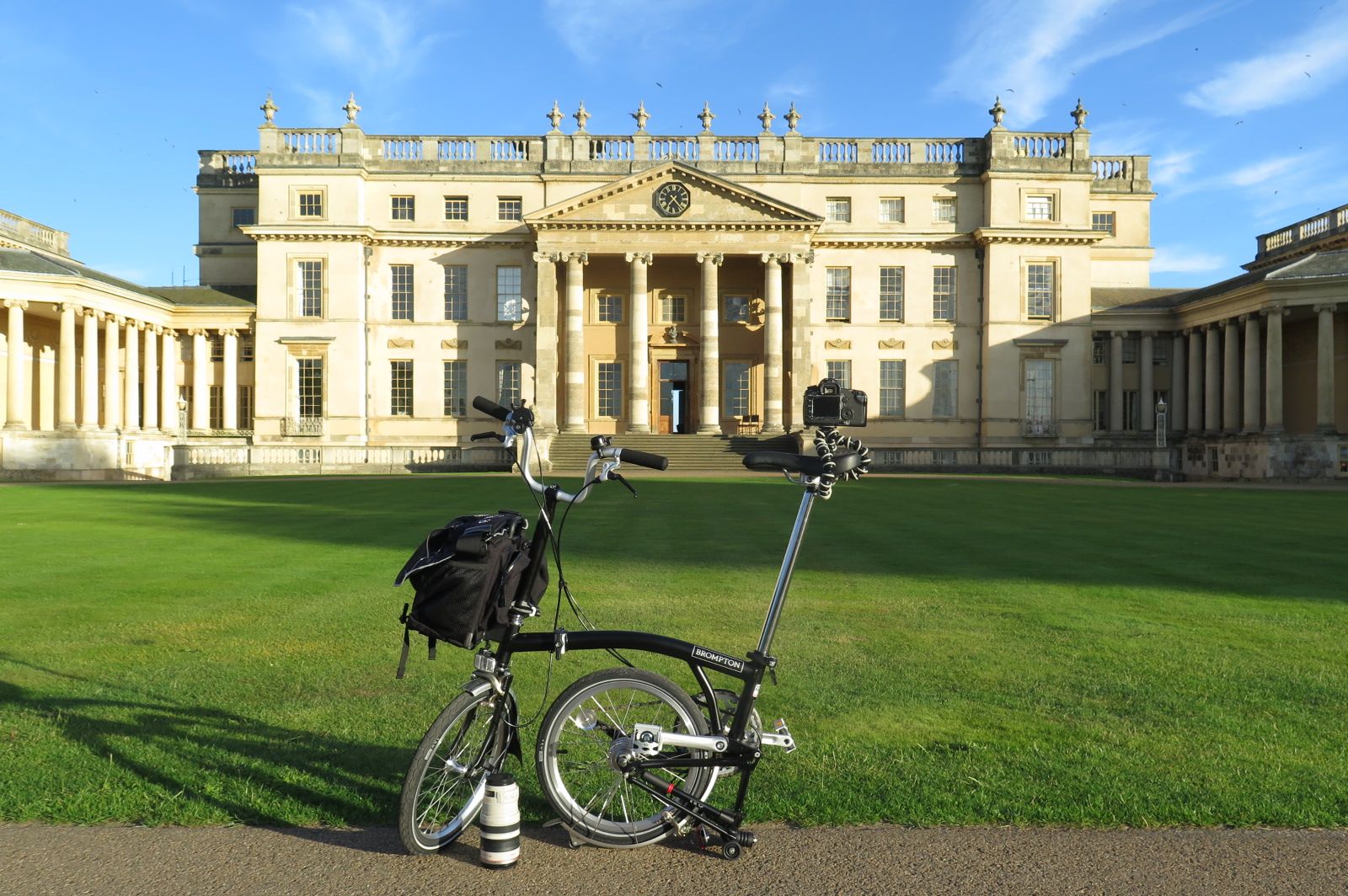 As well as the Genius Loci Digest and the Membership goodies, my ultimate aim is to give something back: that the memberships will grow to a level that will allow me to provide a regular service to community heritage that can't afford professional media.
Reaching 40 members has triggered the first search for a heritage asset to photograph for free. Reaching the next goal of 50 members will trigger another free project. Members will get to interact with the process of photographing these sites.
So, on this (kind of) anniversary of setting up the membership scheme, I want to say a huge thank you to every single member, present and past, that has helped keep Woody on the road and projected the places, content and values of this digest into the public realm.
If you're not a member and would like to see what it's all about check out the benefits here.
Andy (and Woody)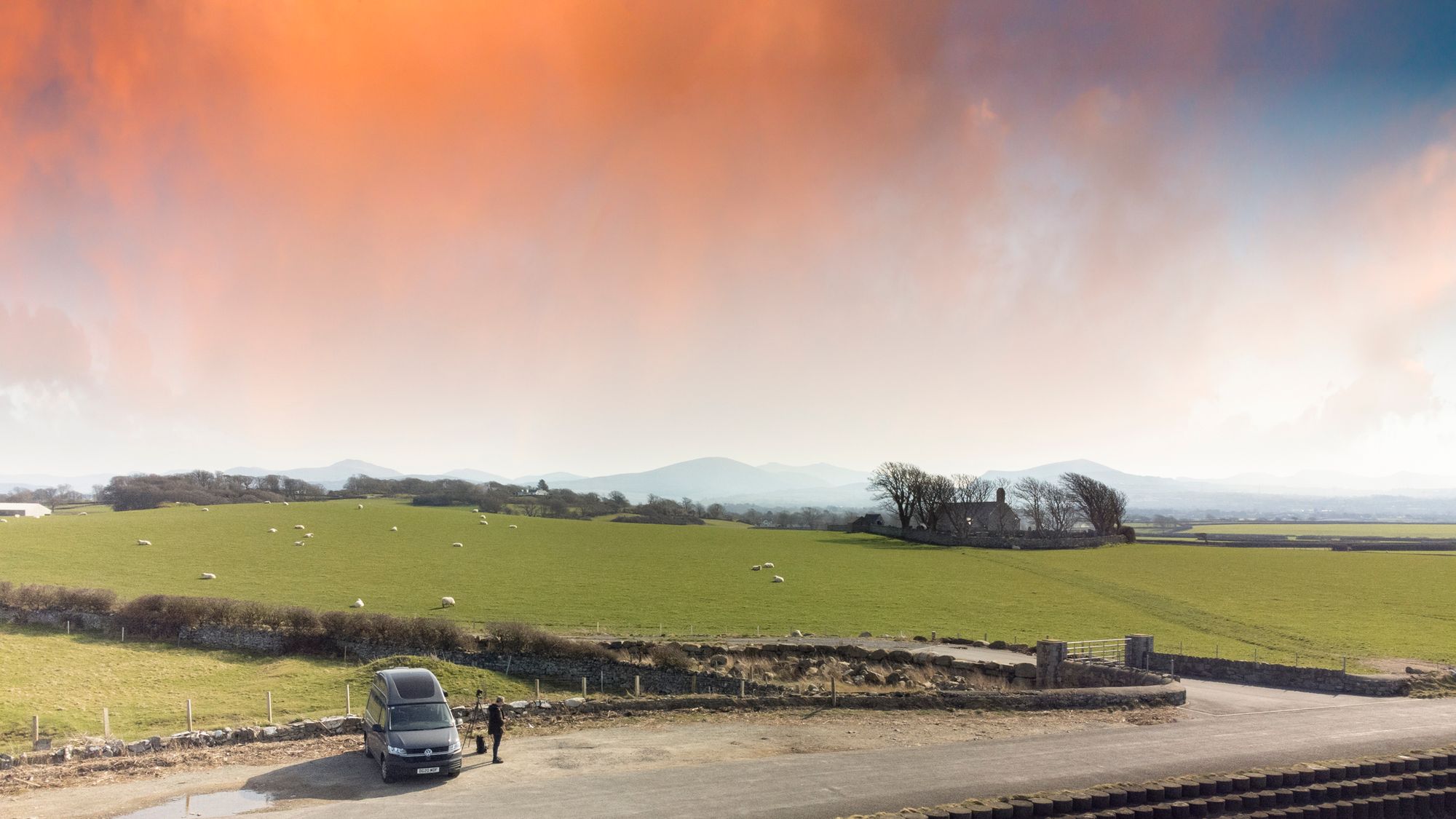 ---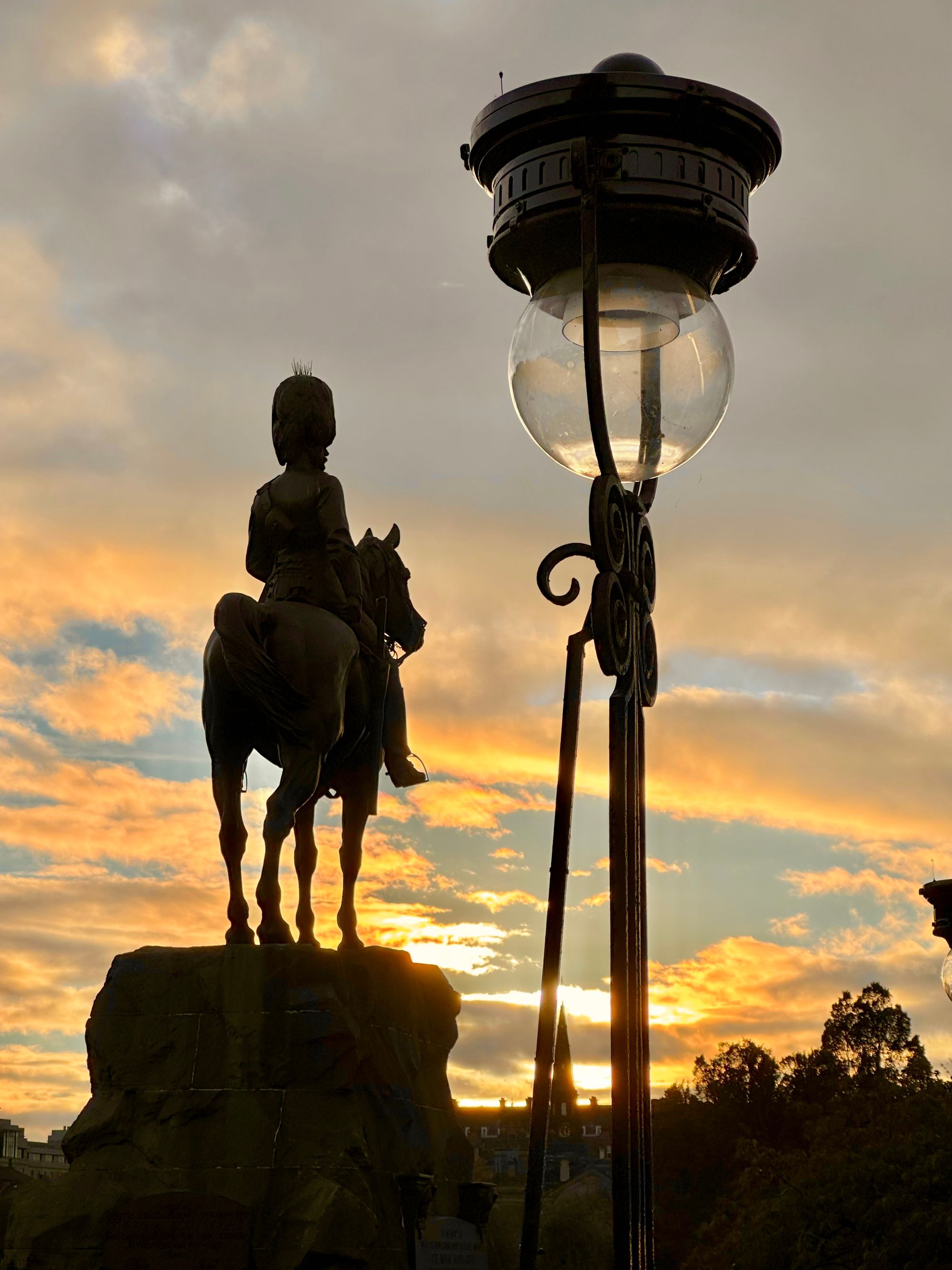 Edinburgh, Scotland.
It's almost surreal to think that a place as enchanting as Edinburgh truly exists. Whenever I visit this capital city, which exudes the charm of a quaint village, I have to pinch myself to believe it's only a few hours' drive away.
My latest adventure took me up north, commissioned to photograph a public realm building on the outskirts of Edinburgh. For my stay with Woody, I booked a cozy hookup at the Edinburgh CAMC, located just a couple of miles outside the bustling city centre.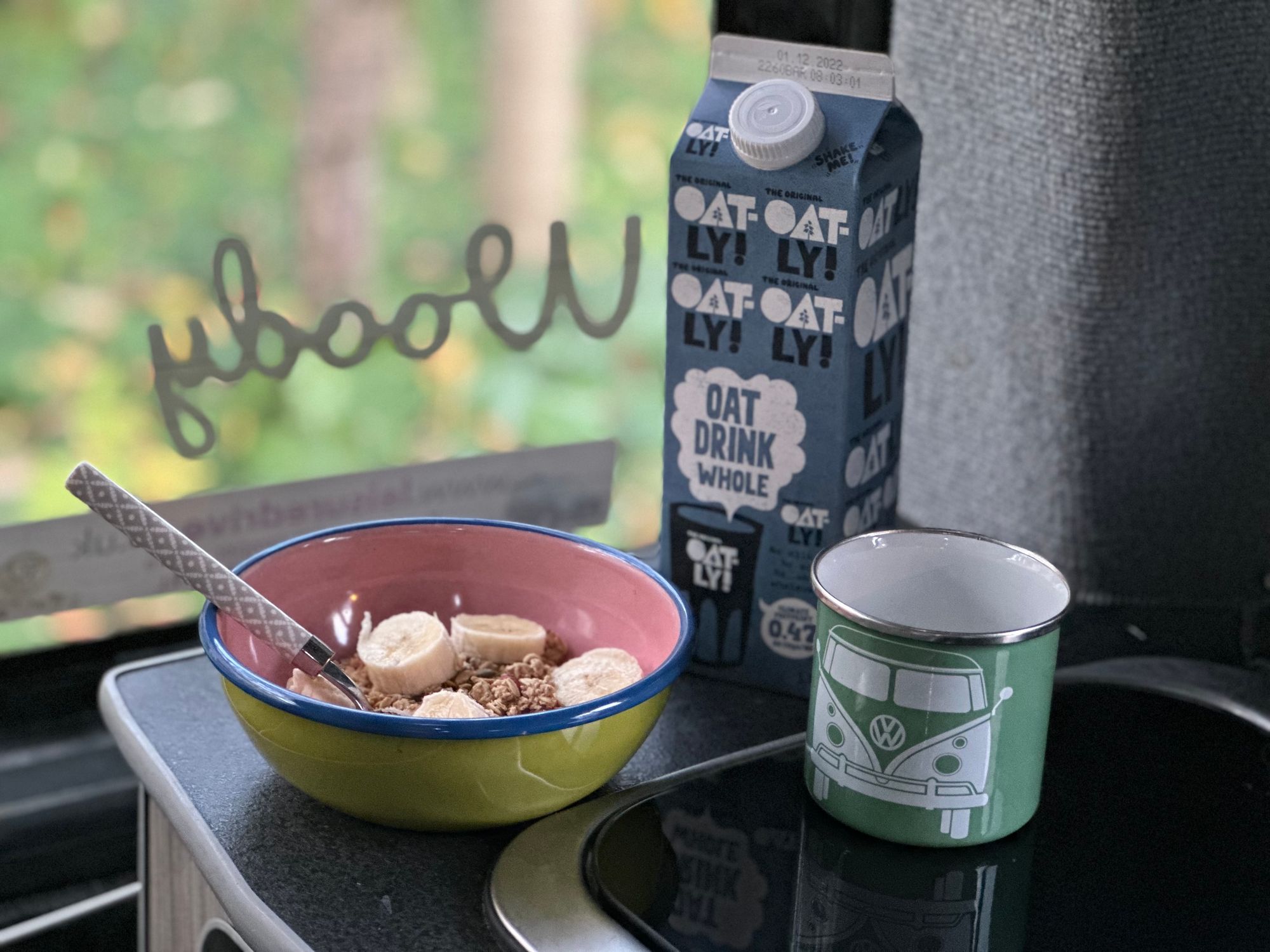 Rather than visiting the typical tourist hotspots like the Royal Mile and Princes Street, I chose to explore the lesser-known gems of Edinburgh's breathtaking Georgian and Regency architecture.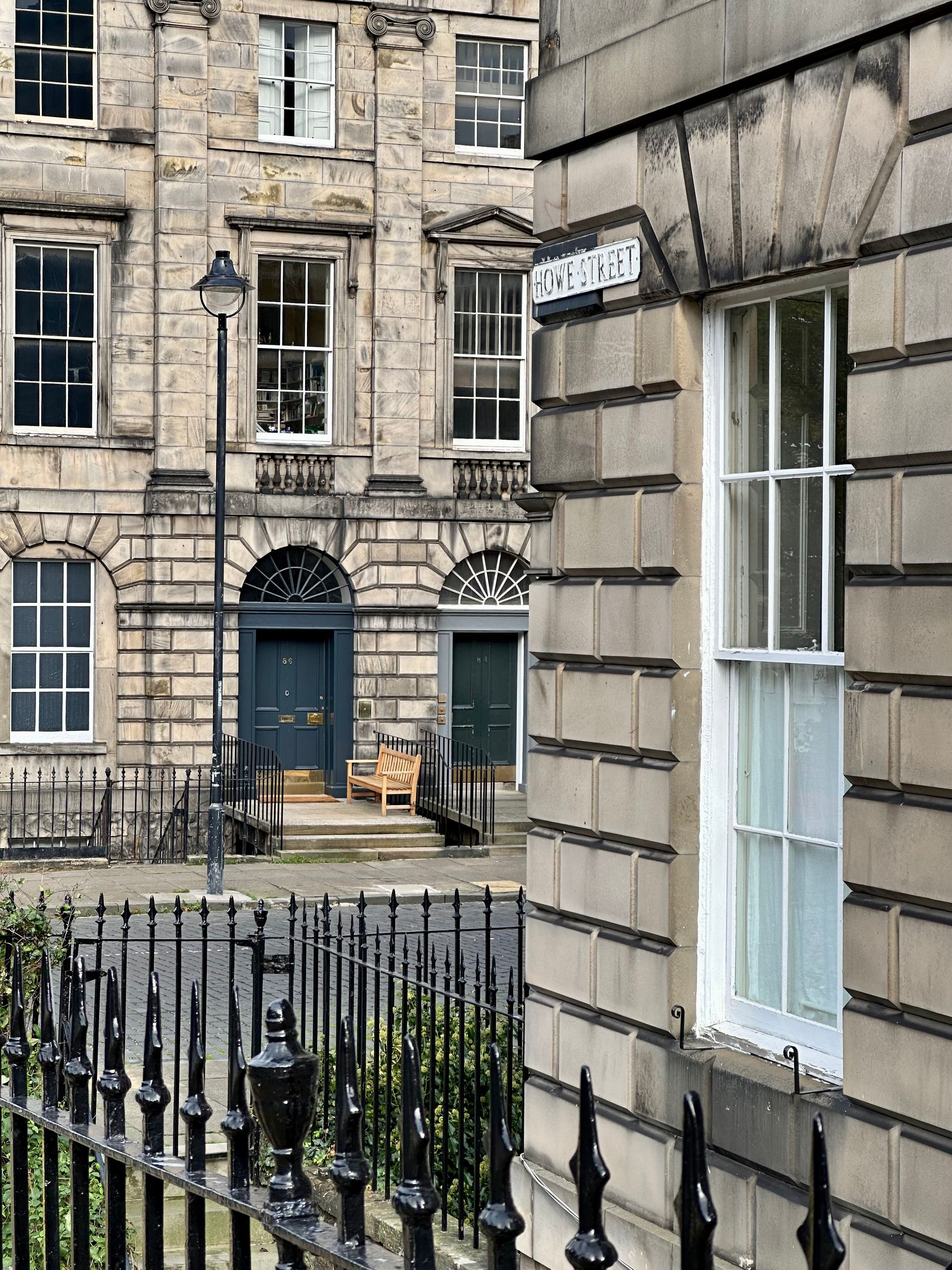 ---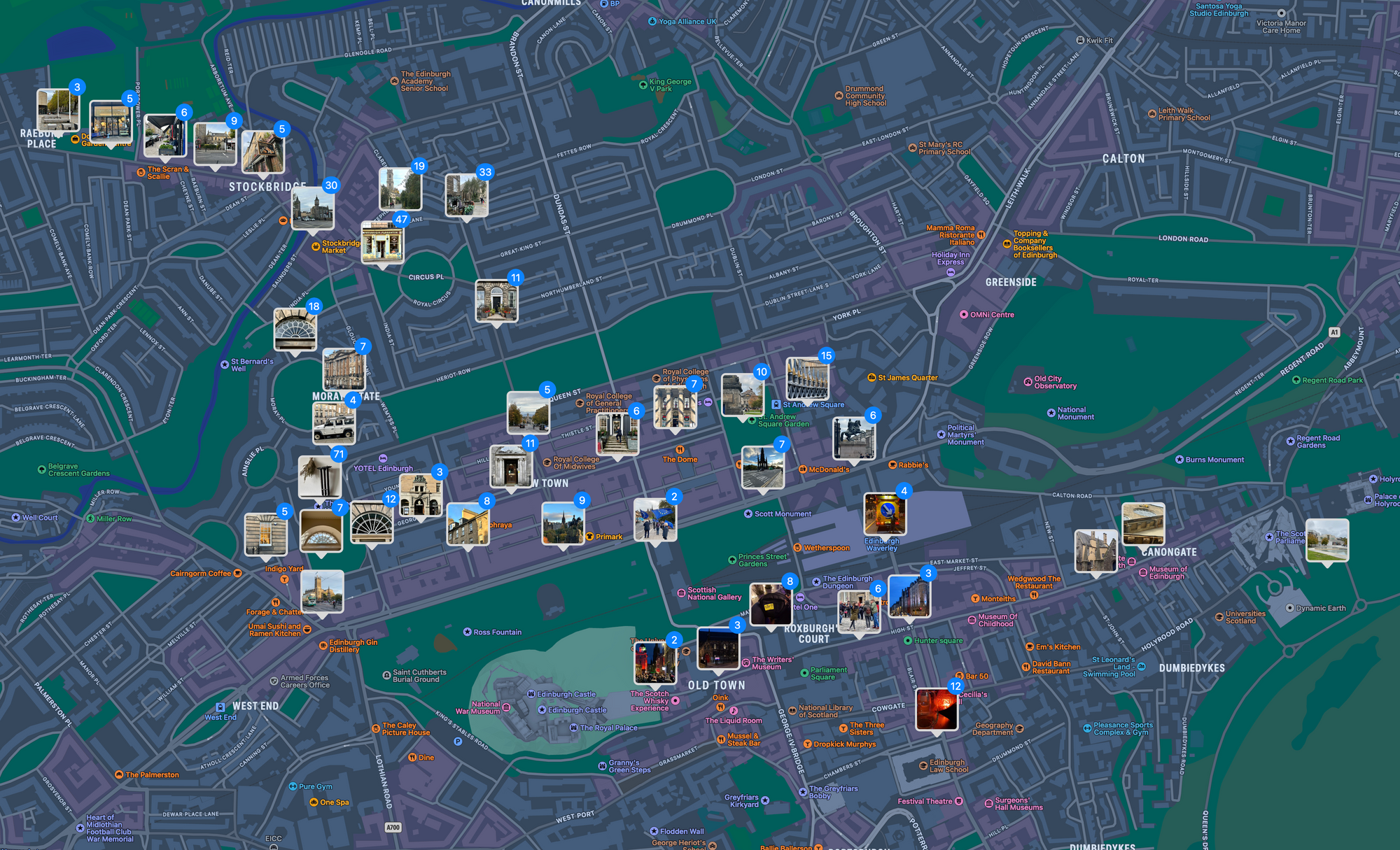 ---
My Favourite Edinburgh Establishments
I like to pin my visits around cafe's, pubs and restaurants that have a bit of history. They are the places where I rest, socialise and glean local information - hubs for heading out from.
Cafe Royal, West Register Street.
To think this little haven is just off the mad hustle and bustle of Princes Street. Neatly tucked away in a back lane, this is a fab place to grab a bite to eat for lunch after a weary morning shopping.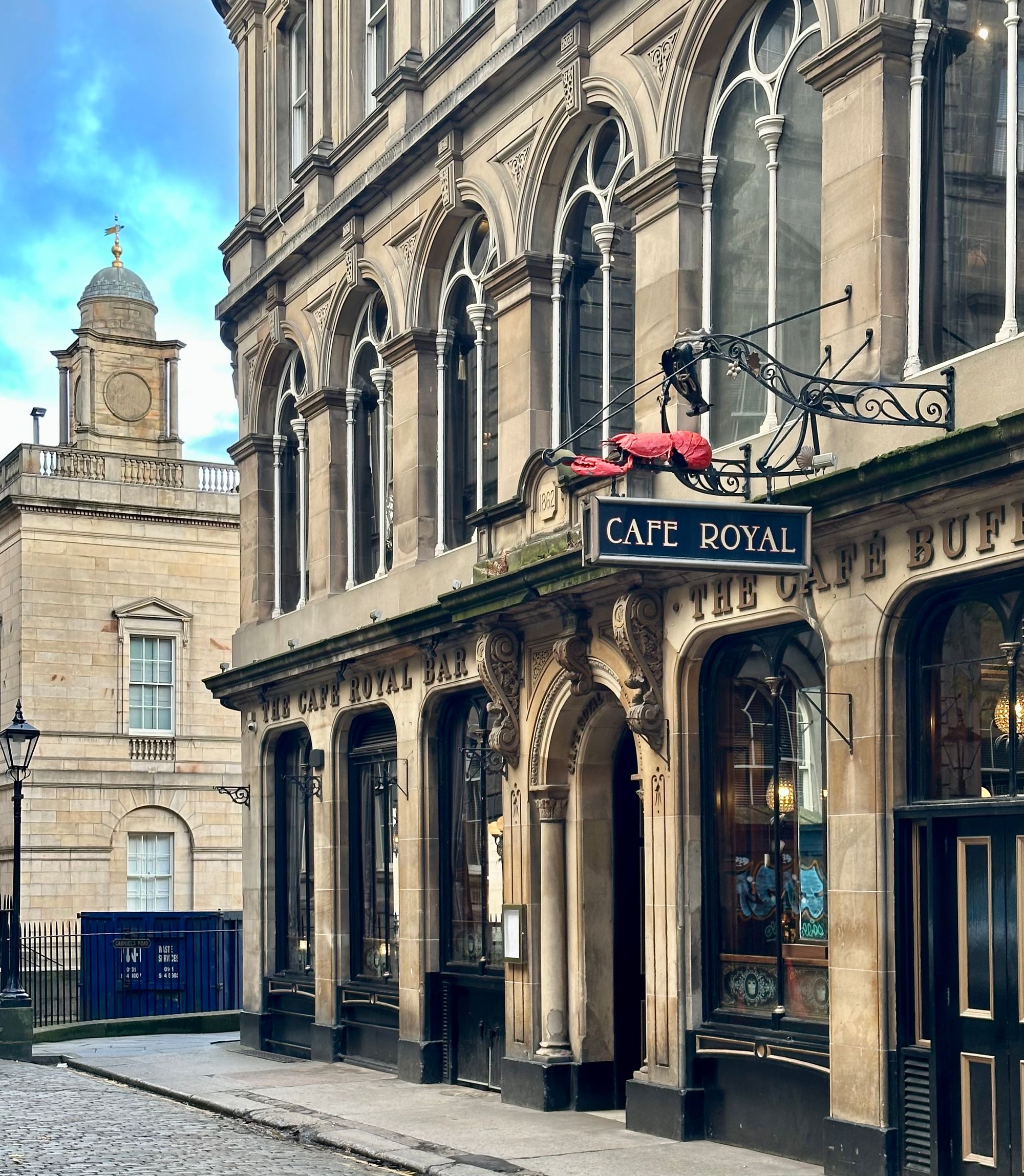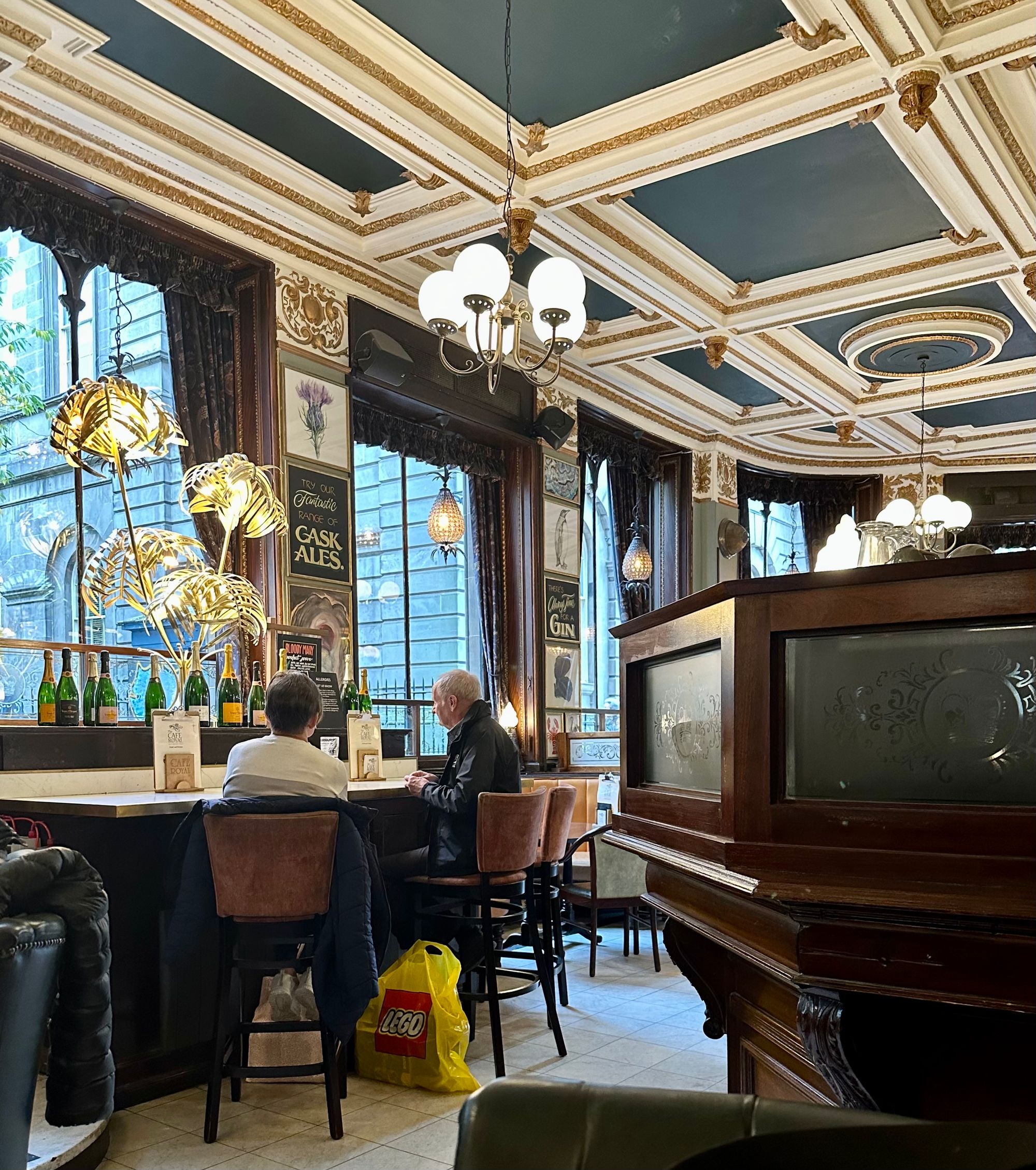 The interior has some priceless Royal Doulton ceramics painted by John Eyre.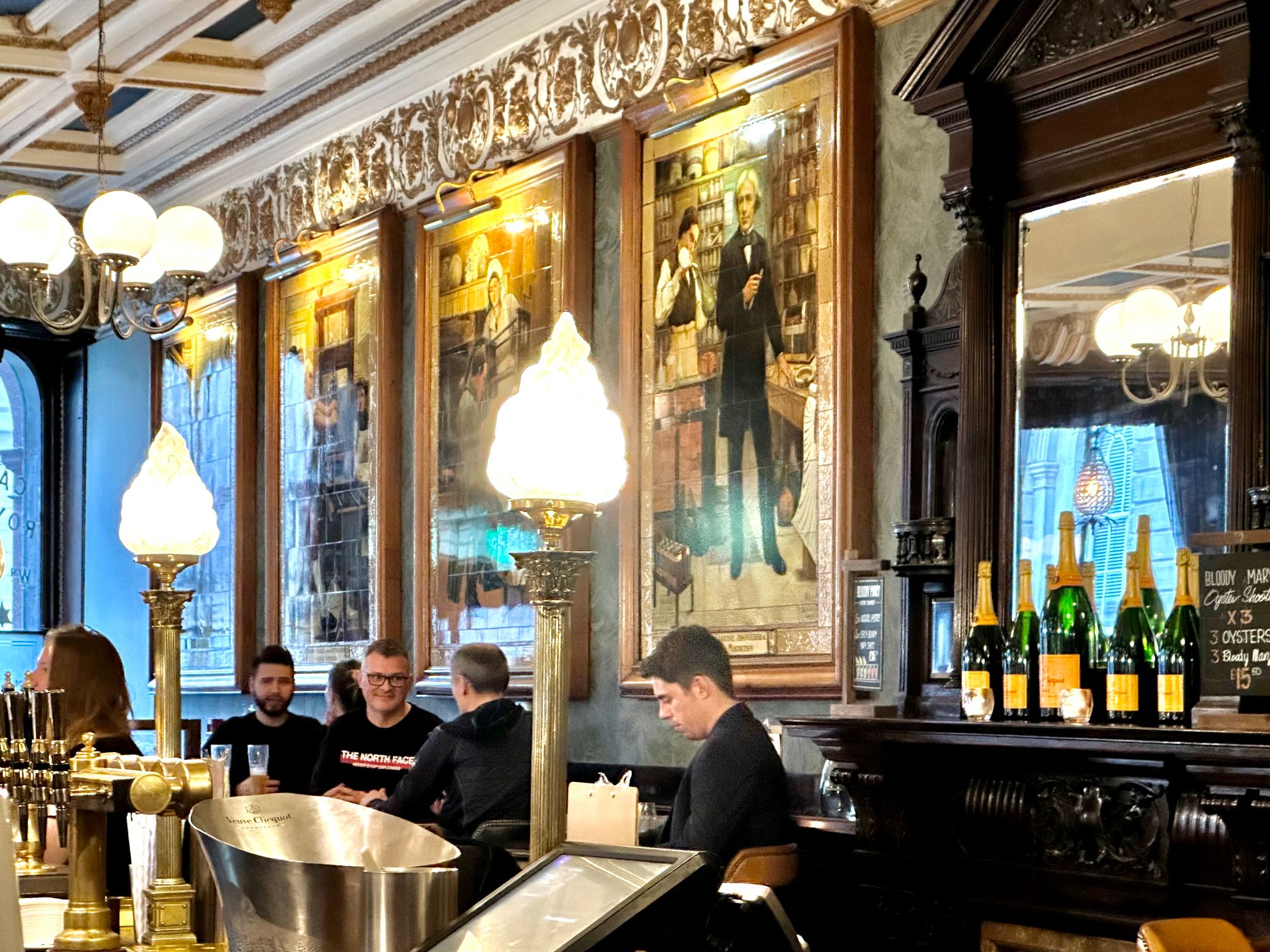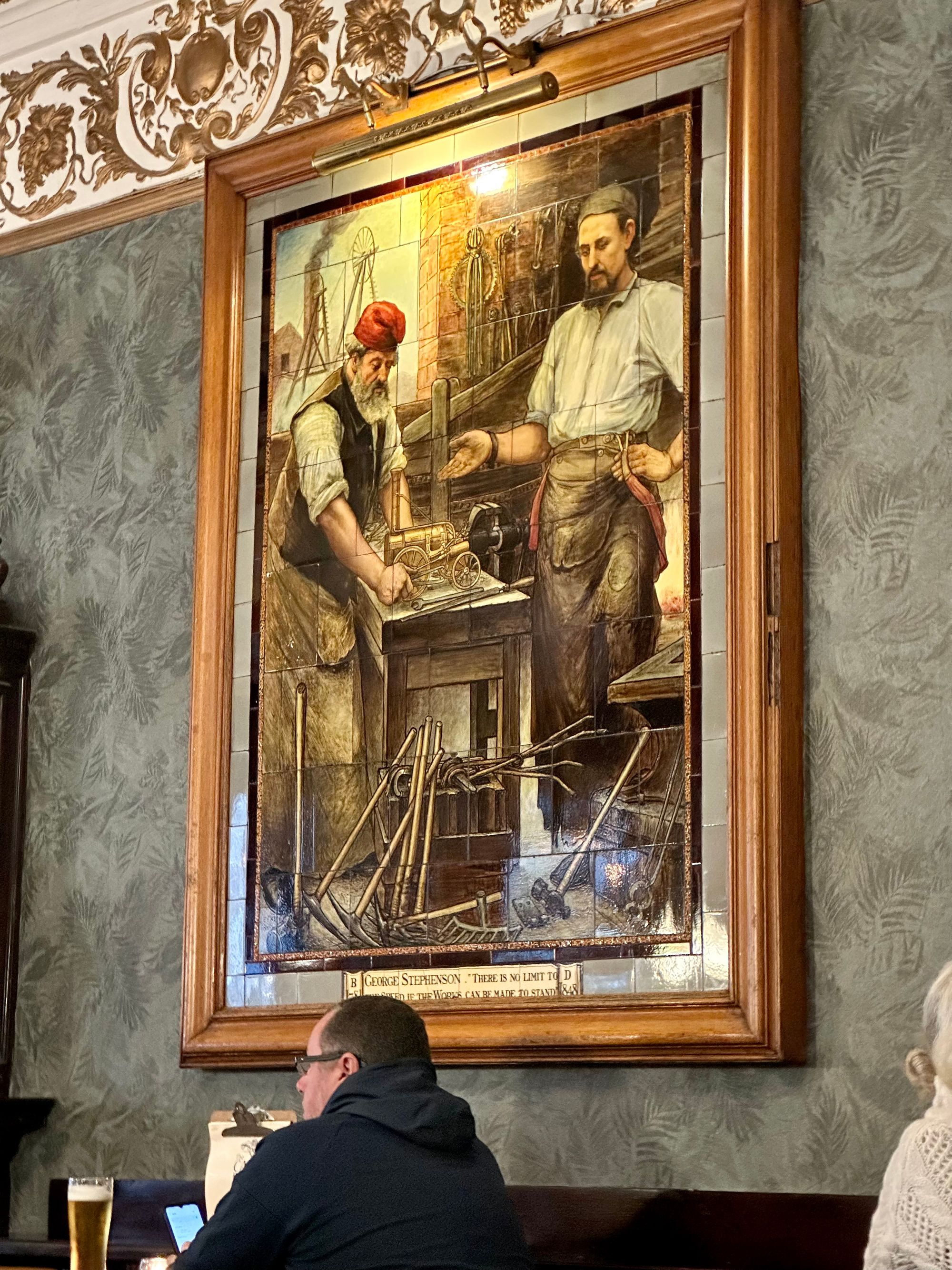 Edinburgh reminds me of Paris and, to add to that sparkle, I visit Patisserie Florentin which has been a staple of Stockbridge life for over 25 years. Croque-monsieur is my favourite.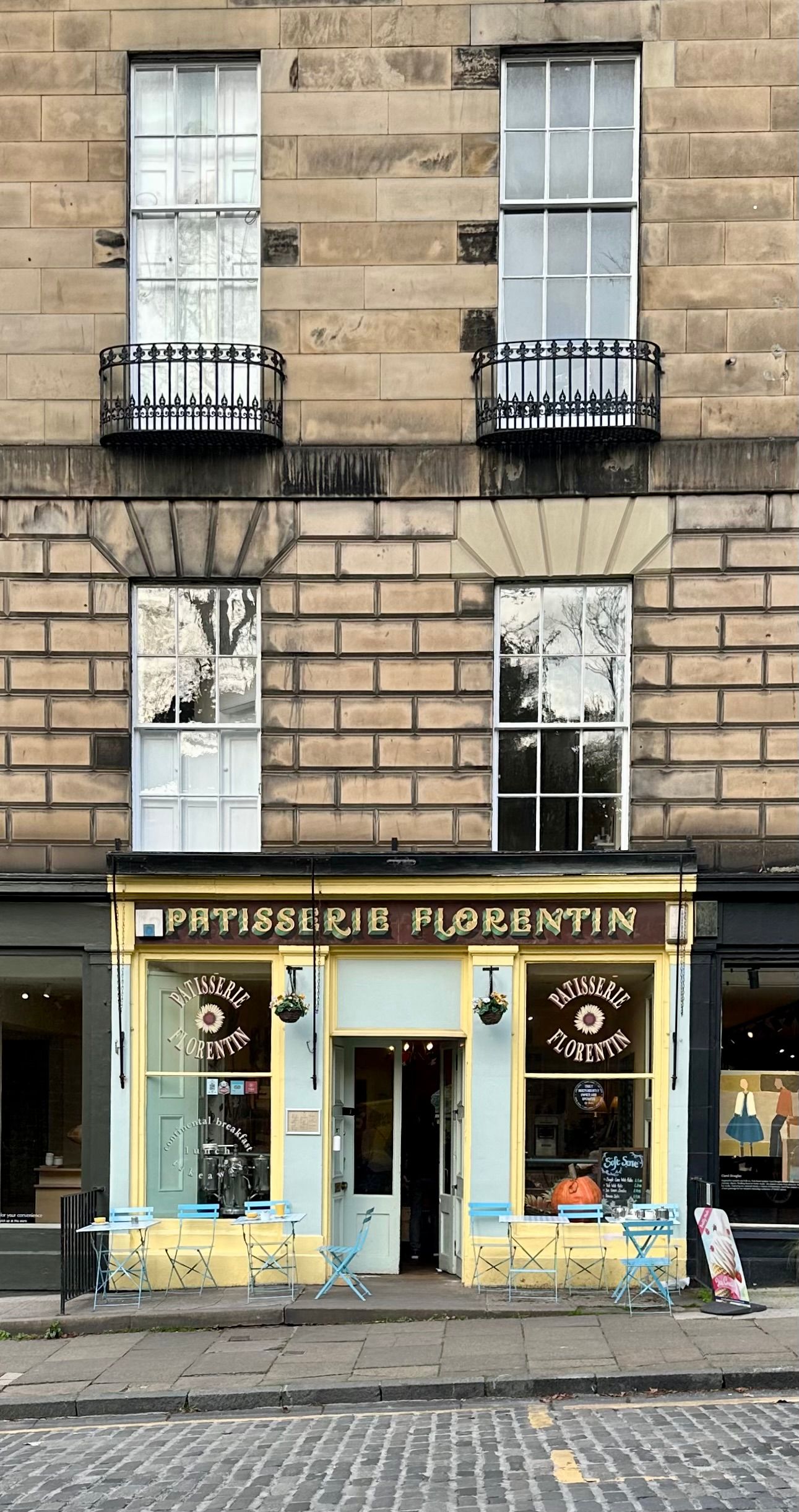 Lodged within the bounds of Endinburgh New Town and on the outskirts of Stockbridge - St. Vincent is a comely-no-frills-snug of a pub to take on refreshments.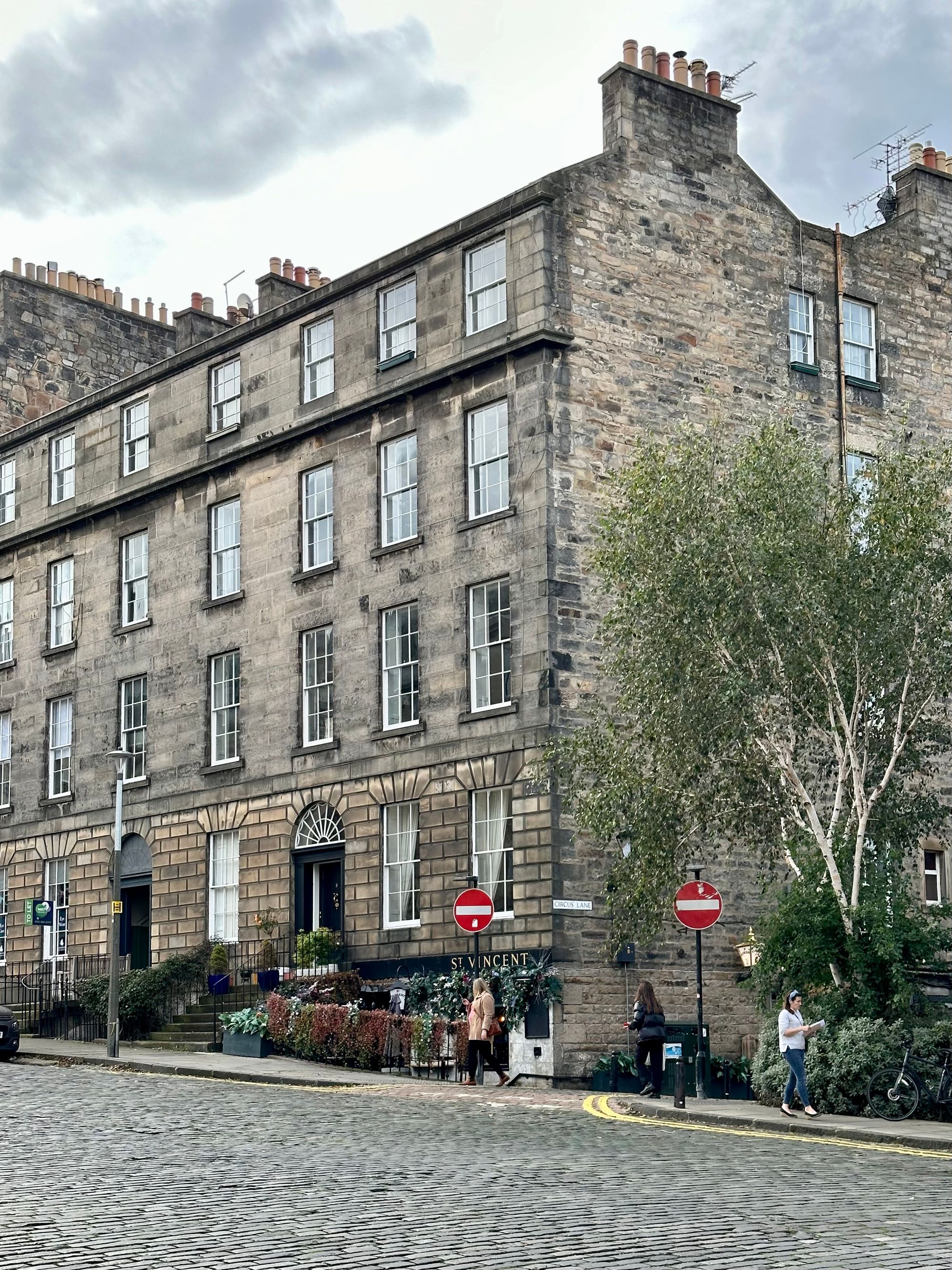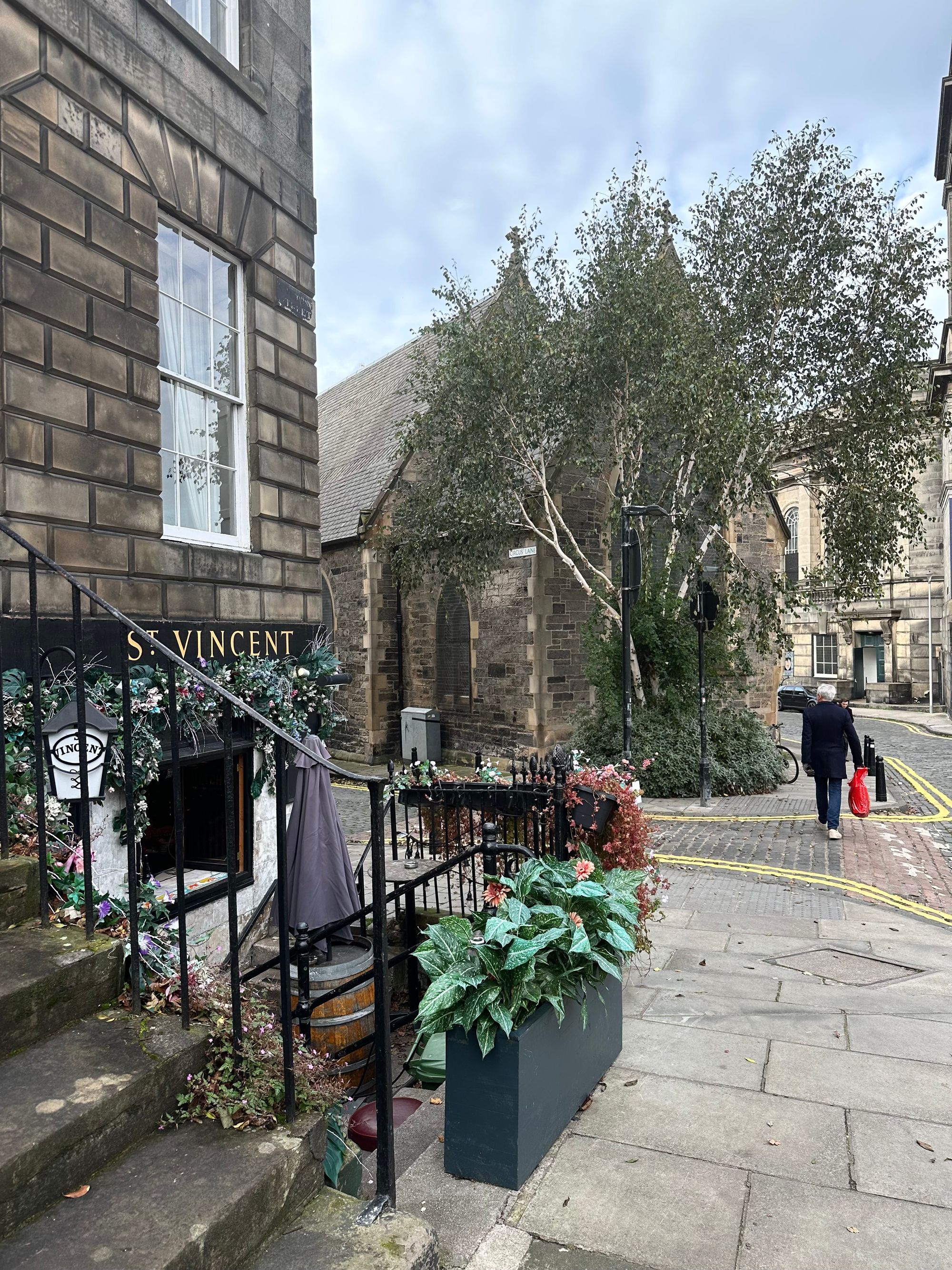 Even better it bookends the delightful Circus Lane - which has a village atmosphere.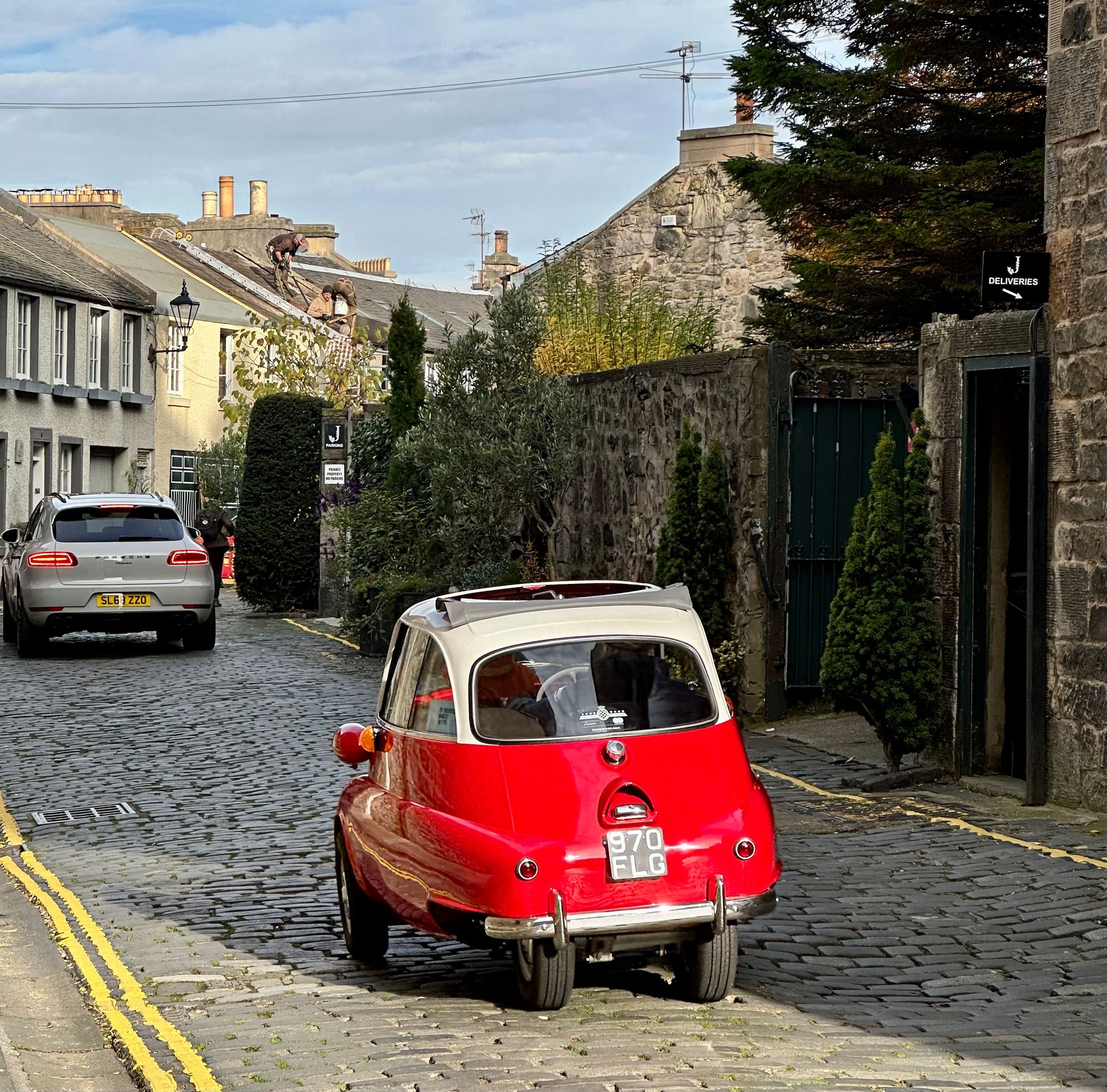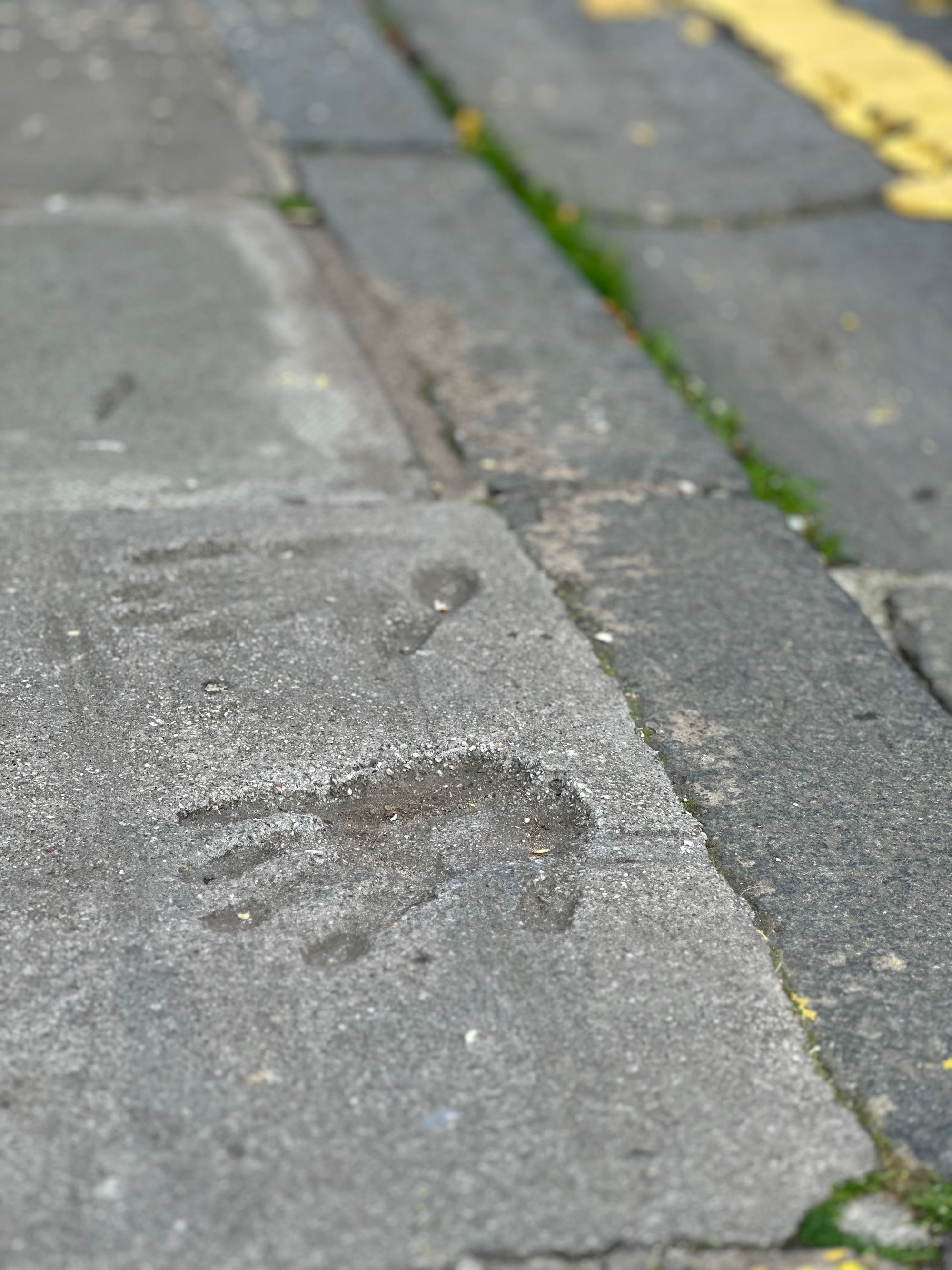 I didn't visit the Jazz Bar on this occasion, but I have on another occasion, and it's the perfect place to finish off a day of sight-seeing.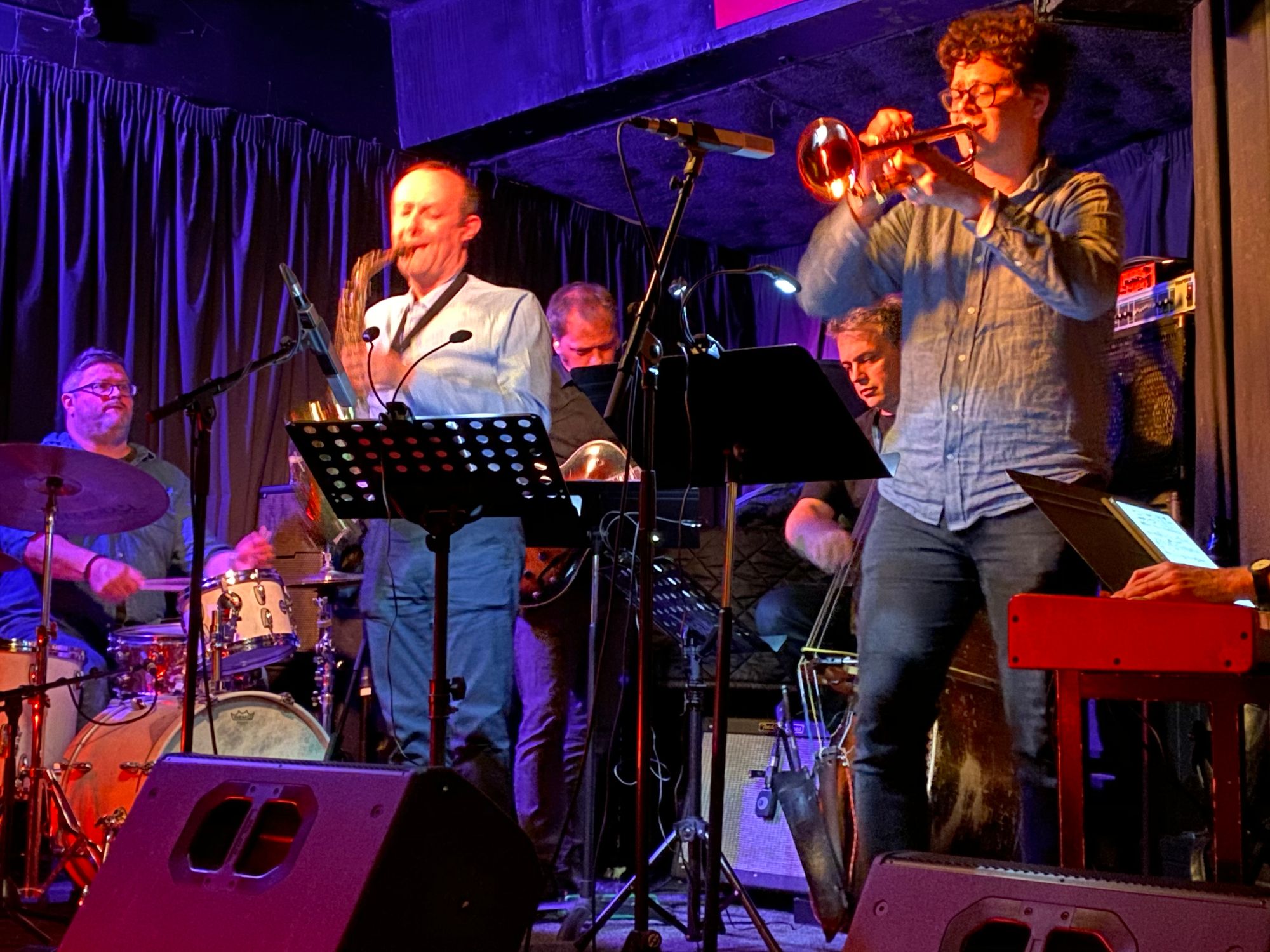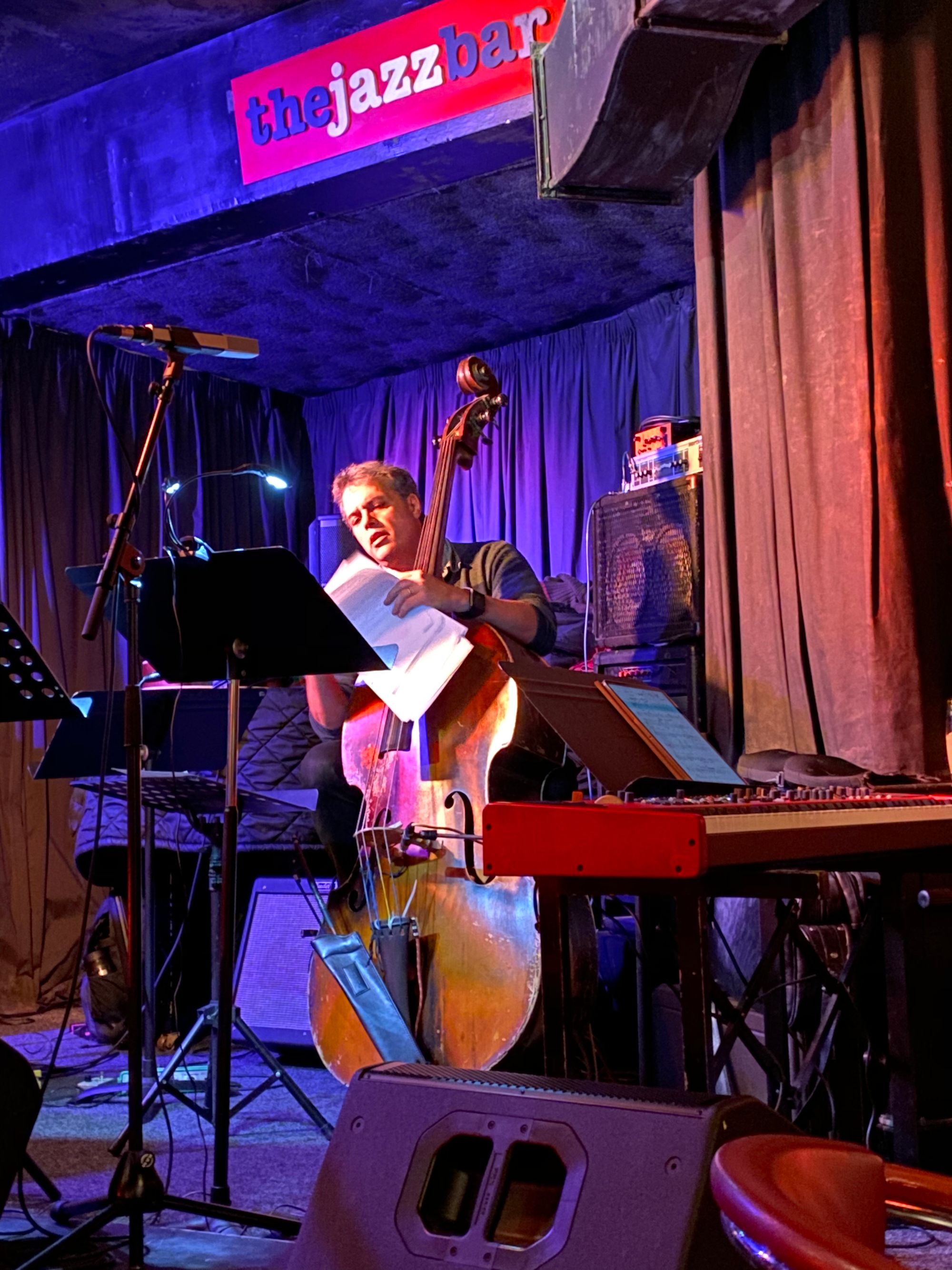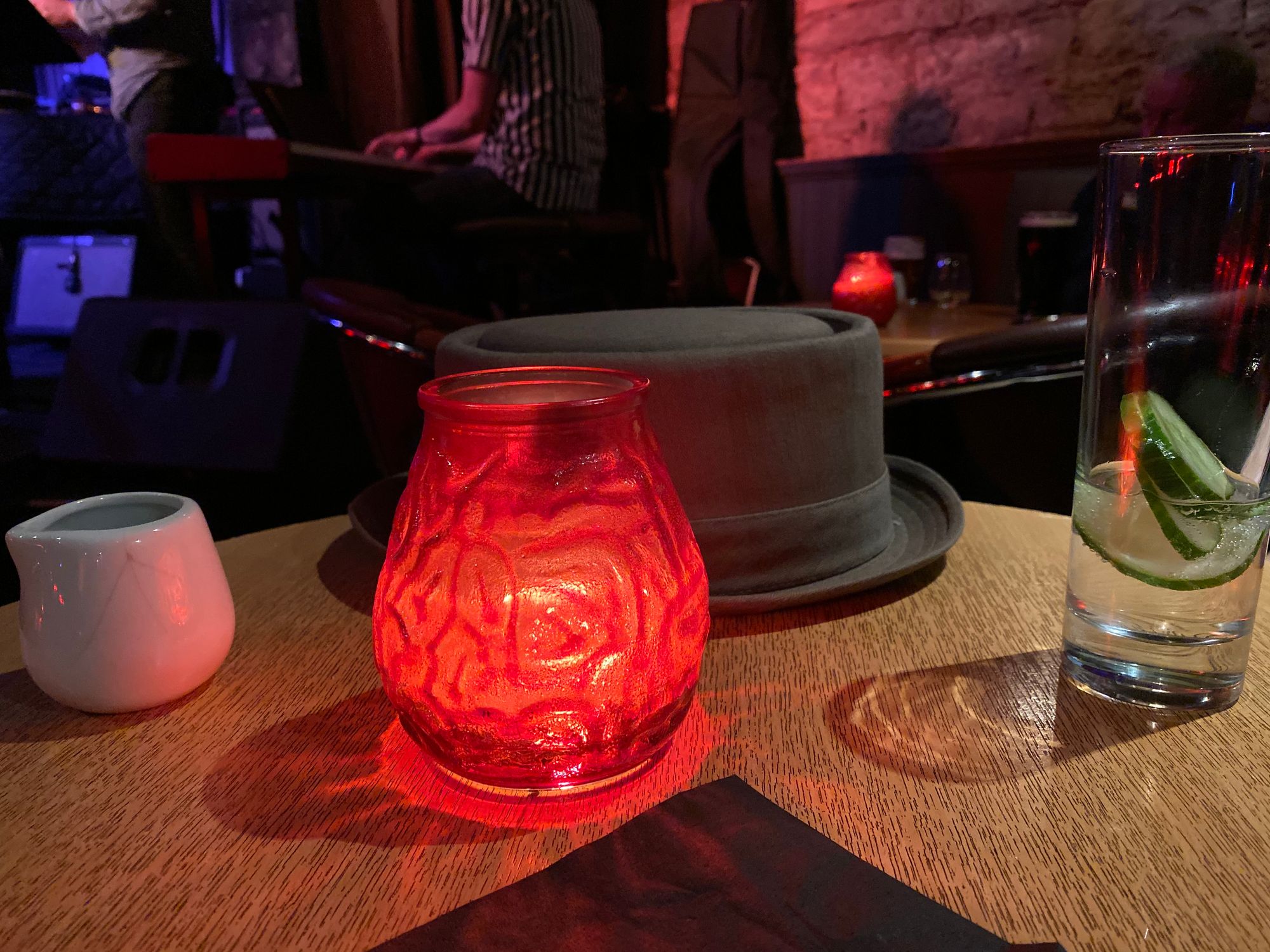 Georgian Delights: Edinburgh's New Town.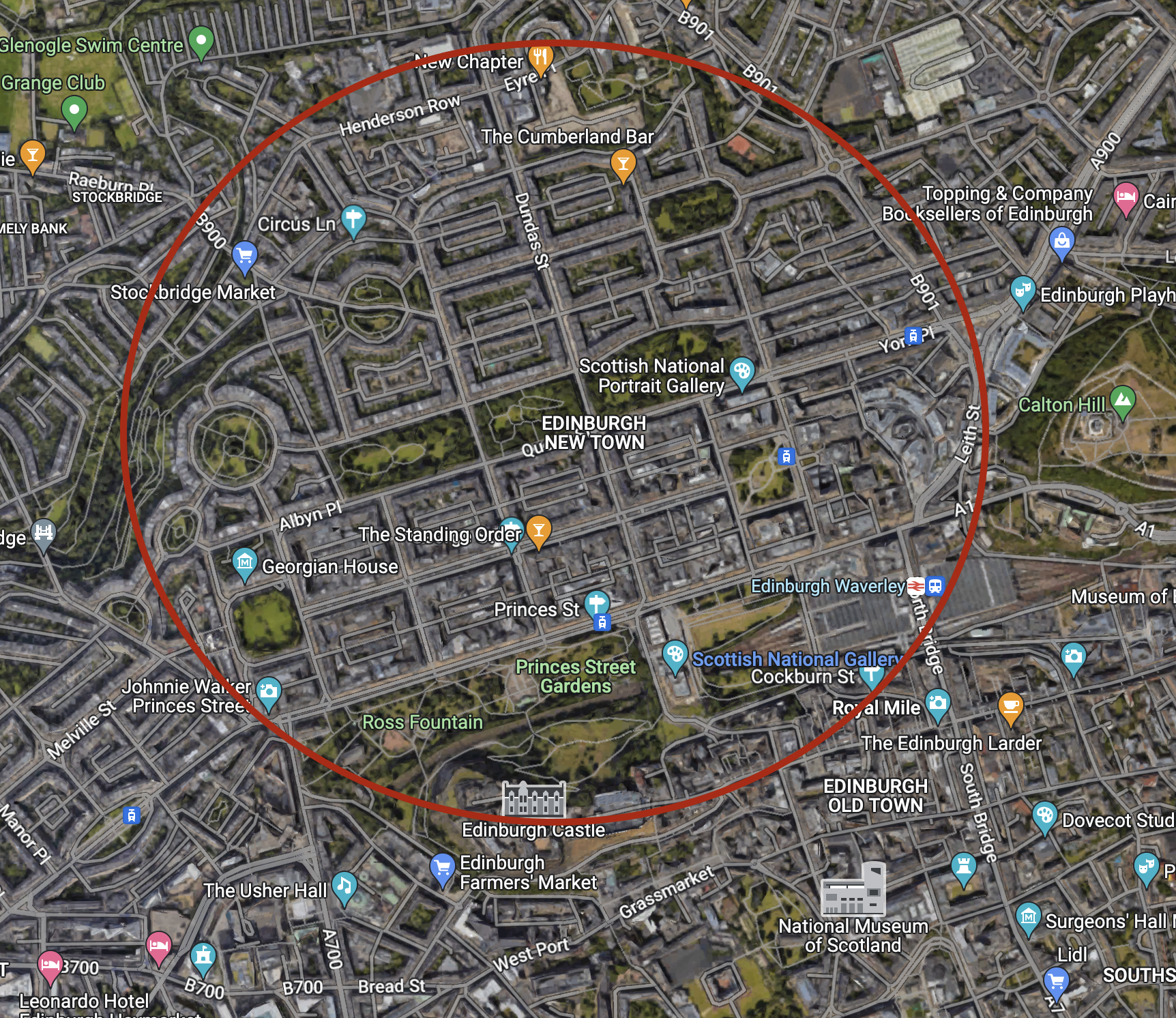 Built in the latter half of the C18th, Edinburgh's New Town is rooted in the Enlightenment with civic improvement at its heart.
The idea is writ large upon the street plan, architectural style and design motifs. The main tenets of the Englightenment still prevail as a guiding light right into the present.
The result is a spirit of place that sparkles and spills over into the outskirts: heavily influencing the zeitgeist of neighbouring communities such as Stockbridge.
Pure Scroll: Edinburgh's New Town - just scroll, no words.
Streetscapes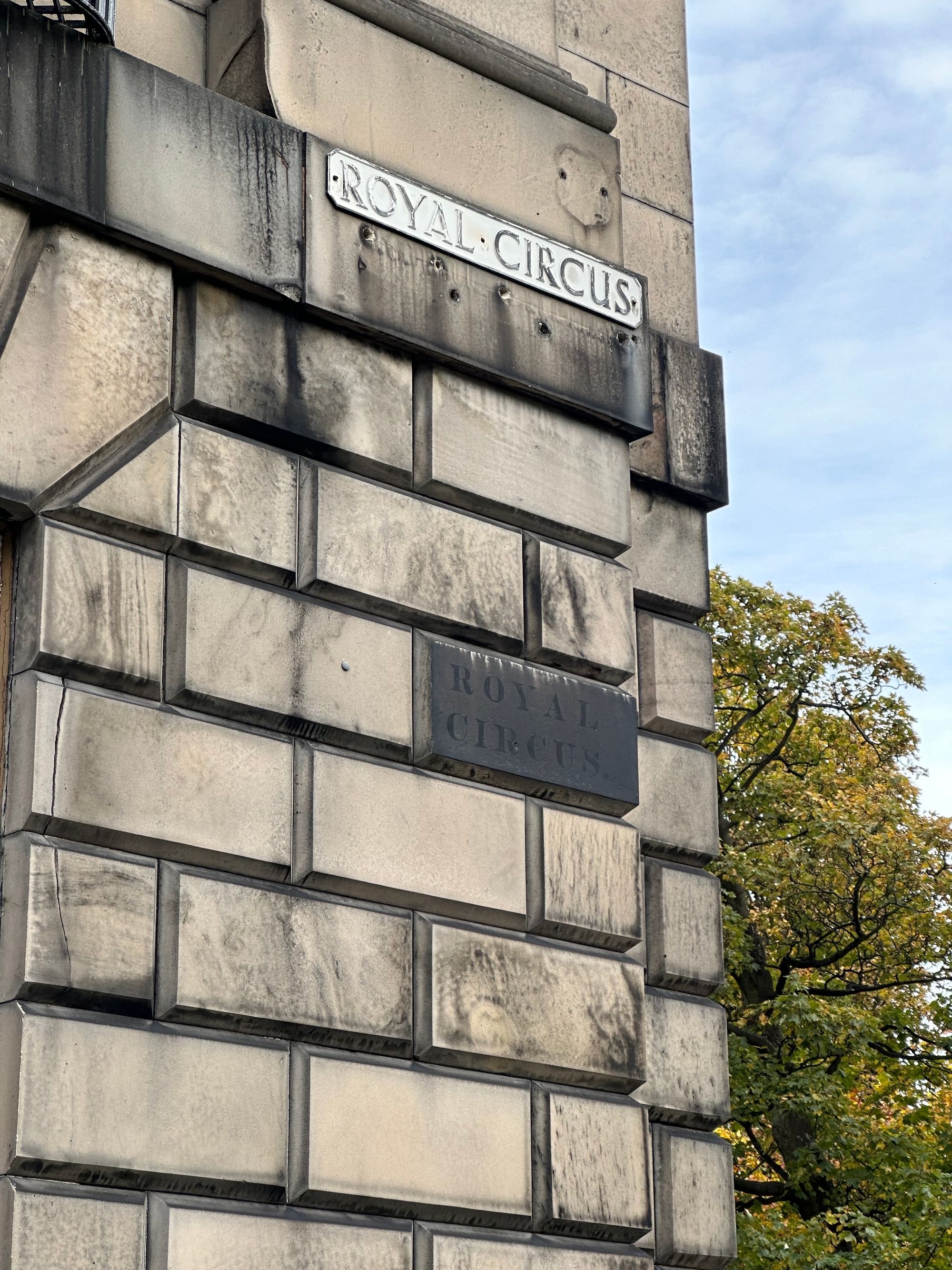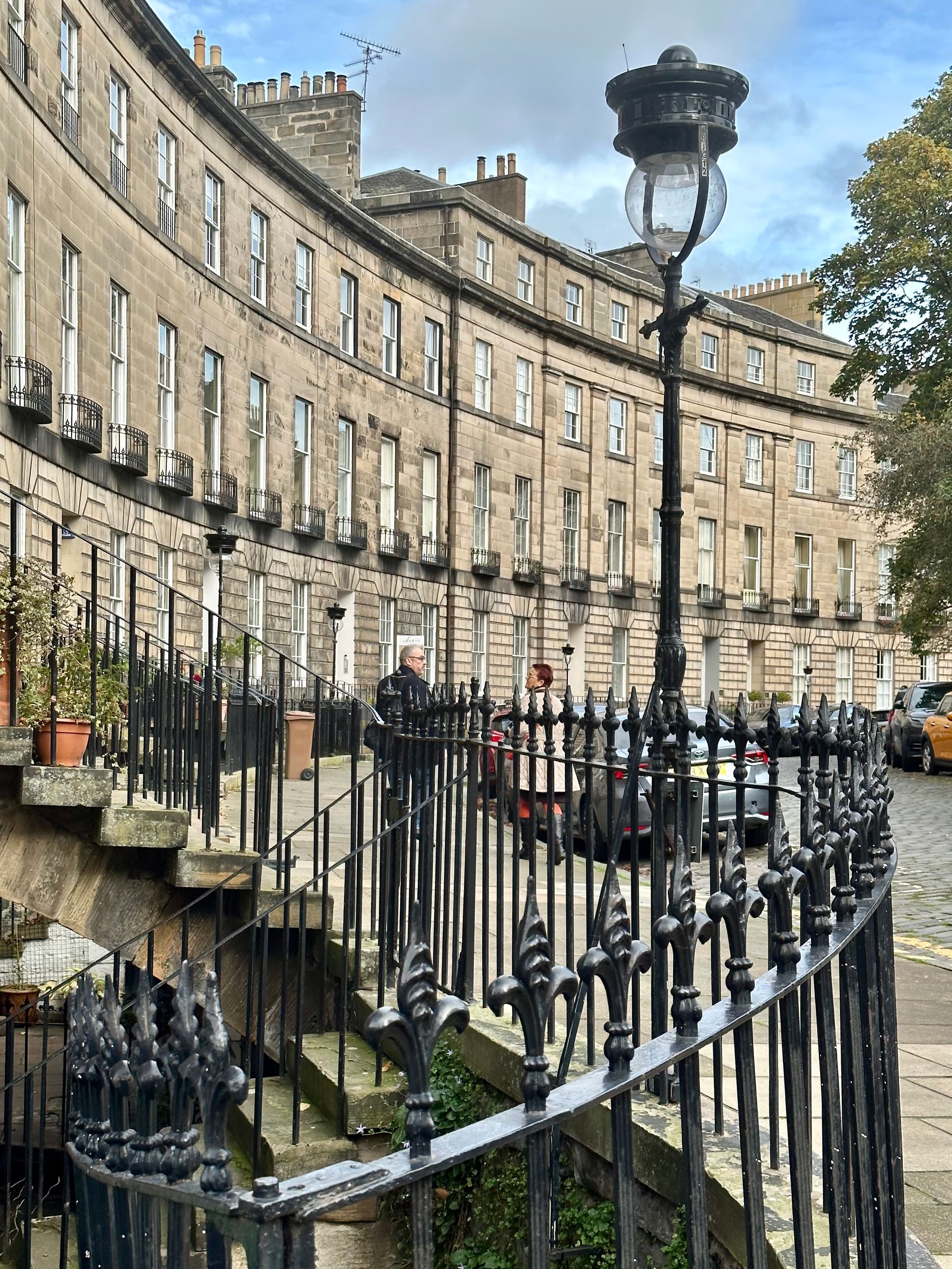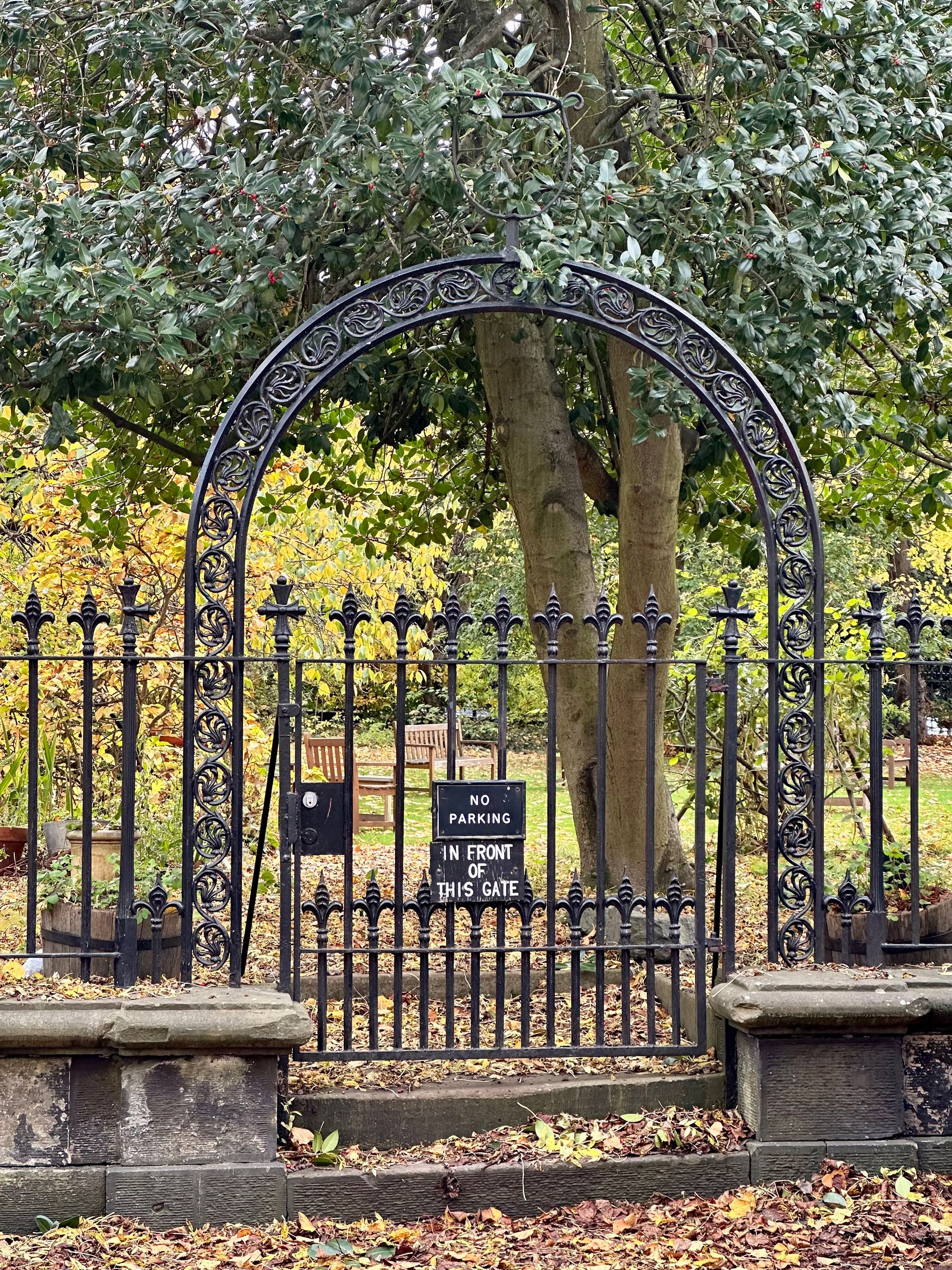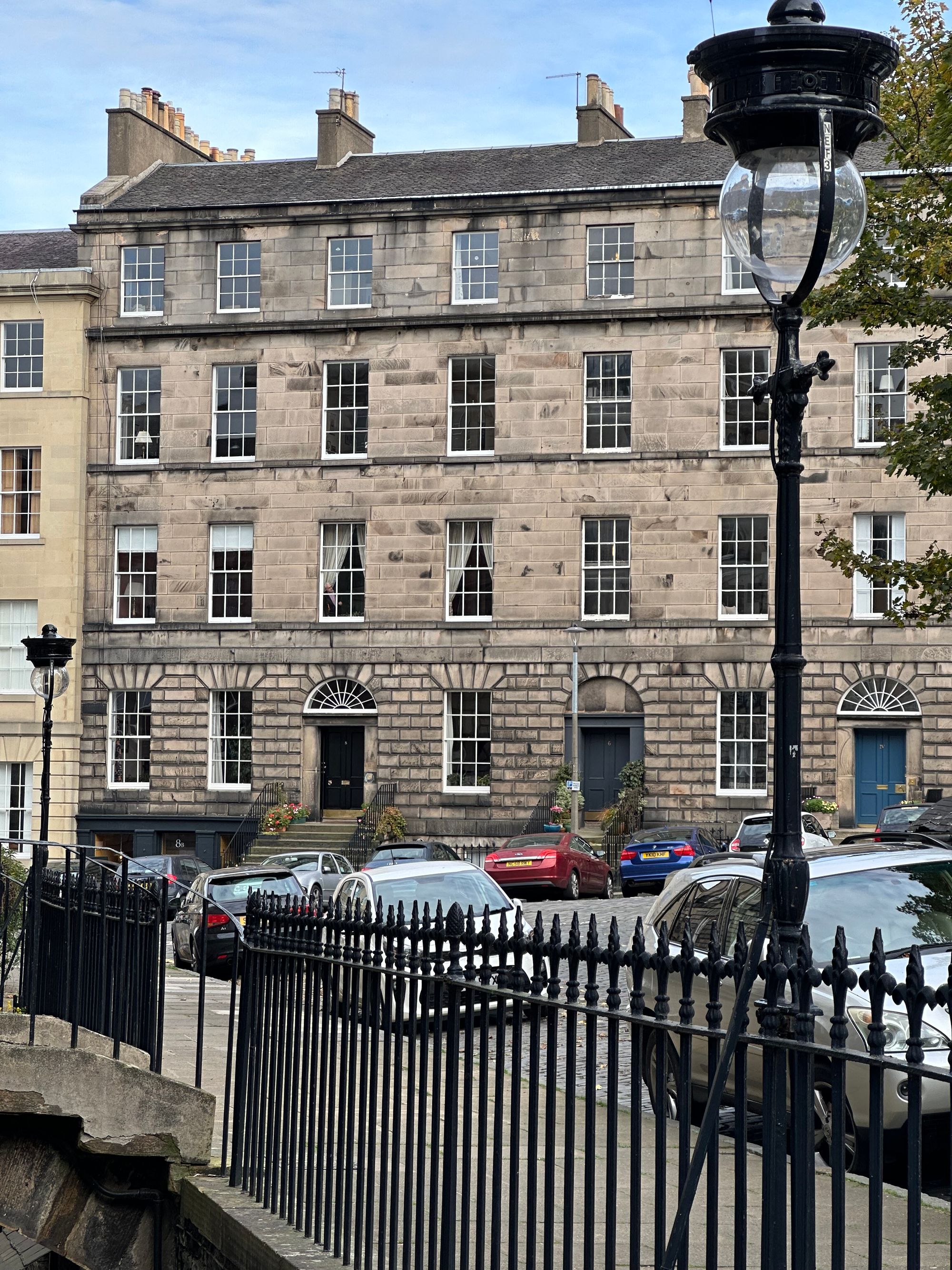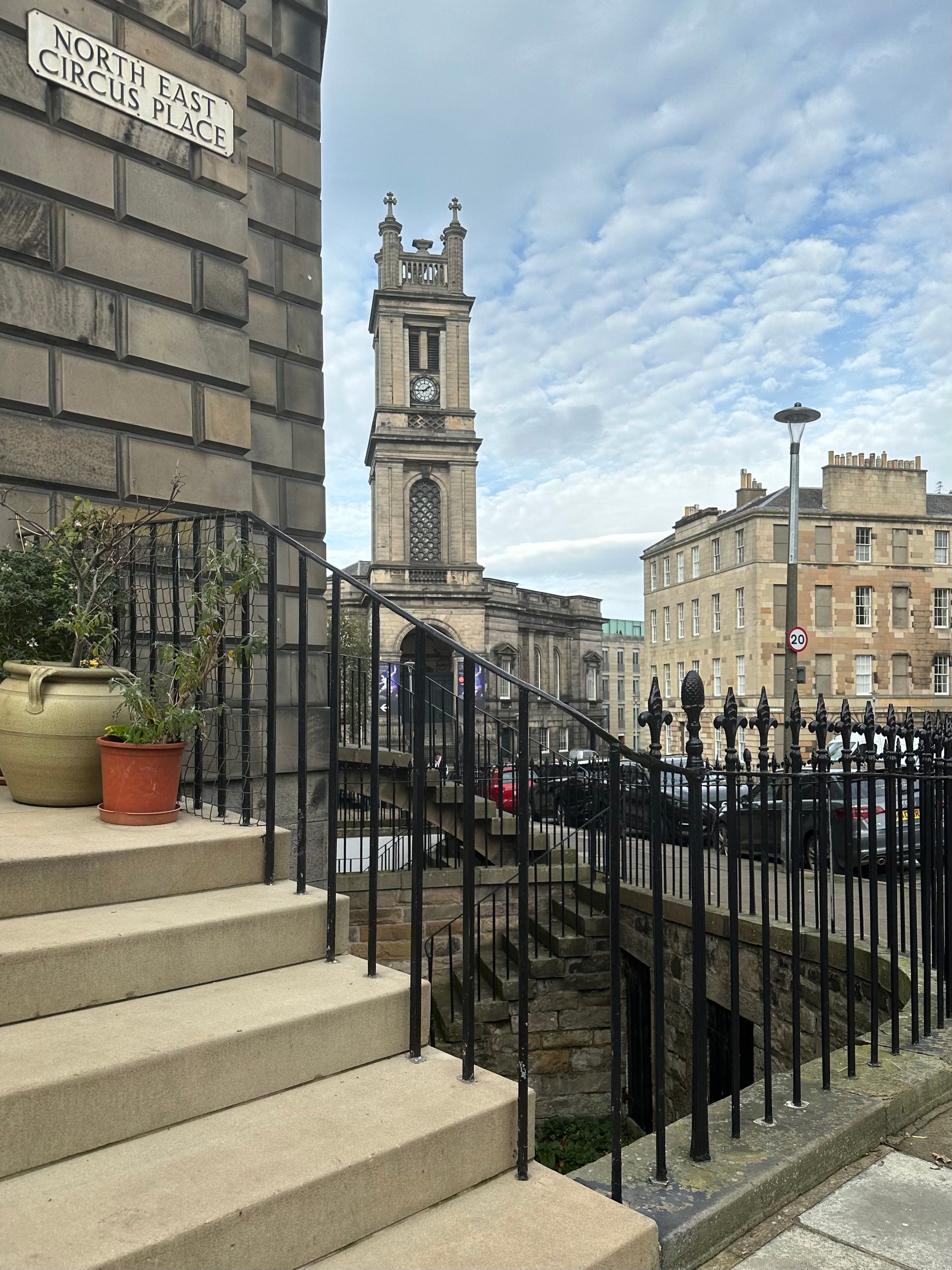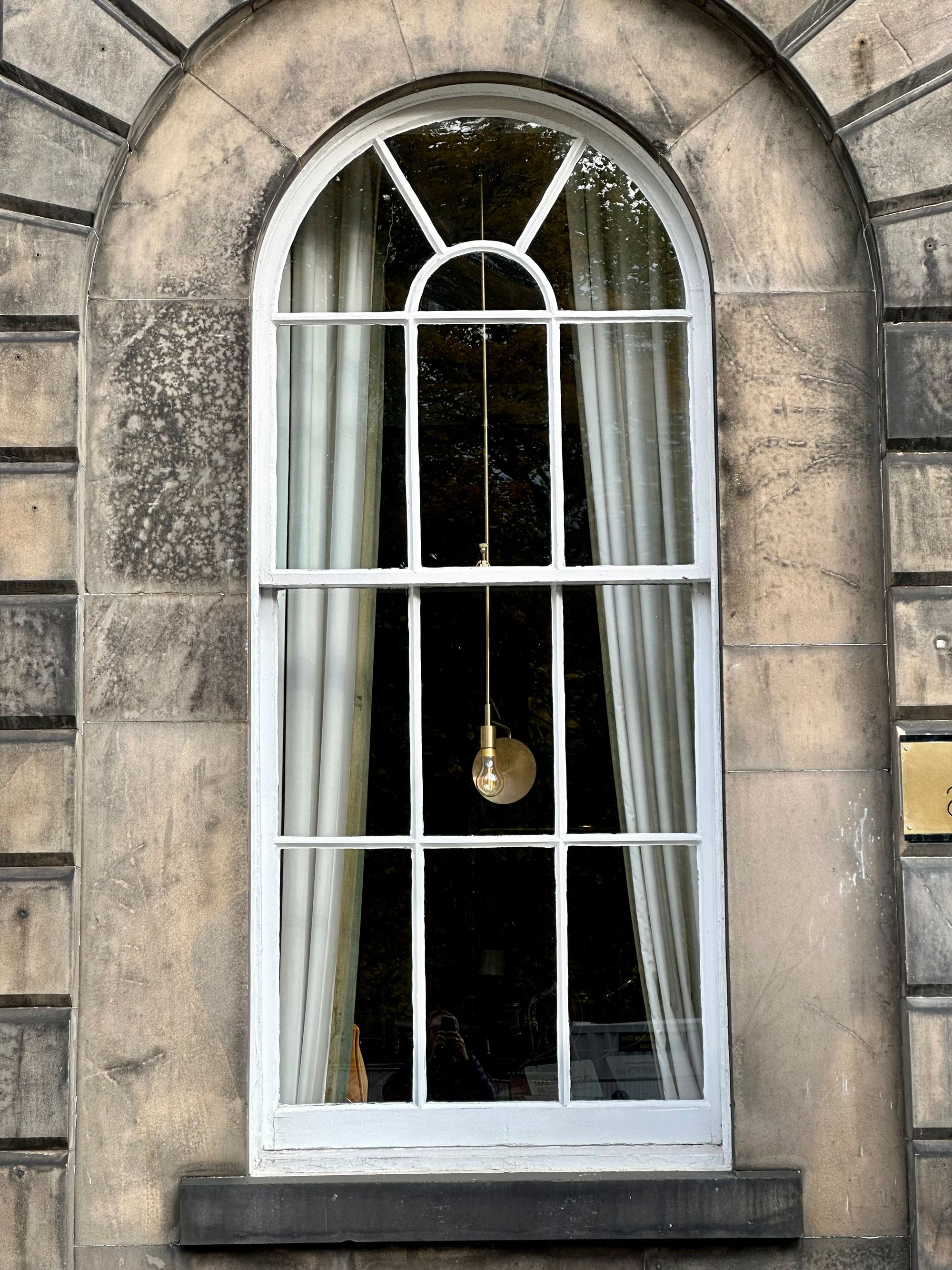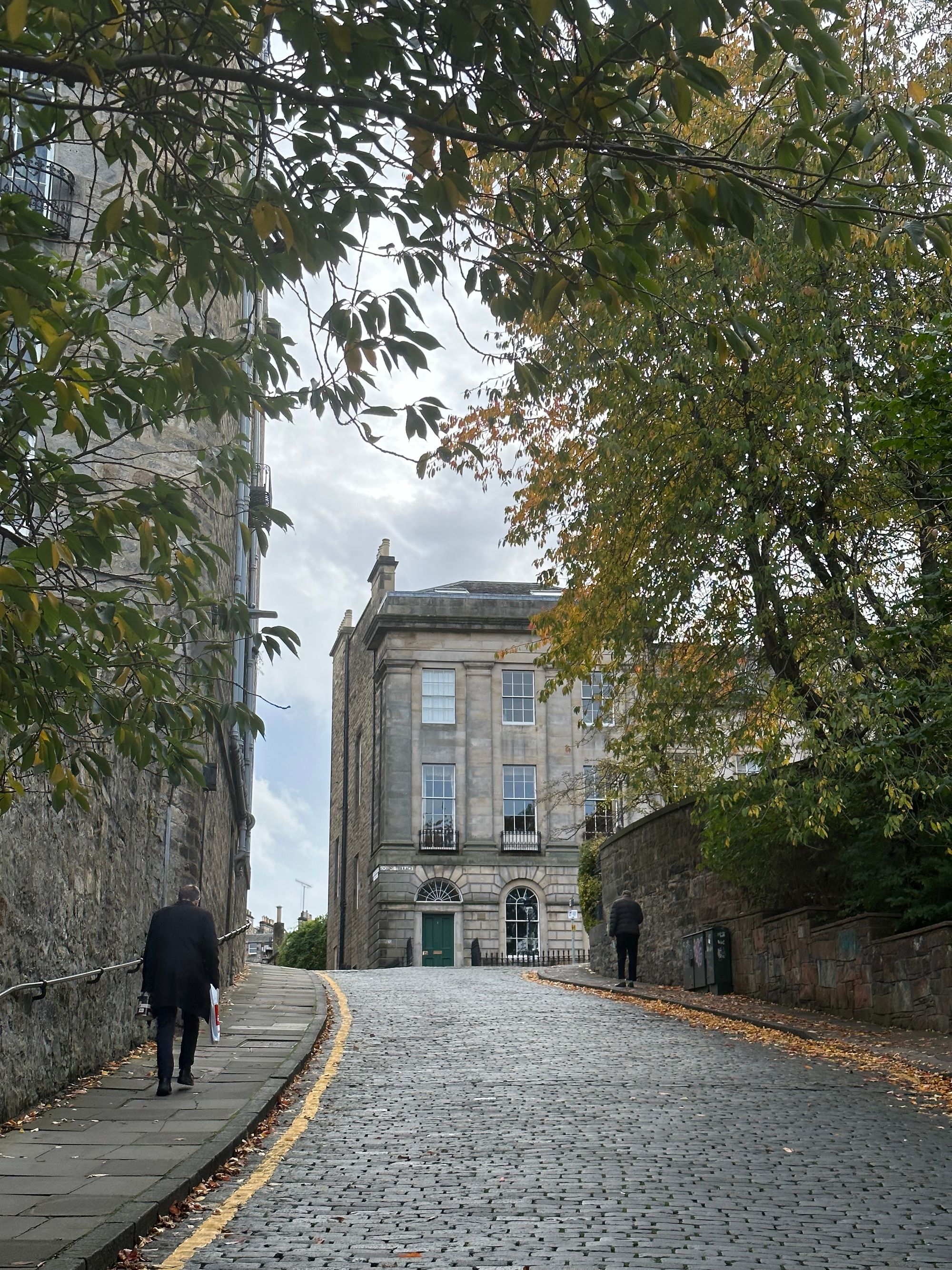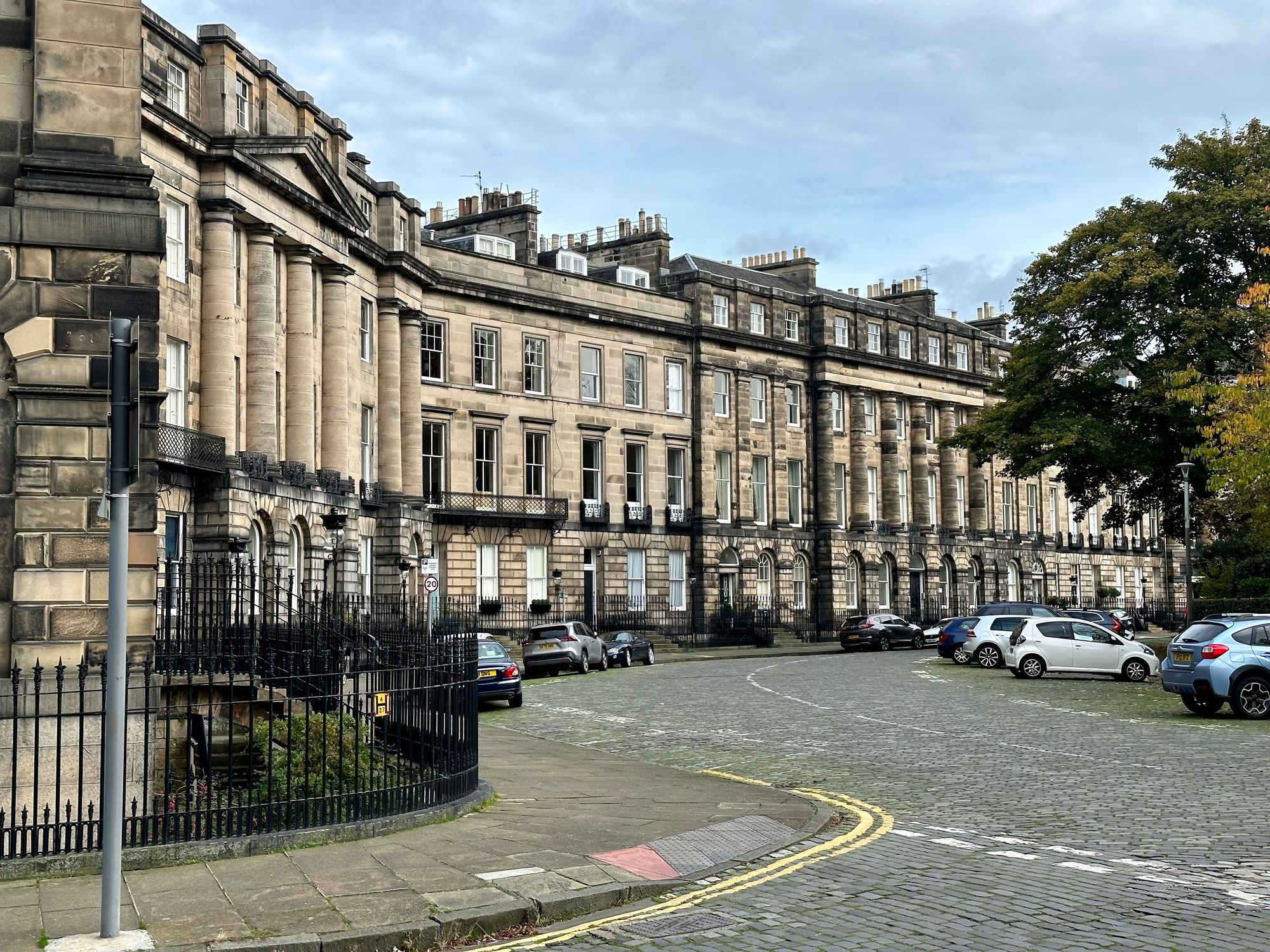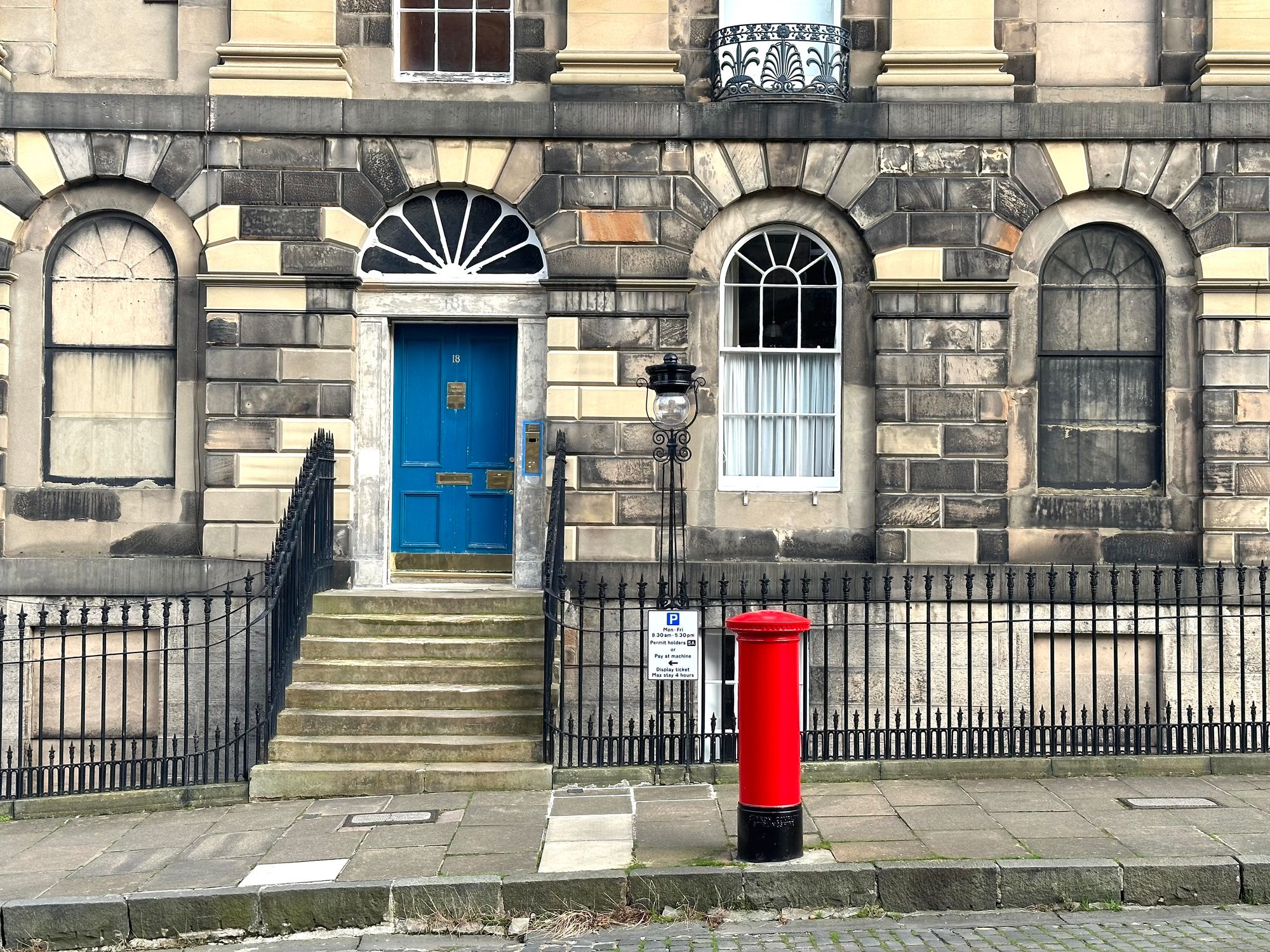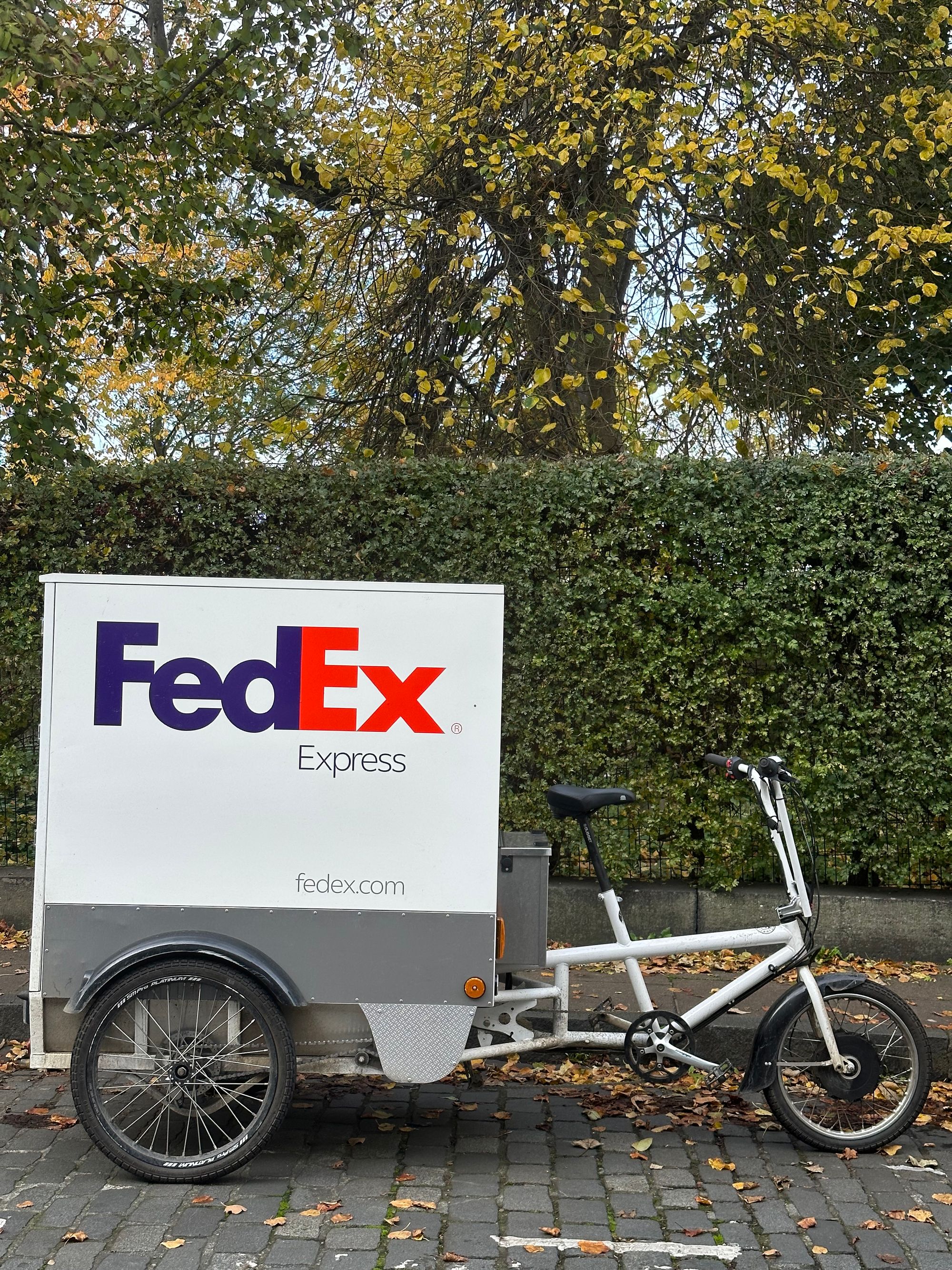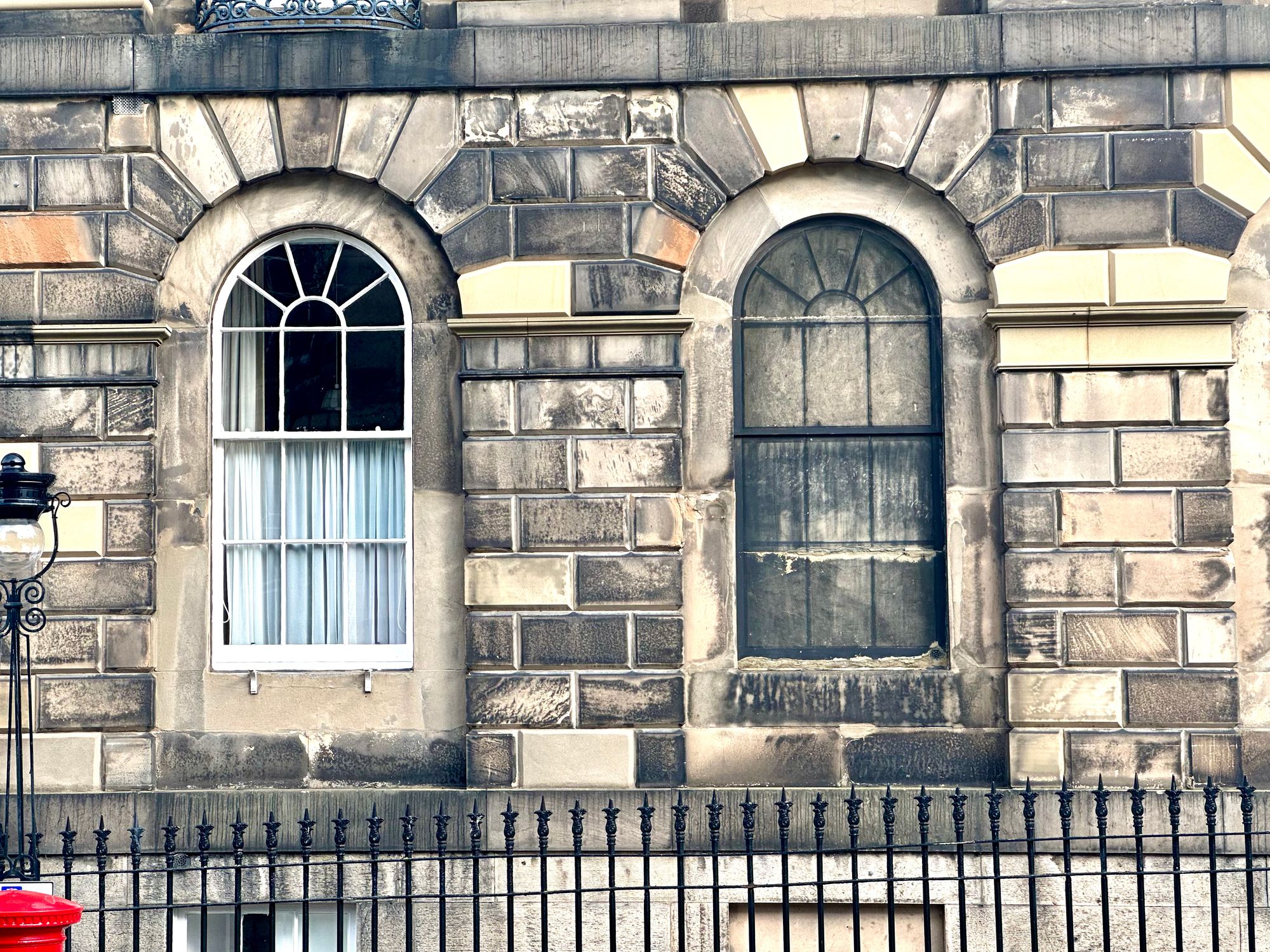 Charlotte Square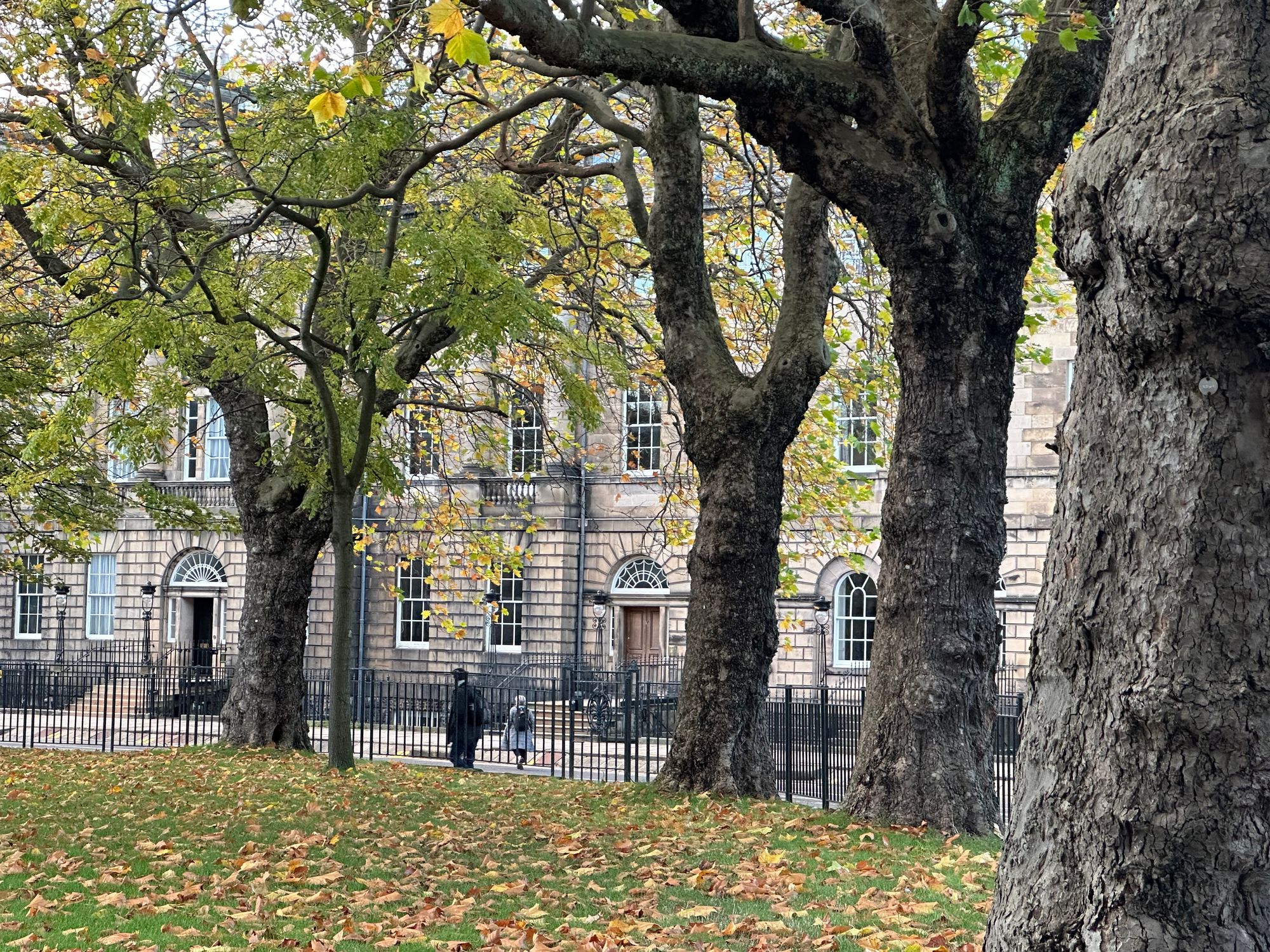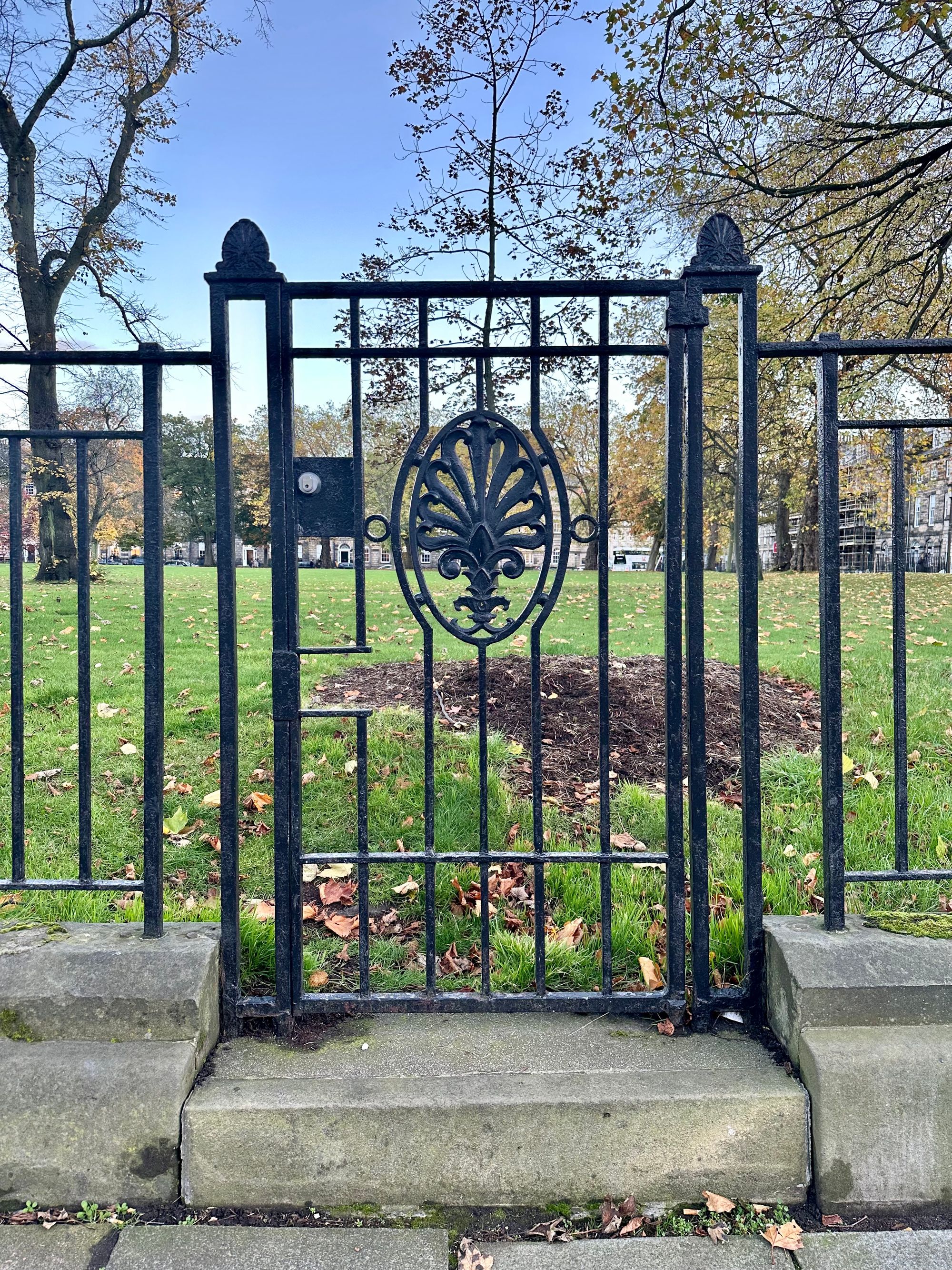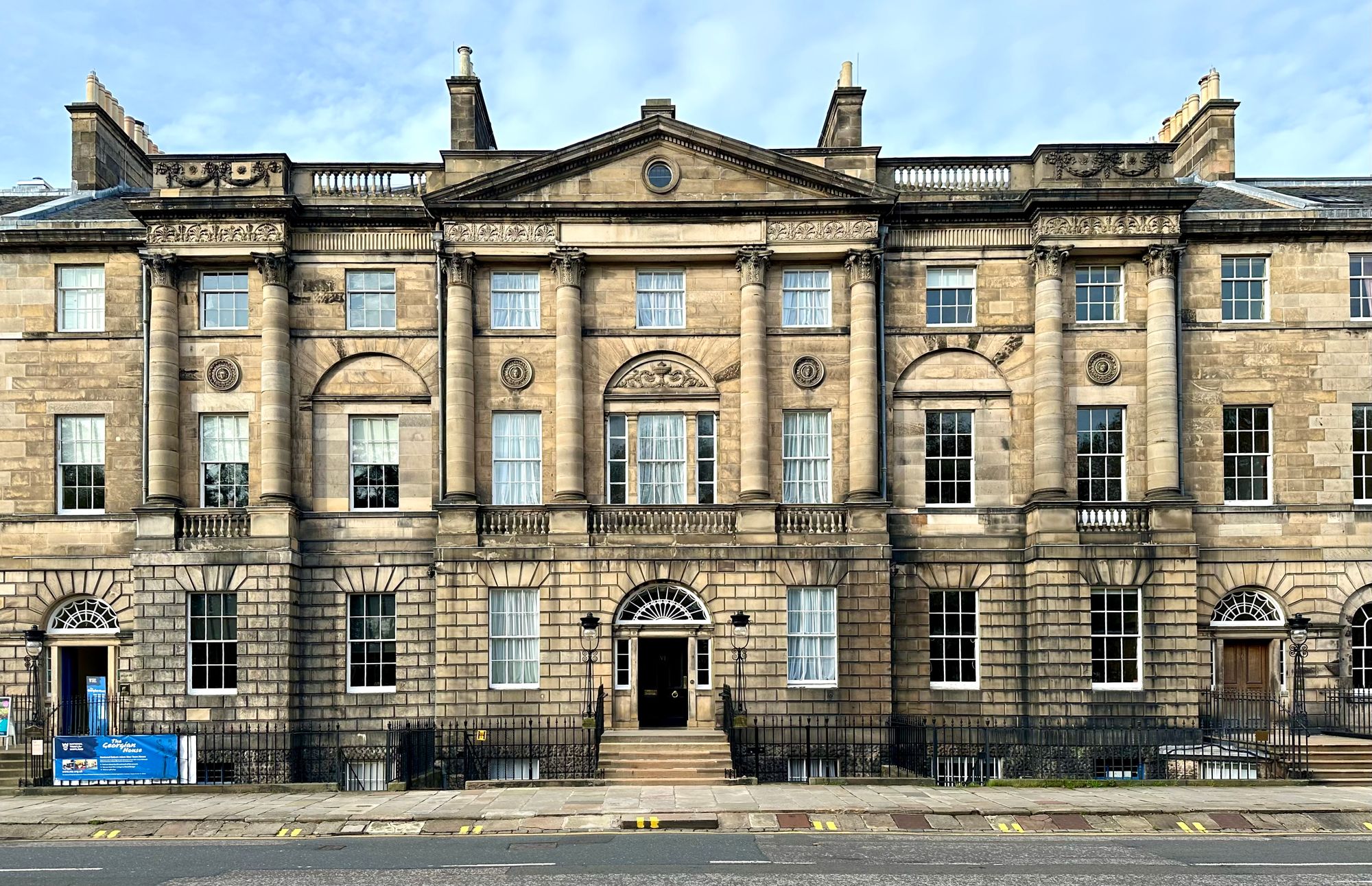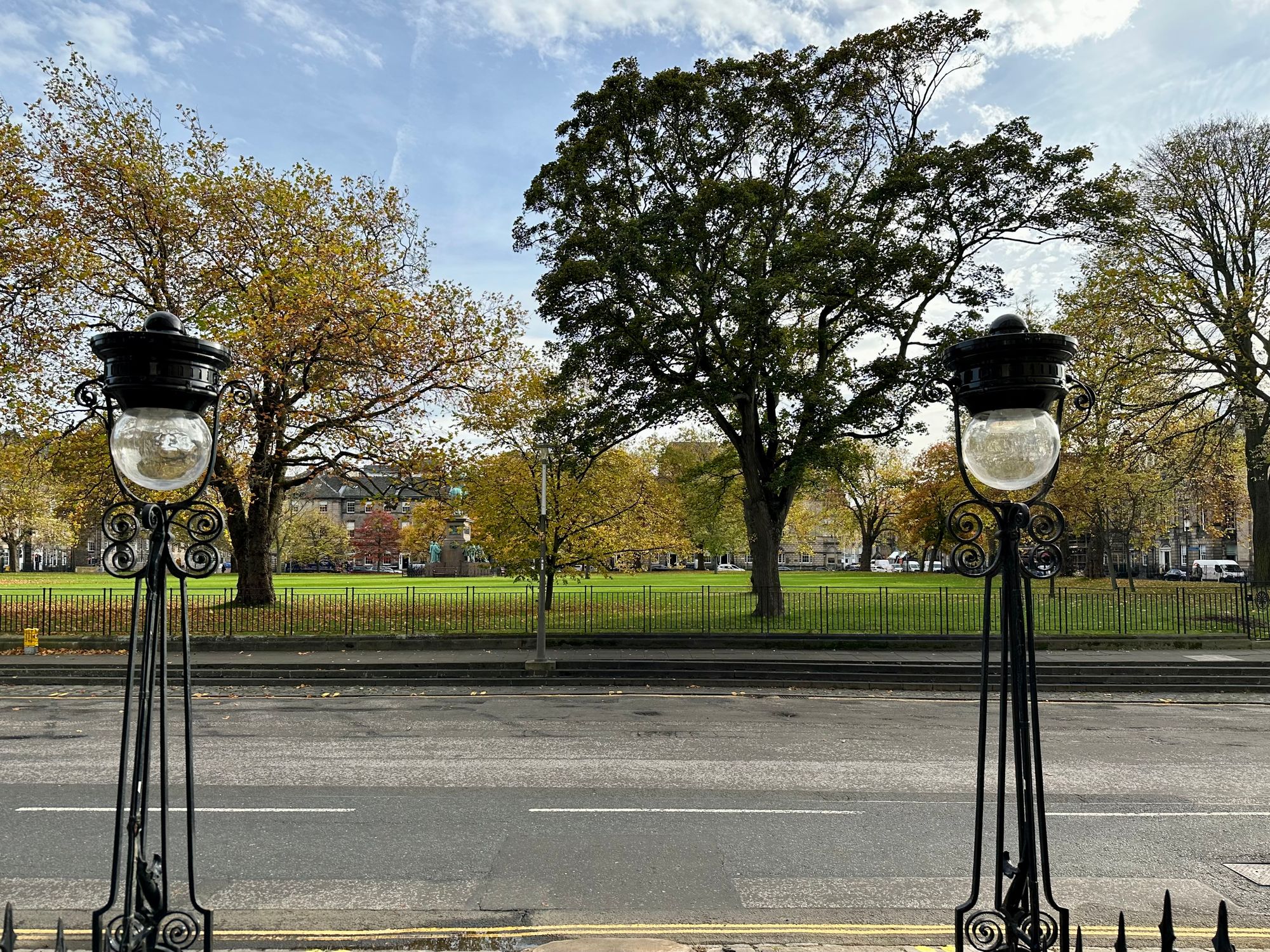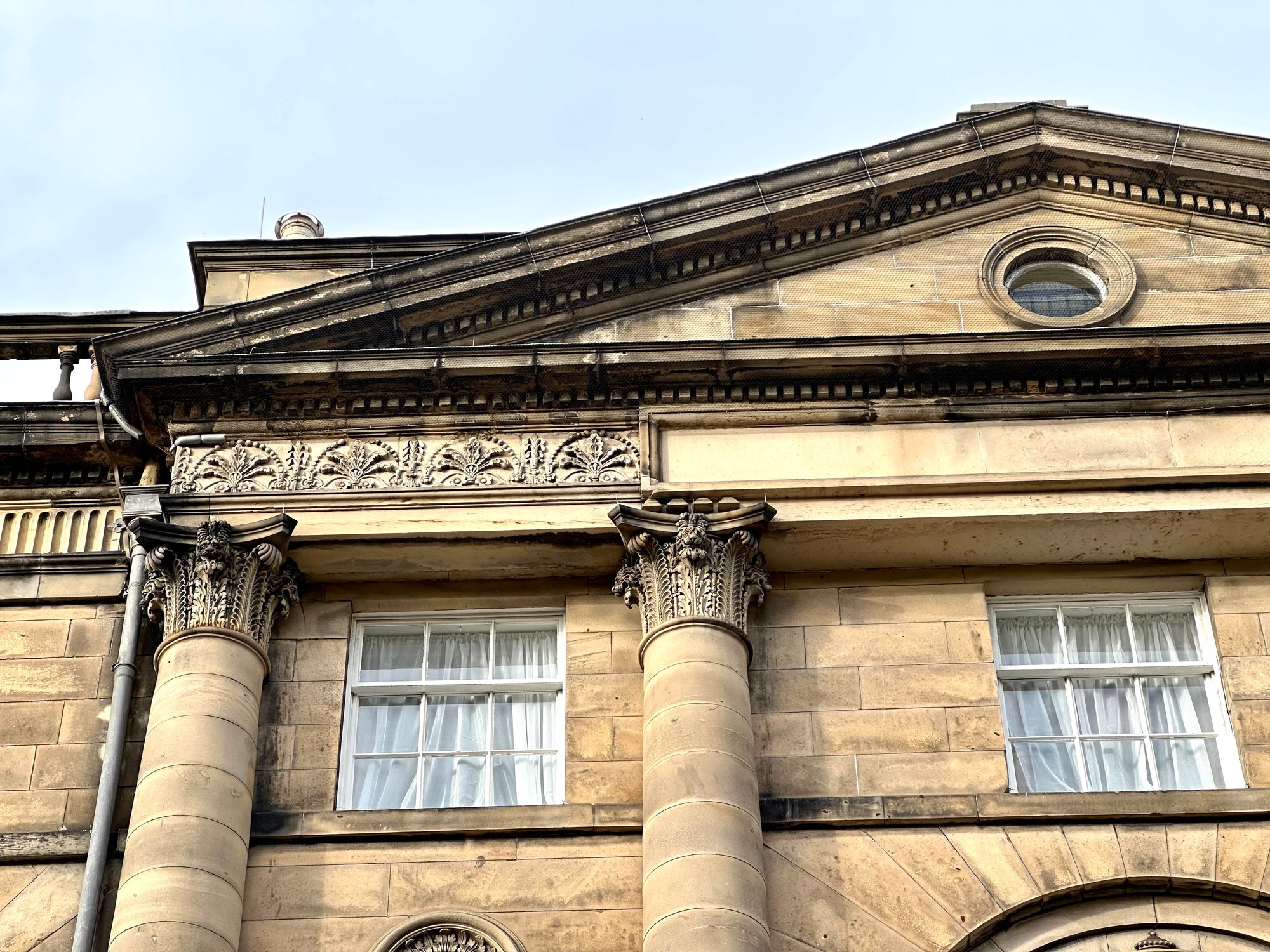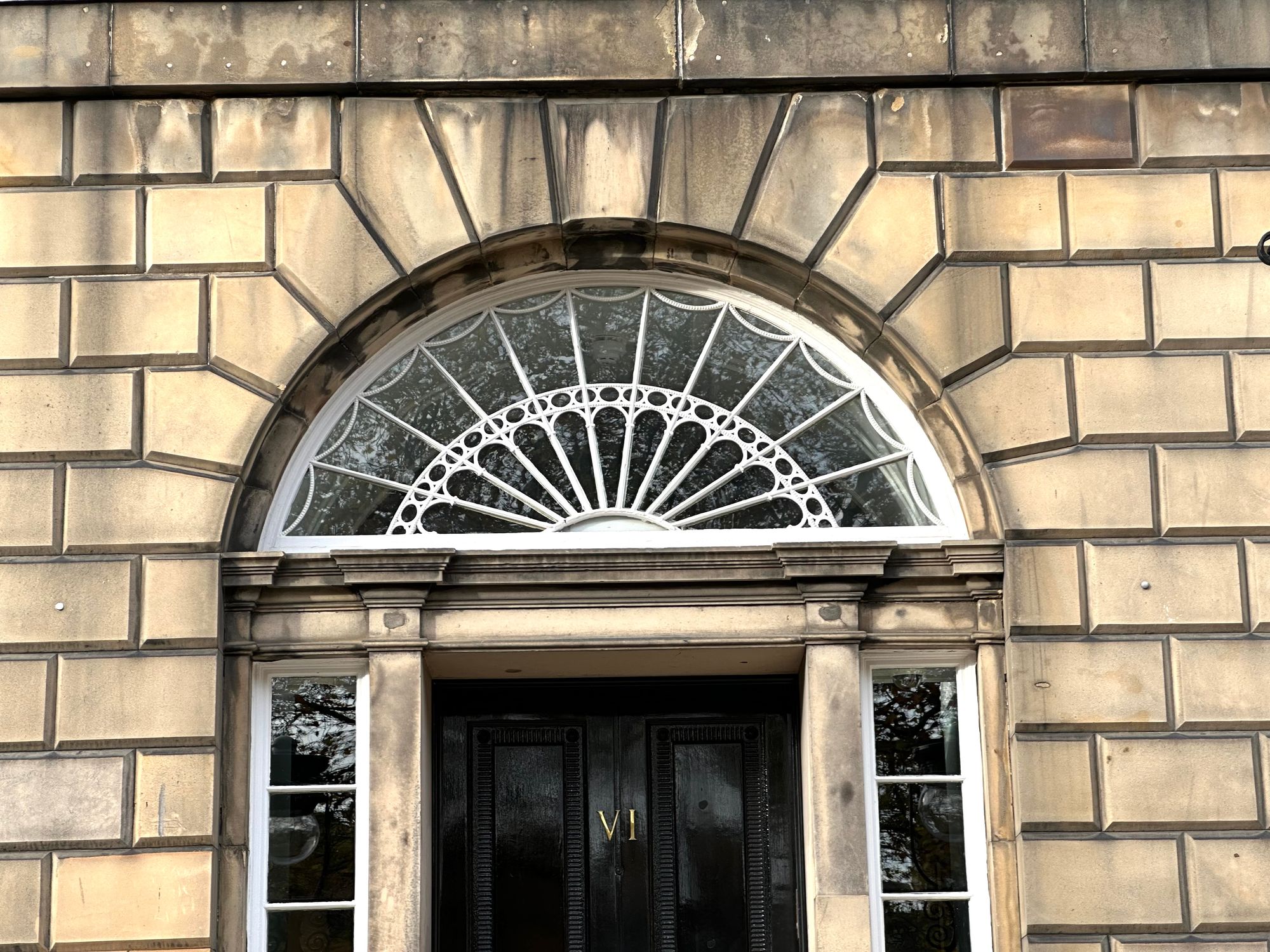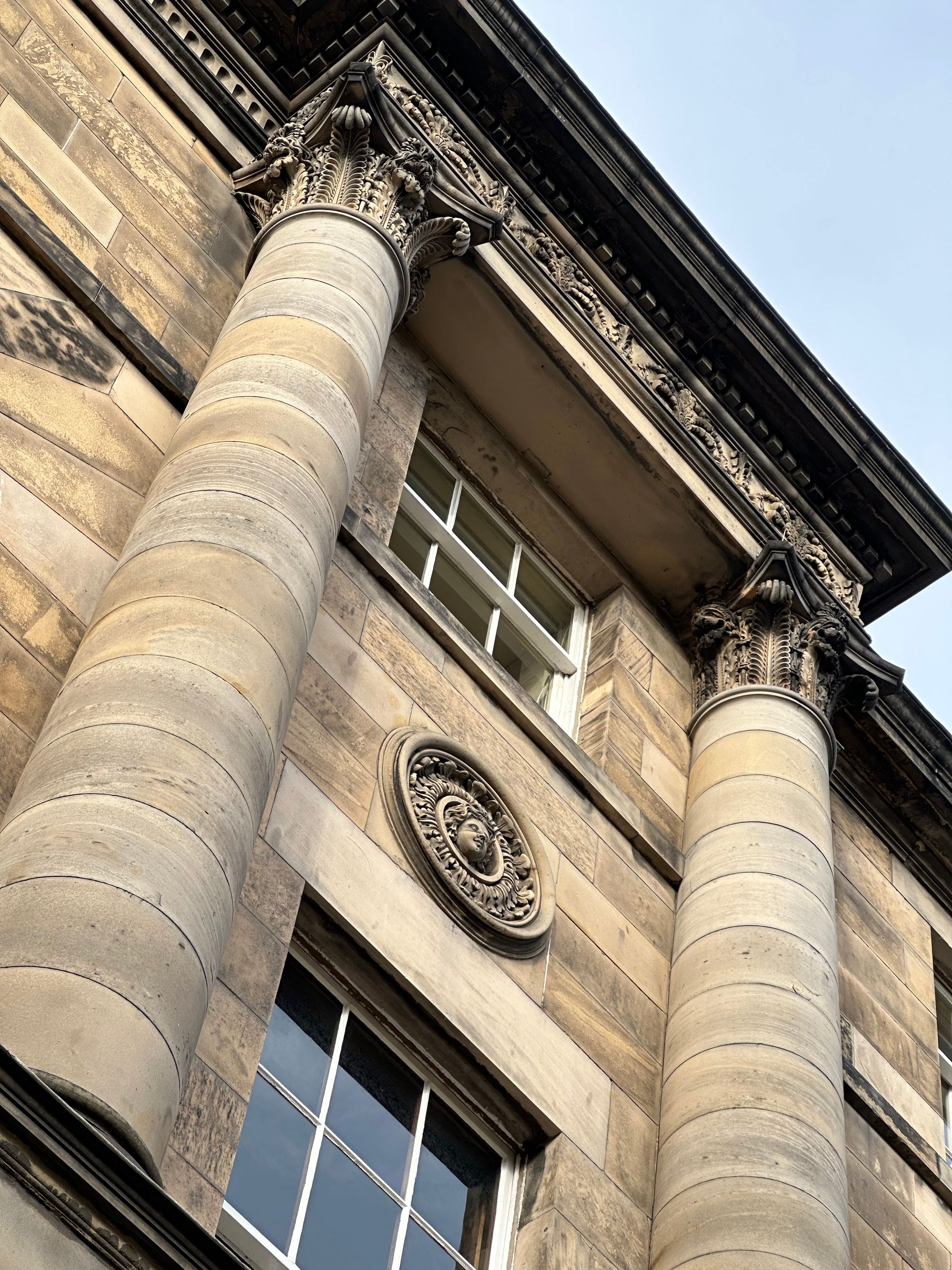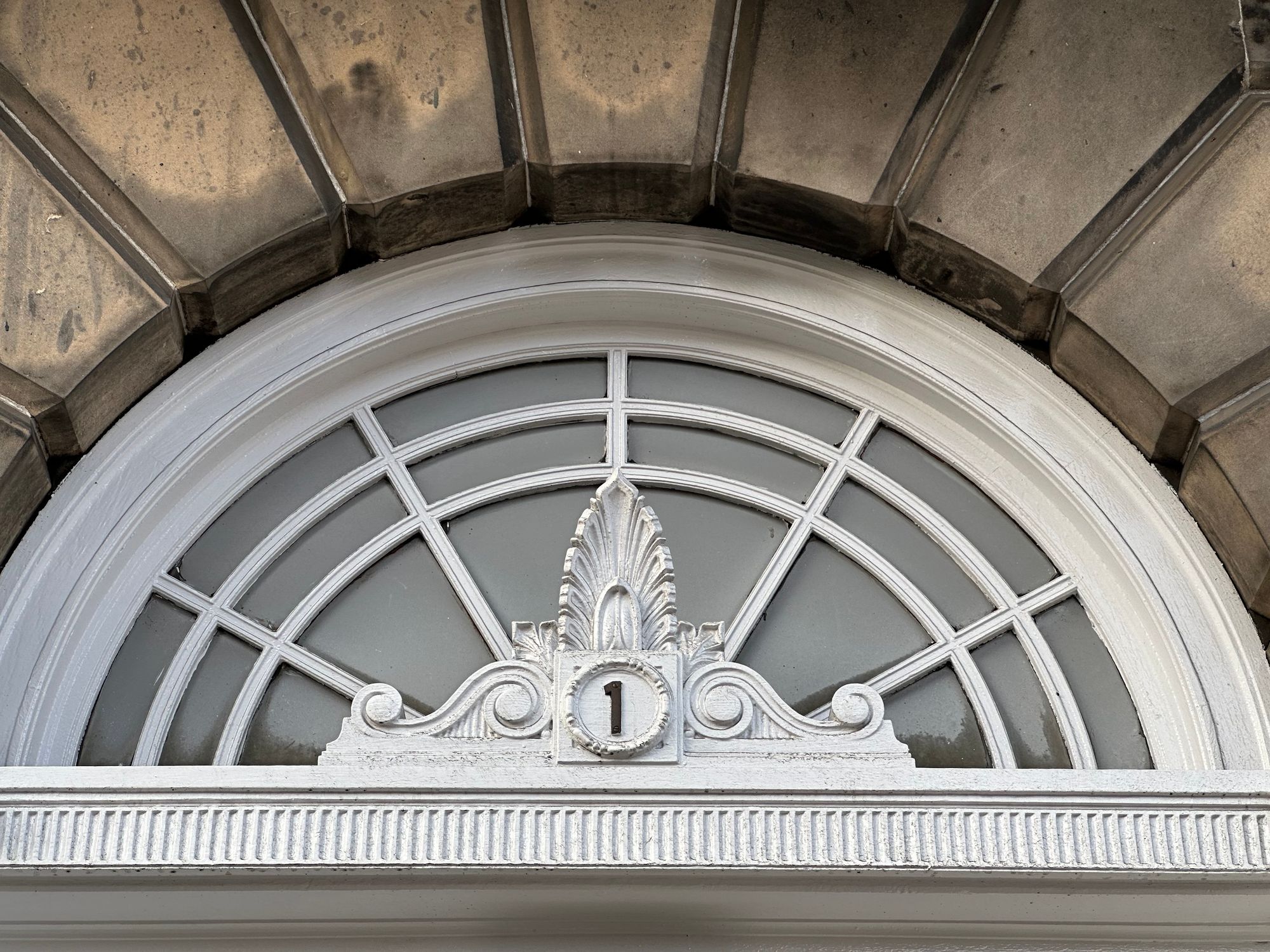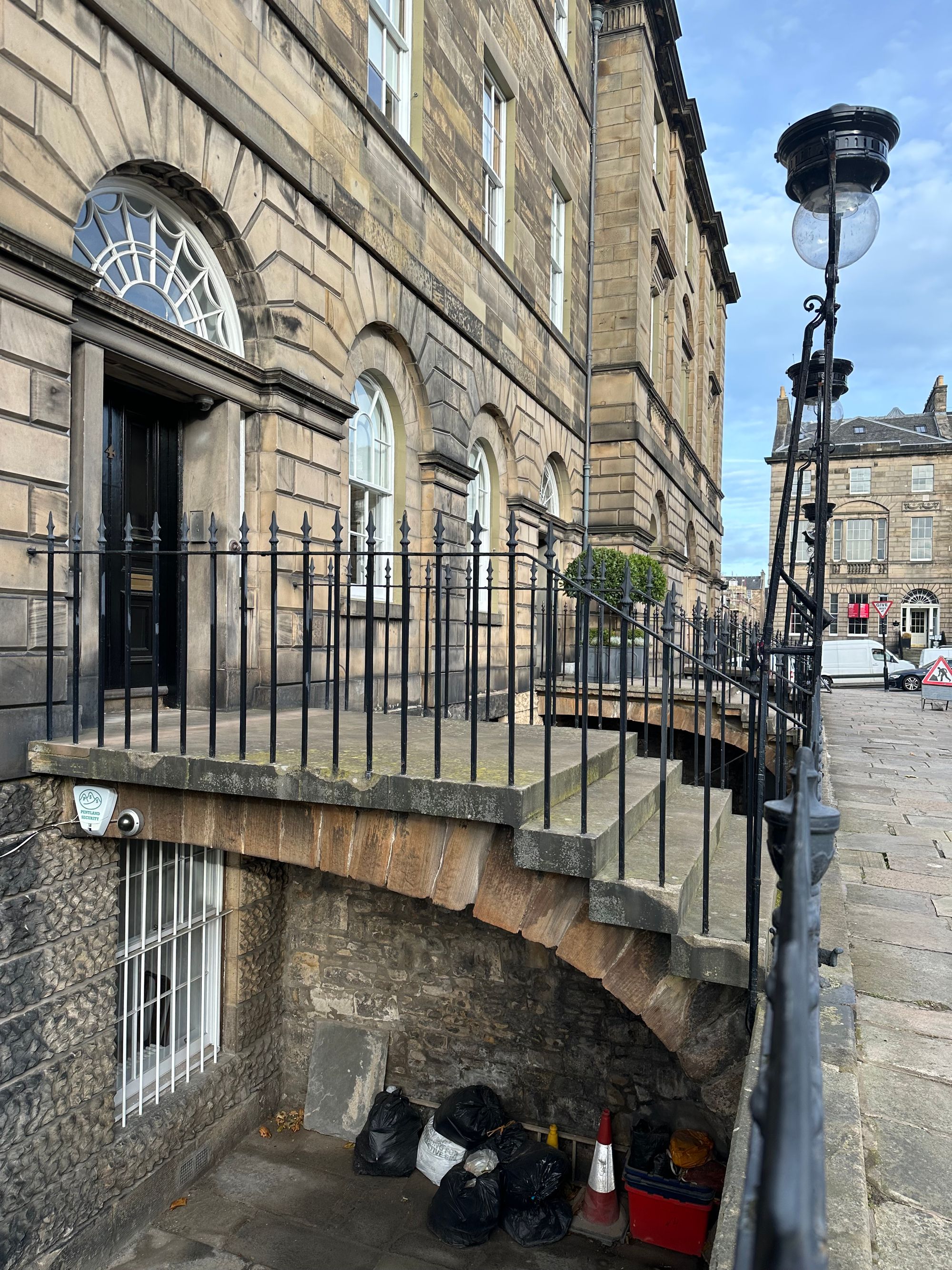 ---
The Georgian House Charlotte Street Interior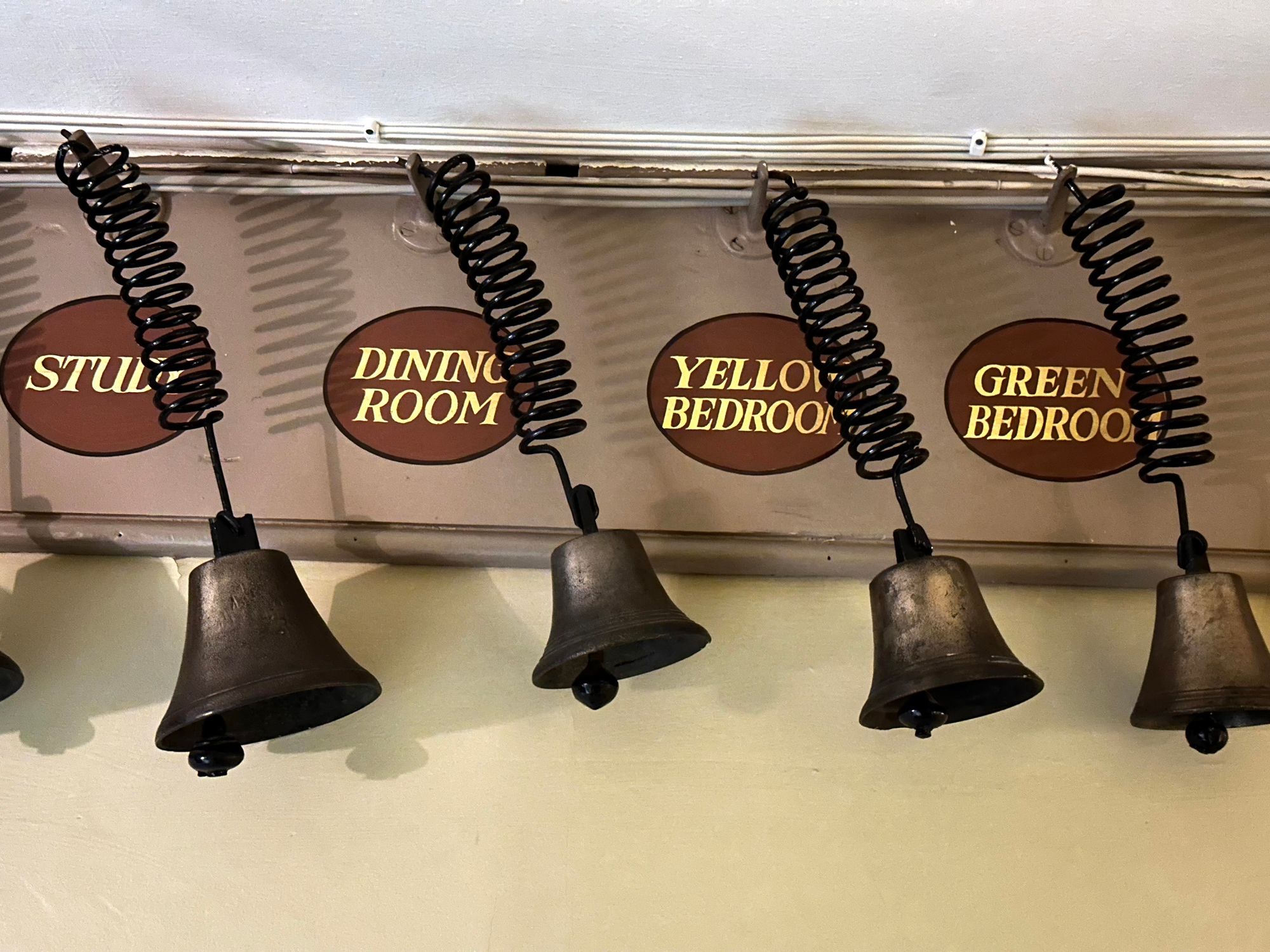 Members can stroll through an interior on Charlotte Street that rivals that of Downton Abbey by clicking the box below: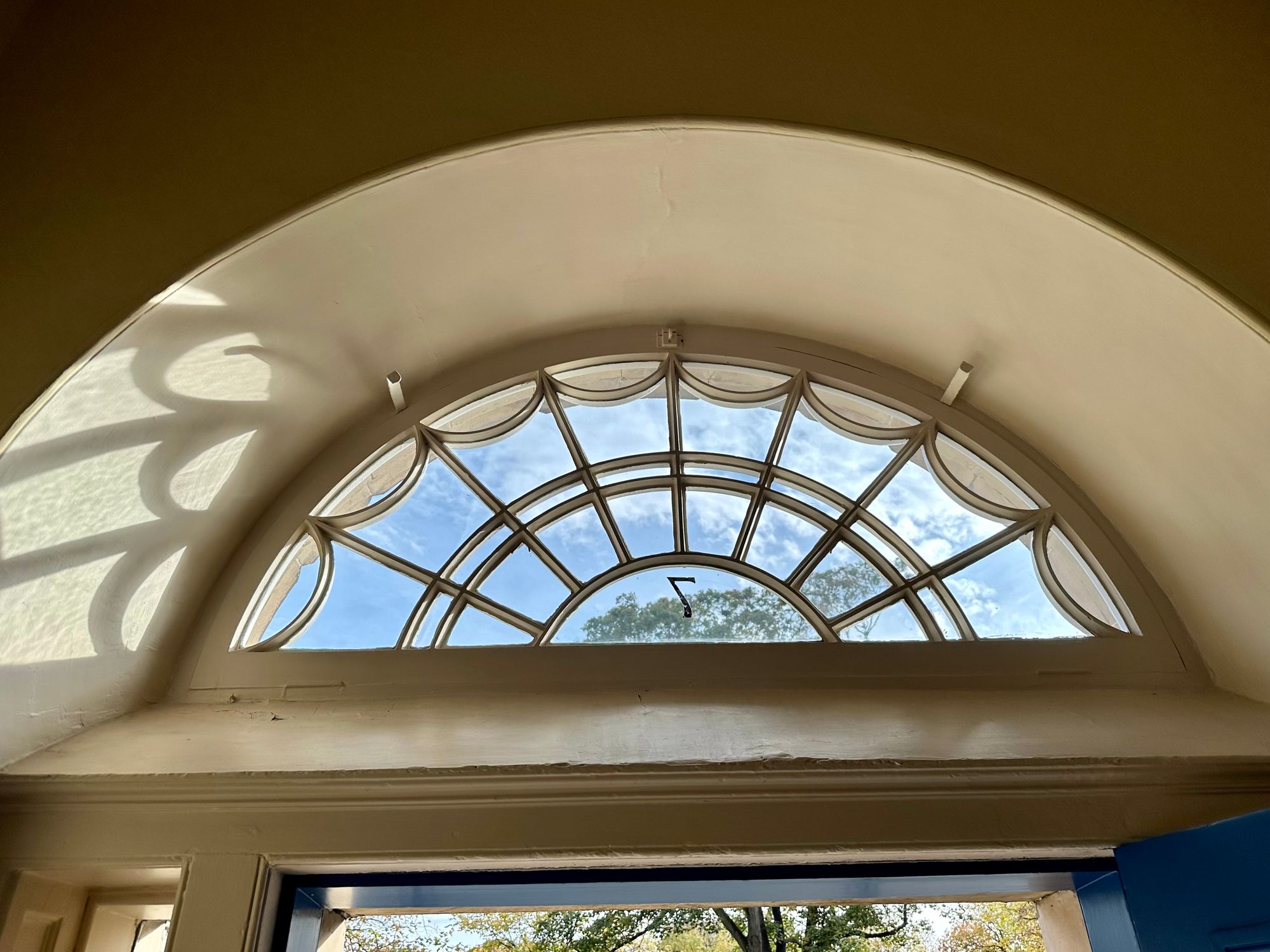 Member Tip: Members will need to sign in to view member content. If, after signing in, you don't receive your security email - check your spam/junk folder.
---
Edinburgh New Town Decorative Ironwork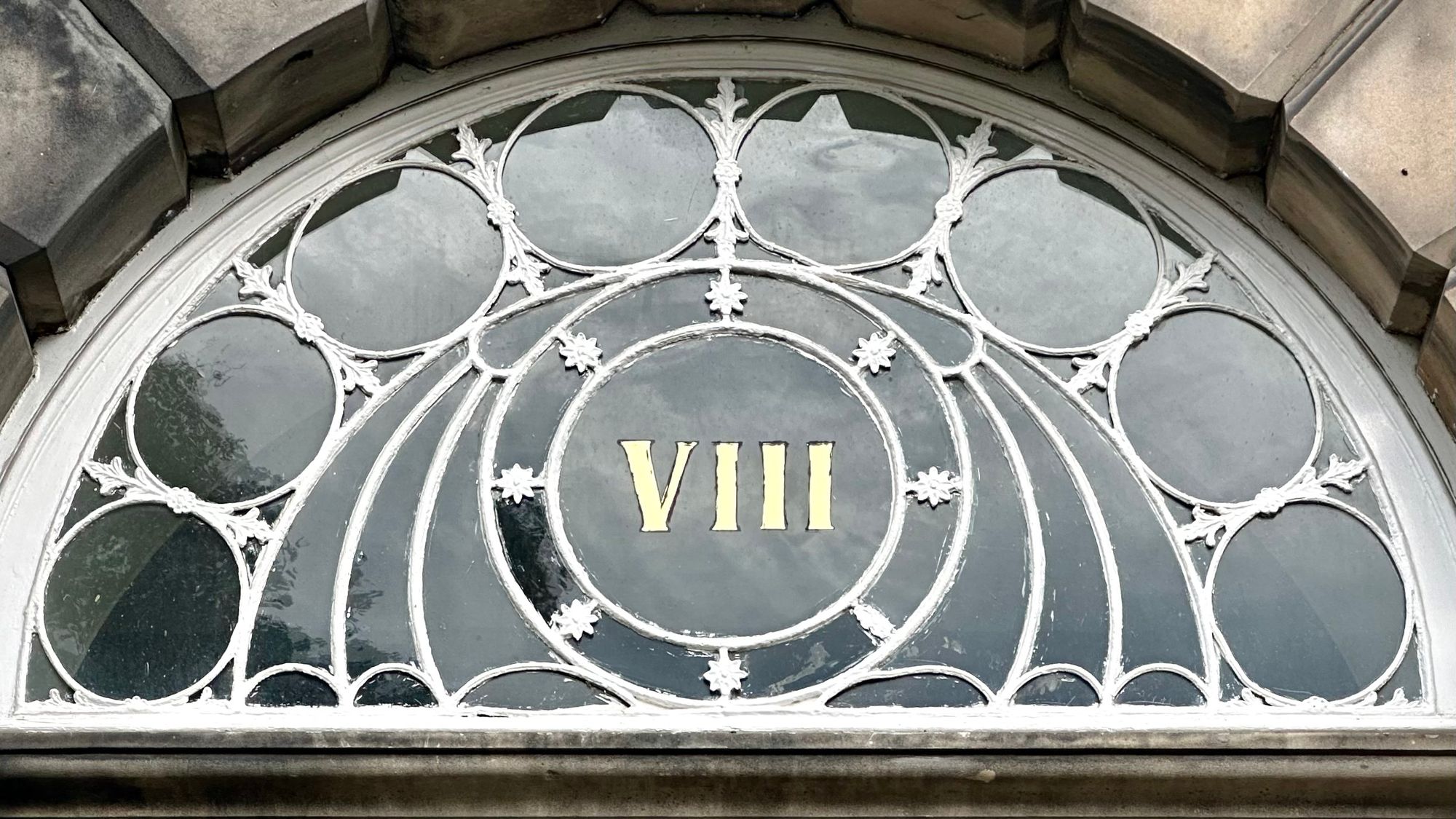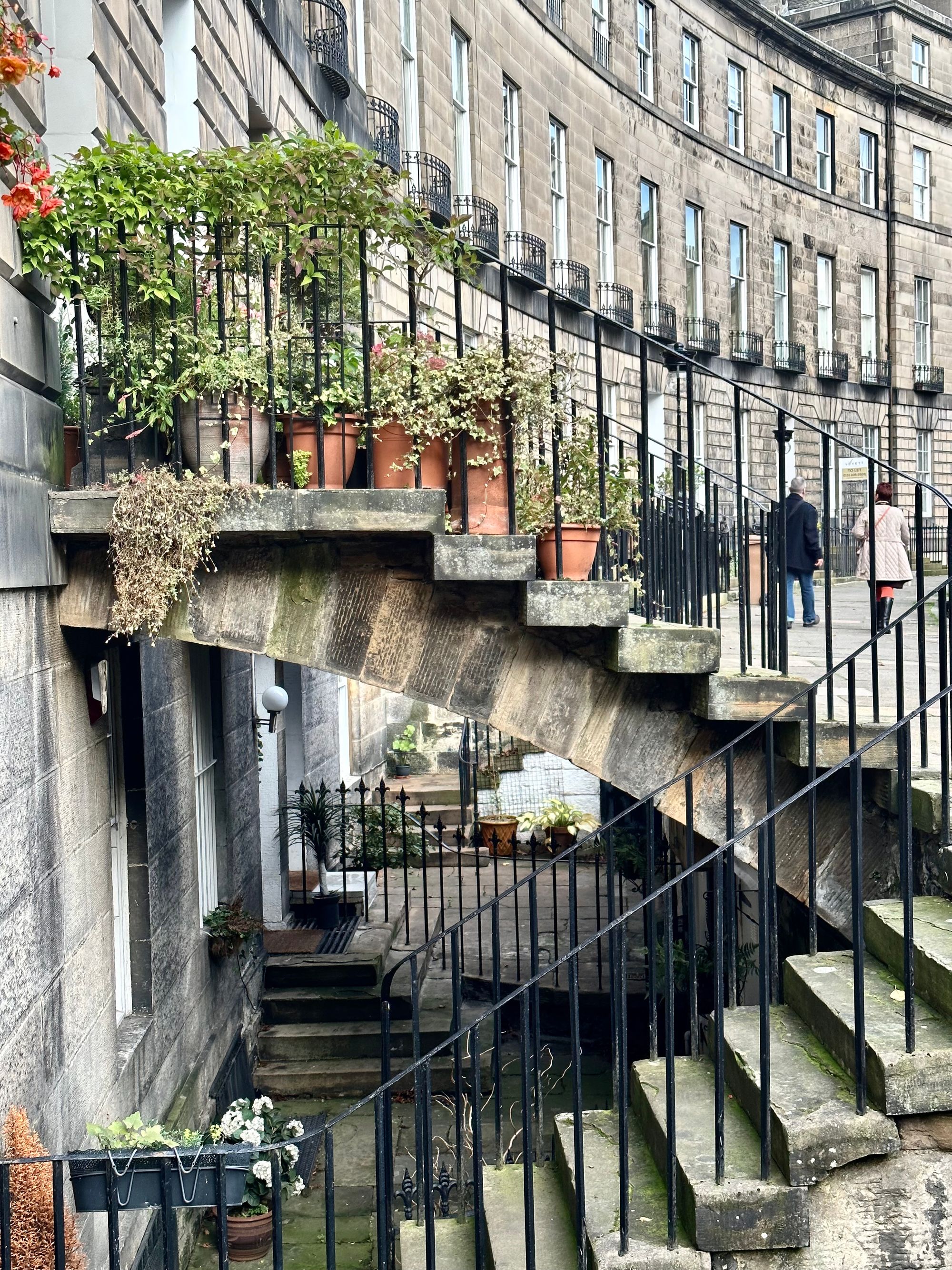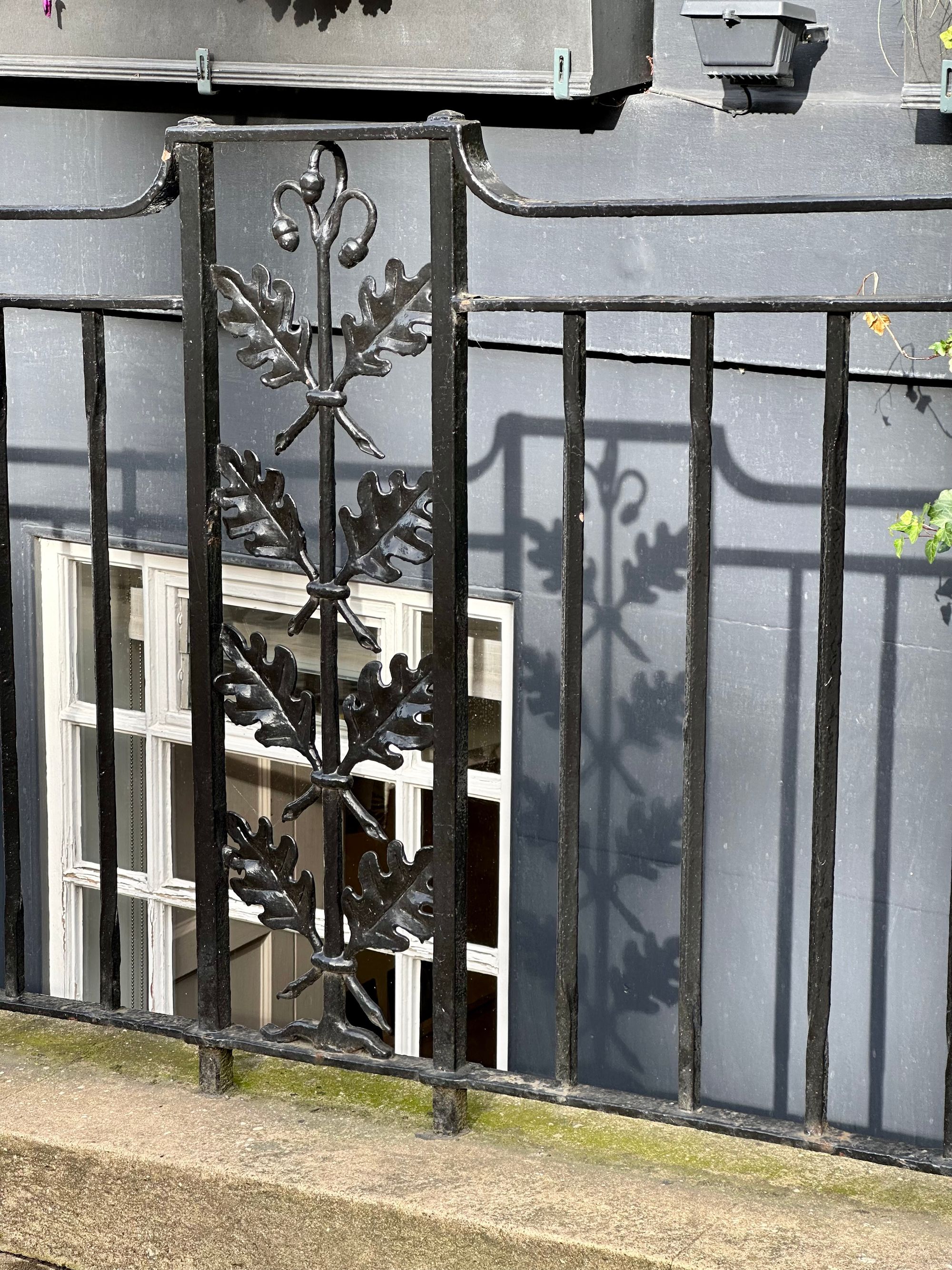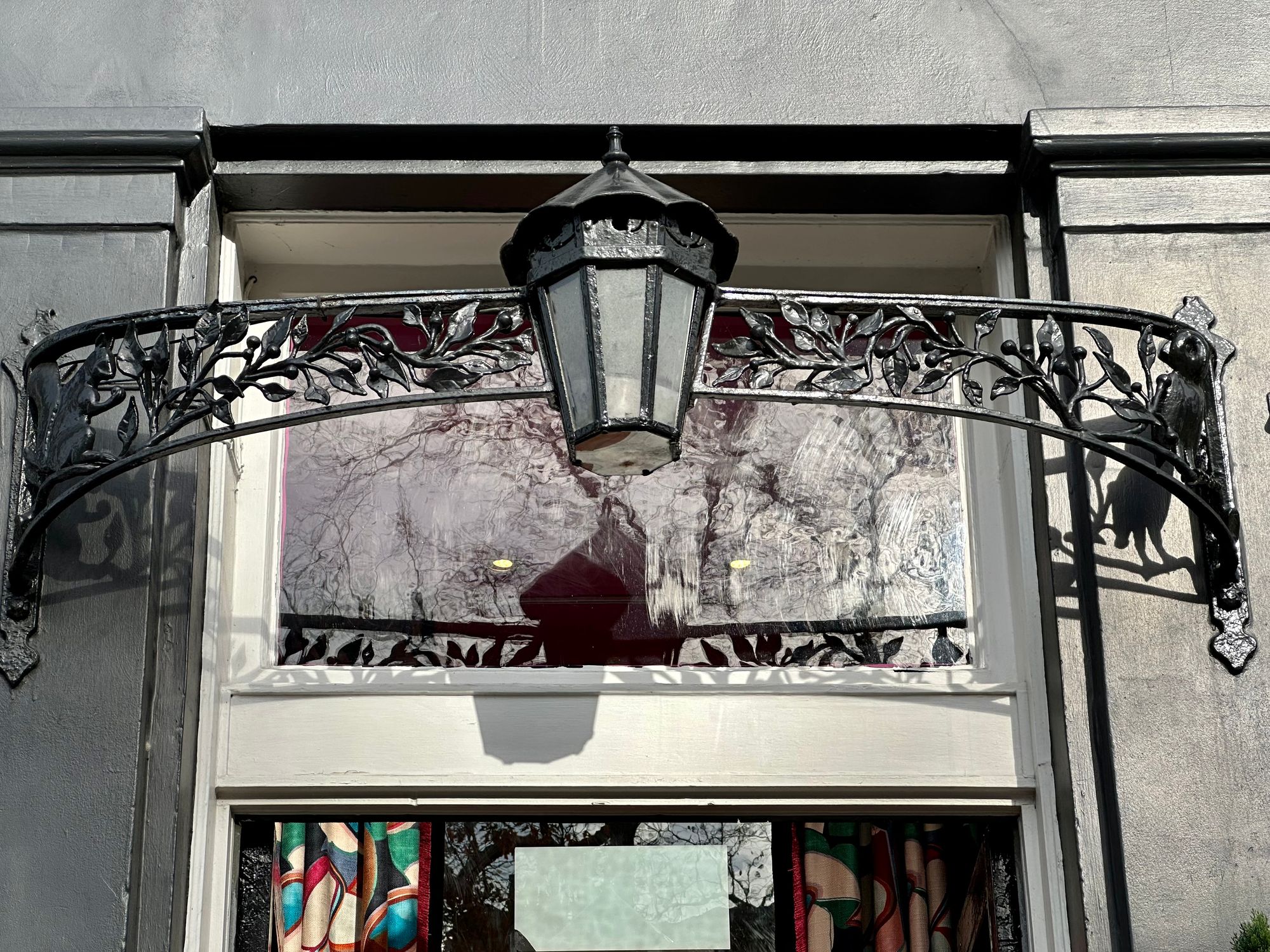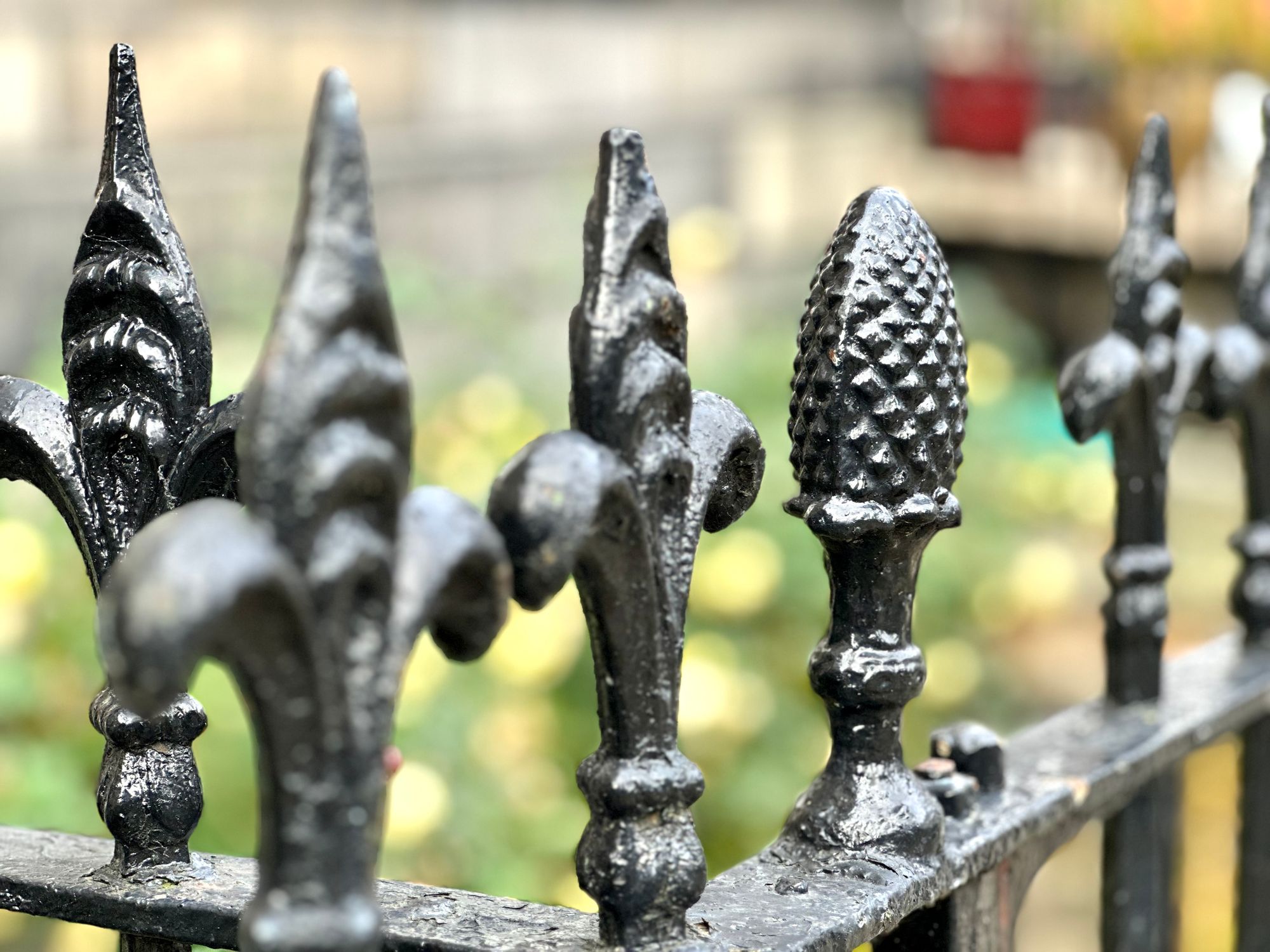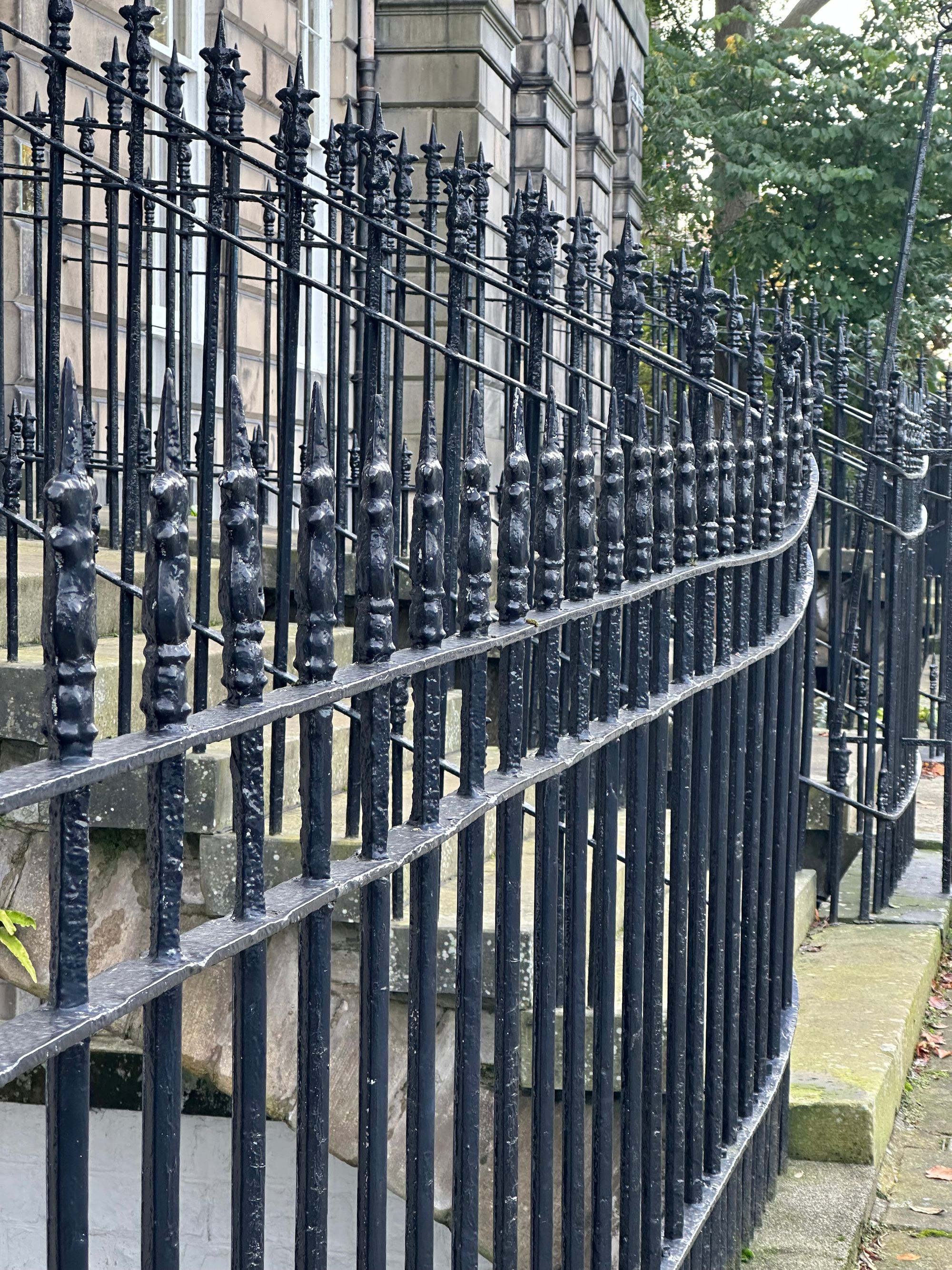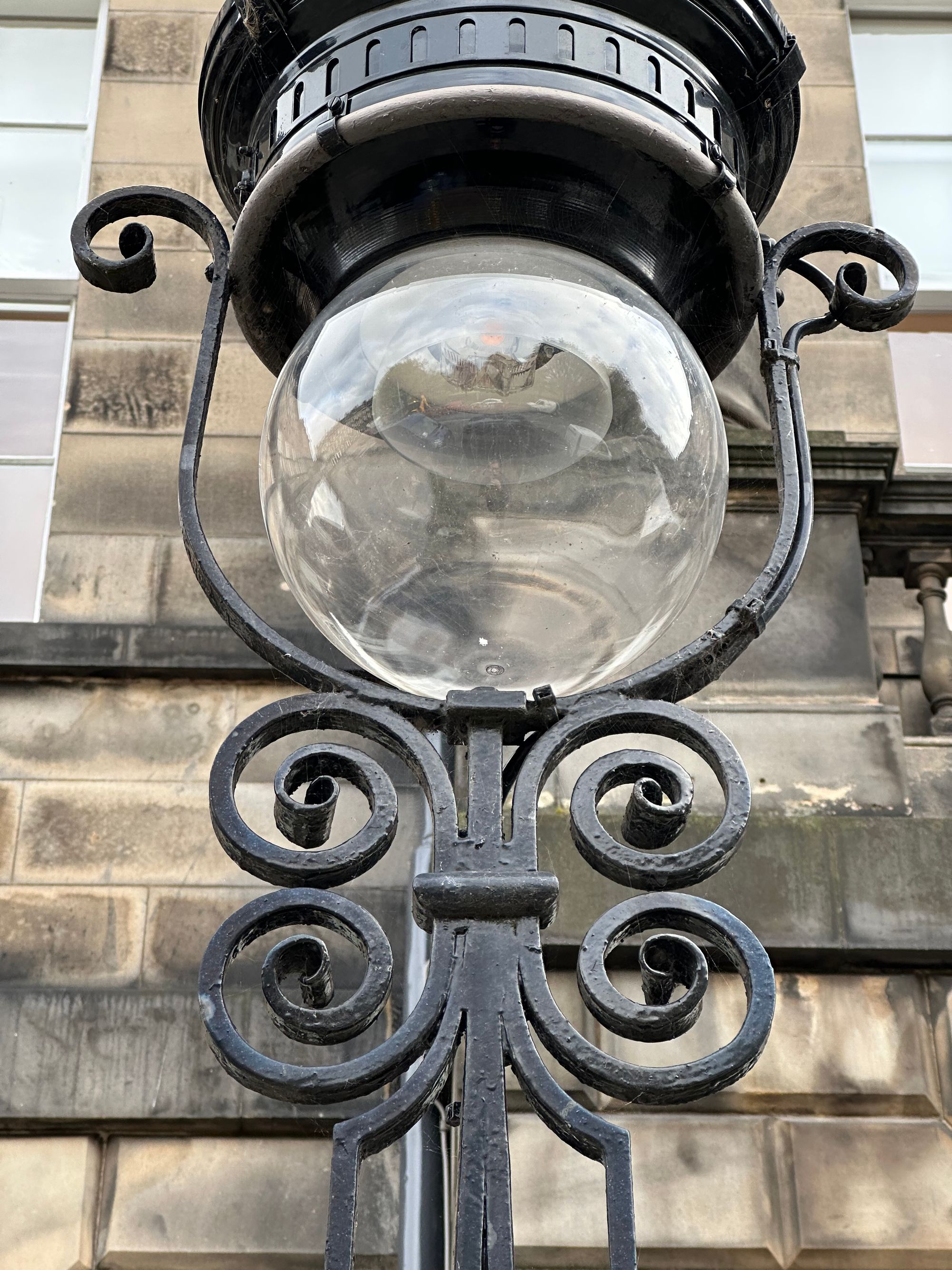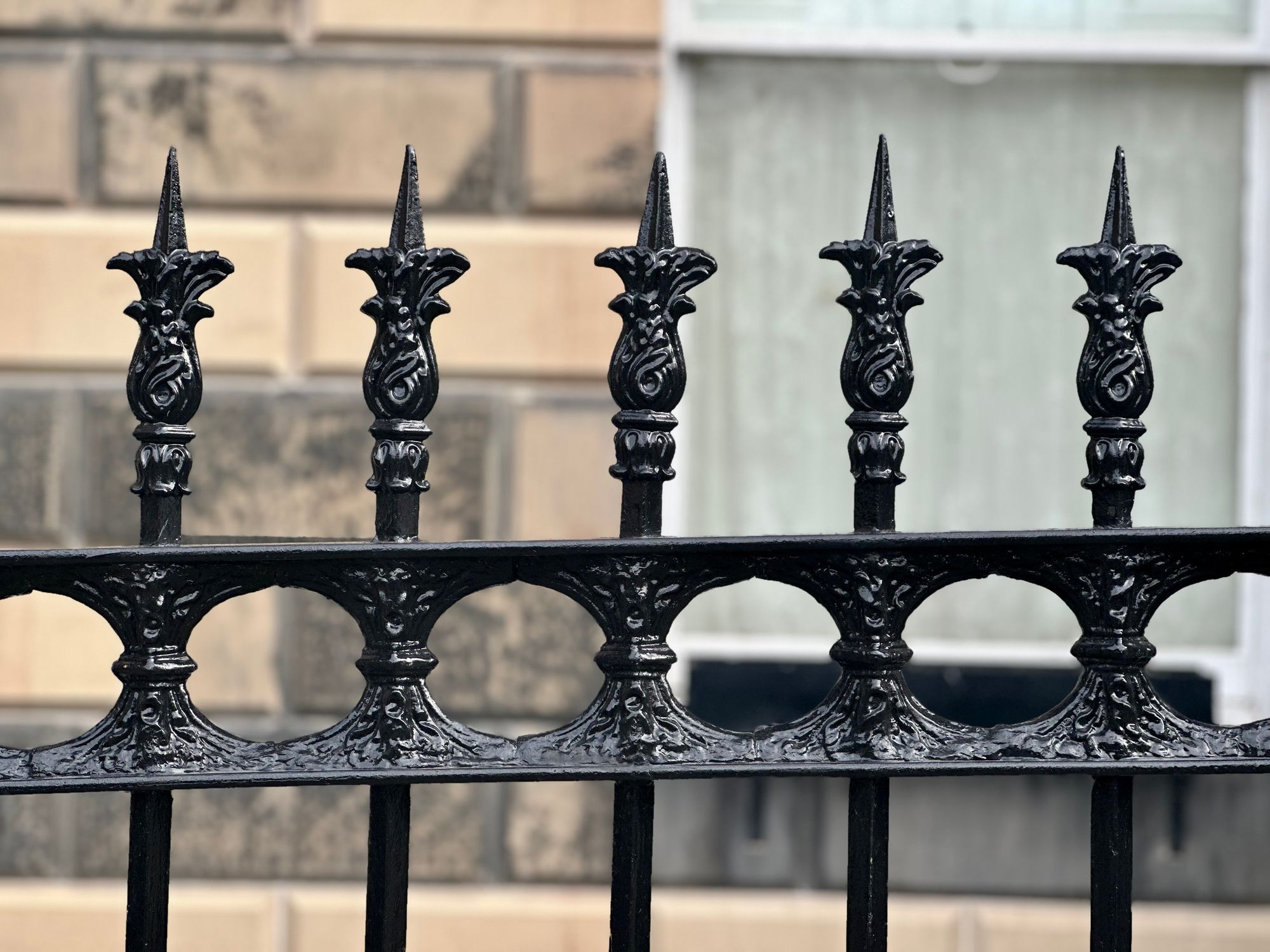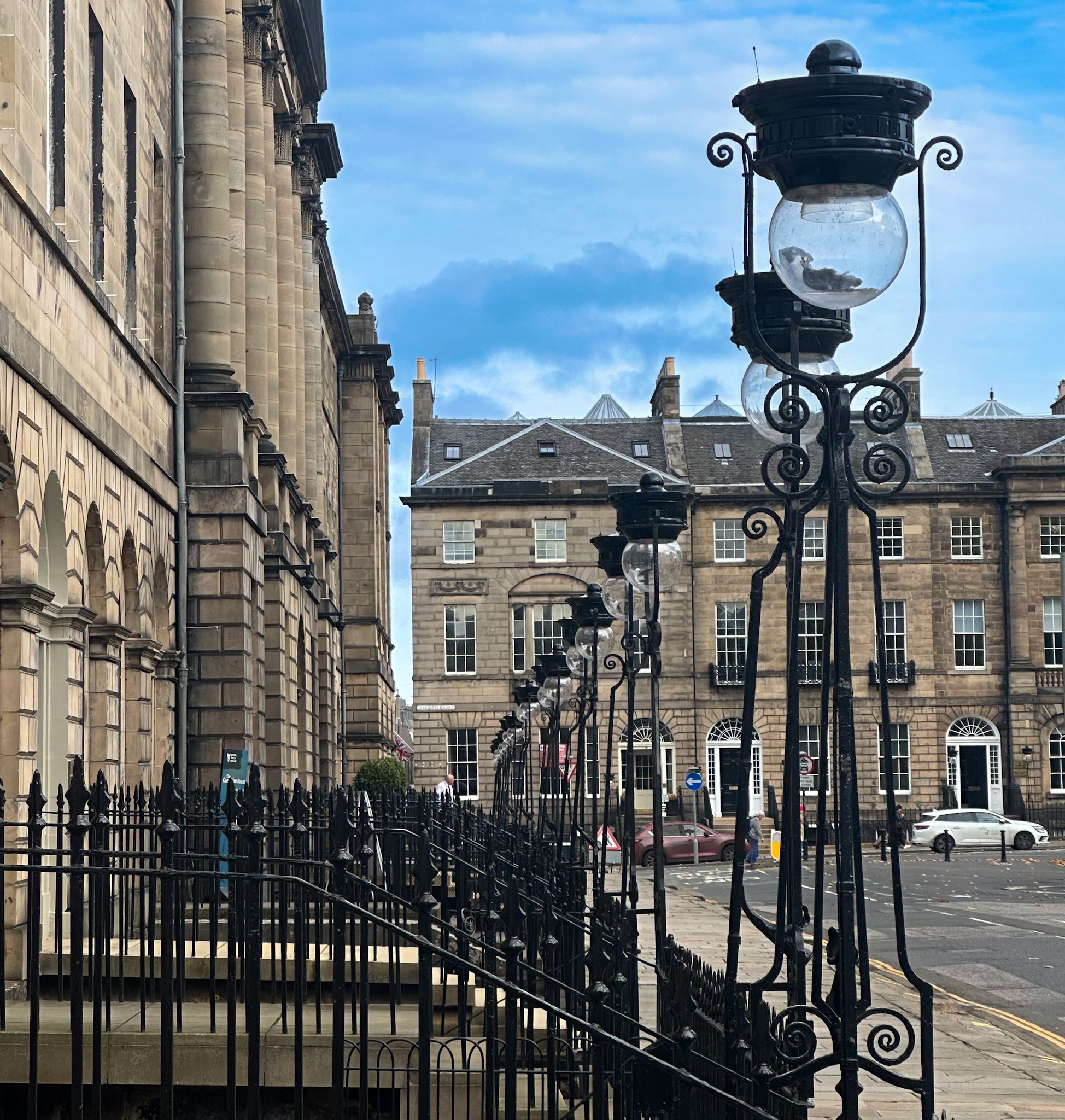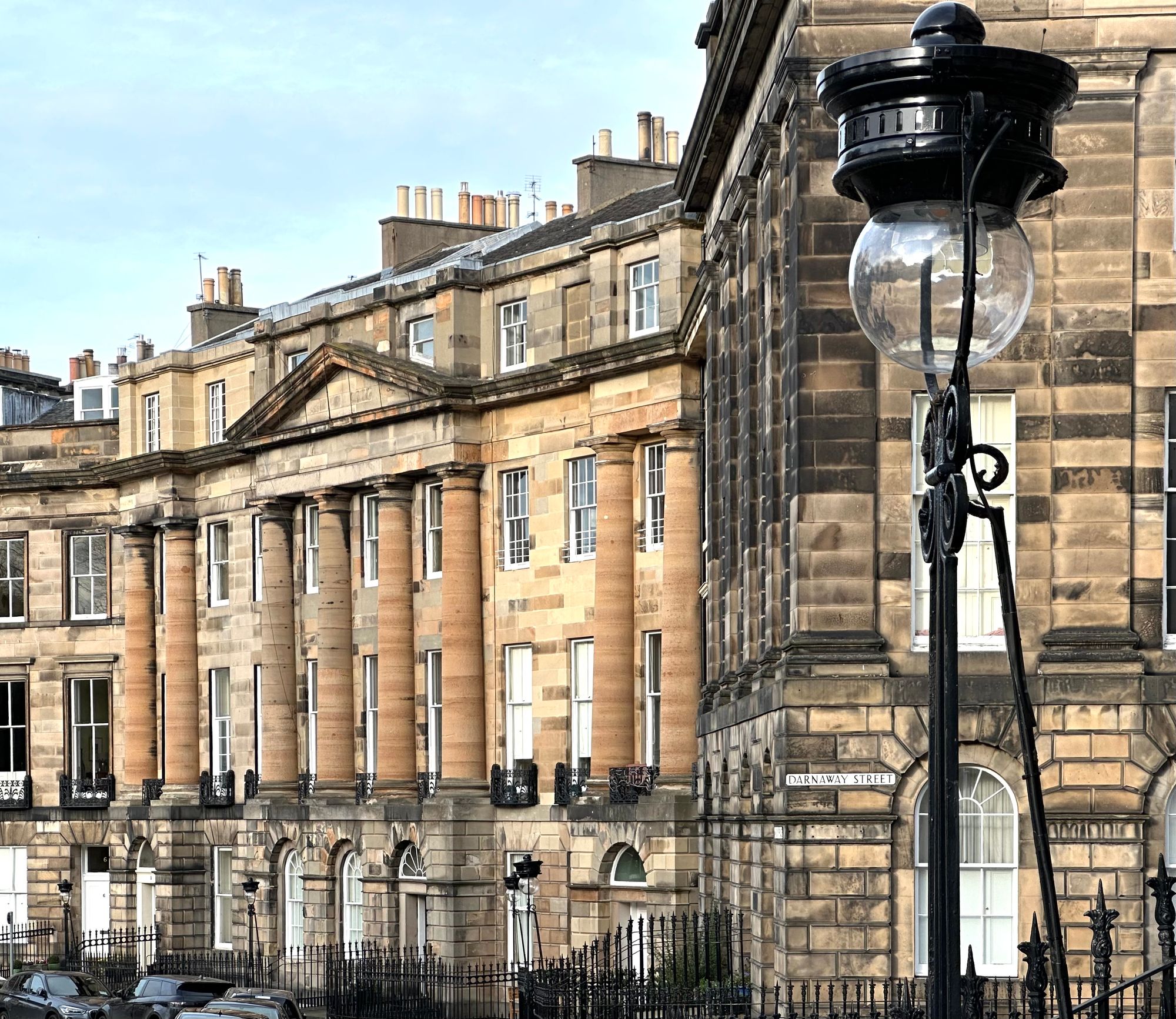 Doorscapes to die for..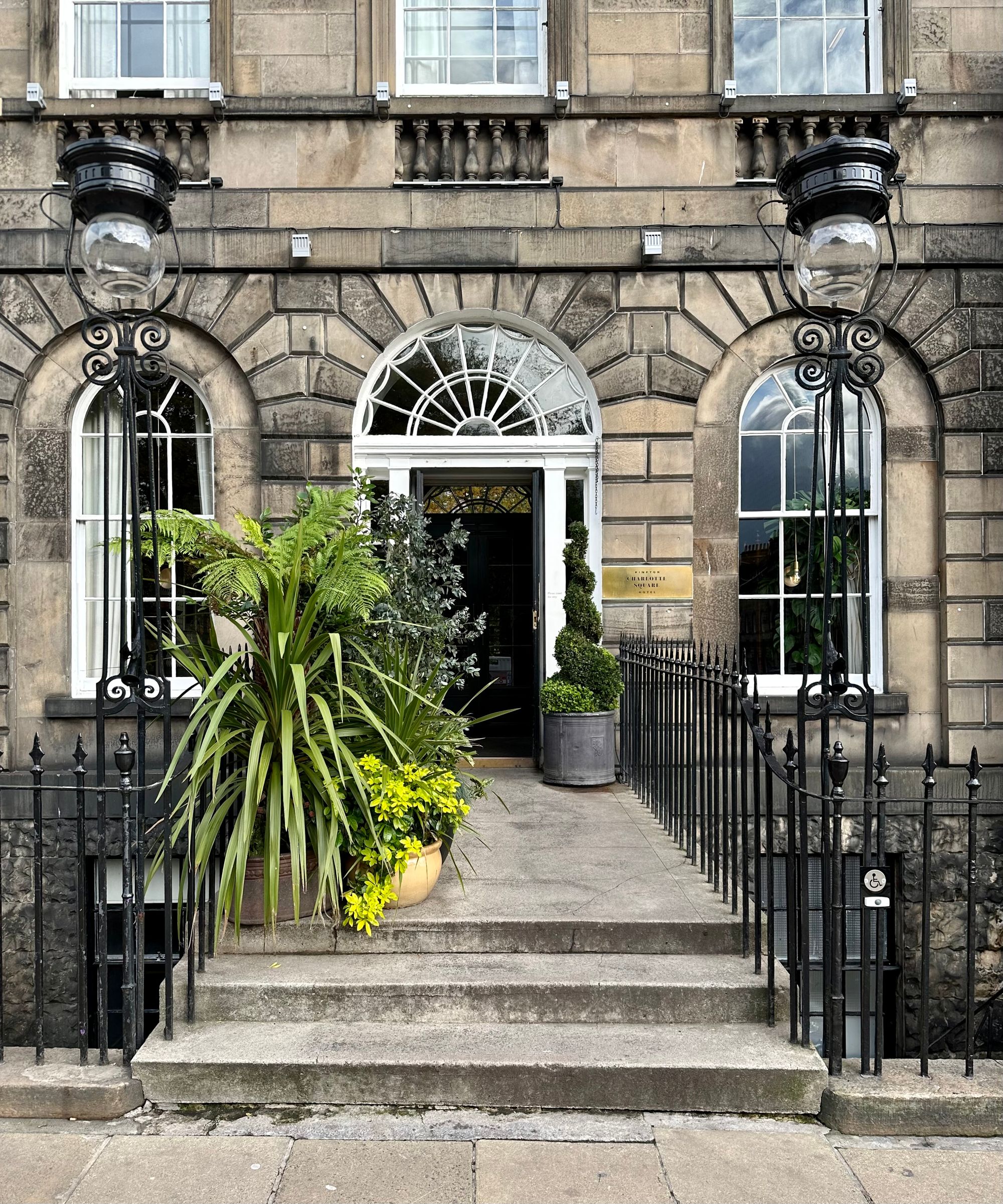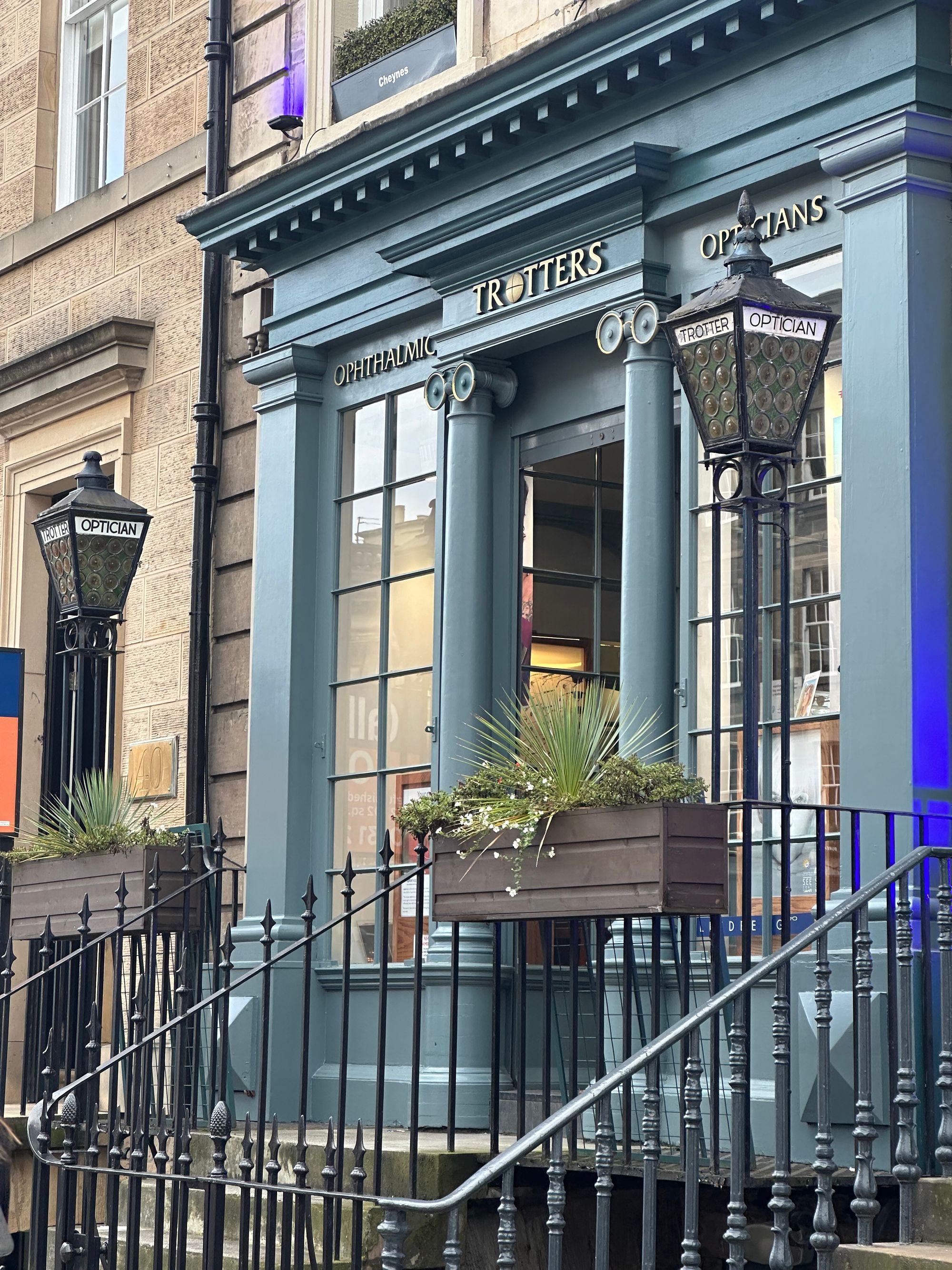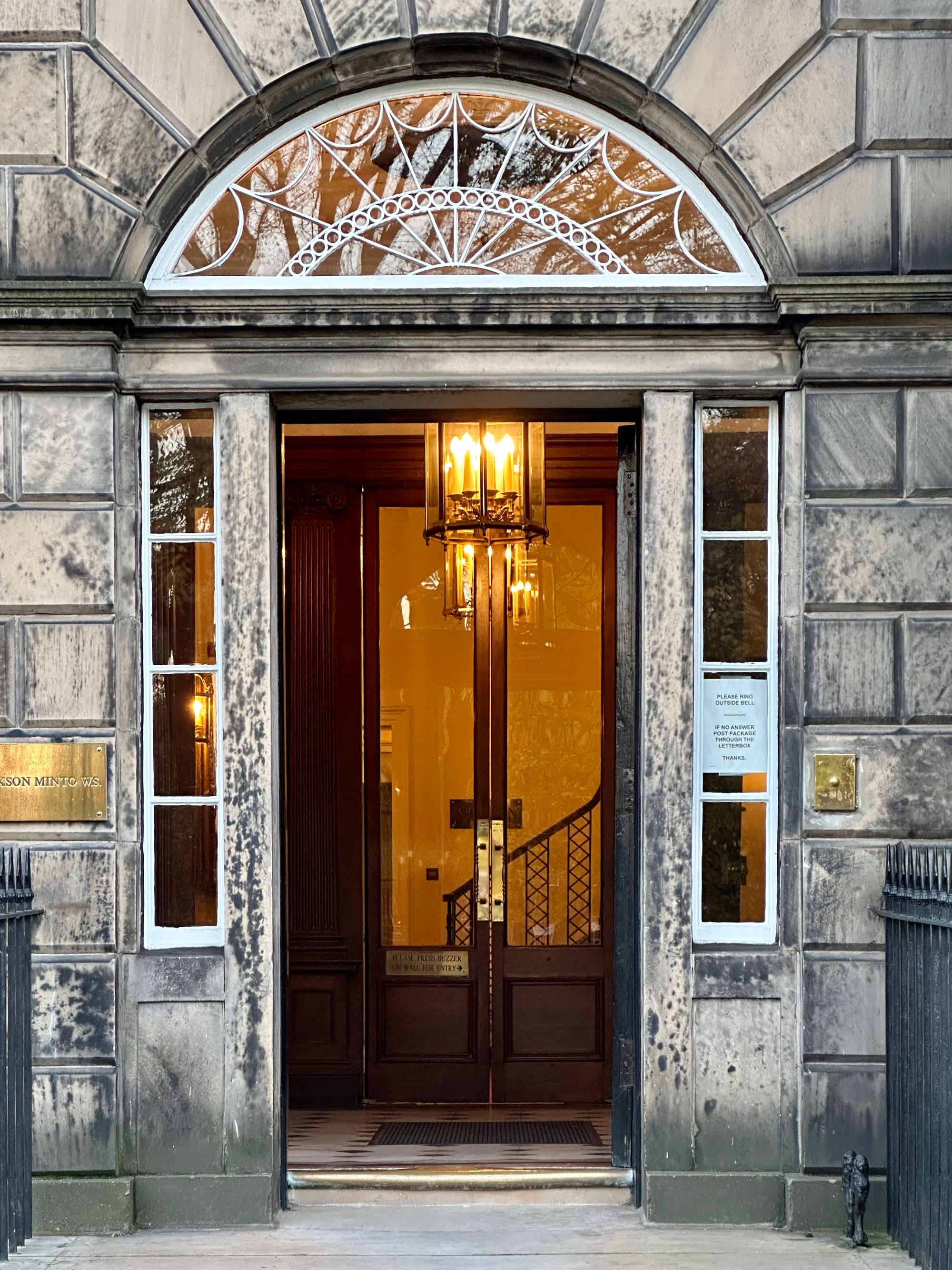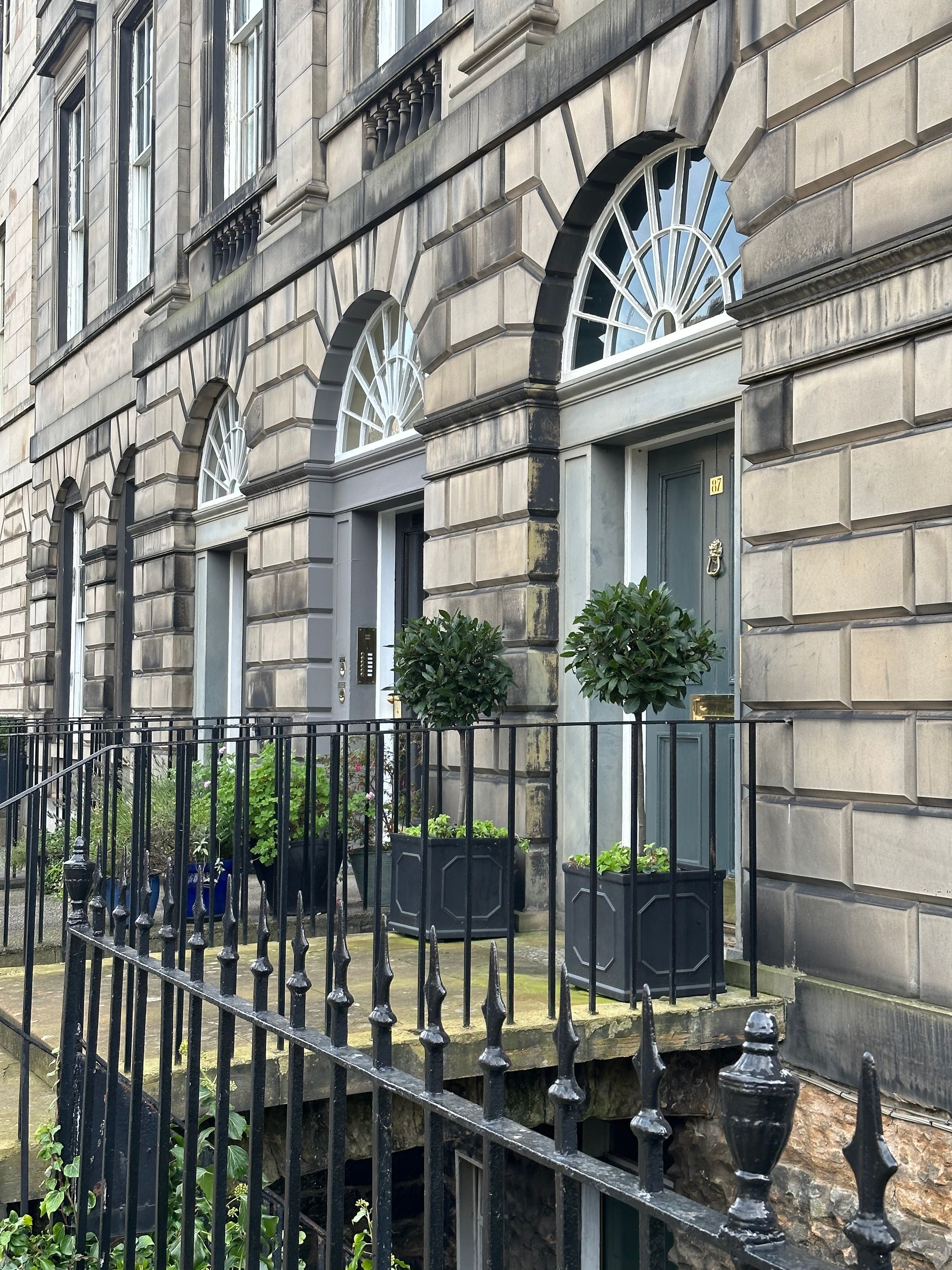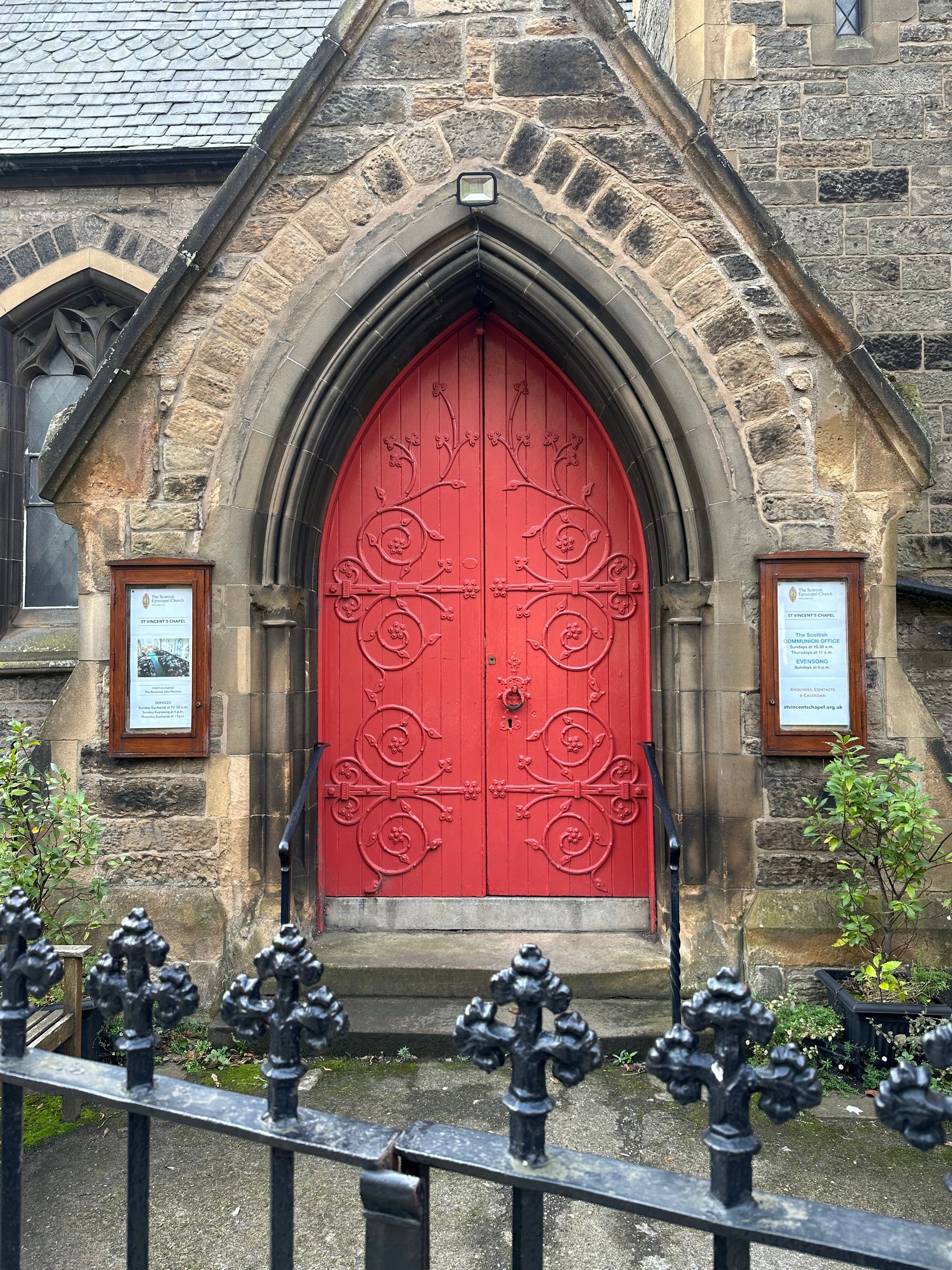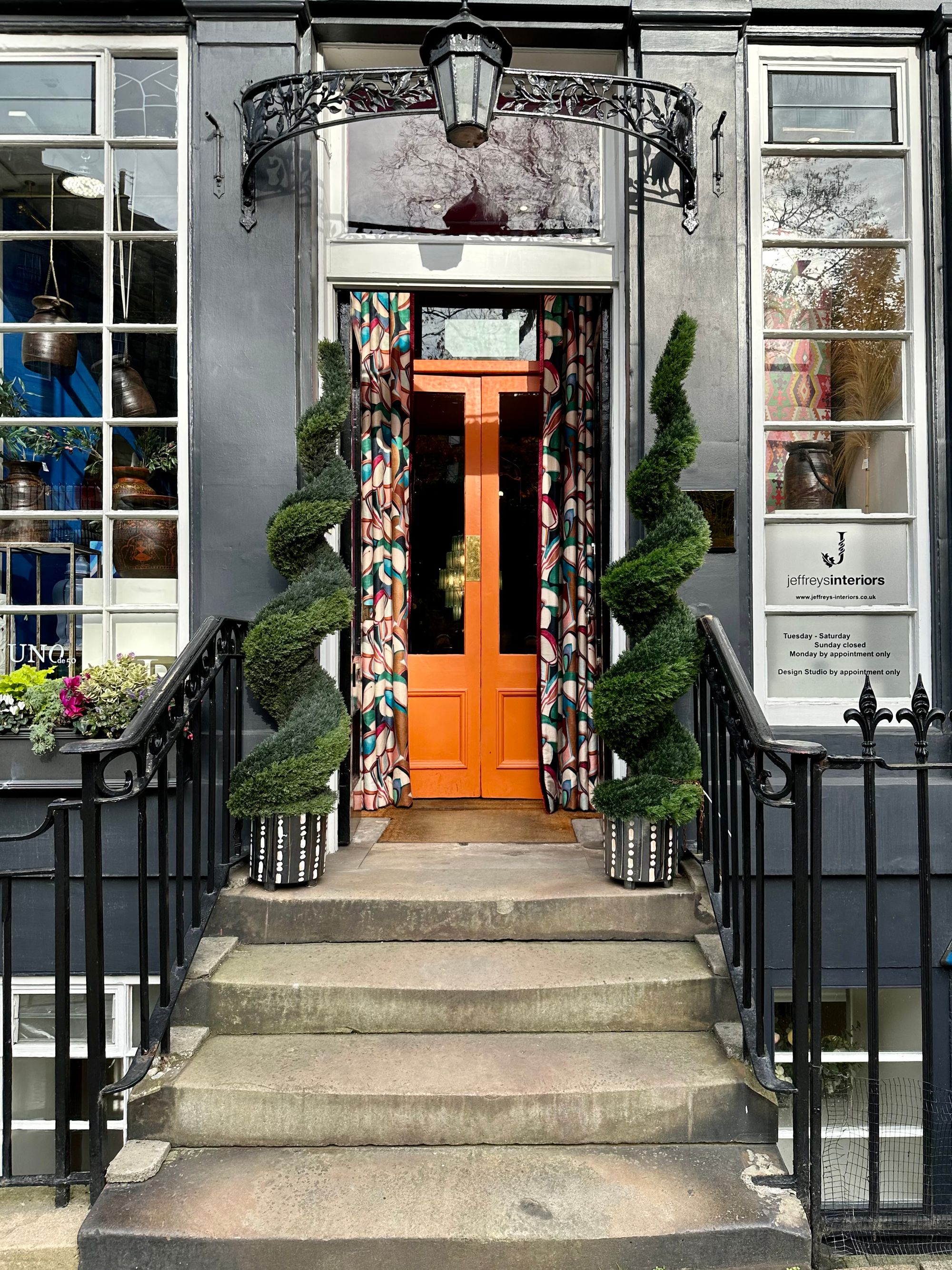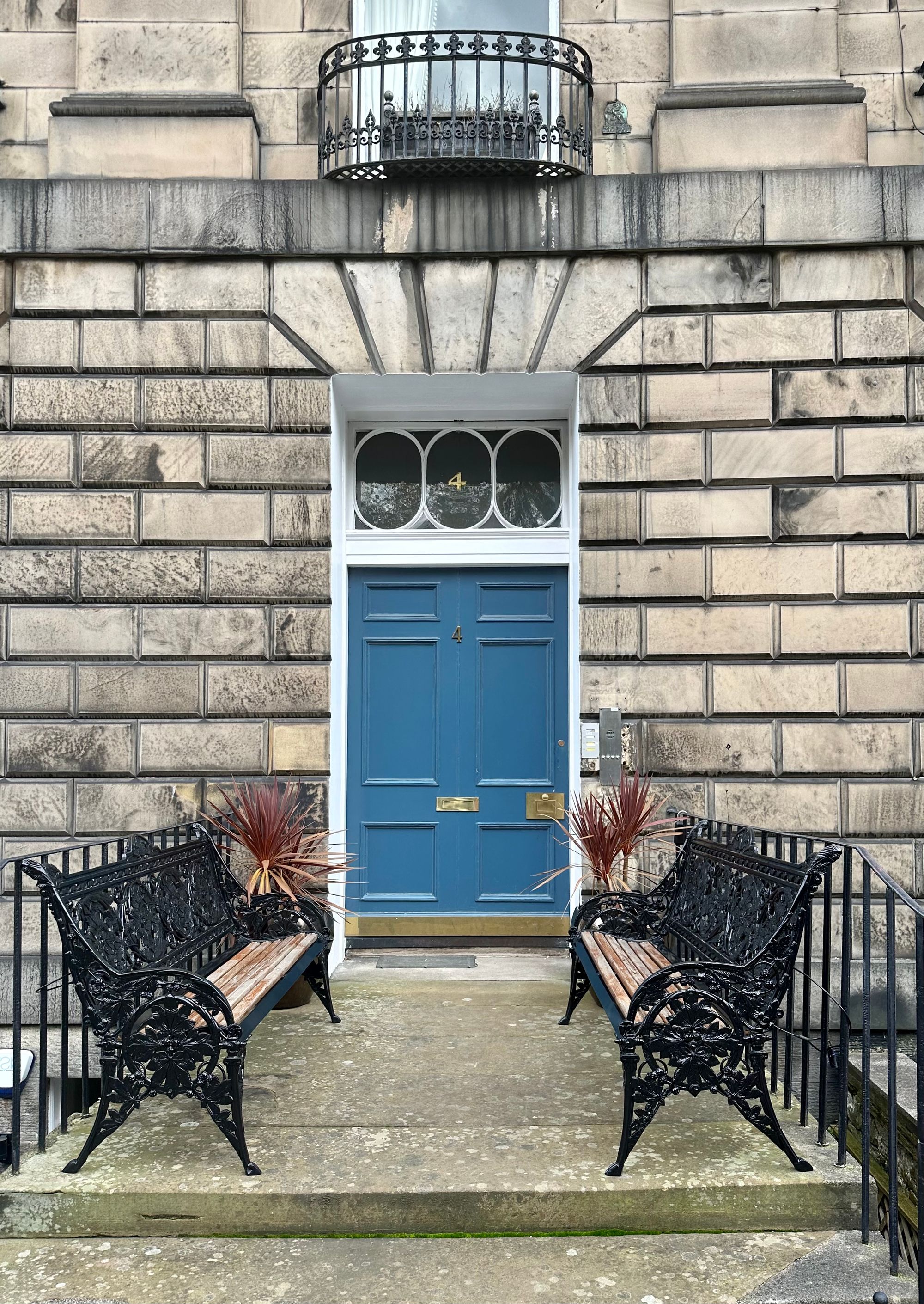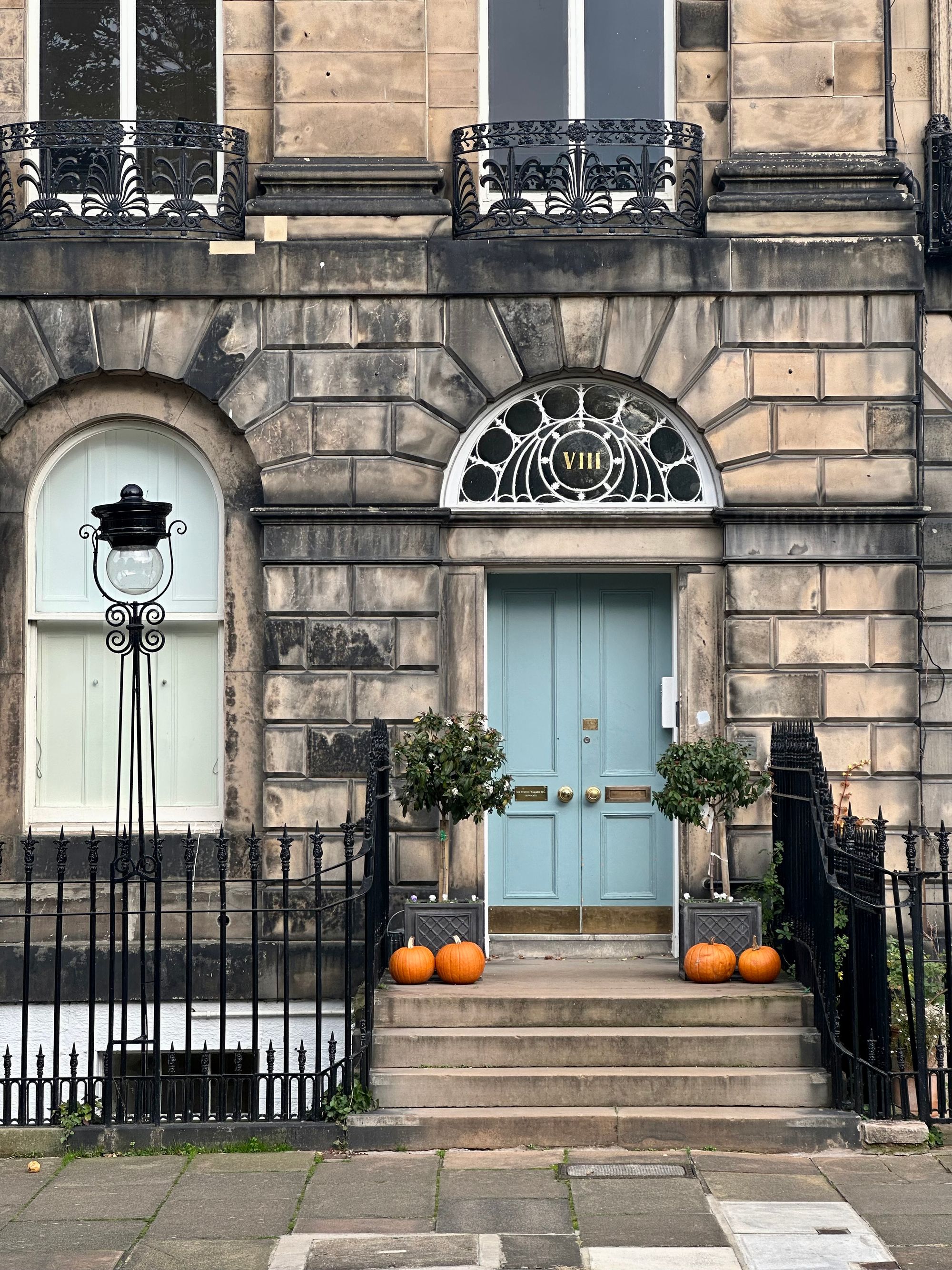 ---
Can you help keep Woody on the road?
Click below for membership options and benefits
Become a Member
---
Stockbridge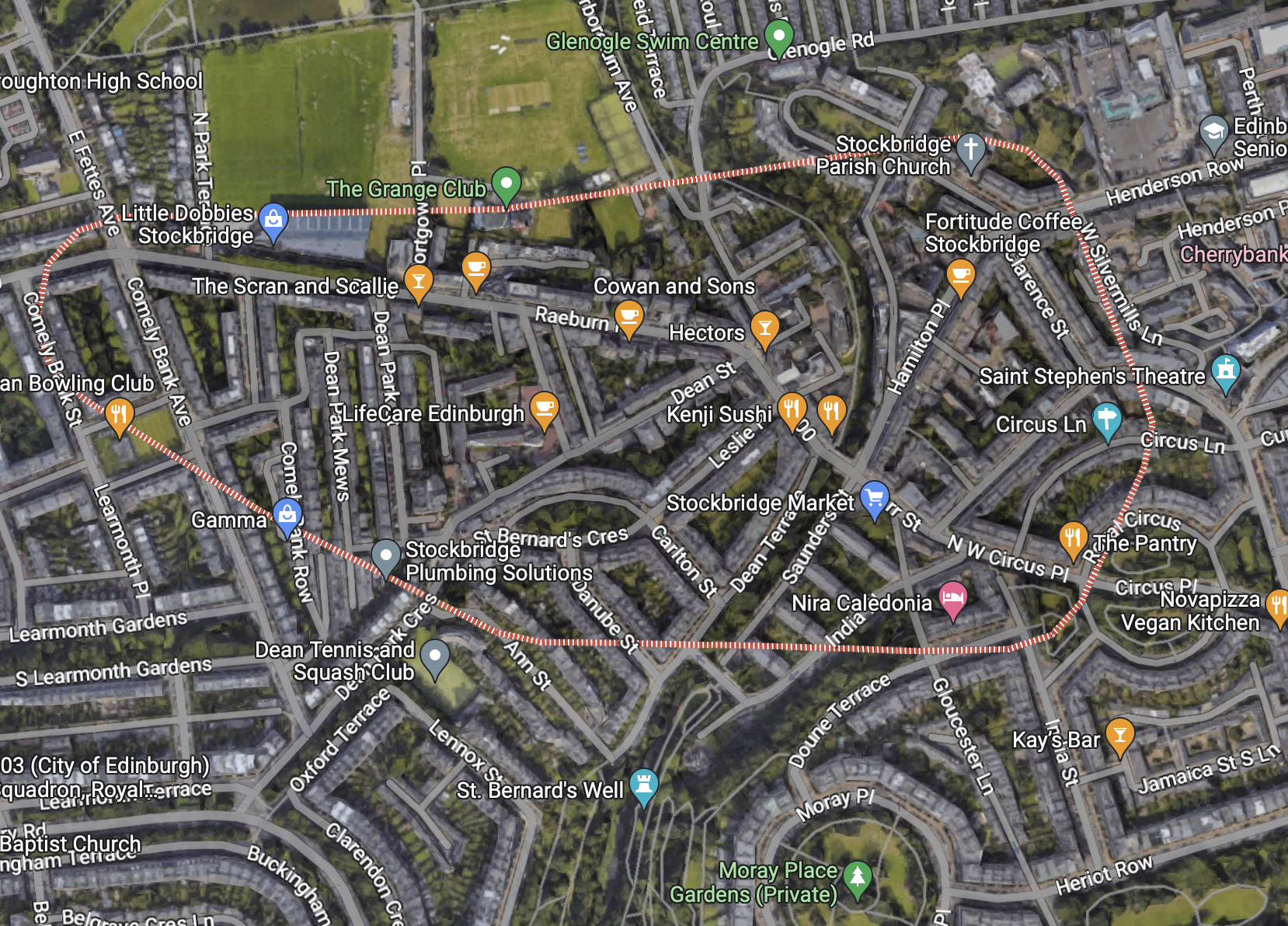 As far as I'm concerned, Stockbridge, which lies just outside Edinburgh's New Town, is an exemplar in place making. It is a place that leads the way in integrating an historic environment with a commercial heart that beats with the values of the community.
Place makers should flock to Stockbridge and note the joy of the shop fronts - how the materials and surfaces (even the new ones) compliment each other - and how certain parts are allowed to fray at the edges. If only we could all have places like this.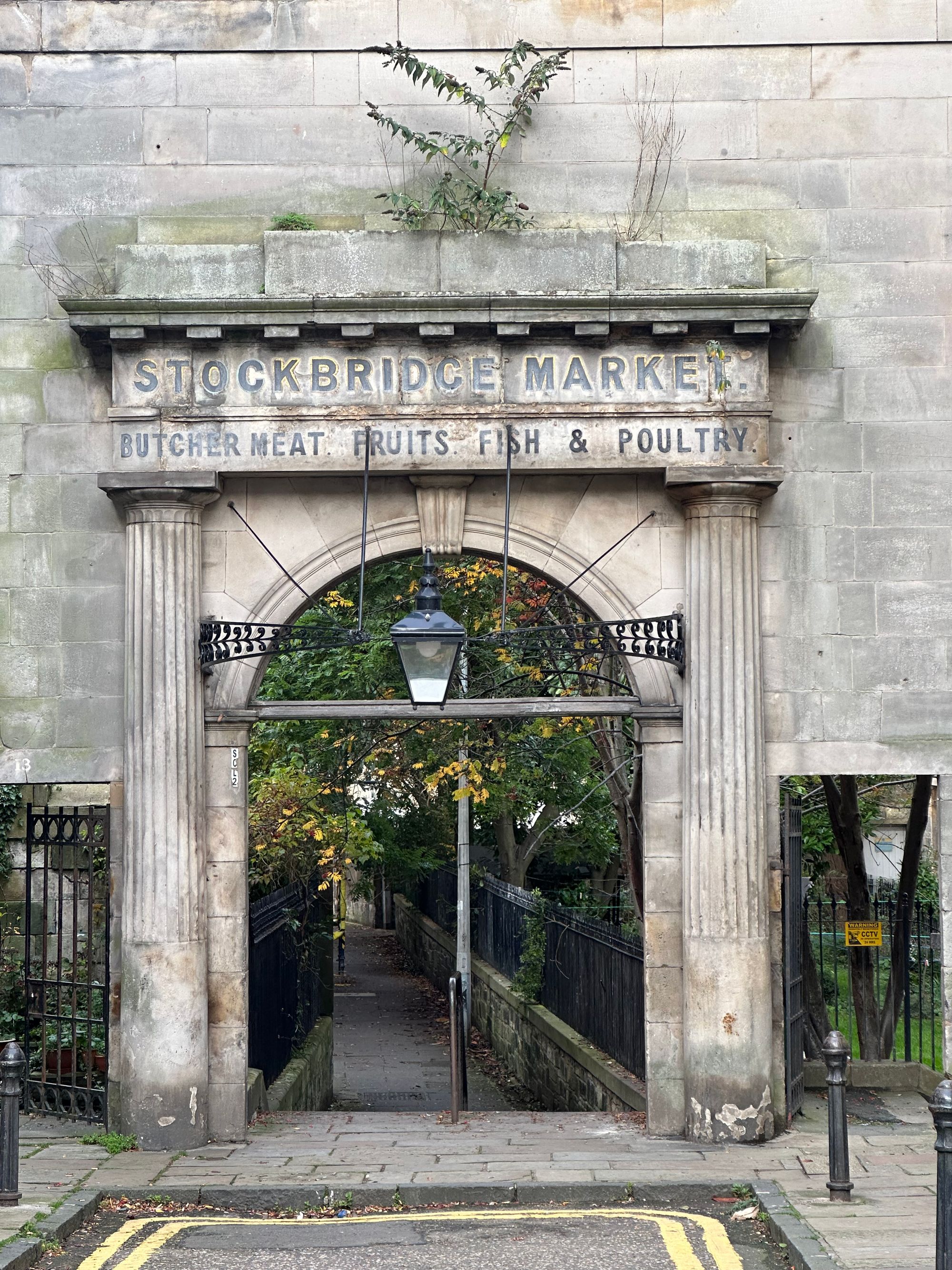 Before I took a walk around Stockbridge, I took refreshments in one of its most popular eateries: The Scran & Scallie.
Sometimes, when I'm on my own and feel a bit daunted by a bustling eatery, I walk in and ask them if they have room for a traveller to have a quick aperitivo - I'm always taken to a quiet spot (usually a great spot for observation of others). People are always accomodating for an aperitivo.
The charm worked perfectly here because they found me a quiet place where I had the full attention of the welcoming staff. Here they gave me a few local insights and told me the best shops to visit.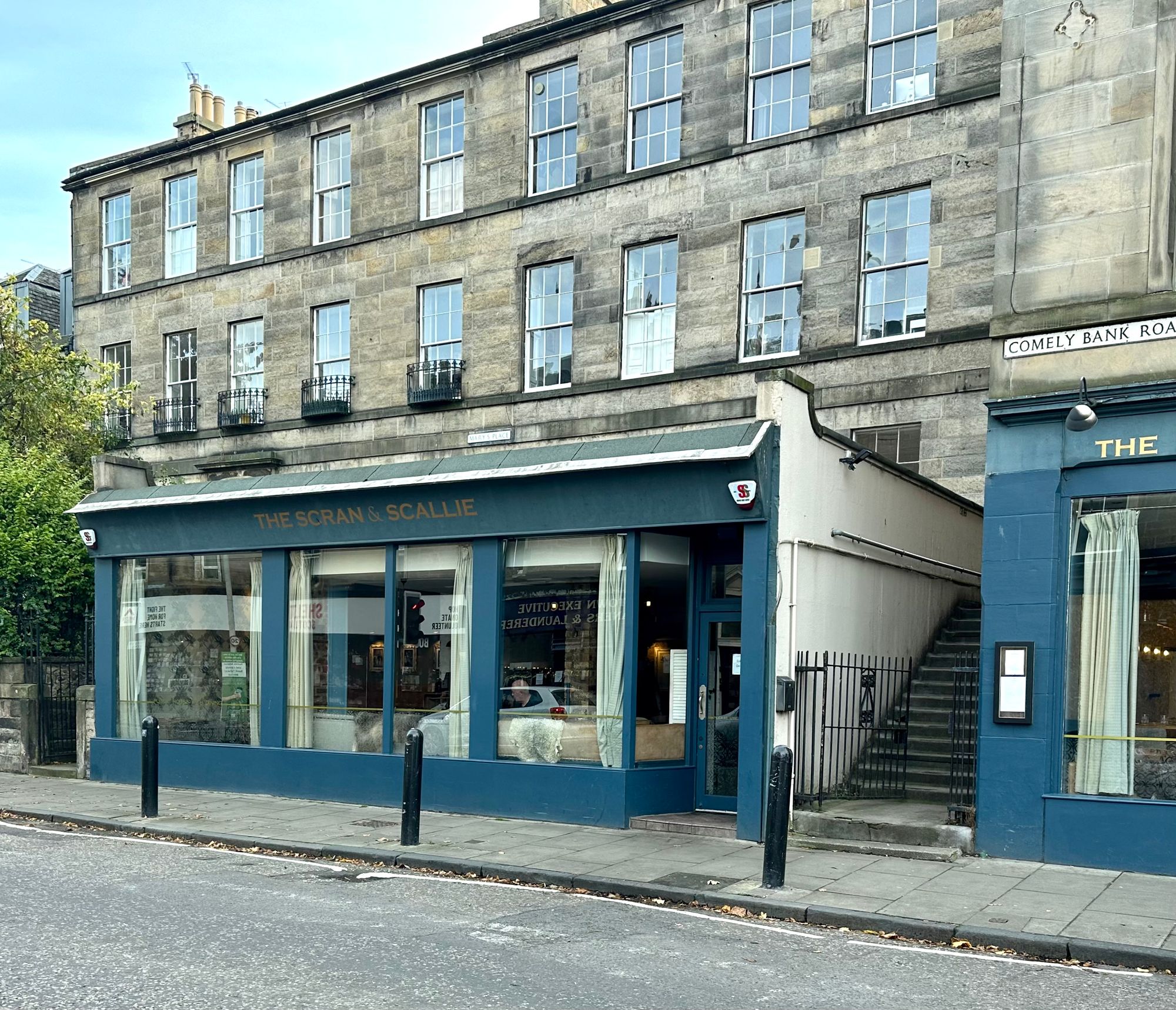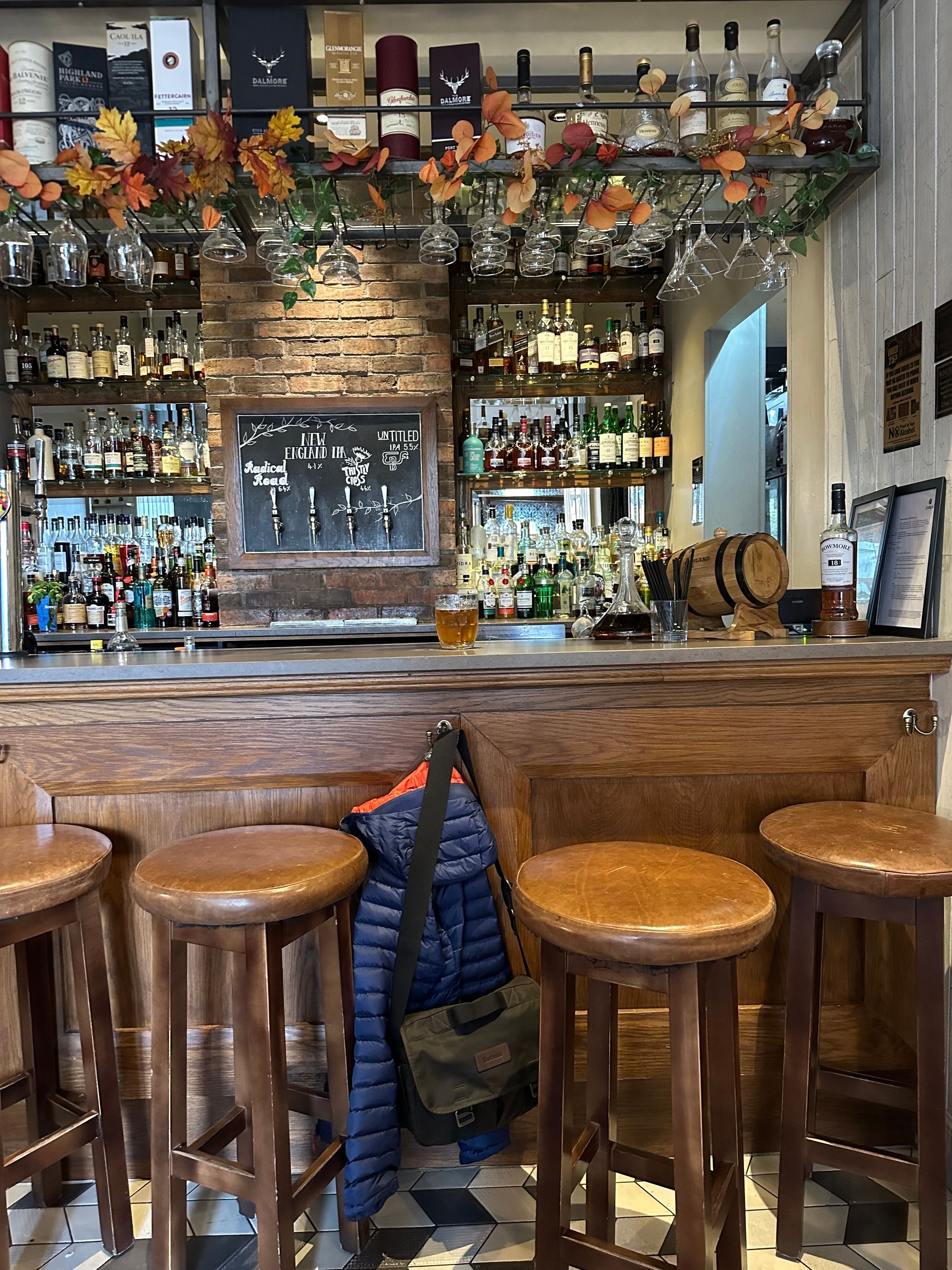 The Shop Fronts
I think that shop fronts are the DNA of a town. I've photographed many town initiatives that have improved and conserved historic facades along a commercial street and complimented it with high quality floor surfaces. The impact is remarkable - contributing to a sense of pride in community and identity.
Ready for a bit of retail therapy?
Let's go shopping (and also let's try and spot the photographer in the reflection):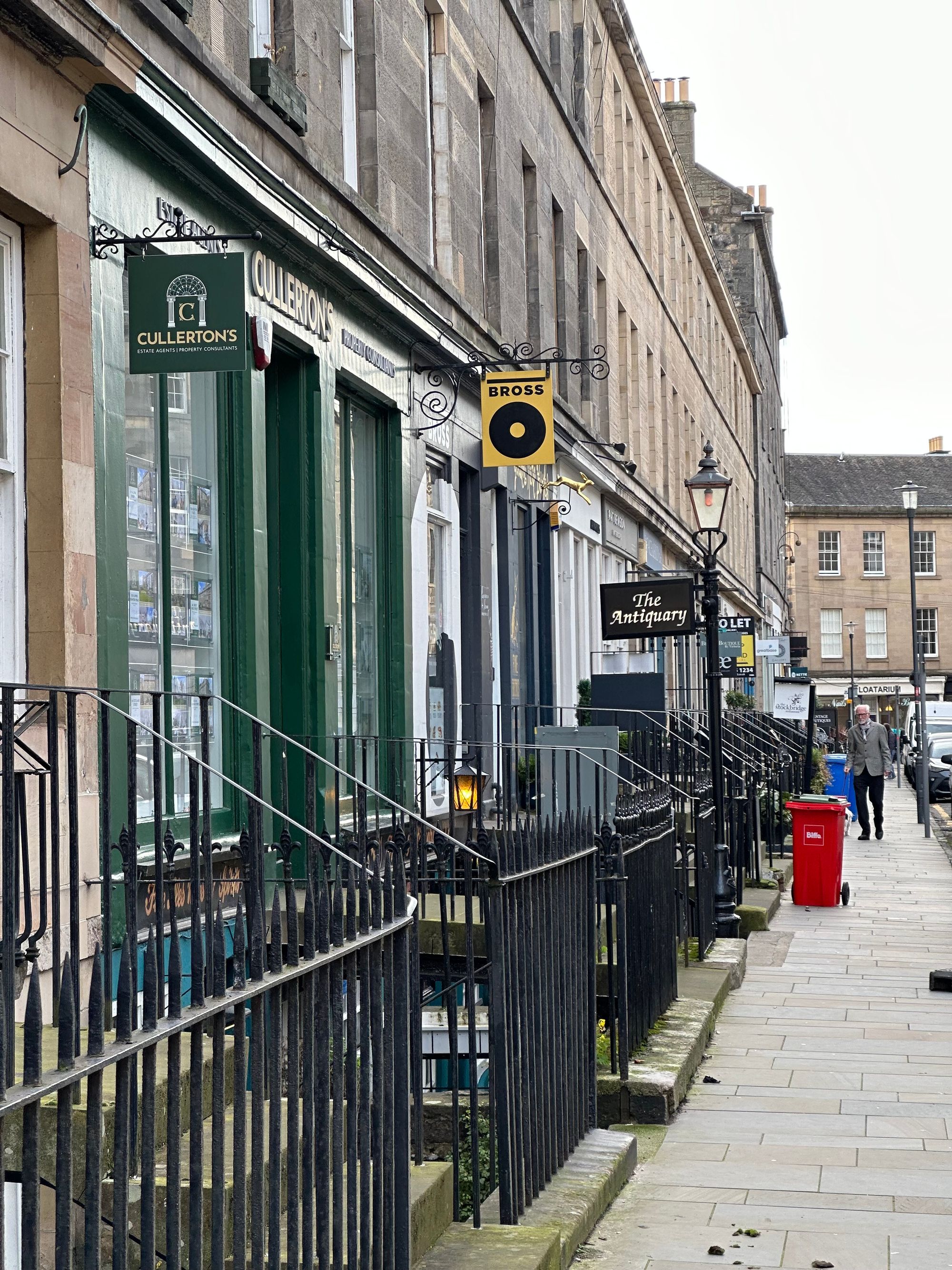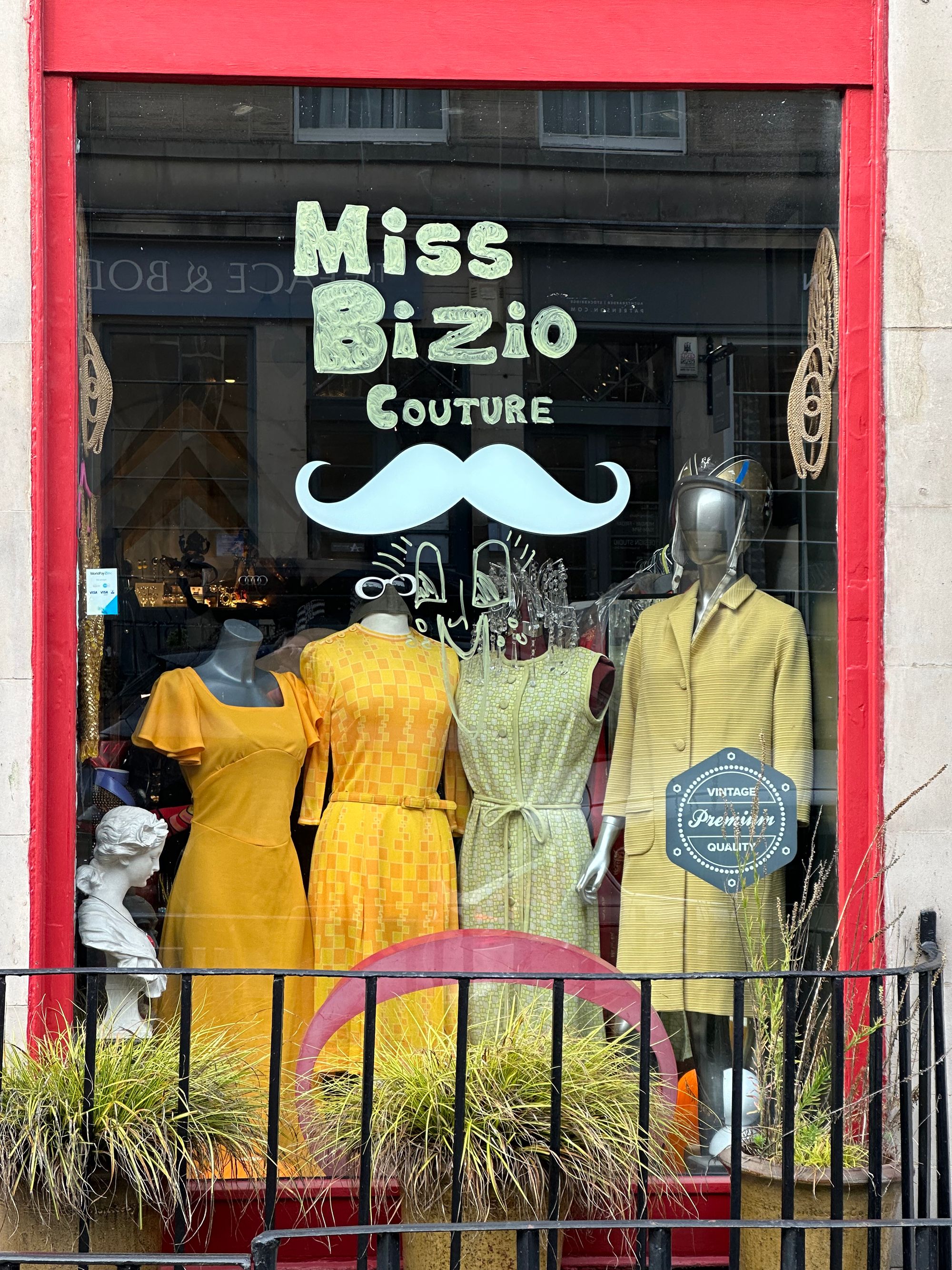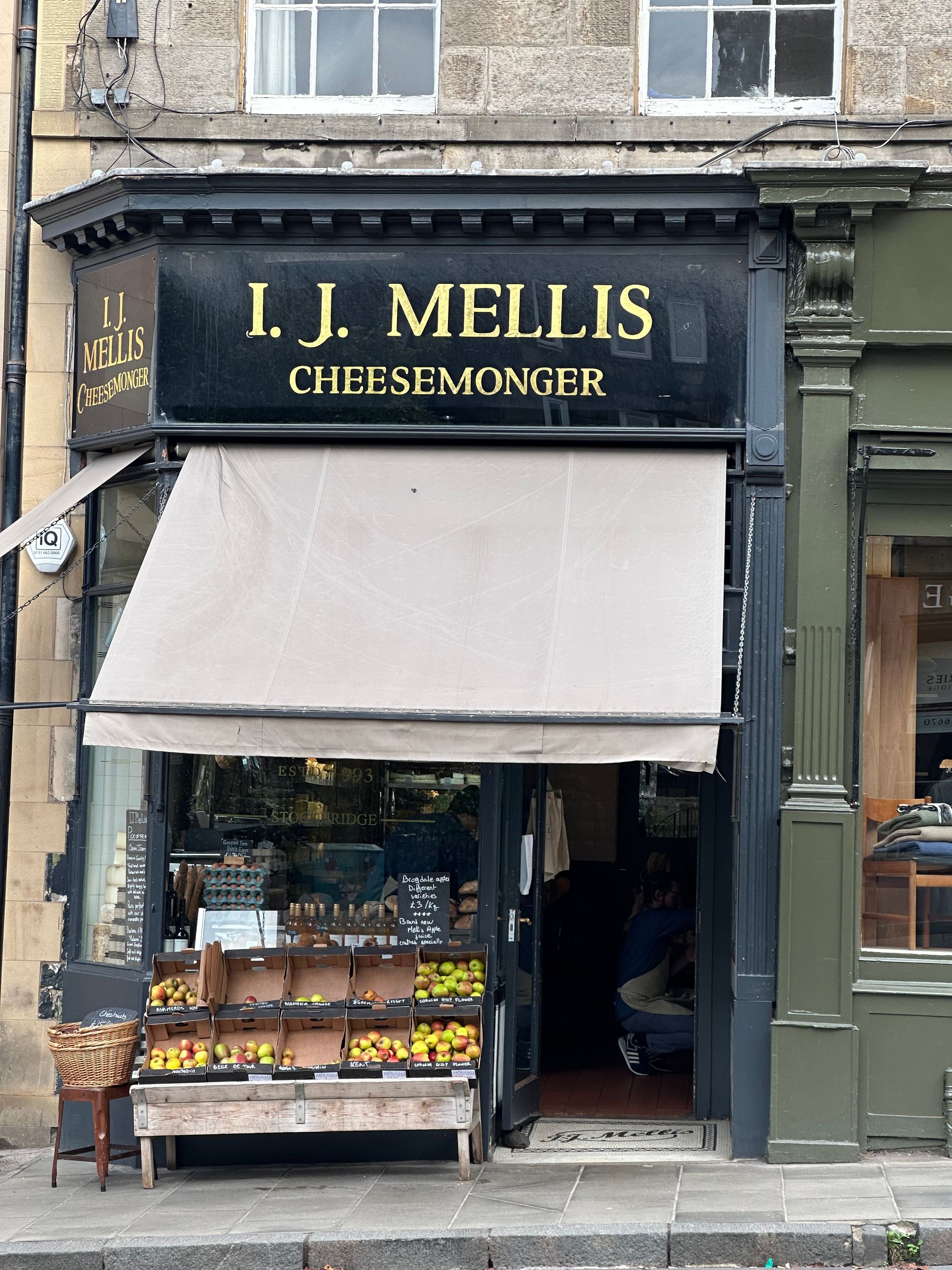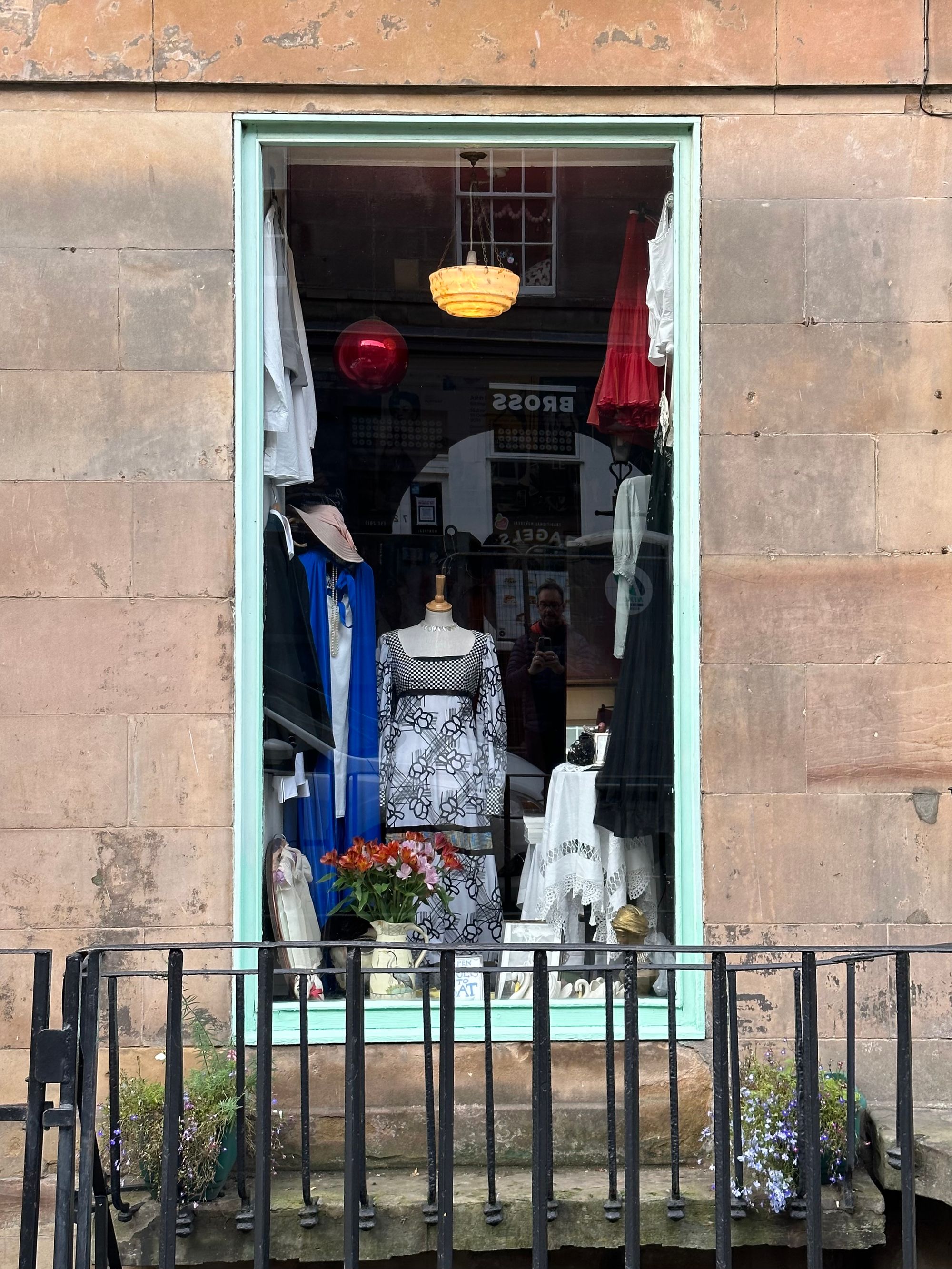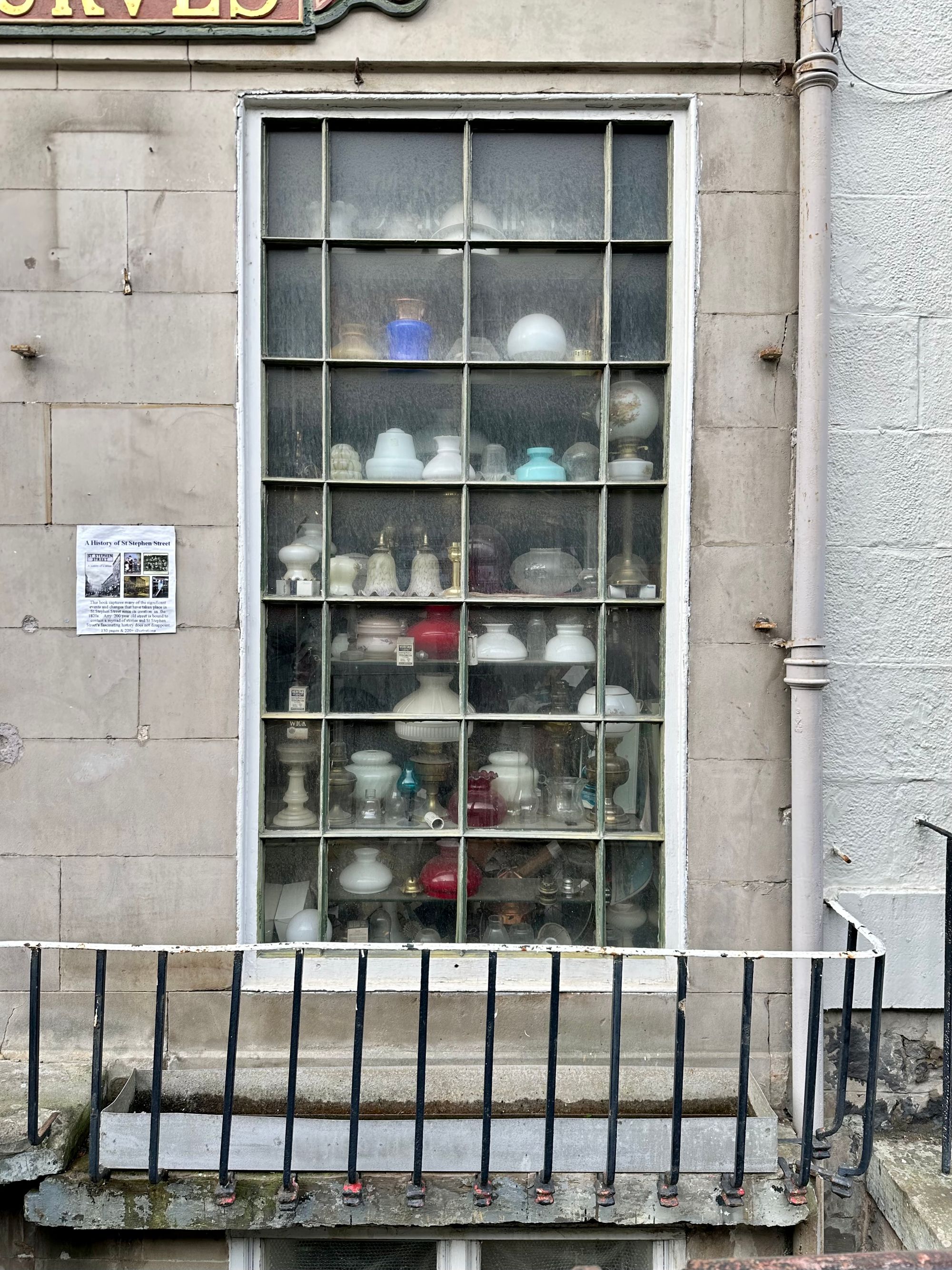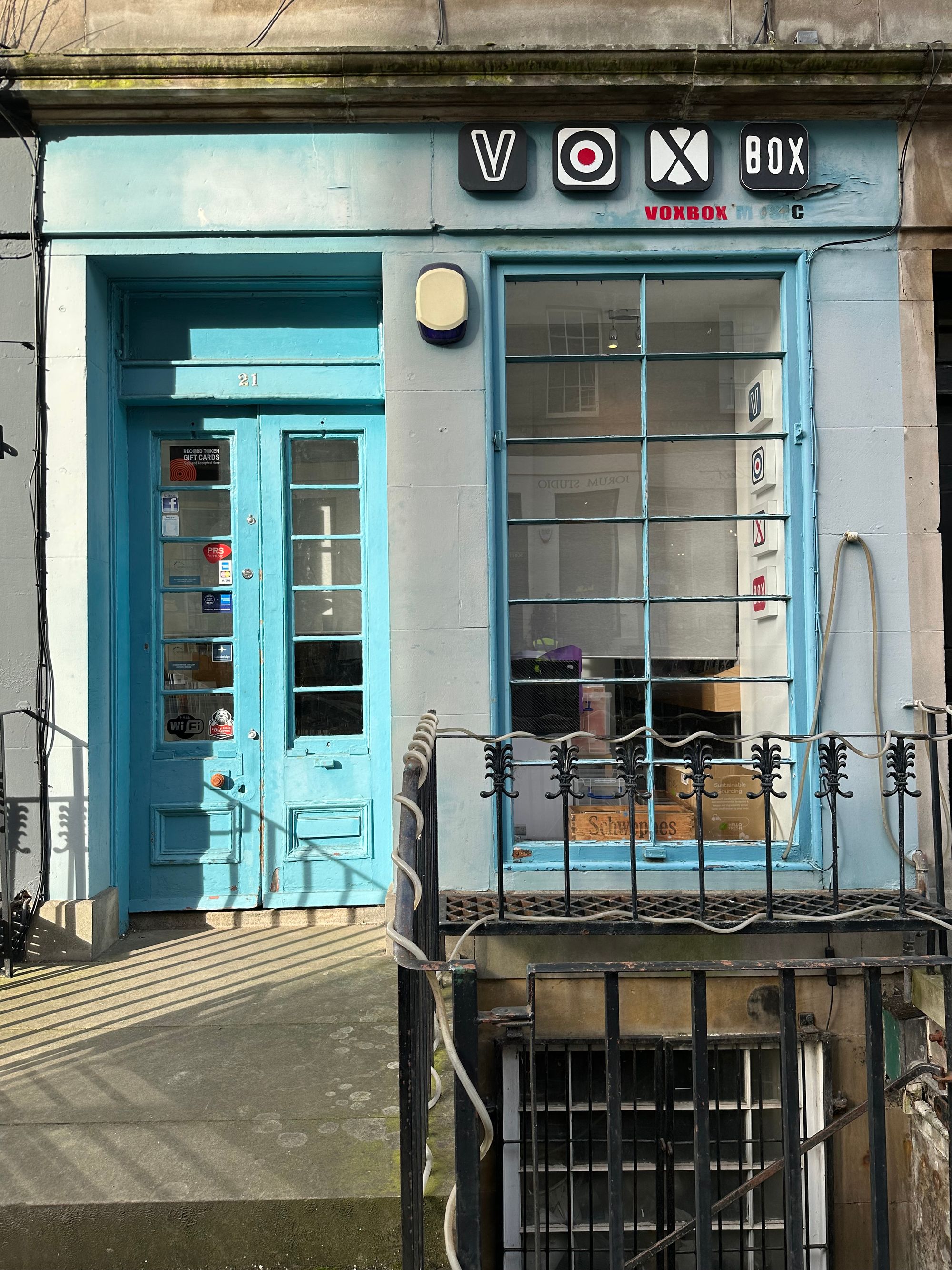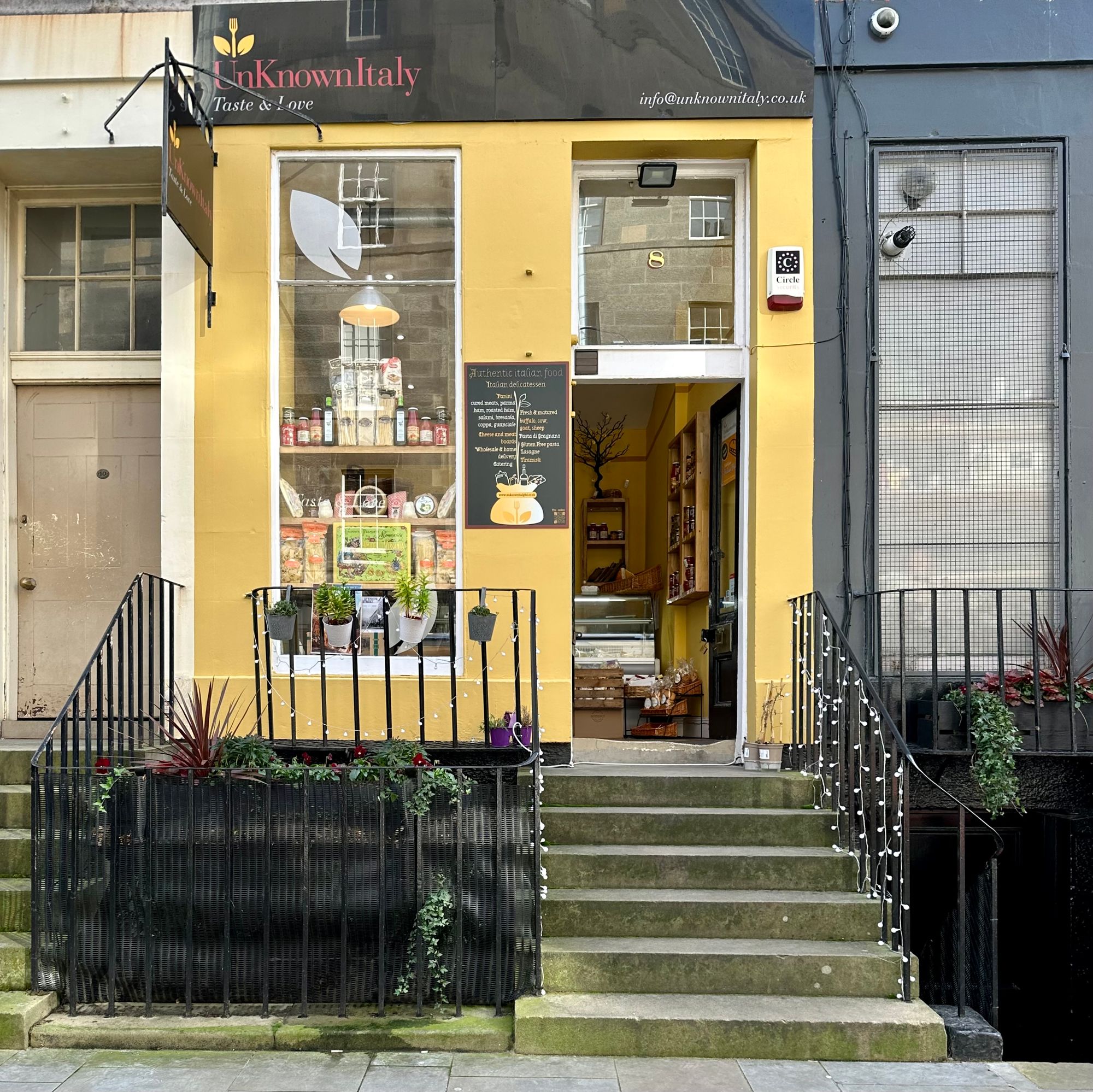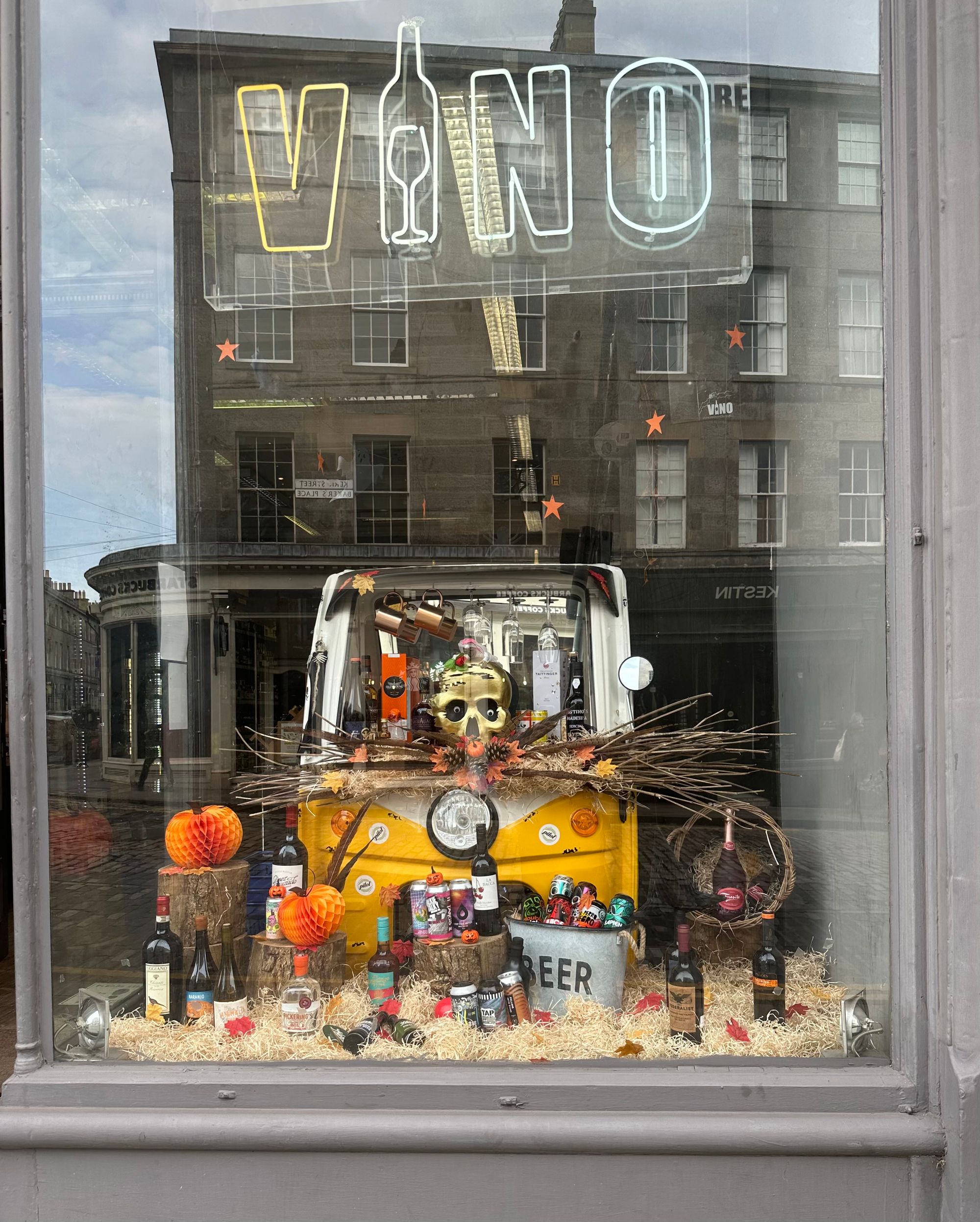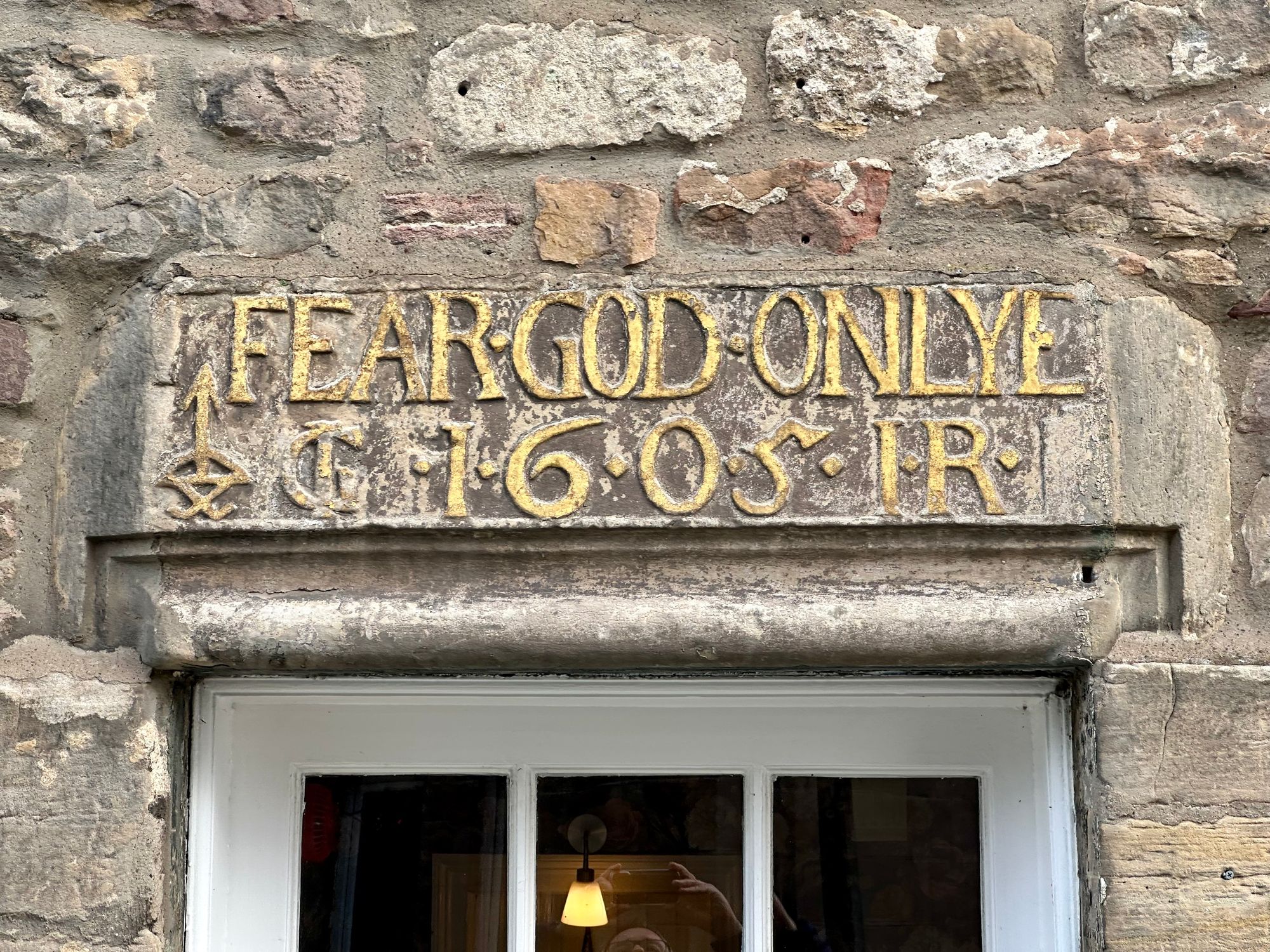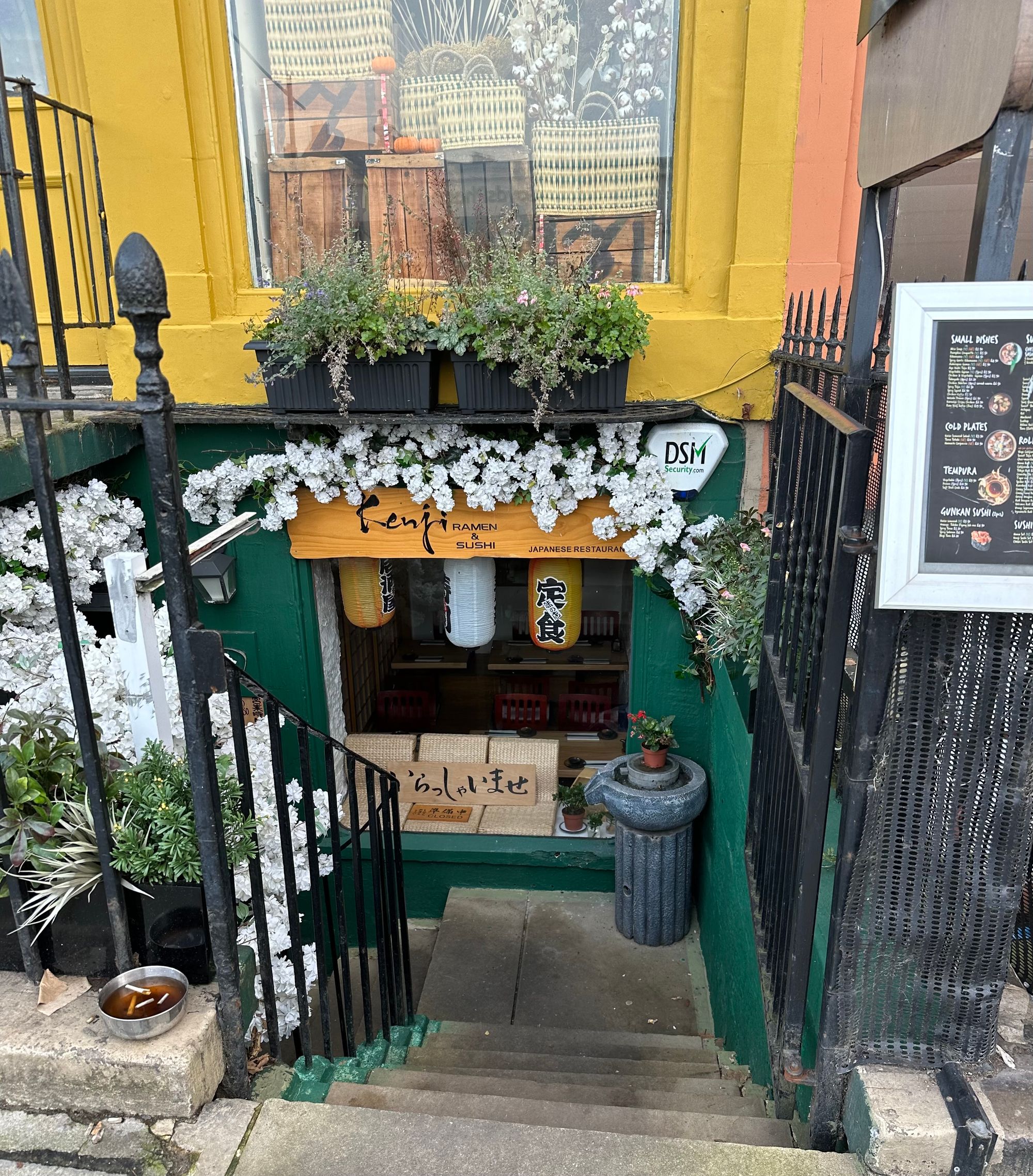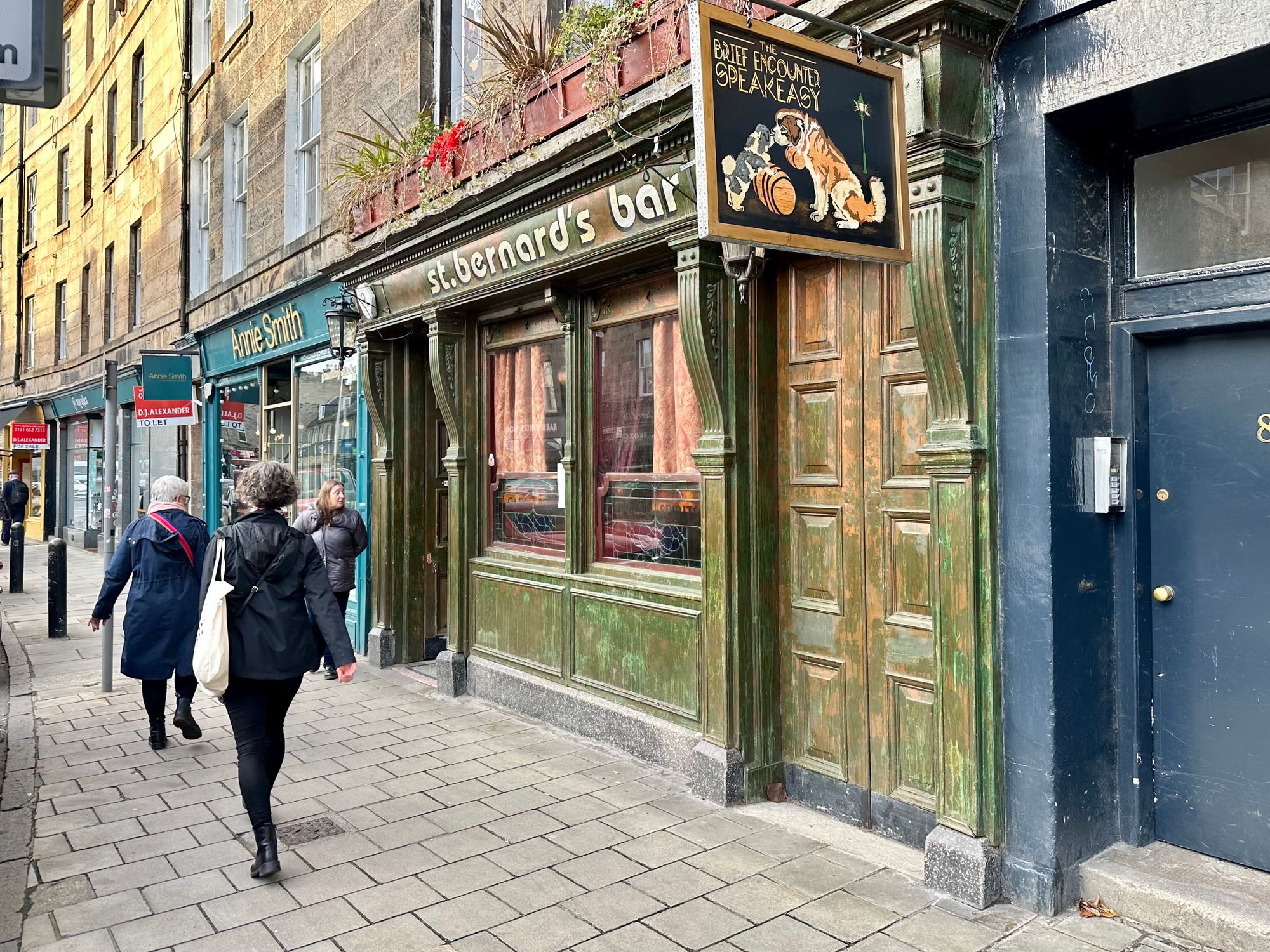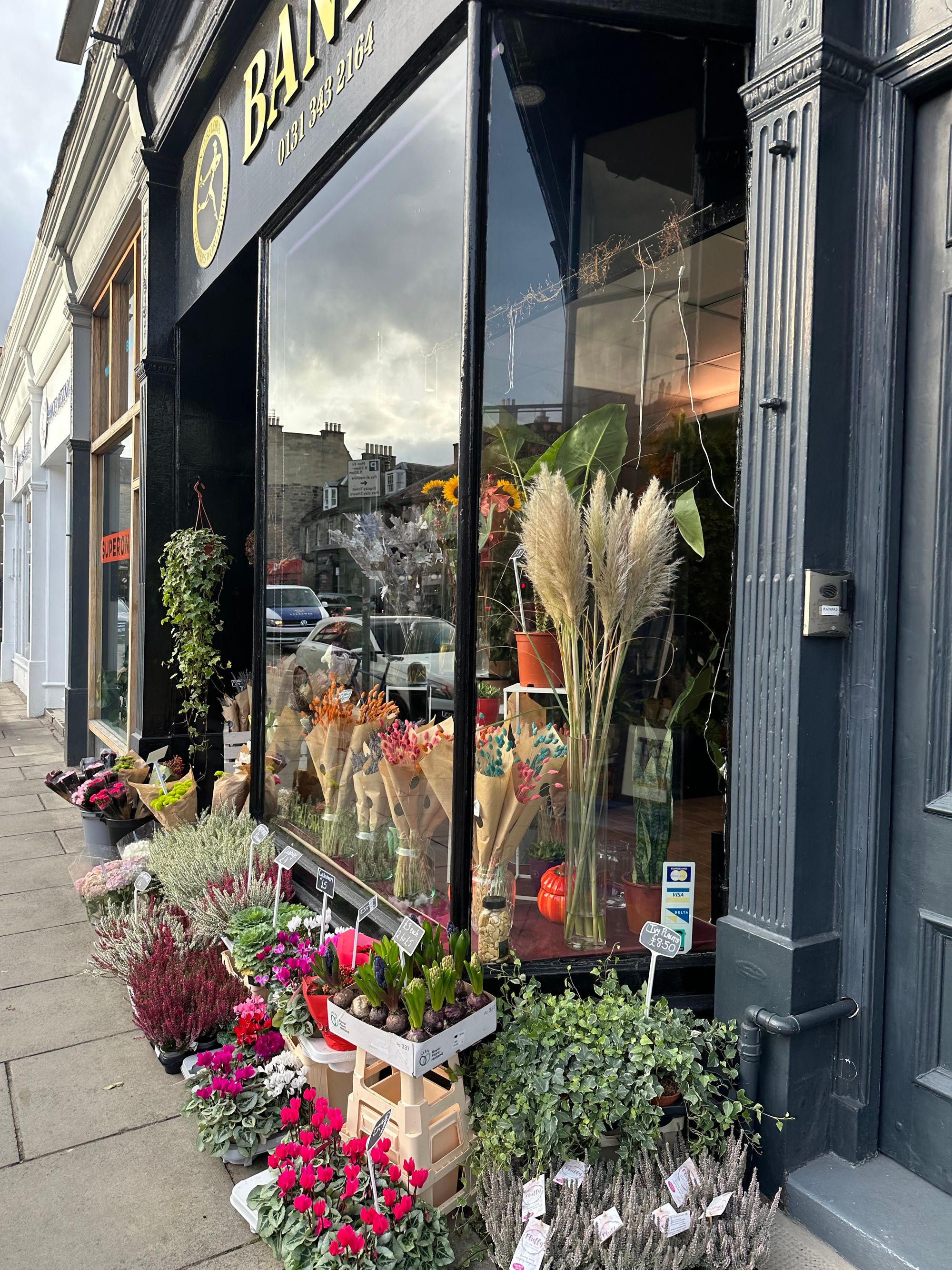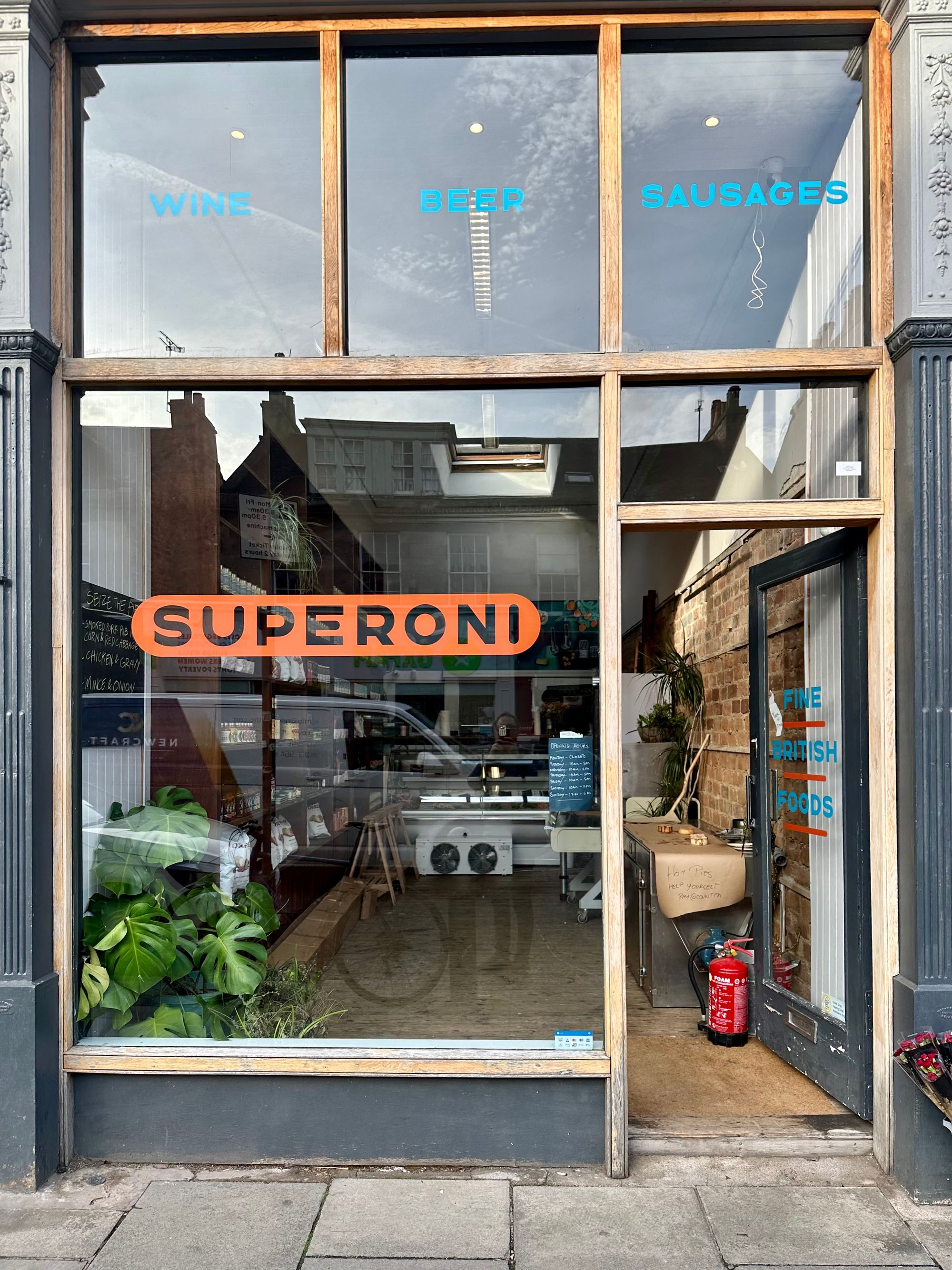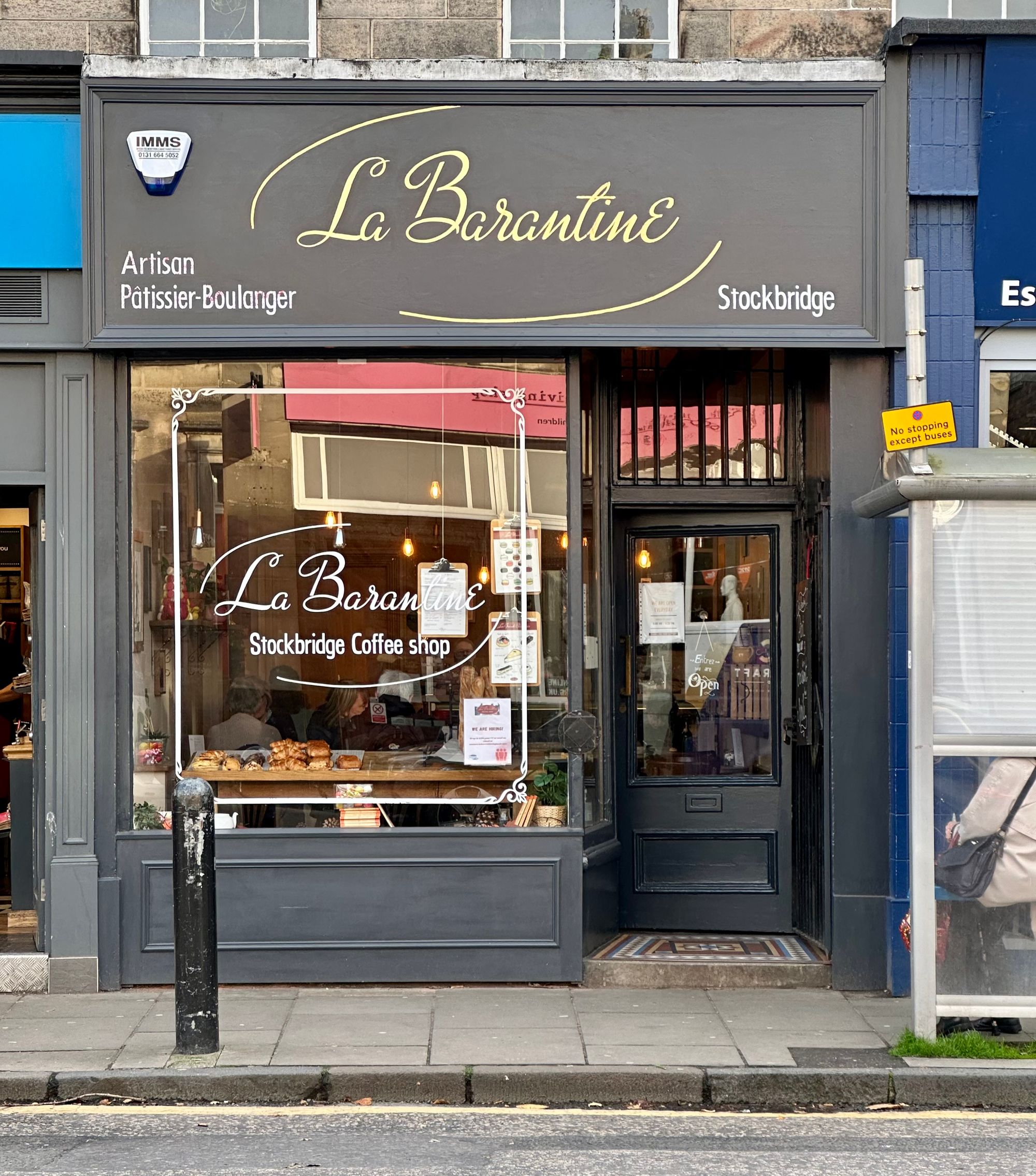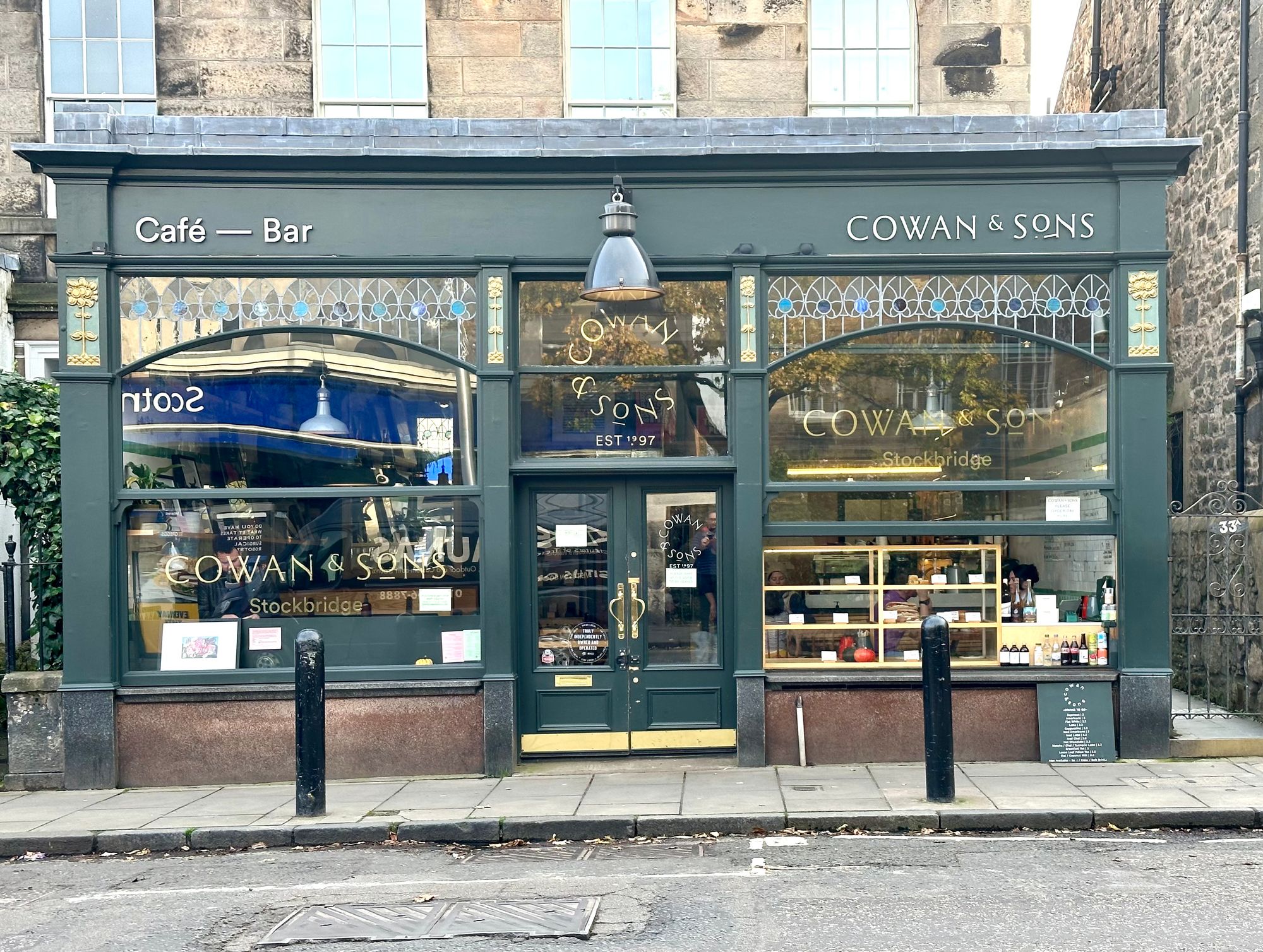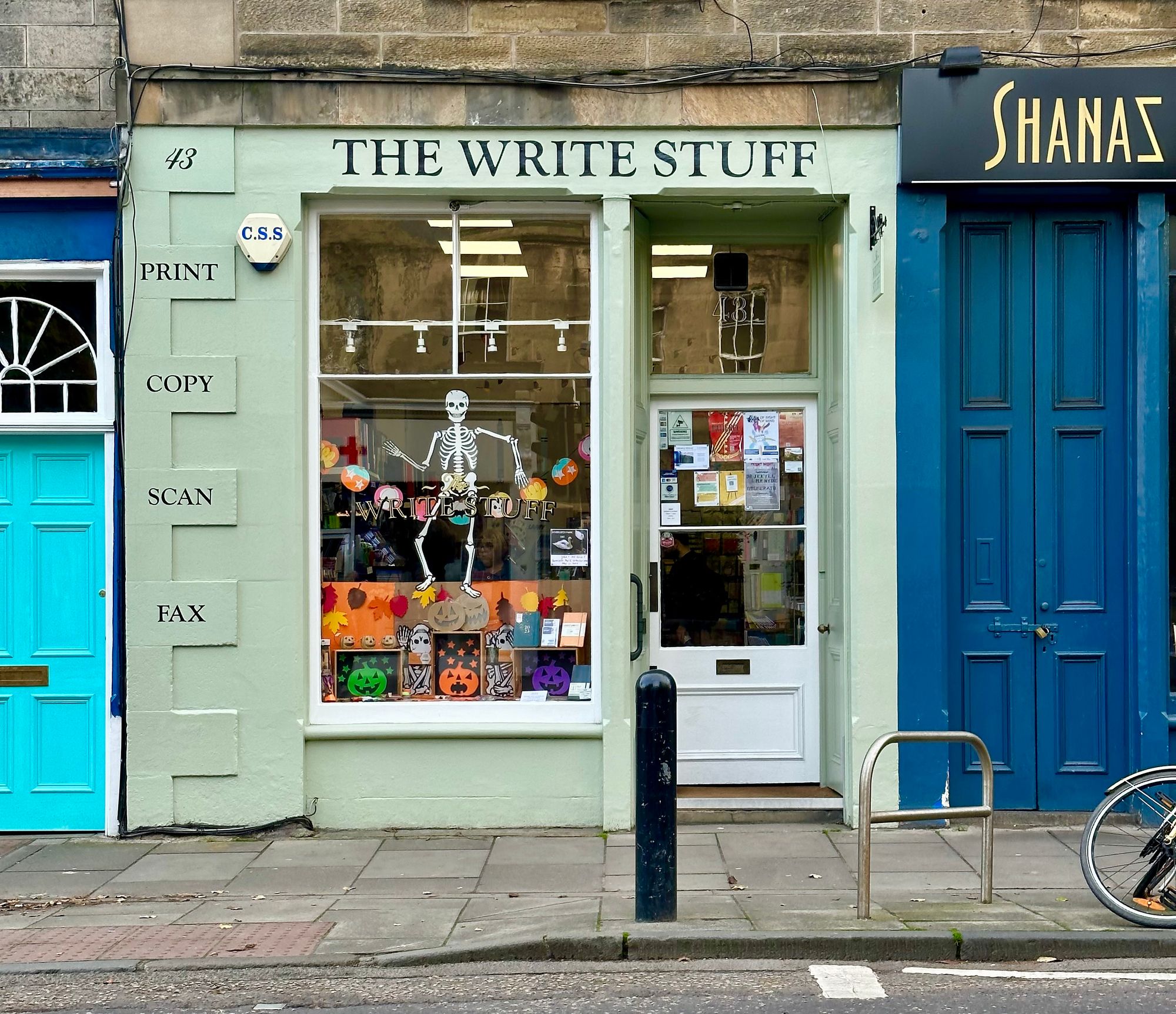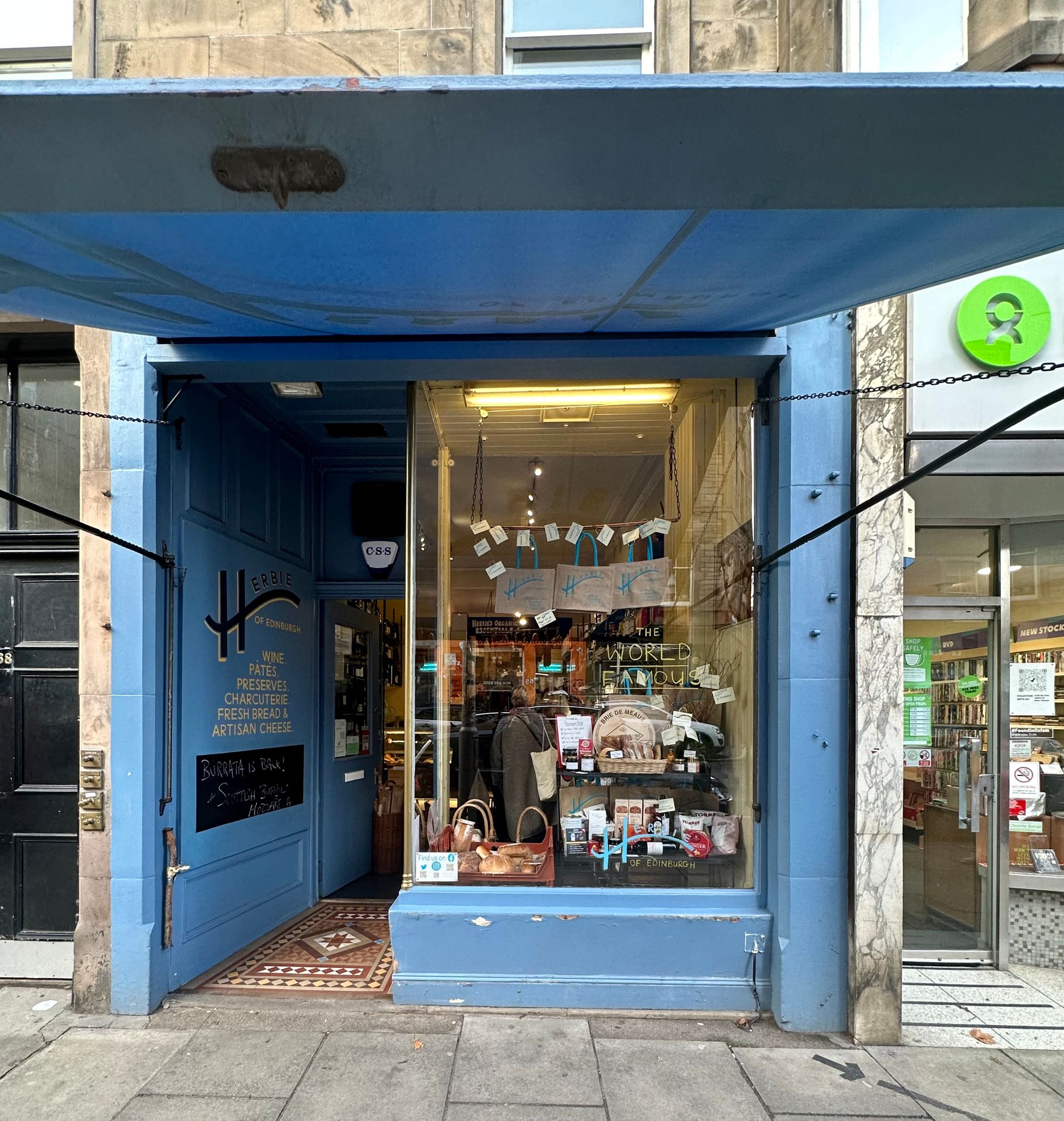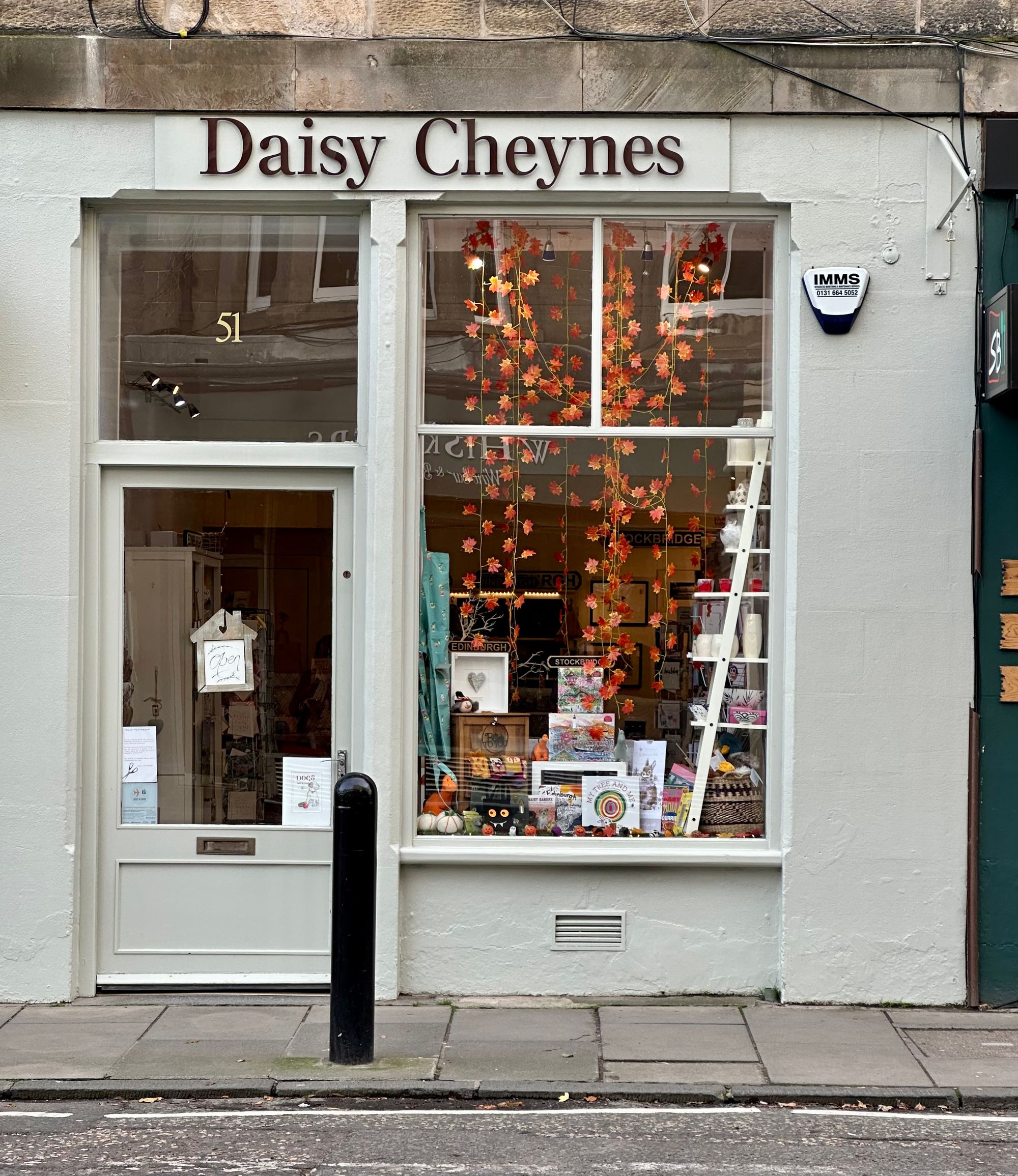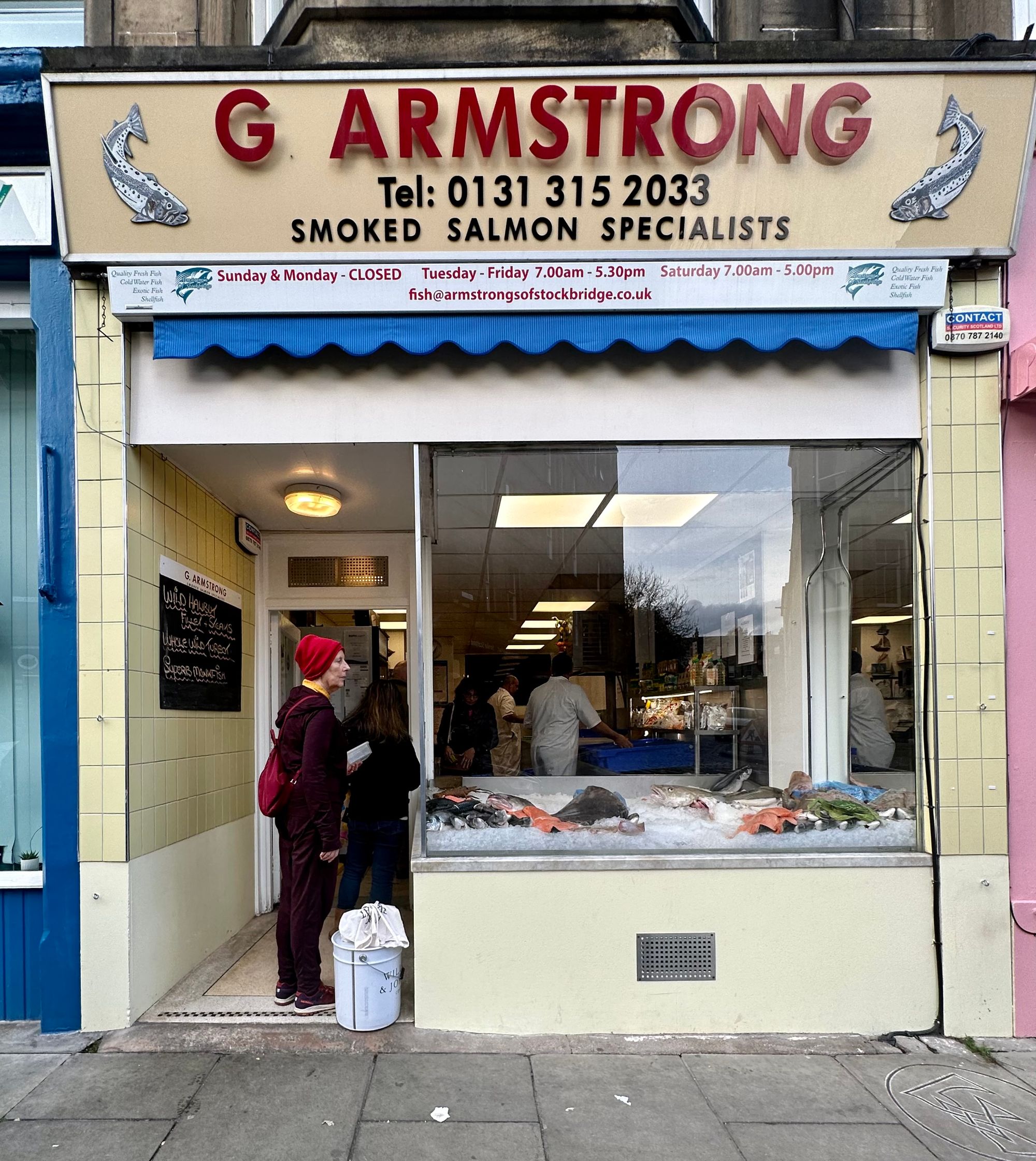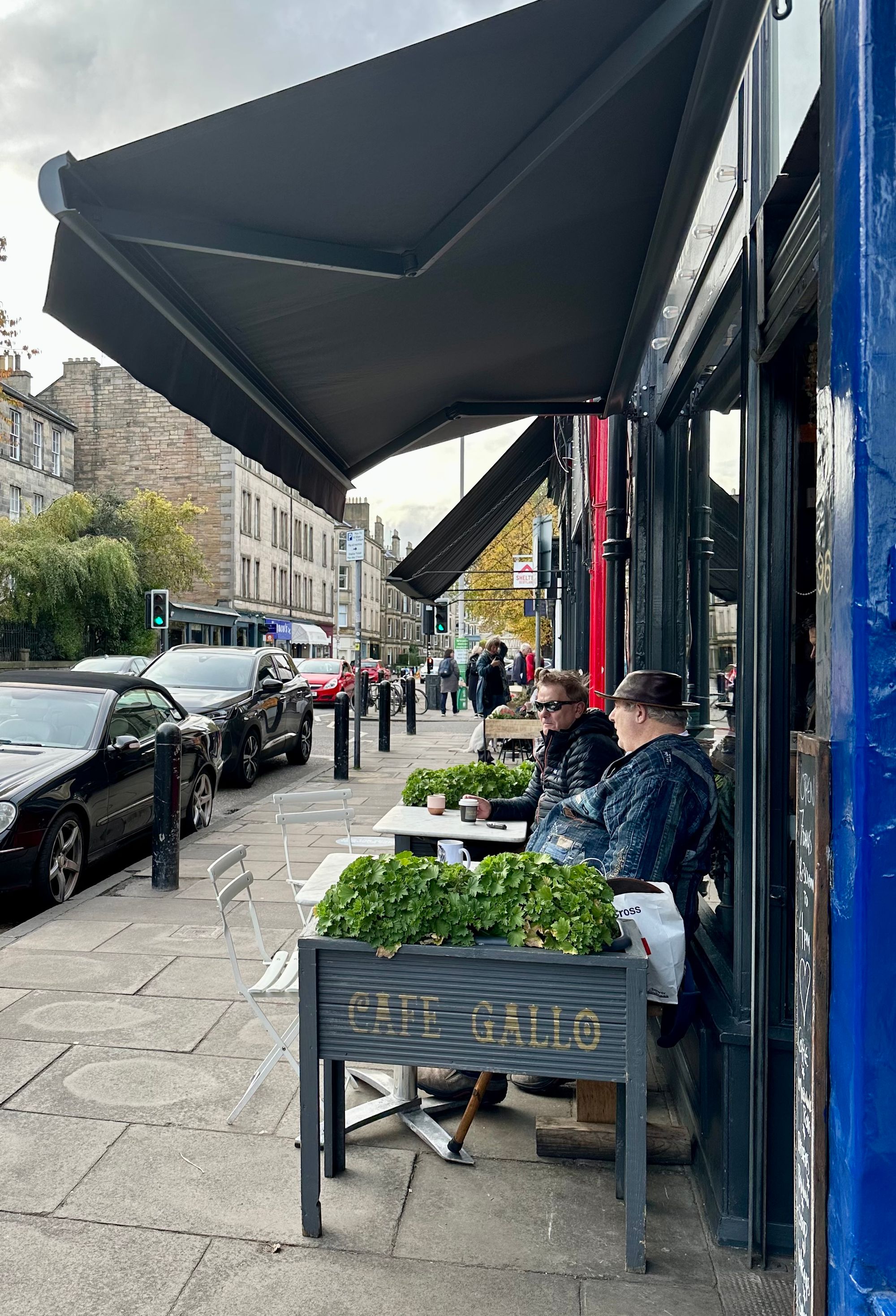 ---
It was an early start for Edinburgh and, after the mundanity of a motorway service station stop, I took an ambulatory route to Edinburgh via the A701. The landscape here is divine and I pulled over regularly and opened the side door to take in the view.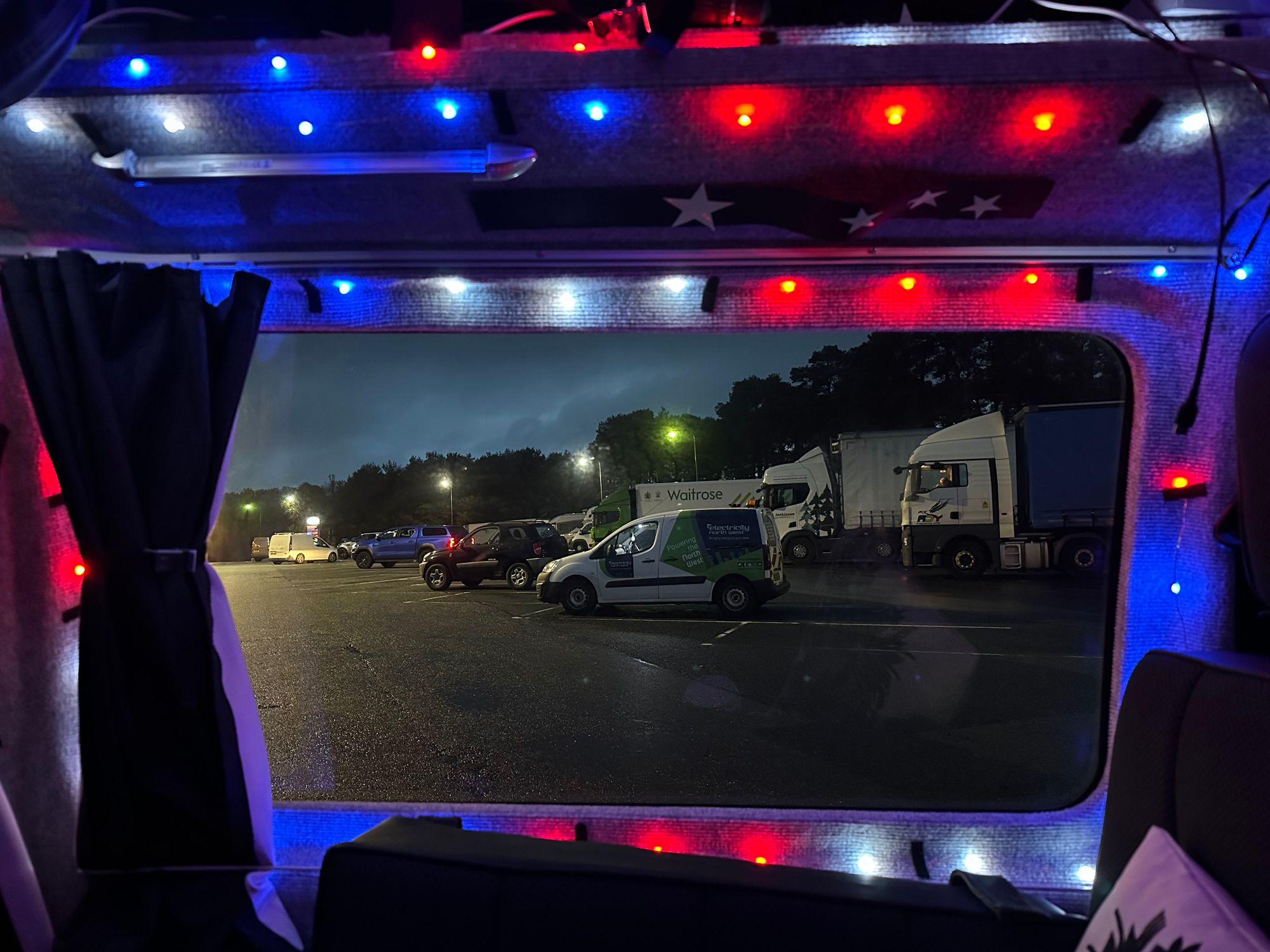 It's hard to describe, but when I'm away, the van becomes a bit of an anchor. A haven to retreat to after a long day walking or photographing a location. Over the years, I've honed the interior to have a fit and feel that is welcoming and that works for me. Place making is one of the least discussed joys of the camper van.
---
"Place making is one of the least discussed joys of the camper van."
---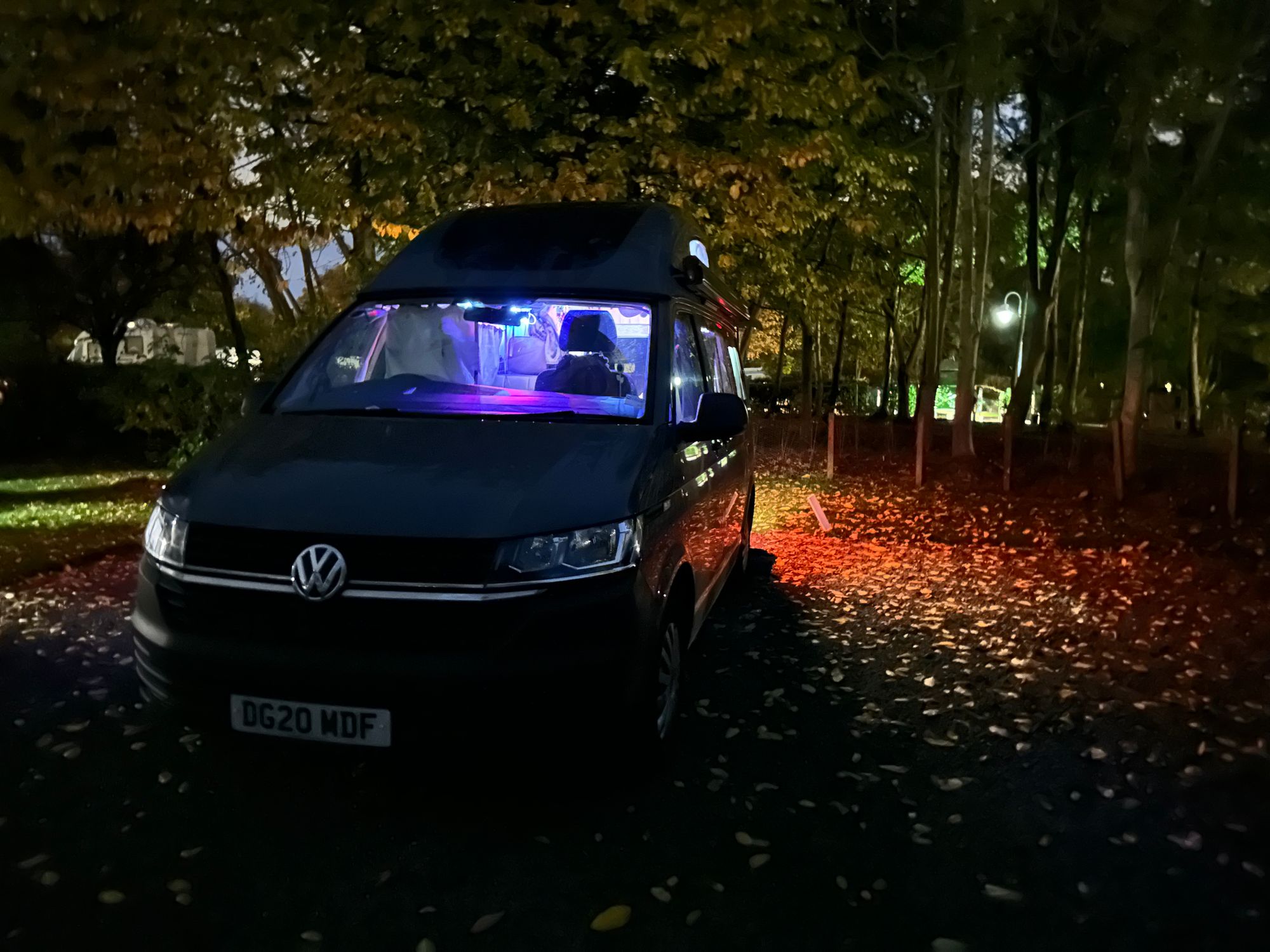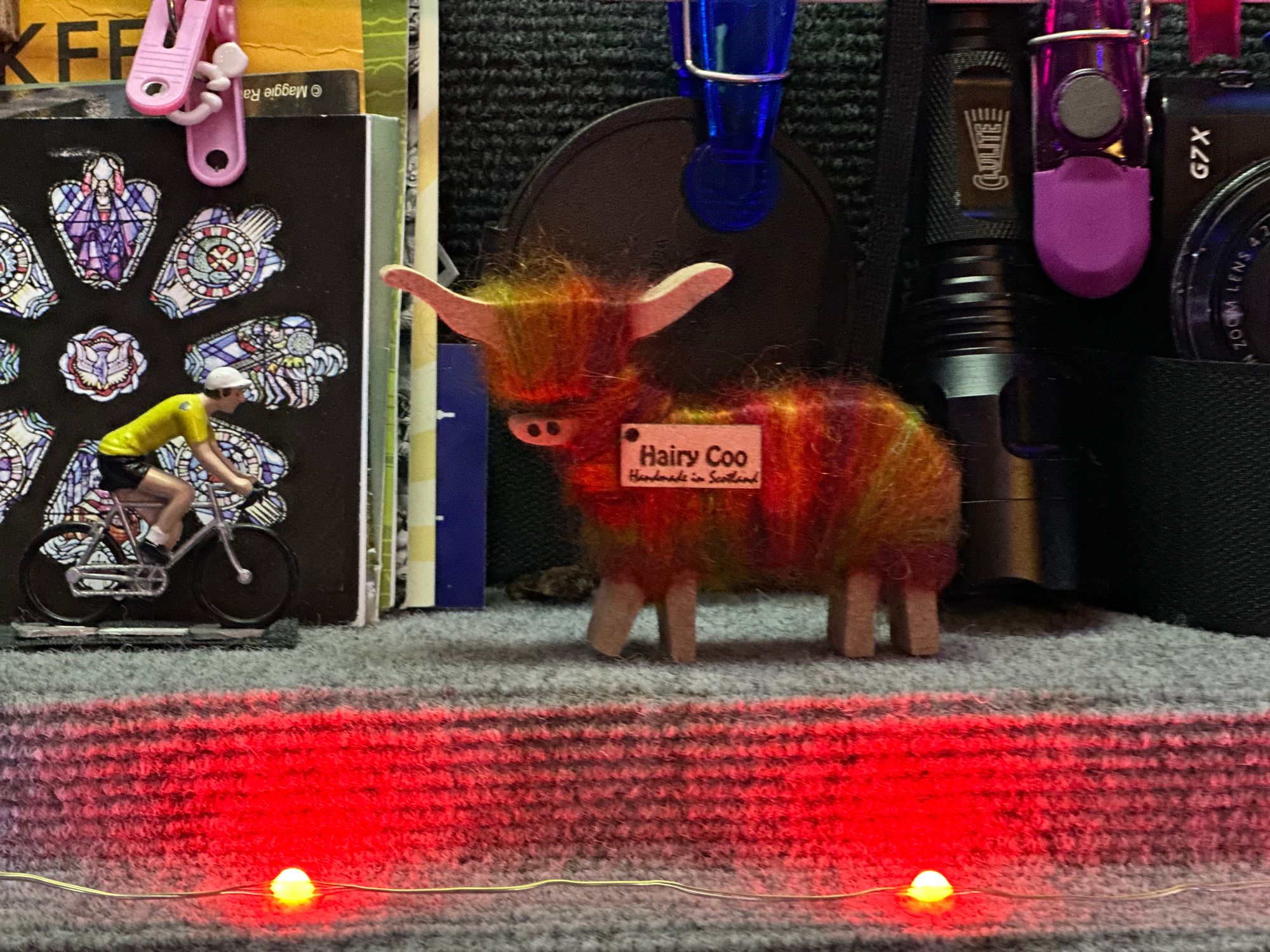 ---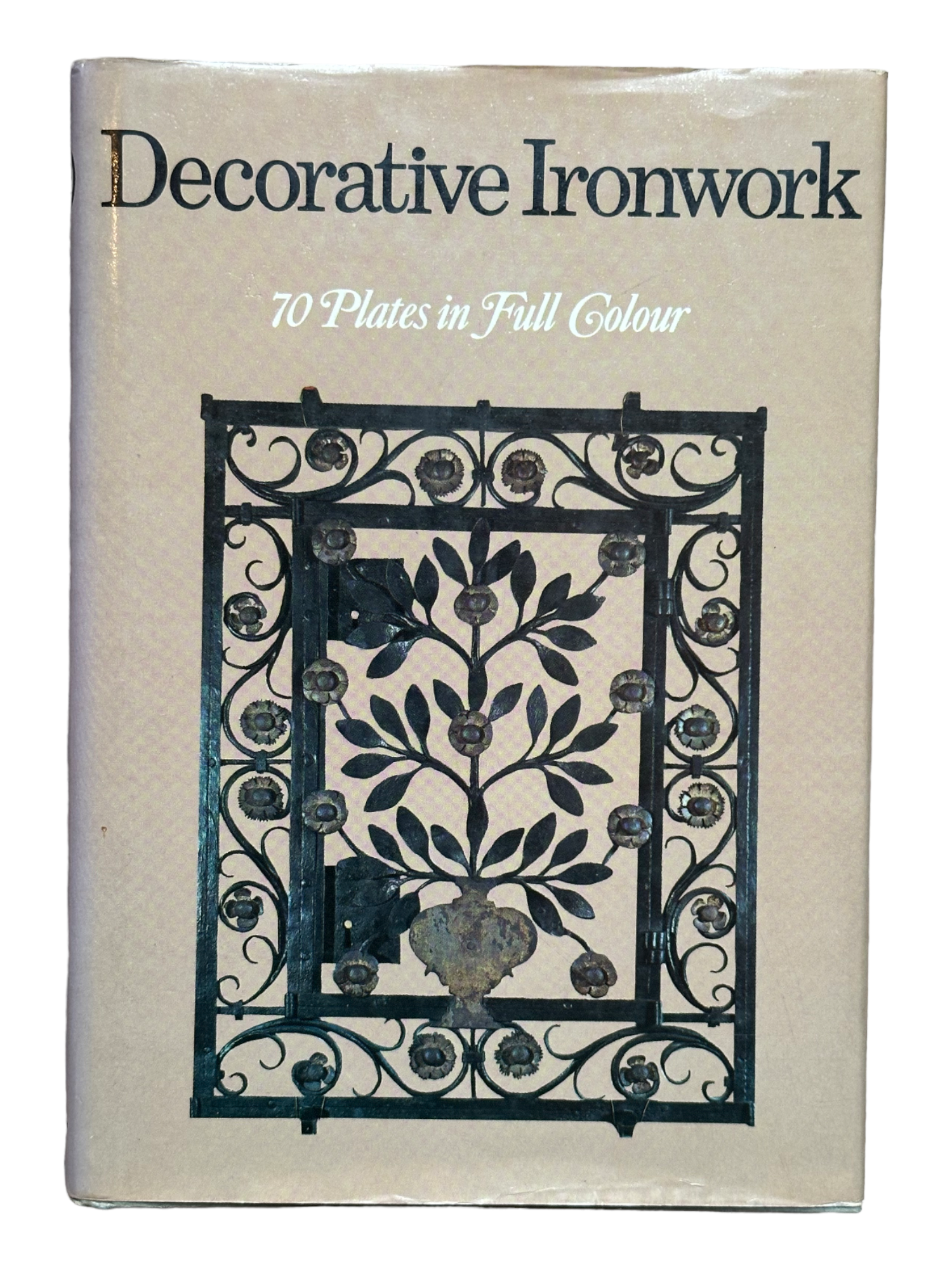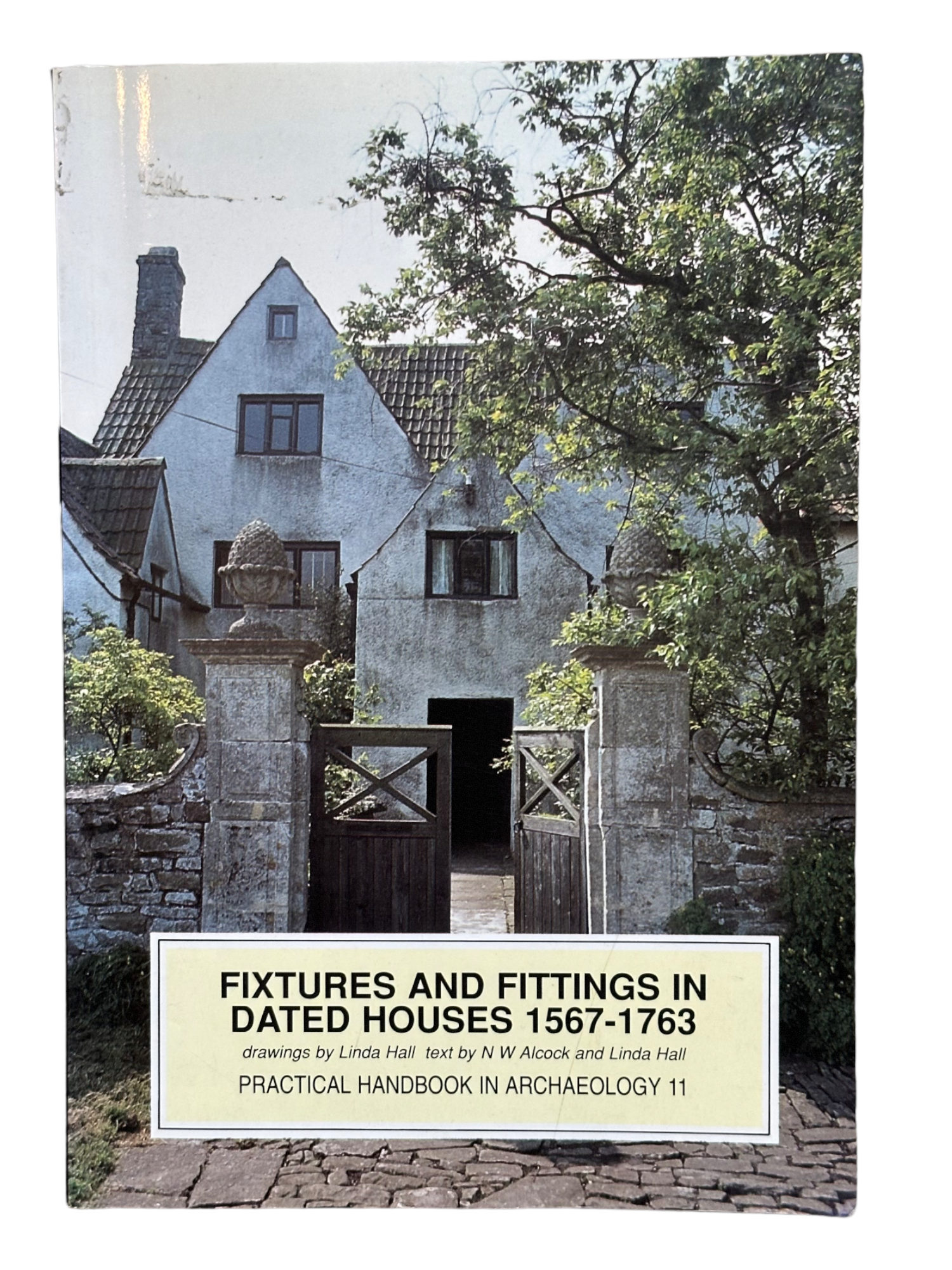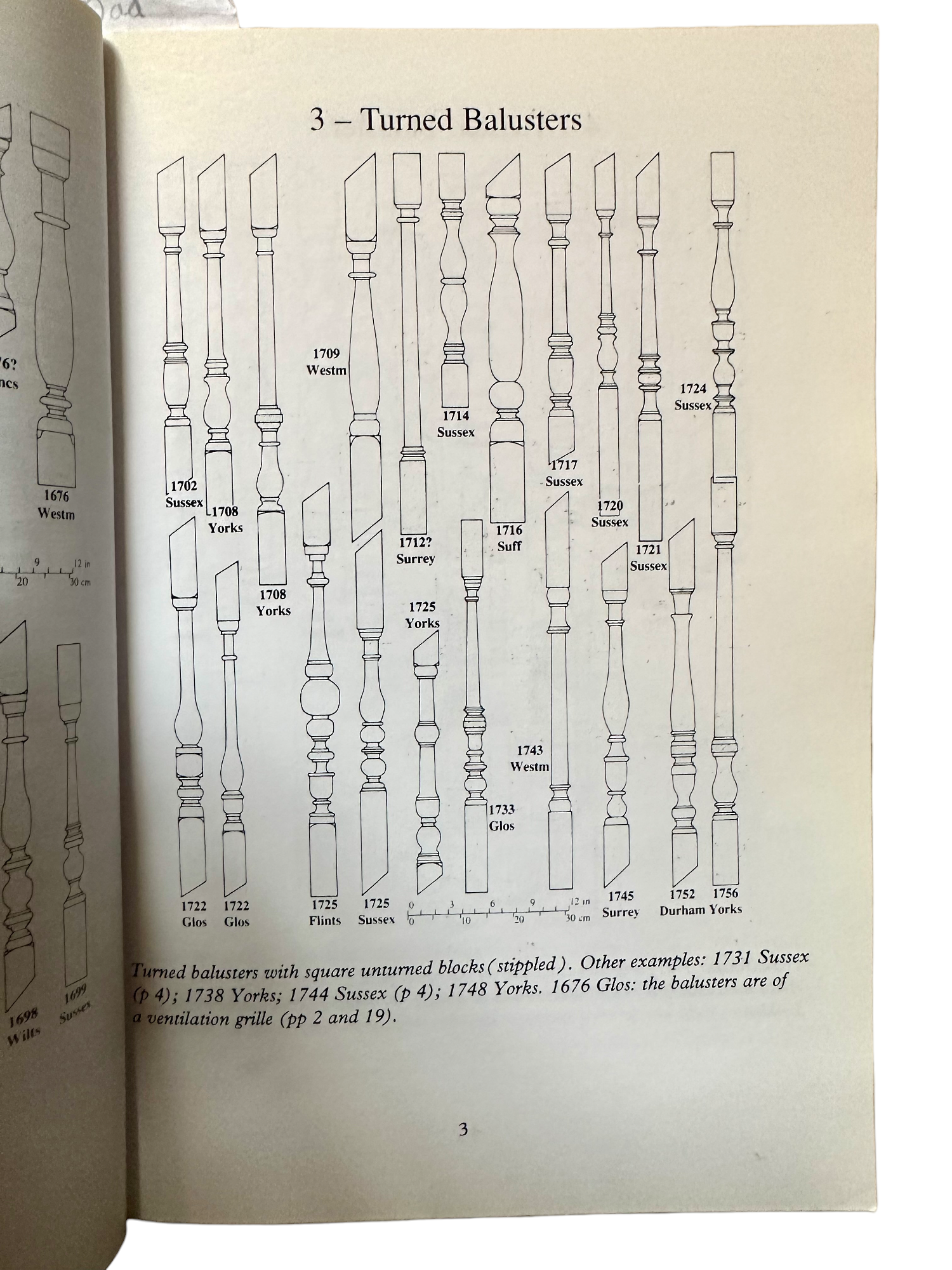 ---
---
---
Photographer's Tip- How many ways can you photograph a single subject?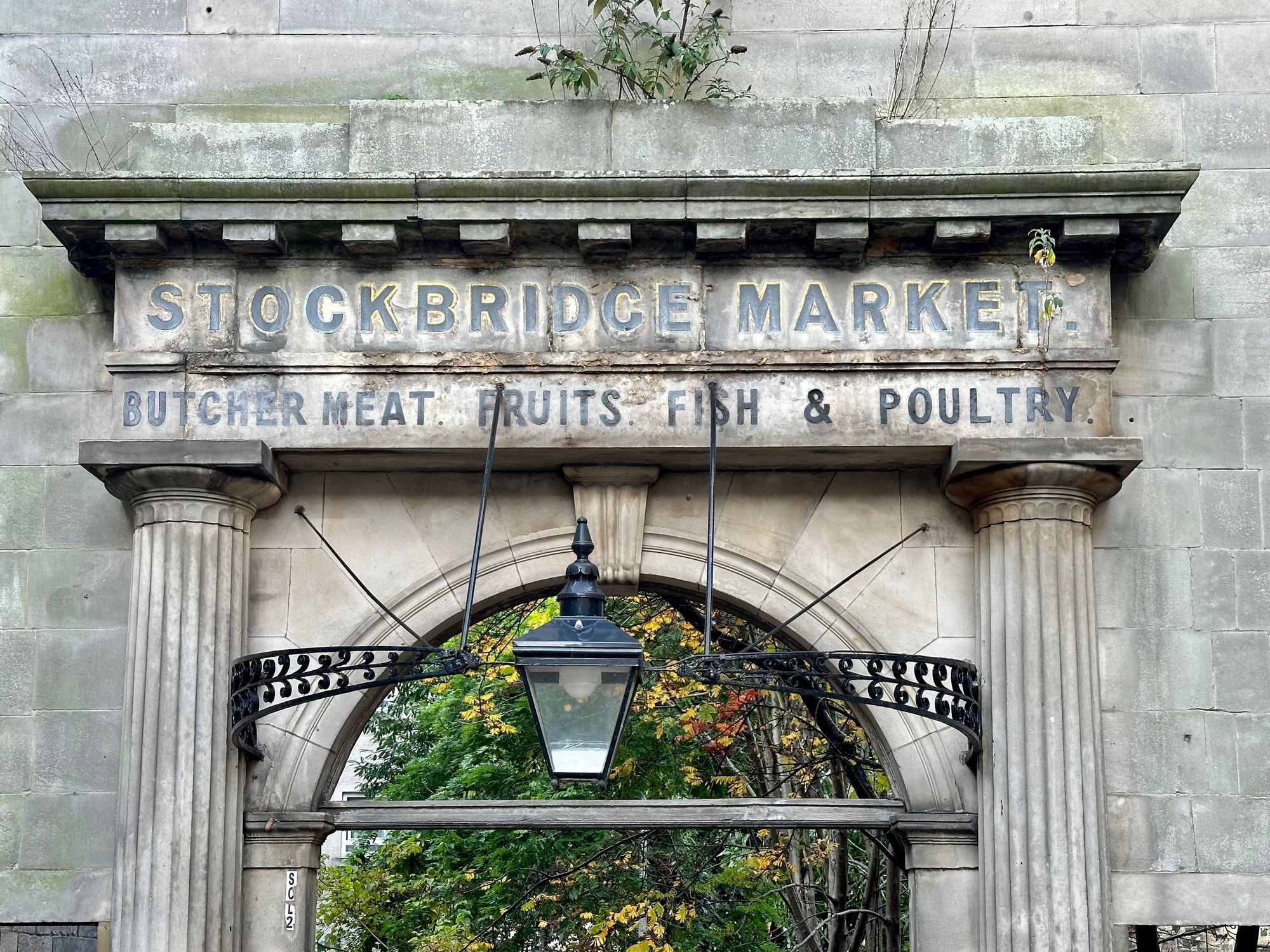 ---
Members' Area
Strap yourself in, let Woody do the time travelling...
Members' Area
---
Become a Member
It takes a day a week to produce this digest. With your support, I'm able to keep this digest free and public facing. 📸🏛🚐
Support this digest and get access to a world of immersive content. Click the box below to check out the membership options: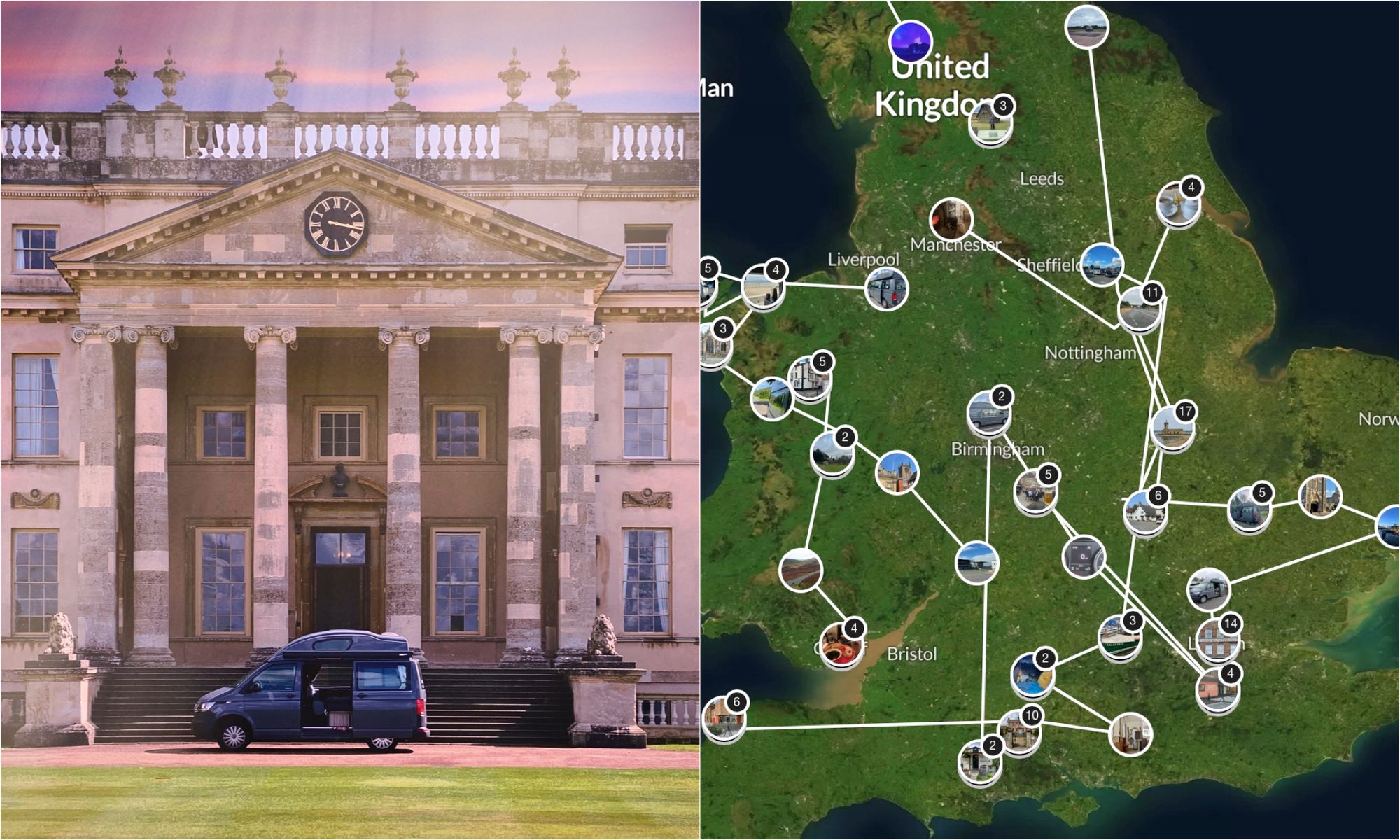 ---
Gift a Membership
Gift a membership to somebody else. They will receive an email with a message from you, and instructions on how to activate it. Gift Memberships can last indefinitely or can be limited to 12 months.
---
Free Memberships
I have a limited number of free memberships available for students studying heritage, tourism, architecture, photography, building conservation, history of art, archaeology. Also students studying the built environment and its impact on mental health and wellbeing. If you'd like to apply, drop me a line with your details.
---
Thank You!