---
Welcome
For those that are new here: thanks for coming along..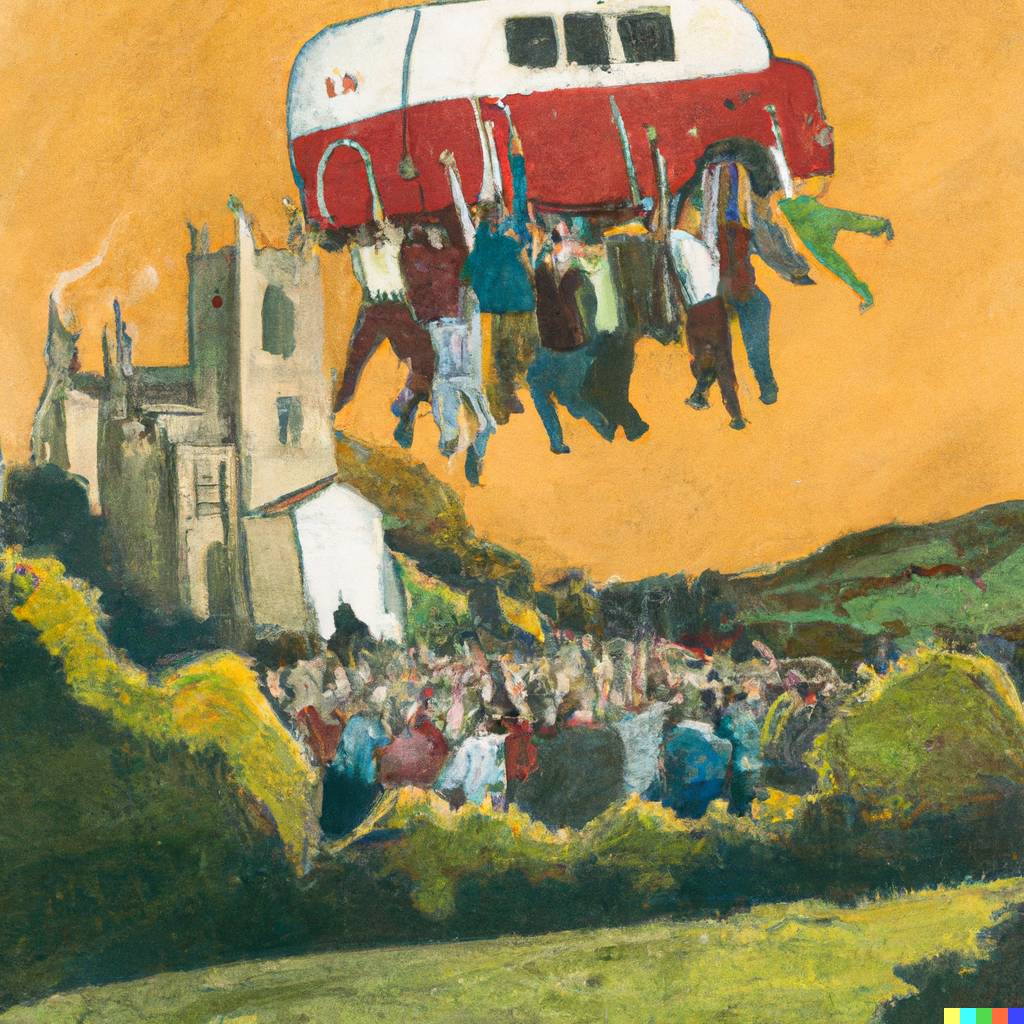 I'm an architectural photographer. I travel around Britain recording and interacting with special places that have a spirit about them. I work from my camper van called Woody and I share my experiences via this digest.
⚙️ The Genius Loci Digest is free to subscribers and is powered by 60
Memberships
⚡️ Missed the last digest? Here it is.
⚡️ View the digest archive here.
---
I am travelling through North Wales and into Pembrokeshire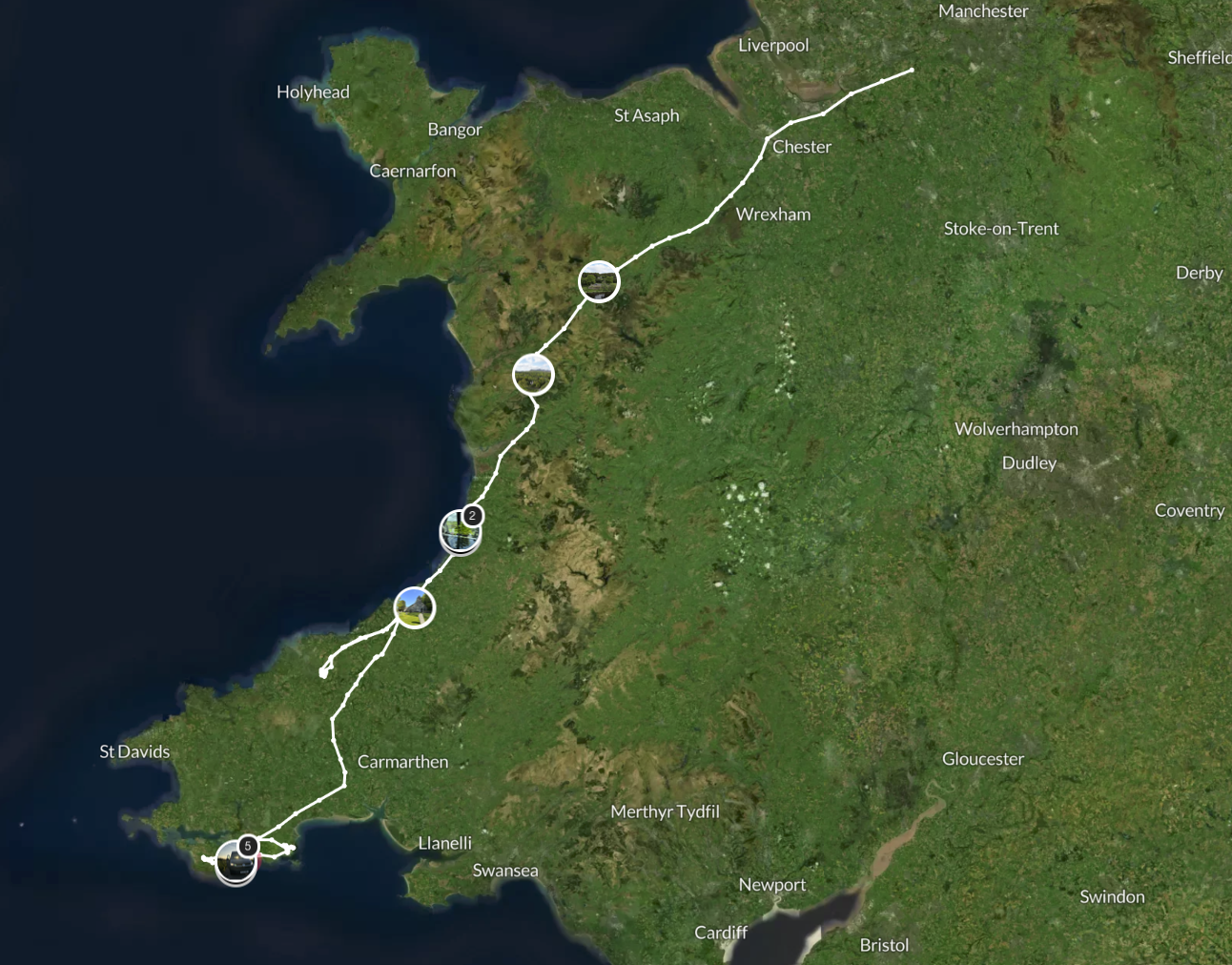 0815 Breakfast at Bala
An early start at 0515 saw me heading down the A55 into Wales and on to Lake Bala for breakfast.
This is such a beautiful part of Wales - on the other side of the lake, beyond the hills is Pennant Melangell - a remarkable place that I visited last year. Here, whilst I make breakfast, I can see a cormorant on the lake - dipping beneath the glassy surface and appearing intermittently.
I'm continuing further south now - heading towards my first shoot location in Pembrokeshire - will update this journal later in the day.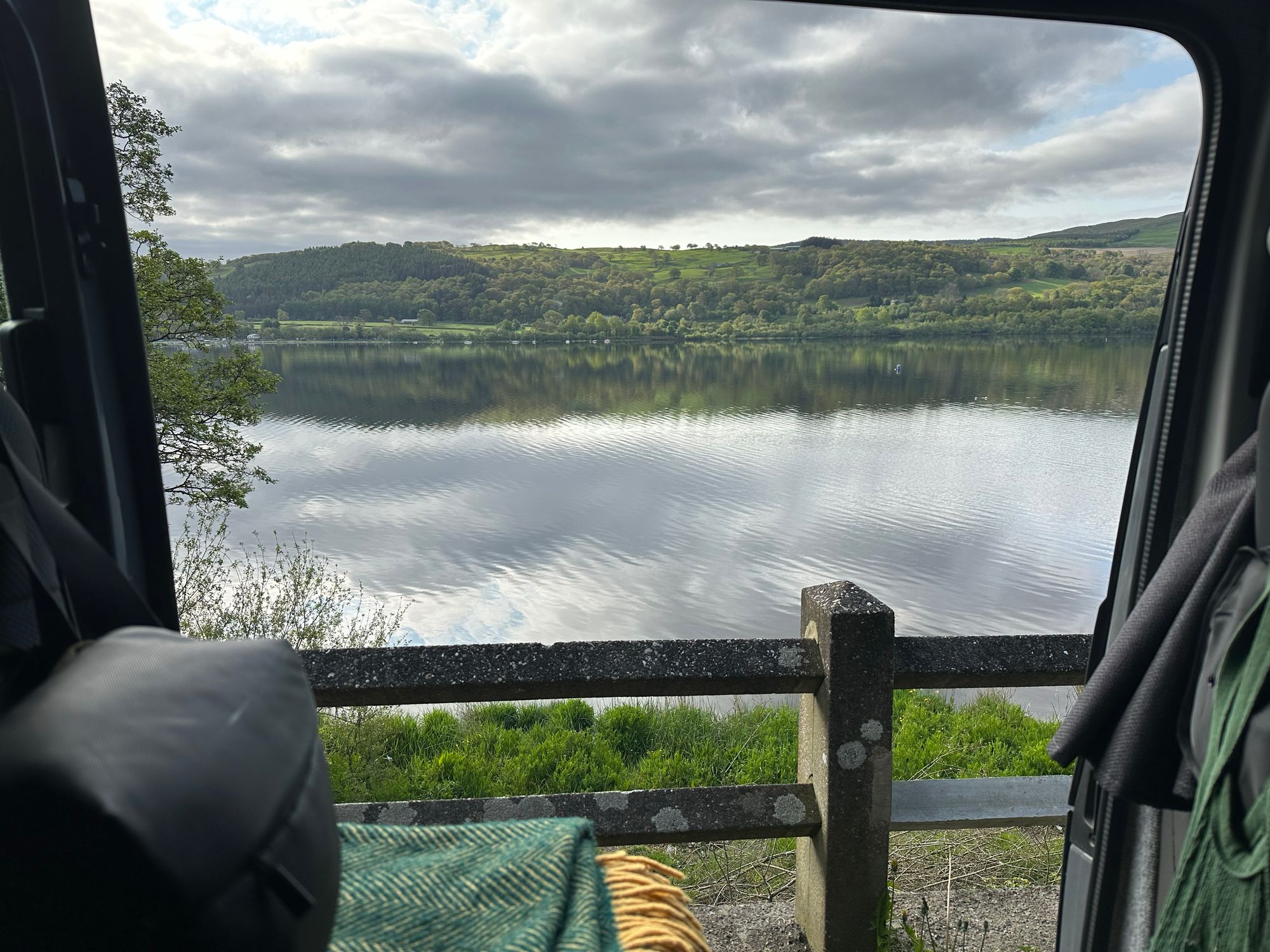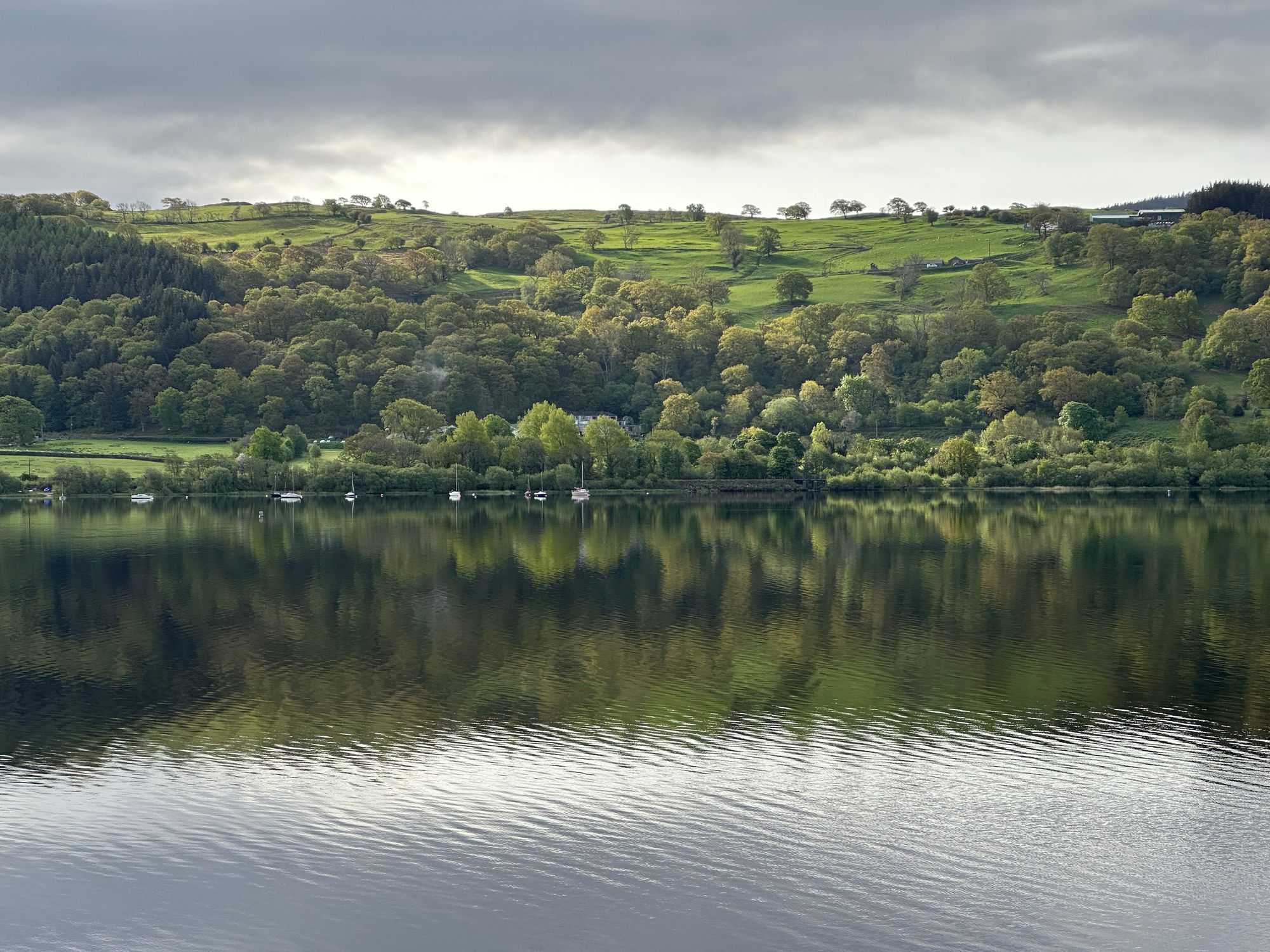 ---
0928: Brithdir!
An unexpected stop as I spot the Brithdir sign and make a detour to the church. I photographed this church for Friends of Friendless Churches recently. It is a marvel, set in one of the most beautiful locations - a must see on your visit to Wales.  
I put the drone up and took a video of the location.
Check out the Friends Page below for access and visitor information - and also to see some of my photos taken for the commissioned shoot: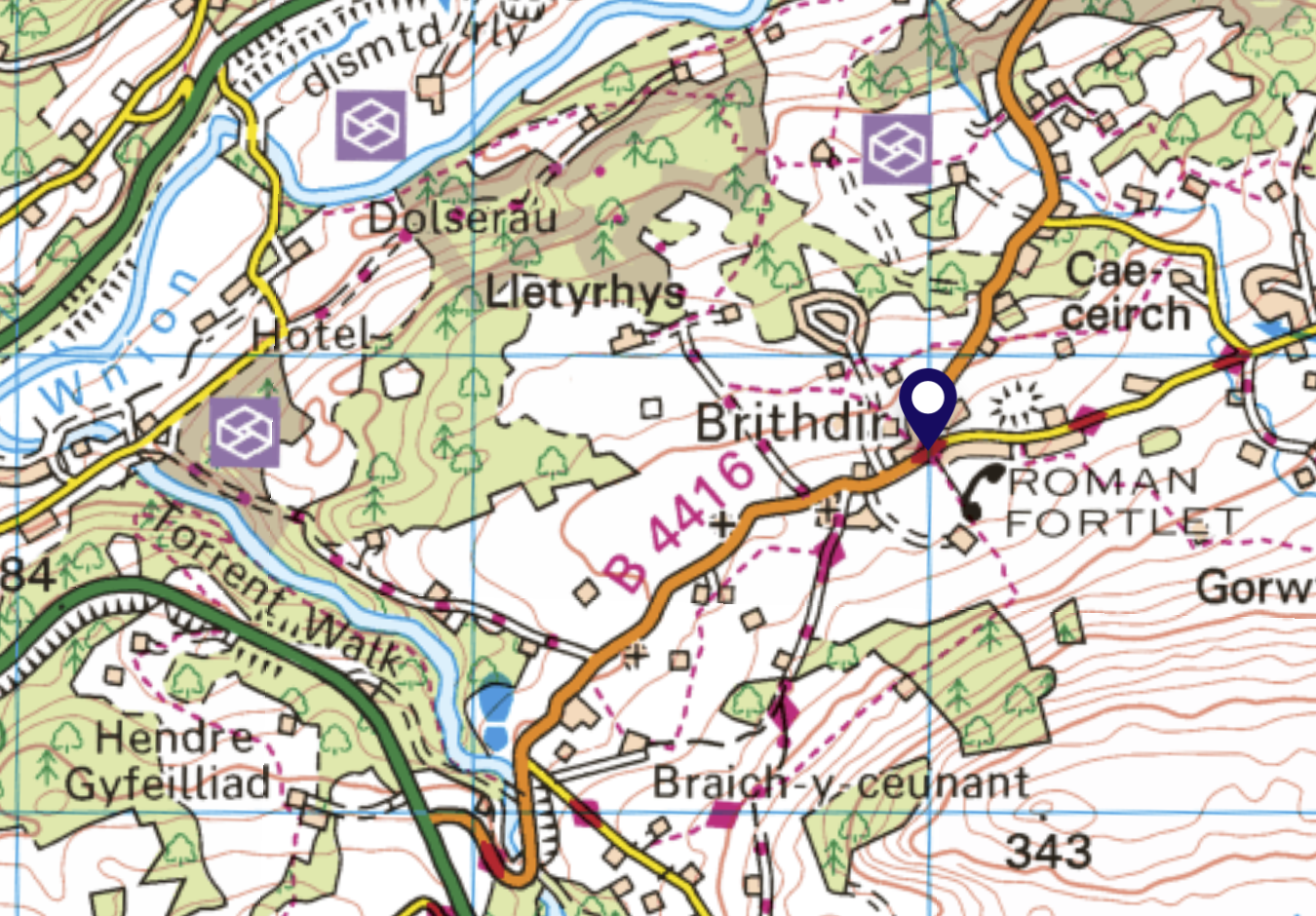 ---
1221: Coffee break near Llanrhystud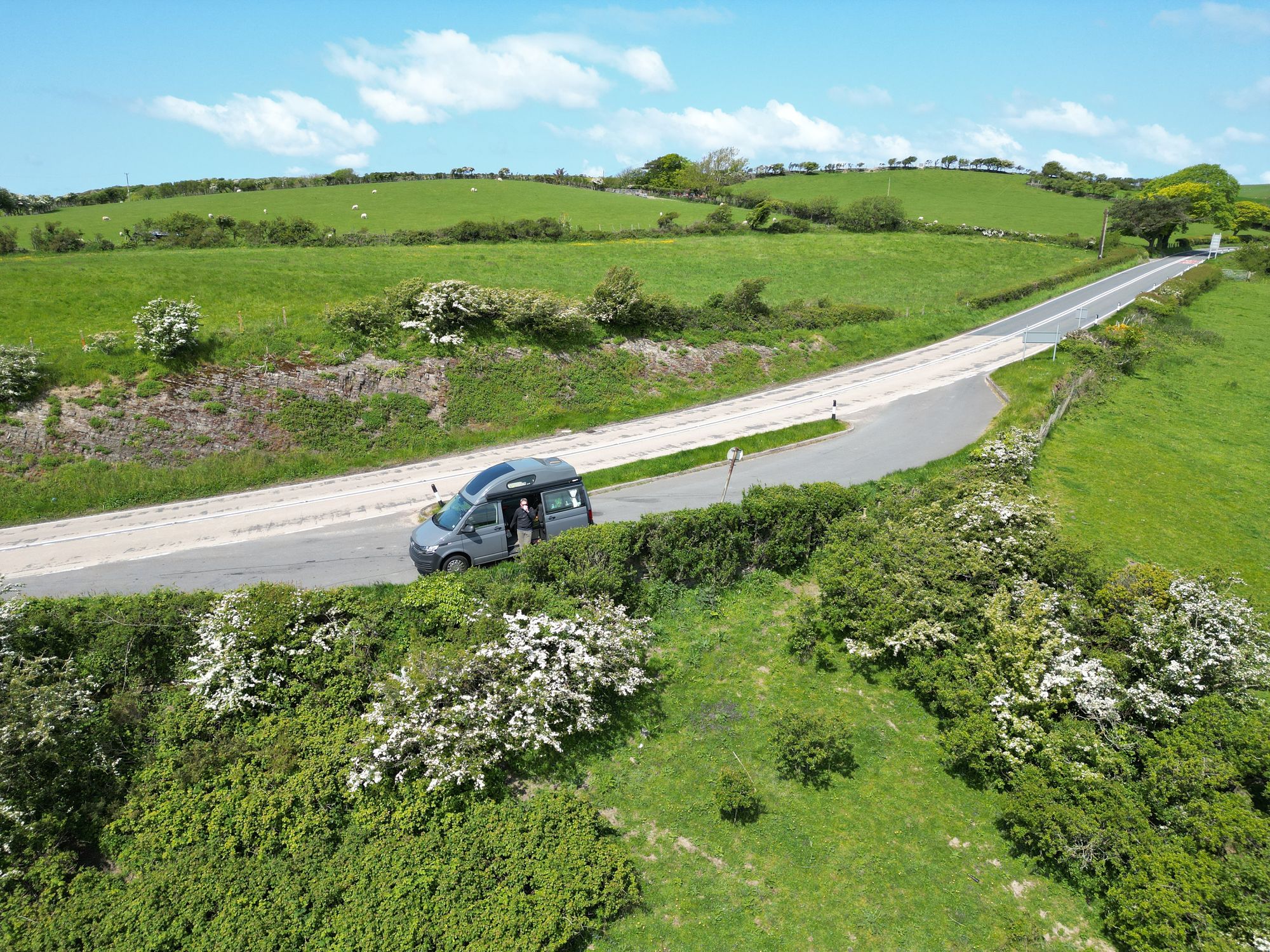 This is a divine drive - out of the morning mists and into the full sun. I'm driving along the pig's snout - the coastal route down to Pembrokeshire. I'm on my way to Llanarth for a hookup campsite. The surprise glimpses of the sea are best as you travel around a corner.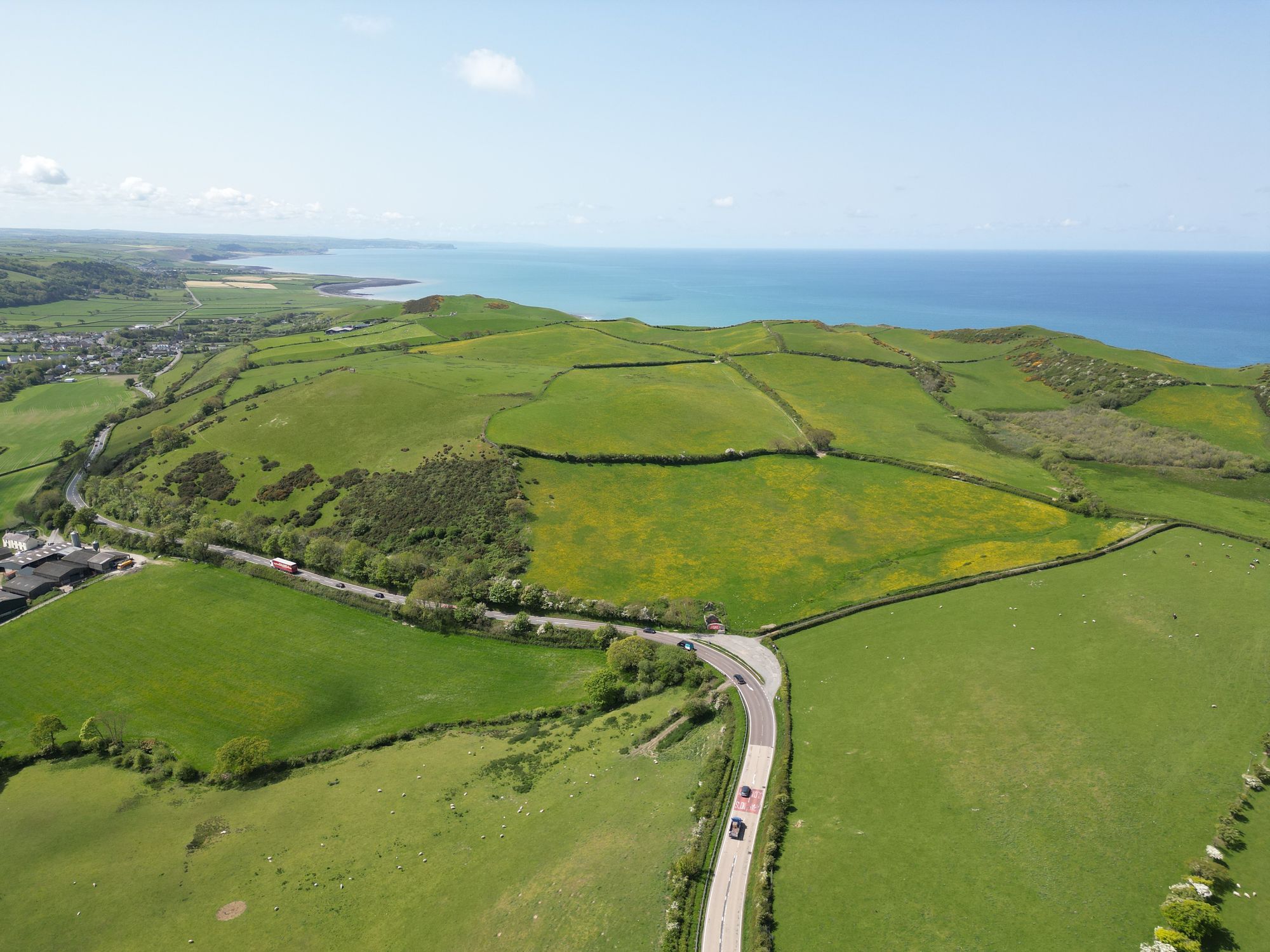 Earlier I called in to Aberystwyth for some provisions. If you're travelling in a camper - top tip is to get some mint or basil to fill the van with a lovely aroma during your trip. Positive vibes.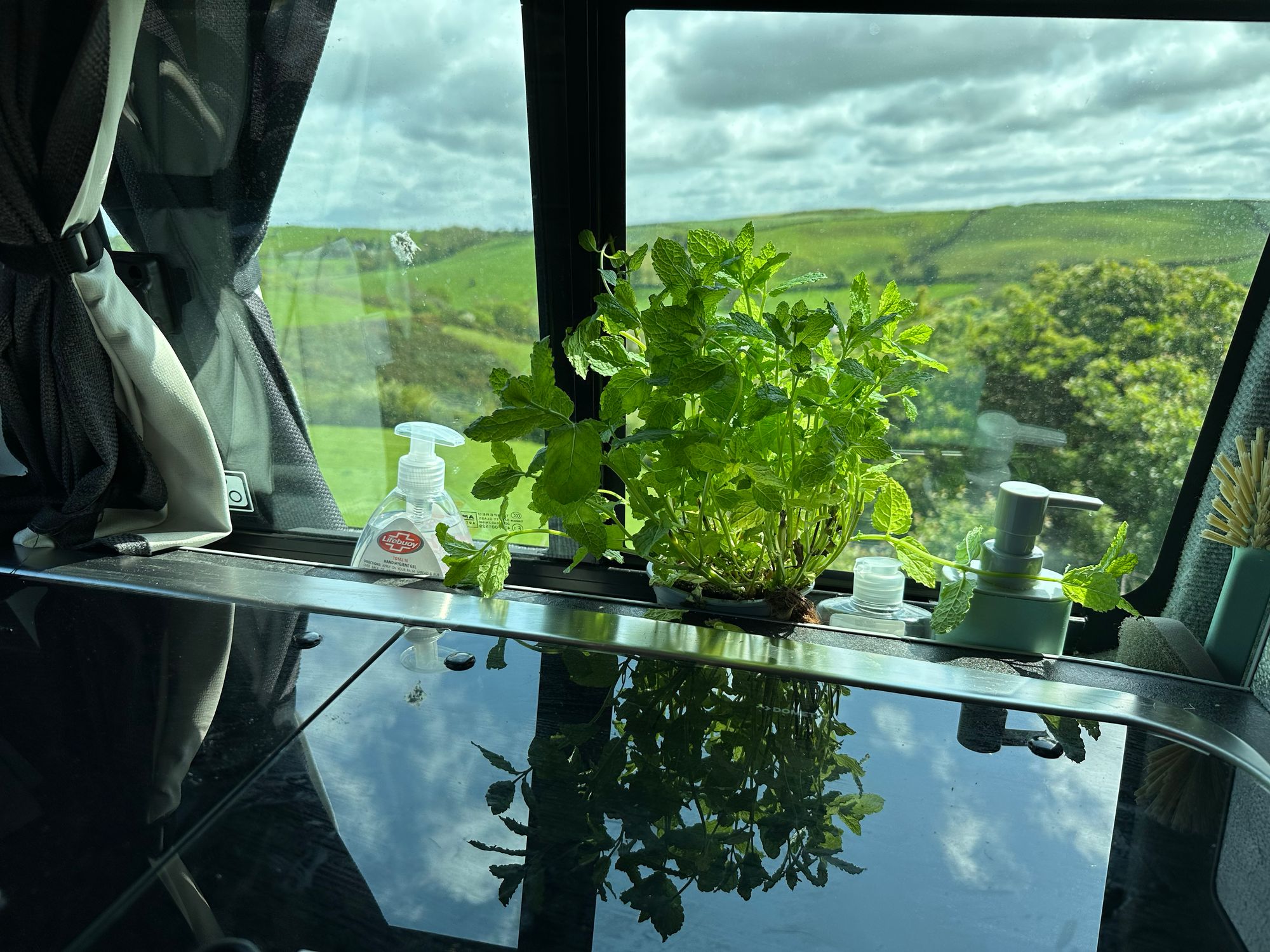 1820: A good day's work
I'm commissioned to photograph St David's church in Manordeifi, Pembrokeshire. I can't tell you how good for the soul visiting a place like this is. More than a religious pilgrimage, it is a pilgrimage into the self.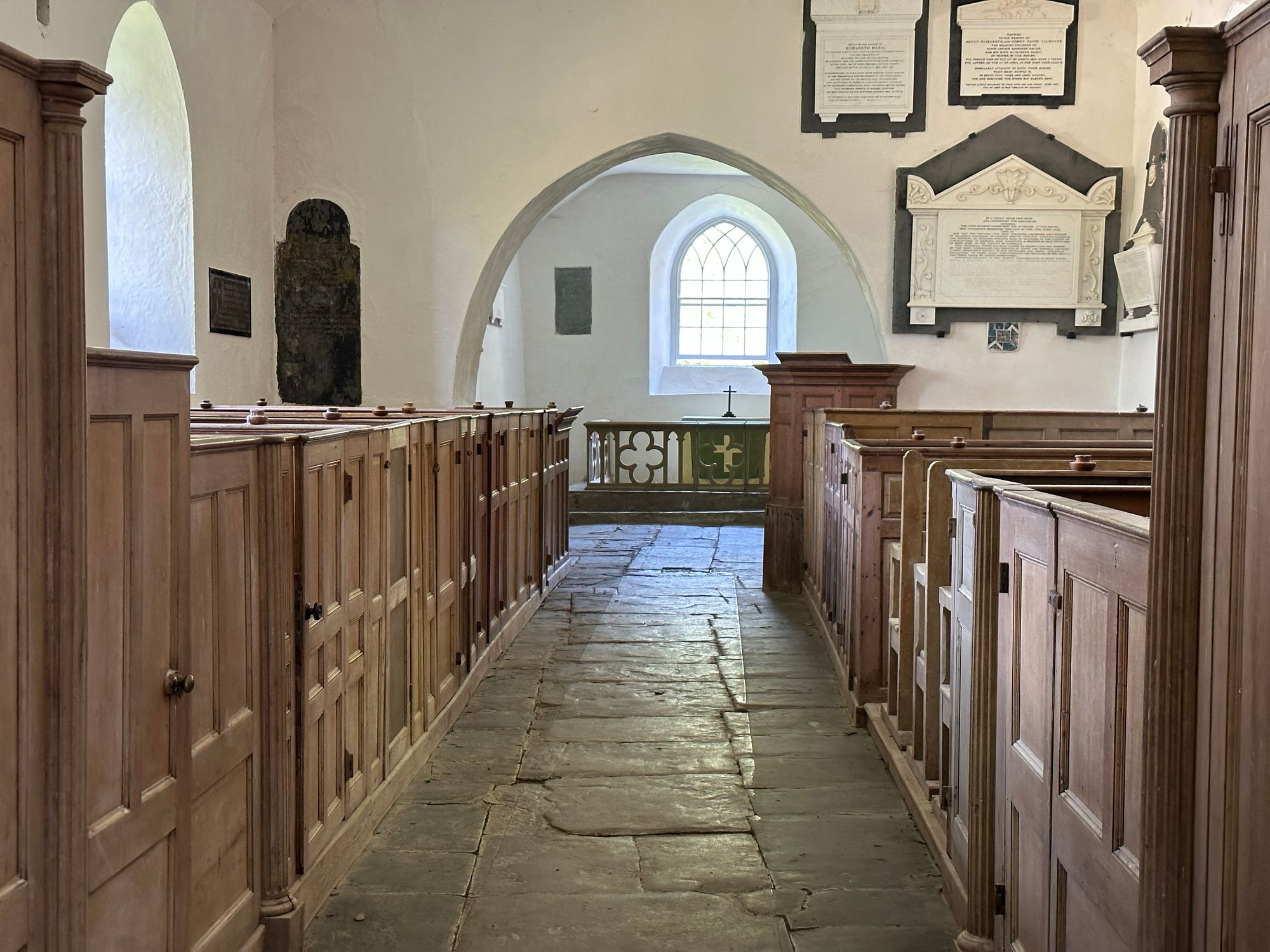 These places are virtually unknown and isolated - accesible by single track lanes. As I travel along to the church, and as the roads get narrower, I feel a stripping back of the senses.
St. David's is very special - it's like travelling back in time to the Regency period.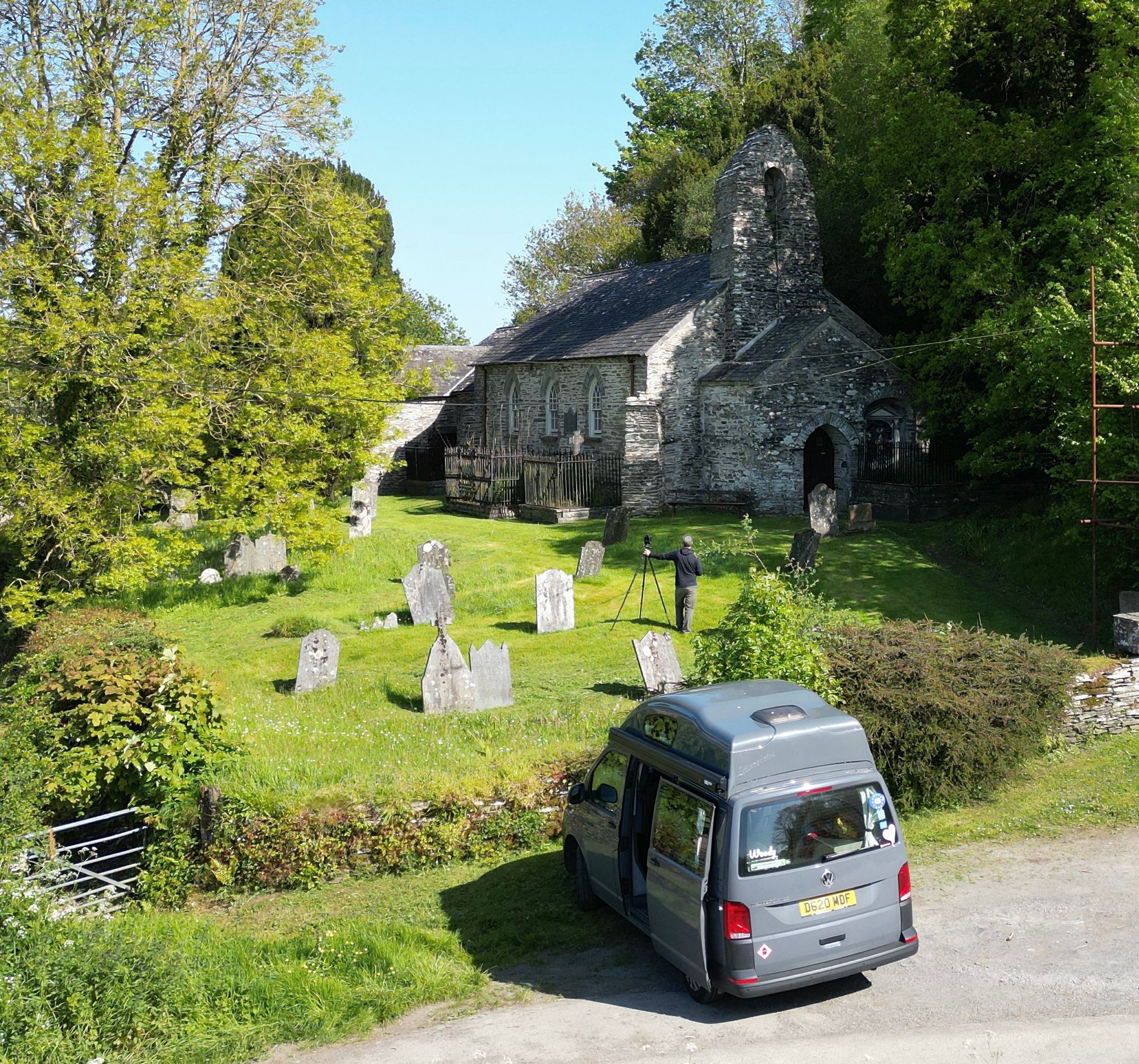 The church has flooded often and was abandoned for a newer church up the hill. It even had its own coracle to ferry worshippers to the church in flood.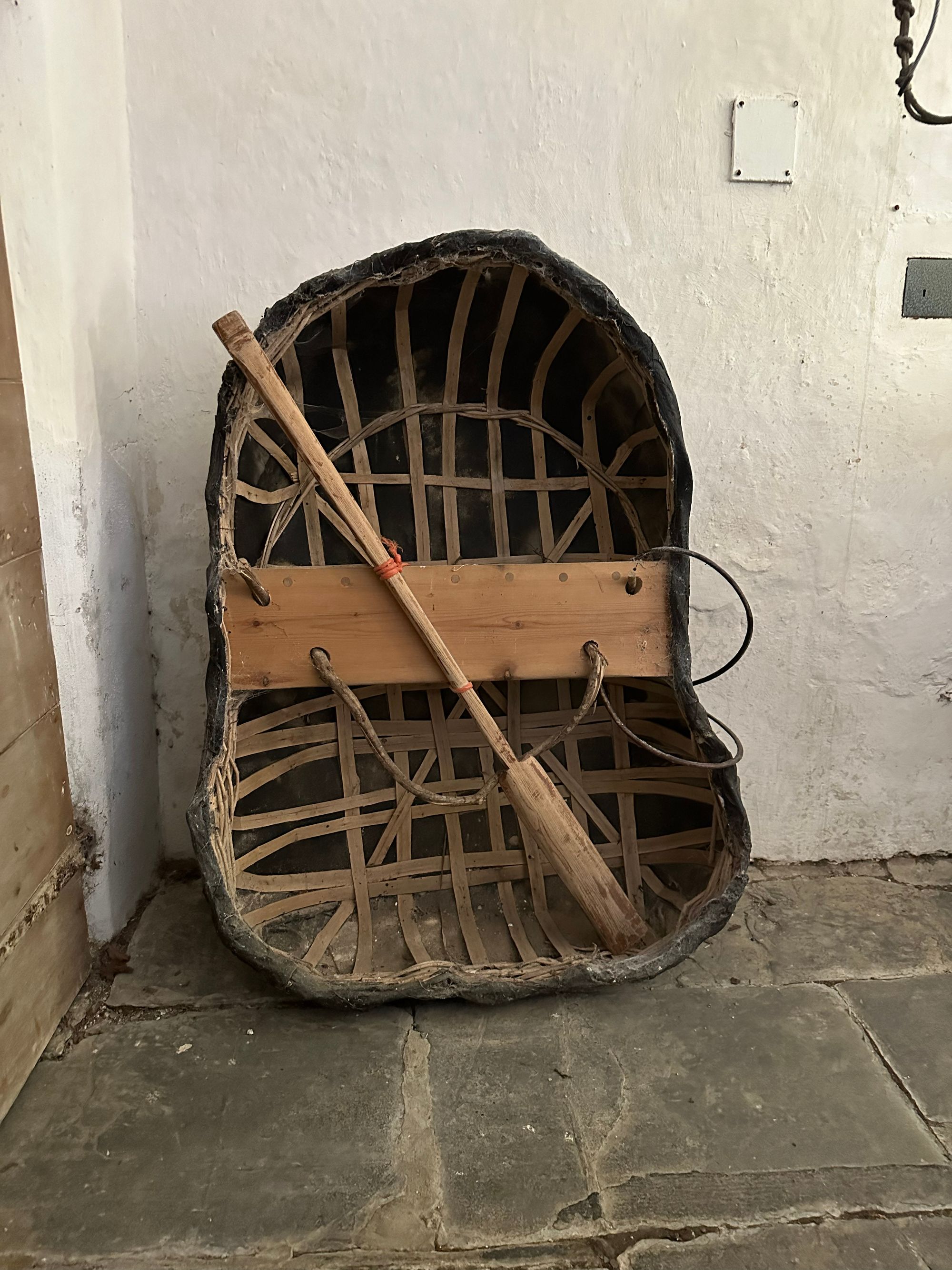 The details are exquisite - even down to the original hinges.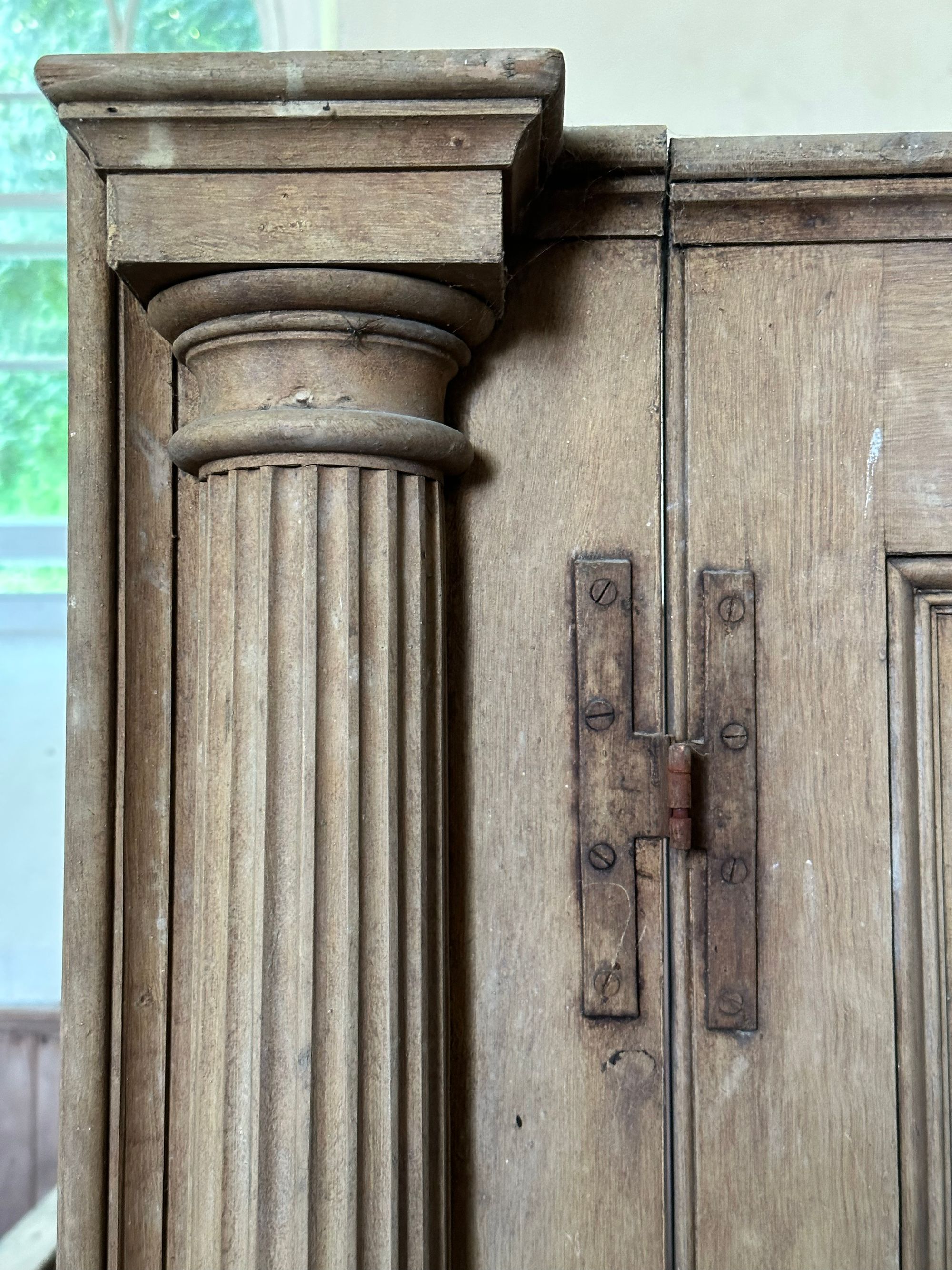 If you are looking for solitude and an alternative destination, visiting this church will take you off the beaten track and immerse you in a landscape that is timeless - a real hidden gem.
---
2018: Camper Van Dinner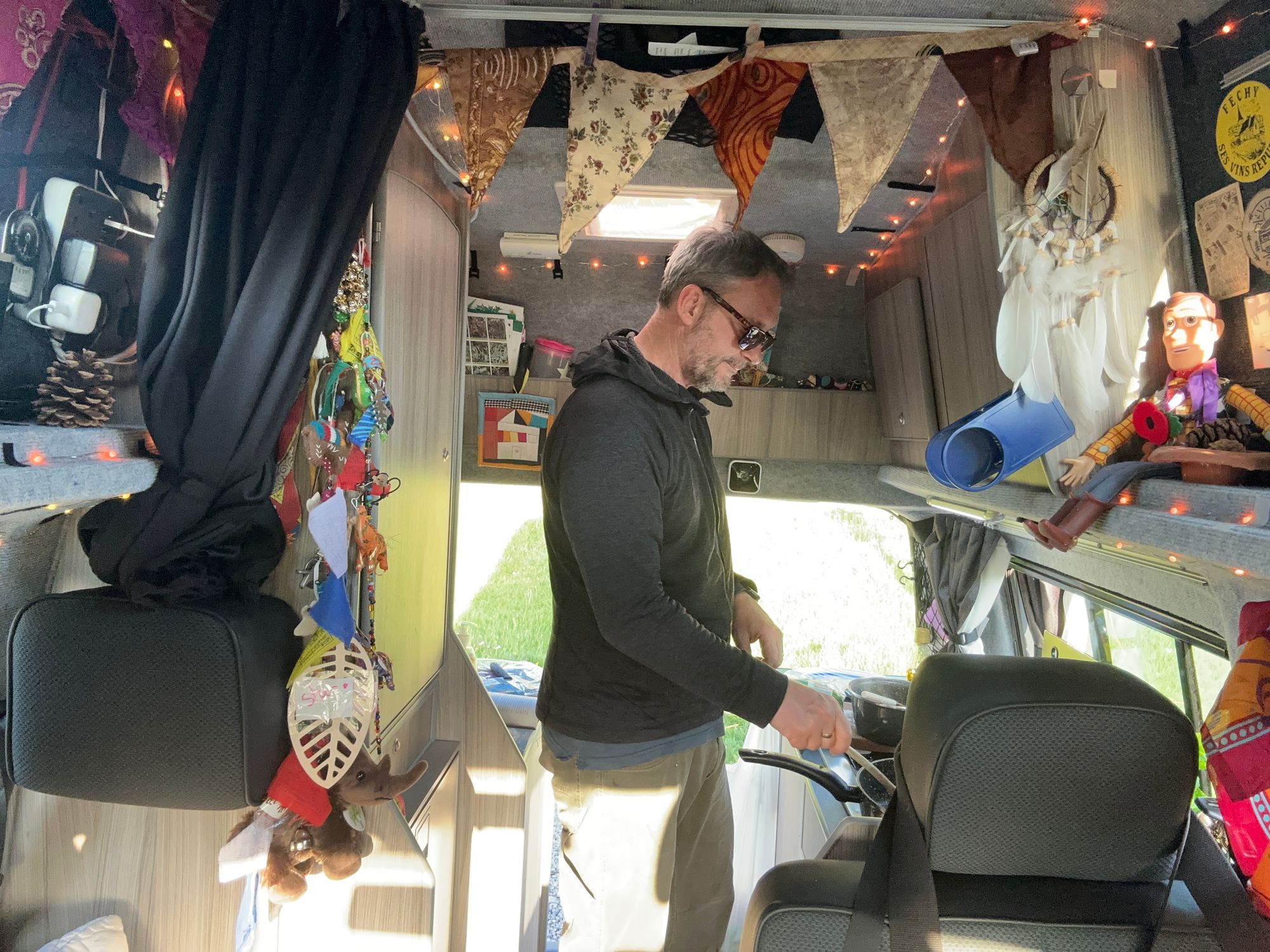 What a day! The best way to wind down for me is to cook a good evening meal. Here's tonight's nosh lowdown: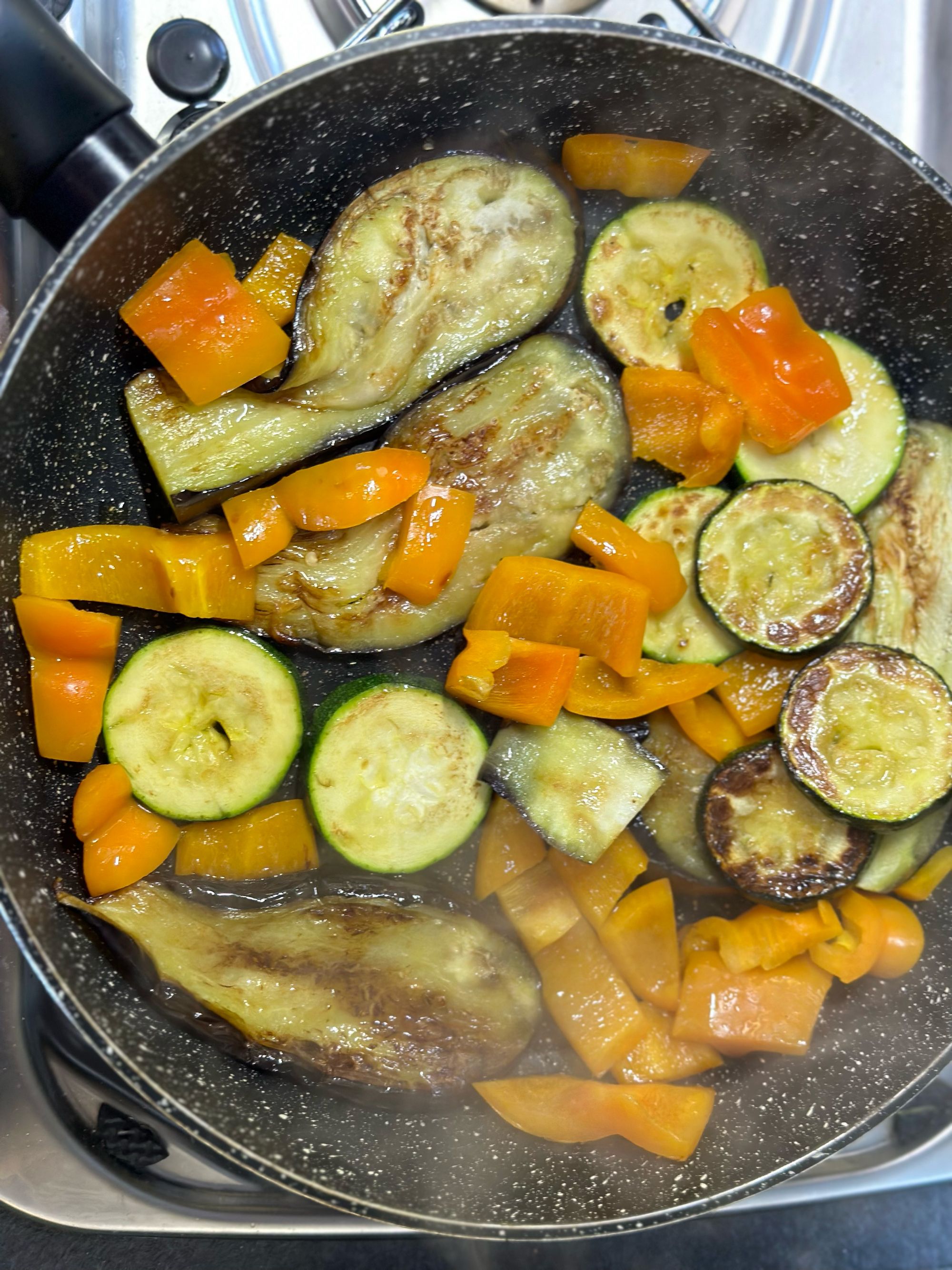 Griddled vegetables with mozarella and feta cheese on flatbread.
Cut up cherry tomatoes, spring onions and set aside. Griddle the aubergines, courgettes, peppers until brown. Set aside and mix with the tomatoes and spring onions. Heat up a flatbread in the pan.
Put the mixed vegetables onto the flatbread and tear up some mozarella and crush some feta cheese on top. Add some mint leaves and season. Then add a touch of olive oil. Yum. Perfect vanlife food.
---
Can you help keep Woody on the road?
Click below for membership options and benefits
Become a Member
---
0530 Out on the road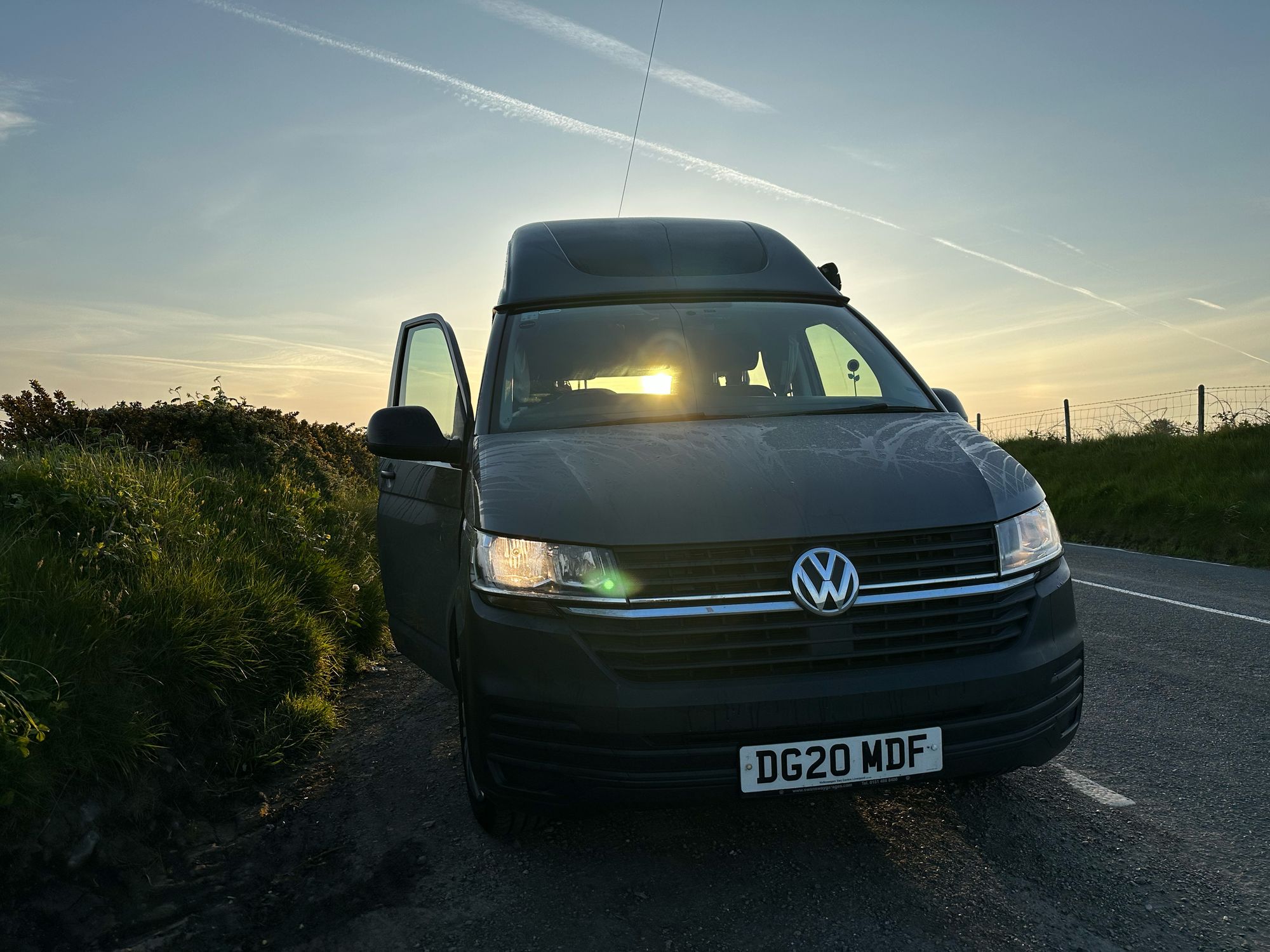 Awoke at 5am. It's cold, so I put the diesel heater on and start to prep the van for travel. I fold down the bed and open all the curtains. Wind up the hook-up. There's a frost on the grass outside. Rooks are dancing about. Sun is pale and wan in the sky.
I set off for Castlemartin (today's photo shoot) and the valleys are bottomed out with mist.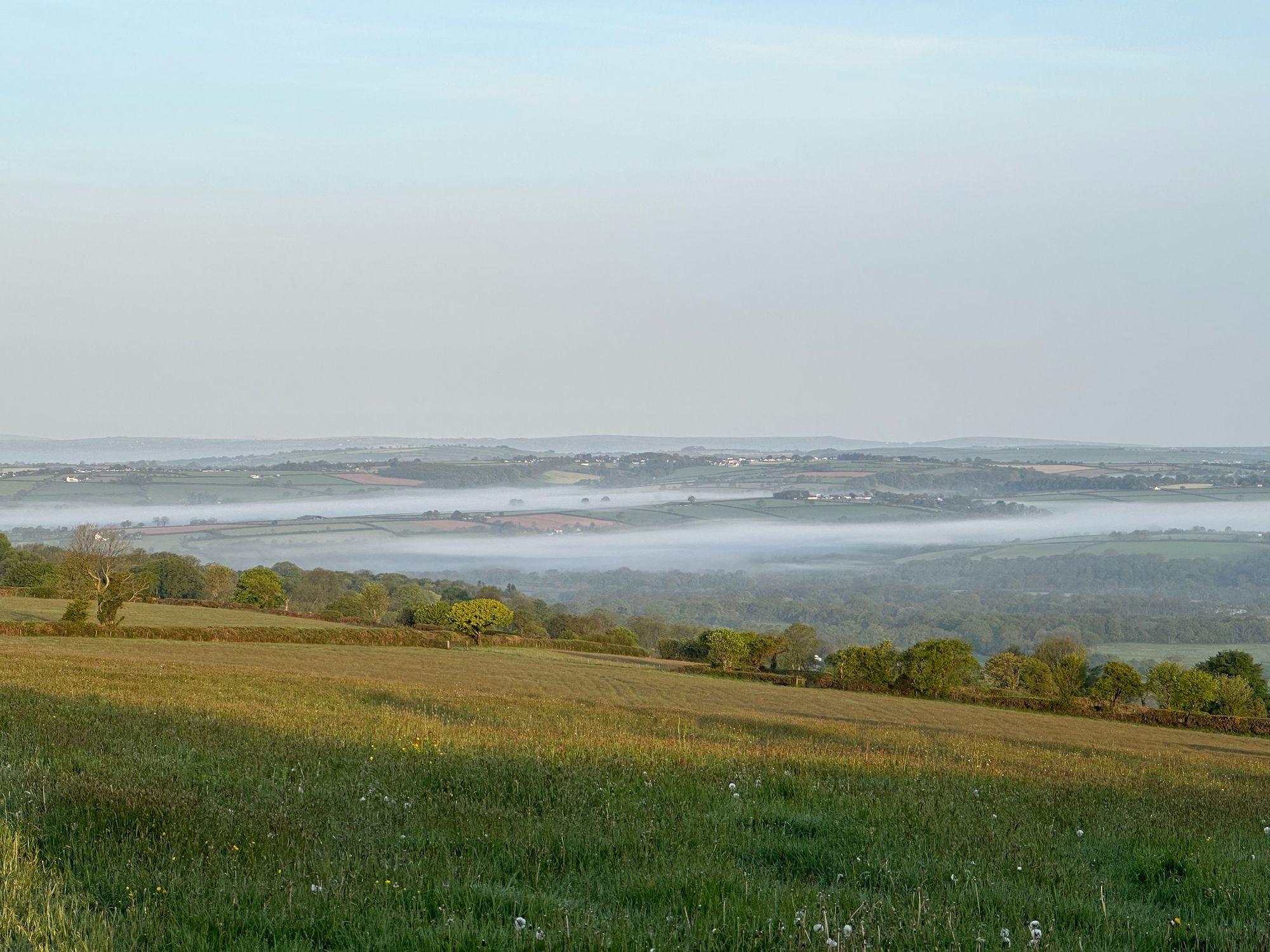 ---
0800: Arrive at St. Michael, Castlemartin - stunning location - ancient walls.
The church reveal:
Sometimes I get a bit overwhelmed when I start a photo shoot. I think it's a creative thing. This church is no exception. I just want to get it right - get the light right, photograph it at the best angle and capture some of the aspects of the interior that are personal to me. Usually at the end of the day I feel both physically and mentally exhausted - the process is challenging but extremely rewarding.
---
0900: Breakfast - Cheesy Egg Bread.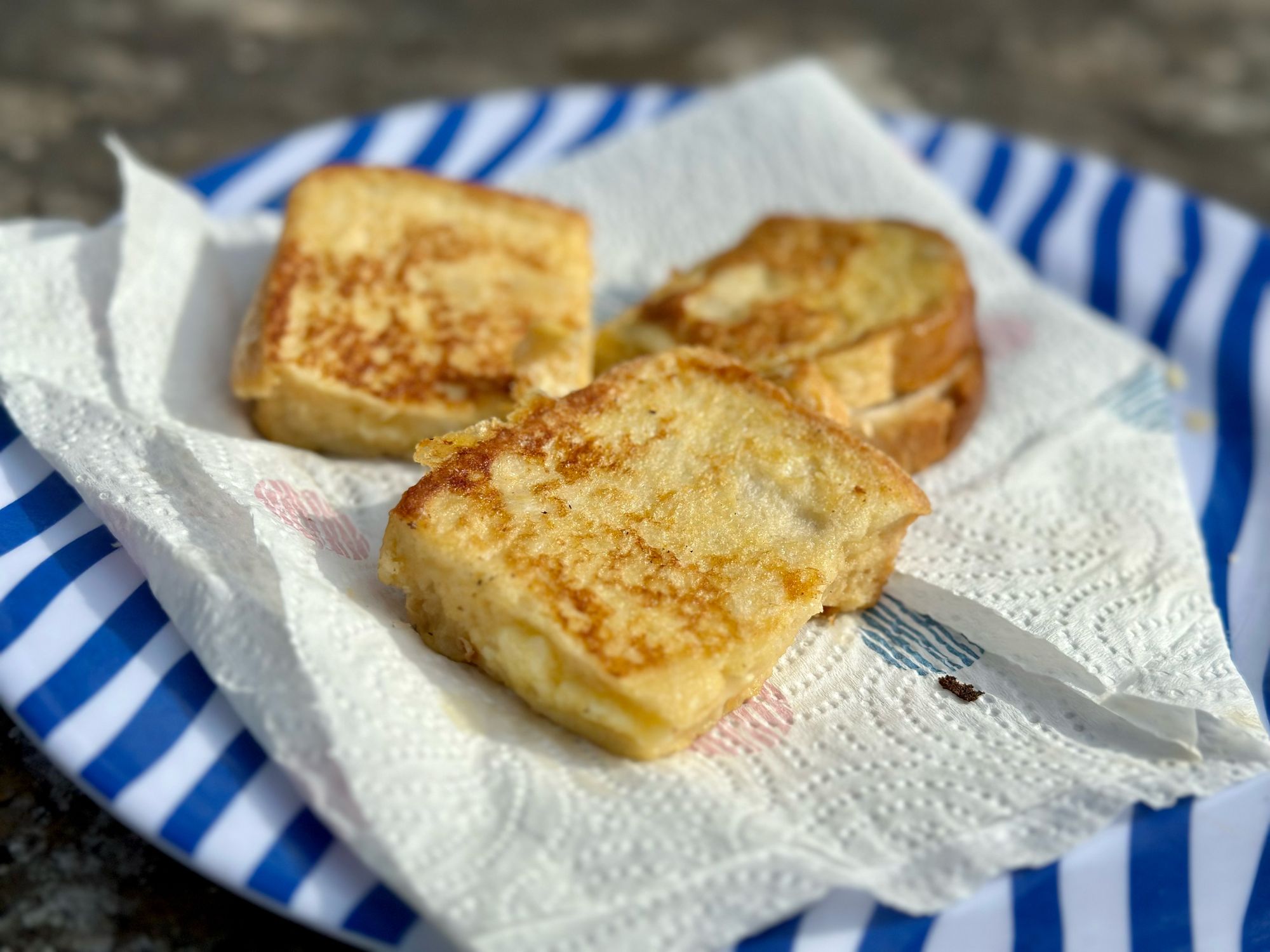 The first exterior shots are done and I'm feeling hungry. Cheesy egg bread is the perfect breakfast for a hard days work. Eggs whipped in milk, cheese sandwiches quartered and dipped into the eggs and then fried in a spot of butter.
---
1344: St. Michael and All Angels, Castlemartin
The name of this digest is Genius Loci which translates as 'spirit of place'. If ever there was a place that had a particular quality of atmosphere it is this one. I bump into a local and she tells me that, although she is not a believer, she often visits because it is 'restorative'.
I'm a bit out of my depth with churches from the south of Wales - they all look so timeless. St. Michael is built from quarried limestone and is largely medieval, dating back to Norman times.
When I look at the details, I get a powerful sense of the 'layering up' of peoples' hopes, likes and fears caught and frozen in time within the material remains of the church.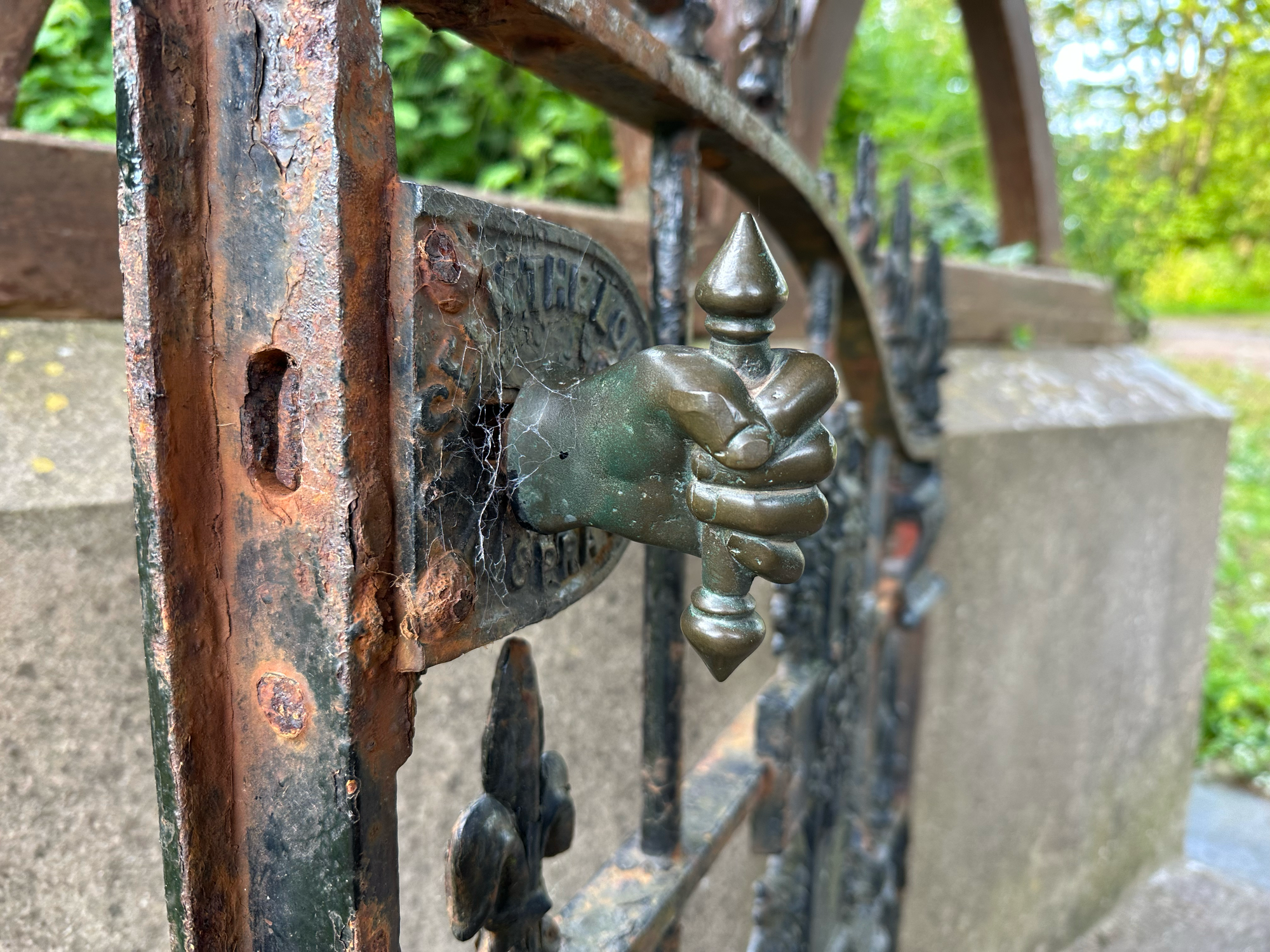 I follow my lens, work my process and then there's a moment. The heavenly saints have detached themselves from the coloured glass and have started to move down the chamfered reveals. I stop and breath in - and time seems to slow down - I can see the coloured light moving ever so slowly. It's a trick I learnt at Billesley where I sat and watched the light move across a Saxon stone.
I lost a friend recently - he was a mentor and an inspiration, and I've promised myself that I will stop and look afresh at the things around me, as if I were a conduit for him. Photography and its process helps garner different perspectives and alternative ways of seeing - it was David who taught me that.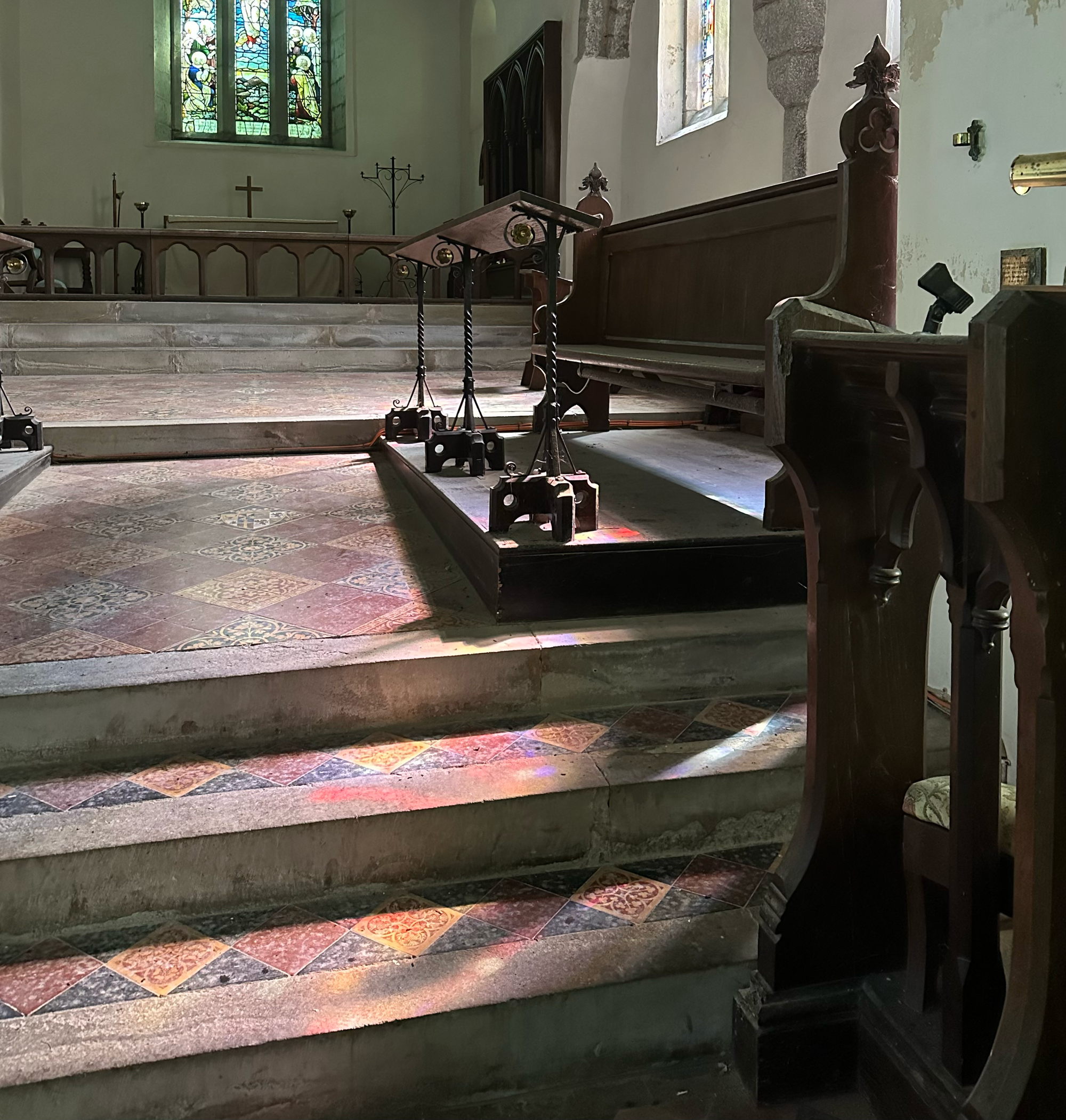 ---
1416: Lunch at Jacks, Freshwater East.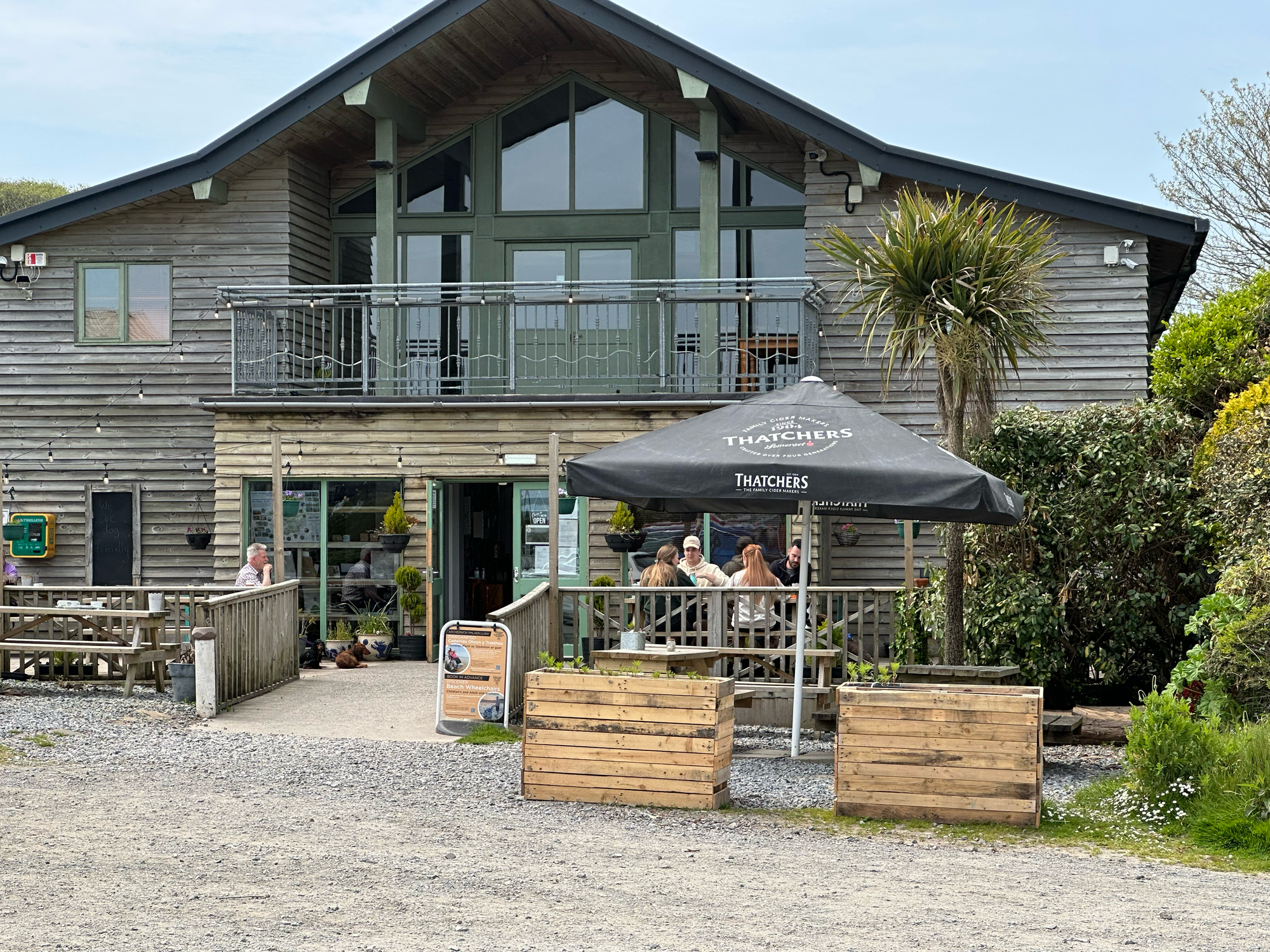 I've travelled down along the coast and am at the southern tip of the Pembrokeshire peninsula. Lodging in Freshwater East CAMC - it's the perfect location for my photo locations and is right next to the beach.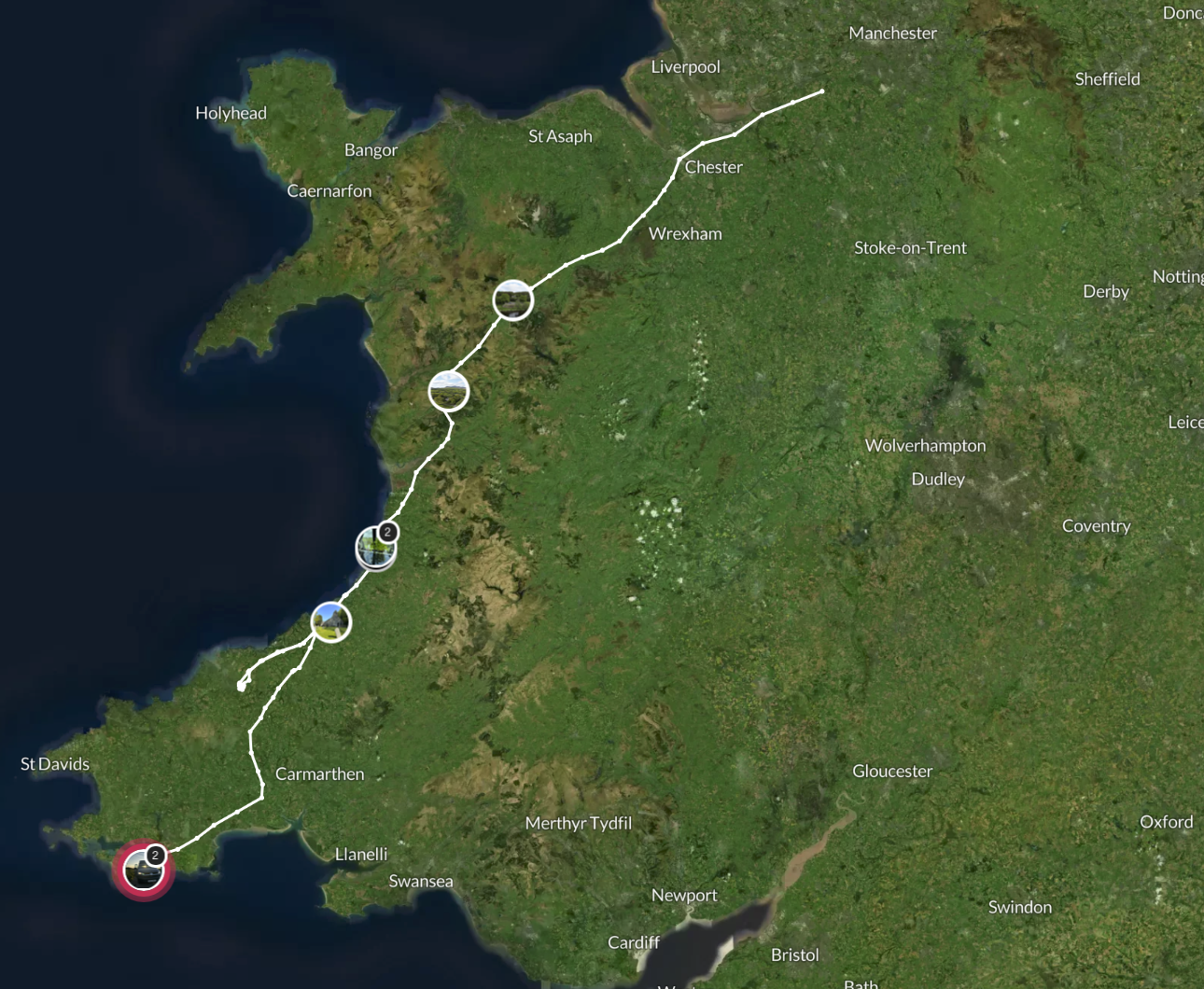 1915: Freshwater East
The bay at Freshwater East is right next to my campsite. Lovely stretches of coastal path. The path from here leads to the Stakpole Estate and Barafundle Bay.
---
0730: Van Changeover -
Every morning, before I set off for a photo shoot I have to get the van ready - it takes around 30 minutes to get it into ship shape. I have to remember to switch the gas off, close the top roof light, and make sure the exterior hook-up is unplugged.
---
1000+ subscribers join me on my camper-van-camino through the British Isles. Each Friday I post out a digest recording my discoveries in my time-travelling camper van.


Subscribe for free.
Processing your application
Please check your inbox (or spam) and click the link to confirm your subscription.
There was an error sending the email